What Is a Guest Post?
A guest post is a piece of content that you publish on someone else's website.
This is usually done for link building purposes, or to simply expand your reach.
Guest posting is one of the oldest link building strategies, and is still being used extensively by SEOs and marketers alike.
And there is a good reason for that: it works.
In fact, there are countless websites that have an explicit "Write for Us" page that's practically asking you to submit your content.
However, websites with a "Write for Us" page might not necessarily be the best opportunity for guest posting.
This is because they typically receive lots of submissions (especially higher-DR resources), and, usually, the only way that they accept these submissions is through a contact form on their page.
Needless to say, this isn't the best form of communication – and if there's a large queue, it may take months for your guest post to actually get published.
In reality, most websites accept guest post submissions, even if they do not have a "Write for Us" page.
You just need to find the content team's email address and send them your pitch.
If it's good enough, and you show that you have taken the time to research their blog (for example, by identifying their keyword gap and coming up with topics that help close it), there are few reasons for them to decline your offer.
We will be looking at how exactly you can do that further down in the article.
Guest Posting Benefits
Besides being an effective link building strategy, guest posting has a number of additional benefits.
Guest posts help increase your DR
Guest posting on high-quality websites with links back to your own site can help you increase your domain rating by building up your link profile.
A strong link profile helps improve your visibility in search engine results pages (SERPs), and can ultimately lead to more traffic and higher conversions.
You can reach new audiences
Guest posting can help you expose your content to new audiences in a number of ways.
First, when you guest post on another blog, you are essentially getting your name and your blog's name out there to a whole new group of people.
This can help you attract new readers and followers who may not have otherwise found your blog.
Second, guest posting also allows you to share your content with a wider audience and get feedback from new readers. This can help you improve your content and make it more engaging and useful for your audience.
Guest posts can be a good source of referral traffic
Referral traffic is simply traffic that is directed to your website from another resource, and links in your guest posts' content can be a great way to generate it.
Guest posts help build relationships with thought leaders in your niche
When you contribute a guest post to another blog in your niche, you are effectively introducing yourself to the other blog's audience.
This can help build relationships with thought leaders in your niche because you are providing valuable content to their audience and, in turn, helping to grow their blog.
By guest posting on a regular basis, you can establish yourself as an expert in your field and build relationships with other thought leaders in your niche.
The only downside to guest posting is that, of course, it takes a long time to produce high-quality content, so you will need some help if you want to do it at scale.
Guest posting can help you establish yourself as an authority within your niche.
One of the best ways to establish yourself as an authority within your niche is to start guest posting on other blogs.
When you guest post, you are essentially getting your name and your brand out there in front of a whole new audience.
This can help you to build up your reputation and authority within your niche very quickly.
Additionally, guest posting can also help to build up your own blog or website by bringing in new readers and followers.
Guest Post Example
The following is an example of our own guest post that has been published on bulk.ly: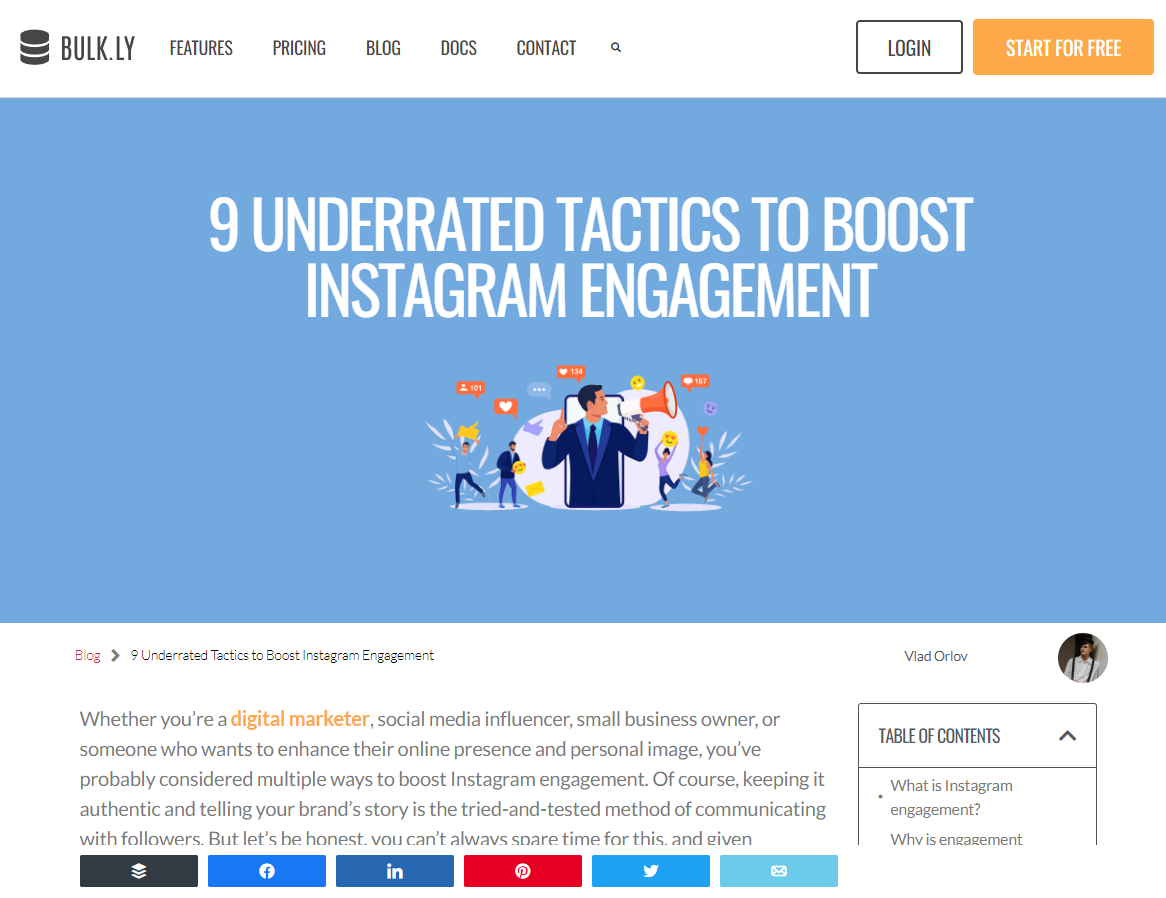 How to Secure Guest Posting Opportunities?
There are three ways to land guest posting opportunities.
The first one is to look for "Write for Us" pages within your niche.
The second one is to simply pitch your guest posts to any resources that you like.
The third one is not to do any separate guest post outreach at all.
If you're already doing some other form of link building outreach, you can actually just pitch a guest post after a successful collaboration.
This is better than running a separate guest post outreach campaign because it saves you time, and your prospect will be much more receptive to you since you have just finished a different successful collaboration.
Strategy 1 – Look For "Write For Us" Pages
1. Open Respona's search engine.
2. Select "Web Search" from the menu on the left side of the bar.


3. Type in your niche. As an example, let's do "SEO".
4. Click on "Advanced Search"
5. In the "In Title" field, type in "Write For Us"


6. Select opportunities by checking the box on the left side of their titles.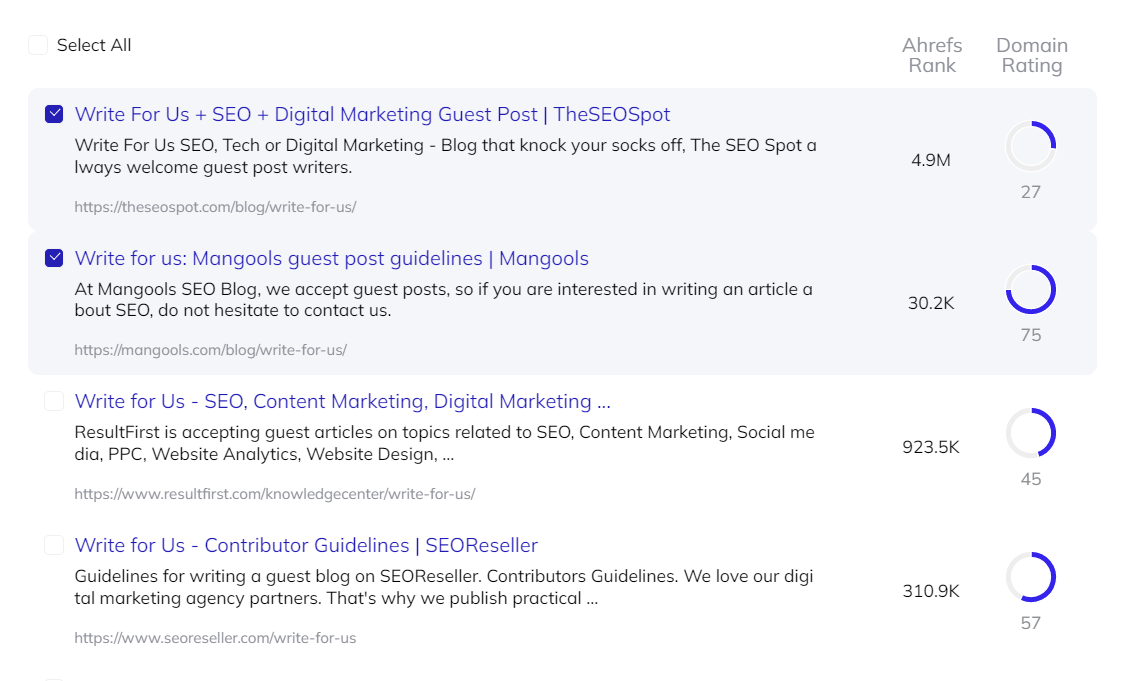 You can also use Respona's keyword search automation to speed up the process: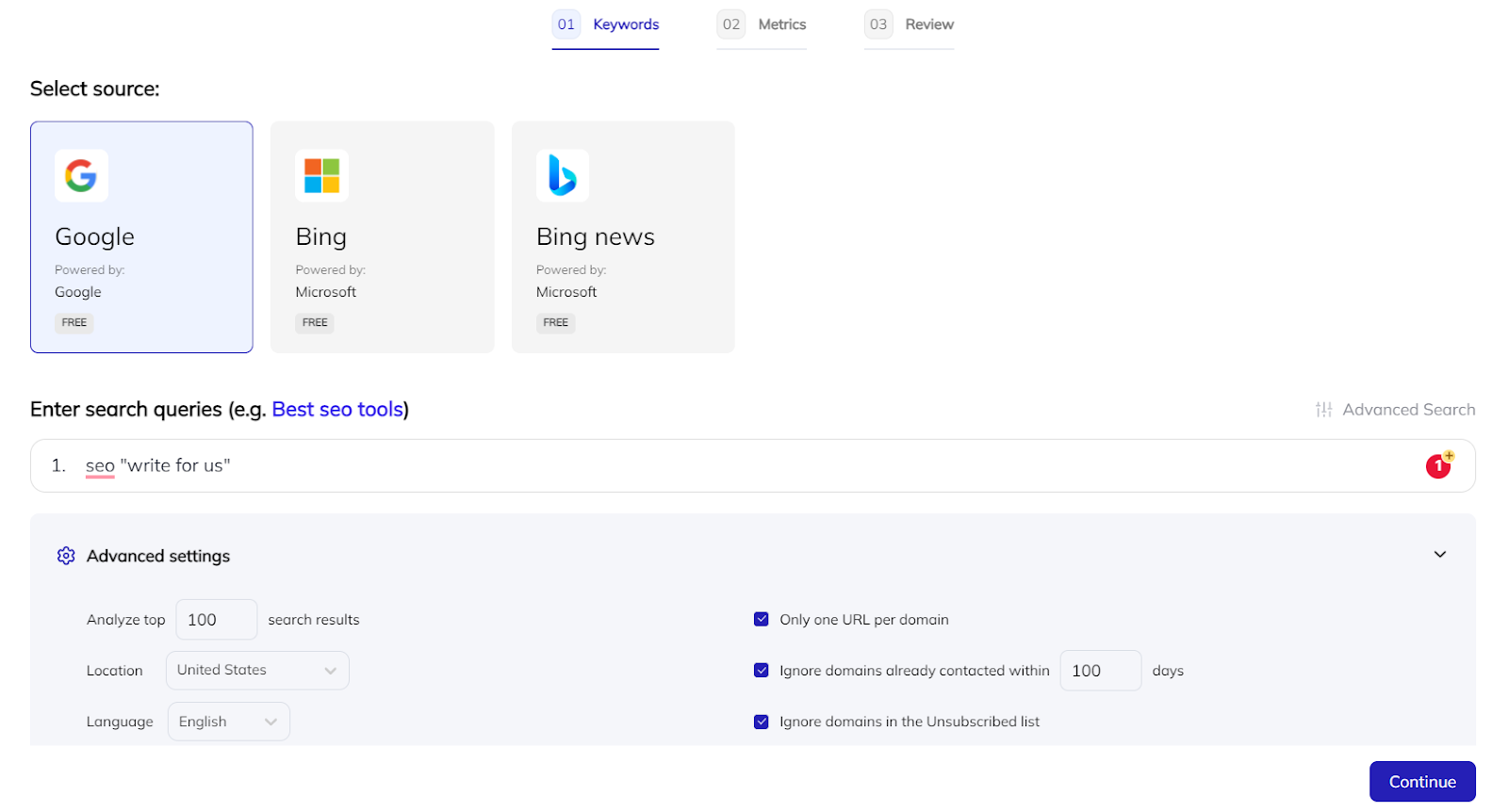 You can access it by going to Step 1 – Find Content and clicking on "Automation setup" in the top right corner:

1. Select a search source.
2. Enter your search query.
3. Set advanced settings:
How many results to analyze (Google provides us with the top 100 results);
The location of your search;
Language;
Safety filters.
4. Click "Continue".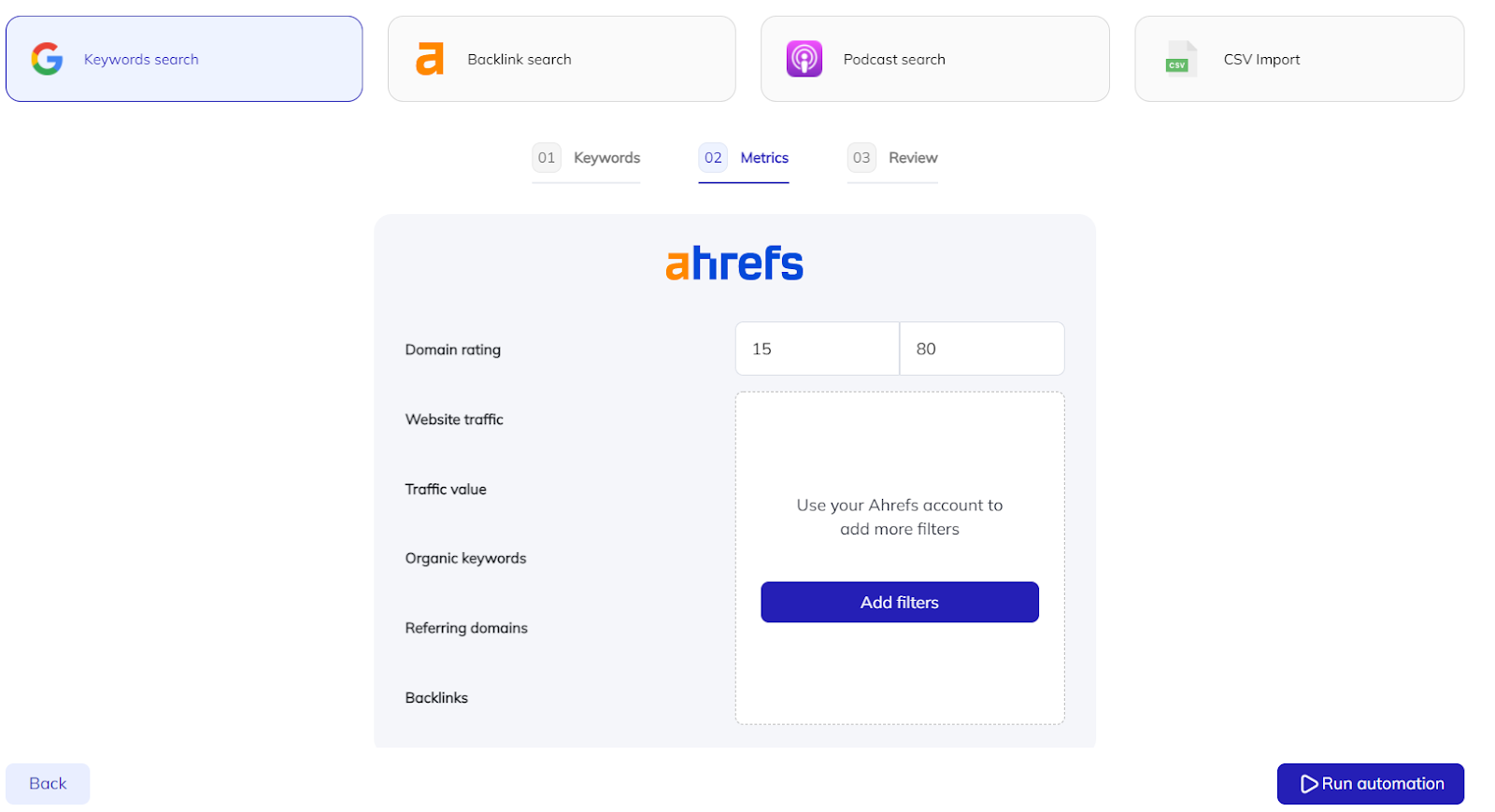 5. You will be taken to the metrics screen. Here, you can set additional filters such as:
Domain Rating (available even if you don't have an Ahrefs connected);
Website traffic;
Traffic value;
Organic keywords;
Referring domains;
Backlinks;
To use these filters (besides DR), you will need to connect your Ahrefs account to Respona.
6. Click "Run automation".

7. Once the automation is finished, the results will be automatically added to your campaign.
No credits will be charged for using the keyword search automation.
Strategy 2 – Content Gap Pitch
In reality, most blogs accept guest posts, even if they don't have a "write for us" page.
So, you can mix in your guest posting with your other link building campaigns by pitching topics at the end of other successful link exchanges.
Also, you're much more likely to land a guest post if you already have established an initial touchpoint of some kind – a successful link exchange, for example.
For this, you will need Ahrefs. More specifically, its Content Gap functionality.
1. Finish a link exchange.
2. Open Ahrefs in two tabs.
3. Paste your prospect's URL into both.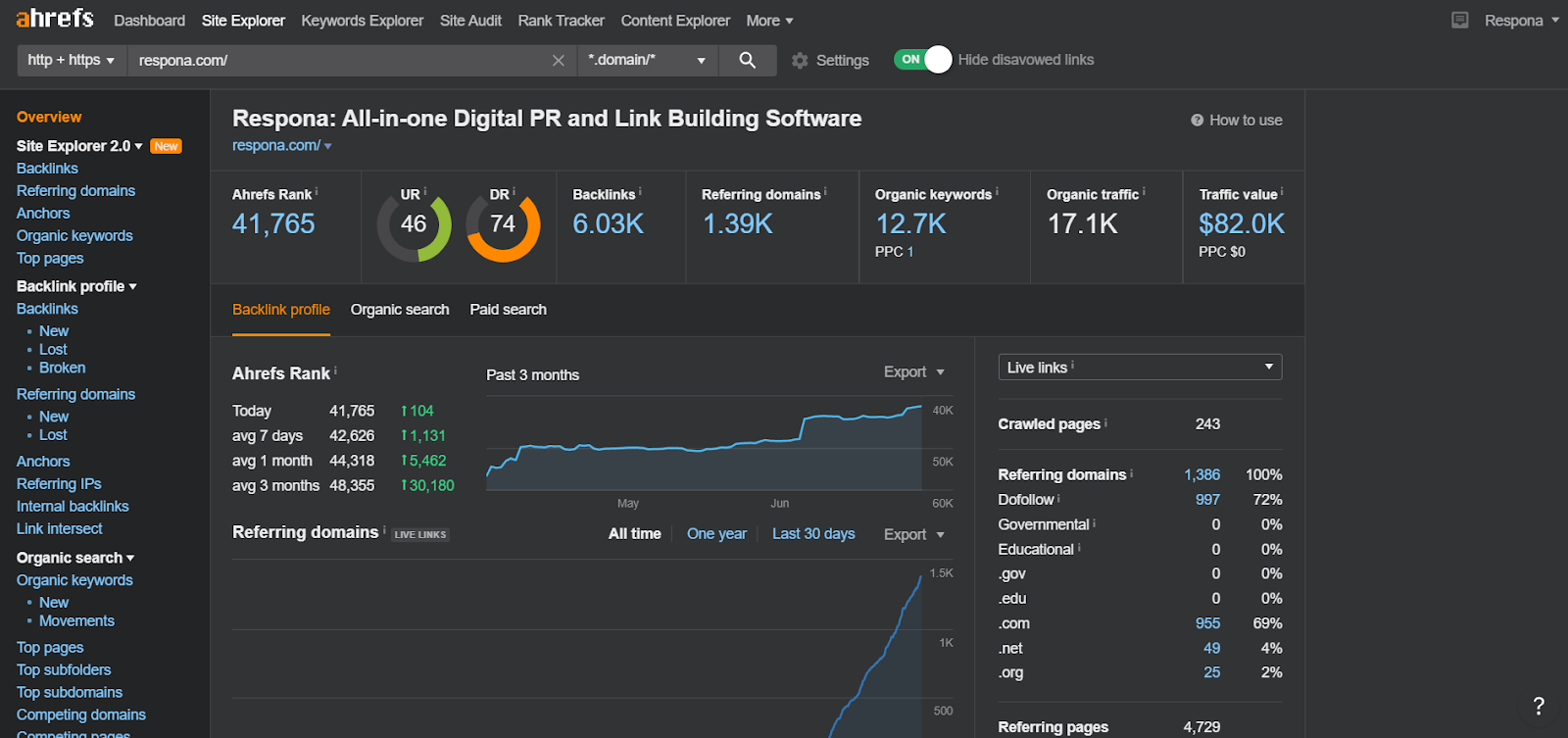 4. In the first tab, go to "Organic Search".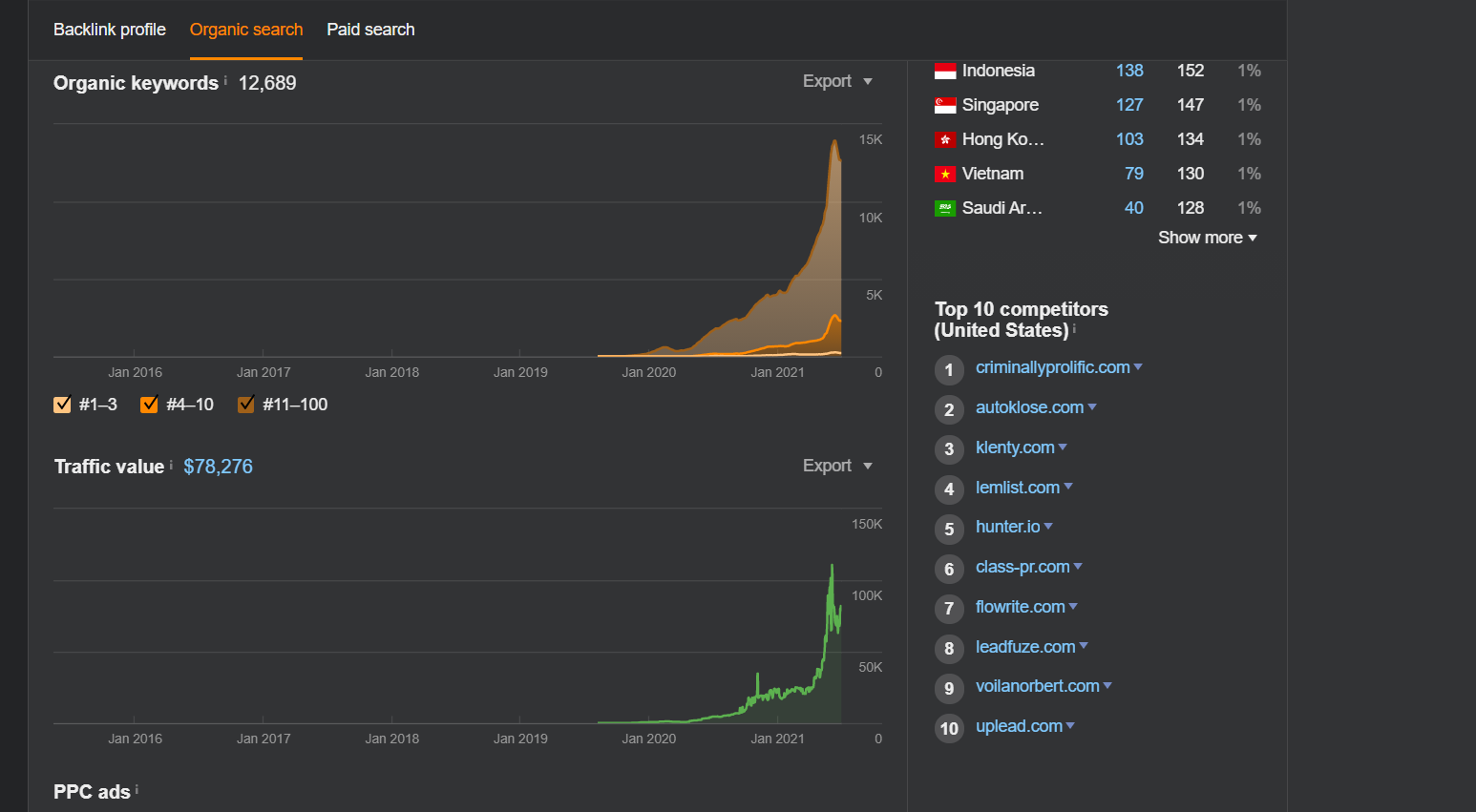 5. In the second tab, go to "Content Gap".
6. Pick two competitors from the "Organic Search" tab, paste them into the fields and click "Show Keywords"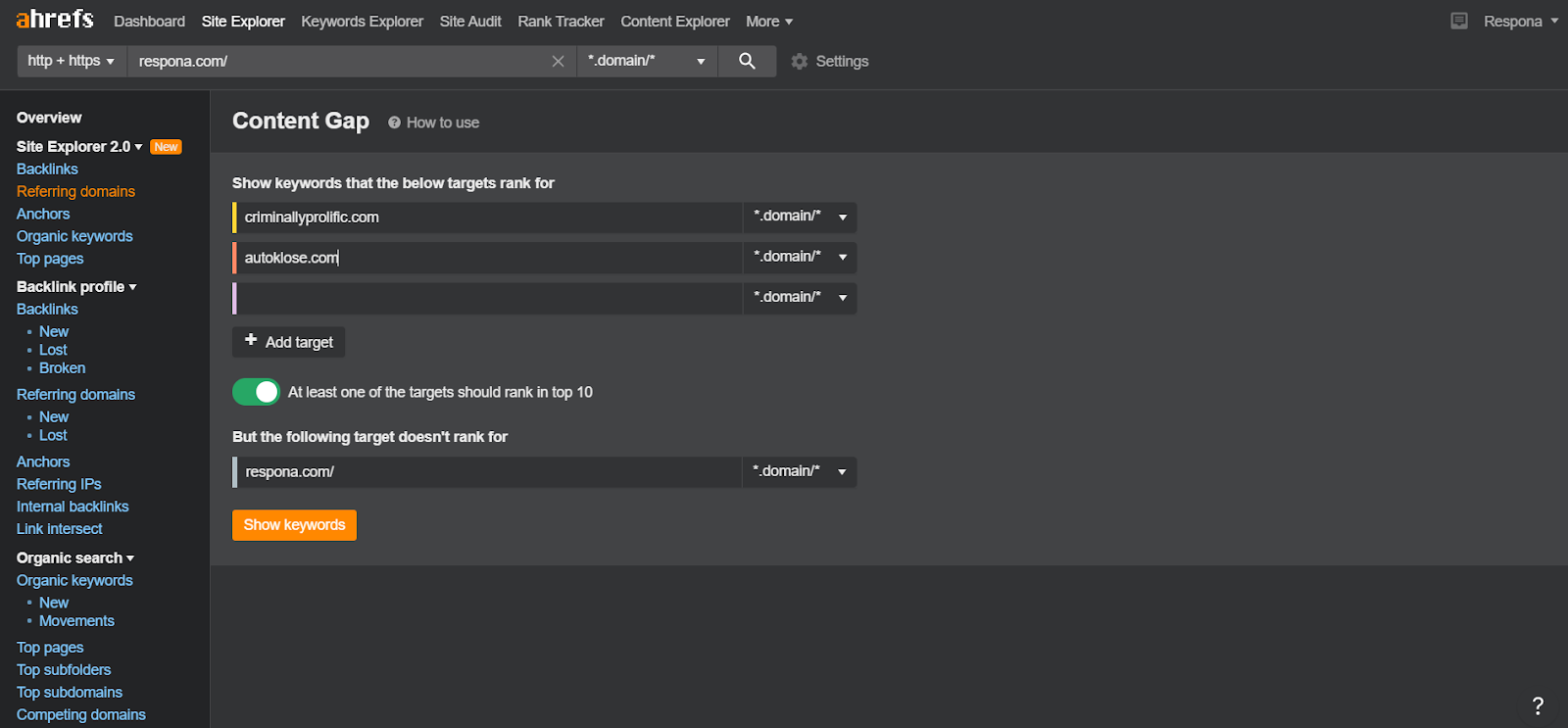 7. In the "Intersections" filter, select "2 targets".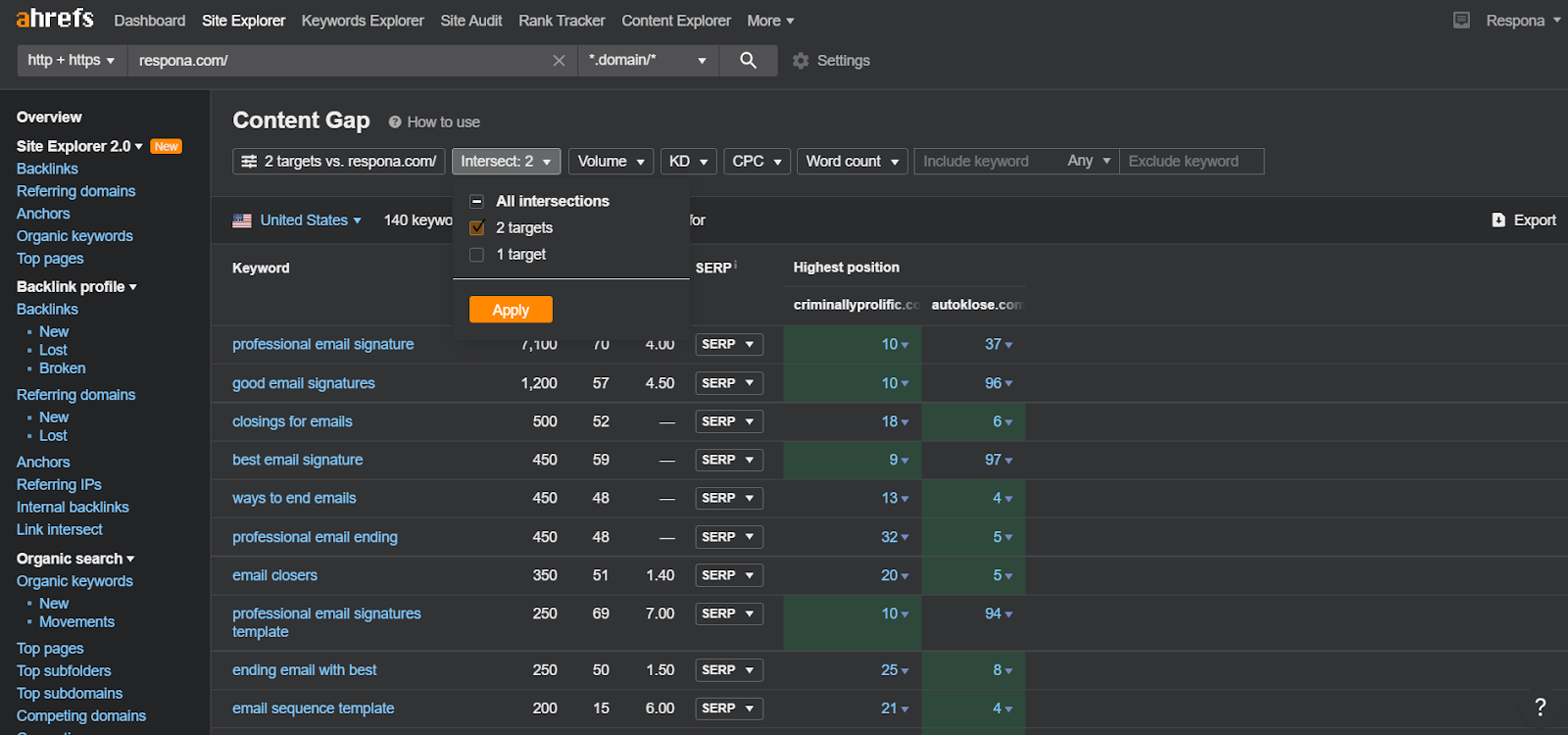 8. These are the keywords that your prospect's competitors are ranking for but they aren't. Select 2-3 keywords and come up with a couple guest posting topics.
9. Send your prospect a screenshot of the content gap keywords and offer them to write one of the proposed topics. The ideal target keywords have a low KD but high search volume.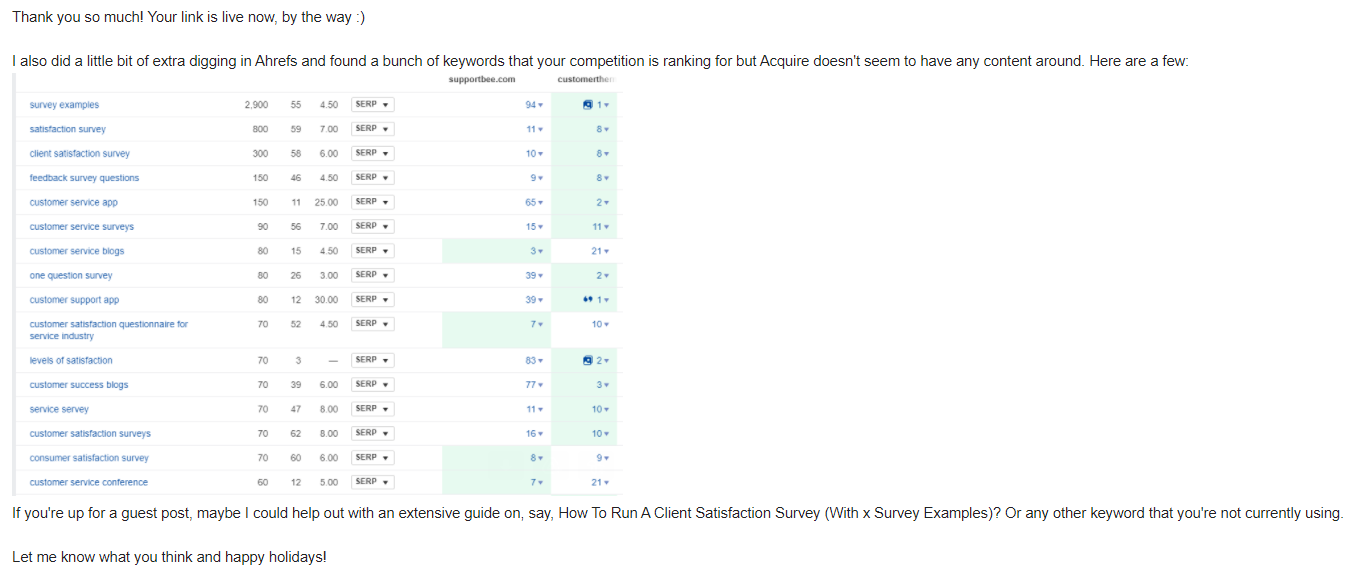 Should You Accept Guest Posts?
Ultimately, whether to accept guest posts on your site or not is your decision.
However, when considering it, you should be aware of both the pros and cons of enabling someone else to publish content on your site.
Pros
It can help to increase the amount of content on your site, which can be beneficial in terms of SEO and helping your site to rank higher in search engine results pages.
Guest posts can provide a fresh perspective and new ideas for your readers, which can keep them engaged and coming back for more.
If you choose to work with guest bloggers who have a large following themselves, it can help to increase traffic to your site as their readers will likely check out your site as well.
Guest posts can also be a way to build relationships with other bloggers and thought leaders in your industry, which can be beneficial for networking and collaboration down the road.
Cons
If you're not careful about who you allow to guest post on your site, it could end up being detrimental to your reputation. For example, if a guest blogger posts something that is inaccurate or offensive, it could reflect poorly on your brand.
There is always the potential that a guest blogger could try to use their post on your site as a way to promote their own products or services, which could come across as spammy to your readers.
If you don't have a clear process in place for guest bloggers, it can be time-consuming and difficult to manage.
There is always the potential that a guest blogger could try to plagiarize someone else's work, which would not only be unethical but could also get your site in trouble.
Bottom Line
Even though writing can take a lot of your time, guest posts should absolutely be in your link building mix because not only do they help land backlinks and generate traffic, but they also help you reach audiences that you wouldn't otherwise, and build relationships with other thought leaders along the way.