Streamline your entire
link building process
Find relevant link building opportunities, find the right person's contact info, and reach out to them with a personalized pitch, in minutes.
Build quality backlinks,
in 5 easy steps
Step 1
Find link building opportunities
Search for opportunities across various content types (blogs, news articles, web search, etc.) to find the perfect partners for your link building goals.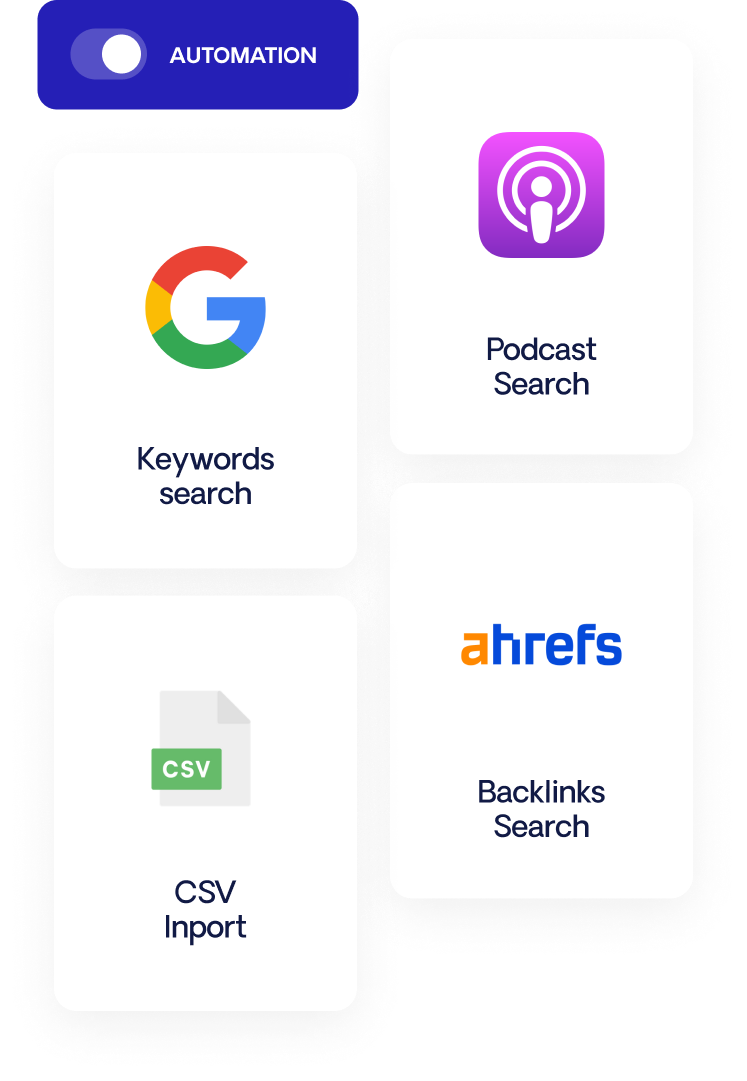 Step 2
Create an automated email sequence
Build your pitch with a touch of automation through variables and automated follow ups. Auto-reply detection? Bounce detection? Email analysis? You got it.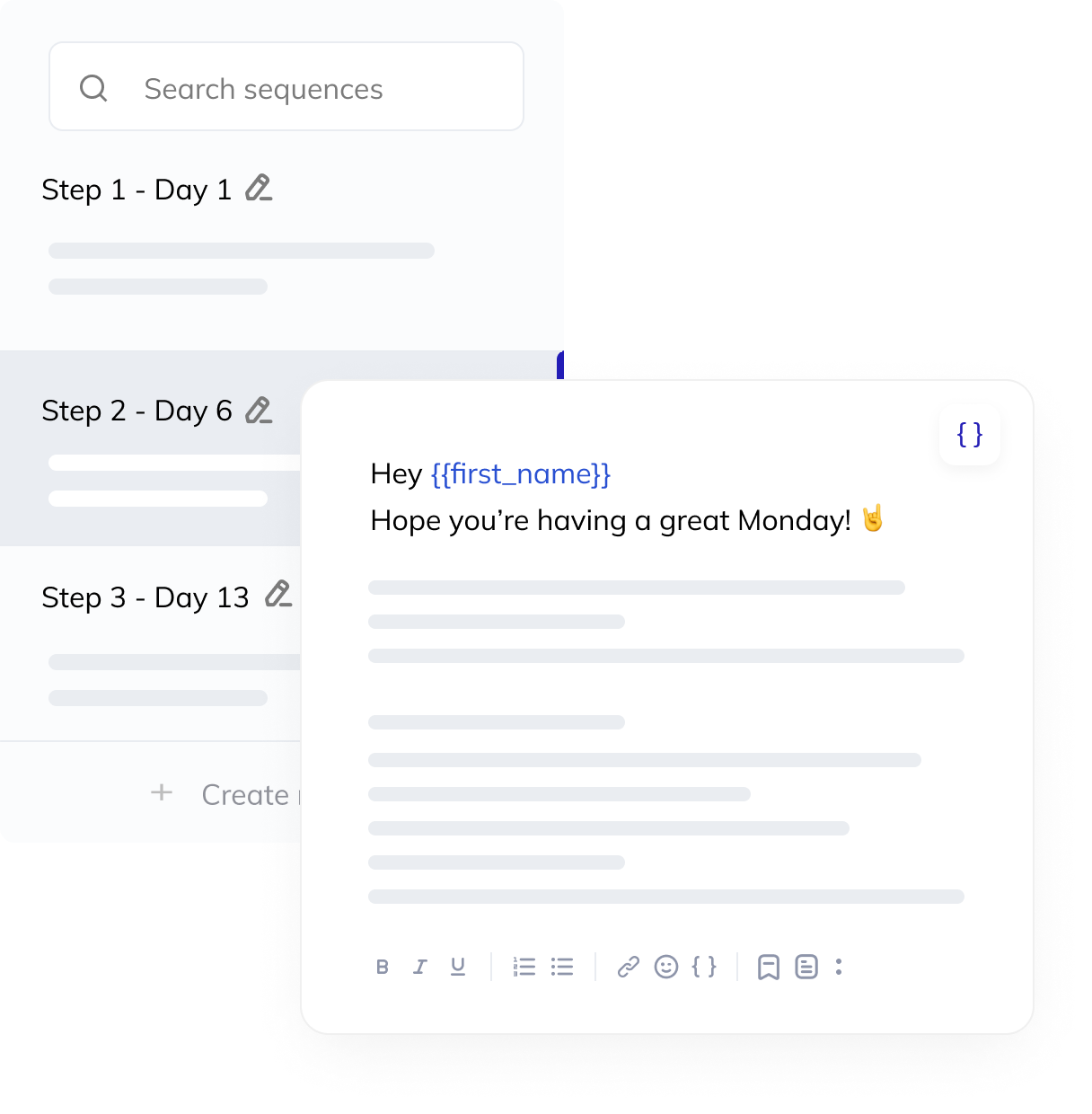 Step 3
Find the right person's contact info
No more manual research to find the right person! Respona's automation flow identifies the right person and finds verified contact information for each website you want to collaborate with.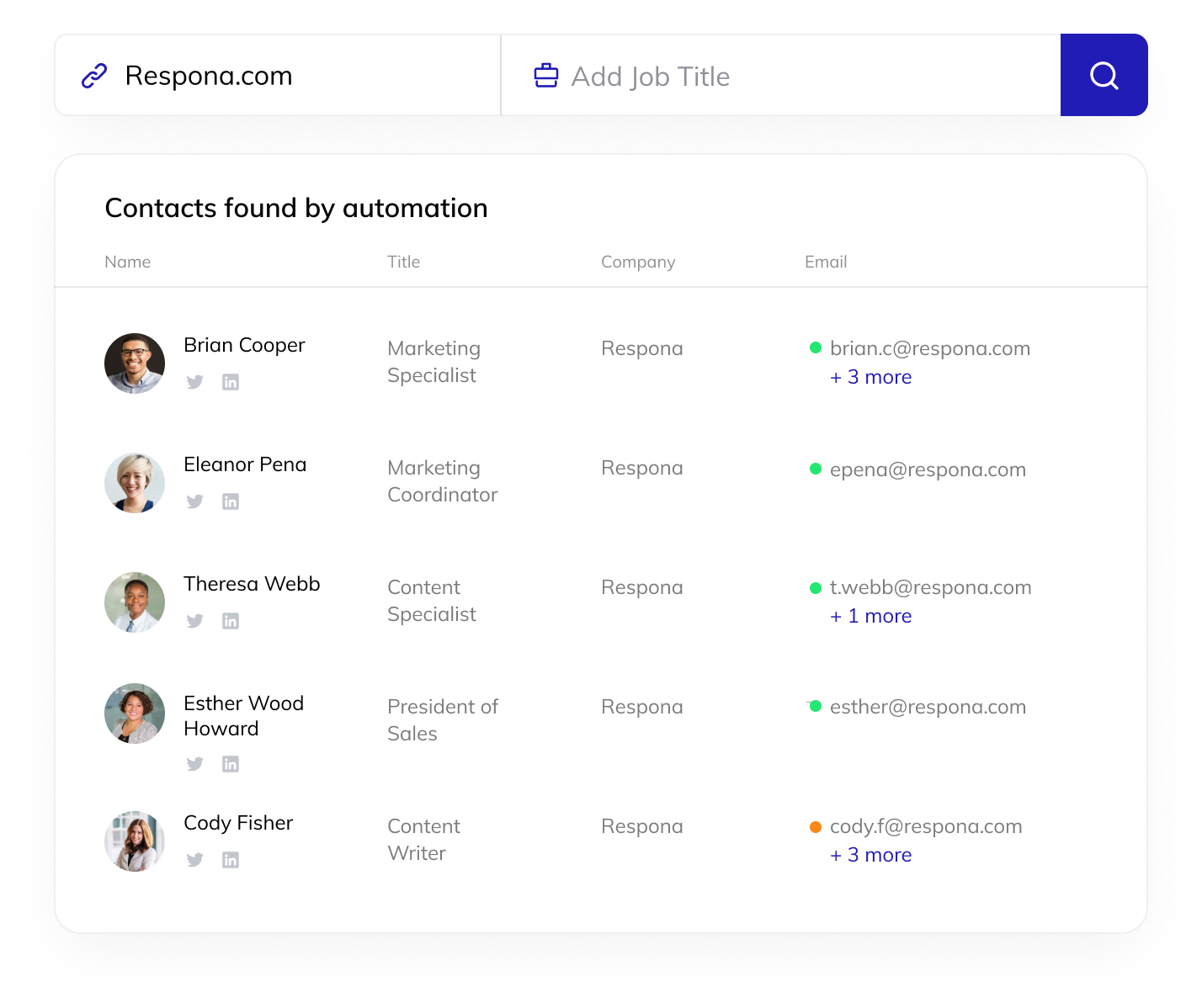 Step 4
Deeply personalize each pitch, in seconds
Engage every single recipient. Use personalized AI-snippets to reference content and put a face to your outreach with social media connections.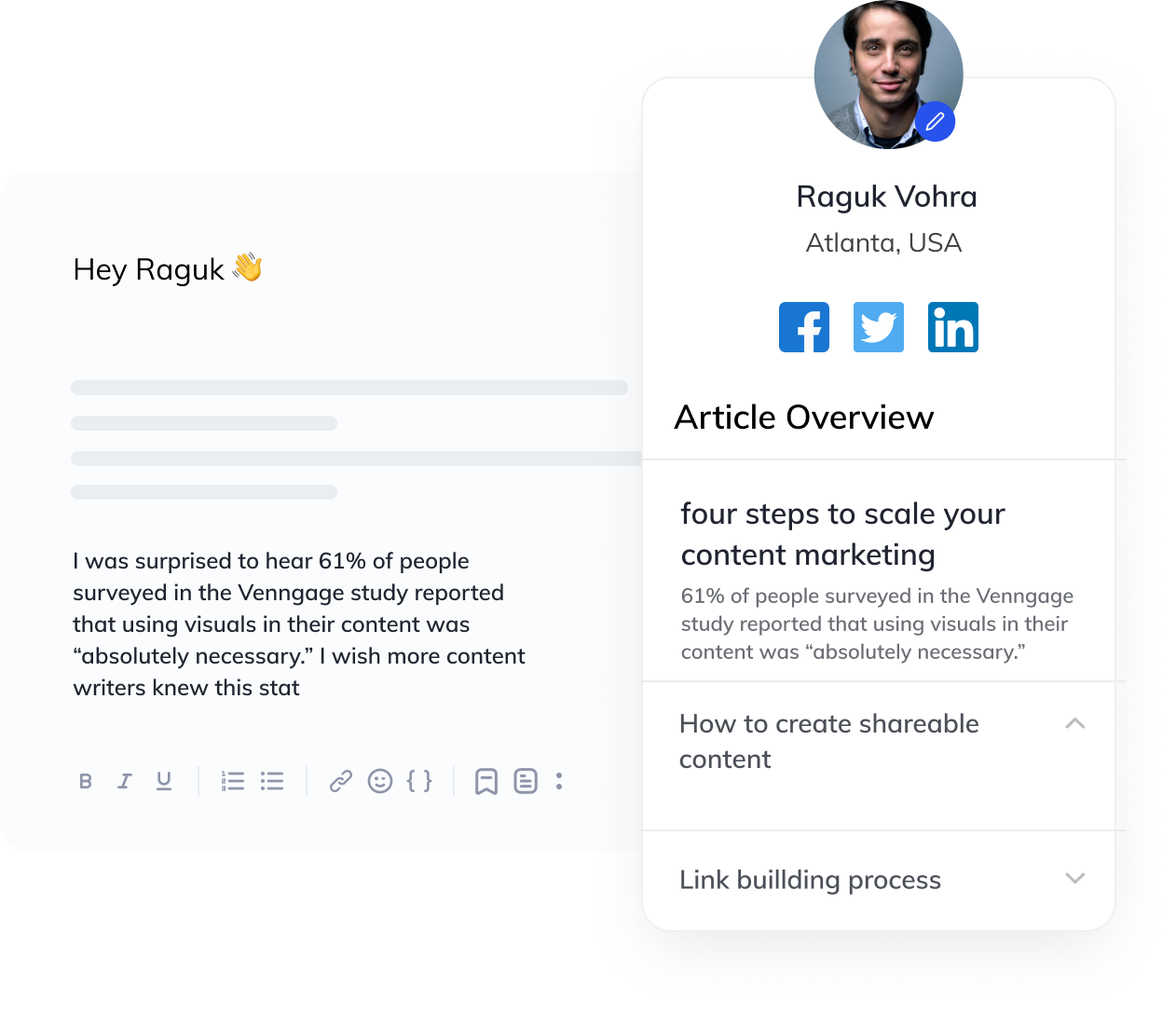 Step 5
Let Respona handle the outreach
Sit back and let Respona do the heavy lifting. Track the progress of campaigns from the Insights tab while answering replies directly from your own inbox.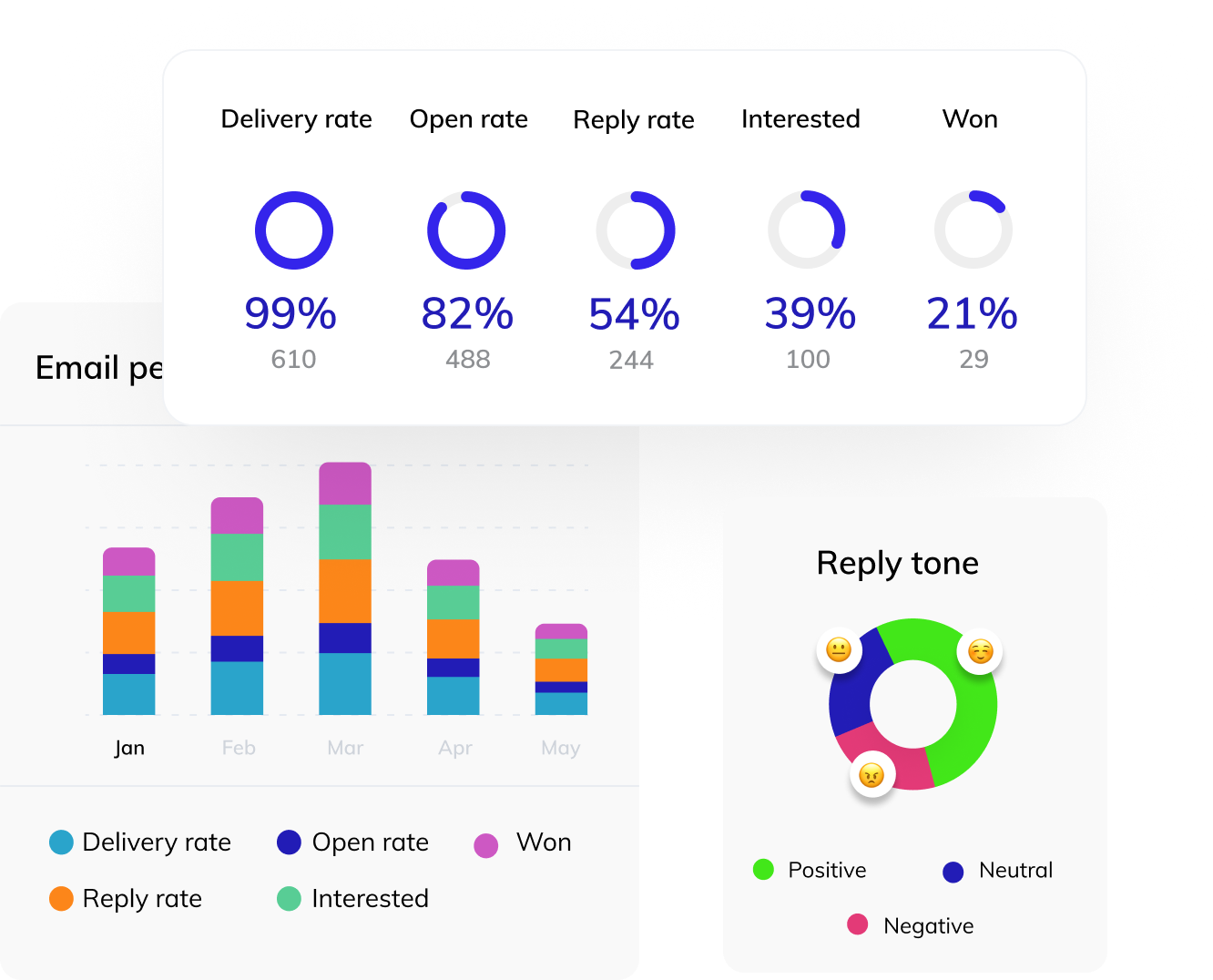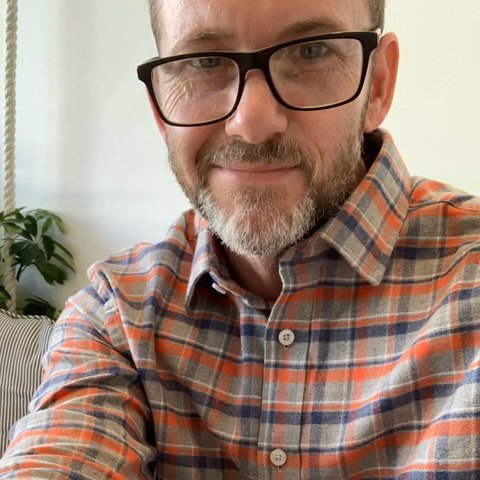 "In just a little over a year, Respona has helped us increase our domain rating from 0 to 64 which led our organic traffic to grow to over 60K visitors each month."
Ready-to-use templates
Browse through top-performing outreach strategies and templates to get you started.
Unlinked
Mentions
Earn links from websites that have already mentioned your organization or brand.
Anchor Text
Strategy
Build links using a specific keyword or anchor that appears in already-published content.
SERP Competitor
Backlinks
Identify and reach out to pages linking to competitive content.
Broken Link
Building
Take advantage of broken links and replace content that is no longer available with your own.
FAQ
Respona has a unique way of creating blogger outreach campaigns because it focuses more on creating campaigns around content rather than people. Pitchbox and Ninja Outreach are great for reaching out to lists of people, but Respona starts campaigns with identifying content and influencer opportunities before finding contacts to reach out to.
Yes. Respona's blog and web search  sources allow the use of advanced search operators to find specific content. Then the contact automation will find the authors of the content so you can collaborate with relevant writers.
Yes, we offer templates for specific strategies in the Outreach Strategies Hub. You can find templates for link building, blogger outreach, content promotions, and other goals there.
Yes. Guest posts are a great way to incentivize a blogger to collaborate with you. Offering to provide content in exchange for a backlink or two helps build a mutualistic relationship between you and the recipient. Respona offers sample templates for guest posting in the sequence creation step. You can check out exactly how to make a guest post outreach campaign here.
Yes. In the third step of the campaign creation process, you can set up an automation or look up contact information manually. Respona will provide direct email addresses, LinkedIn profiles, and any other publicly available social media profiles for a contact. Every time a contact is found, Respona will deduct one credit from your balance unless the contact information can be directly found on the URL page.
Get started with Respona
Earn quality backlinks on relevant publications
Streamline your entire outreach process
Add unlimited members and collaborate with your team