What is an Alternative Text?
An alternative text is a text that is used to describe an image. This text is used by search engines to understand what is displayed on the image.
Why Should You Use Alternative Text?
It is important to have alt text for each of your images because it helps search engines understand your website better and potentially help it get discovered by new users.
Even though the developments in search engine algorithms have been tremendous over the years, Google still can't "see" images in the same sense that we can.
Providing an accurate alternative text helps search engines understand what exactly is depicted on an image, potentially resulting in your page showing up in search when someone looks up a related query.
Alternative text is also read by screen readers, making your images accessible to people who are visually impaired or have certain sensory or learning disabilities.
And finally, alternative text is displayed instead of images if a user has chosen not to load images.
A good alternative text should be a brief but specific description of the image. It should be relevant to the context of the page and should be easy to understand, especially for search engines.
Here are the three most important tips to keep in mind when writing your alt texts:
1. Keep it short and sweet: the goal is to provide a brief, yet accurate description of the image.
2. Be clear and specific: vague descriptions will not be helpful to search engines.
3. Use keywords (but sparingly): include keywords that accurately describe the image and that users might search for. One or two main keywords is enough, stuffing won't do you any good.
When writing your alternative texts, imagine that you're describing the image to somebody who can't see it.
There's also no need to overly describe what's depicted, speculate on someone's intentions, or elaborate on something off-screen.
You should also keep your alternative texts under 125 characters as some screenreaders might cut them off after that point.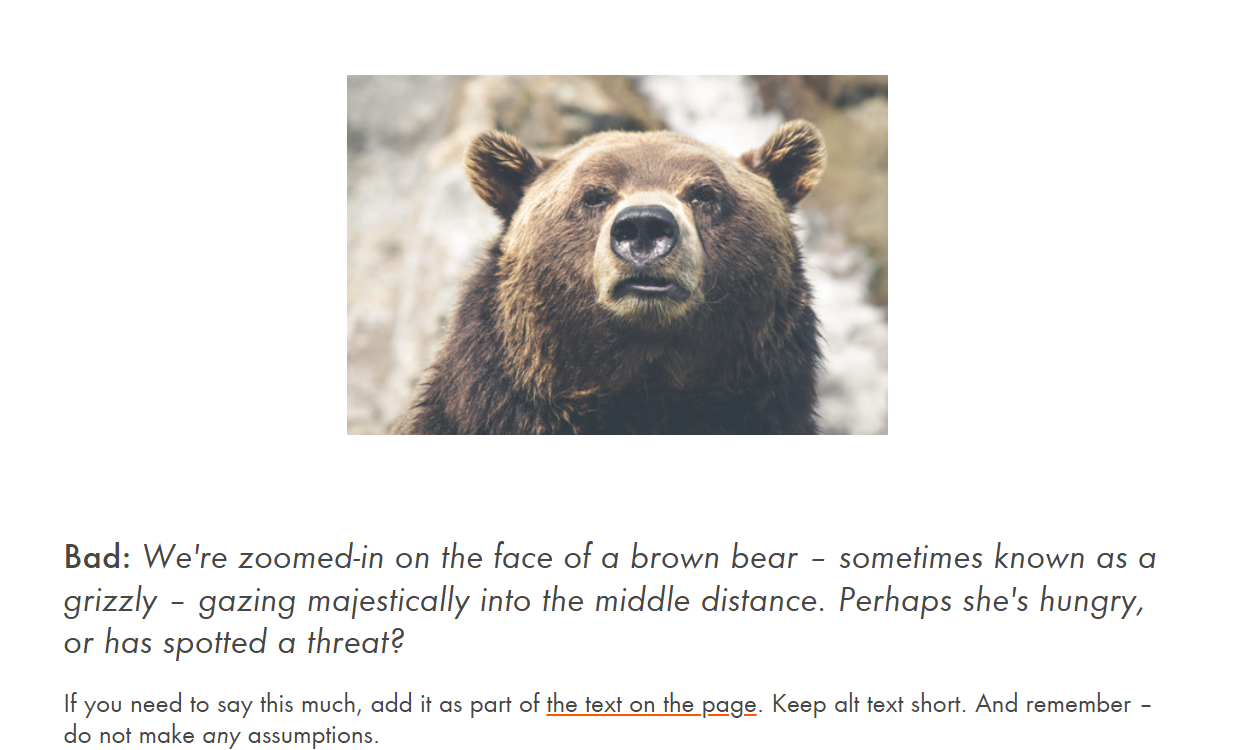 When NOT To Add Alternative Text?
There are also images that don't require an alternative text. If an image is purely decorative, and only serves to break up the text (such as a brand logo), there is no need for an anchor text.
Additionally, if an image already has a caption that describes what's depicted on it, there is no need to repeat yourself in the alternative text.
For example, the following image does not require an alternative text.

Alternative Text Examples
Alternative text can be added to images in a variety of ways.
Our own website runs on WordPress, so we add alternative texts to our images in the WordPress post editor with the help of Yoast SEO.
Here is an example of an alt text for an image in one of our own blog posts: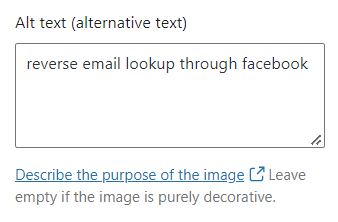 And this is the image:
This section of text is talking about how to perform a reverse email lookup through social media (more specifically, Facebook) – with the image showing it in action.
The alt text describes exactly what's depicted – a reverse email lookup through Facebook.
This will give search engines even more context about what's discussed in the content, and help them better understand what's depicted in the image.
However, there are also ways to add alternative texts to images before you import them into WordPress.
For example, if you're writing your content in Google Docs (like we did when creating this glossary), you can add alternative texts to images by right-clicking on them and selecting "Alt text" from the menu that appears.
Here is the alternative text for the first image in this section (the one depicting the WordPress alternative text window):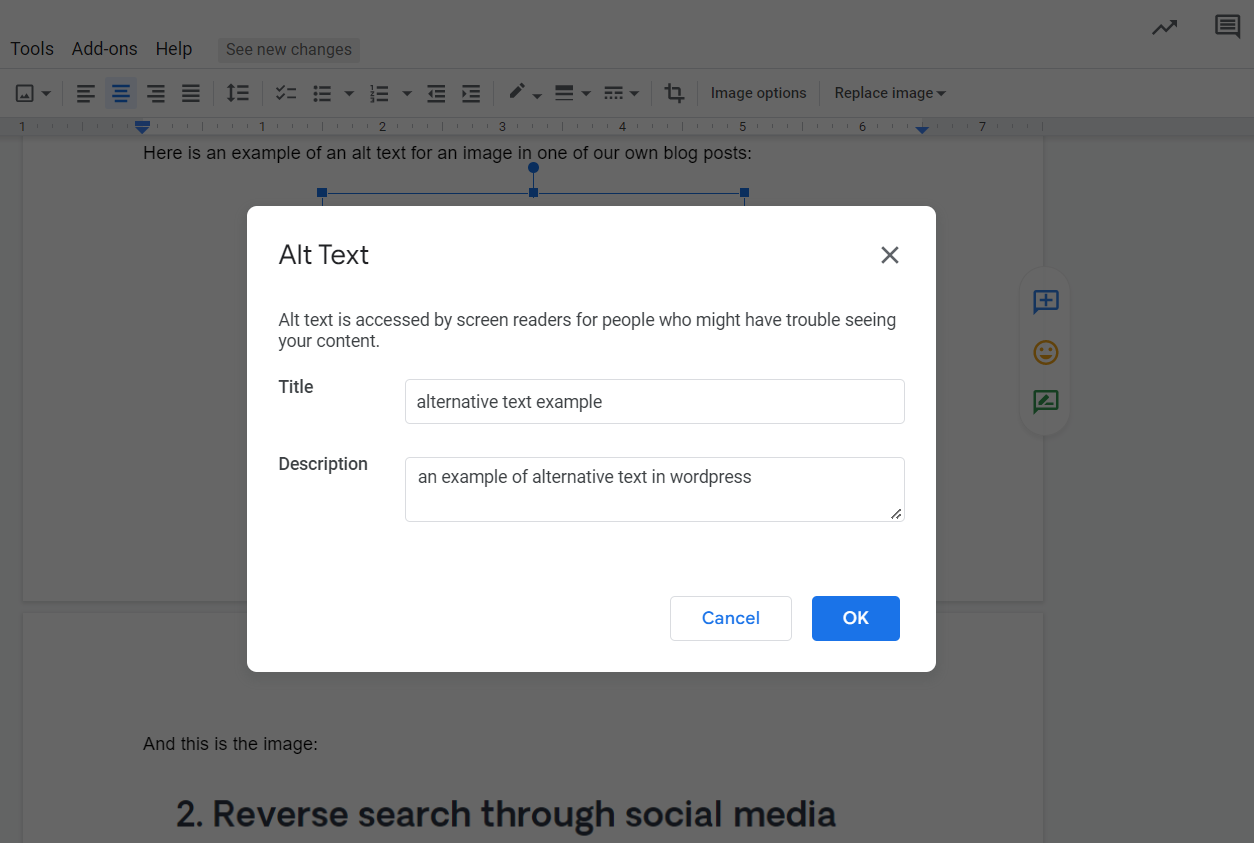 How to Add Alternative Text to Your Images?
Every single one of your images needs to have alt text in order for search engines to understand your content.
If you're using WordPress, here's how you can add alternative text to your images (you will need the Yoast SEO plugin):
Log in to your WordPress.
Go to Posts or Pages. In our example, we will use a blog post – if you need to add alternative texts to images that are, for example, on your homepage (or any other page that is not part of your blog), navigate to Pages.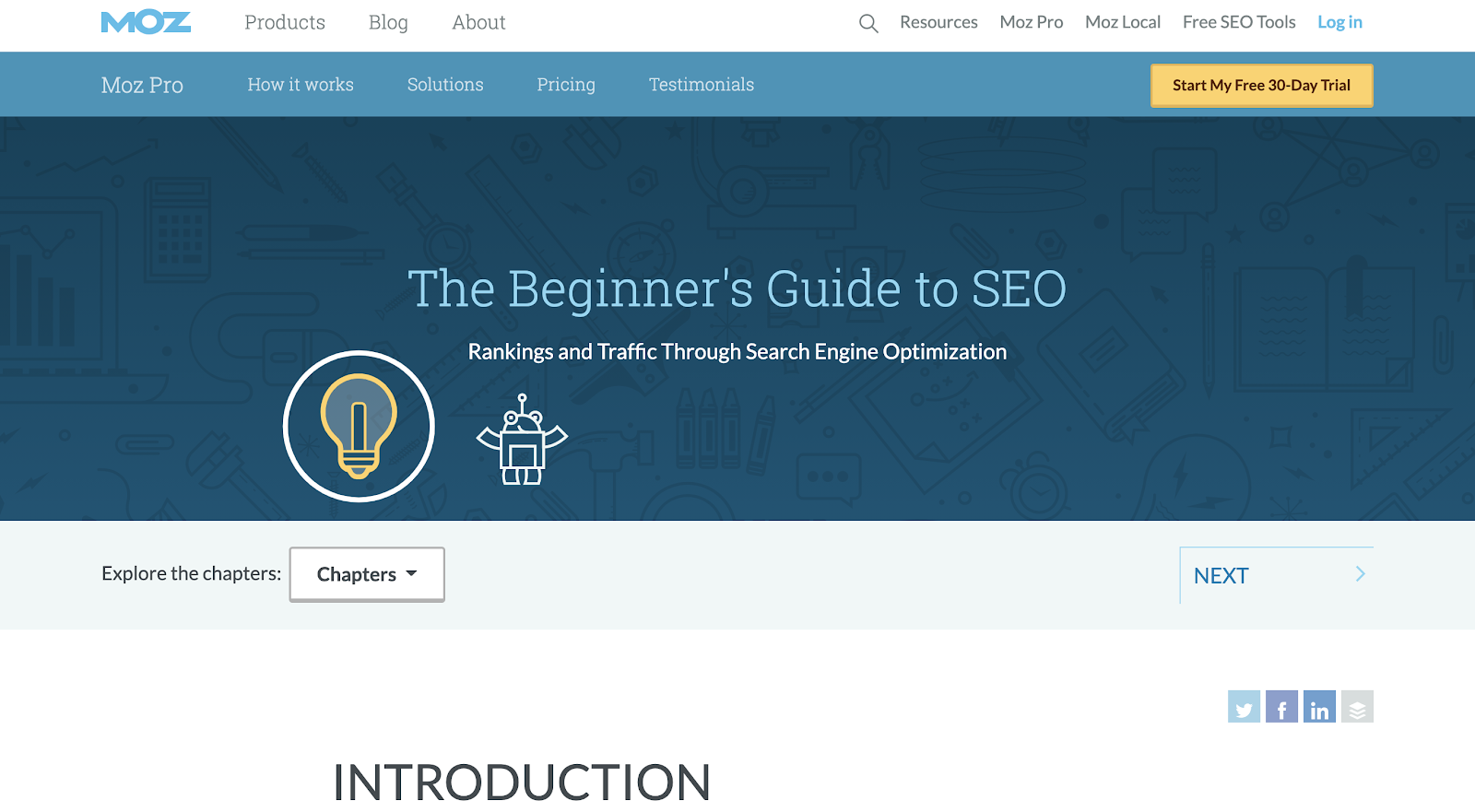 Select an article that you would like to edit, hover your cursor over it, and click "edit" once it appears next to the post's title.

Select an image and click on it.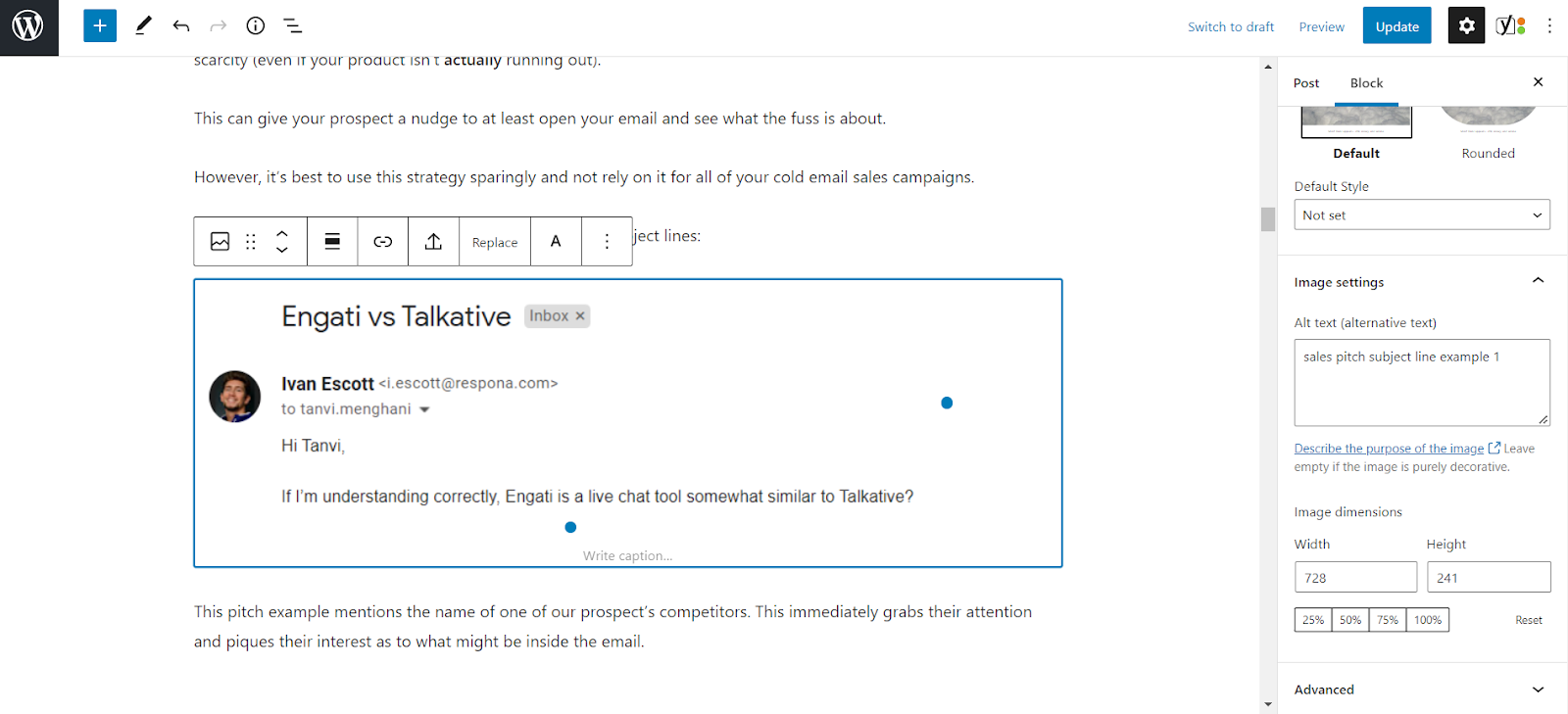 In the Image Settings menu on the right, enter your alt text in the alternative text window.
When writing alternative text for images, it is important to be clear and concise while still providing enough detail to be informative.
Try to avoid over-describing the image, as this can be repetitive and reduce the impact of the alternative text. Instead, focus on writing a succinct but accurate description of the image that includes key details such as the subject matter, color, and composition.
For example, "A close-up of a woman's face with bright blue eyes and red lipstick."
Or, if it's a panned-out image with multiple people or objects, accurately describe exactly what the objects are, how they are positioned, or what the people are doing.
For example, "people in the office sitting in front of their computers working".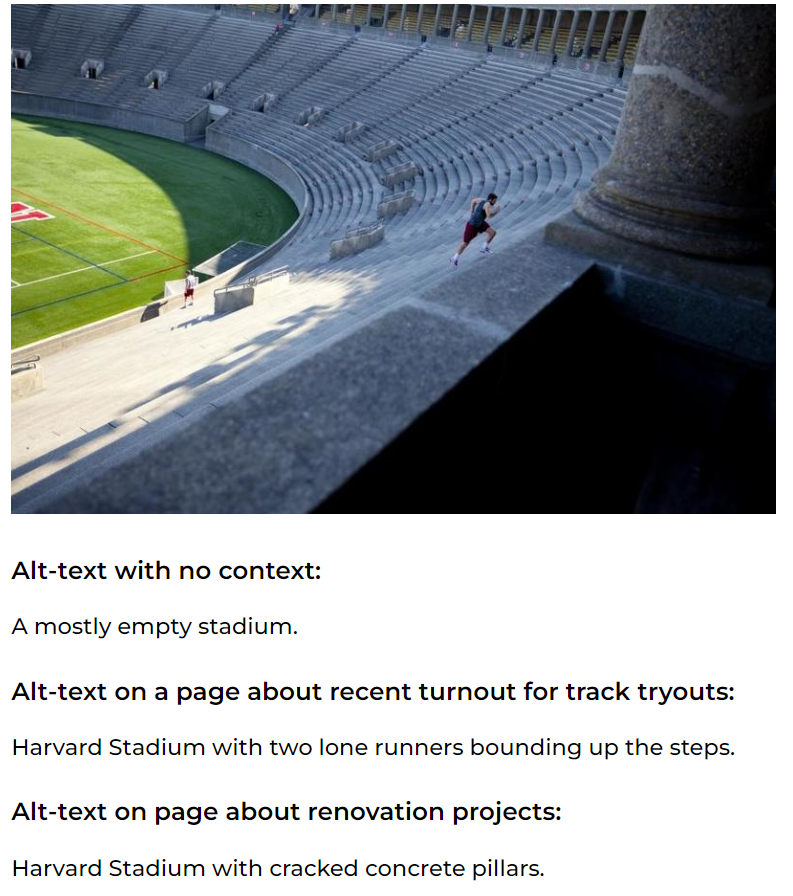 Bottom Line
So, to sum it up, you should use descriptive alternative texts for all of your on-site images (besides purely decorative ones), include relevant keywords, and avoid repeating yourself in alternative texts for images that already have captions.
Remember: the best tip for writing alternative texts is to imagine that you're describing an image to someone who can't see it.