What is a Link Exchange?
A link exchange is an agreement between two websites to link to each other with the goal of manipulating their search rankings.
Link exchanges are typically set up through link building email outreach, or with partner websites that you're already in contact with.
Any links acquired through link exchanges are considered to be reciprocal.
What are Reciprocal Links?
As the name suggests, reciprocal links are backlinks between two websites.
Reciprocal linking used to be a widespread SEO technique, and is still utilized by some link builders to this day.
However, the value of reciprocal links has diminished significantly over the course of several Google updates aimed to reduce link spam (I'm looking at you, Panda).
Before these algorithm updates, reciprocal, and other straight up spammy links contributed to a website's rankings, leading to numerous pages that don't actually deserve ranking at the top spots showing up high in search results.
But, as of 2022, reciprocal links no longer have that sort of impact.
Which leads us to the next question.
How do Reciprocal Links Affect SEO?
They don't.
Seriously.
Google's algorithm is extremely good at spotting reciprocal links. Any such links will be completely de-valued, meaning that they will not help your SEO at all.
But they won't hurt it, either.
This applies to all other links that were acquired as part of a "link scheme".
This leads us to the next section.
What are Link Schemes?
Link schemes are a somewhat controversial topics, so for an answer to that question, let's turn straight to Google.
According to them, each of the following qualify as link schemes:
Buying or selling links that pass PageRank;
Exchanging money for links, or posts that contain links;
Exchanging goods or services for links;
Sending someone a "free" product in exchange for them writing about it and including a link;
Excessive link exchanges ("Link to me and I'll link to you") or partner pages exclusively for the sake of cross-linking;
Large-scale article marketing or guest posting campaigns with keyword-rich anchor text links;
Using automated programs or services to create links to your site;
Requiring a link as part of a Terms of Service, contract, or similar arrangement without allowing a third-party content owner the choice of qualifying the outbound link, should they wish;
Text advertisements that pass PageRank;
Advertorials or native advertising where payment is received for articles that include links that pass PageRank;
Links with optimized anchor text in articles or press releases distributed on other sites.
Low-quality directory or bookmark site links;
Keyword-rich, hidden or low-quality links embedded in widgets that are distributed across various sites;
Widely distributed links in the footers or templates of various sites;
Forum comments with optimized links in the post or signature.
Any backlinks gained through one of these are considered to be in violation of the Google Webmaster Guidelines, and will not only NOT contribute to your website's online visibility, but may even negatively impact its rankings on search engine results pages.
Should You Do Link Exchanges?
Definitely not.
And while you will not necessarily receive a Google penalty for exchanging a few links, you run the risk of facing a manual review if you do it excessively.
However, we still wouldn't recommend exchanging links even on a small scale – as they will be immediately picked up by the algorithm and completely de-valued, meaning that the time and effort that you spent setting up the exchanges will be completely wasted.
Link Exchange Email Example
Here is an example of a link exchange offer email that we recently received from a link builder.

What to Do Instead of a Link Exchange?
One way to think about link building is to focus on link exchanges with other websites. However, this strategy may be harmful because it goes against Google's guidelines.
A better way to get links is to create unique and valuable content that will make other websites want to link to it.
This is a more ethical and passive way to gain link popularity.

Image Source: Google
We're going to show you how to get links to your high-quality content by building a content promotion outreach campaign with Respona.
Our campaign won't be about asking for links back to our content, but demonstrating the value of our content to potential customers.
We'll do this by reaching out to relevant prospects in our niche.
Step #1: Find link prospects
Our first step is to look for websites that would be interested in linking to our content. We want to find websites that would value the quality of our content and would be willing to link back to it.
We're going to promote our 6000-word guide on PR outreach. We think it's one of the best resources on the topic.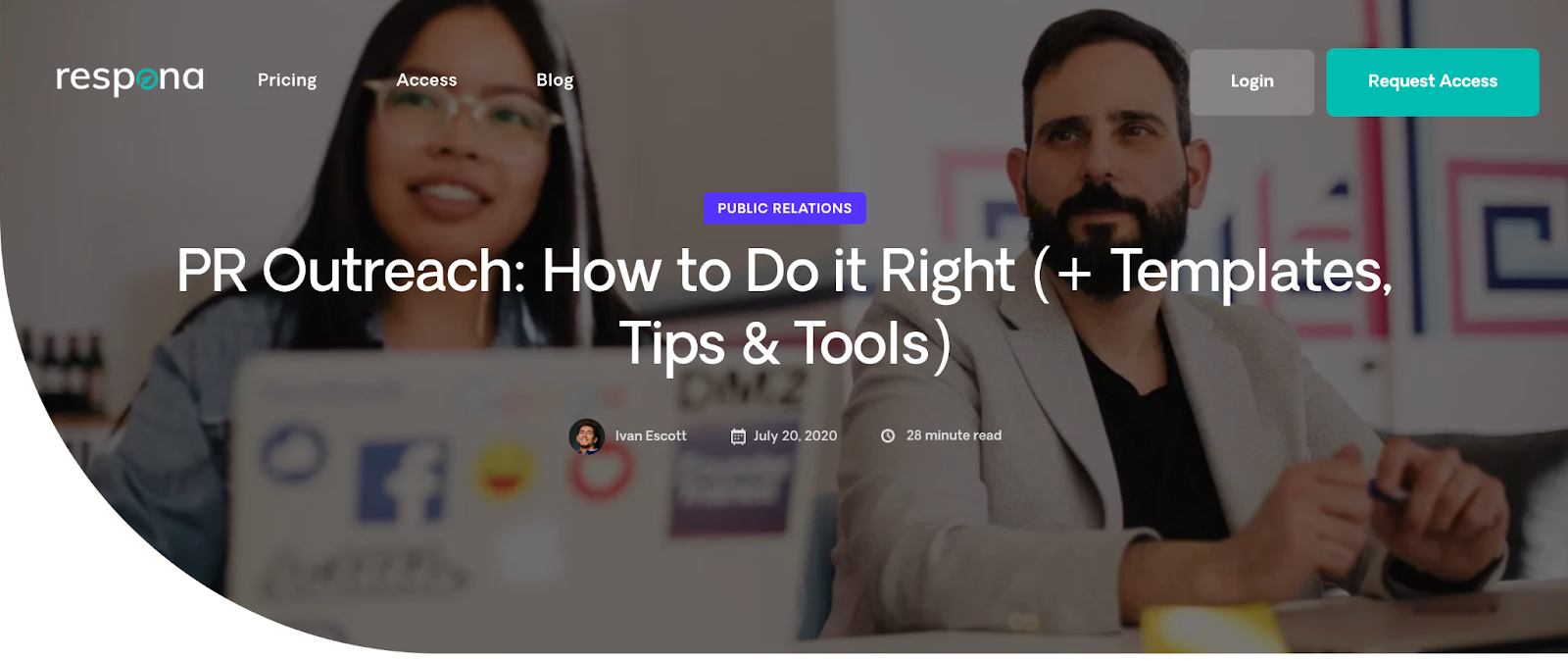 We will now create a new campaign with Respona to promote our strong piece of content.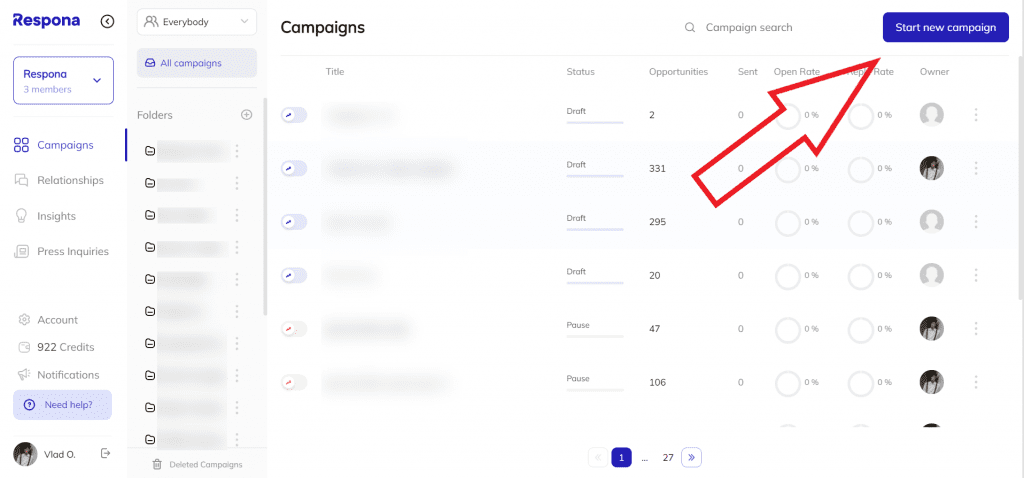 After we create our campaign, we need to name it in a way that is simple and clear so that we can tell it apart from other campaigns that might be running at the same time.
In this case, we will name our campaign "PR Outreach Content Promotion."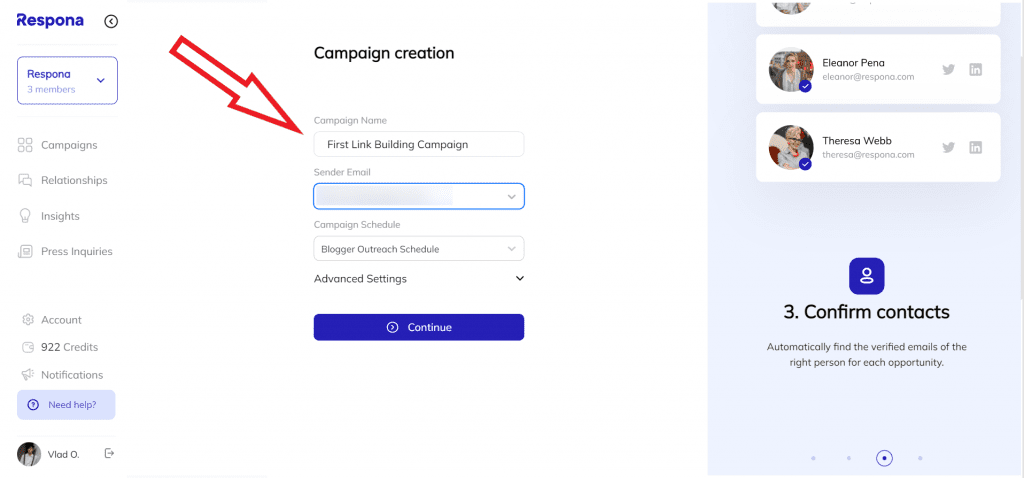 It's as easy as that.
We'll find bloggers who have written PR-related content in the past, and see if they need any studies or well-researched content to support their statements.
We'll use Respona's built-in search engine, which is just like using Google. Then we'll choose the "Google Search" source to look for blog posts.

We're looking for blogs to feature our content on as part of our content marketing strategy, and we're using SEO metrics to make sure we get results from blogs that are authoritative and have value from an SEO perspective.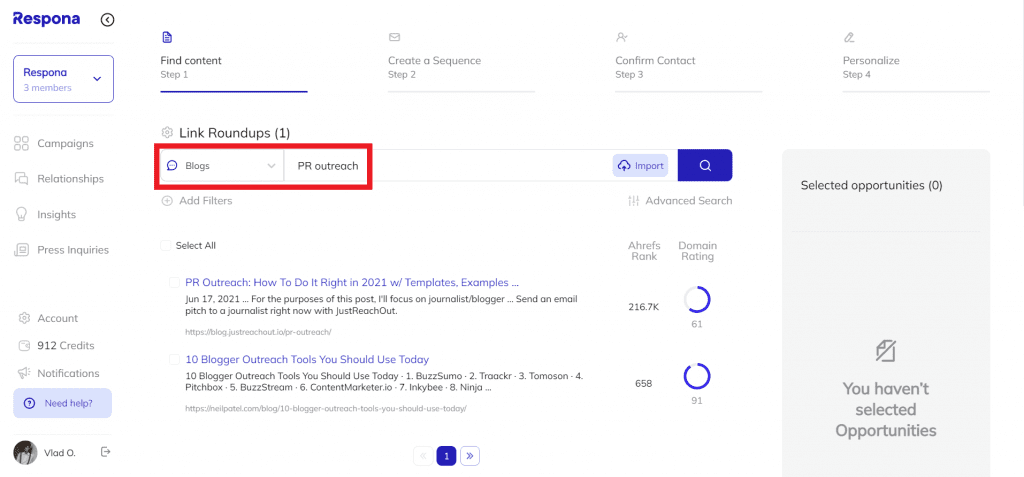 We've gone through the results and selected the most relevant and high-quality opportunities. However, there are only ten of them in our example.
To increase the chances of success, we suggest choosing more than ten.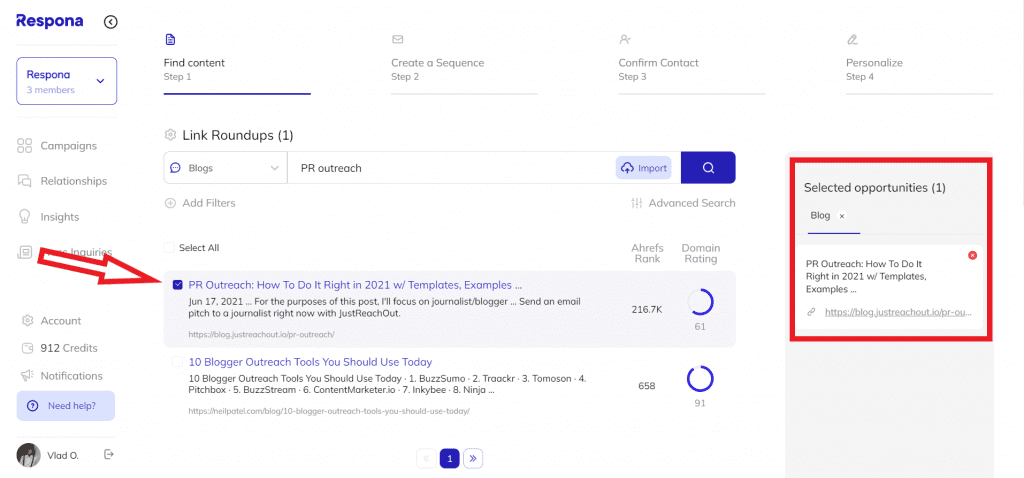 Once we're done reviewing our opportunities and selecting the ones we want to use, we click on the "Next Step" button on the top of the screen.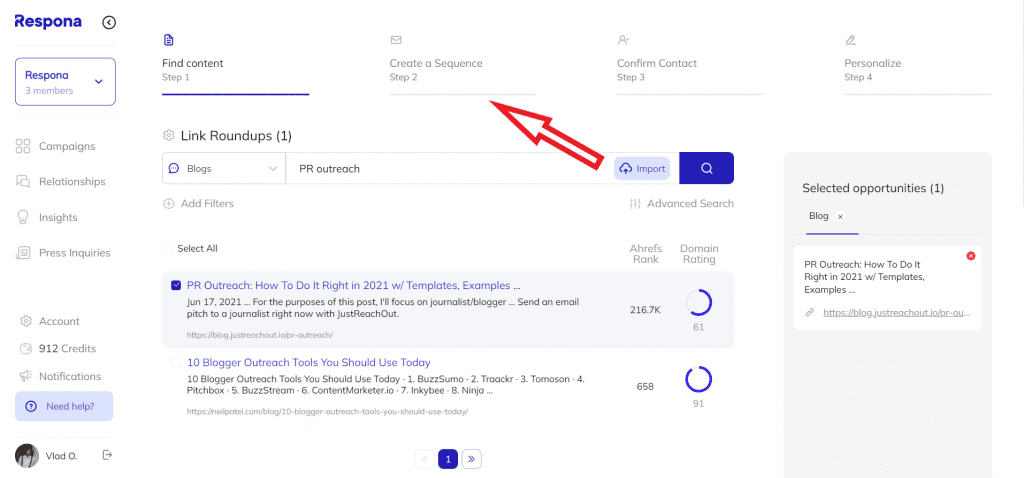 So, our next step is to create our outreach email. Let's get straight into it.
Step #2: Prepare your outreach email
You can easily find a ready-to-use outreach email template from the Respona library to help prepare your outreach email.
Some of the categories you can find a template for include blogger review, unlinked mentions, content promotion, guest posts, and broken link building, to name a few. In this case, we're going for the content promotion email template.
After choosing our email template, we get to see an overview of our email sequence.
Our initial email template for the first outreach email our prospects will get from us is included, along with our follow-up email.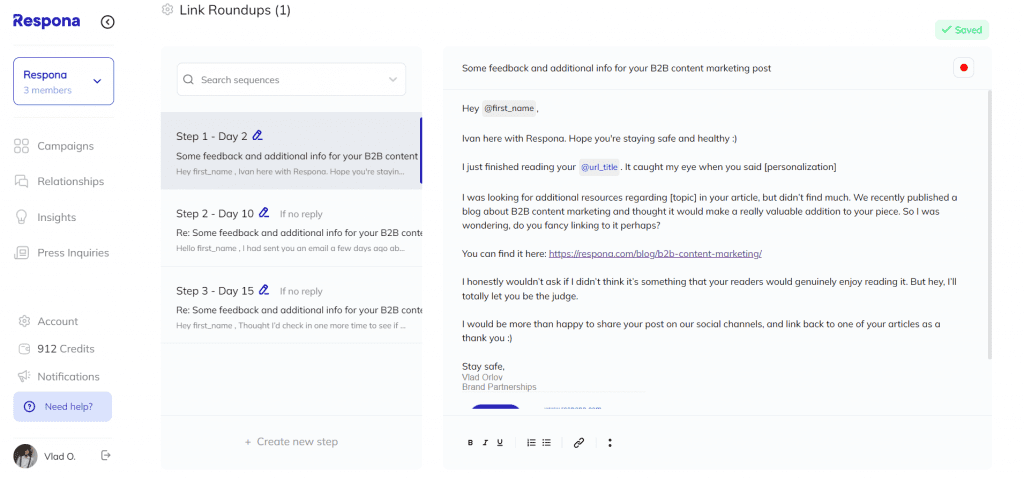 It's important to review your email content before you hit send because you want to make sure that all the elements of your email are working together to achieve your campaign goals.
Respona can help you by automatically assessing your email content and giving you a score that estimates the likelihood of your email getting a response.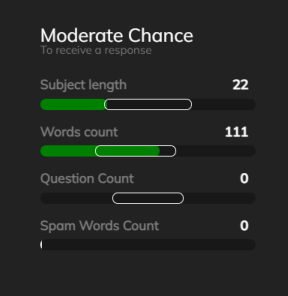 You can open your follow-up email and review its content, just like you would your first outreach email.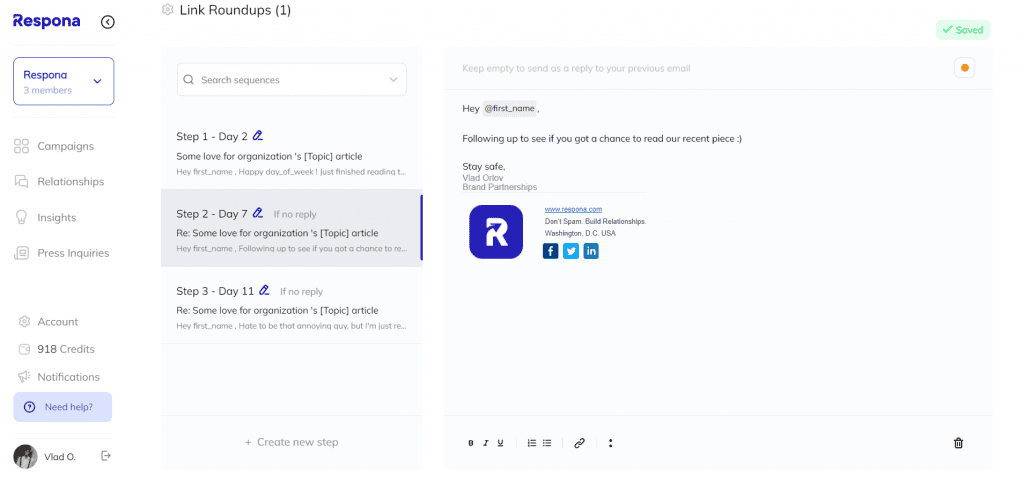 You're ready to take the next step once you're happy with your outreach emails and email sequence.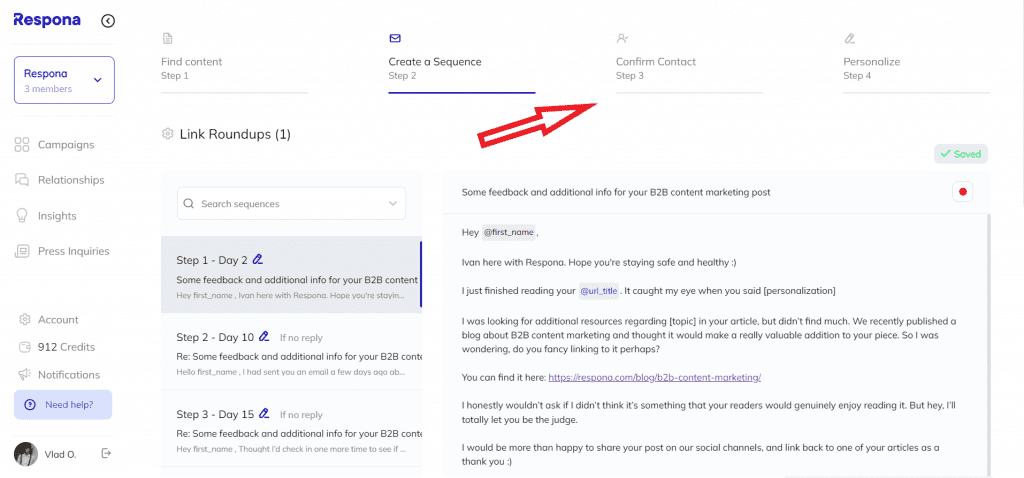 What are some ways we can find contact information for our prospects?
Step #3: Find contact information for your prospects
To find someone's email address with Respona, you need to set up some automation.
This involves specifying the types of prospects you want to reach, such as writers, editors, or content leads.
Respona will then assign opportunities to authors of URLs associated with the company you specify.
This ensures that you're only reaching out to people who have the ability to promote your content by adding a link to it.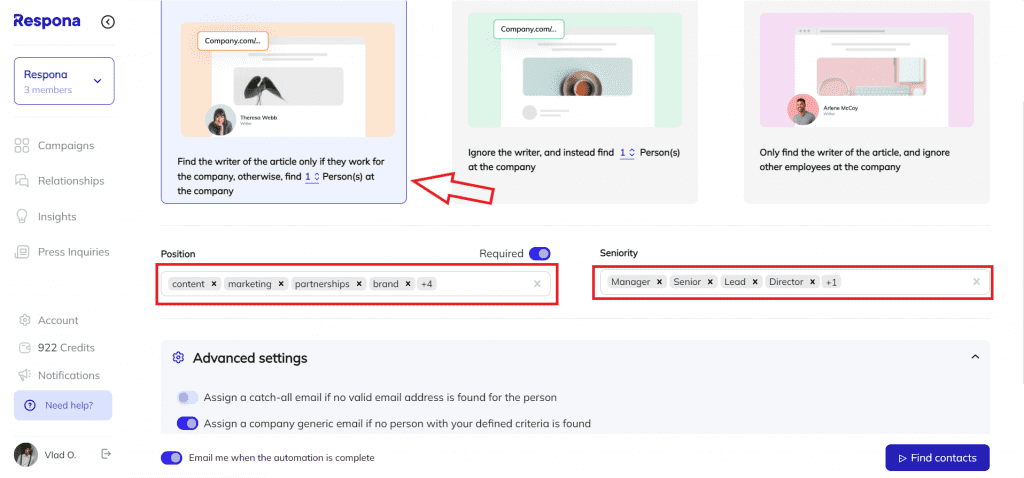 Our automation is all set and ready to go, but we'll take a look at it one last time before hitting the go button.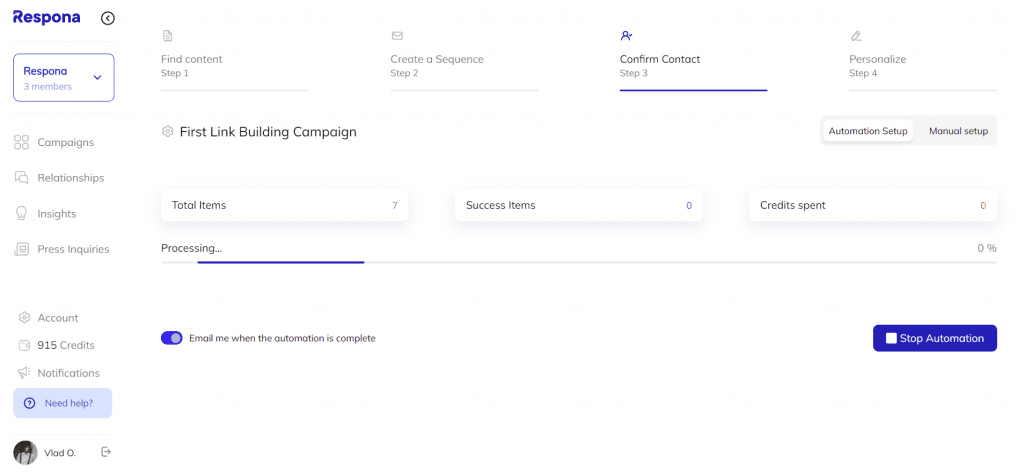 We've got our results, and it looks like Respona has been able to successfully assign ten out of ten of our opportunities. That means we've got contact information for all our prospects!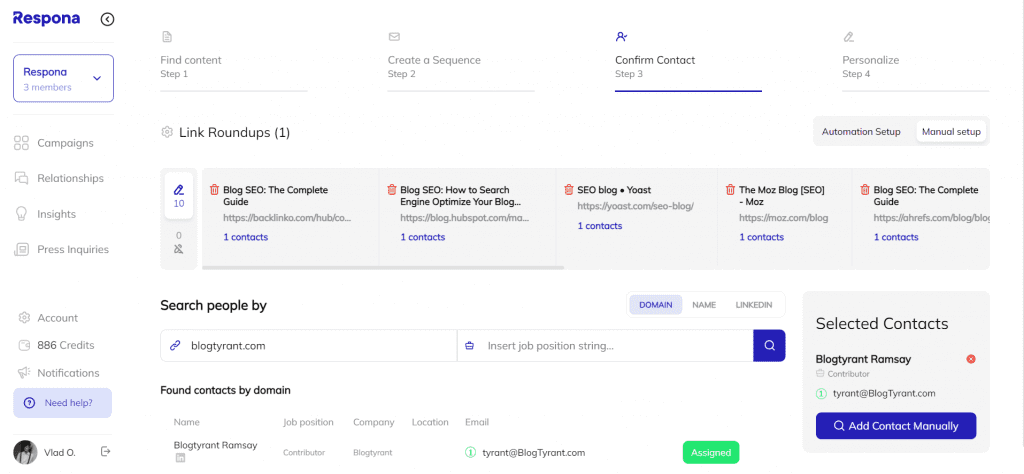 We recommend that you go through your prospects' contact information and confirm that it all looks as it should, even though all our opportunities have been successfully assigned.
You will see an Assigned tag next to the name and email address of any prospect who has been assigned an opportunity, as shown below.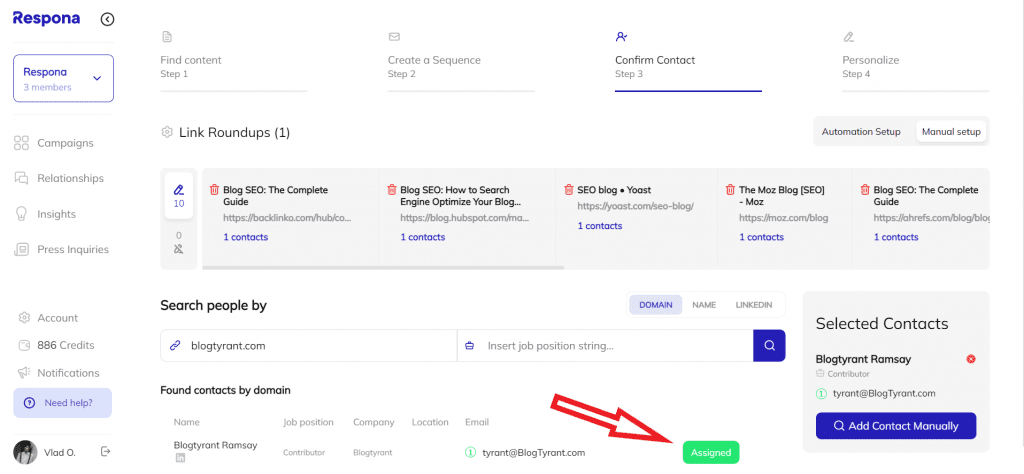 Let's continue with our campaign and finish the last step of the process.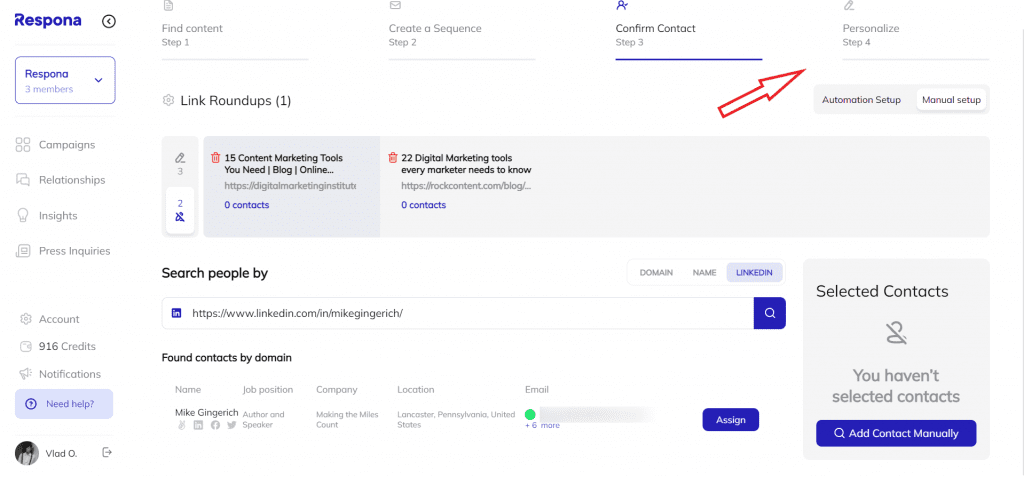 Before starting your outreach campaign, it is also recommended to connect with your prospect on a social media platform like LinkedIn. This will increase your chances of getting a response.
Step #4: Personalize and launch your outreach campaign
The final step in creating your campaign is to personalize your outreach emails for each individual prospect.
This might include adding the prospect's first name, information about the place where they live, their company name, and links back to examples of your work as well as excerpts of their work.
This will show your prospects that you've done your research and that your outreach comes as a result of a thought-through process of finding the most relevant prospects in your niche to reach out to.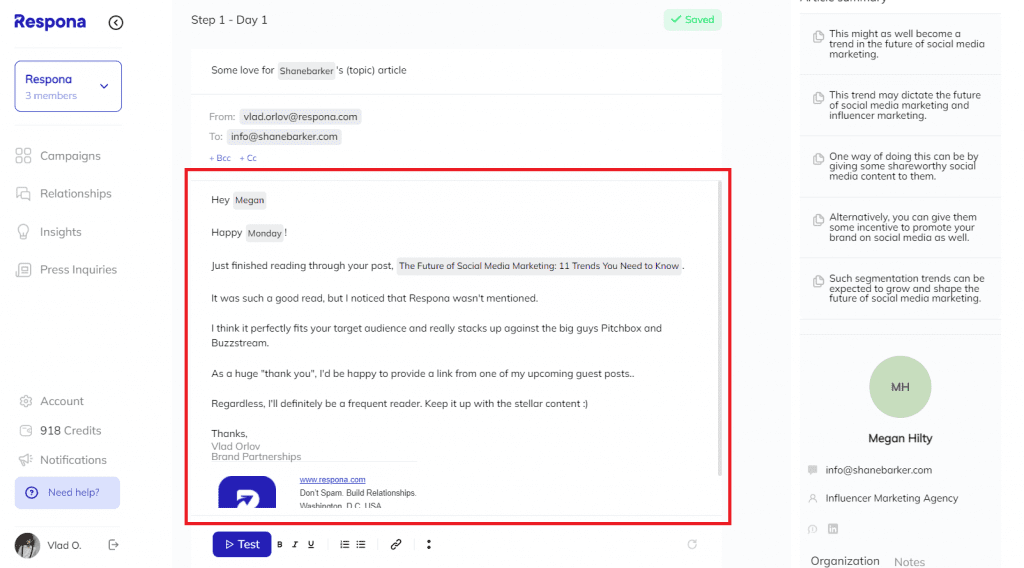 The last thing you need to do is click the Launch Campaign button in the top right corner of your screen.

We have successfully launched our content promotion campaign and it has been fully personalized. This campaign has a higher chance of resonating with our email recipients.
Bottom Line
So, to sum it up:
Link exchanges are a violation of the Google Webmaster Guidelines
They do not help you boost your website's SEO, and, if done excessively, may even hurt your rankings
Instead of exchanging links, a better strategy to focus on is creating exceptionally high-quality content and ethically promoting it.