Regardless of your goal, email outreach can be an extremely tedious and time-consuming process.
It is absolutely not feasible to do it manually at scale. A good set of outreach tools can help you speed up the process and improve your efficiency.
In this article, we have collected 25 of the best outreach tools for 2022. Here's what you will find inside:
If you feel like outreach is taking too much time out of your day or your results aren't as high as you expected them to be, you'll definitely need the help of some tools on this list.
Let's dive right into it.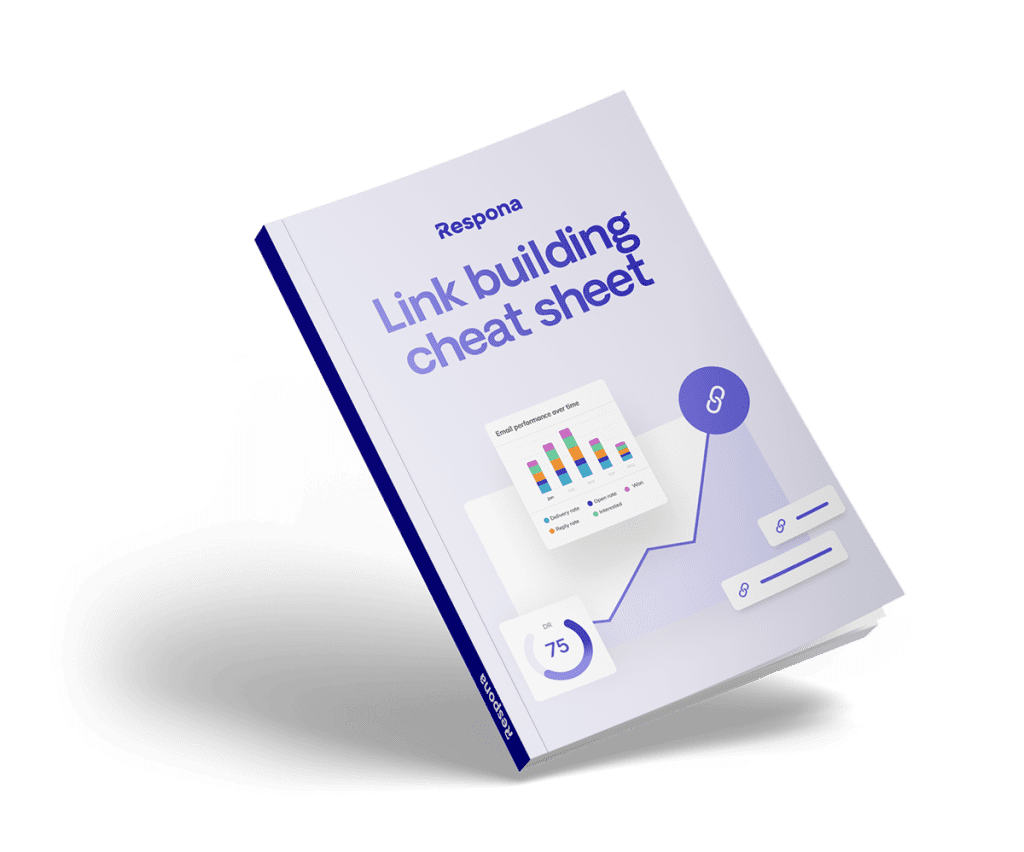 Link building cheat sheet
Gain access to the 3-step strategy we use to earn over 86 high-quality backlinks each month.
Best All-in-one Email Outreach Tool
Respona
The first tool in our list is Respona.
Respona is a link building software that can help you build quality backlinks.
It's developed by the world-class team over at Visme to help spread the word about the company and reach over a million monthly organic traffic.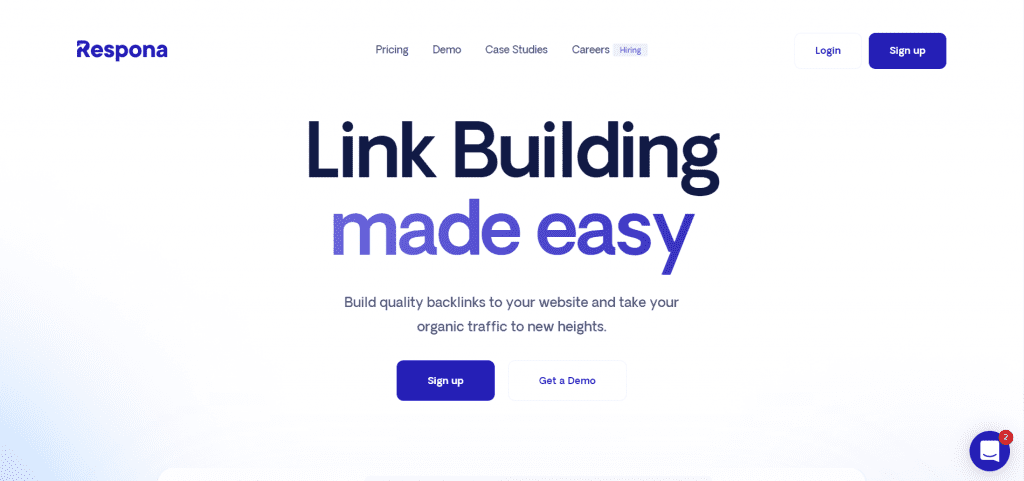 We built this tool to make the process of finding link building opportunities and connecting with them easier, instead of using outdated tools such as Buzzstream and Pitchbox.
Users from all over the world use Respona to build relationships with bloggers, influencers and other link prospects.
It's a tool that's great for content promotion, media pitching, PR outreach and brand pitching.
Let's see how it works.
You can use Respona in two main ways:
By manually inserting opportunities
By using Respona's built-in search engine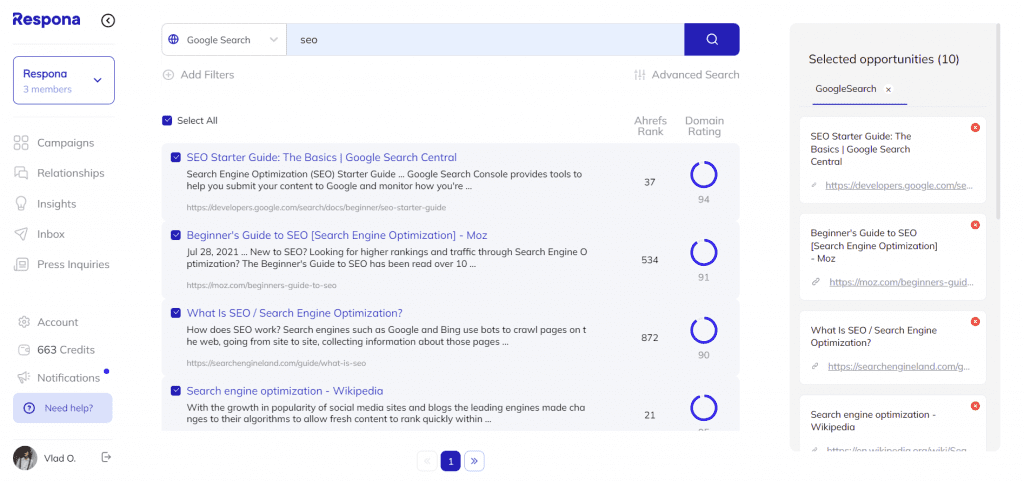 Think of Respona's search engine as Google search integrated within the product.
And, think of the Import option as a way to manually import csv files, map the data to create custom fields within Respona, and find the best email addresses for your prospects.
Respona uses a four-step process for setting up a new outreach campaign.
From there, you can manage email communications through Respona and build links for your target pages.
Respona pricing
The truth is that building links is expensive.
This is why most companies either outsource the process to a vendor (e.g. an agency) or don't do it at all.
With Respona, we've calculated the cost of email outreach and come up with something around $198 per month.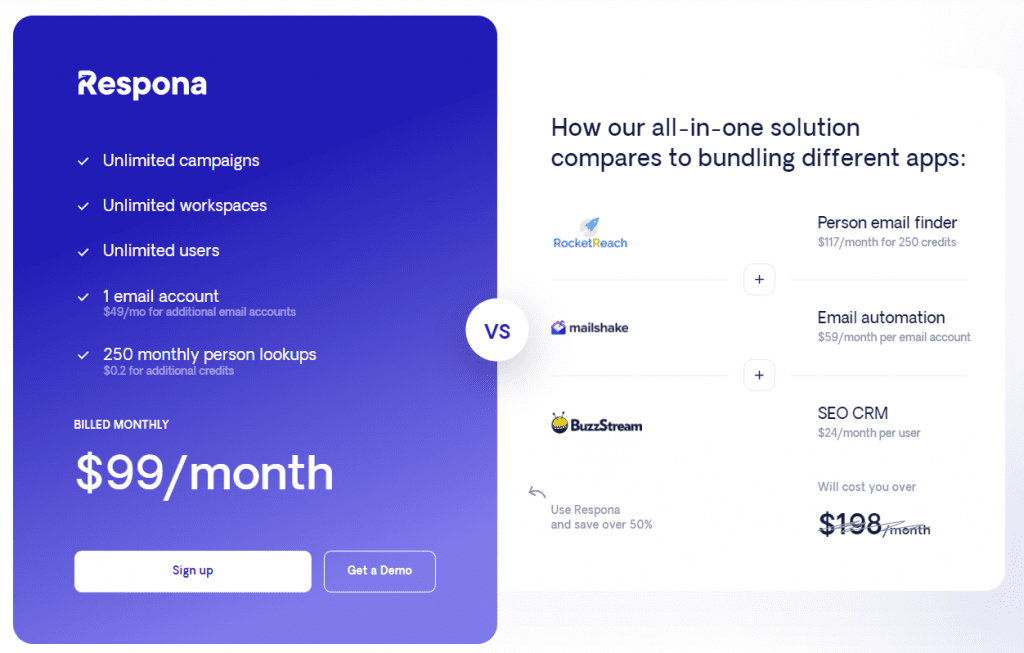 This is a rough estimation, of course, but it covers most of the costs involved in a solid link building process.
We've also included the investment that you need to make into certain tools for content discovery like BuzzSumo.
All these things considered, you can see that the cost per month—labor costs excluded—is relatively high.
Since Respona combines capabilities from different products and saves you manual work, the pricing of $99 per month is definitely a fair deal.
You also have the option to pay yearly and get an even better price.
Moreover, there's a custom plan for agencies starting at $995 per month.
You can get a full overview of Respona's features on the website's pricing page.
Best Email Finder/Email Verifier Tools
Hunter.io
Hunter.io is one of the most popular choices when it comes to email finder and verifier tools.
Finding relevant contact information is one of the most important aspects of email outreach, so Hunter is ranking high on our list.

Hunter's search bar sits right on its homepage. Simply paste in your target domain, and it will reveal the list of emails associated with it.
There are also two other versions of the search: the email finder, and the author finder.
The former helps you find the email address of a specific person within the company, and the latter searches for the author of a specific URL.
The tool even lets you run a few searches for free.
Hunter.io also features a bulk emails search option, as well as a browser extension that allows you to extract emails on the fly.
In addition to finding contacts, Hunter also allows you to run simple email outreach campaigns.
Hunter pricing
Hunter provides users with 25 free monthly searches and 50 verifications. It also gives you access to the email campaign functionality, although very limited: with only 1 email account, 500 recipients per campaign, and no attachments.
The cheapest plan is the Starter, pricing at $49/month, and the most expensive one is Business at $399/month.
Voila Norbert
VoilaNorbert is another popular email finder and verification tool.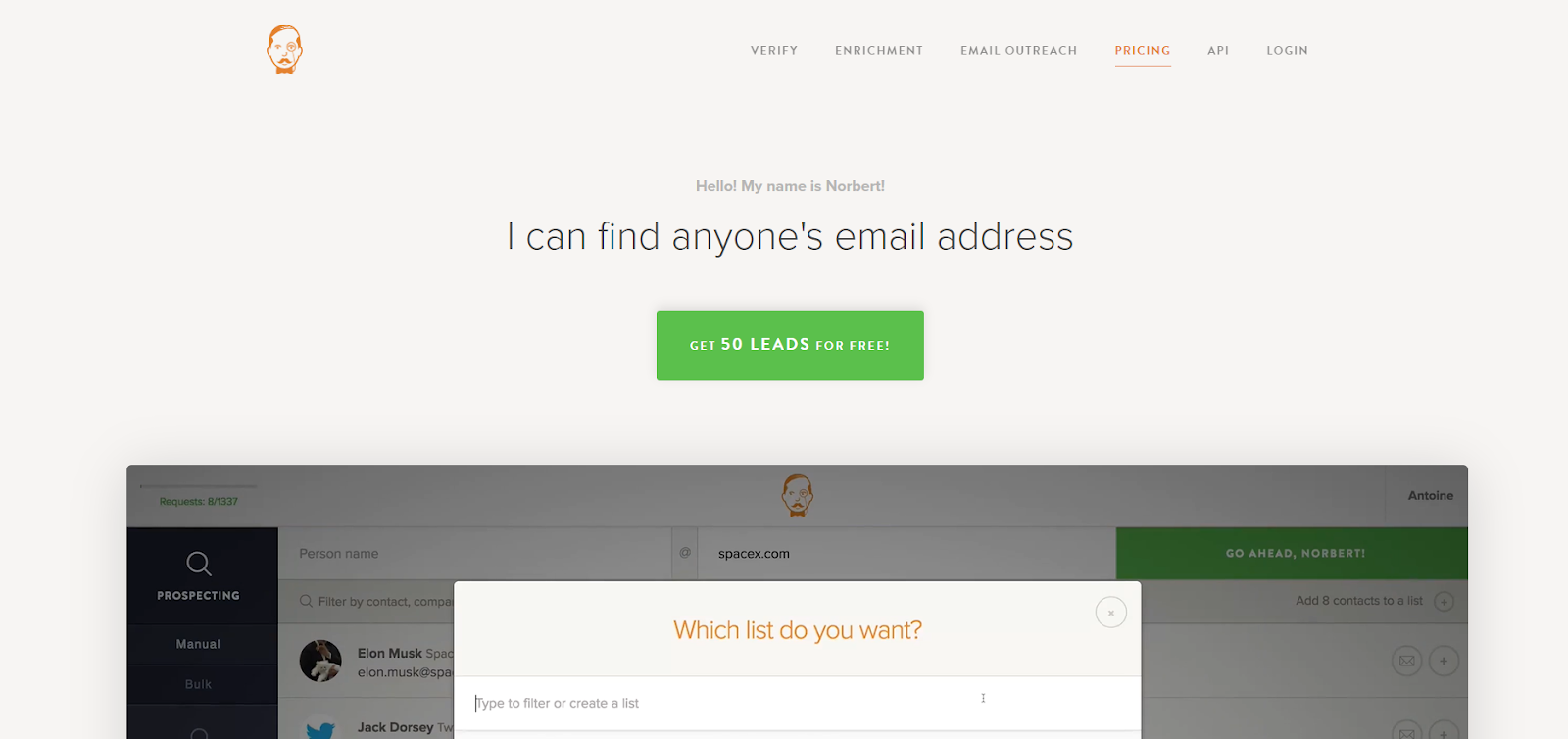 It offers very similar functionality to Hunter.io – you get 50 free credits, and can find virtually anyone's email address.
However, there is one additional feature that makes Norbert stand out, and that is email enrichment.
If you already have some email addresses, but would like to find out more about the people using them, the email enrichment feature will find a treasure trove of information such as the companies they work for, their job roles, and social media profiles.
Using this information, you will be able to better segment your email list and personalize your outreach campaigns more thoroughly, making it easier to build relationships and drive conversions.
VoilaNorbert pricing
The starter prices for VoilaNorbert's services are as follows:
$49 for 1000 email lookpus
$3 for 1000 email verifications
$40 for 1000 email enrichments
Norbert also offers four pricing plans: Valet, Butler, Advisor, and Counselor which offer you progressively more monthly lookups as the price gets higher.
ZeroBounce
Let's shift the focus from sales outreach tools a little bit and take a look at some software that will be useful for other types of outreach as well.
ZeroBounce's primary goal is to help you clean up your email lists to minimize bounce rates, hence the name.
ZeroBounce promises a 98% accuracy rate. Why not 100%? Because you can't realistically get rid of all email bounces since it's not necessarily something you control.
According to the team, it takes only about 45 minutes to validate an email list with 100,000 emails, and their API only needs three seconds to validate a single email.
In addition to simply validating emails, ZeroBounce also provides you with activity data, so you know exactly how recently there was activity, associated with a particular email address.
If you're worried about your emails not landing in your users' inboxes, you can also run the ZeroBounce inbox placement test, which will quickly determine exactly where your emails are going.
Besides that, ZeroBounce actively monitors whether you are on any blacklists, and will notify you if you ever get on one.
ZeroBounce pricing
ZeroBounce offers you 100 free verifications.
If you need more than that, the prices per single email start at $0.008.
The email deliverability toolkit comes with a separate package, and in two plans:
Starter: $39/month
Pro: $249/month
The pro package will get you drastically more inbox and mail server tests, as well as more frequent blacklist monitoring scans.
And, of course, you can also negotiate a custom enterprise package.
NeverBounce
NeverBounce is another popular package for verifying email addresses en masse.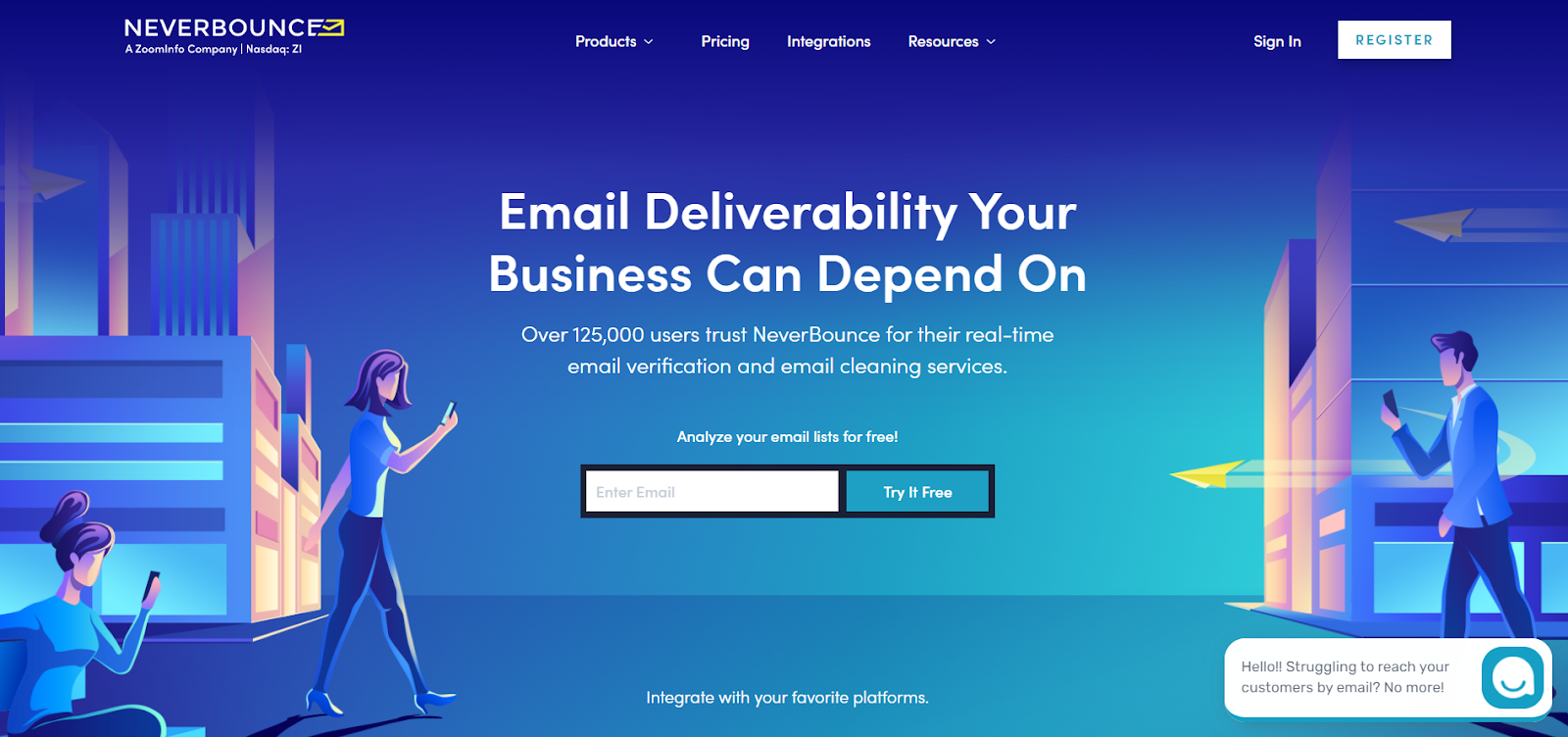 A little bit less robust than ZeroBounce, NeverBounce only offers three services:
Bulk emails list cleaning
Real-time email verification
Automated list cleaning
And while it might not seem very impressive in comparison, we want to put an accent on the last function: automated list cleaning.
You can connect your email provider or CRM directly to NeverBounce. It will automatically run a full verification of your whole email list on a daily basis.
On average, 2.5% of all emails decay every single month, so having those emails constantly weeded out is definitely a valuable function.
NeverBounce pricing
The bigger your email list, the smaller NeverBounce's prices become, but they start at $0.008 per email.
ClearOut
ClearOut brings something to the table that other email verification tools don't.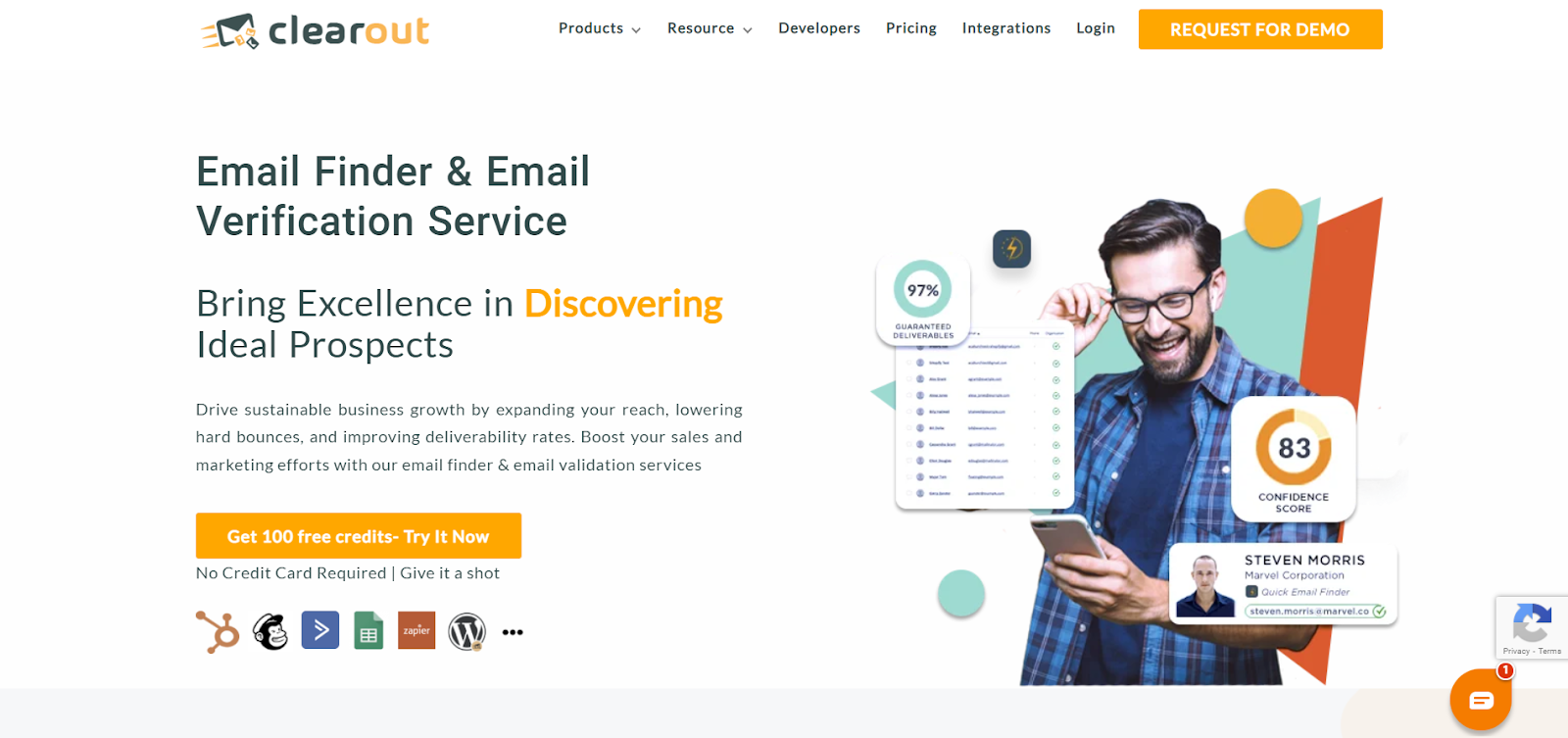 Much like a lot of other tools on this list, ClearOut can help you find and validate email addresses on the go.
But there are two features that separate it from the rest.
The first one is their Google Sheets add-on, which enables you to verify emails without even having to leave your email list.
The second one is ClearoutPhone. As the name suggests, it allows you to verify email addresses very quickly or even in real time. And it works in 240+ countries!
ClearOut pricing
As is the case with most email verification tools, you get discounts on bulk credit purchases.
However, the prices start at $21/3000 credits, and $22.5/5000 credits for ClearoutPhone.
EmailListVerify
EmailListVerify can help you get rid of spam traps, hard bounces, and disposable or catch-all emails without breaking your budget.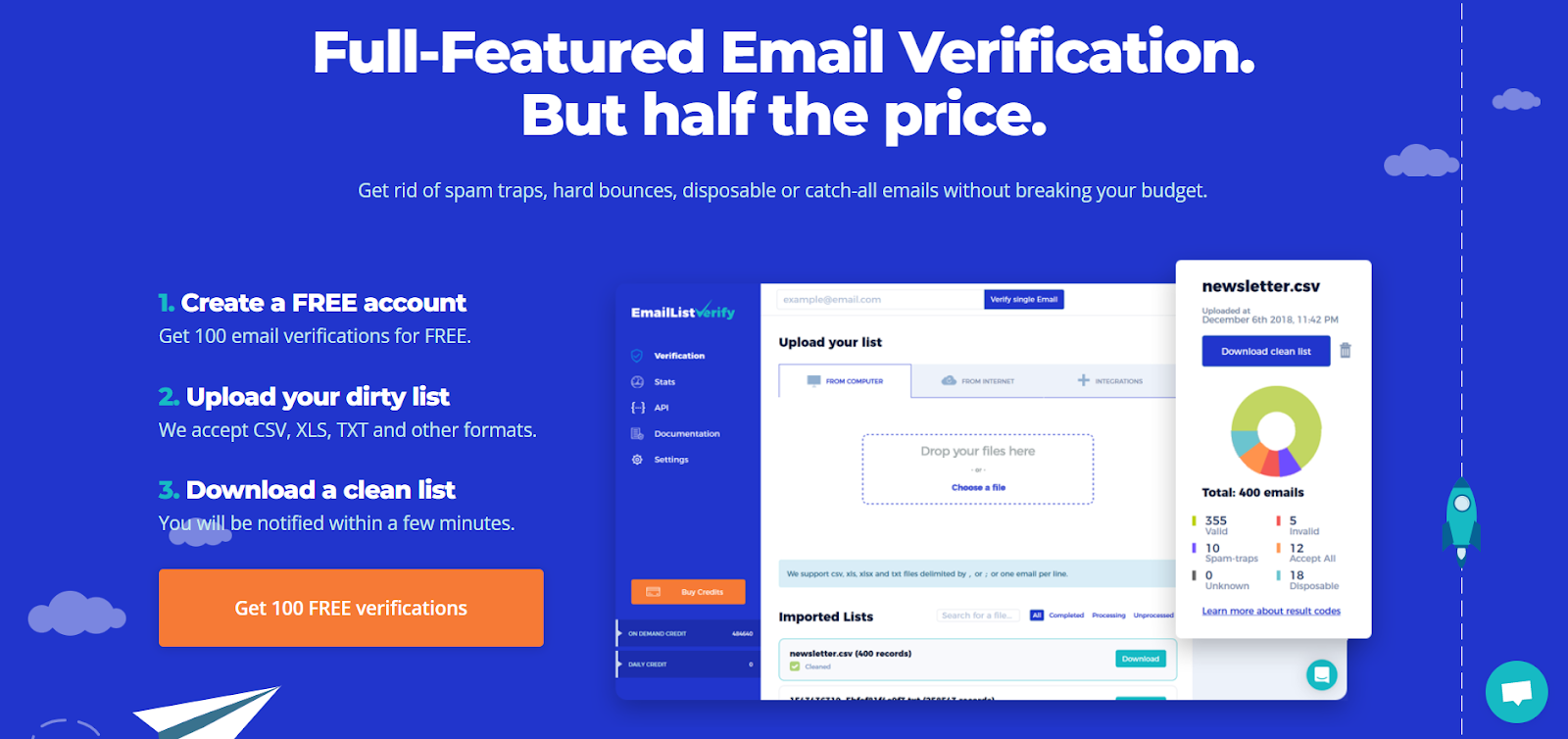 Here are the exact processes that go behind EmailListVerify's validation:
Domain & SMTP validation
Spam trap checking
Temporary emails cleaning
Catch-all domains checking
Syntax errors validation
Hard bounce checking
MTA validation
Email duplicates removal
EmailListVerify can also integrate directly with a lot of third-party email services, like MailChimp, Aweber, Gist, and others.
EmailListVerify pricing
The prices for EmailList Verify's services start at $4/1000 emails, or $0.0040/email.
Best Sales Outreach Tools
SalesBlink
As the name suggests, SalesBlink is a comprehensive outreach solution tailored specifically for the needs of sales professionals.
There is a lot to cover in just a short section like this, so let's briefly walk through SalesBlink's features.
Its built-in contact information finder can provide you with the entire domain's contact information, even if you don't know your prospect's name. This includes email addresses, phone numbers, and social media profiles.
SalesBlink features a drag-and-drop campaign creator that lets you create multi-channeled outreach campaigns and combine cold calls, emails, LinkedIn connections, and other actions, making it easy to create a sales pipeline in a matter of minutes.
In addition to your classic email outreach functions, SalesBlink features an email warmup option aimed at improving your email deliverability.
The sales pipeline builder also has a revenue prediction feature, estimating your profits depending on how many leads are flowing from the top to the bottom of your funnel.
The tool also has a built-in meeting scheduler and provides you with access to cloud calls, allowing you truly manage each step of your funnel in one spot.
And finally, with SalesBlink's integrated CRM, you can manage your entire sales cycle, close more deals and manage your relationships with existing customers.
SalesBlink pricing
The full SalesBlink package costs $99/month/user, however, if you only need certain features, you can also opt-in for just the email outreach functionality for $39/month/user, or even just the email warmup for $15/month/user.
Overloop
According to Overloop themselves, their tool is a CRM made for outbound sales teams.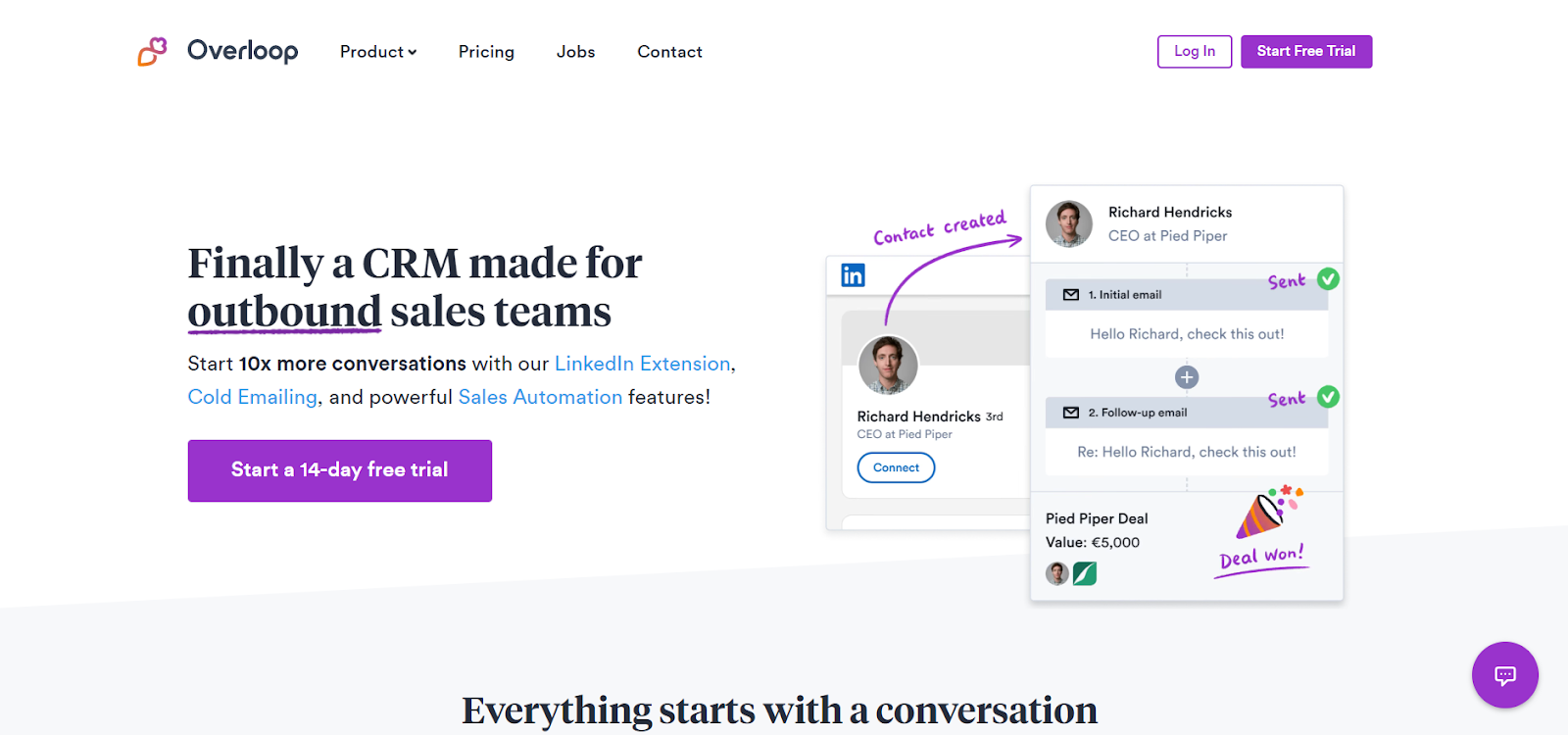 The three most important features of Overloop are cold emailing, sales automation, and the LinkedIn extension.
Much like the previous tool on our list, Overloop features a drag & drop sales pipeline builder with built-in revenue forecasting.
Outbound sales usually involve a lot of repetitive tasks that can take a huge chunk of time out of your day. Overloop features custom workflows that allow you to automate them and spend more time actually engaging with your contacts.
The tool also comes with in-depth analytics on exactly how well your pipelines are performing and why, activities reporting, team performance, and leaderboards for increased motivation.
As for the email outreach functions, it features exactly what you would expect: contact information finding and verification, personalization, and results tracking.
Overloop pricing
Overloop comes with 3 plan options:
Lite at €39/mo
Standard at €79/mo
Advanced at €129/mo
Before you buy, you can also take the tool on a test drive with a free trial.
Saleshandy
Next on our list is a more traditional outreach tool, Saleshandy.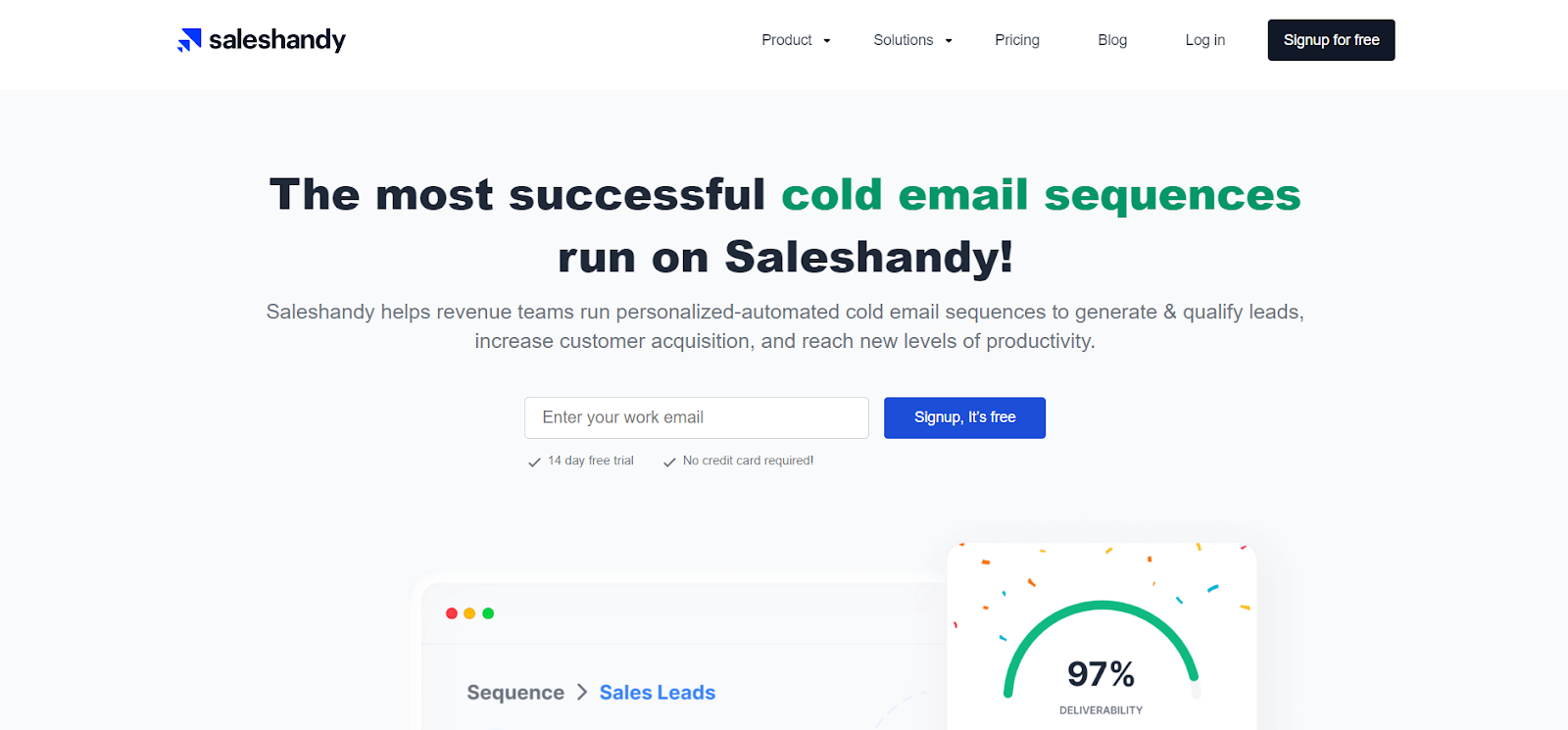 On the surface, Saleshandy comes with the "normal" set of outreach functions:
Variables for faster personalization
Automated follow-ups
Integration with most ISPs
Email finding and verification
LinkedIn email finder
Reply tracking and analytics
However, there are a few features that make it stand out among others.
The first one we want to mention is A/B testing. With it, you will be able to monitor exactly which templates, subject lines, value propositions etc. work the best for you and create great pitches based on experience and data rather than someone's recommendations.
Also, Salehandy features a real-time AI writing assistant that checks your pitches for the level of personalization, as well as spam words.
At the time of writing this article, Saleshandy have announced their own email warmup function, but it's still to be released.
Saleshandy pricing
Saleshandy only features one cold emailing plan at $29/month/user. However, that only includes basic email tracking functionality like email scheduling, open tracking, and only one ESP integration – Gmail.
For an additional $9/month/user, you can expand its functionality to include full engagement tracking, unlimited email templates, gmail and outlook integration basic mail merge, and team activity tracking.
However, for $22/month/user, you can get all of that plus team email reporting and Zapier webhook integration.
Saleshandy also offer an add-on service: email verification for $59/30000 recipients.
Snov.io
Snov.io is a comprehensive outreach tool for generating and nurturing leads, closing deals, and managing existing customers.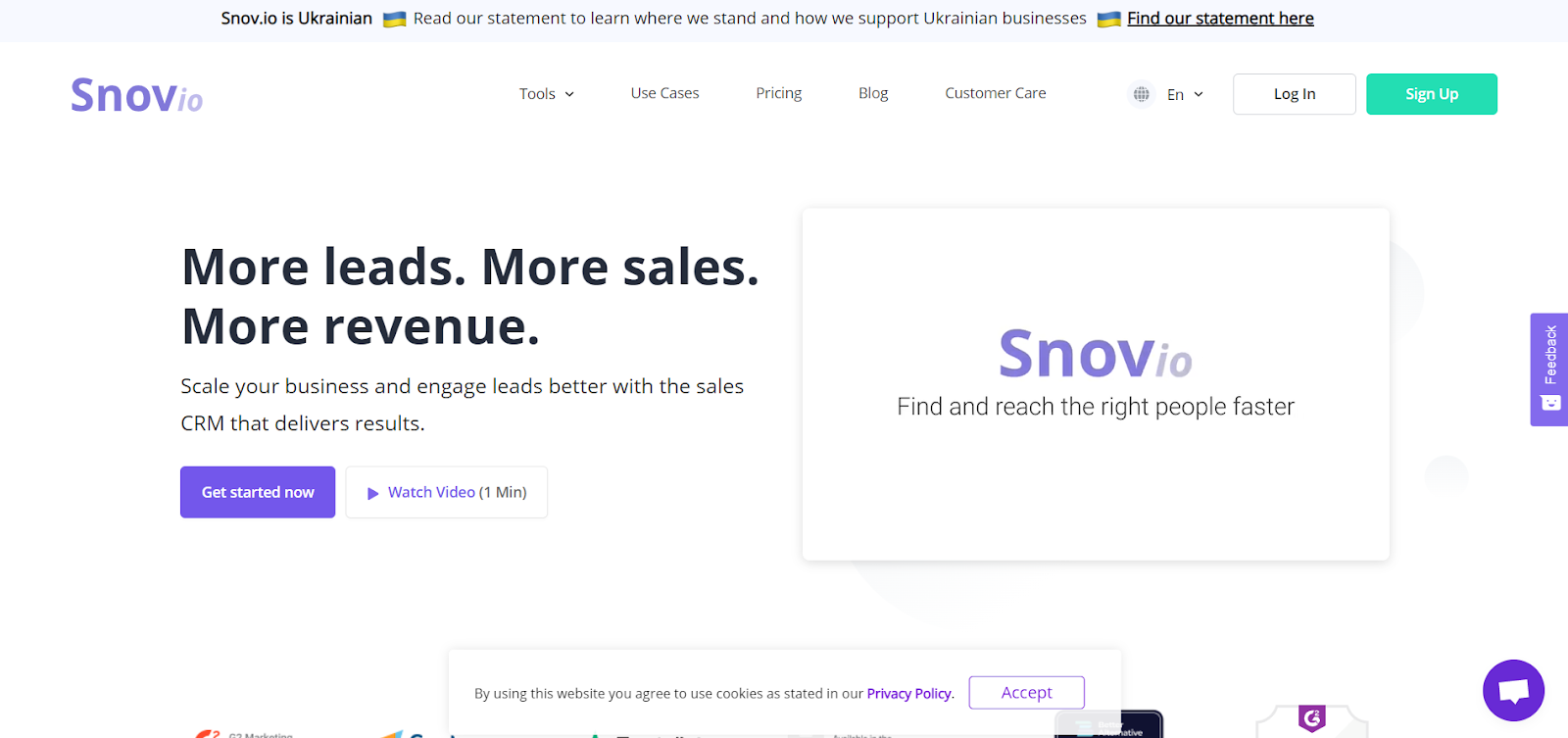 It includes:
A sales CRM
Email drip campaigns
An email finder and verifier (as well as a browser extension)
Integration with over 3,000 other tools and applications
REST API to integrate Snov.io into your platform
All these features function very similarly to some other tools we have already discussed, so we won't get into too much more detail here.
However, there is one feature that we would like to highlight. And that is Snov.io's Technology Checker.
What it does is allows you to search all websites that use a particular piece of technology/software. Why would it be helpful?
For example, if you run a SaaS application, you can find all companies that use your competing software, and reach out to them with your pitch.
Snov.io pricing
Snov.io's plans range from $33/month to $615/month, with the differentiating factor being the number of email lookup credits you will be getting and your number of unique recipients.
Klenty
Klenty is a multi-channel sales outreach tool with a heavy emphasis on automation.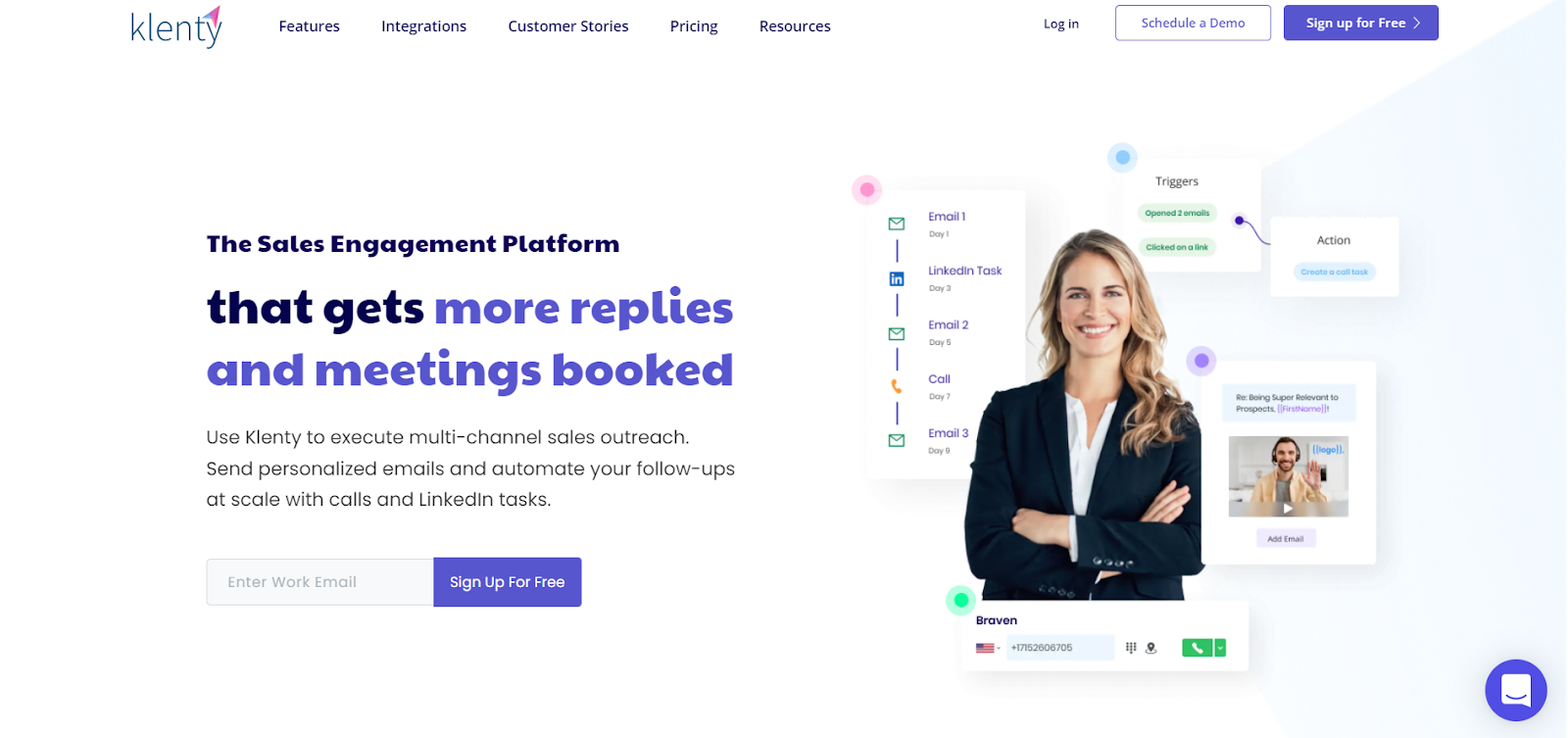 Klenty enables you to create sales sequences that include LinkedIn messages, calls, and emails, all in one sales cycle. It also comes with a fully automated, 2-way data flow CRM.
Its built-in Dialer allows you to place calls and leave voicemails in one click, and its LinkedIn plugin completely takes care of all your connection requests, messages, InMails, and profile views.
Klenty's Cadence Playbook is a great way to book more meetings and close more deals, as it helps you identify which of your sales cadences work at each intent level, and pick the right times to send the right messages to the right prospects instead of just sending everyone the same follow-ups, regardless of intent.
Klenty also allows you to seamlessly automate a lot of the tedious recurring tasks, such as:
Importing and exporting contacts
Automatically adding new leads
Pushing prospects to different campaigns depending on their actions
Tracking replies and bounces
automatically resuming cadences after a few days and OOO replies.
As for emails personalization and deliverability, Klenty features:
Email validation
Custom domain tracking
Cadence throttling
Random sending intervals
Unsubscribe links
Video and image personalization
Liquid templates
Delivery windows
Klenty pricing
Klenty has three pricing options: monthly, quarterly and annually. If you choose to go annually, you will get a considerable discount for each month.
Here are the three annual plan pricing options:
Startup: $35/month/user
Growth: $60/month/user
Enterprise: $100/month/user
Each consecutive plan grants you access to more advanced features.
Autoklose
AutoKlose was developed as an email sales engagement platform.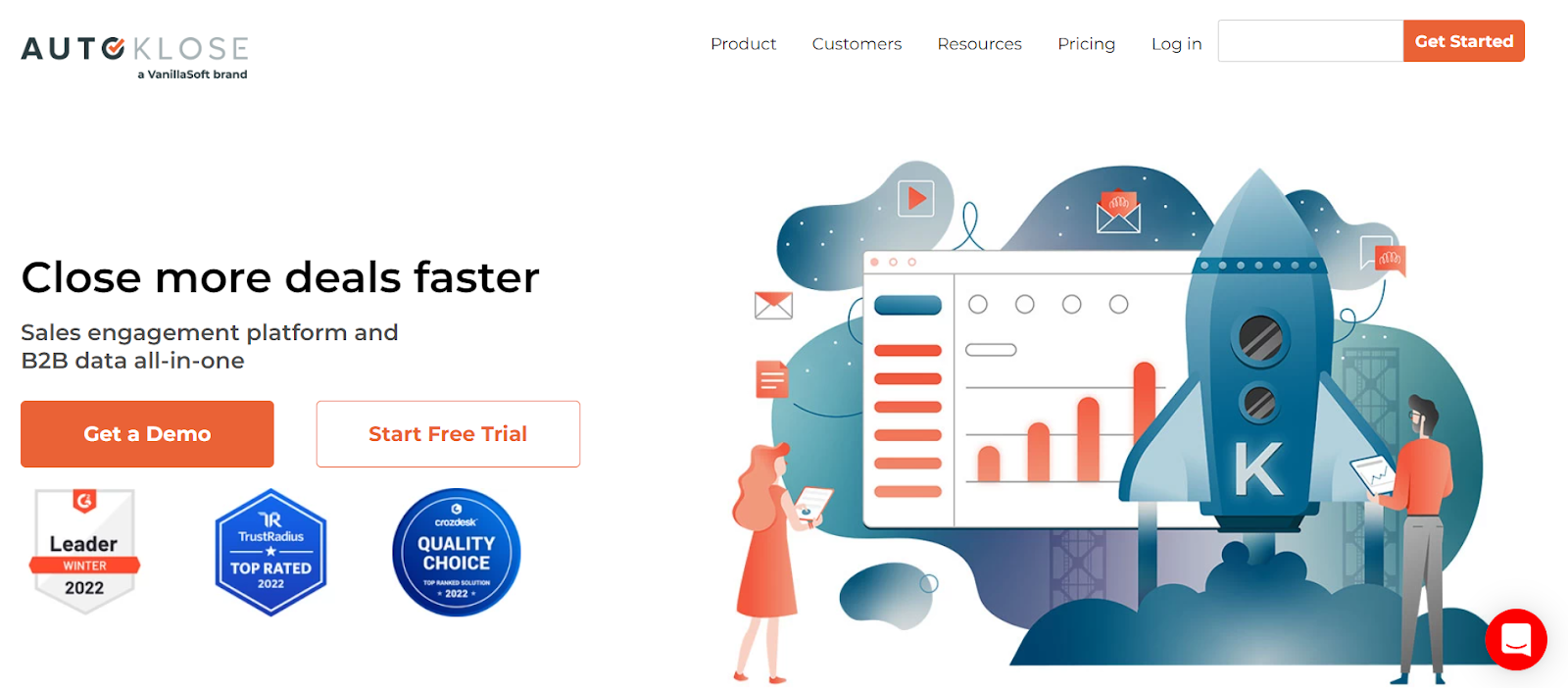 And while it lacks a CRM and does not offer multi-channel functionality, its email features are solid:
Large database with millions of verified B2B contacts
Data segmentation and filtering
In-depth information about prospects: roles, levels, experience, email addresses, phone numbers, etc.
Lead scoring
Email template A/B testing
Custom time intervals, customization fields, follow-ups in the same thread or a separate one
Email spam checker
Contact and team management
SmartSend
Email warmup
If you're only looking to utilize email for your outbound sales, Autoklose's feature set is more than enough.
AutoKlose pricing
AutoKlose offers three pricing plans, each granting access to increasingly advanced features:
Auto Kloser: $59.99/month/user
Advanced Closer: $69.99/month/user
Accelerated Closer: $99.99/month/user
Reply.io
Despite being primarily an inbound and outbound sales outreach tool, Reply.io has a number of additional use cases: account-based sales, HR & recruiting, business development, PR & link building.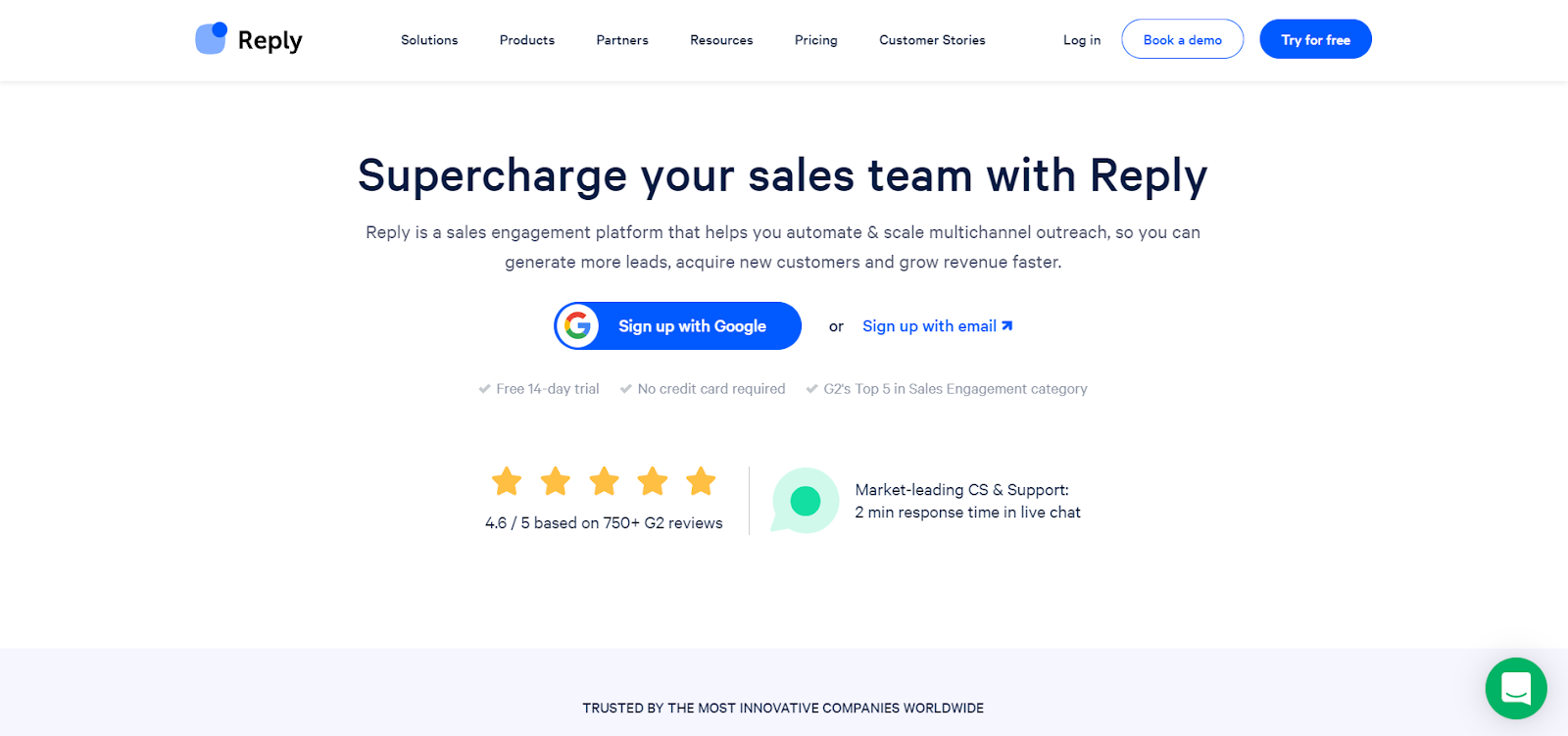 It boasts an impressive set of outreach features:
Multichannel outreach
Direct and triggered calls dialer
LinkedIn automation
Calendar booking
An AI email writing assistant
Integration with messengers
Email finder and verifier
Built-in email warmup
In addition, Reply.io offer a set of APIs for developers:
Reply platform API
Email API
AI Assistant API
Email Warmup API
Messenger API
Reply.io pricing
Reply.io's business and agency plans start at $50/month/account.
Best Email Warmup Tools
Lemwarm
Lemlist has its whole email outreach and sales engagement platform, but in this article, we want to focus on Lemwarm, as it is something we ourselves have been using in-house on and off.
It is an email warmup service.
It works by connecting you with the Lemwarm's network of other users, and starts sending emails to themon your behalf.
From their end, the tool automatically replies to your emails. It also marks it as "not spam" if it lands in their spam folder.
From the perspective of your email service provider, these look like real conversations, opens, and replies. Over time, these increased open and reply rates start to influence your overall email reputation, increasing it, and affecting your actual email open and reply rates in your real campaigns.
Lemwarm also tracks exactly where your emails are landig, so if you notice that you're not landing in spam anymore, you can pause the warmup.
Lemwarm pricing
Lemlist's Lemwarm function is priced at $25/month.
Warmup Inbox
If Lemwarm is a bit too pricey for your liking, Warmup Inbox can be a great alternative.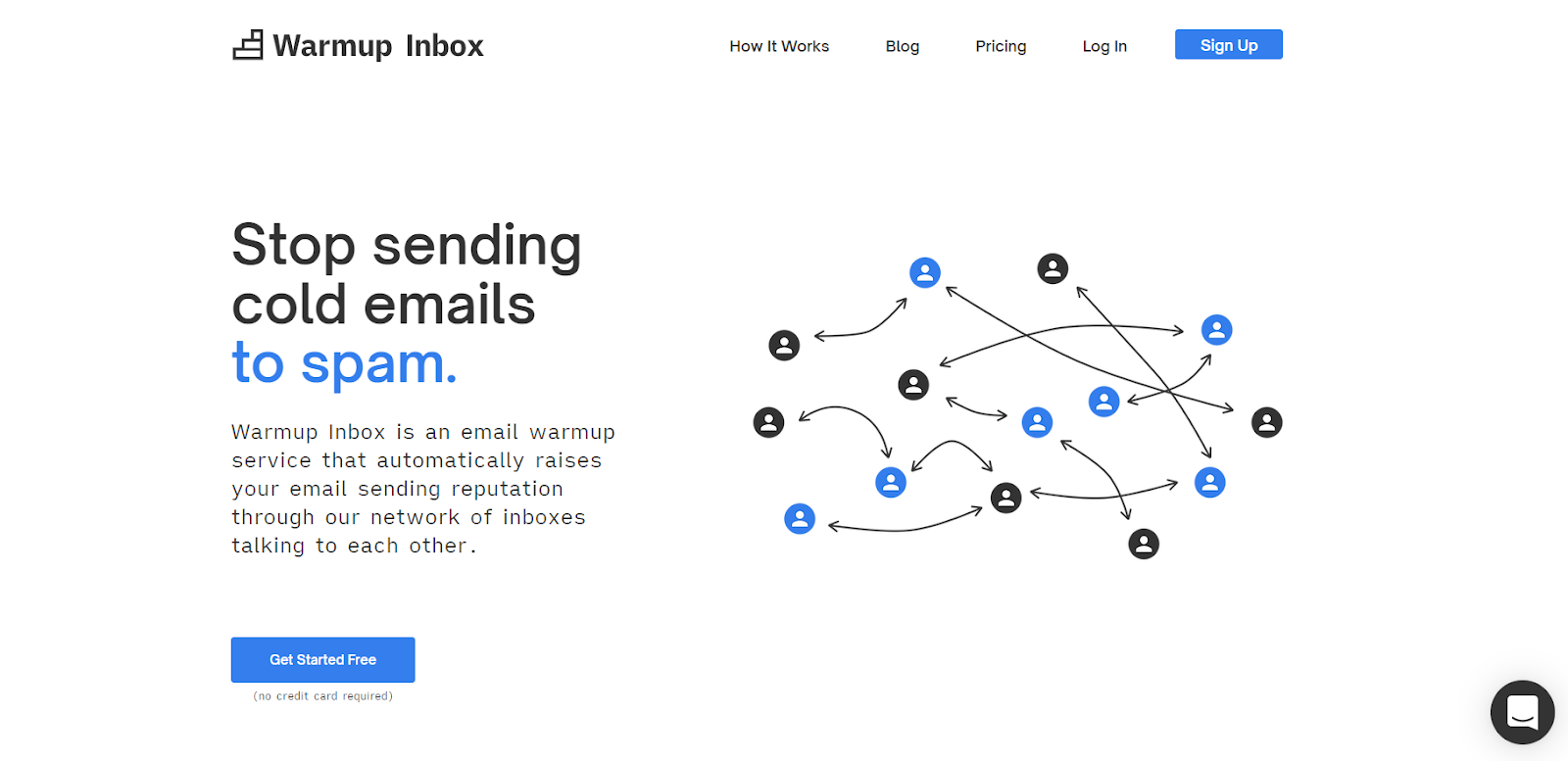 They function identically: bo connecting you to a list of users and sending emails back and forth from your email addresses.
According to Warmup Inbox, they have 15,000+ active users at any given point in time.
Here is the full list of the tool's features:
Gmail Integration
Inbox Health Scores
Outlook Integration
Full Sending Control
SMTP Integration
Domain Age Tracking
Blacklist Monitoring
Chat Support
Edit Sending Limits
Inbox Reporting
Prorated Billing
Slow Ramp Up Sending
Warmup inbox pricing
Warmup Inbox offers a 7-day free trial, and after that, the prices start at only $9/month/inbox.
Warmbox
In a way, Warmbox is similar to some other email warmup tools on this list, but offers additional functionality.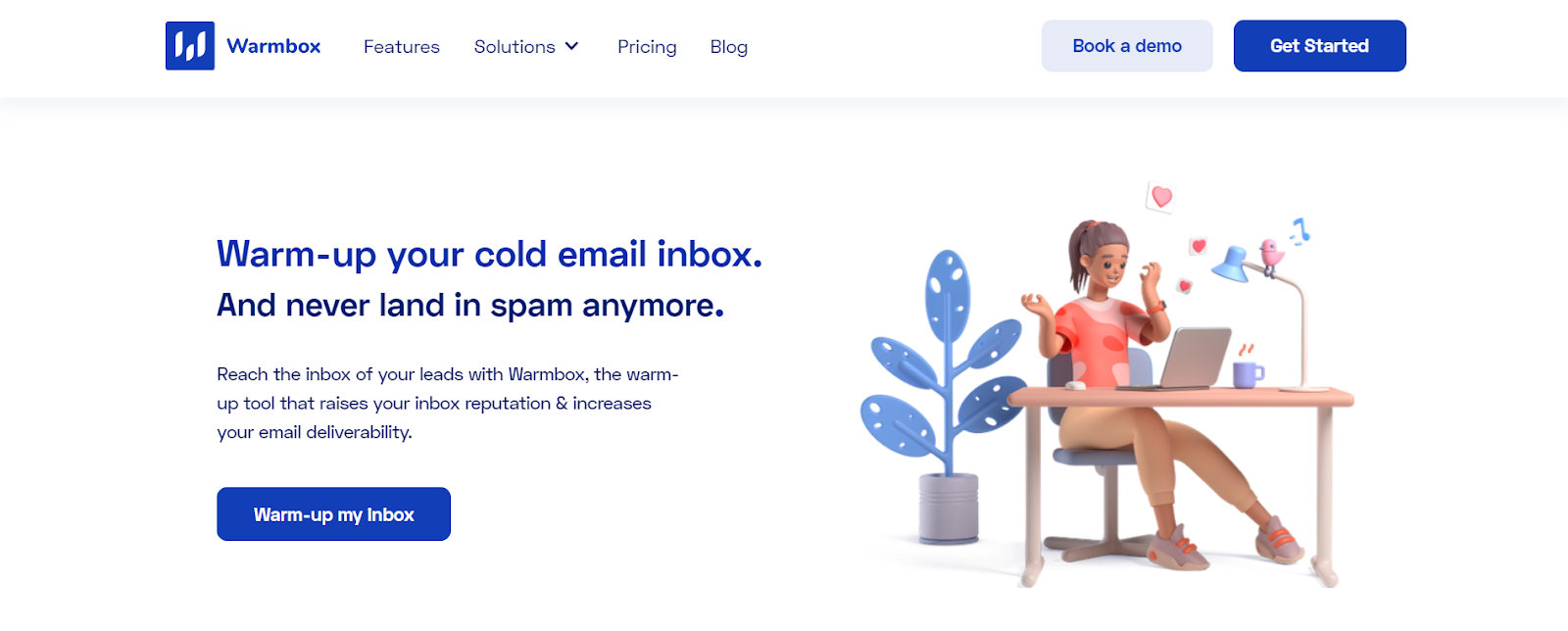 The tool offers you four options for your email warmip:
Growth: gradually increasing the number of sent emails
Flat: consistent number of daily warmup emails
Randomize: different number of daily warmup emails
Custom
During the warmup process, it uses thousands of different email templates that make your warmup conversations look like real exchanges between human beings.
It also lets you select between constant warmup, only sending during working hours, choose timezones, or create a custom schedule.
In addition to email warmup, Warmbox also helps you by auditing your IP and domain blacklist status, verifying your authentication, and providing you with detailed reports.
Warmbox pricing
The warmbox Solo plan with one email account is priced at $15/month.
Mailwarm
Mailwarm is the final email warmup option on our outreach tools list.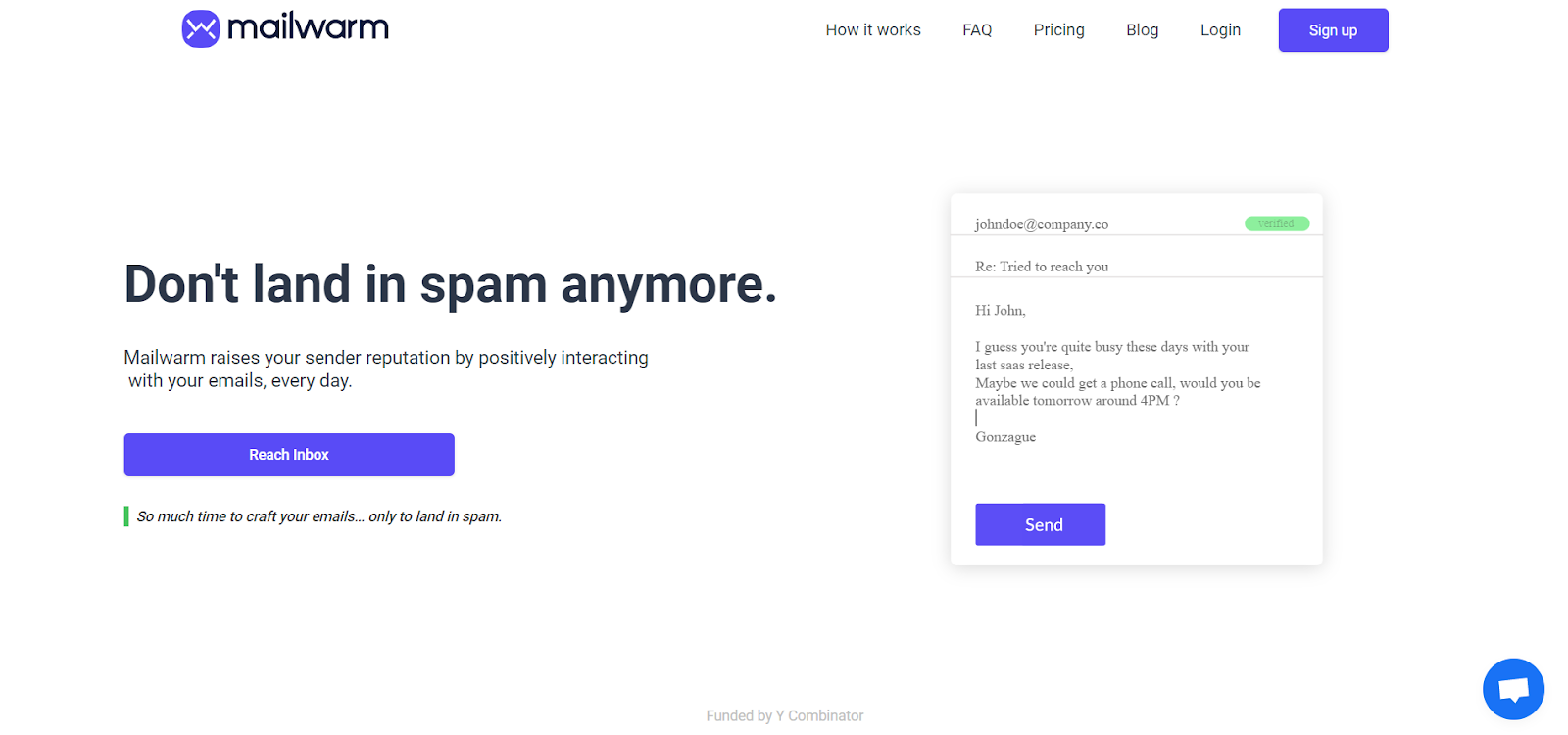 It functions exactly the same as the other email warmup tools on the list: by connecting you with a network of other users and sending earch other emails.
However, Mailwarm offers one function that all the other tools don't: it enables you to set a reply ratio of your own.
According to the team, it is recommended to set a 30% reply ratio for your warmup emails in order for them to look as natural as possible in the eyes of your email service provider.
Mailwarm pricing
Mailwarm's Starter plan with 1 email account and 50 daily warmup emails will cost you $69/month.
Best Email Deliverability Tools
Mailtrap
MailTrap is an email testing tool that allows you to quickly find and address deliverability issues.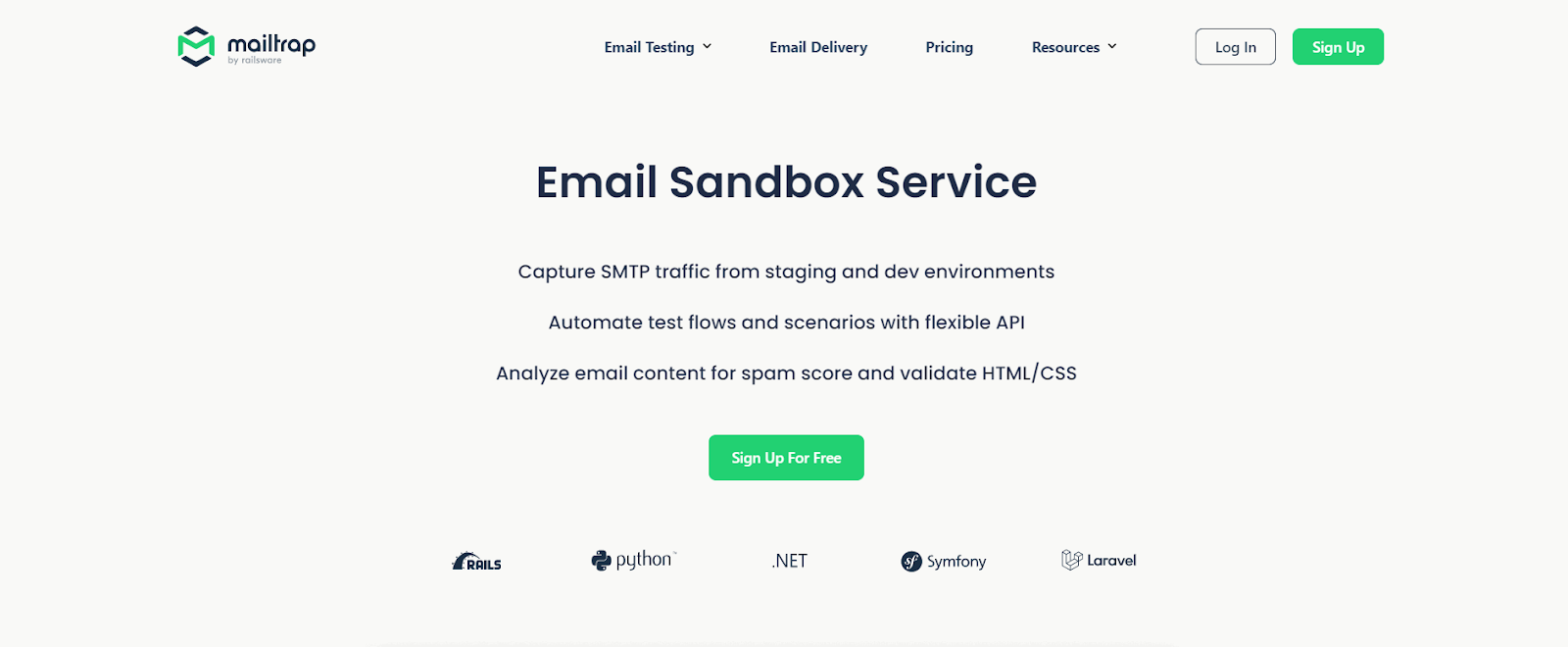 Its purpose is to capture SMTP traffic from your staging and dev environments and help you automate test flows and scenarios.
So, if you're developing your own outreach tool, or looking to integrate email outreach in another kind of software, Mailtrap will allow you to test your functionality in a safe environment.
Besides quality assurance testing, Mailtrap will also be useful for monitoring and improving your email deliverability, providing you with detailed logs and highlighting issues as soon as they arise.
Mailtrap pricing
You can pick up Mailtrap's individual plan for only $9.99/month.
Sender Score
Monitoring your email reputation is an essential part of conducting mass outreach, and Sender Score is an outreach tool that can help you do just that.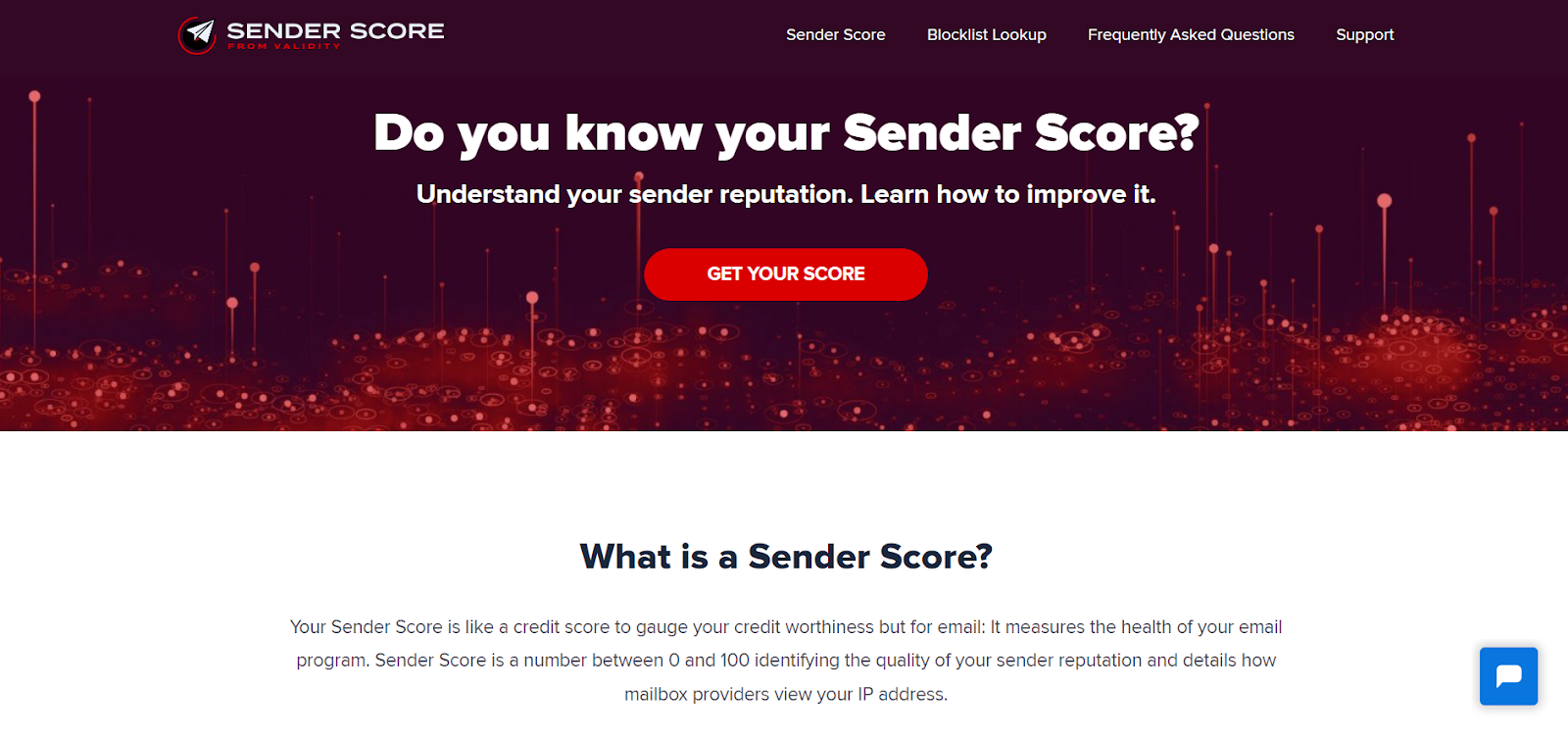 Sender Score assigns your mailbox a rating on a scale from 0 to 100.
According to them, if your score is lower than 70, your email reputation is very low and requires immediate attention.
If it's between 70 and 80, your email practicies could use some optimization in order to improve your reputation.
And a score over 80 is considered to be in the "green" zone.
In addition, Sender Score offers a free blocklist lookup service, allowing you to check whether your specific IP address is on any blacklists.
Sender Score pricing
Free
Spamcheck
Spamcheck by Postmark allows you to quickly evaluate the "spammyness" of your email message.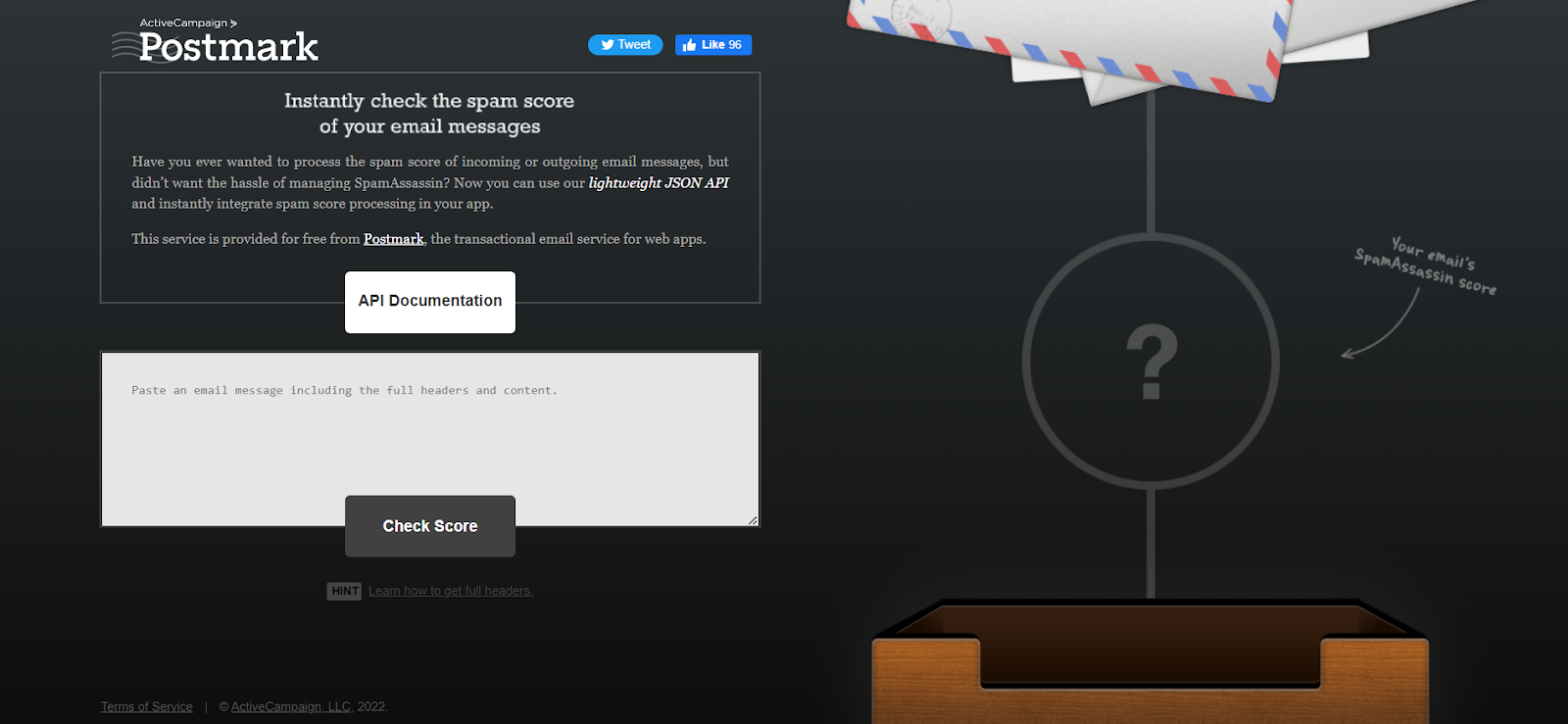 If you're just looking for a quick evaluation of your email before you send it, Spamcheck will provide you with all of the necessary constructive criticism.
It will tell you exactly what is missing from your email and assign it a spam score on a scale from 0 to 10.
Spamcheck pricing
Free
MxToolbox
MxToolbox is another tool for diagnosing and addressing email deliverability issues.

With MxToolbox, you can:
Check IP or host for reputation
Test mail server SMTP
Check DNS MX records for domain
Check SPF records on a domain
Check TXT records on a domain
Check DNS PTR record for host name
Get domain registration information
Get IP address block information
Get Start of Authority record for a domain
Verify an IP Address allows tcp connections
Verify a URL allows http connections
Verify a URL allows secure http connections
Perform a standard ICMP ping
Perform a standard ICMP trace route
Check your DNS Servers for possible problems
MxToolbox pricing
Free
Folderly
Folderly's goal is to increase both your email deliverability and engagement rates.
Its key features include:
Email deliverability enhancement
Email testing algorithms
Email Content Analysis
Dynamic Seed Rotation
Custom API Integration
Folderly also offers two add-on services:
SPF generator
Email placement test
Folderly's AI algorithms will pinpoint exactly what is causing your email deliverability issues, and provide you with in-depth reports.
The team also offers a stand-alone email warmup service.
Folderly pricing
Folderly's most popular Cold Email Outreach plan has a $160/month price tag.
Best Influencer Outreach Tools
Traackr
While Traackr isn't your traditional outreach tool, we thing that it deserves a spot on this list because it covers a very unique facet of outreach: influencer outreach and marketing.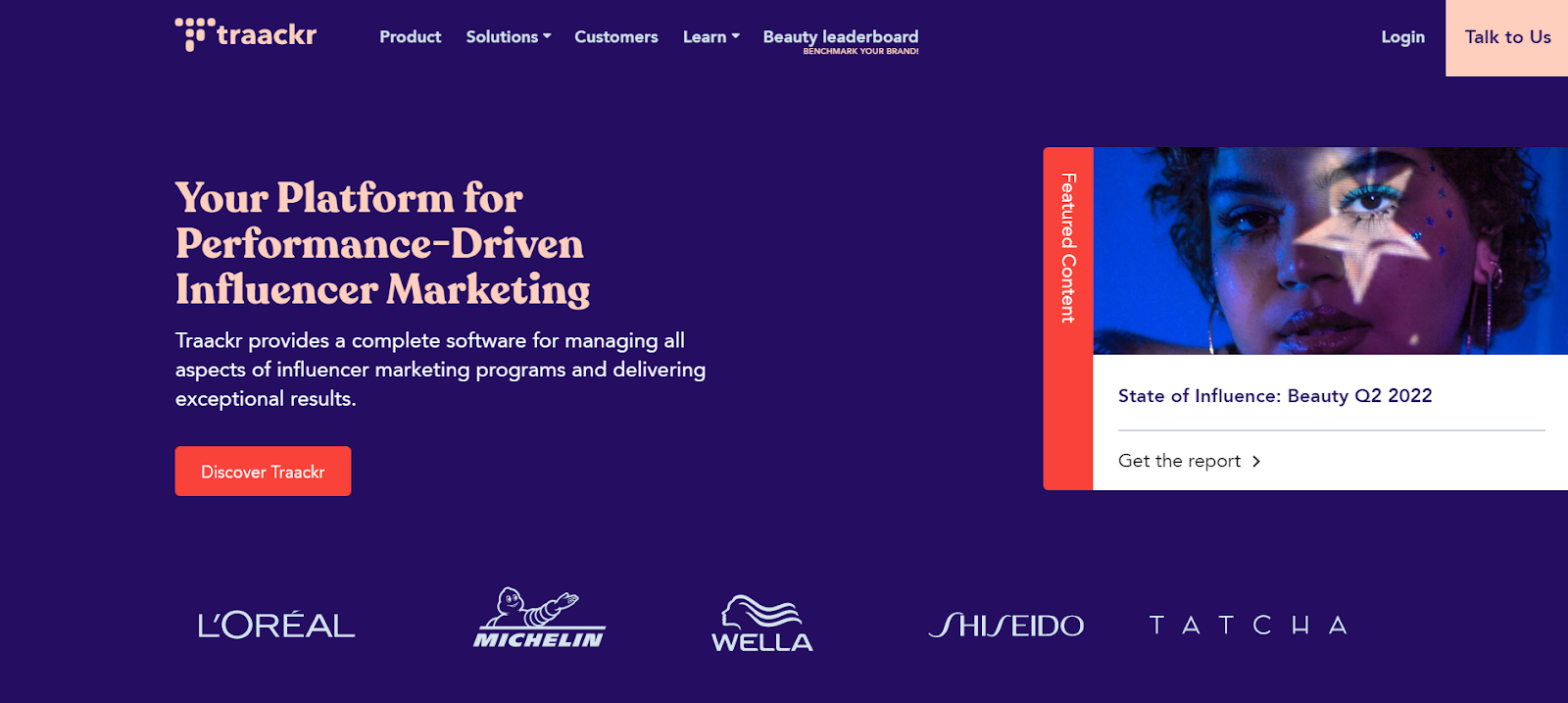 Traackr offers a vast array of features that is impossible to fully cover in a short listicle section, so we will only mention what we find the most important for influencer outreach.
Its discovery section allows you to search for influencers depending on their niche, reach, audience size, and the social platforms that they use.
It offers advanced insight on every influencer such as audience growth over time, brand affinity, advanced audience demographics, top-performing content, collaborations, and other connections.
Of course, Traackr also pulls their contact information for you as well.
What's unique about Traackr is that it doesn't just let you find influencers and reach out to them – it also tracks your collaborations, budgeting, contracting, and every other step of running an influencer or affiliate marketing campaign up to paying them.
Traackr pricing
Due to the immense amount of features, Traackr doens't have a one-size-fits-all plan, as every business needs a different set of functions.
So, to get a quote, contact Traackr's sales team.
Klear
The final tool on our list is Klear.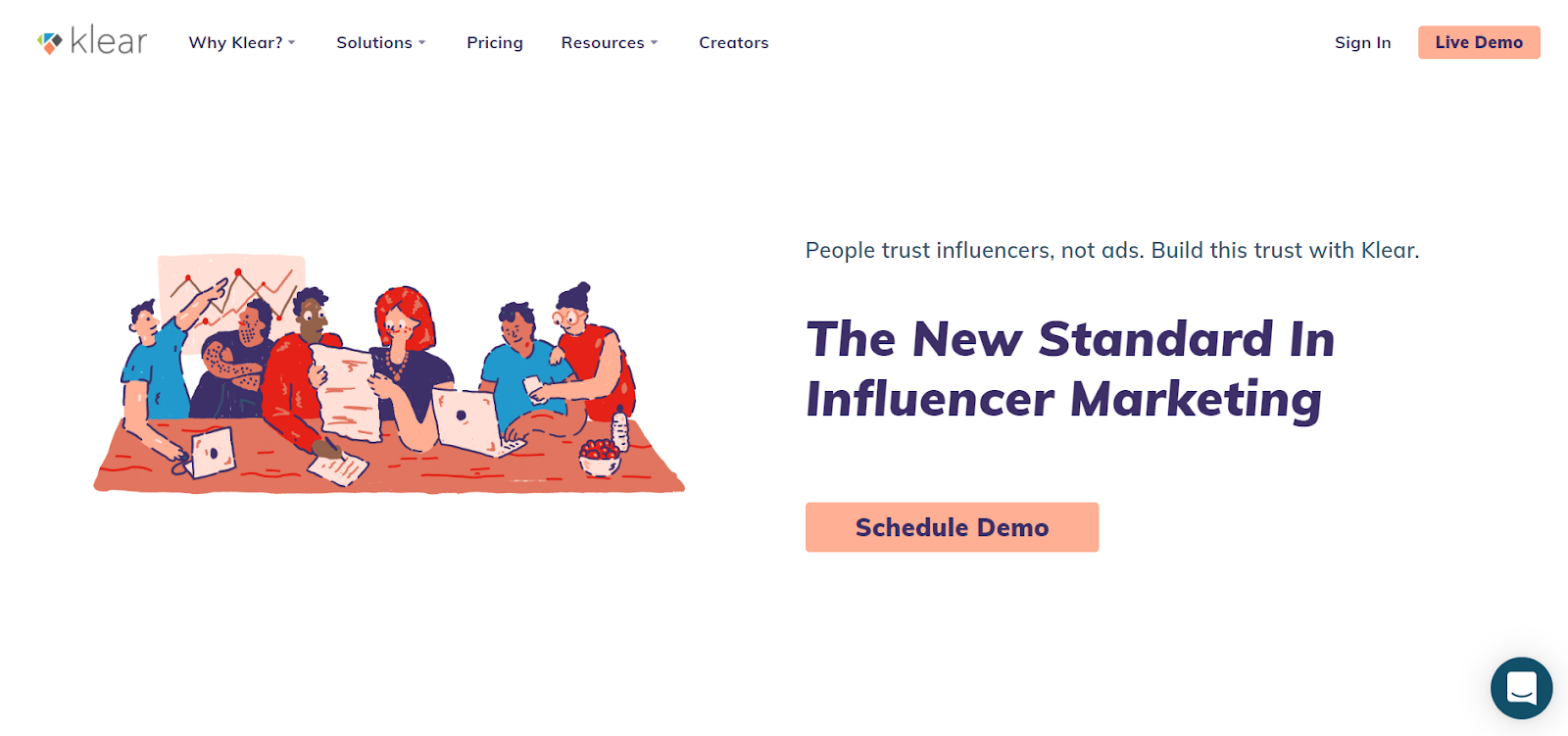 It features a fully-fledged influencer CRM, which enables you to find the perfect influencers with your marketing campaign, reach out to them, and easily manage your collaborations.
The Collaborations Hub makes it easy to track and manage every step of your influencer marketing campaign, including contracts, content, payments, campaign briefs, and so on.
It also calculates the return on investment of every single collaboration you run.
In addition, Klear automates the most tedious and repetitive aspects of your work, like sending contracts.
Klear pricing
Book a demo with the team to get a quote.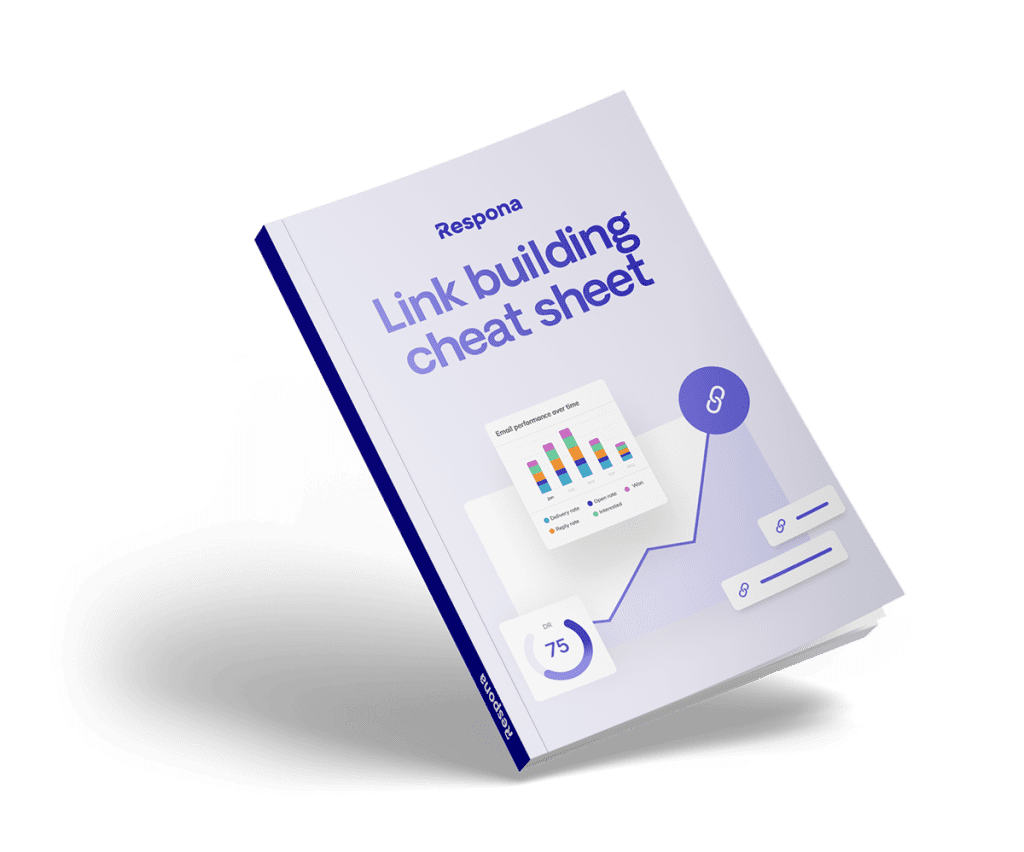 Link building cheat sheet
Gain access to the 3-step strategy we use to earn over 86 high-quality backlinks each month.
Looking for an Outreach Tool?
Our tool was initially built for link building but can be used for all other types of email outreach.
If you need help with building links, promoting your content, booking podcasts, selling or marketing your products, book a demo with us to learn how we can help!