What is Blog Content?
Content on a website can take many different forms, but some of the most common types include blog posts, videos, infographics, and images. Each type of content can play a different role in SEO and link building.
Blog posts can be a great way to target specific keywords and phrases that you want to rank for in search engines. They can also be shared easily on social media and other websites, which can help to build links back to your site.
Videos are perfect for engaging with potential customers, can be shared easily on social media, and can also help to build links back to your site.
Infographics and images are good at breaking down and communicating complex information in a visually appealing way, and break up text-heavy sections into easily digestible and visually appealing bits.
Why is Blog Content Important?
Content is arguably the most important aspect of your website as a whole.
Even if you are running a tiny, local business and use your website as a presentation tool of your product/service, you may want to consider investing in an expansive blog.
There are three main roles that content plays on your website.
The first one is that, of course, it provides your users a reason to keep returning to your site.
By regularly uploading high-quality, relevant content that actually helps your audience, you will also position yourself as an expert in your field, boost brand awareness, and make it easier to win over new customers.
All of this, of course, generates traffic, which potentially translates into sales.
The second purpose of content is for rankings.
By creating content around different keywords within your niche, you will start to rank for these keywords, and your website will show up in search results when people search for something related to what you do.
The final purpose of content is link building.
Links from highly-authoritative websites are one of the most important ranking factors to this day, and if you don't have any content to build links to, you simply cannot get links.
Well, technically, you can purchase links to your homepage, as well as your product and service pages, but they will be coming from spammy websites and not affect your SEO in any positive way.
White-hat link building is only conducted through outreach, and in order for people to give you links for free, you need linkable content.
Blog Content Example
This article is a piece of content.
In addition to this glossary, we also regularly upload on our blog: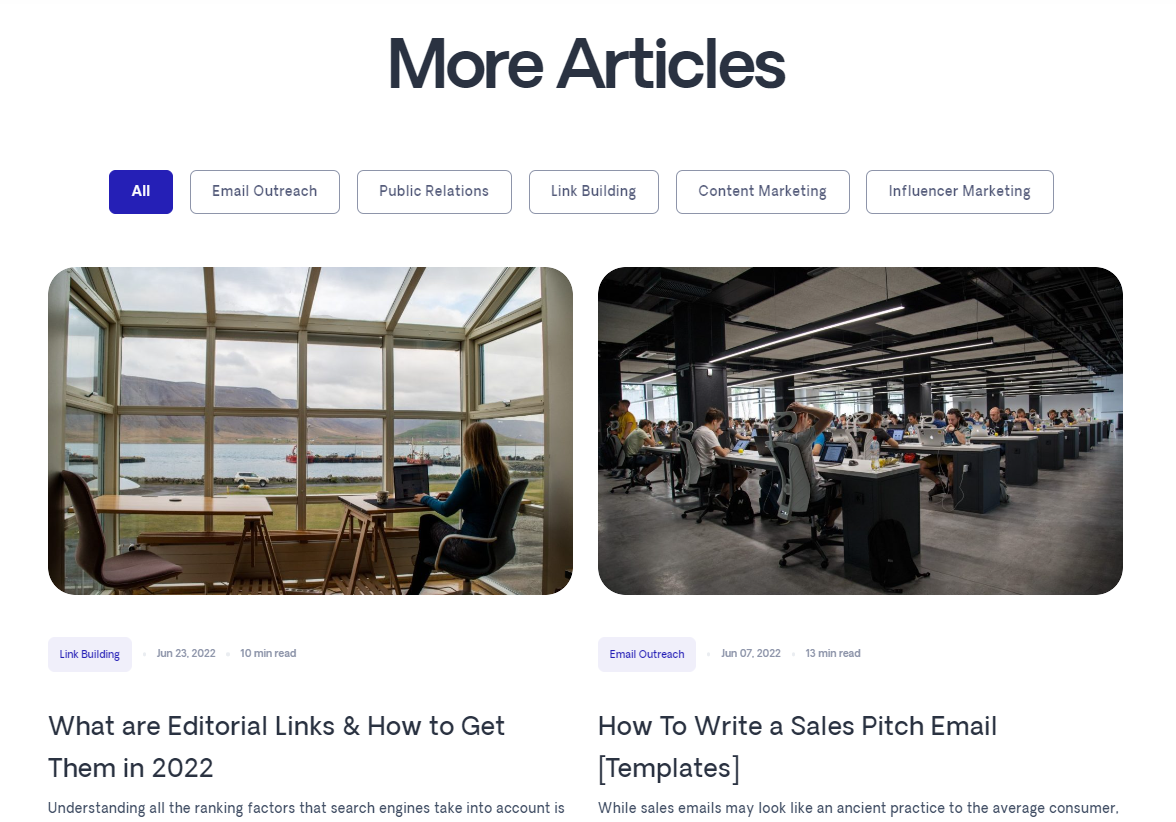 Our YouTube channel: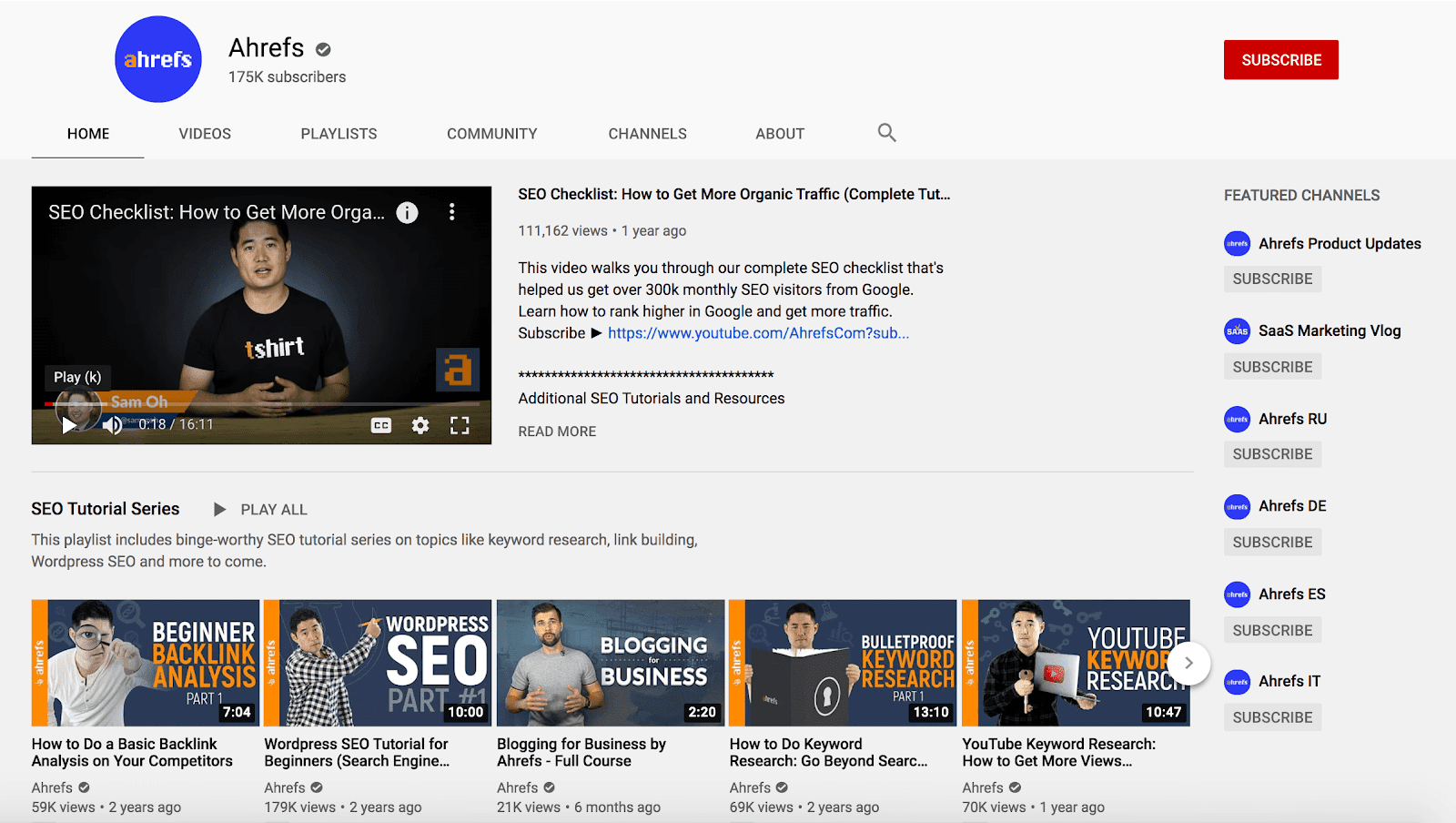 As well as our social media groups: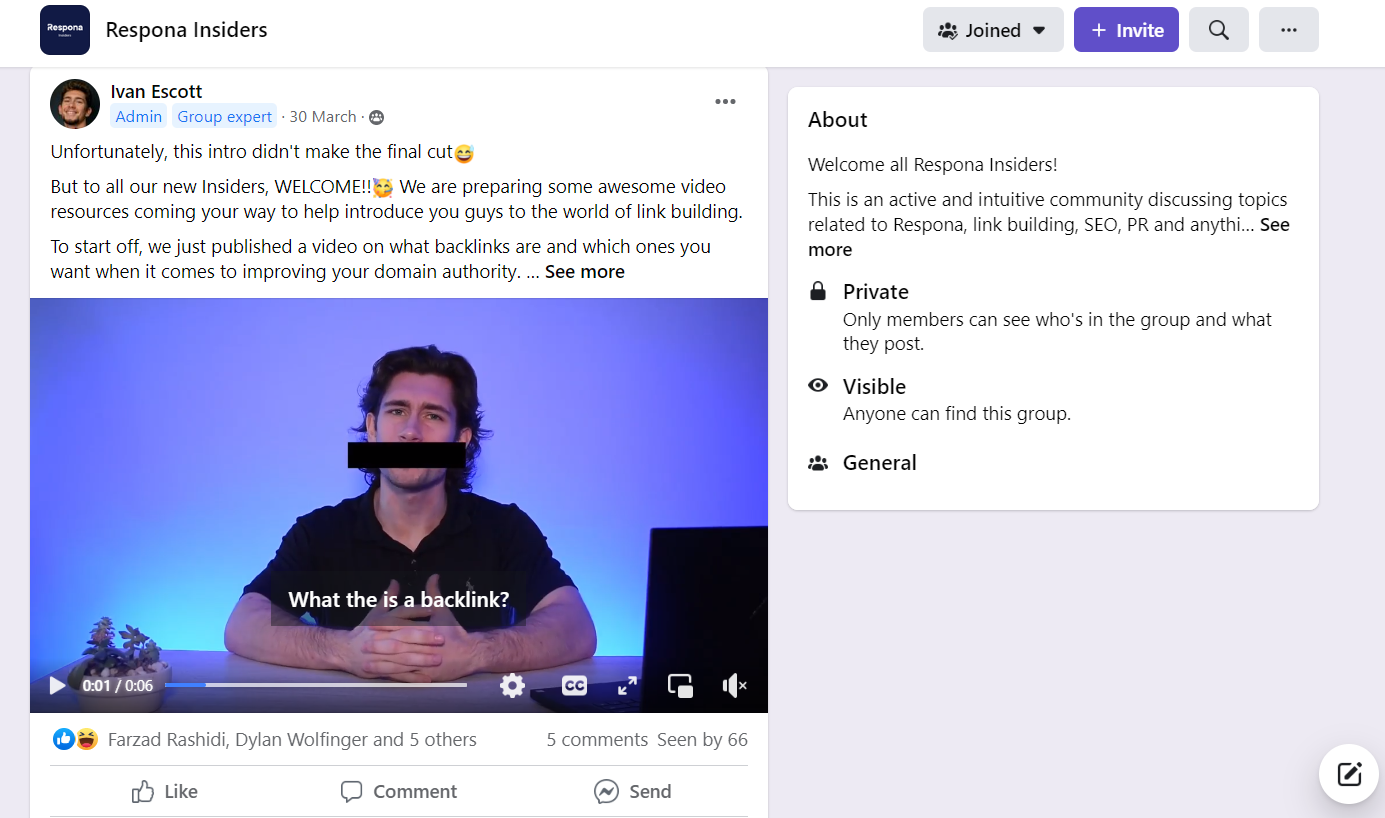 How to Produce High-Quality Blog Content?
There is no single answer to this question as the type of content as well as its distribution channels that works for one business might not work for another one.
So, in this section we will tell you about something that every single website that is serious about content production needs to do.
And that is to conduct keyword research and create a blog content plan based on the keyword opportunities that you find.
Conduct Keyword Research
The first step to creating a content strategy is to research the keywords in your niche.
This can be done with various SEO tools, such as Ahrefs' Keyword Explorer.

Type your niche's main keyword into the Keywords Explorer in your niche. We'll do "link building", as an example since it's one of our focus keywords.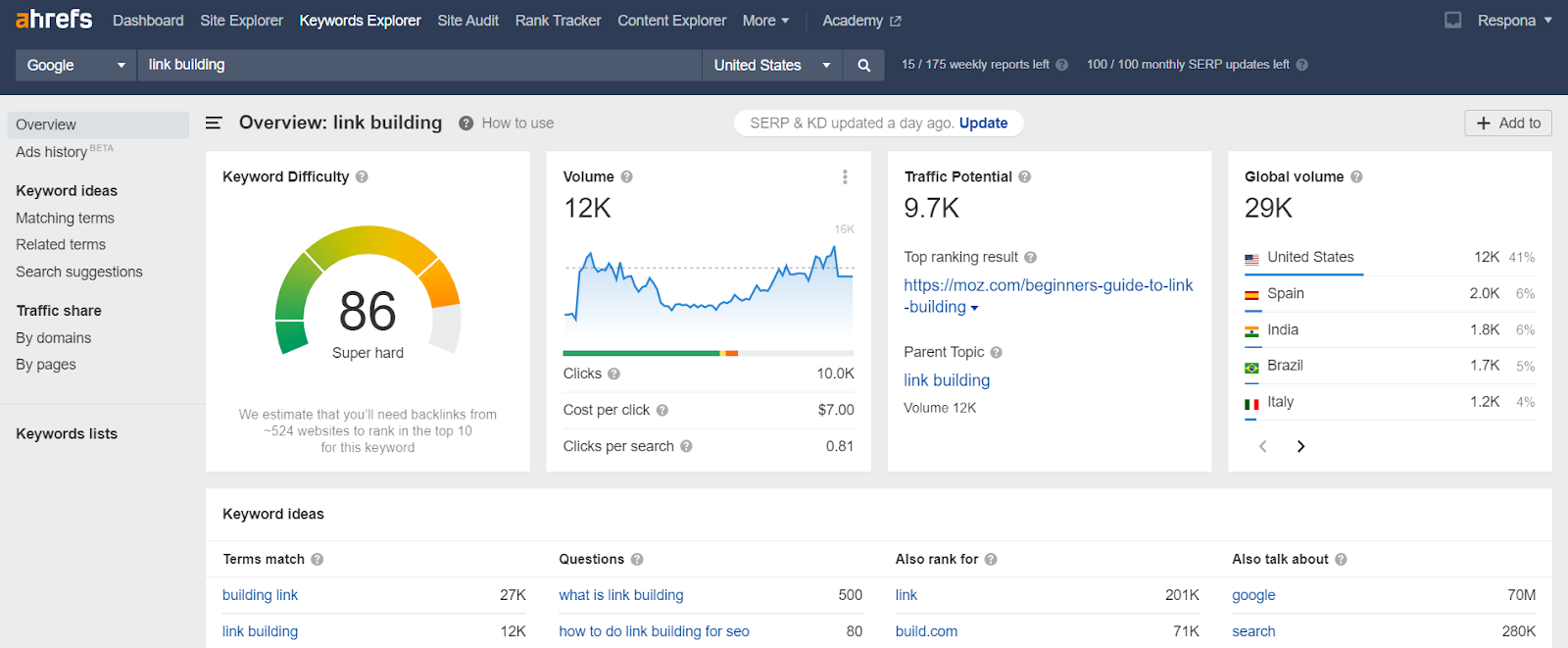 Next thing you will see is an overview of your keywords along with some of its basic metrics:
Keyword Difficulty
Volume
Traffic Potential (how much traffic the first result ranking for this keyword gets)
Cost per click
This is your parent keyword. Of course, you can experiment with multiple parent keywords.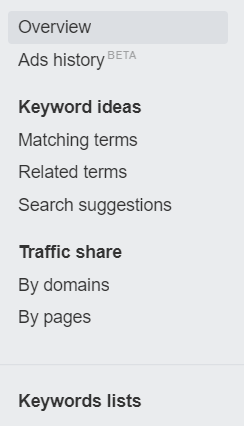 You will be taken to a screen listing other keywords associated with your parent keyword as well as their metrics if you click on "Search Suggestions" in the left side menu.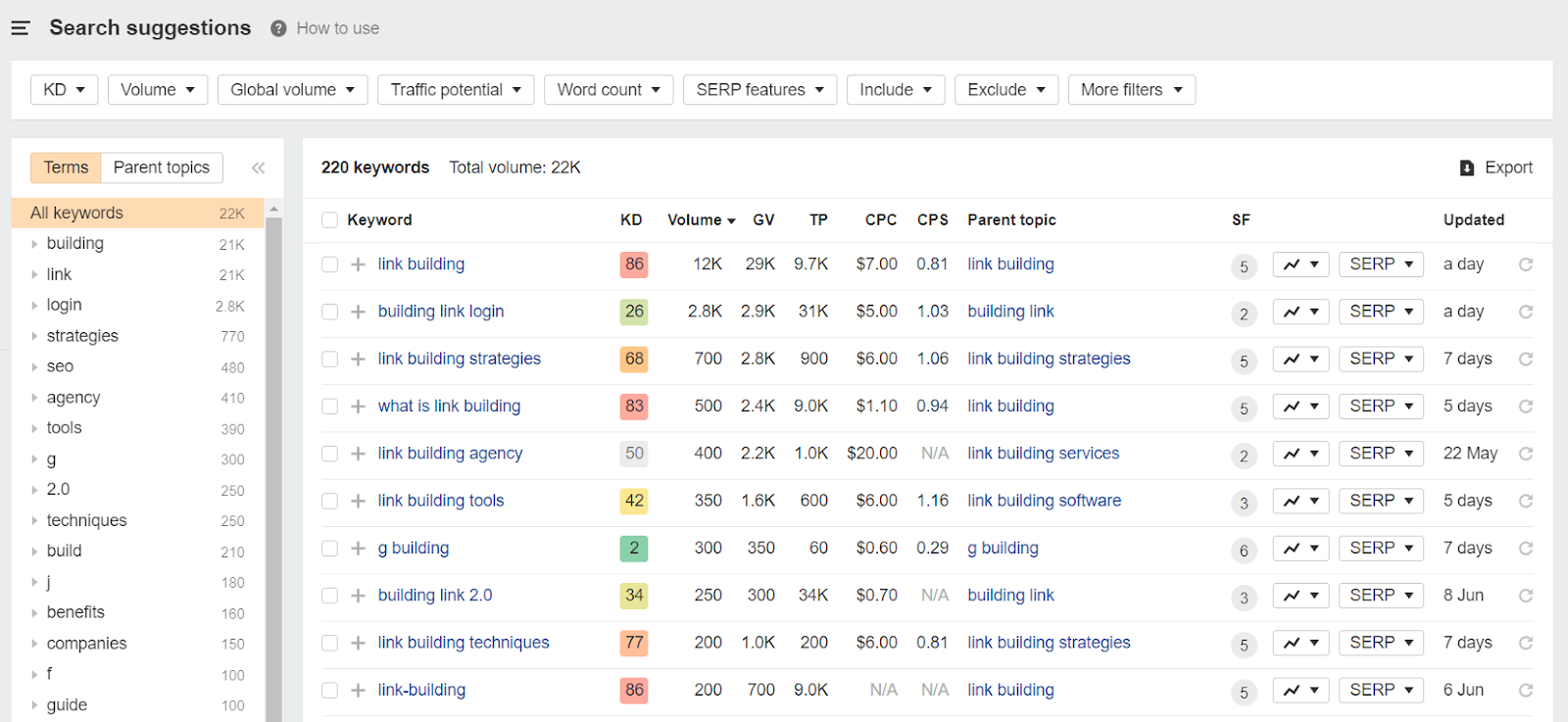 Approximately, Keyword Difficulty measures how hard it is to rank for a keyword as well as how many backlinks are needed to rank in the top 10 search results.
The ideal situation would be to target a keyword with low difficulty but high volume for easy traffic.
However, picking good keywords to target can be more complicated than that in reality.
Select Your Target Keywords
Not all of the keywords that Ahrefs provides will be relevant to your business, and even if they are relevant, they might not be good ones to target because of their high density.
It's better to use a formula to quickly determine prime keyword opportunities than to try to guess which keywords are good to target.
This is that formula:
(1/difficulty) * traffic potential * (CPC+1) = Keyword Score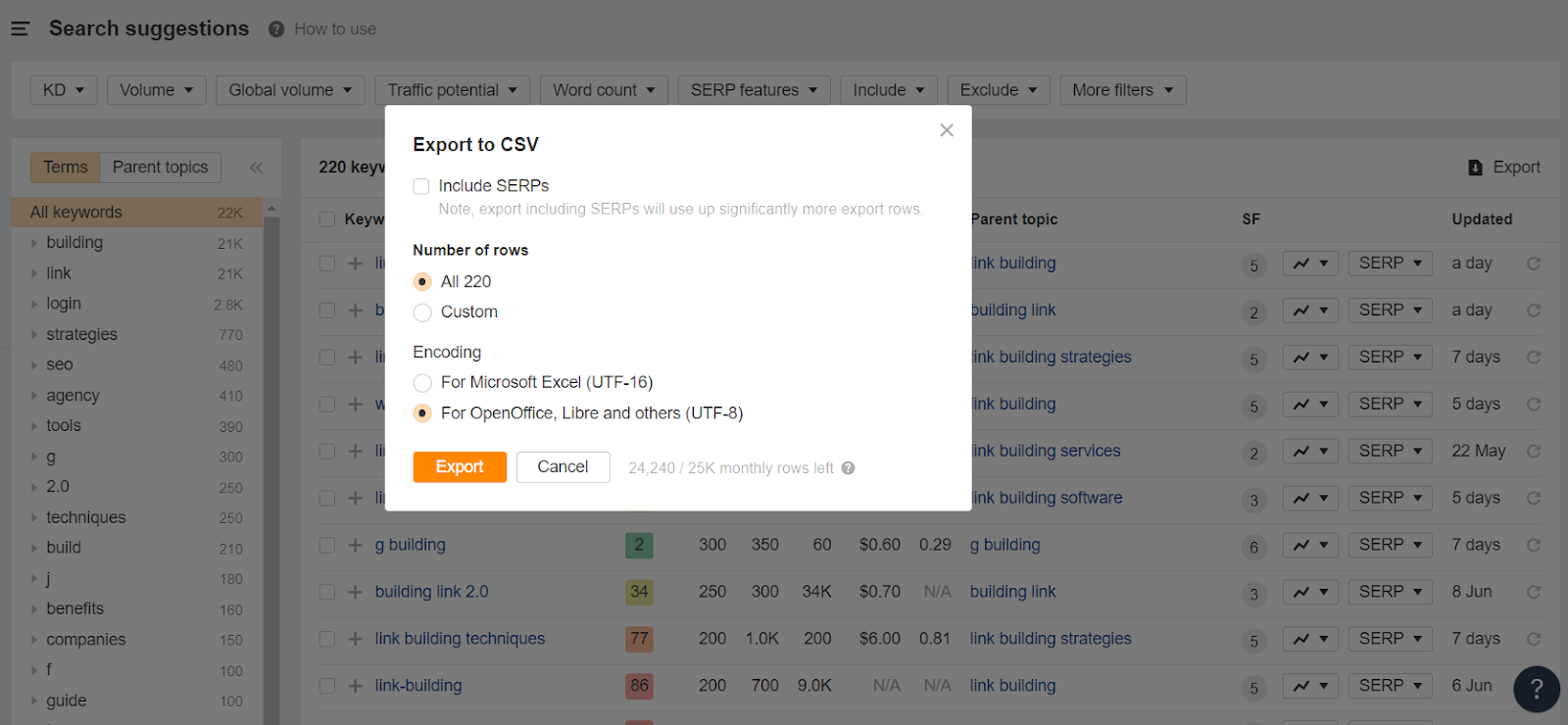 The more relevant and important a keyword is for your blog, the higher the keyword score you'll get using this formula.
Try out different variations of your parent keyword (as well as other keywords related to your niche), and export them from Ahrefs.
Once you have all of your keywords, rank them in descending order based on their Keyword Score to prioritize the best ones.
Create a Blog Content Plan
Once you have identified and graded your keywords, you can organize them into a content plan to help you produce content more efficiently.
This content plan can take many forms, from a simple list of blog post ideas to a more detailed spreadsheet with lengths and outlines of your future content.
Having a content plan can help you stay organized and focused when creating new content, rather than having to search for new keywords to target every time.
Take Your Content Strategy Cross-Channel
Obviously, blog content is only one part of a good content strategy.
Again, there is no silver bullet when it comes to content strategies, but there are some general guidelines that will point you in the right direction.
First, it is important to have a clear understanding of the different channels that will be used, and how they can be best leveraged to reach the target audience.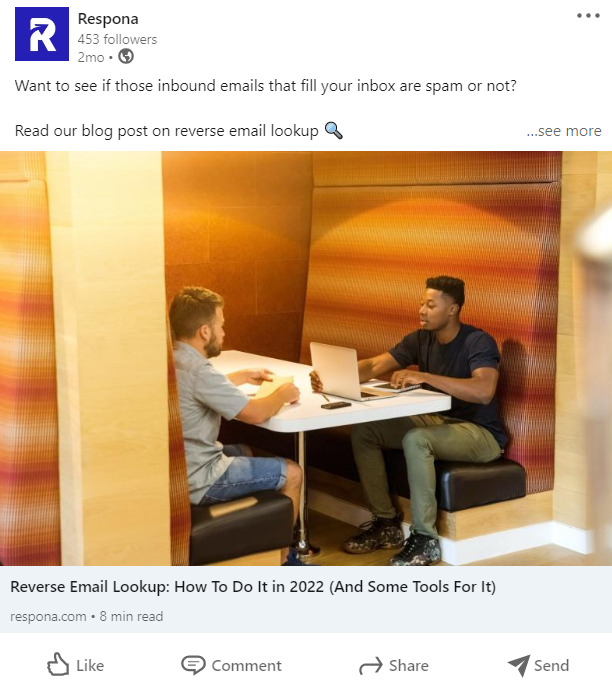 For example, if the goal is to reach a wide audience with general awareness-building content, then using a mix of channels such as social media, email, and paid advertising may be most effective.
However, if the goal is to reach a more targeted audience with more specific content, then a different mix of channels such as search engine optimization, content syndication, and targeted social media may be more effective.
Once the channels to be used have been identified, the next step is to develop content that is specific to each channel and that will be most effective in reaching the target audience.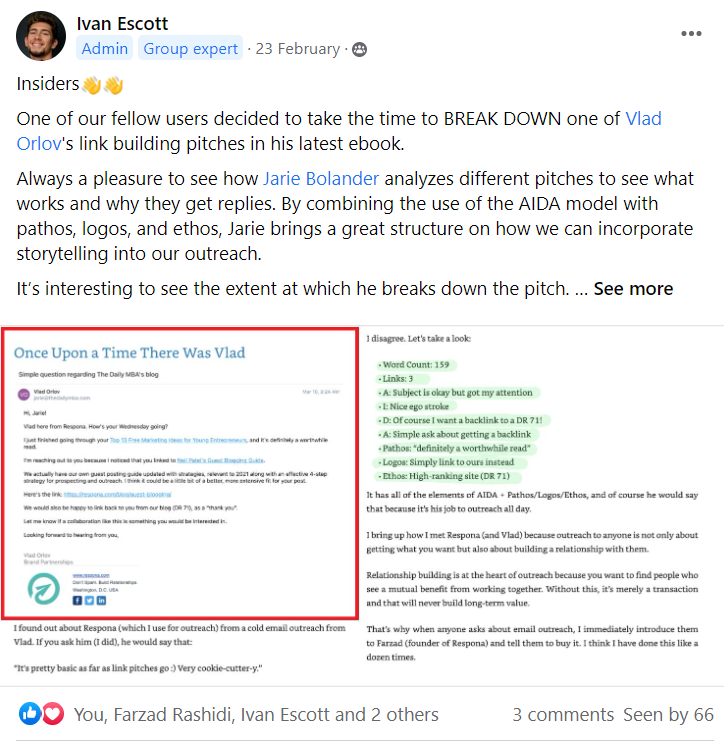 Finally, it is important to have a system in place to measure the effectiveness of the cross-channel content strategy.
This will involve setting up tracking mechanisms to measure key metrics such as reach, engagement, and conversions.
By continuously monitoring and tweaking the strategy based on these metrics, it will be possible to optimize the strategy over time and ensure that it is as effective as possible.
There are many tools available to measure your users' engagement with your content, such as:
Google Analytics for blog content
Sprout Social and HubSpot for cross-channel social media analytics
TapInfluence for influencer marketing analytics
Curalate for Instagram analytics
Promote Your Content
If you produce amazing content, you will see a little bit of success with it.
But you can't expect to generate thousands of clicks by just clicking "Publish" and not doing at least one round of promotion.
Luckily, there are many relatively simple and cost-efficient ways to promote content.
1. Social Media
The best way to promote your content on social media is to be active and engage with your audience.
Share your content regularly, and make sure to respond to any comments or questions that people have.
If you can get people talking about your content, it will help to generate interest and encourage more people to check it out. You can also use social media ads to promote your content to a wider audience.
2. Email Marketing
There are a few different ways that you can go about promoting your content through email marketing.
One way is to send out a newsletter to your subscribers that includes your latest content. You can also include a link to your content in your email signature, or in the body of an email when you are corresponding with someone.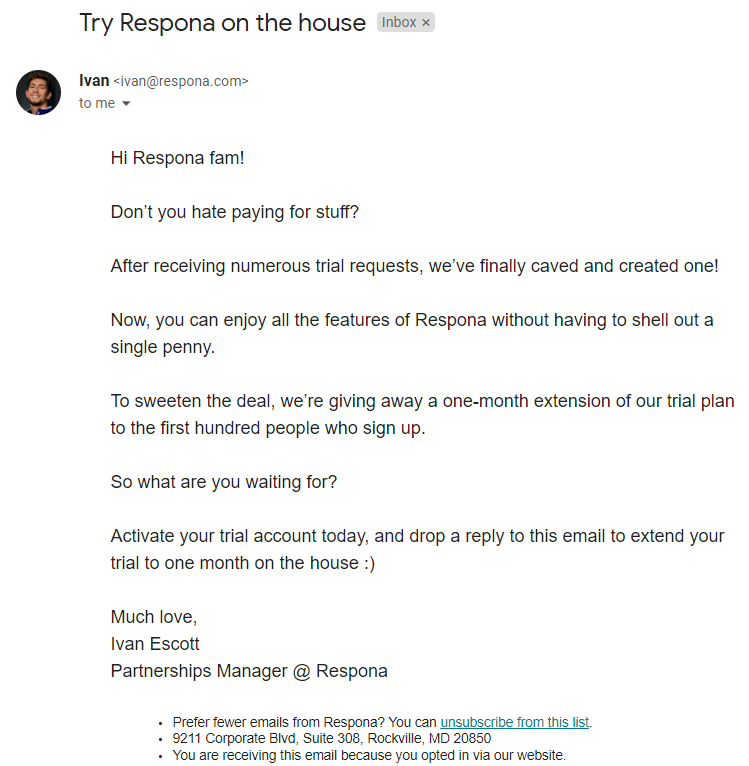 You can also set up an automated email campaign that sends out a series of emails with links to your content, based on certain criteria that your subscribers meet.
3. Paid Advertising
If you have the budget, PPC ads can be a great way to put your content in front of many new eyes.
You can pay for ads in search engines, and on social media platforms.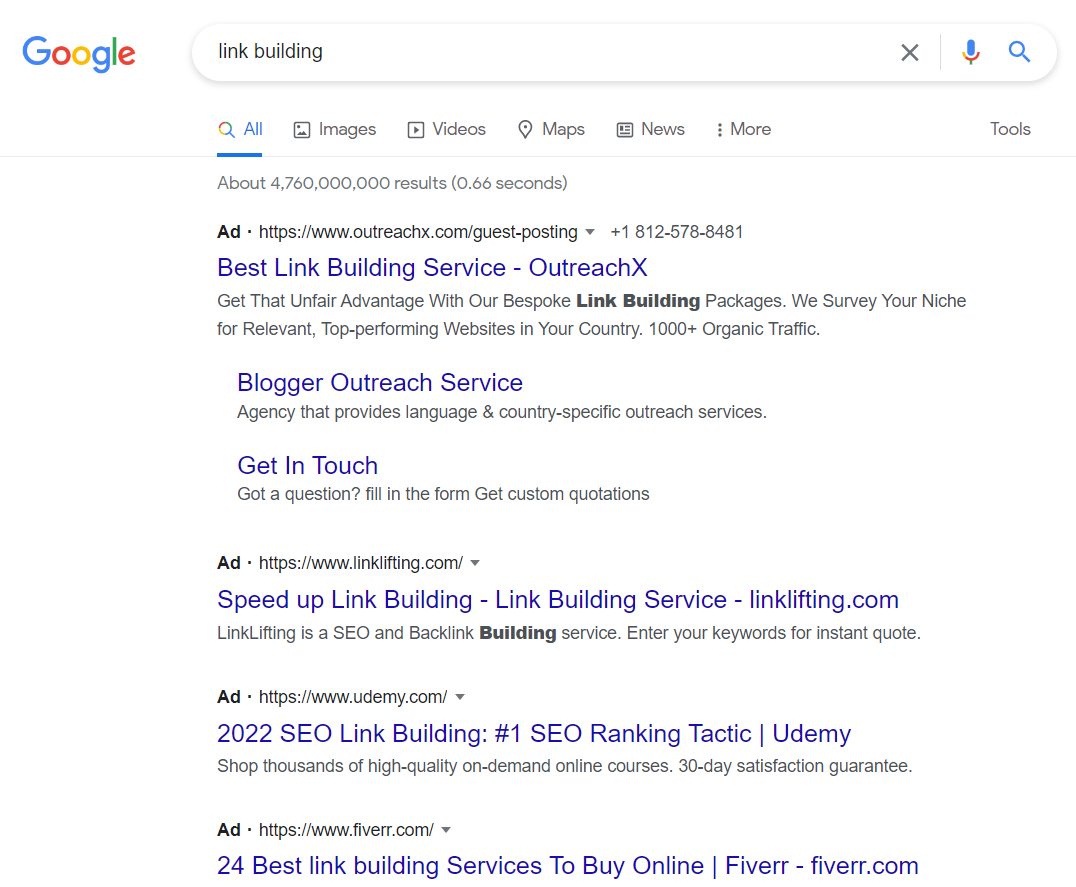 Running a successful PPC advertising campaign can be very tricky though, so make sure you thoroughly research your audience and understand their behaviour in order to get the most bang out of your buck.
4. Guest blogging
Guest blogging is probably the most widely used link building practice, and is one of the most sure-fire ways to acquire high-quality backlinks for your new content.
Securing guest posting opportunities is also fairly simple.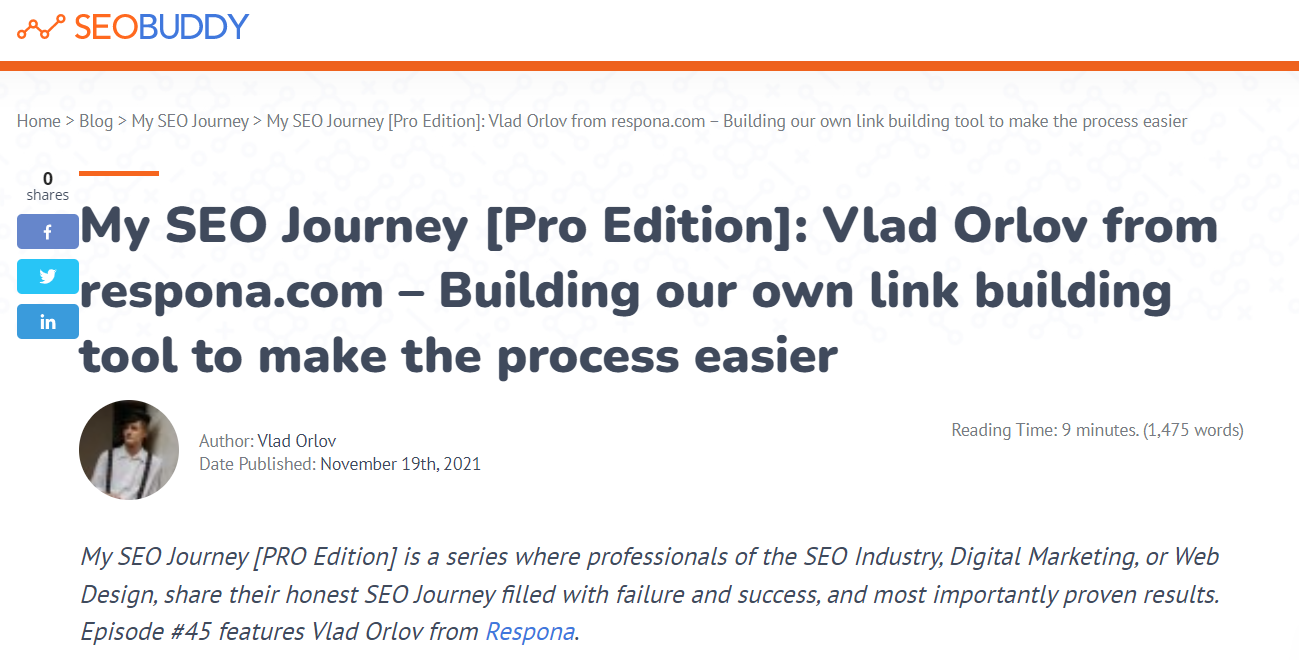 In addition, a lot of the time, you can secure multiple backlinks from a single guest post instead of just one if you include links to your link building partners in your content – they will return the favor for you in a similar fashion.
5. Influencer Marketing
Influencer marketing is a type of marketing that focuses on using key leaders to drive your brand's message to the larger market. Rather than marketing directly to a large group of consumers, you instead focus on those with influence over many others.
There are a number of ways to promote your content through influencer marketing. You can identify influencers in your industry and reach out to them directly, or you can use a platform like Tapinfluence or Izea to connect with influencers.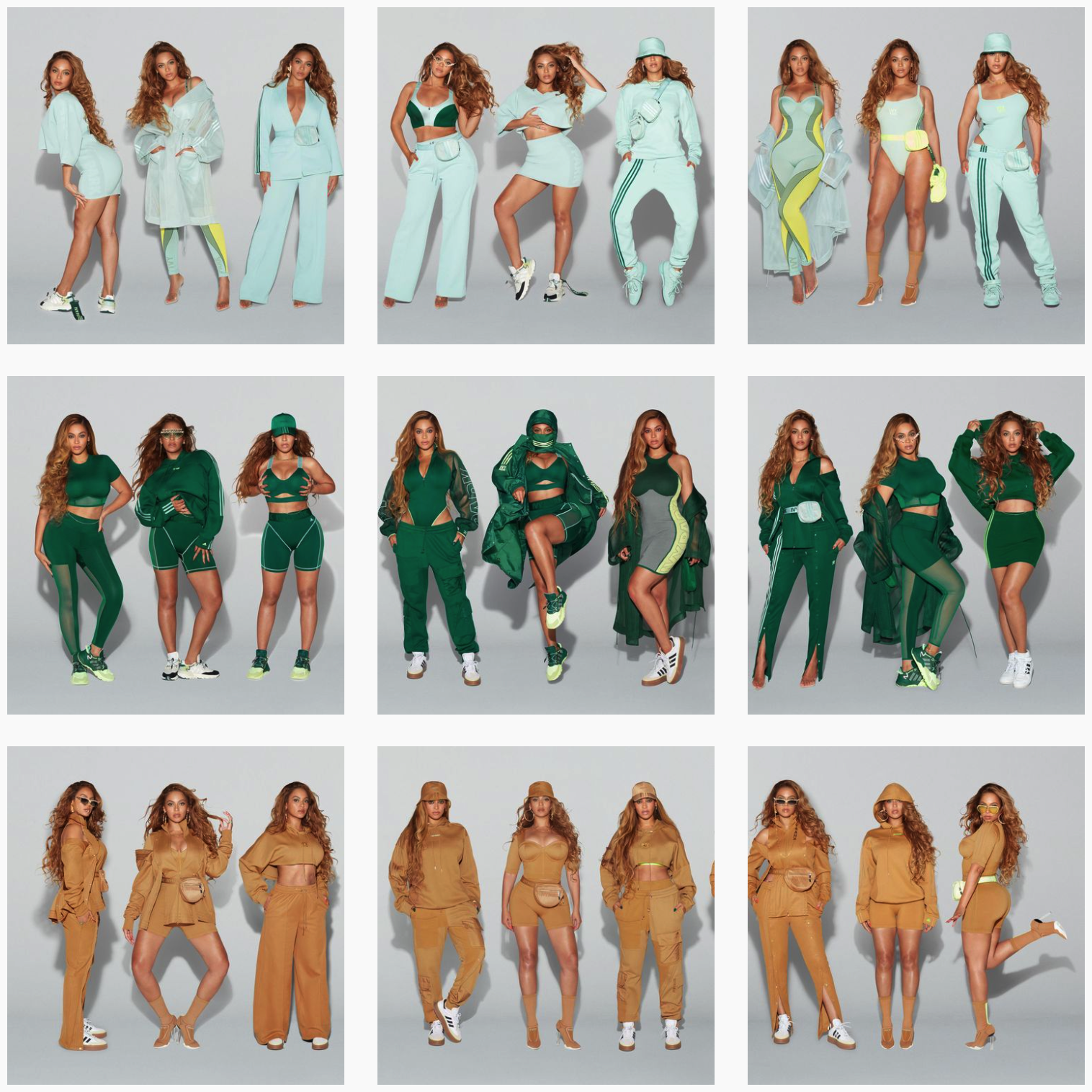 Once you've established a relationship, you can work with the influencer to promote your content. This might involve sharing your content on their blog or social media channels, or having them write a post about your product or service.
Influencer marketing can be an effective way to reach a larger audience and build your brand. However, it's important to choose your influencers carefully and make sure that they align with your brand. Otherwise, you risk damaging your reputation.
6. Content Syndication
Content syndication is the process of distributing your content to other websites and blogs in order to generate traffic back to your original post or article.
When done correctly, content syndication can be an extremely effective way to promote your content and grow your audience.
For example, we re-purpose a lot of our own blog content to make scripts for our YouTube videos more easily.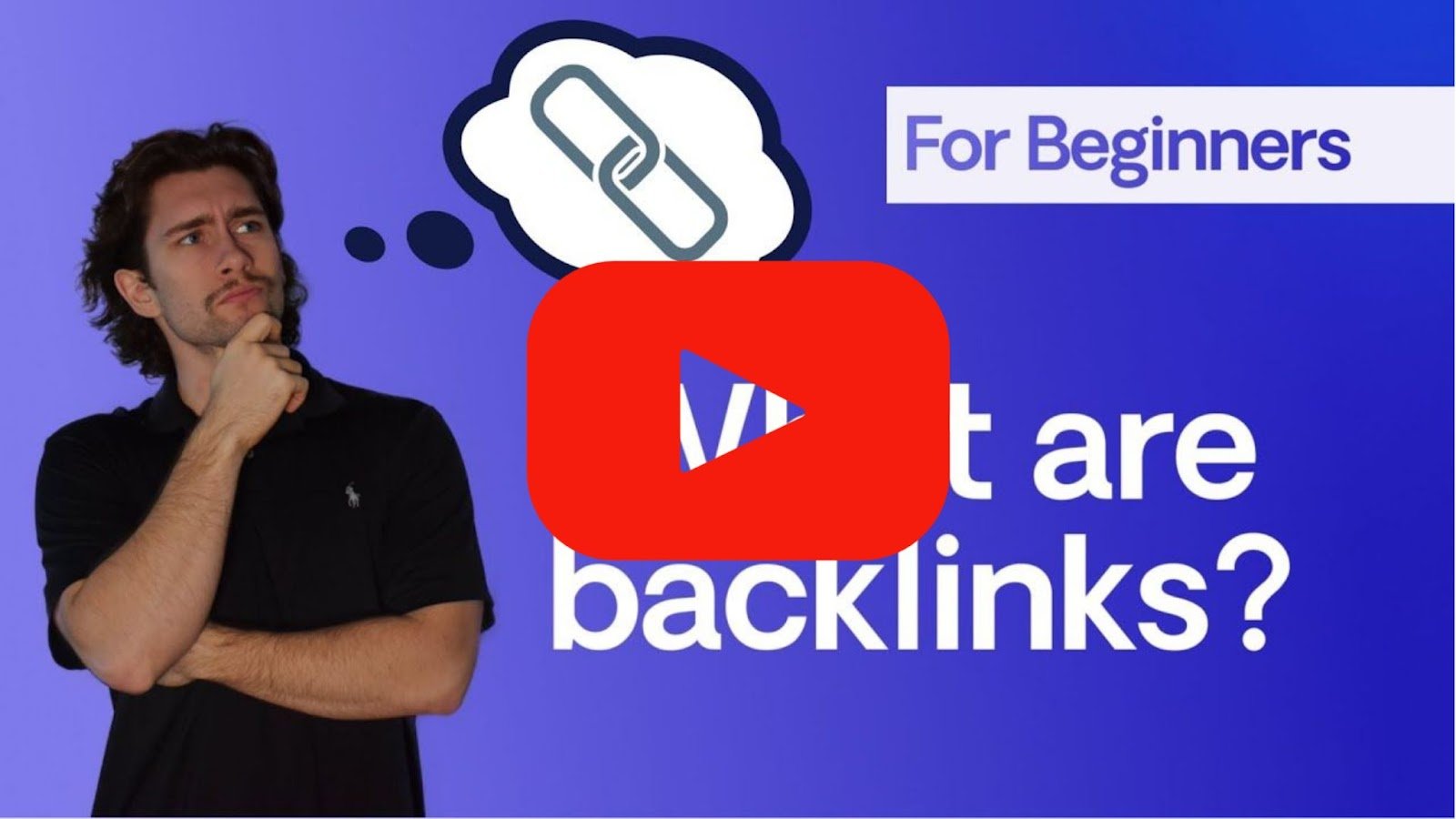 7. Public Relations
There are many ways that public relations can help you promote your content. Some of the most common and effective ways include:
1. A press release is a great way to get the word out about your content and generate media coverage.
2. Pitching your content to journalists and influencers can help you get coverage in major publications and on popular websites.
3. A social media campaign can help you reach a large audience and generate buzz for your content.
4. Hosting a contest or giveaway is a great way to get people engaged with your content and promote it to a wider audience.
5. Participating in trade shows and conferences can help you get your content in front of a relevant and engaged audience.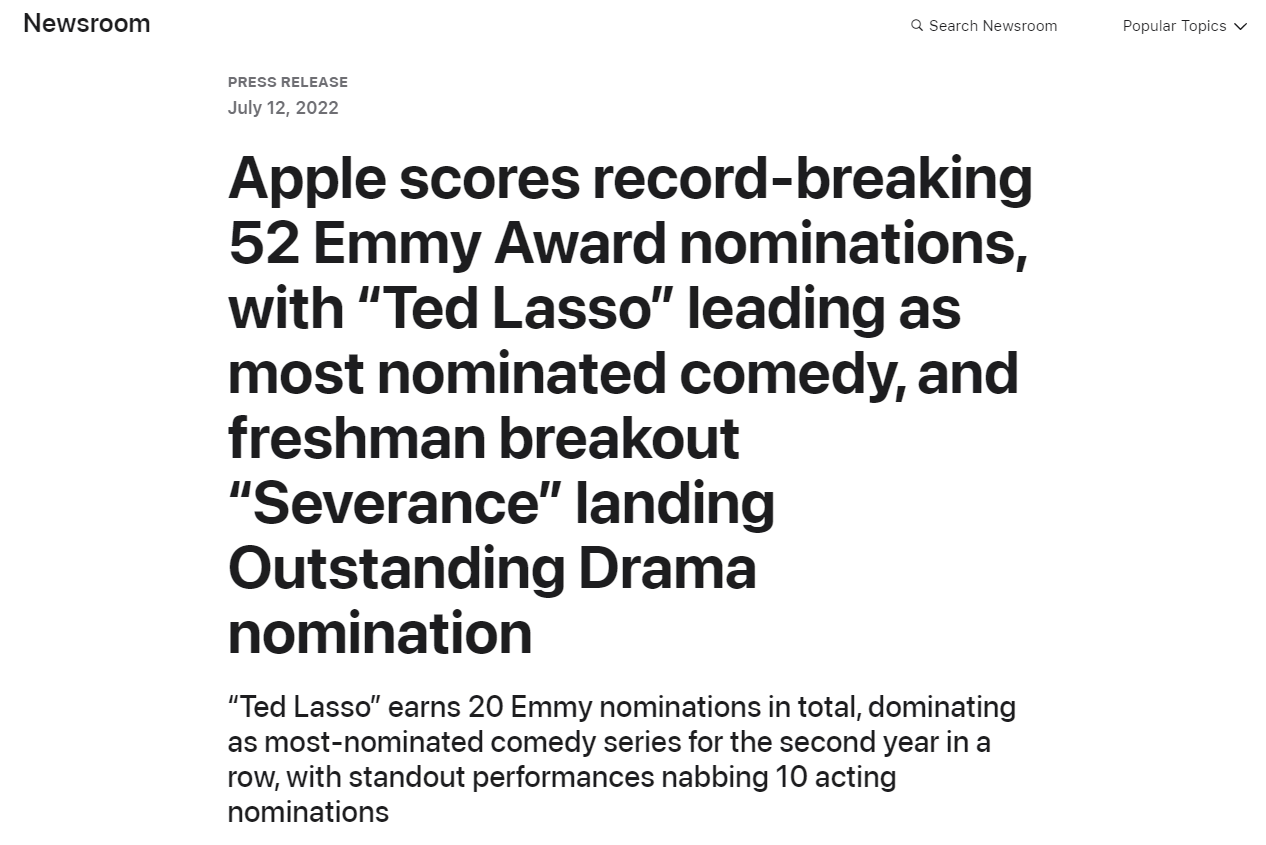 8. Search Engine Optimization
Content that is optimized for search engines will appear on the first page of Google, which is also considered a form of promotion.
There are many facets of SEO, each worthy of their own articles.
In fact, we have Glossary definitions for each of the three types of SEO:
On-Page SEO
Off-Page SEO
Technical SEO
9. Forums and Communities
Being an active member of forums and communities can be a great way to build closer relationships with your audience, and an amazing chance to promote your content at the same time, if it addresses their pain points.
Bottom Line
Blog content is essential for your business' online visibility.
If you haven't already, you should invest the time into producing high-quality blog content because it will:
Attract clicks to your website
Give users a reason to stay on your resource for longer
Allow you to rank for multiple keywords
Help you outperform competitors that don't have as good of a blog