With over 850,000 active podcasts and the number of listeners growing year by year, podcasts are now one of the most prominent types of content people consume.
Podcasting is a win-win situation for both the hosts and the guests.
The host creates high-quality content that'll drive more traffic to their episodes, while the guests get brand mentions, raise awareness of their expertise, and even get backlinks.
These are benefits that have driven you to want to appear as a podcast guest, but how do you make that happen?
We've got the answer to that and other burning questions that we'll cover, including:
Six lessons we've learned from sending podcast pitches
A step-by-step guide on how to pitch a podcast
Plus, a free template at the end that'll make podcast pitching a simple, repeatable process.
Without further ado, let's get started.
Table of Contents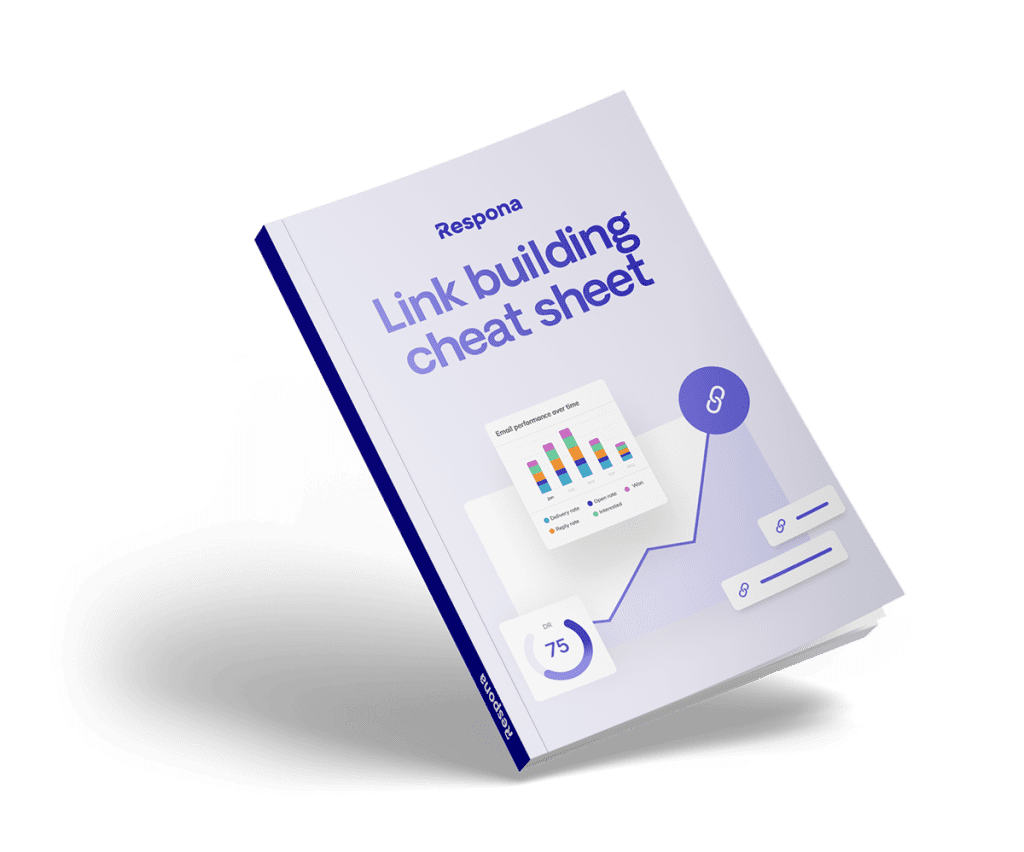 Link building cheat sheet
Gain access to the 3-step strategy we use to earn over 86 high-quality backlinks each month.
Lessons From Sending Over 1,000 Podcast Email Pitches
In this part of our guide, we're going to show you the most important lessons learned from sending email pitches to podcasters.
We strongly believe that each lesson is a valuable insight you can use, in order to have more chances of appearing on the perfect podcast for your personal or business brand.
Let's get started.
Lesson #1: Listening to the podcast can help you better understand the host
Before you even start working on your pitch email, remember that research is key.
That's why the first lesson is all about understanding the podcast host.
Assuming you've found a podcast in your niche that you believe you can offer value to its listeners, the next step is to listen to as many episodes as you can.
This gives you a good understanding of what the host is like, what they're passionate about, and what their field of expertise is so you can make your pitch as relatable as possible for them.
Let's suppose that you're a marketer or business owner and want to create the perfect pitch for Your Digital Marketing Coach; a renowned podcast in the digital marketing world hosted by Neal Schaffer.
You can browse the podcast episodes on its website and get a good idea of what they're all about and what the host is like.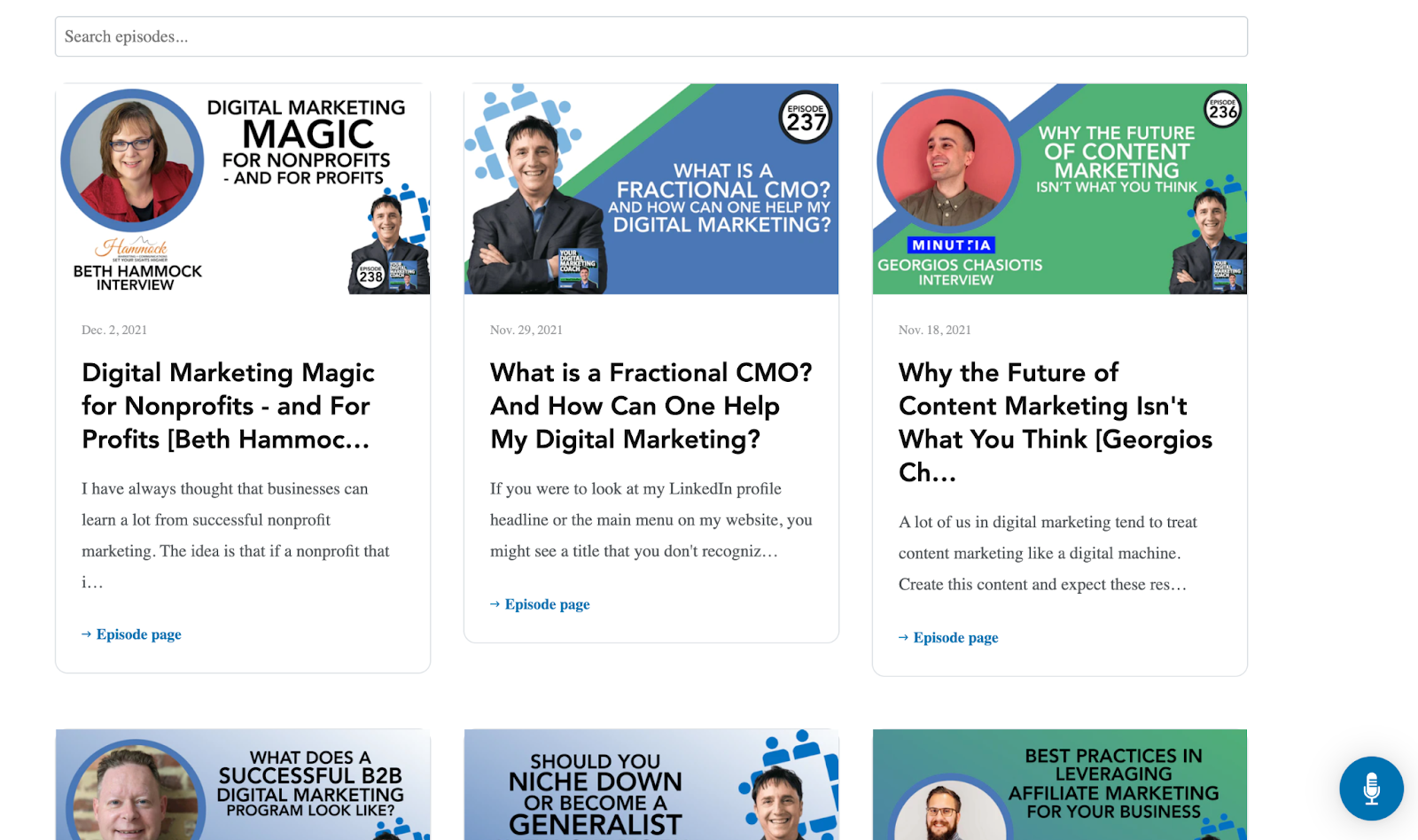 Author's Note: You can also find a podcast's episodes on its Spotify and Apple Podcasts pages.
To give you an example, by listening to episode 236, around the eighth minute in, the host refers to a conversation he had with a popular Facebook expert.
This could potentially be a great way to get your foot in the door when creating your pitch, assuming you have a similar story to tell or even had a conversation with the same person once.
Your outreach email could look something like this: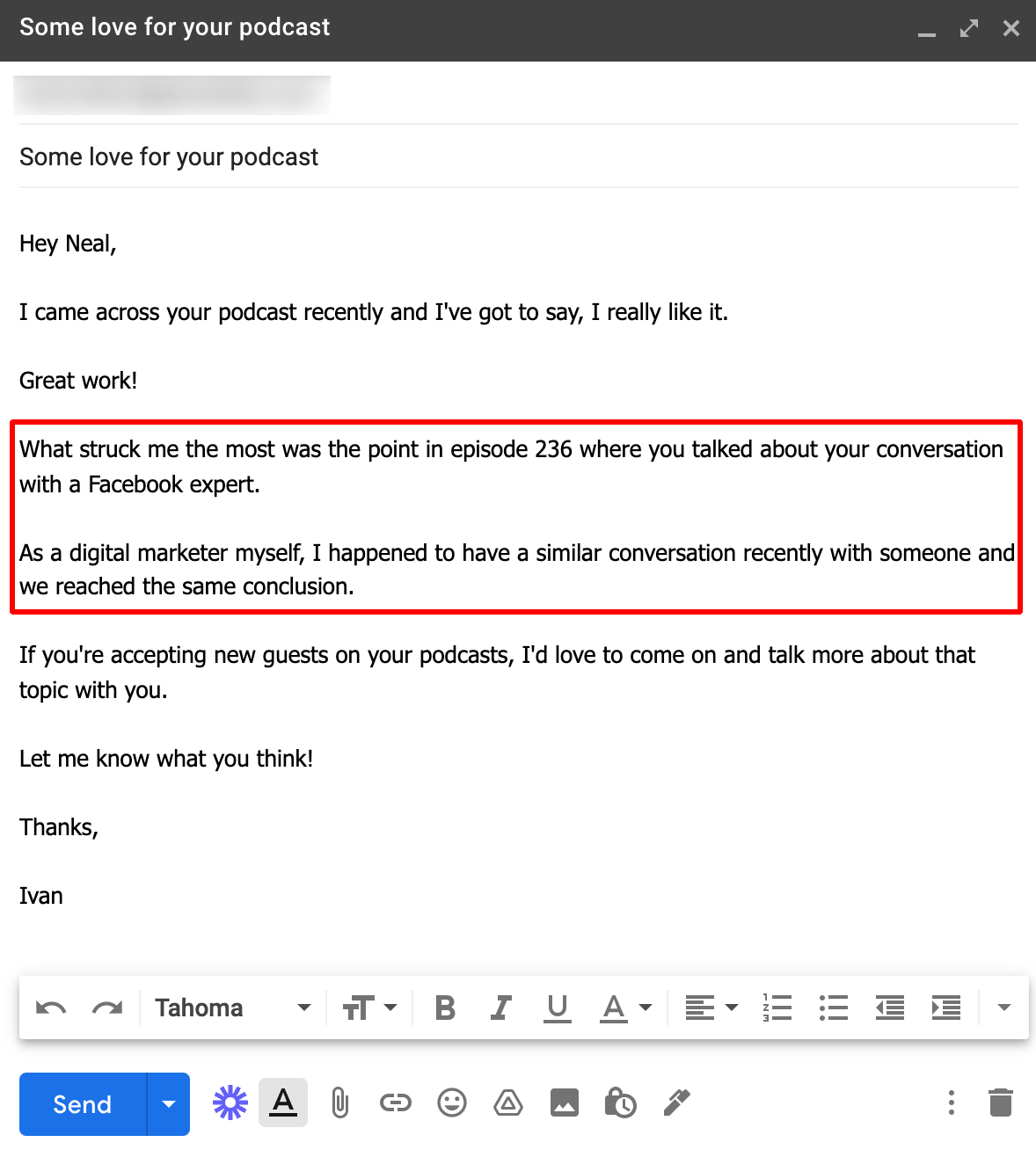 Makes sense, right?
Overall, listening to a podcast before approaching the host to be a guest can provide you with valuable insights.
Let's continue.
Lesson #2: Connect with the host on social media to build a relationship prior to pitching
Cold email marketing is a challenge enough, and with the average response rate being at just 1%, marketers are constantly trying out new techniques that'll make their outreach efforts more effective.
One of those has proven to be relationship building.
By connecting with hosts on social media, like LinkedIn and Twitter, and sparking general conversations with them, they're more likely to notice you before you even request anything from them.
Think about it; which of the two cold emails are you most likely to reply to?
An email from someone you've never heard of or interacted with before, or from a person you're aware of and have built a relationship with?
Chances are, you'd reply to the second one.
Let's continue with the same example as before and assume you've connected with Neal Schaffer on LinkedIn.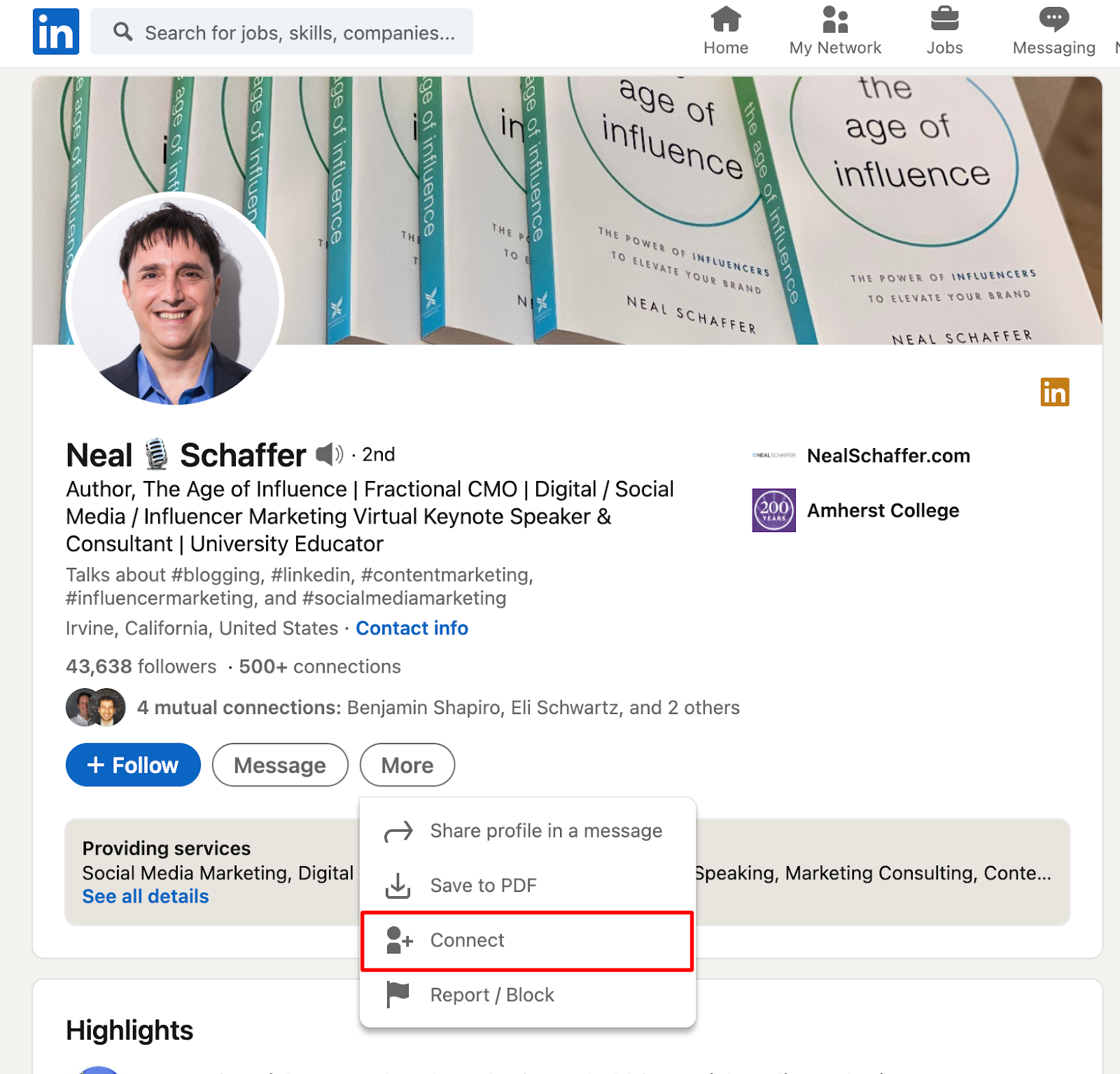 After a certain amount of time has passed and you've interacted with his posts and he's had a chance to see yours – and ideally interacted with them too – this is fertile ground to cold email him.
Here's what your email could look like: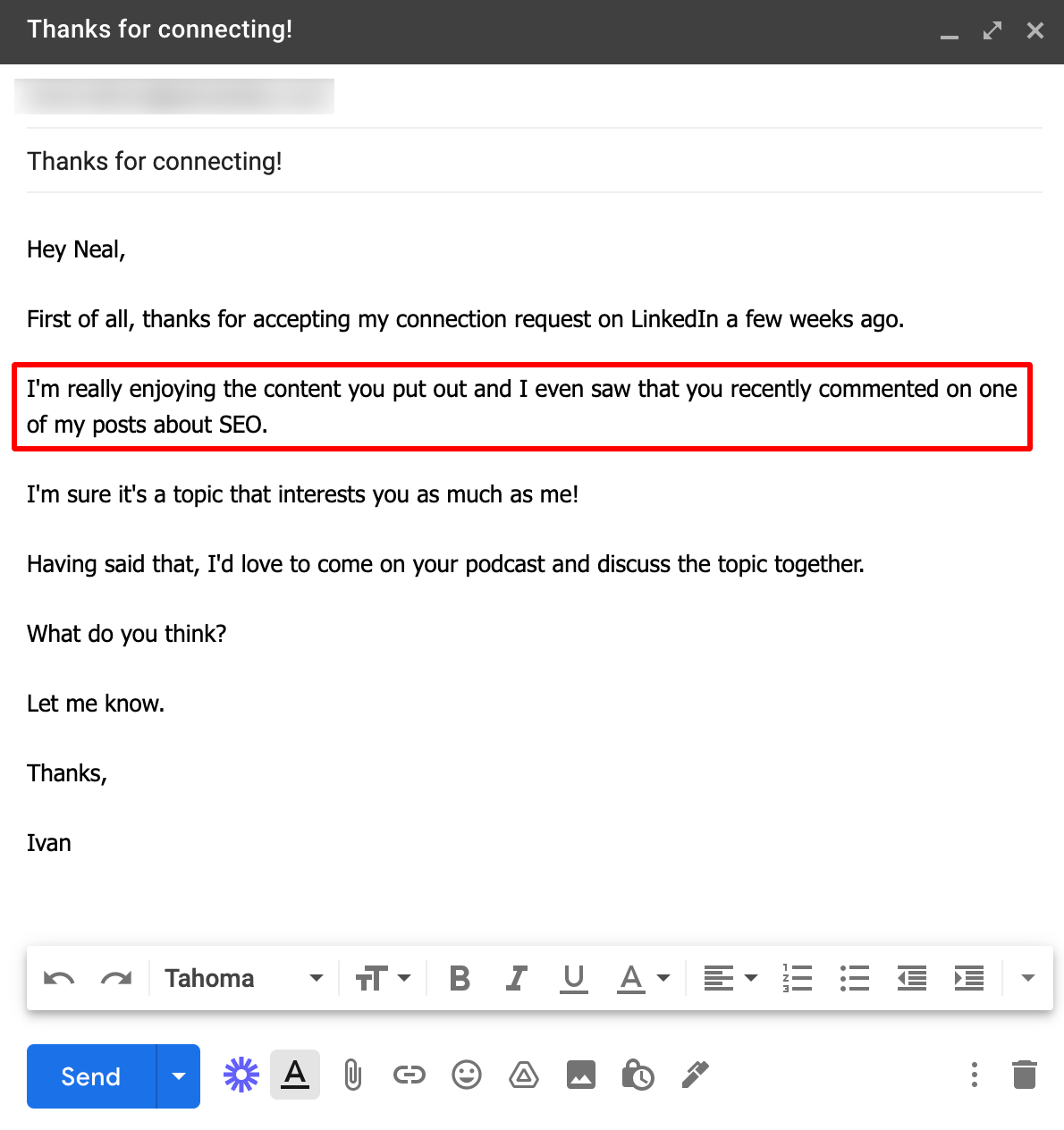 See what we did there?
By talking about the online relationship that's been established, we've got more chances of getting a reply and potentially making a guest appearance in a podcast interview.
To sum up, relationship marketing is something you should take into serious consideration before reaching out to someone; it can really make a difference when booking a guest spot.
Moving on to the next lesson.
Lesson #3: Finding an "episode gap" makes your pitch more appealing
Offering free value is something that everyone appreciates and this is what this lesson is all about.
If you really want your pitch to work and appear on a certain podcast, then a good tactic is to find an episode gap and propose to fill it yourself.
This basically means browsing through a podcast's episodes searching for a topic relevant to the subject but that hasn't yet been covered.
Once you find a gap that would be a good fit and within your area of expertise, you can include it in your pitch as a proposed topic of discussion.
Even top podcasts haven't covered every single topic in their niche, so if you look for an opportunity you're bound to find one.
Let's go with the same example as in the previous lessons.
Supposing you're an expert in SEO and content marketing; one of the things it makes sense to talk about is topic clusters.
Now that we have our proposed topic, it's time to check if it's been covered by Neal Schaffer's podcast.
One way to do this is to browse the episodes one-by-one, but you can also use a search modifier to speed up the process; this is what ours would look like:
site:nealschaffer.com AND topic clusters
With it, we're instructing Google to find all results from our selected website that are about topic clusters.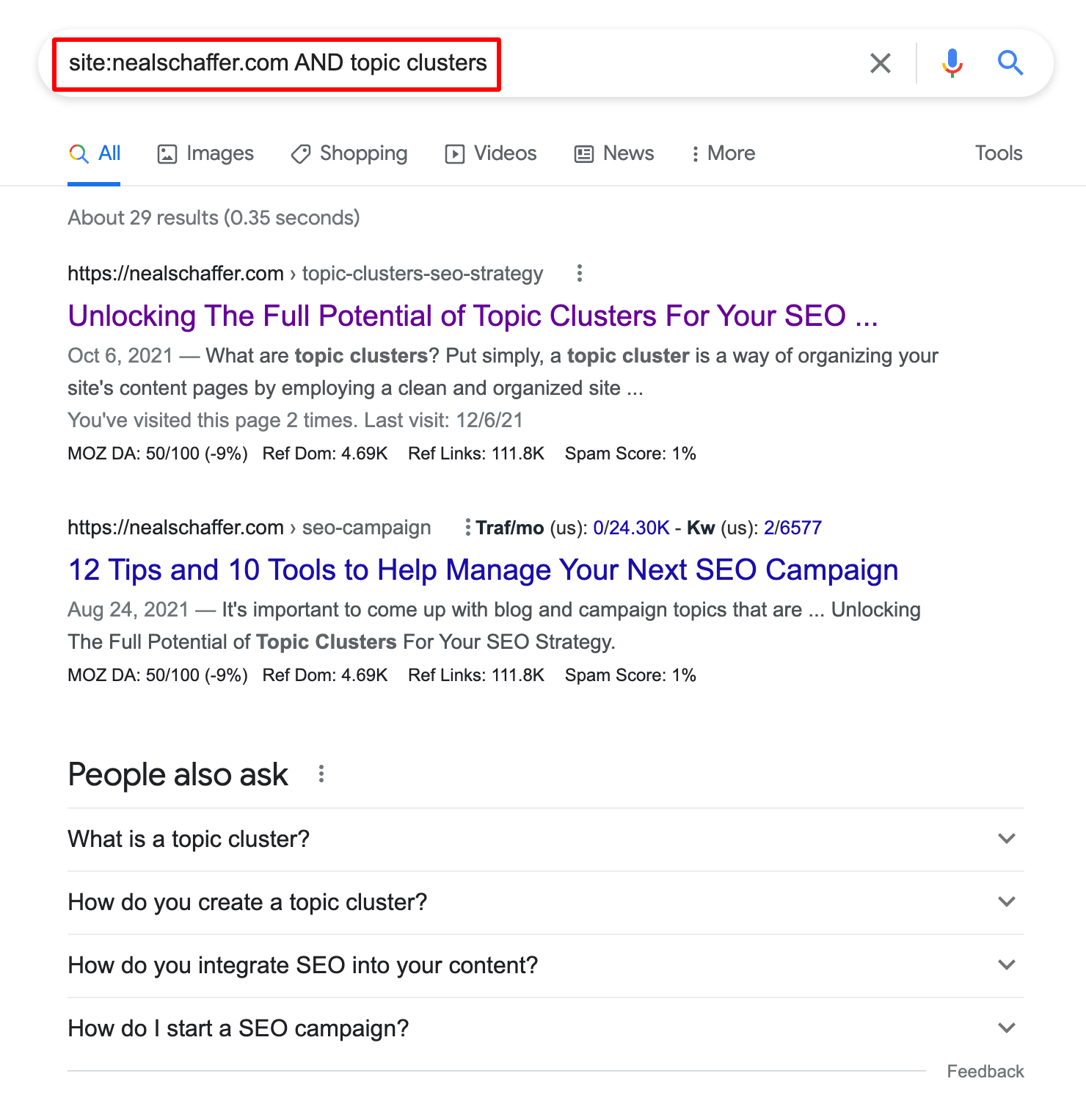 As you can see above, a few results come up but they're all blog posts; meaning that there's an episode gap for our subject.
We can talk about this in our pitch email.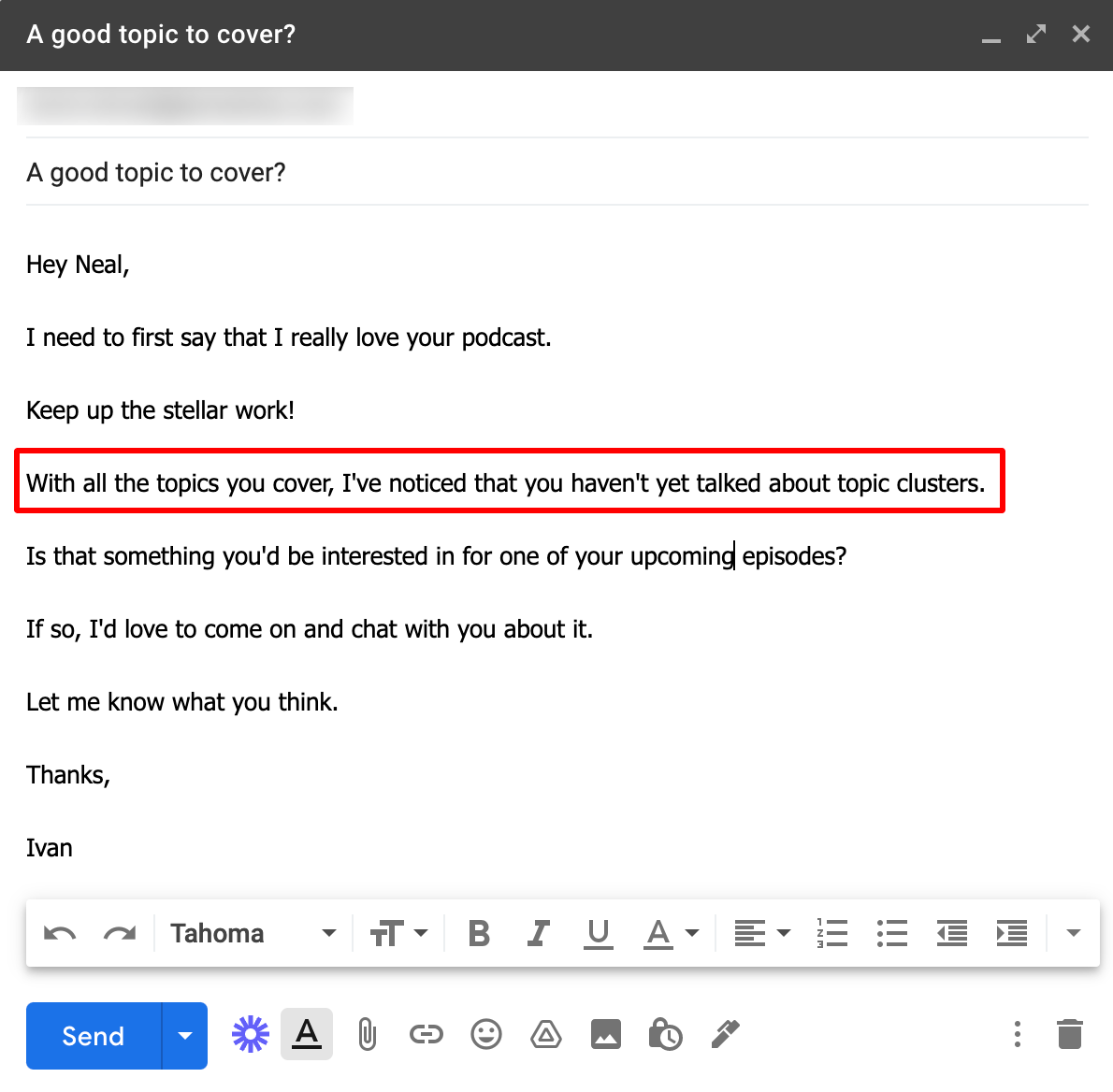 Make sure that the topic is relevant to the podcast and interesting enough for the podcast audience and your chances of being a potential guest will significantly increase.
Moving on to the next lesson.
Lesson #4: Showing what's in it for the host can make your pitch more tempting
Pitching yourself to be a potential podcast guest is a request.
As with every request, asking for a favor or demanding something isn't enough to be accepted by the other side.
Unless you're very popular in your field and can bring a podcast a lot of attention, you'll have to offer something else as an incentive.
For instance, you can propose to promote the episode you'll appear in on your social media accounts, which will drive the podcast awareness to a new audience.
If you're a podcaster too, you can even offer the host the chance for them to appear on your own podcast; it's a win-win situation for both sides then.
Whatever you have to offer, showing what's in it for the host can make your pitch more appealing.
Here's an example: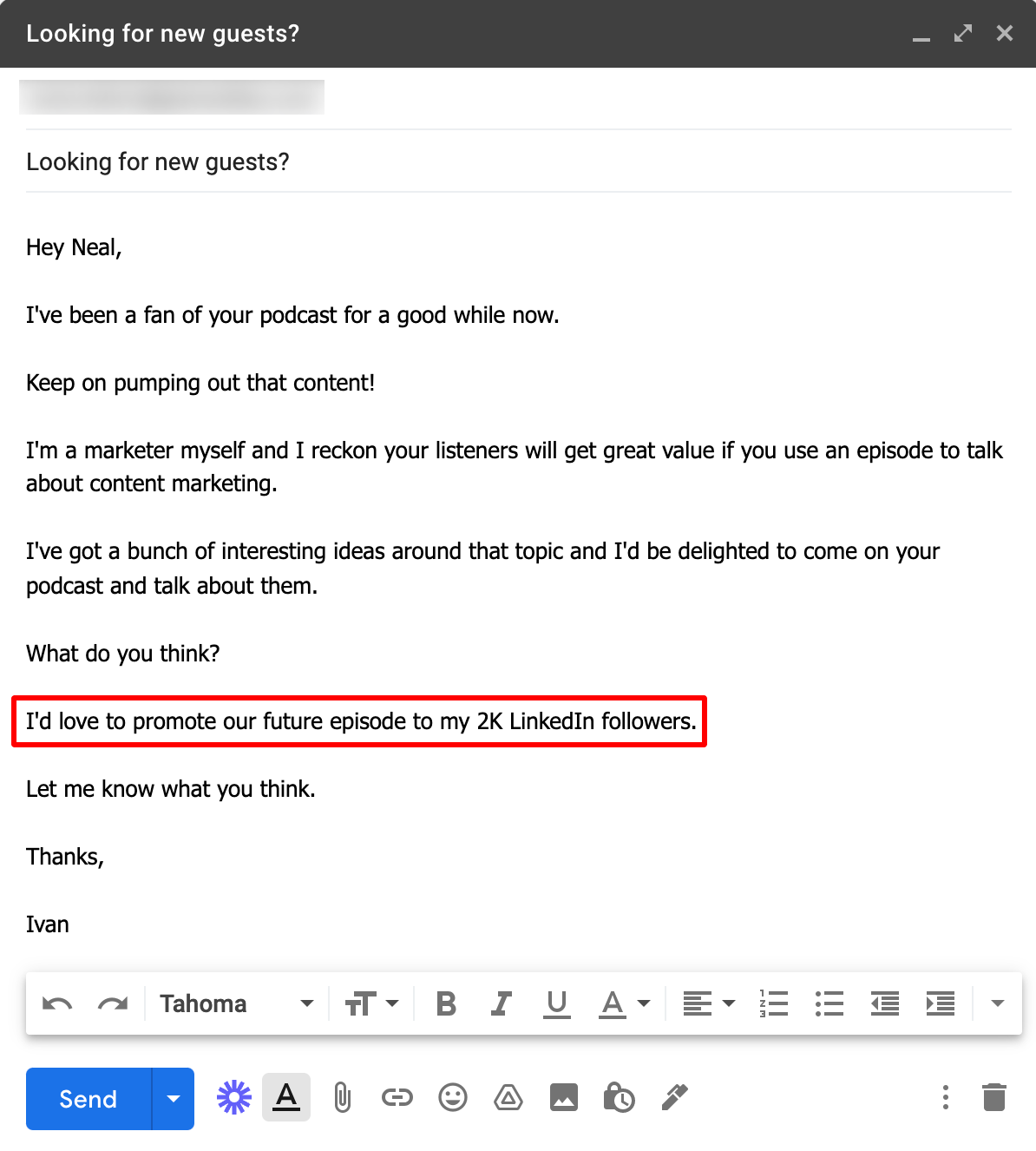 Overall, if you want to make your podcast pitch tempting, you need to offer an attractive incentive too.
Let's continue.
Lesson #5: Sharing a topic can make things more specific
This lesson is something we've more or less included in every example we featured so far, but it's important to point it out.
Whether you're contacting a host or a podcast producer, it's important for your pitch to be clear and to the point.
This means you need to share one or more specific topics you can talk about on the podcast so that your email recipient knows what your expertise is and what kind of episodes you can work on together.
Plus, it'll save some back and forth trying to come up with a good topic.
Here's what a good podcast outreach email could look like: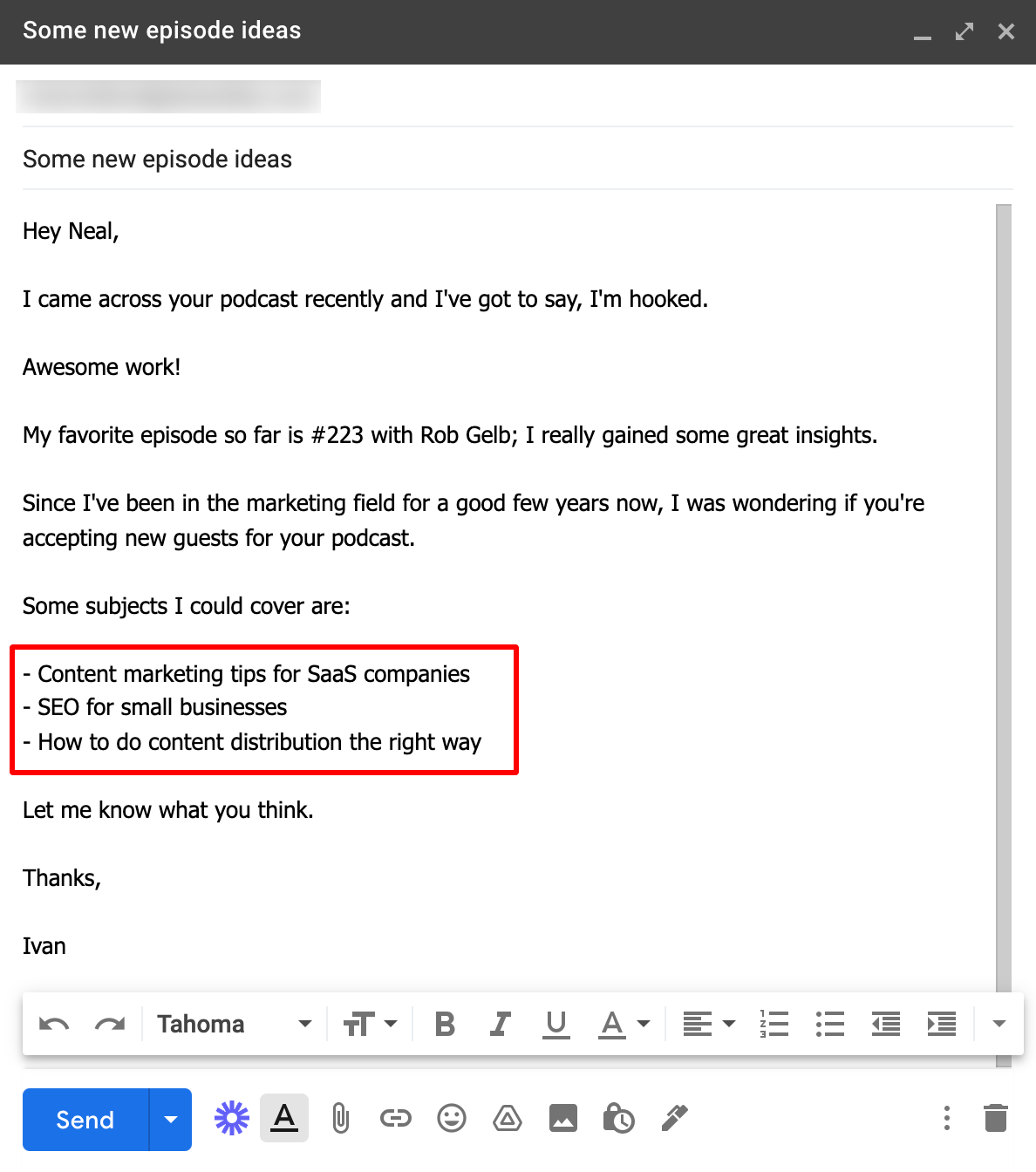 By providing some bullet points of suggested topics, your pitch is straightforward and has more chances of being accepted.
Author's Tip: Try to make your suggested topics as specific as possible, instead of generalized ideas.
Moving on to the next lesson.
Lesson #6: Offering value through co-marketing activities helps your pitch stand out
One of the best ways to make your podcast pitch stand out is by offering value through co-marketing activities.
In a nutshell, co-marketing campaigns provide two or more parties with the opportunity to promote an offer and share the results with each other.
In fact, according to research, 54% of companies say partnerships drive more than 20% of total company revenue.
This is why proposing a partnership in your pitch would be a great idea.
For example, you can offer to promote the podcast episode on your social media and create some sort of giveaway or contest around it.
By offering a good incentive, you'll drive awareness to both you and the host's social accounts; this can be particularly useful if you're pitching to a new podcast that's building an audience.
Here's how you can put these together in a cold email:
Obviously, the co-marketing activity could be anything you think is beneficial for both sides.
What's definite is that it'll make your outreach email stand out from the crowd.
Now that we've seen some of the most important lessons when it comes to sending podcast email pitches, let's see the step-by-step process of pitching a podcast.
Step-by-Step Process for Effectively Pitching Podcasts in 2022
Now you've seen the lessons we've learned from pitching to podcasts here at Respona, we're going to show you how to effectively pitch podcasts.
The process consists of a few simple steps and with the help of our own tool, Respona, everything is made even easier.
For the sake of example, let's assume you're the host of a content marketing podcast and you want to raise awareness about it by appearing as a guest on other podcasts.
Let's see how you can do this.
Step #1: Make a list of prospects
The first step is to make a list of prospects, that is, a list of podcasts you want to reach out to.
Once you log into Respona, you'll have to start a new campaign: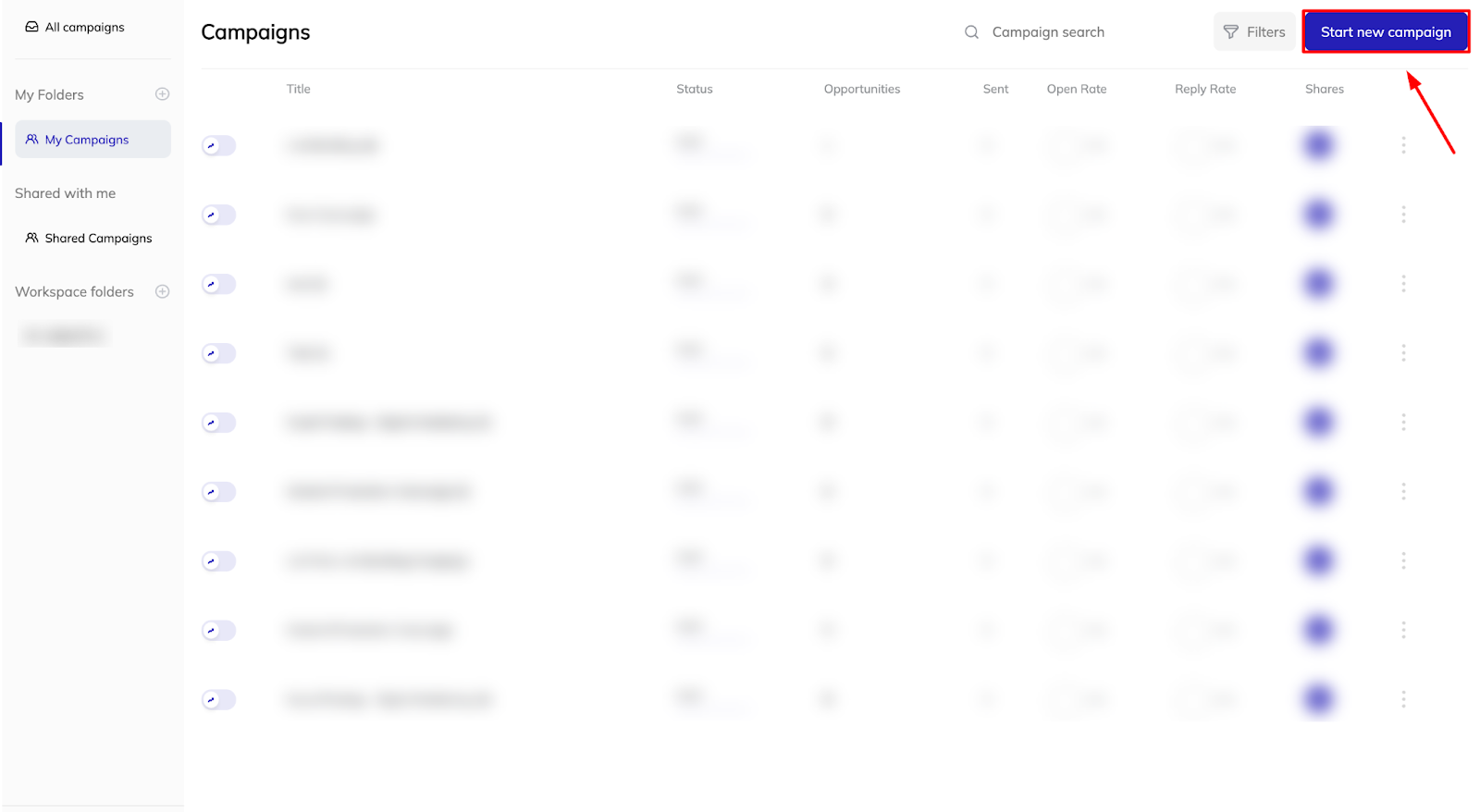 You need to give it a name that's both descriptive and memorable.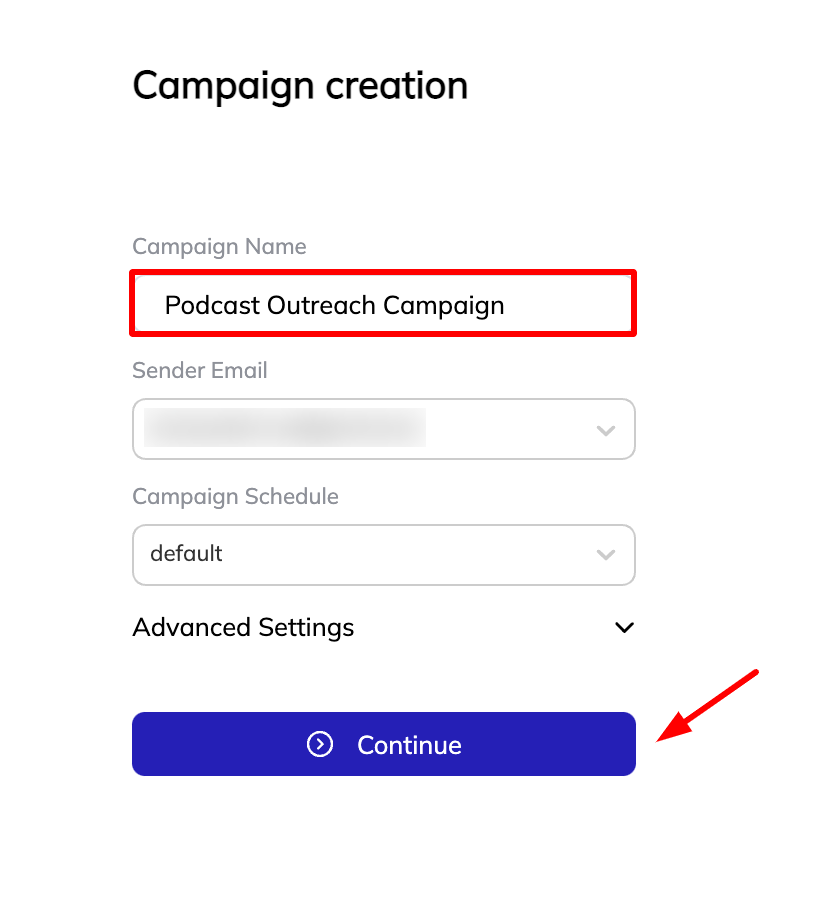 Once that's done, click on Continue to move on.
When using Respona, you have the chance to automate the process of searching online content such as blog posts, news, web results, and podcasts.
In this case, we want to opt for Podcasts from the list of content types: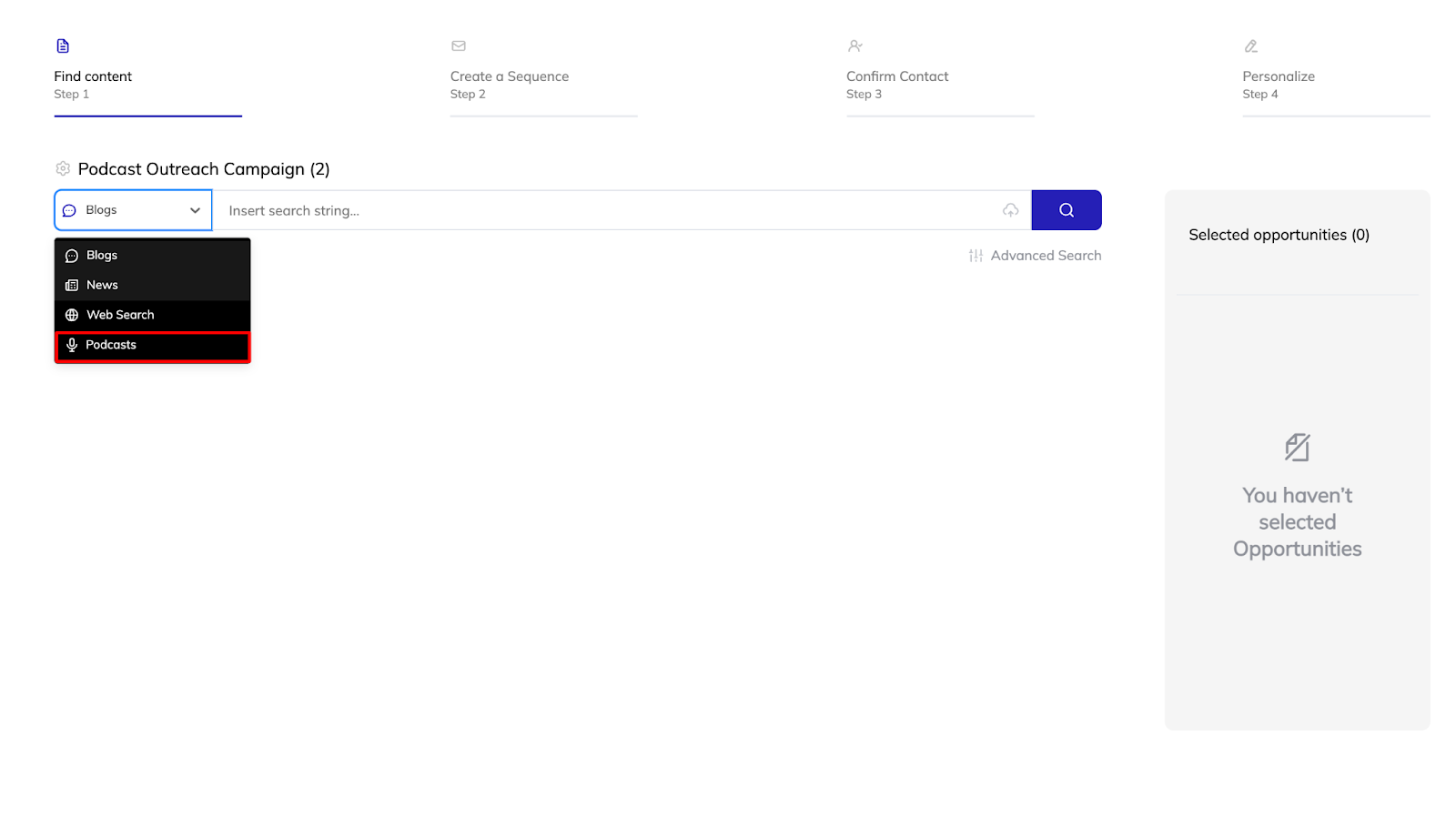 Then, we insert Content Marketing in the search bar: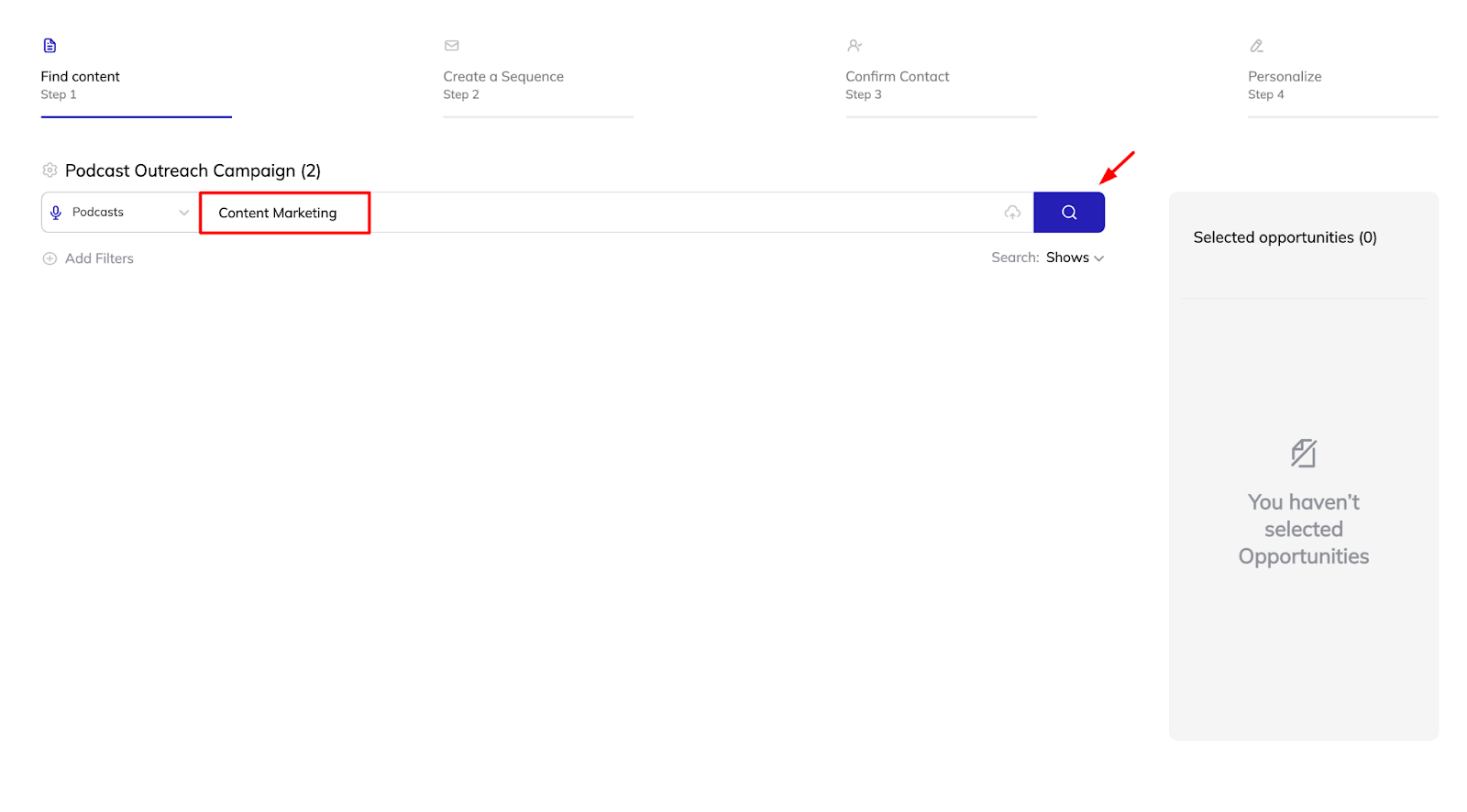 We're doing this because we want to be sure that the results we get from Respona are all from recent podcasts that have talked about the term "content marketing".
After you click the search icon, the tool will present you with a list of podcasts that you can browse and see if they're a good fit for you.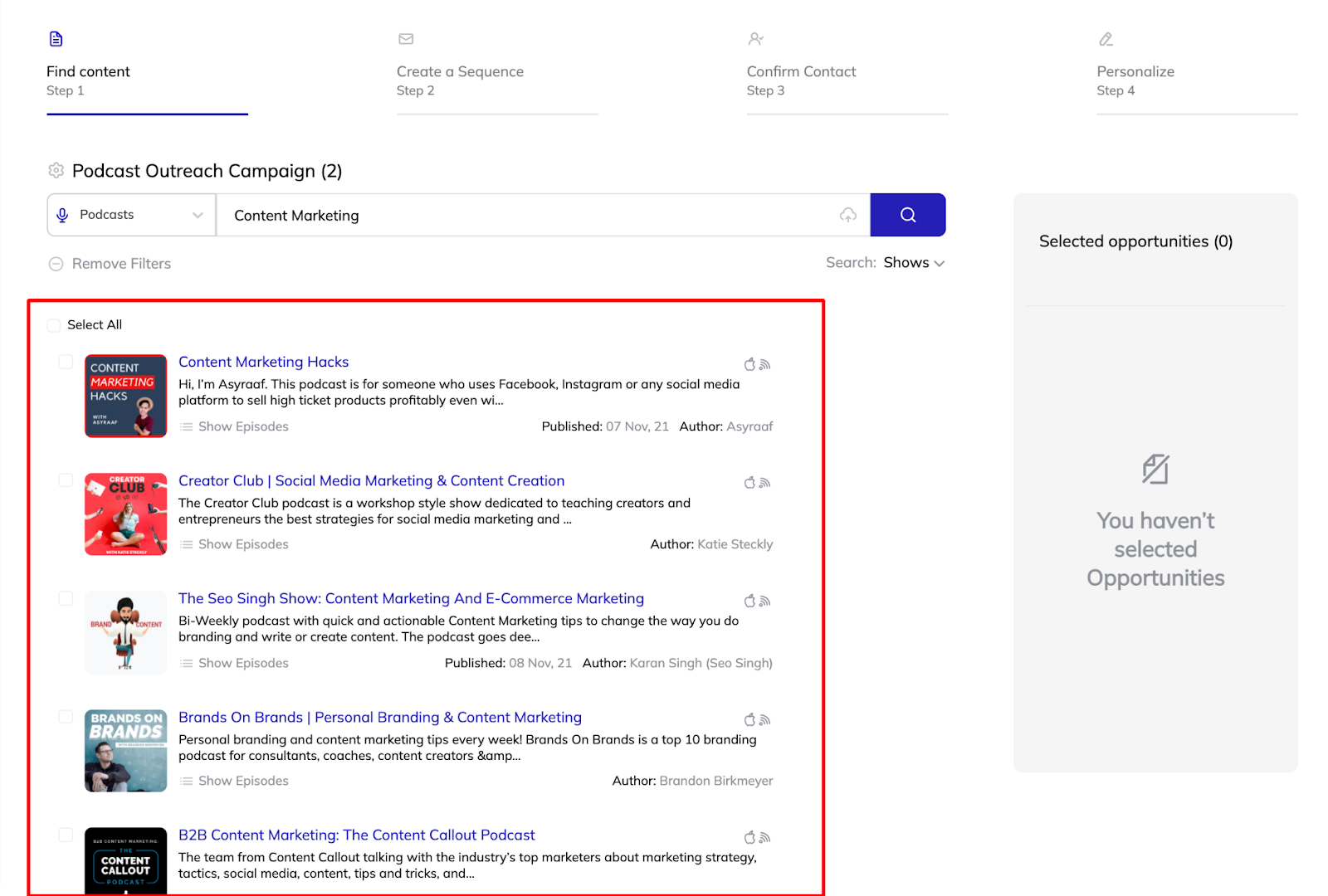 After examining the search results based on the criteria of your query, you can choose the right podcasts you find to be the best fit for your campaign.
Here, we're going to choose three for the sake of example, but you can select as many as you like before clicking Create a Sequence to continue.
Author's Note: Aim to select the most relevant podcasts out there, not the best or most popular podcasts.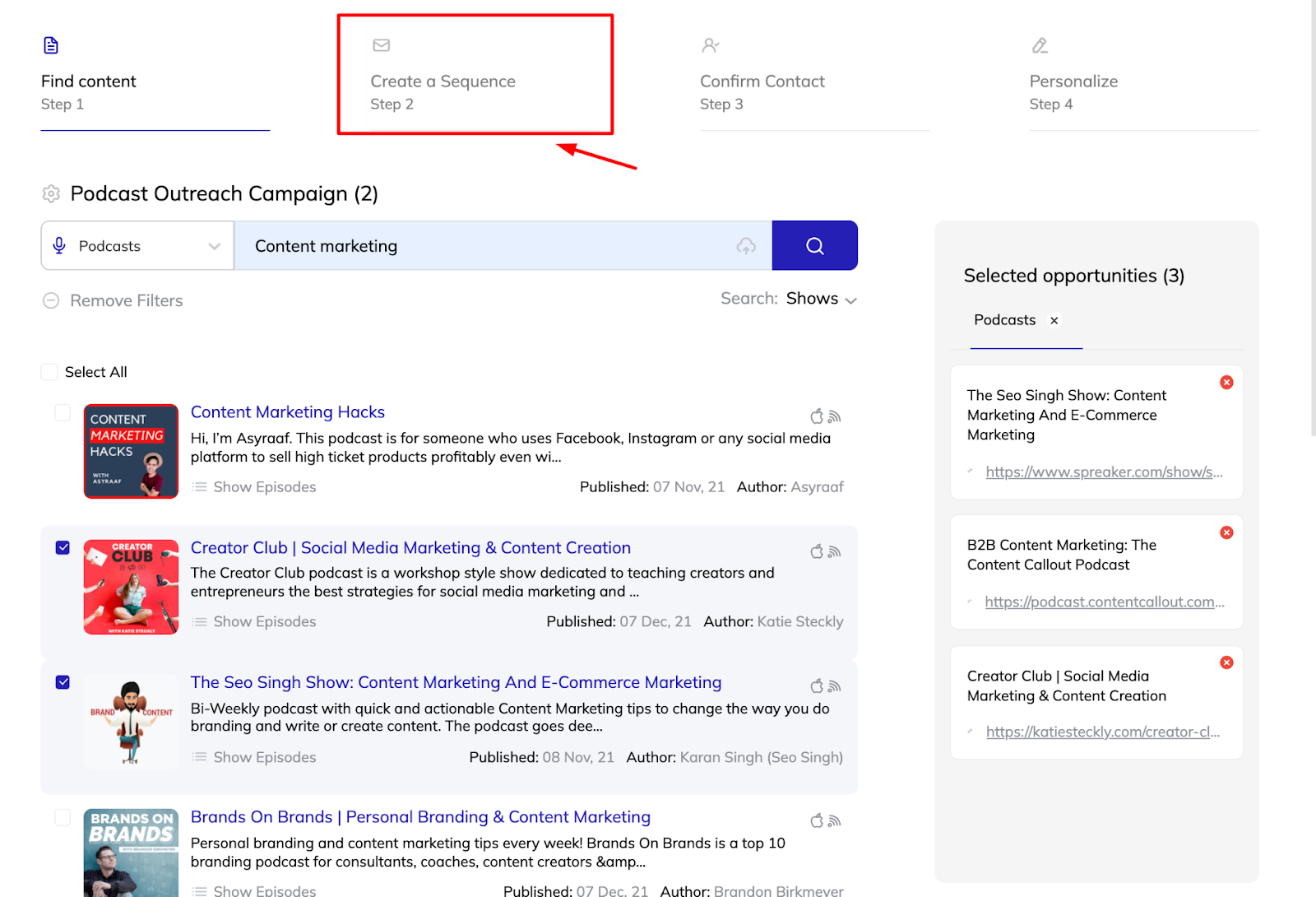 Moving on to the next step.
Step #2: Write your email pitch
This step is all about creating our email pitches.
Respona offers a variety of different cold email templates, but you can also create your own from scratch.
Why not create our own?
This is what it'll look like: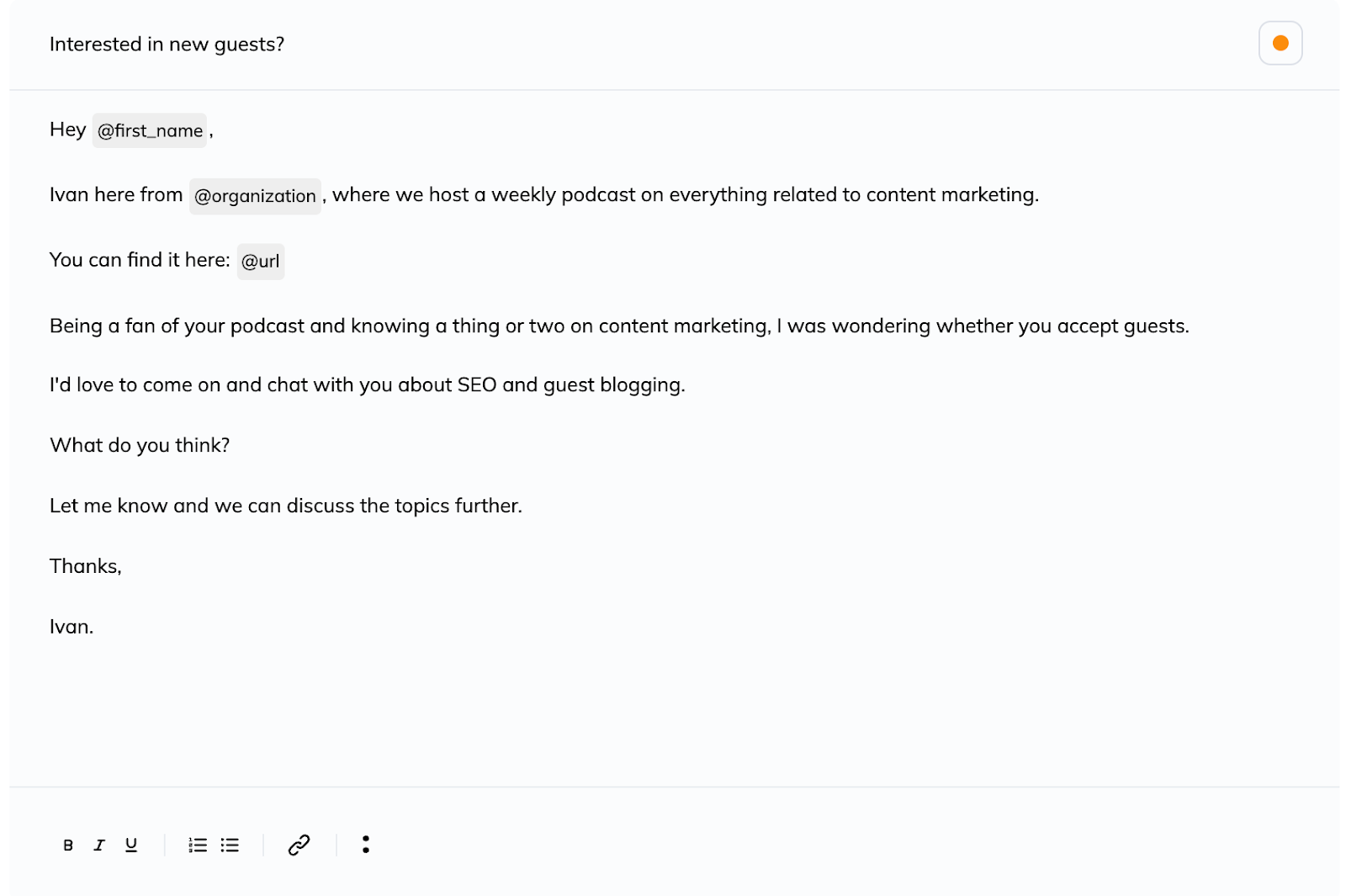 As you can see, it consists of some basic information as well as a few variables, which will change based on each prospect.
We strongly recommend paying extra attention to your email's subject line, since it can have a huge effect on your campaign's open rate; you want it to be attractive but also not spammy at the same time.
Another great thing about Respona is that it allows you to automatically send a follow-up email in case your first one goes unnoticed.
We've created a template for that as well: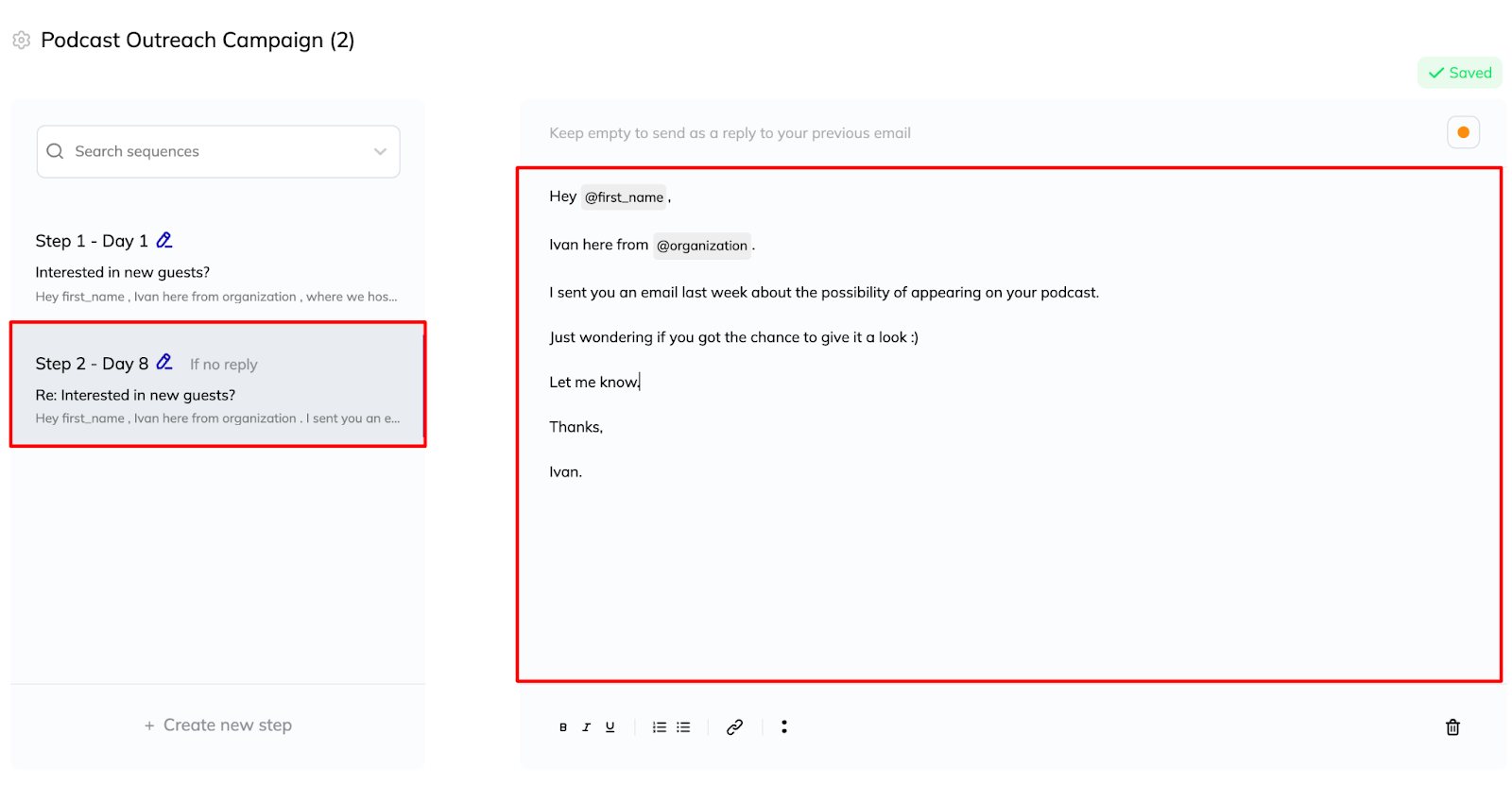 Author's Note: You can adjust the timing between your initial and follow-up email as you like, but we recommend waiting around a week before sending your follow-up.
Once you're satisfied with your email templates and have made sure they avoid any spam trigger words, you can select Confirm Contact to move on to the next step.
Let's get into it.
Step #3: Find contact information
In this step, we're going to show you how Respona will automatically find your prospect's contact information.
If this is your first time using the tool, you should know that there are three options to choose from:
To find the writer or host only if they work at the company, or else find X number of its employees
To ignore the writer or host and only find X number of employees
To only find the writer or host and ignore the rest of the employees
Let's go for the first one and order Respona to find one person within the company, should the host not be found.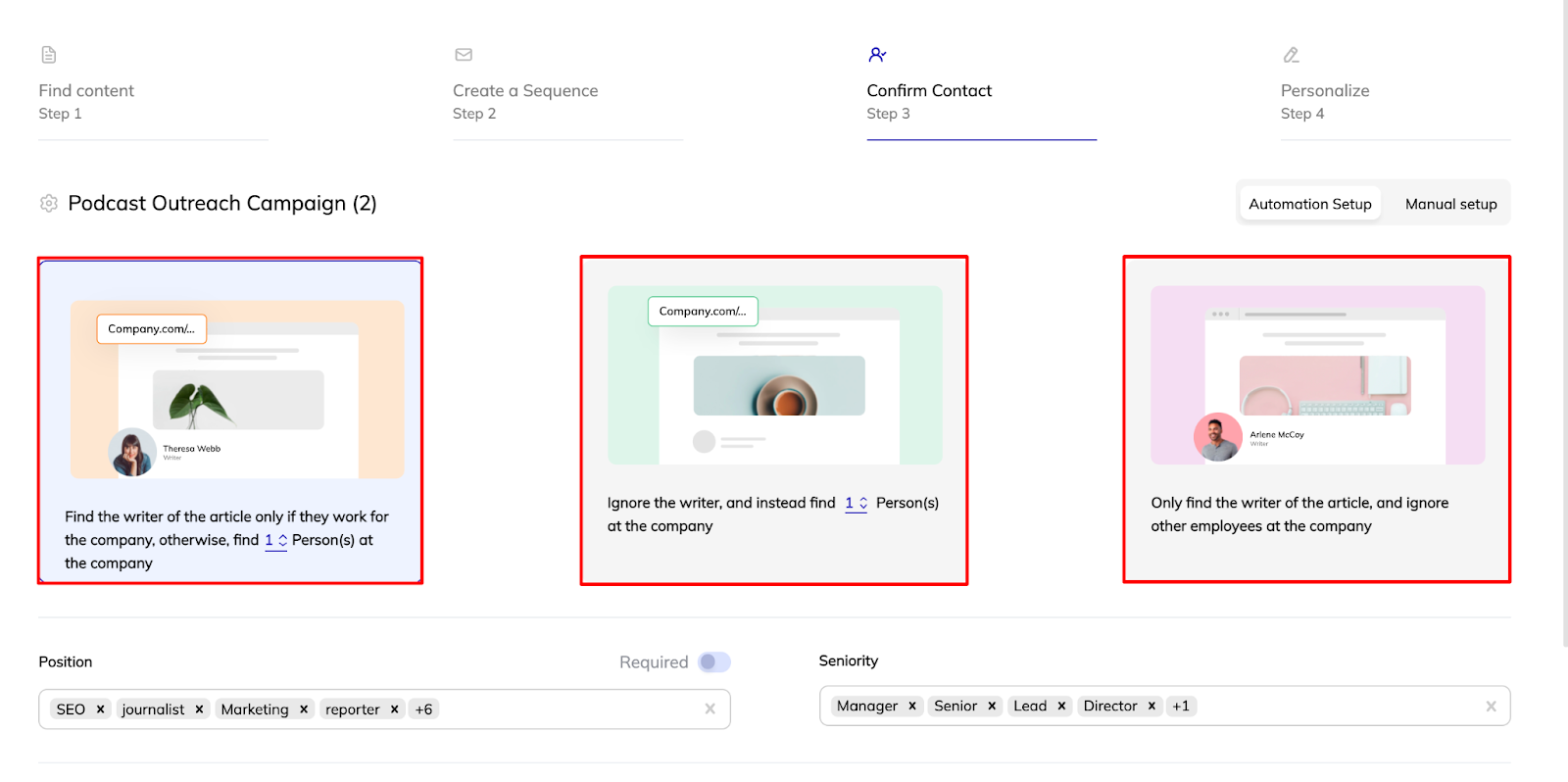 After that, we also get the chance to specify the employees' position and seniority level, such as marketing manager and co-founder, or manager and director.
Once you've selected a few you can click on Find contact and then Respona will run its automation; a process that shouldn't take more than a few minutes.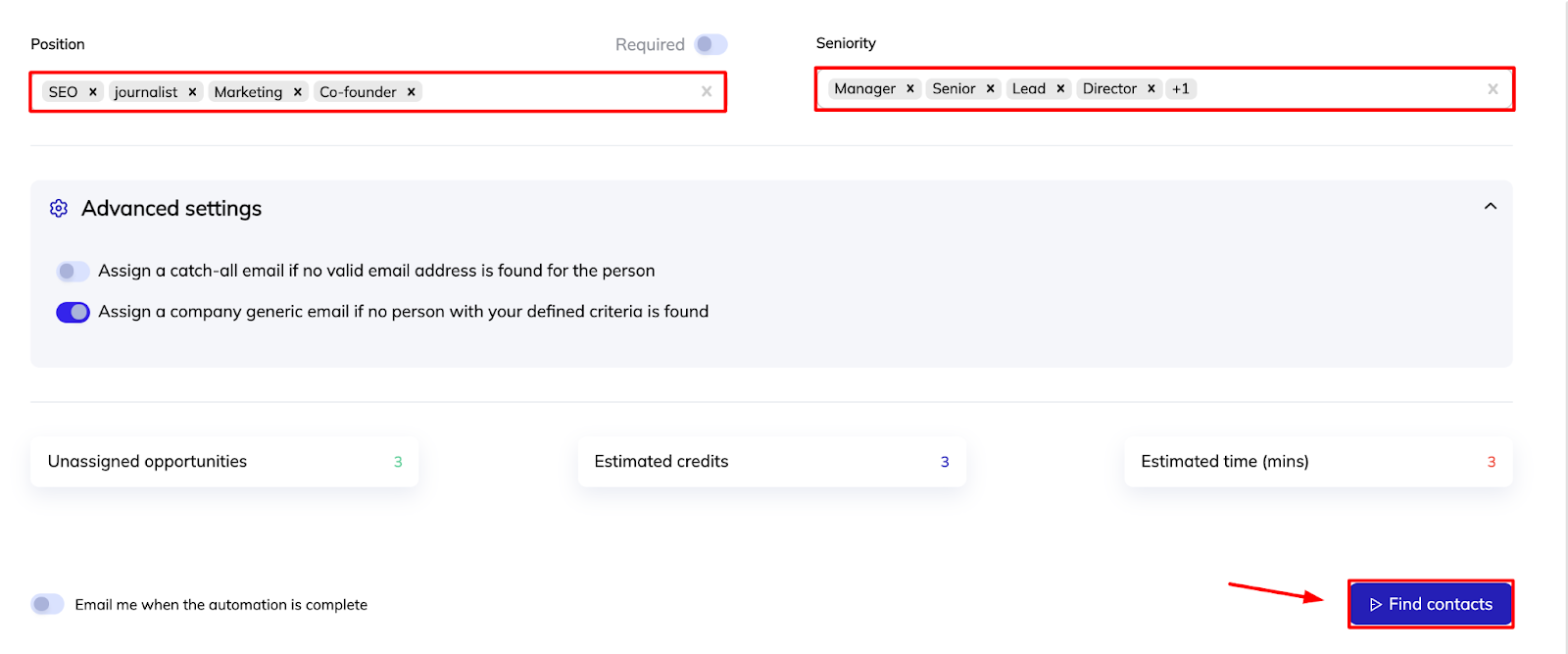 As you can see below, the tool has found contact information for all three of our prospects.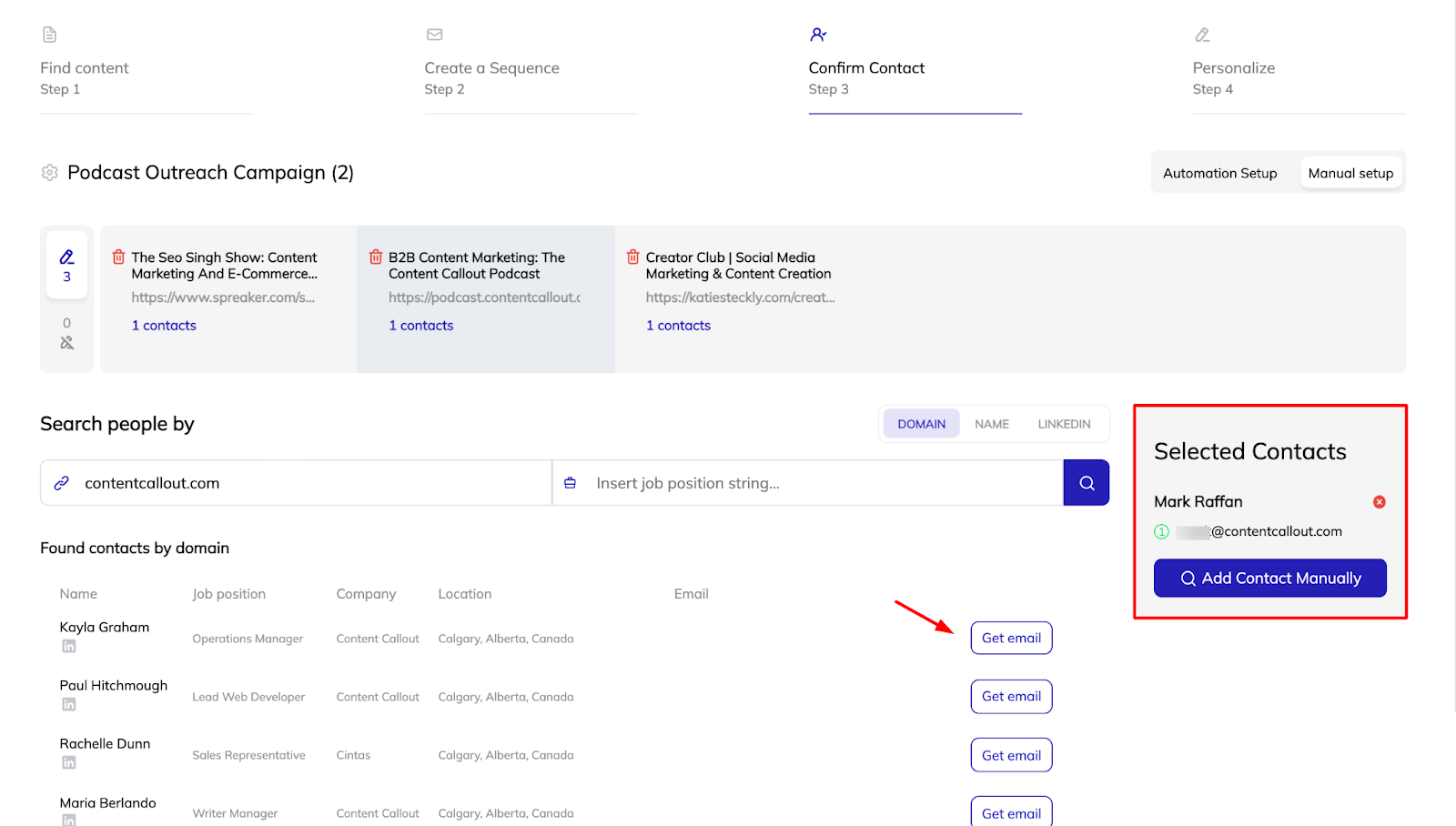 Simply choose the right person for you and select Get email to see their email address.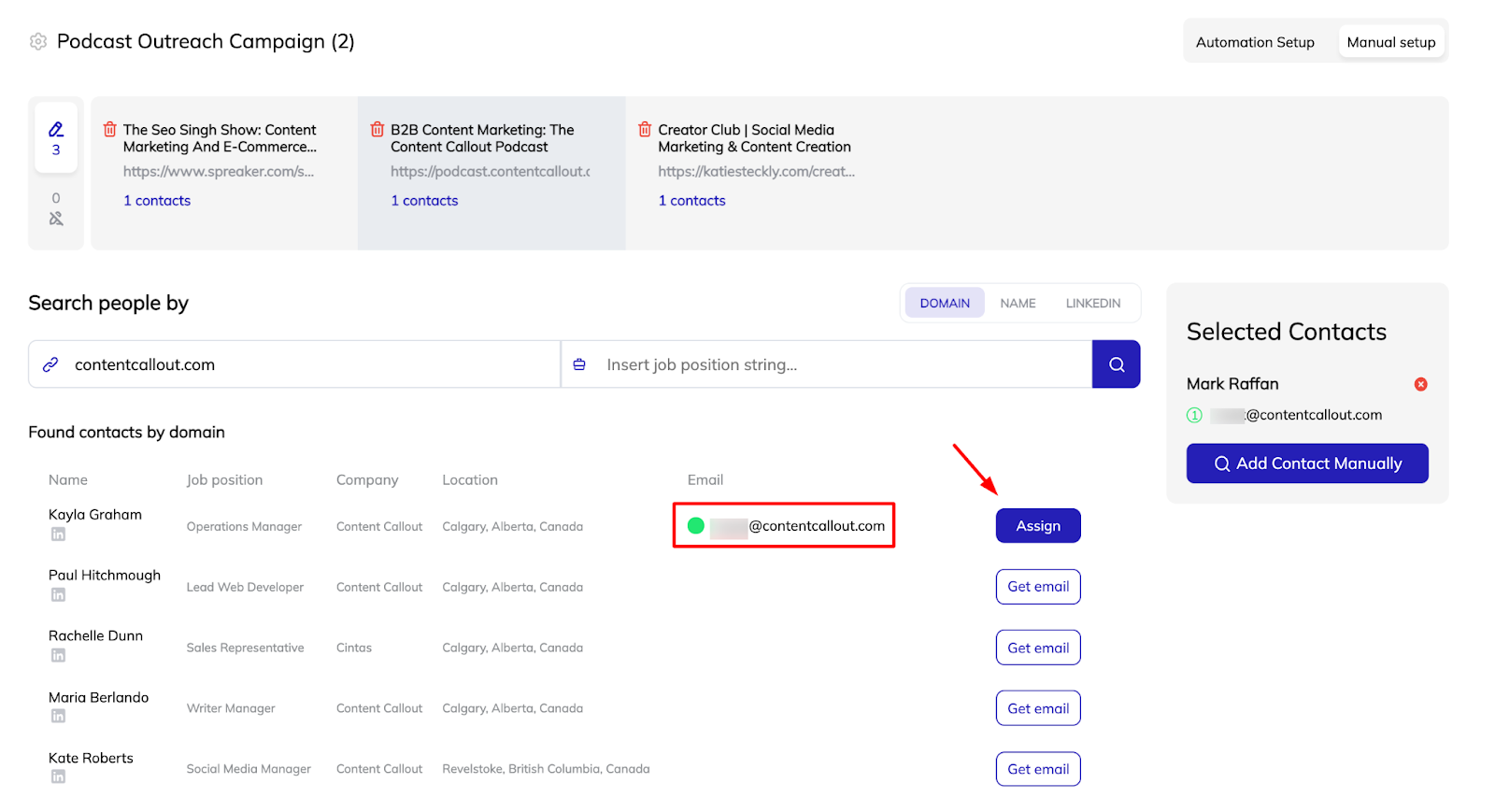 Once you have an email address, you can click Assign to assign opportunities to all your desired prospects.
When that's been done for all three podcasts, you can select Personalize on the top right to continue to the last step.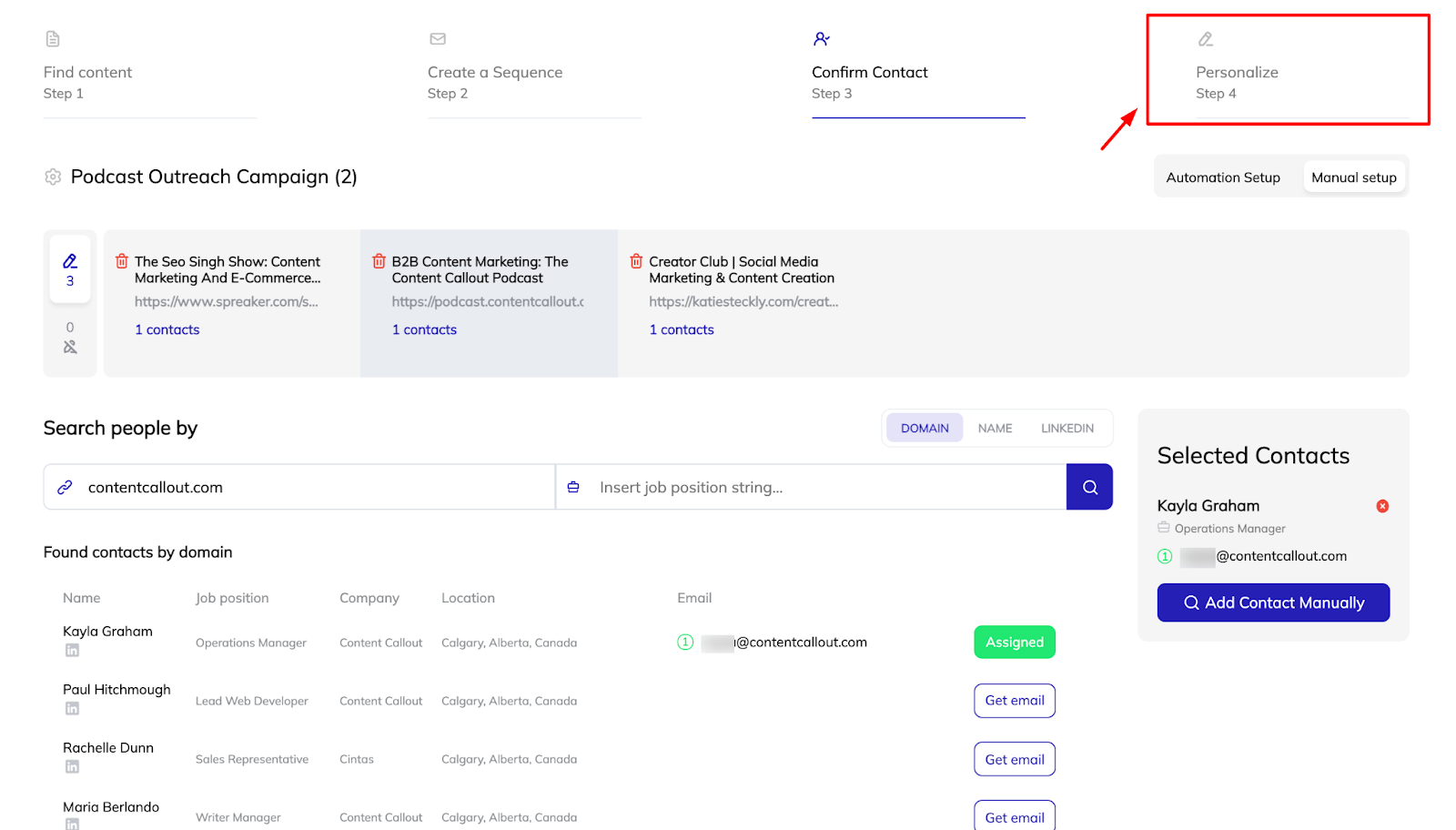 Let's get into it.
Step #4: Personalize and send your cold email campaign
In this last step, we're going to personalize the email templates we created earlier.
Respona will do most of the work for you but you can also enter any information you find necessary.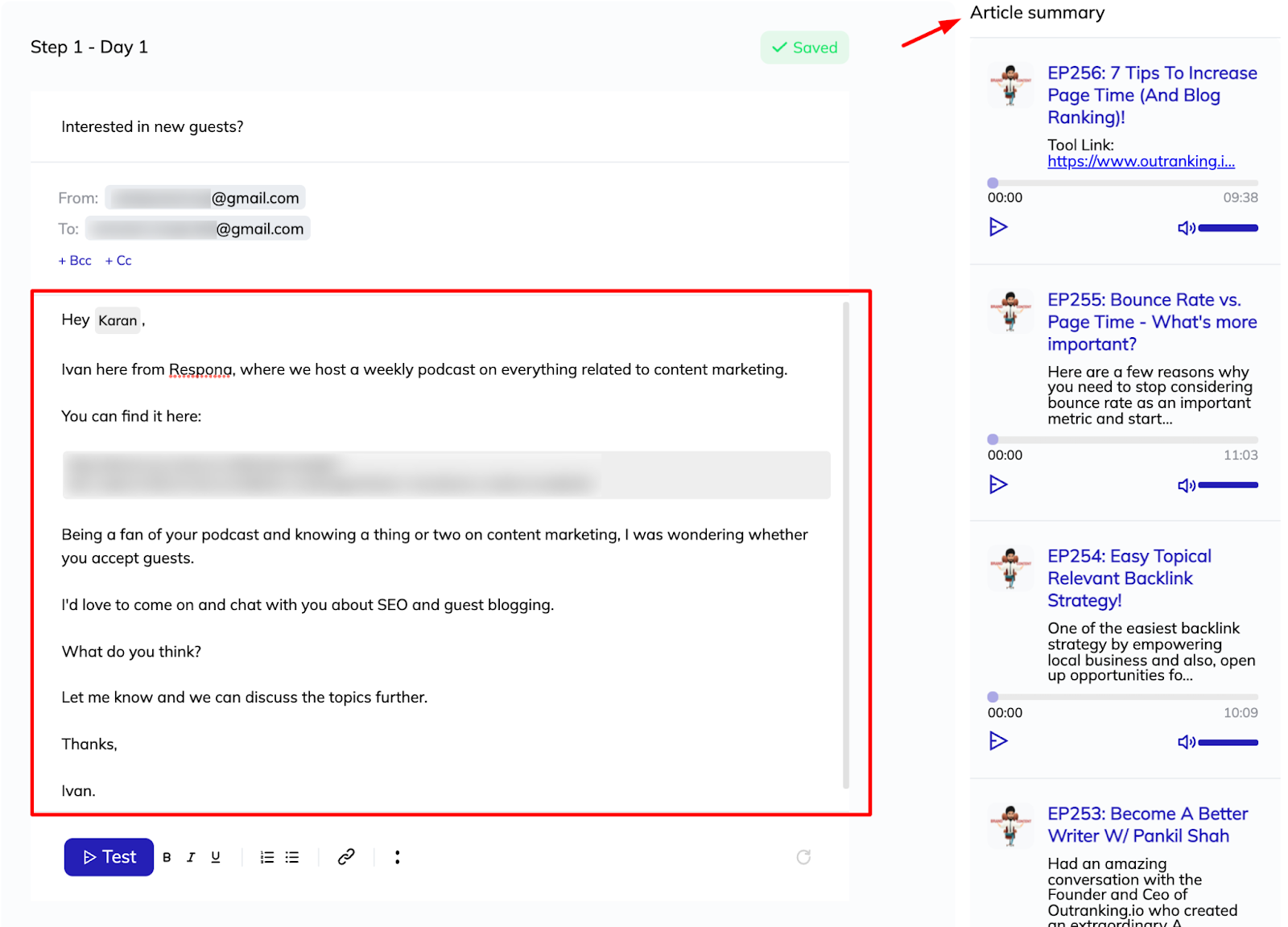 For example, if you want to talk about a specific part of a podcast episode so you can show that you're a regular podcast listener, you can browse the list on the right.
This allows you to play some episodes and find a great story or an argument you can refer to.
After you're done personalizing all of your emails, plus the follow-ups, you can select Launch Campaign in the top right.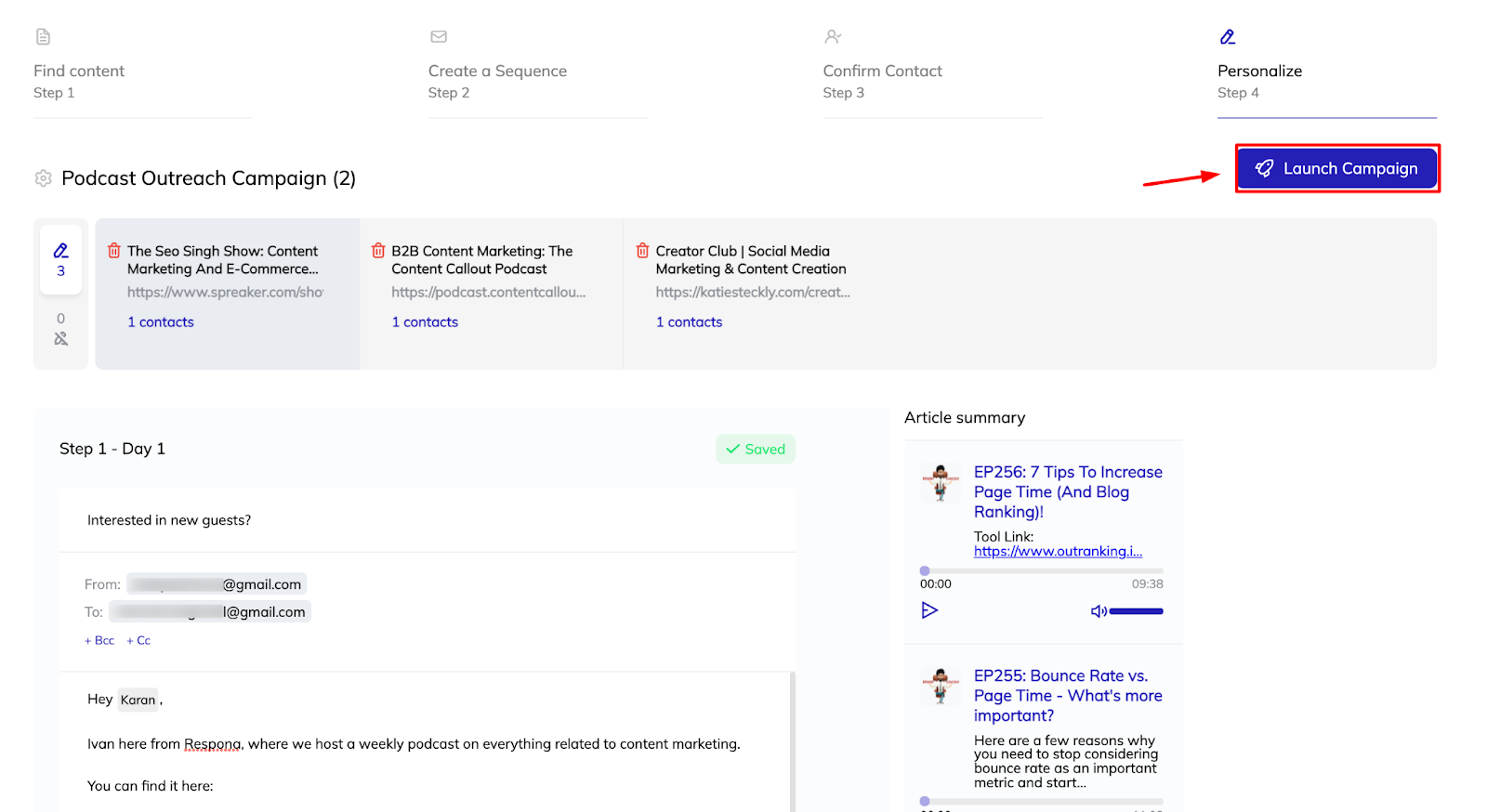 Your campaign has been sent!
You'll then have access to all your communications and of course, you'll be able to manage them through Respona and make sure that the whole process runs as it should.
It's as simple as that; our platform makes the whole podcast guest process a whole lot easier, no matter what the target audience, industry, or listenership is.
Let's have a look at our free template before we conclude this guide.
Grab Our Podcast Guest Pitch Template
In this last part of our guide, we're going to briefly share with you our free template for podcast pitching.
The first columns are to keep track of the podcasts you've contacted by entering their name and industry.

Author's Note: All data included in these screenshots are for example purposes only.
Once you have those basic pieces of information ready, you can fill in who your PoC (point of contact) is, as well as their email address.
These are things Respona can easily help you identify as we saw earlier on, so it shouldn't be a problem.
Simply use Respona to find them and then enter them in the template under columns D and E.

Simple, right?
After that, under column F, you can enter the topics of discussion you have in mind, in case your podcast pitch is successful.
Let's assume that, in this case, your suggested topic is how to monetize content.

Moving on to column G, this is where you'll be able to keep track of the stage your outreach efforts are at.
More specifically, we've added the following stages:
Researching – you're still doing your research
Creating email – you're in the process of creating your cold emails
Email sent – your email has been sent and you're waiting for a response
Booked – your podcast pitch was successful
Rejected – your podcast pitch wasn't successful

Last but not least, under column H, you can enter whether a follow-up email has been sent or not so you can monitor your responses.

It's as simple as that.
You can now have the most important information of your podcast outreach efforts all in one place.
Let's wrap things up with some final words.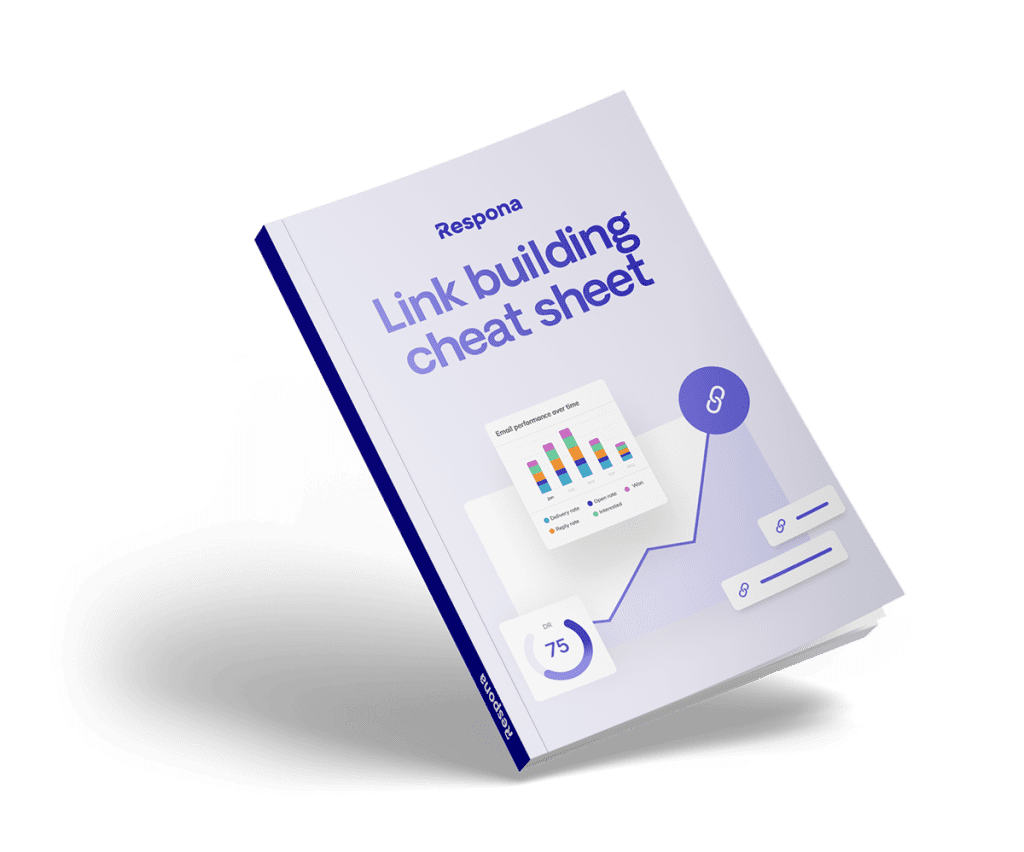 Link building cheat sheet
Gain access to the 3-step strategy we use to earn over 86 high-quality backlinks each month.
Now Over to You
There you have it.
Our guide to how to pitch a podcast idea is complete.
We started by going through some valuable lessons on podcast pitching, we covered the step-by-step process of finding and contacting podcasts to appear on, and we closed things off with our free template.
Guest podcasting has its challenges, but the process can be made much easier and effective with the right knowledge and tools.
If you want to create top-notch cold emails and take your outreach efforts to the next level, don't hesitate to request a free demo and we'll guide you step-by-step.
Thanks for reading!