I'll link to you, you'll link to me… If you've heard that before and wondered whether you should do link exchanges, you need to read this guide because we'll be discussing the following:
What a link exchange is
If exchanging links can be harmful to your website in terms of SEO
Plus, we'll be showing you a great alternative for getting backlinks without violating Google's Webmaster Guidelines.
Hint: We're going to build a link-building campaign using Respona, thus increasing our chances of getting links back to our content in a legitimate way.
Let's get started.
Why You Shouldn't Exchange Links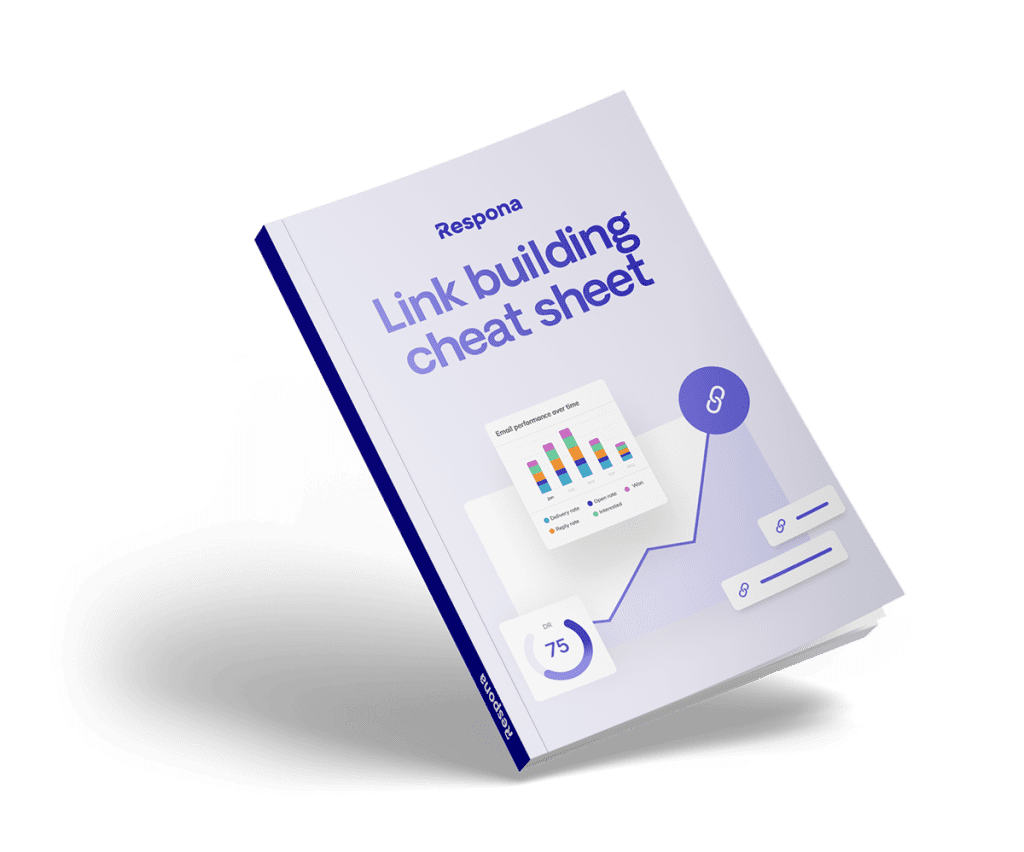 Link building cheat sheet
Gain access to the 3-step strategy we use to earn over 86 high-quality backlinks each month.
What is a Link Exchange?
A link exchange is when two website owners agree to link to each other in the content they produce for their own website or website of others through guest posting and content collaborations.
In other words, a link exchange, also called reciprocal linking, is nothing more than when a website owner gets links from other website owners in exchange for linking back to their pages or resources.
The following email might make the whole link exchange requests situation a bit more clear for you:

As you can see, the sender asked me to give them a link in exchange for a link back to our website from one of the blogs they've got editorial access to.
Sound familiar?
In fact, according to an Ahrefs study on reciprocal links, the majority of the study's sample sites, more specifically 73.6% of them, have reciprocal links in them.
This basically means that many marketers and website owners out there are sending out spammy outreach emails to request a link to their resources in return for a link back to your website.
Therefore, we understand that link exchanges seem to be a very popular link-building strategy, but we still don't know if it's good to exchange inbound and outbound links.
What's wrong with it, I hear you ask?
Keep reading to find out more about whether link exchanges can hurt your SEO.
Author's Note: As a relevant FYI, LinkExchange was an advertising company that was acquired by tech giant, Microsoft, back in 1998.
Can Exchanging Links Hurt Your Rankings?
In one sentence, exchanging links can hurt your rankings if done excessively.
Put another way, there probably won't be an issue if you do one single link exchange.
However, you might come face to face with a strict penalty that will have a negative impact on your rankings as a result of a violation of Google's Webmaster Guidelines if you do it excessively.
Here's what we read in the Google Link Schemes thread about link exchanges: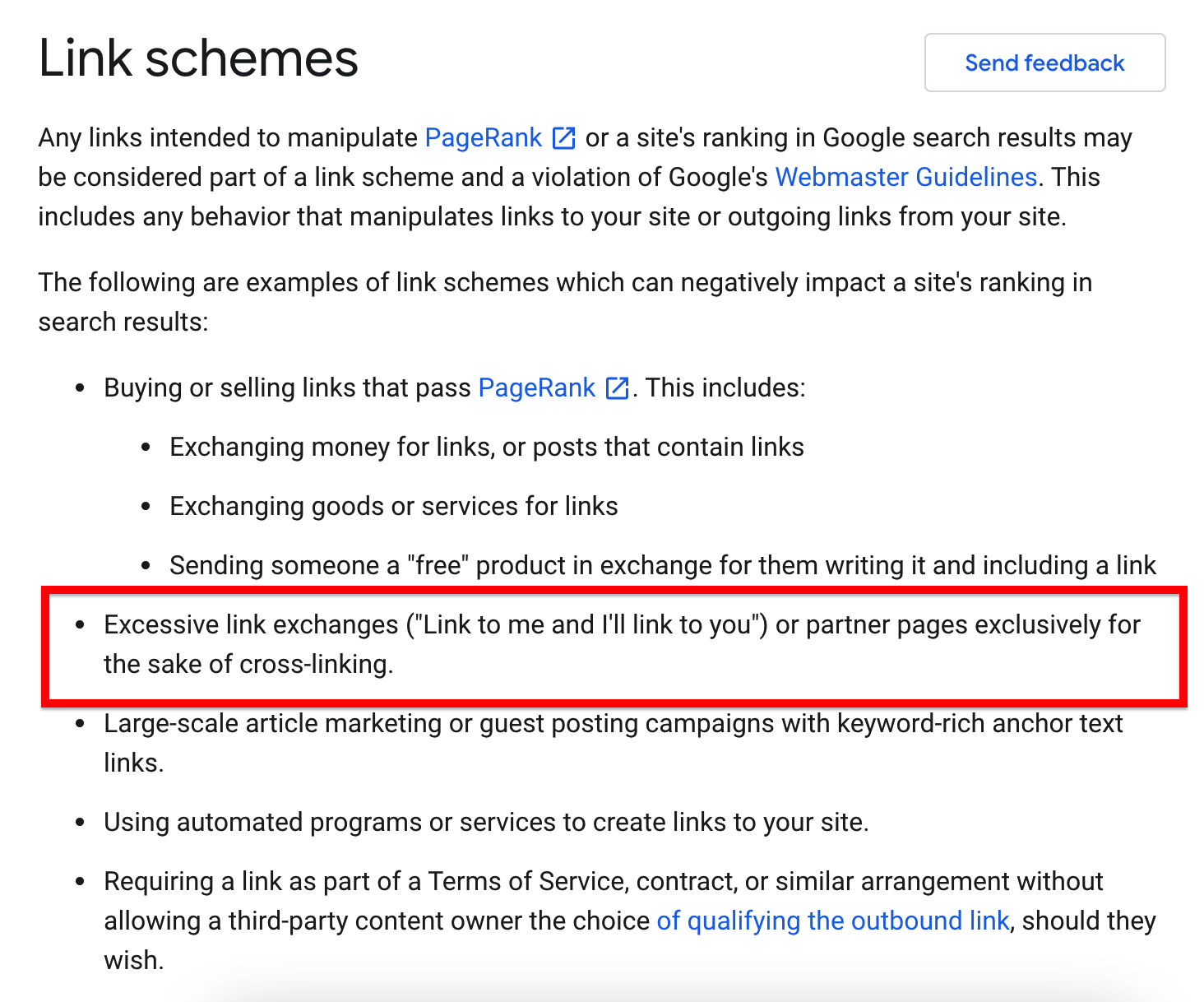 As you can see, there are several link-building-related moves that can violate Google's Webmaster Guidelines and negatively impact a site's ranking on the search engine results pages (SERPs).
Here are some of them:
Buying or selling links
Using automated programs or services to create links back to your site
Large-scale article marketing or guest posting campaigns with keyword-rich anchor text links
Excessive link exchanges or partner pages referring back to your website exclusively for the sake of cross-linking
The latter is exactly the reason why you need an alternative way of getting inbound links; one that won't affect your rankings or have a negative impact on your overall performance and other metrics.
Google informs us in a pretty straightforward way that link exchanges – "Link to me and I'll link to you" – done excessively will be considered by the search engine to be behaviors that manipulate the PageRank, thus risking penalization.
You now know what you shouldn't do, but you still don't know what you should do.
Let's get into a bit more detail in regards to getting quality backlinks in a way that won't hurt your rankings.
Here we go.
A Better Way for Getting Backlinks
Understanding why focusing on link exchanges as part of your link-building strategy may be harmful is one step, but knowing what you should do instead is a much more important one.
According to the Google link schemes page we commented on a little further up in this post, the best way to get other sites to link back to your resources and content is not to ask for links from them.
Instead, the most efficient way is to create unique and valuable content that'll make readers and website owners naturally want to link back to it, thus gaining link popularity in an ethical, passive way.

To show you how you can start getting links for your high-quality content, we're going to take you through the process of building a content promotion outreach campaign with Respona and reaching out to prospects.
We need to highlight that our campaign won't be focusing on asking directly for links back to our content.
Instead, what we're trying to do is simply promote our content and show people the true value they can get from it.
To do so, we first need to reach out to relevant prospects in our niche.
Let's get into it.
Step #1: Find link prospects
Our first step is to find link prospects who will appreciate the quality of our content and will be willing to link back to it.
The first thing we need to do is to decide which one of our content pieces we're going to promote.
For the sake of an example, we're going to promote our concise, 6000-word+ guide on PR outreach, which we think it's one of the best resources on the topic.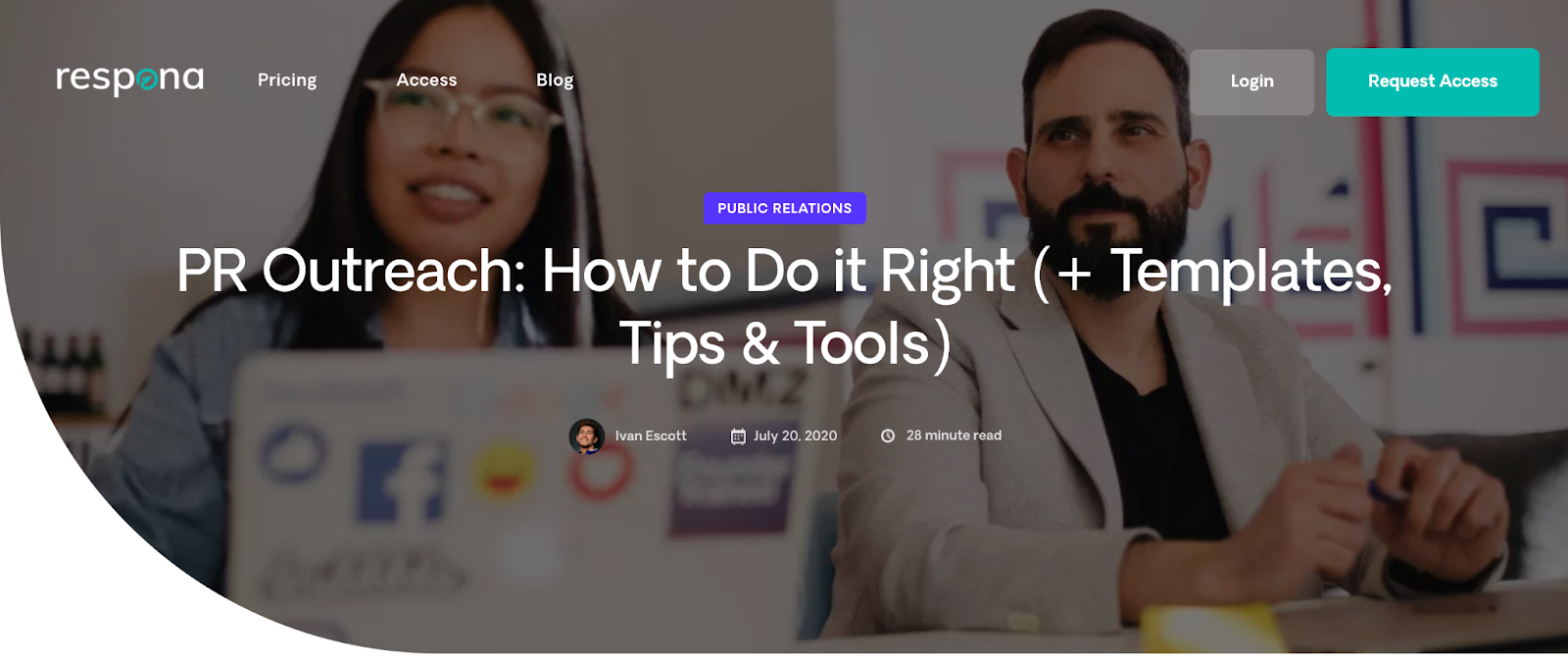 Once we know we've got a strong piece of content to promote, we can start by creating a new campaign with Respona.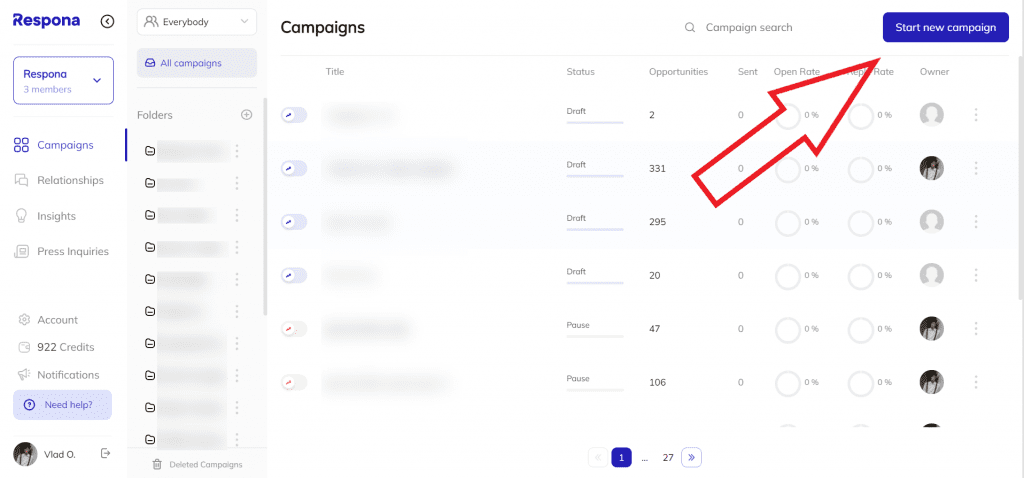 We then need to name our campaign in a simple and descriptive way so that we can identify this campaign from others that might be running at the same time.
In this case, we're giving our campaign the following name: PR Outreach Content Promotion.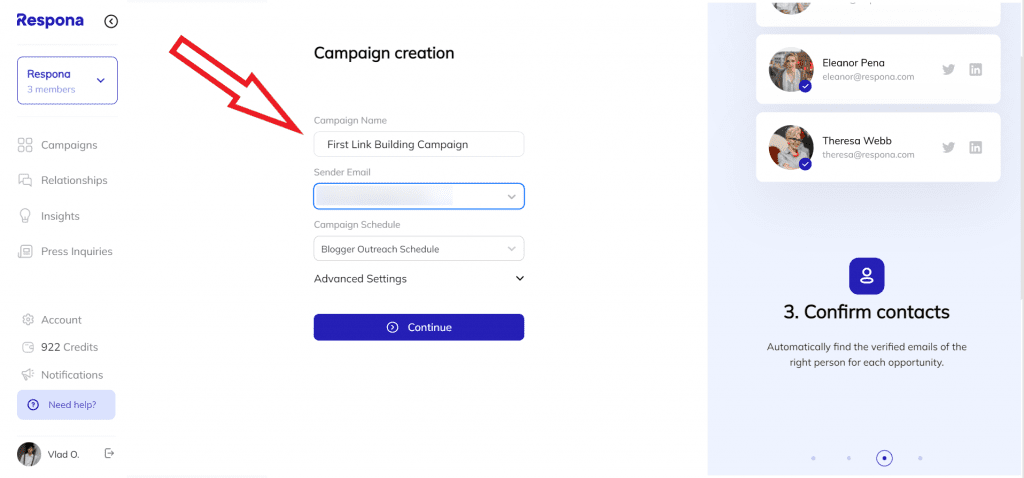 As simple as that.
In our campaign, we're going to find bloggers that have written PR-relevant content in the past and possibly need relevant studies and well-researched pieces of content to support their statements.
It all starts with a search query using the Respona built-in search engine which works exactly like a simple Google search.
We now need to choose our search source.
Since we're looking for blog posts, we're going for the Blogs source.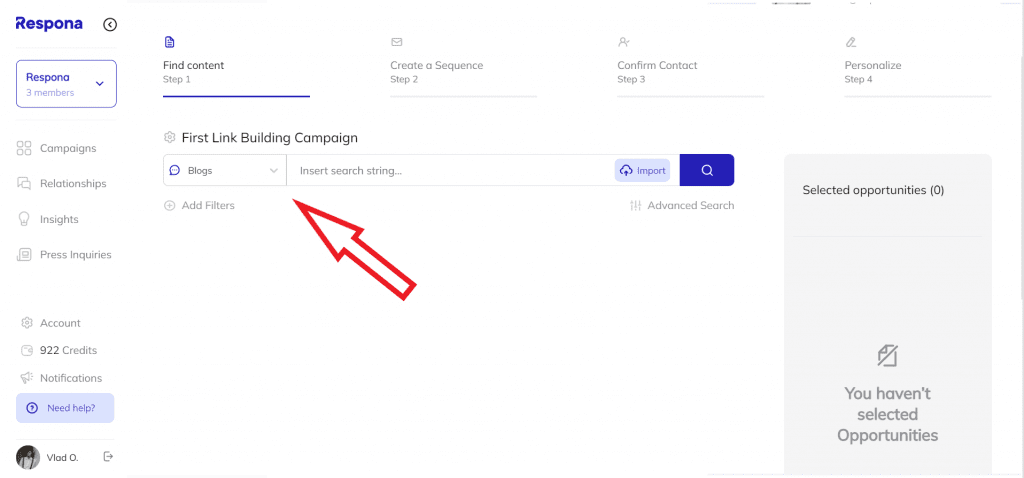 Additionally, our search keyword is naturally going to be PR outreach.
Given that the purpose of our campaign is to enhance our content marketing strategy through content promotion, we want to be sure that the blogs we're going to use in our campaigns come from authoritative web pages.
For that reason, we're also activating the search engine optimization (SEO) metrics to make sure that we'll get results with SEO value from blogs we'd actually want our content to be featured in.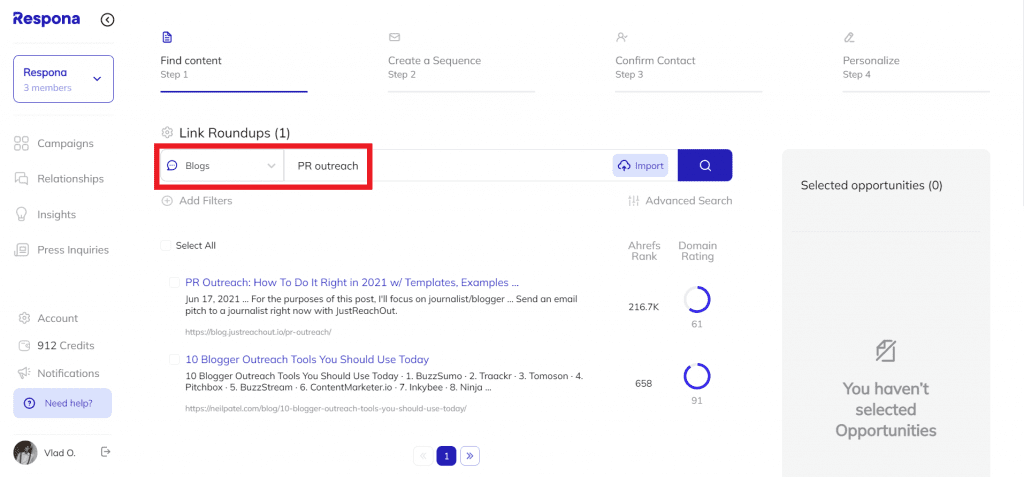 We've got our results!
We now get to review them all and, depending on content quality and relevancy, we choose as many opportunities as we can.
For the sake of this example, we're only choosing ten opportunities but we suggest that you go for more to maximize the chances of launching a successful campaign that'll bring you the different types of links you want for your content.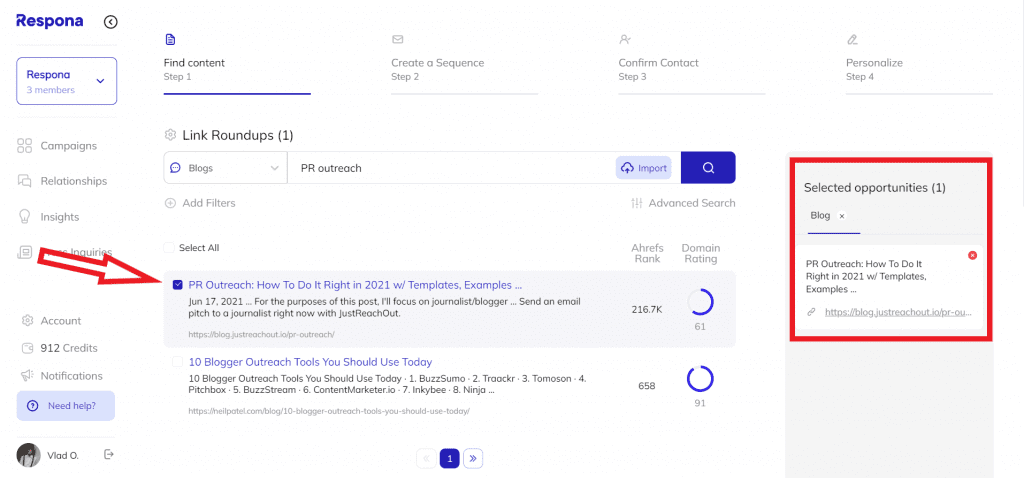 Once we're done reviewing our opportunities and ticking the boxes for the ones we want to use moving forward, we simply click on the Next Step blue button on the top right corner of the screen – exactly as shown below.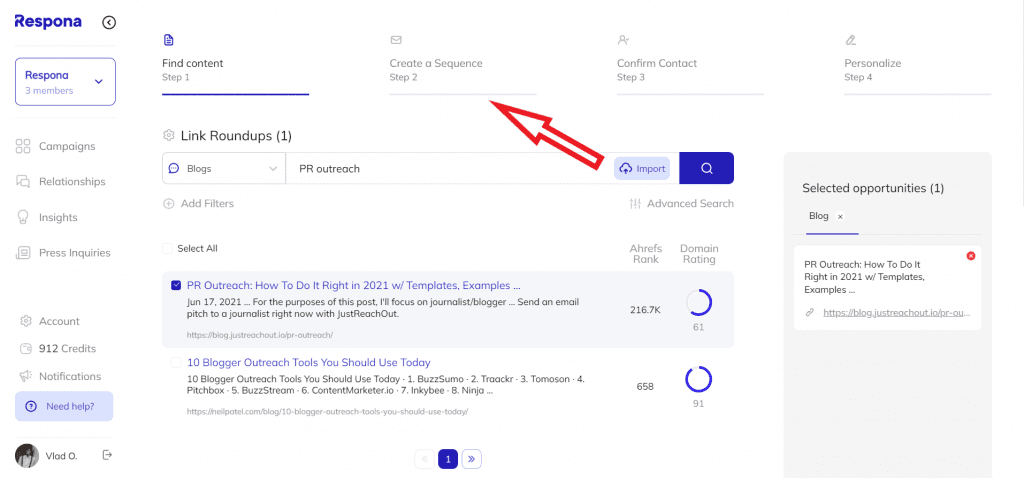 Our next step is to create our outreach email so, without further ado, we're getting straight into it.
Step #2: Prepare your outreach email
Preparing our outreach email with Respona can be as easy as choosing a ready-to-use outreach email template from the Respona library.
These are some of the categories you can find a template for…
Blogger review
Unlinked mentions
Content promotion
Guest posts
… to mention a few.
Naturally, in this case, we're going for the Content Promotion email template.
After choosing our email template, we get to see an overview of our email sequence.
Here's our initial email template for the first outreach email our prospects will get from us, together with our follow-up email.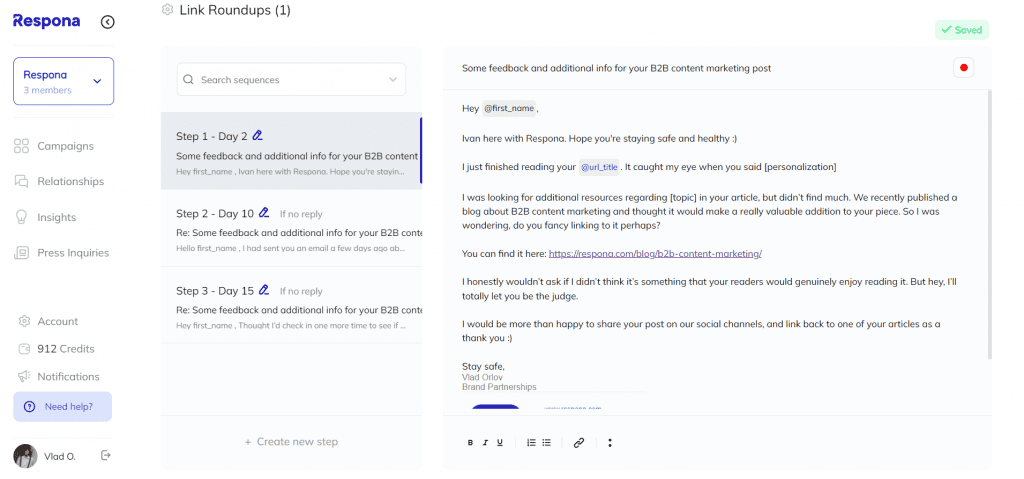 Having an overview of your email sequence is important because it allows you to keep track of the whole outreach process and makes sure that you're well aware of the content of all your emails.
When you go to click on your first email, you're going to see its content in full, subject line included.
At this stage of the process, it's important to review all elements of your emails, such as your subject line, opening line, and sign-off.
The reason for this is that you want to be sure that this particular template works for the purpose of your campaign.
What's more, Respona will automatically grade your email content and will estimate the chances of your email getting a response based on the following criteria:
The length of your subject line
Your email word count
Whether there's a question in your email
Whether there's a spam word in your email
Author's Note: Please note that many spam words in your email might make it end up in spam.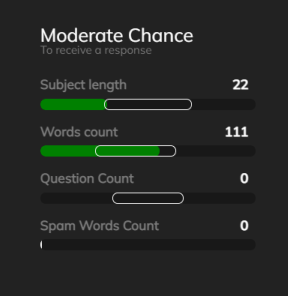 Exactly like clicking on your first outreach email, you can also open your follow-up and review its content.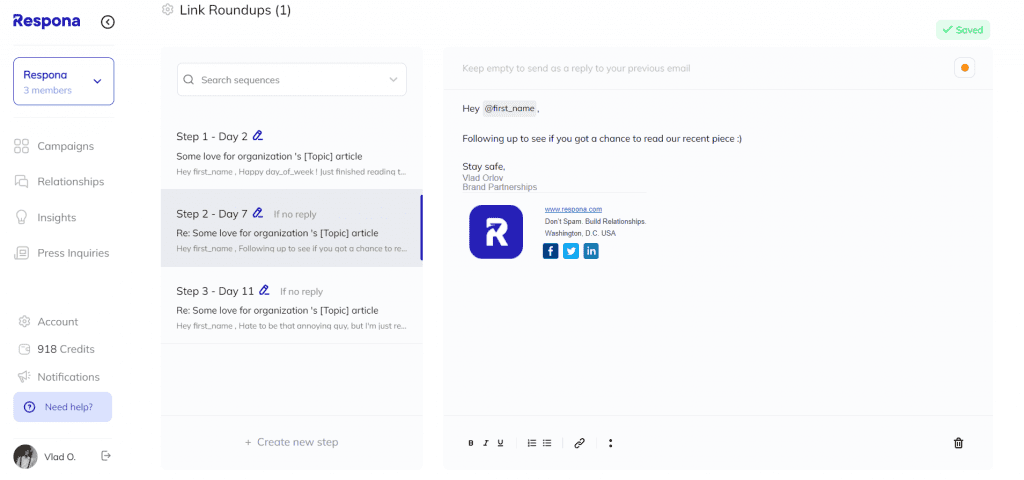 Once you're happy with your outreach emails and email sequence, you're ready to take the next step.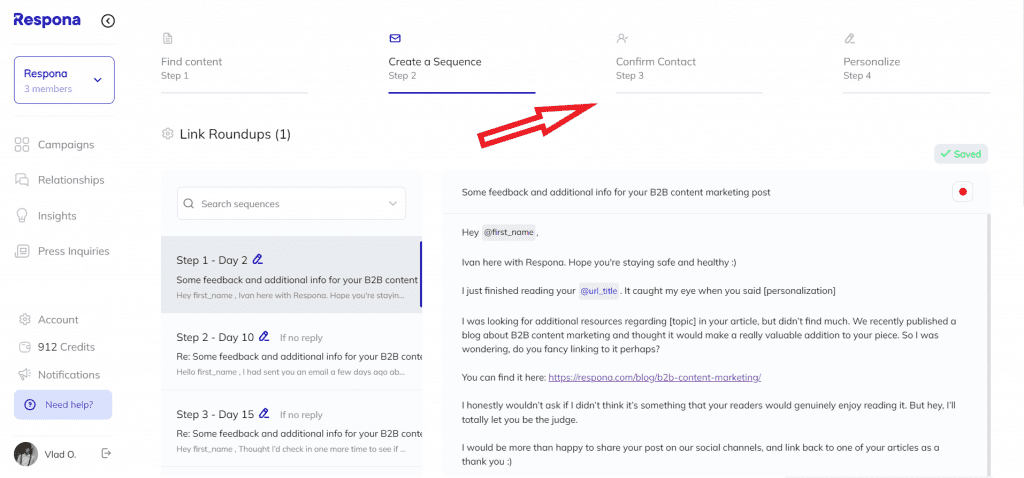 Let's get into finding the right contact information for our prospects.
Step #3: Find contact information for your prospects
Finding someone's email address with Respona starts with an automation setup.
At this stage, we need to give Respona specific guidelines in terms of the types of prospects we want to reach out to.
We basically tell Respona to assign our previously selected opportunities to authors of URLs only if the author works for the company that's associated with the URL.
That's because we don't want to reach out to an author who wrote a guest post for a blog because they probably won't have editorial access to the blog.
In other words, even if they liked our content and wanted to promote it by giving it a link, they wouldn't be able to do so.
For getting even more relevant results, we can also add some position and seniority tags that'll tell Respona we're interested in reaching out to writers, editors, content leads, etc. – people who'll have editorial access to update a piece of content with a link if they find our content valuable.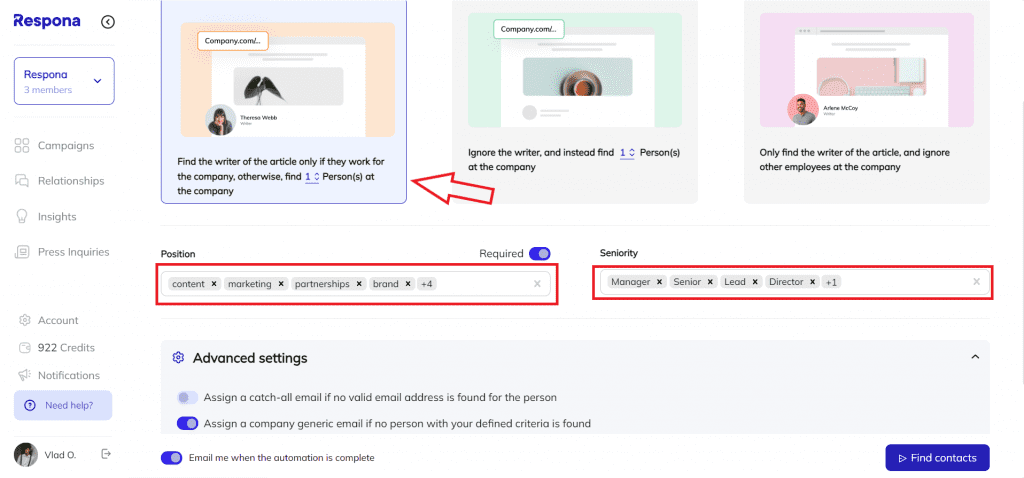 Our automation is set.
Before we run it, we get to review it.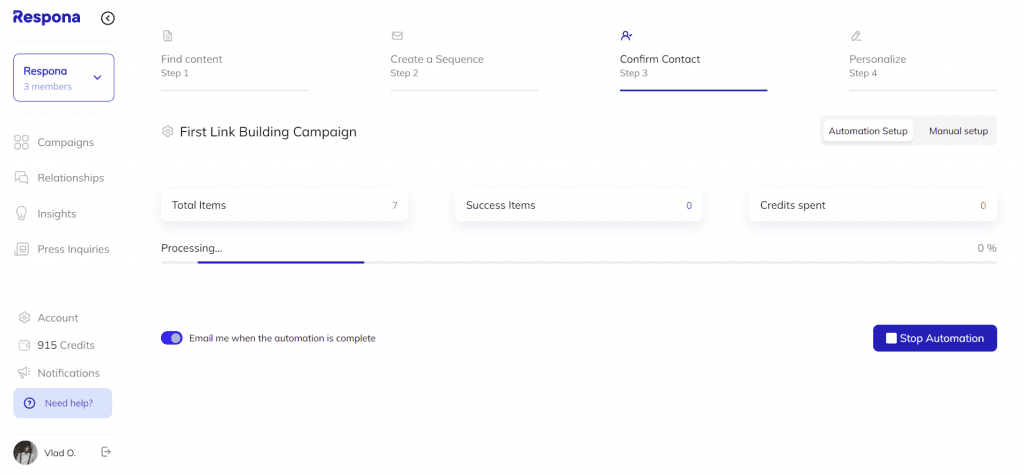 We've got our results and it looks like this is going to be a smooth campaign as Respona has been able to successfully assign ten out of ten of our opportunities.
That means that we've got contact information for all our prospects!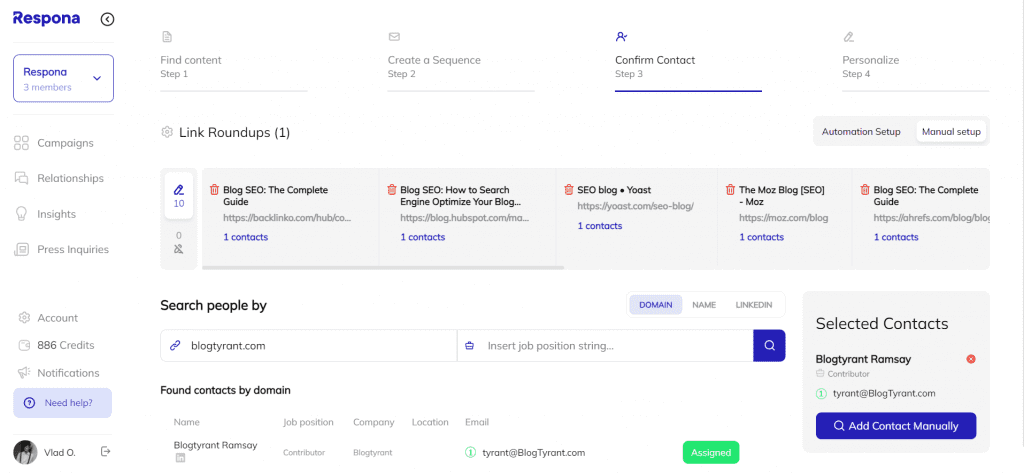 Even though all our opportunities have been successfully assigned, we recommend that you still go through your prospects' contact information and confirm that it all looks as it should.
For any prospect that has been assigned an opportunity, you're going to get an Assigned tag right next to their name and email address – exactly as shown below.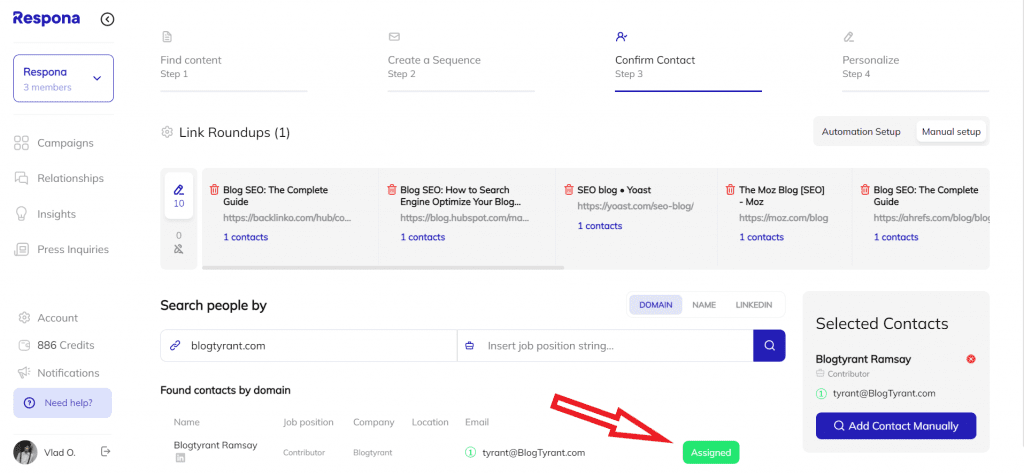 Let's move forward with our campaign and get to the final step of the process.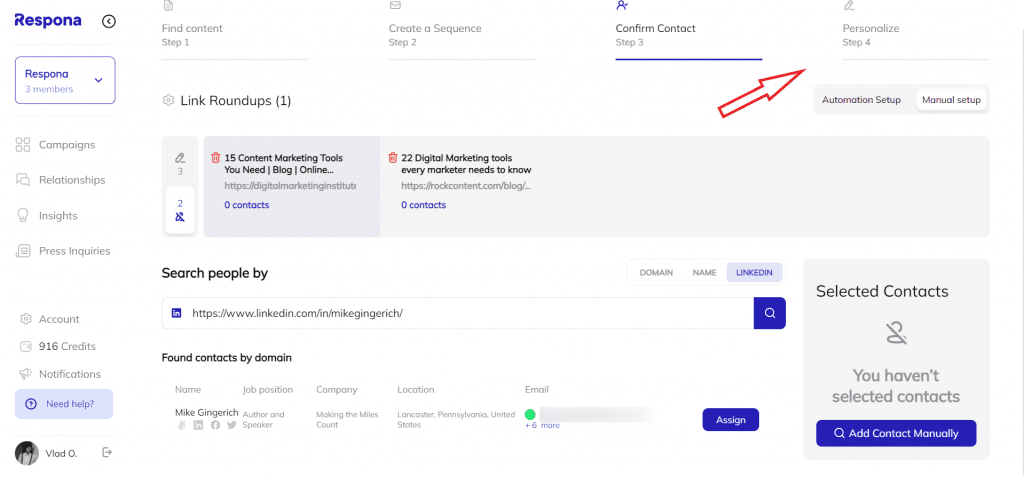 Author's Note: Respona will usually give you a prospect's social media accounts, such as their Twitter or LinkedIn accounts. It's recommended that you connect with them on a platform like LinkedIn before you launch your outreach campaign, thus maximizing your chances of getting a response.
Step #4: Personalize and launch your outreach campaign
The final step is one of the easiest but also one of the most crucial steps in terms of crafting your campaign.
Now we need to personalize our outreach emails based on each individual prospect.
Personalizing your emails might include several steps, such as:
Adding the prospect's first name
Adding information about the place where they live
Adding their company name
Adding links back to examples of your work as well as excerpts of their work – if applicable
This will show your prospects that you've done your research and that your outreach comes as a result of a thought-through process of finding the most relevant prospects in your niche to reach out to.
Here's how our outreach email looks after it's been personalized: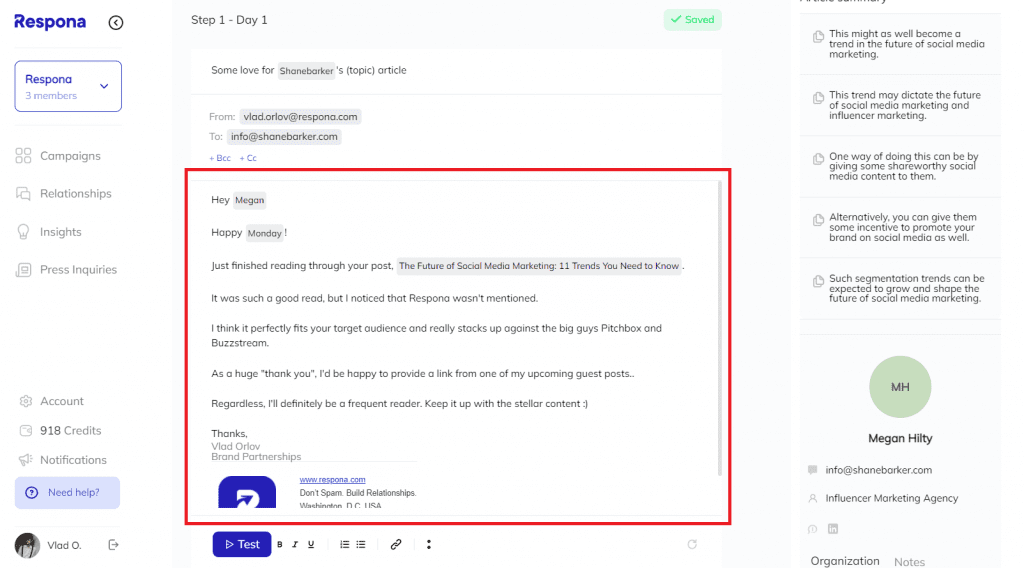 Clicking on the Launch Campaign button on the top right corner of your screen is the last thing to do.

We've now successfully launched our content promotion campaign.
A campaign that's been fully personalized has an increased chance of resonating with the prospects that'll be receiving our emails.
That was it!
Let's wrap up this post and summarize our points.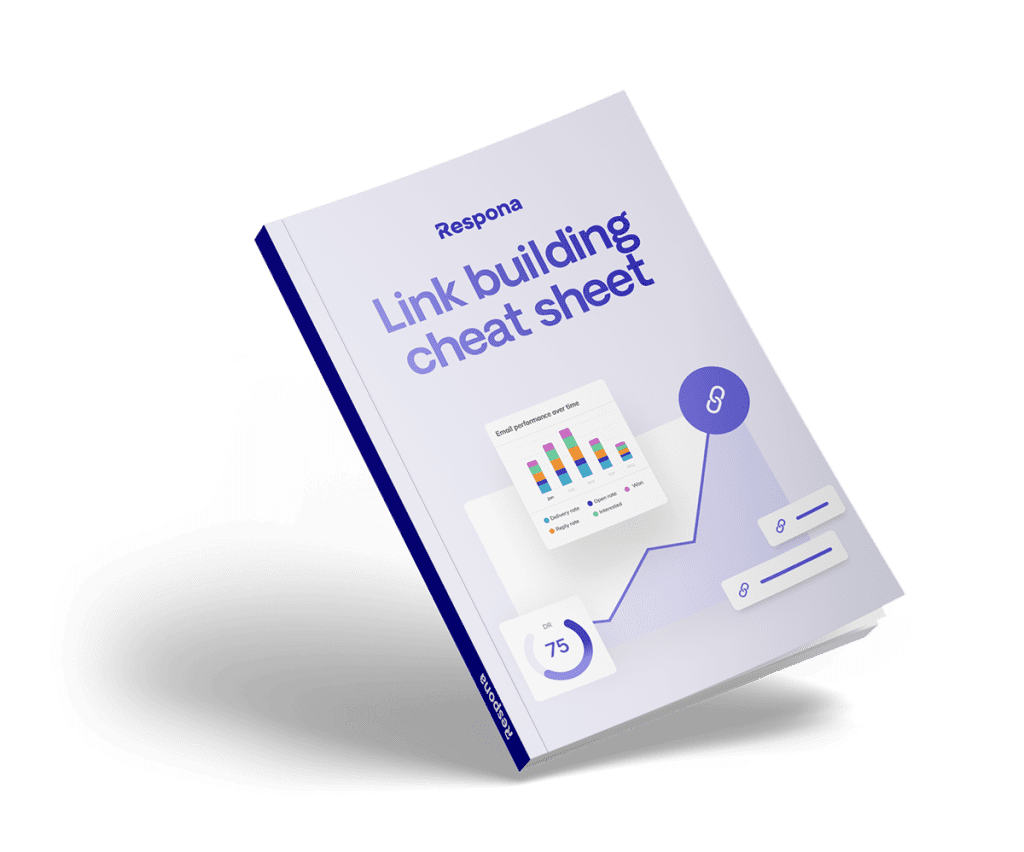 Link building cheat sheet
Gain access to the 3-step strategy we use to earn over 86 high-quality backlinks each month.
Now Over to You
You now know what link exchanges are and what impact they might have on your rankings.
Keep in mind that the point of link building is to add links to high-quality content that your readers will get some value from.
We hope that this guide has provided you with useful knowledge in terms of building links back to your content and ranking higher in a link-building strategy that's affordable and white-hat.
When you're ready to start building your own links, feel free to schedule a demo with Respona and make the most of the outreach process.
Good luck with your link building efforts!