Over the years, Google has updated its algorithm countless times. The rules surrounding backlinks have changed in tons of ways, but their importance in SEO hasn't diminished one bit.
In fact, even in 2022, backlinks are one of the biggest, most important ranking factors for a website.
In this article, we'll be taking a look at:
What are backlinks and why are they important;
What makes a backlink valuable;
Ways to acquire backlinks in 2022.
Originally, Respona has been developed as software specifically tailored to make the process of link building easier.
As this whole topic is somewhat shrouded in misconceptions, we're more than happy to share our knowledge and help you figure out the best ways to acquire high-quality backlinks in 2022.
Let's get straight into it!
What Is A Backlink And How To Get Them In 2022?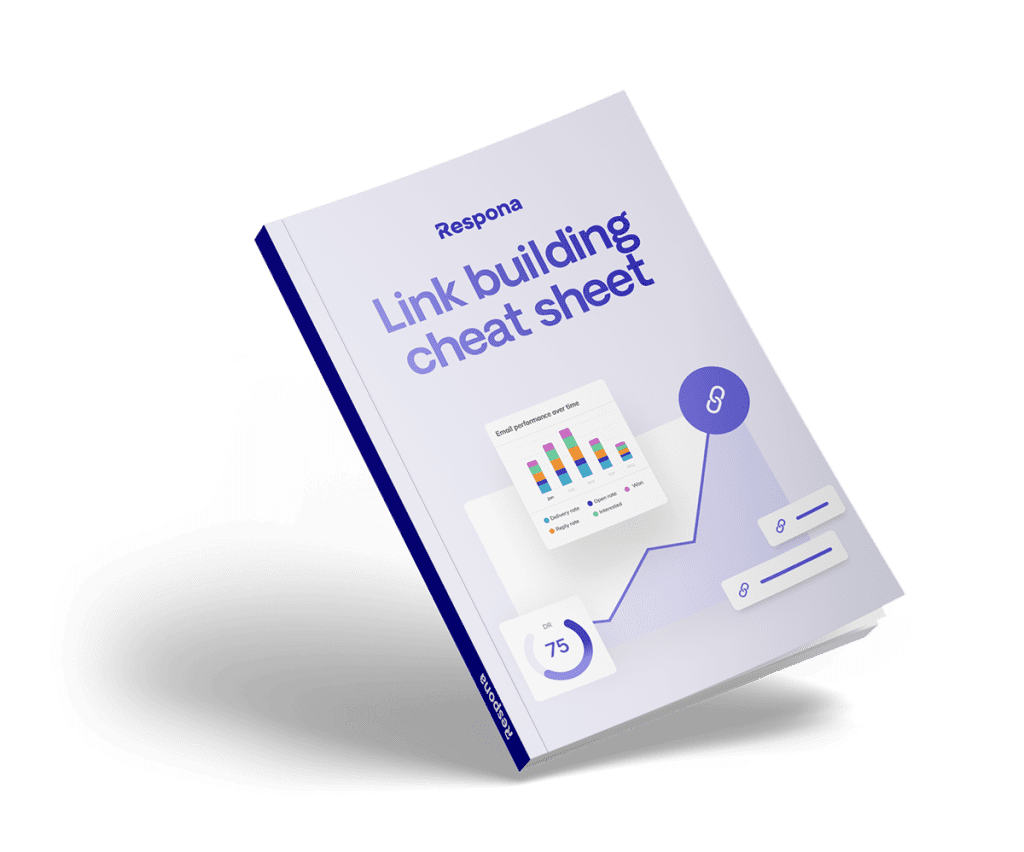 Link building cheat sheet
Gain access to the 3-step strategy we use to earn over 86 high-quality backlinks each month.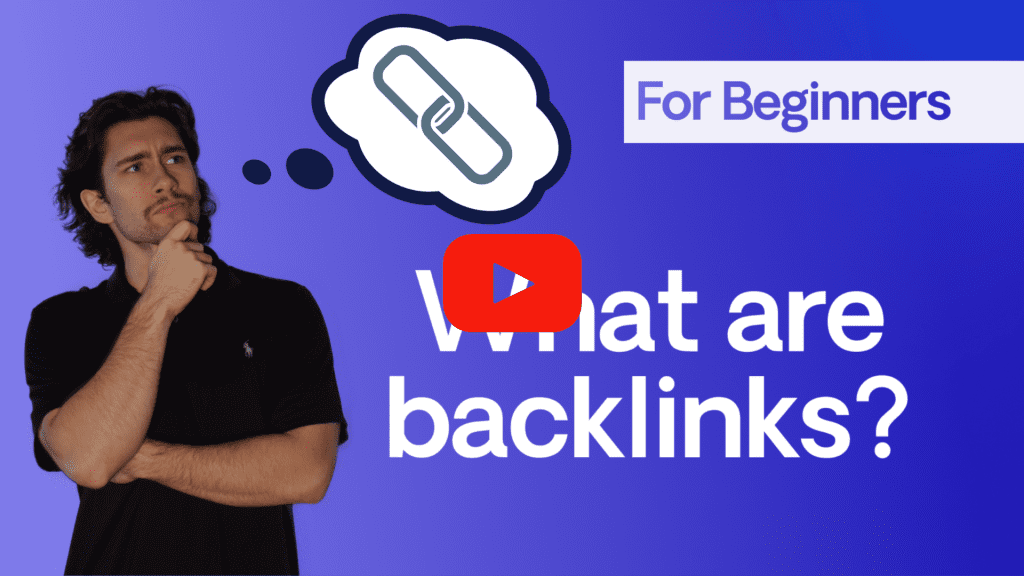 What Is A Backlink?
A backlink (also known as an "inbound link" or "incoming link") is a link that's pointing to your website from another resource, as opposed to an internal link.
There is a strong correlation between the number of high-quality backlinks pointing to a website and its rankings on search result pages.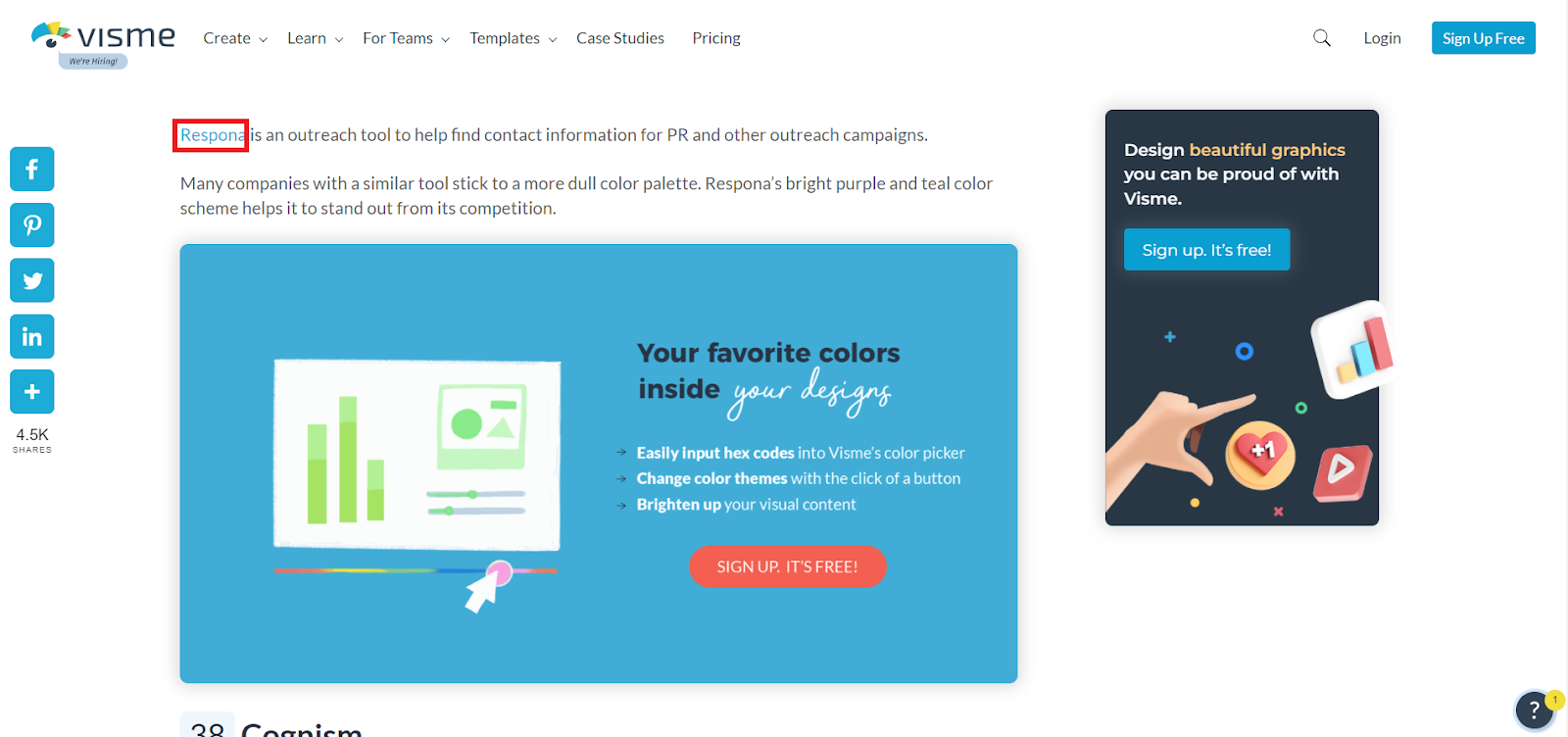 Backlinks can come from anywhere on the Internet: social media pages, blog posts, directories, and so on.
However, not all of them are equally valuable for SEO. The most important types of backlinks when it comes to search engine optimization are relevant, in-content links from one blog post to another.
This leads us to the next section.
Why Are Backlinks Important?
Backlinks are so important because of the way Google's algorithm works. If you put it very simply, backlinks act as "votes" that other websites have found your content valuable, and worth linking to.
Having a lot of high-quality backlinks pointing to your website typically results in your pages showing up high in search results pages. And, of course, each backlink will passively generate a little bit of referral traffic.
They're good for both general and local SEO.
That is the simple explanation – but we want to get a little more in-depth.
What Is PageRank?
In order to really understand why backlinks are so important, we have to take it all the way back to the beginning of the century, when PageRank was introduced by Google.
PageRank used to be Google's official metric of how trustworthy a particular page is. When a page links to another page, a portion of its PageRank would be transferred to the page that's being linked to.
The amount of PageRank transferred depended on a number of factors:
Topical relevance
Number of other links on the linking page
Rel tags, such as "DoFollow" or "NoFollow"
A page does not lose any PageRank by linking out, but the value of these links is reduced if there are many other external links on the page.
PageRank information used to be publicly available in Google's own toolbar, which led to it being abused by SEOs. This new obsession with backlinks led many website owners to abandon other tactics, and even focus on links more than quality content.
This forced Google to retire the PageRank toolbar and officially put the original PageRank algorithm to rest.
There doesn't exist an official Google metric related to authority anymore. However, other companies such as Ahrefs and SEMRush have come up with their own authority metrics such as DR and DA which are commonly used by SEOs to measure the effectiveness of their link building efforts.
Also, the fact that PageRank has been officially obscured from public view does not mean that some version of it is not being used on the back-end.
In fact, it was confirmed by one of Google's employees that they were still using PageRank: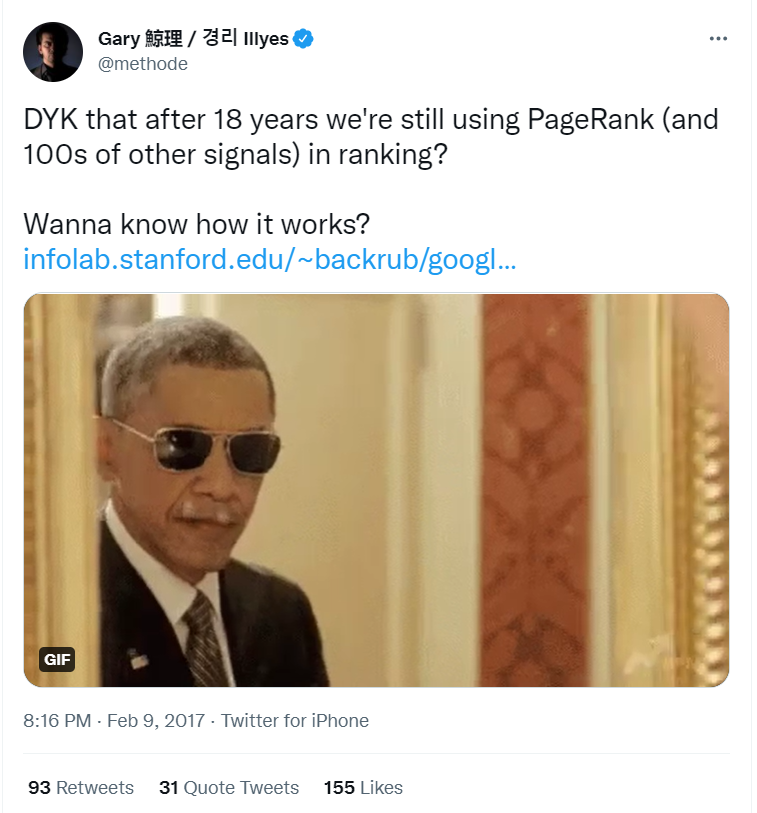 Yes, this is almost a five-year-old tweet, but there is no reason to believe that they have ditched PageRank since then.
Today, PageRank is more commonly referred to as "Link Equity", or "Link Juice".
Google has released numerous updates aimed at combatting spammy link building practices, but backlinks from highly-authoritative resources still remain a huge ranking factor.
This leads us to a very important question.
What Makes A Good Backlink?
At the beginning of this article, we have mentioned that the best backlinks are relevant, in-content links from one blog post to another.
And while that is undoubtedly true, it is very much worth mentioning the exact factors that come into play when determining the value of any given link.
Linking Domain's Authority
Arguably, the most important thing about a backlink is where that link is coming from.
A backlink from a DR 87 blog that has published hundreds of high-performing articles is going to be much more valuable than a link from a new site that's barely earning a hundred monthly visitors.
Obviously, a broken link or links from spammy sites have zero value for your search engine optimization.
The age of the referring domain also affects the link's value.
Topical Relevance
In order to be valuable, the link needs to make sense. For example, it would not make sense for us to link out to a guide on how to install a graphics card on your computer from this article.
But, an outbound link to an article on what is PageRank would be perfectly acceptable.
Anchor Text
Even the anchor text has an impact on how valuable a link can be.
According to Google's John Mueller, it doesn't matter if the anchor text is long or short. It just needs to be clear, and provide context for the user. They need to immediately understand what they will see on the web page once they follow that link.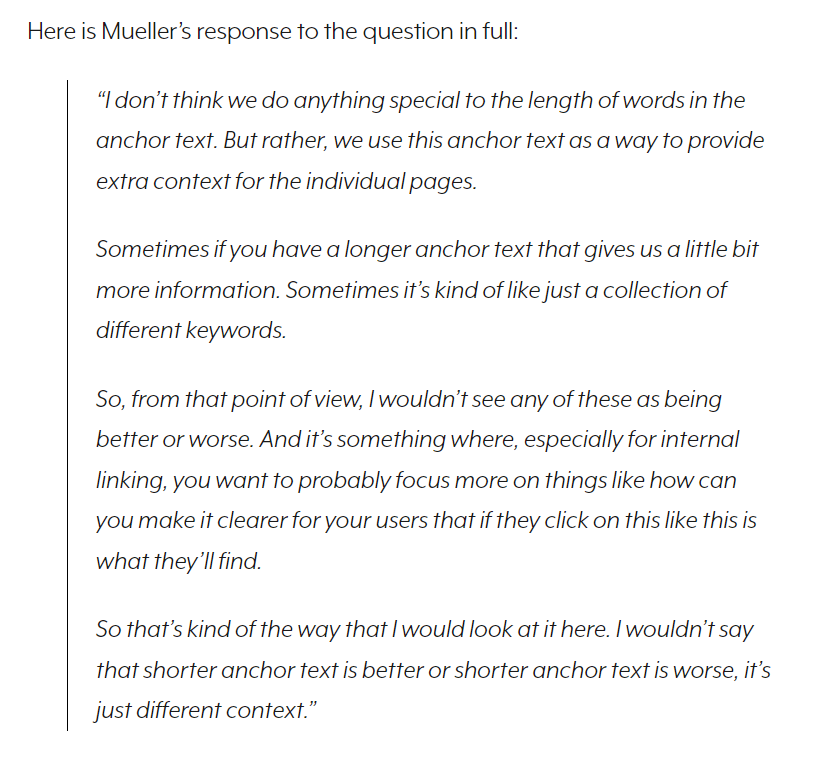 Having your target keyword in the anchor text of your link is preferable, but be careful not to over-optimize it to the point where it sounds robotic or spammy.
Additionally, branded anchor texts (ones that mention your company's name) aren't necessarily more valuable than unbranded ones.
Link Attributes
There are four types of attributes that come into consideration when determining link value.
Follow (or blank)
NoFollow
UGC
Sponsored
DoFollow backlinks are generally "followed" by search engine crawlers. This means they pass on some of that sweet link juice.
Note: if a link doesn't have neither the "NoFollow" nor the "Follow" attribute, it is still considered "follow".
NoFollow links, on the other hand, are not followed by search engine crawlers, so don't pass on link equity.
UGC and sponsored tags are used for marking user-generated and sponsored content accordingly. UGC and sponsored links may still pass on link equity.
This information is stored in the HTML code of the page, so they don't affect the user experience at all.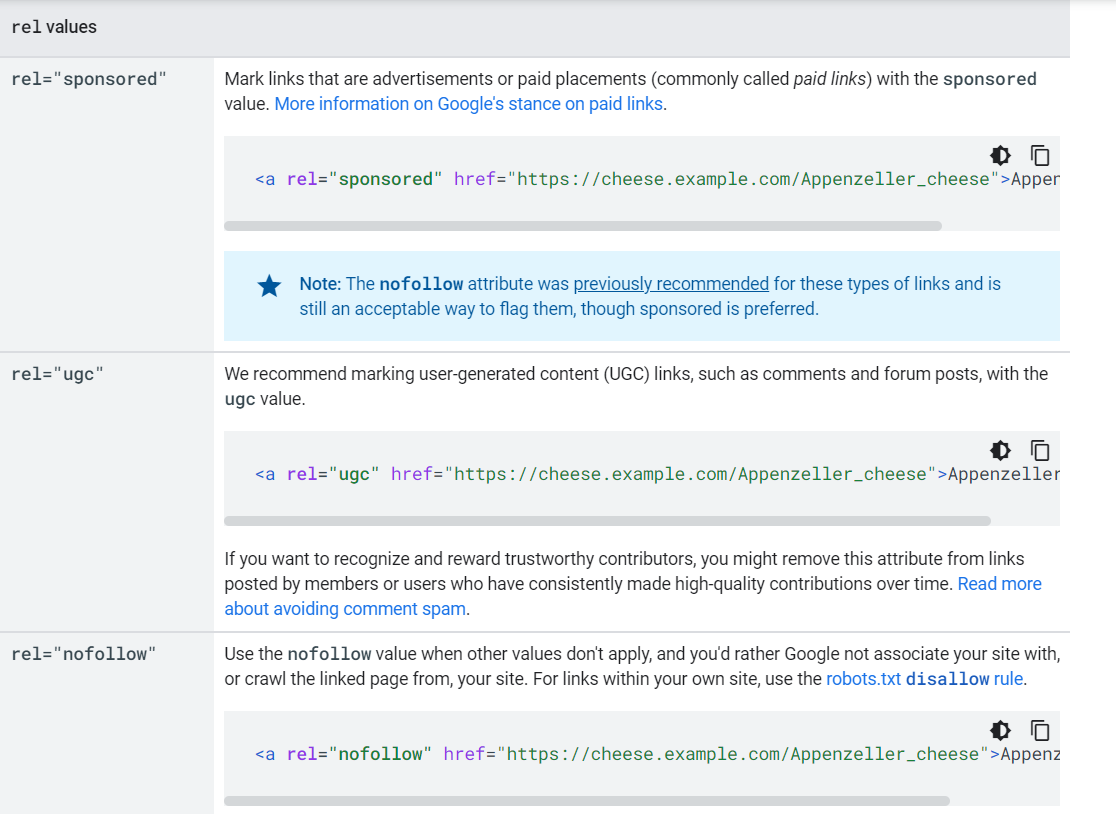 For link building purposes, the most valuable backlinks are, of course, DoFollow links since they pass on ranking signals.
However, a healthy backlink profile contains both DoFollow and NoFollow links. To measure the performance of your link building strategy, you can use Google Search Console for traffic and another SEO tool, such as Ahrefs to monitor your link profile.
How To Get High-Quality Backlinks In 2022?
Now to the fun part. How do you actually get these links?
Most link building tactics require you to perform blogger outreach to some degree.
It involves finding prospects, preparing your email sequence, acquiring the correct contact information, and personalizing your pitches.
Respona helps speed up each stage of the process quite considerably.
But before you can really start building links, you need to create some linkable assets, which we will explain in the following section.
Linkable Assets
Linkable assets, or link magnets, are pieces of content that naturally attract backlinks.
A linkable asset can be a blog post, infographic, video, case study, etc. So, basically, any piece of content that provides a lot of value for the readers can be a link magnet.
On their own, they will generate links organically, but don't expect that number to rise very high quickly.
Treat these more as a prerequisite for really diving into building links – and the organic links you get along the way as a nice bonus.
Skyscraper Technique
If you've heard anything about link building, you've probably already heard about the skyscraper technique.
It is a great way of building up your blog with awesome content, and making tons of links along the way.
Here are the steps to using the skyscraper technique:
Choose a keyword to focus, according to the amount of search volume it gets and its keyword density

Find competing content for your keyword;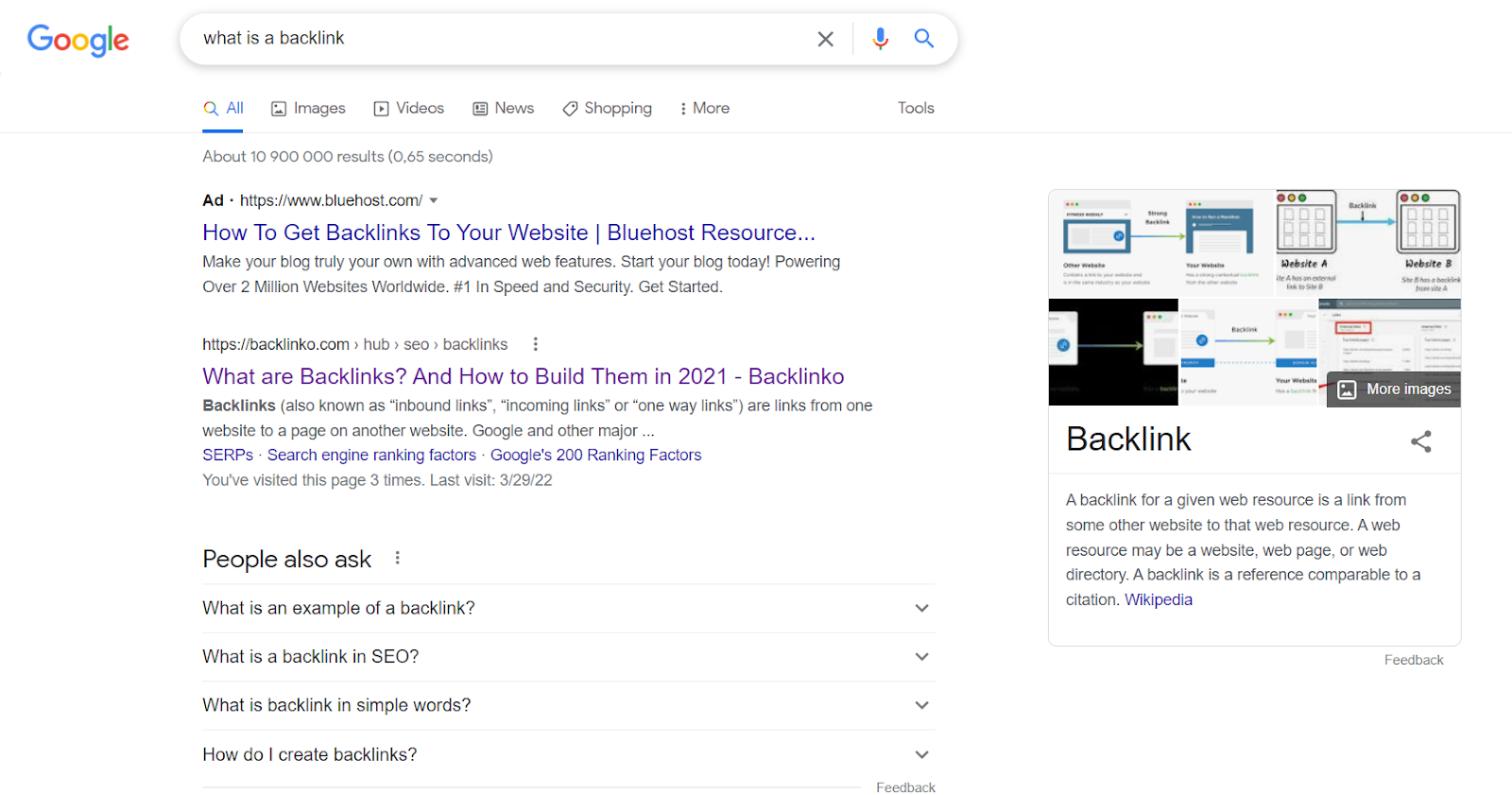 Analyze your competitor's articles;
Find ways in which you can create similar content, but better (longer, with an infographic or a video, discuss part of the topic your competitors missed or barely brushed upon);
Create and publish your content;
Extract the backlinks leading to your competitors' content;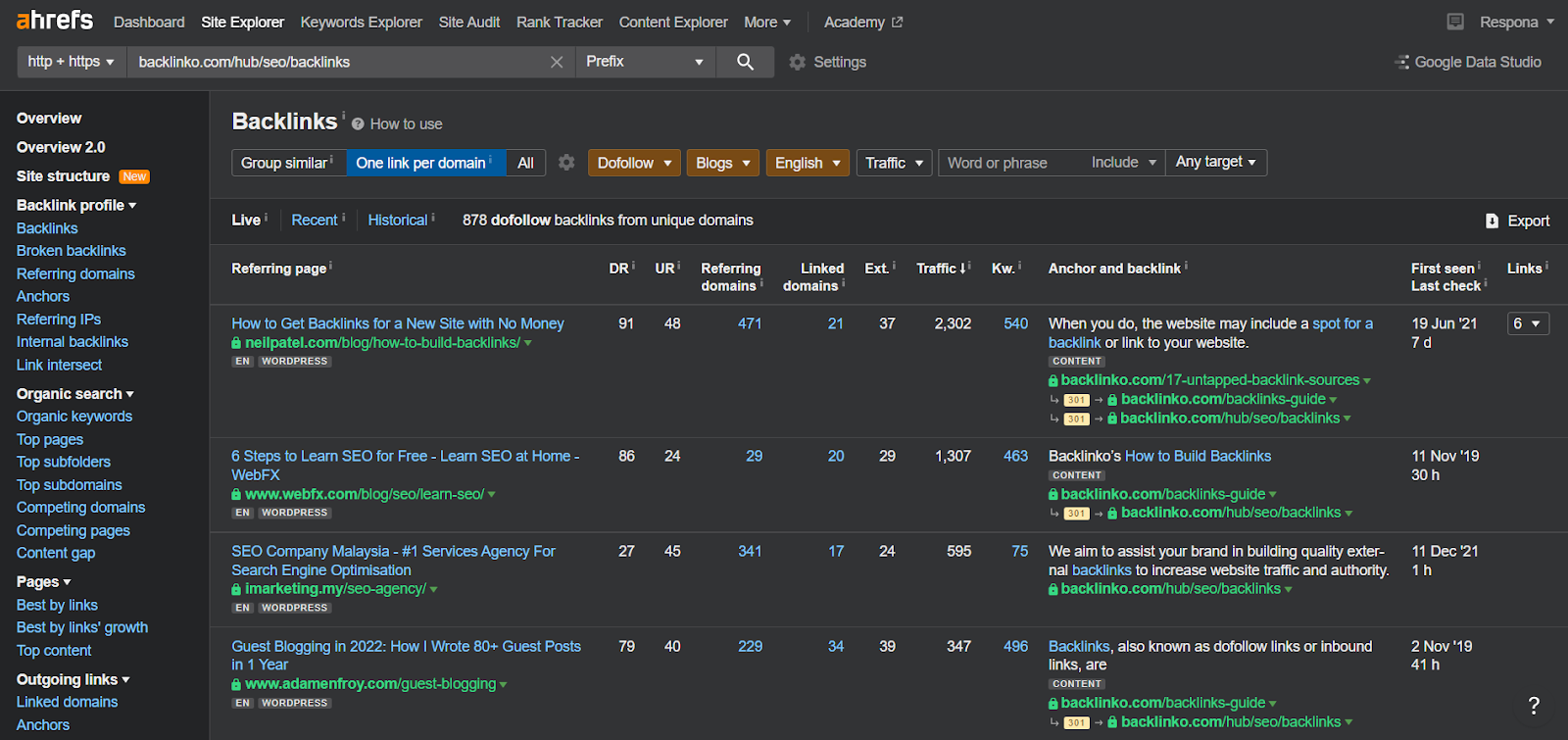 Upload the .CSV file with your prospects into Respona.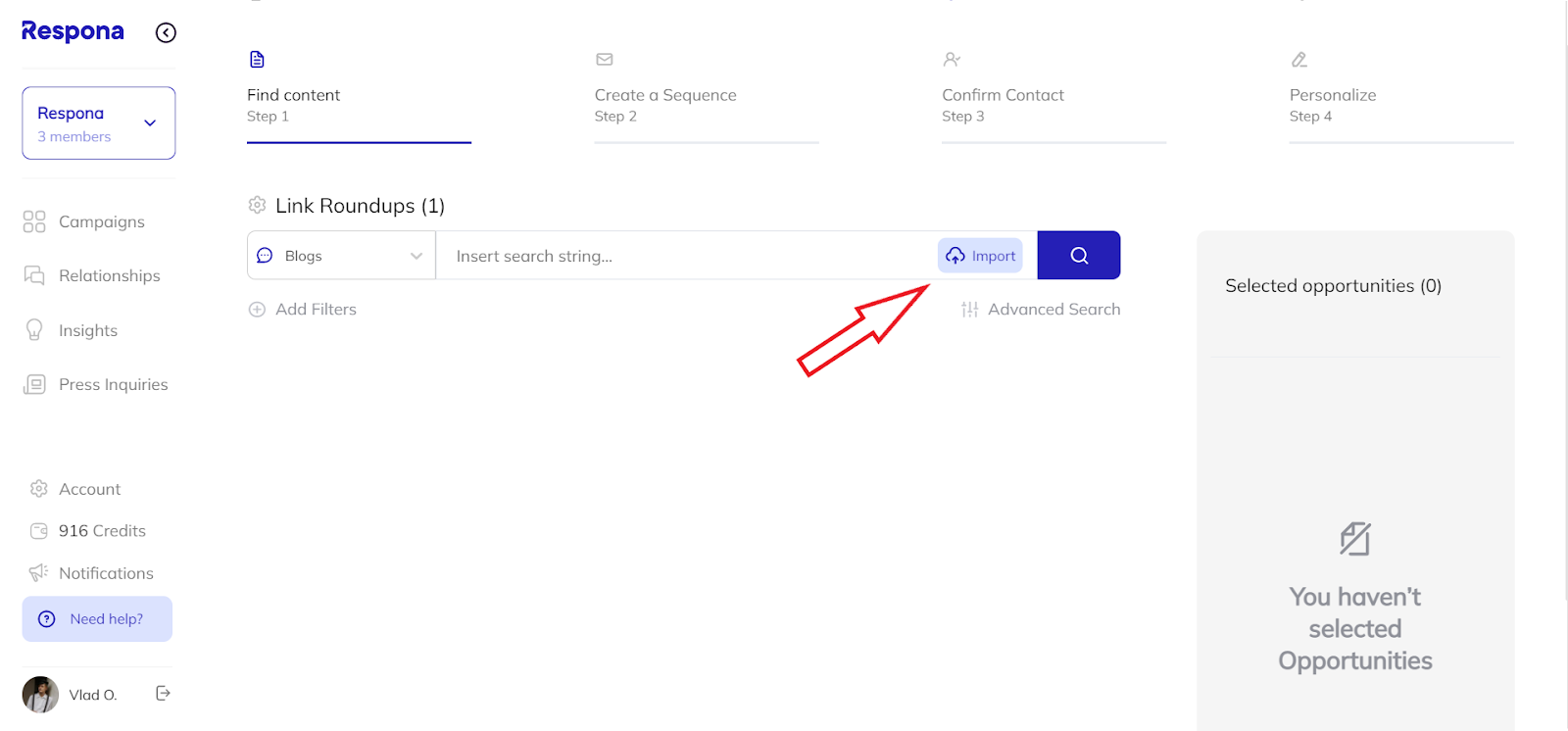 Select the appropriate import mode (in this case, we'll choose opportunities since we have URLs of websites we want to reach out to);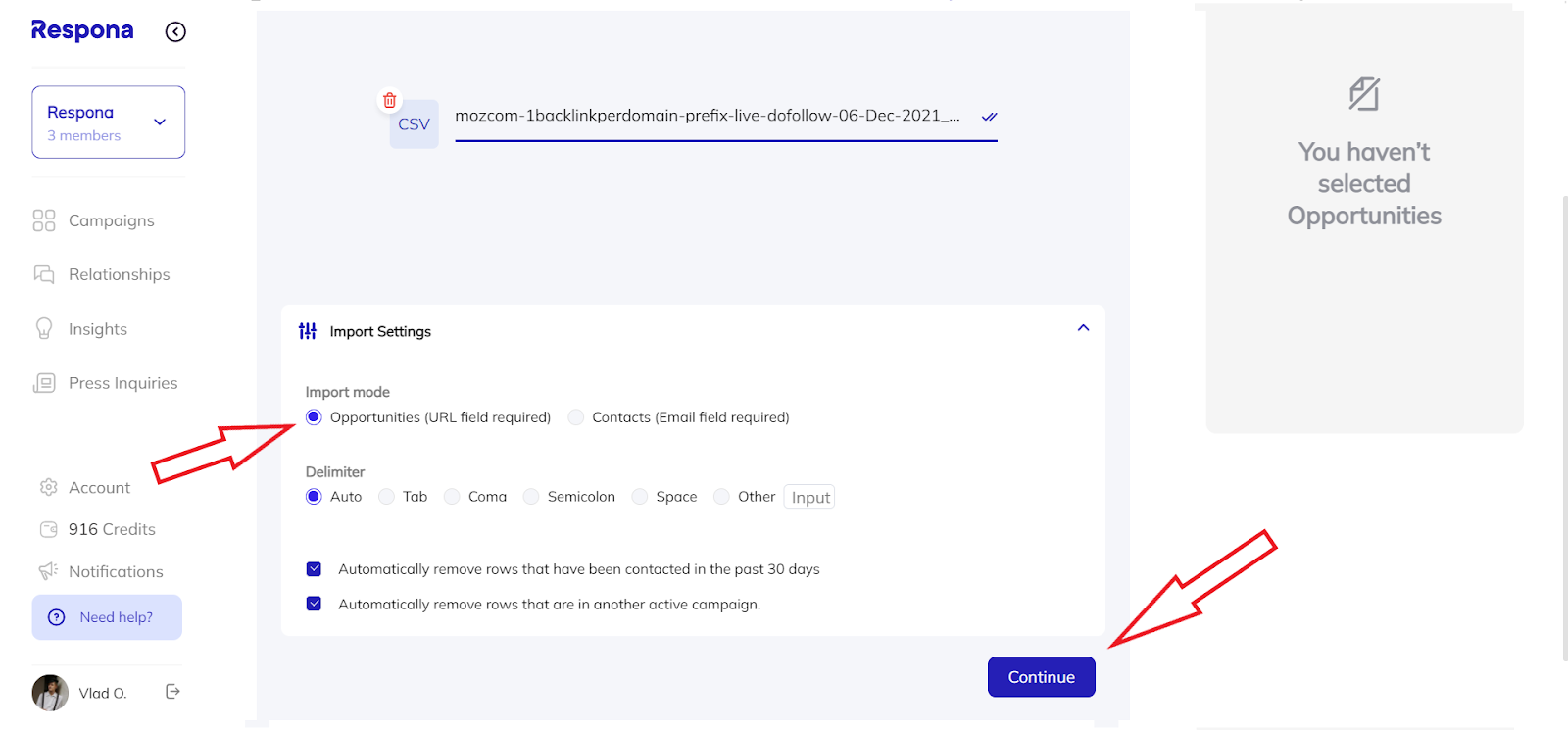 Assign the appropriate .CSV file fields to Respona fields;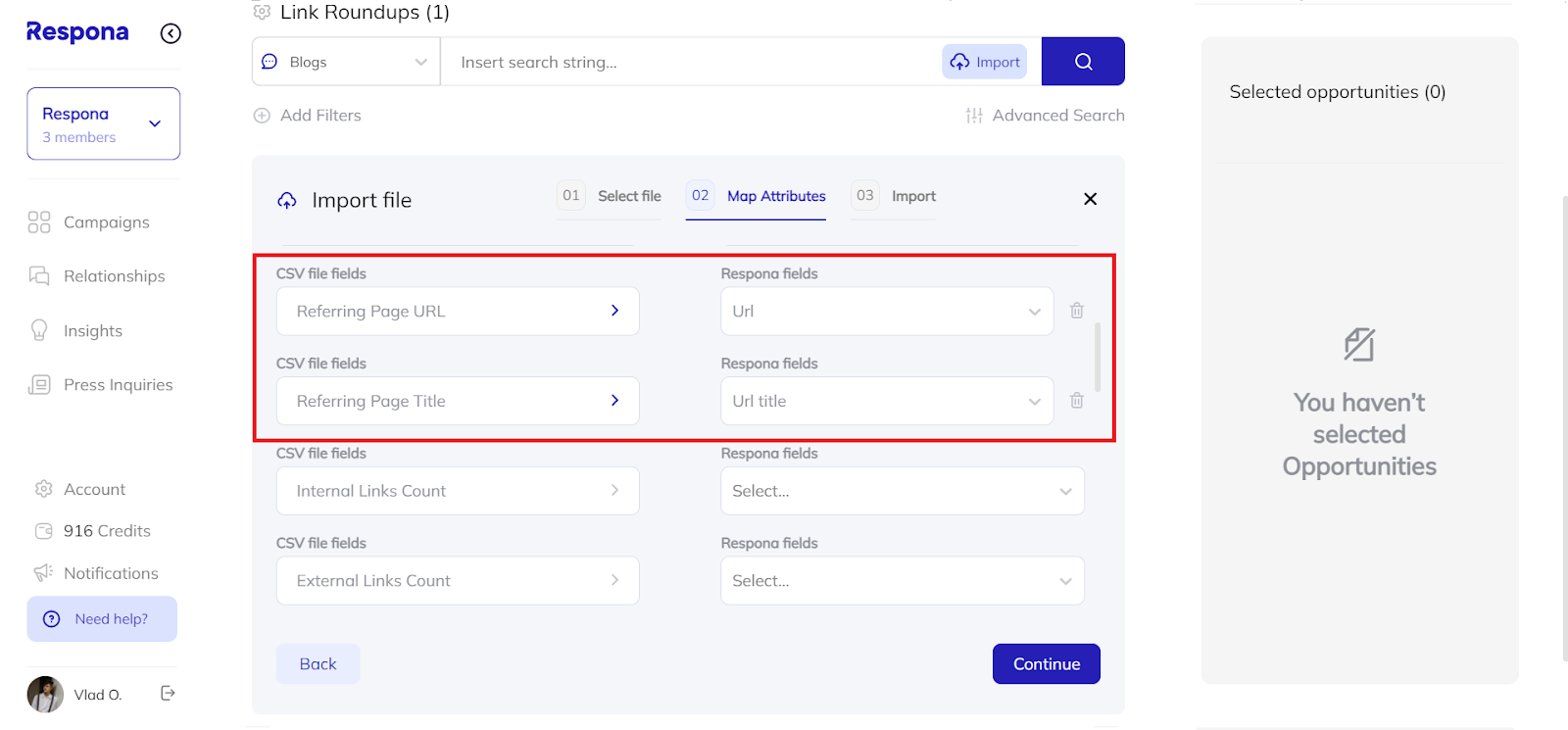 Create your email sequence;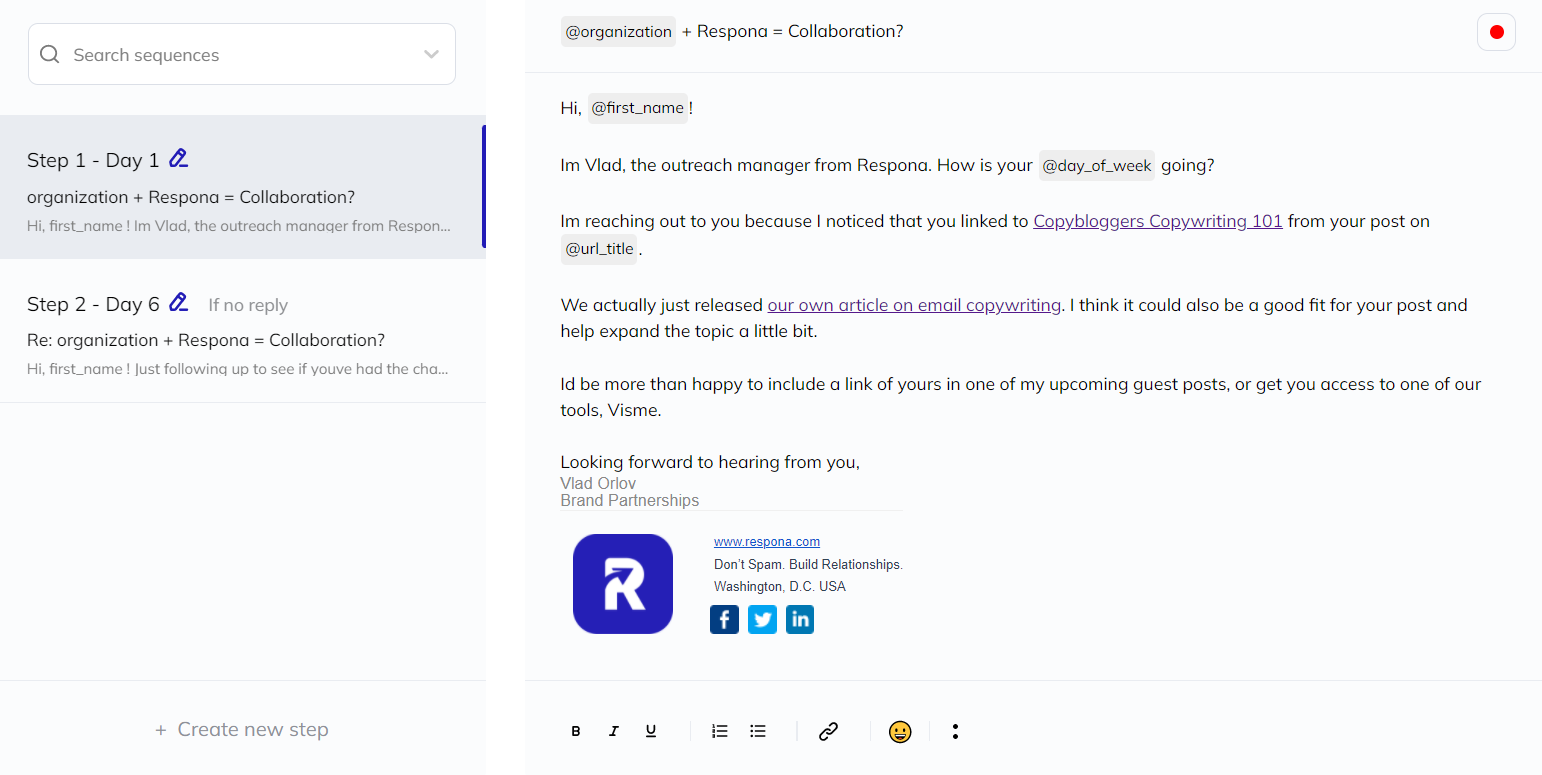 Here is the full template that we used:
@organization + (Your Company) = Collaboration?
Hi, @first_name

I'm [Your Name], the [Your Position] from [Your Company]. How is your @day_of_week going?

I'm reaching out to you because I noticed that you linked to [Competitor's Article] from your post on [Topic].

We actually just released our own article on [Topic]. I think it could also be a good fit for your post and help expand the topic a little bit.

I'd be more than happy to include a link of yours in one of my upcoming guest posts, or [other incentive].
Looking forward to hearing from you,

[Signature]
Set up the contact automation to find editors, content and marketing managers, link builders, and other relevant team members;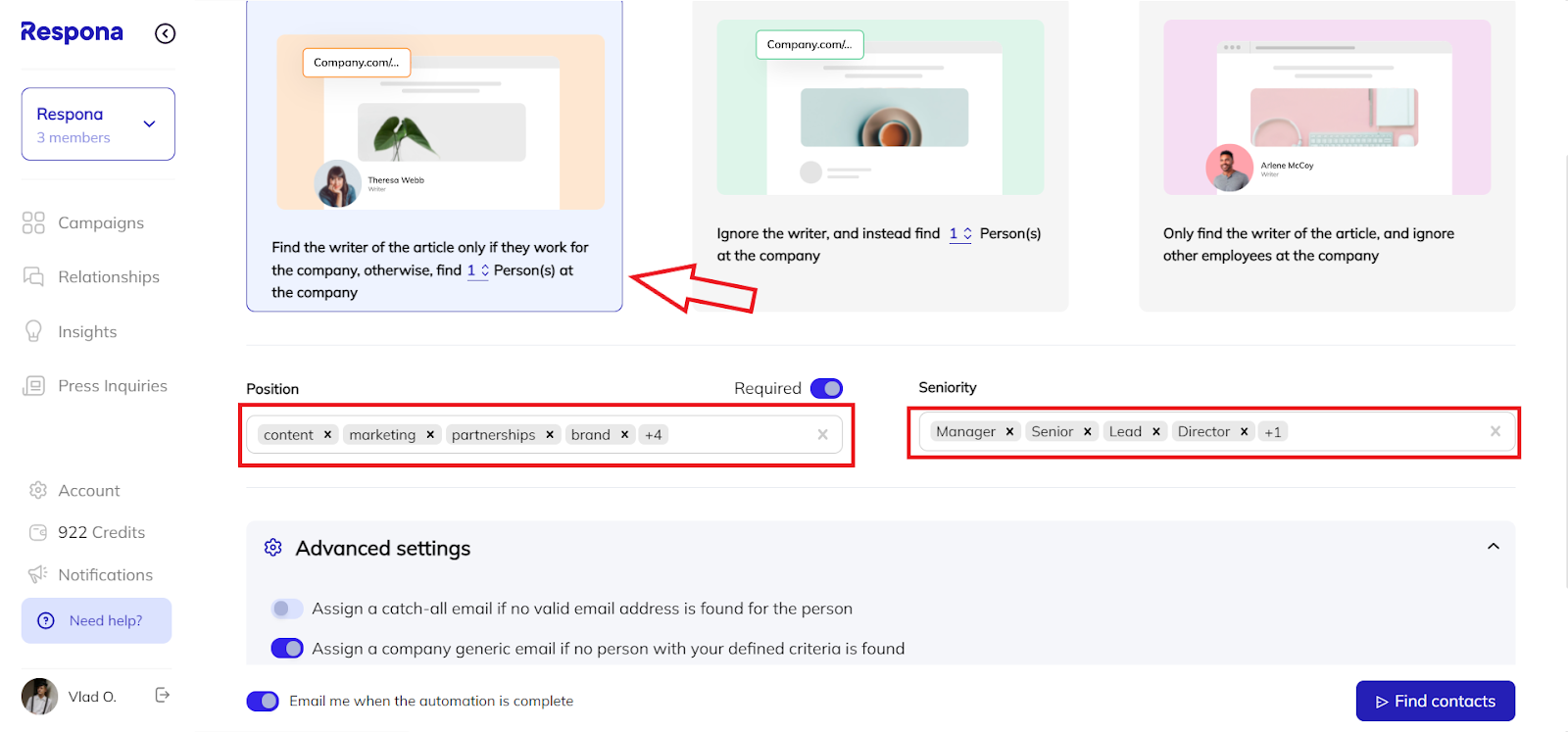 Once the automation is finished, double-check that all of the contacts are assigned as they should be;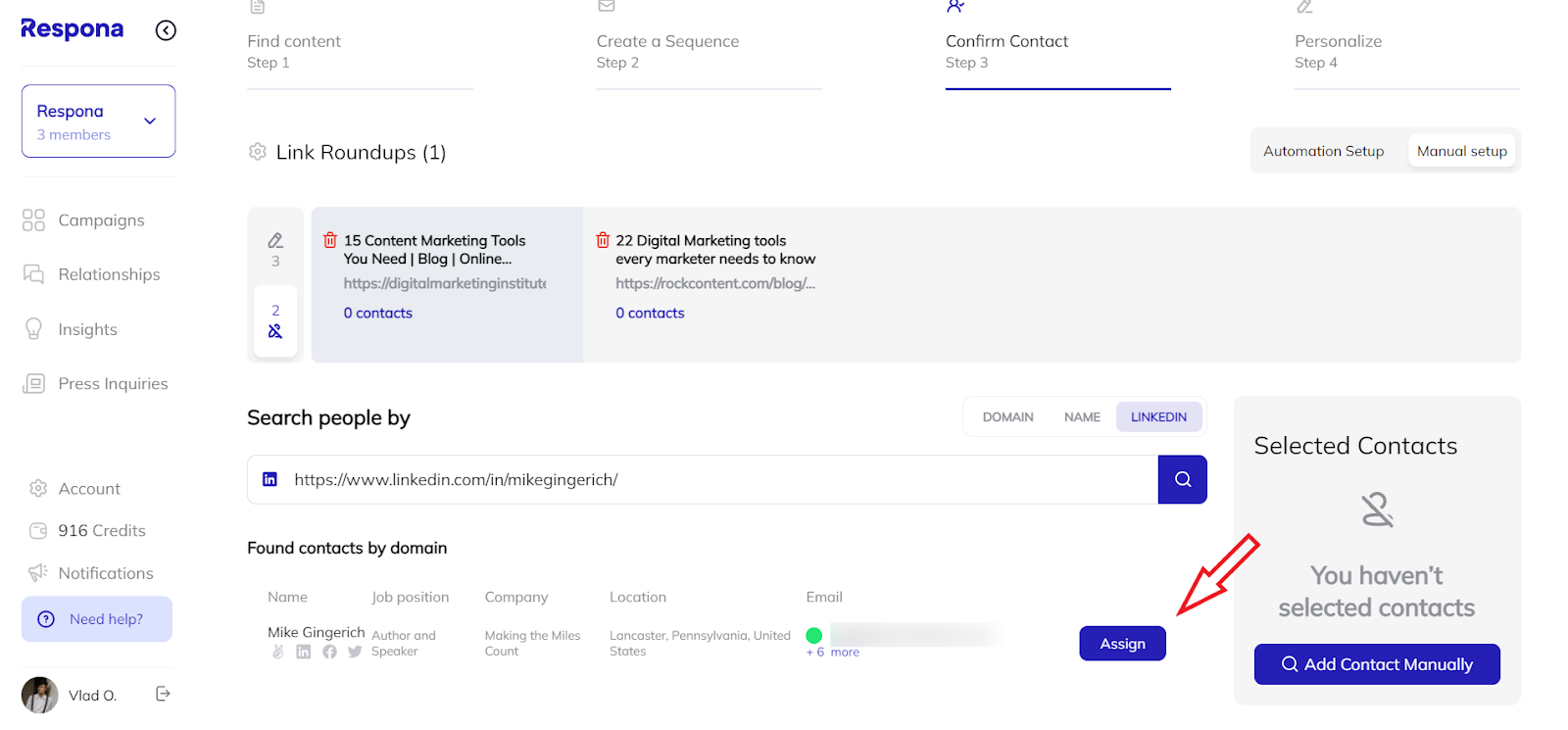 Personalize your pitches;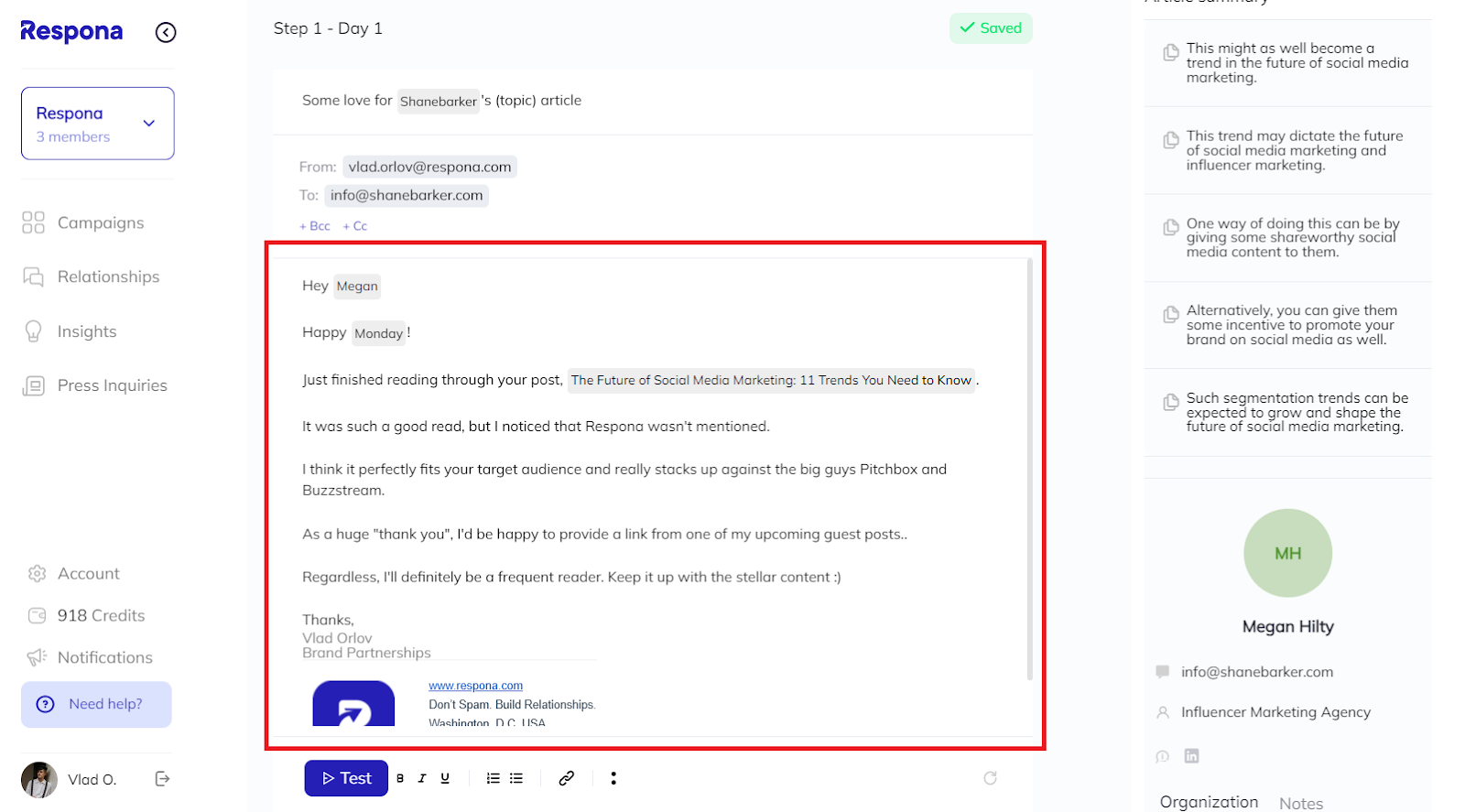 Launch your campaign and monitor its performance.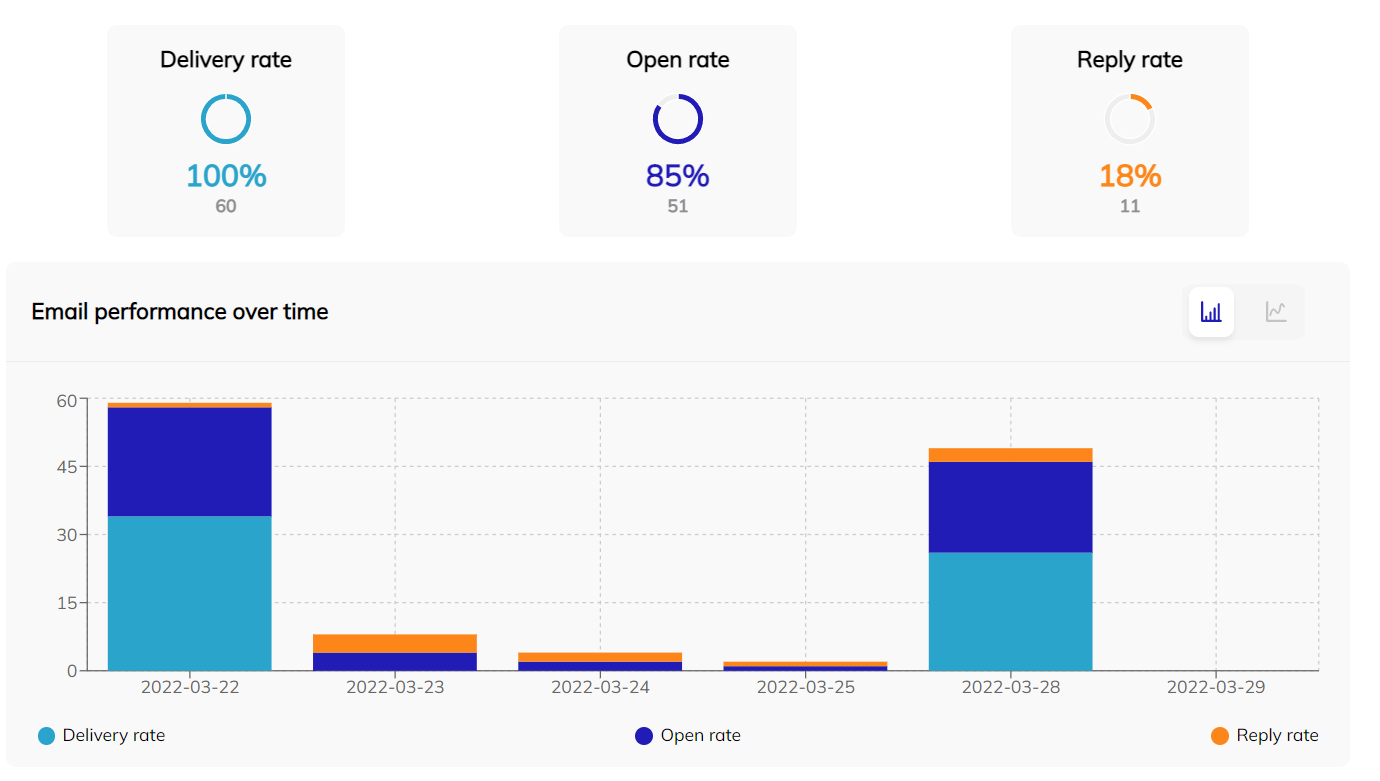 With variables, that automatically change for every opportunity in your campaign, and a built-in contact information finder, Respona can save you up to 90% of the time you would need to spend on all these processes, should you decide to do it manually.
Anchor Text Strategy
Another popular link building strategy is the anchor text one. It is also one of the most beginner-friendly tactics for acquiring backlinks and helps get a good understanding of all the processes involved.
As the name suggests, the goal of this strategy is to find relevant anchor texts in people's articles and secure link placements on them.
But how do you do it?
Respona also has a built-in search engine that scrapes both Google and Bing for link building opportunities. It supports all of the advanced search operators that work within these search engines, allowing you to quickly find dozens of relevant prospects.
Select a search mode:
Google search
Bing search
Bing news
Podcasts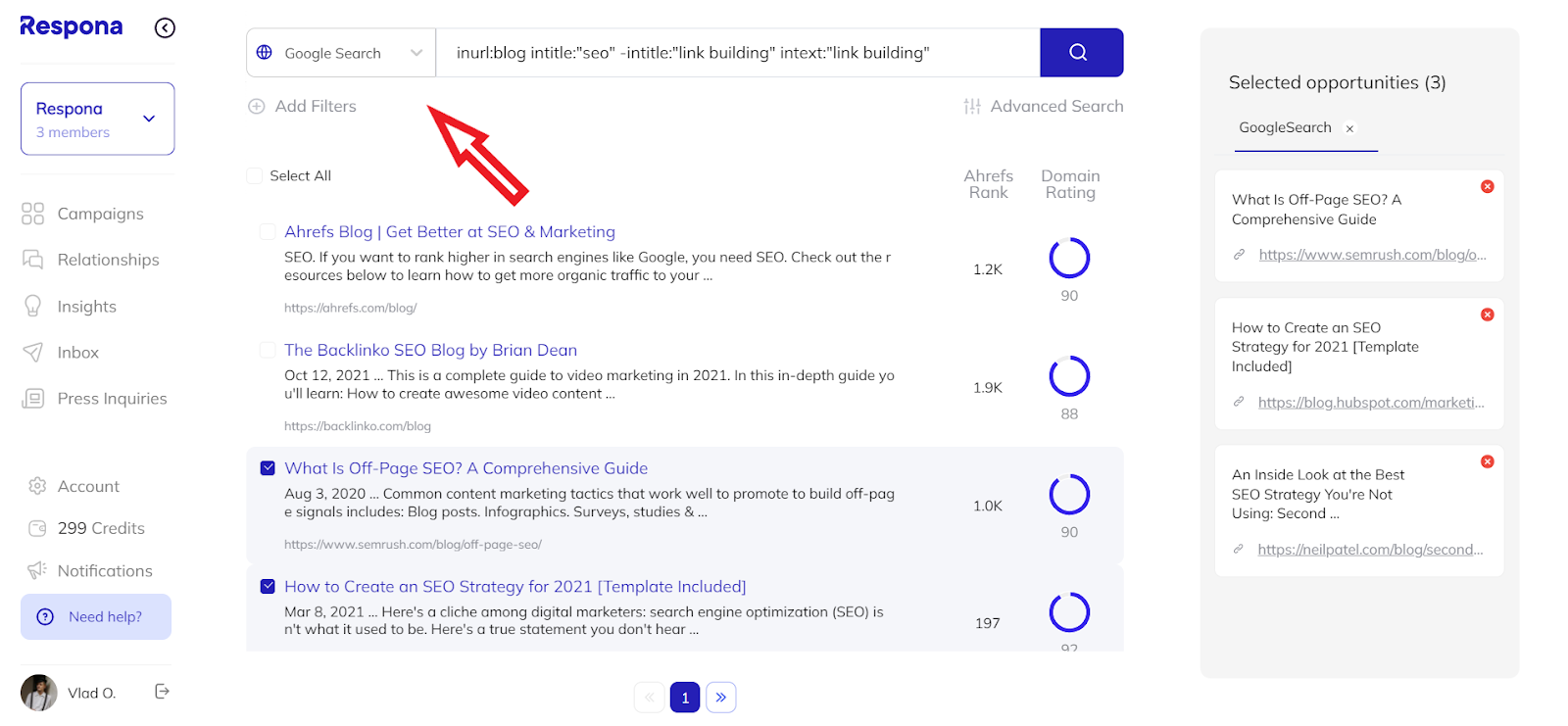 Type your search query. Some useful Google search operators for finding very specific opportunities (that we've used on the screenshot above) include:
"Inurl:blog" – returns only pages that are part of a blog
"Intitle:" – returns only pages that mention your target keyword/phrase
"-intitle:" – returns only pages that DON'T mention your keyword
"Intext:" – returns only pages that mention your keyword in the content
Here is what our example search string looks like:
inurl:blog intitle:"seo" -intitle:"link building" intext:"link building"
To break it up, this tells Respona to only return blog posts about SEO that mention link building somewhere in the text, but not in the titles. This is perfect, since we're looking for non-competing content that briefly mentions your topic but is mainly about something else.
Select prospects for your campaign until you have enough opportunities.
Follow the steps described above and create your email sequence, find contact information, and personalize your pitches before sending them out.
Here is a template format that we've found works pretty well for the anchor text strategy:
Some love for @organization's (Topic) article
Hey @first_name,
Happy @day_of_week!
Just finished reading through your post, @url_title, and I had to share some thoughts on it.
I noticed you had mentioned "[Anchor/Targeted Keyword]" in the article, but didn't go into further detail or link to another resource.
We actually just published a great article that I think could help give some insight to your readers:
[url]
I'd be happy to return the favor and link back to one of your pieces from our blog while sharing your post across our socials.
Regardless, love the content. Keep it up!
Cheers,
[signature]
Guest Posting
Guest posting has been around for as long as the concept of link building, and to this day is one of the most widely-used link-building strategies.
There are three ways in which you can find guest posting opportunities:
Find websites that have a "Write For Us" page;
Pitch websites you like offering to write a guest post for them even if they don't have such a page;
Pitch guest posts at the end of successful link collaborations with your prospects from other strategies.

Most websites accept guest posts regardless of whether they have a "Write For Us" page or not. We actually don't do any separate outreach for securing guest post placements – and recommend the third option if you're already doing link building outreach.
Regardless of your approach though, there is one thing you absolutely must do when pitching a guest post.
And that is to provide value to the other person. For example, you can identify a keyword gap on their side, and offer to write an article on a topic that covers a keyword that their competitors are ranking for but they aren't.
Here's how you can do that with Ahrefs:
Open Ahrefs in two tabs;
Paste your prospects' URL in both;
In the first tab, click over to "Organic search";
Scroll down to the Top 10 Competitors section: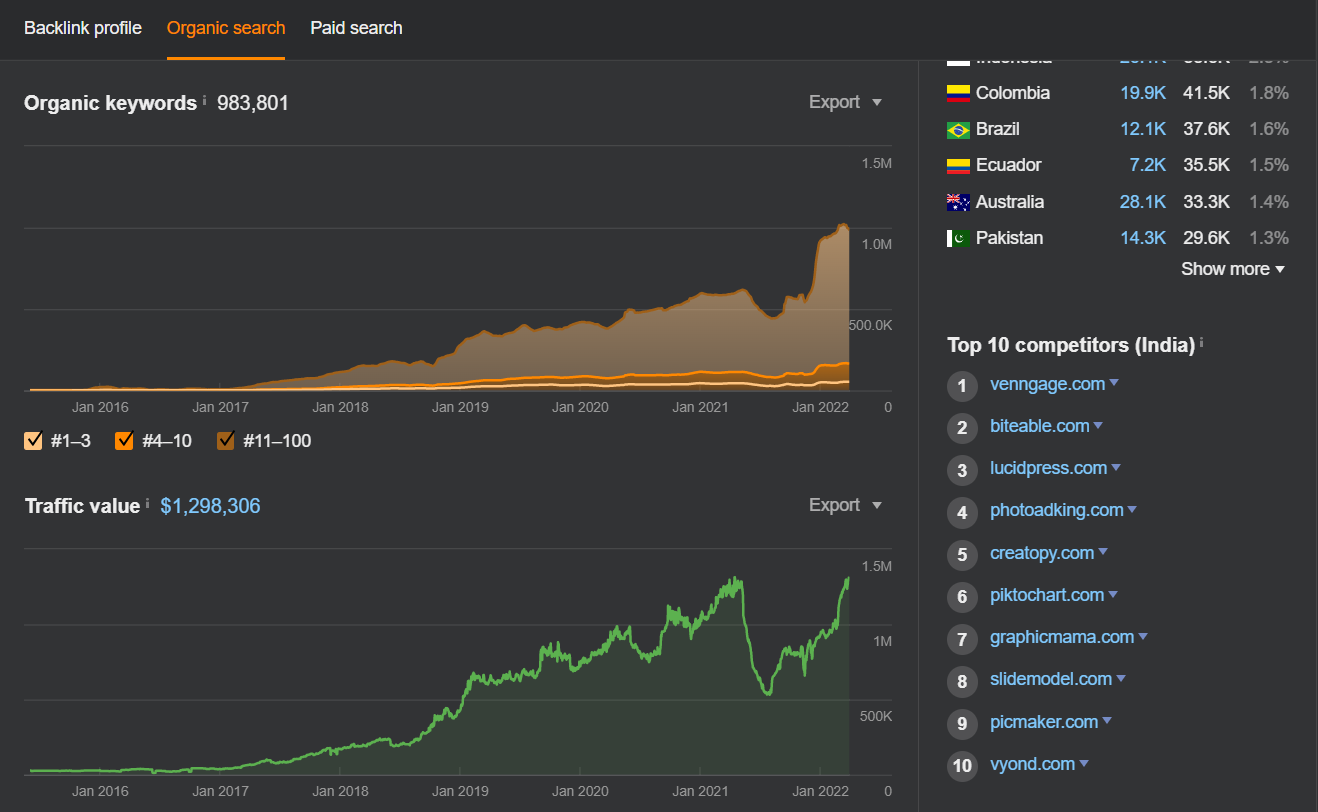 Select two competitors;
In the second Ahrefs tab, go to Content Gap: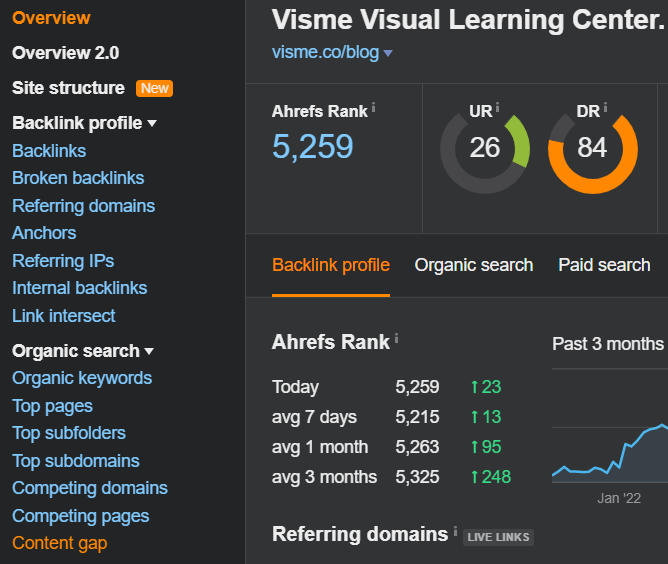 Paste your chosen competitors and click "Show keywords";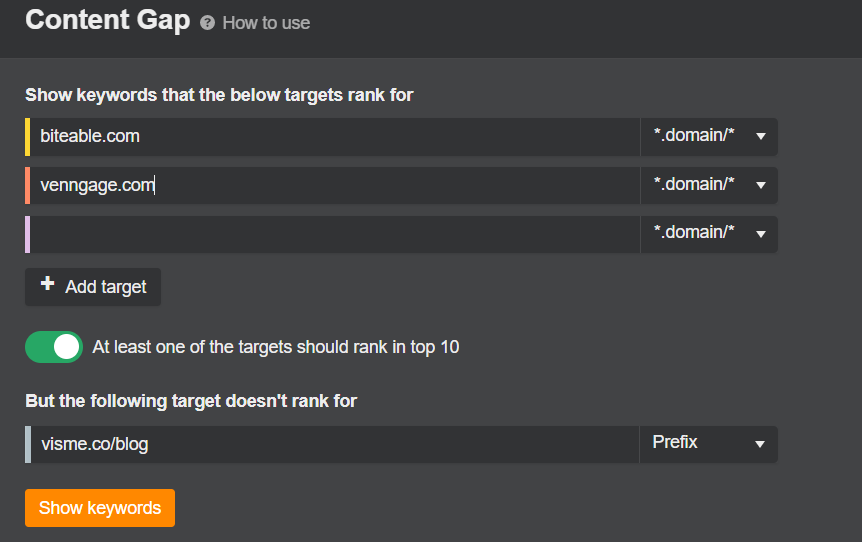 For the intersect filter, set it to "2 targets";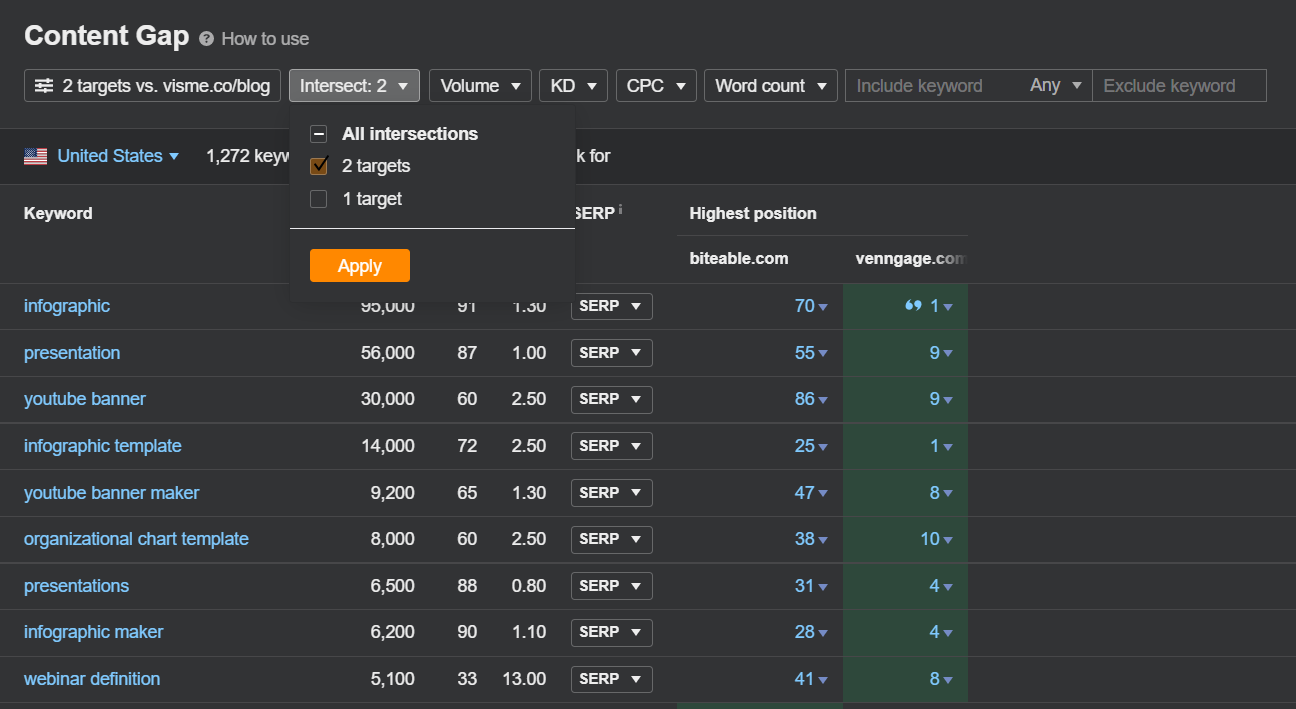 Select a keyword with high search volume and low keyword density;
Come up with the topic that covers that keyword;
Pitch the topic to your prospect and mention how you have identified that keyword gap.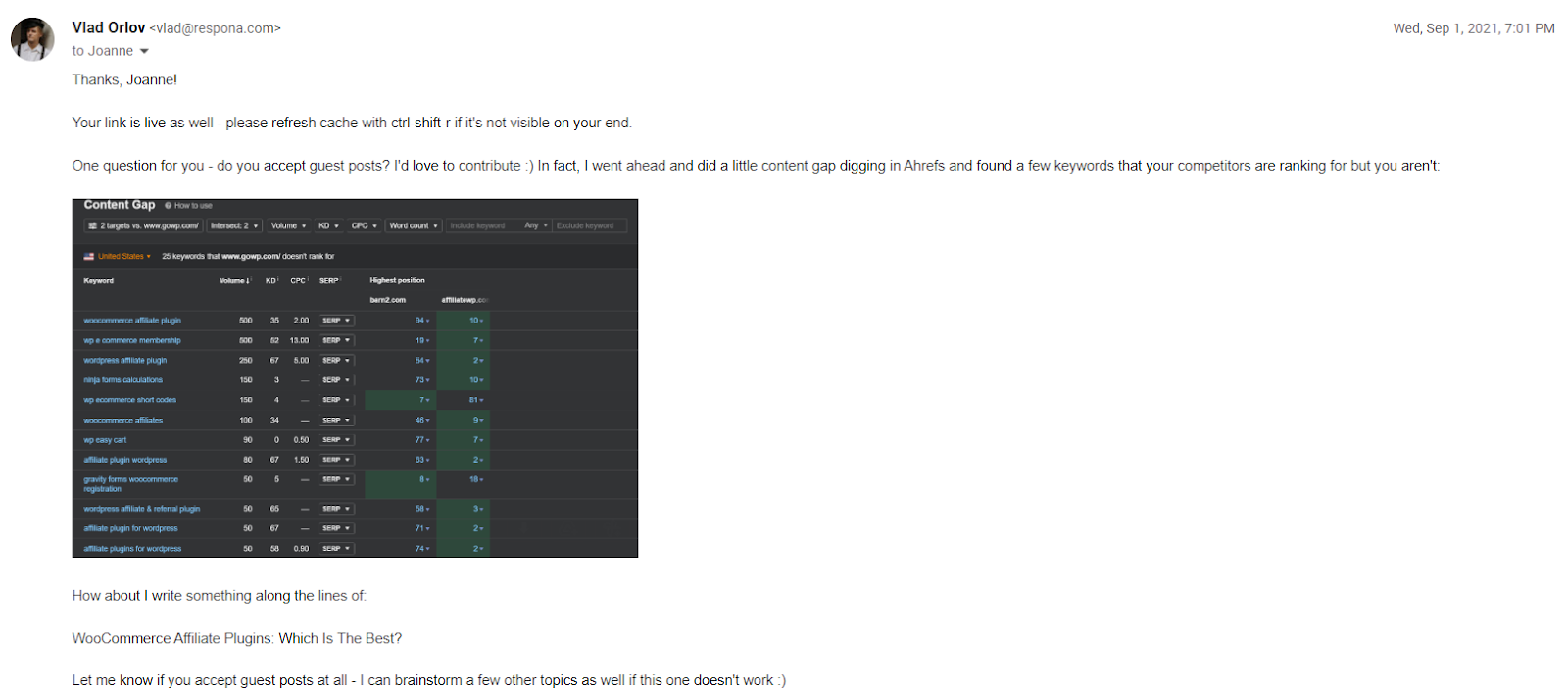 This approach is extremely personalized, so your chances of getting positive replies are very high. By following these steps, you will be showing your prospects that you have actually taken the time to do keyword research for their website, and provide them with real value by covering their keyword gap.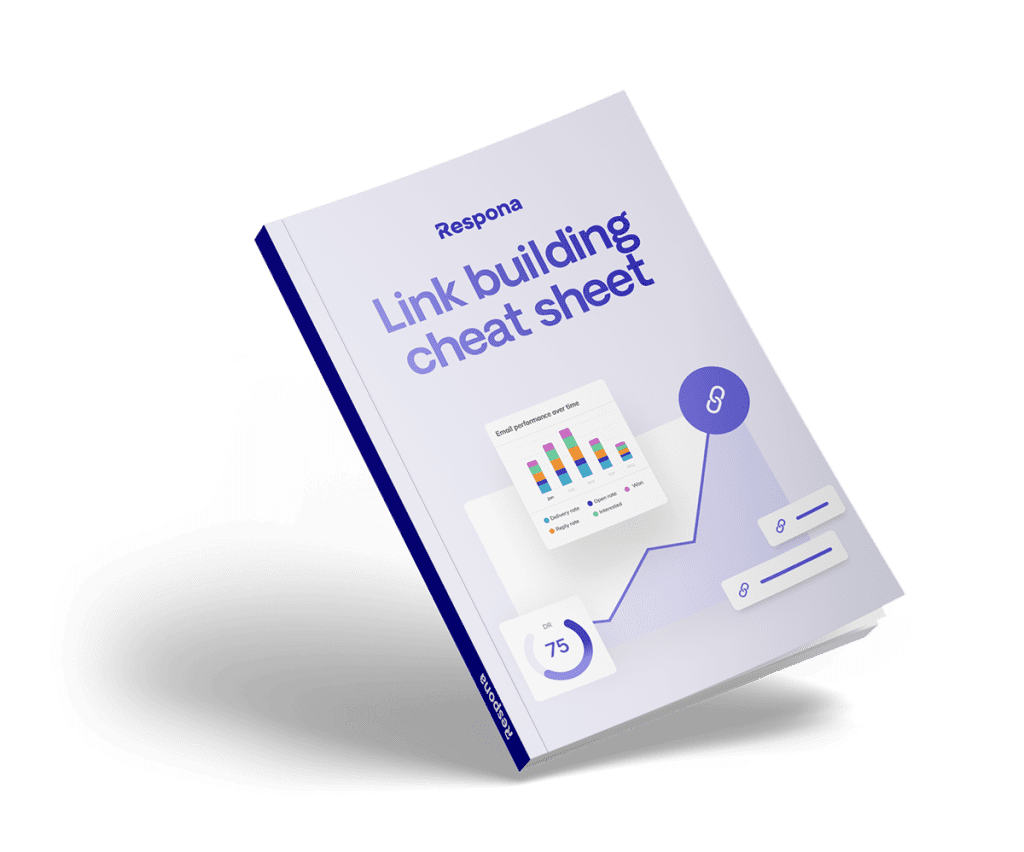 Link building cheat sheet
Gain access to the 3-step strategy we use to earn over 86 high-quality backlinks each month.
Over To You
Link building should absolutely be part of your SEO strategy. Even in 2022, high-quality backlinks remain one of the biggest ranking factors.
If it seems like it's hard to build backlinks, don't worry – we can help you out.
Let us show you how- book a demo with us and make your outreach efforts seamless.