Using Respona to work on an SEO campaign saw quick wins that had a direct effect on Dchained's organic traffic.
From the start of 2021, Respona helped Dchained acquire 35 backlinks and publish 12 guest posts, which were live by April that year.
This helped achieve an increase in Domain Rating (DR), as measured by Ahrefs, from 12 at the start of the year up to 32 by the end of October.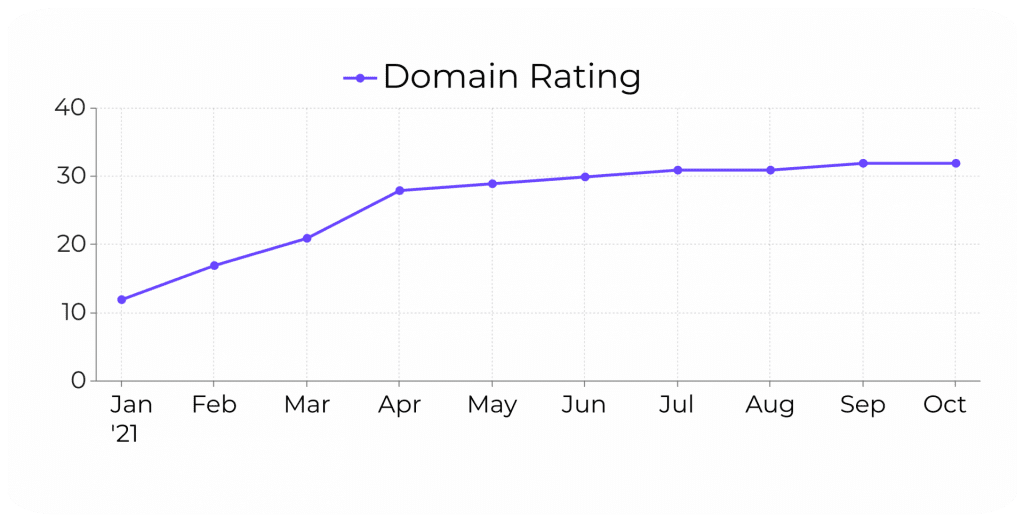 As a direct effect of having more backlinks and a higher authority in the eyes of search engines like Google, Dchained saw a more than 400% increase in organic visits to the site.
"I would say that the level of support is, if not the biggest strength, close to the biggest strength Respona has. As a startup where you don't have unlimited resources, you have to be strategic and you have to think about what's going to net you the best results in the long term. For us, that was Respona."
Dchained's needs
"Over six months ago, we were really trying to figure out a way that we could build up our SEO," Edmund explained. 
As a new, bootstrapped company, Dchained found itself in a competitive industry with some "bad actors", making it hard to run Google and Facebook ads for anything cryptocurrency-related.  
This meant that Edmund needed to find a different strategy to drive traffic and gain visibility for his new company. "I had to think long-term, and thought about the analogy of trying to collect bees by putting out little traps on branches with paid search, versus the organic search model where you eventually plant a beautiful garden which is going to bring in a lot more bees," he said. 
Using an SEO agency was a consideration – having it source and write guest blogs to build a backlink profile. This didn't feel authentic for Dchained's founder – he was looking for a more natural process and one that was more scalable. 
On his decision to reject working with an agency to build backlinks, Edmund said, "I didn't have control over the direction that our company would be represented as it relates to those sites."
When the website had been running just short of a year, growth began to plateau. By the first quarter of 2021, Dchained hired a new SEO director and a second SEO team member and was ready to kick-start efforts to build the website up.
How Dchained used Respona
On a day-to-day level, the SEO manager uses Respona to reach out to prospects to discuss guest blogging and infographic creation opportunities as a way to improve the website's backlink profile. Edmund said, "It's the SEO manager who does the outreach – gets our foot in the door – and then we leverage all the resources we have internally to figure out where there's a value add."
Respona is used every day by the SEO team. It's harnessed to identify blogs and sites that talk about topics that Dchained covers, such as NFTs, blockchain technology, and general crypto education. Reaching out and starting a conversation is made easier and quicker with Respona. 
"Respona automates a lot of the outreach process, with the AI where you can actually quote a piece of their content as a reference, and then build that relationship and build that rapport. This is our way of opening lines of communication," he noted. 
Breaking down the processes that Respona handles for the SEO team, it takes care of:
Discovering leads to reach out to

Finding content to help qualify the lead

Personalizing the conversation

Completing the outreach with an email
Here's how the work has improved the Dchained traffic.
Campaign Results
Let's have a look at some interesting campaign results. 
First of all, 6,493 blog posts, news articles, and podcasts were targeted during the campaign period via Respona.
6304
Total emails delivered