What is Off-Page SEO?
Off-Page SEO refers to all of your search engine optimization efforts that take place outside of your website.
This includes:
Link building
Social media
Local SEO
Features on review sites
We will dive deeper into each off-page SEO strategy further down, but for now, let's answer a simple question: do you actually need off-page SEO?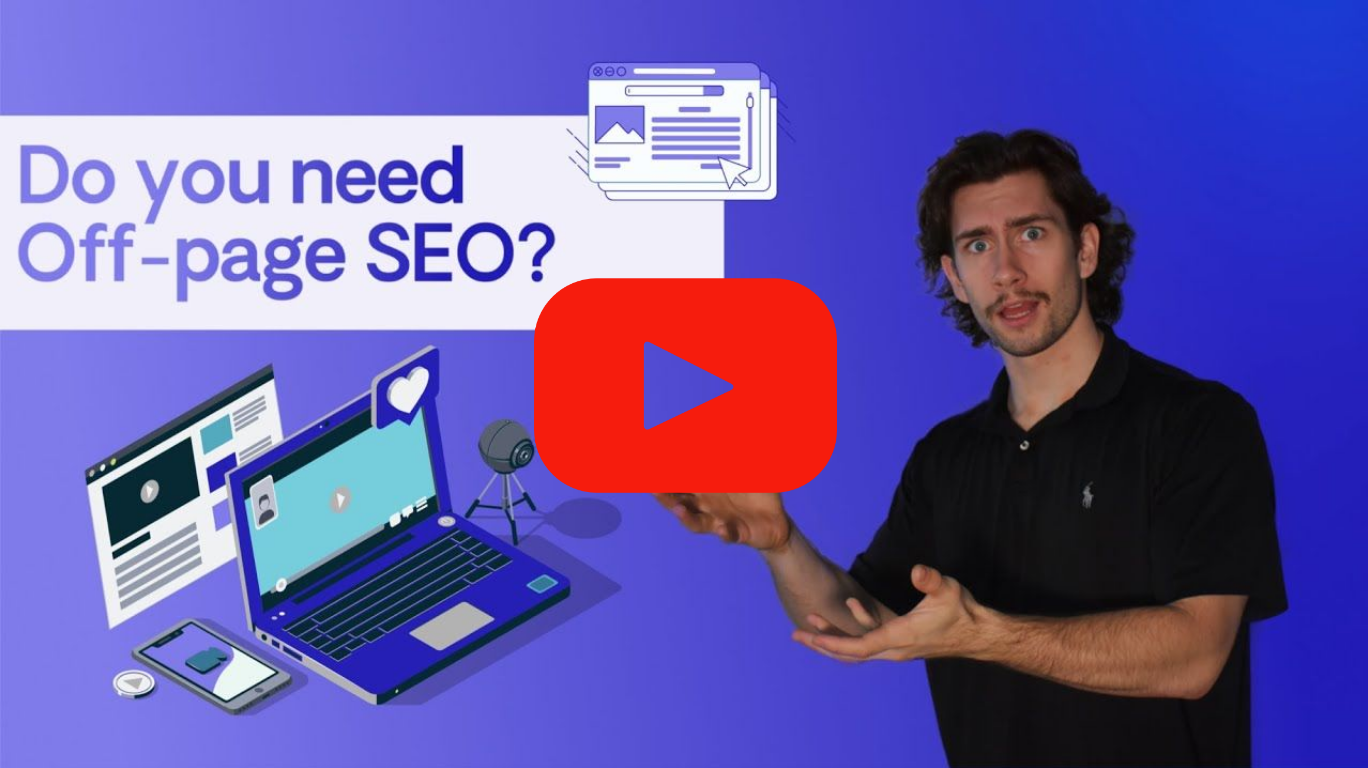 Why is Off-Page SEO Important?
The biggest portion of off-page is link building.
Links from relevant, high-quality websites are one of the biggest Google ranking factors, as they pass on PageRank, which lies at the core of Google's algorithm.
In addition, generating traffic with just your own website is extremely difficult, especially if you operate in a highly saturated and competitive niche.
Even if your content is better than your competitors', without a strong backlink profile, it may be next to impossible to overtake them on search results pages if they have an older and more authoritative website that's already generating substantial traffic.
In addition, review sites like G2 get hundreds of thousands of visitors every month, so just by listing your business on there, you can increase your online visibility (and trustworthiness) tenfold.
Off-Page SEO Example
Our own listing on Product Hunt can be considered part of our off-page strategy: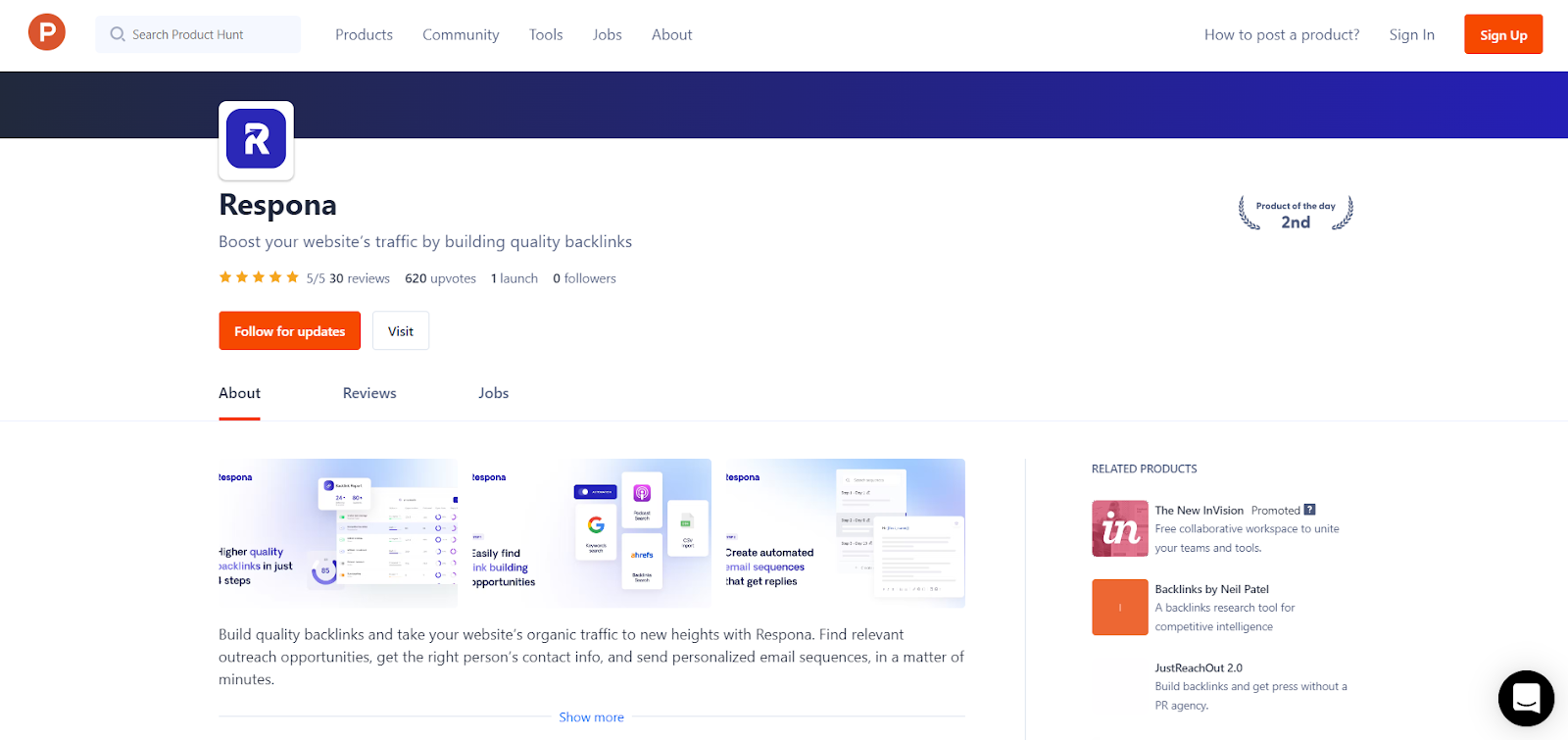 Here are also some statistics from one of our customer, ClicData running link building campaigns with Respona for two years:

Strategies to Improve Your Off-page SEO
Now, let's take a look at the exact off-page SEO strategies you can employ to increase your website's online visibility.
Link Building
The process of link building involves acquiring backlinks from other websites.
This is typically done through cold email outreach, but other strategies can be employed, such as connecting with your prospects on social media or participating in link building communities.
High-quality backlinks from relevant and authoritative sources are one of the biggest ranking factors for a website.
Despite popular belief, this was only reinforced by Google Penguin, which was released in order to emphasize the importance of these types of links and reduce link spam.
As evidenced by Backlinko's research, there is a direct relationship between a website's link profile and its ranking in search engine results pages.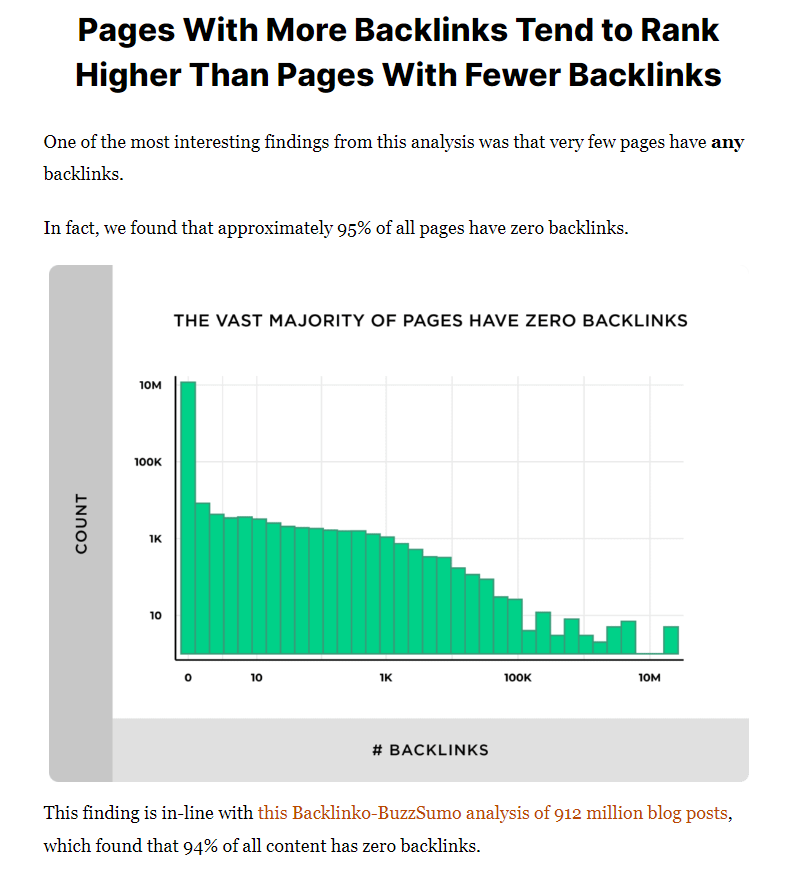 On average, the #1 ranking page on search engine results pages has four times as many backlinks as the other results.
Image source: Backlinko
Here are some of the most popular and effective link building strategies out there.
We won't get into the nitty-gritty of each one as we already have dedicated guides to them so let's just go through the basics of the anchor text strategy.
It's a really straightforward process: you'll hunt for non-competing articles that include your content's target keyword (or a comparable term) but are about something else.
These articles are ideal for link building since adding your link to them would help cover a topic that they do not cover in depth. This contributes to a better informed resource, which benefits both parties.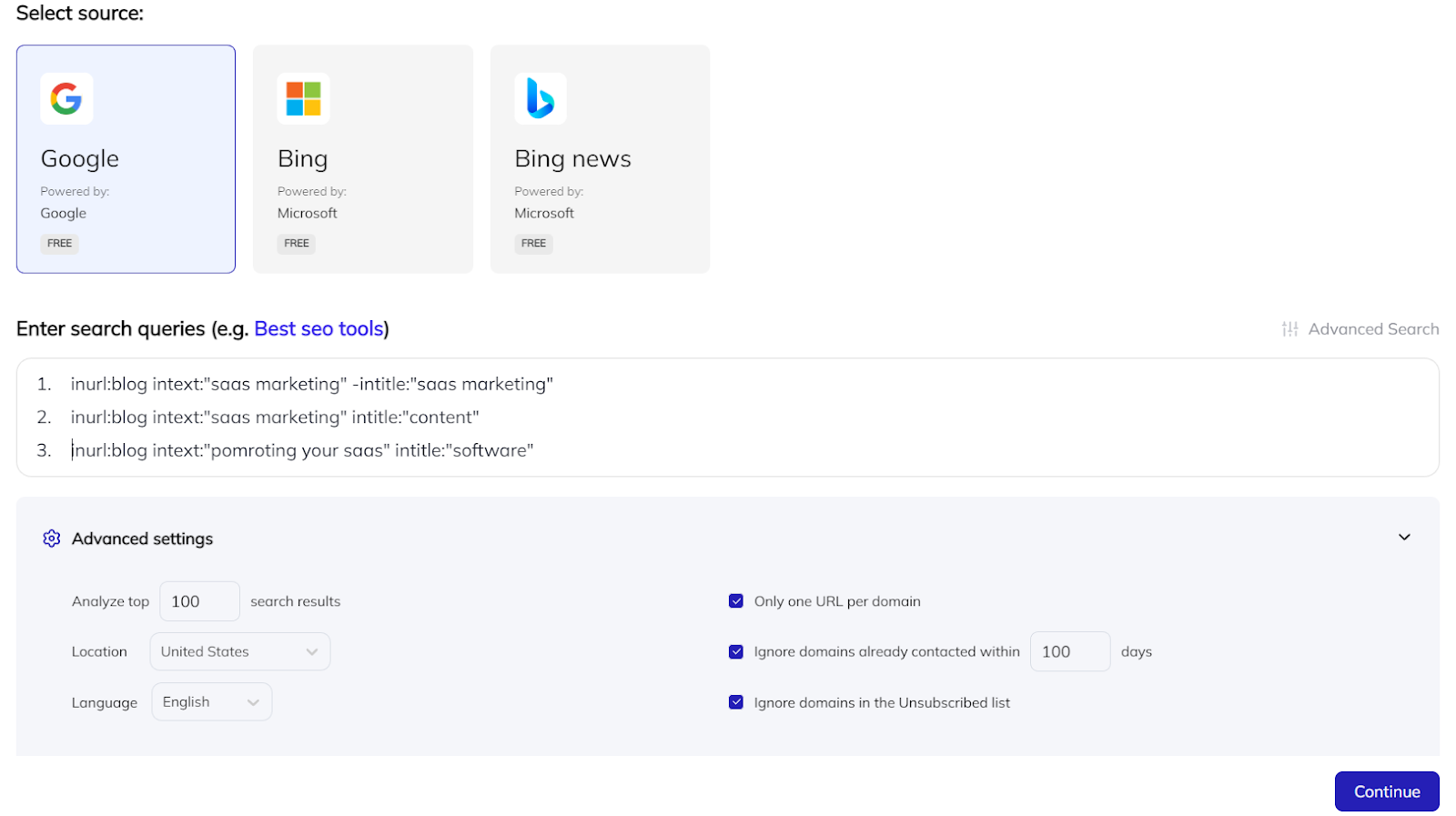 Once you create a campaign in Respona, you will get access to out Google search automation – it can automatically scrape the web for relevant results, supports all Google advanced search operators, and can even run several queries at the same time, saving you from the trouble of having to manually research for prospects.
As an example, let's use a few search strings for a hypothetical link building campaign for a blog post on SaaS marketing.
inurl:blog intext:"saas marketing" -intitle:"saas marketing"
inurl:blog intext:"saas marketing" intitle:"content"
inurl:blog intext:"promoting your saas" intitle:"software"
You can also add additional Ahrefs filters to get very specific with the kinds of results you expect.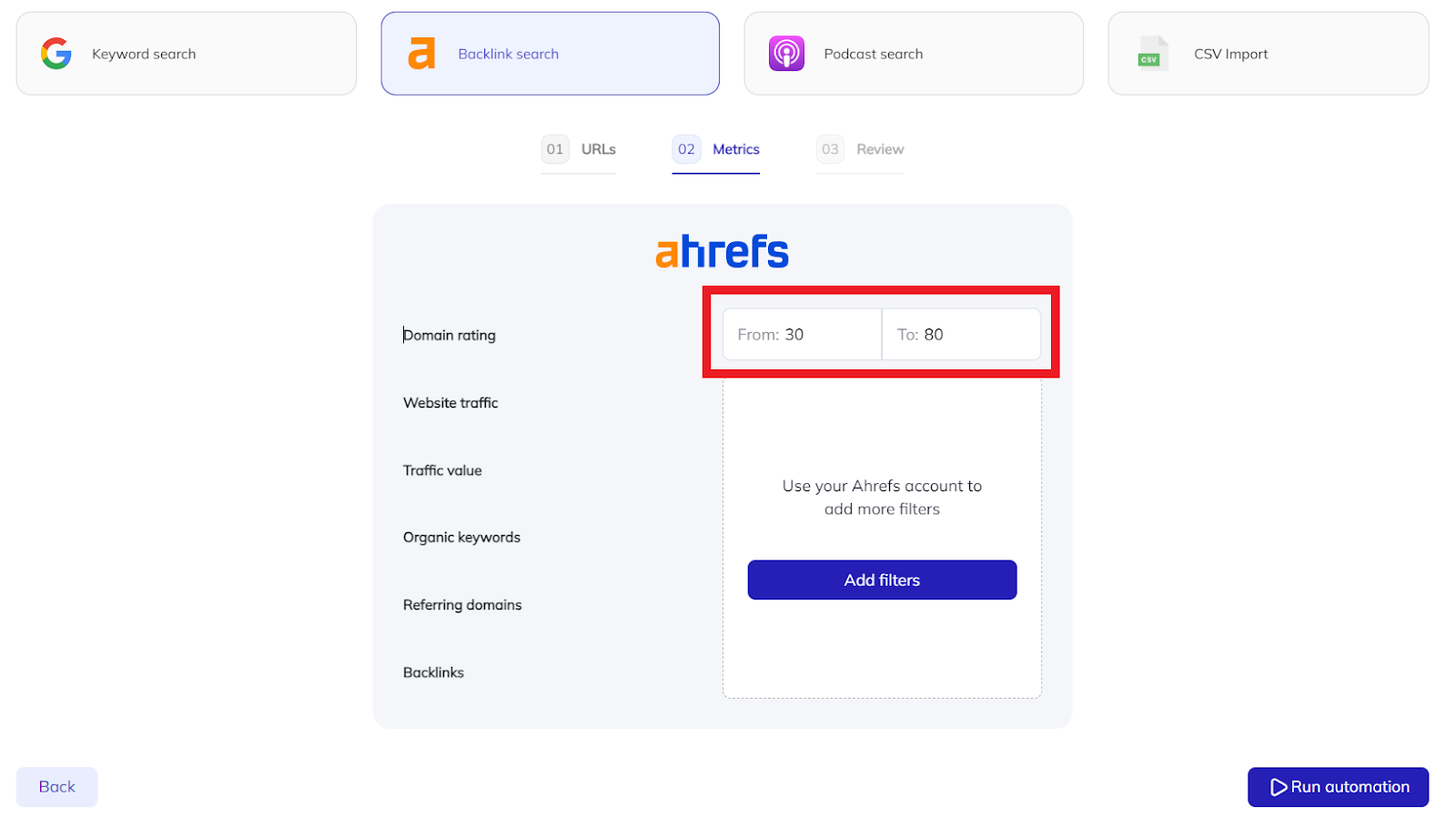 Once the automation is done running, its results will automatically be added to your outreach campaign.
Social media
Social media isn't directly tied to your website's rankings, but it can indirectly affect your visibility in an number of ways, mainly by generating additional traffic, social signals, and building a tighter relationship with your audience:
By generating additional backlinks
Make sure to include links back to your website when you post anything in your social media groups.
While these backlinks aren't going to be as valuable as ones from actual, highly-authoritative resources, people still click on them, and their value can not be underplayed.
Social media helps with brand visibility and awareness
More activity on social media translates into more visitors, which in turn improves your brand awareness, leading more people to your website.
By directing traffic to your freshly-published posts
One of the most common ways in which webmasters use social media is to repost any fresh pieces that are published on their blog.
This keeps the most engaged of your audience members in the loop, always letting them know about a fresh upload, and helps gain some traction right off the bat with said uploads.
Social media increases engagement with your audience
The key to success with social media is to be active and engaging with others. The more you interact with people, the more likely they are to visit your website, link to your content, and even buy from you again.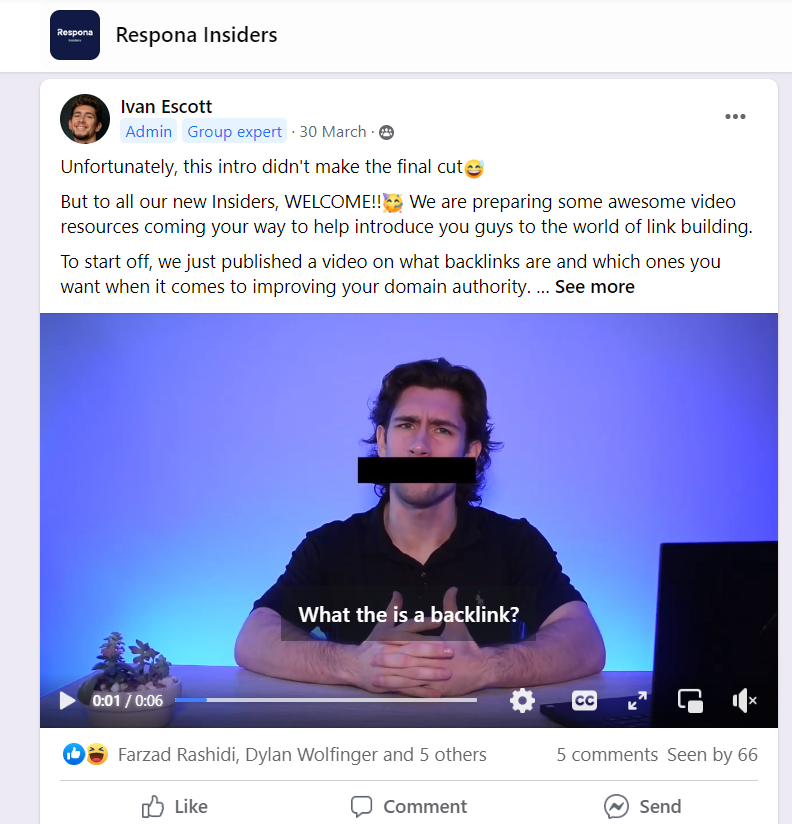 Local SEO
Local SEO is the process of making your website more visible in Google searches within a certain geographical area.
You can do this by optimizing your website's title and meta tags to include keywords that are relevant to your business and that people are likely to use when searching for businesses like yours in your area.
You can also improve your website's content to include these keywords and make it more relevant to your target audience.
Google My Business is a free tool that allows businesses to manage their online presence across Google. This includes their listing on Google Search and Maps.
It's important to register and verify your business on Google My Business, as this allows you to control how your business appears on these platforms.
By providing accurate and up-to-date information about your business, you can help customers find you, contact you, and learn more about your business.
Customers can find your business on Google by searching for your business name, address, and phone number. Your business hours, website, directions, photos, and customer reviews will also be available.
The GMB registration flow is simple.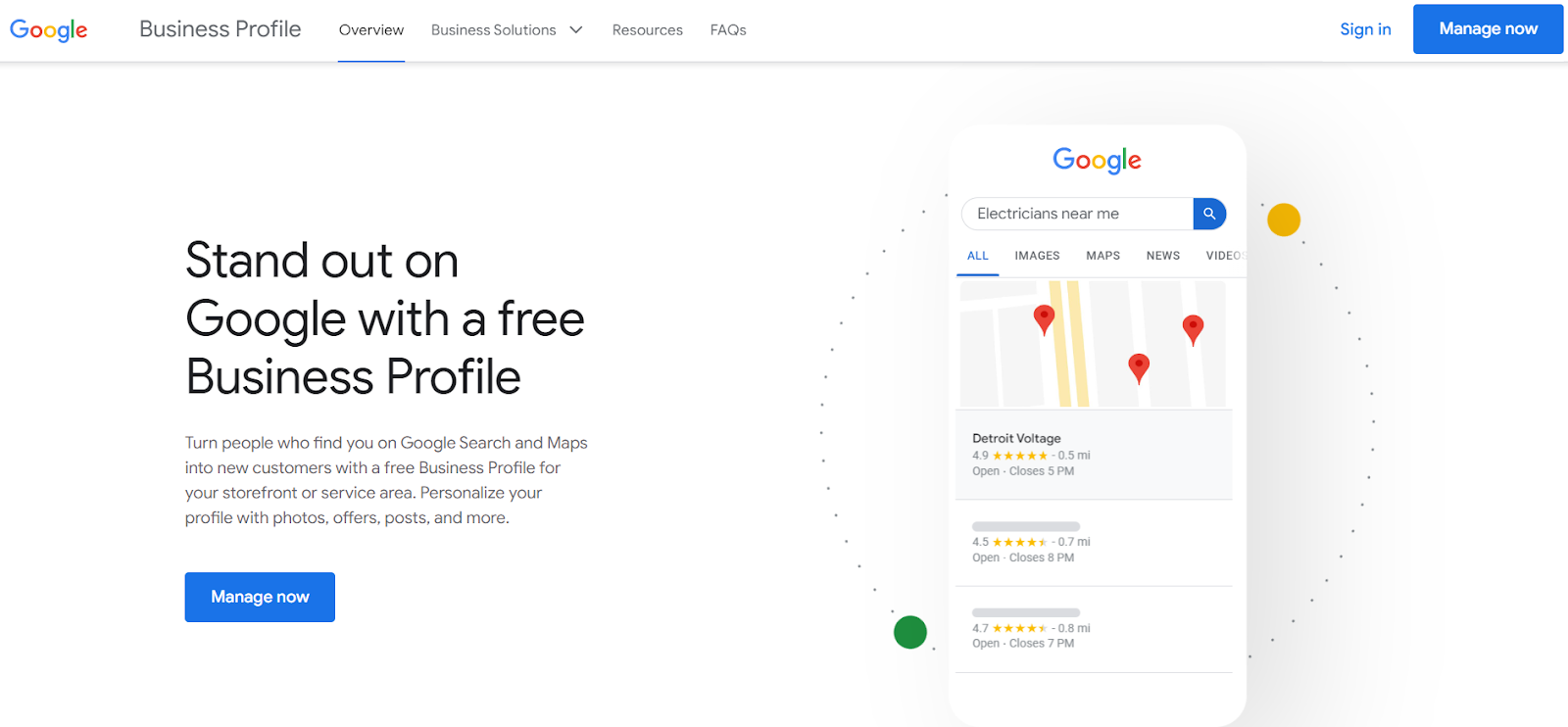 If you don't already have a Google account, you'll need to create one in order to manage your online presence.
To do so, follow the on-screen instructions after you verify your business information.
After that, you can get straight to managing your online presence.
Review sites
Review sites are important for businesses because they provide a way for customers to leave feedback about their experiences.
This feedback can help improve a business's search engine ranking, making it easier for potential customers to find the business, and persuade them to buy from you if they're currently indecisive.
Many review sites will allow you to respond to customer feedback, which can show potential customers that you are responsive to customer concerns.
You can create a profile on popular review sites or sign up for directories that list businesses in your industry in order to get your business featured on these types of sites.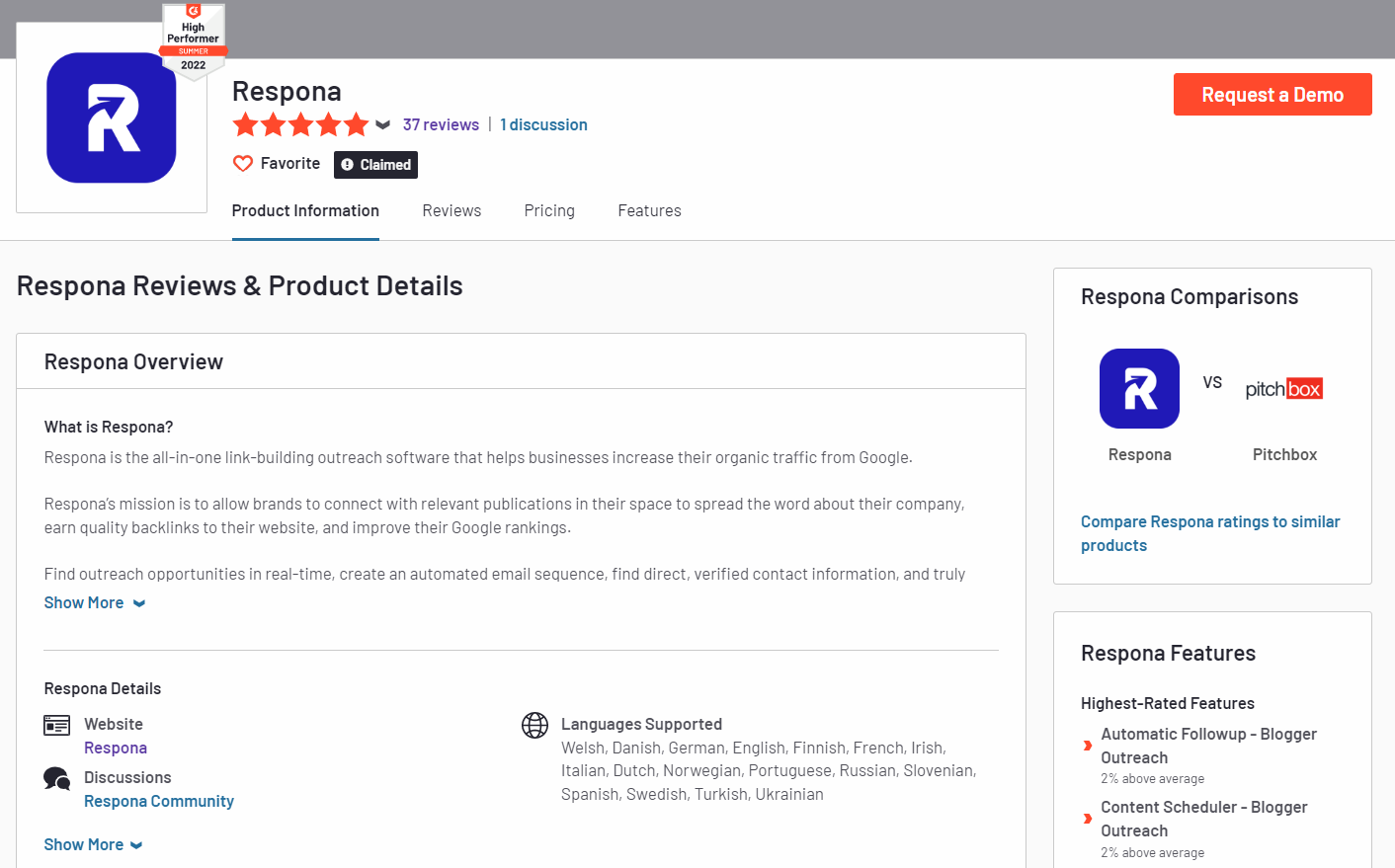 You can encourage customers to leave reviews by:
Providing links to review sites on your website
Adding a link to your review page in your email signature
Bottom Line
A healthy SEO strategy includes on-page, off-page, and technical SEO tactics, so you should never neglect any aspect of them.
Link building can take an enormous amount of time and effort, but in the long run, it's well-worth it, greatly increasing your website's online visibility and drawing valuable traffic from organic and referral channels.
Social media can be a great way to increase engagement with your audience, and review sites are amazing at spreading awareness about your business and generating extra leads along the way.