Content promotion is the best way to amplify your pieces of content and grow your audience.
The question is: Where do you get started?
In this guide, I'm going to answer some of the most common questions when it comes to content promotion.
Here's what we're going to cover:
What content promotion is
Why content promotion is important
How to create a content promotion strategy
What to pay attention to when promoting content
We've got a lot to cover, so let's dive right in.
Content Promotion in 2022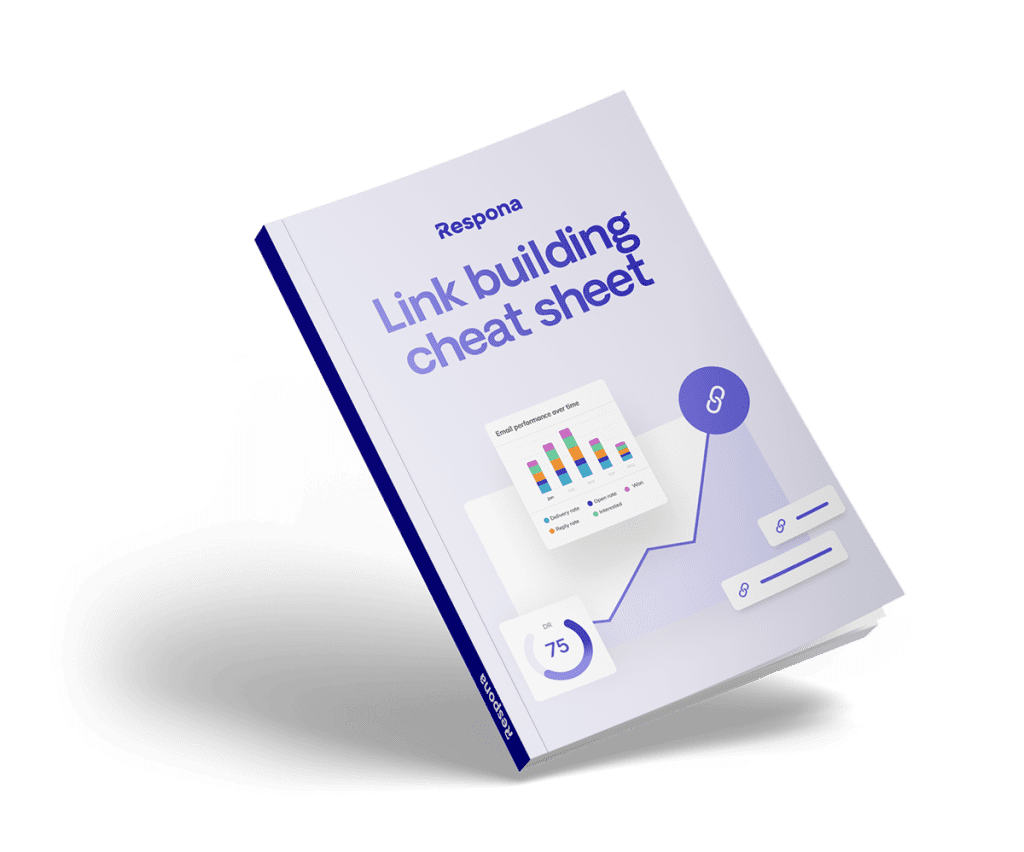 Link building cheat sheet
Gain access to the 3-step strategy we use to earn over 86 high-quality backlinks each month.
What is Content Promotion?
You've created a piece of content.
It's a massive blog post of several thousand words.
You've covered the topic thoroughly and you sincerely believe there's nothing quite like it out there.
So, what's the next step?
You hit the publish button and wait for your target audience to discover the piece and interact with it.
After all, why bother following up with content promotion tactics for this piece since it's clearly the best that's out there?
If this sounds familiar, you're clearly missing an important part of the equation.
Enter: Content promotion
When it comes to content promotion, I like to use the following definition by Campaign Monitor:
"Content promotion is the process of distributing blog posts and other resources via both paid and organic channels, which may include pay-per-click advertising, influencer outreach, PR, social media, email marketing, and syndication."
Let's use an example to put that into perspective.
A while back, we published a blog post on media pitch examples to get you press coverage.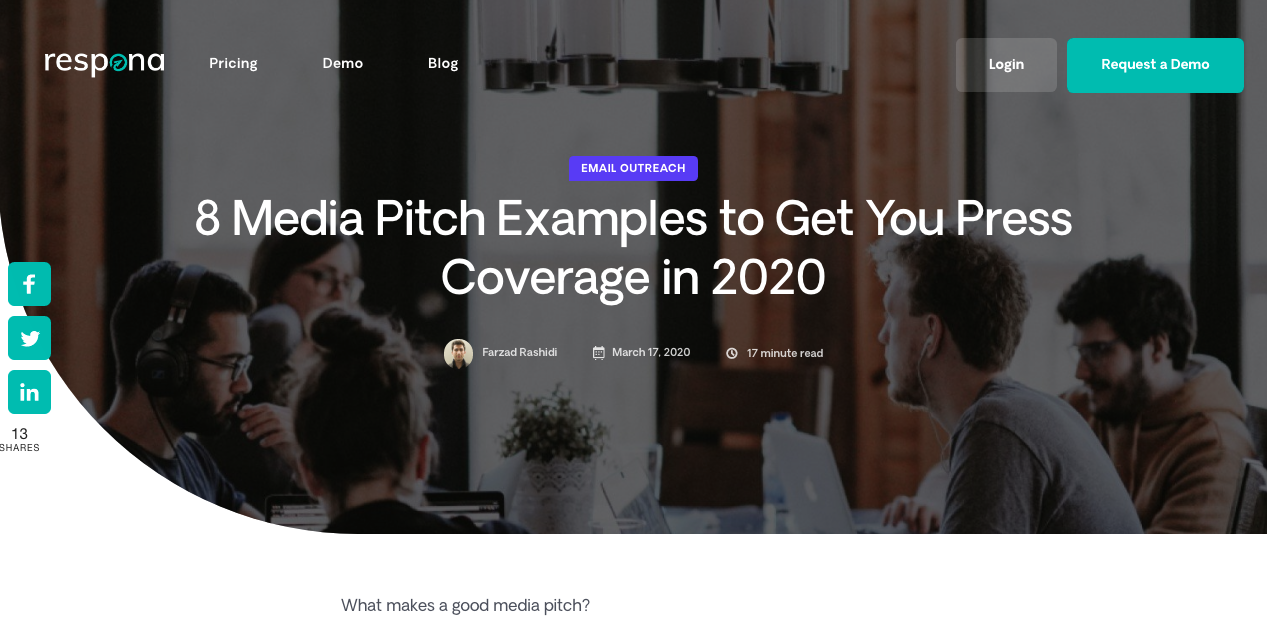 According to Ahrefs, the term we're targeting through this piece—media pitches examples—is a term with medium difficulty that has some commercial value.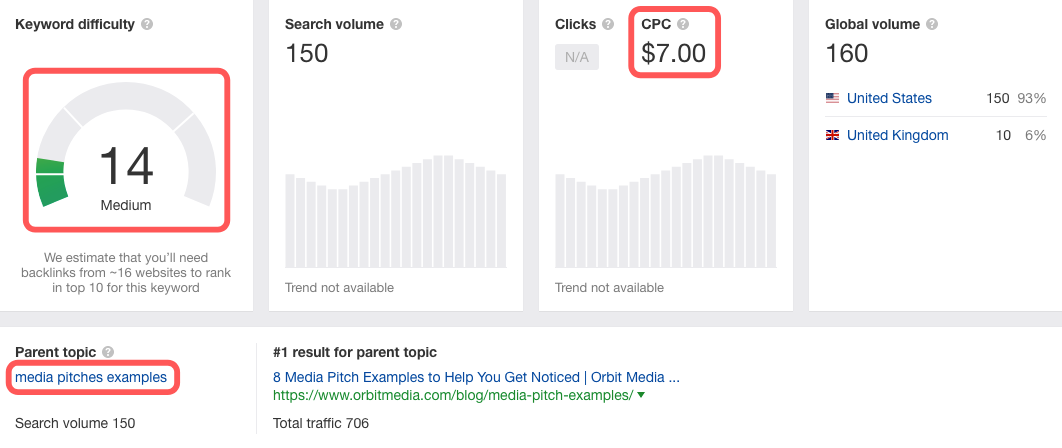 In plain English, this means that there's already plenty of competitive content out there for our target term.
In other words, for us to make a difference and reach our target audience with this new piece of content, we have to be able to promote it.
Even though we feel confident with our content creation efforts, we still need to "push" this piece to other platforms (e.g. social media) so that we can reach more people who might be interested in the topic.
You need to keep in mind that posting high-quality content isn't enough.
This is where content promotion comes in.
To stress the importance of this, let's look at another example.
Ahrefs (yes, the tool we just mentioned) is an SEO software for businesses that want to monitor their competitors and improve their rankings.
If you insert their domain, ahrefs.com, into Ahrefs' Site Explorer…

… You'll notice that Ahrefs is in fact a site with thousands of visitors every month.
So, naturally, you'd think that a SaaS like Ahrefs doesn't need to promote its content on social platforms, try to build backlinks to its content pieces, or leverage any other kind of promotion effort.
Why is it then that Ahrefs promotes its content on major social networks like Facebook…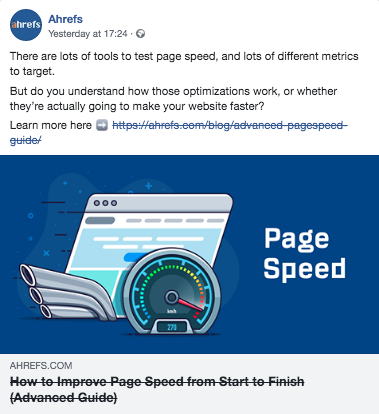 … Creates content on Medium through the profile of the company's CMO, Tim Soulo…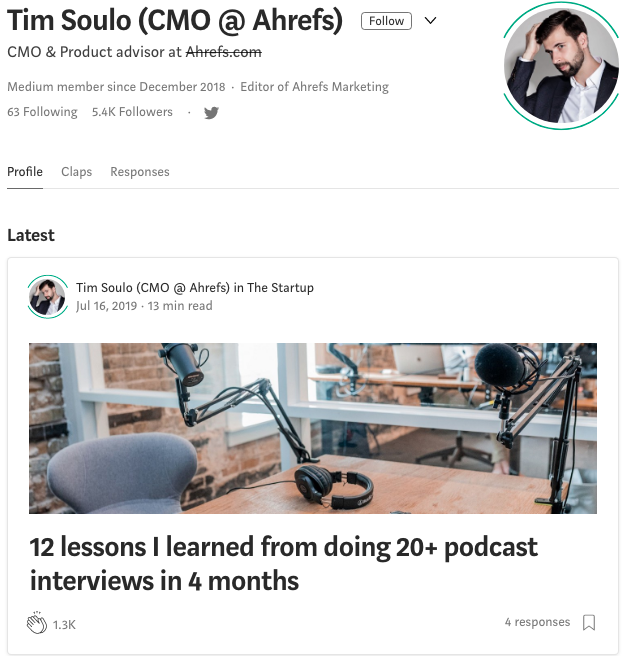 … Participates in well-known industry podcasts…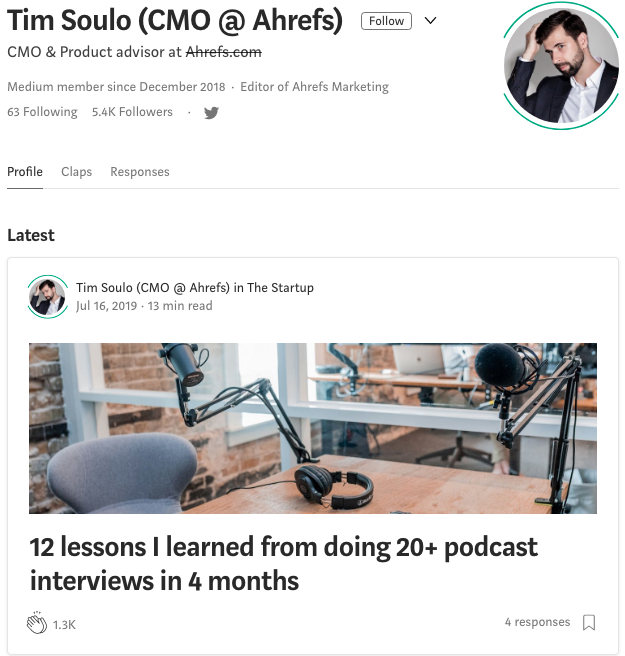 … And creates video content through its YouTube channel?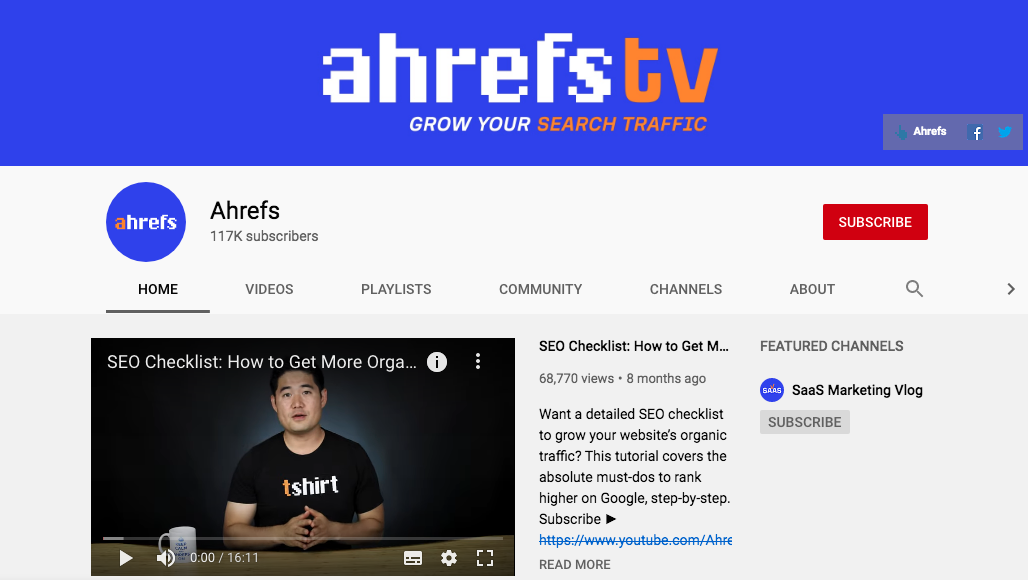 The answer is simple.
To amplify what you already have, you need to promote it.
Of course, there are many ways you can achieve this.
Some of the most prominent methods include:
Using social ads (e.g. Facebook ads) to promote your best-performing content
Using Google Ads (formerly Google Adwords) to promote your best content
Sharing your content on social channels like Facebook, LinkedIn and Twitter
Using micro-communities (e.g. LinkedIn groups) to promote your content
Using sites like Slideshare as a way to publish repurposed content
Reaching out to and building relationships with popular bloggers
Using communities on Reddit to get feedback on your content
Sharing your newly published content with your email list
Guest posting for high-authority websites in your niche
Hosting webinars with industry experts as your guests
Writing answers to Quora questions
If you're looking for ways to get your blog noticed, be sure to read the following guide that we published a while back:
→ 8 Ways to Get Your Blog Noticed & Boost Traffic
So, as you can understand, there are many actions you can take when it comes to content promotion.
What's important to understand is that you need to focus on the methods that work for you.
Now that you know what content promotion is, let's move on to the next section, where I'll explain in more depth why content promotion is important.
Why is Content Promotion Important?
Content promotion is important because, as we mentioned earlier, amplification doesn't just happen on its own.
You have to go out there and "push" your content.
Of course, you don't want to simply share content here and there and hope for the best.
You have to be tactical about it.
According to a 2019 study by Backlinko on 912 million blog posts:
"The vast majority of online content gets few social shares and backlinks. In fact, 94% of all blog posts have zero external links."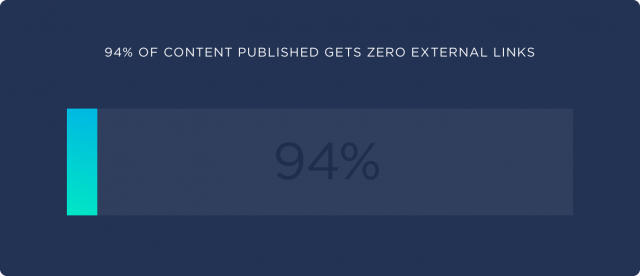 On top of that, the same study found that "1.3% of articles get 75% of the social shares."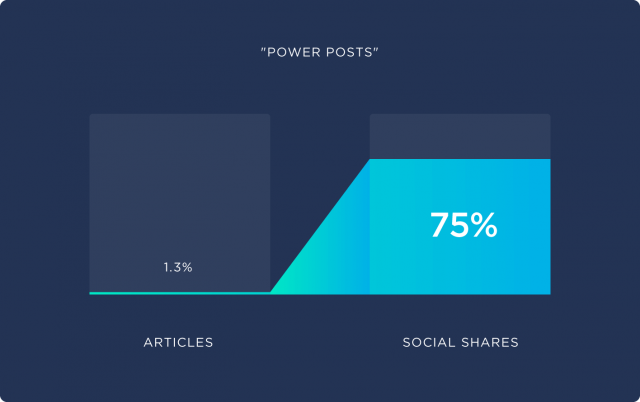 This means that most content out there simply doesn't get noticed.
Indeed, how could it gain notice when there were over 75.5 million blog posts published in March 2020 on WordPress alone?

So, as you can see, competition is what makes content promotion more and more important.
As more individuals and companies publish more content online, the need to promote that content in order to make it stand out will increase.
Blogging itself is therefore becoming much more competitive. You may have the fastest WordPress hosting or the most unique visuals included. But if you don't promote what you create you won't reach out to a large number of people.
Thus, the need to promote the outcome of your content creation efforts is increasing as well.
Companies with large audiences have a natural advantage over smaller companies.
However, this doesn't mean that bigger companies don't have to promote their content as well.
Let's use an example to try and better understand the importance of content promotion.
Visme is one of the best presentation software tools out there.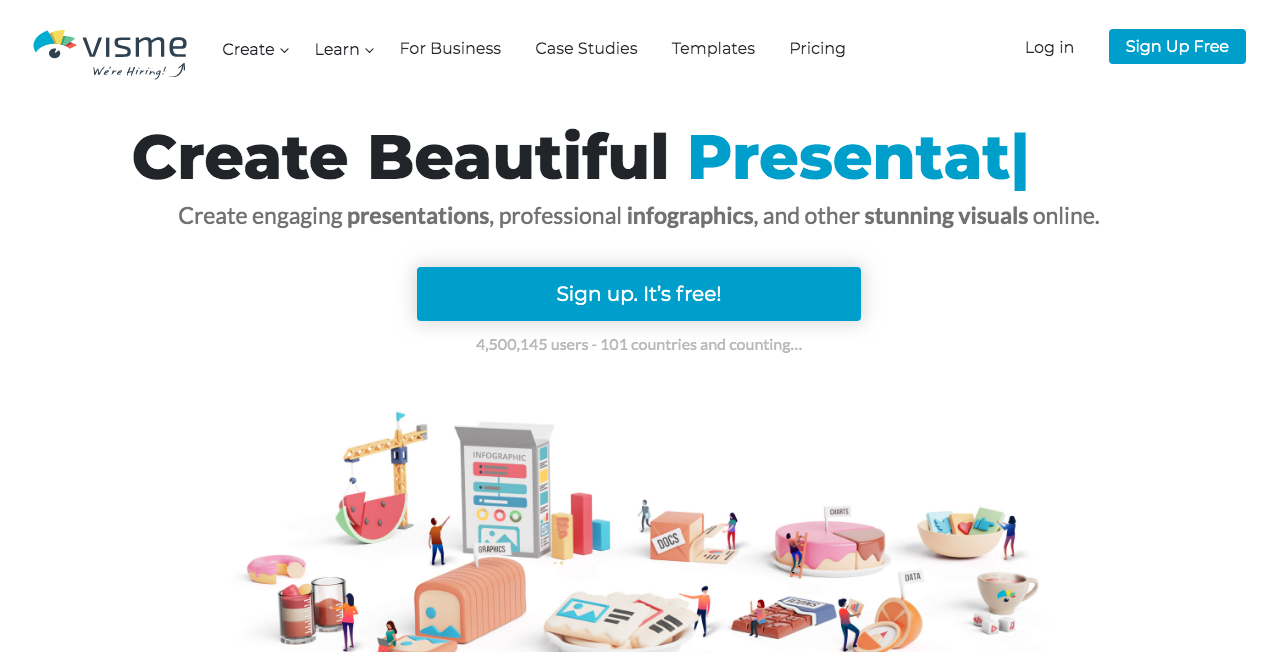 Visme's website receives over 1.1 million organic visitors every month, according to Ahrefs.

The company's website also ranks in positions 1-10 for almost 100K keywords.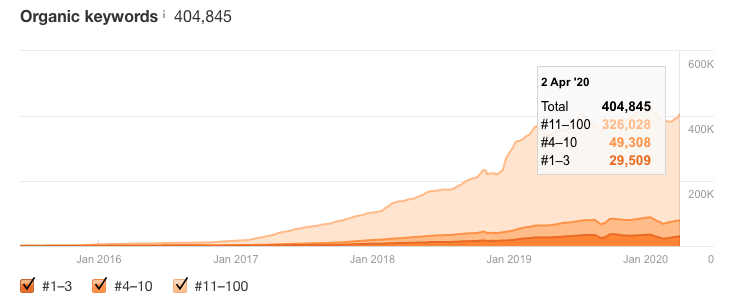 In other words, the company has managed to increase its organic visibility over time and establish itself as one of the top players in its category.
You might think that this is only due to Visme creating good content.
However, that's not the case here.
Like many other highly successful companies, Visme is also putting in the effort required to promote the content it produces.
One indicator of this is the fact that the website's referring domains profile is constantly growing.

Simply put, this means that more and more websites are linking back to Visme's website.
Of course, some of these links could be earned passively from the company's tremendous large organic footprint in search engines like Google.
However, this is not the case here.
Even though acquiring inbound links passively might help to explain this kind of growth, the reality is that Visme is actively promoting and acquiring links for its target pages.
Author's Note: Target pages are pages that are important for you for a particular reason. This reason could be that a page drives organic traffic to your website. Another may be that this page is used as a landing page for PPC ads or that it's a page where conversions happen. In any case, target pages are the most important pages on your website.
This is why some of the most linked pages on Visme's blog have hundreds of backlinks.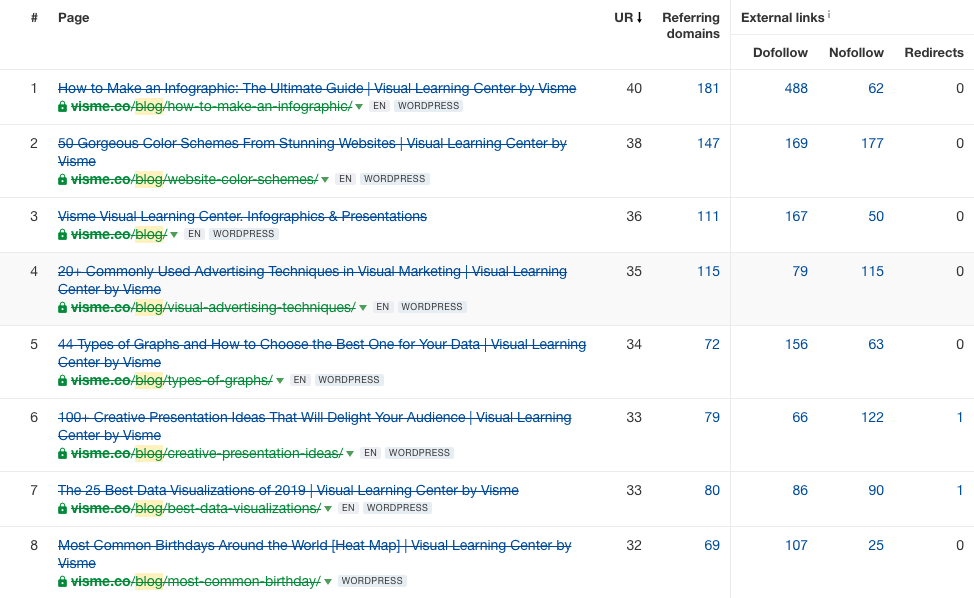 Rest assured, these efforts have an almost certain return on investment (ROI) for the company.
It may not be immediately obvious, but it will eventually show up.
The question that arises from this is:
Where do you get started?
This is precisely what we're going to cover in the next section.
How to Create a Content Promotion Strategy
Creating a content promotion strategy for your business is certainly one of the most difficult things to do.
Writing a good content piece is relatively easy.
Promoting that piece of content so that it reaches the right audience is the tricky part.
So, let's describe the process of creating a content promotion strategy, step by step.
Step 1: Define the content pieces you're going to amplify
The first step toward creating your strategy is to define the content pieces you're going to amplify.
The reason for this is that you simply can't promote every single piece of content you produce.
Deciding on what pieces to amplify can be a difficult task.
For example, take a look at the mental process that SparkToro's Rand Fishkin uses when deciding on which pieces of content to amplify.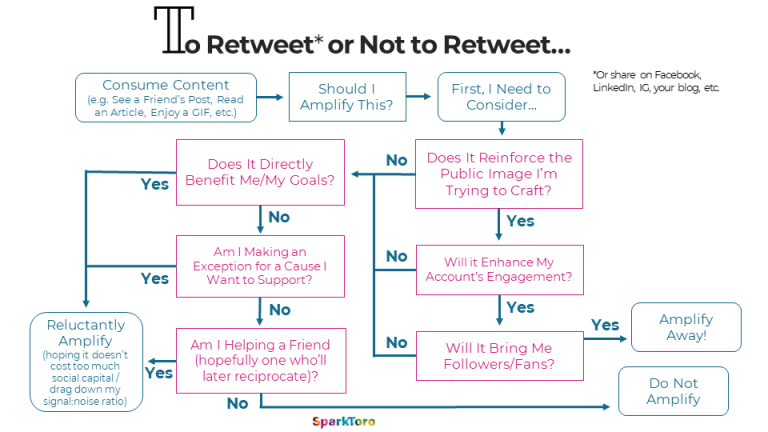 As you can see, the mental process that Rand or anyone else for that matter goes through is highly involved and potentially quite stressful.
The question "should I share this on my social media channels?" is one that we should all be asking ourselves on a personal level anyway.
In the same vein, you should ask yourself the same question when deciding on what content pieces you're going to promote on a business level.
Simply put, you can't (and shouldn't) promote everything.
To decide what pages you're going to promote, you first need to define your goals.
For a blog post, these goals can be to:
Educate your audience
Drive organic traffic
Get social shares
Generate leads
Build backlinks
If a blog post doesn't serve any of these purposes, then a) you shouldn't create it in the first place and b) if you do create it, you shouldn't allocate time and resources to promote it.
With this simple approach, you won't need to wonder what pieces you should focus on because the answer is there long before you even create the piece.
Let's use an example to put that into perspective.
The following screenshot shows one of Backlinko's blog posts.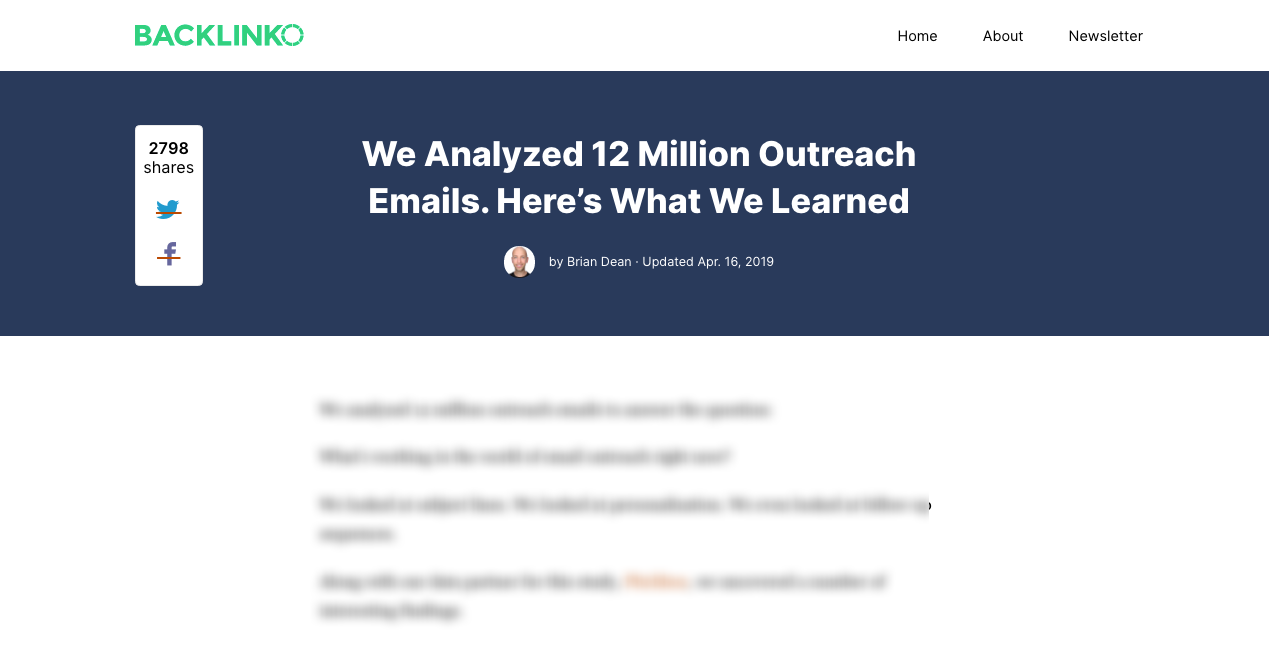 This is a study on outreach emails.
According to Ahrefs, this is a piece with more than 700 backlinks from 323 referring domains.

Moreover, according to Backlinko's social share widget, the piece has 2,700+ shares on social media.

On the other hand, the piece doesn't get any organic traffic—at least, not compared to other Backlinko's content pieces—and ranks for keywords with little commercial value.

So, one question here could be:
How does a smart guy like Brian Dean publish something that doesn't drive organic traffic?
The answer is simple:
The purpose of the post isn't to get organic traffic.
Instead, this content piece has obviously been created to get social shares and backlinks.
Needless to say, based on what we can see, this purpose has been met with huge success.
You need to understand that not every post is designed to drive organic traffic or even to drive revenue to the business.
However, it still has to serve at least one of the goals we mentioned earlier.
Let's look at one more example.
This is a content piece by email marketing software Moosend about popular Mailchimp alternatives.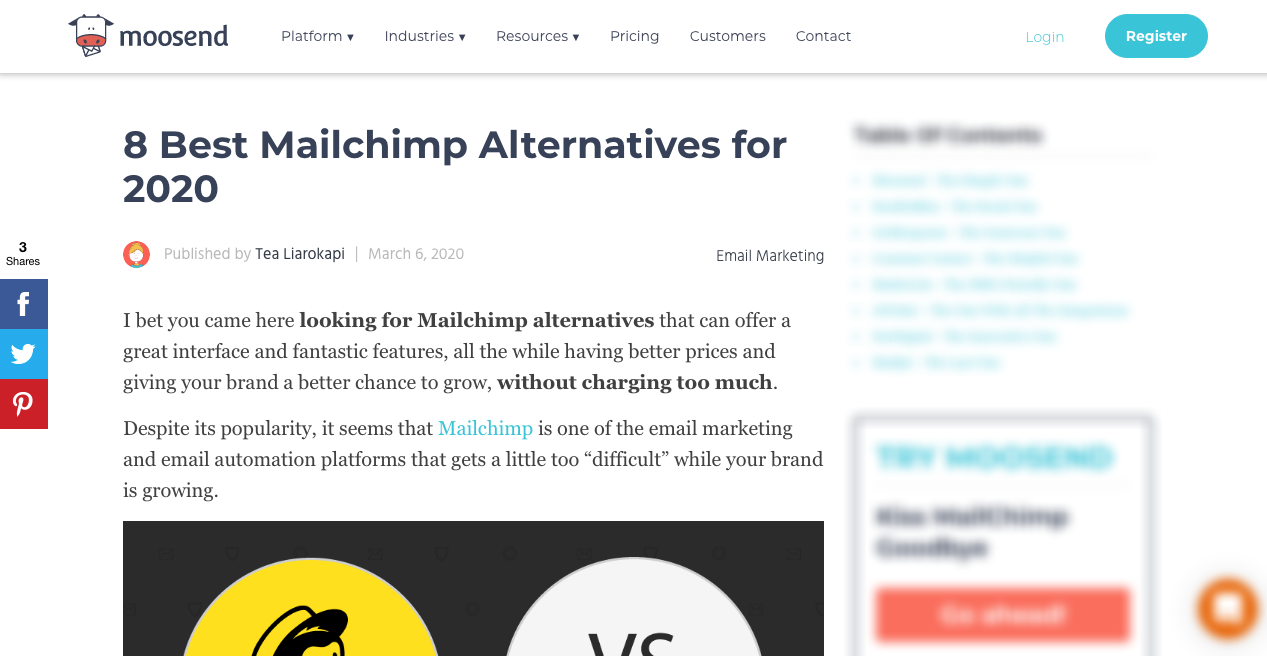 As you can see from the post's social share widget, the piece has only three social shares (e.g. Tweets, Facebook shares).
That's pretty disappointing, right?
Well, not exactly. Let me explain why.
The target keyword in our example, "Mailchimp alternatives", is a term with…
Medium Keyword Difficulty
High Global Volume
High CPC ($30.00)

This means it's a term with high commercial value that (possibly) drives revenue for the business.
Given that Moosend ranks first for this term, we can understand that there's a correlation between ranking and revenue.

After all, the piece receives well over 2.6K in monthly visits with a traffic value that exceeds $37.6K.

The piece also has 154 backlinks, which—together with the quality of the content—helps it rank high for such a competitive term.
So, in this case, the goal is to drive revenue (or get sign-ups) for a term that has commercial value and can have a significant impact on the company's bottom line.
Thus, we can see that different types of content can have different goals. For instance:
Roundups are designed to get social shares and backlinks
Infographics are designed to get social shares and backlinks
"Vs." pieces and comparison guides are designed to drive revenue
Studies and original research are designed to get shares and backlinks
No matter what purpose your content serves, there has to be a predefined end-goal.
Otherwise, there's no point in promoting it.
At the same time, this goal will define exactly how you're going to promote your piece of content.
This includes details such as what channels you're going to use, how much you're going to allocate in terms of budget, how long you'll be promoting it for, etc.
Once you define your target pages, you need to choose the content distribution channels you're going to use.
Step 2: Choose the content distribution channels you're going to use
After defining your target pages and the goals that each of them has, you next need to work out how you're going to promote your content.
In other words, you have to define the distribution channels you're going to use in order to do so.
For the sake of example, we're going to use one of our own recent posts on Respona's blog.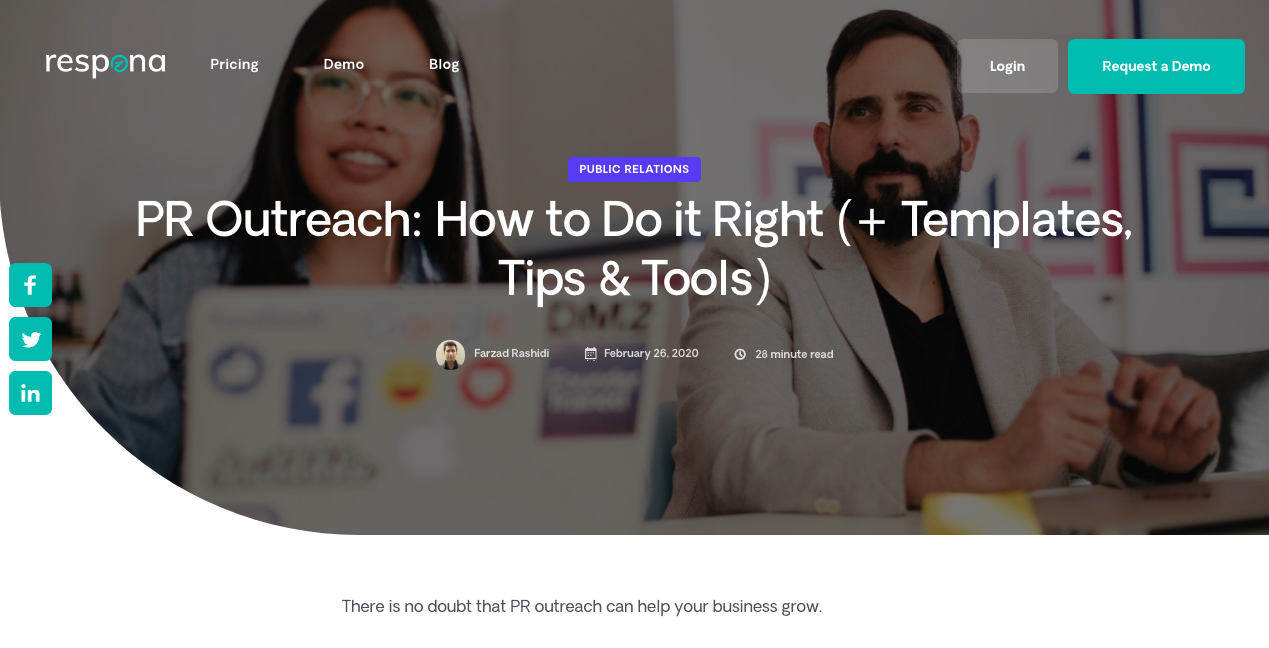 Our post on PR outreach is a 6,000+ word guide on the topic.
If you ask me, it's the best piece out there on the topic, as it provides readers with everything they need to know about PR outreach such as:
… Alongside many other points.
Let's remember the five main purposes a piece of content can have:
Educate your audience
Drive organic traffic
Get social shares
Generate leads
Build backlinks
In our example, the piece we've chosen to promote serves four of these purposes:
Educate our audience
Drive organic traffic
Generate leads
Build backlinks
We don't really care about getting social shares here, as this won't have any major impact on our bottom line or add any value to our existing user base.
As you can see from the below screenshot, this piece has a low search volume (130 monthly searches according to Ahrefs) and low keyword difficulty.

However, that doesn't mean we'll be able to rank for it right away.
According to Ahrefs, Keyword Difficulty—the metric we use to "judge" how difficult it will be to rank for a particular keyword—estimates:
So, Ahrefs takes under consideration "a weighted average of the number of linking domains to the current top-ranking pages".
Thus, we can easily understand that in this example, most top-ranking pieces don't have many links pointing back to them.
This means one of two things:
The topic isn't of interest to many people
The creators of the top-ranking pieces haven't promoted their content
We saw earlier that the term itself has some interest—so, we can conclude that the second point applies.
This, of course, is an opportunity for us, since we believe we have a linkable asset that we can "push" and get more visibility for.
After all, even though our target keyword is PR outreach, we're basically aiming to rank for hundreds of other keywords as well.
Ranking for other keywords is what will give us the organic visibility that we want.
Furthermore, increasing our (targeted) traffic will result in more leads, which is our second goal.
Of course, we also want to educate our audience about PR outreach, but the channels we're going to use to achieve that will be a little different.
So, starting off, we want to increase the organic traffic and visibility for this piece.
One way to do that is by increasing the number of links for our piece of content.
The question is: Why is this important?
According to a 2019 survey on 1,500+ SEO professionals by SparkToro, the "quality of linking sites and pages" seems to be the second most important search engine ranking factor.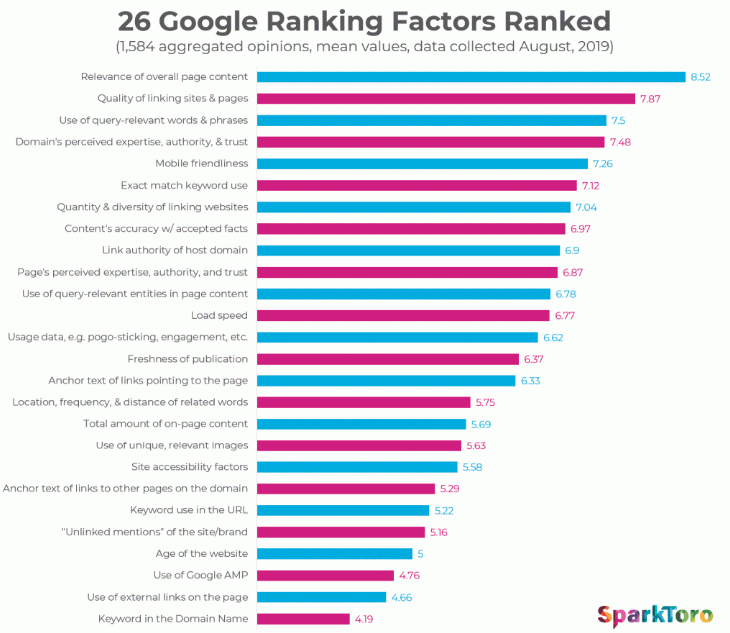 Thus, it's easy to understand that in our example, using link building as a content distribution/promotion channel is the right thing to do.
To do this, we need two things:
Relevant opportunities to reach out to
A software tool we can actually use to reach out to those opportunities
According to a guide on email outreach by Digital Olympus:
"Link prospecting is the art of finding opportunities for link building."
And, to do that, we're going to use Respona.
The first thing we're going to do is create a new campaign.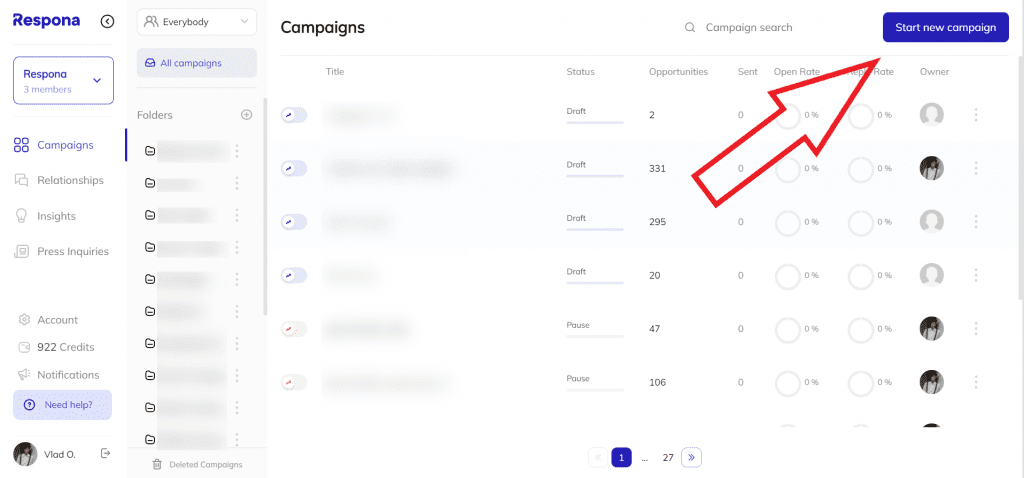 Then, we need to give our campaign a name that's easy to understand and identify from among other campaigns.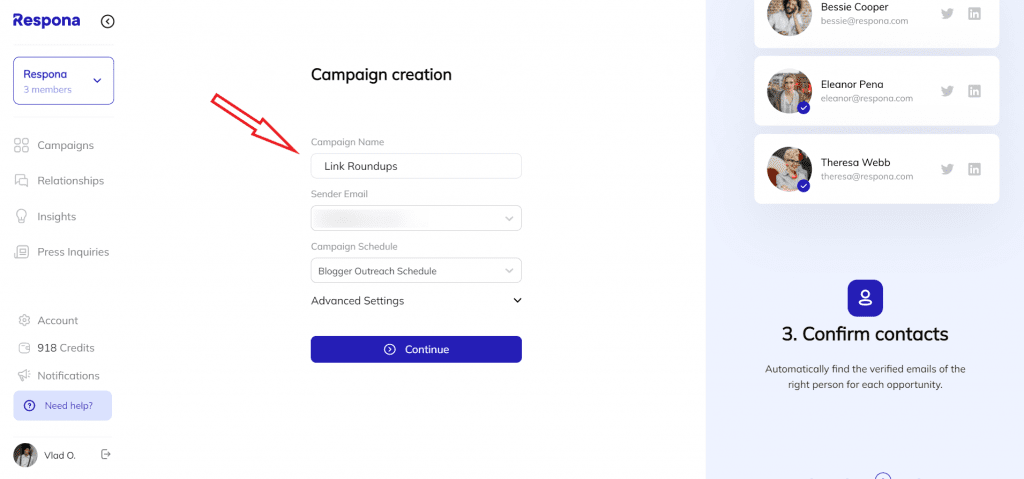 Since we don't have a list of prospects we want to reach out to, we're going to find them using Respona's search engine.
Next, we have to insert the term we want to use for our campaign.
Obviously, in our example, the term is going to be "PR outreach".
Then, we need to choose the type of results we want to get.
For this campaign, we want blog posts that usually need to link back to deep guides to support their statements and make the piece itself more interesting.

Then, we'll use a Search Fields filter, since we want to see only results that include the target term ("PR outreach") in their content.
Once we're ready, we can click the blue search button at the right side of the search bar.
In a few seconds, Respona will return a list of possible opportunities.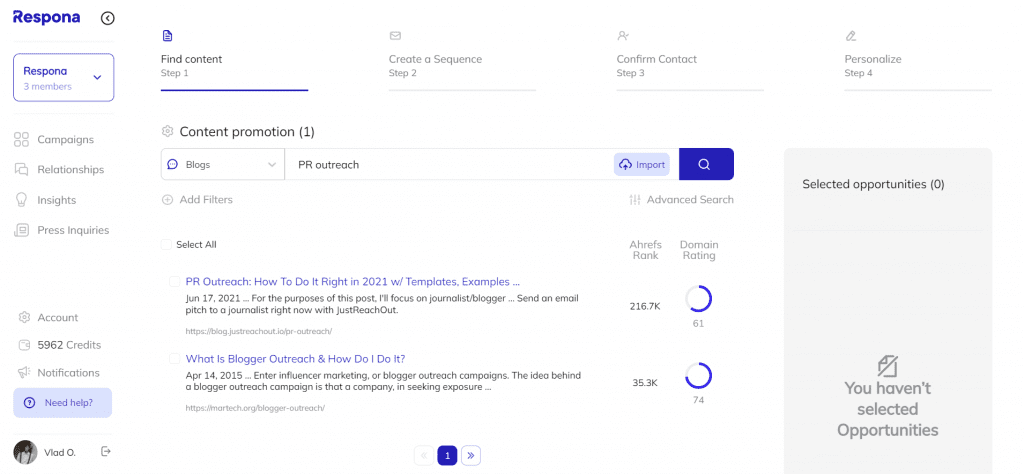 From these opportunities, we need to choose the ones that make the most sense.
We also have to be careful not to reach out to potential competitors.
As you can see, for this example, we've chosen to reach out to 20 opportunities.
In general, we recommend that our users reach out to as many opportunities as possible so that they get as many responses as possible.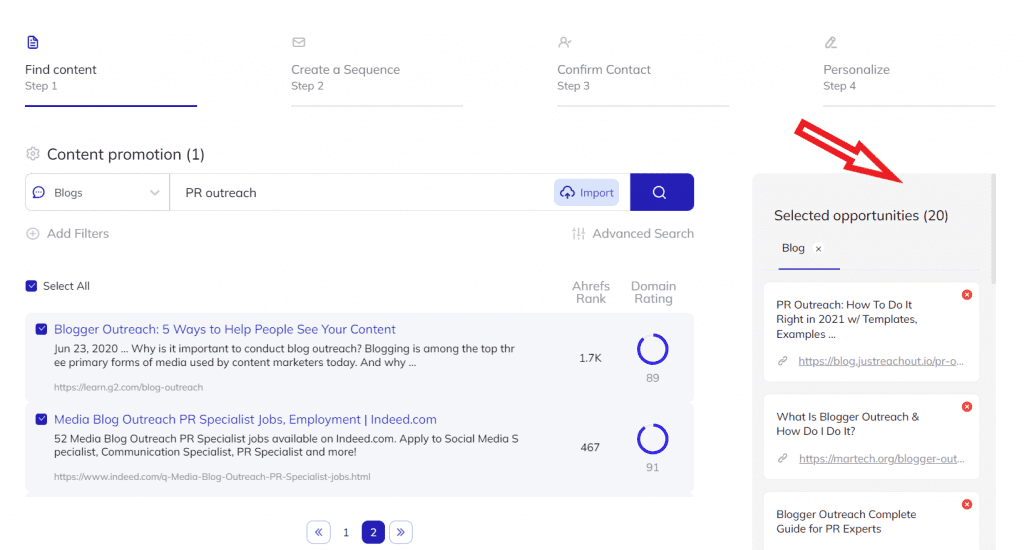 Once we're ready, we can click on "Step 2".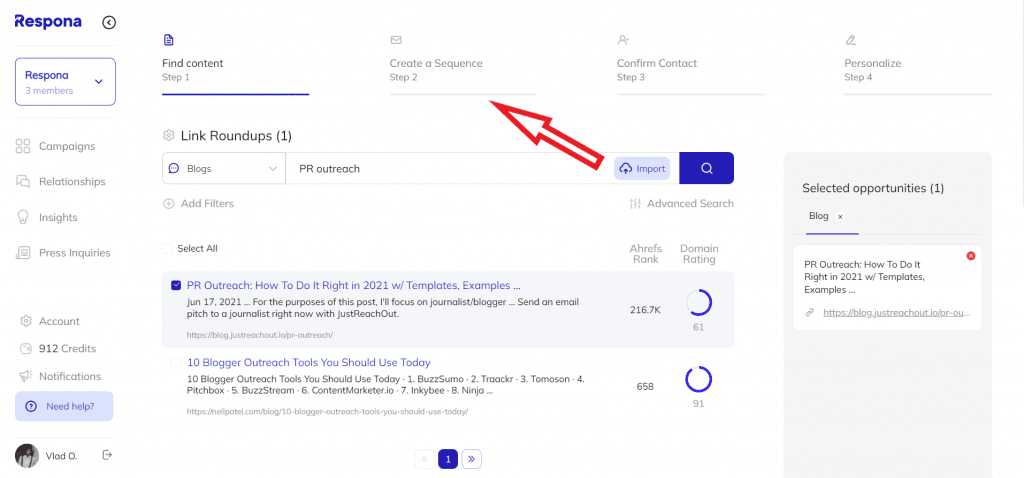 Then, we need to create an email sequence for our campaign.
For this campaign, we're going to use one of Respona's ready-to-use templates—the Content Promotion one.
Here's our 2-email campaign sequence.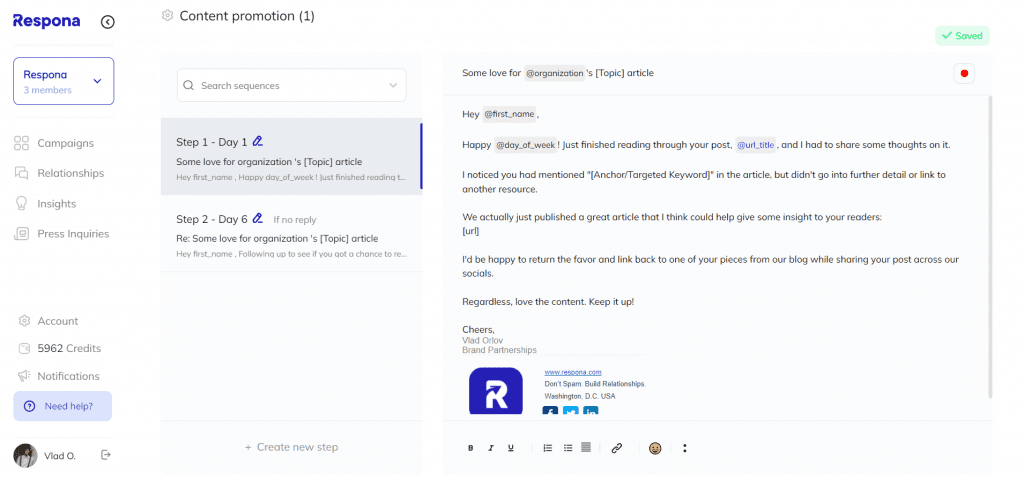 We'll naturally have to make some adjustments to our first email in order to add some information that's important to the campaign.
Here's how our email will look in the end: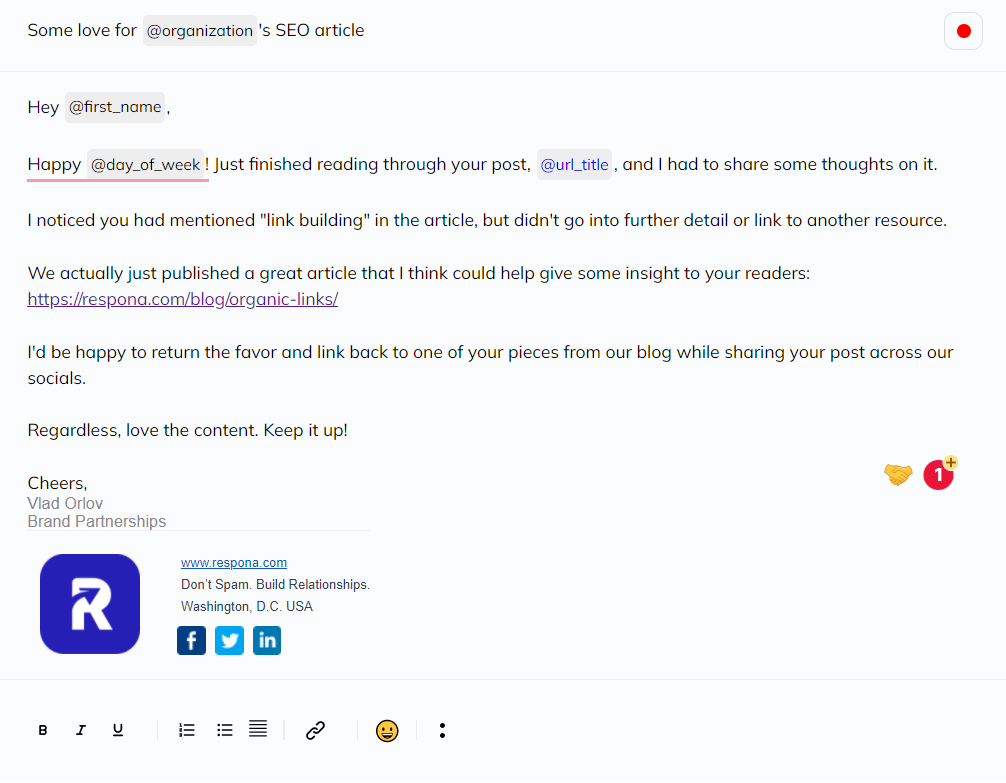 Next, Respona will help us find the emails of the opportunities we've chosen.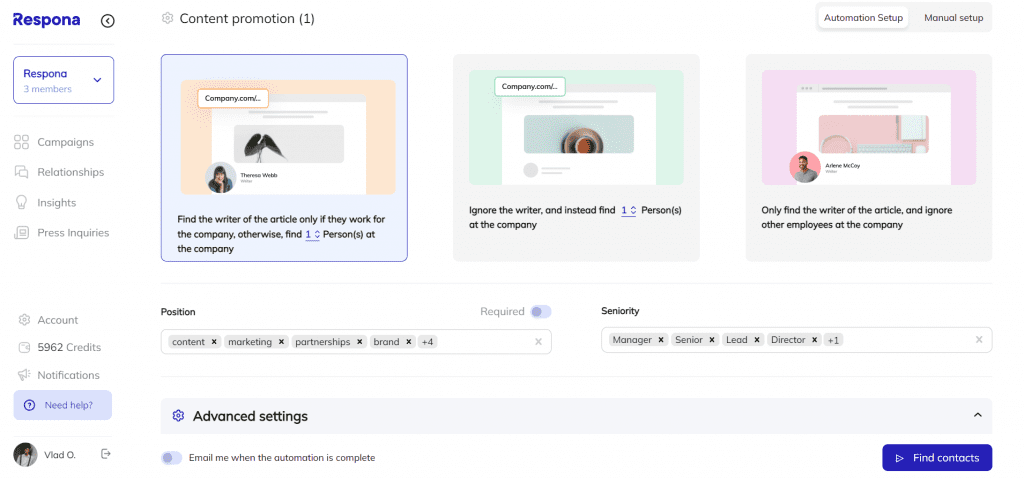 Here are some of these opportunities:

At this point, you can visit some of your opportunities just to be sure that they actually make a good opportunity.
For example, here's what the piece by Meltwater looks like: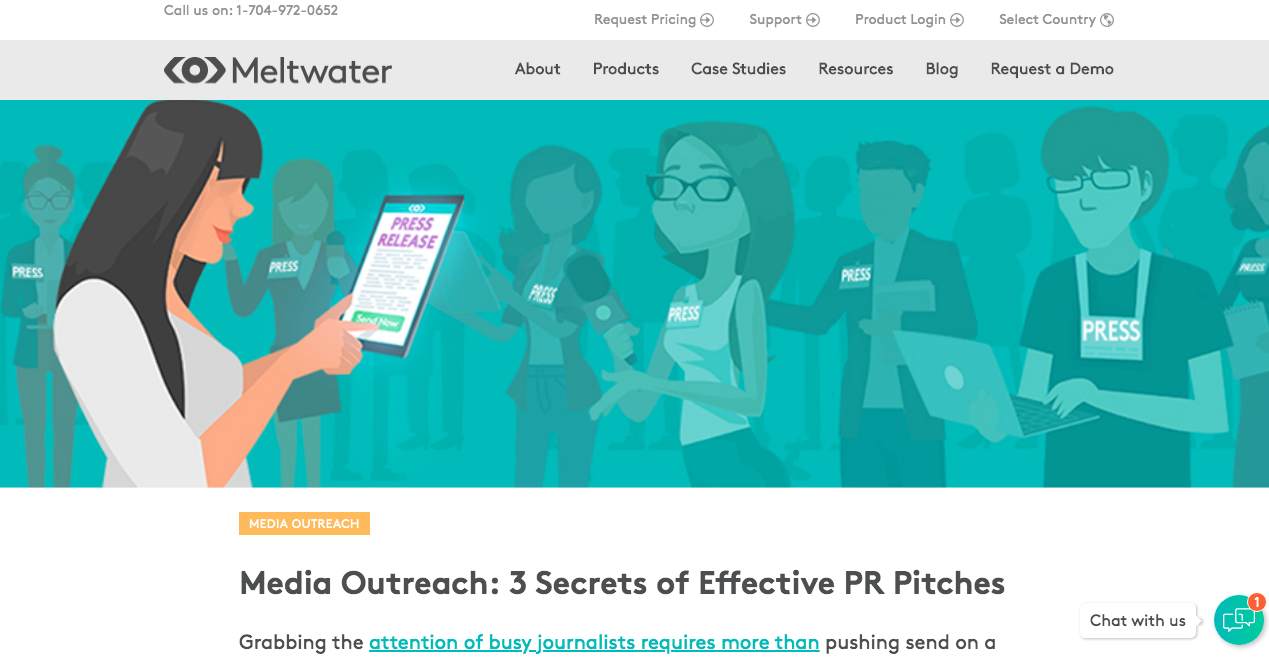 Here's what you will see once Respona finds tcontacts for your opportunities.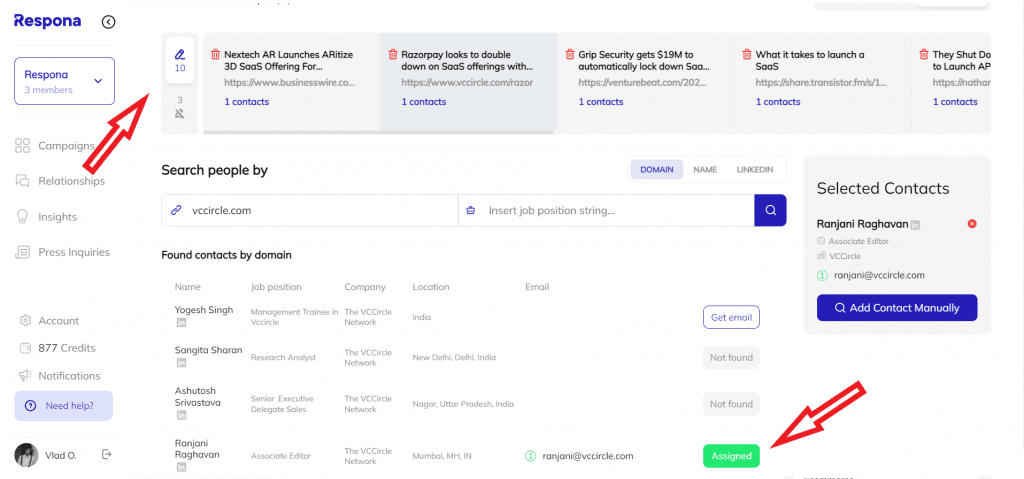 Author's Note: Respona usually finds the information for the author of the article. If the author can't be found, you can reach out to someone else from inside the company as in our example.
We'll choose the best email from among those that Respona found for us…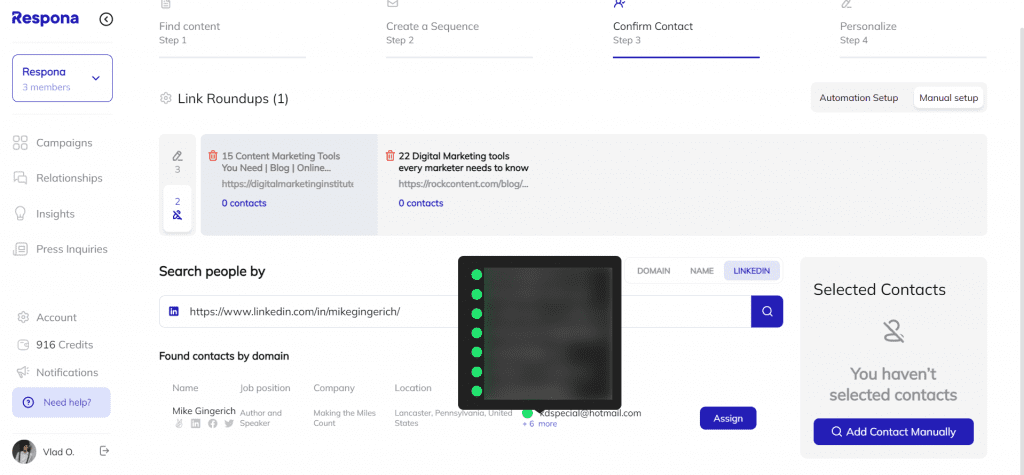 … And you will be able to choose between the person's found email accounts.
We'll then need to repeat the process for the rest of the opportunities we have in our list.
In the last step of the process, we need to make sure that a) everything looks as it should and b) we personalize our email even further.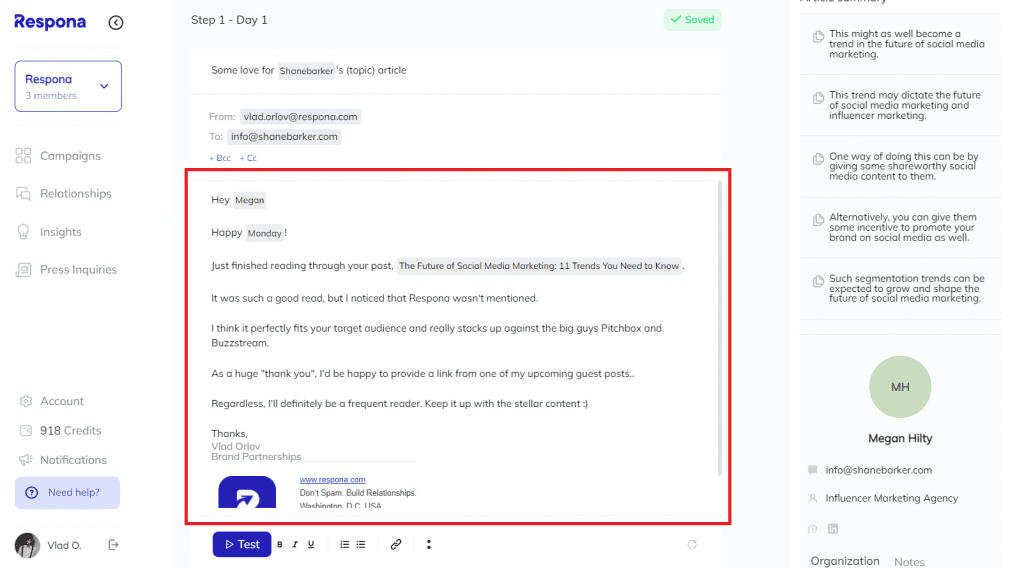 To do that, we can copy one of the "Excerpts" that Respona auto-extracted from our prospect's content piece and paste it into our email over the highlighted text within the brackets.
This is the piece of text we've chosen: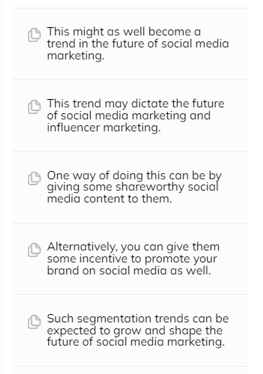 You can simply copy and paste these into your pitches.
Once we repeat this process for all opportunities in our list, we can launch our campaign.

From there, we have to manage communications and make sure we get as many links and mentions as possible.
A few things to remember:
Be honest and transparent as to what your intentions are
Be nice to people, even if they gave you a negative answer
Don't force anyone to do something they don't want to do
Keep in mind that the process we've just described is only one of the methods you can use to promote your content.
As we've mentioned, there are many other ways (e.g. through social media) to promote your content.
It just so happens that in our case, the goals and the purpose we want this piece of content to serve means that link building and content promotion through cold emails is the best way to go.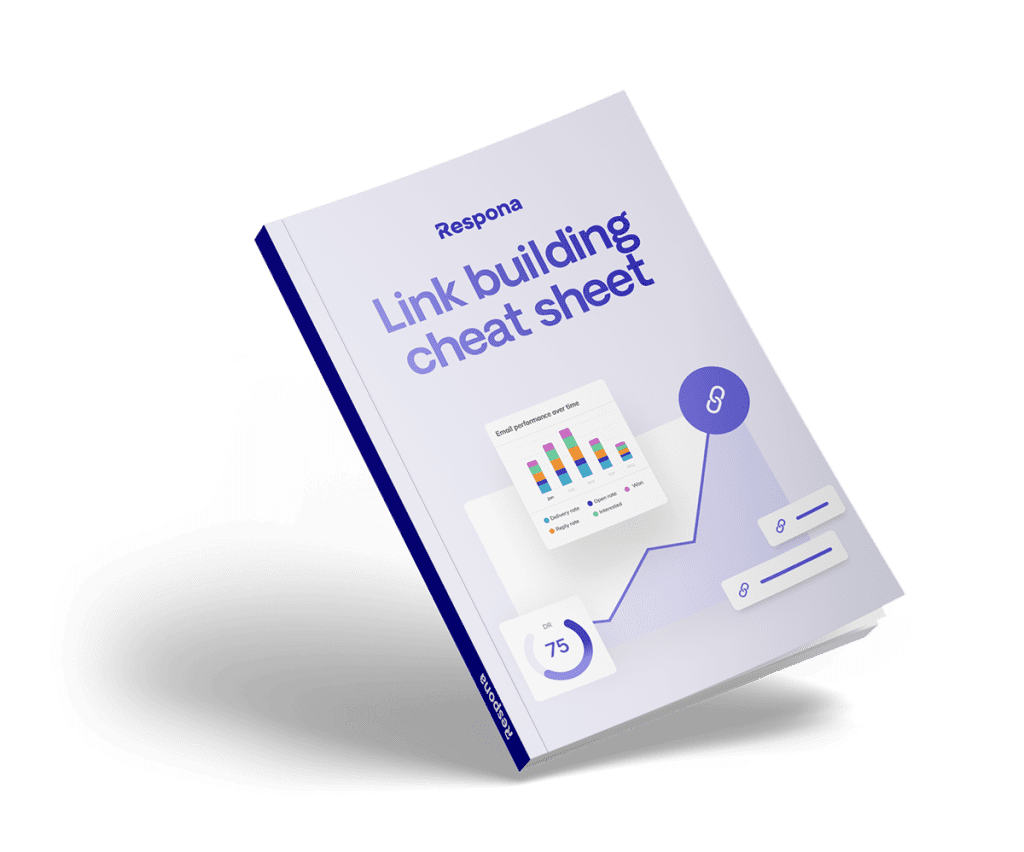 Link building cheat sheet
Gain access to the 3-step strategy we use to earn over 86 high-quality backlinks each month.
Wrapping Up
Content promotion is one of the most prominent activities when it comes to content marketing.
Put simply, you can't expect your content to work without promoting it.
One of the most obvious takeaways from this post is that content promotion is something that all companies—regardless of size—should employ.
Unfortunately, most businesses spend most of their time creating new pieces of content and no time promoting that content.
So, what if you have great content that no one sees or interacts with?
Again, the answer lies in content promotion.
This shows us that content promotion should be an integral part of any content marketing strategy.
So, as a content marketer or business that's actively creating new content on a regular basis, make sure to add content promotion to your process.
Only this way will you be able to see actual results from your content.