Interested in building inbound links for your website?
Then you're going to need a good set of high-quality link building tools.
Of course, with so many tools out there, that's a difficult task to do.
That's why we've created this list of the 14 best link building tools for building links in 2022.
Here's what you'll find inside:
Backlinks analysis tools
Link prospecting tools
Email outreach tools
So, if you want to take your link building campaigns to the next level, you're going to need some of the tools in this list.
Let's dive right into it.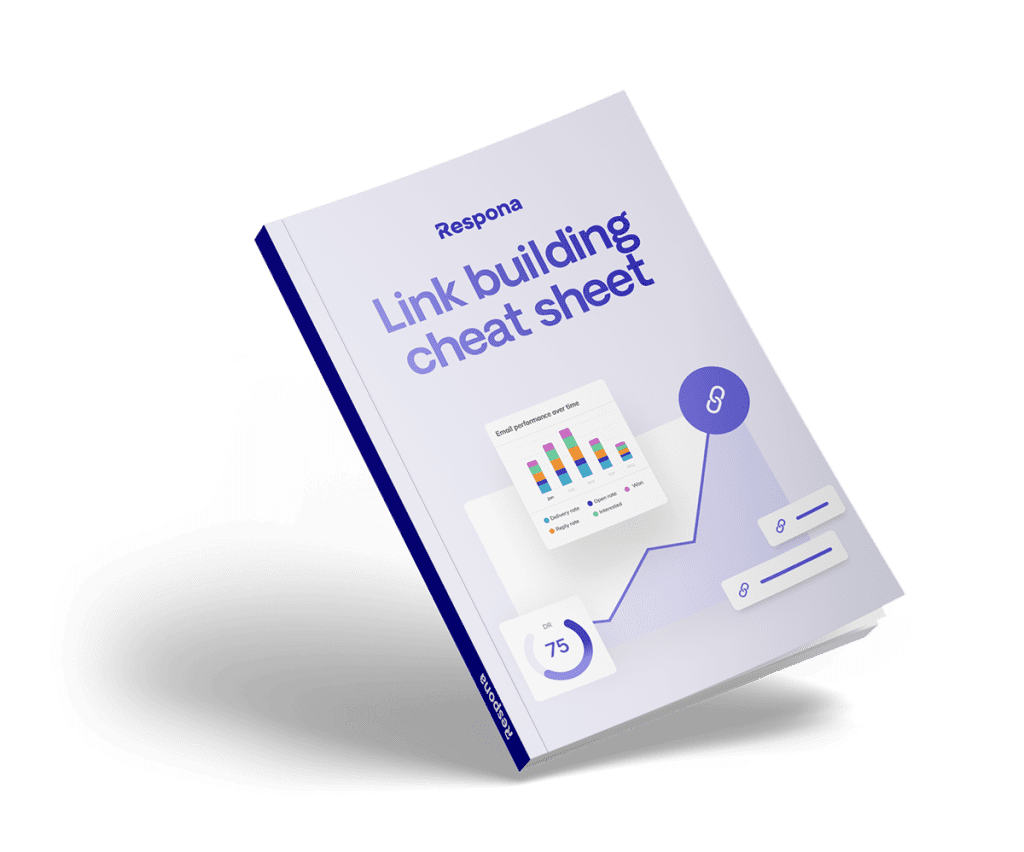 Link building cheat sheet
Gain access to the 3-step strategy we use to earn over 86 high-quality backlinks each month.
Tool #1: Respona
The first tool in our list is Respona.
Respona is a link building software that can help you build quality backlinks.
It's developed by the world-class team over at Visme to help spread the word about the company and reach over a million monthly organic traffic.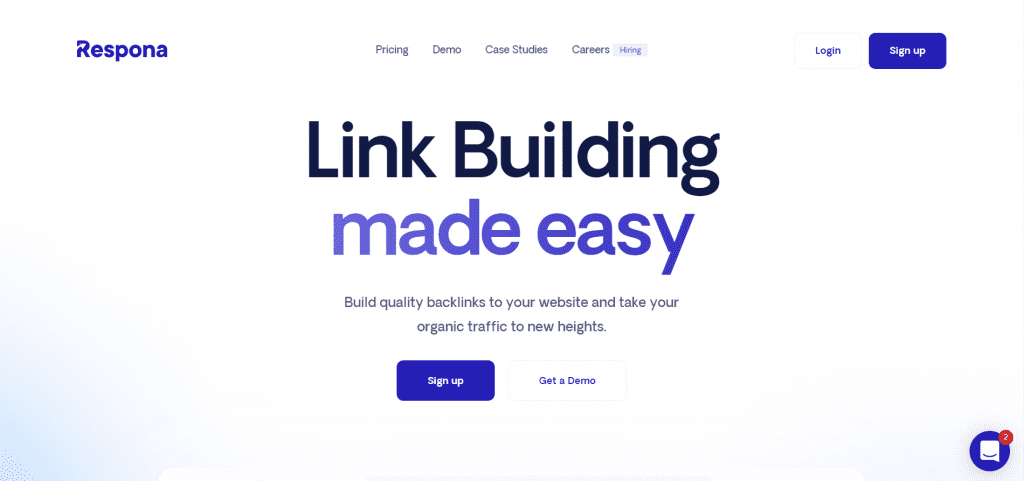 We built this tool to make the process of finding link building opportunities and connecting with them easier, instead of using outdated tools such as Buzzstream and Pitchbox.
Users from all over the world use Respona to build relationships with bloggers, influencers and other link prospects.
It's a tool that's great for content promotion, media pitching, PR outreach and brand pitching.
Let's see how it works.
How does Respona work?
You can use Respona in two main ways:
By manually inserting opportunities
By using Respona's built-in search engine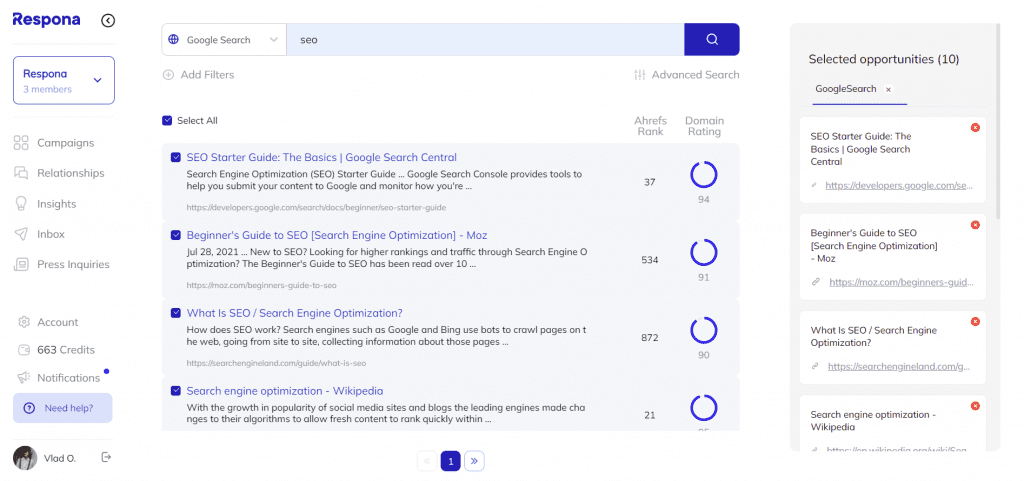 Think of Respona's search engine like Google search integrated within the product.
And, think of the Import option as a way to manually important csv files, map the data to create custom fields within Respona and find the best email addresses for your prospects.
Respona uses a four-step process for setting up a new campaign.
From there, you can manage email communications through Respona and build links for your target pages.
In our 2022 guide on how to build inbound links, you can learn how to use Respona to acquire backlinks for your website.
→ What Are Inbound Links & How to Build Them (Guide for 2022)
Be sure to take a look!
Respona pricing
The truth is that building links is expensive.
This is why most companies either outsource the process to a vendor (e.g. an agency) or don't do it at all.
With Respona, we've calculated the cost of email outreach and come up with something around $198 per month.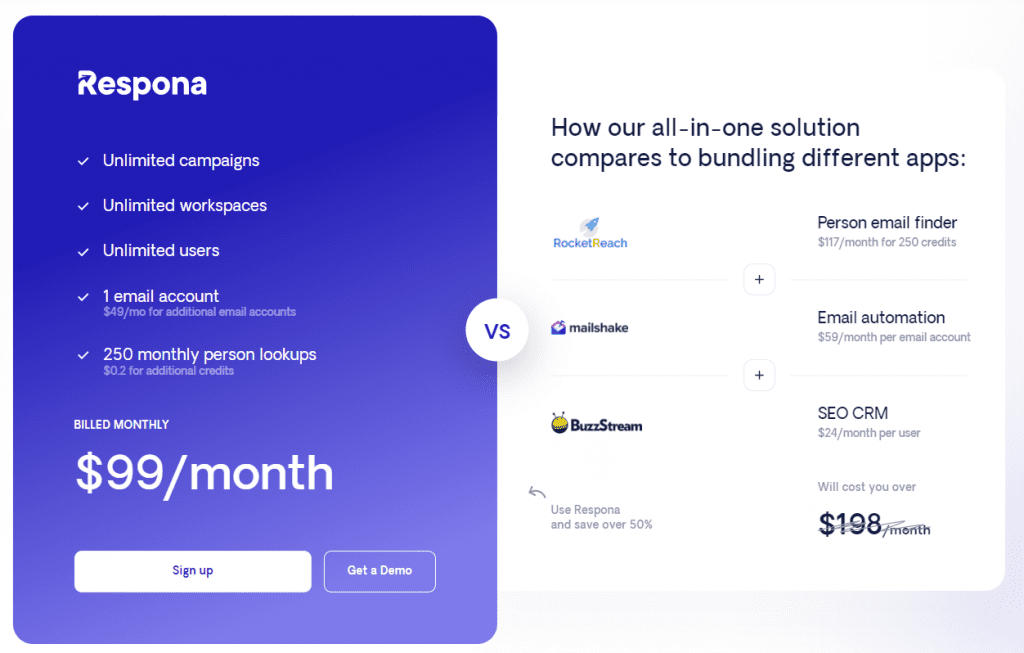 This is a rough estimation, of course, but it covers most of the costs involved in a solid link building process.
We've also included the investment that you need to make into certain tools for content discovery like BuzzSumo.
All these things considered, you can see that the cost per month—labor costs excluded—is relatively high.
Since Respona combines capabilities from different products and saves you manual work, the pricing of $99 per month is definitely a fair deal.
You also have the option to pay yearly and get an even better price.
Moreover, there's a custom plan for agencies starting at $995 per month.
Let's take a look at some of Respona's most prominent features for link builders.
Respona features
The main features that can be useful for link building are:
Content Discovery—for identifying link opportunities
Backlink Checker—for checking the number of backlinks on the top of results
Author Email Lookups (credits)—for finding the best email addresses to reach out to
AI-powered email personalization assistant—for helping you personalize your emails
Email Pitch Quality Analyzer—for identifying spam words within your emails
Opportunities—for getting link opportunities automatically
SEO Metrics—useful metrics like Domain Authority (DA) for your opportunities
You can get a full overview of Respona's features on the website's pricing page.
Why We Like It: It makes the process of link building seamless
Favorite Feature: Opportunities
Ideal For: Link prospecting/Outreach
Tool #2: Ahrefs
Next, we have Ahrefs.
It's a great tool for all link builders out there.
It's mainly a backlinks analysis tool, even though it can also be useful for link prospecting purposes.
On top of that, it's the perfect tool for competitive analysis but also for other SEO-related metrics and elements such as the keywords a website is ranking for.
Let's see how it works.
How does Ahrefs work?
As we just mentioned, Ahrefs is one of the best software tools for link building.
Some of the things you can do with Ahrefs are:
Conduct a complete backlink analysis on a website
See how your backlink profile changes over time
Uncover link opportunities for certain terms
Discover broken links on other websites
One of Ahrefs' main features is the Site Explorer.
All you have to do is open Site Explorer and insert a website that you want to audit.
You'll then get an overview of the website's organic performance.
For example, you can see that Visme gets over 1.1 million visitors every month.
You can also see metrics specific to links such as the total number of referring domains and backlinks for the website that you're auditing.
Besides that, you can dive deeper into analyzing the website's backlink profile and see how the number of referring domains has grown over time.
Alternatively, you can check the website's most linked pages.
Rest assured that with an SEO tool like Ahrefs, you can get high-quality backlink data that you can't find anywhere else.
Image Source: Ahrefs
In fact, Ahrefs has over 254 billion web pages in its index and claims to have the "world's largest index of live backlinks."
What more can a link builder ask for?
Ahrefs pricing
As you can imagine, with that quality of data, Ahrefs isn't a cheap tool.
The good news is that it's not expensive either.
In fact, I'd say that it's value for money—you get what you pay for.
Here are the four plans Ahrefs has on their website:
Lite starting at $99 per month
Standard starting at $179 per month
Advanced starting at $399 per month
Agency starting at $999 per month
The main difference between the plans is the number of seats you get, the number of projects you can have and the amount of data you receive.
The good thing is that Ahrefs recently introduced certain add-ons you can include in your plan, which offers more flexibility to its users.
All in all, I'd say that Ahrefs' pricing is very fair and well-structured.
Ahrefs features
As I mentioned earlier, Ahrefs has a set of features for different use cases.
The main features that can be useful for link building are:
Content Explorer—for finding opportunities for link building (e.g. guest posting)
Domain Comparison—for comparing your website against your competitors
Batch Analysis—To audit many URLs at once and get important SEO metrics
Link Intersect—To find websites that link back to your competitors and don't link back to your website
Alerts—a backlink tracker that notifies you about new links for your website
Ahrefs API—to bring data to a third-party tool like Screaming Frog
Site Explorer—for analyzing websites and web pages
Site Audit—for identifying issues related to links
As you can see, there are many things you can do with Ahrefs.
Make sure to sign up for a 7-day trial for $7 and discover the true potential of this amazing tool.
Why We Like It: It's a powerhouse for link building and SEO
Favorite Feature: Site Explorer/Link intersect
Ideal For: Link prospecting/Backlink monitoring/Link processing
Tool #3: SEMRush
SEMRush is another popular option amongst link builders and SEOs alike.
It positions itself as an all-in-one solution for improving your online visibility and discovering marketing insights.
It can help you run an audit of your own website, conduct a competitive analysis, reveal other websites' backlink profiles, and even run your own link-building campaigns through the outreach module.
In essence, it has a lot in common with the previous tool, Ahrefs.
How does SEMRush work?
Upon logging into the tool, you will be greeted with SEMRush's dashboard:
In the left toolbar, you will find a variety of tabs, including:
SEO;
Local SEO:
Advertising;
Social Media;
Content Marketing;
Trends;
Agency Solutions.
We will be focusing on the SEO tab, as it is where you will find all of the link-building-related features.
Even though all of the functions in this section will be useful at some point while building backlinks to your site, the five features that are the most important for link building are:
Backlink Gap;
Backlink Analytics;
Backlink Audit;
Link Building Tool;
Bulk Analysis.
Just using these five functions, you will be able to easily find a bunch of link building prospects (especially if you use the Competitor Backlinks strategy – essentially stealing your competitors' backlinks), weed out any irrelevant opportunities, and reach out to them, all from within a single tool.
SEMRush pricing
SEMRush offers three different plans:
Pro – $119.95/month
Guru – $229.95/month
Business – $449.95/month
As expected, more expensive plans offer more of SEMRush's extensive key features.
In addition, for an extra cost, you can add additional users to your SEMRush account, and even some additional modules like:
SEMRush.Trends;
Agency Growth Kit;
ImpactHero.
Why We Like It: it's a very robust tool with so many different functions that it is a must-have for any SEO, not just link builders.
Favorite Feature: Backlink Gap for identifying untapped link building opportunities.
Ideal For: Link Prospecting/SEO Reporting
Tool #4: MozBar
Moz was one of the very first SEO tools on the market.
A few years ago, it released the MozBar, a Chrome Extension that shows you some really useful metrics for results on the SERPs.
MozBar is a free tool to help you get quick insights into the top results for a particular search query.
How does Moz work?
The first thing you need to do is locate and install MozBar as a Chrome Extension on your browser.
This is what you should be able to see once you do:
Then, insert a search query that interests you and here's what you'll see:
The metrics that you get for any of the results are:
Page authority—the authority of the page as calculated by Moz
Domain authority—the authority of the domain as calculated by Moz
Number of links—the number of links for that particular page
Cool, right?
The best part is that you don't have to subscribe to a paid plan—the product is absolutely free to use.
Why We Like It: Free and easy to use
Favorite Feature: Number of links for any page
Ideal For: Link prospecting/Backlink monitoring/Link processing
Tool #5: Majestic SEO
Majestic SEO is the second tool on our list of the best link building tools.
Majestic credits itself as the software tool with the "largest link index database".
According to a test run by Backlinko back in 2019, Majestic came fourth when it came to finding the highest number of inbound links.
It's worth noting that for this test, Backlinko took into account the total number of referring domains identified by each of the four tools for the following websites:
Backlinko
Truvani
NerdWallet
Canva
Of course, this test doesn't prove that Majestic comes last when it comes to their backlink index database.
However, we can understand that taking a look at only one index for activities related to link building (e.g. backlink auditing) can give us false impressions.
Luckily for you, three of the tools that exist in the above table made it to this list as well.
Let's see how Majestic works.
How does Majestic SEO work?
Like other similar tools, to use Majestic, you need to insert the URL of the website or web page that you want to audit.
After doing so, you'll get a series of useful graphs and metrics.
One of these metrics is Trust Flow, which according to Majestic is "one of the Majestic Flow Metrics, which is weighted by the number of clicks from a seed set of trusted sites to a given URL, or Domain."
Metrics like Trust Flow (similar to Ahrefs' Domain Rating and Moz's Domain Authority) can help understand the backlink status of a website.
However, the truth is that Majestic offers you much more than that.
Simply sign up for Majestic and discover all these features for yourself.
Majestic SEO pricing
When it comes to pricing and plans, we can see that Majestic is really affordable even for people who are just starting out with link building.
Its lowest plan starts at $49.99 per month, which is ideal for freelancers or companies who want to monitor their link profile on a consistent basis.
The next plan is ideal for those who want access to even more data and some additional features such as historic index, custom reports and email alerts.
The higher plan is the one that's ideal for agencies and companies that need access to Majestic's API.
With the use of a tool like URL Profile (that we also include in that list) or Screaming Frog, you can then combine this data into powerful datasets.
All in all, I'd say that Majestic's pricing is fair and definitely value for money.
Why We Like It: Data visualization
Favorite Feature: Trust Flow
Ideal For: Link prospecting/Backlink monitoring/Link processing
Tool #6: SE Ranking
Now let's move on to SE Ranking.
SE Ranking is a powerful all-in-one online SEO software. The platform offers a backlink checker, backlink monitoring, and over 30 other tools for every SEO task: keyword rank tracker, competitive and keyword research, website audit, and so on.
SEO specialists and business owners will highly appreciate SE Ranking's Rank Tracker capabilities, but the Backlink Checker is just as powerful and accurate as any other tool on the platform. And it comes with the best value for money on the market, which makes it perfect for small and medium business owners who want their websites to get to the top of the SERP.
Now let's take a look at how SE Ranking works.
How does SE Ranking work
With the SE Ranking Backlink SEO Checker you can thoroughly analyze a website's backlink strategy and keep tabs on all valuable backlinks.
To start using the Backlink Checker, click on its icon in the top toolbar. Paste the website URL, and in the blink of an eye you'll get a full overview of the site's backlink profile:
Website's quality metrics: Domain Trust and Page Trust
Dynamics and the overall number of backlinks and referring domains
Backlink profile details: ratio of dofollow/nofollow backlinks, most common anchor texts, and how referring domains are distributed by countries
Pages that get the most backlinks
In the Backlinks section, you can dive deeper into the analysis and assess the quality of every backlink on your website. For example, you can monitor referring domain quality scores, anchor texts, type of backlink, and date when it was first discovered. In the Referring Domains section, you can get a more comprehensive outlook on domains that have links to your website—see their quality scores, number of links from them, the date when the referring domain was first discovered, etc. This way you can single out backlinks from the most valuable domains and adjust the link-building strategy accordingly.
You can easily keep track of all your backlinks using the Backlink Monitoring tool. You can automatically add links detected by the Backlink Checker, manually upload a list of backlinks, or automatically upload all your backlinks using Google Search Console. Regardless of the way you add the links, SE Ranking will monitor their status and show you if a backlink has been removed, the referring page is not indexed at all, and so on.
SE Ranking pricing
As we mentioned before, SE Ranking offers very flexible and affordable pricing.
There are three packages that vary depending on the number of keywords and extra inbuilt features:
Essential starting at $39 per month
Pro starting at $89 per month
Business starting at $189 per month
However, you can get a discount of up to 60% depending on rankings check frequency and subscription period.
For new users, SE Ranking offers a free trial period.
SE Ranking also has a pricing calculator that helps users select the best plan for their needs.
Why we like it: an easy-to-use tool with the best value-to-money ratio
Favorite feature: Backlink Monitor that keeps an eye on every single backlink
Ideal for: Keeping tabs on backlinks and managing your SEO
Tool #7: Raven
Raven is another tool that's great for link builders.
As you can see in the screenshot below, it offers "search engine optimization tools for link building research and reporting."
The good thing about Raven is that it offers a risk-free trial that can help you test the tool before subscribing to one of its paid plans.
How does Raven work?
Raven offers a set of features that are related to SEO and link building.
The features that are backlink-specific are the following:
Marketing Reports
Competitor Domain Research
Backlink Checker
Link Spy
Raven is a tool that emphasizes white labeling as its reporting tool—for example, it can generate truly white label reports that are ideal for agencies.
For some of its tools (e.g. Competitor Domain Research), Raven references metrics like DR, DA or Trust Flow from other link building tools like Ahrefs, Moz or Majestic.
Raven pricing
Raven credits itself as being an "all-in-one SEO tool and marketing report platform."
In that context, its pricing is affordable, and it's probably the tool with the most versatile pricing among all the others on our list.
I'd say that the "Small Biz" plan is more than enough if you're just starting out with link building.
If you're a small agency, both the "Start" and "Grow" plans can work for you, while the last two plans are ideal for bigger agencies and enterprises.
Why We Like It: White label features
Favorite Feature: Link building CRM
Ideal For: Link prospecting/Outreach/Backlink monitoring/Link processing
Tool #8: Scrapebox
Scrapebox credits itself as the "The Swiss Army Knife of SEO."
It's a tool with many capabilities that are used by SEO professionals and link builders from all around the world.
To use it, you need two things:
To install it on your device
To buy proxies
This is probably the main downside of Scrapebox—the fact that you need to have proxies in order to use it.
According to blazing SEO, "Proxy servers are intermediary servers which separate end users from the websites they browse, acting as a 'gateway' through which all user requests first pass through on their way to retrieving the desired web page or file."
Put simply, proxies allow you to make multiple requests to perform actions like scraping Google search results at scale.
If you're okay with buying and using proxies, Scrapebox can be a useful tool for your technology stack.
How does Scrapebox work?
Using Scrapebox is as easy as downloading it onto your device and buying some proxies.
Then, you can start experimenting with its different features and capabilities.
For example, you can insert a target keyword and scrape search engine results for that keyword.
In the above screenshot, you can see the results that we got for the keyword "PR Outreach."
We can then qualify these prospects and reach out to those that seem like a good fit for us to promote one of our resources around PR outreach.
This is just one of the many use cases for Scrapebox, of course.
There are literally endless possibilities with this nifty tool.
Just try to stay on the white-hat side of things at all times when using it.
Scrapebox pricing
Scrapebox's pricing is simple and straightforward.
It costs $97 to buy without any additional or recurring costs.
If you're willing to learn how to use it and also buy proxies whenever needed, it's definitely value for money.
Scrapebox features
Scrapebox's main features are:
Search engine harvester—scrape URLs from search engines like Google at scale
Keyword harvester—product keyword ideas from a seed keyword
Proxy harvester—proxy tester to make sure your work remains private
Comment poster—leave comments on threads in bulk (not recommended)
Link checker—Check thousands of URLs to check your backlinks
Besides link building, Scrapebox is a tool that can also be used for keyword research and other activities such as pay-per-click (PPC) advertising.
Again, just make sure to use it in a white-hat and ethical way.
Pricing: $97 (one-time payment)
Why We Like It: It has many unique features and capabilities
Favorite Feature: Search engine harvester
Ideal For: Link prospecting/Backlink monitoring/Link processing
Tool #9: HARO
HARO couldn't be missed from any list of best link building tools.
It's been used for many years by bloggers and companies as a digital PR tool.
To be honest, it's not easy to acquire links through HARO—at least, not at scale like most link builders want.
However, you can use it to get some good mentions in top-tier publications in your industry.
How does HARO work?
HARO stands for Help a Reporter Out, and is a popular service for journalists with major publications to gain information on specific topics they're covering.
As you can see, HARO works as a two-sided marketplace for journalists and sources.
To get opportunities for press coverage via HARO, you first need to sign up for one of their subscriptions.
Here's what an email with opportunities looks like:
Even though there's a free plan as well, it's not enough to get more targeted opportunities in your inbox.
Once you find an opportunity that fits your profile, you can pitch an answer.
If your answer gets selected by the reporter making the query, you'll be featured on the publication they're writing for.
Pretty cool, right?
As I mentioned, it's not always easy to get featured on a publication via HARO, but once you do, the outcome may well be worth it.
HARO pricing
As I mentioned earlier, HARO offers both paid and free options.
Paid options start at $19 per month and can go up to as much as $149 per month.
As expected, paid plans offer many more capabilities and features such as keyword alerts—a feature that helps you filter through different media opportunities.
All in all, I suggest that you get started with the free plan and, if you see value in some of the opportunities landing on your inbox, change your subscription to one of the paid ones.
Why We Like It: It gives you access to hard-to-reach reporters
Favorite Feature: Keyword alerts
Ideal For: Link prospecting
Tool #10: ontolo
According to its website, ontolo offers "prospecting tools for link building, SEO, social media and more."
Some of the categories ontolo can help you find link prospects for include:
Apart from being a sophisticated solution to link prospecting, it can also help you with prospect analysis so that you can find the best prospects to reach out to.
Ontolo is truly a powerful tool when it comes to identifying prospects or enriching the data you already have for a list of prospects.
How does ontolo work?
Ontolo has many interesting features for link builders.
According to an analysis behind the tech stack of the tool, ontolo is reported to crawl more than 400,000,000 URLs per day.
This means that when you're using the tool, you're basically searching from a huge database of URLs that exist on the web.
Of course, other tools like SEMrush, Ahrefs or Majestic are also reported to have huge databases of backlinks and URLs.
What makes ontolo stand out is that it's dedicated to link prospecting and querying.
If you want to learn more about how ontolo works, I suggest taking a look at ontolo's website.
ontolo pricing
As you can see below, ontolo's pricing starts at $97 per month.
This gives you 1,000,000 URLs in your accounts index and 200,000 extracted URLs per day.
That's enough if you're a freelancer working with a few clients or if you want to find link prospects for your own business.
The next plan has five times as many URLs in your account index and is suitable for link building agencies or businesses that want to scale their link building efforts.
I'd say that the first plan is more than enough to begin with.
Why We Like It: Dedicated to link prospecting
Favorite Feature: Prospect categorization
Ideal For: Link prospecting/Link processing
Tool #11: URL Profiler
Like other similar tools, URL Profiler doesn't have a web application.
This means you have to download it onto your device.
URL Profiler offers a wide range of tools related to content and links.
Think of it as an API for some of the world's most popular SEO tools like Majestic SEO or Moz.
It helps you gather data, all in one place, based on a list of URLs you've provided.
How does URL Profiler work?
To use URL Profiler, you first need to download it onto your device.
Then, you insert a list of URLs (or directly add the URL of your XML Sitemap) that you want to audit.
Author's Note: This is the main and most prominent way of using URL Profiler. Find out the other ways you can use URL Profiler on the tool's website.
Once you insert your URLs, you can then choose the data that you want URL Profiler to extract from those URLs.
Some of the data you can use is:
PageRank
Social shares
Majestic data (e.g. Citation Flow)
Moz data
And more
Then, you'll get a nice Excel file with the results of your audit for each of the URLs you inserted in the first place.
You can use URL Profiler to audit the link profile of a list of URLs or create a content inventory you can use to add internal links when creating new content.
The best part is that with URL Profiler, you don't need proxies (like with Scrapebox) to audit your URLs.
All you need is to download the tool onto your device and have an active license.
URL Profiler pricing
As you can see in the screenshot below, URL Profiler offers three pricing plans.
The first one is ideal for smaller websites with up to 5,000 URLs.
5,000 is the maximum number of URLs you audit at once, and this is more than enough for freelancers, solopreneurs and small teams.
If you want something more than that, you'll have to consider the Pro, which starts at $39.95 per month (monthly billing).
The third plan is suitable for agencies and enterprises that need many user seats (licenses).
Why We Like It: It helps you bring data from different sources all in one place
Favorite Feature: URL audit
Ideal For: Link prospecting/Link auditing
Tool #12: Linkody
Linkody is a backlink tracker that helps you:
Track new and lost links
Analyze your backlink profile
Monitor your competitors' link velocity
Identify and disavow links that may harm your website
Manage all your backlinks and referring domains in one place
Like other tools in this list, it's an all-in-one powerhouse when it comes to link building—not so much from a link prospecting perspective as from a link monitoring and processing one.
How does Linkody work?
Linkody uses metrics from other popular tools around SEO and link building like Moz and Majestic SEO.
For example, in the screenshot below, you can see how Linkody curates different metrics like Moz Rank or Majestic's Citation Flow.
This curation of metrics from different tools is particularly useful, as it gives you flexibility over reporting and allows you to better understand the backlink status of your website.
One of the most interesting characteristics of Linkody is that it allows you to connect it with more data sources such as Google Analytics and Ahrefs.
From the link manager to the backlink tracker and Google index checker, Linkody is a tool you need to have on your list if you're serious about link building.
Author's Note: Other similar tools include LinkResearchTools, CognitiveSEO and LinkProspectorTools.
Linkody pricing
As you can see from the screenshot below, Linkody isn't as expensive as other SEO and link building tools.
Pricing plans start as low as €13,90 per month (with monthly billing) for "webmasters" who want to have a good view of the performance of their website.
With this plan, you can add up to two domains (projects) and monitor up to 500 links.
The next plan (advanced) is ideal for freelancers with up to five projects and 2,000 monitored links in total.
The rest of the pricing plans are ideal for both small and large agencies with more needs.
All in all though, we find Linkody's pricing plans to be more flexible than those of other similar tools.
This is one of the main reasons why you may want to try this one out.
Why We Like It: Easy to use/Beautiful reports and graphs
Favorite Feature: Backlink Audit
Ideal For: Link prospecting/Outreach/Backlink monitoring/Link processing
Tool #13: Disavow.it
The next tool we have on our list is Disavow.it.
This is a tool created by the team at Distilled.
According to their website, this free tool can "help you to quickly compile/clean a Disavow file, ready to upload to Google Search Console."
The reason why you might want to disavow a list of URLs that link back to your website is because they may come from malicious sites and thus may harm your performance and reputation.
Disavow.it allows you to create the file that contains those URLs so you can upload it on Google Search Console.
How does Disavow.it work?
First, you need to have a list of backlinks that may harm your website.
Let's use an example to understand that better.
One of the pages that links back to Respona is—according to Ahrefs—the following:
As we can see, this link doesn't have a nofollow tag or anything like that.
This means that Google—and other crawlers for that matter—follow that link and pass on link equity from one website to another.
Assuming we want to ask Google not to take into consideration that particular link, all we need to do is add the URL (or URLs) we want to disavow and click "Create Disavow File."
We can then get the file created by the tool and upload it to our Google Search Console account.
Simple as that.
Important Note: Make sure that you only disavow links when you are absolutely sure that they may harm your performance or reputation. Otherwise, disavowing any link can have the opposite result of what you expect.
Why We Like It: Simple and free to use
Favorite Feature: N/A
Ideal For: Link processing
Tool #14: Google Alerts
One of the last tools we have on our list is Google Alerts.
According to Google, Alerts allows you to monitor the web for interesting new content.
Of course, there are many other tools that can help you do the same thing.
One of them is Ahrefs Alerts, which allows you to search through Ahrefs' index of pages for new mentions, new keywords or new backlinks.
The main differences between most of these tools and Google Alerts are:
Google Alerts is a completely free tool
Google's index is the largest in the world and thus results will be more numerous
Let's see how it works.
How does Google Alerts work?
To get started with Google Alerts, all you need to do is insert a search query that will trigger your alert.
For example, the following alert will trigger for any result that includes the term "PR outreach software" somewhere in the text.
Interestingly enough, you'll see that there are some results for that particular advanced search query.
The reason why finding those results is important is because we can reach out to them and—if they're indeed relevant—ask them to include us in their content piece.
This way, we can easily get some dofollow links with relevant anchor texts back to our resources or website.
Once you create an alert, you can choose when and how to receive those opportunities.
Even though a bit basic, those options are really great at helping you laser-target results and get only the most relevant ones based on your advanced search query.
Rest assured that Google Alerts is a great tool for link building and content marketing.
Why We Like It: It's free and easy to use
Favorite Feature: N/A
Ideal For: Link prospecting/Mention monitoring
Tool #15: Screaming Frog
One of the last tools on our list is Screaming Frog.
Screaming Frog is one of the most popular web crawlers out there.
It's also among the most reliable and fastest web crawlers, even though it's a desktop application.
How does Screaming Frog work?
Screaming Frog is a desktop app.
This means you need to download and install it onto your device.
After that, you can start crawling websites that contain up to 500 URLs (if you're using the free version).
For example, here's what a crawl for Visme.co looks like in Screaming Frog:
As you can see, the tool has crawled 73% of the website so far, with all the discovered URLs displayed in the highlighted area along with useful information (e.g. Title Tags) for each of them.
When the crawl ends, you can sort your URLs, filter them by status code (e.g. 404) and further analyze them.
One of the most interesting things you can do is combine data from different providers right into Screaming Frog using the tool's API.
For example, being able to combine data from Screaming Frog and Ahrefs can give you some pretty useful insights into the websites you're crawling and auditing.
We're not going to dive deeper into the capabilities of this link building tool, since there's literally no limit as to what you can do with it.
Just keep this tool in mind when you need a crawler or want to take your backlink analysis process a step further.
Screaming Frog Pricing
I can say with confidence that this tool has fair pricing and is definitely worth the investment.
There are two versions of Screaming Frog:
Free version
Paid version
One of the main distinctions between the two is the crawl limit.
If you're working with smaller websites with less than 500 URLs, the free version may be perfectly suitable for your needs.
However, if you want to audit large websites with hundreds or thousands of URLs, you should definitely consider buying a license for the paid version.
Besides, the paid version has many more capabilities that the free version doesn't have.
One license costs £149.00 per year.
Screaming Frog also offers multiple license discounts, which is ideal for agencies or enterprises.
All in all, I'd say this tool is a great option for those who are conducting backlink audits or crawling websites to find opportunities for link building.
Why We Like It: Quality of data/Visualizations
Favorite Feature: Ahrefs API
Ideal For: Link prospecting/Link processing
Tool #16: BuzzSumo
The next tool on our list is BuzzSumo.
BuzzSumo is one of the most popular content discovery tools on the market.
It's used and trusted by some of the biggest companies in the world, as it makes content discovery a piece of cake.
It's four main features are:
Discovery
Research
Influencers
Monitoring
Even though all four features have really great capabilities, we really like BuzzSumo's Content Discovery feature.
How does BuzzSumo work?
As I just mentioned, BuzzSumo has a wide range of features, from finding the backlinks of a given URL to discovering new content opportunities based on social media popularity.
Another feature allows you to find content based on a given term, along with useful metrics for each URL.
All you need to do is insert a topic that interests you.
Here's what BuzzSumo returned for the term "content promotion":
By taking a look at the metrics for each of the URLs, you can make decisions about what content pieces to create next.
From there, you can use filters such as "Content Type" to get even more targeted opportunities and content ideas.
From there, you can select the opportunities that fit your criteria and make lists you can export for further analysis.
BuzzSumo has countless possibilities for link building experts and content creators.
But what about its pricing?
BuzzSumo Pricing
As you can see below, BuzzSumo has four pricing plans.
It's not a cheap tool, but considering the features it offers, we can safely say that it's worth the investment.
The main difference between BuzzSumo's plans is the amount of data you can export, as well as the number of active projects you can have and the number of users per account.
The reason why pricing is structured this way is because BuzzSumo obviously serves agencies and enterprises that—most of the time—have more needs.
I'd say that, in general, the pro plan is ideal to get started with BuzzSumo.
You can then change plans as you grow.
Why We Like It: Ease of use/Friendly UI
Favorite Feature: Discovery
Ideal For: Link prospecting/Content discovery
Tool #17: Right Inbox
Right Inbox is a Gmail extension that brings your emailing efforts to the next-level.
Installing Right Inbox will effectively upgrade your Gmail with these superpowers:
Reminders – Never lose track of your most important emails in your inbox.
Email Tracking – Know who is opening your emails and who isn't all within Gmail.
Email Templates – Stop writing the same link request outreach emails. Save yourself time with the email templates feature.
Sequences – send follow-up emails depending on whether the last link outreach email has been opened or not.
How does Right Inbox work?
First of all you need to download the extension from the chrome store. By installing Right Inbox, you'll get all the functionality that you wish Gmail included as standard. You can find a full rundown of features on the Right Inbox website.
Once you've downloaded Right Inbox you'll notice a few new options in your Gmail compose email tab. You'll be able to add email tracking to your emails or set up email templates for link outreach all within Gmail.
Right Inbox Pricing
One of the best aspects of Right Inbox is its flexible pricing model. Install the app, and you'll immediately be able to use many of the best features free of charge, but with monthly caps.
Alternatively, if you prefer a life with no limits, take out a monthly subscription which starts at $7.95. If you decide to sign up for a year there is a 25% reduction in the monthly fee to $4.95 per/month .Team plans enjoy discounts of $1 per user versus the standard price for individuals.
Why We Like It: Ease of usability and competitive pricing
Favorite Feature: Email tracking
Ideal For: Link building outreach
Tool #18: Hunter
Hunter is one of the most popular tools for finding contact information of link building prospects.
In fact, it allows you to do a sample contact search directly from its homepage, without even registering.
Hunter offers a number of functions:
Domain Search: reveal all of the contacts associated with your target domain;
Email Finder: find the contacts of a specific person;
Email Verifier: make sure that the contact information is valid;
Simple cold outreach campaigns;
Integration with various CRMs, automation tools, and email providers like Gmail and Outlook;
Browser extension;
Google Sheets add-on;
Bulk search and verification;
TechLookup.
How does Hunter work?
Hunter is very easy to use.
You just pick a function, paste the domain/prospect's name into the search bar, and wait for the tool to do its magic.
Alternatively, you can install Hunter's Chrome Extension, and reveal email addresses on the fly as you are browsing your prospects' websites.
And finally, you can upload a list of company websites or domain names to find all of their contacts in bulk.
Hunter Pricing
Hunter actually offers 25 monthly searches and 50 verifications at absolutely no cost.
However, if you're looking to use it at scale, it also offers 4 premium plans:
Starter: $49/month, 500 searches, 1,000 verifications;
Growth: $99/month, 2,500 searches, 5,000 verifications;
Pro: $199/month, 10,000 searches, 20,000 verifications;
Business: $399/month, 30,000 searches, 60,000 verifications.
In addition to monthly lookups, more expensive plans allow you to add more sender email accounts to run cold outreach campaigns, and allow you to create gradually bigger campaigns (up to 10,000 recipients).
Custom enterprise plans are also available.
Why We Like It: Easy to use, and the 25 free monthly searches
Favorite Feature: Email verification
Ideal For: Finding the contacts of your link-building prospects
Tool #19: GroupHigh
As stated by the team themselves,
"GroupHigh is an essential content marketing tool that allows you to quickly find any Influencer or blogger's contact information".
It allows you to find link building prospects by searching for the most popular blogs within your niche, research influencers, automate blog & content research, and build your earned media reports.
How does GroupHigh work?
GroupHigh comes with its own database for finding relevant blogs within your niche. It contains roughly 50 million websites in it.
To narrow down the results, you can filter them by SEO authority, social following, location, demographics, and countless other factors.
This database also includes influencers, even if they are considered "micro" or "long-tail", along with relevant stats, such as:
Engagement rate;
Audience size;
Channels offered;
Total number of posts;
Links to recently published content.
Once you've picked your prospects, you can create personalized cold outreach campaigns, and reach out to them right inside of GroupHigh.
GroupHigh's Blogger CRM is the central hub for managing your blogger relationships. Core components include:
Folders and lists: organize blogger database by ranking, topic, affinity, and more;
Automated blogger research: research and keep up-to-date more than 50 social, web, and SEO metrics;
Advanced database filters: quickly create segments and select the perfect bloggers for any campaign;
Blog rating: keep tabs on blogger participation, performance, and activity.
GroupHigh Pricing
GroupHigh allows you to test it out with a 7-day free trial.
After that, you will be charged with $179/month for the basic plan.
There is no unified pricing page on GroupHigh's website, so be sure to contact the team directly to get a quote.
Why We Like It: Huge database of blogs and influencers
Favorite Feature: Influencer CRM
Ideal For: Link prospecting
Tool #20: NeverBounce
NeverBounce provides real-time email verification and cleaning services, and offers integration with over 80 different email outreach platforms and CRMs.
By regularly clearing and verifying your email lists with NeverBounce, you will be able to maintain healthy email deliverability rates.
How does NeverBounce work?
There are three main functions that NeverBounce offers.
The first one is Bulk List Cleaning and it does exactly what it sounds like. Simply upload a file with your email contacts, and the tool will work its magic using hybrid verification, mail server validation, automatically removing duplicates and emails with bad syntax, running domain health checks, and eliminating high-risk emails in real-time.
The second feature is real-time email verification. It can be applied to all of your lead pages, contact and registration forms, and any other point where you are collecting emails.
By integrating these with NeverBounce, you can make sure that all of your emails that are collected are 100% valid.
The last one of NeverBounce's features is automatic list cleaning. If you connect the tool to your email provider or CRM, your contacts will automatically be pulled and verified on a daily basis, further increasing the quality of your email lists.
NeverBounce Pricing
NeverBounce offers two pricing models:
Pay as you go: starting at $0.008 per email;
Automated clearing: starting at $10 per month.
Why We Like It: Quick and easy email verification
Favorite Feature: Automatic list clearing
Ideal For: Maintaining email list health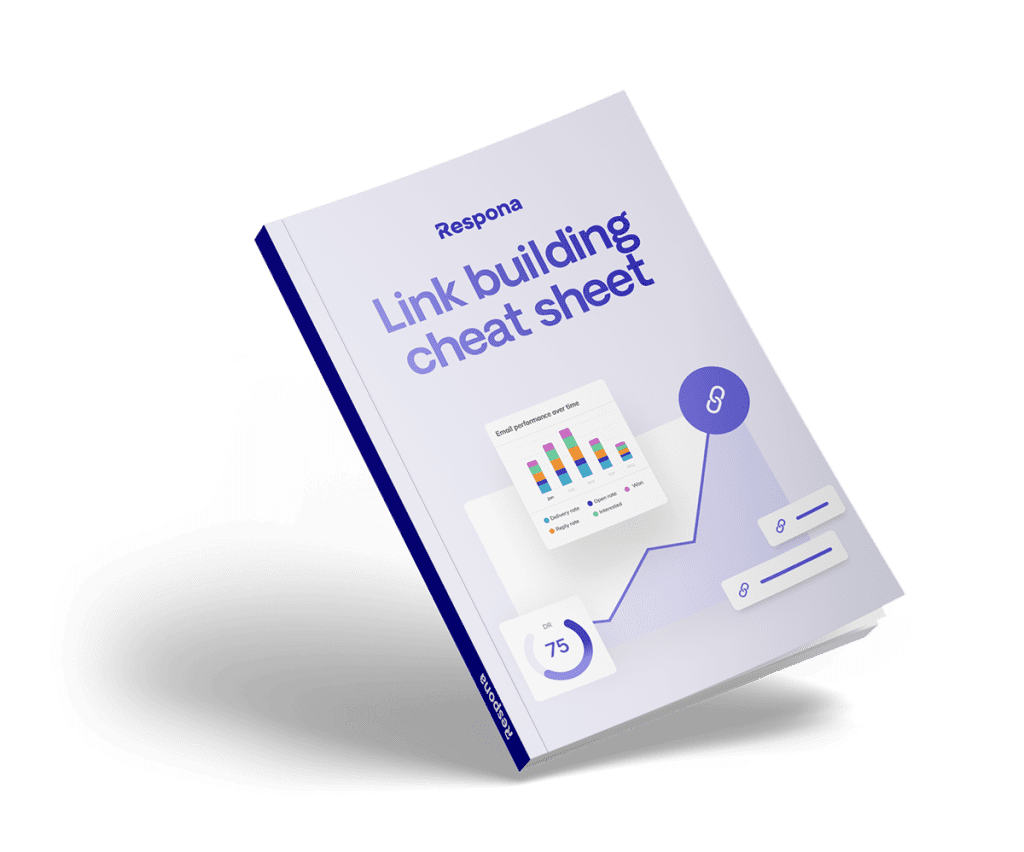 Link building cheat sheet
Gain access to the 3-step strategy we use to earn over 86 high-quality backlinks each month.
Now Over to You
By now, you've realized that there are many tools out there to help you acquire new links.
The truth is that links matter when it comes to getting your blog noticed and boosting your traffic.
This is why you need to be selective when it comes to choosing the right software.
From analyzing link data to finding the right contact information for your prospects and launching your outreach campaigns, these tools will help you master the game of building links.
Of course, aside from choosing the right tools, you'll also need a solid process when it comes to your link building strategy.
Thus, choose your stack while also keeping in mind that you need to put a process in place.