What is digital PR?
This is a question many business owners have.
Digital PR can help you improve your rankings, increase your online visibility and grow as a business.
The best part?
You can do it yourself, without having to hire a PR agency.
Here are some of the things we'll cover in this guide:
What digital PR is
What the difference is between digital and traditional PR
Why digital PR is among the best ways to increase brand awareness for any business
How you can come up with a solid digital PR strategy for your business
Let's get started.
Digital PR & How It Can Help You Grow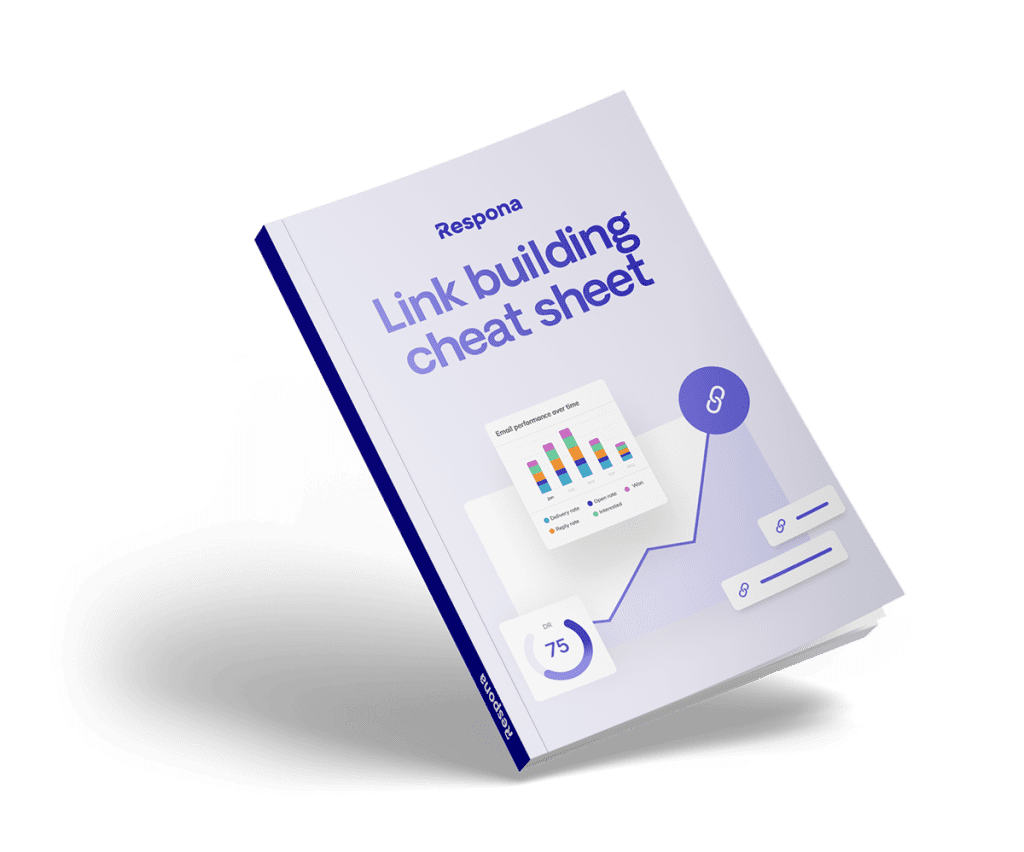 Link building cheat sheet
Gain access to the 3-step strategy we use to earn over 86 high-quality backlinks each month.
What is Digital PR?
Most people know PR stands for public relations—the act of deliberately pushing out information about your business or organization to the public.
Digital PR falls into that same practice but instead of traditional methods of sharing your information, digital PR focuses on your digital marketing strategies.
In a nutshell, digital PR helps you reach your target audience across several different platforms and build relationships with people and companies in your industry.
It can mean featuring your business on popular websites, podcasts and social media accounts with which these people and companies regularly interact.
For example, in 2019, Tim Soulo, Chief Marketing Officer at Ahrefs, did 20+ podcast interviews in less than four months.
Of course, not all emails went well for Tim, since some of the responses he got weren't as positive as he might have expected.
However, the fact that Tim reached out to those people 1-to-1 with an interesting pitch shows us two things:
Connecting with influential people in your industry matters.
Digital PR is hard and takes time, even if you're experienced in this field.
Simply put, forming relationships with other people isn't easy.
Moreover, the fact that we're oversaturated with messages and pitches of all kinds nowadays makes it even harder.
So, if Tim, a CMO of a million-dollar company (Ahrefs) got some resistance in his digital PR campaign—that had as a goal to get him as a guest on as many podcasts as possible—then you can imagine just how difficult it must be for you and me to do the same thing.
However, there are many people who really nail it when it comes to digital PR and forming relationships with other (usually influential) people online.
Just a few weeks ago, we had one of Respona's users get a mention and link from TechCrunch.
As you can imagine, getting a brand mention on a website with 9.3M organic visitors on a monthly basis—according to Ahrefs—isn't something that comes easy.
This means that digital PR works, but only if you do it right.
So, we could say that digital PR is a way to…
Raise awareness for your business,
Build relationships with thought experts and influencers,
Get brand mentions and links from high-authority websites,
Get featured on podcasts and shows with an audience relevant to yours.
Generate leads by getting media coverage in front of your target audience
Of course, a good digital PR campaign has other, indirect benefits as well that we'll cover later on in this guide.
Before diving into the benefits that it can have for your business though, let's discuss the difference between digital PR tactics and traditional PR.
Digital PR vs Traditional PR
There are many similarities between the two terms because digital PR is an evolved form of traditional PR.
How did it all start?
Let me take you back to the 1920s, when a young man initiated what people would later call "public relations".
Edward Bernays is one of the most influential names in the PR industry.
He gained special attention for his early efforts to define and theorize the field of public relations and was even called "the father of PR" in his obituary.
(He was also Sigmund Freud's nephew, which played a role in his understanding of human psychology.)
Some of his most notable PR campaigns were "Torches of Freedom", which promoted female smoking, and his work with The United Fruit Company, which was connected to the overthrow of the democratically elected Guatemalan government (orchestrated by the CIA).
Through these historic campaigns, Bernays was able to influence millions of people across several different countries and establish the foundation of public relations.
Traditional PR revolves around the relationships between publicists and online journalists.
When traditional PR strategies first came around, publicists would have to put in a lot of work to network with journalists over the phone or through business dinners.
They put forth this effort in the hopes of getting their clients featured in newspapers or print publications.
As the readership of traditional print publications like newspapers declined and became less impactful, this increased the influence that online publications like press releases had.
With the rise of the internet, Bernay's work and legacy moved from traditional PR roles into the digital era, and his mark on PR has been solidified by the generations of public relations practitioners that came after him.
This is why, according to Google Trends, the interest in digital PR vs traditional has been growing steadily since 2004.
With this digital transformation, digital PR now focuses on online publications and improving your brand's awareness within digital content rather than print media mentions.
While traditional PR focuses on things like getting a person/product featured on a TV show for a few seconds or even minutes, digital PR focuses on getting a person or company featured in high quality articles, podcasts, digital summits, online press releases, or similar.
Thus, as you can see, the medium has changed but the purpose behind those actions remains the same.
It can be highly beneficial to get featured in major target publications like TechCrunch, as we mentioned earlier.
Some of the benefits of large publication media coverage are:
Improved brand visibility and reputation
Facilitating user acquisition
Gaining investor or partner interest
Attracting more talent
Passively generate leads
Of course, nowadays, there are digital PR agencies that can help you with all these things.
However, in most cases, digital PR agencies charge a lot of money, which means you should be learning how to build those relationships and get more exposure for your business by yourself.
Now that you know the difference between digital and traditional PR, let's examine even more benefits that come from digital public relations.
What are the Benefits of a Digital PR Campaign?
There are many ways digital PR can benefit your business.
One of the most important things to do is set goals for your digital PR campaign so you can analyze its key metrics later on. By tracking your own KPIs, you have the ability to determine what channels or types of content make the most impact.
These KPIs could be a number of things like shares on social media channels and high authority sites, organic traffic, media mentions, online reviews, or anything else that indicates improved visibility.
Let's break down some of the main benefits of digital PR for your business:
1) Improve your SEO
Search engines like Google place importance on several different areas of your website.
According to this survey by Sparktoro, 1,584 SEO professionals believe these are some of the most heavily-weighted ranking factors in Google's organic search engine results pages:
Relevancy of the overall page content
High quality backlinks
Use of relevant target keywords through keyword research
Domain authority
Mobile optimization
Organic and referral traffic
So, it is evident that most technical SEO professionals believe that high quality backlinks matter when it comes to rankings.
One of the most obvious benefits of digital PR is link acquisition.
Think about it:
When you partner up with high authority websites or individuals, they will most likely link back to your site.
This will help you boost your Domain Authority (or Domain Ranking, according to Ahrefs) and get higher rankings.
Of course, there are many other factors involved—such as having high-quality content published on your website—but that applies to almost all cases.
Building links for your website—as a by-product of building relationships online—will help you improve your search visibility and grow your organic traffic.
According to a study on 1 billion web pages by Ahrefs, 90.63% of content online doesn't get any website traffic.
That's pretty disappointing, right?
One of the reasons why that happens—according to the study—is because most of the content online doesn't get any links.
In fact, Ahrefs found out that 66.31% of all pages online don't get any links whatsoever.
According to the same study, there is a high correlation between the number of links a page gets and the amount of organic search traffic it receives.
This means that as the number of referring domains grows, so does the organic visibility and search results traffic that the company's website receives.
Even though that's a correlation study—and, correlation doesn't prove causation—we can clearly see the positive impact of links on organic traffic.
Now, let's consider this:
The total yearly searches on Google have increased every year since it was founded in 1998, and there are over 3.5 billion searches on any given day.
This means that Google is growing steadily.
If your website is one of the first things to show up on the search engine, it can translate to thousands of new people coming to your business.
Good-quality links and original content creation will increase your search rankings and help you gain more exposure online.
The best tool for monitoring your website's performance and traffic grow is Google Analytics, and it's free.
Note: For even more information on search engine optimization tactics, check out our blog post on SEO.
This is of course one of the most important benefits of digital PR for businesses.
Let's move on to the next one.
2) Connect with other bloggers and influencers in your niche
Many of the top bloggers or digital influencers are well connected to others in their industry.
Of course, they had to do a lot of hard work to build that network and credibility.
If you can connect with them and utilize their community, it takes some of the work off your plate.
Digital PR is all about building relationships.
Making connections with other bloggers or influencers in your niche allows you to:
Form mutually beneficial relationships.
Generate more awareness for your own blog.
Establish credibility for your brand image and products/services (via a recommendation from an influential blogger in the space).
Grow your audience.
Build your brand.
But how do you find these bloggers or influencers?
Respona has the tools to help you find influential authors, personalize the emails you send to them and analyze the pitch quality of those emails.
Through Respona's content-based campaigns, you can find relevant content in a simple search engine format.
You can search for a keyword, topic, or domain and then filter your results by location and language.
Respona also displays the Domain Rating and Ahrefs rank of each content piece.
Tip: Check out our guide on how to get your blog noticed to learn how to approach and connect with other bloggers utilize influencer marketing in your niche.
Using a tool like Respona, you can find and connect with popular bloggers and influencers.
This way, you can get in front of new audiences and raise awareness for your business.
Let's move on to the next benefit of digital PR for your business.
3) Improve your backlink profile
This is not as simple as just asking a company to include your link on a client's website.
You have to be able to pitch the value that their audience will gain by incorporating you into their brand.
This is one of the most common misconceptions when it comes to content marketing—that most content pieces pitched have no value whatsoever.
Let's take Visme—a free infographic software and presentation maker—as an example.
Visme is a website that gets more than 1.1M organic visits per month according to Ahrefs.
If you check the "Best by links" report on Ahrefs, you'll notice that some of Visme's top pages have hundreds of links pointing back to them.
One of those pages, "infographic templates", has links from 39 different domains.
Visit, and you'll see that this is a well-designed page that has actual value for the visitor.
So, if hypothetically you were to promote this page, your job would be quite easy because this is a resource that is actually worth linking back to.
The point I'm trying to make here is that you can't expect link building to work if you don't have high-quality content to back it up.
You have to provide valuable resources and a creative or informative piece of content that provides a legitimate reason for the journalist to link back to it.
Take into consideration the following when trying to improve your backlink profile:
Which page the link goes to on your site. (Ideal places are either landing pages or products/service pages.)
How far down the text your link is mentioned online. (How deep in the page.)
The text that's attributed before or after your link. (The anchor text that's used.)
The Domain Authority (DA) of the website that's linking back to you.
You can use tools like the Ahrefs site explorer to make sure you're reaching out to valuable sites that will build a quality backlink profile.
Simply enter the domain of the site you are interested in and you can instantly see Ahrefs rank, the number of backlinks and referring domains, the total number of organic keywords, monthly search results traffic, and the value of that traffic.
Tip: Try to avoid using solely branded anchor texts, as that may raise a red flag in the eyes of Google.
Of course, the way you're going to evaluate those opportunities varies based on your goals.
If, for example, you're interested solely in increasing your domain authority, then you should go for as many links with high authority as you can.
On the other hand, if you're also interested in acquiring traffic from those links, then the traffic that the websites/pages you're interested in getting a link from will also affect your decision.
In any case, be very specific as to what you want to achieve, since link building is a benefit with many sub-benefits of its own.
Let's continue exploring how digital PR benefits businesses and see how it can help you improve brand identity campaigns for your business.
4) Raise brand awareness for your product/service
Raising brand awareness for your business is not something that will happen overnight.
There are no quick advertisement schemes or online marketing campaigns that make this happen.
Instead, it's something that is built over time and through the relationships you foster.
Drift is a great example of how to showcase and highlight the value of your brand and raise awareness for your product.
They showcase the product by placing easy-to-digest screenshots on the page with reassuring messages like "Absolutely no coding required!", emphasizing how this can be completed in seconds.
They also do a great job of highlighting the value of their brand by subtly placing logos of other major companies they've worked with below their main call to action.
This doesn't distract the customer from their journey but shows they are a reputable brand.
As you can imagine, all this didn't happen overnight.
Drift invested heavily into building relationships and getting the message about "conversational marketing" out there.
How?
Other than traditional digital marketing strategies, Drift has also used digital PR strategies as a way to raise awareness about its product and the new wave that they called "conversational marketing".
Drift's Co-founder and CEO is serial entrepreneur David Cancel.
Here's what I got when I searched for "david cancel + interview" on Google:
From podcast appearances on Eric Siu's Growth Everywhere show to TechCrunch features and NY Times interviews, Drift's CEO promotes the company he has co-founded and tries to raise awareness for Drift.
As you can imagine, digital PR helps a lot here.
People nowadays rely heavily on others' opinions, which is why these interviews can make it or break it for a company.
When you get to hear about a product from a podcast or show you like, you're more likely to be positively biased toward that product.
Thus, you can now understand why a digital PR campaign can also help in building awareness for your product or service.
Respona can make the process of getting on people's podcasts a lot easier.
5) Grow your online presence
This might be an obvious one, but one of the most beneficial things that can happen as a result of successful digital PR campaigns is seeing your online presence grow as you reach new audiences.
Even if people don't use your service or product right away, it's great to maintain your familiarity as a brand and establish trust so that they can consider you in the future.
Just think about it.
Someone is reading blog posts or press releases on a popular publication and they see your brand name, just like Respona's mention on OpenView blog:
Over time, when readers of that blog post need a pr outreach tool for their business, they will remember our tool and be more comfortable because there's already some familiarity there.
Once you can get customers to associate you as a brand that informs, educates and adds brand value, you can start building the relationship by engaging your audience.
After you've engaged with them, reinforce the sense of a one-on-one relationship that gives your organization a human touch to which consumers respond positively.
So, you now know what digital PR is and what main benefits it can have for your business.
Let's close this article with some final thoughts.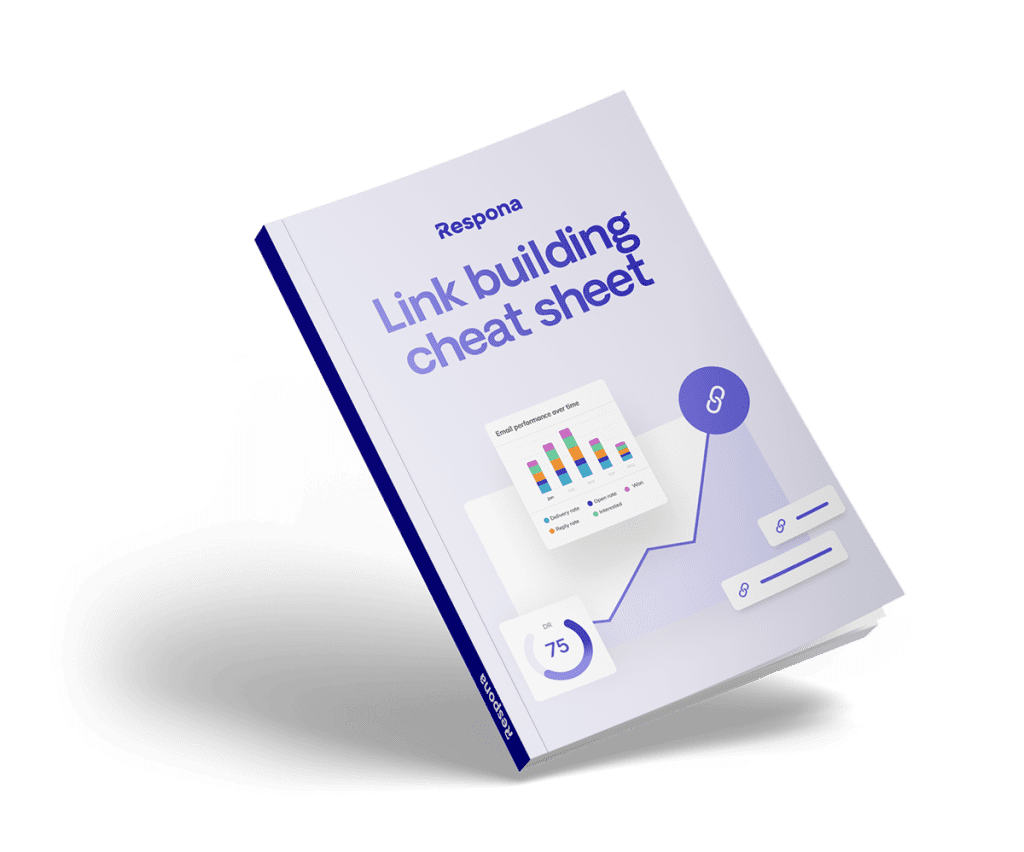 Link building cheat sheet
Gain access to the 3-step strategy we use to earn over 86 high-quality backlinks each month.
Wrapping Up
A digital PR campaign can help your business grow.
As you can see, there are many direct and indirect effects when it comes to digital PR.
It can help you…
Increase your website traffic
Reach your target customers
Earn credibility in your niche
Increase your search engine visibility
Improve your brand equity
Get more leads to your door
However, before you start working on a digital PR campaign, it's important that you clearly define objectives for your digital marketing strategy and set clear goals.
As mentioned previously, even though there are many trustworthy PR services, most of them cost a lot of money.
This is why it's always better to learn how to do it yourself.