What are Linking Domains?
Linking, or referring domains are unique websites that have one or more hyperlinks pointing to your website.
Referring domains are oftentimes confused with referring pages.
Referring pages vs Referring Domains
As the name suggests, a "referring page" is a term describing a particular page that is linking to you.
Referring domains, on the other hand, are entire websites.
Typically, a website has a much greater number of referring pages than referring domains since it's not unusual for a website to link to another resource multiple times.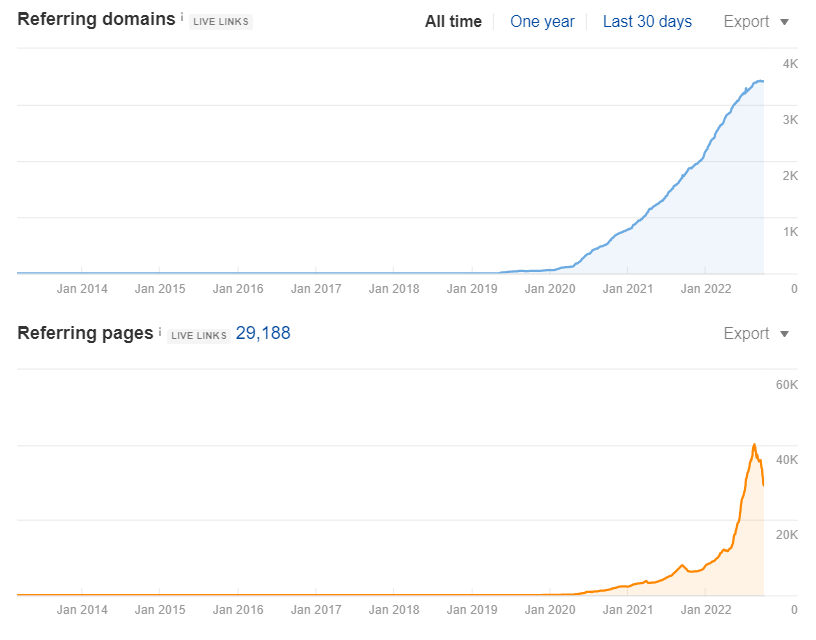 For example, our own site has around 35,000 referring pages as of the time of writing this article.
However, only about 3,500 of those pages are from unique referring domains.
So, which ones are more important for your link building strategy?
As a good rule of thumb, it's better to focus on acquiring links from new domains rather than the same few websites over and over again.
This is because having a more diverse link profile sets you as a more trustworthy resources in the eyes of Google's algorithm, because more total websites have chosen to link to your content.
As long as you're not participating in link schemes, of course.
However, this rule isn't exactly set in stone.
One important factor that you should consider is the quality of your linking domain.
For example, it's better to have two links from a single website with a Domain Rating of 91 than five links from unique DR 30 domains.
We'll look more into what makes a good referring domain further down in the article, but for now, let's clear up why acquiring unique referring domains (and building links in general) is such an integral part of any successful SEO Strategy.
Why are Linking/Referring Domains Important?
In order to understand what makes links from unique referring domains so important, you need to understand how exactly Google's algorithm works.
Well, part of it, at least.
One of the core pieces of the Google algorithm is PageRank.
It was created at the very inception of Google.
In its most basic form, PageRank is a numerical value that a page gets assigned depending on how many incoming links it has, as well as PageRank of the linking pages.
The higher that value, the higher the page will show up in search results.
In 2022, Google's algorithm has undergone hundreds of changes, and nobody except for Google really knows how it works.
However, a version of PageRank is still being used for calculating website rankings to this day.
What Makes a Good Linking Domain?
Now, not all linking domains are created equal, and backlinks from some are considerably more useful in terms of SEO.
Let's take a look at five characteristics of a great referring domain.
Relevance
First of all, the link needs to make sense for the user to follow.
For example, a link from an SEO agency's blog post to an in-depth guide on why backlinks are important makes perfect sense.
However, a link from the same SEO agency to an online store of dog leashes isn't as desirable.
Google knows when links are relevant or not, and so backlinks from related resources within the same niche have a heavier weight in terms of "link juice".
Age
The age of your linking domain matters a lot.
Simply put, older and more authoritative websites that have already had the time to establish themselves in their niche are more valuable link building targets than, say, blogs that were started only a couple of months ago.
A lot of this comes down to the fact that the website in question has acquired numerous referring domains itself, and built up its authority, which is our next point.
Domain Rating/ Authority
Domain Rating and Domain Authority are two third-party metrics, developed by Ahrefs and Moz respectively.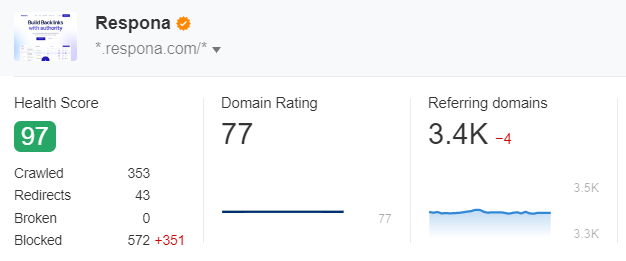 They have essentially the same function – to estimate the authoritativeness of a certain domain within its niche.
The biggest factor that affects DR/DA is the number and quality of inbound links and referring domains.
Despite being very similar in function, the exact DR and DA scores that Ahrefs and Moz will show you are different.
Ahrefs' DR tends to be much higher than Moz's DA.
The most valuable backlinks come from websites with DR 70+, or DA 30+.
They pass more PageRank than anything below DR 50 or DA 20 by orders of magnitude.
Note that both DR and DA are third-party metrics and not officially recognized by Google.
Domain Traffic
However, what is recognized by Google is the factual amount of traffic a domain receives.
Naturally, the more people visit a site, the more will eventually click on your link, but this number is also taken into account when determining the value of any given link.
Uniqueness
As we already mentioned, a link from a new, high-quality domain is much more valuable than one from a website that has already been linked to you in the past.
So, to sum it up, a great referring domain is one that has never linked to you before, is topically relevant to your website, has been online for a long time, and was able to generate a lot of backlinks itself, raising it's Domain Rating/Domain Authority Score, and generate a substantial amount of traffic along the way.
Referring Domains Example
The following example is an Ahrefs search of our own linking domains: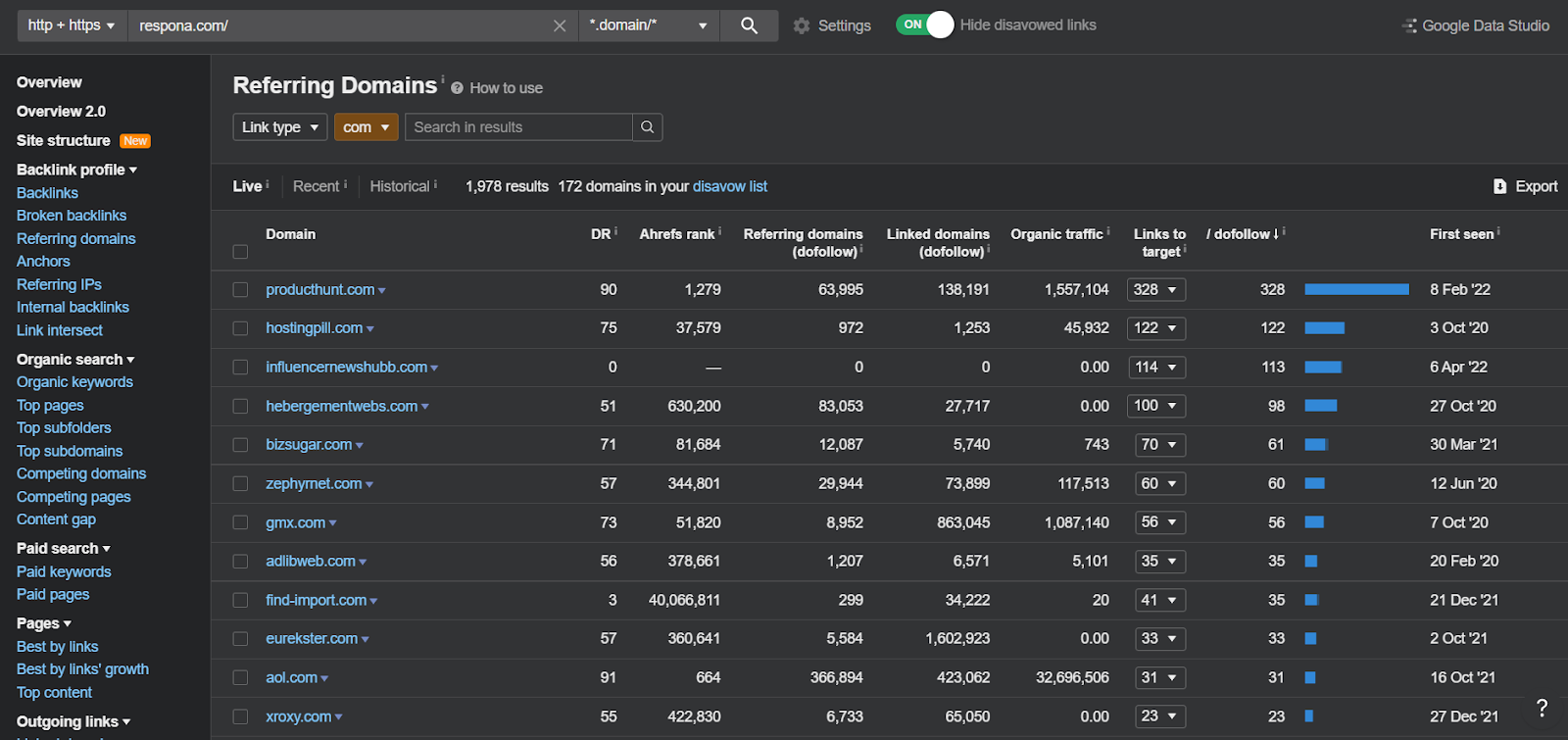 How to Get Linking Domains?
There are many ways to generate backlinks.
However, some may be considered spammy, or downright in violation of Google's Webmaster Guidelines.
These types of links are considered to be link schemes – we have a whole separate article about them if you would like to learn more.
In 2022, the only legitimate way to build backlinks is by creating high-quality, informative, link-worthy content that provides actual value to your audience, and then promoting it to other websites through email outreach.
This is the Google-approved way of acquiring new referring domains, according to John Mueller, Google's own Webmaster Trends Analyst.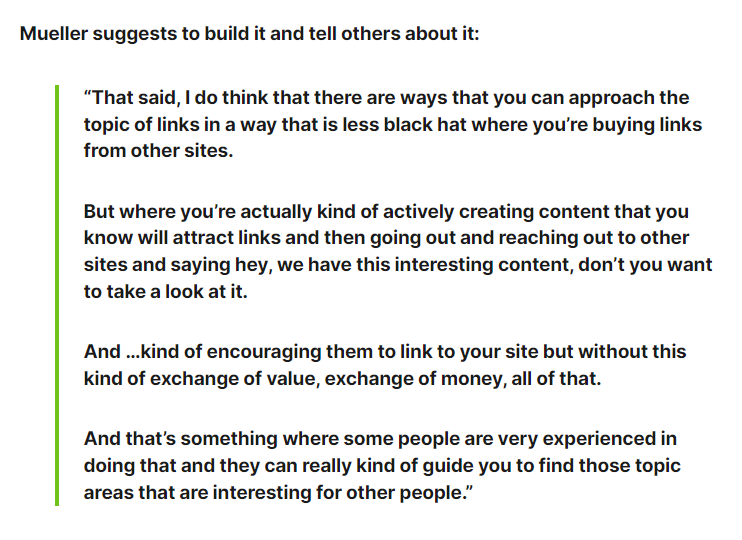 Our own software, Respona has been created with the main purpose of helping link builders streamline the whole process of acquiring backlinks.
We have plenty of content around specific link building strategies, so feel free to refer to any of these guides to learn more about these popular tactics:
In this section, we will only briefly run through how exactly Respona can help you acquire backlinks from new referring domains.
Prospecting
The first step of any link building campaign is to find prospects, or opportunities in other words.
Respona can help you with that in a variety of ways and features 3 automated search modes.
The first one is Keyword Search – which is essentially just a Google search.
You can do it manually and pick link building prospects by hand, or choose the automated mode and run several search queries at the same time and pull opportunities directly into your campaign.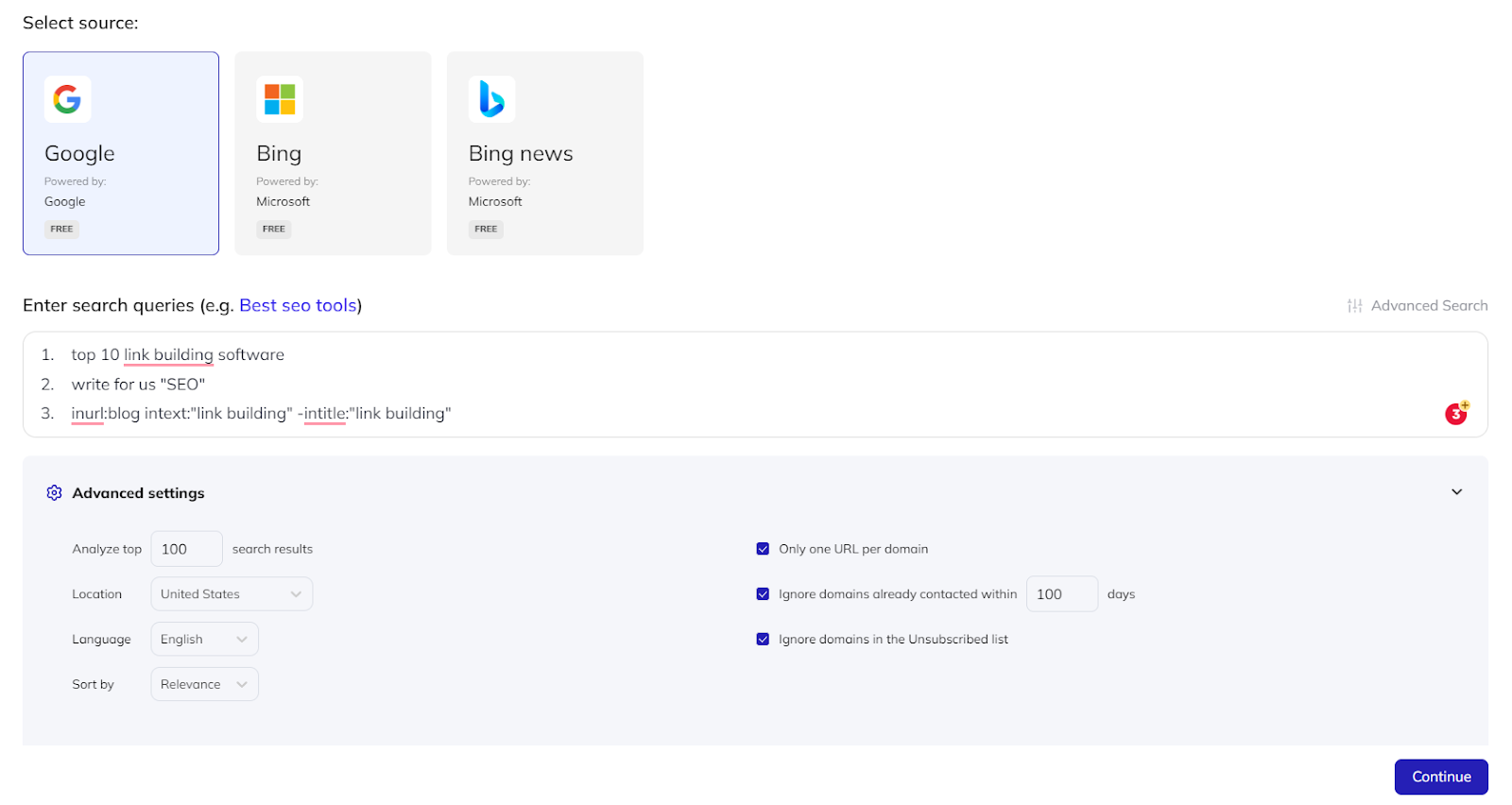 This search mode is useful for anchor text link building, guest posting, or any other link building tactic that involves finding websites that mention your specific keywords.
The second search mode is the backlink search – primarily used for Competitor Backlinks campaigns.

Respona comes directly integrated with Ahrefs and allows you to pull backlinks pointing to your competing content and add the URLs directly to your outreach campaigns.
The third search mode is for podcast outreach, so we'll skip it in this article.
Every search mode also has the "Only one link per domain" safety function enabled by default, so you will be able to effortlessly generate long lists of unique referring domains to reach out to.
Preparing Your Sequence
Once you have a list of prospects, you will need to select or write your own email template.
Respona comes with a number of built-in email sequence templates, and allows you to create custom ones that will also be easier to personalize down the line with the help of variables like @url_title and @first_name that automatically populate for each opportunity in your campaign.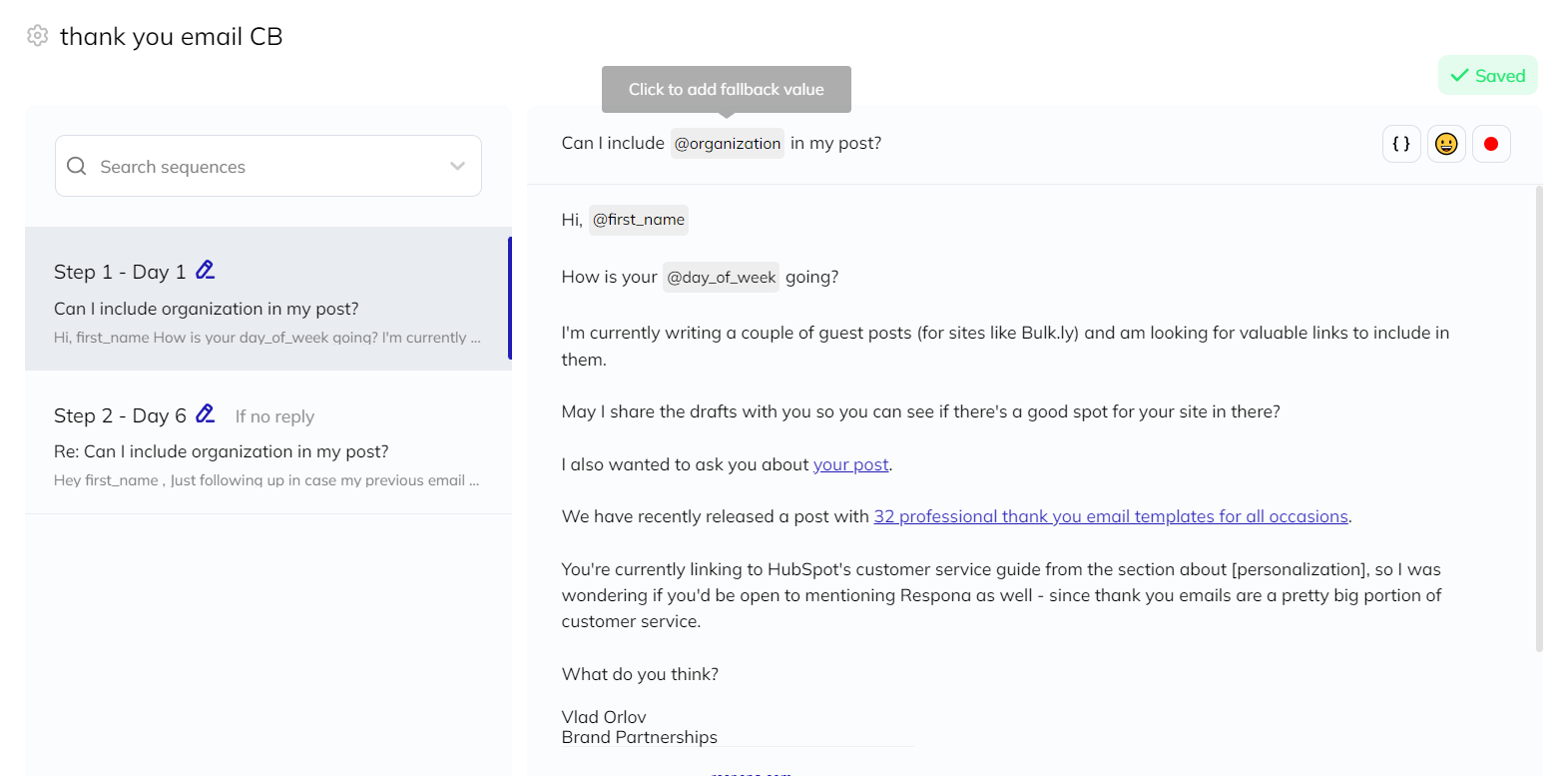 It even quickly assesses your pitch to estimate your chances of getting a response depending only on your subject and email body length, spam word count, and question count.
Finding Contact Information
If you don't have any actual emails to reach out to, your prospect list is incomplete.
Respona's contact finding algorithm consolidates data from 24 different sources to accurately find and verify emails in real-time.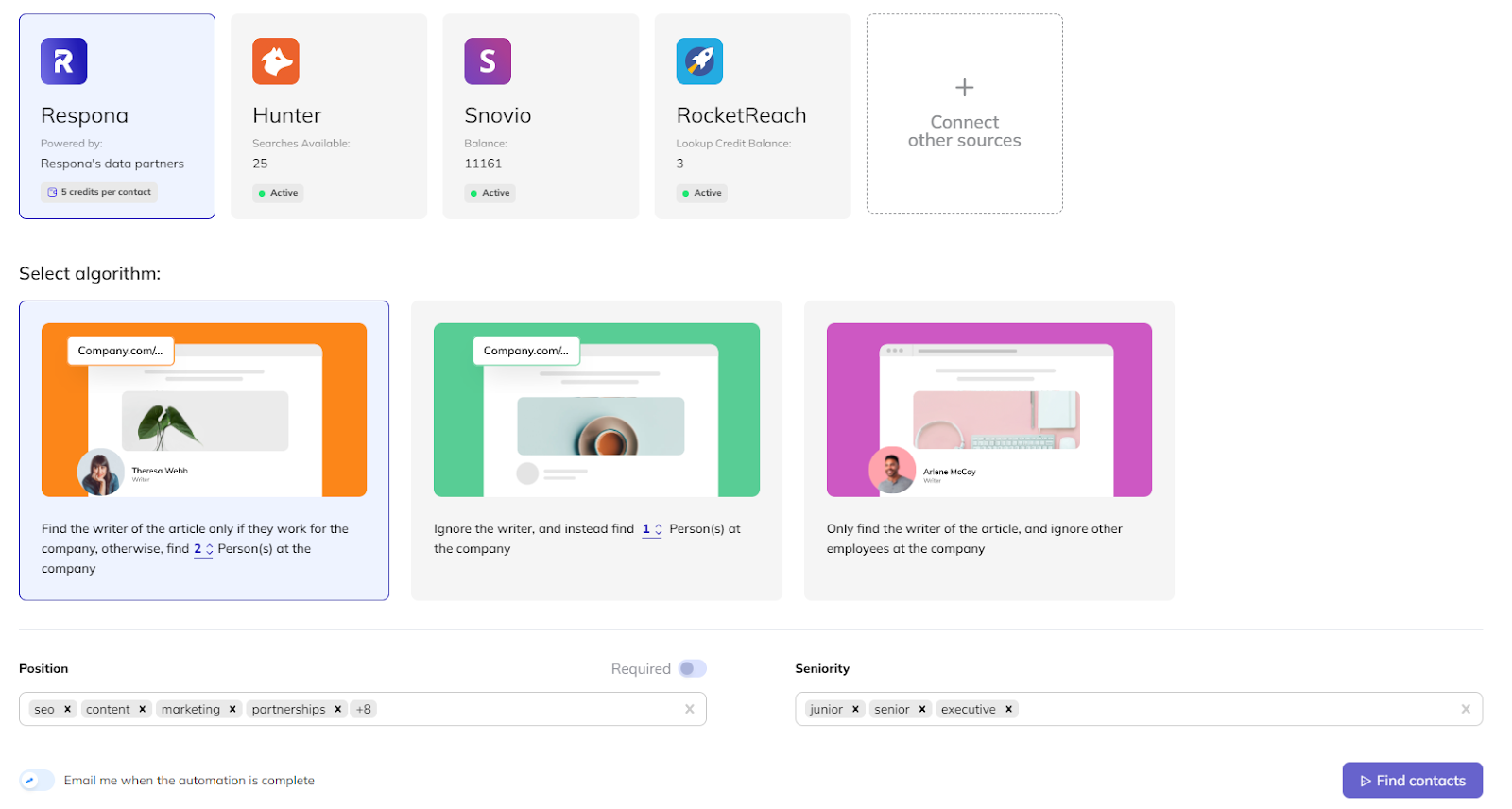 It enables you to specify exactly which employees you are looking for within a company (content manager, SEO, etc.), their seniority, and how many persons to assign to one URL.
If you have a different contact finder tool (like Hunter, Snov.io, or RocketReach), you can also connect it and use it as a source for your contact automations.
All of the searching is done in the cloud, so while the automation is taking place, you can close the tab and do something else, or start another link building campaign.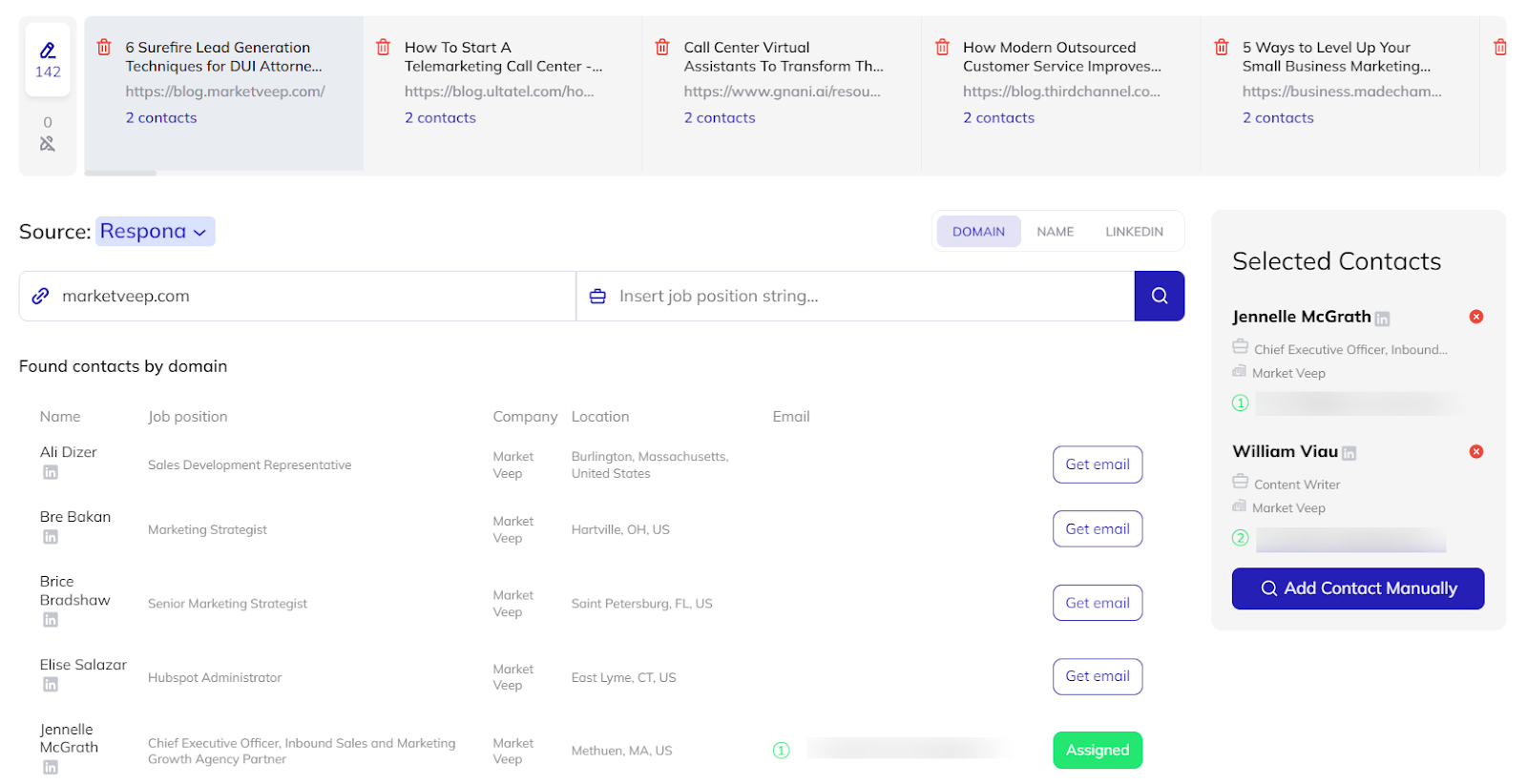 Once the contact search automation is done, you can review its results, or even assign additional contacts to URLs.
You also have the option of running a manual search by job position, domain, name, or LinkedIn URL.
Personalizing and Launching
The last stage of your link building campaign is to personalize each pitch.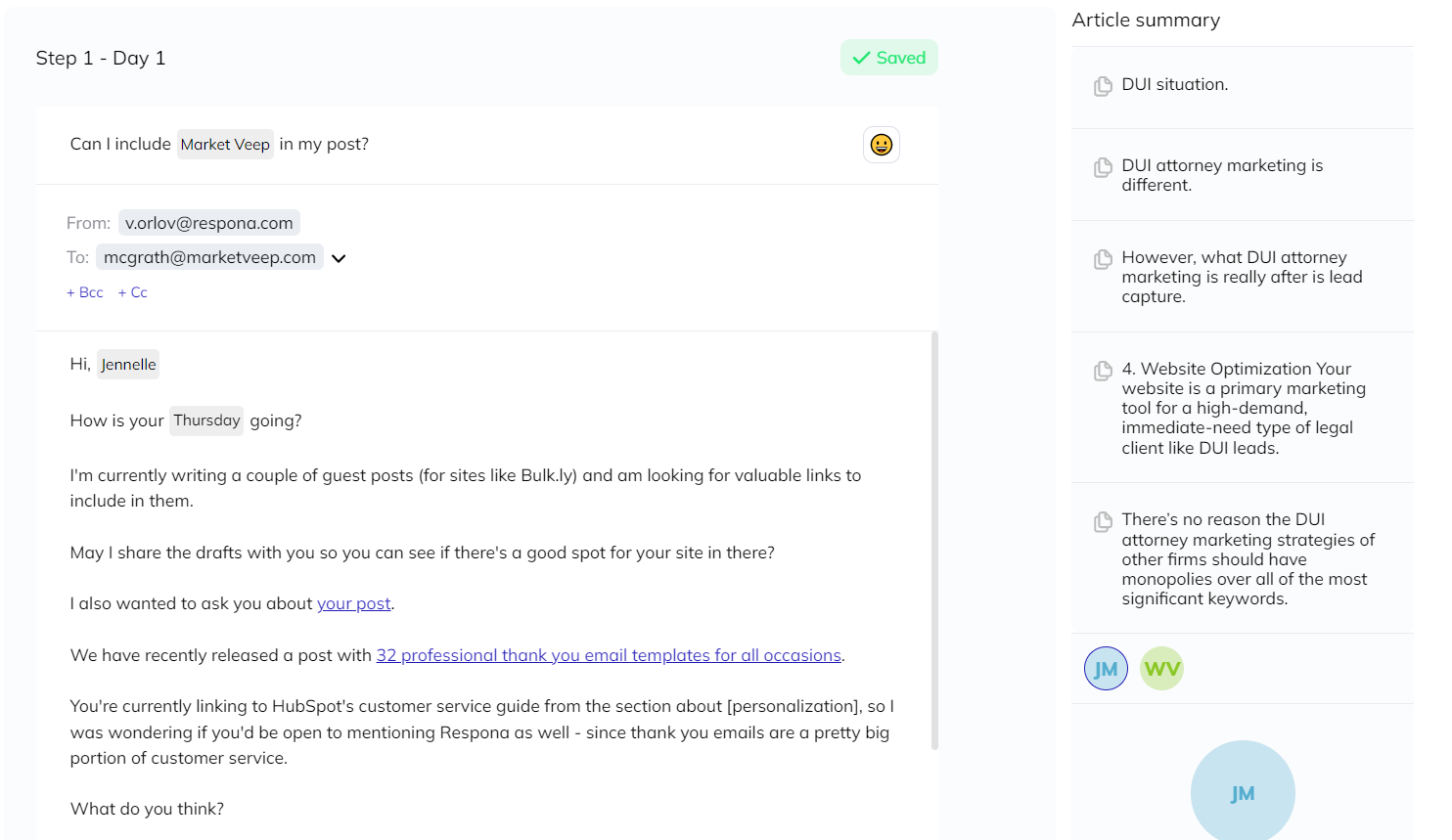 Here, Respona will automatically populate any variables you have inserted in your sequence.
For even further automated personalization options, it also pulls five snippets out of your target article, allowing you to simply copy and paste something directly into your pitch, giving your recipient the impression that you actually read their article.
Bottom Line
So, to sum it up:
Links from unique referring domains are usually more valuable than several links from the same domain, good referring domains are ones with a lot of traffic and a high DR/DA score, and the best strategy to secure new referring domains is to create high-quality content and promote it through email outreach.