As a marketer or business owner, you've probably wondered what people are saying about your business online.
Tracking the mentions of your brand is something very important so you can maintain a healthy reputation, yet it's not always an easy thing to do.
There are lots of factors to take into consideration and we suggest integrating them into your digital marketing efforts.
To help you out, we've created the following guide, where you'll learn:
What brand mentions are
What the benefits of brand mentions are
How to track your brand mentions
Plus, some examples that'll give you a better understanding of how to maintain a healthy online presence.
We've got lots to cover, so let's get started.
What Are Brand Mentions And Their Benefits?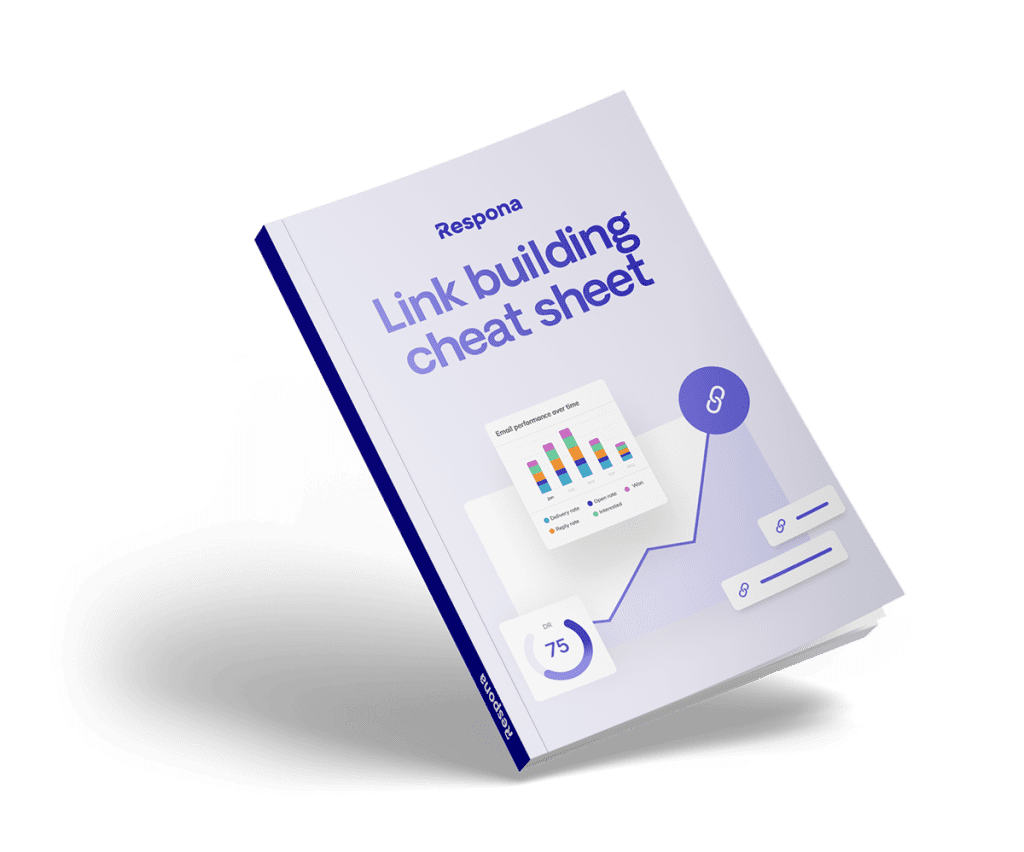 Link building cheat sheet
Gain access to the 3-step strategy we use to earn over 86 high-quality backlinks each month.
What Are Brand Mentions?
Brand mentions are online references to your company or product from a range of different sources.
Those mentions usually come from places such as:
Social media posts
Blog posts
Review sites
Videos
Podcasts
Or any other content format that might be used to mention you.
It's worth noting that text-based content is easier to monitor than audio or visual sources.
Due to this, many companies don't focus enough on these other sources and miss out on 88% of valuable brand insights.
After all, monitoring every piece of content out there that mentions you seems almost impossible.
However, you can always concentrate your efforts in places like social networks and news sites, which are more prominent.
For instance, subscription-based fitness marketplace ClassPass was recently featured on Techcrunch: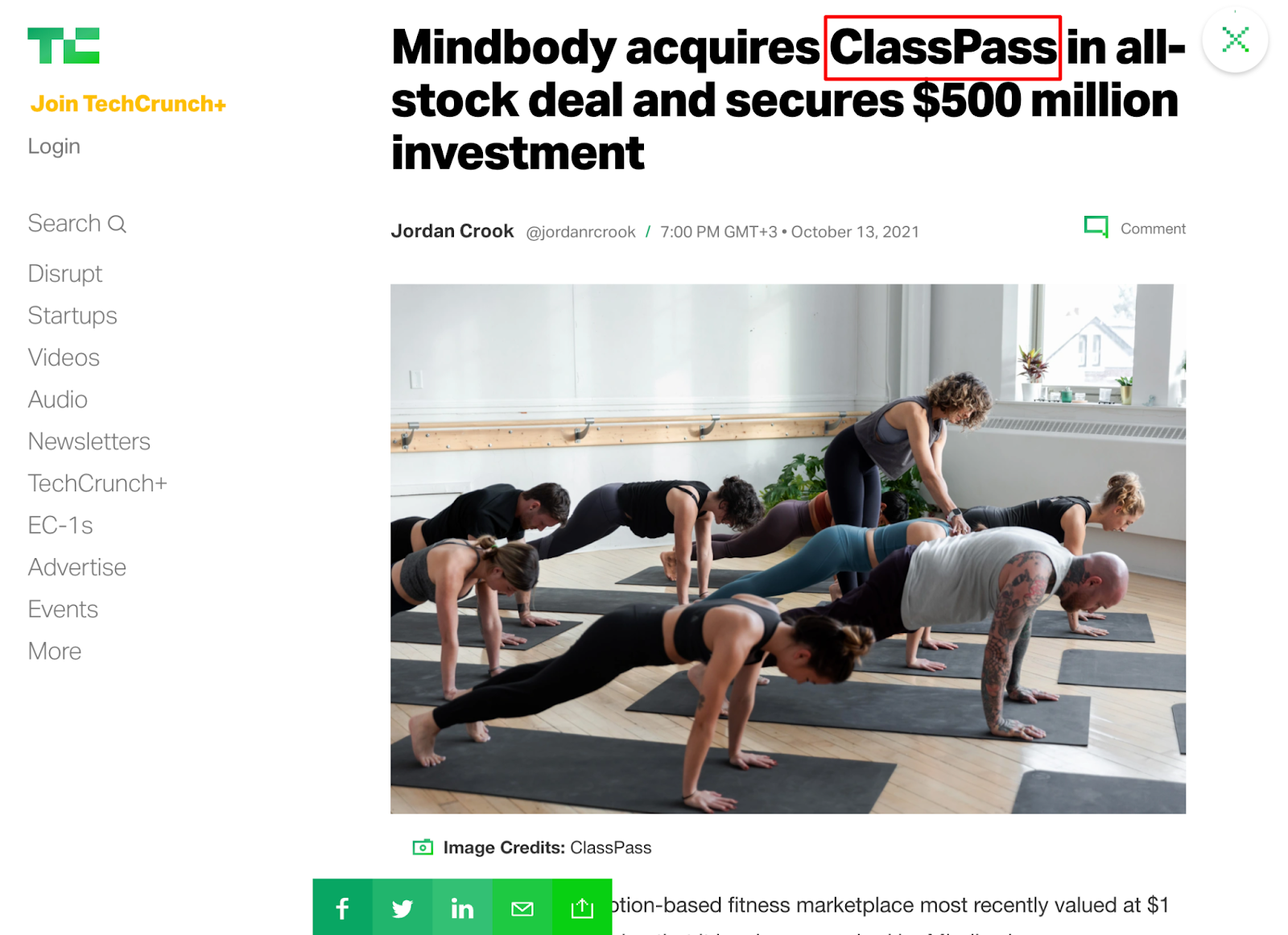 This helped it gain a lot of awareness and enhanced its brand reputation.
It was also featured on its Twitter: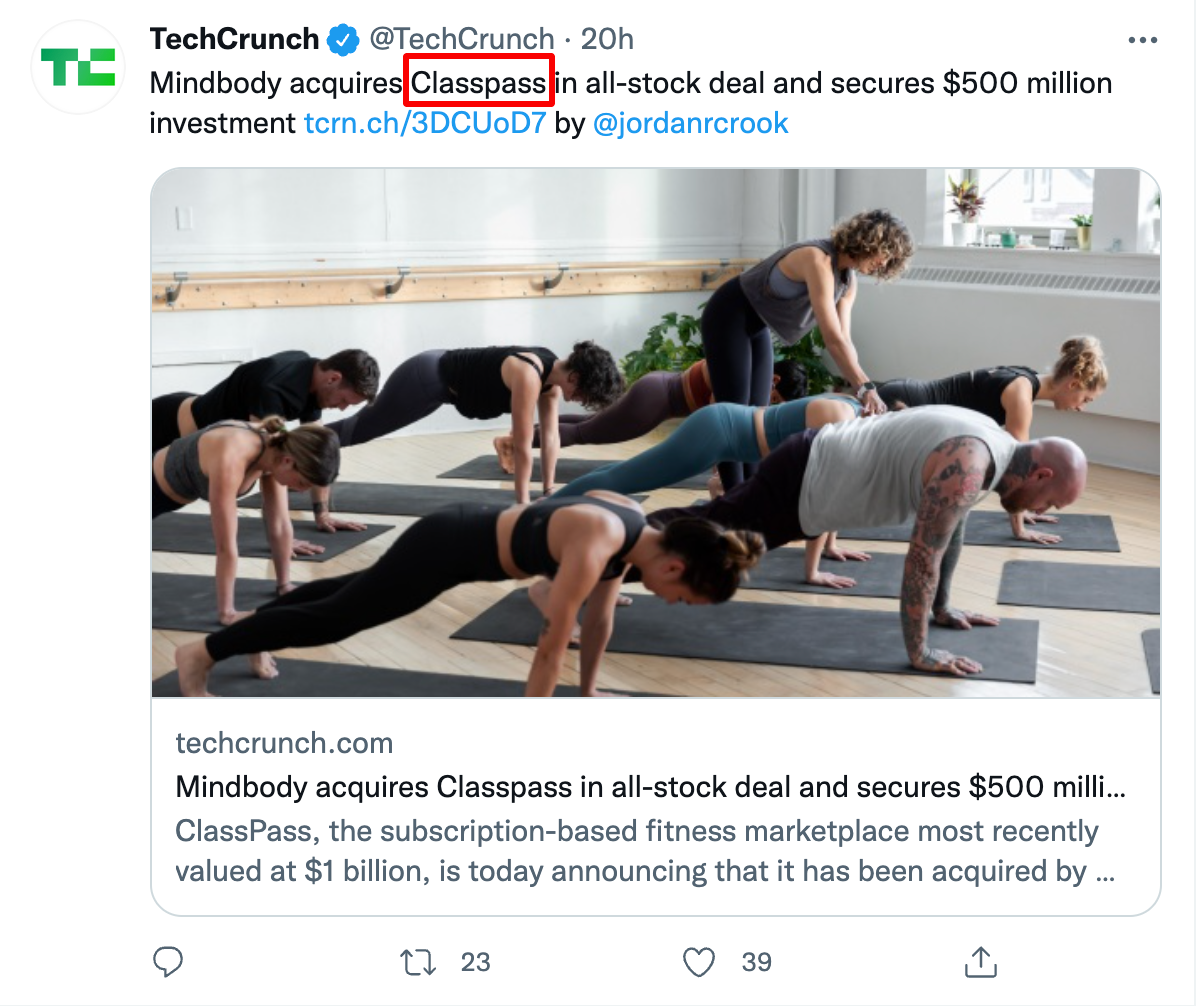 This gives us a great example of what's called a social mention.
Mentions on social media platforms are a very common phenomenon, which is why brands often use social listening tools such as Hootsuite, Mentionlytics, Awario, and Semrush to track them.
With 72.3% of Americans using social media on a monthly basis, companies need to elevate their digital PR in order to protect their reputation and brand name at all costs.
Imagine receiving a social mention with negative sentiment from a person with a large following.
You'd want to respond and save your brand's reputation as soon as possible, right?
Otherwise, there's the risk of a potential PR crisis that could snowball into a disaster, even if the negative mention is a simple misunderstanding.
Look at the following example about task management tool, Asana: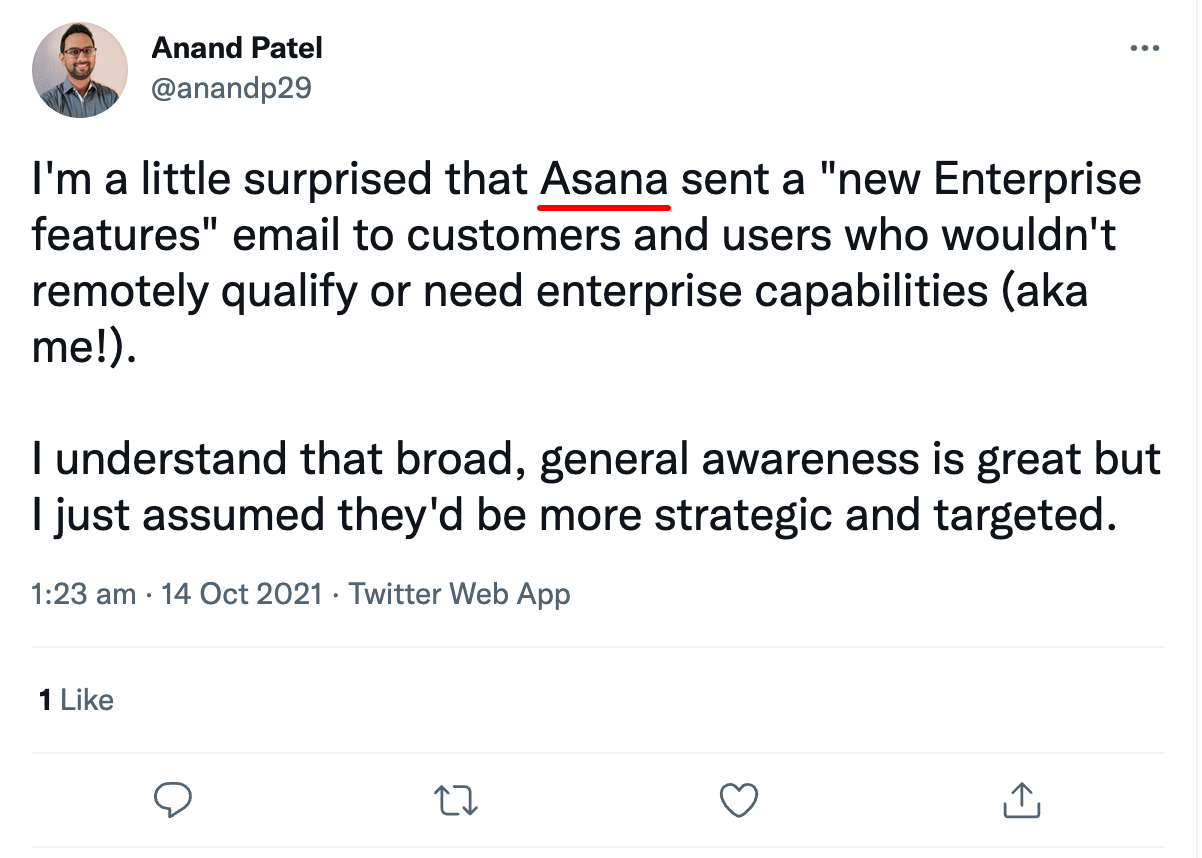 While it's not so serious as to cause a problem for the company's prestige, it's still something that could harm its image to a certain extent.
Another reason why companies need brand monitoring tools is to provide better customer service to their audience.
Often, users turn to social media as a way to communicate their issues with a company, so members of your team must be there to answer their questions.
Here's another example for Asana: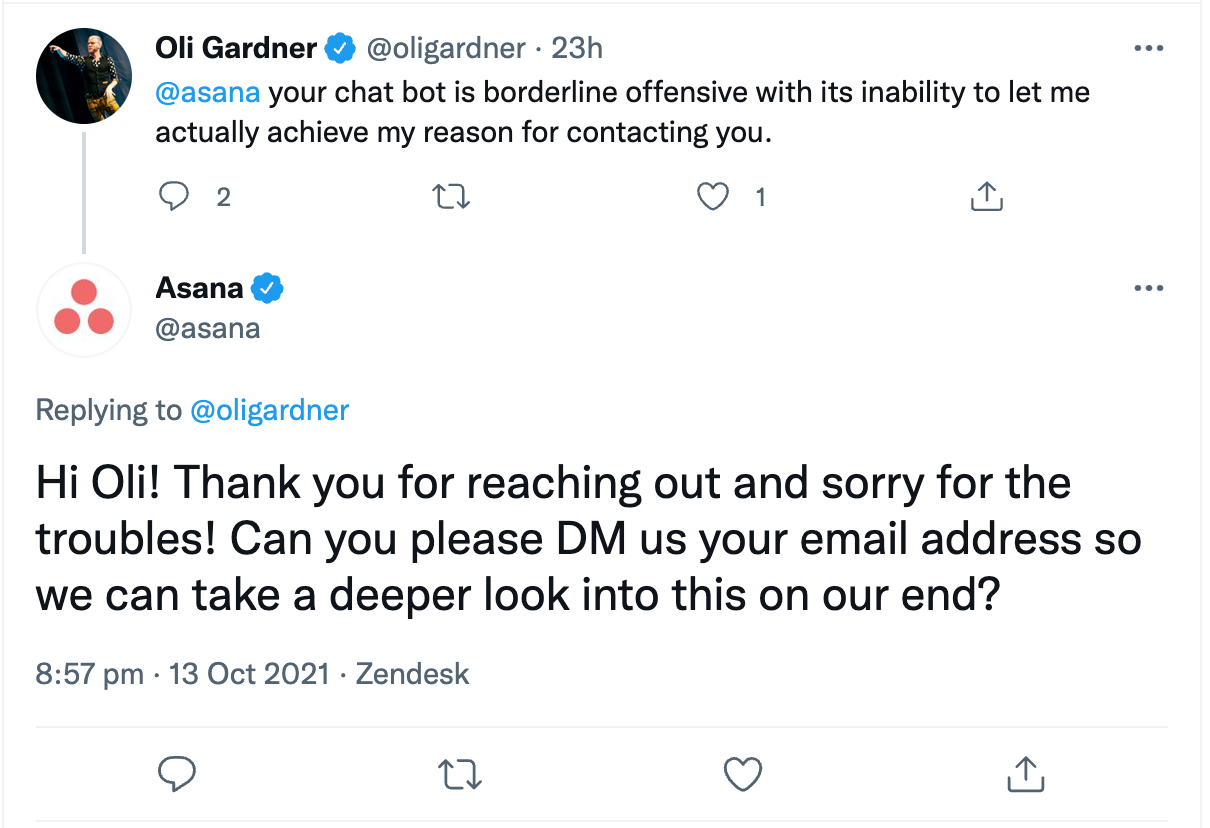 Fortunately, the company reached out to the user who was facing this problem.
If the message had been ignored, it could have potentially harmed the company's reputation, especially since feedback is from a well-known person who's respected in their field.
In this case, the Tweet was from Oli Gardner, the co-founder of Unbounce, a very popular landing page creation tool.
Those are a few reasons why big and small businesses should invest in reputation management one way or another, whether it comes to social mentions or brand mentions in general.
Let's have a look at some examples of companies receiving a great deal of mentions online.
What are some examples of brands with a lot of mentions?
As you can imagine, the higher the awareness a brand has, the more attention it receives.
Since that attention is usually in the form of brand mentions, they should always be monitored.
Let's take our own website, Respona, as an example of a case that receives a lot of mentions.
How do we find these references?
One way is to use an advanced search operator such as:
intext:respona AND -site:respona.com AND -site:facebook.com AND -site:youtube.com AND -site:linkedin.com AND -site:twitter.com
The operator intext:respona will show us results containing respona on the websites of our choice.
These are defined by the operator site: [website name].
By inputting this into Google search, we get presented with all the search results mentioning our brand.
Let's have a look at those search engine results pages (SERPs):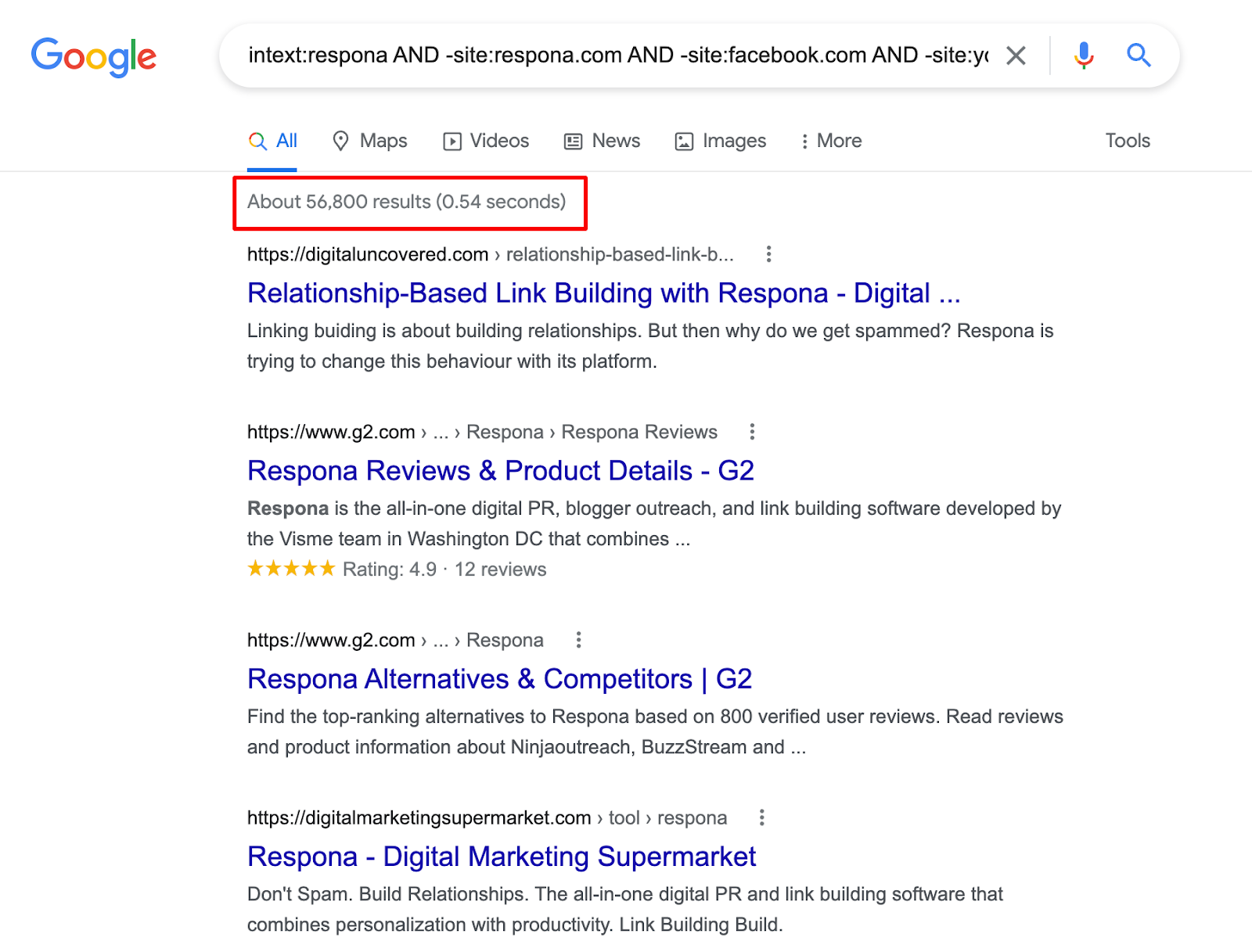 As you can see, there are over 56K results referencing Respona.
We can't check all of them, but here's an example…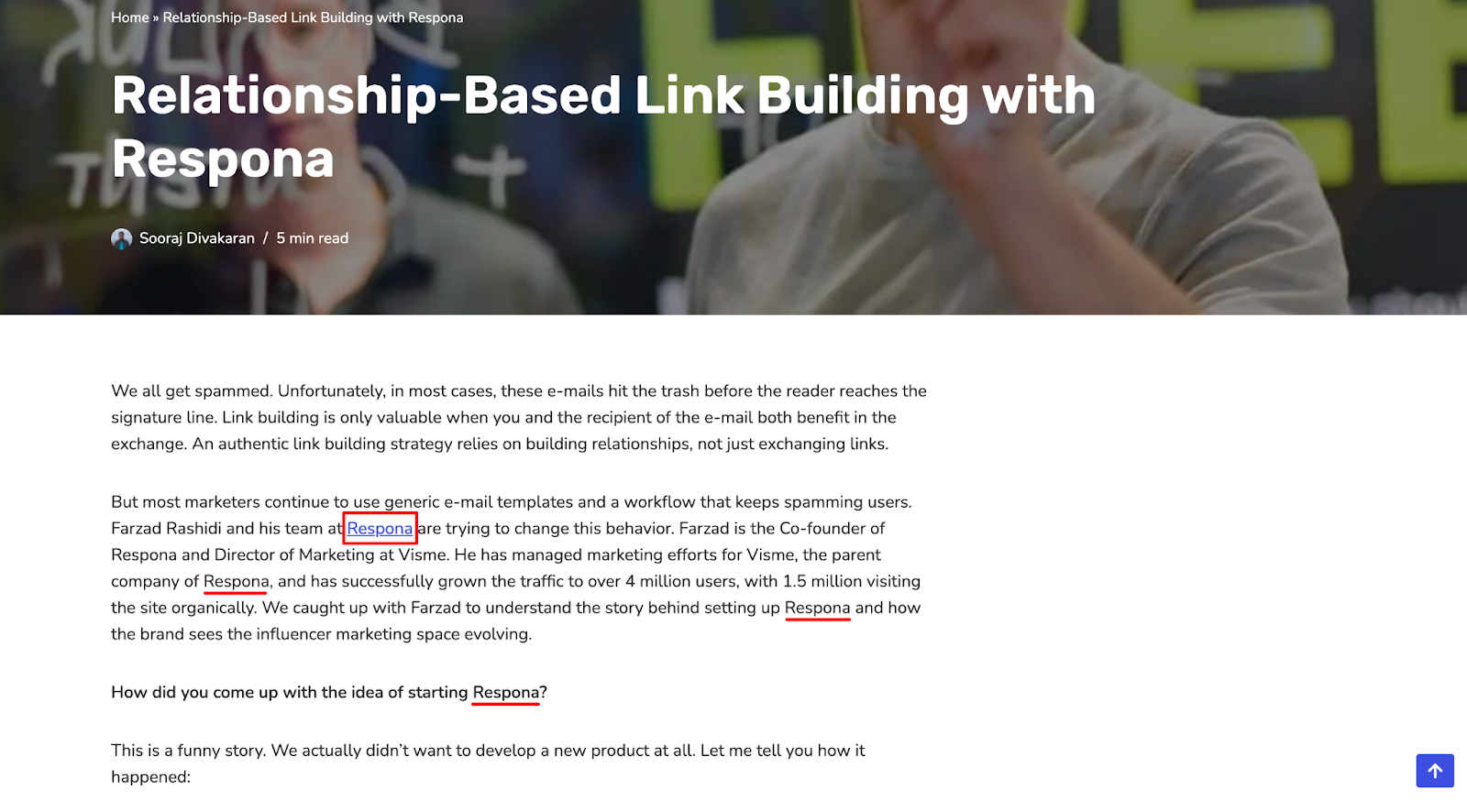 …and one more…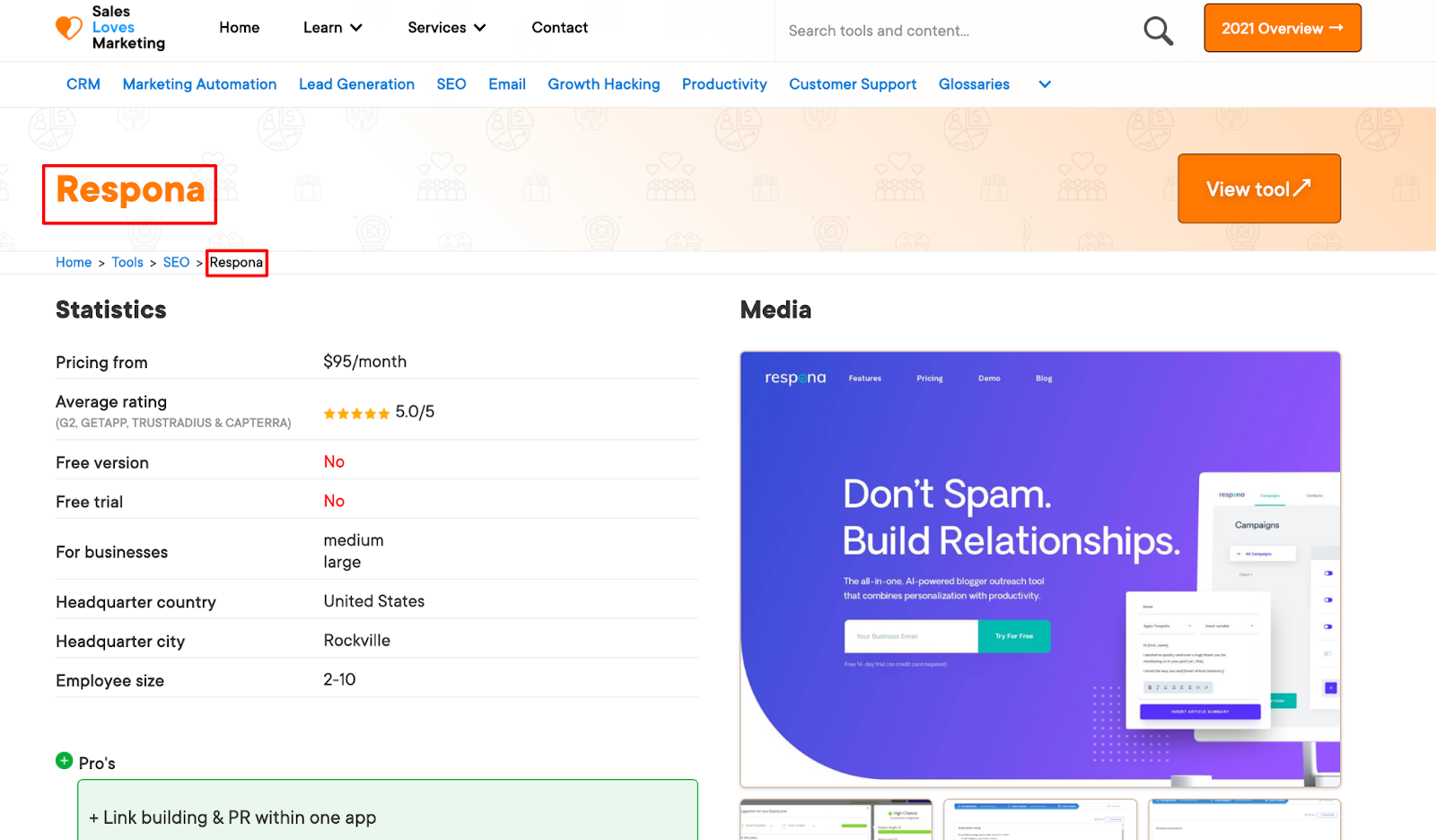 …which gives us an idea of what a typical brand mention looks like.
The more mentions, the higher the awareness your brand will have and the more recognized it'll be.
By following the same method for our sister company and creative tool, Visme, we can see that the SERPs give us almost 550K hits.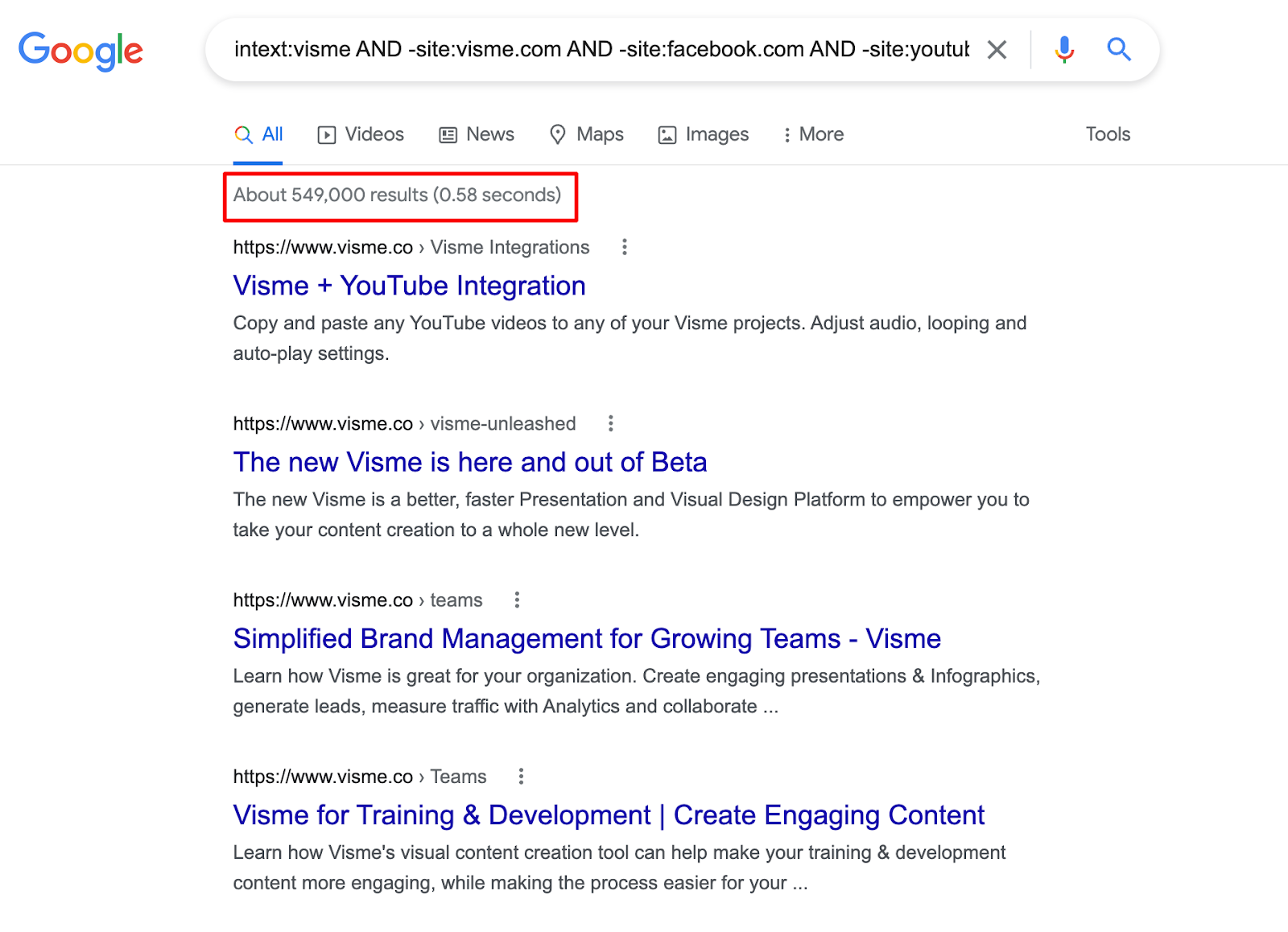 Impressive, right?
Let's have a look at the benefits brand mentions offer.
What Are the Benefits of Brand Mentions?
In this section of our guide, we're going to talk about the benefits brand mentions can bring to your business and its online presence.
Before we dive deeper into them, however, we believe it's a good idea to answer a very common question; whether brand mentions can be beneficial for SEO purposes.
Let's see.
Do brand mentions help SEO?
The short answer is yes, brand mentions help with SEO.
How?
First of all, it's important to clarify that, although aspects like link building and on-page SEO can have an impact on a website ranking higher, brand mentions do also play a role and are off-page SEO elements.
This is because Google acknowledges another ranking factor which is known as E-A-T, which stands for expertise, authoritativeness, and trust.
To put it simply, being considered a high-authority website in your niche that's also trustworthy can be really beneficial in the eyes of search engines.
You can gain those qualities by creating great content in your field of expertise as well as by receiving relevant backlinks from websites with strong domain authority, as well as high-quality brand mentions with a positive sentiment, even if they're not linked.
By doing so, Google will understand that you, as a brand, can be trusted and will therefore present you to more searchers.
Here's what Google states in its Search Quality Evaluator Guidelines: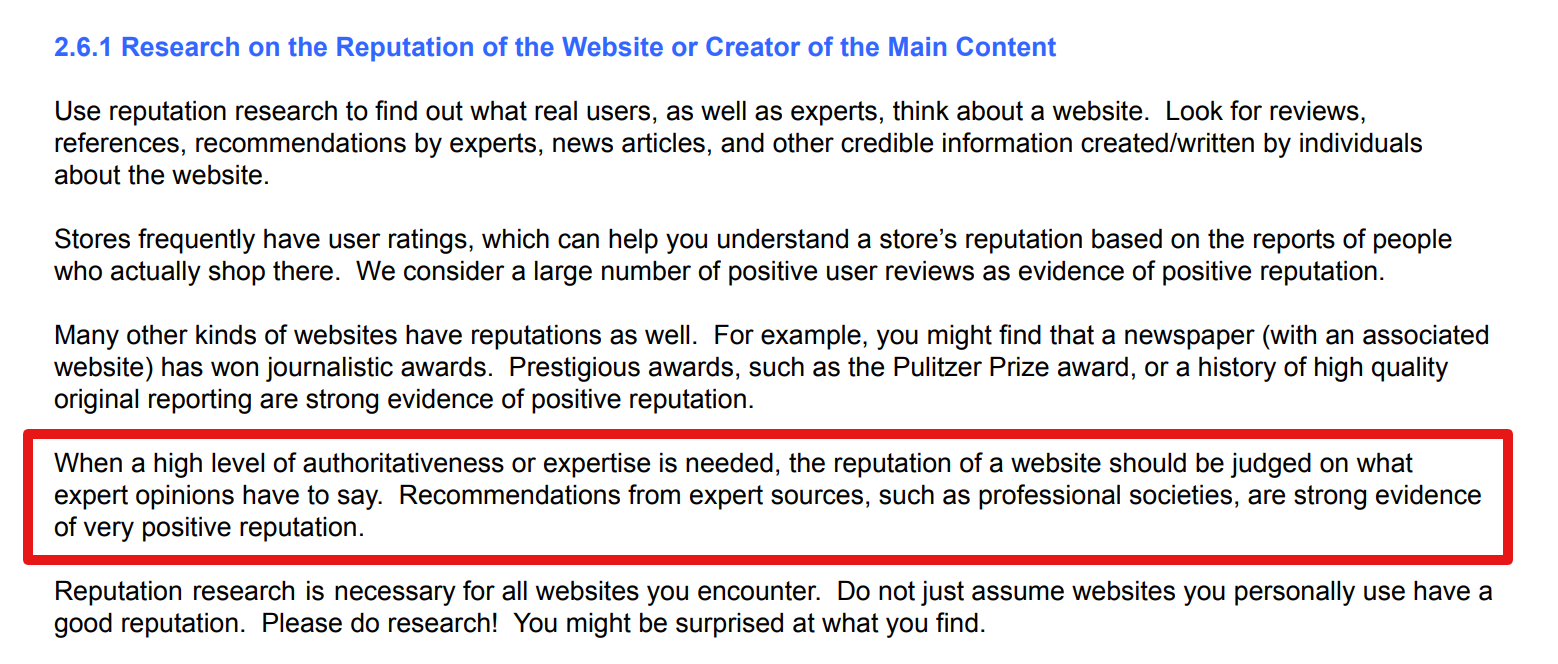 Basically, expert opinions – or high-authority mentions – can boost a website's reputation.
The reason why we stress "high-authority" and "high-quality" so much is that many off-page SEO techniques are often saturated with spammy behavior, especially when it comes to receiving backlinks and mentions in general.
According to John Mueller from Google, digital PR can be even more important than technical SEO in some cases.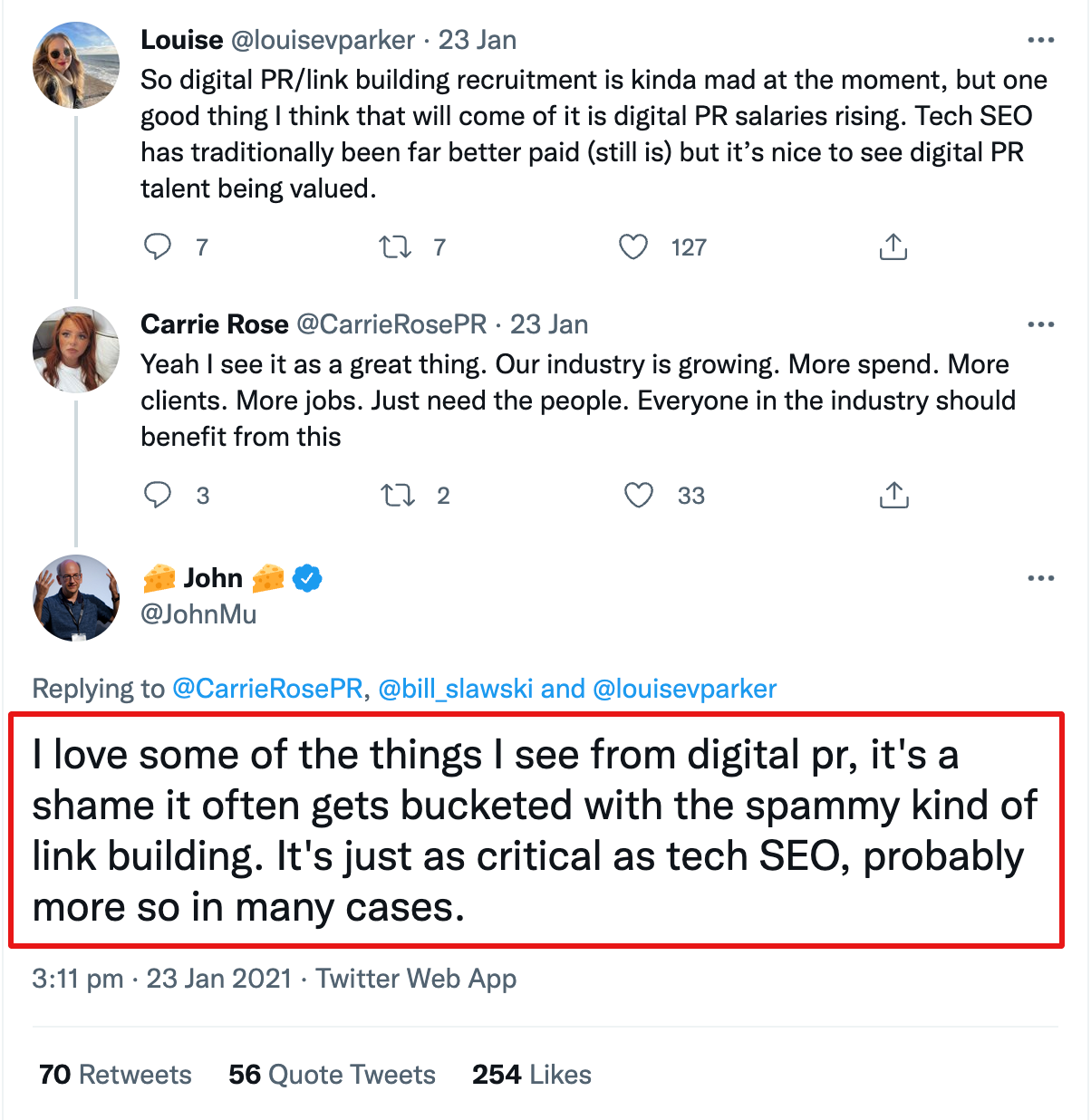 Interesting, right?
This just goes to further show the importance of being perceived as a trustworthy source, both by users and by search engines.
Now, let's have a look at the benefits brand mentions can offer your business.
Benefit #1: You raise brand awareness
The first advantage of brand mentions is the awareness they generate.
If your brand is easily recognizable, users will familiarize themselves with it and they'll feel more confident about buying what you have to offer.
Makes sense, right?
According to a study, a brand name is often considered to be a prerequisite of consumers' buying decisions; it represents the main factor for including a brand in the consideration set.
The more recognized you are, the stronger your brand name will be; online mentions can play a major role in this.
Think of the examples we saw earlier, with the number of websites referencing Respona.
If we take this one step further and think of the traffic each of those search results generates and in how many eyes our website has been put in front of, it's clear that there was a large amount of awareness generated.
Author's Note: In order to enjoy the benefits of wide brand awareness, you need to make sure that the mentions you receive have a positive sentiment. You can verify this with the help of paid or free tools offering media monitoring and sentiment analysis; a great example is IBM Watson which can help you take this process to the next level.
To sum up, brand mentions can help you become more well-known which, consequently, can have a positive impact on your business.
Moving on to the next benefit.
Benefit #2: You get referral traffic
We said earlier that brand mentions can drive more awareness for your business; awareness is tightly correlated to the traffic generated.
Brand mentions often act as word-of-mouth promotion because individuals will see that you're referenced from another source and they'll try to learn more about you.
One example here would be the popular cryptocurrency, Dogecoin, which gained a significant amount of attention from social mentions.
To be precise, in late December 2020, Elon Musk began tweeting about this cryptocurrency.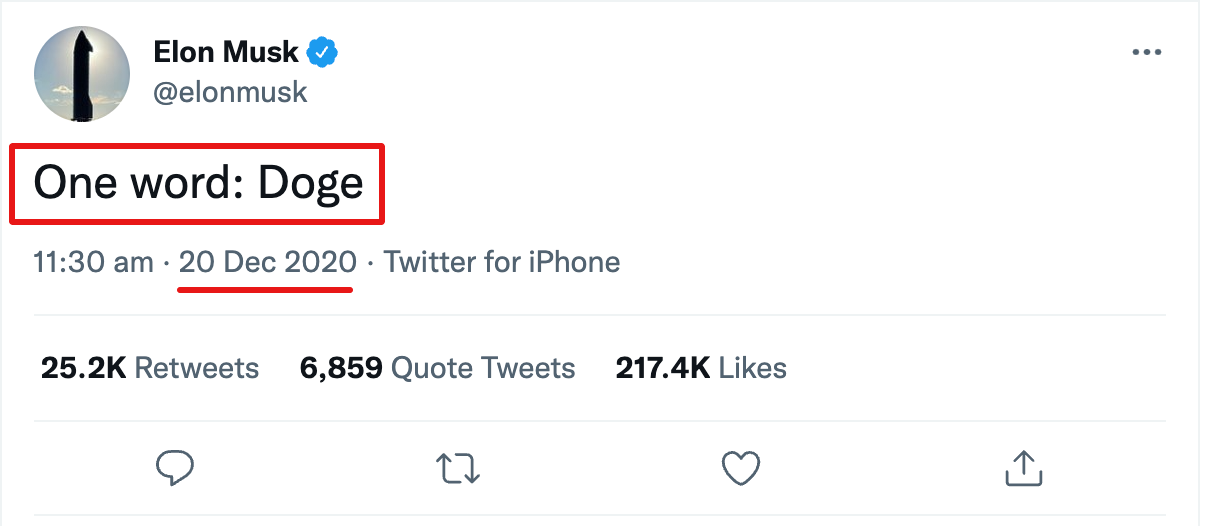 With the help of SEO tool, Ahrefs, we can see the impact on Dogecoin's traffic from this social mention.

As you can see, there's a big spike around the same time as the tweet.
Actually, traffic went from 145K to 3.5M in a matter of days; that's an increase of over 2,000% from people interested in learning about Dogecoin and how to trade the cryptocurrency.
Author's Note: Keep in mind that, in this case, Ahrefs only provides us with the organic traffic rather than the referral traffic generated from the mention; we'd say that the term gained even more awareness than what we can see here.
Do all brand mentions have such a large impact?
Certainly not, but it's a good example since it shows the power they can have on your online presence.
We've got an example of a website's traffic that was affected by a wide range of brand mentions, not just social ones.
You all know Zoom, the video conferencing platform.
What's interesting about Zoom's organic traffic is the fact that it skyrocketed when the COVID-19 pandemic hit.
It's not a surprise, since the demand for its services increased a lot.
In the following image, you can see the brand's traffic in early March 2020…

…the increase is clear – organic visits went from 2.5K to over 140K.
This didn't happen because Zoom invested more in content marketing or ranked for more keywords; you can see below that the number of organic keywords remained at the same level…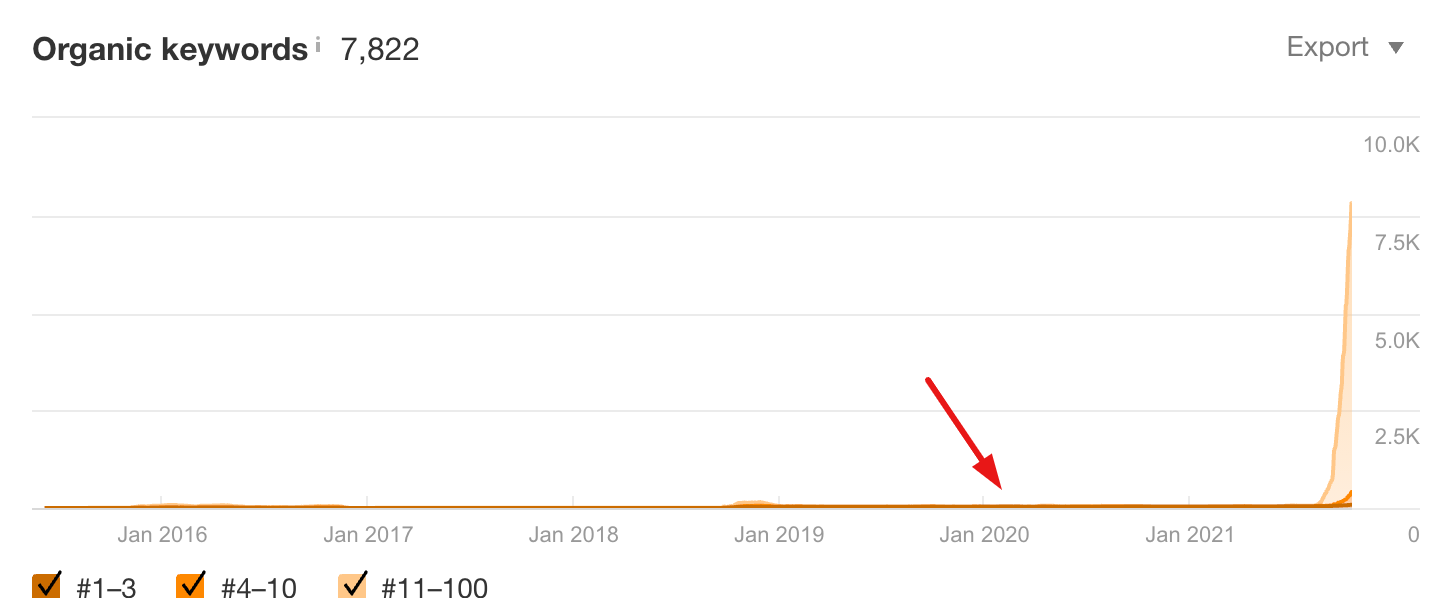 What did happen was a sudden increase in referral traffic in a short period of time, due to the branded searches and brand mentions it received, both linked and unlinked.
This helped the business gain a huge amount of awareness and online visibility.
Impressive, isn't it?
These are useful examples of how brand mentions – in any form – can affect a website's traffic.
Let's continue to the next benefit.
Benefit #3: You get link equity
Receiving link equity from link building has always been an important ranking factor and the reason why marketers often do email outreach to gain more backlinks.
What you have to remember is the fact that quality matters more than quantity.
Having a large number of links from irrelevant and low-quality websites can do you more harm than good; what matters is receiving them from relevant sources with high authority in their field.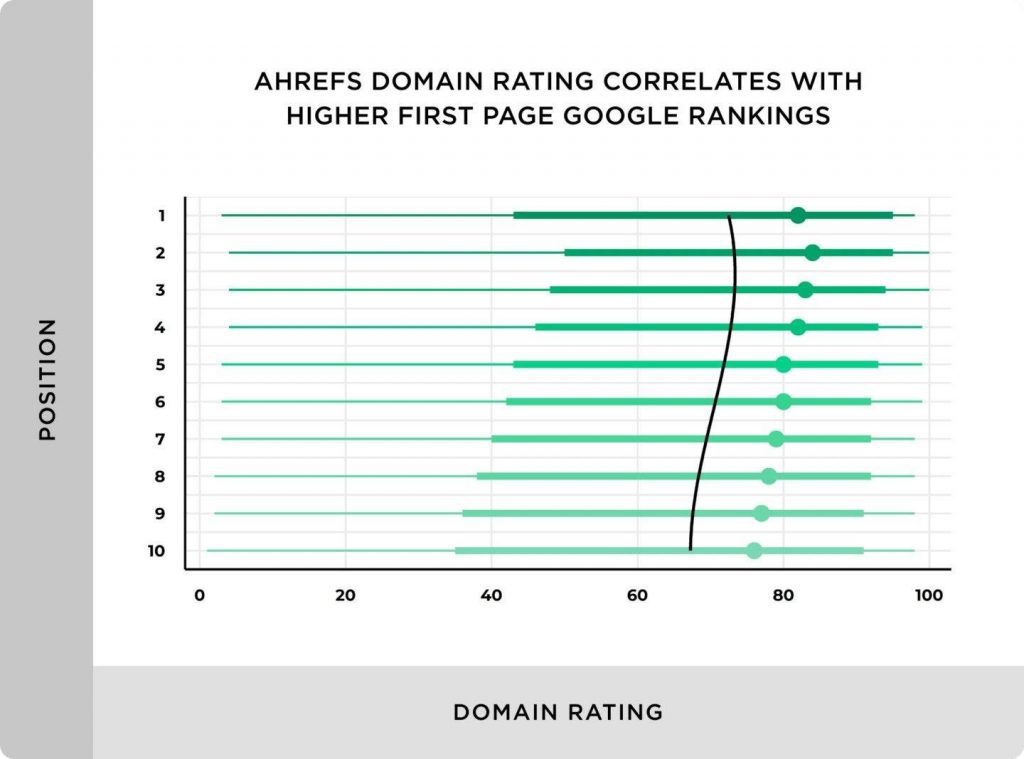 In the image above, according to a Backlinko study, you can see that high domain ratings are correlated with high Google rankings.
Domain rating (DR) is a metric that shows the strength of a website's backlink profile and can obviously be increased with the help of high-quality links.
By using Zoom as an example again, we can see the growth of its DR in March 2020, when it started receiving the number of links and brand mentions we saw earlier.
According to Rand Fishkin from Sparktoro, while links are still important, their power could be overestimated.
Instead, what matters more, in the long run, is receiving good links and also what are called "inferred links".

Inferred links are lexical references that connect various keywords to a brand and, despite not containing a link, they're more authentic and represent an unbiased action that'll be favorable for Google's algorithm.
Brand mentions and topics related to a certain brand can even prove to be more important than links, as they provide more context, authenticity, and scale.
Moving forward.
Benefit #4: You get new customers
If you receive a good brand mention from a trustworthy website, chances are that this will help to boost your sales.
Your online visibility will increase, you'll gain more awareness, and more potential customers will want to find out about you.
We can feature, once again, the example of Respona on SalesLoveMarketing: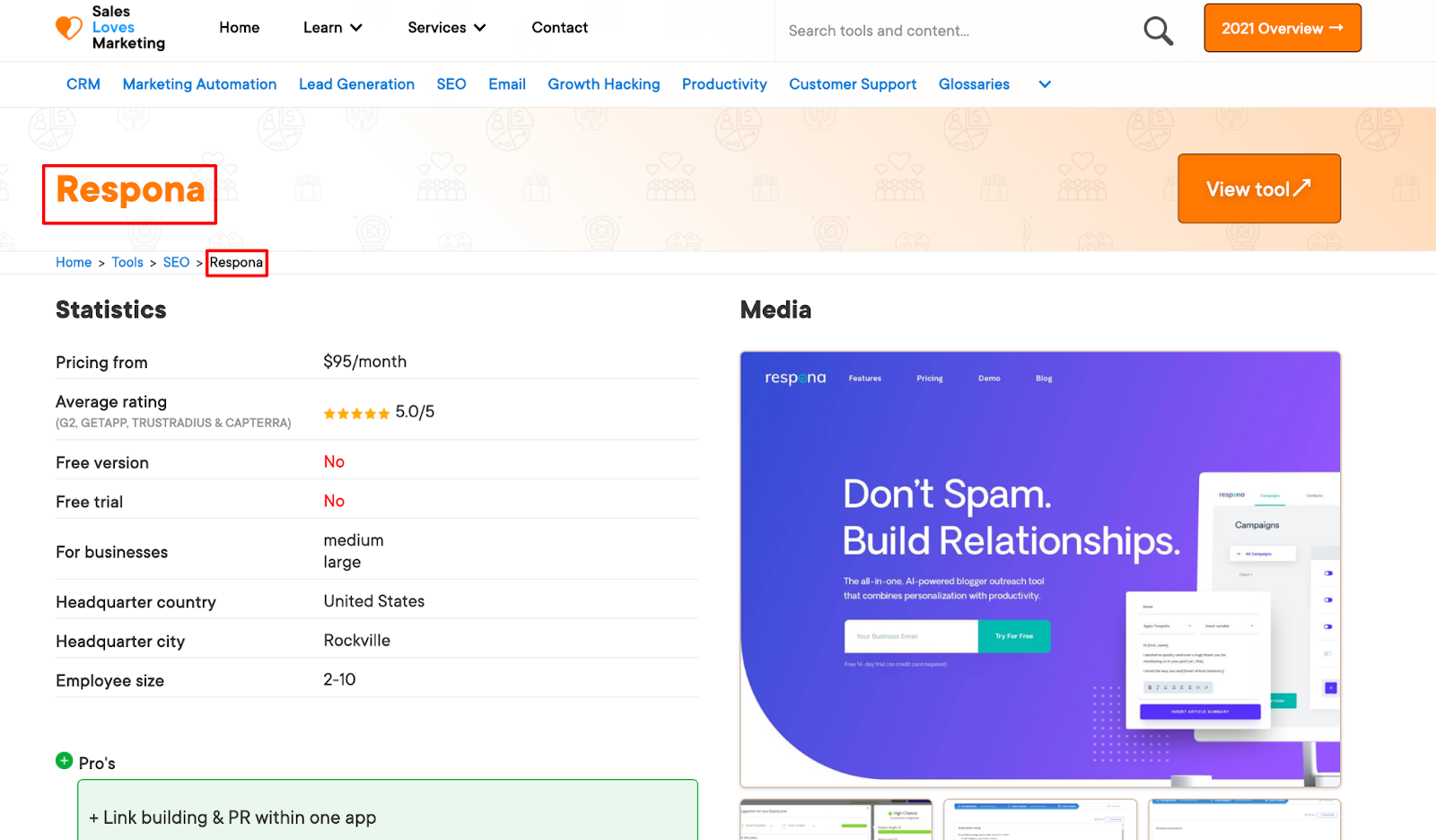 With the help of this website, users can see valuable information about Respona, such as the pricing, rating, the pros and cons of using it, and much more.
Readers can also see the target audience of our tool, such as demographics, in order to know whether it'll be a good fit for them.
This is a helpful example of how brand mentions can drive new customers to a company.
To sum up, online mentions can offer many benefits to your brand, but you should also be aware of spammy or negative ones.
You can use tools like Google Alerts and Google Analytics to help you track mentions, as well as social media monitoring tools to stay on top of your social mentions.
Ideally, you can also use an all-in-one digital PR tool like Respona, to help you in your reputation management efforts.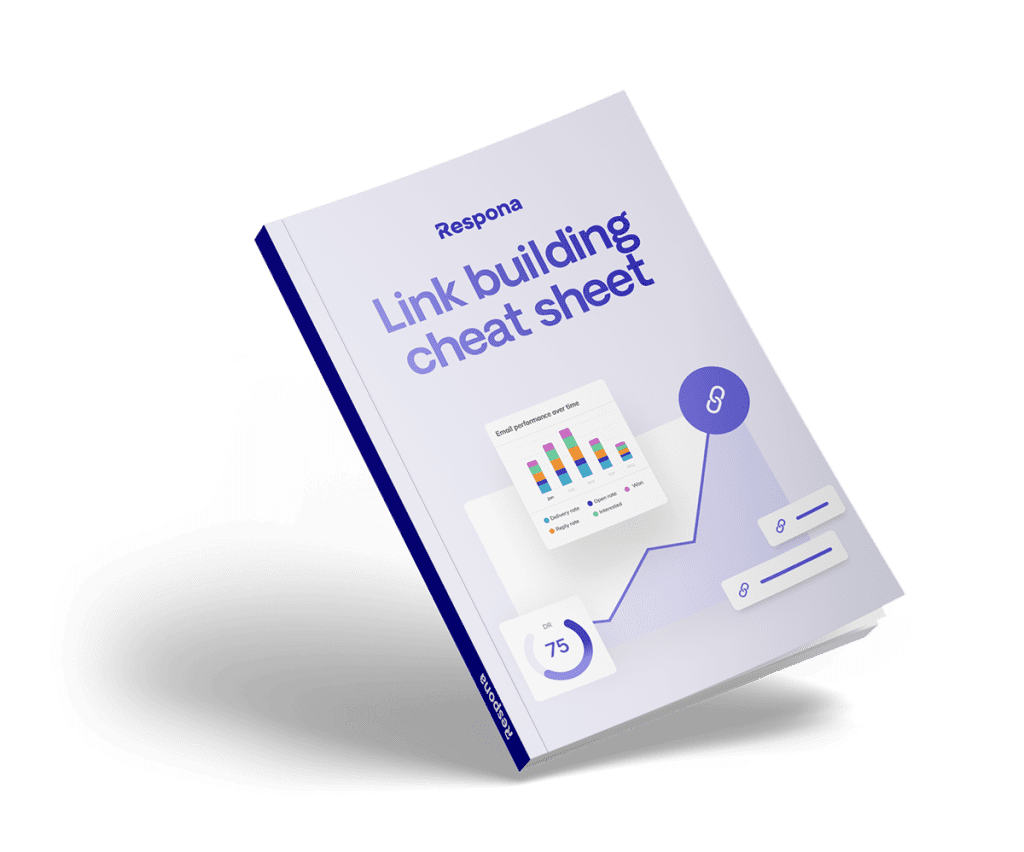 Link building cheat sheet
Gain access to the 3-step strategy we use to earn over 86 high-quality backlinks each month.
Now Over to You
There you have it.
We hope that by now you've got a good understanding of what brand mentions are and the importance they can have for a company.
We also went through some examples of brands that receive a lot of mentions so you can see the volume online references can reach.
Last but not least, we guided you through the step-by-step process of using Respona's opportunities feature to easily track your brand mentions.
After all, your brand's reputation should be a priority!
We also strongly recommend keeping an eye on your social channels, so you don't miss out on important mentions over there.
If you want to gain the most out of the process of monitoring your mentions, you can request access to Respona and see for yourself that it can be a hassle-free process.
Thanks for reading!