Want to learn how to increase your domain authority?
We've created an amazing guide with everything you need to know about boosting your domain authority (DA) in 2022.
Here's what we're covering:
What is DA according to Moz and Domain Rating (DR) according to Ahrefs
Why is domain authority important as a metric that describes your website's ability to rank
How is domain authority calculated and why this is important to know
How to increase your website's domain authority using more than just backlinks
A successful example of increasing domain authority
Let's get started.
What is Domain Authority?
The domain authority (DA), also known as website authority or domain rating (DR) is a metric used to determine the relative strength of a website's link profile.
It's a metric that is used by Search Engine Optimization (SEO) professionals — and the SEO industry in general — to understand a website's ranking ability, based on the number of its linking domains.
Different service providers have different names for a website's authority and calculate their proprietary metrics in a different way.
For example, Moz — one of the first SEO software in the world — calls it Domain Authority (DA) or Domain Authority Score (DA Score).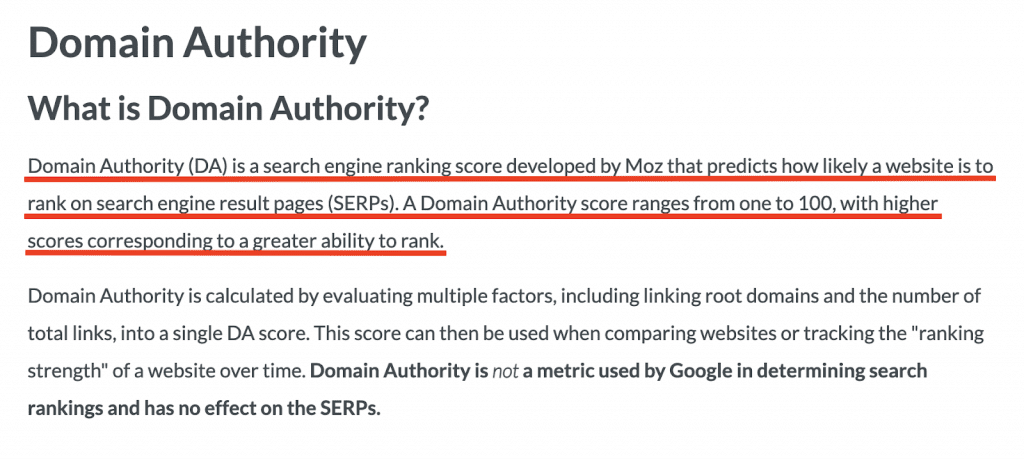 Ahrefs — another popular SEO toolset — has its own metric, Domain Rating (DR).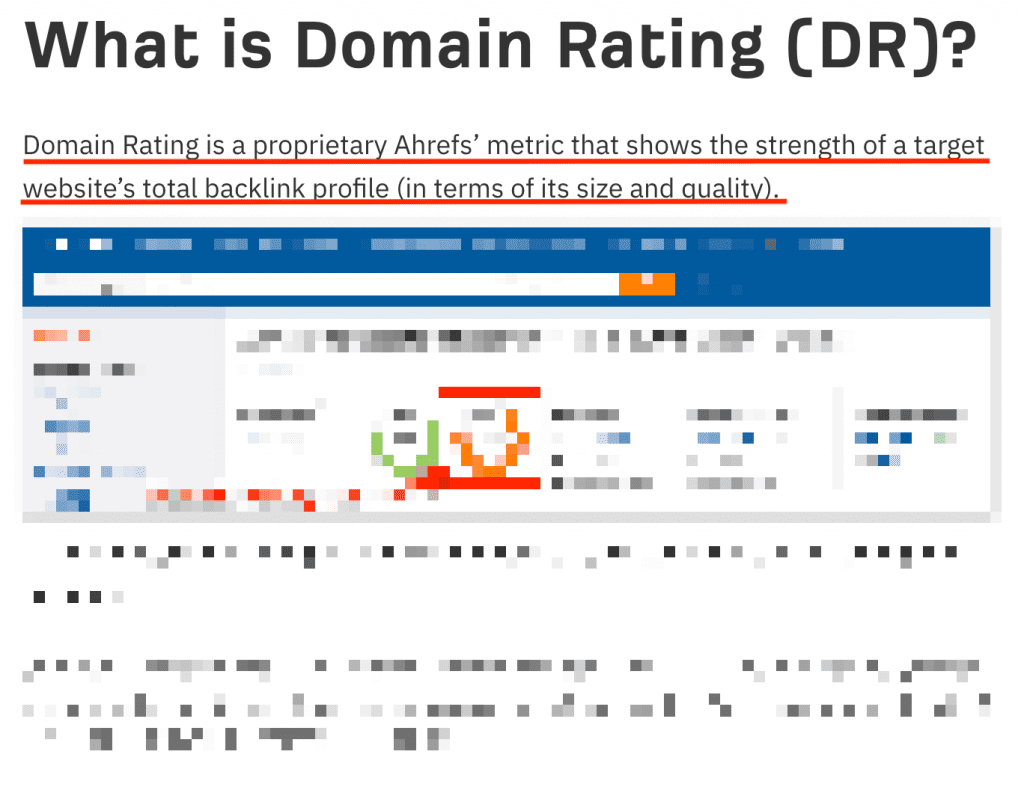 Author's Note: You can take a look at this guide on how to use Ahrefs to learn more about Ahrefs' DR and other proprietary metrics, as it is a great SEMRush alternative.
SEMrush — a powerhouse when it comes to content and SEO tools — calls its own metric Website Authority Score.

As you can see, each of the three SEO softwares above has its own interpretation of website authority.
Author's Note: For convenience purposes, we'll be using the term website authority throughout this piece of content, unless we're referring to a metric from one of the tools we just looked at.
Even though we'll dive deeper into how each of the softwares above calculates website authority, a common factor among all the three tools seems to be the number of backlinks that the website has.
Since backlinks, i.e. links from other websites to your website or web pages, are still an important factor for ranking on the SERPs, you can understand that website authority is indeed an important part of SEO.
Of course, there are distinctions between links — for example, we have nofollow links, which in general are considered not to pass on link equity from one website to another.
Are these links treated the same as dofollow links in measuring the website authority? That's something we'll be answering later on.
At this point, this isn't as important as trying to understand that website authority can determine your ability to a) be considered as a trustworthy resource for terms that are relevant to your business and b) rank higher in Google search for those same terms.
In other words, you can…
Unless you build links – high-quality backlinks, not spammy ones – back to your website, you won't be able to get the results that you want.
Even though Google has denied that they use a metric like website authority (or DA for that matter), many SEO professionals claim that Google has a similar metric to determine the authoritativeness and overall ability of a website to rank on the search engine results and get better search engine rankings than other websites. Although, backlinks aren't the only factors that determine rankings. Google often provides new SEO criteria to help webmasters better understand what is required to rank.
Taking this a step further and diving a bit deeper, PageRank, which was introduced in a 1999 paper by Google's co-founders Sergey Brin and Larry Page, clearly mentions the need of ranking each page on the web.
Author's Note: PageRank is still considered to be an important ranking factor, even though nowadays Google is multi-dimensional in the way the algorithm determines the ranking ability of a website for terms that are relevant to what the website is all about.
This shows us that, whatever you want to call it, the need for a metric that ranks pages on the web and determines their overall ability to rank was a necessity even from the early days of the popular search engine.
Almost 20 years after this paper by Google's co-founders, Google has evolved into much more than just a simple search engine.
In that context, the number of external links, similar to how citations work in academia, aren't the only factor for determining a website's ranking ability.
Regardless of that, there seems to be a metric of website authority that — along with other performance and user experience metrics — determines whether you can be competitive on the search engine results pages (SERPs) for terms that you're interested in.
Why is that important to webmasters, SEO professionals, bloggers, and content marketers?
Find out in the next section.
Why is Domain Authority Important?
Many things have been said around this topic over the years.
After all, SEO is a 20-plus-year industry and, as you can imagine, SEO professionals have always tried to decode the blackbox that is Google.
Unfortunately, we can't rely on opinions rather than data.
This is why we'll refer to a recent study conducted by Backlinko.
The study analyzed 11.8 million search results and — among other findings — discovered that:
There's a correlation between a website's link authority, as measured by Ahrefs' DR, and higher first-page Google rankings.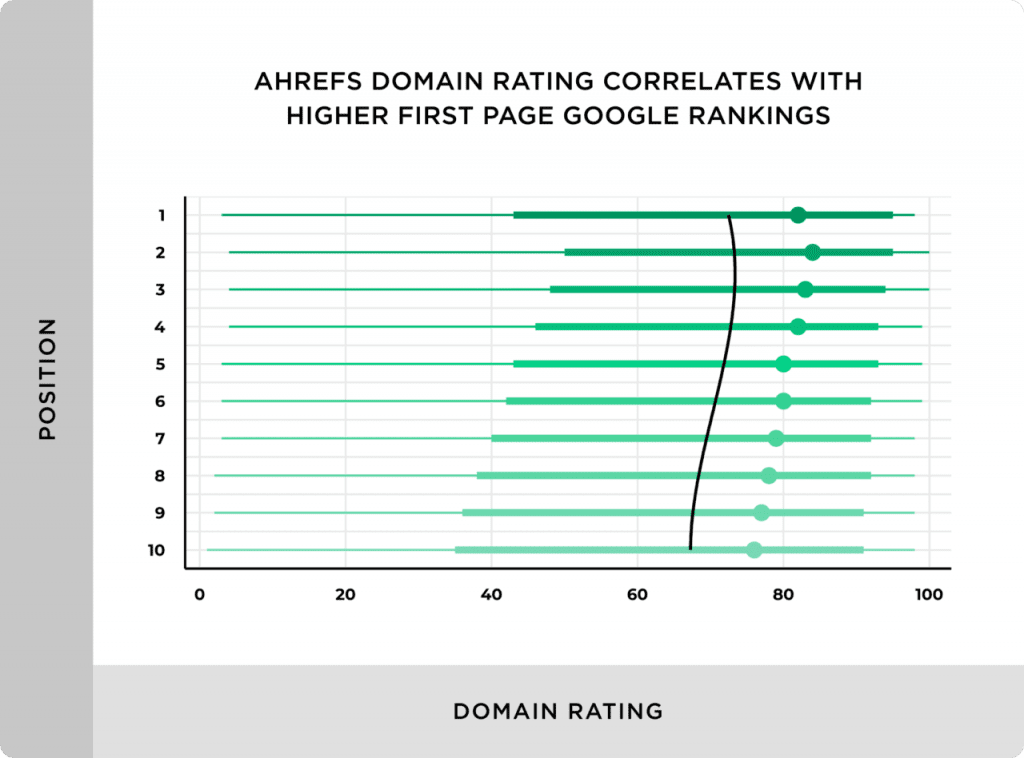 Put simply, the higher your website authority – this time as calculated by Ahrefs – the higher rankings you'll have on Google search results.
This shows us that high domain authority websites, in the form of DR, tend to have an advantage over other websites with lower website authority.
Even though Ahrefs' DR takes into account only the number of referring domains – as well as their quality, as we'll see later – but not other factors such as overall relevancy, we could say that this finding can't actually be accurate.
Since Google's algorithm is multi-dimensional, any study on how the algorithm ranks different websites should be multi-dimensional.
That's true, but considering that the number of links to a certain page can determine its ranking ability — at least up to a certain point — we can accept that, in general:
Higher website authority means higher rankings.
In the second to last section of this post, you'll see an example of that.
In the meantime, let's try to understand how website authority is being calculated.
How is Domain Authority Being Calculated?
Domain authority is calculated differently based on the SEO software you're using.
In this guide, we're going to focus on how Ahrefs calculates its proprietary metric, domain rating, or DR.
According to a 2018 introductory Ahrefs blog post on DR:
"DR is measured on a logarithmic scale from 0 to 100, with the latter being the strongest."
What does logarithmic mean?
In simple terms, it means it's easier to get from 0 to 30, than it is to get from 80 to 90.
This is why many websites see a noticeable difference in their DR right after they start acquiring their first links and then notice a stagnation after that.
According to Ahrefs, here's how the DR is calculated: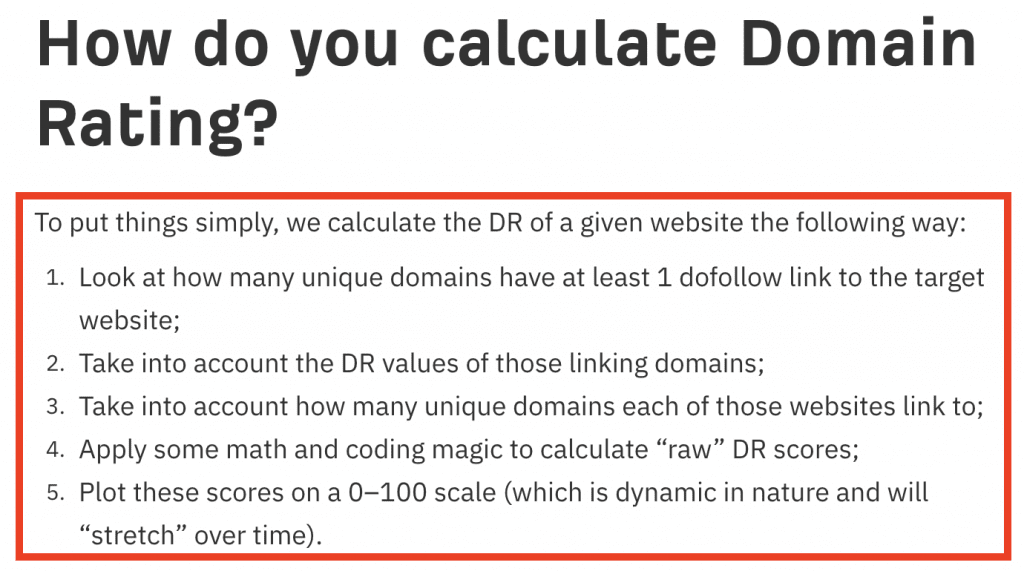 This may not be as clear, especially if you're a non tech person.
Let's try to reframe it a bit so that it actually makes sense for you:
1) Getting links from various domains is better than getting links from the same domain
In other words, you should try to get links from as many different domains as possible; getting links from the same domain won't help you move the needle.
This isn't to say that getting links from the same domain isn't important — on the contrary.
But, when it comes to your DR, you won't notice any actual difference unless you have a diversified link profile.
2) Getting links from websites with many outgoing links won't pass on enough link equity to your website
This means that when vetting link opportunities, you should aim for websites that don't just have a high DR, but also have as few outgoing links as possible.
You can see that by using Ahrefs' Outgoing links > Linked domains report.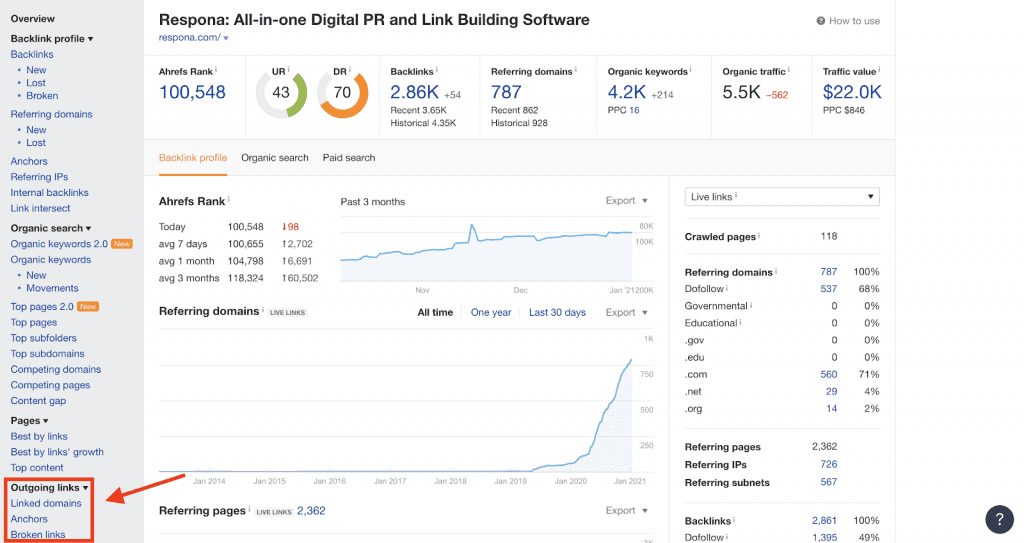 For example, Respona has outgoing links to 354 websites.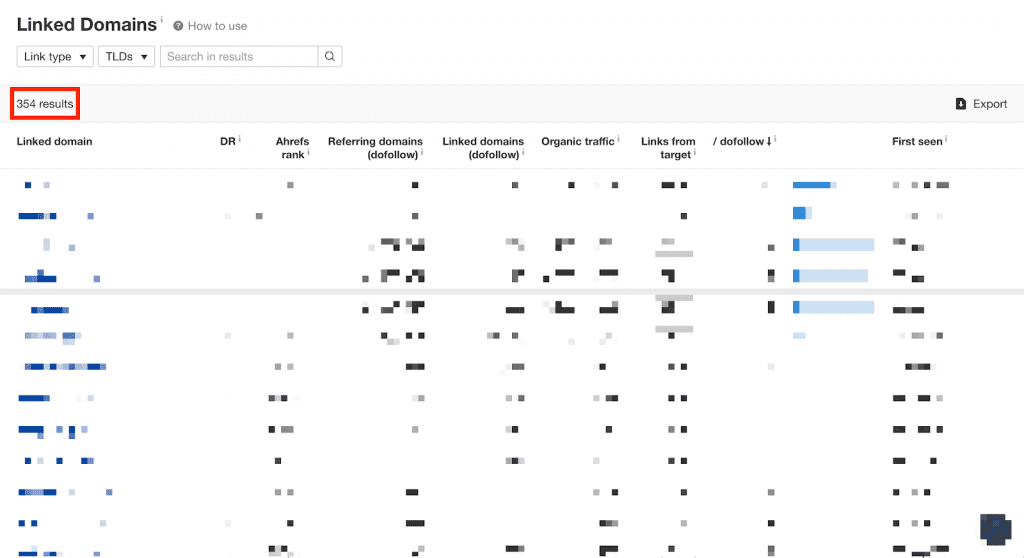 This number affects not only Respona's DR, but also the amount of link equity that Respona can pass on to another website when linking back to it.
3) Nofollow links don't really help
In calculating your website's domain authority, Ahrefs doesn't take into account the nofollow links that you have.
This means that when doing link building, you should aim for dofollow links, from high-quality websites, of course.
That's not to say that nofollow links have no value at all; they can help in other ways, such as bringing you referral traffic.
Of course, we're not sure how Google's handling nofollow links.
Author's Note: Nofollow links are links that have a rel=nofollow tag, which means that they shouldn't be followed by search engine crawlers. According to Google, those pages are "generally not to be followed". Learn more about nofollow vs dofollow links in our guide.
Even though they may not affect your DR, you shouldn't want to do anything that would harm your overall performance, such as to disavow these links.
Keep them as they are because, well, you never know!
4) DR is a dynamic that changes over time
What does that mean, exactly?
It means that a website with DR 30 today, may have a DR 40, 50 or even 60 in a few weeks from today.
These changes can also have a positive or negative impact on your own website's authority.
For example, let's assume that you had a link from our own website, Respona.
As you can see below, the number of referring domains back to Respona's has been increasing exponentially for the last 12 months.

This means that your link from Respona will pass on more value incrementally and this can have a positive impact on your DR.
Since DR is a dynamic metric, you should expect fluctuations in your DR over time.
Now that you have a solid understanding of how the DR is calculated, let's take a look at a strategy that will help you improve your website's authority.
How to Increase Your Website's Domain Authority?
In this section, we're going to see how you can increase your domain authority through link building.
The steps highlighted below will help you establish a solid process when it comes to link prospecting and email outreach so that you can acquire high-quality backlinks which will help you increase your domain authority.
For the purpose of this example, we'll be using Respona as our link building software.
We'll be trying to promote the following blog post that was published a while back on our blog: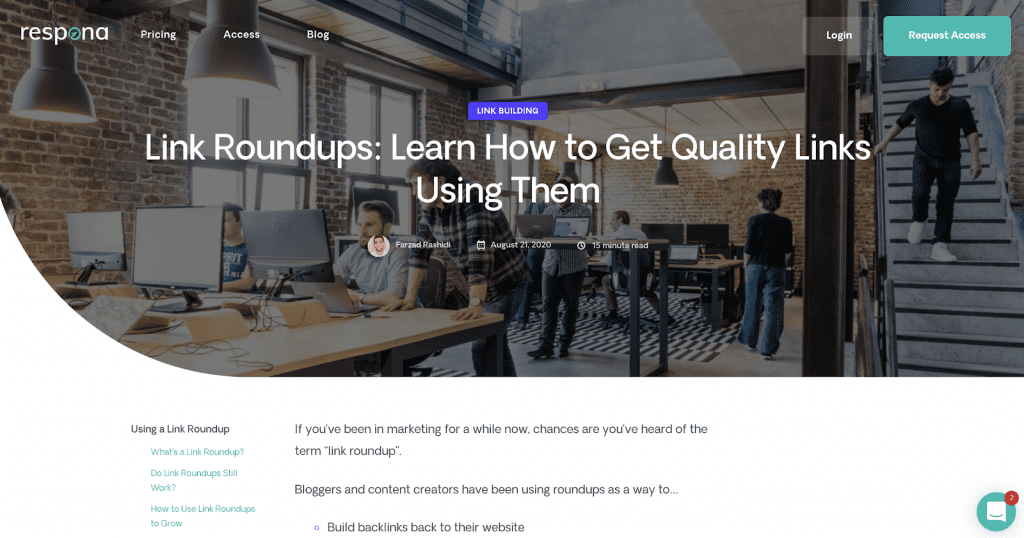 Let's get into it.
First, you need to create a new campaign within Respona.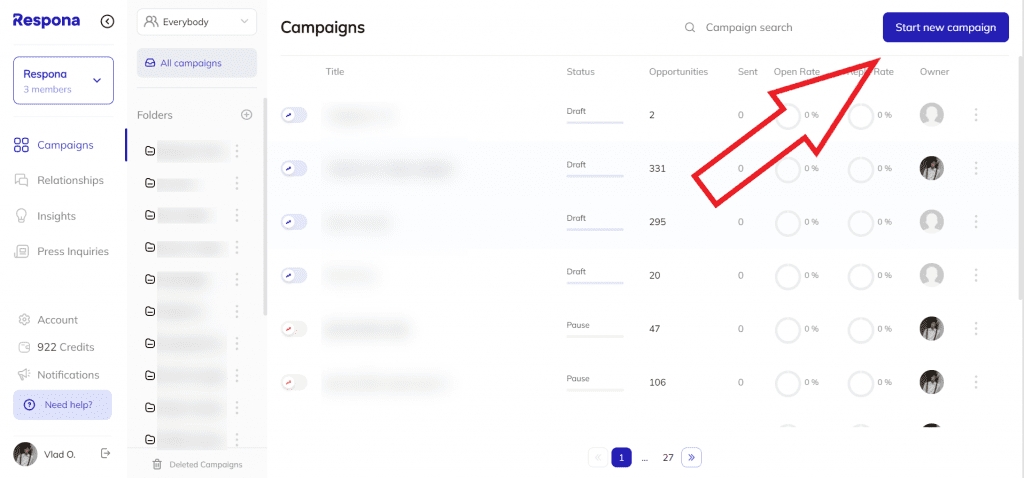 You have to give your campaign a relevant and easy-to-identify title.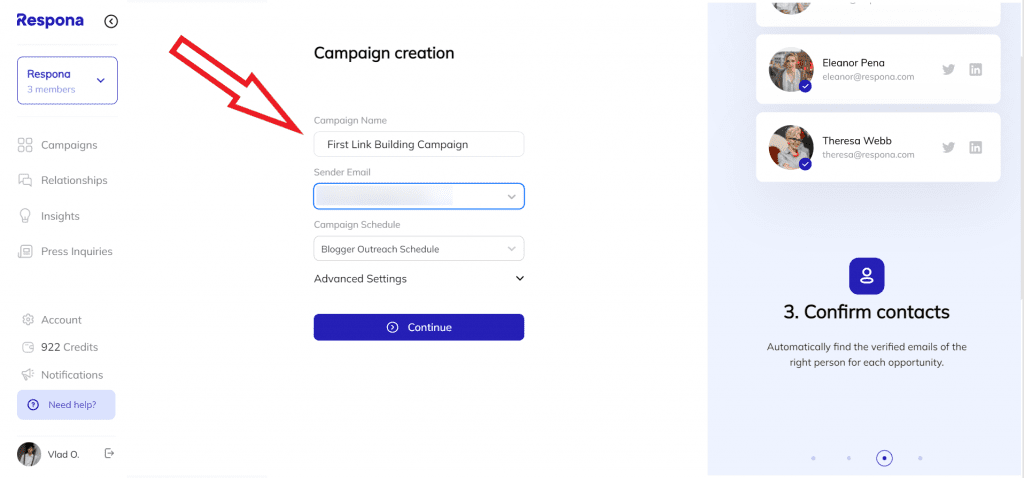 Especially if you're managing multiple outreach campaigns, you need to come up with a titling system that allows you to identify campaigns easily.
In our example, since we're trying to promote a blog post on link roundups, the title of our campaign is as simple as "Link Roundups".
Next, we have to find prospects for our campaign.
In other words, we have to find the people we'll reach out to and ask for a link.
In Respona, you can do that in two ways:
Through Respona's built-in search engine
By importing your own file with prospects
Both ways can work well based on your campaign needs, but for the sake of our example, we'll be using the Search function to identify relevant prospects for our campaign.
Author's Note: Respona's search engine results are powered by Google.
Here's what you'll see next:
Clicking on Select source will allow you to choose a source for your outreach campaign.
Since we don't want our campaign to be limited in specific content formats such as, podcasts, we'll choose web search as our option.
Author's Note: We're doing this for another reason, too: within Respona, you can use an advanced search operator only in Web Search. Thus, to be able to get laser-targeted prospects for our campaign, we'll have to conduct a general search on the web and qualify the prospects based on our own unique criteria.
Next, we're going to click on Advanced search to see the operators we can use for this campaign.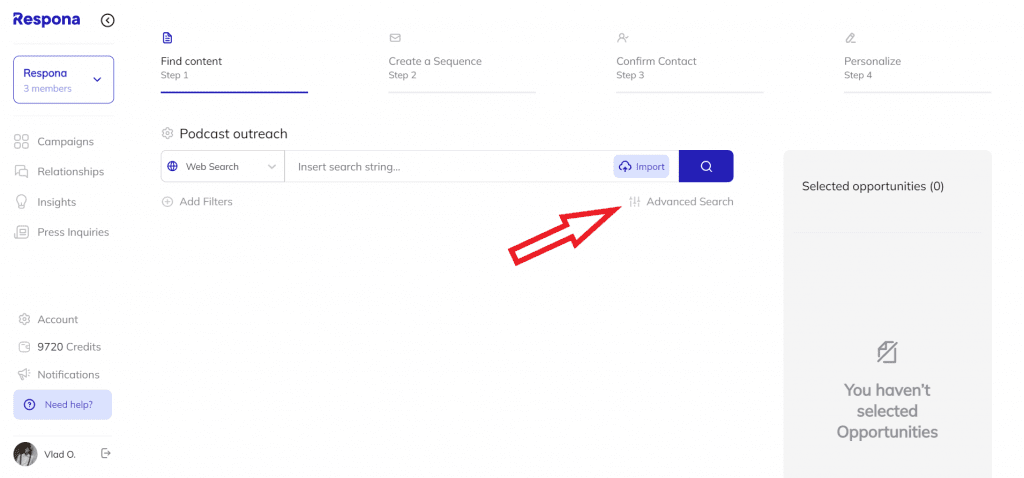 In short, you have to keep in mind that we're looking for pieces of content that include the term "link roundup" somewhere in their body and also include the term "link building" somewhere in the title.
Here, you get a full view of the advanced search operators within Respona.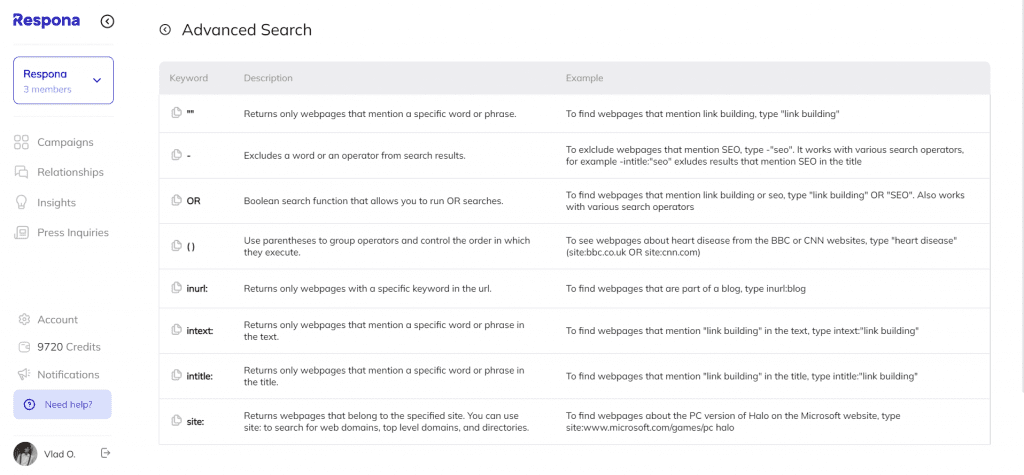 The one we'll be using first is the inurl:blog one, since this will allow us to get only blog posts for our research.

What you need to do is copy the operator that you want.
Then, paste it in the search bar.
Now, you have your first operator inside the search bar.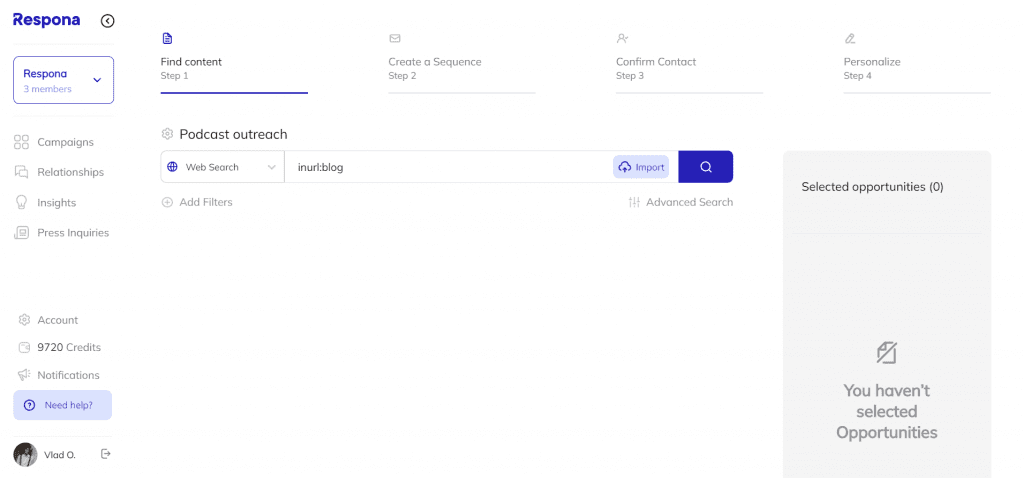 Next, you need to click to Advanced search once more, to dive a bit deeper into finding the prospects that you're looking for.
Now, we want the intext: search operator, as this will allow us to find pieces of content that include the term "link roundups" somewhere in the body.
Thus, we copy the operator.
Next, we paste it to the search bar like we previously did, and also add the term link roundups as an exact match.
Author's Note: When adding quotes, "like this for example", it means that the search is for an exact match, meaning that we'll get results where the term that we're interested in exists in full somewhere in the body.
Once again, we'll paste the advanced operator to Respona's search engine bar.
Here's what we have now: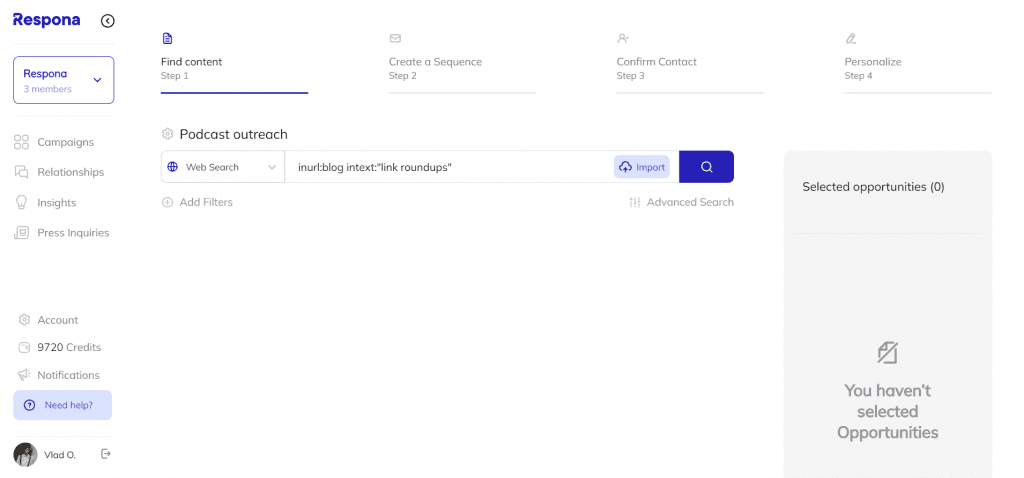 One last addition here is to also include the title that interests us which, in this case, is link building.
Once again, we'll click on Advanced search.
We'll locate the search operator we're interested in and click on Copy.
From there, we just have to click on Paste and add the title link building in exact match form.
After finishing up forming our search operator, we can click on SEO Metrics to get curated and proprietary metrics that Respona has, e.g. social signals, that could help us make better decisions on what prospects to reach out to.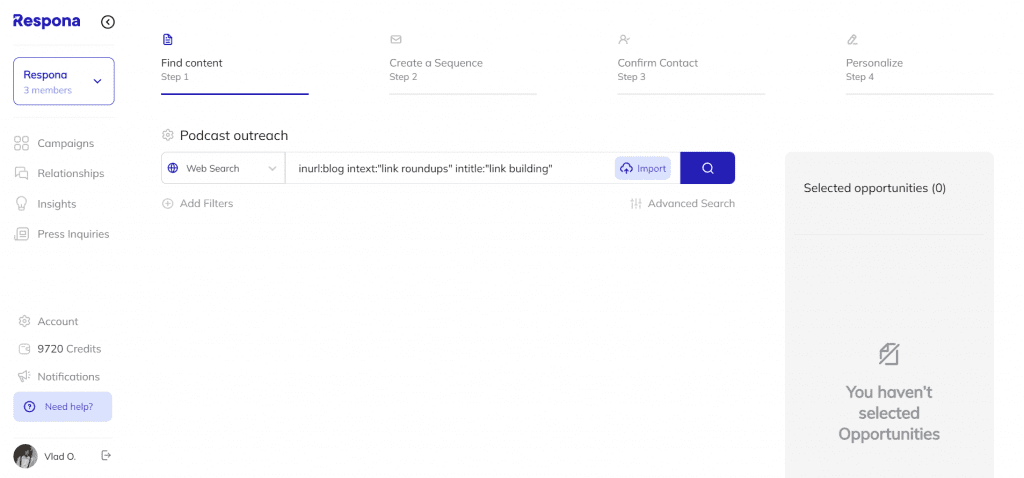 From there, you can click on the checkpoint right next to each result to include it in the campaign.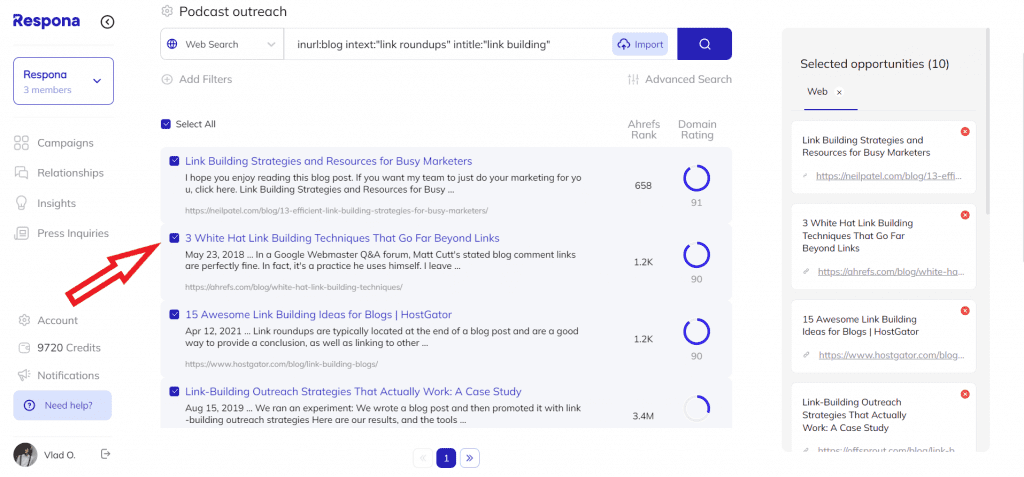 Here's what one of the results Respona found for us looks like: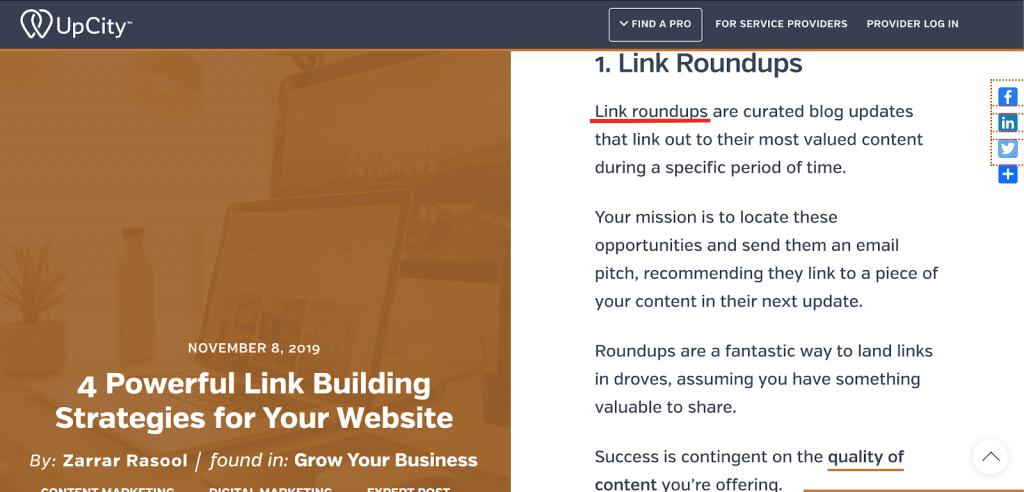 The result is relevant and it includes the term link roundups inside the text, as expected.
That makes our work, and our prospect's work easier, since this could be the exact anchor text that could be used for the link back to our page.
Once you've finished vetting the prospects, you can click on Step 2.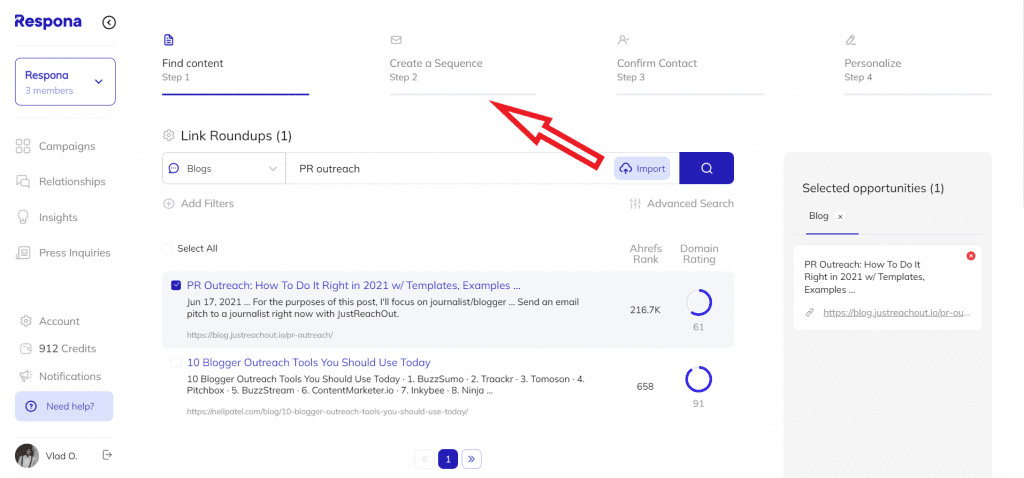 In the next step of the process, you have to set up your email sequence.
Respona allows you to do that in two ways:
By using one of our pre-made templates
By setting up your own template
In our case, we're going to set up our own template.
From there, you have to give a proper title to your email sequence.
Author's Note: For efficiency reasons, you can give a title that's evergreen and can be used in other campaigns moving forward.
Here's how your campaign will look in the end: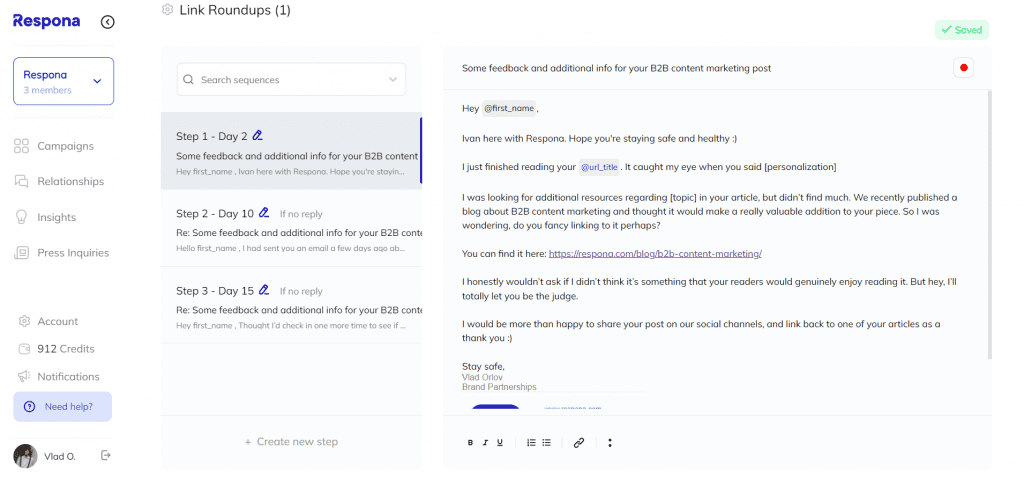 As you can see from the screenshot above, we have three emails in our sequence.
The good thing about Respona is that it auto-grades your email, as you add or remove content.
By analyzing several factors such as the subject length or the word count in your email body, Respona's analyzer tells you what the chances are that your email will get a reply.
As you can see below, our email — as it is right now — has a high chance of getting a reply.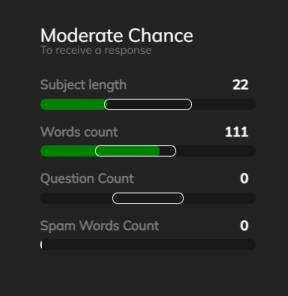 After creating the first email of the sequence, you can create your second email, or follow-up email, to help you increase your chances of getting a reply.
Once you've finished creating and editing your follow-up email, you can click on Save.
When it comes to follow-up emails, just make sure you don't become annoying and show respect for people's time and attention.
There's nothing wrong with following-up a couple of times, of course, but creating an email sequence with ten follow-ups won't get you anywhere.
Especially if you're reaching out to influencers or people with an audience in your niche, you need to be extra careful and respectful.
Assuming that you're done creating your email sequence, you can click on Step 3.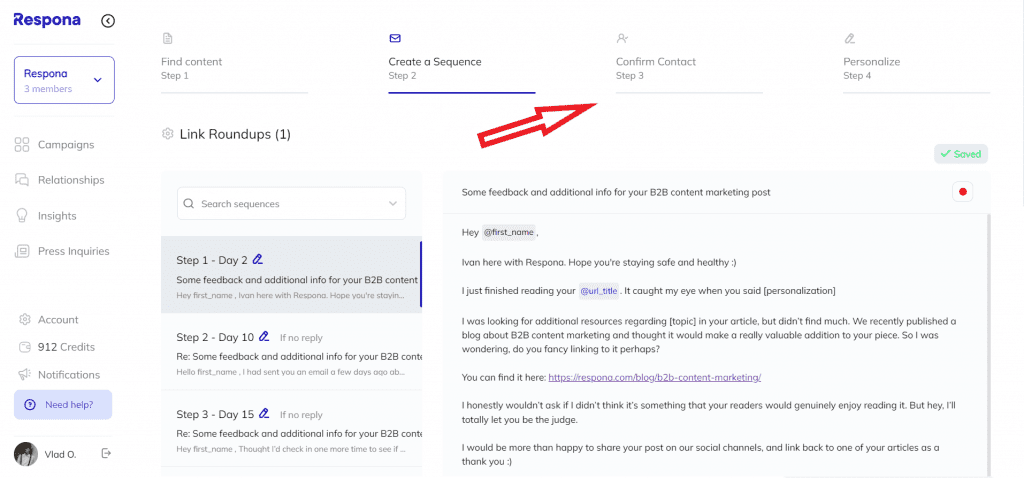 In the next step of the process, we have to find contact information for our prospects.
With Respona's advanced automation feature, finding contact information for your prospects is very easy.
First, you need to make adjustments in the areas highlighted below.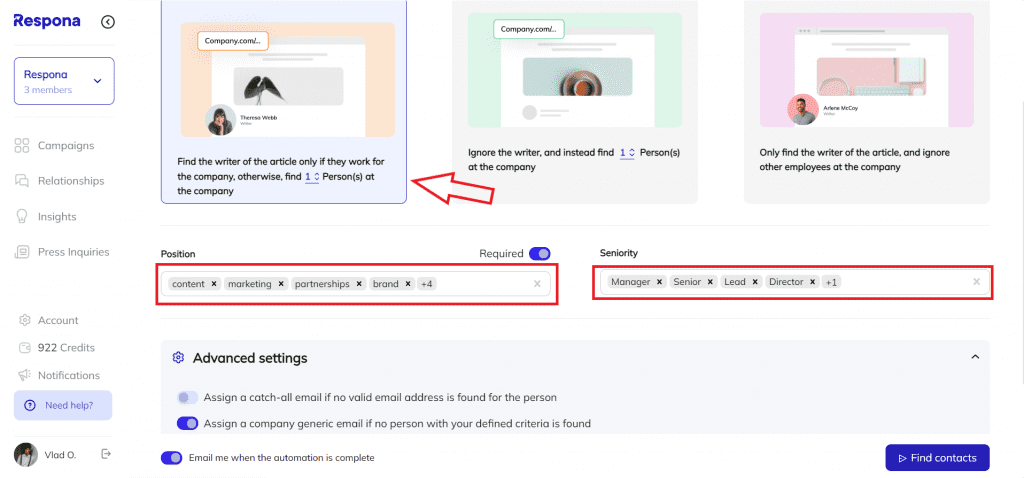 As you can see, we've set the parameters as;
Find the writer of the article only if they work for the company, otherwise, find 1 Person(s) at the company.
That's a great option that can work as a "safety net" when Respona can't find contact information for a prospect.
In such cases, we ask Respona to find another person within the company from the referred URL, based on the root domain we have in our list.
Not only that, but we can find a person within that company based on their position and/or seniority.
This increases our chances of finding someone with editorial access and in the position to make editorial decisions.
The first advanced parameter should be better left off as it is.
Once we're ready, we can click on Find Contacts.
As you can see below, Respona had a 90% success rate in finding the contact information of our prospects; it found information for 27 out of 30 total opportunities.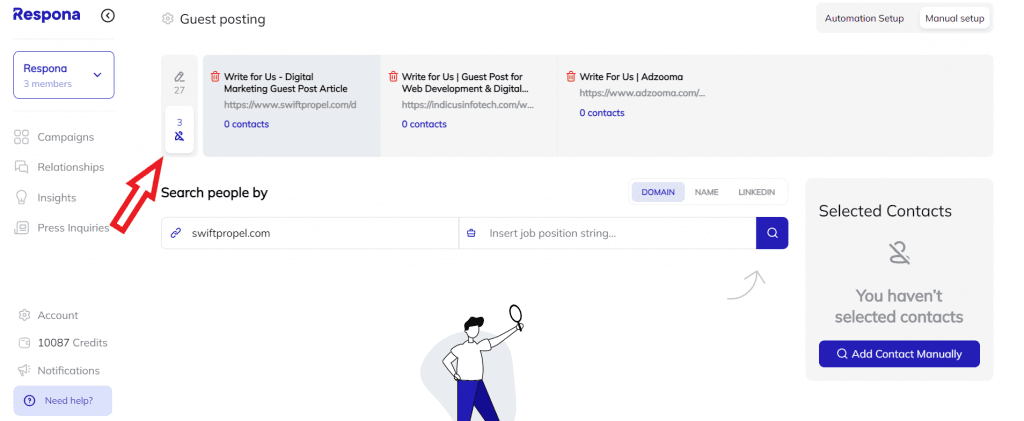 You'll notice that Respona has assigned an email to the opportunities that it has managed to find contact information for.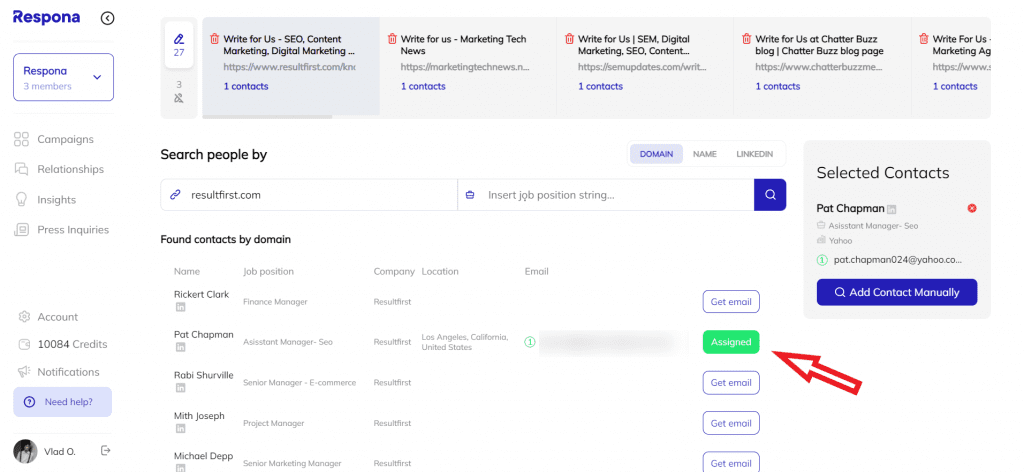 You can always take a look and double-check that everything is as it should be.
Once again, when you're done, click Next Step.
In the final step of the process, you have to a) personalize your emails and b) review for any possible errors or mistakes.
As you can see in the screenshot below, in this last step, we have four areas:
Your opportunities
Your email and follow-up emails, with all variables included
Automatically extracted excerpts that you can use for personalization
The Launch Campaign button which you can click when everything is ready.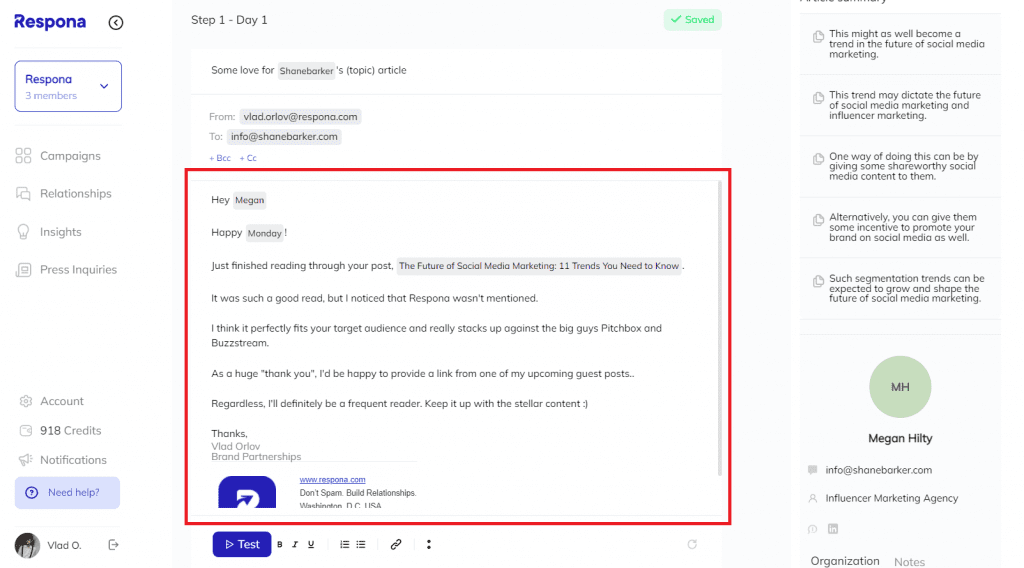 To make personalization easier, you can take advantage of excerpts Respona pulls directly from articles.
In most cases, the excerpts are highly-relevant pieces of text that are extracted by Respona and can be used as a way to personalize your email even further.
All you need to do to use them is copy/paste them inside your email and make any necessary changes until they're integrated properly inside your email. You can find them on the right side of your screen.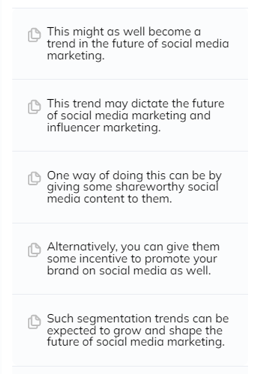 Author's Note: When you see that the excerpts provided by Respona aren't really relevant or that, in general, don't make a good fit, you can personalize your email by writing something by yourself.
When you've repeated the process for all the opportunities in your list, you can click on the button Launch Campaign.

From there, it's only a matter of managing replies and establishing relationships.
This process, as tedious as it may seem at first, will slowly allow you to acquire backlinks and gradually help you increase your domain authority.
As we saw earlier in this guide, this will help you become more competitive on the SERPs and rank for terms that are relevant to what your business is all about.
Let's see an example of this so that you can understand how companies manage to improve their domain authority thought link acquisition.
Example of An Increase In Domain Authority: Respona
At this point, we decided to show you an example of an increase in domain authority.
For this example, we're going to use our own website, Respona.
Also, the metric we're going to use is Ahrefs' domain rating, also known as DR.
As of today, Saturday January 2, Respona's DR—according to Ahrefs—is 70.

Author's Note: The UR that you can see in the above screenshot is a metric that measures the strength of a page's link profile. It's calculated in the same way as the DR, but it's a page level metric and not a domain level one.
This is quite impressive if you consider that nearly exactly one year ago — on January 15th, 2019 — our DR was only 33.

What's changed since then? What was the strategy and element that allowed us to increase our DR, as measured by Ahrefs, by almost 40 points?
First of all, you can see the growth of our DR in the following graph by Ahrefs:

Author's Note: The period from January 2019 to July 2019 seems not to be calculated correctly by Ahrefs, as it shows that our DR was close to 0 while in reality it was around 30.
It is evident that the high domain rating that we have today is a result of a consistent and exponential growth in the last 12 months.
This growth in our website's domain authority is primarily due to the fact that, during this time, Respona was acquiring inbound links from high DA websites.

On January 15, Respona had links from 60 referring domains, while today Respona has links from 787 referring domains.
If we divide the difference between the two by 12 months, we can see that during the last year Respona acquired, on average, 60.5 links per month.
If you're in link building and content marketing in general, then you know that acquiring almost 60 links per month is something really noteworthy.
All that while building a great product, publishing high-quality content, and doing on-page SEO improvements on a constant basis.
The strategies that we primarily used to acquire these links are the following:
And, of course, while building links for our website, we tried to stay away from low-quality websites, bad links, spammy anchor texts, and grey or black hat tactics that so many digital marketing professionals still use today.
As you can see from the screenshot below, the increase in our DR allowed us to have a constant growth of our organic visibility, as counted by Ahrefs;

That resulted in more people visiting our website on a daily basis.

After all, as we saw earlier, in general a high DA can result in higher rankings.
A benefit that may not be as clear here is the fact that our strong backlink profile allows us to spread the link equity that some pages have in other pages of our website that are equally, if not more important.
Internal linking and internal links in general are quite underestimated.
The truth is that you can't really do much about your internal linking profile unless you have some link equity to spread equally across your website's pages.
For example, one of our most linked content pages is the ultimate guide on how to promote your website.
This page has links from 160 referring domains, according to Ahrefs.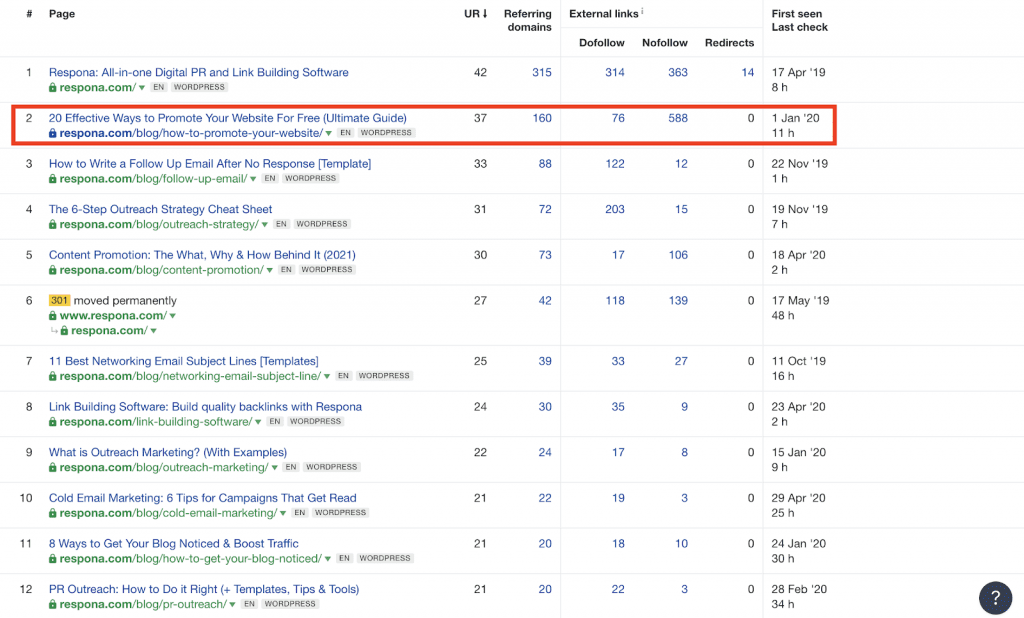 Apart from the obvious reasons why this is important, having so many links pointing to a certain page is also important for another reason:
It allows us to link back, through internal links, to other pages on our website that are important to us.
Thus, link building and improving your backlink profile can have benefits on multiple levels.
With this example, we wanted to show you how many things you can achieve by increasing your DR.
Let's wrap this up and close with some final thoughts.
Ready to Increase Your Domain Authority?
By now, you should have realized that improving your website's Domain Authority is essential to get organic traffic from search engines like Google.
Since the SEO world is almost certain that Google also has a similar metric that calculates a website's authority, caring about your website's DA is inevitable.
If you're ready to start increasing your website's domain authority, then you'll need to start acquiring high-quality links from websites that are relevant to your own.
One of the best ways to do this is by doing email outreach to those websites.
If you're ready to get started with link building outreach, then you should give Respona a try.
Our tool has helped many new websites improve their authority and their overall rankings.
Just request access to a free demo and we'll be glad to show you what Respona can do for you.
Frequently Asked Questions (FAQs)
Here are some common questions people ask when it comes to their website authority.
Q1. What does domain authority mean?
The domain authority is an authority metric that measures the strength of your backlink profile. The strength of your backlink profile can help you become more competitive on the SERPs for terms that are important to you.
Q2. How do I find my domain authority?
To find your domain authority on Ahrefs, you just need to open Site Explorer, insert your website, and click enter. Ahrefs will then tell you what your website's domain authority is (or, "DR" as Ahrefs calls it). If your website is brand new, there is a chance that Ahrefs won't be able to calculate its authority.
Q3. How do I find my page authority?
To find the authority of a specific page on your website, you need to follow the same process as domain authority, but instead of choosing the "Prefix" option you choose "URL", so that Ahrefs shows you the URL Rating, AKA UR, for the page you're interested in.
Q4. Why has my domain authority dropped?
Usually, when your domain authority drops, it's due to a decrease in incoming links, or backlinks, or due to a rapid increase in outgoing links. There may be other reasons, such as an update on the database of the software you're using to measure your domain authority, or the way the domain authority is calculated by your SEO software.
Q5. What is the highest domain authority?
There isn't a correct answer to this question. According to Ahrefs Rank (Data Snapshot: Tue Jan 5), the website with the highest DR is Facebook.com. It's DR is 100. In the top 10 there are other popular websites such as YouTube, WordPress, and social media platforms like LinkedIn and Twitter.
Q6. How long does it take to build domain authority?
This depends on the growth of your backlink profile. Essentially, domain authority is how many high-quality websites link back to your website — the quicker you can acquire links, the quicker your authority will be increased.
Q7. Does Google use Domain Authority?
Even though Google states that it doesn't have a metric such as the website authority or domain authority, many professional SEO services argue that Google has an authority metric that's similar to the ones SEO software like Ahrefs or Moz are using. If there's such a metric, we expect it to be calculated in a much more sophisticated way and take into account several different factors for each website's performance.
Q8. What is a good Domain Authority?
That heavily depends on the industry you're in. For example, if you're in the extremely competitive SEO industry, then even a DR, as calculated by Ahrefs, of 70-80 may not be enough to be competitive on the SERPs. On the other hand, in industries where link acquisition isn't the main level of growth for search traffic, such as storage services, you could be competitive with a lower domain authority.
Q9. What is the difference between Domain Authority and Page Authority?
The difference between Domain Authority and Page Authority is essentially the fact that domain authority measures the strength of your backlink profile on a domain level, i.e. site wide, while page authority measures the strength of your backlink profile on a page level.
Q10. Does Domain Authority matter?
Domain authority matters, but you shouldn't be obsessed over it. If, for example, you have low-quality content published on your website, poor user experience for your visitors, or the links you've acquired come from low-quality websites, then having a high domain authority won't really help you get more search traffic.