Wondering what outreach marketing is and how to use it to grow your business?
Let's just say that it's a great way to…
Build relationships with top journalists in your niche and get press coverage
Connect with popular bloggers in your niche and promote your content
Attract links to your target pages and grow your organic footprint
… And more.
As you'll see later in this guide, very few people are actually doing it right.
So, if you want to know what effective outreach marketing looks like, read on.
Overview of Outreach Marketing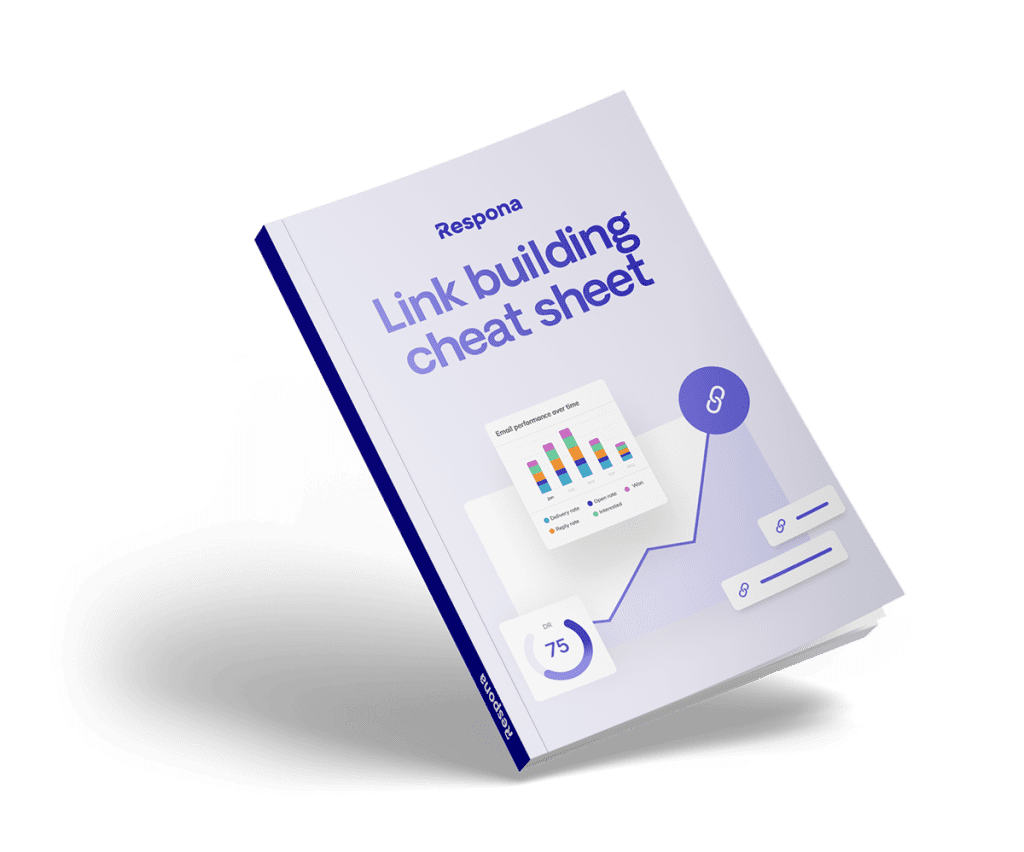 Link building cheat sheet
Gain access to the 3-step strategy we use to earn over 86 high-quality backlinks each month.
What is Outreach Marketing?
Let's start off with some basics.
First, here's a quick definition of outreach marketing.
Outreach marketing is the process of using email outreach as a way to establish relationships with influencers, bloggers, other businesses and journalists so that you can earn links back to your content, get passive web traffic and reach new audiences.
Thus, as you can understand, outreach marketing can help you with things like:
Content marketing
Developing relationships with brand ambassadors
In fact, I would say that outreach marketing is one of the most important aspects of any successful marketing strategy.
However, according to research by Backlinko, only 8.5% of all outreach emails receive a response.

Astonishing, right?
This means that a staggering 91.5% of all cold emails sent are simply ignored.
Why is that?
I would say this happens for three main reasons:
Lack of personalization both for the title and the body of the emails
Lack of a clear process as to how to conduct outreach marketing the right way
Irrelevant messages from companies that buy email lists and start spamming
The quality of most of those emails also clearly show that they're spam, and therefore not something you should pay attention to.
This is why most outreach marketing campaigns are destined to fail.
If you want to learn the steps of a successful outreach strategy, be sure to read the guide we created a while back:
→ The 6-Step Outreach Strategy Cheat Sheet ←
Outreach marketing is a powerful tool, and not just for blogging or inbound marketing.
If done correctly, it can help you level up your marketing game.
Let's take a look at some of its advantages.
Advantages of Outreach Marketing
The great thing about outreach is that it can be improved over time.
This means that while you may not be good at it at first, you'll get better as you test and iterate.
1. Improve your SEO
One of the first advantages of outreach marketing is that you can improve your position in the SERPs.
In other words, you can get higher page rankings by attracting high-quality backlinks from websites that are relevant to yours.
The question is: Why?
According to a survey of 1,500+ SEO professionals by Rand Fishkin's SparkToro, the quality of linking sites and pages to a given website is the second-most important factor that affects Google rankings.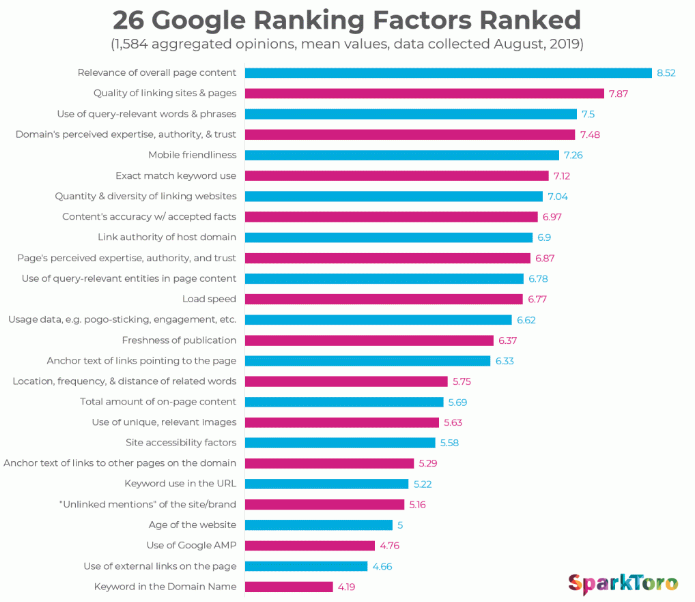 Also, according to a study of 920 million pages by Ahrefs, there is a correlation between the number of referring domains for a given web page and the amount of traffic that this page gets.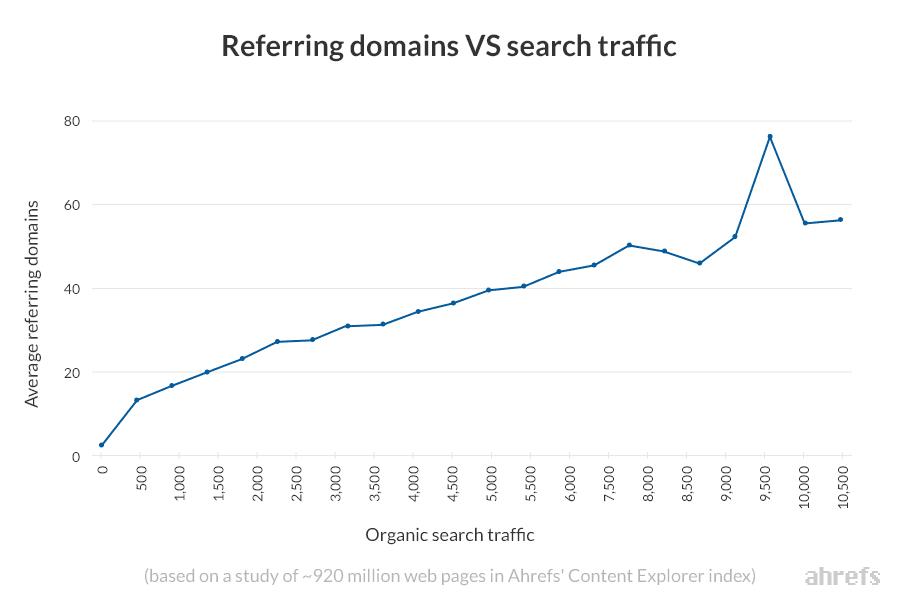 This is proof of one simple thing: links matter.
Since outreach is one of the ways to attract links from high-authority pages, and because links help you rank higher in the search engines, we can say that outreach greatly contributes to your overall SEO efforts.
Of course, there are many other aspects taken into account by Google and other search engines as to how they'll rank your website, but the number and quality of links has been a significant ranking factor for over 18 years.
2. Promote your content
Besides helping you increase your search traffic (at least, indirectly), outreach marketing can also help you promote your content.
Let's face it, most websites owners are struggling when it comes to promoting their content.
Most of the time, content amplification for them is simply a matter of publishing a new blog post and sharing it on social media, and more recently in communities like zest.is.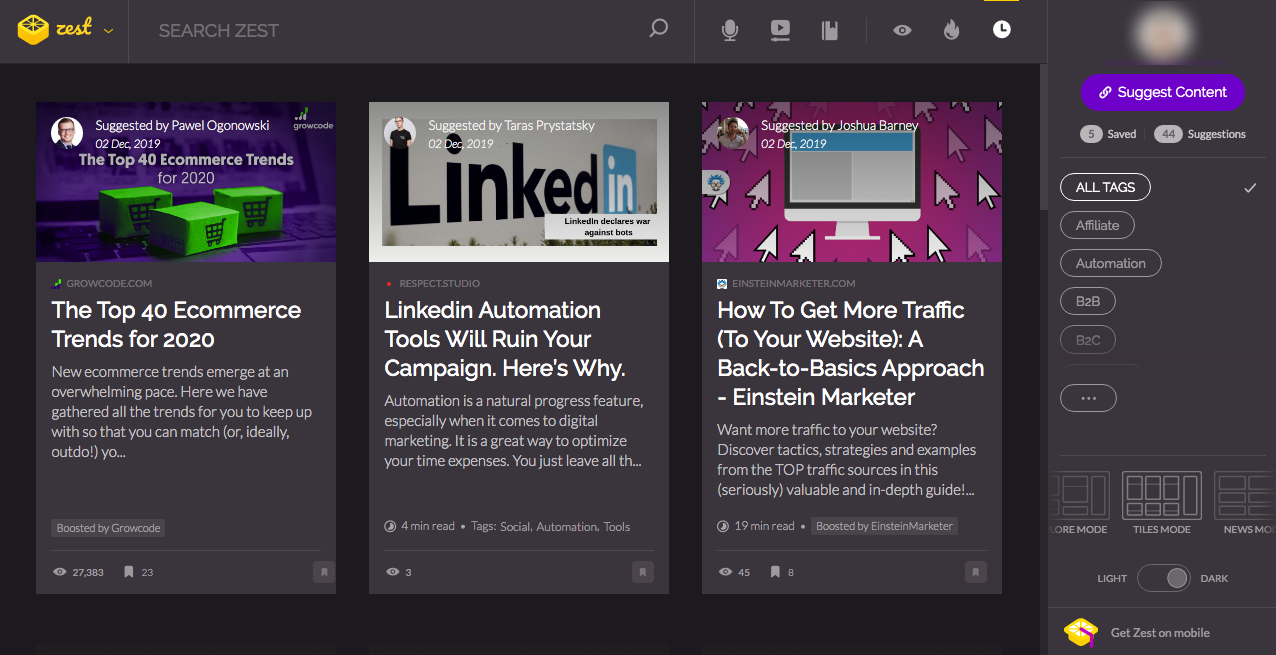 However, amplifying your content isn't as easy as that, and only sharing your new blog posts on LinkedIn and Twitter won't move the needle much.
One of the advantages of outreach is that it allows you to promote your content, raise brand awareness and stop relying on word of mouth or third party recommendations.
3. Expand your network
The third advantage of outreach marketing is that it helps you connect with influencers and like-minded content creators, raising brand awareness for your new business.
It's also one of the most cost-effective ways to make people pay attention to what you're doing—if what you're doing is genuinely valuable.
Nowadays, outreach is not as easy as pitching an infographic and getting one-hundred or so links.
People are now far less tolerant of all kinds of marketing messages, meaning that you need to pay attention to your specific outreach approach.
Disadvantages of Outreach Marketing
On the flip side, let's examine a couple of disadvantages of outreach.
1. It takes time
Anyone who uses or has used outreach will tell you that it takes time.
Creating an outreach list, finding email addresses, crafting your messages and managing the communications are just some of the things you need to do.
This is why many companies now outsource their PR and link-building campaigns to a digital agency and link builders.
If you are going to use it, you therefore have to be aware of the fact that outreach marketing takes time.
2. It costs (a lot)
You have to be aware of the fact that it costs.
How much?
Let's say you want to use outreach to promote your content.
Here's a cost break-down: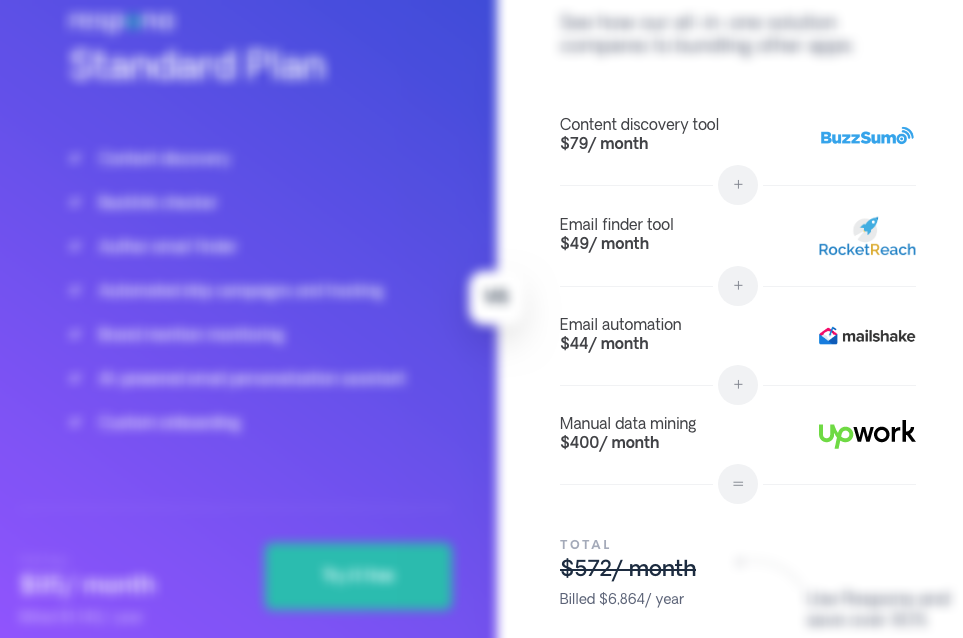 As you can see, at a rough estimation, outreach marketing will cost you up to $6.864 per year.
Of course, this doesn't take into account the man hours needed to perform all the activities related to this.
This can increase the cost of outreach dramatically.
Luckily for you, there are solutions that will help you run outreach marketing campaigns without having to spend a fortune.
Check out our pricing page if you want to learn more.
Now that we've seen both some advantages and disadvantages for outreach marketing, let's take a look at some great outreach examples.
Examples of Outreach Marketing
At this point, I'm going to share with you some cool outreach marketing examples.
However, before delving any further, it's important to make one thing clear:
Something that worked for someone else may not work for you.
This means you always need to test and iterate based on results.
Respona offers Email outreach templates for…
Unlinked mentions
Content promotion
Resource pages
Public relations
Guest posting
Broken link building
… And more.
However, the fact that templates exist doesn't mean you shouldn't make adjustments to your emails so that they better resonate with your audience.
In other words, you should always have your prospects in mind and try to tailor your outreach emails based on your target audience.
Now that we've got this out of the way, let's dive right into the examples.
1. Tim Soulo from Ahrefs
Even though this email was sent before Tim joined Ahrefs back in 2015, it's an amazing example of just how effective outreach marketing can be.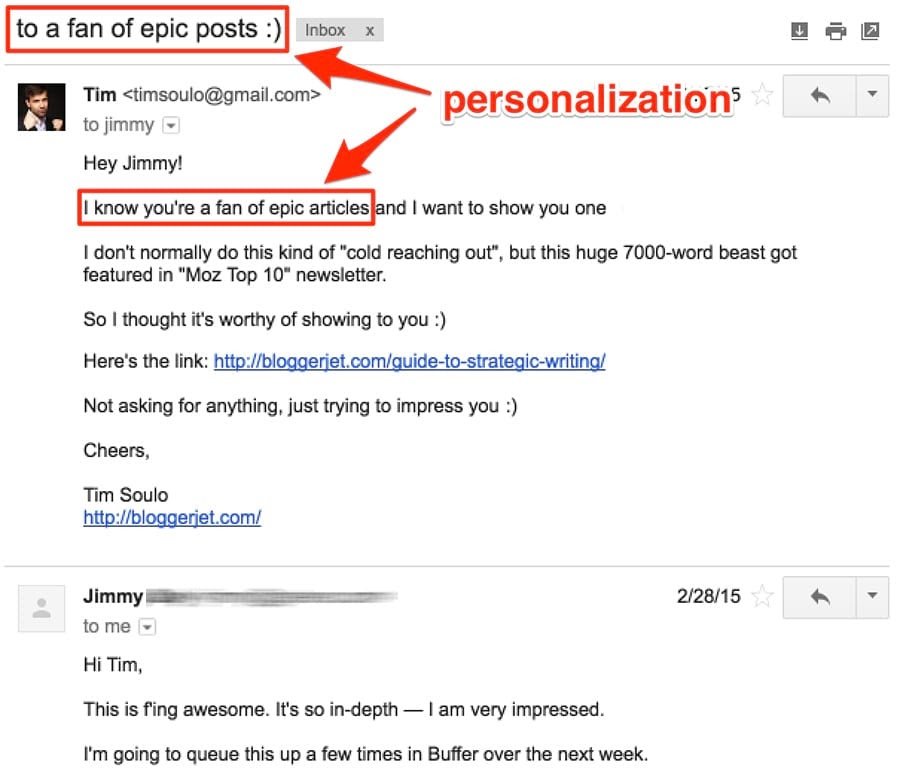 Let's try to break it down.
Subject Line
Starting with the subject line (title)of the email, we can tell right away that Tim knows his prospect very well.
Here's the subject line: to a fan of epic posts :)
Tim knows that his prospect (Jimmy) enjoys reading long-form posts from other bloggers.
Including this information in the title of his email is a surefire way to get the message opened in the first place.
Body Text
The body text of the email is equally impressive.
First, Tim's opener is "I know you're a fan of epic articles."
Once again, he clearly states that he's done his research—in other words, he knows exactly who he's trying to reach.
Once he captures his prospect's attention, he gives some details about the content piece he's trying to promote.

In this way, he achieves two things:
He shows that the content piece he's trying to promote is actually in-depth—7,000 words of something means it's probably well-researched
He gives some social proof by mentioning that the piece was featured in Moz's newsletter (which is important, since his prospect obviously knows Moz)
The last thing I like from the body text of this email is this:
"Not asking for anything, just trying to impress you :)"
If Tim was asking something from his prospect—a share on social media or a link—the prospect might not respond at all.
However, in this human and fan way, Tim turns the focus on something completely different.
All these combined is the reason why he got the following response:

So, what did Tim got here with just a short, well-written email and a bit of research?
Connected with a like-minded person
Got free exposure for his website (bloggerjet.com)
Gained some social shares on Twitter, Facebook or LinkedIn
This is the power of email outreach.
Let's move on to the second example I have for you.
2. John Corcoran (former writer of the White House Office)
You would say that outreach marketing is only for marketers, right?
Well, not exactly.
The following email was sent by journalist and former White House Office writer, John Corcoran, to Sumo's Founder and CEO, Noah Kagan.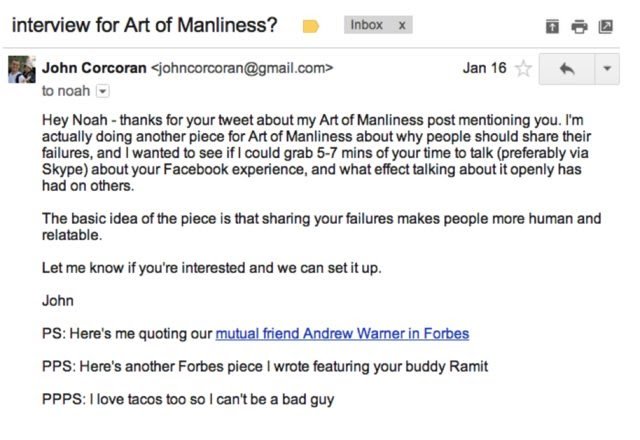 What did John want to achieve through this email?
To get an interview from Noah on his experience working on Facebook as employee No. 30.
The question is: How do you get a busy guy like Noah to get on an interview with you?
Let's see how John did it.
Subject Line
The subject line— although quite simple—lets his prospect understand what the email is going to be about.
Here's the subject line: interview for Art of Manliness?
Two things to mention here:
If used correctly, using a question in your subject line can increase the effectiveness of your email (if used correctly)
Mentioning something you already know your prospect is aware of is a good way to start a conversation
Your subject line has to be simple and clearly explain what you want from your prospect.
Let's take a look at the body text.
Body Text
As you can see, in his opening paragraph, John explains what he needs from Noah.
He also makes it easy for Noah to say "yes", since he mentions that all he needs is 5-7 minutes.

This is a great lesson to learn, because it shows that you need to make things for your prospect very easy.
The more complex the thing you're asking them to do, the lower the chances that they're going to do it (if they reply at all).
Thus, you have to briefly explain what you need and be very specific as to what the expectations are on their end.
After John explained what he needed from Noah, he gave them a reason to do it.
As I explain later on in this guide, this part is extremely important because the sender shows that:
They have mutual friends (two of whom he mentioned or quoted in the past)
He loves tacos, which is important since Noah also loves tacos
He writes for large publications (Forbes)
Note: If you know Noah Kagan, you should know that he loves tacos. He is even using tacos as part of the branding for AppSumo and his personal blog OkDork. Thus, mention in tacos by someone trying to reach out to him is highly relevant.
As you can imagine, this email was successful as well.
To take a few things that both emails have in common:
You have to pick up a relevant target audience
You have to do extended research for your prospects
You have to adjust your tone and personalize your messages
You have to define what you want your prospect to do after reading your Email
You have to write in a friendly and human way
You have to be able to demonstrate social proof
Now that you've seen two great examples of outreach marketing, let's dive a bit deeper, as I'm going to show you how to create a successful outreach marketing strategy.
How to Create a Successful Outreach Marketing Strategy
As Tim Soulo from Ahrefs mentions, "outreach is not broadcasting."
This means that you shouldn't treat outreach marketing as though it's email marketing.
Tim continues by saying:
"I'm sorry to say this, but your article is not welcome in their inbox. Otherwise, they would probably already be signed up to your email list."
Everyone wants to have an influential person like Gary Vaynerchuck or Tim Ferris share their piece of content or mention their blog on social media, perhaps as a LinkedIn update or via a simple Tweet.
In reality though, that rarely happens.
Why?
The reason is threefold:
Most outreach emails treat prospects as if they're potential customers
Most outreach emails are "broadcasting" in the same way email marketing does
Most outreach emails are irrelevant and not hyper-focused on the target audience
Thus, most of these efforts are destined to fail.
Now, let me share with you some ways to beat that.
Define clear goals and objectives
Like with every other marketing activity, outreach marketing requires you to set clear goals and objectives.
Do you want to get backlinks for your new piece of content? Appear as a guest on a few podcasts? Just get a couple of shoutouts on social media?
No matter the reason, it's essential that you define your main goals and objectives before taking any other action.
Let me show you how to do that.
Let's say that your goal is to increase backlinks to five of your best performing content pages.
The metrics for this goal could be:
Total number of links earned
Response rate per target segment
Link Value Ratio (a concept developed by Siege Media)
Increase in page and domain authority (DR and UR according to Ahrefs)
Author's Tip: You can use the Link Value Ratio metric to see how your competitors' links are translated into revenue by taking a look at the number of links and traffic value…

… And by using the following formula by Siege Media:
Making your goals and metrics against which you judge your performance is incredibly important when it comes to outreach.
Let's move on to the next point.
Choose the right target audience
According to Tim Soulo from Ahrefs, there are four types of people you can reach out to with your outreach marketing campaign:
Sharks—These are influencers with millions of followers among different social media channels
Big Fish—Not as big as the sharks but they can definitely have an impact on your business
Small Fish—These are people who have a small audience but are actively trying to grow it
Spawn—They are just starting out in a given industry (e.g. digital marketing) and don't yet have an audience
The question is: What is the best target audience for you?
This depends on the goals and objectives you set earlier.
If, for example, we (Respona) wanted to promote the following content piece about PR campaigns from our blog with the purpose of attracting links to it…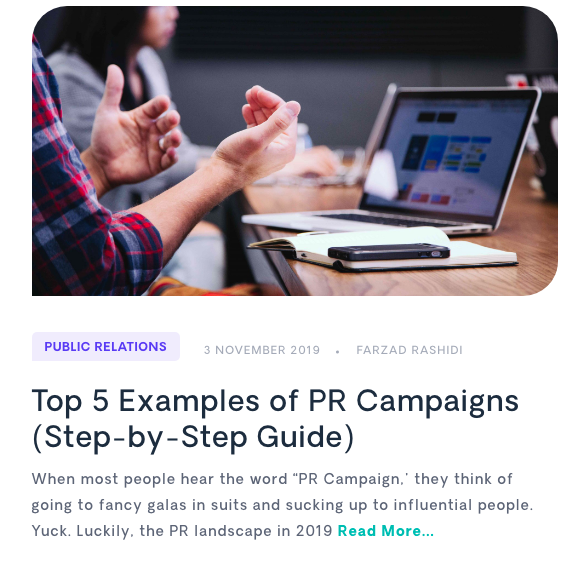 … We would have to reach out to PR professionals, blogs talking about PR, or PR agencies that have an active blog on their website.
For this piece of content, we would go for "small fish" and maybe a couple of "big fish".
In short, defining your audience has to do with what your goals are and what you want to achieve through your outreach campaign.
For example, let's assume that you have a new SaaS that helps people create online courses.
And that you want to discover bloggers that cover this topic, to request a link back to your website.
Using Respona's live search engine, you can discover content around your target keyword in real time.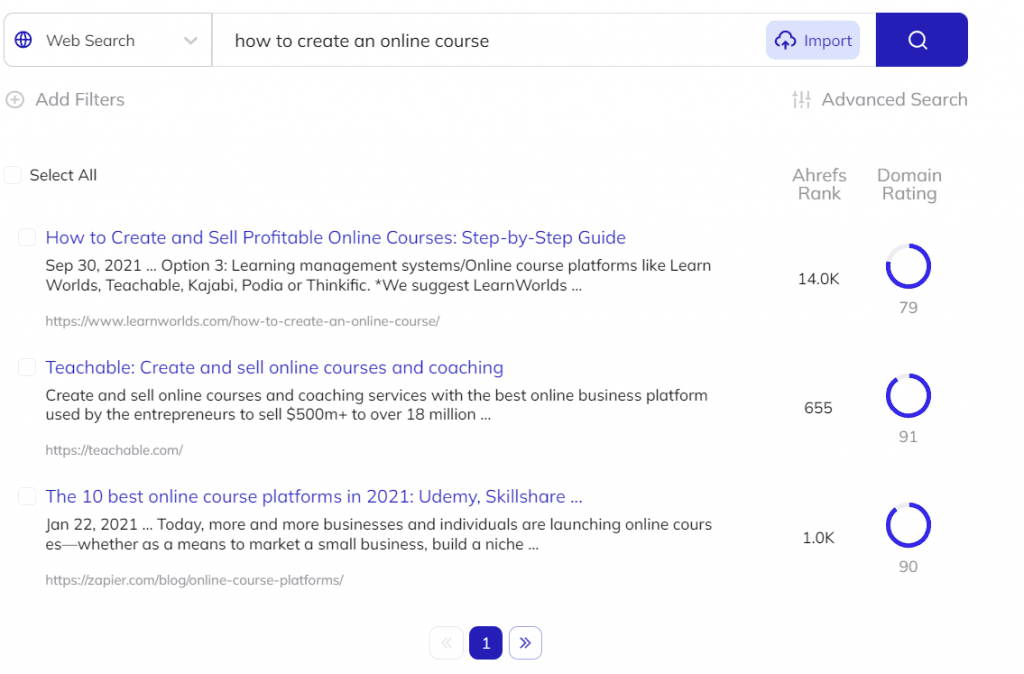 Personalize your messages
Now that you know who your audience is, you need to personalize your messages.
As I mentioned earlier, personalization can significantly improve the performance of outreach campaigns.
In fact, this is one of the most critical steps in any outreach campaign.
This is why we have "Personalization" as the last step in setting up a new outreach campaign inside Respona's UI.
Also, keep in mind that Respona summarizes the chosen content pieces (from the Content Search stage) so that you can mention something from the content piece and thus truly personalize your message.
Something really interesting is that Respona will show you the LinkedIn profile of the prospect (for the contacts that interest you) so that you can send them personalized Connection Request before reaching out via Email.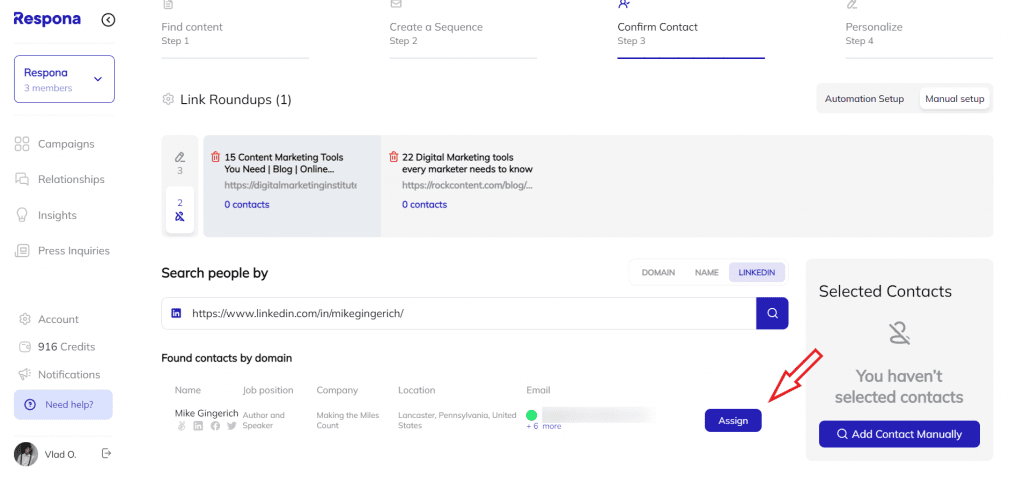 This is a great way to build rapport and it can definitely increase your chances of success.
Author's Note: We recommend that you share an article that your prospects has published on social media along with tagging their name before you reach out via Email. This way, you'll start building a relationship and it will be easier for them to reply to your outreach Email.
However, when hearing the word "personalization", most people think about adding their prospect's name on the title of the email and maybe including it a couple of times in the body text for good measure.
However, this is far from the right way of going about things.
Personalization is all about getting to actually know your prospects and giving them something they want.
Remember the email to Noah Kagan that we saw earlier?
This was a highly personalized email.
The sender (John Corcoran) knew his prospect (Noah Kagan) extremely well.
He was connected to a person he previously interviewed
He was one of the first Facebook employees
He loves tacos
Thus, it's evident that you really have to take the time to meet your prospects and adjust your outreach email not simply by adding their name to it, but by showing that you know them well.
Respona allows you to choose from highly personalized templates based on the scope of your campaign.
You can then edit your outreach emails, save them, and personalize them further in the stage of Personalization.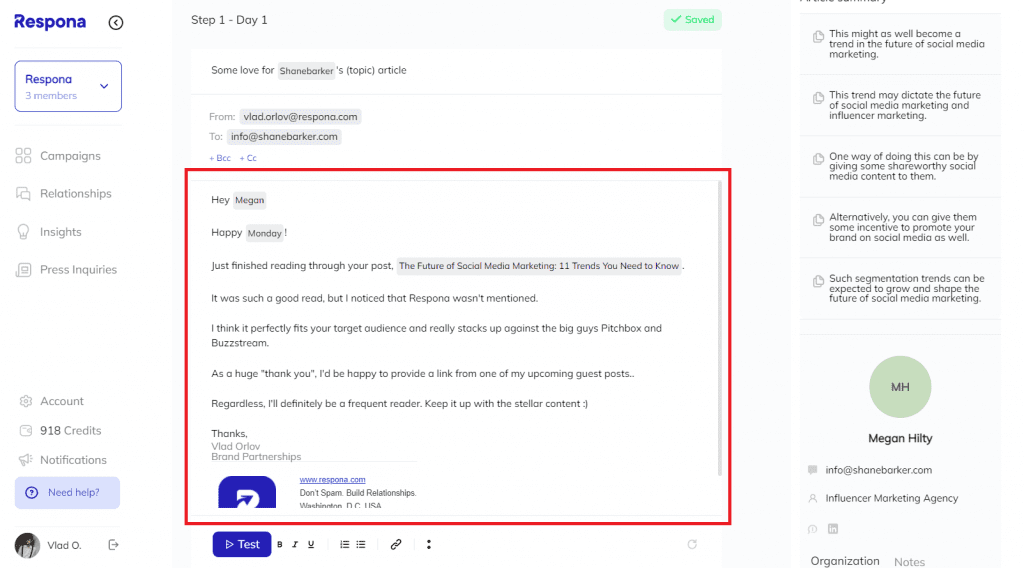 Of course, when it comes to personalizing your outreach emails, you can always go deeper.
Just make it relevant and fun, and be sure to present a clear benefit for the prospect.
Focus on building relationships (and not spamming!)
One of the things you need to keep in mind is that outreach is all about building relationships.
In reality, all people care about is taking the link, the mention, the review or whatever it is they want to achieve with their outreach marketing campaign.
This is the wrong approach of using outreach for your marketing efforts.
Try to build relationships with people instead of just trying to build links or get online mentions.
This will change the way you interact with them and will definitely increase the chance of seeing positive.
With Respona, you can create folders for your Contacts based on things like the reason of reaching out or something characteristic about that particular audience.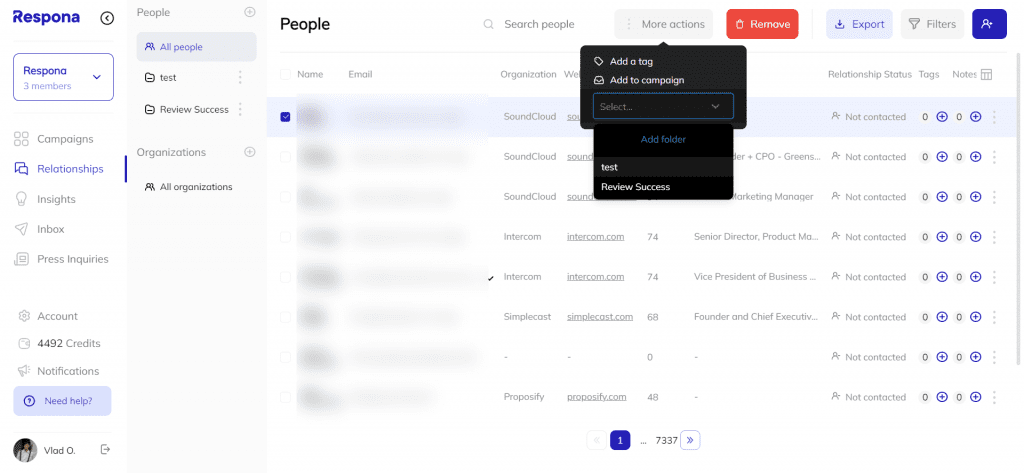 Those folders can be used as tags that will help you manage your different audiences more effectively.
Once you add contacts in that folder—whether by manually importing them or with the help of Respona—you'll see them listed here.
You can edit, add and delete your folders at any time.
Besides keeping your organized, this will also allow you to keep track of your relationships and manage them more effectively.
One thing that you need to remember is that you have to be persistent but try not to be annoying.
Following-up is not bad—20 follow-ups after the initial email is.
On that note, something that goes unnoticed by the overwhelming majority of people using email outreach is that follow-ups work, but ONLY if you use them wisely.
According to research by Backlinko, replies to outreach emails can be increased by up to 65.8% with just a single additional follow-up.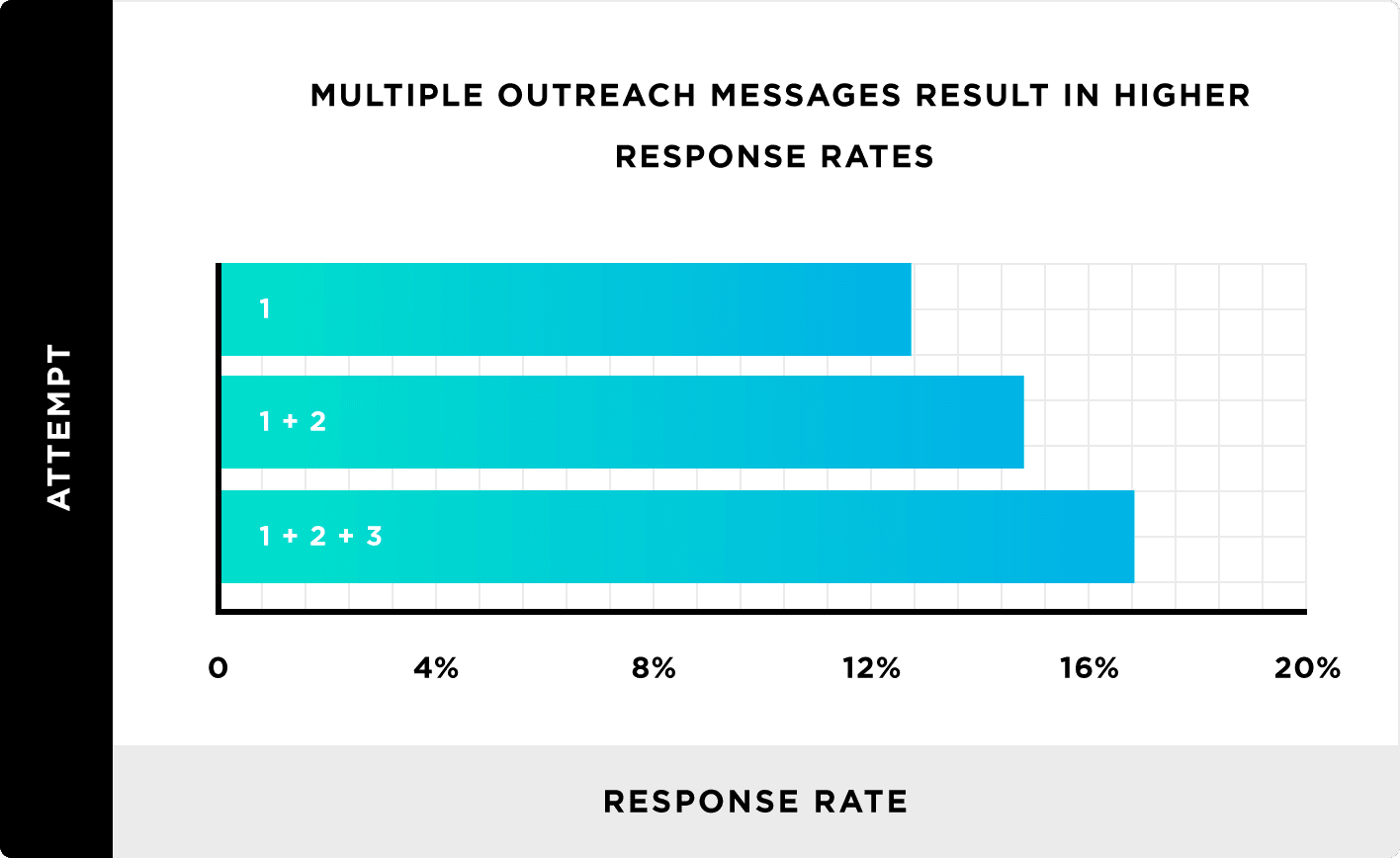 Amazing, right?
Just one simple follow-up can significantly improve the chances of getting a response.
Yet most will send just one email and not bother with a second one.
Of course, it's one thing to send a kind reminder, and another to bombard people with emails.
Doing so will definitely break your outreach campaign.
Thus, you should focus your efforts on building relationships and not spamming people.
If you want to know how to write the BEST follow-up email, go on to read the following guide:
→ How to Write a Follow-Up Email Your Prospects Can't Ignore ←
Let's close this article with some final thoughts.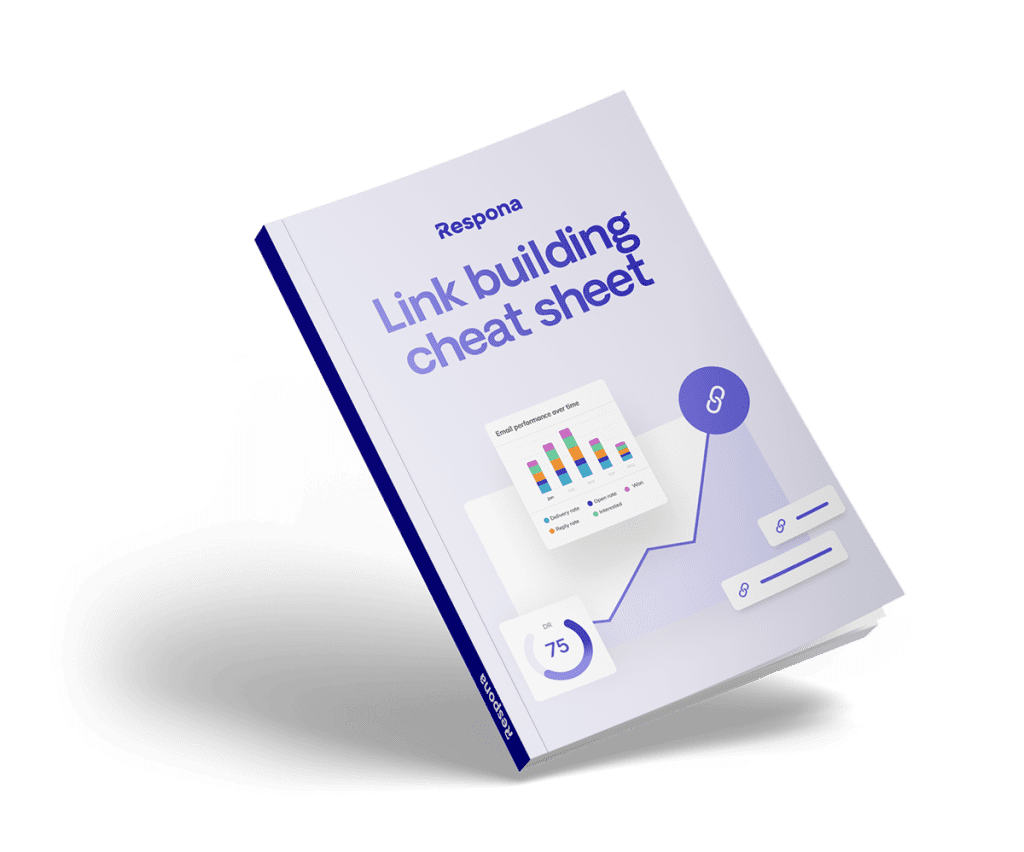 Link building cheat sheet
Gain access to the 3-step strategy we use to earn over 86 high-quality backlinks each month.
Final Thoughts
So there you have it.
You now know what outreach marketing is and how to launch a successful outreach marketing campaign.
Remember, personalization and having a clear process as to how you do things are critical for any effective outreach marketing strategy.
Once you've got these two things in place, all you need is to find the right email outreach tool and you're ready to go.
Now I'd like to hear from you:
Have you ever tried outreach marketing as part of your marketing efforts? If so, what went well and what didn't? If not, why not?
Let me know by leaving a comment below.