A simple search on LinkedIn for the term "SaaS marketing" returns 1.1 million results.
This means that, one way or another, more than 1.1 million people worldwide are in SaaS marketing.
What does that show us?
That there is more talent and capabilities out there than ever.
At the same time, 92% of SaaS companies fail within three years, despite having raised money and showing growth.
You may wonder why.
It's because most of them get SaaS marketing wrong.
In this guide, I'm going to show you how to be in that other 8%.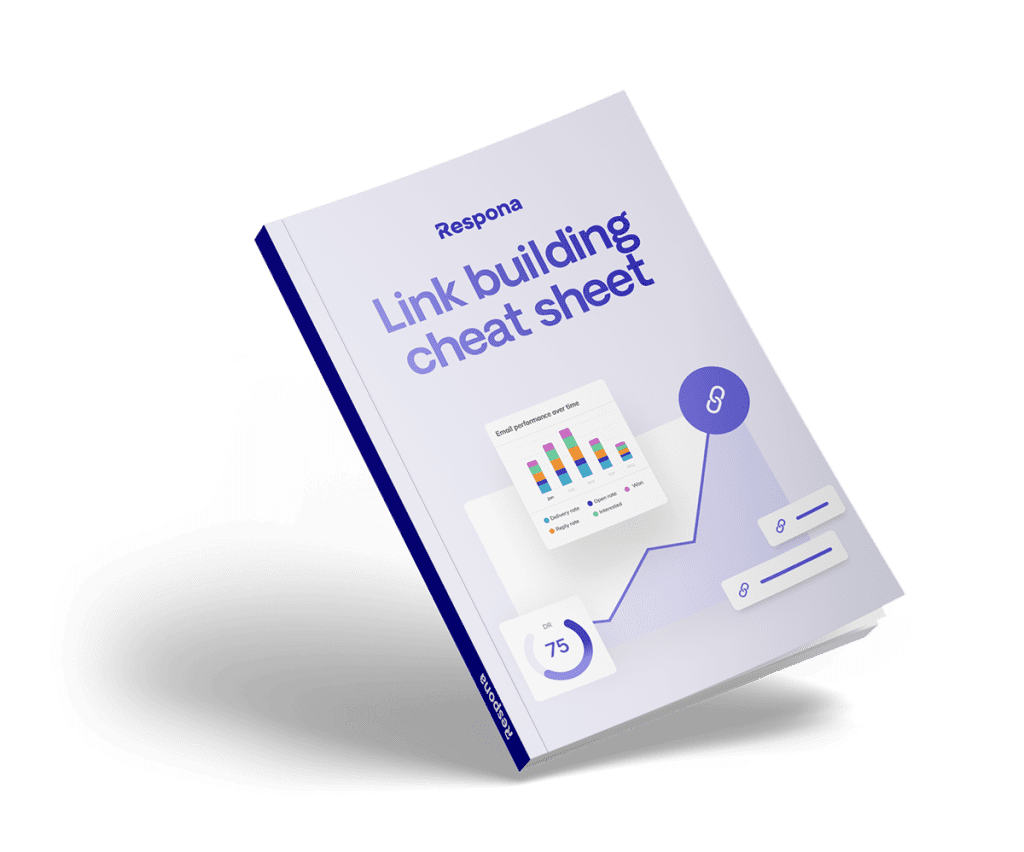 Link building cheat sheet
Gain access to the 3-step strategy we use to earn over 86 high-quality backlinks each month.
Reason #1: Focusing on Growth Hacks & Not On Long-Term Growth
Unfortunately, a lot of SaaS companies focus on short-term growth and "hacks" to try and grow as fast as possible.
You don't need me to tell you that this is the wrong mindset to have.
Trying a few growth hacks is ok, but you must pay attention to your long-term growth vision and use strategic thinking to guide your decisions.
Instead of focusing on growing as fast as possible, you should try to grow naturally and sustainably.
Let's see an example of that.
Drift, the US-based conversational marketing platform, is a great example of a company that focuses on a long-term growth strategy.
Yes, the company may have used some hacks as well as part of its overall strategy, but it's strategy isn't focused on those hacks at the expense of long-term and sustainable growth.
Through blogging, books, webinars, case studies, and even through a conference called Hypergrowth, Drift was able to create a movement around the term "conversational marketing" and quickly became one of the highest-growing SaaS companies ever.
According to ExplodingTopics, the interest for the term has been growing steadily since 2016, right around the time that Drift came into existence.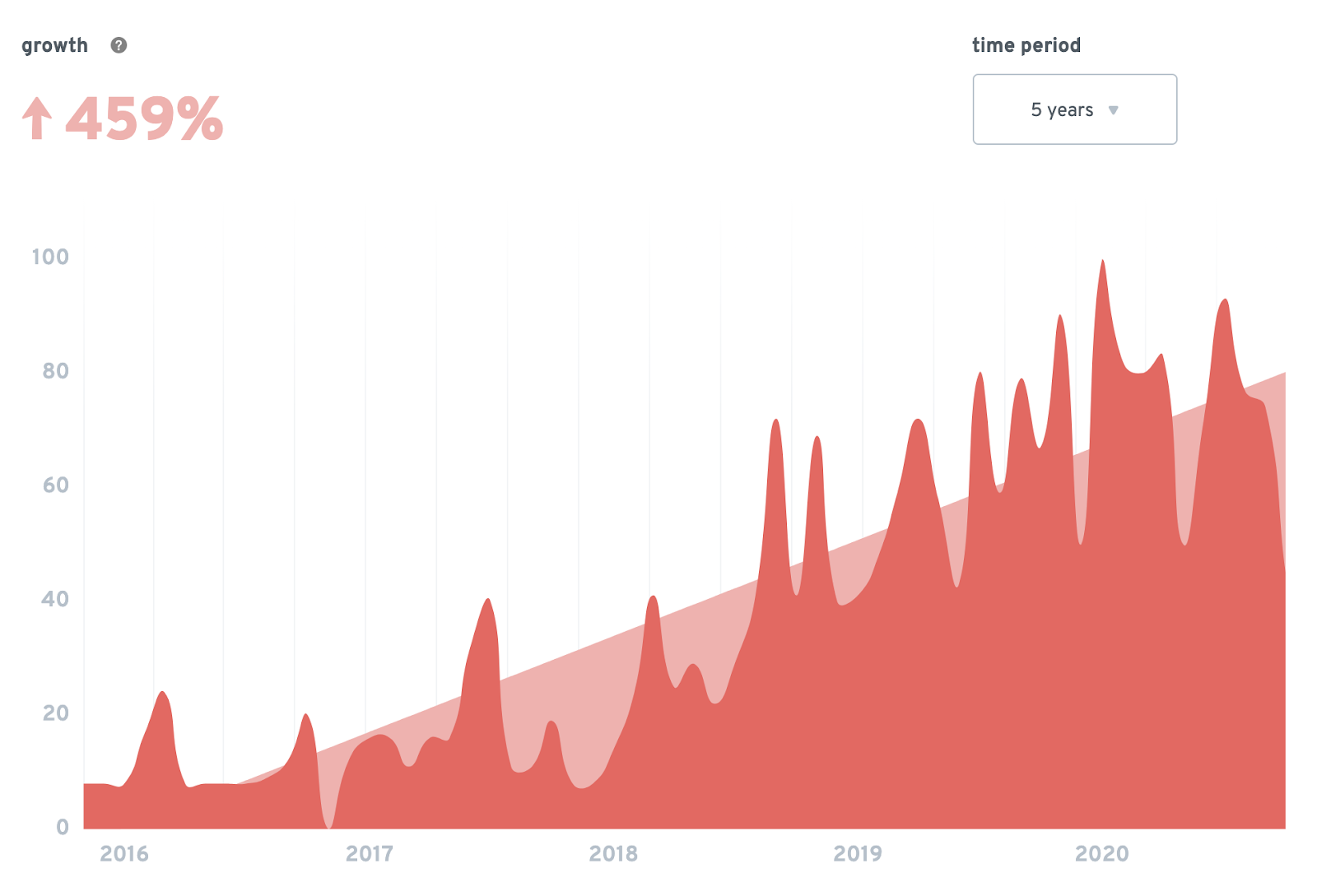 This shows us that Drift was committed to something from the very beginning — in this case, evangelizing the term "conversational marketing" — and managed to create an actual movement around it.
You can also see the success of their growth strategy in the steady increase in organic traffic to their website over the years.

Of course, it's not easy to create a new category like Drift did and stick to the very things you did in the beginning.
That's even true in Drift's case, since for the most part, the company's messaging has remained the same over the years.
You can see how the company's homepage looked like back in 2016,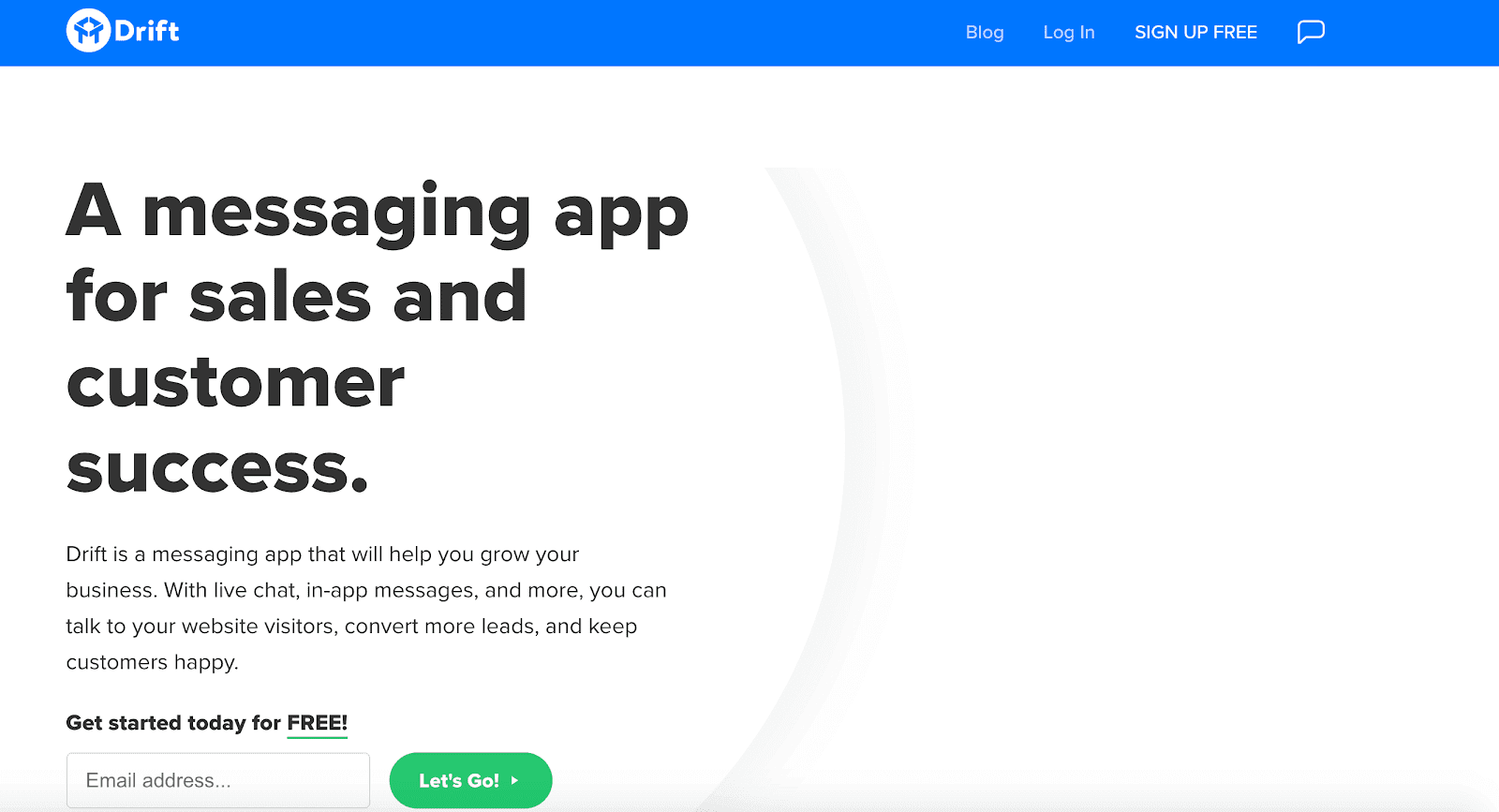 Compared to how the website's looking in 2021.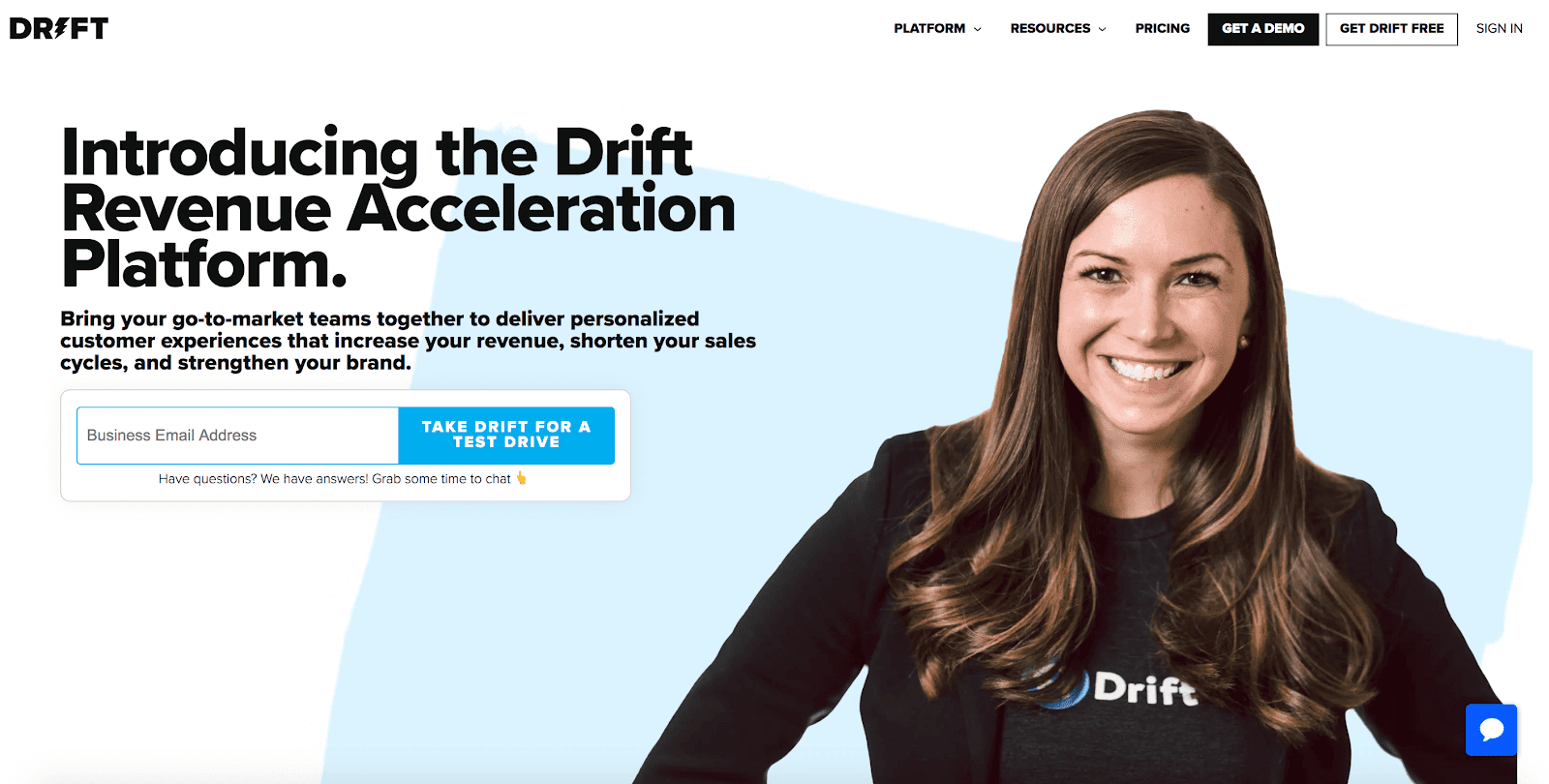 It's clear that from the very beginning, Drift focused on helping businesses communicate better with their customers and prospects and help them drive new business and revenue.
Back then, Drift may have had 10K businesses using the tool — among them popular SaaS like HubSpot and Mixpanel — for the marketing automation needs of their marketing and sales divisions,

While nowadays, there are over 50K businesses using Drift to grow.

This shows us that being consistent with an idea, a vision, and a message is something that worked really well for Drift.
This is just one of the many examples of companies that focused on long-term success instead of short-term outcomes.
After successfully establishing itself as the leader in the conversational marketing space, Drift is now expanding into other aspects of marketing, such as email marketing, once again with a focus on long-term success instead of short-term growth.
Focusing on growth hacks and not on long-term growth is only one mistake you might be making in your SaaS marketing strategy.
Let's get to the second example—something that, once again, many SaaS applications are getting wrong when it comes to their marketing.
Reason #2: "Content Marketing: Do We Really Need It?"
Another common mistake SaaS marketers make is not trusting in the value of content marketing.
Yes, content marketing has become a very saturated marketing channel.
Overall customer acquisition cost (CAC) is up nearly 50% over the past five years and even though paid CAC is still higher, content marketing is quickly closing the gap.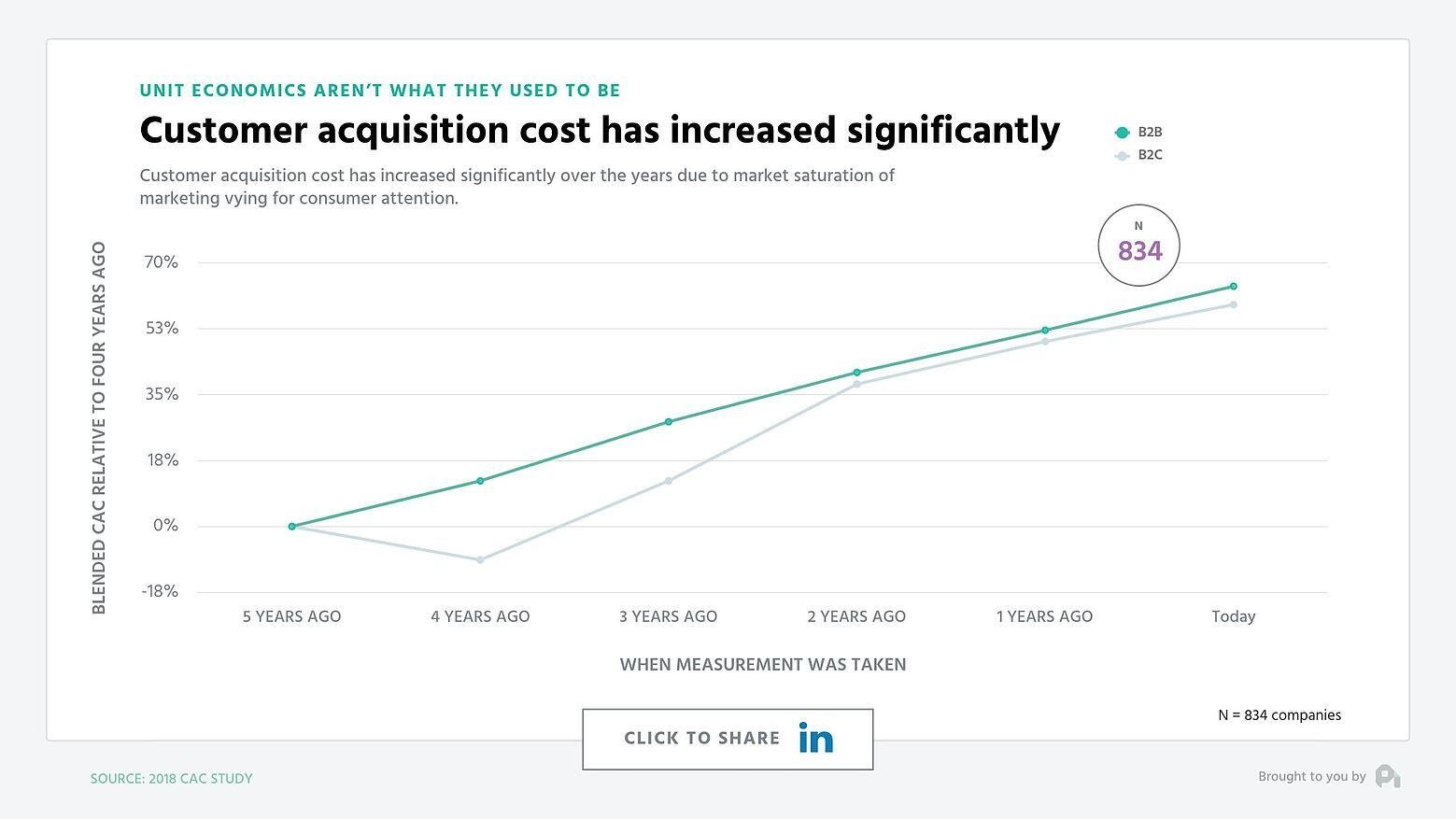 Content marketing is still a relatively cheap channel and with 47% of buyers viewing 3-5 pieces of content before engaging with a sales rep, it's a channel worth investing in.
I'd say that it's one of the best channels to help you acquire new customers and can also help with other functions of an SaaS company, such as customer retention.
Respona is a great example of a company that's invested in content marketing and has results to show for it.
We founded Respona in 2018 and invested in our blog, creating in-depth guides for email outreach, public relations, link building, content marketing, cold email campaigns, and influencer marketing.
We've also promoted our content on our social media channels and have been featured on several marketing-related podcasts.
Through our content marketing efforts, we've managed to increase our Domain Rating (DR) and get it to 68 in less than a year.

Author's Note: According to study by Backlinko, a higher domain rating (DR) correlates to higher first page Google rankings. This is why this improvement in our DR is significant and has been beneficial to us in terms of being more competitive on the SERPs.
That's a great achievement if you think that we were somewhere around 33 at the beginning of this year – 2020.

If you like what you see in the first screenshot, then you might need to consider the fact that it required a lot of time and effort to get to where we are today.
And, of course, getting our DR from 33 to 68 within less than a year is only one of the things we achieved through content marketing.
As you can see below, our organic traffic has been increasing along with the number of websites that link back to our pages.

You can also see the success reflected through the organic visibility in terms of keywords.

Through our content marketing efforts, we've managed to rank for more terms and get more people to see our brand on search engines like Google.
Finally, the most important chart showing the success Respona has had through its content marketing efforts is the traffic value that the website has gained.
Like the other charts, this area has seen rapid growth in the company's short time of existing, but this is extremely important because it's showing that the website is ranking for terms with commercial value.

Many companies get burnt out on content marketing because they don't see the value it's returning.
However, as we've seen through our own example, content marketing can be really effective in terms of getting your SaaS in front of the right eyes.
The best part?
Anyone can do it and can have success with it.
You don't need to be a popular marketing tool like Mailchimp to get your content to be seen by more people and have success with content marketing.
Content marketing may not be as important to other industries like ecommerce, but it's extremely important when it comes to software companies.
Let's move on to the next reason I have for you.
Reason #3: "PPC Works. SEO & Inbound Marketing Are Just Too Expensive"
There are a lot of different opinions about the value of PPC, SEO, and inbound marketing in the SaaS industry.
Some people use the majority of their marketing budget on PPC campaigns while others feel SEO services are a better investment.
Honestly, there are pros and cons to both PPC and SEO.
PPC may convert better but if you don't "feed" it, meaning allocating a budget each month, then the results will stop.
In the same vein, SEO is considered to be "passive" traffic, but the truth is that the cost of getting organic traffic and maintaining it is quite high.
It may not be as high — at least in most industries — but, it's a considerable investment.
In many cases, you can use platforms built especially for PPC campaigns like a PPC management software, and do your PPC advertising more professionally by saving lots of resources.
One of the main reasons why PPC works is because it's designed to work.
What do I mean by that?
Let's assume that you're searching for the term "VoIP software" on Google.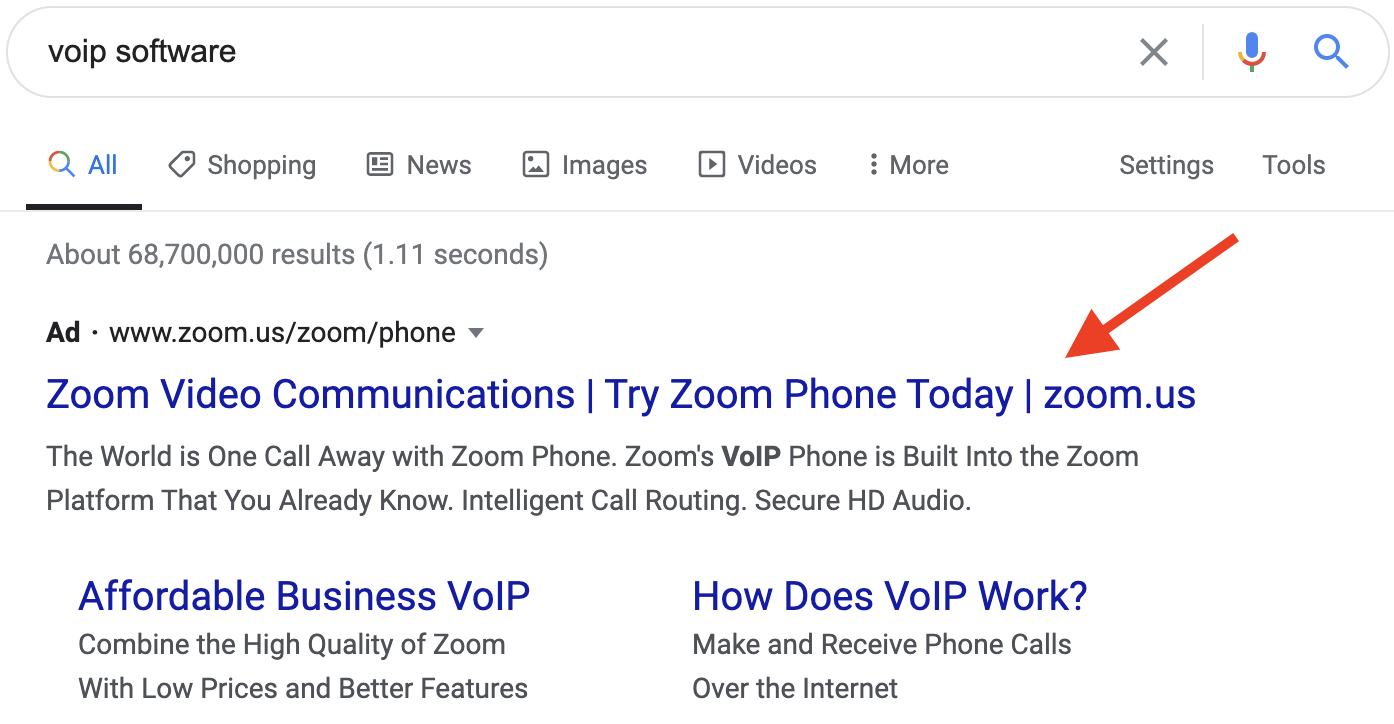 Author's Note: Results may vary depending on your browser history, preferences, and overall online activity.
As you can see, the first result — the one with the label "Ad" before it – is an ad.
It has a call-to-action (CTA) for searchers like you and me to try Zoom as a VoIP tool for our needs.
According to Ahrefs, this term has an average CPC of $19.

This means that every time someone clicks on that result — regardless of whether they're going to buy or not — the company advertising on Google search is getting charged for the click.
Now, imagine if you could get your company at the top of the organic results, right below the paid results, for terms that have commercial search intent, like this one.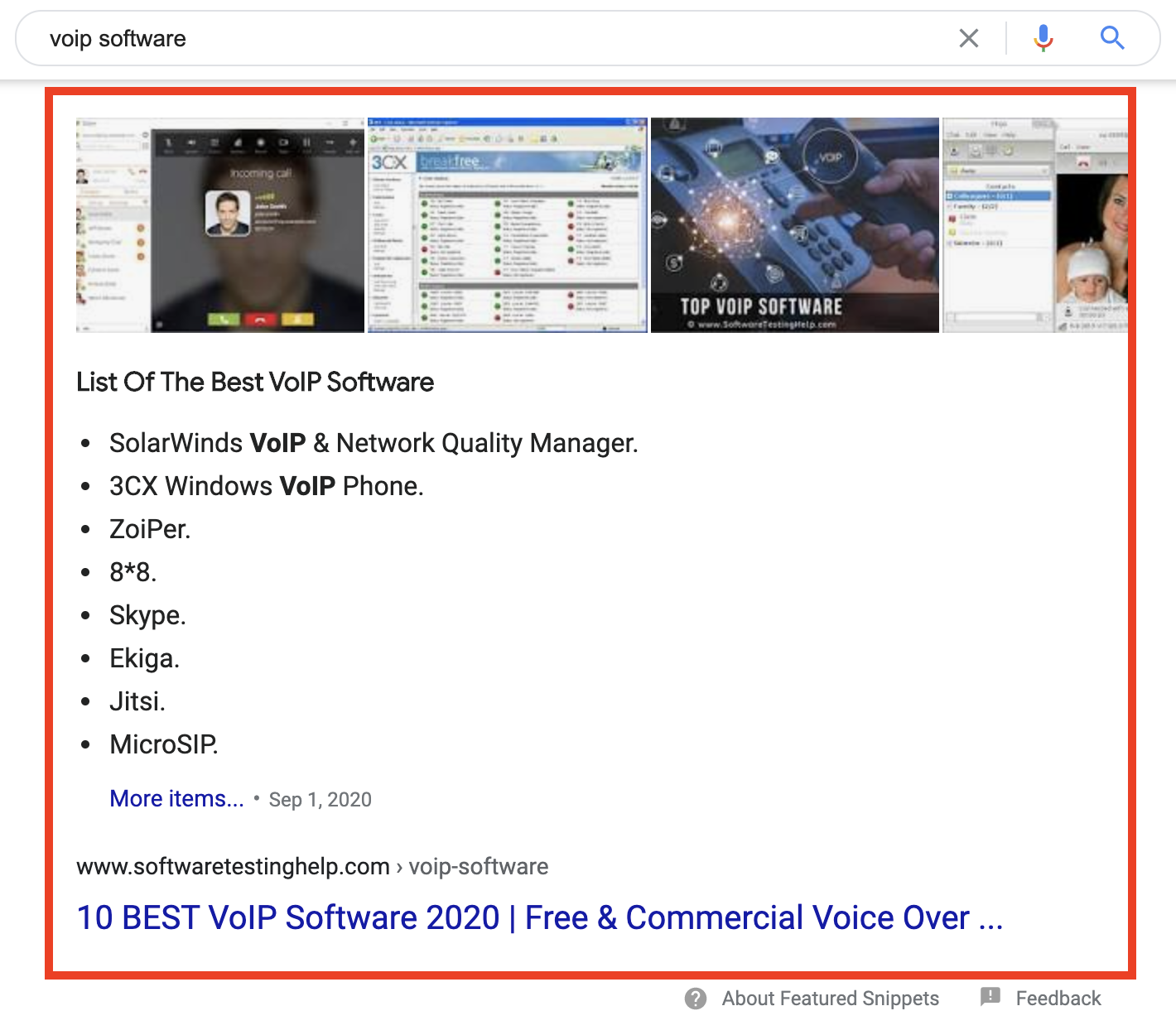 This means that you don't have to pay for the clicks you receive.
You may argue that you still had to pay for building backlinks, updating the piece, and generally maintaining your organic rankings.
Even though that's partially true, the cost of maintaining organic rankings isn't even close to paying to acquire the same amount of traffic through search ads.
Visme is a great example of that.
As I mentioned a while back when I was asked about it:

The truth is that most people underestimate the power of evergreen content.
In Visme's case — with more than 1.4M people visiting the website every month — it wouldn't be feasible for us to run paid ads to acquire that amount of traffic.

This is why SEO and inbound marketing in general is so important and can be really effective, both in terms of lead generation but also in terms of getting people to know your brand through the SERPs (search engine results pages).
Some SaaS marketers think that SEO services cost too much but they are not as expensive as you may think.
It's true that hiring an SEO specialist may be expensive but you can do certain things to improve your SEO that won't cost you a lot.
Start with the basics — create high-quality content for your blog and promote it so that your target audience gets to see and interact with it.
This doesn't require a high marketing budget.
Also, keep in mind that 72% of marketers say that relevant content creation is the single most effective SEO tactic.
Besides the obvious effects of investing in content and SEO, there are other indirect ones.
PPC may be effective in the short-term, but it's definitely not sustainable for the long-term.
Let's get on to the next reason I have for you.
Reason #4: Do We Need to Invest in Building a Brand?
You don't need me to tell you that building a brand is one of the most effective SaaS marketing strategies for long-term success.
There are many direct and indirect benefits of building a strong brand for your SaaS.
Let me share a couple of examples with you.
What you're seeing is the worldwide interest for the term "visme" according to Google Trends.

As you can see, the interest for the term is growing and growing.
Ahrefs' data tells us a similar story.

More people are searching for Visme online as time passes.
In fact, according to Ahrefs, ~160K people are looking for the brand every month all over the world.

That's without search volume for other branded terms like "visme pricing", "visme presentation", or "visme review".
There are three things I'd like you to take away from this example:
Building a brand should be deliberate and not random
Building a brand can help you grow faster than your competitors
Building a brand is one of the quickest ways to achieve long-term marketing success
The fact that Visme has invested in building a brand is paying off after years of hard effort and long-term focus on building something that lasts.
To achieve that, we've invested time and resources into content creation in various formats and on various channels, partnerships with other SaaS, and even a book about how we managed to grow Visme to over 1.5M organic visitors per month.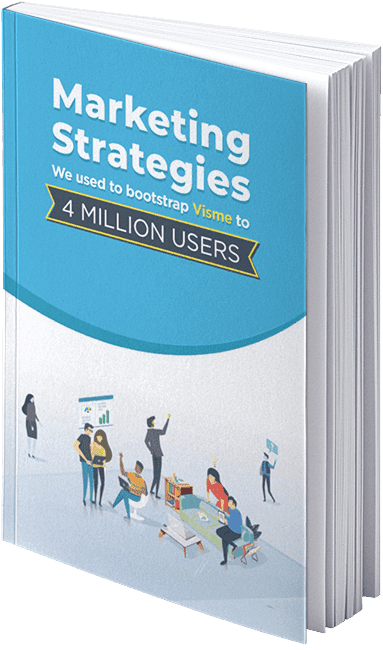 In the same way, other SaaS companies have managed to build a brand and differentiate themselves from their competitors.
Some great examples are conversational marketing tool Drift, SEO toolkit Ahrefs, and team communication software Slack.
If you're wondering why your marketing efforts aren't paying off, you should always ask yourself whether what you're doing contributes to building a strong brand.
In the cluttered SaaS landscape of today, building a brand is one of the best ways to succeed.
Reason #5: "Our Pricing Is Correct" (But We Haven't Asked Anyone About It)
Pricing is an important part of any SaaS company.
It defines the value proposition of your product and the right pricing optimization can have a huge impact on getting more people to sign up with your product.
SaaS is still in its early stages and has the potential to outpace the growth of overall IT services in the near future.
According to Gartner's forecast, SaaS revenue as a whole is expected to reach $143.7 billion by 2022.
We can see that the interest in Software-as-a-Service as a topic, according to Google Trends, has steadily increased over the past five years.

From the above graph, it seems that SaaS has already reached its peak.
However, I believe that the period following the COVID-19 outbreak is an outlier, in the sense that it can't accurately describe the demand for SaaS.
According to an article he published on G2's Learning Hub, Kevid Indig, the VP of SEO and content at G2, highlighted that there are certain software categories that benefit from the outbreak in terms of search demand.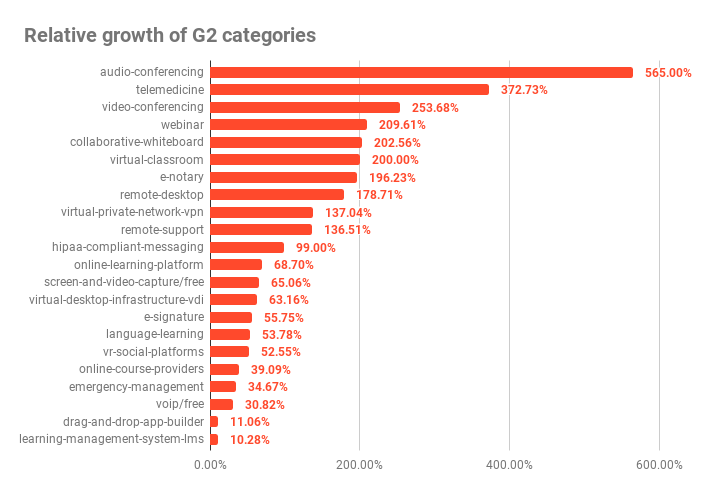 Demand for SaaS is growing and will most likely keep growing.
However, one of the things that we notice very often is the fact that most companies are making decisions on their pricing not based on what users have told them, but based on what they believe is correct.
Consider this:
According to study by ProfitWell, SaaS companies spend little to no time optimizing their pricing.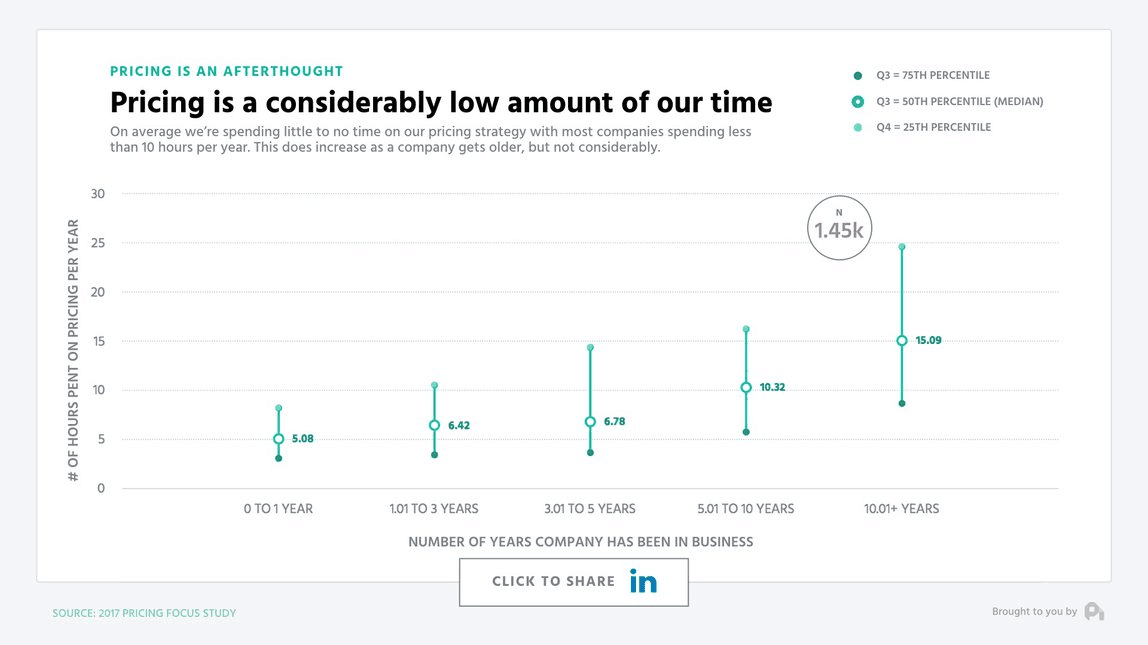 In fact, according to the study's findings, most companies spend less than 10 hours per year optimizing their pricing.
Astonishing, right?
At the same time that companies aren't paying attention to pricing, a study by ProfitWell indicates that it takes more or less three years for a company to find the right pricing.
Even if companies don't pay as much attention to pricing, the study suggests that more pricing changes correlates with higher annual revenue per user (ARPU).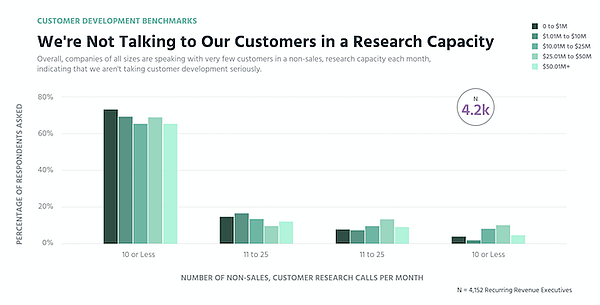 The question, of course, is:
What do SaaS companies do to understand what the right pricing is?
If you had to guess, you'd say that they ask their customers about it.
You'd be wrong.
According to the same study, most companies admit that they're not talking to their customers in a research capacity.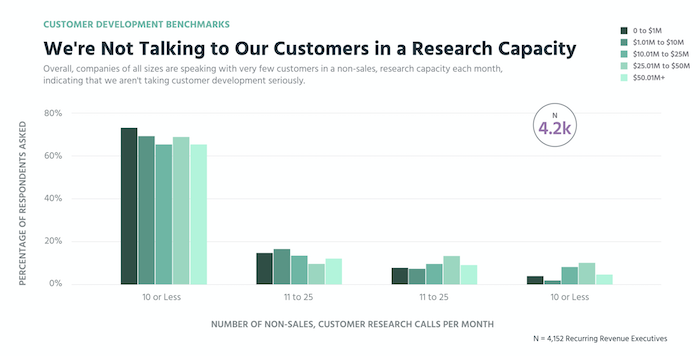 This means that SaaS companies have conversations with their customers only in the scope of sales or any other activities that aren't related to their pricing.
I believe that this is one of the most fundamental mistakes when it comes to SaaS marketing.
As an SaaS company, you need to understand the importance of talking to your customers.
Yes, this means that your marketing team has to start discussing with your customers not only for marketing purposes, but also to see what your customers and users think about your pricing.
However, an area that most SaaS companies go wrong with is making high-level decisions about their pricing without asking their customers about it.
Most companies set their prices at a similar rate to their competitors, but that's a mistake.
According to CBInsights, 18% of startups fail because of a poor pricing strategy.
It's important to keep in mind that no single pricing model is right for everyone.
What might be highly successful for one company may not work for another.
Groove, a customer service SaaS company, is a great example of a business that experimented with different pricing options to reach a point where they had a 25% increase in revenue once they figured out the right pricing strategy for their customers.
They first started out with a flexible, freemium pricing plan that was priced per agent but let companies also choose to add "part-time" agents.
Their sales team thought it was an unmatched flexible pricing plan but with a 1.11% conversion rate, it wasn't as successful as they thought it would be.
They then turned to the most important stakeholders that any company has: their paying SaaS customers.
By talking to their customers, they discovered that their pricing strategy was too complex and most visitors found it overwhelming trying to pick the right plan for them.
Groove also received feedback that most people would be okay paying for the number of support tickets they handled instead of paying per team member.
With this in mind, they updated their website with pay-as-you-go pricing.
However, this change still only led to a 1.17% conversion rate that wasn't showing the results they were expecting.
They asked their customers for honest feedback about the change in their pricing plan and they found out that what the customers thought they wanted wasn't actually what they wanted.
Most were too worried about not knowing how much they would spend per month on the pay-as-you-go and the uncertainty showed with the low conversion rate.
Groove finally realized that what they needed to do was simplify their pricing model to reflect their product.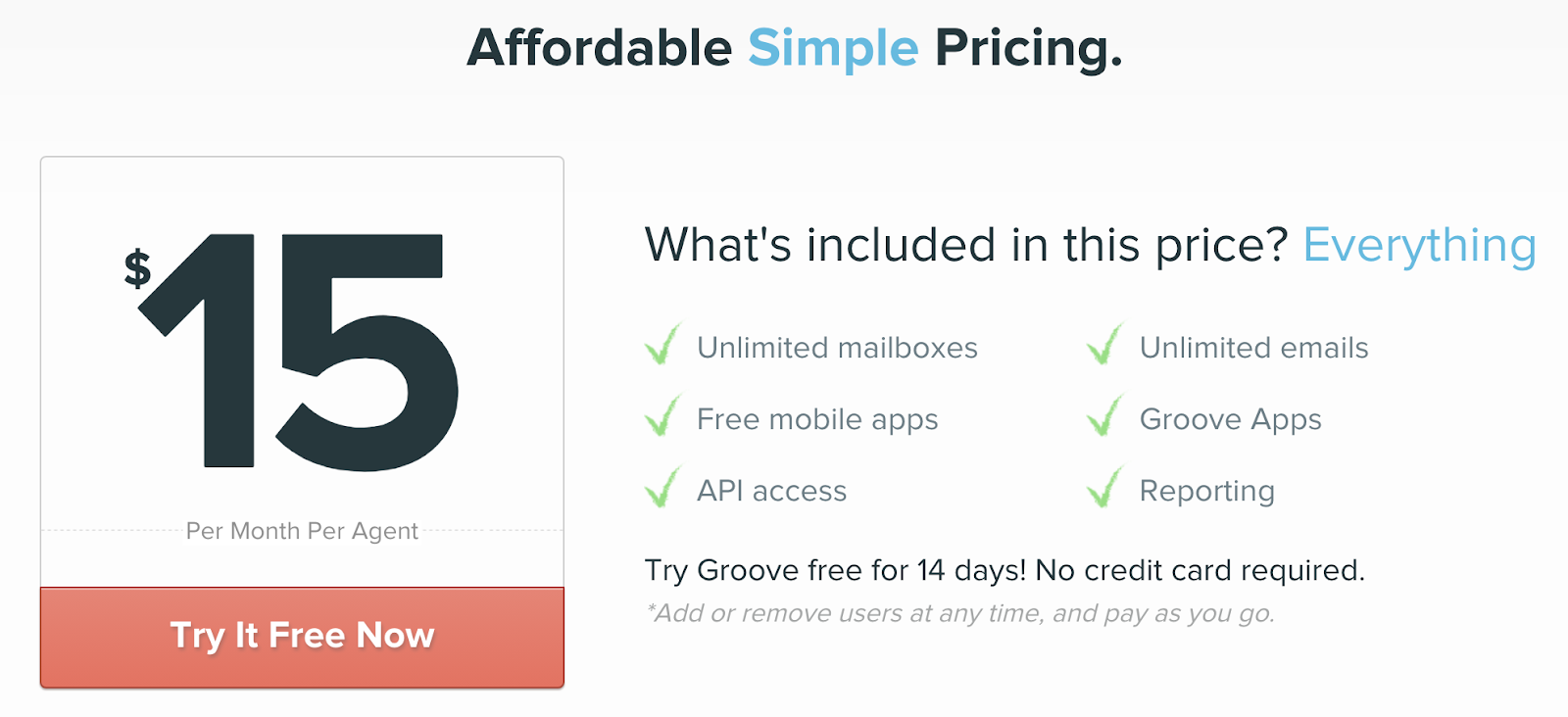 All features included in one simple price, and they even offered a 14-day free trial with no extra charges.
Simplifying their pricing resulted in a 4.15% conversion rate almost instantly and laid the foundation for how they would structure their pricing moving forward.
Instead of trying to match their competitors, like Salesforce, ThriveDesk or Zendesk, they listened to their customers and found a successful solution that worked for them.
Don't underestimate the importance of pricing in your growth.
It's one of the most important aspects of growing an SaaS business.
Reason #6: "We Have the Best Product on the Market (According to Our Product Team)"
It's no secret that in order for an SaaS business to succeed, people need to buy their products or services.
However, where most companies lose focus is when they think their product is the best on the market and get tunnel vision that nothing can be changed to improve it.
This misconception leads to a decline in sales and department leaders scratching their heads wondering why people aren't buying their software.
What's the answer?
Most companies don't take the time to do proper customer research to learn what existing customers think about their products and make changes accordingly.
Instead, they push forward with ideas that their product team has decided on and focus all their efforts on marketing campaigns or marketing tactics that try to bring in potential customers.
This isn't a sustainable business model and doesn't take into account that any company's top priority should be satisfying their customers, not pushing them through the sales funnel.
According to the 2020 SaaS Benchmarks Report by OpenView, 50% of SaaS companies are using value-based actions to qualify their leads.

The same stat back in 2019 was 26%, which means that, as OpenView put it, "product managers are being far too lenient with how they're defining what the "aha" moment is."
So, the question is:
Do we really have control over what people think about our product?
According to The Stage of Product Led Growth by OpenView, most companies – around 80% of them – are using product tracking and analytics to see how users are interacting with their product.
Even though that's good, we're not surprised to see that most SaaS companies haven't clearly defined user activation for their product.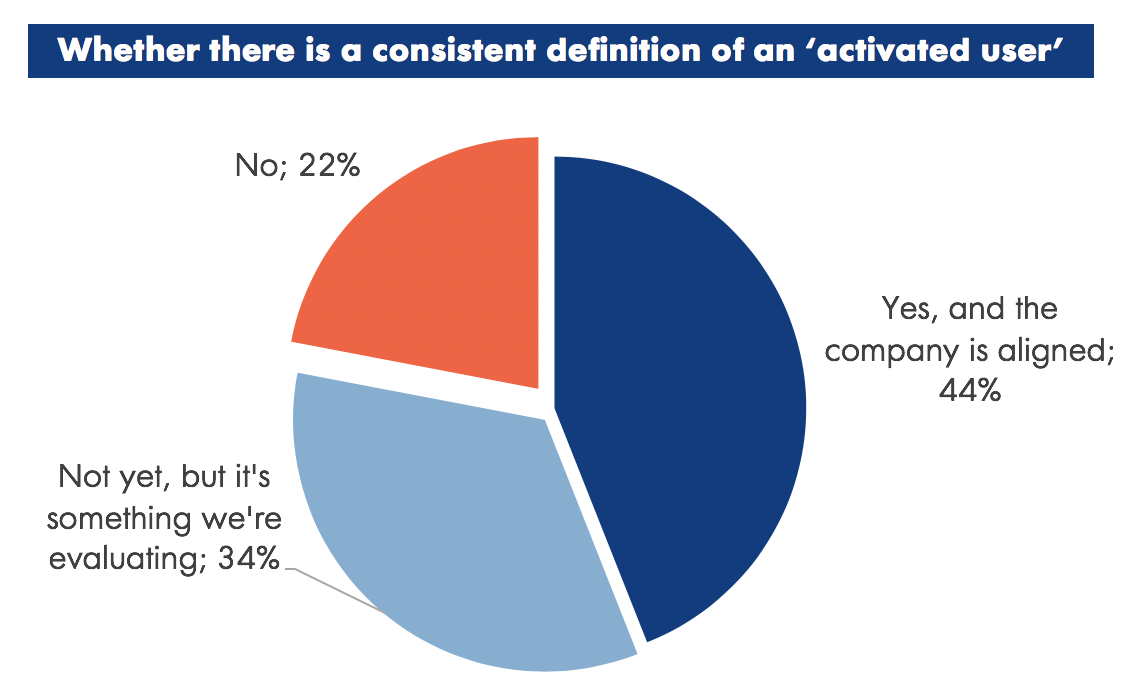 On a practical level, this means that companies are using product analytics without tracking one of the most important in-app actions: activation.
We could say that this can't give a clear idea as to how the product performs and whether it can lead users to the "aha" moment in a timely manner.
In other words, many companies still don't know whether their users experience the expected value out of the product.
This can have an effect on the oval SaaS marketing plan since you're practically spending time and resources to get marketing qualified users (MQLs) through the door and letting them leave without knowing if they can experience value out of your product (product qualified leads, PQLs).
It's my view that SaaS companies should spend more time and resources on doing proper customer research to understand their customers and try to identify the actual product value that they experience.
How can SaaS companies do that?
Enter: customer research
What are the benefits of using customer research?
Talking to your customers is the best way to discover what pain points they are experiencing and what your product is providing in terms of a solution in their business life.
Once you know an area that can be improved, it's easier to come up with a solution to meet your customer's needs.
You should also be doing customer research at all stages of a product's life, whether that be after onboarding or after the sales cycle.
If you have a new feature you're going to launch or any change in your product, getting honest feedback from your customers is the best way to avoid costly mistakes. Instead, focus your time on creating a valuable product.
How to do proper customer research
Keep in mind that there are two major types of feedback you should be collecting from your customer: quantitative and qualitative data.
Quantitative data is easier to measure.
Think of scores such as NPS, CES, or CSAT.
All those give you a broad overview of how you're doing in the eyes of your customers, but what's missing is truly understanding how customers perceive their experiences.
This is where qualitative data comes in; to give a company-specific indication of what the customer wants and what they value in your product.
Think of sending surveys, interviews, or even holding focus group sessions.
The following graph illustrates the different levels of customer research perfectly.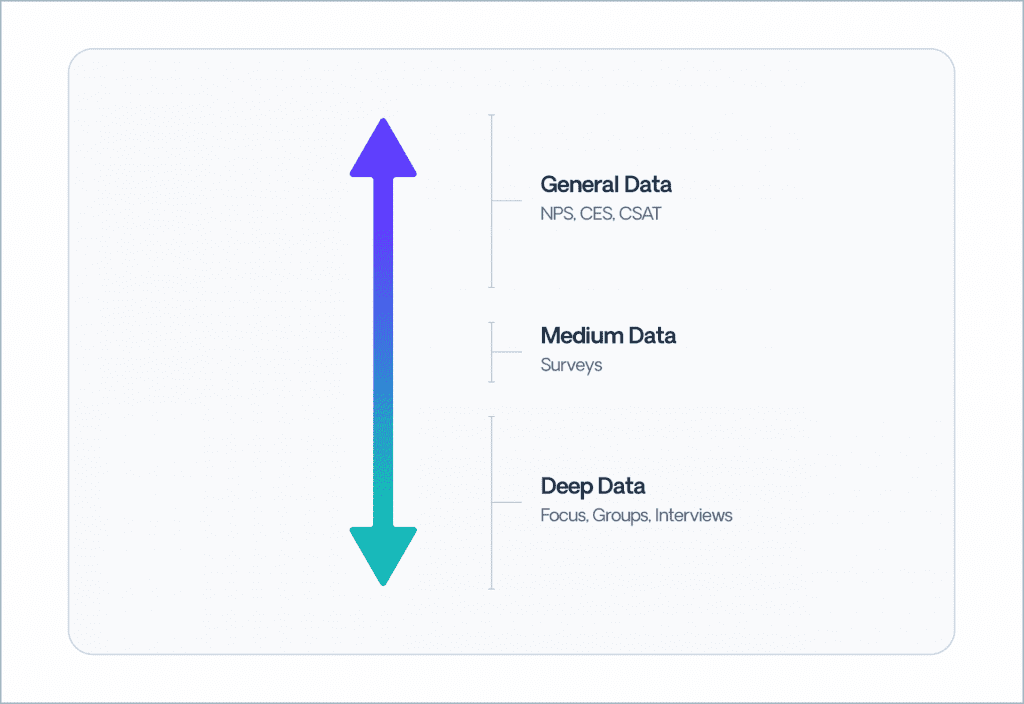 All these insights can be combined to get a good overview to assess what your customers want and what they expect.
With your useful feedback, you can also use some of these as testimonials on your pricing landing page to encourage new paying customers.
The more a SaaS company can understand what their customers think, believe, and value, the better they'll be able to retain customers and reduce their churn.
At the same time, deeply understanding your customers can help you improve your marketing strategy, e.g. adjusting your content marketing strategy to fit your customers needs, get better users in your door, and improve important metrics such as the customer lifetime value as well as the time people stick with your product.
Let's wrap this up and close with some final thoughts.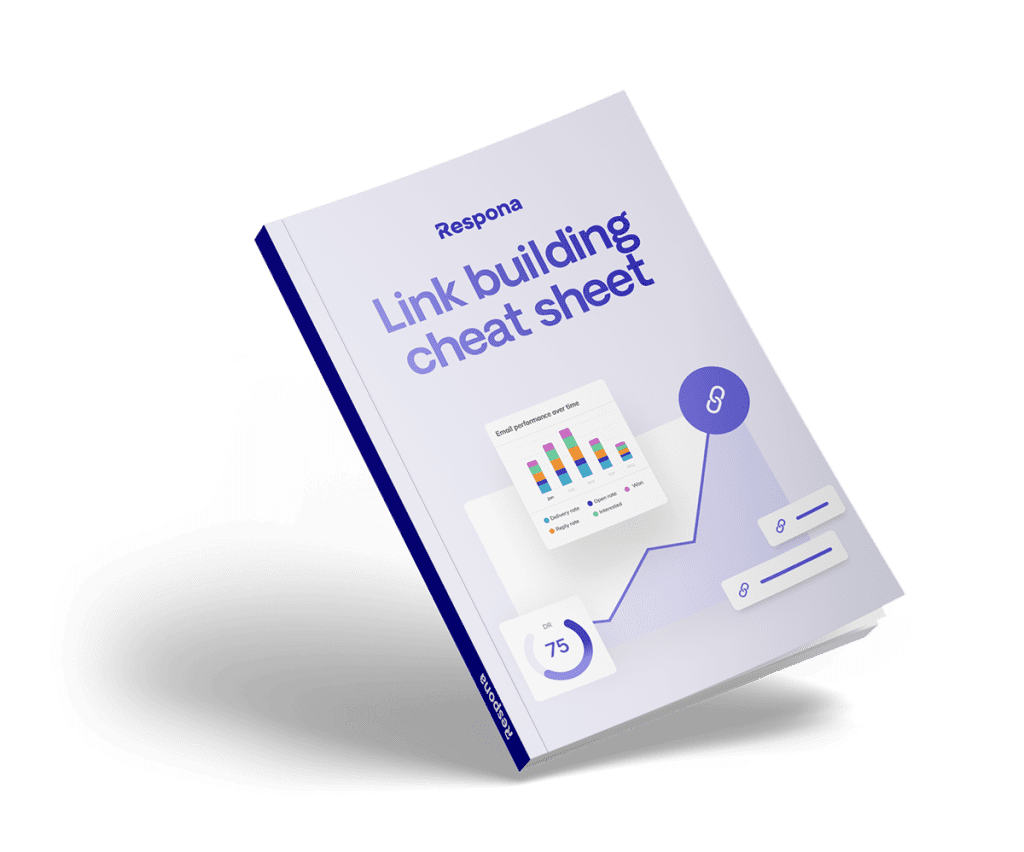 Link building cheat sheet
Gain access to the 3-step strategy we use to earn over 86 high-quality backlinks each month.
Wrapping Up
I hope that by now it is evident that forming an SaaS marketing strategy isn't the same as forming a strategy for a business in another vertical.
The already saturated market of SaaS makes it extremely difficult to build a SaaS product that stands out and has chances of surviving.
Following traditional digital marketing advice and tactics probably won't get you anywhere.
Throughout this post, we've highlighted the importance of avoiding some common SaaS marketing pitfalls and carving your own path.
If you're going to survive or not may not be entirely up to you, but you definitely have some control over it.
Good luck!