Cold blogger outreach strategy for link building/PR is a catch-22.
You need both volume (more prospects) and personalization to see significant impacts.
And combining both can feel impossible.
Scaling often leads to less personalization, as writing personalized pitches is incredibly time-consuming. But you need personalization if you want any hope of capitalizing on those link building or relationship opportunities.
Anything less than hyper-personalized outreach just comes across as spammy, annoying, fake, and ruins your conversion potential.
That's why we developed this step-by-step cheat sheet to create your own personalized outreach strategy.
Without further ado, here is how to craft your own outreach strategy and put it to use.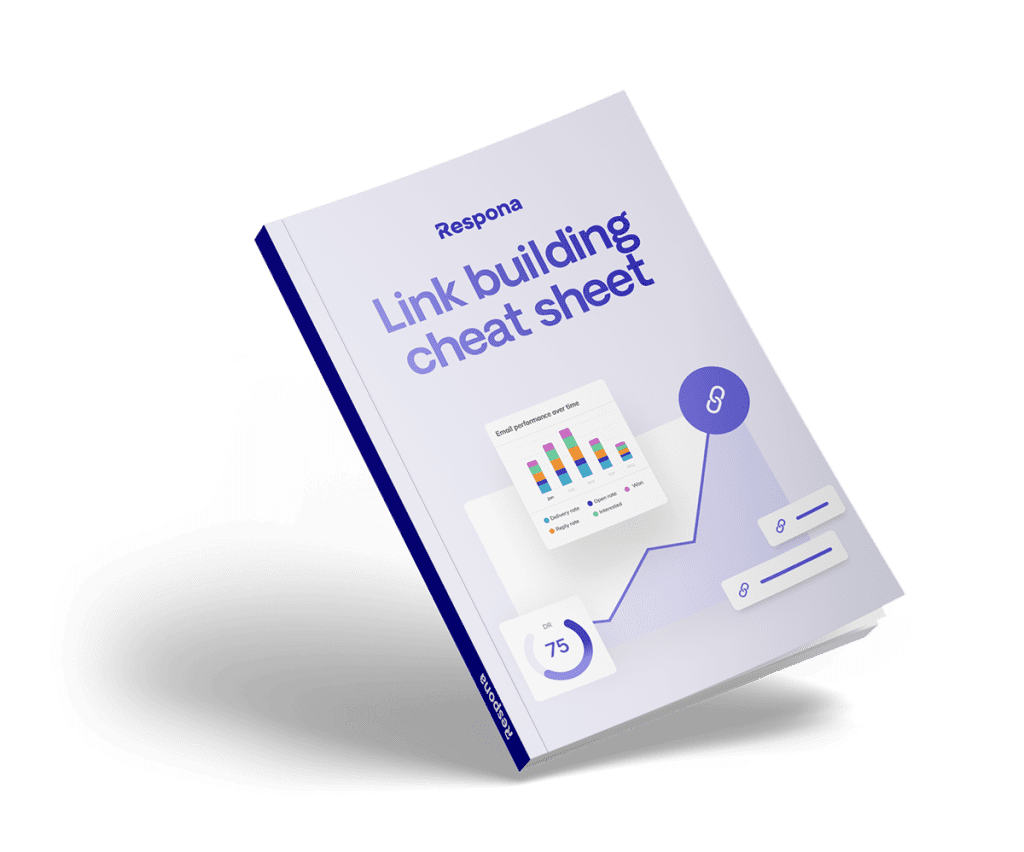 Link building cheat sheet
Gain access to the 3-step strategy we use to earn over 86 high-quality backlinks each month.
Step 1: Outline Your Main Outreach Goals
The first step of any successful outreach strategy is outlining goals.
Sadly, most take this for granted, spending ~10 minutes max jotting down simple goals like:
Get links
More brand mentions
These goals are a total waste of time. We all want more links. Everybody and their insta-famous cousin wants brand mentions.
These goals are far too broad, generic, and lack any hint of actionability that a good outreach strategy demands.
Just listing goals and going through the motions of this step is a big mistake.
What do good outreach goals look like? They are often broken down by a few big factors:
Goal type
Sub-goals
Actionable steps
Timelines
But first, what are some good, high-level blogger outreach goals in general?
Link building: generating high-quality backlinks to content on your website from as many strong domains as possible. This helps your content rank better in search engines, drive targeted traffic from referring domains, and increase content relevance.
Product review generation: getting natural product reviews is tough. Getting them without outreach and doing some leg-work is nearly impossible. Product review generation focuses on getting good reviews from top bloggers in your space.
Guest posting: guest posting is where you write a blog post for another website. It's a stellar way to build active brand awareness and drive relevant traffic to your site.
While goals can be wide in range, these are fantastic main targets.
Let me give you a flushed-out example of this.
Let's say you just launched a new landing page for a new product/software. Naturally, you'll want to build some high-quality links to it to start generating referral traffic and page/domain authority.
But merely listing "get links" as your goal leaves you quickly stalled. Where do you go from there?
A good goal is first outlined by goal type. In this case, building links would fall under outreach.
Breaking it down further, you should start listing sub-goals. Sub-goals are what help you achieve your primary target.
For instance, a sub-goal of building links would be developing relationships with editors. Sub-goals are great to break down different avenues that lead to your final goal. In this case, having editor relationships is one great avenue for acquiring top tier links.
But, without actionable steps, they are again worthless, as you have no action plan.
Now is where you start to list critical steps to achieving those sub-goals:
Research top three direct competitor backlink profiles and analyze their strategy to spot common trends/editor relationships that you can leverage
Connect with top publication editors on social and start engaging with them
You can do this with spreadsheets, task management software, or anything that works for you and your team: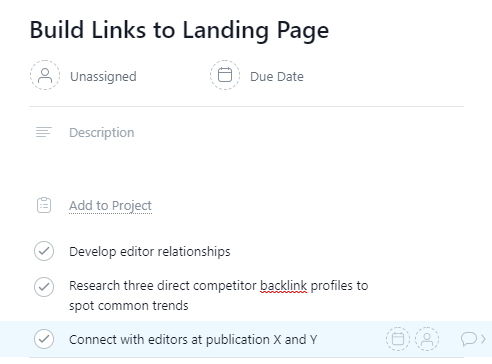 Lastly, you'll want to connect all of these actionable steps and goals to direct timelines. If you don't, you'll be spinning your wheels for months without concrete progress.
Let's recap how to plan your goals fast, yet effectively. This can be done directly in a Google Sheet. For a template of this to-do list for your goals, click here.:
Step 1a. List out your main, overarching goal. I.e, building links to a new landing page:

Step 1b. List out sub-goals, the avenues for achieving your main goal. I.e, building relationships with editors.
Step 1c. Develop a list of actionable steps to reach those sub-goals. I.e, research your top competitors backlink profiles to spot editor relationships you can leverage.

Step 1d. Put it on a timeline that is realistic and achievable. I.e, prospect three competitors this month and land contacts with three editors.

Once you've repeated this process for all of your main goals, you can start diving into the meat and potatoes of personalized outreach.
Ready? Let's dive in!
Step 2: Search For Niche Content To Build Your Outreach List
Most people go about creating an outreach strategy without knowing what prospects can do for them.
Depending on if you are link building, trying to acquire product reviews, or develop real partnerships, you need to know what type of contact you are conducting outreach with.
High-level editors and journalists aren't going to be giving you product reviews. But they would be great for building relationships.
So, where do you start? What is the best jumping-off point for starting outreach?
Well, first, you need targeted prospects. And the best way to do that is by looking for relevant content. Once you've found relevant content, you can reach out to their authors directly and build a connection.
Since these authors are writing about relevant content in your space, your chances of landing a backlink or mention are much higher than outreach to random lists.
Let me show you how.
With Respona, you have two great options to start your personalized outreach campaign"
"Content Based" searching
List importing
With Content Based searching, you start by defining your key target here, whether that's influencers, journalists, or key blog editors. Then, Respona does the work by searching for relevant content in your niche and building a list of targets automatically.
With the import feature, you can upload your own prospect list, set up automated and personalized follow-ups and schedule your campaign.
If you already have a list, feel free to import them!
If you don't I'll show you how to quickly build one based on content. To get started, fire up a tool like Ahrefs or SEMRush. Start by searching for content topics in your niche: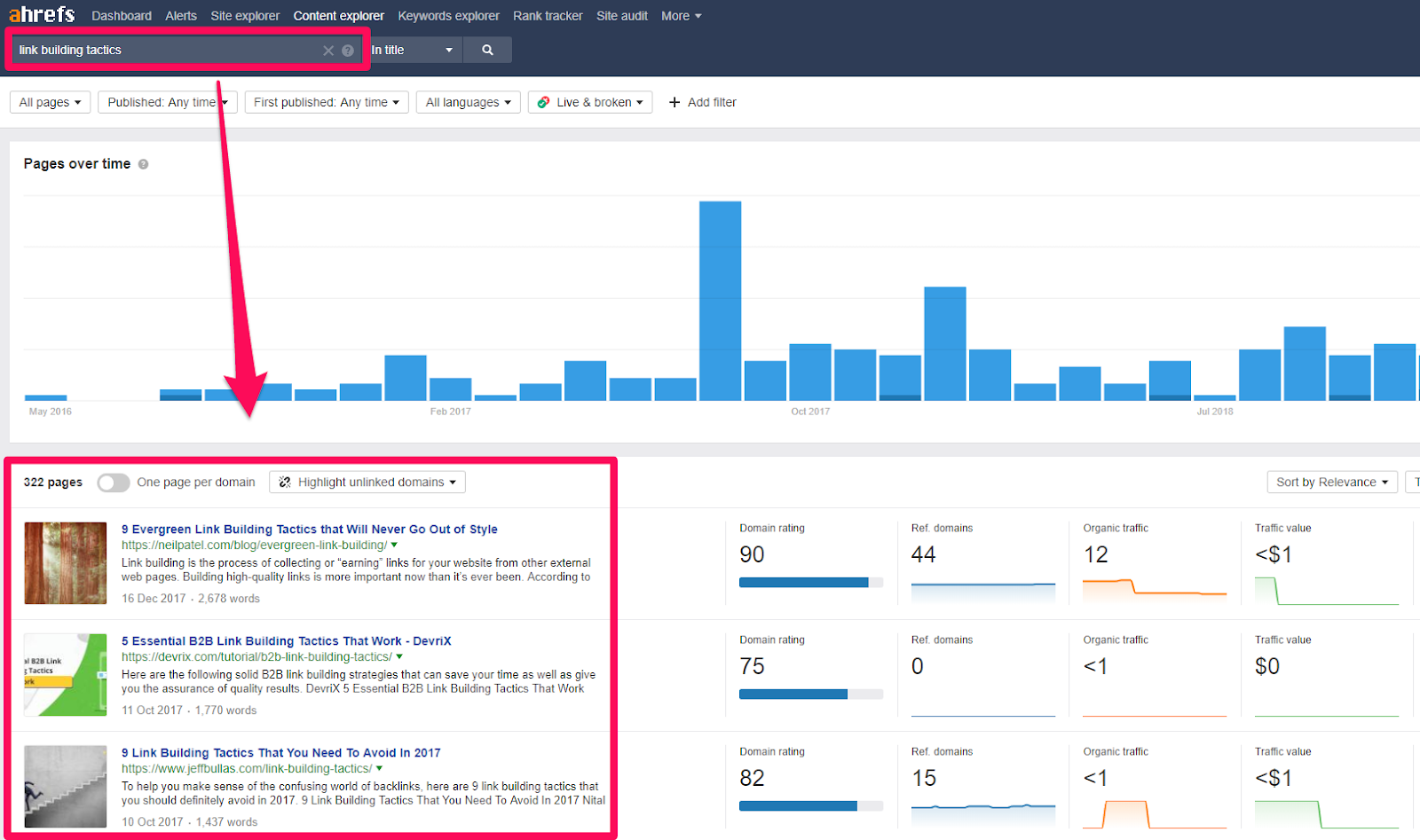 Searching for content topics will generate a targeted list of bloggers who are talking about your niche. This is a great opportunity for outreach.
But how do you get their contact info? By exporting this list and importing it directly into Respona. Respona then mines the contact information of each post on your list to help you personalized outreach.
The upload feature allows you to use any tool you are familiar with and generate a list.
Want to explore the content based campaign type, too? Let's dive in.
Click the Content Based option to continue. Here, you can start to search for relevant topics and keywords in your industry.
This will pull up a list of real-time search engine results pages (SERPs), ranking each piece of content by search index, social shares, page authority, and more: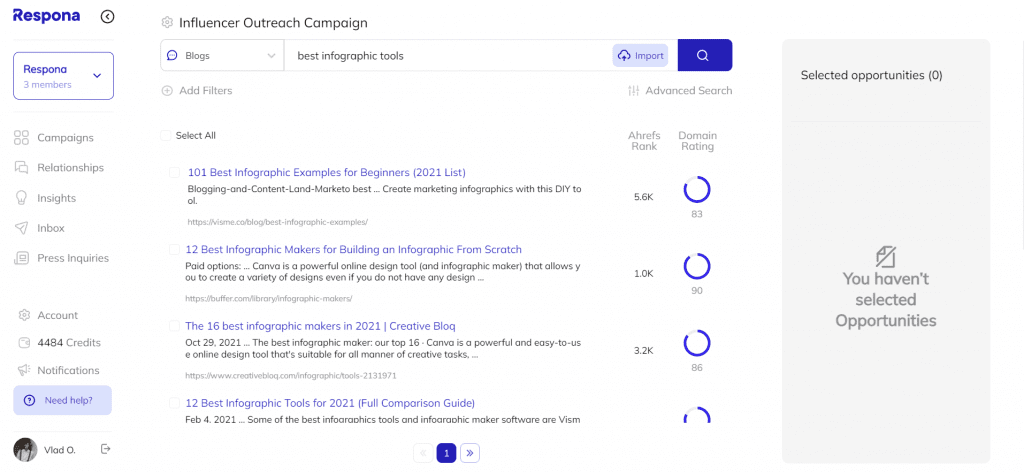 You can continually repeat this process for multiple topics and keywords.
When you have found interesting pieces, you can select them and start to build a list:
If you have an entire keyword list, start exploring the top content in your niche or potential blog posts that you'd like to get featured on.
To go even further, you should also conduct a competitive analysis to see what popular content is getting links that you can acquire.
You can use a tool like Ahrefs to do that.
Want to conduct outreach to these referring sites for a potential link to your content?
Directly export this list in a CSV file and import it back into Respona: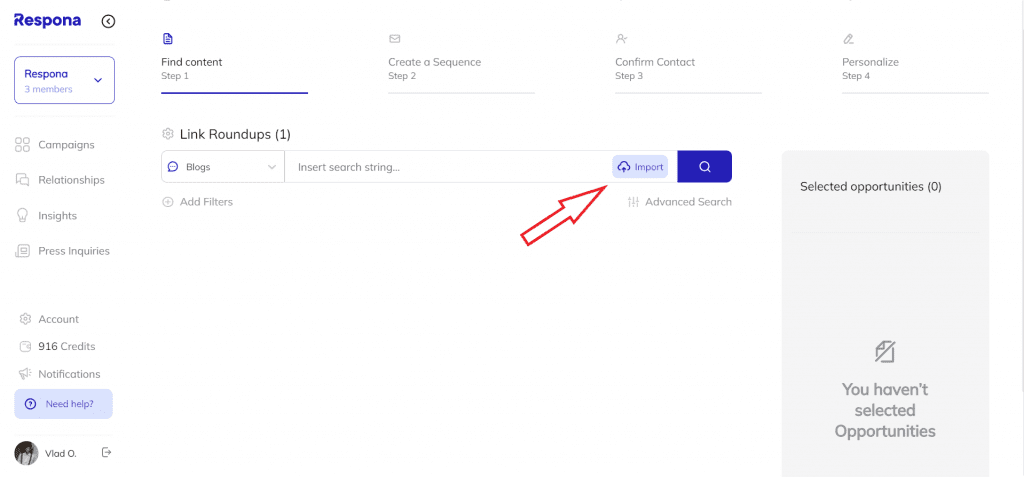 Once you've imported, you can then build a sequence, confirm contacts, and personalize each message you send.
Ready to turn your targets into real contacts to help build relationships?
Here's how.
Step 3: Turn Those Targets into Contacts
The problem with most outreach strategies is this:
Using a dozen email sequence software tools to get the job done. You can't bounce from platform to platform and manage all of the steps and interactions of outreach without a few key targets slipping through the cracks or a lack of personalization.
Most outreach plans start in Google Sheets with some basic data:

Then, another five new spreadsheets later, you need another tool. So you find workflow tool to manage each step of the process and assign due dates.
Meanwhile, you've got multiple sheets that are unorganized, bringing down your flow state.
But then you realize you'll need another tool for the actual outreach. Before that, another tool is required to find contact info in the first place.
And next thing you know, you're jumping back and forth between dozens of tabs, sabotaging productivity.
Once you've found content via Respona, you can instantly collect the emails of your outreach targets to establish a list, sending messages right from the platform.
That means you don't have to jump back and forth to reach someone and ensure you're checking dozens of inboxes every week.
Once you've either imported your list or used the Content Based tool, you can confirm each contact for a given piece of content: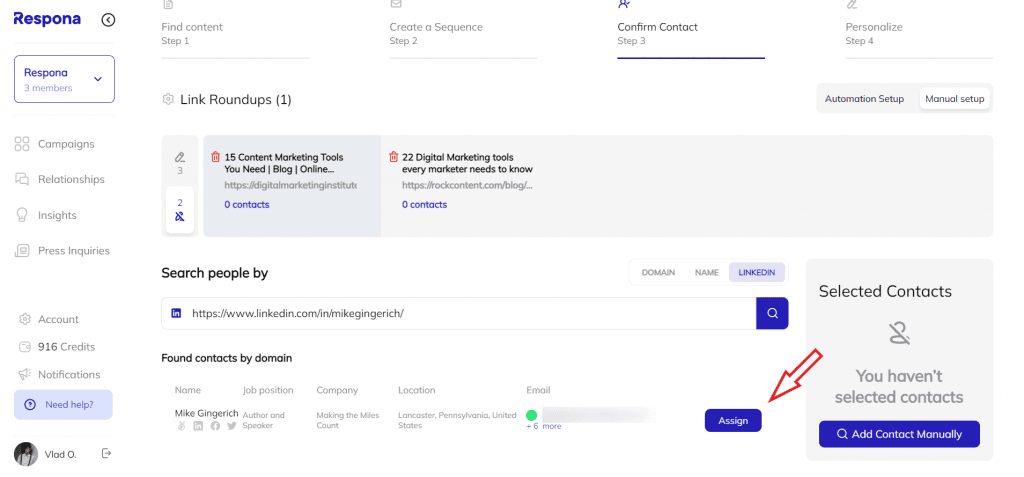 This will pull up relevant social links and email information for your targets without having to do any extra legwork or using yet another tool that costs money.
With this strategy, you can automate the process of collecting targets, saving you hours of back and forth on different tools.
Simply import a list of targeted content from popular journalists and editors in your industry or build one in Respona, and let Respona handle the contact details!
Once your list is complete, you can always return to it and add or delete contacts.
But now, it's time to segment your targets and build personalized templates.
Ready?
Step 4: Segment Targets By Goals to Build Outreach Templates
Most outreach strategy templates suck. Plain and simple. They aren't going to land you big fish that generate real business growth.
If your goal is to get 1-2 backlinks out of 1,000 bloggers, sure, go for it. Send that generic template and roll the dice.
But if you want actual business impacting connections you need personalized email templates.
And no, i"m not talking about the "I saw your blog post, here's mine" template. That worked a decade ago. Not anymore.
Now, templates need specific points of personalization to show real effort. Just name-dropping a recent post doesn't show that.
The best way to scale templates that are actually personalized is to mention something about their article. This indicates you have taken the time to study and digest their content before reaching out. It shows that you received value from their insights.
This is where you can begin to customize the messaging, level of personalization, detail, and effort.
Here is an example template we've produced, feel free to directly use this in your outreach. It's a template we've personally seen huge success with when pitching high-level blogger targets:
Subject
Hi [Target First Name],
Farzad here with [your company name]. I really enjoyed your article on [niche such as graphic design/visual marketing/infographic design etc].
I particularly enjoyed the section on [insert specific tactic covered]. I even used that advice to [insert a way that advice benefited your strategy].
We recently published an article called "[name of article-hyperlinked to the post]" and quoted a part of your blog post: "[quote]" with a link to your website.
Please take a look and let me know what you think!
Cheers,
Farzad
P.S. It'd help us immensely if you can kindly share the article on your favorite social channel!
P.P.S. Please let me know if you'd like us to share any one of your content on our channel :)
Using Respona, you can directly import excerpts of your targets articles into your templates for easy scaling, too: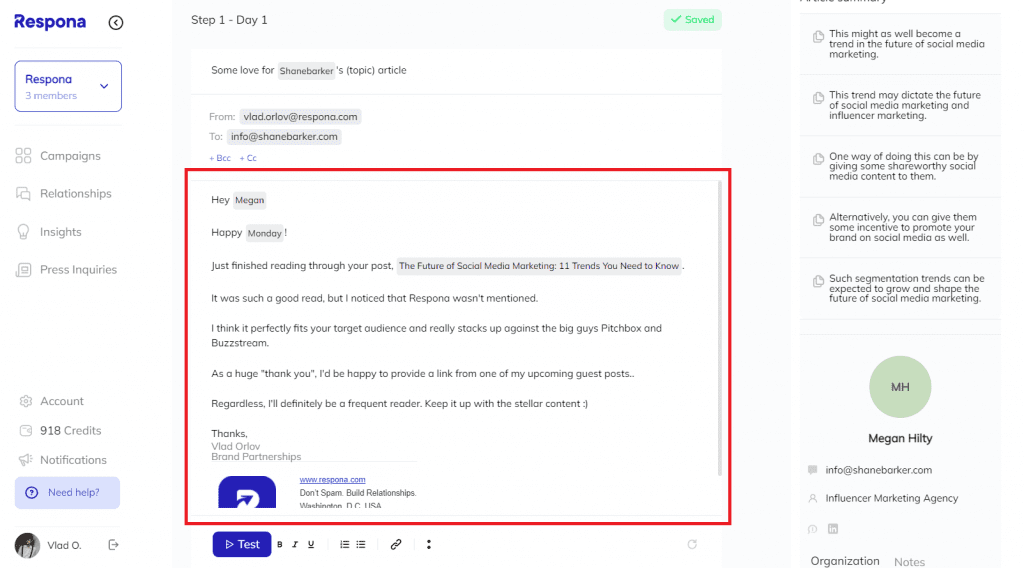 So, instead of saying:
"I saw your article on X…"
You can say:
"I found it moving when you talked about how XX asset can be used in XX way and how that impacted growth."
And you don't have to search through every article, meaning this strategy is absolutely scaleable.
Real personalization isn't just mentioning an article topic. It's showing the prospect that you learned something from their content and applied it in your own work.
But doing this at scale with traditional methods is nearly impossible. Unless you enjoy losing money, which you don't.
It's generally too time-consuming when you've got hundreds of prospects to conduct outreach for.
The problem quickly becomes generic, stale templates that generate tiny conversion rates and huge list churn.
If you are targeting lower level prospects, like blogs and bloggers with lower domain authority, whose backlinks are effectively worth "less" than top-tier sites, you can scale down the effort on your templates just slightly.
Here's an example that you can directly use:
Subject
Hi [Target First Name], 
Farzad here with [your company name]. I really enjoyed your article on [niche such as graphic design/visual marketing/infographic design etc]. 
I particularly enjoyed the section on [insert specific tactic covered]. I even used that advice to [insert a way that advice benefited your strategy].
We recently published an article called "[name of article-hyperlinked to the post]" and your strategy helped form those decisions.
Please take a look and let me know what you think! 
Cheers,
Farzad
Notice that in this template, you aren't providing the target with a backlink and asking for an exchange.
This is hard to do at scale and is best reserved for top-tier targets.
Instead, you are still providing value and extending outreach for a connection that will lead to a backlink in the near future.
Here are a few more essential tips to be aware of when sending outreach email templates for hyper-personalization:
Showcase specific sections of the article that you found moving, and explain why.
Don't make it all about yourself. Instead, focus on how you can provide symbiotic value to them, too.
Don't ask directly for promotion or links. Build a relationship over a few back and forth emails before.
Keep your intros short and sweet. Don't self-promote!
Study their social profiles (more on this in step five!) to gain valuable insights on their work, success, and career highlights.
Once you've made the first contact with your personalized emails, it's time to actively engage on social and form your relationship.
Step 5: Actively Engage With High-Value Prospects on All Mediums
Personalized outreach strategy only works if you are genuine. If you really care about the prospects value and content.
High-level editors, influencers, and writers aren't dumb.
They can spot insincere outreach the second it hits their inbox.
Select. Delete. Mark as spam.
Because outreach is becoming saturated, you have to take more steps to connect.
And one of the best ways to do that is via social media engagement or virtual calling: showing a direct interest in their content and success.
Look at your current contact list and start to engage on their profiles
Comment, like, and share their latest posts.
When commenting, seek to add value by telling them how that given post impacted your view on a topic: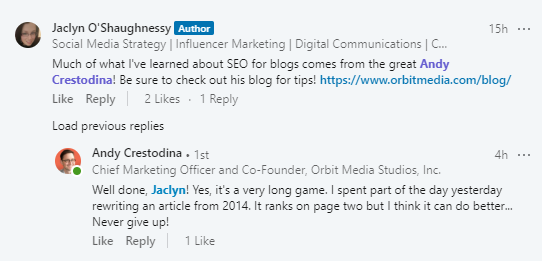 Mention the influencer you want to connect with in your comment, too.
Beyond social media engagement, take it one step further and start promoting their content on your own dime.
For example, using a platform like Quora, you can find relevant questions that people ask and use your prospects content as the answer.
Let me show you how.
Take the "18 incredible infographic tools" post from above that we used as an example for connecting with the writer/influencer.
Millions of bloggers and writers use infographics to condense information into a better reading experience. And since millions do this tactic, helping your outreach target to promote it would provide instant value.
How? Head to Quora and search for that parent topic, i.e, infographic tools: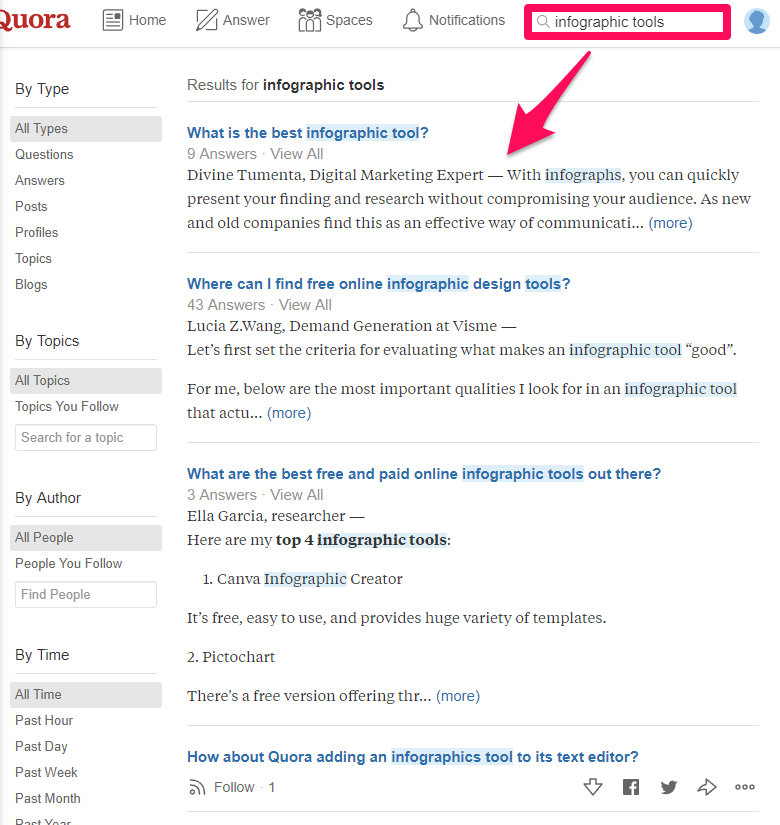 Depending on query popularity, you should see a few posts on the topic.
This is your chance to provide value to the influencer or editor you want to connect with!
Click on a given topic/post on the search results and craft your response: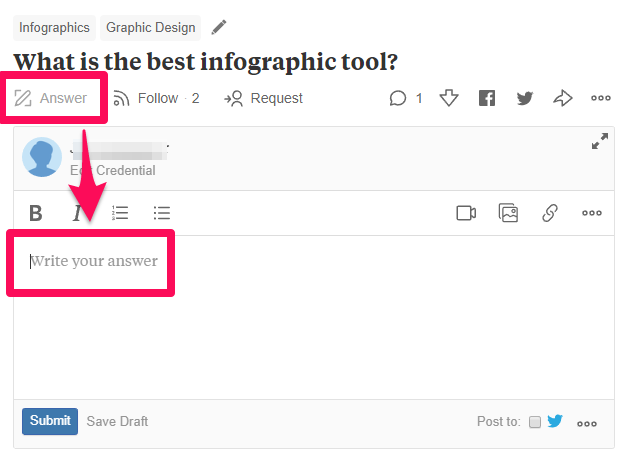 Answer the question and link directly back to your prospects blog post as a great source of information on the subject.
This will, in turn, drive relevant traffic to their post and increase their social footprint.
Now, grab the link to the Quora thread and email your prospect, letting them know that you utilize their post to answer a question on Quora, asking for their input on what else you can add to improve the response.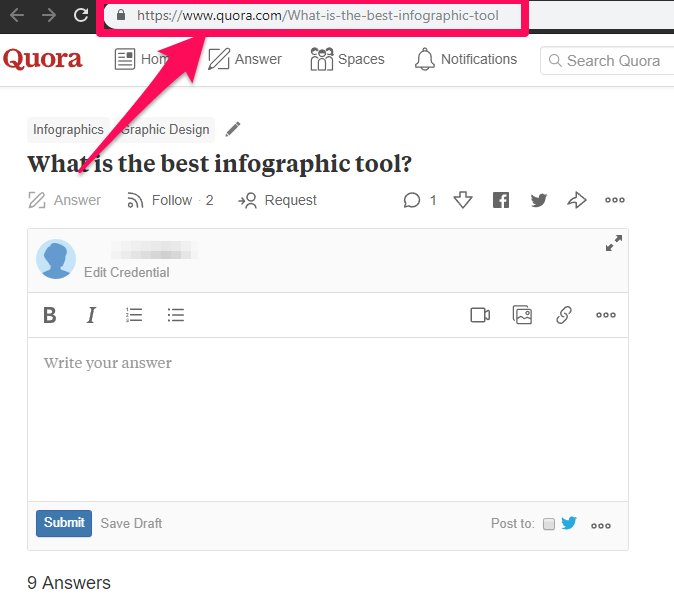 This is a fantastic strategy for high-level prospects that get bombarded with outreach emails daily.
This will help you (1) stand out from others and (2) provide unparalleled value without demanding anything in return.
Want better, personalized outreach success? Go the extra mile. You'll thank me later.
Step 6. Be Active (Not Annoying) in Your Follow-Ups
Follow-ups are an inevitable part of any outreach strategy.
People get 121 emails per day on average at work. So the odds of them seeing your first one aren't great.
Following up will be critical to your success, but doing it wrong can get you marked as spam faster than you can blink.
Most go wrong with follow-up emails by trying too hard: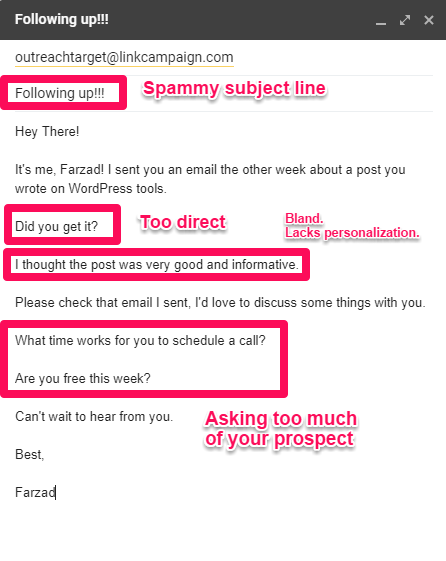 A simple follow up on the same email thread as your first email ensures you get the message across without being annoying or forcing the prospect to dig into their already filled inbox for the original message: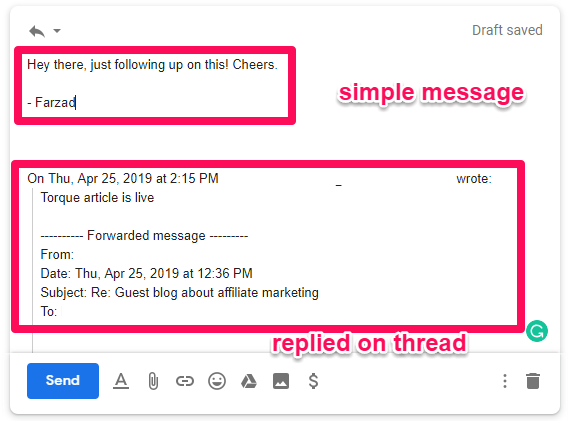 Keep your follow-ups simple, and limit them to 1-2 sentences max.
Even something like "Hey there, just following up on this! Cheers." is perfect.
In Respona, automate your responses to save yourself time and the need to keep track of hundreds of outreach responses.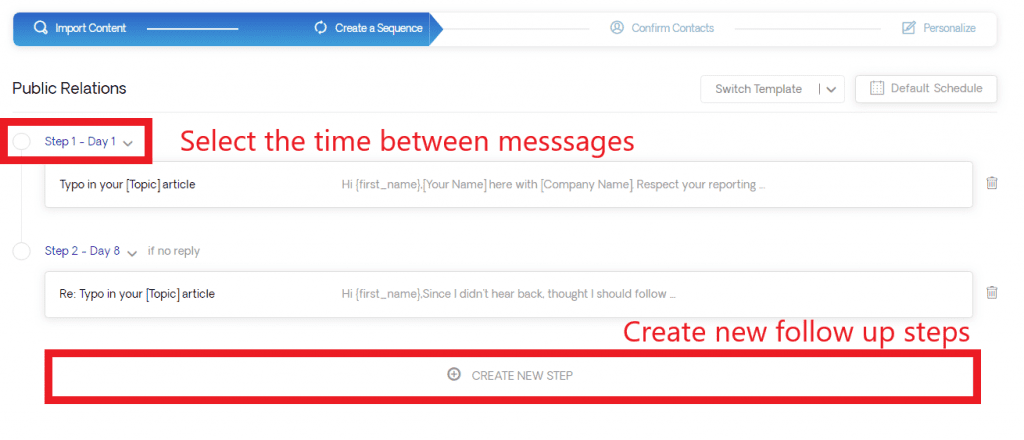 Simply set the response time for 3-5 days from your original email. Create a new step and add a simple message that will send if the prospect doesn't respond.
This way, you'll ensure the highest chances of them seeing and replying.
If you struggle to get a response after 2-3 follow-ups, try sending another introduction email and test a new headline/subject!
This can be a fantastic way to rejuvenate your campaign.
Key tips for active, not annoying follow-ups:
Wait 3-5 days before sending your first follow-up
Limit follow-up messages to 2-3 sentences
Follow-up on the original message
Test new subject lines if you don't get a response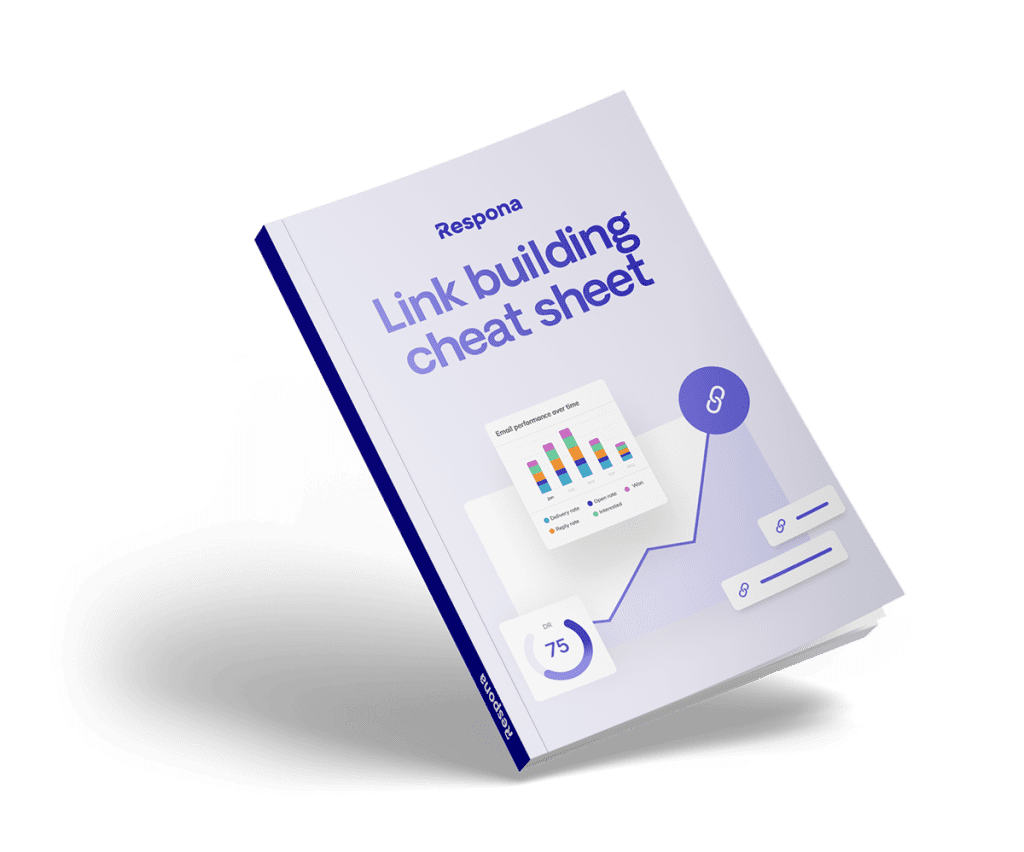 Link building cheat sheet
Gain access to the 3-step strategy we use to earn over 86 high-quality backlinks each month.
Conclusion
Personalized outreach strategy is the holy grail. But achieving it at scale can be complicated, to say the least.
To get started, be sure you take the time to outline your main outreach goals. Don't just list them, but actively break them down into actionable steps that you can execute on. These will form your next steps.
Search for niche content in your industry to compile a list of bloggers to target.
With the right tool, you can turn those bloggers into contacts and start segmenting them into targeted campaigns.
Pull personalized information from their articles and explain in detail how it impacted you.
Be genuine and actively engage with them on social media to help build a relationship.
And as always, be sure you are following up, keeping your prospects engaged, and above all, providing value.
What is the best outreach strategy you've done in terms of ROI? Let me know in the comments below.