How to Write a Follow-Up Email Your Prospects Can't Ignore
You've reached out to a blogger or a journalist, and, surprise surprise your first email got ignored.
Only 8,5% of outreach emails receive a response, so that's just part of the game.
But where do you go from here? You write a follow-up email.
Just sending a single follow up email can increase the response rate by 65.8% according to a recent study by Backlinko.
But you can get even more ROI from your efforts if you carefully formulate each message.
In a recent case study, Pritesh Vora increased his prospecting email reply rate by 1400% by changing the email subject and text alone.
Instead of sending haphazard follow-up emails, craft each one as carefully as your first email, and you'll see a massive impact on your campaigns.
We'll cover the essentials of how to do this in this post.
Start With The Context: Why Are You Reaching Out & What's In It For Them?
In 2018, the average office worker received 83 legitimate business emails every single day. According to a Quora answer, the U.S. CEO of finder.com receives about 100 emails on weekdays, and in total around 350-400 messages across all platforms.
Cold emails where you ask for a favor out of nowhere won't get you anywhere.
If you send a vague follow-up email, and they didn't read your first message, it will just go straight to the archive or trash.
For example:
"Subject: Following up
Dear Jim,
I sent you an email two weeks ago and I am just following up.
Do you have time to talk this week?"
Imagine for a second that you're Jim, and you missed the first email. As a busy blogger/journalist, you get way above the average 83 emails a day.
If this is an email from a stranger, are you going to take the time to go back to the inbox, search the name or email of the person to find the original email?
Or are you going to ignore the email and move on along with your busy day?
Chances are, even you would ignore the follow-up emails you are currently sending.
If they were from a coworker or a friend, you might go to the effort of looking up the original email to make sense of it, but not for a stranger.
And that's the reality of following up on cold email.
The people you send the emails to don't know or care about you.
How Cold Email Follow Up Is Different
When you are following up on a cold email, you are in a bit of a different situation.
The prospect doesn't know you personally, and you can't refer to previous interactions, like a meeting, to open the email.
The chances are great that they didn't even open your first email, so make sure you give them a reason to read and respond right in the opening.
Avoid vague statements like: "I really love your blog and think you would love our product."
Especially if they were included in the first email.
Instead, create a completely personalized and unique opener to the follow-up mail that clearly tells them what you want, and why they should care.
What's In It For Me?
People are self-centered most of the time — especially when dealing with strangers.
And a person you haven't even met face to face, who has sent you an electronic mail out of the blue is about as strange as you can get.
So filter a person uses when reading and considering emails is simple.
"What's in it for me?" Is the question you silently ask yourself when you scan subject lines in your inbox.
You don't want to go out of your way to getting sold to or to work for free for (help) some stranger out.
And this is the same for busy, successful bloggers.
Noah Kagan is the founder of Sumo.com and AppSumo. He also happens to be Facebook employee #30, and a successful blogger/podcaster.
Needless to say, he deals with lots of emails looking for favors. Whether they want a feature on his blog/podcast or just some free advice.
Being a busy CEO, he's always thinking, "What's in it for me?" when dealing with cold outreach.
And the emails that get through communicate it clearly in the subject, and opening lines.
He shared a cold email that successfully got a response on his blog, and analyzed why it worked on him. He even used it to develop a quick & easy framework for cold emails.
The first three steps of Noah Kagan's framework for cold email outreach all deal with satisfying the "What's In It For Me?" mindset most people use when interacting with their inbox:
"1- Flattery. Do you compliment them or stroke their ego a bit?
2- Benefit. How will this benefit them (not just you)? Do you spell it out and is it a real benefit?
3- Credibility. How can YOU be the person the other person would enjoy meeting?"
Flattery makes them understand that while they might be a stranger to you, you are not a stranger to them.
The benefit is simply "what's in it for them." Are you offering them a free premium trial of your software? Did you feature them already on your company blog in a roundup of designers?
With most bloggers, the goal isn't a face-to-face meeting, but you still need to convince them that your product/service/company is worth getting to know better for someone in their position.
Since this is a follow-up email you are writing, eliminate all the fluff, and make sure you really get this point across in as few words as possible.
You don't need to send a full A4 page to add context and show value.
Instead, focus on hitting all the marks with a short paragraph, and maybe some P.S.es. If there is more than one possible benefit, you can try highlighting a separate benefit/or build some credibility.
For high-value targets, you can even add value before you follow up, to pretty much guarantee a response.
Point out a recent specific blog post where they feature your competitors and show some credibility for your product and why they should care/feature you.

"Just reaching out again because I noticed you featured service A, B, and C in a RECENT POST, but not our service. Any specific reason why? I would be more than happy to set you up with a premium account for free so you can try it out. P.S. We're actually NR. 2 in X Category in G2 Crowd, ranked above service B and C."
For industry experts you admire, you can feature them/their work first, and follow up later.

"Just thought I'd let you know we featured you as one of our top 15 INDUSTRY blogs. Everyone at the office loves your work, "DESIGN PIECE" even inspired us to create a template in "THAT STYLE" last month!

P.S. If you're interested in that free upgrade I mentioned, let me know."
The Subject Line Is Key: Make it Personal & Clear
The key to a great email subject line is personalization. We'll touch on this repeatedly throughout this post, but your prospect's mind is rarely in an open and optimistic state when reading their emails.
Do you know anyone who opens up an inbox thinking: "How can I help the world? :)"
Checking the email inbox is a business responsibility for most bloggers/webmasters and not something they enjoy doing.
Your subject line needs to instantly communicate why they should use their time to read your email, even though you are a stranger.
That's why personalizing every single subject line is crucial, even for the follow-up emails.
And it's not just a blanket statement anymore. It has been proven by studies again and again.
Backlinko recently published a seminal study of 12 million outreach emails. Brian Dean dissected the emails and analyzed the performance based on different content patterns.
The study showed that personalized subject lines lead to 30.5% higher response rates.
So instead of a short and sweet "Following up", or "Link to my site?", it would be better to start with something like "About [YOUR BLOG POST]…" or "Suggestion for [YOUR BLOG POST]" "Loved [YOUR BLOG POST] but…."
If your original email did this, you can borrow the subject line but just add "Re:" to it. Another bonus is that this will also continue in the email thread of the first email so that the prospects can easily get context by reading the first one without having to search for it.
For example: "Re: About [YOUR BLOG POST]."
Short subject lines are not better.
Personalizing a subject line usually puts it past the 5-6 word range that some "experts" recommend. Short subjects might work better for autoresponders but work categorically worse for outreach emails.
The same 12-million email in-depth study by Backlinko showed that longer subject lines, specifically between 36-50 words, had a 24.6% higher response rate.
This could be because personalized subjects tend to be longer. But either way, you have no reason to skimp on personalization because you are scared of a character limit.
Be clear.
In a case study by Marketing Sherpa, clear email subject lines outperformed "creative" subject lines by 617% in click-throughs to the link inside the email.
Subject lines that clearly communicated the topic/benefit crushed the ones that tried to express the same more creatively.
So get straight to the subject.
Follow Up Email Templates
Given that we are in the business of cold outreach, specializing in blogger and journalist outreach for content marketing/link building purposes, we have developed a set of particular follow up templates.
Content Promotion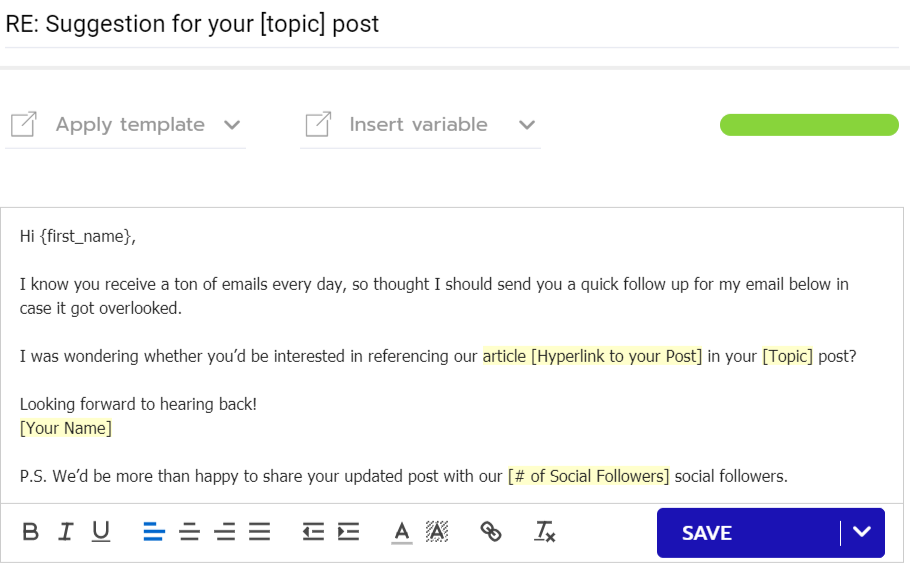 See the personalized email subject line focusing on them? We practice what we preach.
Notice that we include all the same elements as in the original email. This is because as many as 76,5-83% of business emails are never opened or read, depending on the industry.
The chances are very high that the person simply didn't open or read the first email you sent. So you want to include all the necessary information.
Also, notice how we use the P.S. to really drive home a benefit for THEM if they decide to feature our post in their resource/roundup post.
This is just a basic template. For optimal results, we 100% recommend that you personalize your follow up emails.

Resources Page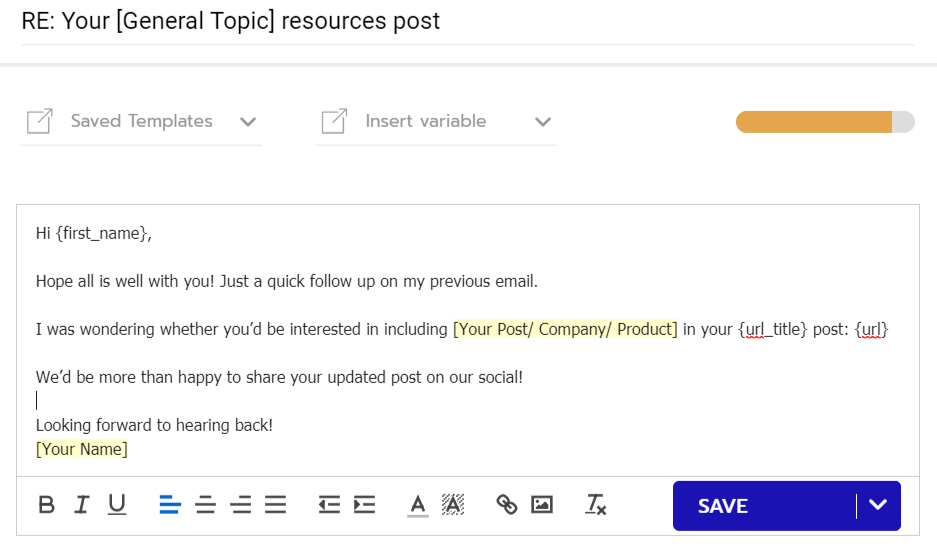 Again, a personalized headline and the mail itself includes the same basic content as in the original email.
No prospect who read the first email will be confused about why you are sending the email, and that's exactly what you want.
We've thrown in a general benefit as well, but this can be changed and optimized based on your product/website/campaign.
Keep in mind that these are meant to be skeletons for you to fill in real benefits and meaningful personal content.
How Many Follow Up Emails Should You Send, And When?
That brings us to the second part of the art of the follow-up; timing and frequency.
At Respona, we understand that you risk permanently burning bridges if you come across as "spammy."
That's why we recommend being cautious with your number of follow-ups. Based on our experience, 1-4 follow up emails is ideal, depending on the objective of the campaign and the importance of each target.
It's important to adjust the number of follow up emails based on who you are emailing and what you are asking.
Our Recommended Follow Up Email Frequency By Purpose
General content promotion outreach: 1 follow up. (To avoid getting flagged for spam and ruining relationships.)
Broken link building: 2-3 follow-ups.
Unlinked mentions: 2-3 follow-ups.
Reverse image link building: 2-3 follow-ups.
Guest post inquiries to important industry blogs: 3-4 follow-ups.
(Remember, if you write personalized follow-ups that highlight benefits for them, you won't need endless follow-ups to get a response.)
When You Should Send Your Follow Up Emails
91% of business emails are opened and read within the first 24 hours. And 90% of the replies you will get from the email will come within 24 hours as well.
Does that mean you should send your first follow up 24 hours later?
It doesn't.
Sending 4 follow up emails within the span of 4 days is the fastest way to get flagged for spam, and ensure a blogger will never feature you or give you their time of day.
Instead, you should send the first follow up several days after the first email (We recommend 5 for most campaigns.)
The subsequent follow-ups should come at least 1 week after the previous one.
This is an example of how we'd recommend an outreach campaign should be structured:
If you think sending multiple followup emails to hundreds of bloggers and journalists sounds like a lot of work, it really can be.
But automated outreach tools take most of the repeatable tasks out of the picture. This allows you to run outreach campaigns at scale, without having to hire additional staff.
You still personalize the messages to each prospect, but the follow-up messages you create in advance get sent with exact intervals automatically if you don't receive a reply.
Respona adds a little extra convenience with our tools that help you find emails straight from blog posts, and our AI assistant that helps you reference relevant points from each blog post.
Conclusion
It's easy to delegate the follow-up email to a simple "reminder" role. But email outreach isn't an alarm clock, and follow up isn't the post-snooze rings.
If you take care to craft each follow-up email, you can build a relationship with bloggers and journalists one step at a time. (Instead of alienating them and getting flagged for spam.)
Remember to use tools like personalization and offering benefits, without writing emails that are too long or unclear.
If done right, every follow-up email written after this formula will considerably increase the yield of your outreach campaigns.
Have you ever received a follow-up email that you couldn't ignore? What made it so special?
Leave a comment below and let me know!

Get notified of
our next content
No spam, no BS, unsubscribe at any time.