No matter how experienced a content marketer you are, reaching different audiences requires that you wear the right hat.
That's especially relevant for business-to-business, or B2B, companies.
Done poorly, B2B content marketing comes off as dry and lackluster. But when done right, it produces enviable results.
In fact, according to DemandMetric, content marketing costs 62% less than traditional marketing and generates about three times as many leads.
Of course, producing engaging content for a B2B audience isn't so simple.
While a proven way to help you grow your business, most B2B content created by brands gains little traction.
The Content Marketing Institute (CMI) reports that only 45% of B2B marketers achieve their goal of building subscribed audiences, and little more than half (53%) successfully generate sales through their content.
What does this mean for B2B marketers looking to get tangible results? Reaching more business customers is an uphill battle—but we'll show you how to do so below.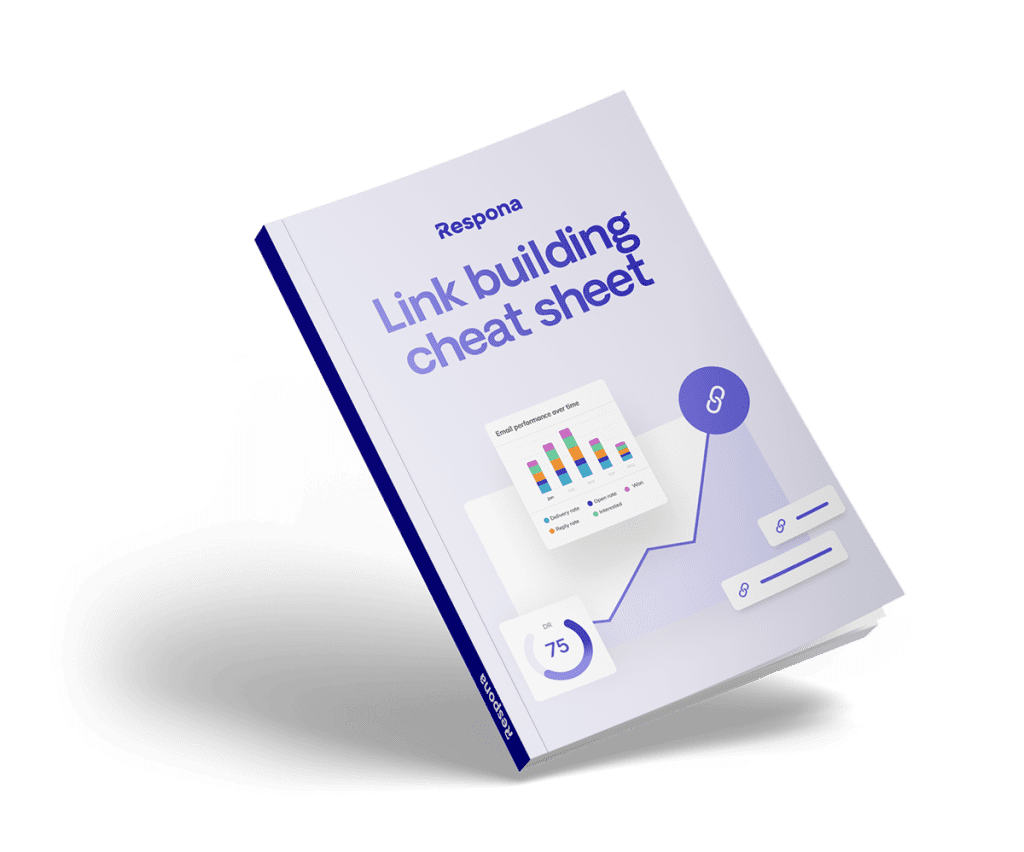 Link building cheat sheet
Gain access to the 3-step strategy we use to earn over 86 high-quality backlinks each month.
What is B2B Content Marketing?
First, a quick refresher. B2B content marketing is the process of using content to:
create brand awareness,
educate audiences,
build trust and credibility, and
generate leads.
What distinguishes B2B content marketing from other types is that it is produced by businesses for businesses.
Think of companies like Slack, WeWork, and Salesforce.
Given the nature of their respective audiences, B2B content differs from the individual-facing content created by business-to-consumer (B2C) companies like Starbucks and Nike.
As a result, B2B content marketing requires a distinct approach.
Looking at the graph below, you can see that the number of pages published for terms including "content marketing" in their title has increased due to COVID-19 and is continuing to rise.

Not only are more pages being published with the term "content marketing" but people are also searching for content marketing material more. The search interest in "content marketing" has steadily increased globally for the past 5 years.

Those aren't the only benefits of content marketing, it's also usually cheaper than paid marketing and it works!
Customer acquisition costs (CACs) are roughly 15% less than paid CAC and content companies are seeing roughly 30% higher growth rates than organizations not using content marketing.
Sometimes B2B content marketing gets confused with B2C content marketing but there are some important differences to note.
We'll explain how they differ as we continue.
How B2B Content Marketing Differs from B2C Content Marketing
The process of getting a customer's attention and converting them requires patience—and even more of it if you're a B2B marketer.
While both B2B and B2C brands must understand their target audiences and their pain points, the best approach to creating awareness and driving sales varies based on differences in the customer's decision-making process, motivations, and journey.
B2C content marketing primarily focuses on creating digestible content and tends to appeal to broader audiences.
Consumers typically follow a shorter sales cycle and are driven by emotional and/or entertaining messaging about products that meet their needs.
Here's a great example from popular drinkware brand Hydro Flask.
Image Source: Youtube
B2B content marketing, on the other hand, uses a wide range of content formats that are meant to help solve customers' pain points as well as establish credibility, inform, and inspire action.
Customers may take longer to select brands and make purchasing decisions when it comes to B2B, and usually have a higher lifetime value (LTV) so companies are more likely to spend more time and money on this audience.
For an example of B2B marketing, check out this commercial from the CRM software company Salesforce.
Image Source: Youtube
Can you see the differences between Hydro Flask and Salesforce's approaches?
While both videos are roughly the same length, Salesforce's is far more informative.
And it has to be—you can't sell a software product using only bright outdoor visuals as Hydro Flask does.
The customer journey is also more defined in B2B content marketing.
For example, if you have a lead generation software, it's easy to identify prominent keyword ideas, simply by using the Phrase Match function within a keyword research tool like Ahrefs.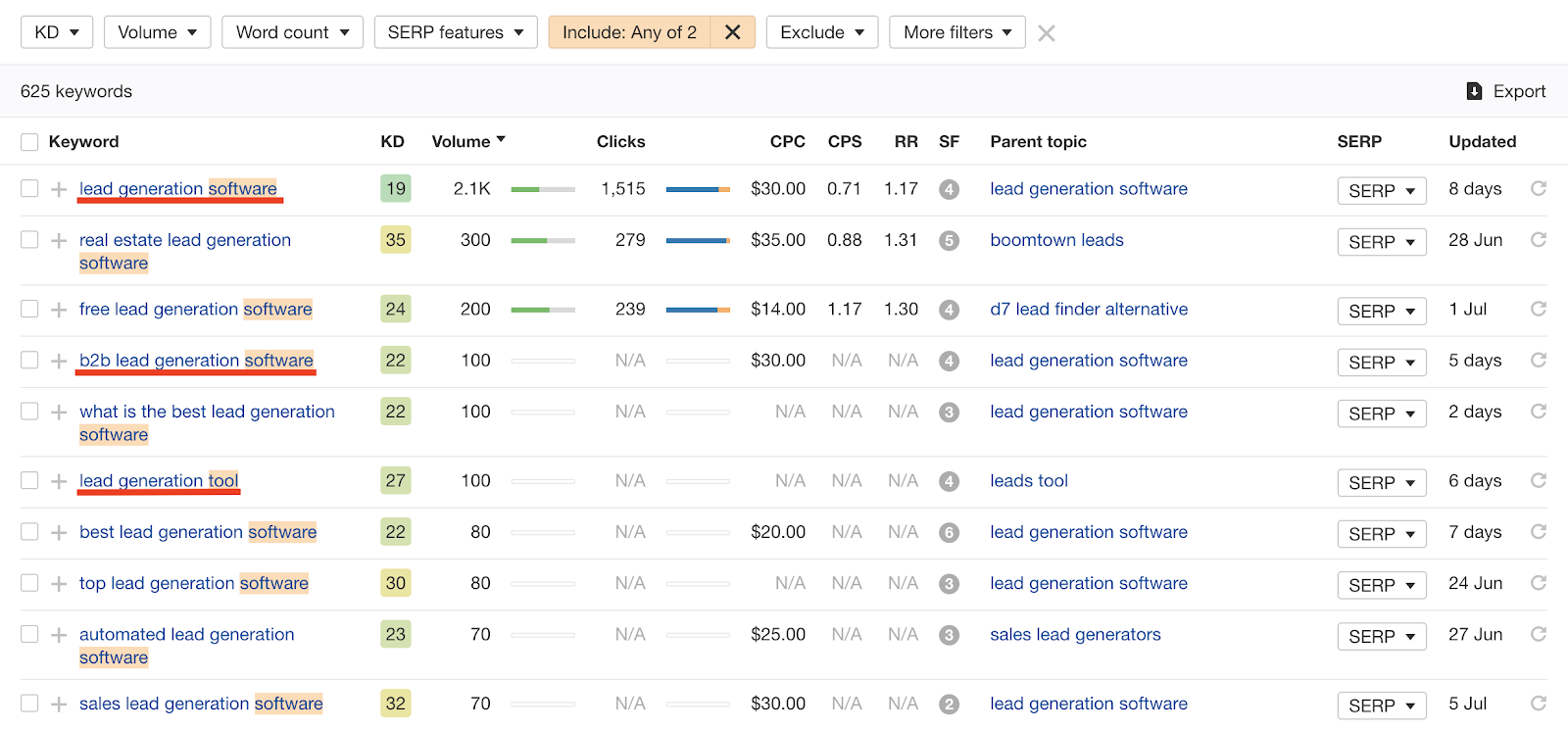 You may have noticed that when searching for words with commercial intent, the search engine results page can be quite cluttered with paid and organic results so although it can be easier to come up with a strategy, it's not always easy to compete in these crowded verticals.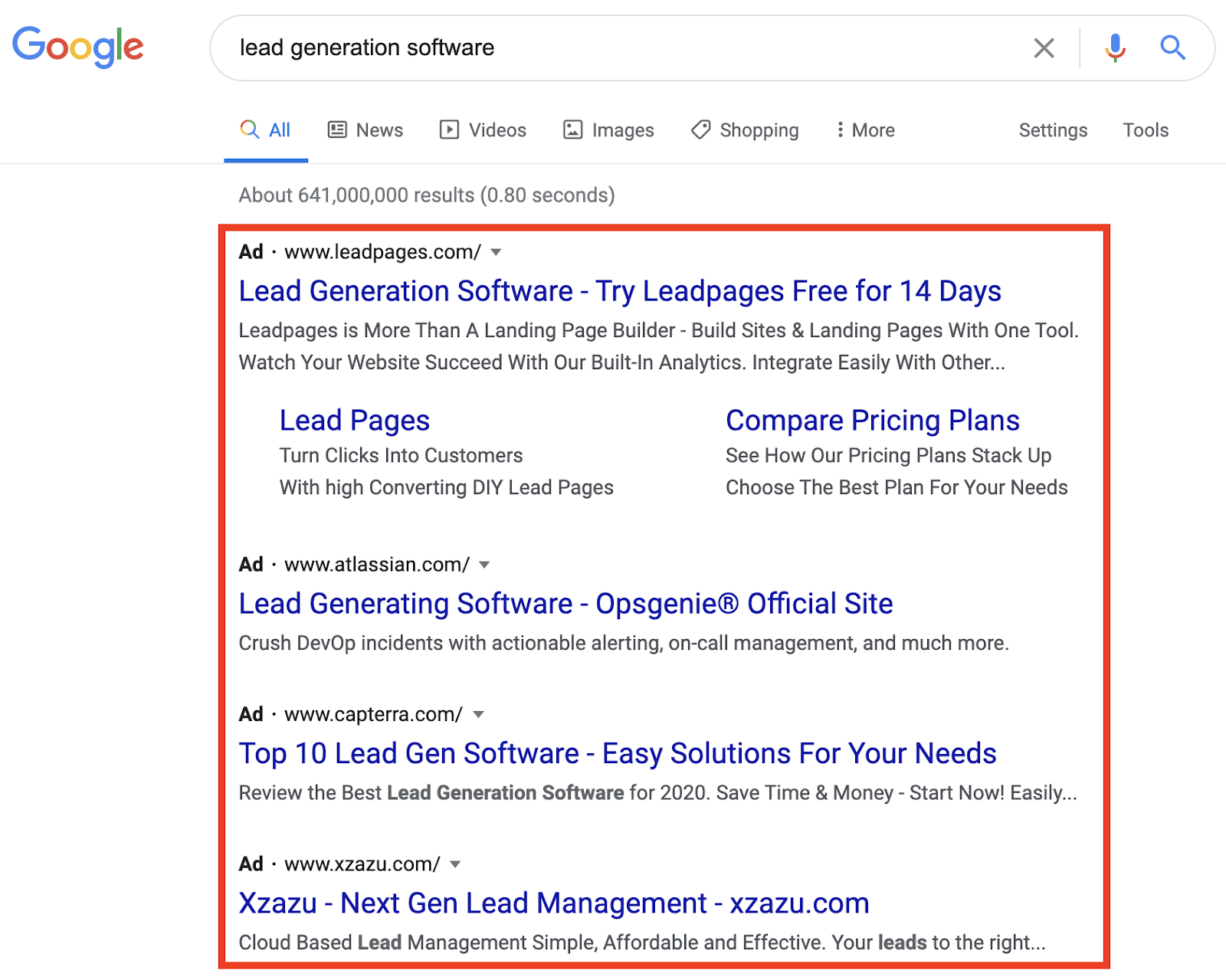 Although the B2B sales cycle looks different from its B2C counterpart, B2B audiences still search for and peruse content because of a desire to solve a specific problem.
To acquire more business customers through content marketing, consider incorporating these seven tactics into your own B2B content marketing strategy.
1. Identify and Research Your Target Customers
For starters, it's crucial to pinpoint your target customers. After all, without a target audience in mind, your content efforts will be scattered and inconsistent.
There are a few ways to narrow in on your target audience:
Dig into any existing data you might have.
Consult your sales team about their experience reaching out to leads.
Create an ideal customer profile based on the problem your company solves.
Brainstorm multiple user personas.
These strategies aren't mutually exclusive, by the way.
If you've already got data to work with, dig into your analytics.
Look for overarching commonalities between your current customers and use this information to construct distinct buyer personas.
Google Analytics is a particularly helpful resource for brands that already have established webpages.
Google Analytics provides great insight into your website traffic, as it can reveal a lot about the people visiting, like gender, age, and location.
Anecdotal feedback from your sales team can be just as helpful.
As you parse this info, consider:
What type(s) of customer makes up the majority of your existing clients?
What are their defining characteristics?
Are there any gaps in your current customer base?
Only once you've developed a more nuanced understanding of your customers can you begin creating more targeted content ideas.
For example, check out QuickBooks, Intuit's business-focused accounting software brand.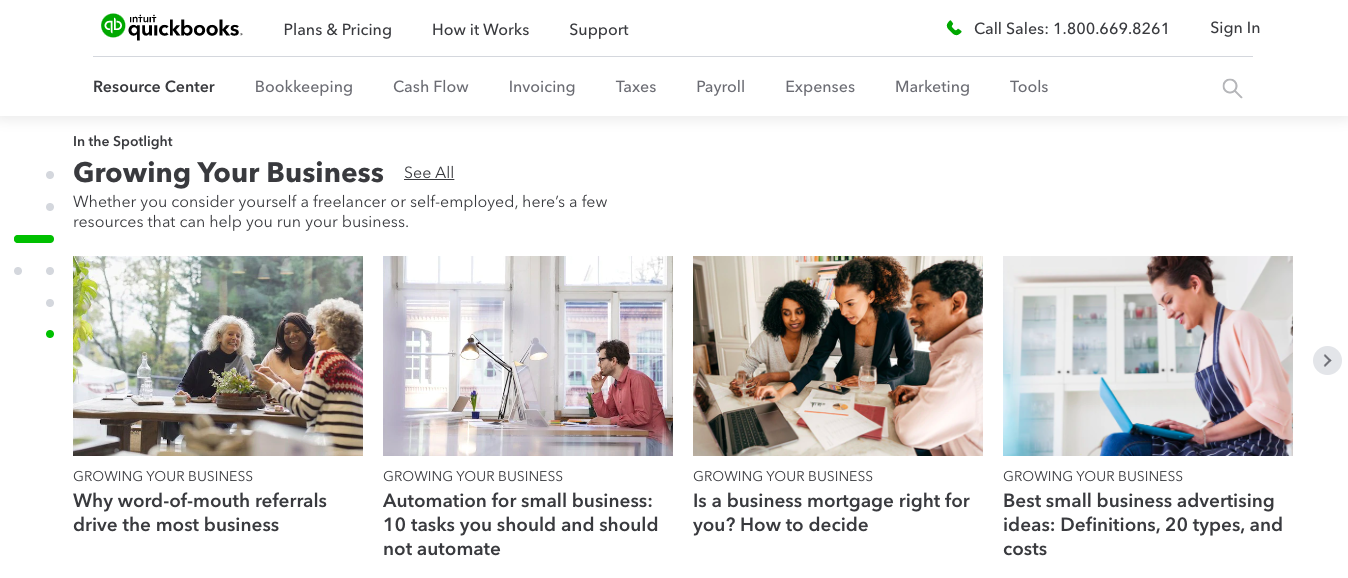 QuickBooks' online resource center includes articles about every aspect of starting and owning a business.
Its content is helpful and informative, maintaining a professional but not stuffy tone.
You won't see emojis or memes here because they simply wouldn't make sense for Quickbooks' target audience of small and mid-sized business owners.
In fact, emojis, GIFs, and other kinds of similar content might even undermine the brand's authority.
So, the first thing you need to do is identify and research your target audience.
Let's get to the second one.
2. Stop Selling Your Product—Tell a Story Instead
Next, the decision-makers and marketing team for your brand have to shift their focus from selling your product or service to telling a story that informs, inspires, or motivates your target audience.
B2B content creation and marketing often bring to mind a more formal approach to communication: business people in suits selling to other business people in suits.
While this might be true in some respects, you don't want to go overboard with the starched collar treatment.
If your content screams, "Buy my product!" you aren't going to get very far. Likewise, filling it with confusing jargon and making assumptions about your audience's knowledge are other ways to send them running to your competitors.
One of the best ways to connect with your audience via content is through storytelling and brand journalism.
Hokey as it may sound, a story engages readers and presents information in a more memorable format than generic sales copy.
For some inspiration, take a look at the email marketing platform Mailchimp's success stories.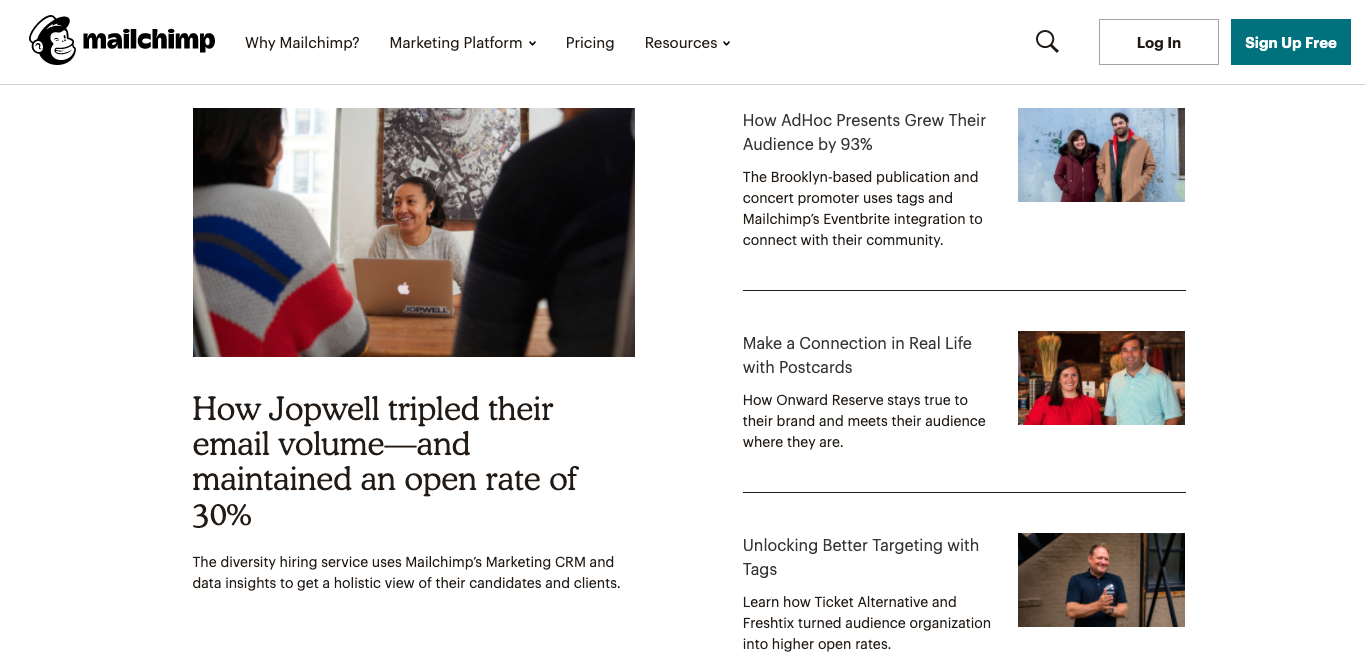 The featured stories, available in both article and video form, serve as case studies of successful Mailchimp clients, albeit in a storytelling format.
For instance, one customer spotlight shares how an aromatherapy company used Mailchimp's postcard service to retain customers. Another one details how a brewery educates its employees using emails powered by Mailchimp.
The storytelling approach taken in this content has a twofold effect:
It captures readers' attention in a more personal way by presenting a relatable character—another company—with an issue the reader might also face.
It makes Mailchimp's benefits tangible, leading readers to conclude that the platform could do the same for their own company.
Find out how your brand can craft a story to show, rather than tell, readers the benefits of its services.
Another great example of a company that's using storytelling to promote a product is Drift.
Their content is not just to get the customer to purchase their product. Through their blog posts, videos, and resources they connect with their readers on a personal level.
For example, they have an entire case study section on their website that includes personal testimonials and shows the strong relationship they built with their customers.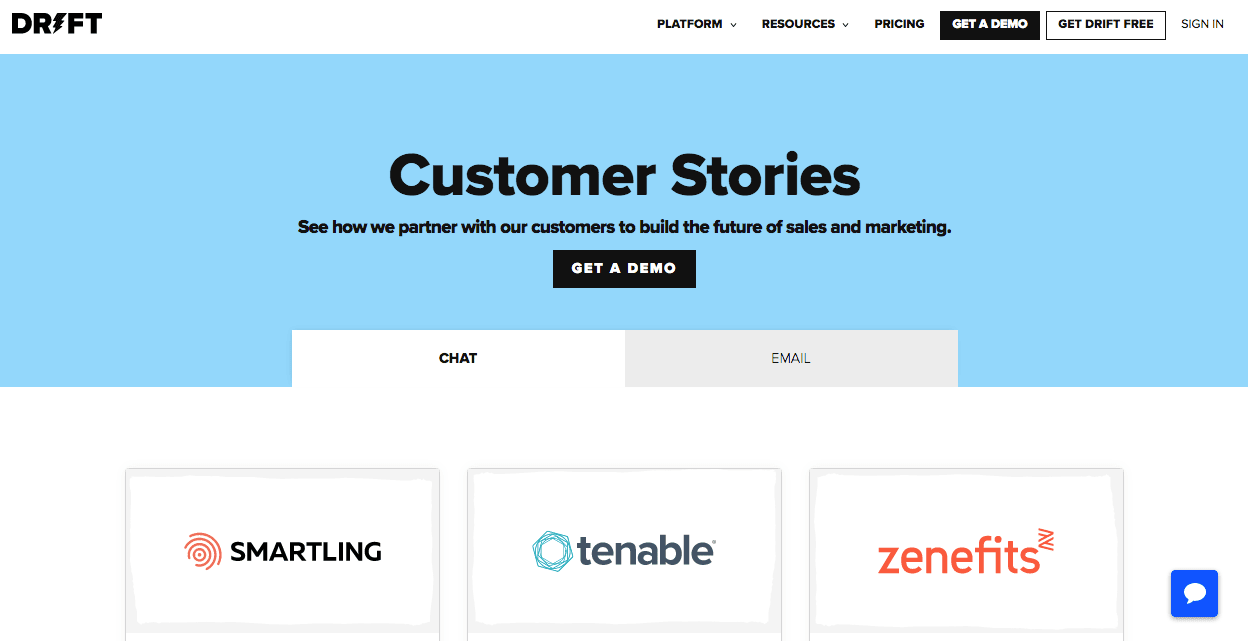 The storytelling approach taken in this content is great in two different way:
They integrate stories and success of their customers into the product and product messaging
Presents a relatable story that intrigues the reader to connect with your brand further
People don't like getting tricked.
If you only have content that is trying to sell, you are missing out on building a genuine connection with your customers.
Tim Soulo, CMO & Product advisor at Ahrefs, does an excellent job with connecting to his audience and publishing reliable articles that people look forward to.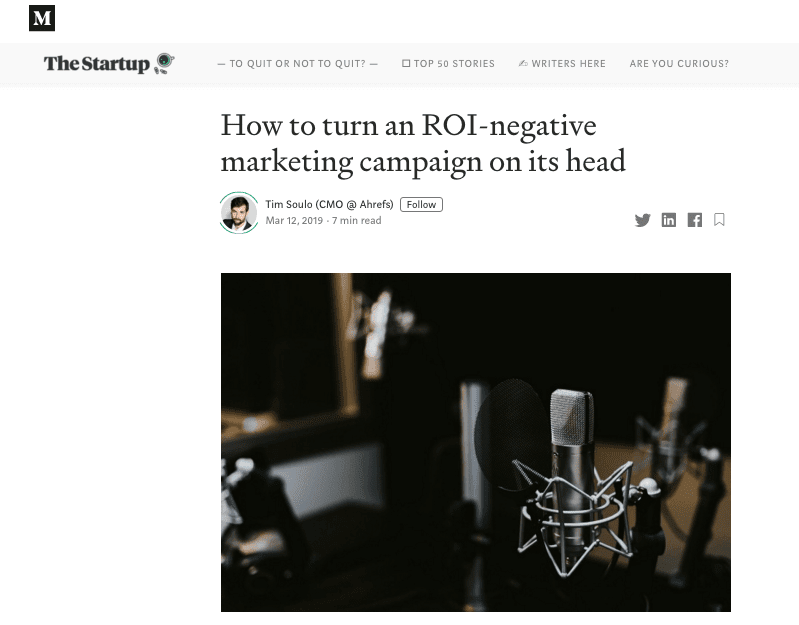 Tim's posts are filled with real-life examples of the success and failure of his experiences and show that not everything works out perfectly.
By providing an honest look into his life and career, it resonates stronger with the reader and that relationship starts to form.
Once you make that connection, you won't need to push customers to click the "order" button.
Let's get to the third tactic I have for you.
3. Create a Multi-Layered and Omnichannel Experience
Another effective tactic for B2B content marketers is to create a multi-layered and omnichannel experience.
A well-rounded B2B content marketing strategy is based on a diverse, valuable content portfolio. What exactly does this mean? Your content types should have multiple layers, or in other words, a strong mix of engaging text, images, and video.
Most B2B blog posts have no trouble serving up text for readers, but on their own, words do little to engage users. For a more visual experience, break up your text with images. These can be anything from custom graphics to tasteful stock photos to infographics that depict useful stats.
Online booking and customer management software brand Booker does a powerful job of combining text and imagery in its flipbook guides.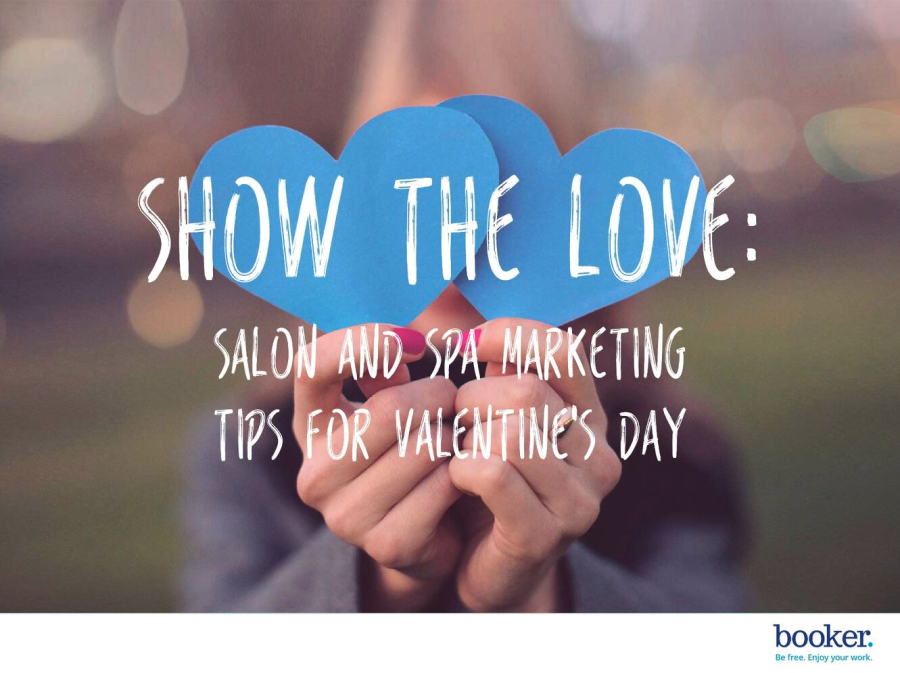 The type of content you post should vary as well. According to Accenture, 51% of all B2B customers turn to social media for initial research. While you can use social media channels to promote your articles and other content, these channels are perfect for their own targeted campaigns.
For example, Asana uses its Instagram account to showcase successful use cases of its project management software. Prospects who read these posts get reassurance that they've found the right brand.
Finally, there's video—one of the most engaging forms of marketing across all industries. Yet in spite of its widespread popularity in retail and eCommerce, video marketing is still fairly new to many B2B marketers.
To begin incorporating videos into your B2B content strategy, figure out what makes the most sense for your target audience. That could be a product demo video, Q&A, or even a humorous video to get a point across, as Velcro did.
In the long run, diversifying your content means tapping into a wider audience, one made up of users with all kinds of consumption preferences. Rather than focus on a single content format, aim for variety by incorporating webinars, podcasts, case studies, ebooks, or more into your marketing strategy.
While it is important to focus on creating a multi-layered and omnichannel experience, you can't lose the personalization of the content throughout your buyer's journey.
4. Focus on Personalization
Regardless of your niche, your target audience will always appreciate efforts to personalize the client experience, even those in the B2B space.
Whether someone is shopping for office coworking space or a SaaS solution, they want an experience that is relevant to their particular needs.
Personas are a step in the right direction, but each buyer should also receive a message tailored to their journey.
After all, a person just realizing the need for a specific solution (the awareness stage) shouldn't receive the same message as someone ready to make a purchase (the decision stage).
Todd Forsythe, Dell's senior VP of digital marketing, put it best in an interview about personalization:
"The goal is to predict the next likely action of a buyer and deliver content dynamically to fit that need, in real-time."
So how can you personalize content for a B2B audience?
There isn't a one-size-fits-all approach. You can incorporate personalization into your content marketing strategy in several ways:
Create different types of content for each stage of the marketing funnel. For instance, create educational blog posts and infographics for the awareness stage and product comparison charts for the interest phase. And don't forget about content for your current customers—you'll need tailored content for post-purchase users for better customer retention.
Segment your email marketing campaigns based on user criteria like geographic location, pages viewed on your site, or any other distinct trait. Additionally, don't overlook little details; even the slightest personalization, like a welcome email with the recipient's name, makes a difference.
Repurpose your content into additional formats. A formal white paper that works for some of your customers might do better if presented as a video for others. Brainstorm alternative uses of each blog post, infographic, and all of your other assets so that they're not single-use content. Around 93% of marketers think interactive content is effective.
Write targeted calls to action that speak to prospects' specific needs. Better yet, if you use HubSpot, create and use "smart" CTAs that tailor to visitors' location, lifecycle stage, referral source, or some other variable.
If your marketing software offers this feature, take advantage of progressive profiling in your landing page forms. This way, visitors won't have to retype any information they've already submitted. It also means you can gather additional data about your leads—perfect for more personalization in the future.
5. Tap into Social Media for Content Promotion
Aside from content creation, many B2B companies struggle with promoting their content. Neglecting this aspect of your content strategy can mean zero fruit for your creation efforts—so you'd better make it just as big of a priority to get your engaging, relevant content in front of readers.
If your business hasn't done much with content promotion yet, social media makes for a good starting point. It's generally thought of as a B2C marketing channel, and chances are, you can probably think of at least one memorable B2C brand on social media, like Wendy's on Twitter.
But there's more than enough room for B2B content in the social media sphere. Based on the results of its Social Buying Study, the International Data Corporation concluded that 75% of B2B buyers and 84% of executives use social media to justify their purchase decisions.
In other words, don't discount social media platforms for B2B content promotion.
It's also important to note you are not restricted to hiding behind a company account with little to no personality.
Encouraging employees to become brand evangelists by sharing your content in their own voice is great because it helps personalize your brand and give it a voice that you can't always share through company profiles.
Many CEOs are using their personal social media accounts to help establish a good relationship while also gaining credibility with their posts.
Dave Gerhardt, CMO at Privy, is a great example of this.
He shares marketing insights through his own LinkedIn profile and even created a separate private marketing group for B2B professionals.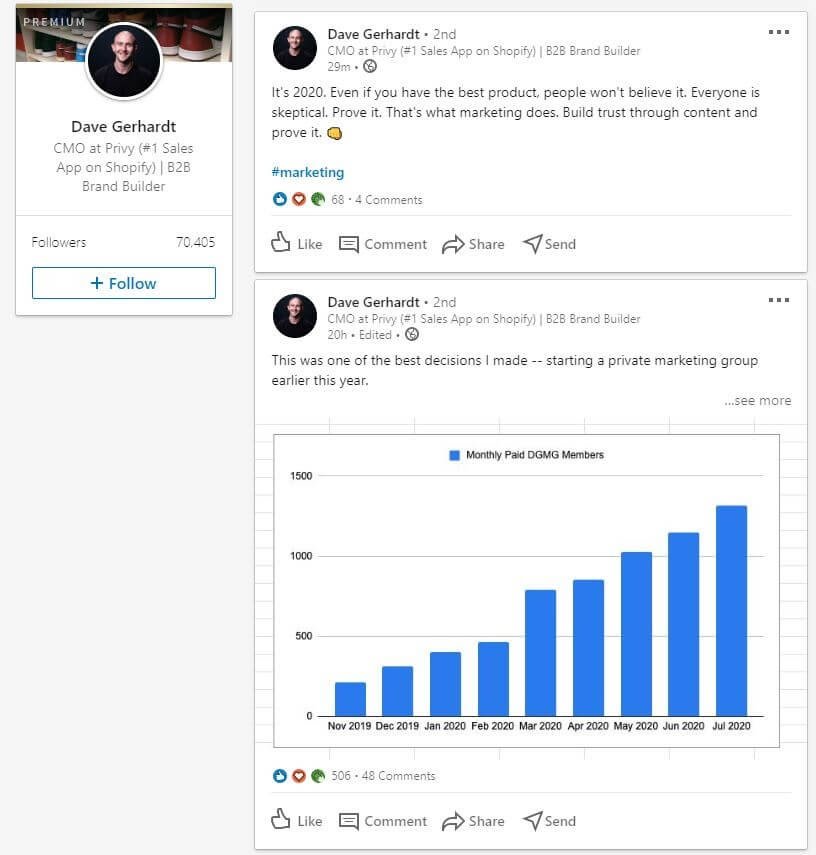 These posts provide credibility for Dave, which can transfer over to his brand, and value for B2B content marketers, which establish Dave and Privy as a reputable source in their mind.
Some best practices include:
Set clear goals, and track the appropriate metrics. For instance, if you're looking to increase your content's reach, track impressions, and follower count. Track clicks and conversions if you're focused on lead generation.
Hire a dedicated social media strategist. Some businesses are hesitant to bring on a full-time employee for social media marketing, making it a piecemeal or part-time effort between multiple people instead. This approach loses the benefit of a cohesive social media strategy that distributes content more effectively.
Repurpose user-generated content (UGC). Come up with a branded hashtag, encourage users to use it when posting about your company, and track the hashtag's performance. Then take advantage of UGC by resharing it or interacting further with the users responsible for creating it—this can help develop a stronger customer-brand relationship in the long run.
Look beyond LinkedIn. While LinkedIn gets the most attention from B2B brands, it's not the only social platform worth investing in. Facebook and Twitter continue to rank highly on the list of most-used social media networks. Additionally, Instagram's IGTV offers another avenue for video content marketing besides YouTube.
Think outside of marketing and sales—focus on producing genuinely entertaining and engaging content, like stories about your employees. Rather than sales pitches, use copy and visuals that entice visitors to return. One great example: IBM's Twitter.
IBM does a great job of engaging their audience through a variety of images and videos and using open-ended questions. Each post has a call to action and a link where potential customers can find more information.
They are doing a great job of promoting their content in a non-sales way.
After you start to promote your content, you can get valuable data to see which strategies are working and which to change.
6. Track Your Metrics and Tweak Your Strategy Accordingly
It would seem silly to put in all of this work and then not measure your progress. But a 2019 CMI study reveals that only about half (49%) of B2B organizations measure content marketing ROI.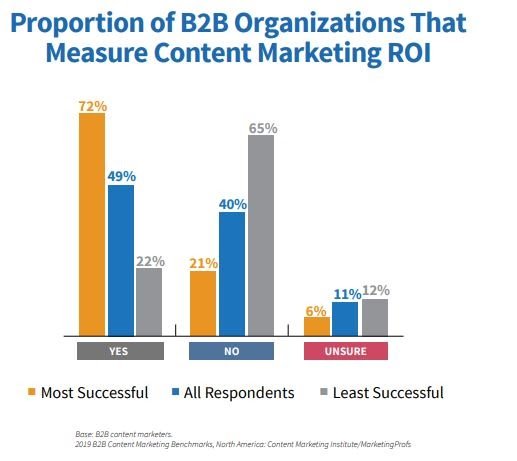 Of course, measuring the ROI of your content marketing efforts isn't enough—you also need to make adjustments and adapt your strategy on a regular basis.
Fortunately, you've got data on your side. Take advantage of Google Analytics and metrics from your email and content tools to track what's working and where you could use some improvement. As a B2B marketer, some of the most commonly used KPIs for content include traffic, sales, conversions, organic ranking keywords, time on site, social shares, and subscriber growth.
Tracking your content marketing efforts with analytics helps in two major ways:
You'll learn to avoid making the same mistakes again and again.
You can create a more engaging and results-driven content strategy.
Some initial trial and error are understandable since you're operating based on a set of assumptions—like what type of content format is best for your audience—instead of facts. But as you gather more data, you'll be able to form a clearer picture of the efficacy of various tactics.
From there, it's on you and your team to make changes and improvements for more visits and a higher return on your investment.
7. Learn What Works (and What Doesn't)
The last tactic we recommend goes along with #6. Analyze the data you are gathering from several platforms to learn what works and what doesn't.
As a B2B marketer, you want every new piece of content to be fresh and unique. While this is generally a solid goal, it's worth noting that your content won't always be 100% new. Truthfully, most of your content will resemble other concepts and use similar or identical information in some way—and it should.
To be clear, this doesn't mean you should be satisfied with unoriginal content. Rather, you should take note of other brands both inside and outside of your industry. Look for ways to emulate and improve upon their strategy; take notes on what to avoid, and repurpose your existing content to maximize its use.
In order for your content to work, you need to target the right audience, which is different from what most people think.
Rand Fishikin from SparkToro illustrates that there are four different types of categories that your audiences can fall into.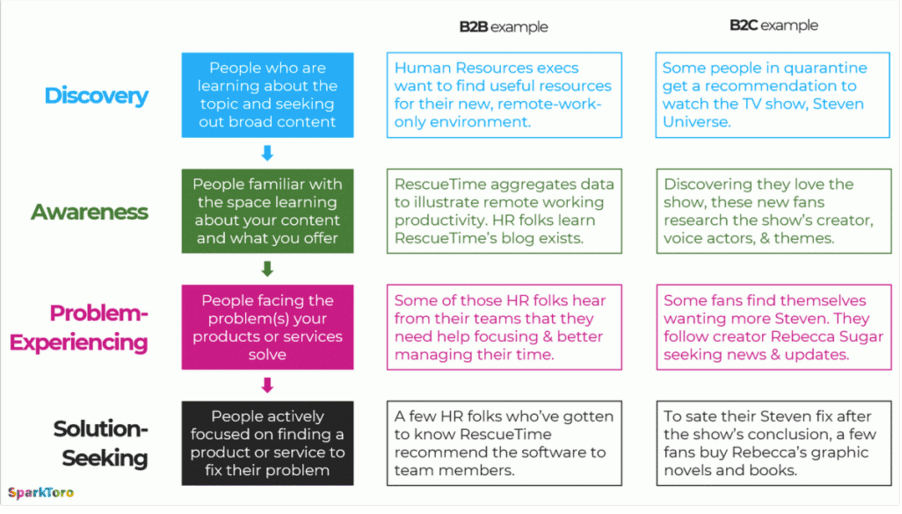 For example, if your content only continually targets only a specific audience to buy your product then eventually you are going to run out of newcomers and that does not lead to a successful business strategy.
It's a misconception that everyone who consumes your content should lead to a sale. You need to find the balance between getting new customers but also getting engagement from everyone that views your content.
There is not a one size fits all solution, you may have to experiment with different content formats to see what works best for you and your brand.
Further, make it a priority to study what marketing professionals and industry leaders are saying, what news is relevant, and what typically works or doesn't work.
Over time, you'll see trends in your competitors' relevant content, as well as clear patterns in your own customer data. Use this to inform and guide your own content marketing campaigns.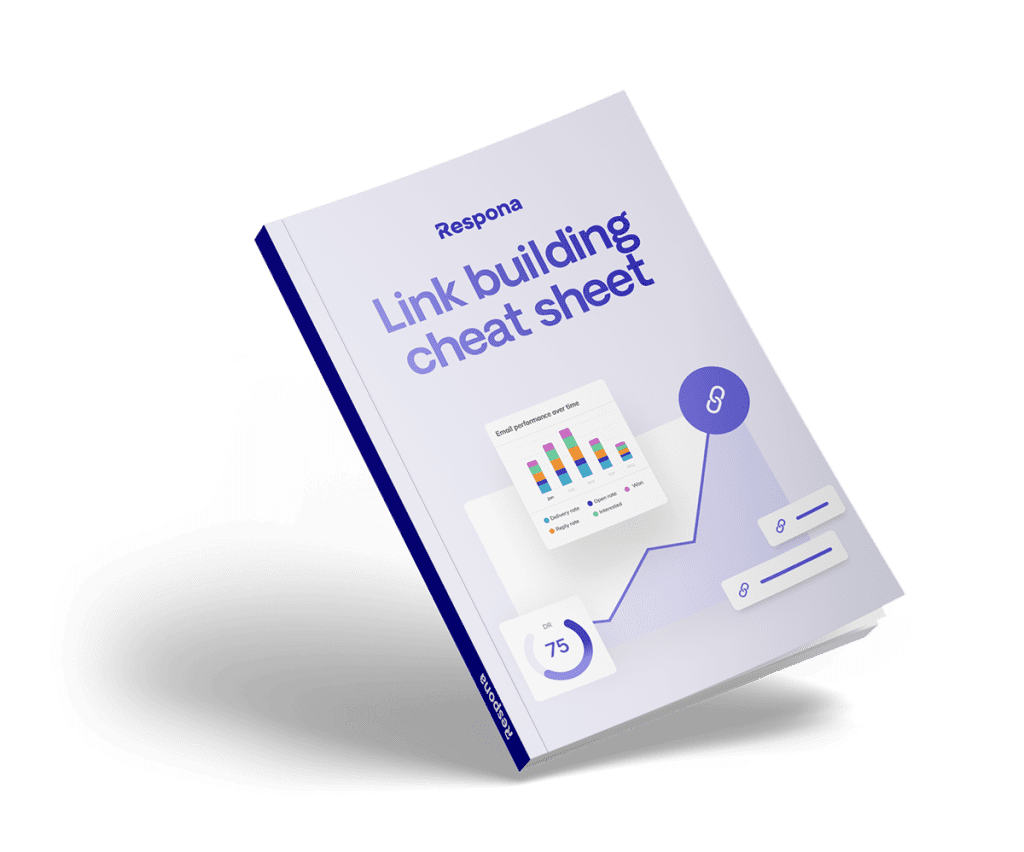 Link building cheat sheet
Gain access to the 3-step strategy we use to earn over 86 high-quality backlinks each month.
Final Thoughts on Your B2B Strategy
Content marketing has exploded for a good reason: It works! But not every content marketing tactic will succeed for your company. Even if you plan and execute one perfectly, some stuff just won't resonate with your audience.
The key to a brand's content marketing success lies in defining its ideal customer—and then setting out to create highly targeted content. According to the Content Marketing Institute, the best-performing content prioritizes audience needs over sales messages.
Of course, the audience needs will inevitably vary based on industry—for some, readers might want an informational blog post or an online course, while for others, readers seek only industry news.
Whatever B2B content marketing techniques you choose, be sure to set benchmarks and track your metrics. Monitor your efforts and periodically circle back to tweak and adjust; improvement isn't possible otherwise.