Leads are key marketing markers simply because leads are… money.
Generating quantitative and qualitative leads is probably any marketer's main target because the hit of a lead generation campaign will fill your prospecting funnel while you are out like a light.
You read that right; money can come even when you're not in front of your laptop 24/7.
You may rub the sleep from your eyes, 'cause you're not dreaming.
And I don't plan on leaving you like this without giving you some practical examples to reinforce my statement and bring you closer to what a successful prospecting campaign is.
OK, so let's say that you own a blog or a website.
As a marketing professional, you shouldn't stick to this means of communication only.
To succeed in effective lead generation, you should try to use different marketing channels, including some digital marketing ones, such as a retail store, email marketing, a simple SMS, or a social media platform.
You should set a straight forward target:
To find the easiest and most efficient mix in which buyers can research, evaluate, and finally purchase your product.
Let's put flesh on the bones of your prospecting campaign with some hands-on instances.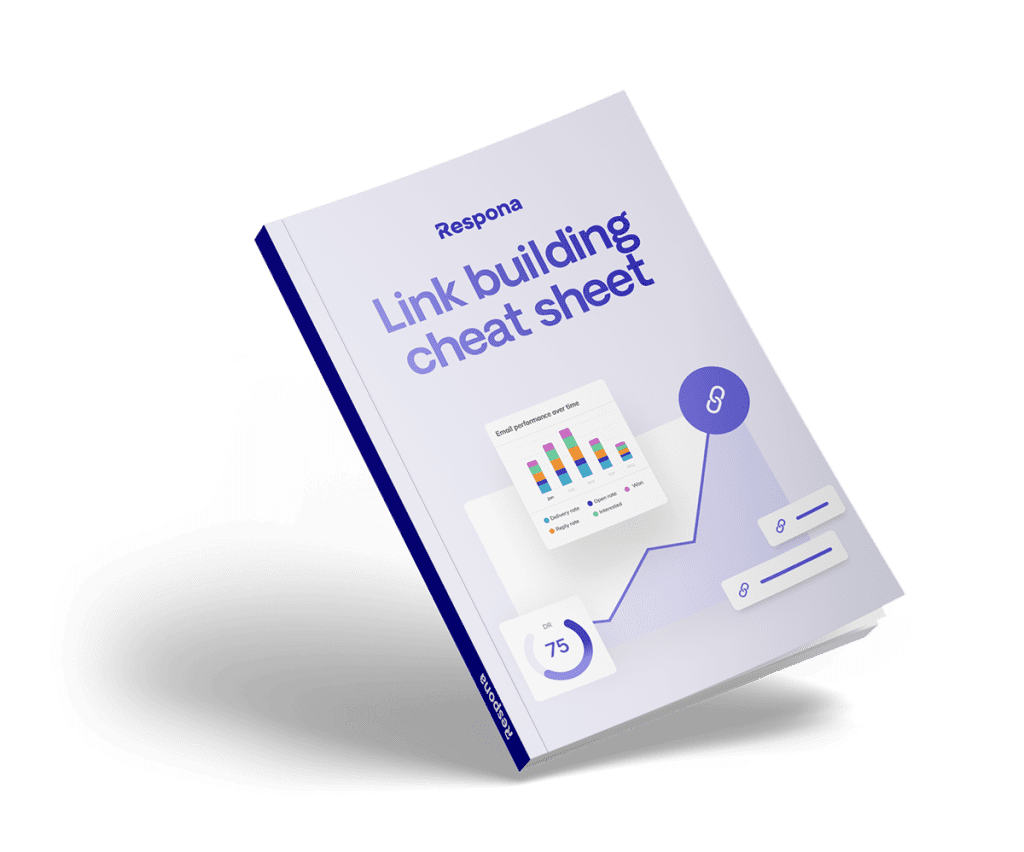 Link building cheat sheet
Gain access to the 3-step strategy we use to earn over 86 high-quality backlinks each month.
#1: Turn Your Blog Into a Lead Generation Machine
According to one of Hubspot's reports, companies that publish 6 to 8 posts a month double their lead volume.
Now, this is one suitable proof that blogging is an efficient method to increase your prospecting capacity.
Nevertheless, always try to include links to landing pages and some relevant-to-your-content, bold call-to-action buttons.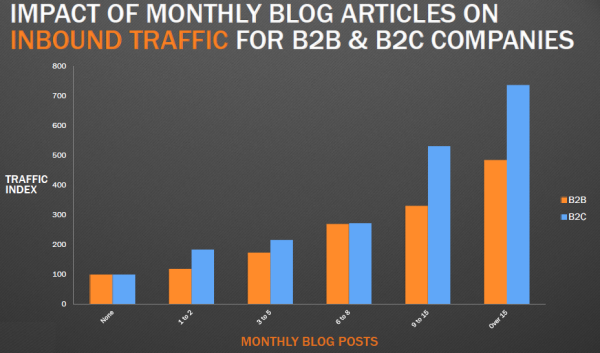 While content marketing is a popular marketing technique, it's also a very competitive one.
Most of your competitors probably already have blogs and are churning out multiple posts weekly or monthly.
It's important for your blog to stand out.
First of all, make sure you're providing high quality content and pay attention to your blog's design and reading experience.
Your content should be easy-breezy and pleasant to read.
When optimizing your blog, pay attention to the responsiveness — since more and more content is getting consumed on mobile devices nowadays.
Keep in mind that if you want your blog content and Ecommerce to succeed, you have to make anything you produce resonate with the right audience.
In other words, if you wish to expand your target audience and attract potential customers, make sure your content speaks to them too.
Let's look at this great graph that helps us understand who our target customers might be.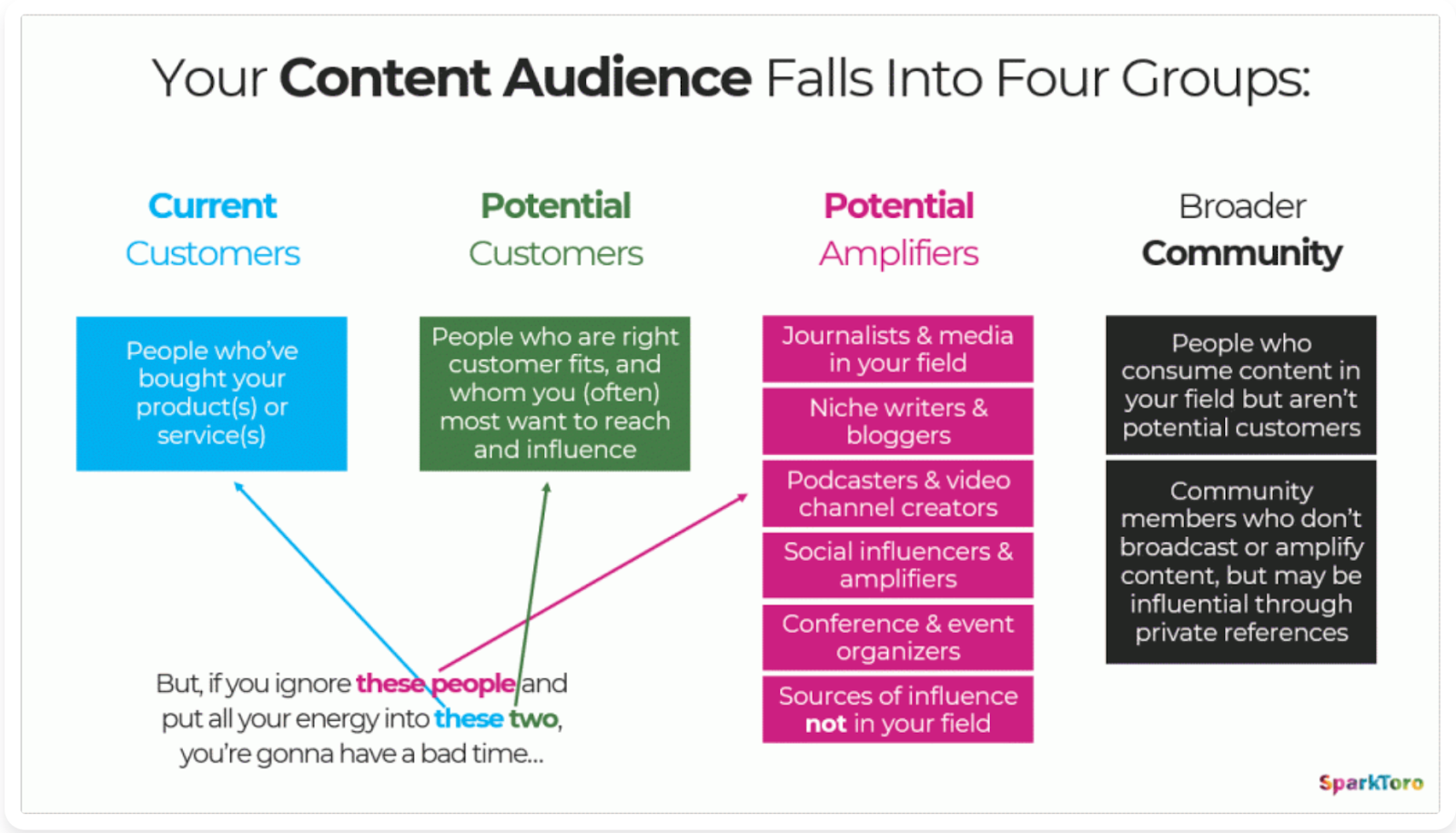 One creative way to boost the conversion rate of your content is to include custom CTAs in the content.
To get inspired, check out how Visme includes "Try It For Free" buttons on their blog.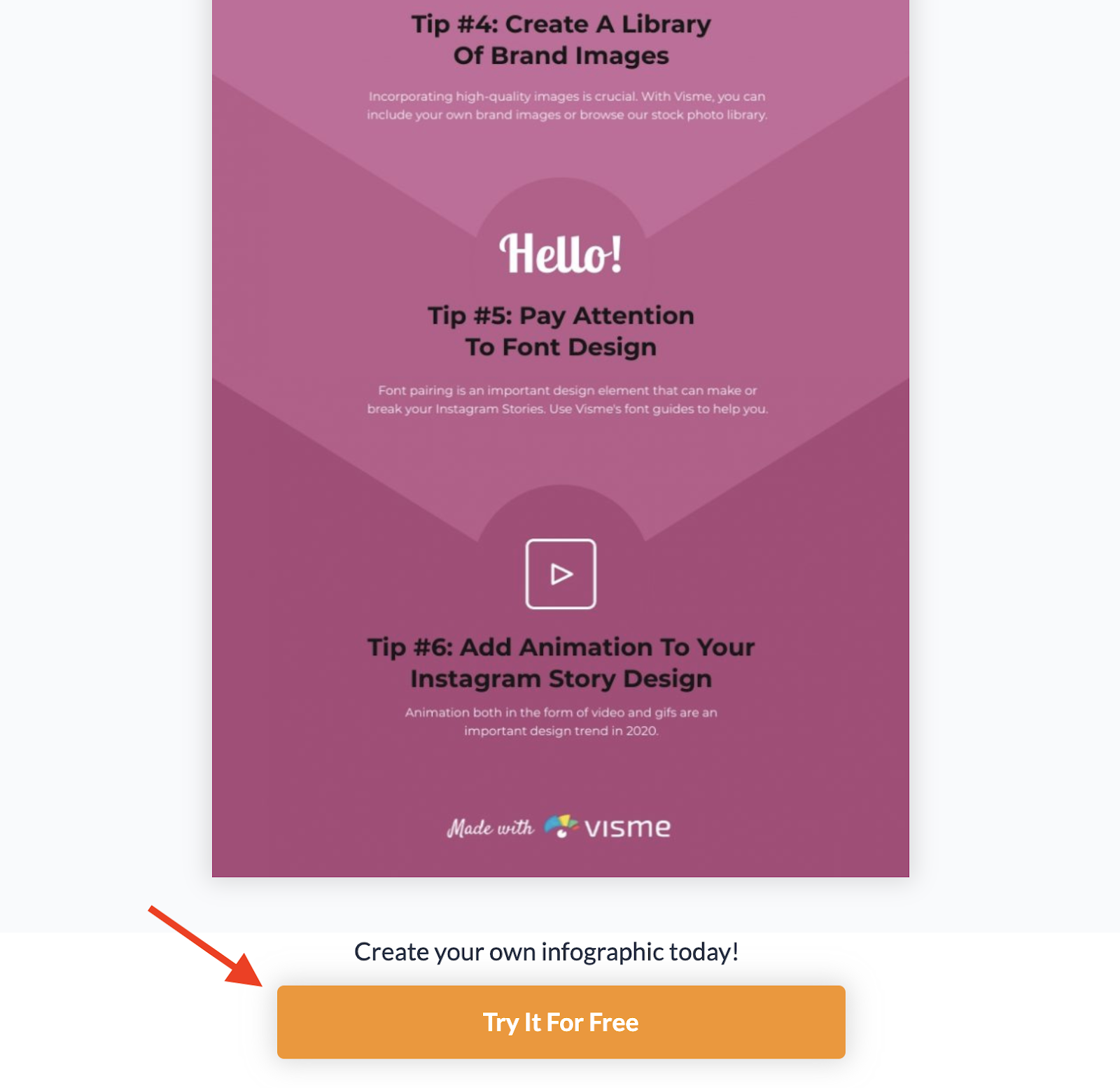 Now that we've talked about incorporating lead generation tactics into your blog, let's move into the next way I have for you.
#2: Boost Your Chances to Increase Your Revenue With Email Marketing
I am always surprised to read or hear that many companies still consider email marketing as a way of communicating with clients.
Think again! Email marketing is also one of the most significant ways to attract new leads.
And it's also cost effective.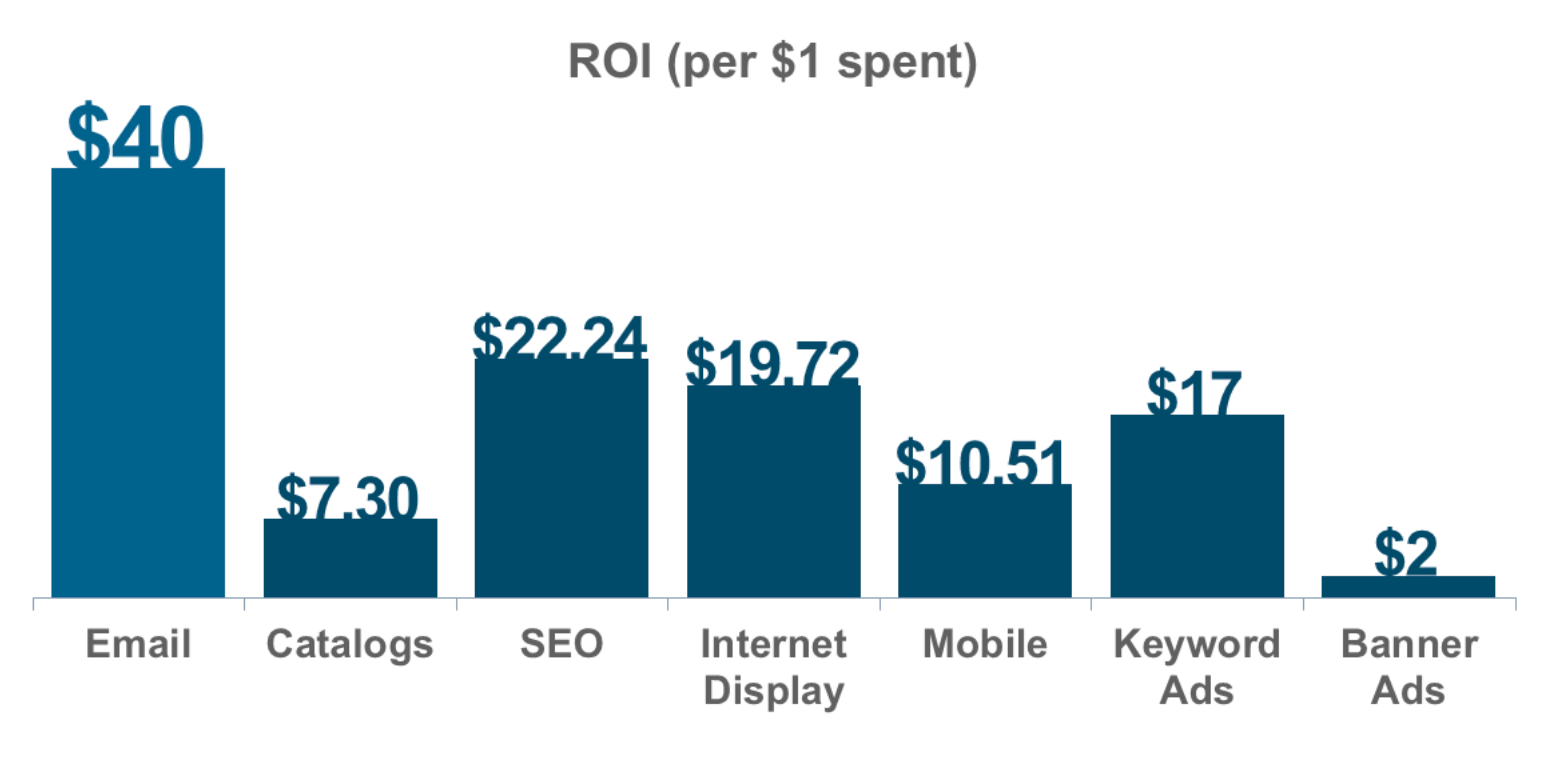 Here are some tips and tricks on how to actually get the email to convert and generate leads for your business.
Buying email addresses to spam your potential clients will only cause them distress instead of making them want to share your offers with others.
Moreover, they might want to unsubscribe from your newsletter, and that would be a real pity – investing time and money in something that makes you lose customers that had previously chosen to opt in.
So, the first step towards generating more leads is making sure that your existing clients and email subscribers are satisfied with what you deliver and enjoy receiving emails from you as well as want you to keep having their contact information.
Use email to send your prospects only captivating and worthy downloadable offers, all sorts of discounts mixed with educational content deserve being retrieved and dispensed to other prospects
Give your website visitors and other users that follow your content the tools to share your content.
In other words, add a link that encourages your recipients to "Send this offer to a friend" or some share buttons to encourage people to share your email further on their social networks.
The recent trend is to leverage plain HTML emails instead of fancy designed newsletters.
Plain emails quickly build trust with your audience, establish a personal and conversational tone, and thus increase the conversion rates of your marketing campaigns.
Check out the example below of how Groove leverages emails in their onboarding flow.
Their welcome email is very personal and focuses on explaining what the company and their products are all about.
The responders get engaged on a personal and emotional level.
Therefore, it is more likely for them to dive deeper into the product and convert into paying customers.
I want to draw your attention to the fact that in order to achieve effective lead generation, it's very important to create a list of email subscribers.
For that reason, as we can see below, Ahrefs is inviting all website visitors to follow the newsletter signup link and be included in their email list.
*Note: This can also be a pop-up window on your web page.
A nice and simple marketing tactic!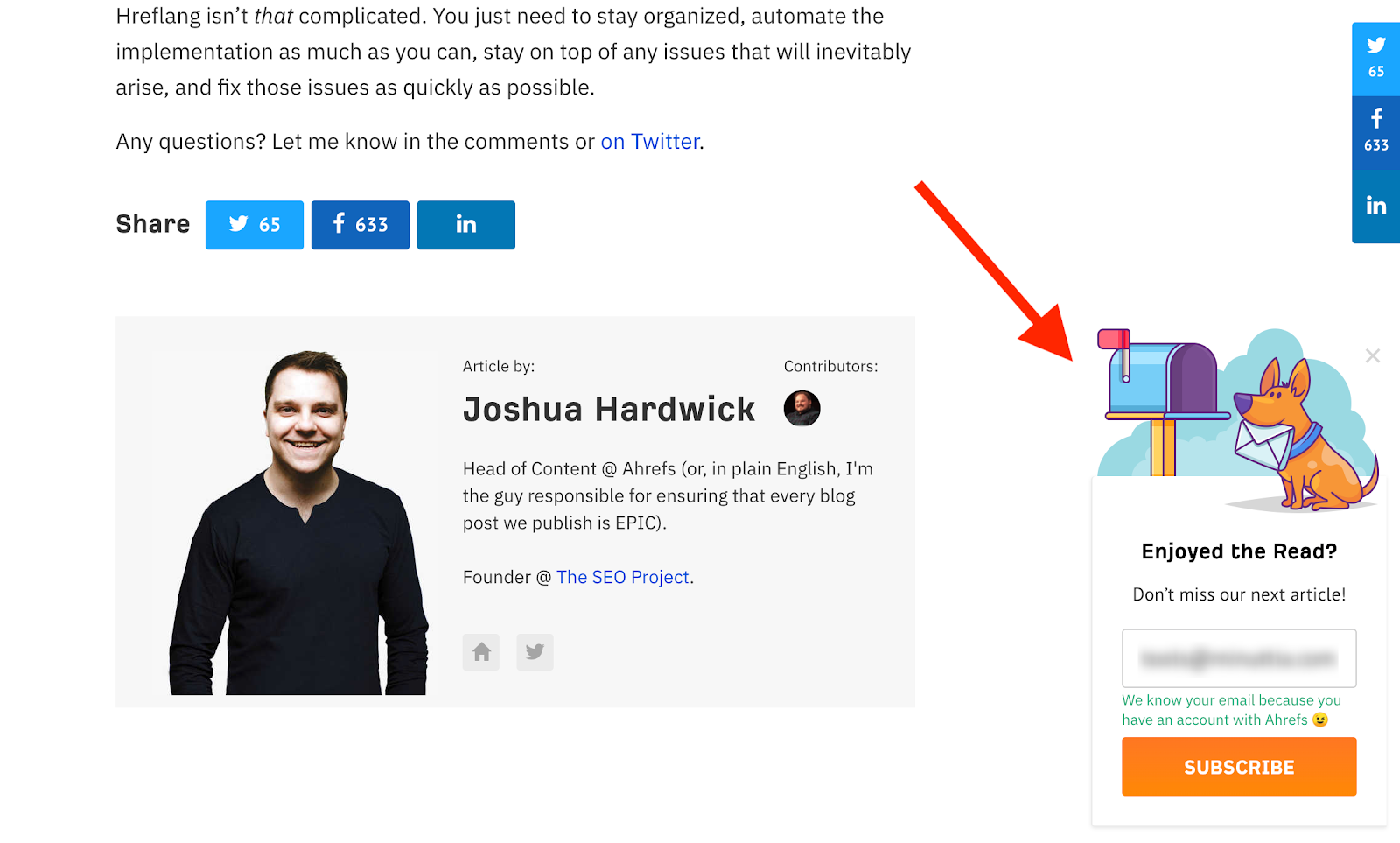 What's also important is to understand that in order for people to be engaged with your newsletter and don't be overwhelmed by low quality content and huge amounts of newsletter communications, you should add value to it.
For example, Exploding Topics delivers trending topics once per week right in your inbox for free.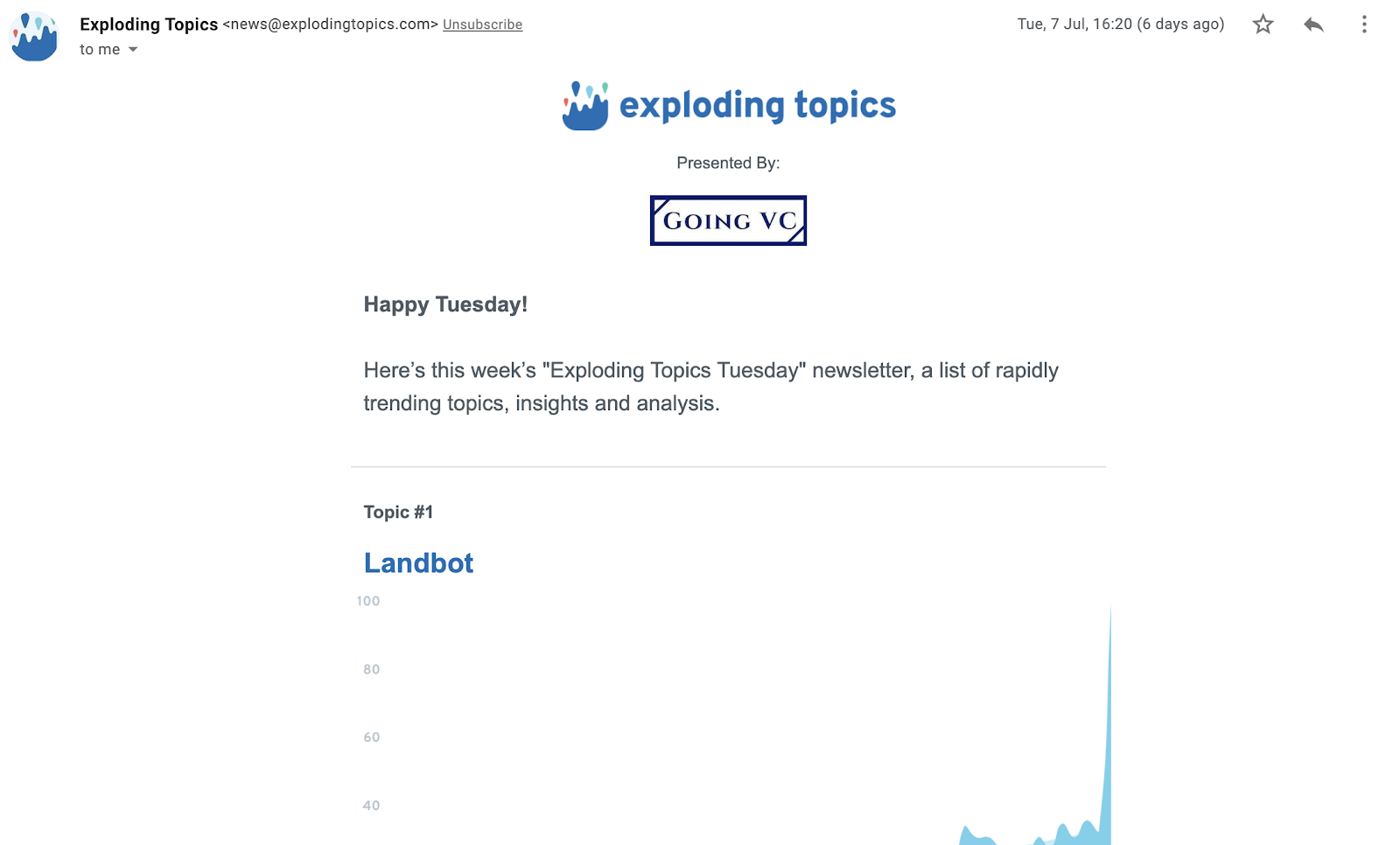 That's a great way to build an audience and keep that audience engaged.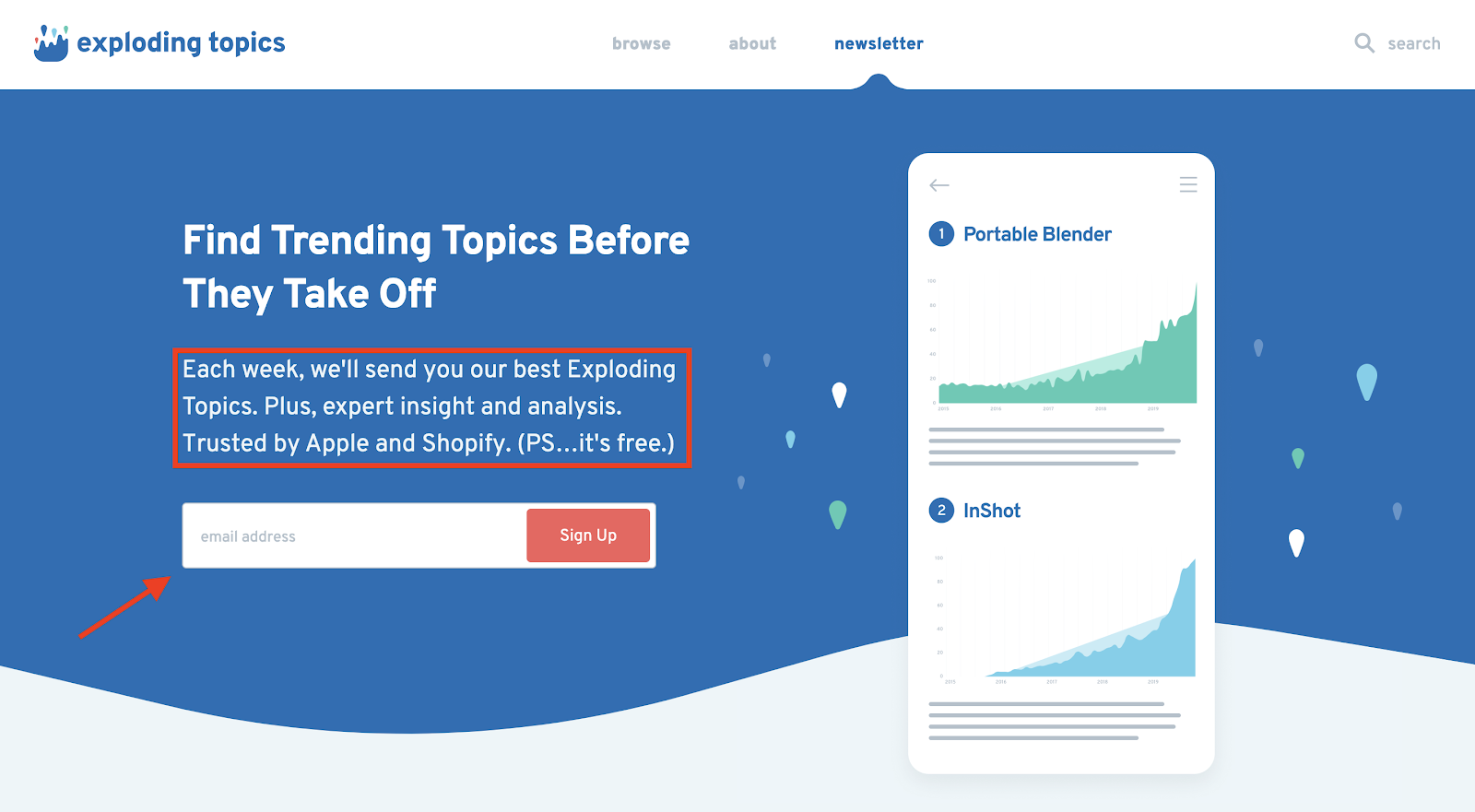 Now that you know that email marketing is a valuable part of your content marketing and digital marketing strategy—and that, to build an audience you need a great lead magnet—let's talk about spreading the news via social media.
#3: Spread the Good News Via Social Media
Although social media platforms nowadays are cluttered, business owners should try to use them in the best and most effective way possible.
There are Ecommerce businesses like ASOS that are making some remarkable efforts on their social media.
More specifically, they're using Facebook's Ad Library as a valuable marketing tool to spread their good news via social media and connect with followers and potential customers.
Let's look at the web page below:
The same goes for brand builder and marketing influencer Dave Gerhardt who's using social media networks like LinkedIn to promote his brand culture.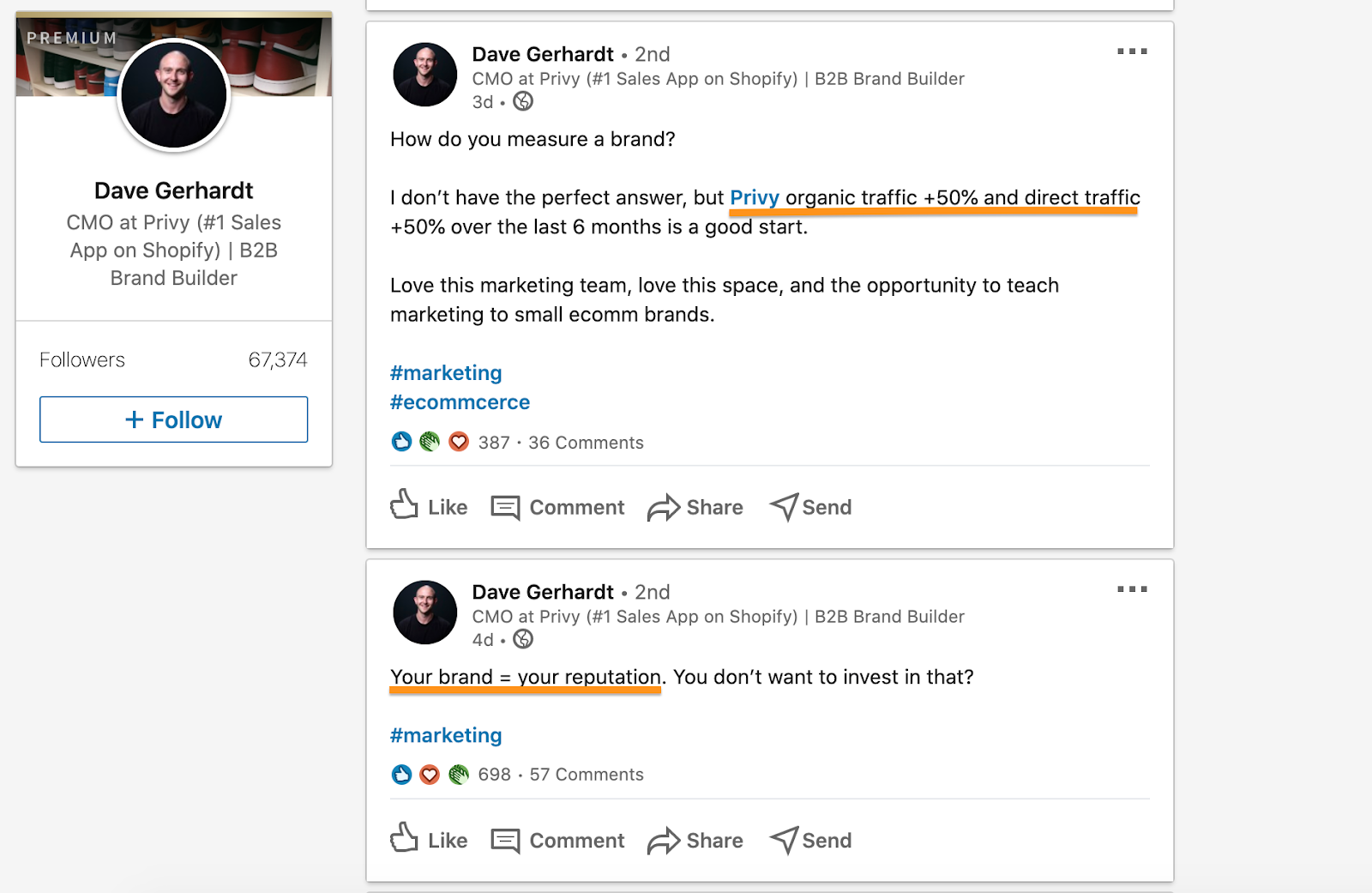 Simply put, social media doesn't just mean scrolling around, liking funny pictures, and posting your meals on Twitter or Instagram.
Additionally, it is a channel in full swing that most of the companies use to promote their business. Here's how to use social media channels to generate leads:
Build a reliable database of loyal customers. The relationship that social media allows you to create is very human, so seize the opportunity to get to know your audience, to communicate with your prospects, and to share your experience; because generating leads requires human interaction
Posting and sharing content to redirect traffic toward targeted landing pages and web forms is again a very powerful weapon of generating leads through social media. Make sure to take additional factors into consideration like the time of posting to get the most engagement on your content.
Social media is a dialog channel. The companies that only deliver messages do not use those channels at full capacity – the purpose is to interact with your customers and be helpful to them.
In other words, avoid sharing only your content, add eye-catching content that you found on other websites too, it shouldn't always be about your company.
Convince your connections to share your content at their turn – a quid pro quo kind of deal.
When it comes to social media marketing, remember that it's important for your brand to sound distinct.
It's something that you have to build up over the years.
A good example of leveraging social media is Wendy's.
They successfully leverage social media to engage with their customers (and leads) in the real-time, boosting brand awareness and producing the content that goes viral due to its charisma.
Obviously, Wendy's is a well-known brand with an active following, and social media lead generation is going to work differently for small businesses — but the basics in terms of the lead generation strategy are the same.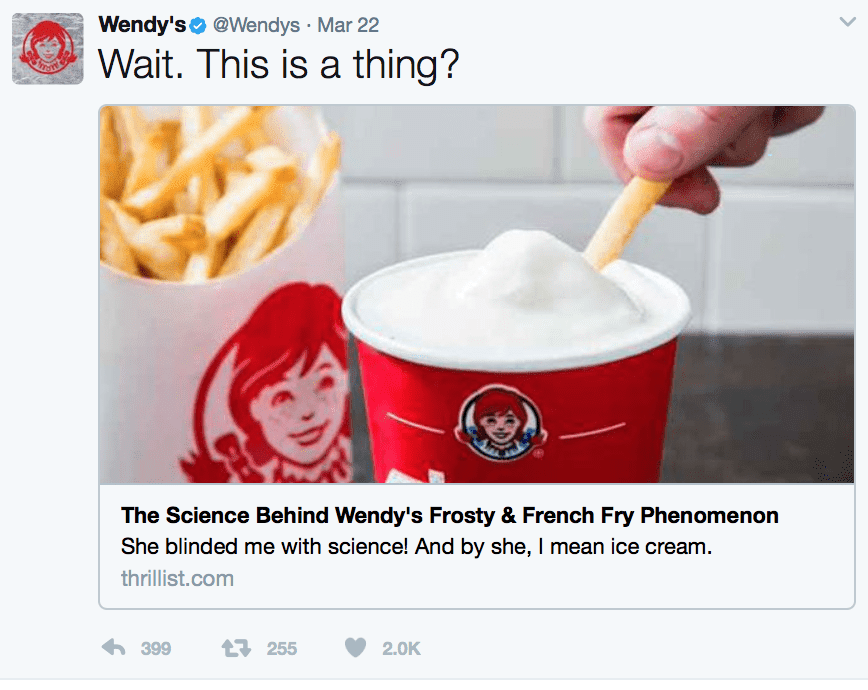 Remember that social media is all about connecting with the right people and maintaining those relationships over time.
This doesn't have to be hard or time-consuming, though. Luckily, there are tools that let you boost engagement and take some weight off your social media managers' shoulders. Take MobileMonkey, for example. It's an Instagram-approved chatbot (which is extremely rare since IG doesn't typically allow bots) that can reply to comments and direct messages automatically and even message people when they mention you or your brand in their story.
After talking about social media we're going to talk about how SEO optimization can attract more leads.
#4: Optimize Your SEO to Attract More Leads
While promoting your offers through various channels is nevertheless crucial in the process of gaining new prospects, you should also make sure that people find you with ease through search engines, like Google.
Here's how you can optimize your landing pages for SEO:
Choose the main words for every landing page and try to optimize that page around that word. If you use too many keywords, you risk losing authority and the relevance of the page because search engines will not know what exactly is that page about
Use keywords in H1 titles and H2 subtitles
Include keywords in your content, but make sure they are appropriate to the material
Include keywords in the URL of the page
Include keywords in the image description and compress the images to reduce size..
Your SEO strategy should go hand in hand with content marketing.
By optimizing your content pieces for good keywords, you can create a great awareness engine for your product or service.
It's a good idea to break down your content into topic-based clusters.
The model was originally developed by Hubspot.
It helps to create an efficient internal linking structure that directs all the link juice to the sales landing pages that you actually want to rank up for organic keywords.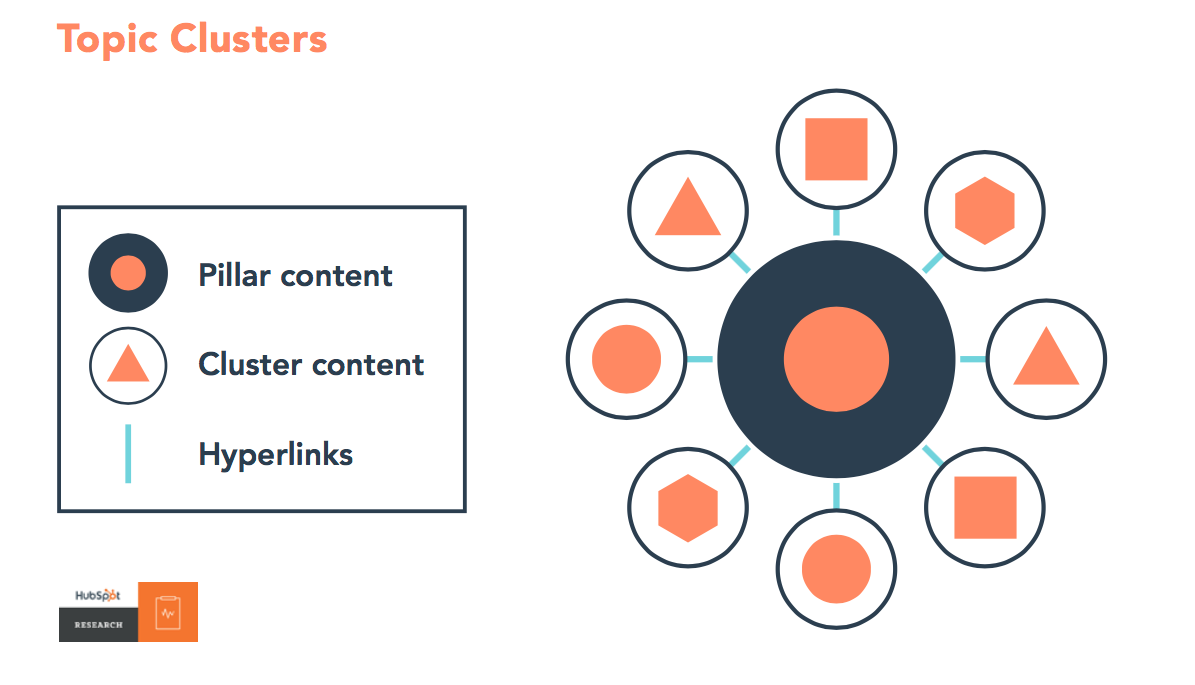 When working on choosing the keywords for your content, pay attention to choosing the keywords with a high clickthrough rate and a high percentage of organic search clicks as compared to the paid search.
For example, as measured by AhRefs, the keyword "lead generation" has 87% of the organic clicks, but only 27% of the searchers end up clicking on any link — and so you might think twice before targeting it.

At Paperform we're focusing on investing time and resources in our SEO strategy.
We've therefore managed to get good results in terms of traffic value.

The data on the next screenshot also shows how we've achieved to rank for many relevant keywords with high search volume and, in many times, high commercial searching sites.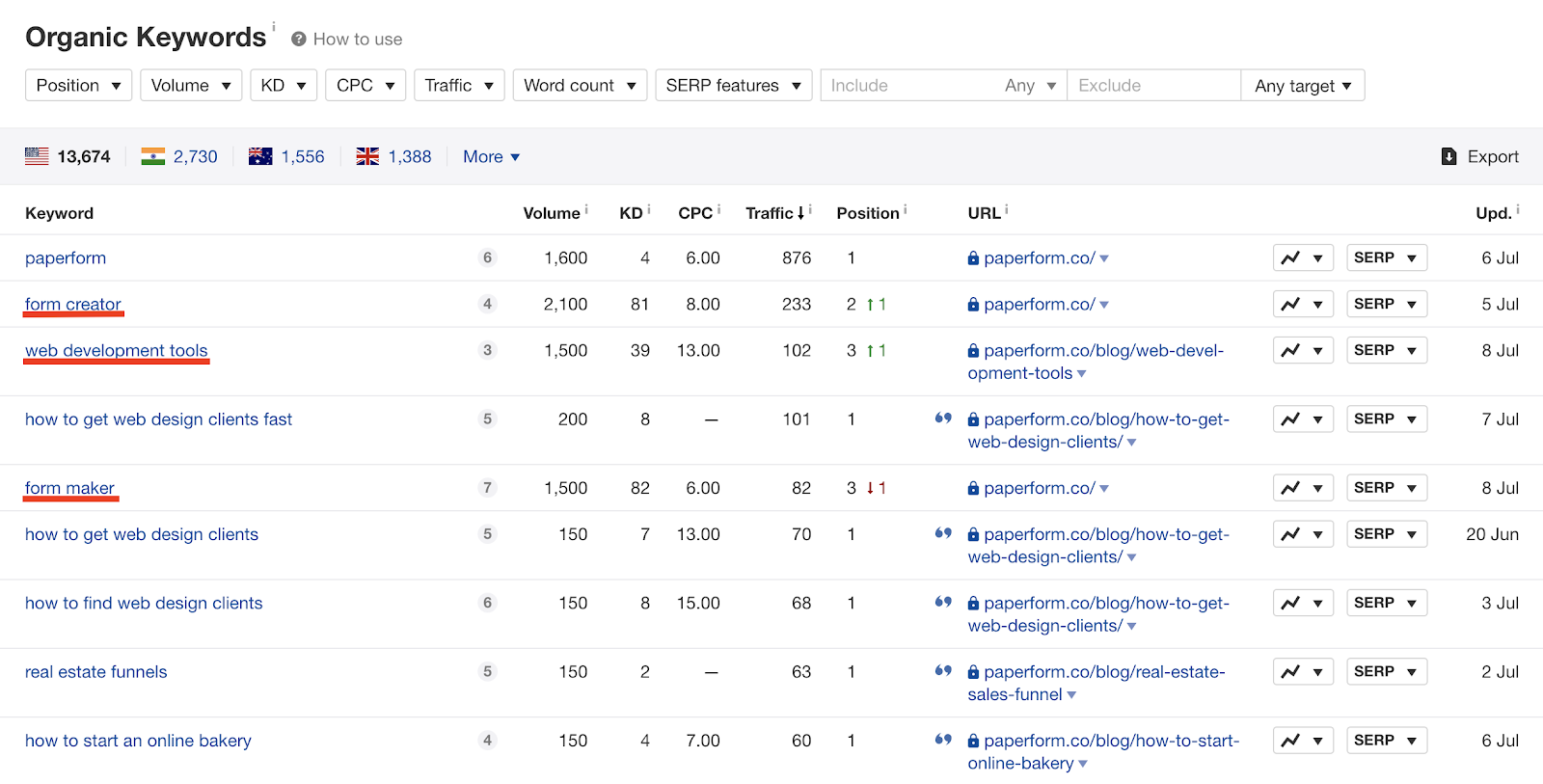 In the next section we're going to talk about value proposition and how it can be used as a lead generation tool.
#5: Provide More Value Upfront to Generate More Leads
Don't put your mind to closing a deal only.
I mean, an offer per se is a great way to engender new prospects, but on top of that, some links to interesting downloadable and actionable content will make your prospect more than happy with your collaboration, craving for more, wanting to share the news with their friends and family.
To provide value you can use a variety of mediums and ways to reach out to your audience, such as being a guest blogger or a guest on a podcast.
Additionally, you could also try to organize webinars and video conferences.
In other words, what really helps with lead generation is providing more value to your prospective customers upfront.
Establishing yourself as an industry leader and a decision-maker boosts your credibility and builds up your company's brand.
Downloadable content could take many shapes and forms, but the most common industry standard is creating ebooks.
Ebooks could be either downloadable or open for everyone. You can even create custom QR Codes to promote your eBooks download at offline channels.
Both of those options are quite effective in generating leads, although the latter approach makes attribution harder.
When working on the ebooks, think of whether you might collaborate with other companies in your space.
That will not only help you to source great content from the expert writers, but will also provide you with additional distribution channels.
Oberlo is famous for its collection of educational ebooks.
In order to download most of their ebooks, the visitors are required to leave their email address.
They are later gently introduced to Oberlo's product and are converted into the product leads.
Therefore, this lead generation technique is inevitably closely connected to email marketing.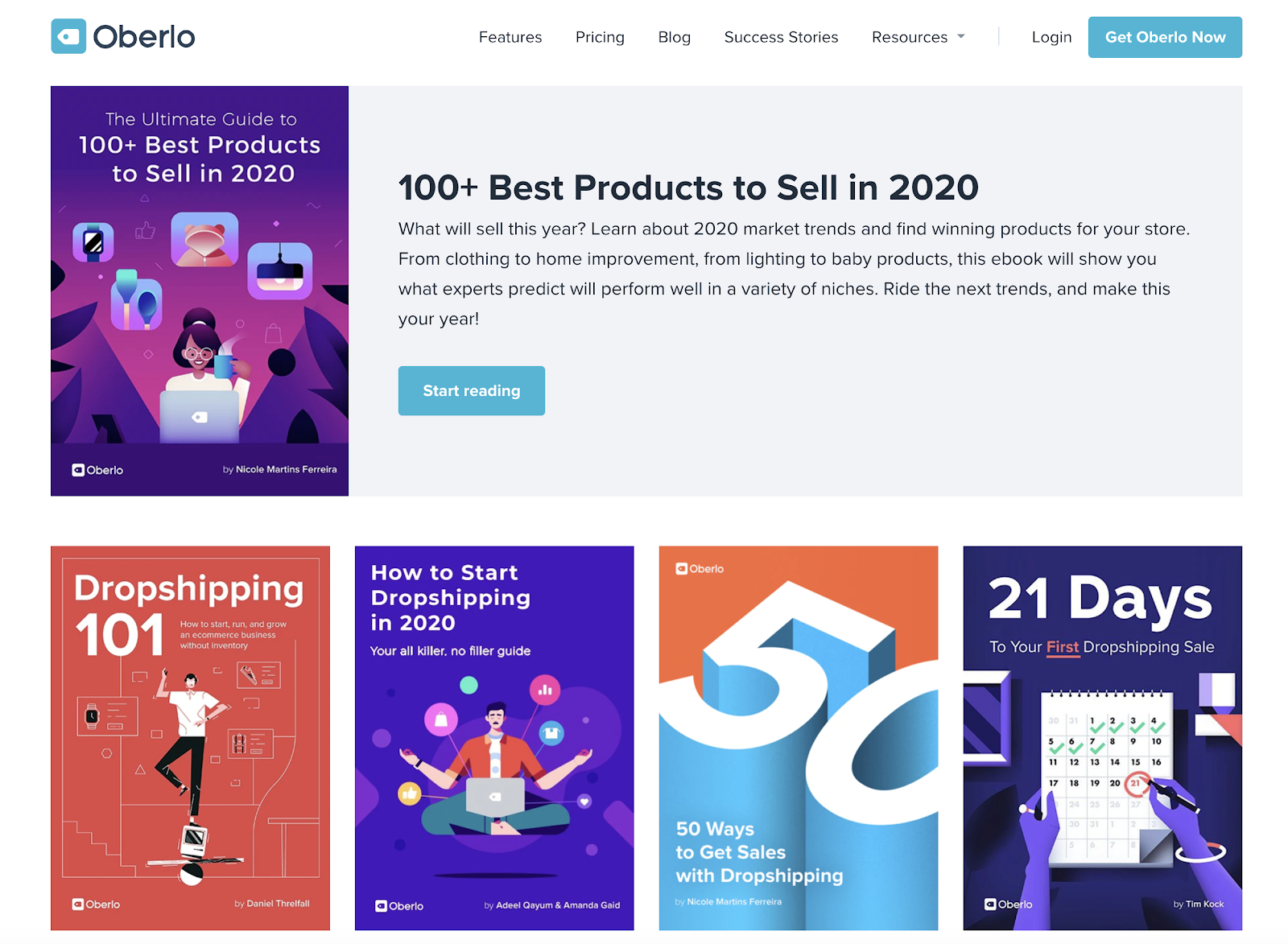 Rand Fishkin is an excellent case study of someone who's being invited as a guest on podcasts very often.
That helps him evangelize and spread the message for his new marketing software company, SparkToro, easier and more effectively.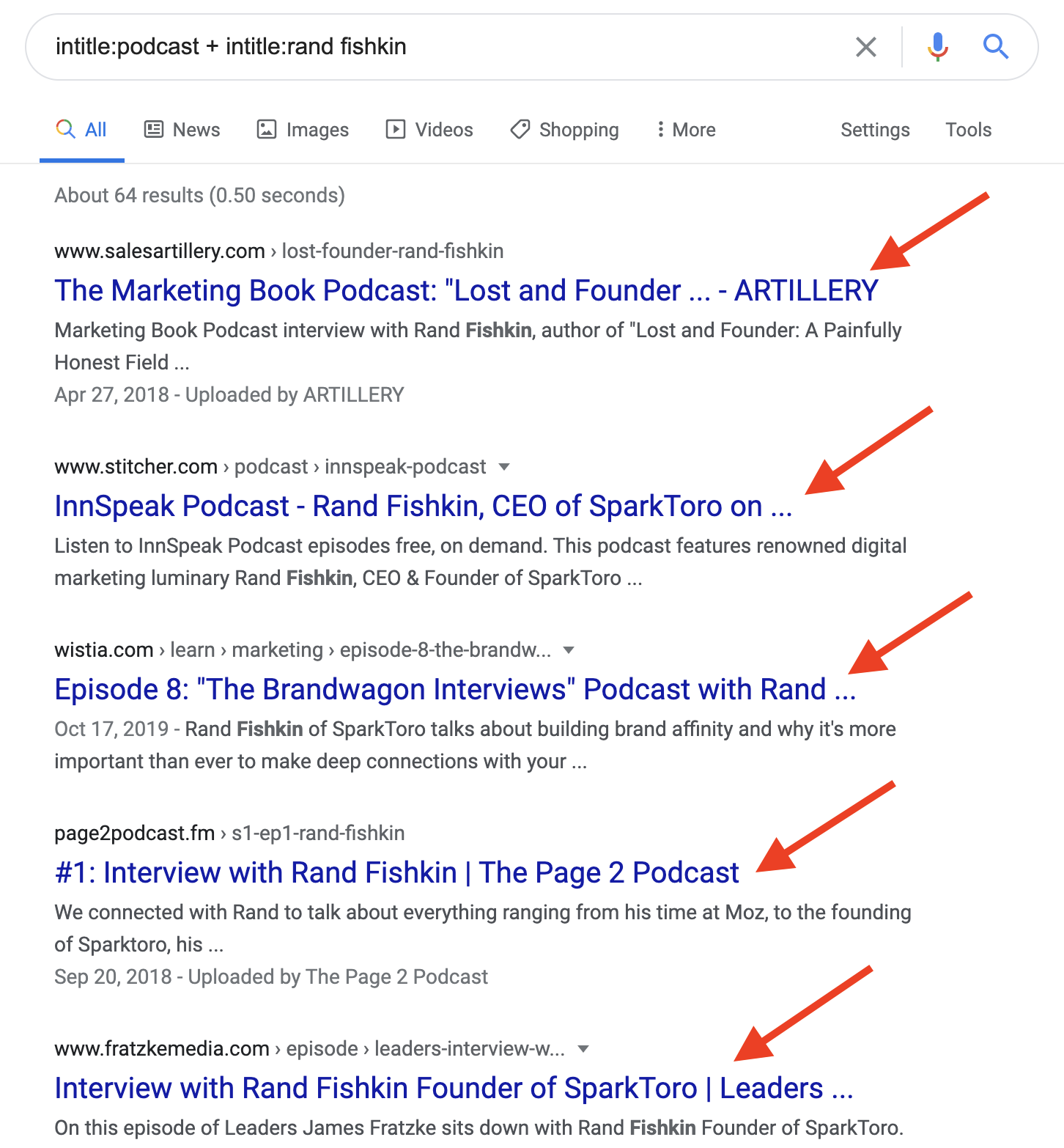 And we see how Rand is sharing content about a recent podcast that he participated in on his Linkedin account.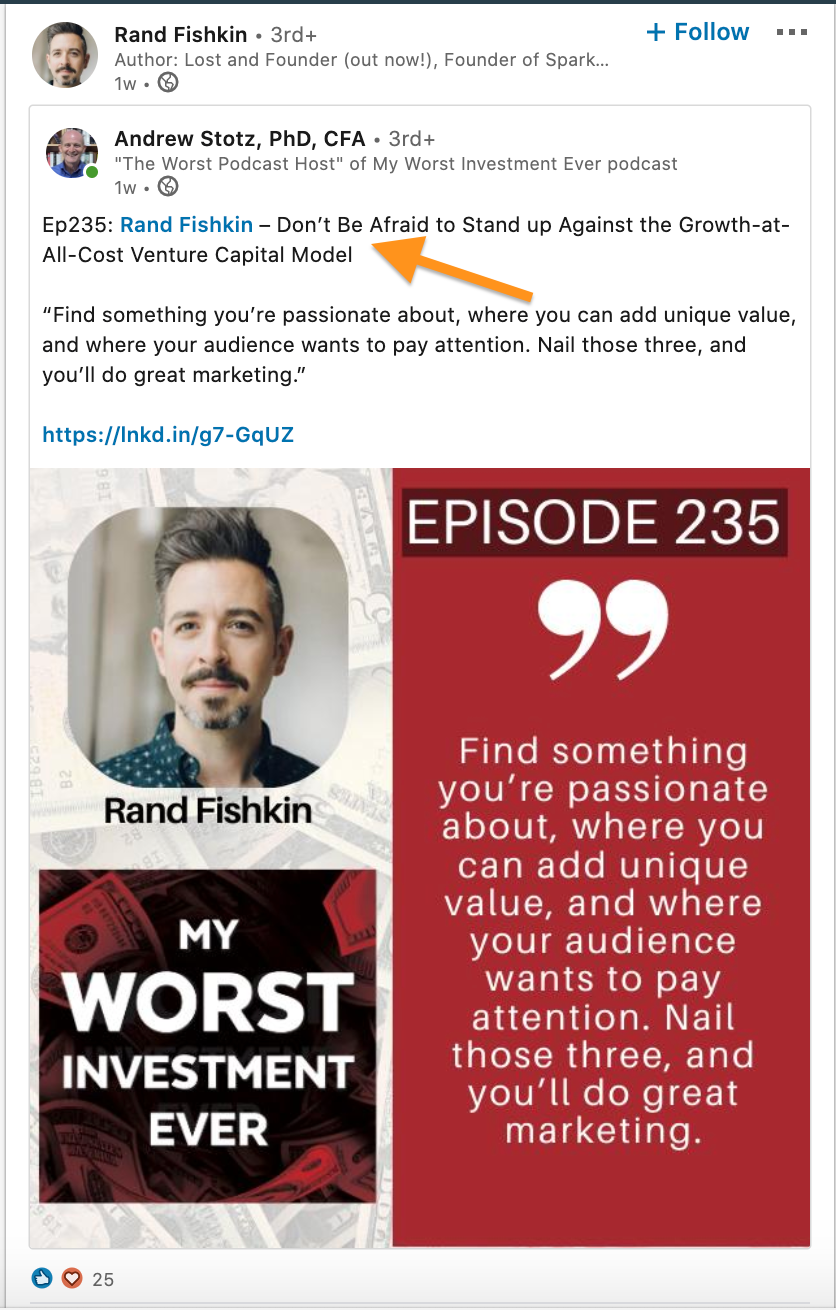 Also, another podcast of him that he shares with his Linkedin connections and followers as we can see below.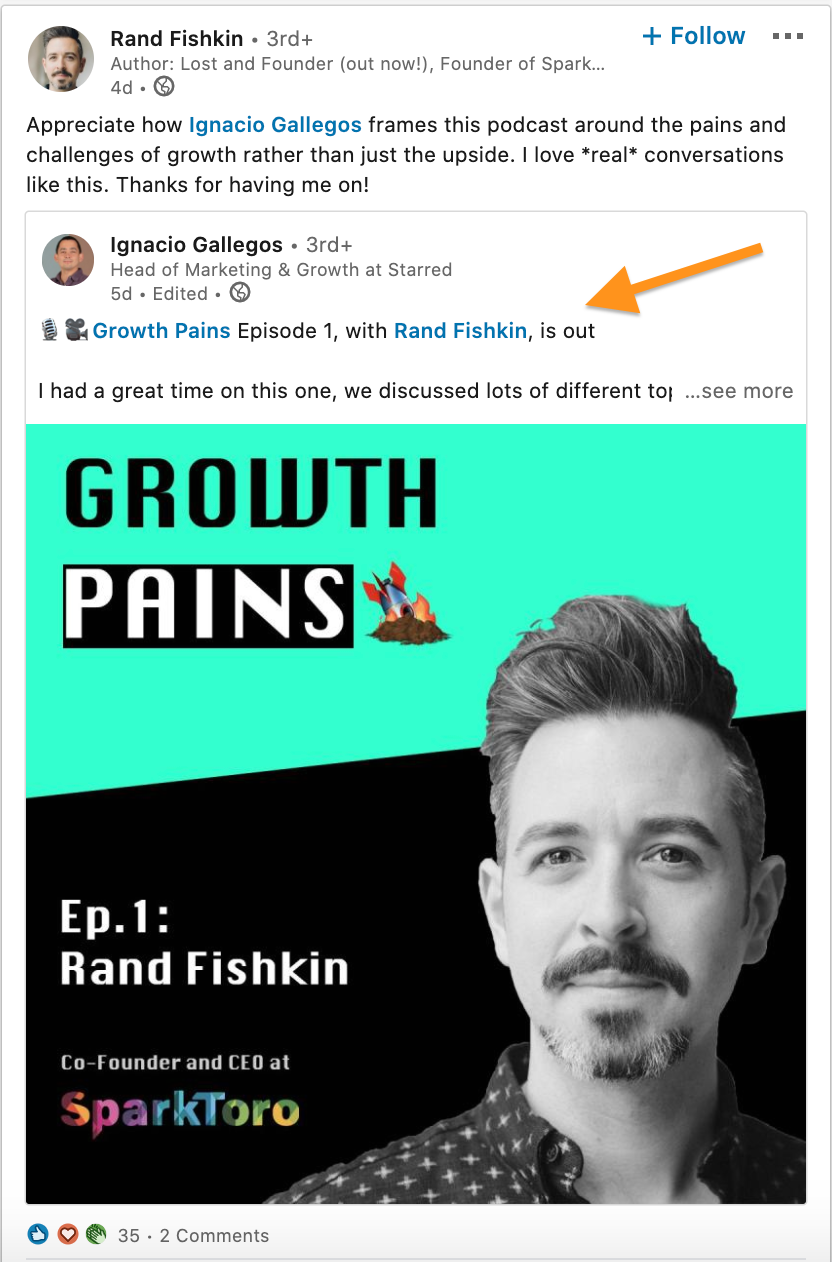 Using the method of value proposition is a great lead generation idea.
Simply put, the process of providing value upfront definitely helps your Saas or ecommerce business to expand its target audience, attract potential customers as well as it enhances your lead generation strategy.
In the last section we're talking about sales teams that achieve successful sales campaigns through A/B testing.
#6: A/B Testing for a Successful Sales Campaign
Although A/B testing is not a social media channel, it still is a great way to grow your leads and even create your own sales funnel.
It can be used in call-to-actions, email marketing, or landing pages.
According to HubSpot, testing landing pages can help you generate 40% more leads for your company.
Moreover, a correctly done A/B testing is a great advantage over your competitors.
Before you get started with A/B testing, remember to create sustainable traffic channels for your product or service.
After all, you need your A/B tests to be statistically significant.
You should also decide on the length of each of your tests.
If your A/B tests take too long, the business environment might change faster than you're able to take action on your learnings.
Ideally, you'd be running quick tests, one at a time.
That way you'll be able to figure out which tests produce what results and won't be confused in attribution.
There are multiple A/B testing tools out there.
You should be aware that some of them are geared towards enterprise companies and are therefore too expensive.
Pick the software that supports all the functionality that you need, but isn't going to cost a fortune.
Let's wrap this up.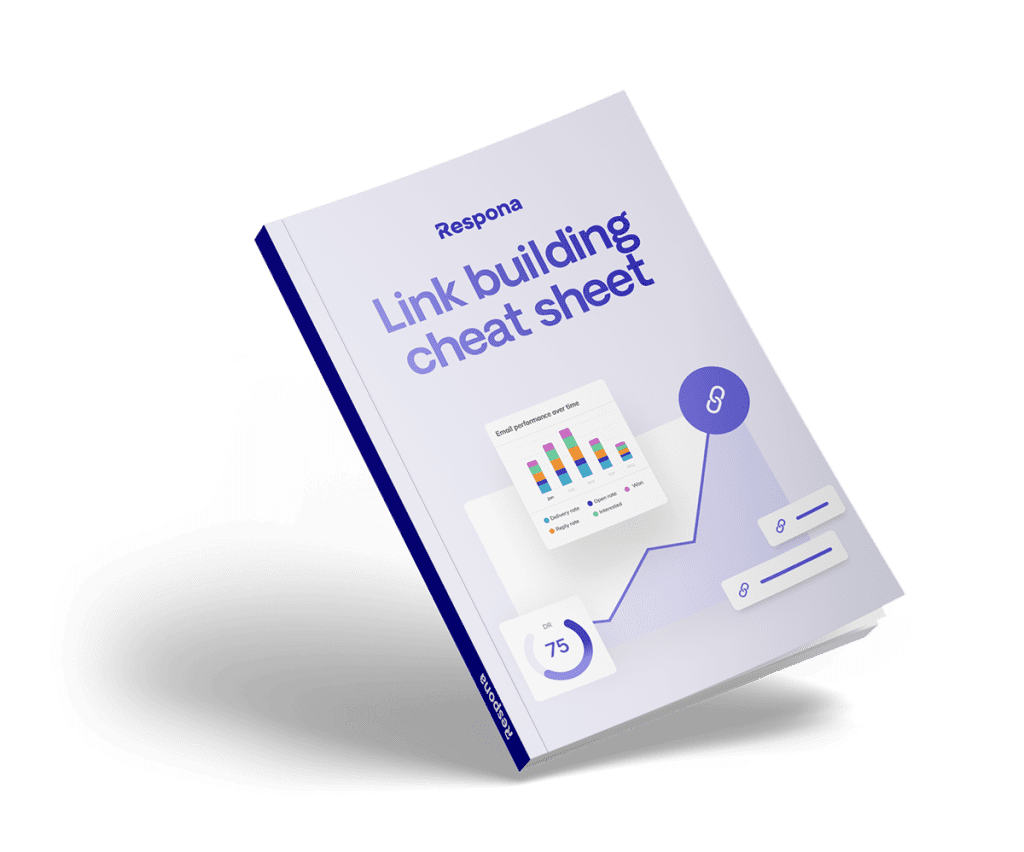 Link building cheat sheet
Gain access to the 3-step strategy we use to earn over 86 high-quality backlinks each month.
Final Words
Online lead generation has the power to turn your marketing strategy into a good dough.
Using special offers, CTAs, online surveys, landing pages, and promoting them through various communication channels can reduce your costs per lead and help you get some new sales prospects.
Continue testing every element of the inbound marketing process while trying to improve the quality of your leads and, of course, increase your net sales.
Still fuzzy? Resort to an email marketing agency or a lead generation company to help you sort things out.
Even though you might end up using a variety of lead generation techniques simultaneously, remember to never stop testing new approaches.
After all, certain lead generation channels might dry up after a while or simply become unsustainable as your business grows.