What is Content Marketing
Content marketing is a strategic marketing approach focused on creating and distributing valuable, relevant, and consistent content to attract and retain a clearly-defined audience — and, ultimately, to drive profitable customer action.
Content marketing's purpose is to attract and retain customers by consistently creating and curating relevant and valuable content with the intention of changing or improving the customer's behavior.
The role of content marketing in link building is to create link-worthy content that other websites will want to link to. This can be done by creating high-quality blog posts, infographics, videos, or other types of content that are informative and valuable to your audience.
Why is Content Marketing Important?
Content marketing provides nine huge benefits to any business that utilizes it to its full potential.
In this section, we will take a look at each one.
1. Increased web traffic.
Content marketing can help increase website traffic in a number of ways.
Firstly, producing high-quality, keyword-rich content can attract new visitors to your site through organic search.
Secondly, promoting your content through social media and other channels can help to drive traffic from other sources.
Finally, regular updates to your content can keep existing visitors coming back for more.
By creating and promoting compelling content, you can significantly boost traffic to your website.
2. Greater engagement with your brand.
Content marketing can help you generate greater engagement with your brand by providing customers with relevant and interesting content that they can consume on their own time.
This can include blog posts, articles, infographics, videos, or even just well-written social media posts.
By producing quality content that is targeted at your target audience, you can encourage customers to interact with your brand on a more regular basis, which can lead to increased brand awareness and loyalty.
3. More leads.
Content marketing can help you generate more leads in several ways. First, by providing valuable and interesting content, you can attract more visitors to your website or blog.
This can lead to more people signing up for your email list or following you on social media.
Second, you can use content marketing to nurture leads and build relationships with potential customers.
By providing helpful information and answering their questions, you can build trust and credibility with leads, making them more likely to eventually do business with you.
Finally, effective content marketing can help you generate more inbound links to your website, which can also lead to more traffic and more leads.
4. Improved SEO.
Content marketing can help improve your SEO in a few ways. First, by creating keyword-rich titles and descriptions for your content, you can help improve your site's search engine ranking for those keywords.
Second, by creating high-quality content that is relevant to your target audience, you can attract inbound links from other websites, which can also help improve your site's search engine ranking.
Lastly, by promoting your content through social media and other channels, you can increase the likelihood that your content will be found and shared by potential customers, which can also help improve your SEO.
5. Cost-effective.
Content marketing can be more cost-effective than some other forms of marketing because it allows you to target a specific audience with laser precision.
You can create content that is highly relevant to your target audience, and then use distribution channels to reach that audience directly.
This can save you money on advertising and other forms of marketing that can be less targeted and less effective.
6. Increased sales.
When it comes to sales, content marketing can be extremely effective. By providing valuable and relevant content, you can attract new leads and customers, and then nurture those relationships to eventually convert them into paying customers.
Content marketing can also help you to upsell and cross-sell to your existing customers. By providing them with additional content that is relevant to their needs and interests, you can encourage them to buy more from you.
Ultimately, content marketing leads to increased sales because it helps you to attract and retain more customers, and then to sell more to those customers.
7. Improved customer retention.
One of the most important things that companies can do to improve customer retention is to create quality content that is tailored to their needs and interests.
By providing customers with relevant and engaging content, companies can keep them coming back for more, which can ultimately lead to improved retention rates.
Additionally, by using content marketing to build relationships with customers and better understand their needs, companies can be in a better position to provide them with the products and services they are looking for, which can also help to improve customer retention.
8. Enhanced credibility.
Content marketing can help to enhance your business' credibility in a number of ways.
Firstly, by providing high-quality and informative content on your website or blog, you can show your customers that you are an expert in your field.
Secondly, by regularly publishing this content, you can demonstrate that you are constantly updating your knowledge and keeping up-to-date with industry trends.
This will show your customers that you are committed to providing them with the best possible service. Finally, by sharing your content through social media and other online channels, you can reach a wider audience and build up a positive reputation for your business.
9. Greater brand awareness.
Content Marketing Examples
Now, let's take a look at some companies who have achieved great success in part due to their content marketing strategy.
Ahrefs
Ahrefs is an all-in-one SEO toolset that helps you rank higher and get more traffic without having to be an SEO expert.
Ahrefs' blog strategy was the foundation of their growth, according to a 2019 story on Medium by the company's CMO, Tim Soulo. The company has achieved +65% YoY growth by focusing on growing its inbound blog traffic and by building a great product that people love.

You may wonder how something like that is possible? Other SaaS startups such as Buffer, Hootsuite, HubSpot, email marketing software Mailchimp and our very own Visme, have found similar success through content.
The content marketing team's role isn't just to produce quality content, but to heavily promote the best content through social media marketing, influencer marketing, podcasts, webinars and any other way available for content distribution.
The content marketing strategy for Ahrefs includes maintaining two blogs (one for SEO and one for Tech), a help center, an academy, and accounts on Twitter, Youtube, Instagram, and Facebook.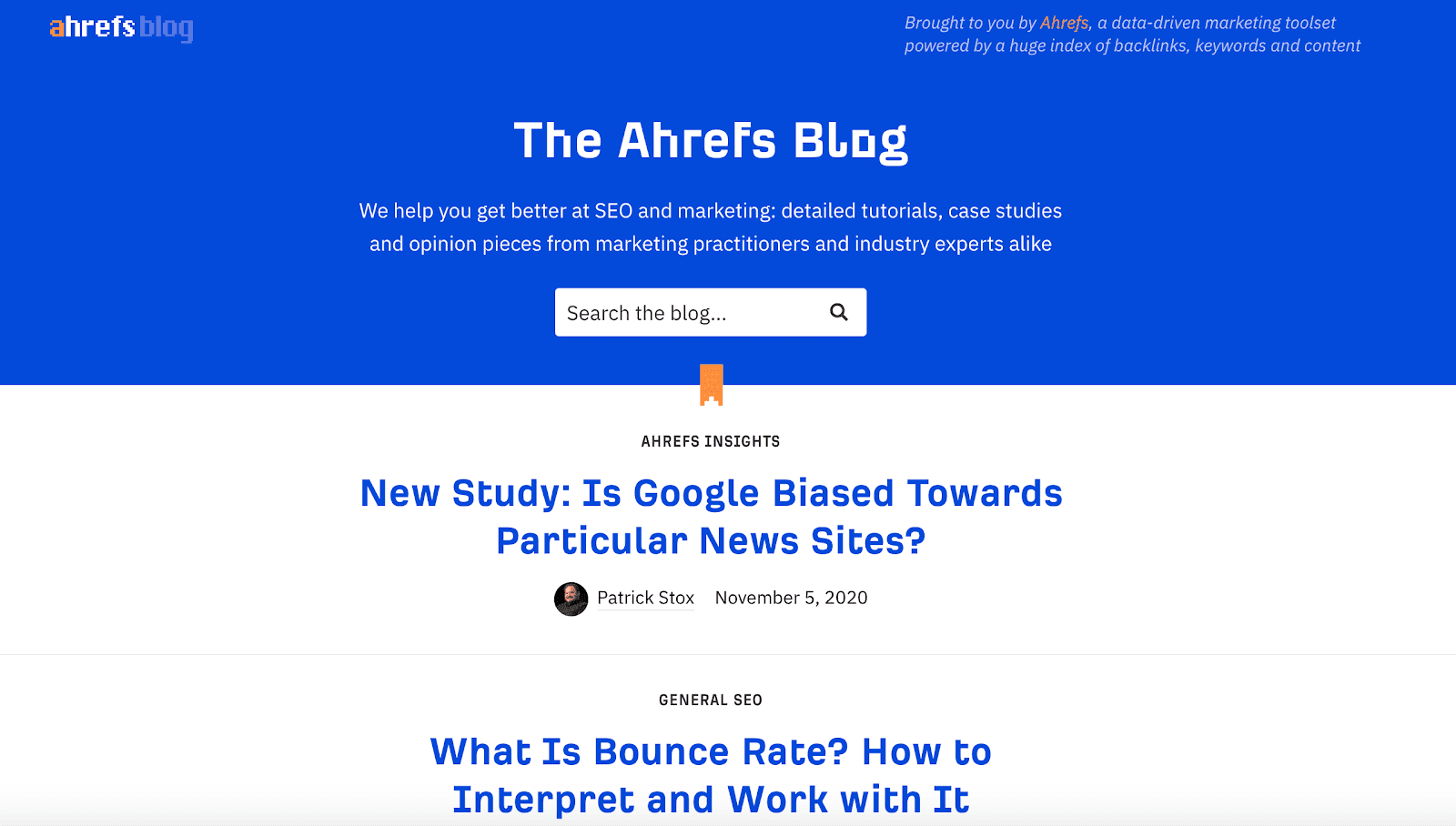 Ahrefs does a great job of distributing different content across each of the platforms we just mentioned, including their YouTube channel where they share videos on SEO tips and more.
The following video alone has helped them get over 300k monthly visitors from search.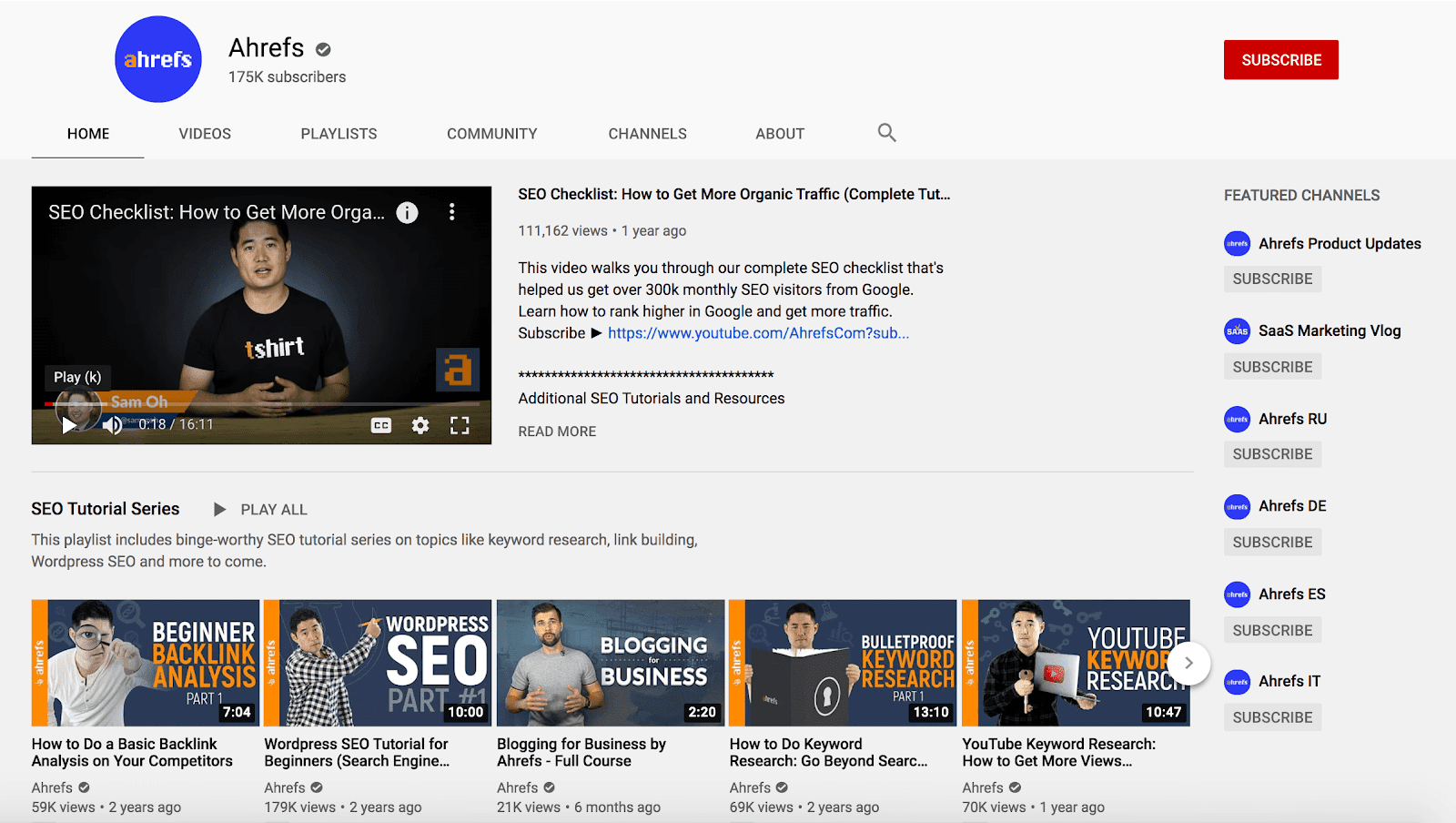 There are run multiple other channels (featured on the right) that lead to other videos about product updates, SaaS marketing, and similar channels in other languages.
In addition to that, they are using content from other sources to post on their Facebook page. This includes blogs from their website as well as SEO videos from YouTube.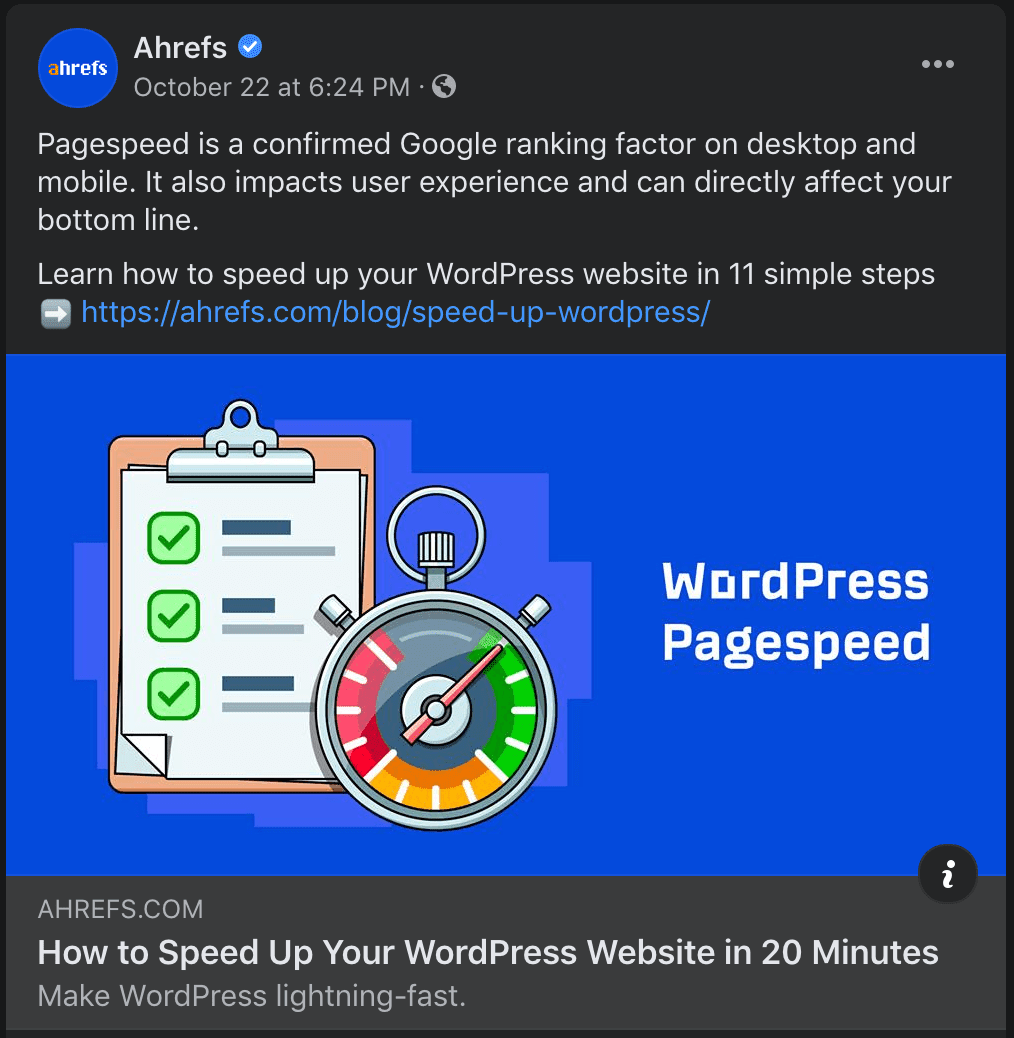 Ahrefs also run a Twitter account, and often link to their YouTube or Facebook content in their tweets.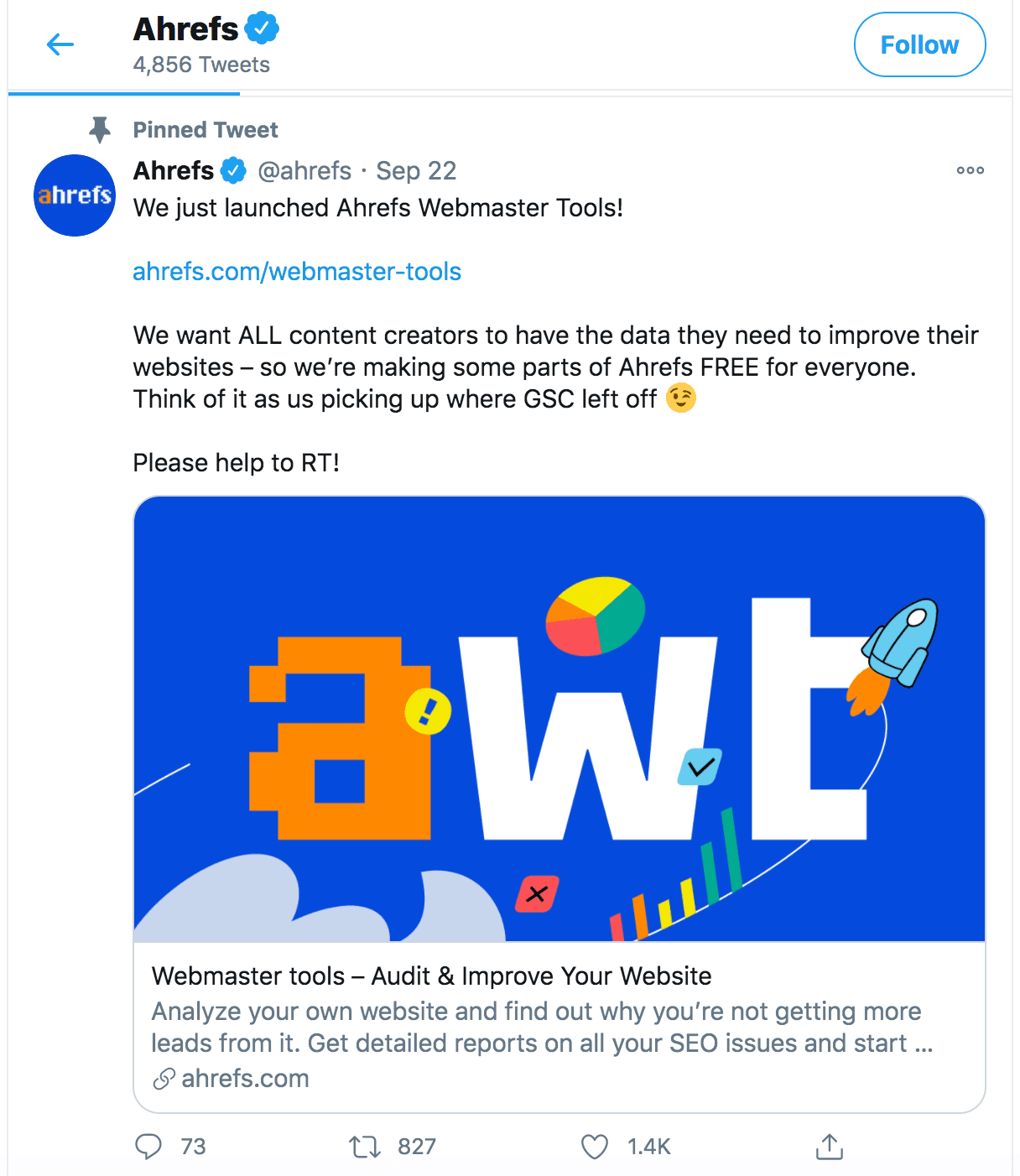 One other part of their content marketing strategy that makes them stand out is their community of over 12,000 SEO-obsessed marketers on Facebook.
This private community allows its members to share ideas and receive support from other professionals with similar interests.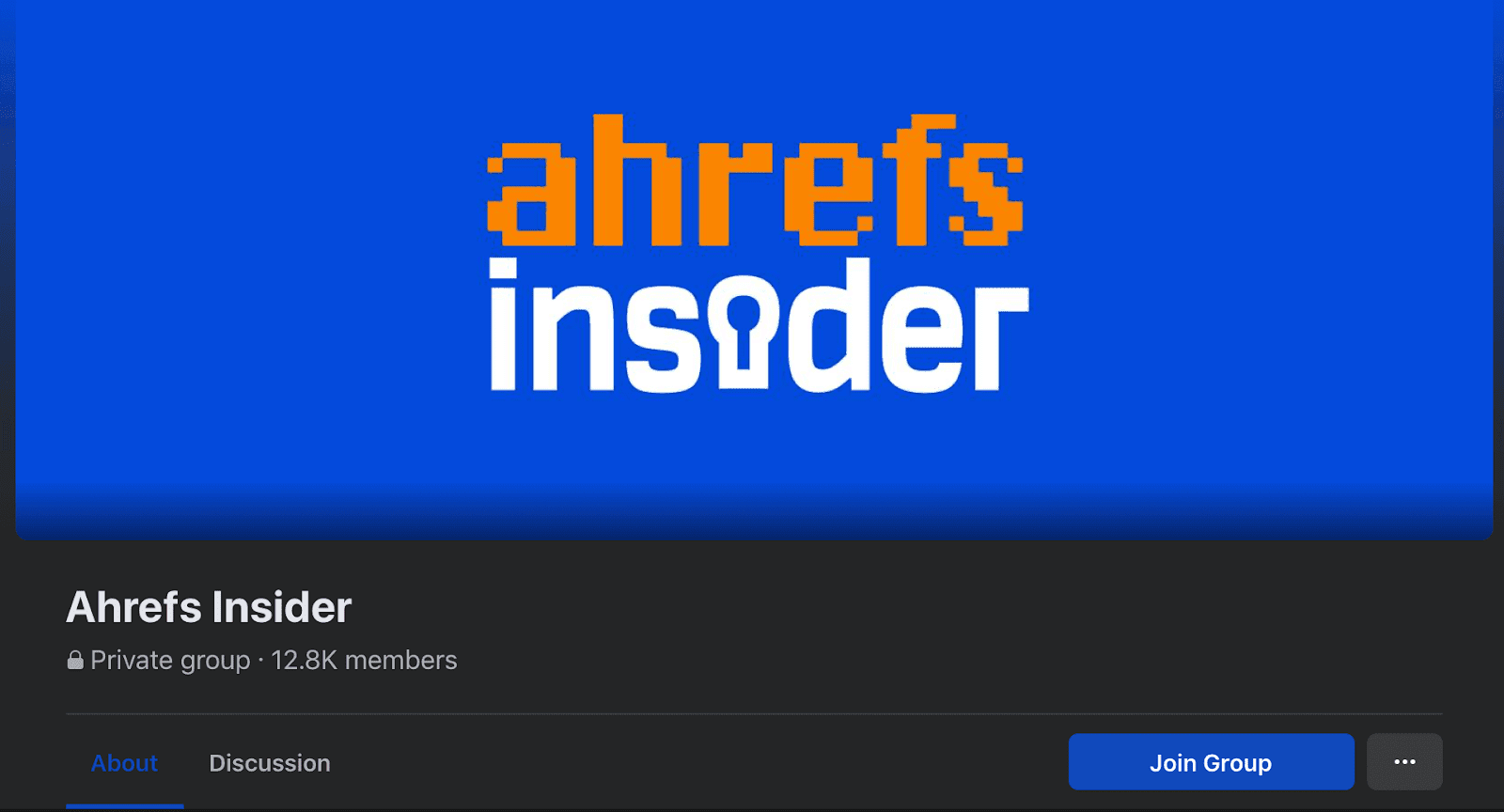 Moz
Moz helps you improve your website's ranking on search engine results pages, as well as increase traffic and visibility.
Their all-in-one SEO toolset includes features for site audits, rank tracking, backlink analysis, and keyword research.
In addition to SEO tools, Moz also offers products like MozLocal (for maintaining consistent business listings) and STAT (for deeper SERP tracking).
Moz's content marketing strategy, which started with Rand Fishkin back in 2004, focuses on creating SEO resources for their target audience and hosting them on their own website.
You can use Archive.org to see Moz's website from back when they were still called SEOMOZ.
In those days, they have published their "Beginner's Guide to SEO", at that point, it included essentially everything people knew about search engine optimization, which led to the post being treated as an SEO bible.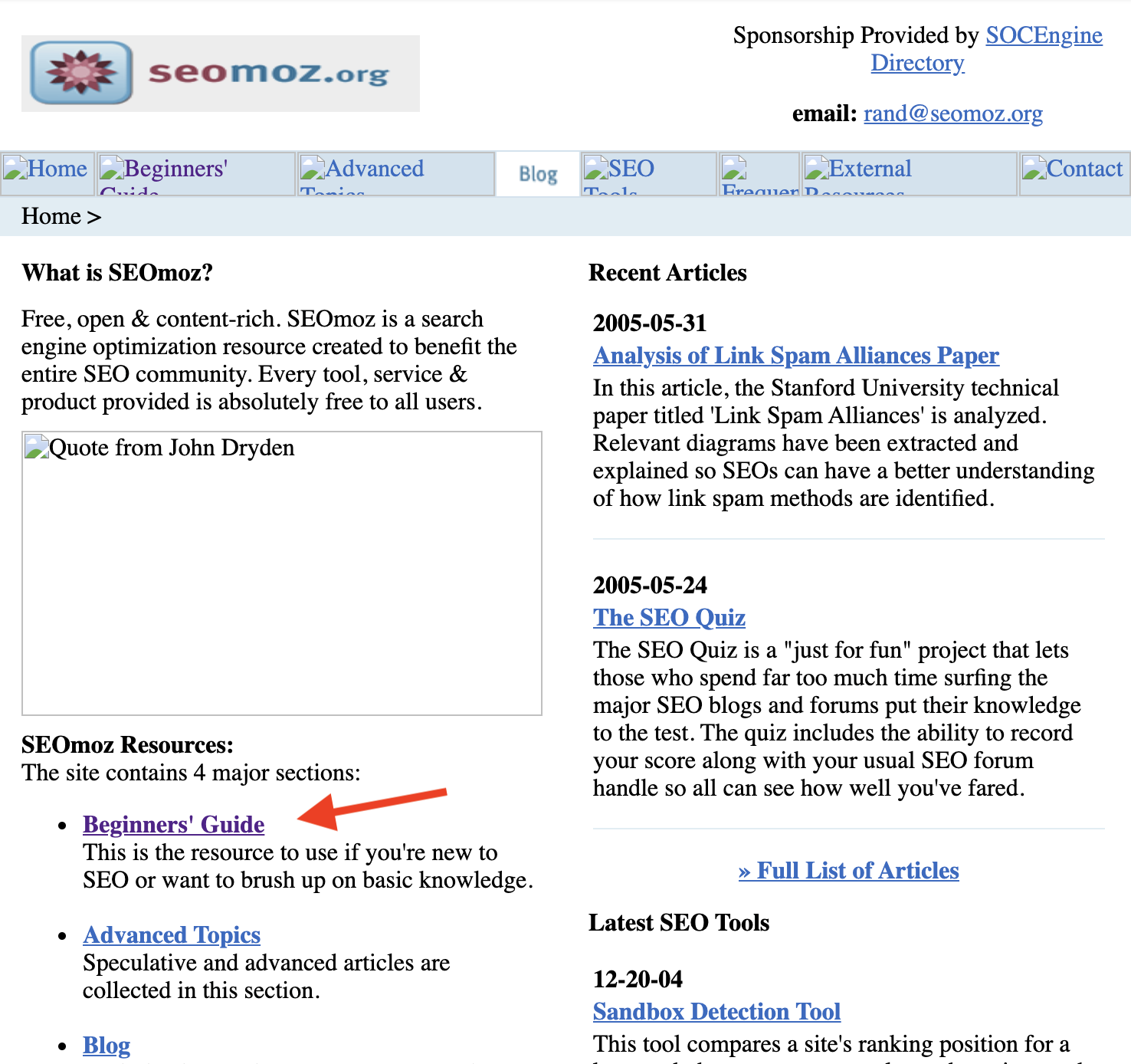 Since the beginning, Moz has put time and effort into creating useful SEO resources that its readers will appreciate.
In fact, they started as a blog, which then turned into a Software-as-a-Service model.
Right now, theirBeginner's Guide to SEO is the number three result for the exceptionally difficult keyword to rank for, "SEO".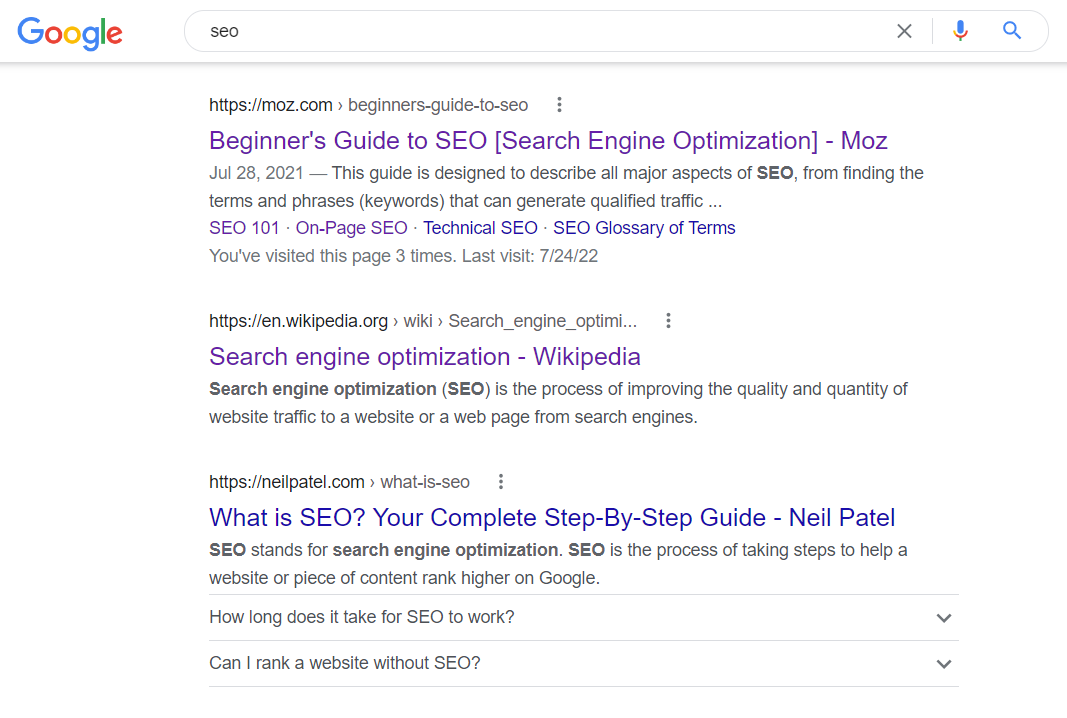 The blog has gotten a new look and SEOMoz may have changed its name to Moz, but it is still providing valuable information on SEO, increasing traffic, and improving rankings.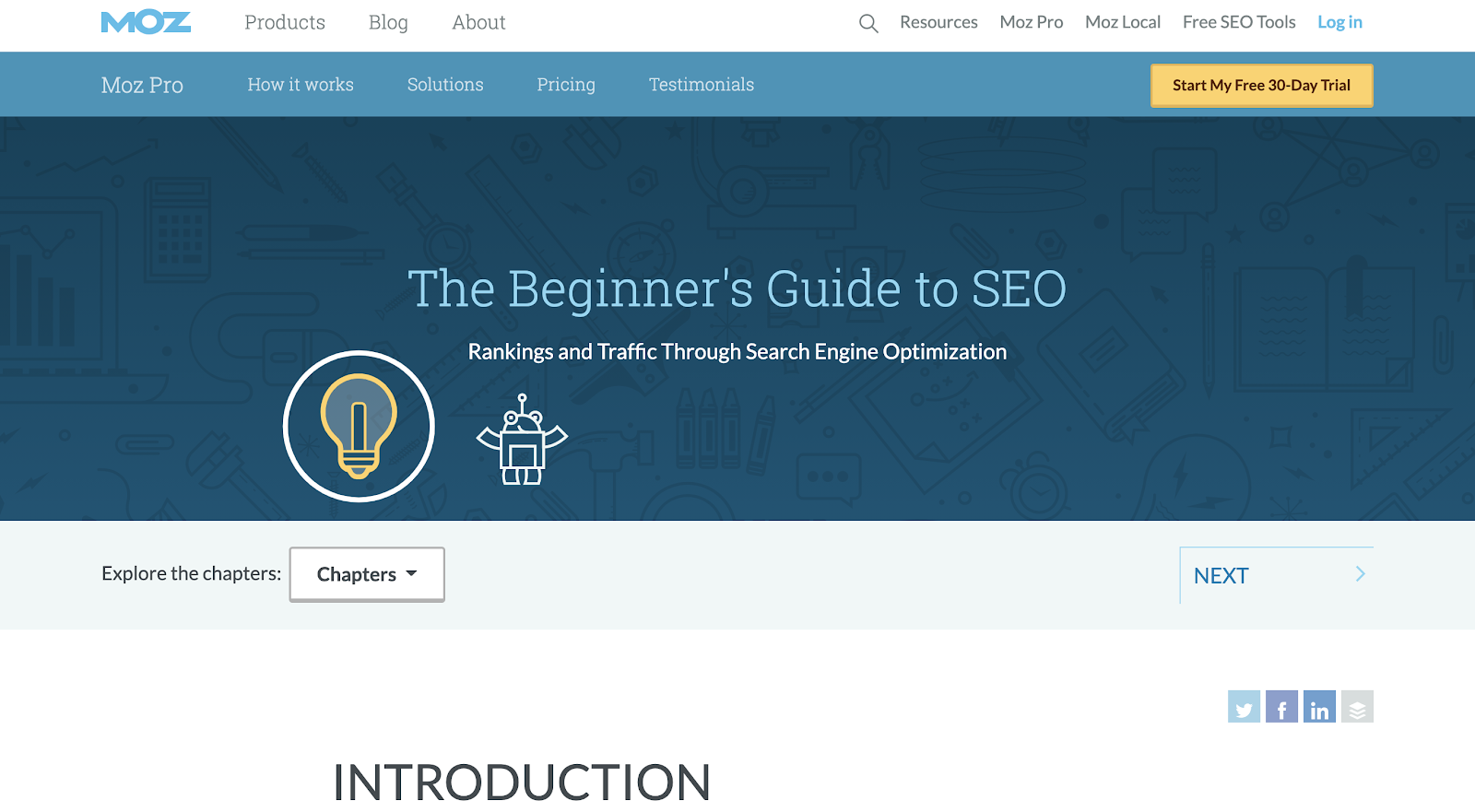 It's no surprise that this post gets tons of traffic and backlinks each month.
Since then, more companies have entered the market, but Moz has remained focused on its original goals.
The company now gets almost 1 million monthly visits and ranks for keywords that are very competitive in the SEO market.
How to Get Started With Content Marketing
These are the 7 steps required to get started with content marketing:
1. Define your audience and your goals
There are a few key things to keep in mind when defining your audience for your content marketing strategy.
First, think about who your target audience is and what they are interested in. Next, consider what type of content will appeal to them and how you can best reach them. Finally, tailor your content to specific demographics, interests, and needs.
By doing this, you will be able to create a content marketing strategy that resonates with your target audience and helps you achieve your business goals.
As for your goals, the first step is to sit down and think about what you want to achieve with your content marketing strategy. What are your business goals? What do you want your content to do? Once you have a good understanding of your goals, you can start to create a plan for your strategy.
Some goals you may want to achieve with your content marketing strategy include:
-Generate leads
-Increase brand awareness
-Engage your customers
-Build trust and credibility
-Drive traffic to your website
-Create loyalty and customer retention
-Improve SEO
-Grow your social media following
Once you have your goals in mind, you can start to create a plan of attack. What type of content will help you achieve your goals? How often will you need to publish new content? Who will create the content?
Answering these questions will help you create a content marketing strategy that is tailored to your specific goals and will help you achieve the results you are looking for.
2. Research your audience and your competition
There are a few different ways that you can go about researching your audience and your competition for your content marketing strategy.
One way is to use social media listening tools like SparkToro to see what people are saying about your brand, your competition, and your industry as a whole.
This can give you some insights into what people are interested in and what they might be looking for from a brand like yours.
Another way to research your audience and your competition is to look at your website analytics to see what people are searching for, what kind of content they're engaging with, and where they're coming from.
Finally, you can also just do a simple Google search for your brand, your competition, and your industry to see what kinds of content come up.
This can help you come up with ideas about what people are talking about and what kinds of content might be helpful for your audience.
3. Create a content strategy
A content strategy is a plan for how to use content to achieve business goals. It answers the questions of what kind of content you need, who will create it, and how it will be distributed.
Besides the seven steps described in this section, here are the additional steps Here are some steps to creating a content strategy:
1. Conduct a content audit. Take inventory of the content you have and determine what is working and what is not.
2. Develop personas. Create fictional characters that represent your target audience.
3. Create a content calendar. Plan out what kind of content you will create, which keywords you will target and when you will publish it.
4. Assign roles and responsibilities. Who will be responsible for creating, editing, and publishing your content?
5. Set budget and timelines. How much money and time do you have to invest in your content strategy?
4. Write, edit, and design your content
You may choose to produce content yourself, hire dedicated team members or outsource this process entirely to agencies and freelancers.
However, the best choice is to have a dedicated content team in-house. The best, most valuable, and intent-oriented content is only produced by a focused team with clear communication and goals in mind.
5. Distribute and promote your content
There are many ways to distribute and promote content. Here are some common channels:
1. Social media.
This is one of the most common and effective ways to distribute and promote content. Platforms like Twitter, Facebook, and Instagram allow you to share your content with a wide audience quickly and easily.
2. Email.
Email is another great way to reach your audience. You can promote your content to your subscribers by sending them regular newsletters or alerts when new content is published.
3. Blogs.
If you have a blog, you can promote your content on your site. This is a great way to drive traffic back to your site and increase your reach.
4. Forums.
Forums are a great place to promote your content. You can find forums related to your niche and share your content with other members.
5. Paid advertising.
Paid advertising is a great way to reach a larger audience. You can use platforms like Google AdWords or Facebook Ads to promote your content to a wider audience.
6. SEO.
The goal of SEO is to get your content to the top of search results, which is also considered a promotion channel.
SEO consists of three types:
Off-page SEO
On-Page SEO
Technical SEO
We already have extensive articles dedicated to each one, so we're just going to briefly mention them here.
6. Analyze your results
There are many ways to analyze your content marketing results, and the best way to do so will vary depending on your goals and objectives. However, here are some general tips to get you started:
1. Set up Google Analytics and/or a similar web analytics tool on your website. This will allow you to track traffic to your site and see how users interact with your content.
2. Use social media analytics tools to track engagement with your content on social media platforms. This can give you insights into which pieces of content are most popular and which platforms are driving the most traffic to your site.
3. Use a tool like BuzzSumo to track how often your content is being shared across the web. This can give you an idea of which pieces are resonating with your audience and which are being ignored.
4. Finally, make sure to regularly review your website and social media analytics to see how your content is performing. This will allow you to adjust your strategy as needed to ensure that your content is reaching your target audience and achieving your desired results.
7. Adjust and repeat
Depending on your analysis, you may need to adjust certain aspects of your content strategy.
This may include targeting different keywords, using different distribution channels, or even completely flipping the format of your content.
Don't be afraid to experiment with your content marketing strategy, as it's the only way to figure out what's working for you.
It also doesn't hurt to gain some inspiration from your competitors.
Bottom Line
Content marketing is such an extensive topic that it's impossible to cover everything in one glossary article.
So, if you're interested to learn more about content marketing, be sure to check out the following blog posts:
10 Content Marketing Examples to Inspire You [B2B & B2C]
80 Content Marketing Statistics For 2022