If you have read any of our other content marketing guides, you know content marketing is a type of marketing that involves the creation and sharing of online material including videos, blogs, social media posts, and more.
Great content and online marketing can be really effective in helping you reach your business goals so we've gathered 10 great examples to inspire you.
This guide will explore B2B and B2C content marketing examples such as:
Ahrefs
Moz
Dollar Shave Club
Dove
And, more.
If you're a content marketer who wants to get inspired by other companies who've found success with content marketing, this list is the great place to start. Looking up to successful marketers is also a great way of fighting marketing burnout.
So, let's take a look at those 10 examples of content marketing we've prepared for you.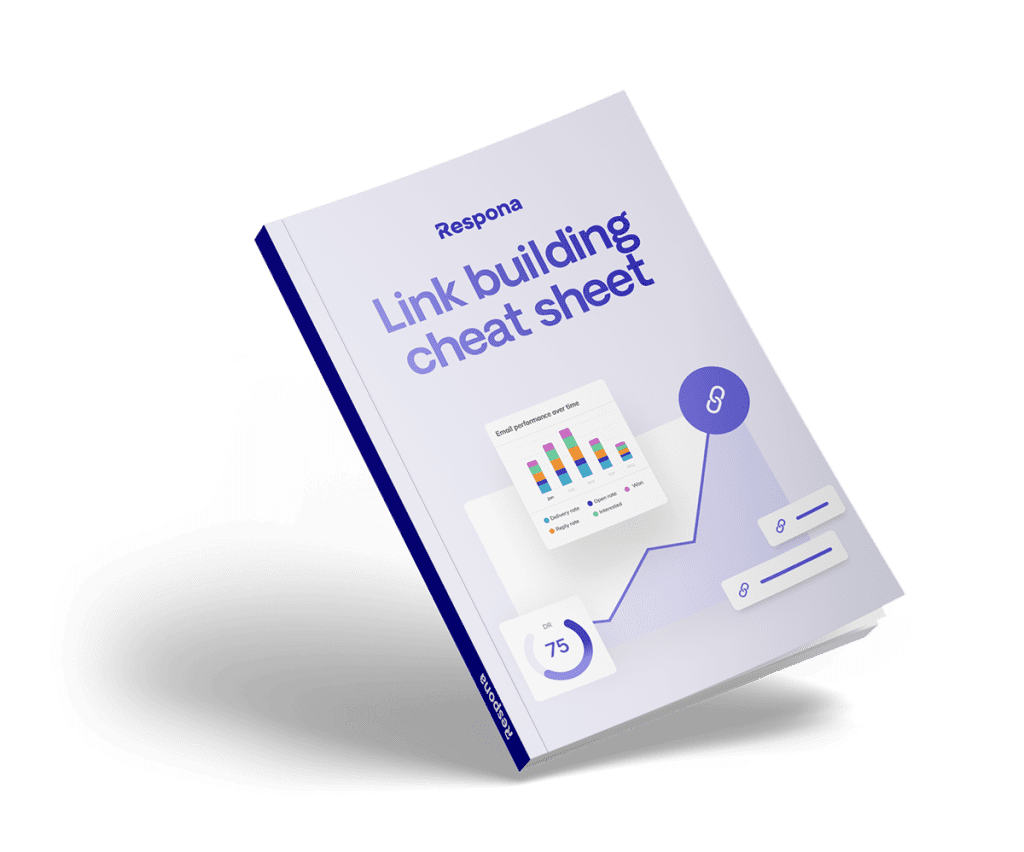 Link building cheat sheet
Gain access to the 3-step strategy we use to earn over 86 high-quality backlinks each month.
Example #1: Ahrefs
Ahrefs is an all-in-one SEO toolset including a site auditor, site explorer, keywords explorer, content explorer, and rank tracker.
They offer all of this to help you rank higher and get more traffic without having to be an SEO expert.
Ahrefs' blog strategy was the foundation of their growth, according to a 2019 story on Medium by the company's CMO, Tim Soulo.
As you can see below, the company has achieved +65% YoY growth, by focusing on growing its inbound blog traffic and by building a great product that people love.

You may wonder how something like that is possible?
Well, other SaaS startups such as Buffer, Hootsuite, HubSpot, email marketing software Mailchimp and our very own Visme, have managed to find similar success through content.
The truth is that in all of these cases—which are obviously B2B content marketing examples—the content marketing team's role isn't just to produce quality content.
That's not enough.
You also have to heavily promote your best content through social media marketing, influencer marketing, podcasts, webinars and any other way available for content distribution.
But, let's get back to Ahrefs' content marketing strategy.
Their content marketing strategy includes two blogs (SEO & Tech), a help center, an academy, Twitter, Youtube, Instagram, and Facebook.
So, as you can understand, we're talking about several types of content and various distribution channels.
This is how Ahrefs' blog looks like: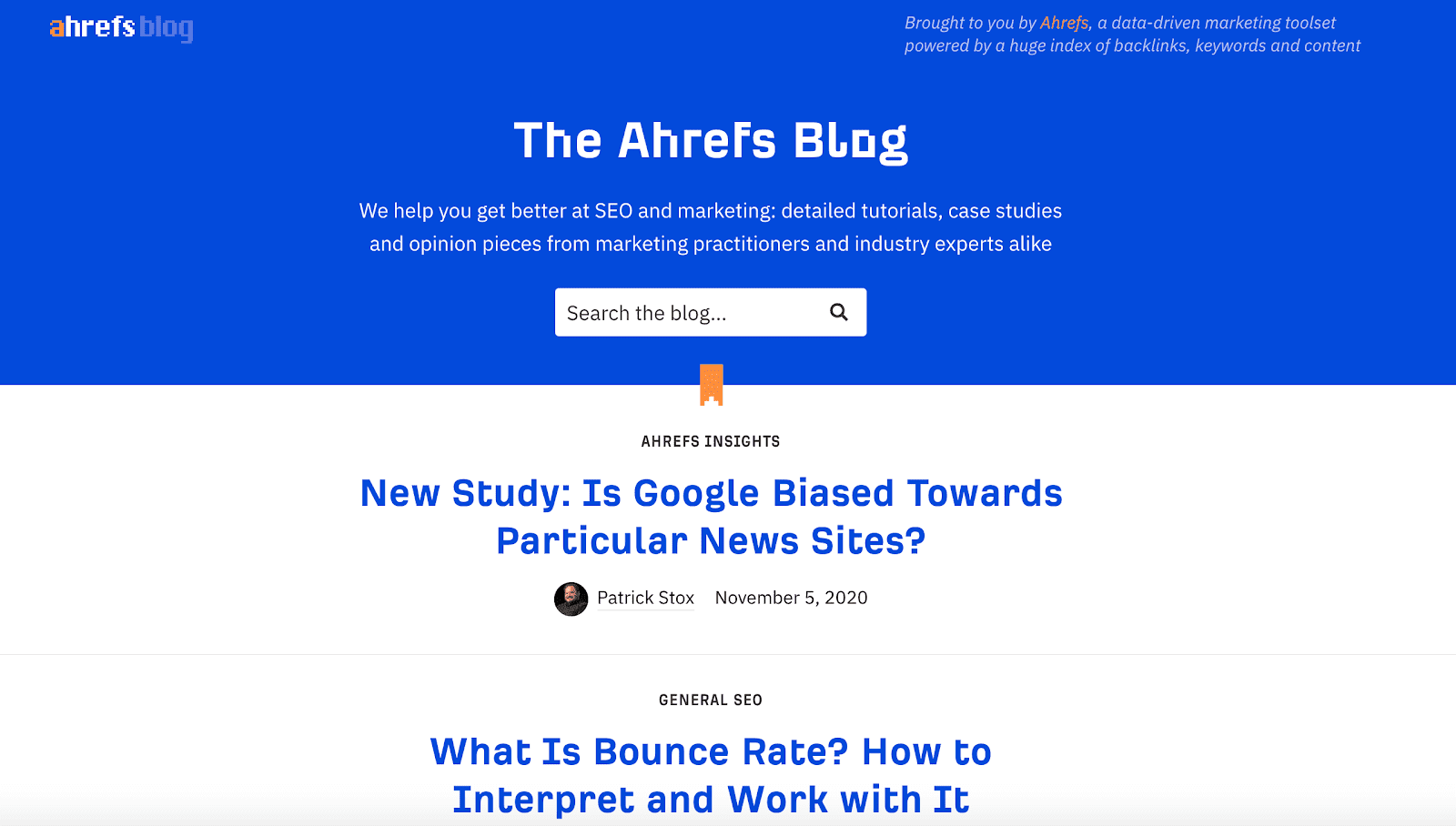 Ahrefs does a great job of distributing different content across each of the platforms we just mentioned.
They have a really big following on their YouTube channel where they share videos on SEO tips and more.
The featured video is an SEO checklist that helped them get over 300k monthly SEO visitors from Google.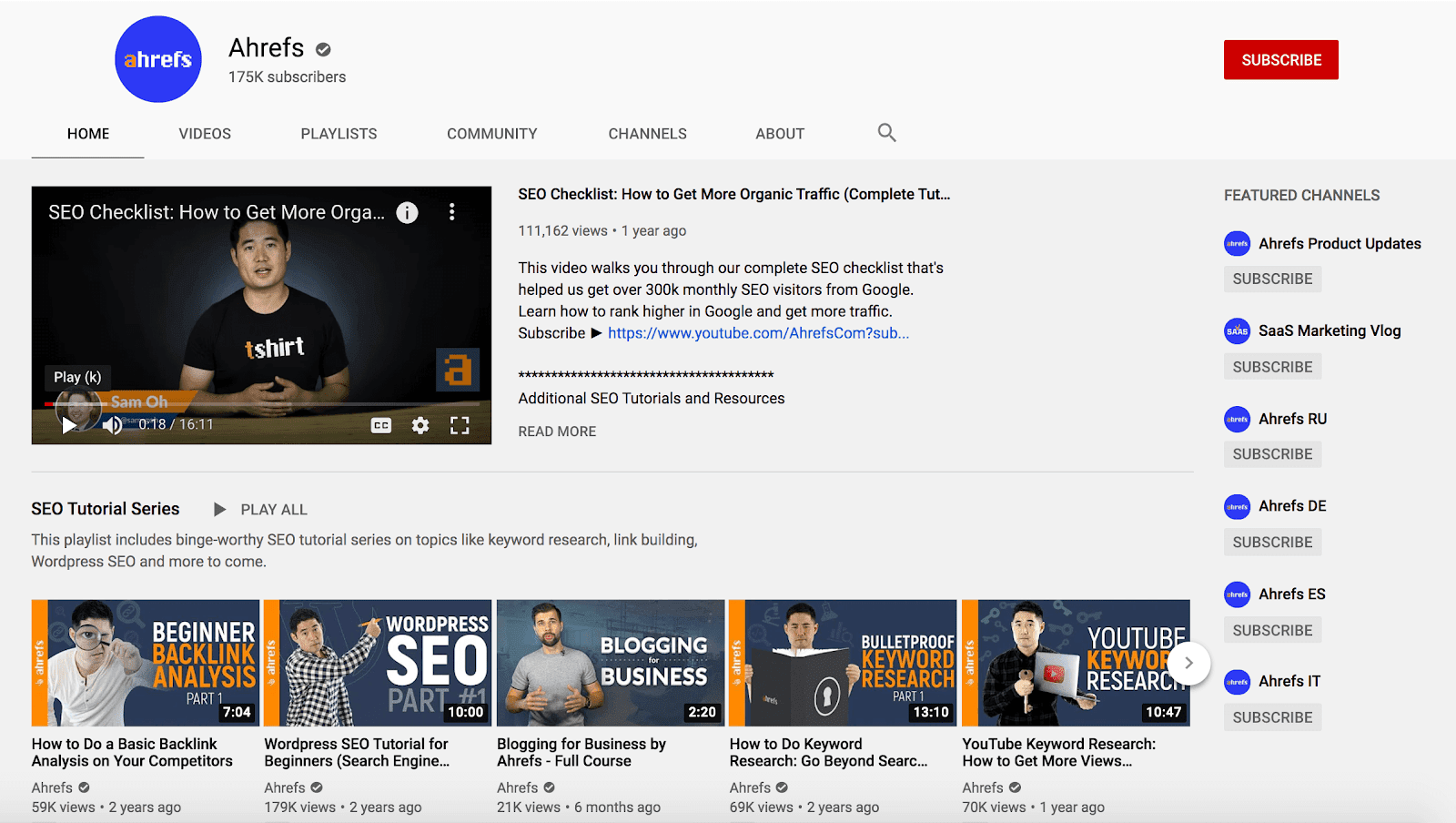 They also have several featured channels to the right that lead to other video marketing content about product updates, SaaS marketing, and similar channels in other languages.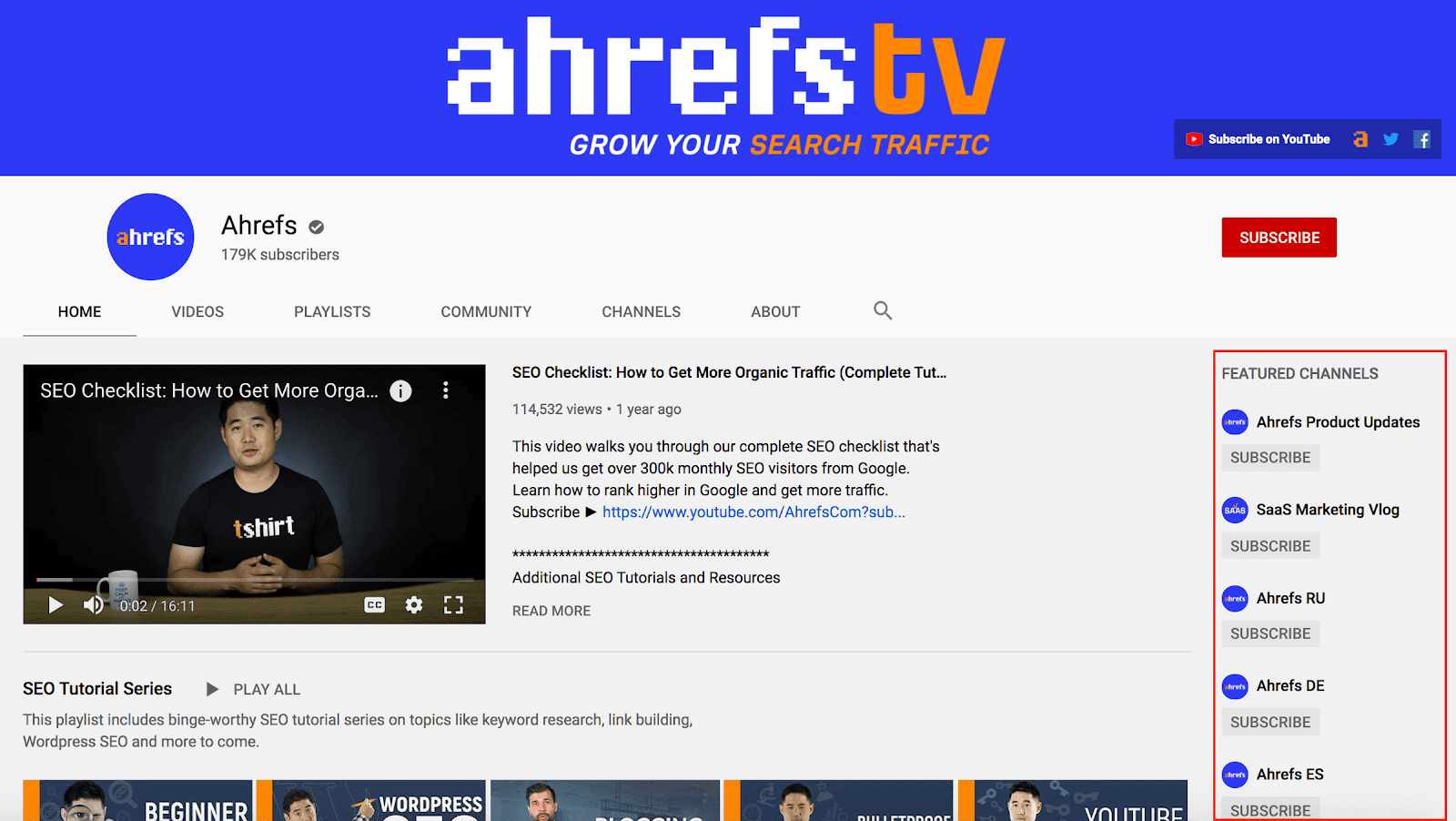 They take advantage of repurposing content for their Facebook page.
There you will find blogs from the website and SEO videos from YouTube.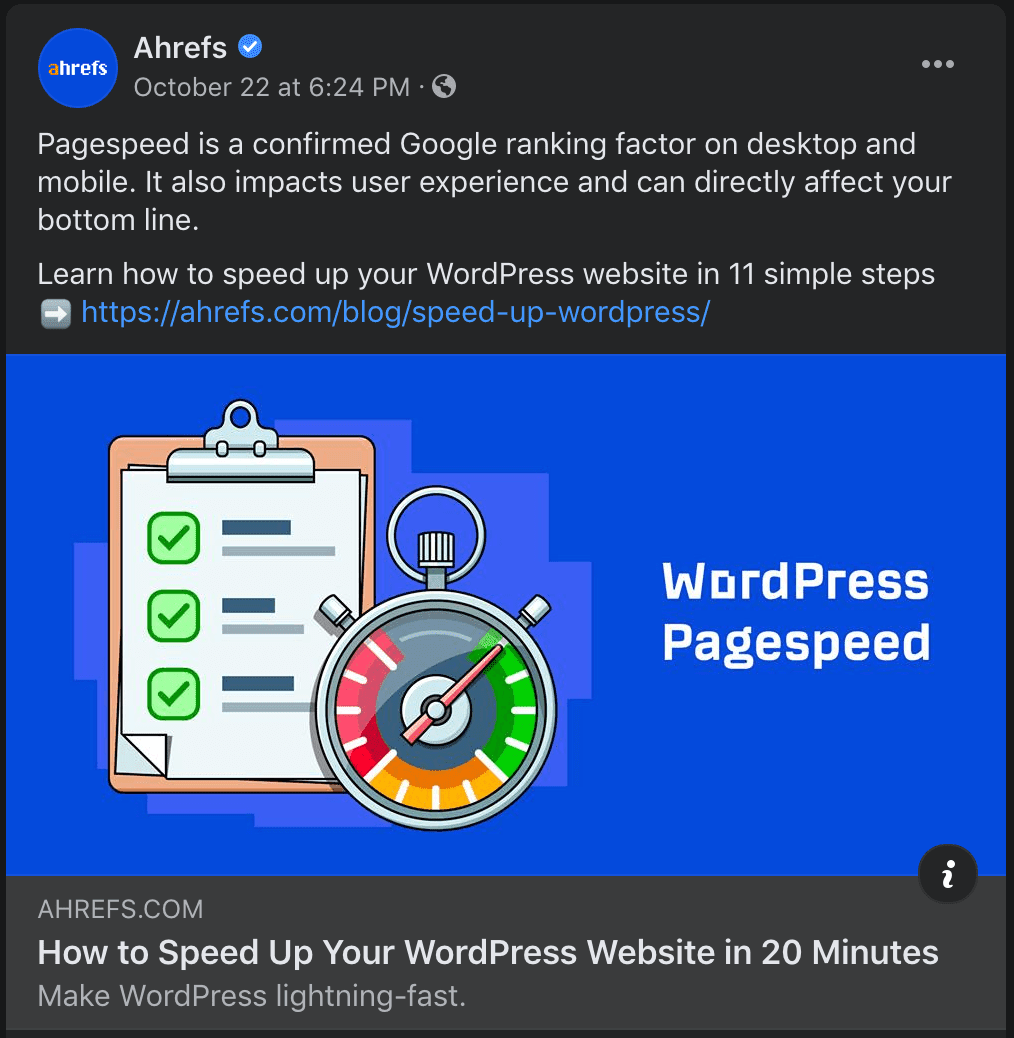 Twitter is focusing on a product highlight for Webmaster Tools but you'll also find helpful SEO information authored by industry professionals.
This content links back to the website or to YouTube as well.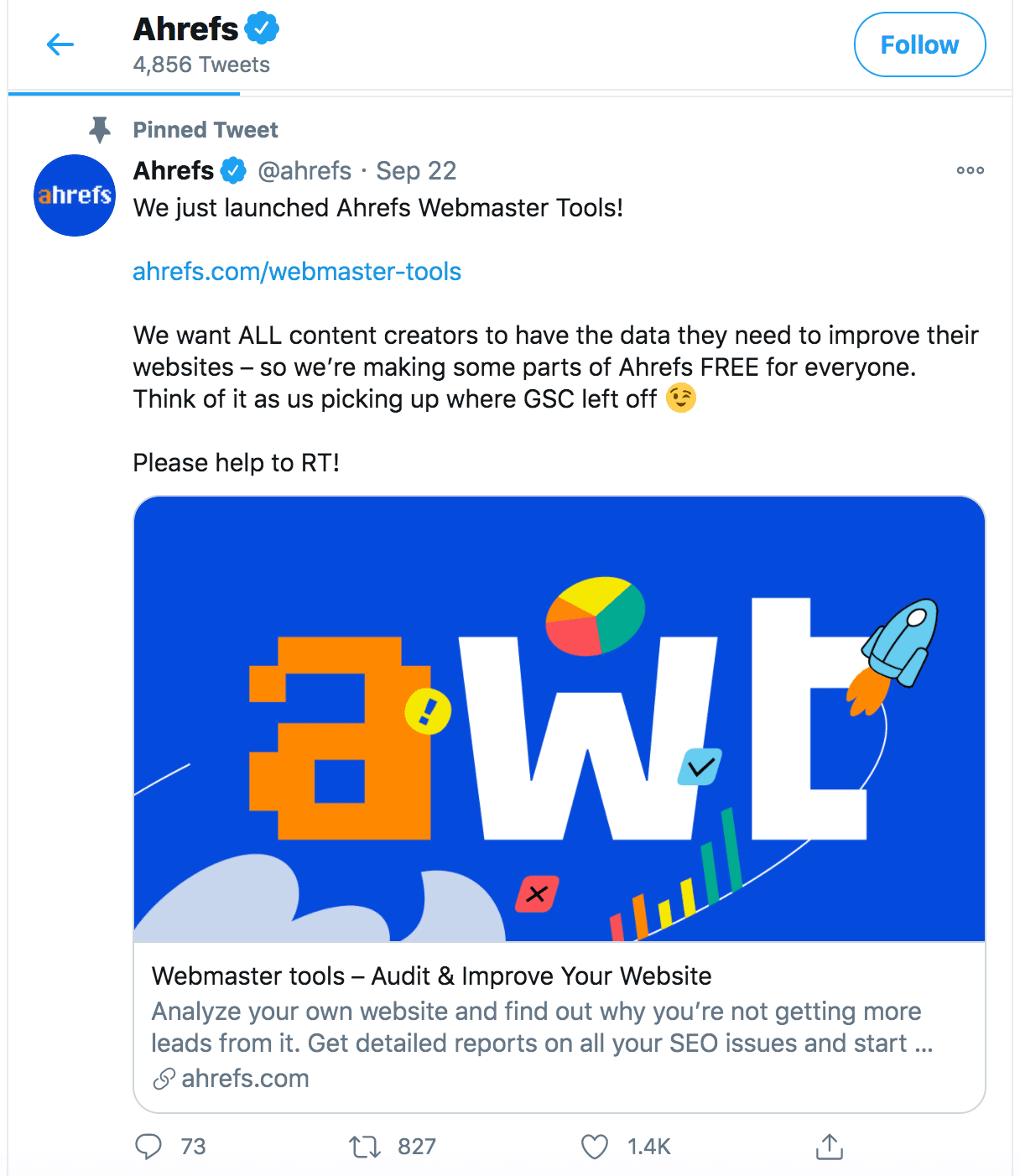 Also, a content marketing strategy that is really unique is the community they have built on Facebook of over 12,000 SEO-obsessed marketers.
This is a private Facebook community for their customers where marketers can bounce ideas around and get support from like-minded professionals.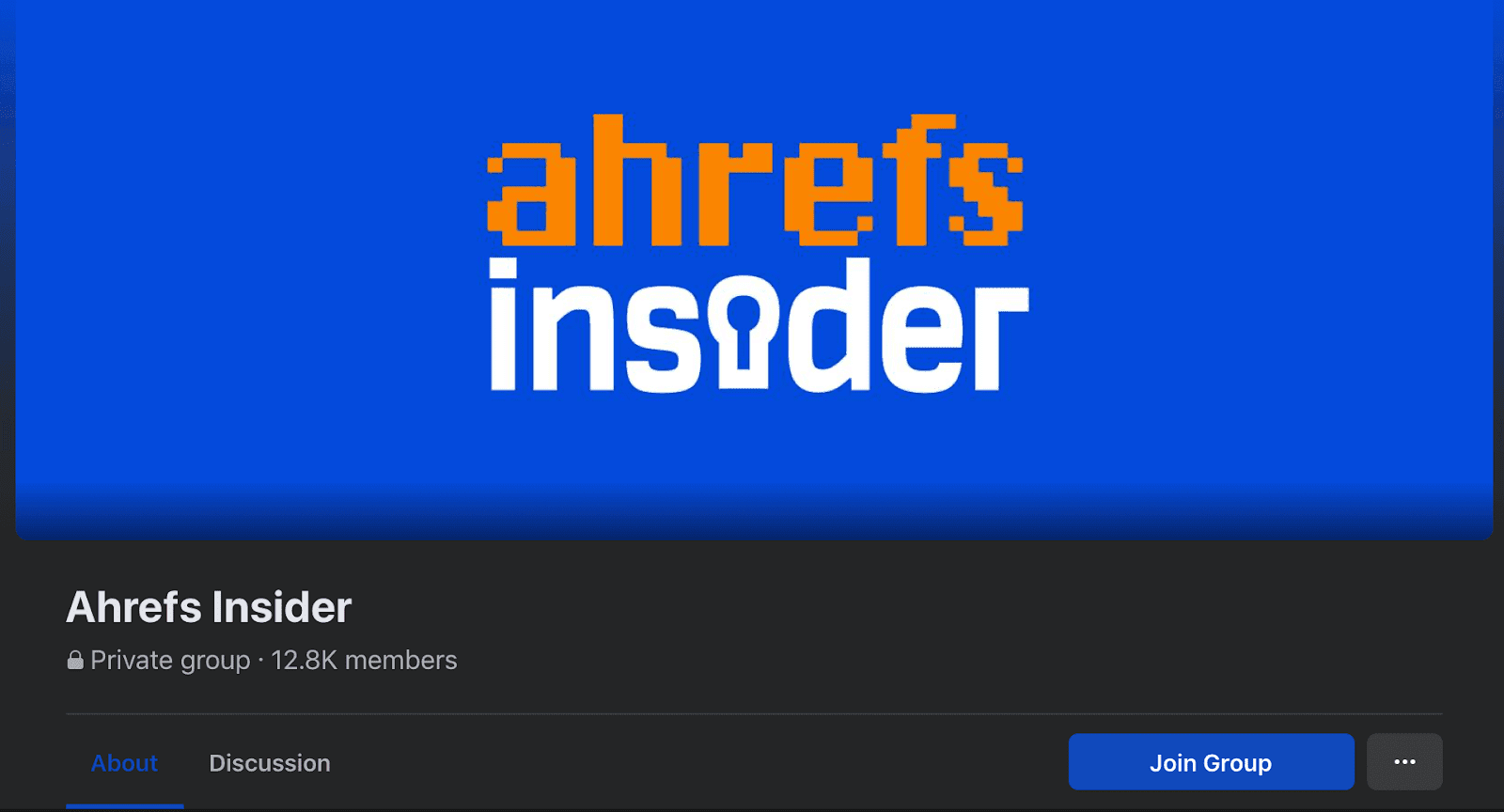 Author's Note: The group is private and requires you to insert the email which is associated with your Ahrefs account to be able to join.
This community is a great way for Ahrefs to organically promote its own products or pieces of content to solve challenges that come up in the group.
As you can see in the screenshot below, Ahrefs organic visibility and traffic is growing.

More importantly though, their traffic growth results into more paying customers and revenue growth.
This is why Ahrefs is one of the best B2B content marketing examples out there and this is why you should pay close attention to their efforts.
Type: B2B Content Marketing Example
Organic Traffic (Ahrefs): 987K
Linking Domains (Ahrefs): 46.4K
Facebook Followers: 90,075
Instagram Followers: 6,721
LinkedIn Followers: 40,495
Twitter Followers: 65.2K
YouTube Subscribers: 175K
Example #2: Amsterdam Vintage Watches
Amsterdam Vintage Watches is all in the name.
They are a family-run business that specializes in vintage luxury watches.
The norwiegan boutique does a great job of highlighting their products through Instagram and engages their audience through YouTube videos.
On Instagram you will find beautiful photos of the watches they sell.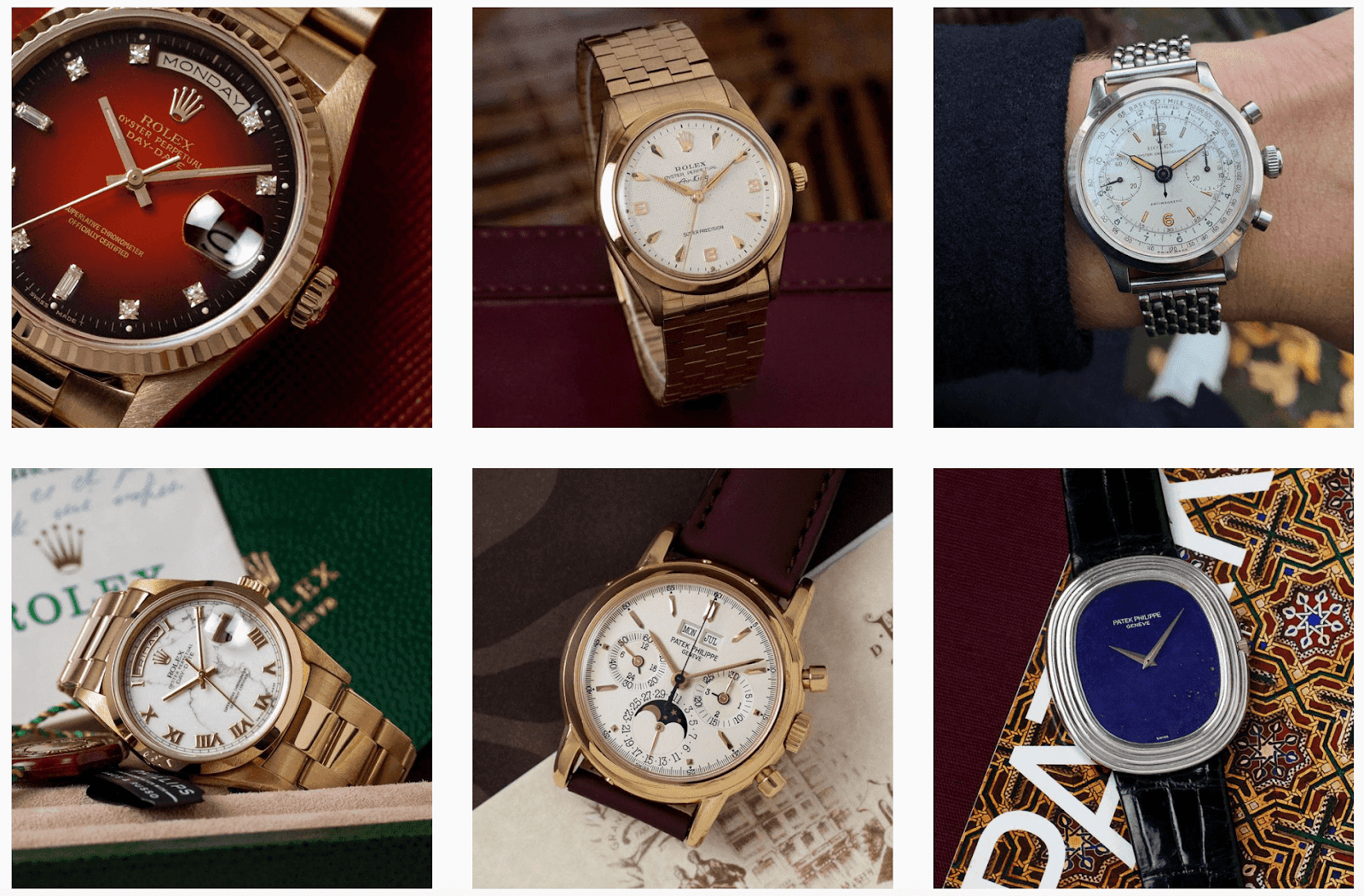 Instead of leading you back to the website, like most brands, Amsterdam Vintage Watches offers many other ways to connect with them on the content they are sharing and their content channels.
One post that differs from the usual watch portraits, is a photo of two of the staff members and the text provides a number to contact them through WhatsApp.
This single post gained over 3 thousand likes.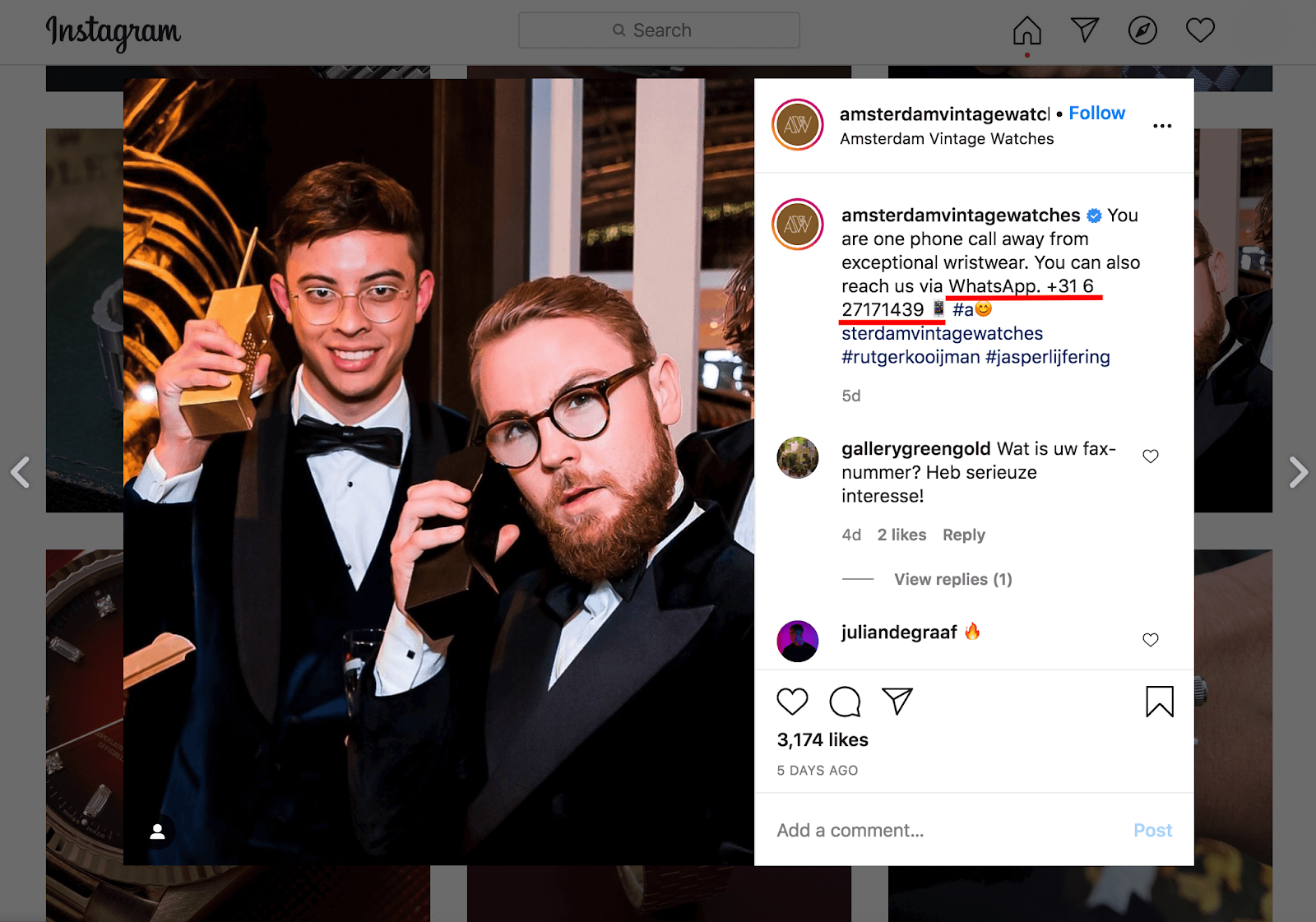 On the Instagram profile itself, you will find the handles for individual watch dealers that work for Amsterdam Vintage Watches.
This gives the brand a more personal feel for their audience, showcases other profiles that highlight their products and creates a direct path for personalized customer service if the individuals choose to use it that way.
You will also find a calendly link, so customers can book appointments directly from Instagram, and a story highlight promoting their YouTube connect.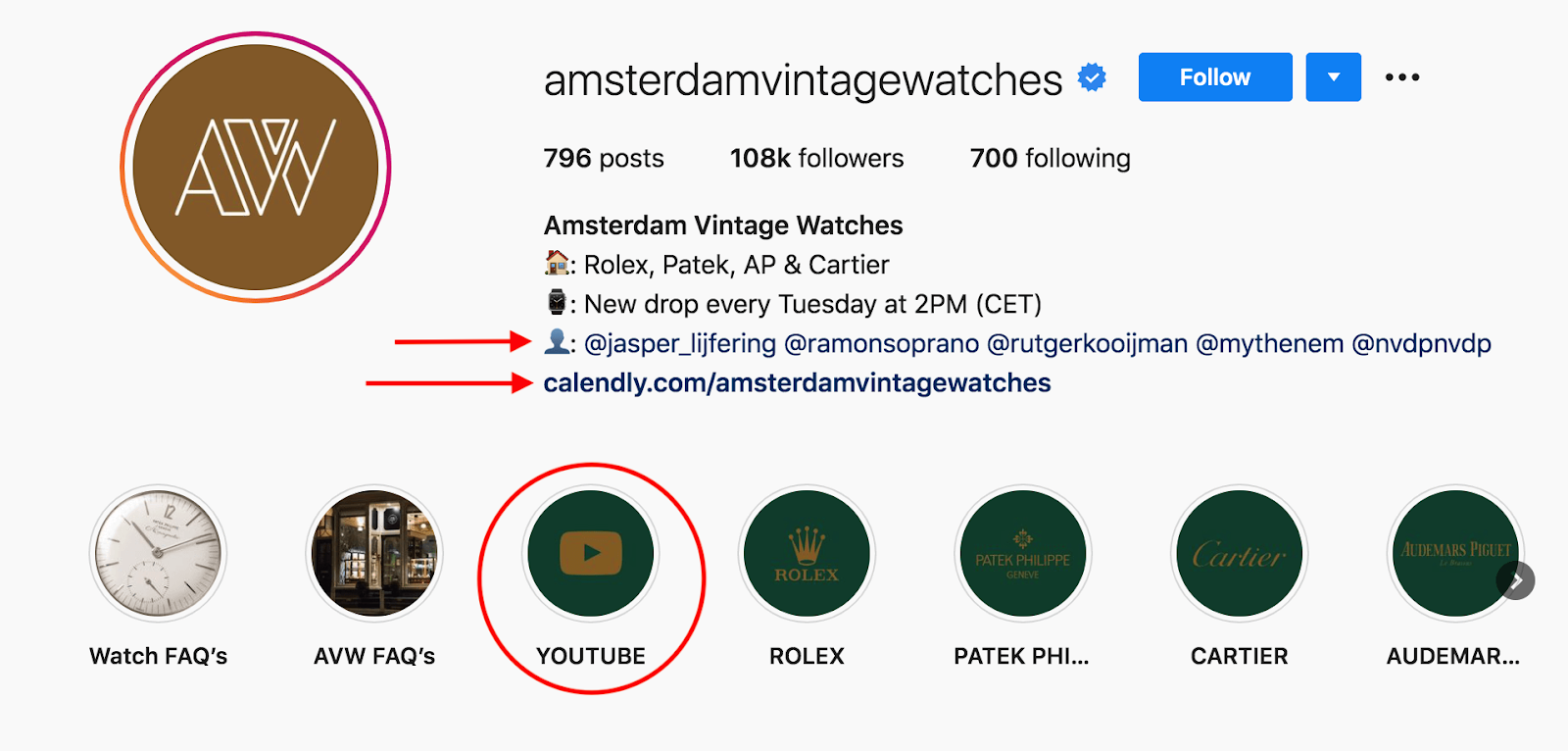 There consumers will find videos highlighting special watches, product reviews and unboxings and casual chats over drinks.
All of these provide more information about the product or brand in an enjoyable way.
But, the company's Instagram account isn't where most of the content creation happens.
The company's YouTube channel is what really draws attention to the brand and helps it differentiate itself from competitors, by publishing content that people want to consume.
The company's YouTube channel now has more than 62K subscribers.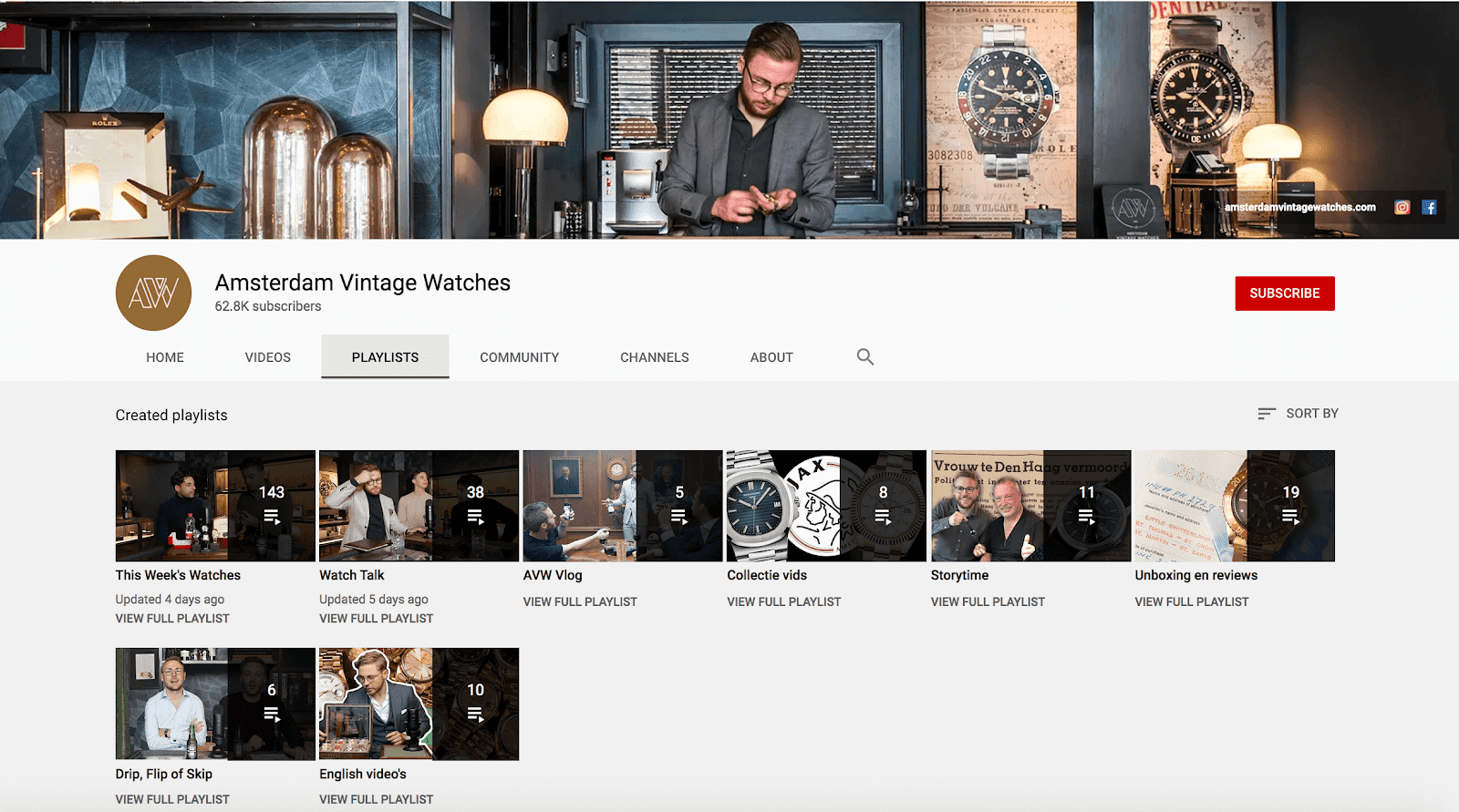 There, you won't find high-level information on vintage watches, rather than in-depth reviews (in the form of a video series) of unique and hard-to-find watches from all over the world.
This is a channel for hardcore vintage watch lovers who really love vintage watches and want to learn more about them.
This is the best way for the company to position itself as the thought leader when it comes to vintage watches.
And, as you probably know already, this is the first step towards improving the conversion rate of your website or establishing trust among your audience and followers.
As you can see below, most of the company's videos have raving comments from the fans.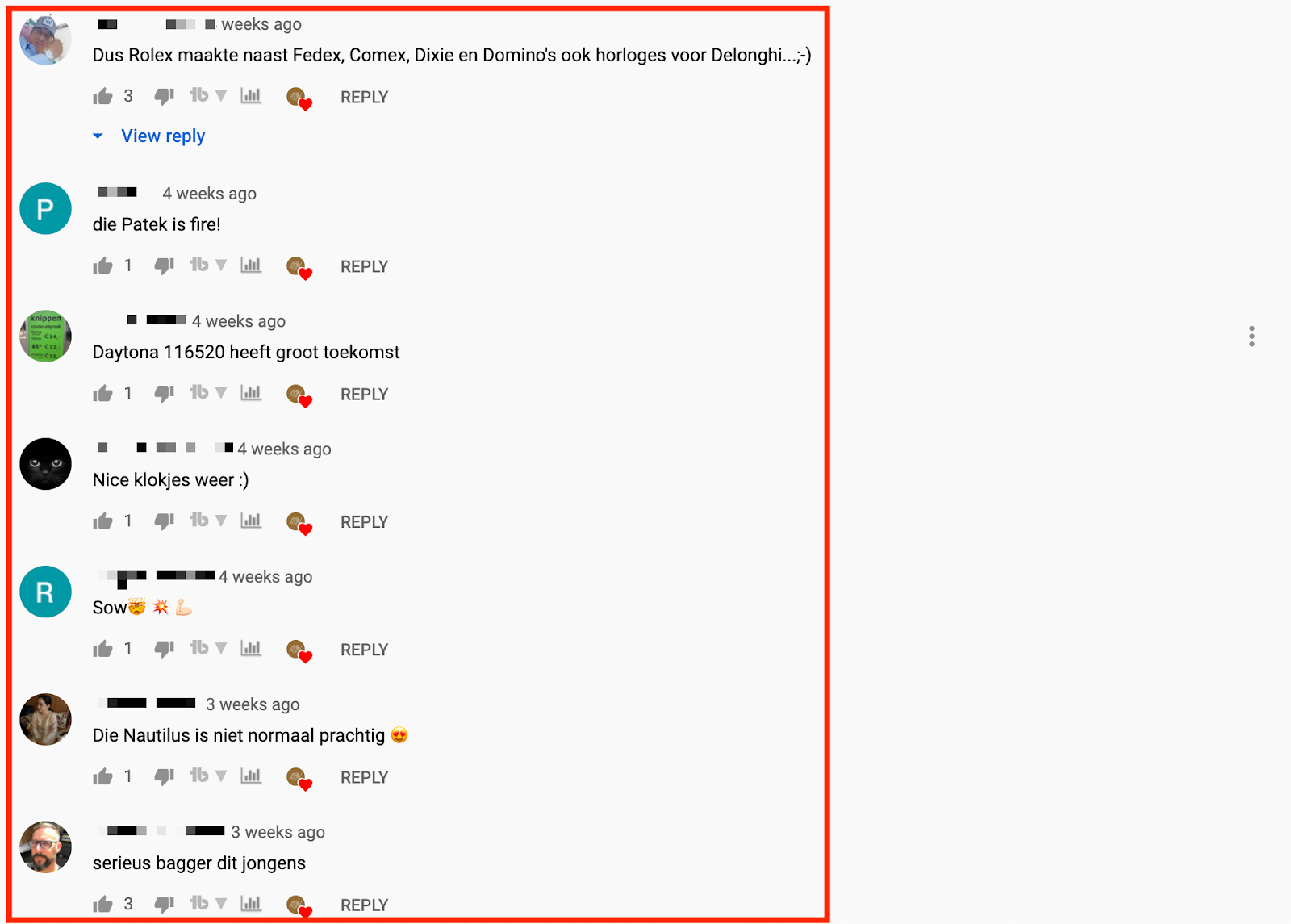 Thus, it's easy to understand that this way, Amsterdam Vintage Watches does a great job of connecting their content marketing channels and creating a mix of content showcasing their products or highlighting their staff and engaging their target audience.
Their most powerful channel may be YouTube, but sometimes all you need is one channel to work exceptionally well for you to grow your business.
Type: B2C Content Marketing Example
Organic Traffic (Ahrefs): 11.8K
Linking Domains (Ahrefs): 399
Facebook Followers: 18K
Instagram Followers: 108K
LinkedIn Followers: 709
Twitter Followers: 1.3K
YouTube Subscribers: 62.8K
Example #3: NerdWallet
NerdWallet is a website and app that helps its users with financial advice.
People turn to NerdWallet for credit card recommendations, ideas to increase their credit score, how to land the perfect mortgage, and more.
Since its inception, NerdWallet has grown to a $520 million valuation with their strong SEO marketing strategy.
Organic traffic currently leads traffic sources by a significant margin, achieving over 10 million views per month according to Ahrefs.

One of NerdWallet's most smartest moves when it comes to content is their "best of" series.
As you can see below, on the website's homepage, there's a list of the "best money options" for anything you might be looking for.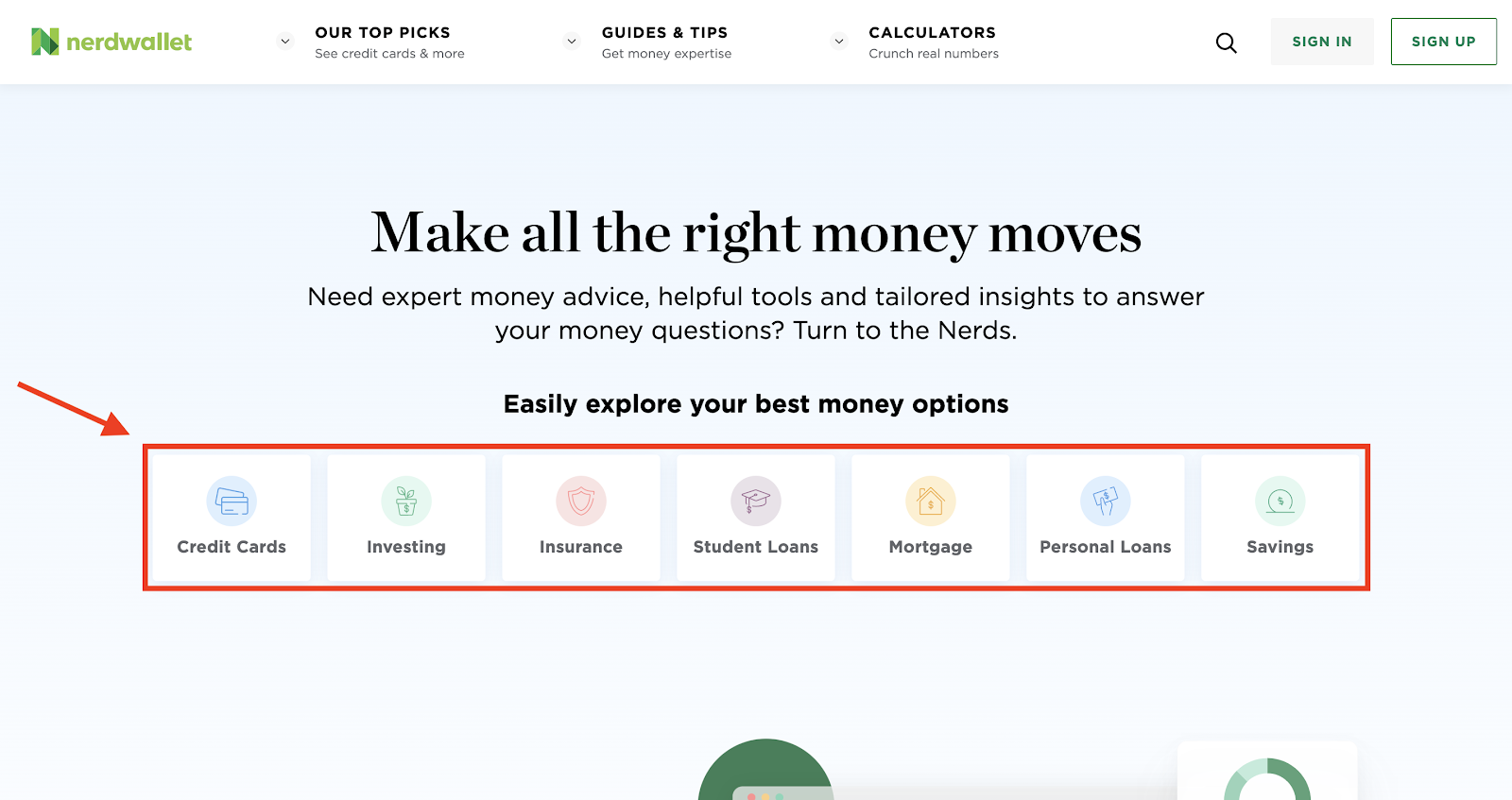 If you click on any of these options (e.g, Credit Cards), you'll be able to see only the best of that particular category, for a specific day.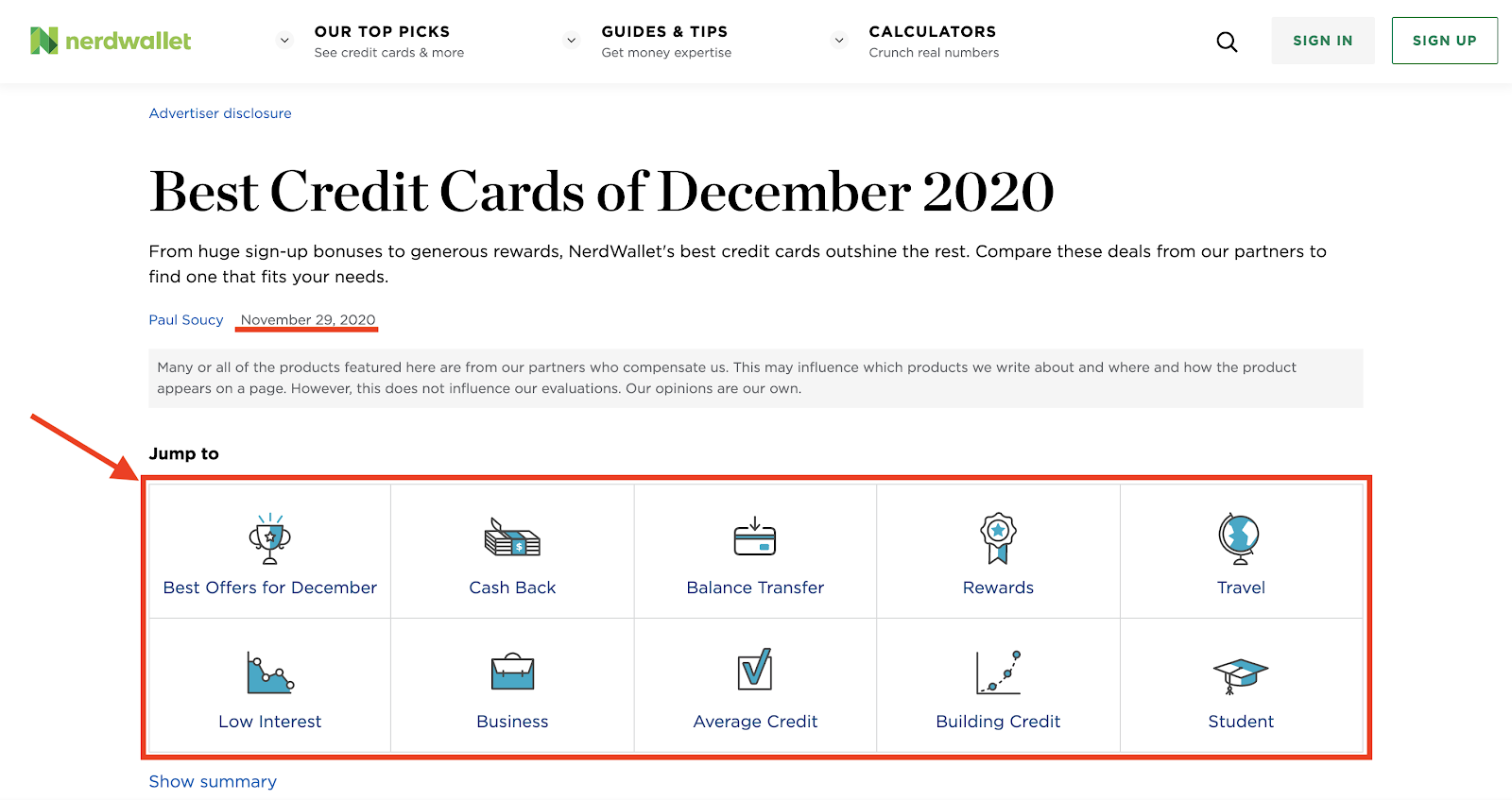 This makes NerdWallet the go-to source for all things related to money and it also makes a great user experience for the millions of people visiting the website on a monthly basis.
Another interesting part of the company's content marketing strategy is their calculators.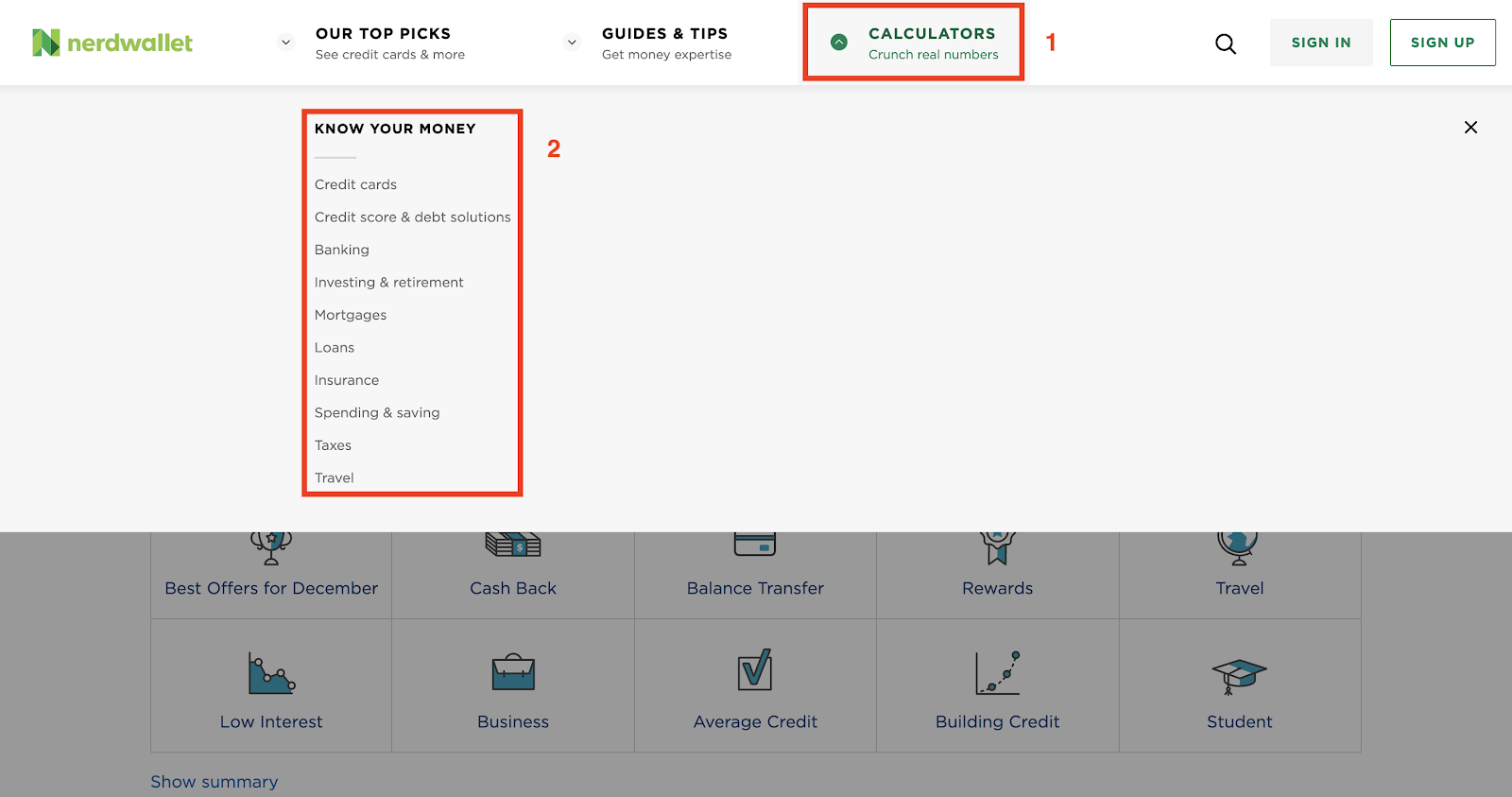 As you can see below, for each of the categories above, NerdWallet has highly-relevant calculators.

If you insert each of these keywords into Ahrefs—the keywords behind each of the pages highlighted above—, you'll notice that people are actually looking for them.

From the very beginning, NerdWallet's strategy was heavily focused on SEO and we can see that these efforts are paying off.
Nowadays, the company's presence isn't strong just from an organic perspective, but also in terms of social media.
The beginning though and the foundation of the strategy of the company happened through their website.
Type: B2C Content Marketing Example
Organic Traffic (Ahrefs): 10.5M
Linking Domains (Ahrefs): 72K
Facebook Followers: 169K
Instagram Followers: 45.7K
LinkedIn Followers: 52K
Twitter Followers: 65.2K
YouTube Subscribers: 5.9K
Example #4: Moz
Moz offers SEO software and data to help you increase traffic, rankings, and visibility in search engine results pages.
Their all-in-one SEO toolset offers site audits, rank tracking, backlink analysis and keyword research.
Moz also offers other products such as MozLocal, which helps you maintain consistency and monitor your SEO-integrated business listings, and STAT, which provides a deeper level of SERP tracking.
Moz's content marketing strategy started with Rand Fishkin back in (around) 2004 and revolves around the SEO resources they are creating for their target audience and hosting on their own website.
Using Archive.org, you can see Moz's website back when they were still called SEOMOZ.
In those early days, they published a guide on their website titled "Beginner's Guide to SEO", which included pretty much everything people knew up until that time around SEO.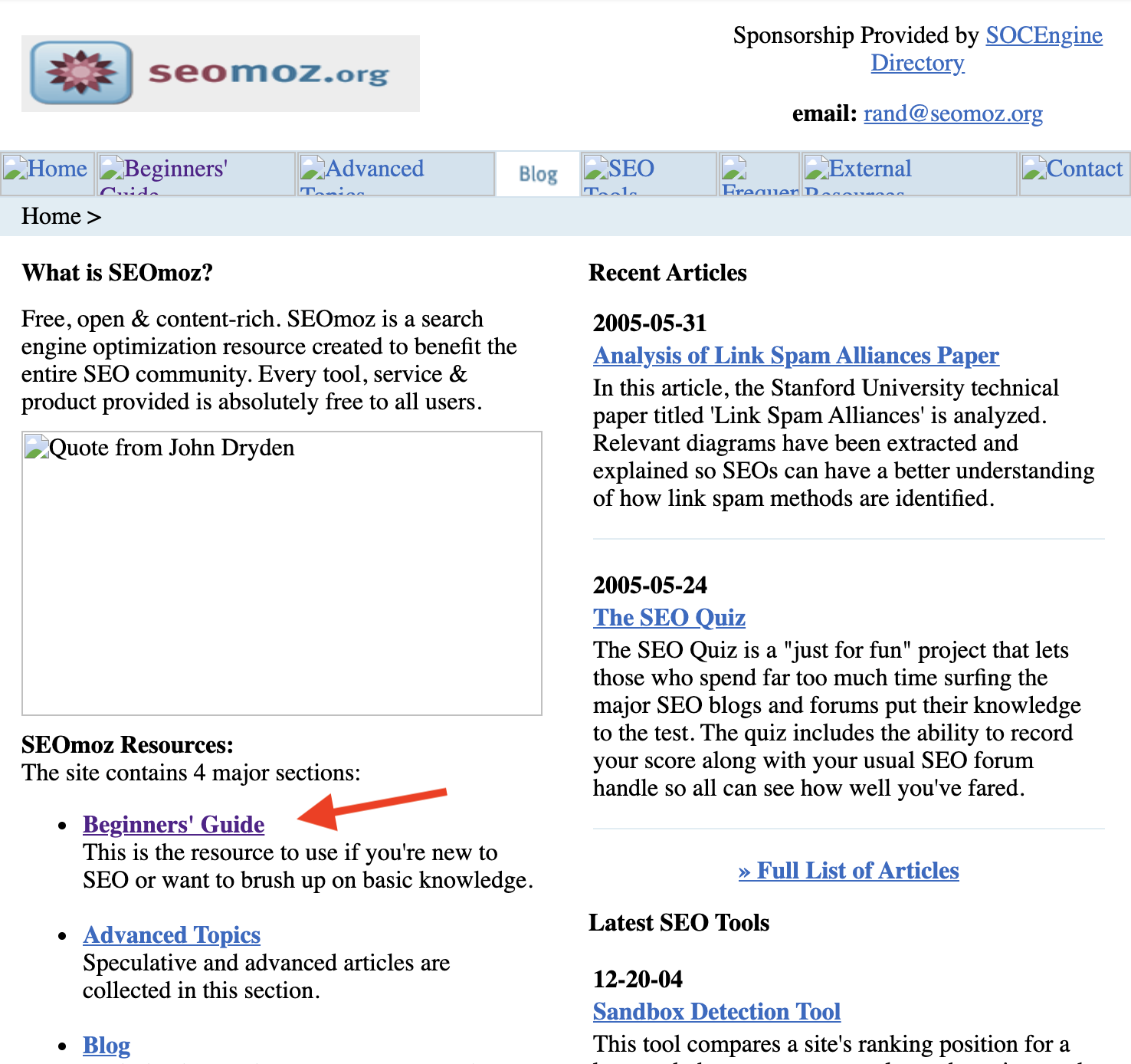 From the very beginning, Moz has invested time and energy into building valuable SEO resources that resonate with its readers.
In fact, SEO started as a blog and then turned into a SaaS.
Now The Beginner's Guide to SEO ranks #1 for the extremely competitive term "SEO".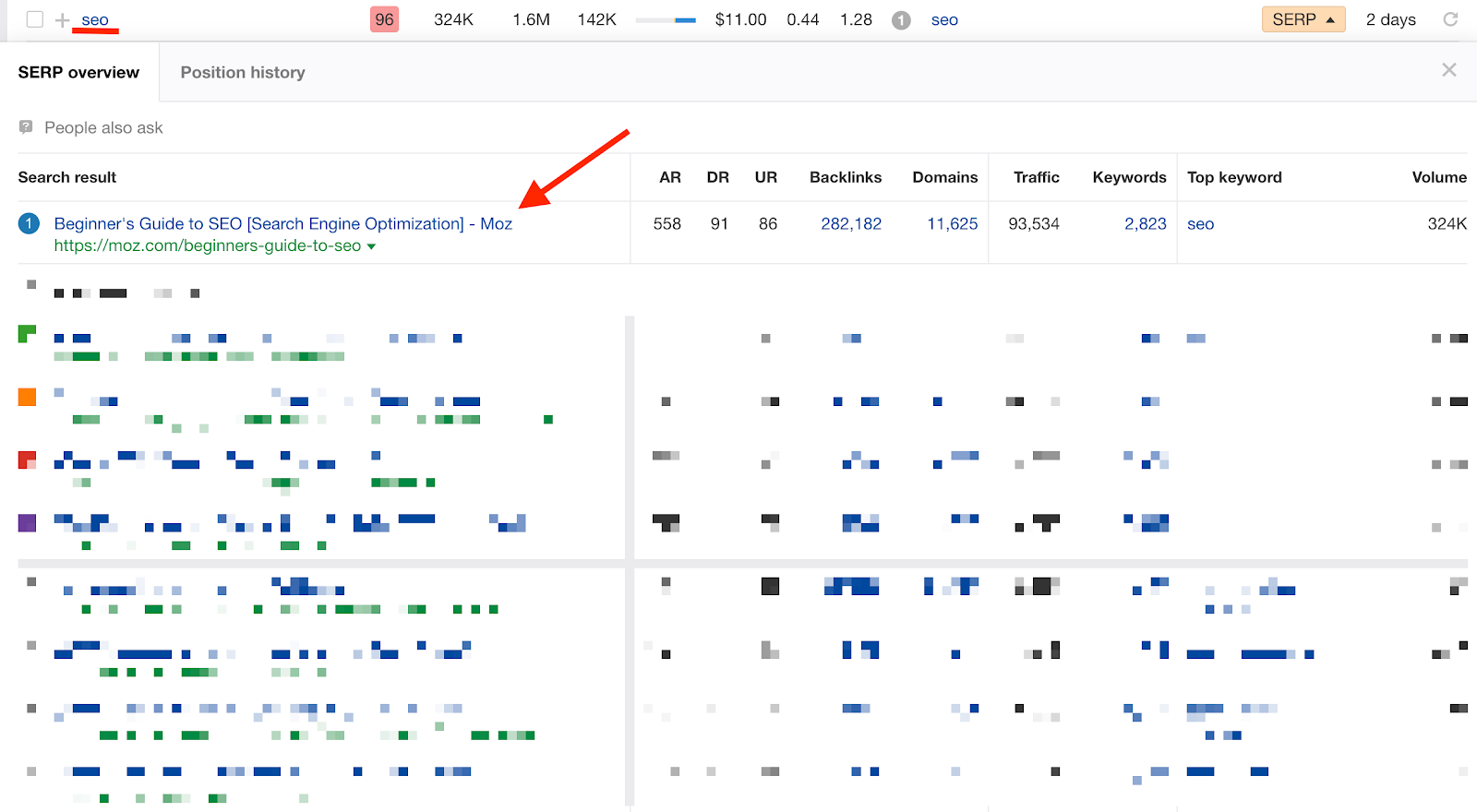 The blog has gotten a makeover and SEOMoz may have rebranded to Moz, but it is still providing valuable knowledge on search engine optimization, traffic, and rankings.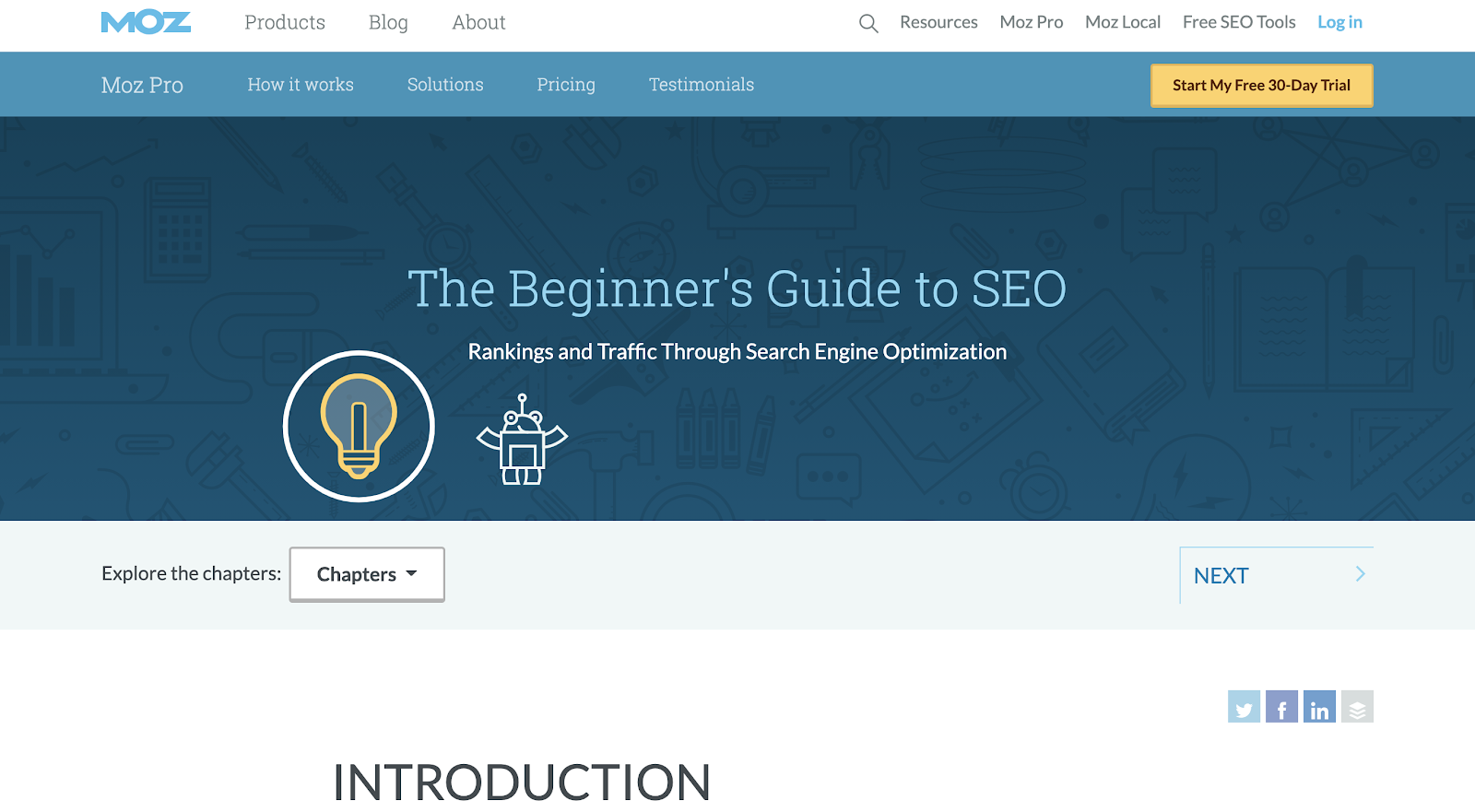 That specific page of the website has over 16 thousand referring domains and gets hundreds of thousands of organic visitors every month.

The reason why we've included Moz as our fourth B2B content marketing example is because from the very beginning, the company has invested heavily into becoming the best online resource for all things SEO.
Competition may have been increased since then with newcomers such as Ahrefs joining the race, but Moz remained focused on its initial goal.
The company now gets almost 1 million monthly visits and ranks for some of the most competitive keywords around SEO.
Well done, Moz!
Type: B2B Content Marketing Example
Organic Traffic (Ahrefs): 941K
Linking Domains (Ahrefs): 132K
Facebook Followers: 276,265
Instagram Followers: —
LinkedIn Followers: 83,364
Twitter Followers: 559.5K
YouTube Subscribers: 71.9K
Example #5: Dollar Shave Club
Dollar Shave Club is an American company that delivers razors and other personal grooming products to customers by mail, monthly.
It was founded in 2011 but its first big sales boost came from a 2012 YouTube video that cost $4,500 and took a single day to shoot.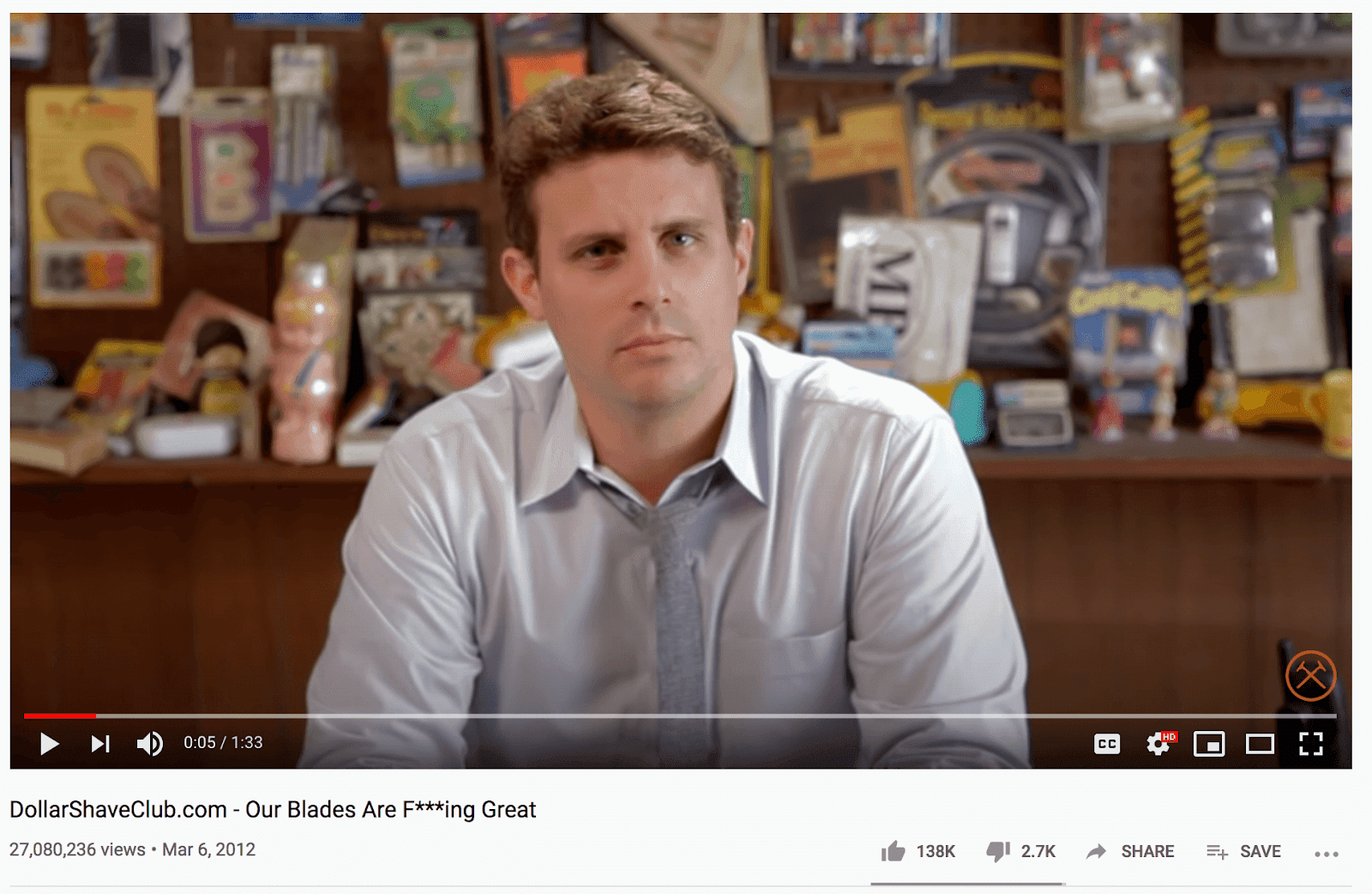 We love this content marketing example because it shows you don't have to use a huge marketing agency or have a large marketing budget to create great content.
By taking a comical walk through their warehouse and making fun of common problems shavers face, they turned a normally boring topic into engaging content.
The video launch coincided with an announcement about a $1 million dollar seed round fund and the relaunch of the website.
All three of these events were covered by TechCrunch, BuzzFeed and other notable media channels, which began its viral success.
Word of mouth started to spread about the viral video and Dollar Shave Club gained so much brand awareness that their website crashed for 24 hours!
Now the video has been viewed by over 27 million people and led to a $1 billion dollar acquisition.
This is one of our favorite content marketing examples because it's planned out very well and is extremely cost effective.
By having all three events, video launch, funding announcement, and website relaunch, at once, it helped thrust the video onto people's radars and from there word of mouth took over.
Type: B2C Content Marketing Example
Organic Traffic (Ahrefs): 506K
Linking Domains (Ahrefs): 10.3K
Facebook Followers: 3.7M
Instagram Followers: 240K
LinkedIn Followers: 19K
Twitter Followers: 82.1K
YouTube Subscribers: 37.2K
Example #6: Shutterstock
Shutterstock is a creative marketplace for high-quality royalty-free pictures, vectors, illustrations, videos, and music.
Users can browse through their catalog of digital assets and purchase the rights to use it for their own publication.
Shutterstock helps professionals from different industries create visually appealing content that can stand out from the crowd.
If you've ever been in search of stock photography online, you've probably come across Shutterstock multiple times with photos for your graphic design needs.
Shutterstock brings in 37.1M viewers in organic traffic alone, with all these people searching for different types of media the company has the opportunity to analyze that search data to predict trends.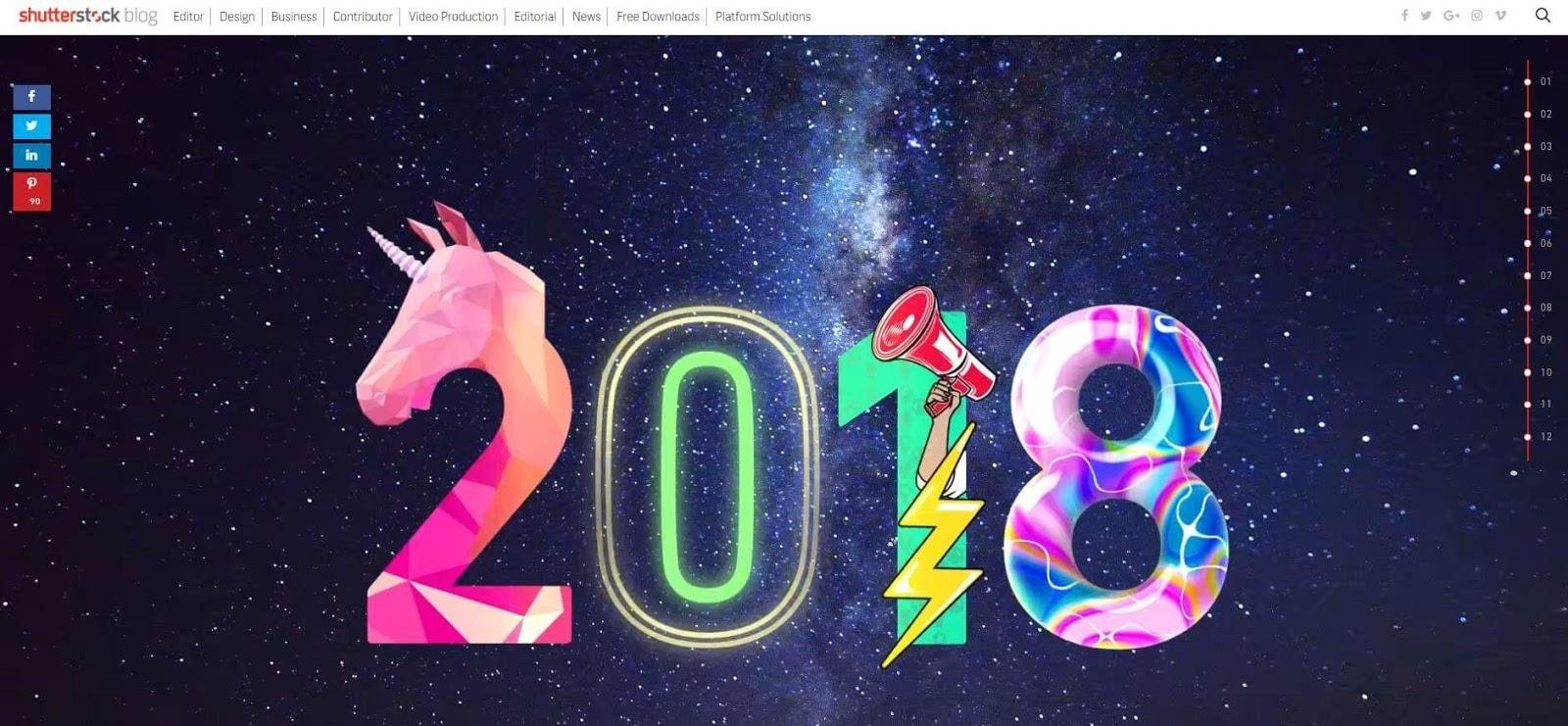 In 2017 they released their Creative Trends Report for 2018, which was their prediction of emerging trends to come in the following year.
The report was a visually appealing infographic of 11 different styled trends that each includes a large image, top photos used in that category, a video, and suggested search terms to get positive results on their site.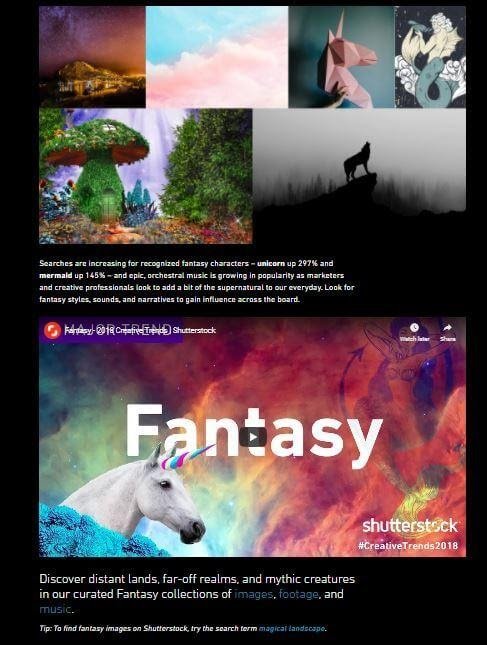 They even went a step further and created a separate section on their blog to keep track of the trends throughout the year so they could provide updates to their users.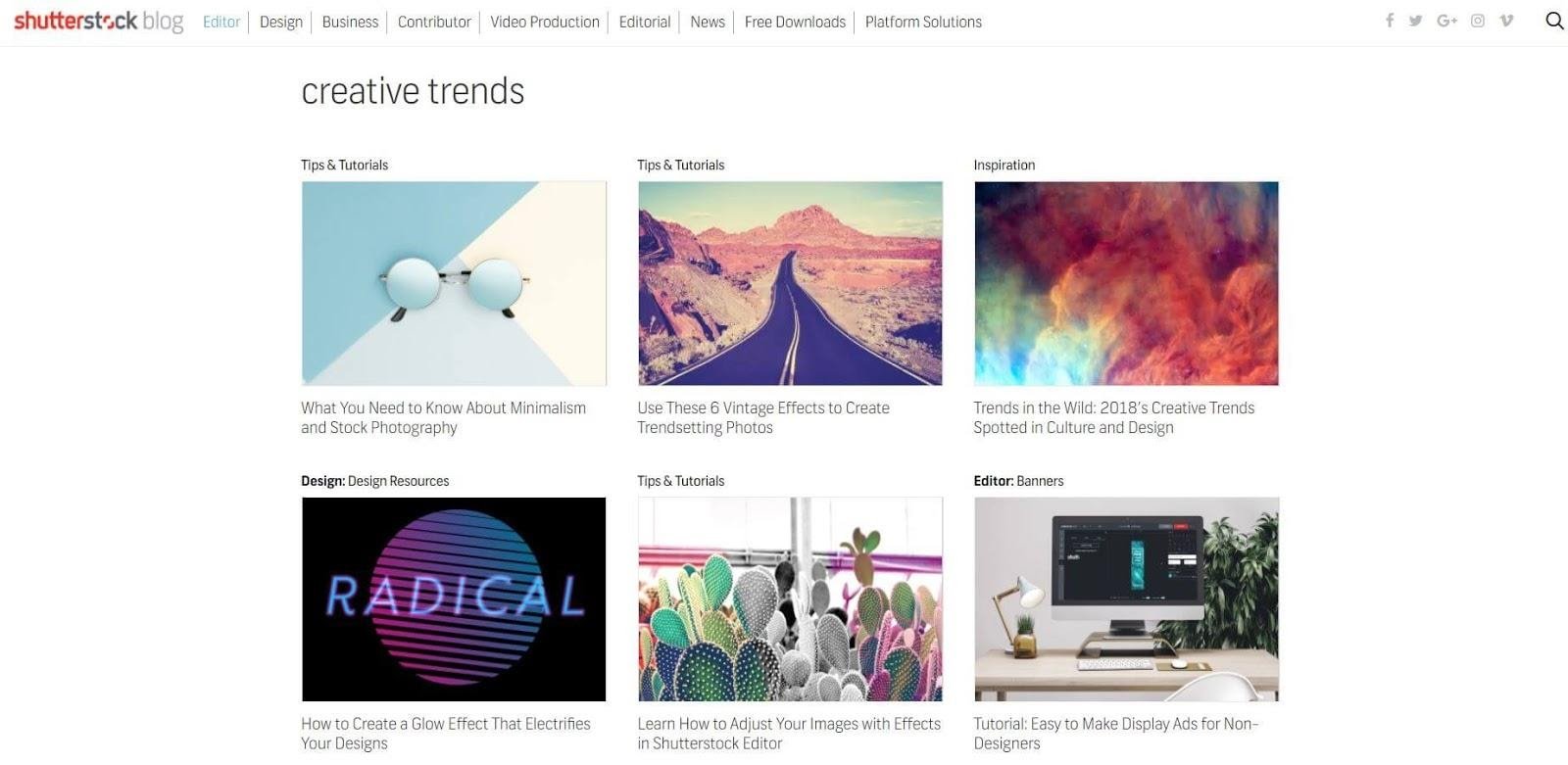 As they posted relevant articles to their blogs, they would then use this content and promote it on different platforms on their different platforms.
Shutterstock has the most followers on Facebook, so sharing these blogs on this site let's them get maximum exposure and for people to click into the report.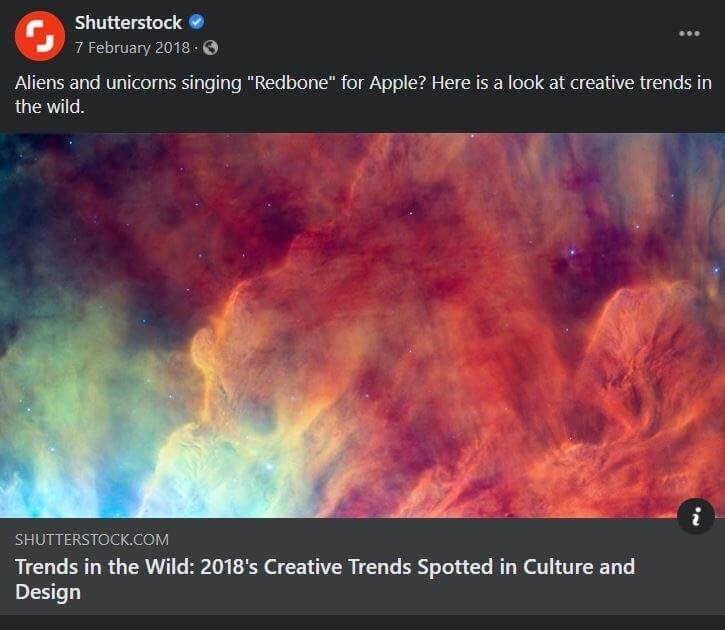 They would also promote this campaign on Twitter and with the hashtag #CreativeTrends2018 they were able to increase engagement with retweets or users simply referencing the new report.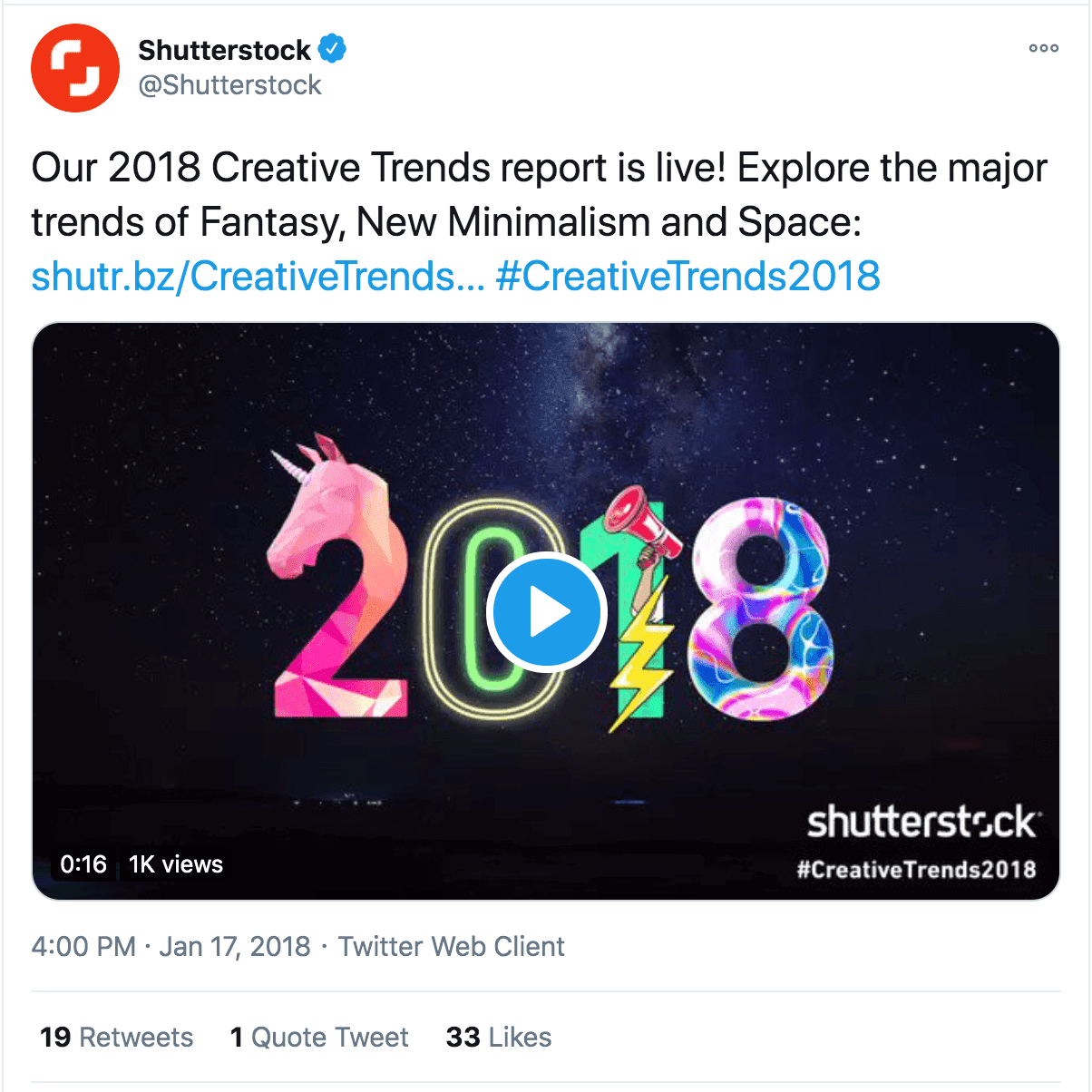 Shutterstocks's content marketing efforts continue to work in this same way, as the next year approaches they publish a report of future trends.
This helps them be one step ahead in the industry and to always stay up to date what their users are using their photo services for.
Type: B2B Content Marketing Example
Organic Traffic (Ahrefs): 37.1M
Linking Domains (Ahrefs): 229K
Facebook Followers: 874K
Instagram Followers: 264K
LinkedIn Followers: 63K
Twitter Followers: 287K
YouTube Subscribers: 28.2K
Example #7: LinkedIn
LinkedIn is a social network that is mainly composed of professionals and business people who are trying to take their professional life more seriously.
It appeals to all walks of life, whether you're a recent college graduate looking for a first job after college or a marketing executive at a major company trying to connect with other like-minded peers.
Most of the content on this platform is more serious in nature and the content is informative and meant to advance your career building on a digital platform.
Think of it as a big virtual networking event, that's all online.
One of the things that makes LinkedIn stand out from the rest is they know how to successfully promote their own content marketing efforts.
Not surprisingly their biggest audience is on LinkedIn, and they used this to their advantage and made an entire campaign from this success.
"The Secret Sauce" was a campaign that was launched to show people a behind the scenes look at how LinkedIn delivers exceptional results through a digital marketing strategy that utilizes their own platform.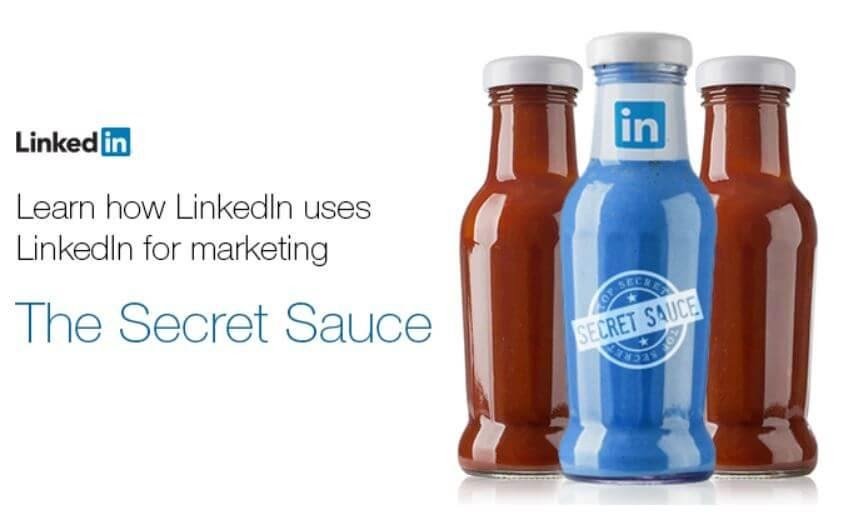 Each suggestion was backed with practical case studies that showed the results from their previous campaigns and tips on how others can replicate their own strategy.
On their Youtube platform, they showcased their employees describing exactly what they do when promoting content and some of their own personal experiences.
By showing their employees explaining their methods, it makes LinkedIn seem more personable and relatable.
It's also more interactive having a panel discussion, rather than just one person talking directly to the camera.
They also had videos created for Youtube, to then distribute across their social media channels, that helped promote their Secret Sauce campaign.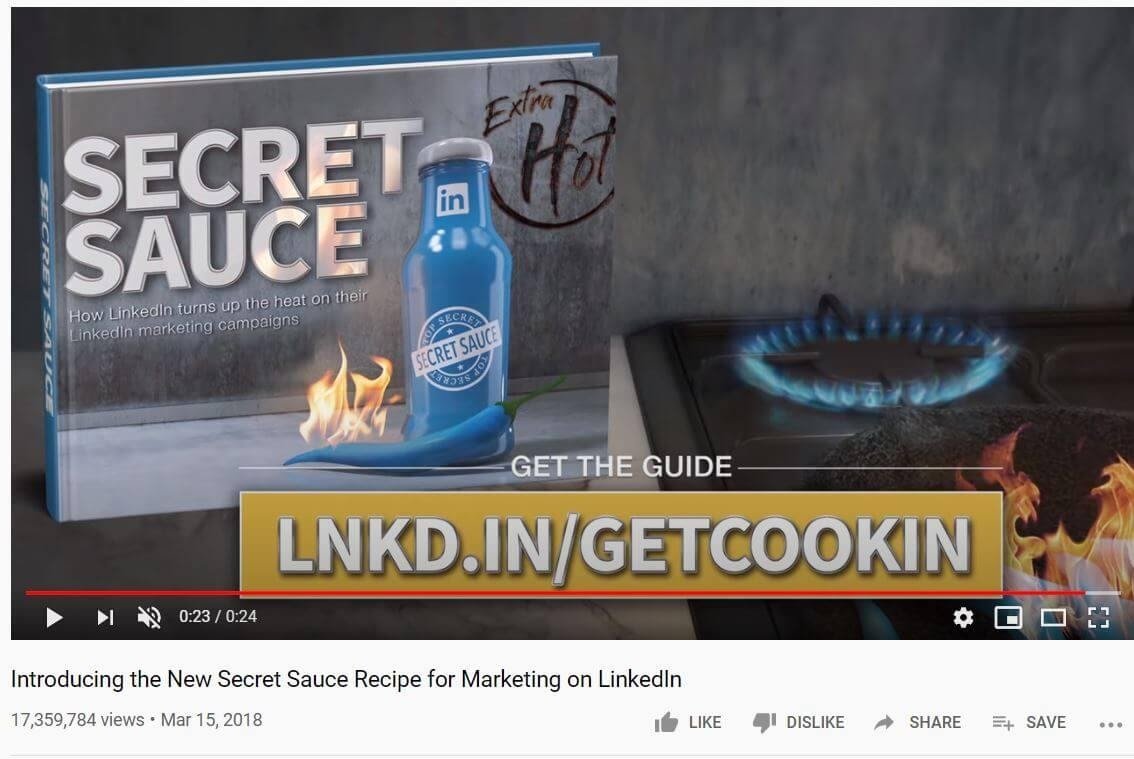 Not only did they share how people can benefit from all the different tools that's available on LinkedIn to promote content, they made sure to push a lot of information to their own LinkedIn audience that's currently 13.4M.
It led users to a page to fill out personal details in exchange for the "secret sauce", ultimately helping LinkedIn get high conversions.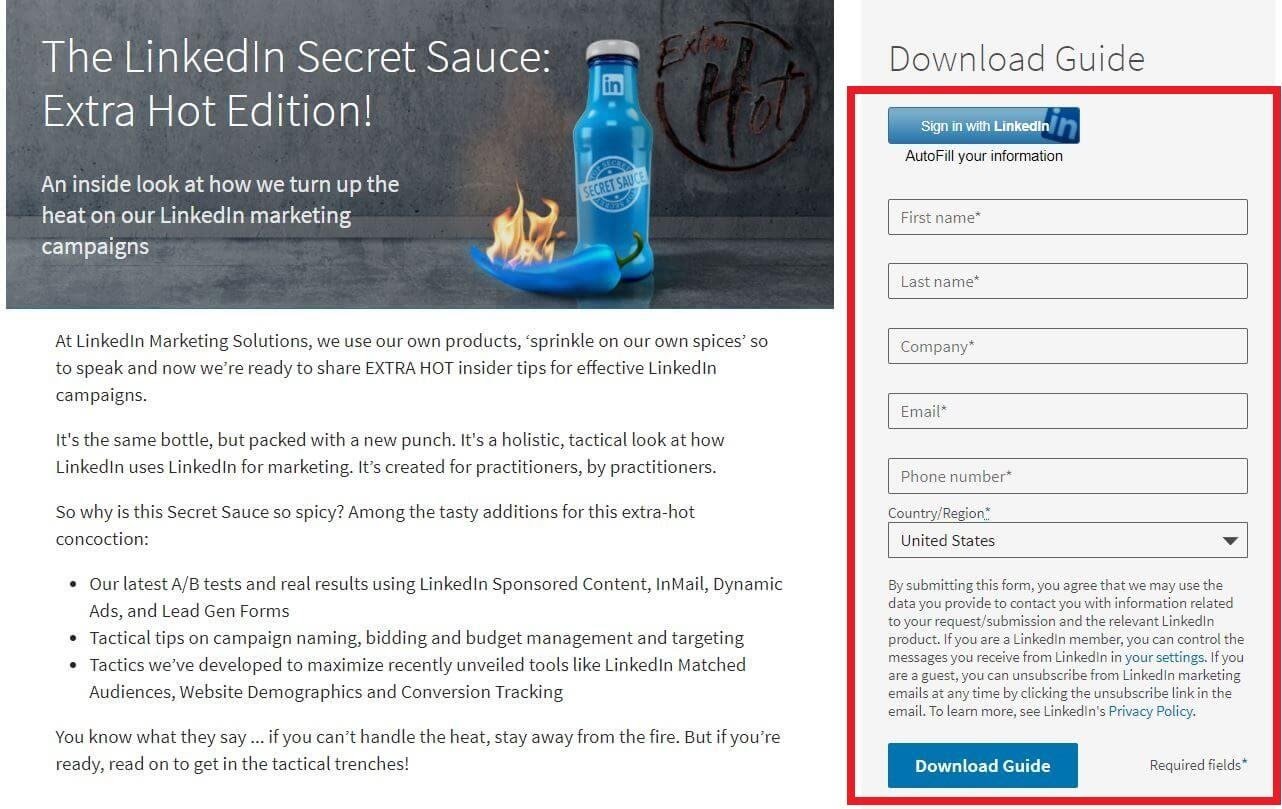 There are many marketing guides out there so it was very smart of LinkedIn to promote the guide as a "secret sauce", something that is not usually related with the professional business site.
Type: B2B Content Marketing Example
Organic Traffic (Ahrefs): 83.7M
Linking Domains (Ahrefs): 10.5M
Facebook Followers: 2.3M
Instagram Followers: 500K
LinkedIn Followers: 13.4M
Twitter Followers: 1.5M
YouTube Subscribers: 112K
Example #8: Grammarly
Grammarly is an online grammar checker that analyzes a piece of text you've written and shows you step-by-step the errors that need to be corrected.
The free version of the application covers the basics, like spelling, grammar, punctuation.
The premium version takes it a step further with suggestions on how to make the writing style better.
Grammarly is a perfect blend of artificial intelligence and natural language processing that helps students and professionals communicate their great content in a grammatically correct way.
A large part of their success is that people from different industries and walks of life can use their service and improve their communication to ultimately improve their life.
This is the foundation for Grammarly's "Write the Future" video series that highlighted their real customers and how they are benefiting from their service.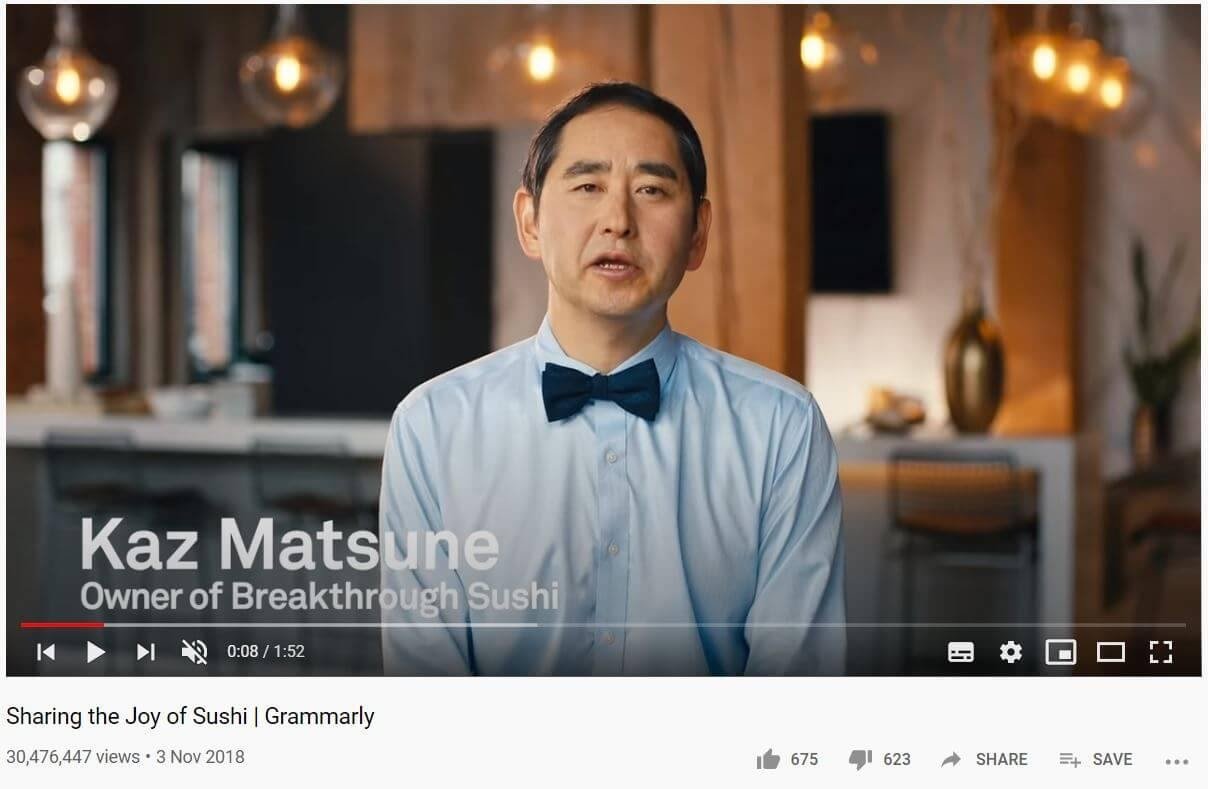 By using relatable characters in common situations, it helps showcase that there's many different reasons you would need to make your writing clearer and more effective.
This type of user generated content works great both for B2B and B2C companies.
Grammarly created documentary style videos and other content surrounding these every day customers, writing a toast for a speech, submitting a paper, or even making a good first impression.
They utilized their instagram account to showcase these short videos and to bring awareness to their campaign.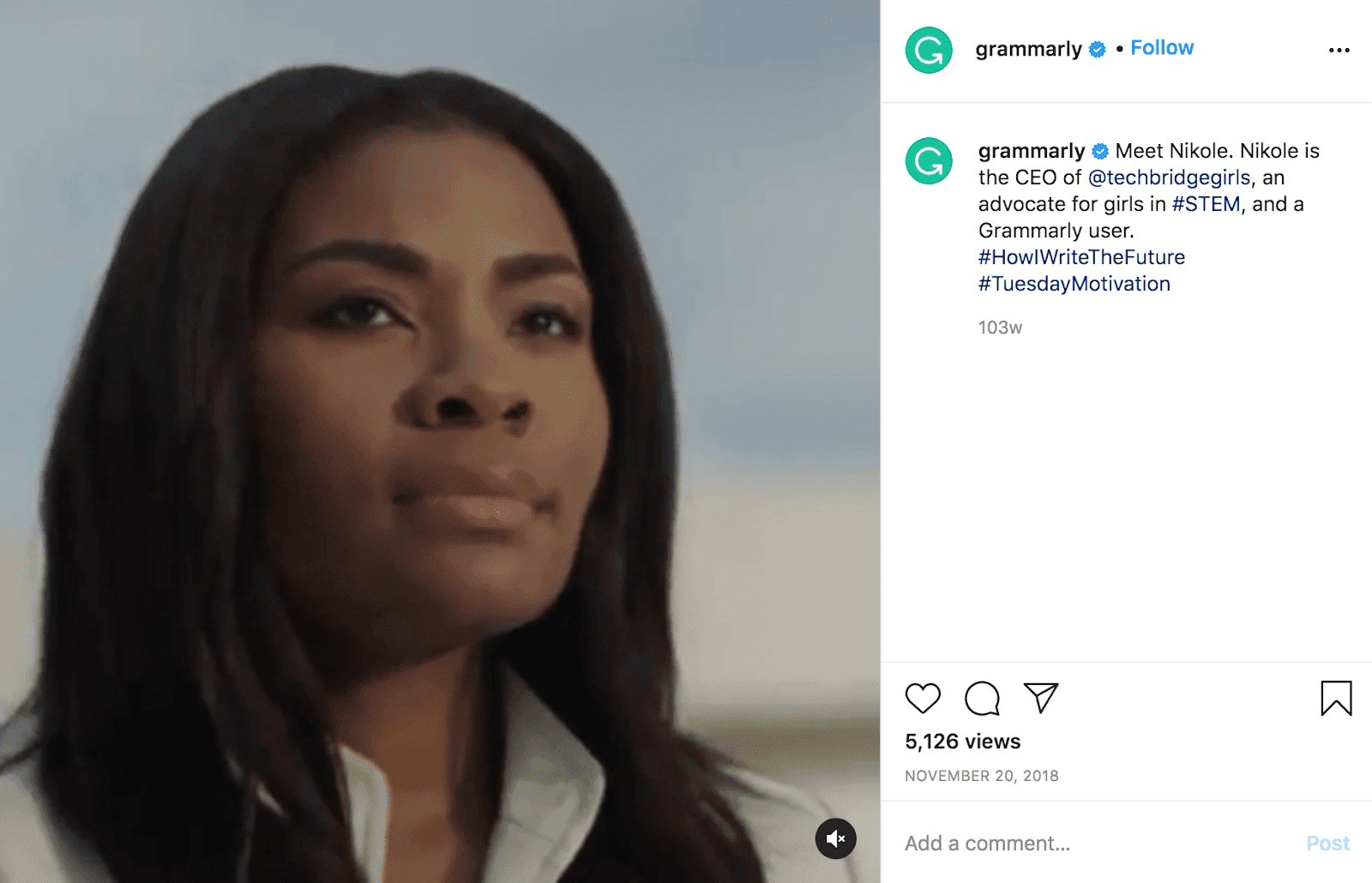 They then used other social media channels to engage their audience and get them to submit their own testimony of how they are writing for the future.
On twitter, they would encourage others to write a simple sentence of how they benefit from grammarly in order to win a free year of premium service.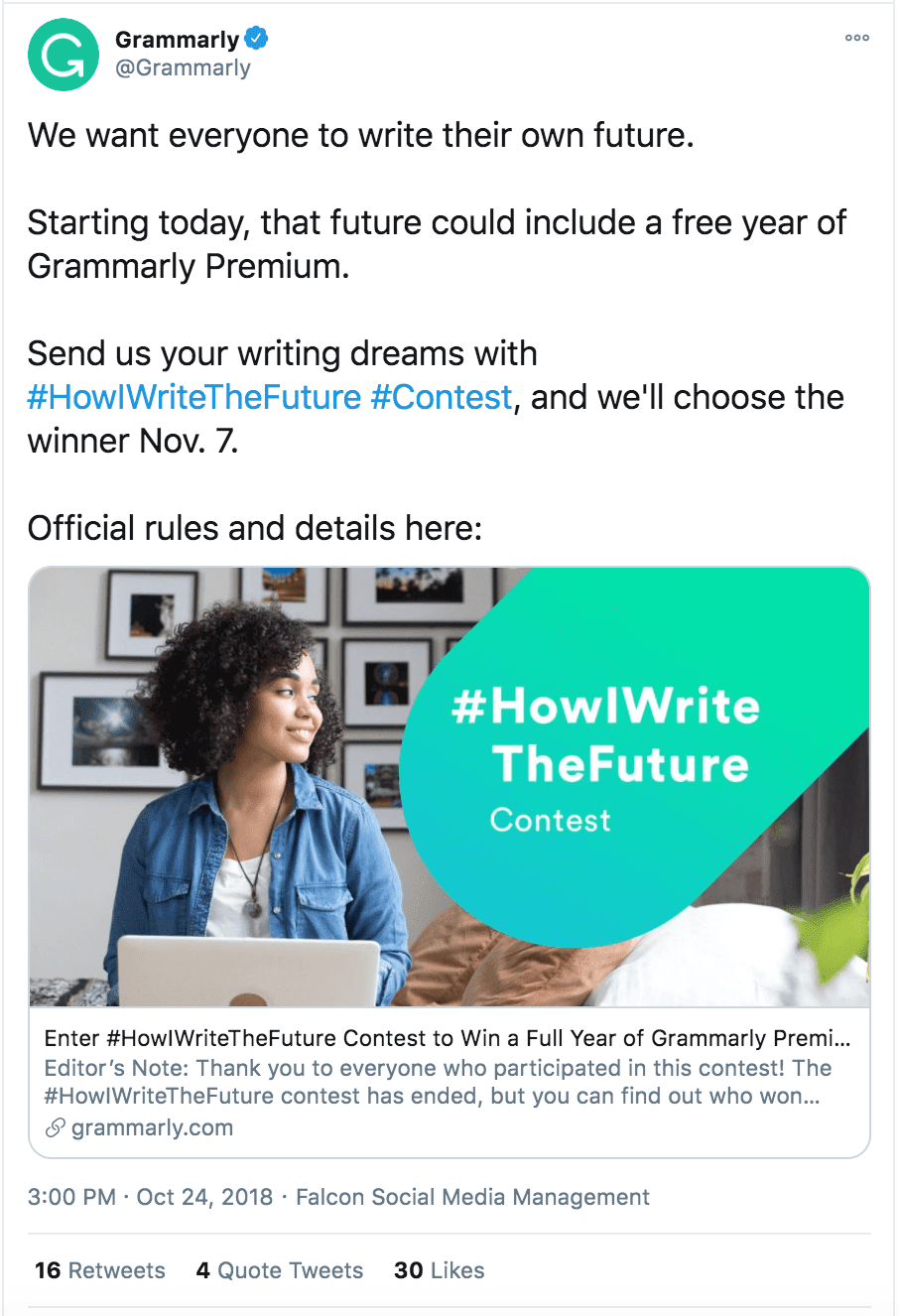 And then they also made sure to share the commercials and other related content on their most followed social media account, Facebook.
By choosing to show everyday individuals using Grammarly for their everyday tasks, it helps build credibility with potential customers and shows that the connection between business and customer is strong.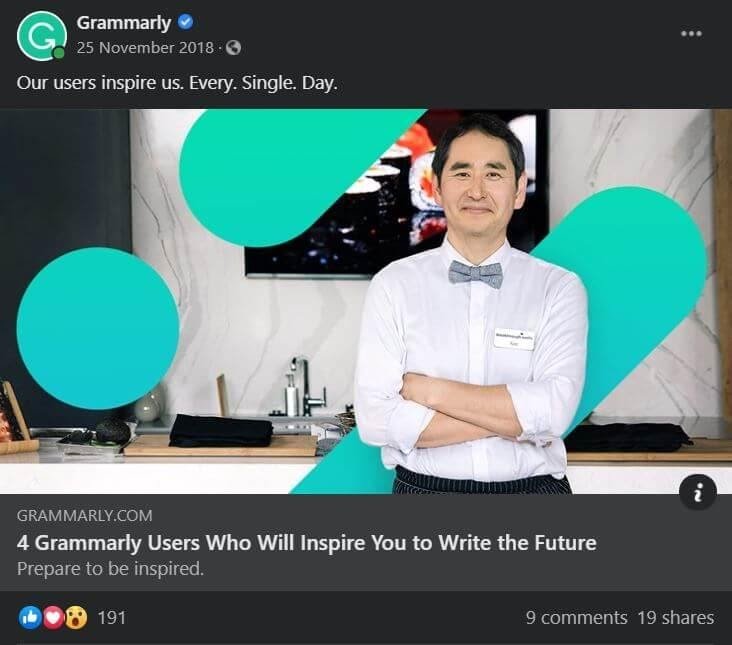 The content marketing campaign was a huge success, with 100+ million total views on their videos and was awarded the Best Advertiser in Video award from Digiday in 2018.
Let's move on to the next content marketing example we have for you.
Type: B2C Content Marketing Example
Organic Traffic (Ahrefs): 11.2M
Linking Domains (Ahrefs): 44.6K
Facebook Followers: 7M
Instagram Followers: 251K
LinkedIn Followers: 33.9K
Twitter Followers: 186.5K
YouTube Subscribers: 136K
Example #9: Invaluable
Invaluable is the world's premier online auction site for fine art, antiques, and collectables.
Auction houses, galleries, and dealers use Invaluable to connect millions of clients, around the world, with things they love.
Of course, their social media pages are filled with beautiful objects that are for sale in their auctions but the content getting the most engagement are fun and creative blog posts.
One popular blog post Invaluable created is Shakespearean Insults for Every Situation.
This was published on their website at first and then shared on their Facebook, with their Instagram followers, and Twitter on Shakespeare Day (April 23rd).
The piece of content is very humorous and allows you to find the perfect Shakespearean insult for any occasion.
When Invaluable shared the blog post on their social channels, they used one of the insults in the text of the post and as a hashtag.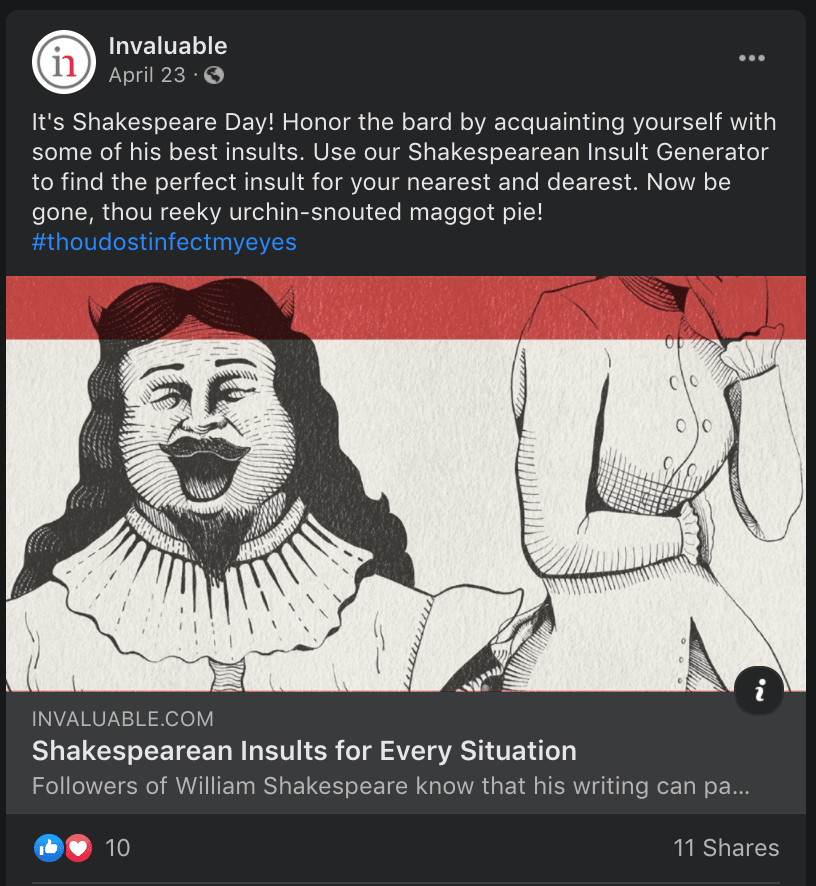 The post gained several reactions and social shares on Facebook and the other networks.
Most importantly though, the blog post got backlinks from 36 different referring domains.

This type of content is great because it can be easily updated and reused when Shakesspeare Day comes around again.
Another great blog post Invaluable created was a post where they created retro-looking ads for modern brands.
This blog has great visuals inside of it and all of them have a Pinterest link so you can save it to your own Pinterest board.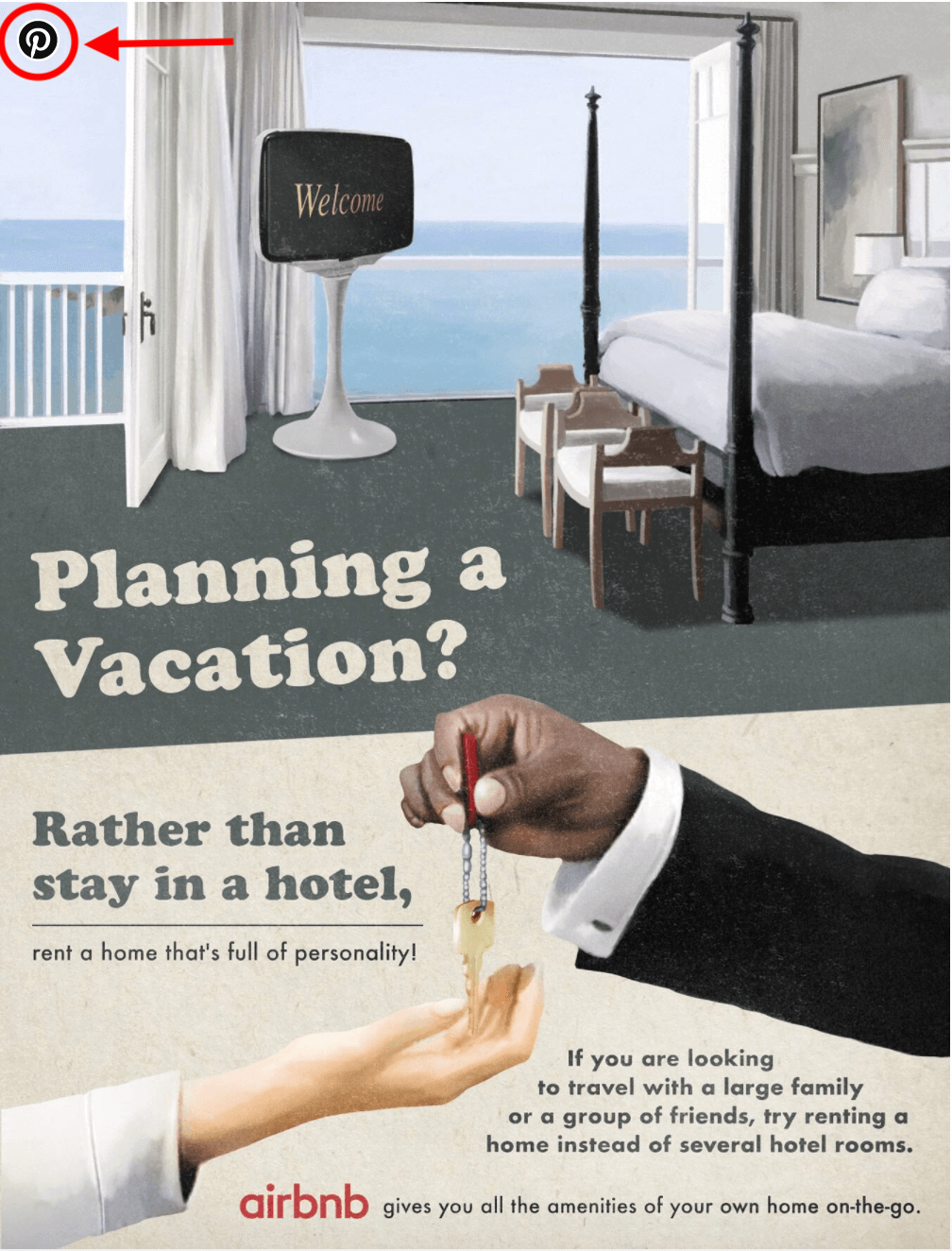 Invaluable's content marketing strategy is geniously adjusted to the company's strategy and overall brand.
This allowed the company to increase its organic visibility to more than 1.4 million keywords and almost 1 million visits per month.

And, as you can see below, their organic traffic seems to keep increasing over time.

The same applies to the number of organic keywords they're ranking for.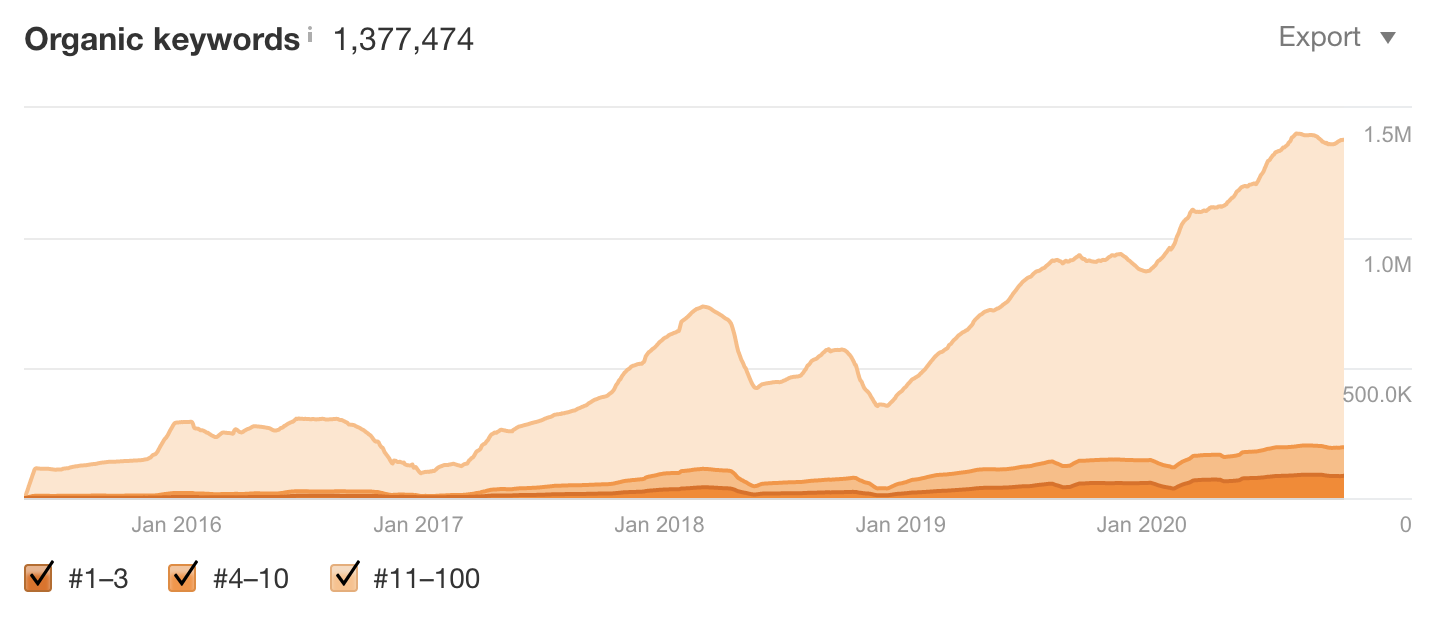 Invaluable's blog content isn't relevant to their auction services or the products they are selling per say, but the topics are very interesting for a wide range of readers which brings new viewers to the website or creates brand awareness for potential customers.
Blogging has become a great content marketing tool because it's cheaper than creating other types of media and it delivers results across social media, search engines and your website.
Type: B2C Content Marketing Example
Organic Traffic (Ahrefs): 939K
Linking Domains (Ahrefs): 11.8K
Facebook Followers: 61K
Instagram Followers: 6.9K
LinkedIn Followers: 3.2K
Twitter Followers: 5.5K
YouTube Subscribers: 26
Example #10: Dove
Dove is a personal care brand that specializes in washing/bathing, skin care, antiperspirant deodorants, hair care and other similar products.
What makes them stand out from the crowd is their clever marketing campaigns that highlights the everyday woman and empowers them to accomplish their goals.
An excellent example of effective content marketing can be seen by looking at Dove's "Real Beauty Sketches" that came out in 2013.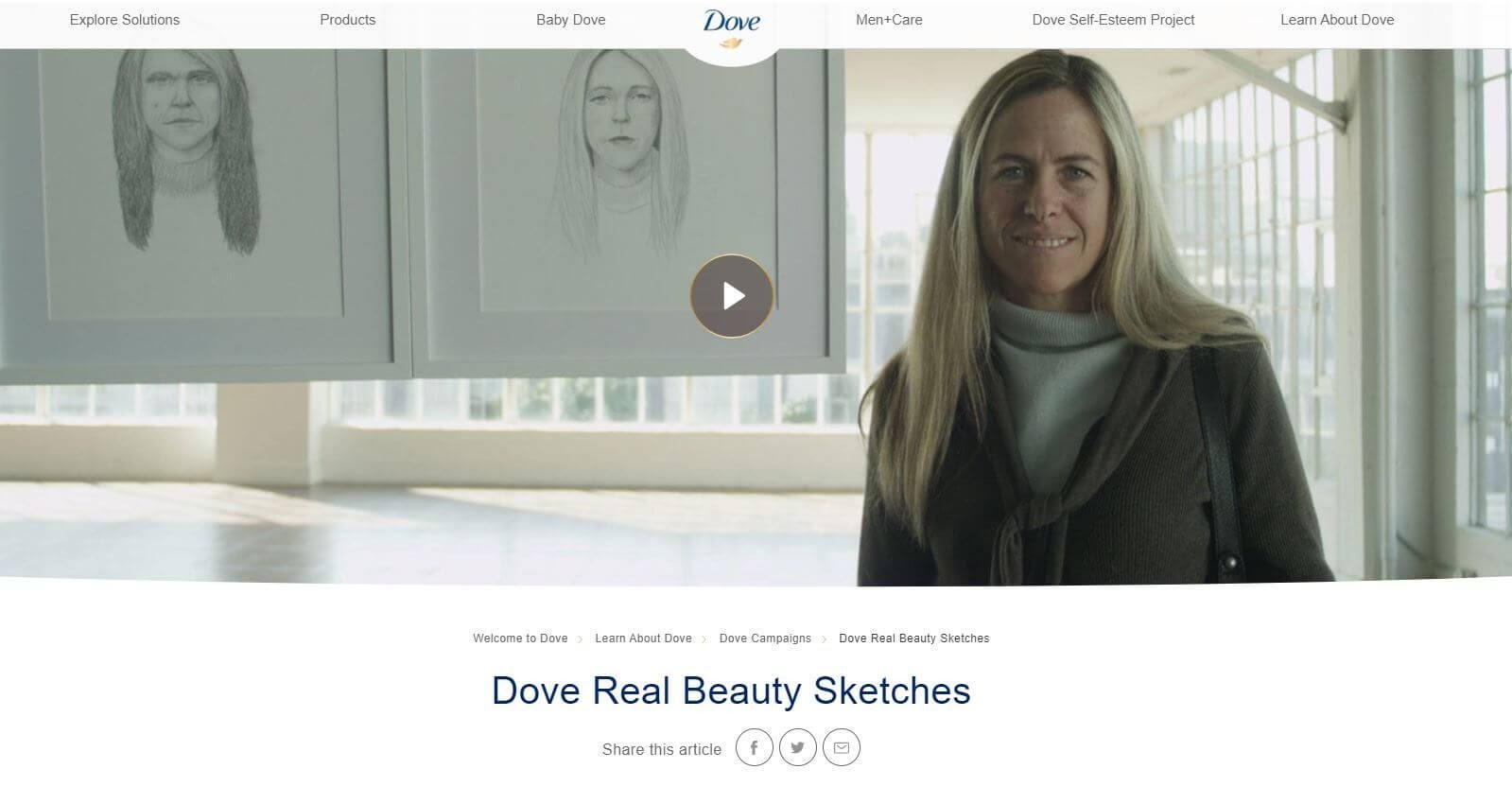 The campaign was a result of internal research by Dove and associates which showed that only 2% of women considered themselves to be beautiful at the time.
The campaign used an FBI-trained sketch artist to draw women first based on their own self-perception and then based on the description of a stranger.
The key takeaway of the film was to show women that they are more beautiful than they think they are and to promote self-confidence and the promotion of realistic beauty standards.
This type of high quality and inspiring video content was a tremendous success and it became the most watched video ad of all time, with more than 50 million people viewing the video within 12 days of its release.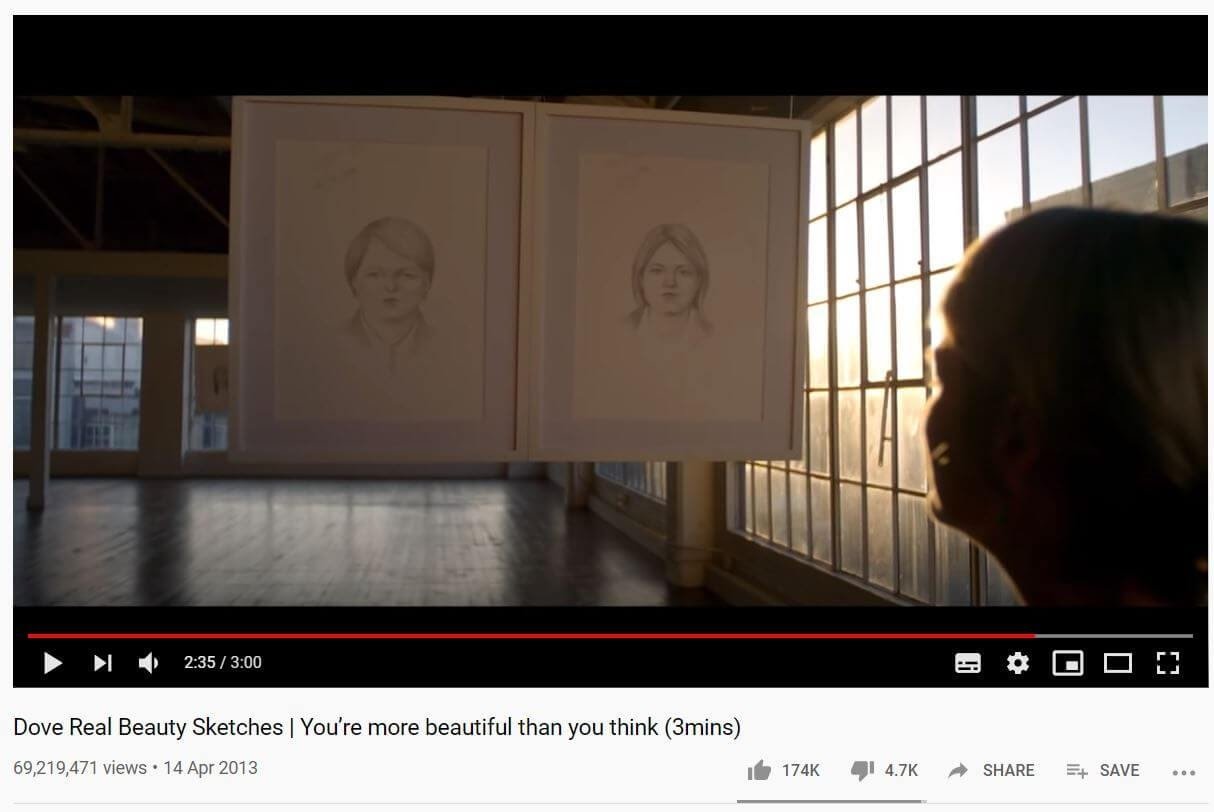 The content marketers at Dove made a genuine connection with women through this ad and focused on empowering women over selling a product, which really resonated with people.
A good lesson here is that when you're trying to genuinely help people, your chances of success are significantly improved.
This is why the campaign was extremely successful, increasing Dove's sales from $2.5 to $4 billion in the campaign's first 10 years. Dove bars also became the number one selling soap brand in the U.S.
The online marketing campaign had a deeper goal than conversions but it ended up providing a very high ROI for Unilever, Dove's parent company.
Type: B2C Content Marketing Example
Organic Traffic (Ahrefs): 392K
Linking Domains (Ahrefs): 24.9K
Facebook Followers: 27.6M
Instagram Followers: 580K
LinkedIn Followers: —
Twitter Followers: 190K
YouTube Subscribers: 147K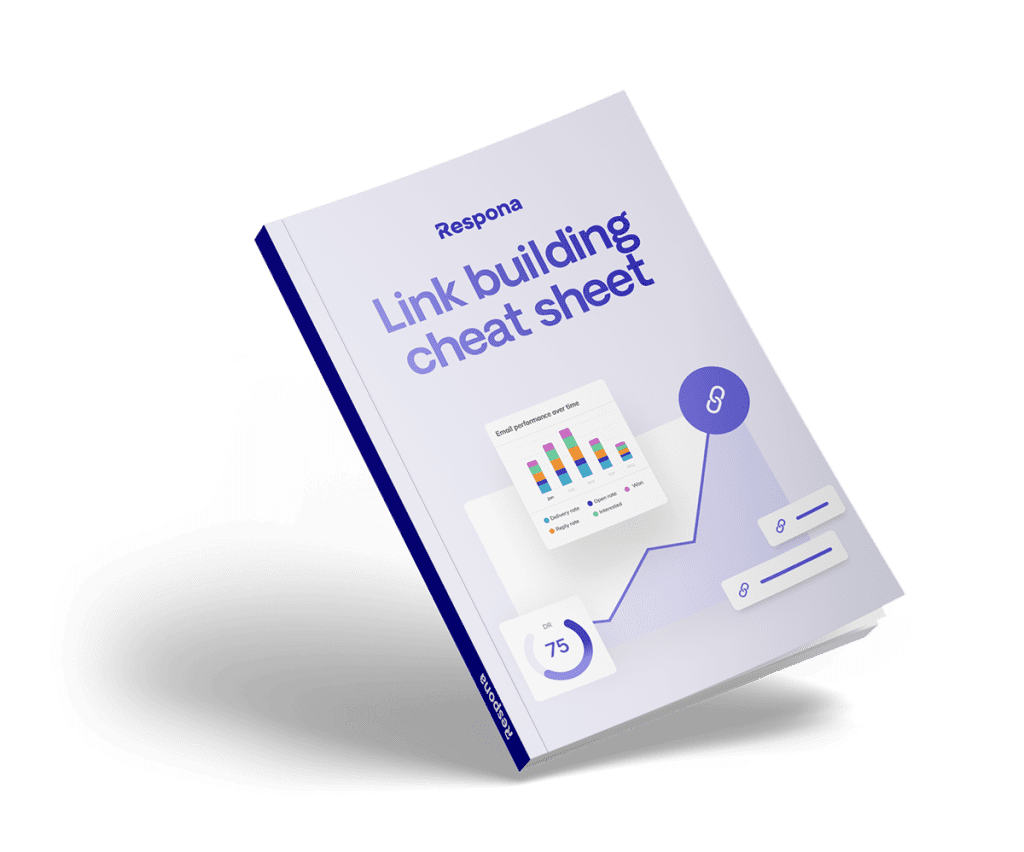 Link building cheat sheet
Gain access to the 3-step strategy we use to earn over 86 high-quality backlinks each month.
Wrapping Up
Using content marketing to grow a business can be the best decision you can make.
You now have 10 best content marketing examples you can look into when you need inspiration for your next content marketing campaign.
The reason why we included different content marketing examples from different industries and verticals is to help you understand that there are many ways you can do great content marketing.
No matter what types of content you choose to include in your content marketing mix, always make sure to distribute your content so that it reaches the right audience.
If producing good content is important, distributing that content is imperative to your campaign's success.
So, always make sure to distribute your content using the channels where your audience lives online.