What is Link Building?
Link building is the process of acquiring inbound links (also referred to as backlinks) to your website with the goal of improving your rankings on search engine results pages.
The short answer is that the more backlinks from high-quality resources you have pointing to your website, the higher you will rank in search engines.
But that's a very brief answer – let's take a look at what makes link building so important.
Why is link building important?
The number and quality of inbound links is one of the most important ranking factors to this day.
To understand why that is, we have to understand what is PageRank – and how it works.
What is PageRank?
Pagerank is a numerical value that represents how important a website is. It was developed by Google co-founder Larry Page and is used by the search engine to rank websites in their search results.
The higher a website's PageRank, the more likely it is to appear at the top of the search results.
Pagerank is calculated by looking at the number and quality of links that point to a website.
A website with many high-quality inbound links is considered to be more important than a website with fewer inbound links.
The quality of a link is determined by the PageRank of the website that it comes from. A link from a website with a high PageRank passes more "link juice" than a link from a website with a low PageRank.
The PageRank algorithm was first developed in the late 1990s, and was originally called the "Backrub" algorithm. It was later renamed to "Pagerank" after Larry Page. Pagerank was patented in 2001, but the patent expired in 2004.
Despite this, a highly-modified version of the PageRank algorithm is still used by Google,
What are the different link building strategies?
The most common way to acquire backlinks is through email outreach.
We have already covered each of the following strategies extensively, so in this section, we will only briefly discuss what the premise behind each strategy is.
Anchor text
The anchor text strategy involves finding relevant, non-competing articles that mention your own content's target keyword, reaching out to them, and asking to insert your link for the specified anchor text.
Competitor backlinks
As the name suggests, the CB strategy involves finding articles that are competing with yours, extracting their backlinks, and reaching out to the people linking to them, instead asking to link to you.
Guest posting
One of the oldest tricks in the link building book, guest posting is all about writing guest articles for other websites, and linking to your own website (as well as your partner) websites from the content.
Listicle outreach
Listicles, or "Top 10" articles are prime link building opportunities – if your product/content fits along the rest, they are usually quite open to mentioning it among them, for a good enough value proposition.
Such a value proposition could be:
An indirect link back;
A free trial of your software;
Social shares;
A mention of their content in your newsletter;
Money.
We advise you against paying for links or listicle mentions – it is considered to be a black-hat SEO tactic, and any paid links must be labeled as "sponsored", preventing them from passing PageRank.
Broken link building
Links get broken all of the time – whether the pages they're linking to get edited/removed, or the URLs change.
Identifying dead pages and reaching out to any websites that are still linking to them (provided that you have relevant content that could help close the gap created by the broken link) is one of the most sure-fire ways to earn backlinks.
Although, be prepared that your pool of prospects will be limited.
Link Building Email Example
The following is an example of our own link building email pitch sent as part of one of our campaigns:

How to Run a Link Building Campaign?
Respona's main goal is to help link builders speed up the link building process, as doing it manually (or with the help of several separate tools) can be lengthy and frustrating.
Let's take a look at how you can run an anchor text campaign with Respona.
1. In Step 1 – Find Content, click over to Automation Setup.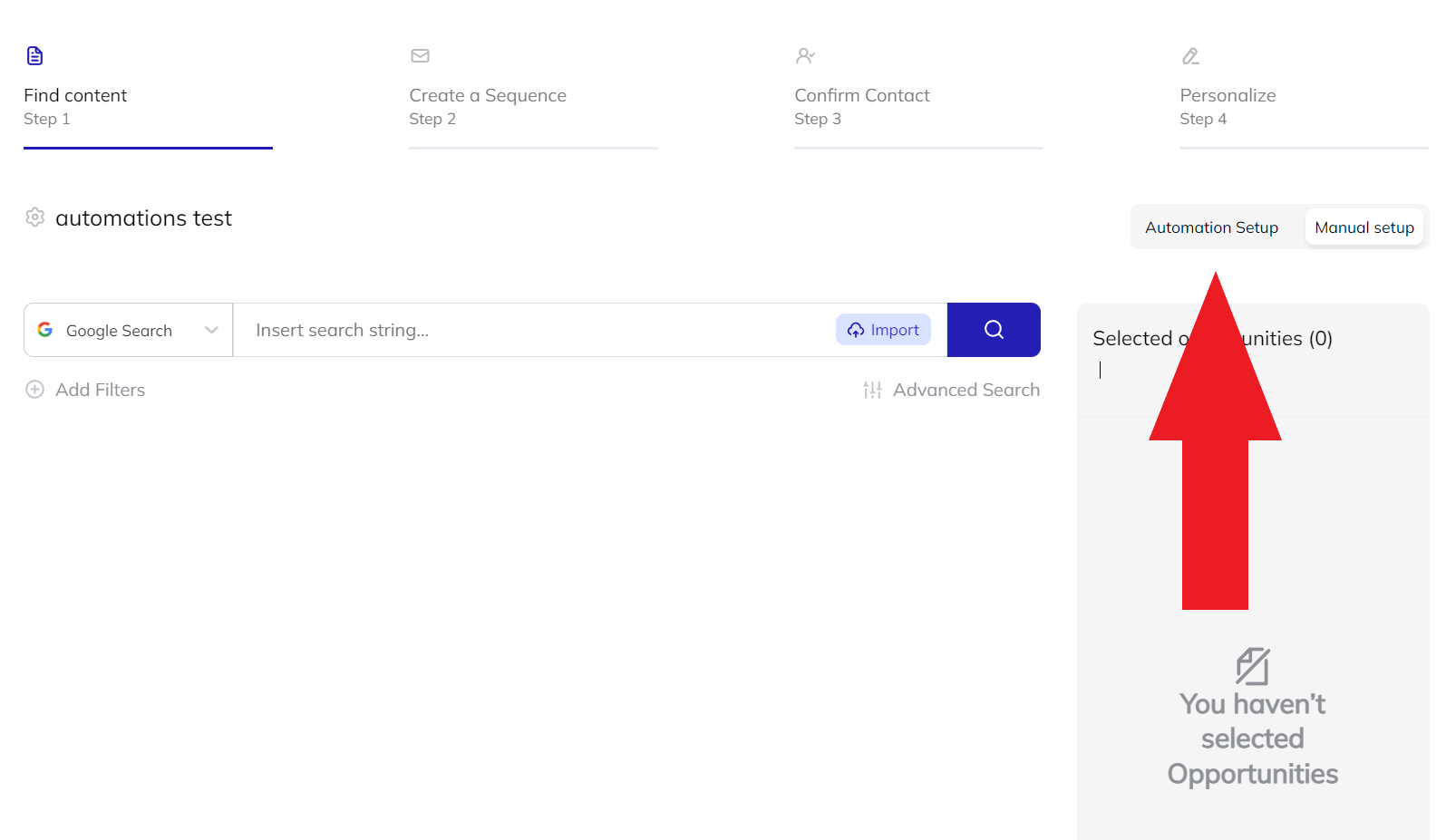 2. Select "Keyword Search"
3. Select Google or Bing. We'll use Google.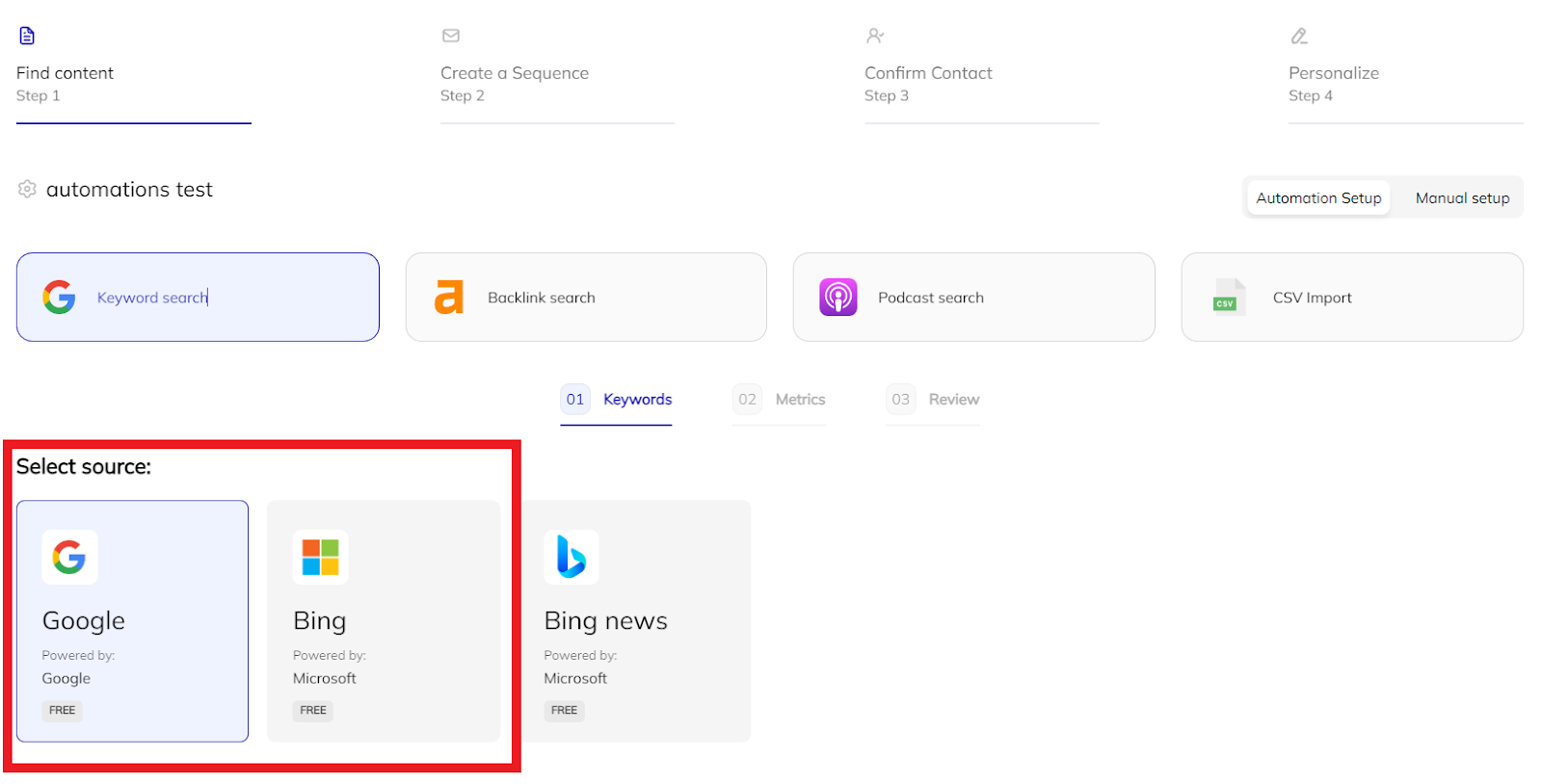 4. Note: Google and Bing use different advanced search operators. You can find them under "Advanced Search".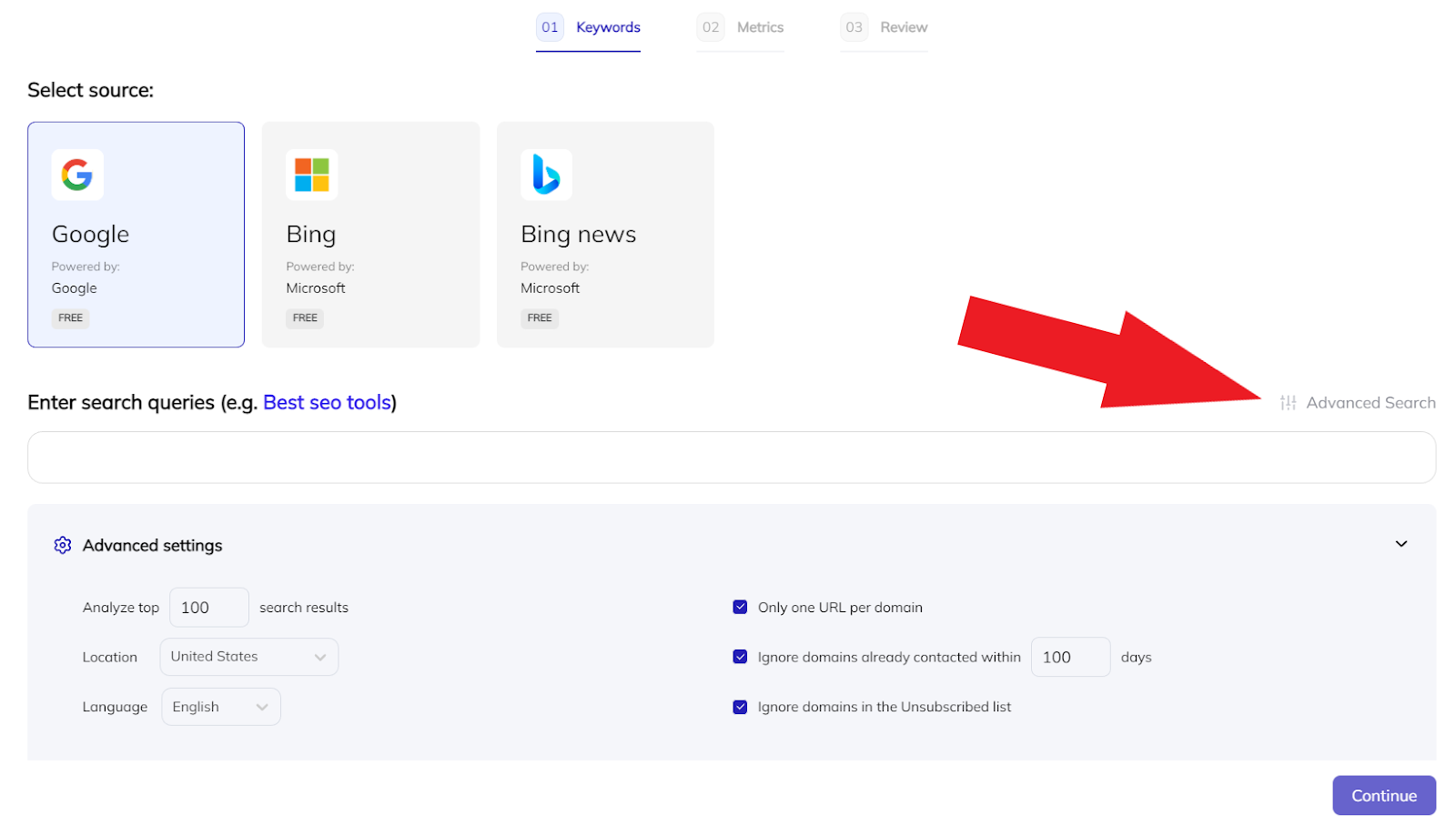 5. Type in your queries. You can use the following search operators to get very specific with the kinds of results you want to get.
inurl:blog (tells the search engine to only show pages that are part of a blog)
intext: (specifies which keyword should be included in the articles' bodies)
intitle: (specifies which keyword should be included in the articles' titles)
-intitle: (specifies which keyword should not be included in the articles' titles)
A few simple search strings would look like this:
inurl:blog intext:"saas marketing" -intitle:"saas marketing"
inurl:blog intext:"saas marketing" intitle:"content"
inurl:blog intext:"promoting your saas" intitle:"software"
This tells Respona to look for blog posts that mention "SaaS marketing " in their bodies but exclude or include certain phrases in the titles of the articles.
Note: If you wish to narrow down the search even more, you can add additional tags to specific strings which filter down the search to a general topic.
inurl:blog intext:"saas marketing" -intitle:"saas marketing" intitle:"SEO"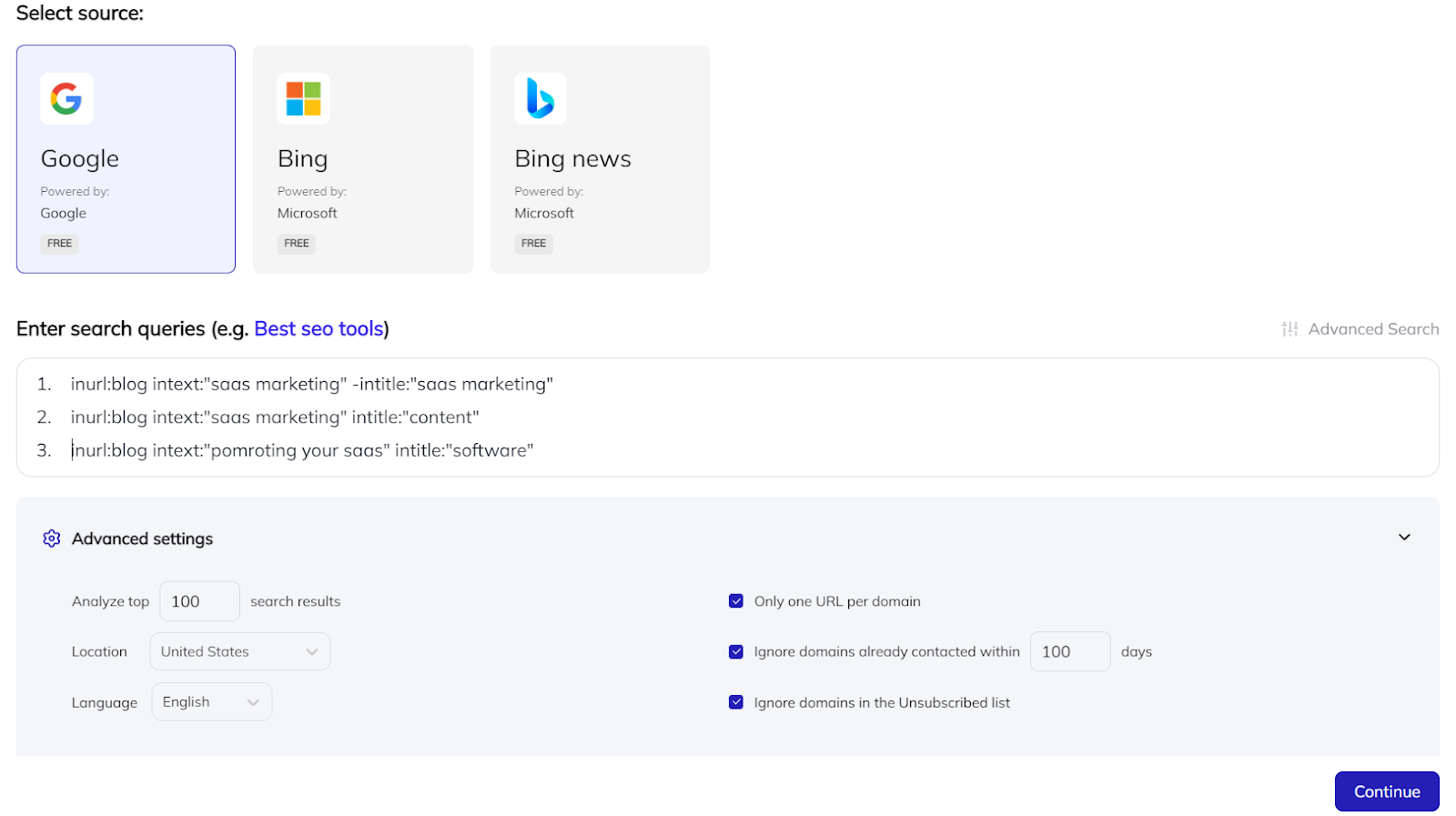 6. Set any advanced settings that you feel will be useful for your campaign.

7. Click "Continue".
8. Set the Domain Rating filter accordingly to your link building targets.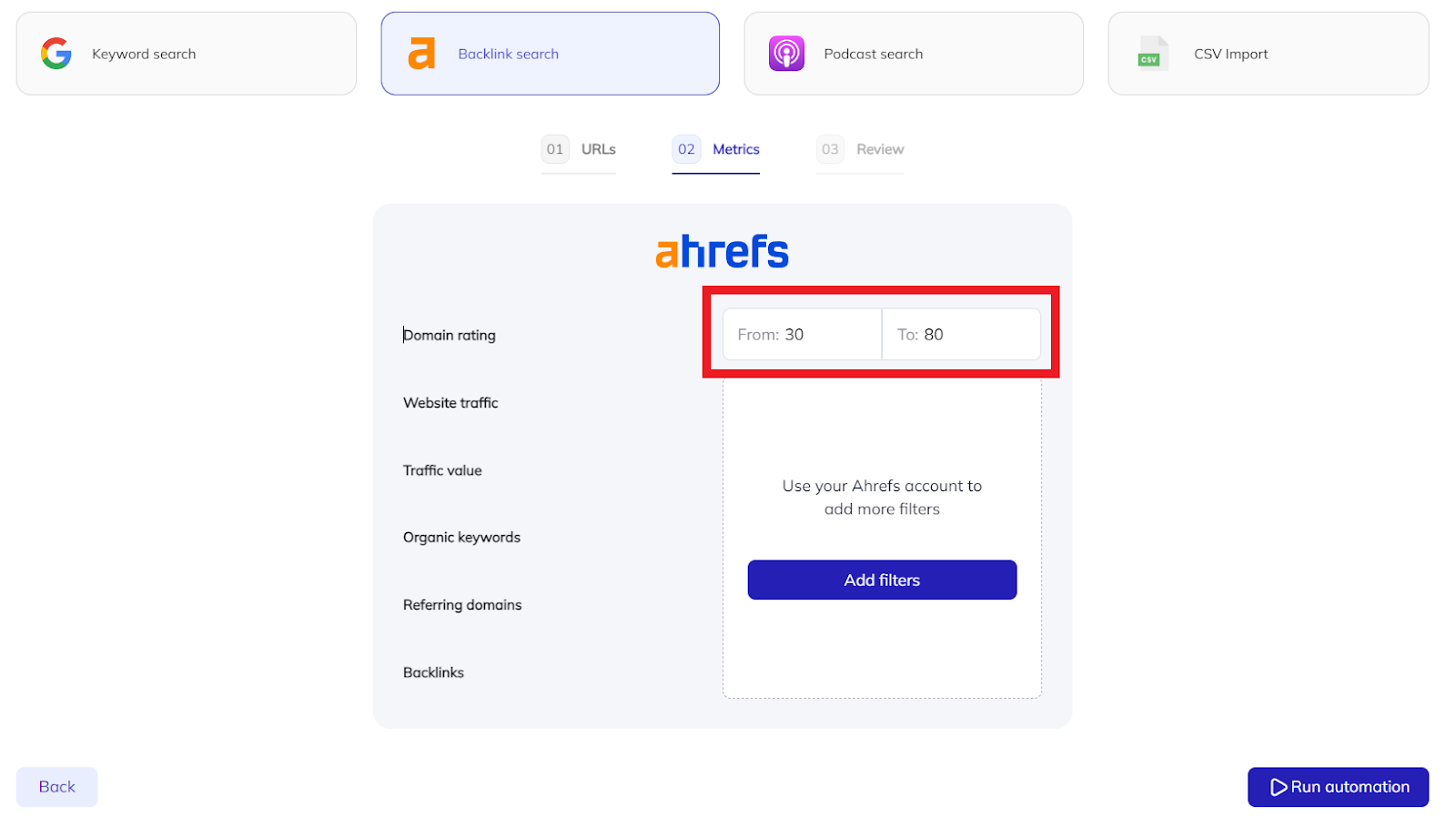 9. Click "Run Automation".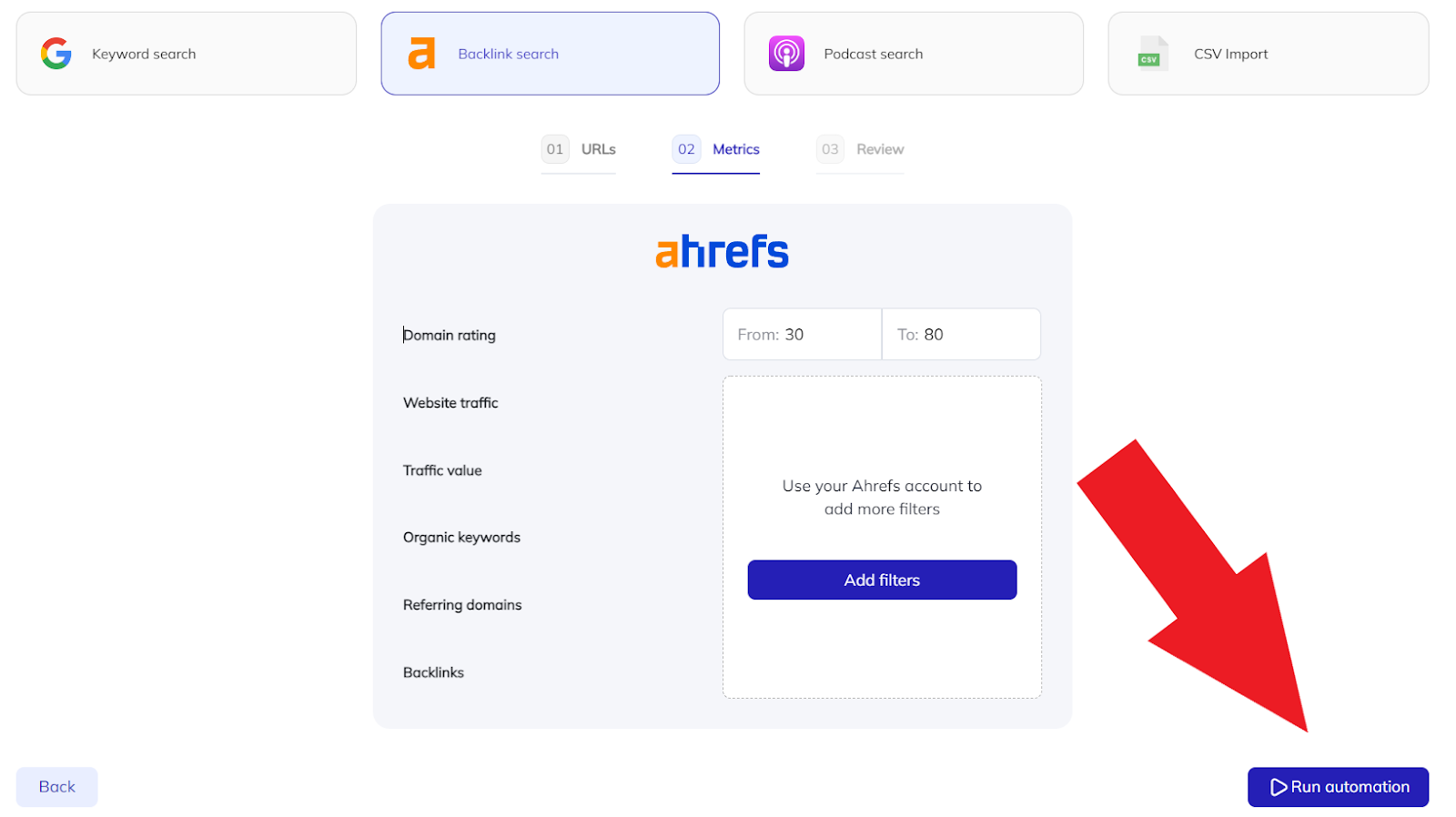 10. Once the automation is done running, click "View Results".
The results will automatically be added to your campaign.
From there on, all you have to do is create your email sequence, wait for Respona to find your prospects' contact information, and personalize your email pitches.
Bottom Line
To be most effective, link building requires at least one person doing it full-time within your company.
By steadily acquiring high-quality backlinks to your domain, you will start seeing the results of your work within months, and even be able to outrank your competitors for those higher positions.
In fact, a strong backlink profile might just be the deciding factor between you and them, if your content is of equally high quality.