What Is an Anchor Text?
Anchor text is the visible, clickable text in a hyperlink. It is the text that is displayed when a user hovers over a link. When a user clicks on the anchor text, they are taken to the link's destination.

Why Are Link Anchor Texts Important for SEO?
Links are one of the most important ranking factors in search engine optimization.
Link anchor texts tell search engines what a page is about, and they are used to determine the relevancy of a page for a given query.
Google uses link anchor texts to gauge how other websites are talking about yours – and what your pages might be about.
Optimized anchor text is relevant to the content of both your page and the page that's linking from you.
If a page has many backlinks with a certain keyword in the anchor text, it may start ranking higher for that keyword, even if this keyword isn't mentioned in the page's content.
This applies both to external and internal links.
You should avoid linking to other people's pages from anchor texts that match your own focus keywords, as it might damage your own rankings for that keyword.
Link anchor texts are also important for users, as they provide a way to navigate websites and find the information they are looking for.
The Different Types of Anchor Text
There exists a variety of anchor text types. They include:
Exact match – an anchor text that includes your page's focus keyword. (Example: White Hat Link Building)
Partial match – an anchor text that includes one of the variations of your focus keyword. (Example: White Hat Backlinks)
Related keywords – an anchor text that includes a similar keyword/keyphrase to your focus keyword but doesn't match it exactly or partially (Guest Post Outreach).
Branded anchor text – a link that uses your brand name as the Anchor text. (Example: Respona)
Page title anchor text – a link that uses your page's entire title as an anchor text. (Example: 3 Tactics for (Affordable) White Hat Link Building In 2022)
Site name – A link that includes your website's name without the "https://" and "www". (Example: respona.com)
Generic link – unrelated terms like "click here" or "read this" that provide no context about the page that's being linked. This type of anchor text should be avoided.
Exact match keywords are the most desirable during link building, but a healthy link profile includes a variety of anchor text types.
The only anchor text that you should avoid using is the generic link as it provides no context about the page that you'll find if you click on it.
There are many situations in which webmasters use surrounding text to describe the target page of a generic anchor text.
For example:
"To learn more about link building, read this blog".
This might seem natural and perfectly logical to a reader, but they don't contribute to your rankings like exact match anchor texts do.
Anchor Text Example
Here is an example of a good, contextual anchor text. From the content standpoint, it would make sense for us to link to a more extensive guide on link building.
See what we did there?
How to Improve Your Anchor Text Profile?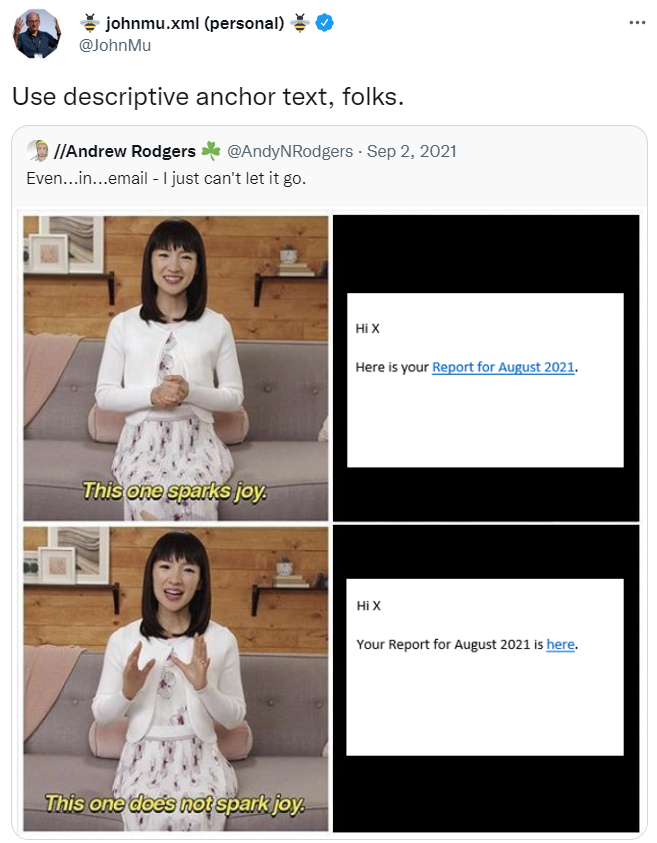 The best way to use anchor text is to mix up your anchor text types. If all of your anchor text is the same type, it will look unnatural to the search engines. A good mix of anchor text types is:
35%-45% branded, natural, and URL anchor;
50%-60% partial match;
Up to 10% exact match.
If you're just starting out with link building, it's best to focus on getting high-quality links from a variety of sources.
In this section, we'll take a look at some steps that you can take to improve the quality of your link anchor text profile.
Don't Force Links Into Content
If you find yourself struggling to put a link into a section of text, perhaps it's best to find another sentence to implement it.
Links shouldn't interrupt your flow of content, or interfere with its readability.
Here's an example of clearly stuffed and forced links that make the content look spammy: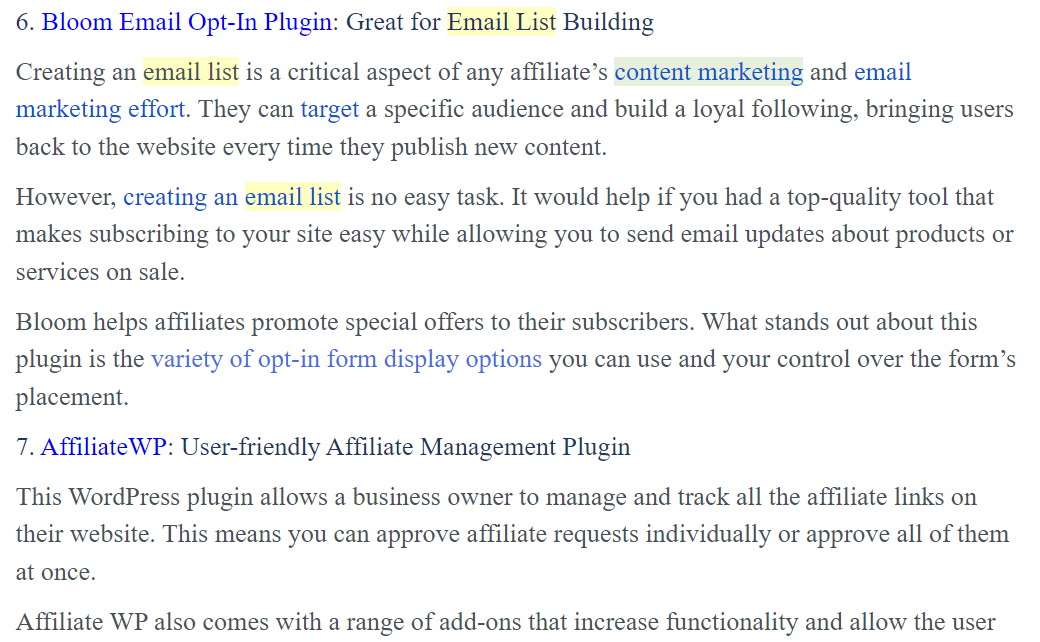 Besides just looking bad, having so many links on a page leaks out a lot of your PageRank, and dilutes the value of every individual link.
This means that if someone links to you from such a page, you would get much less "link juice" from that than if the link was on a page that's not so dense on backlinks.
Relevancy Matters. A Lot.
Google knows if a link is not relevant. For example, if an article about how to pay taxes links to a compilation of the best ice cream flavors to try, that link is considered irrelevant.
And while you won't necessarily receive a Google penalty for having a lot of links coming from irrelevant pages, they won't help you with rankings either.
If Google deems a link "spammy", it won't pass on any ranking signals to your page, which is why building these links is not worth the effort.
When it comes to linking out, according to Google, there's no such thing as "too many links", meaning you won't get penalized.
However, as we already mentioned, every outgoing links passes some of your own PageRank to someone else, which can reduce the value of your page.
With that being said, excessively linking out to shady or irrelevant pages might cause your resource to be subject of a manual review.
Don't Click Bait!
The whole purpose of an anchor text is to provide information both for the reader and search engines about the page they're about to see once they follow your link.
So, obviously, it's a bad idea to provide a misleading (either on accident or on purpose) anchor text.
If an anchor text doesn't accurately reflect the type of page on the other end of a link, it's worth it to change it.
Highlight Your Links
While not interrupting the flow of your content, links' anchor texts should also be perfectly visible.
Most websites differentiate link anchor text from regular text by highlighting them with a different color (usually blue, which turns purple after you visit the link), and underlining them.

Crosslink Your Pages
Internal links are a huge part of SEO, as they help users navigate between your pages and help search engines understand the structure of your website better.
Internal links also pass on authority within your site and can be a good way to boost visibility to newly-published pages by linking from older, more authoritative content.
All of the rules about solid anchor texts apply both to external and internal links.
You should aim to have at least five internal links to every one of your pages.
The exception to this rule are pages that can always be visited through your homepage button, or the navigational bars in your site's header and footer.
Bottom Line
So, to sum it up, your link anchor texts should be straight to the point, and accurately give the user (as well as search engines) an idea of the content they can expect to see after following that link.
During your link building process, the most valuable anchor texts you should be striving for are exact and partial keyword matches without stuffing keywords or cramming links into text sections where they don't fit in or interrupt the content flow.