Do you have a big announcement to make and you're wondering when to send your press release?
With 57% of top-tier publishers receiving between 50 and 500 pitches per week, it's all too easy for your email pitch to get lost in the noise.
Since you only have one chance – or maybe a second one – to get attention and have your email read, you have to prepare yourself for success.
In this short guide, we use logic and common sense to explain what is the best time and day to send your press releases.
Let's get into it.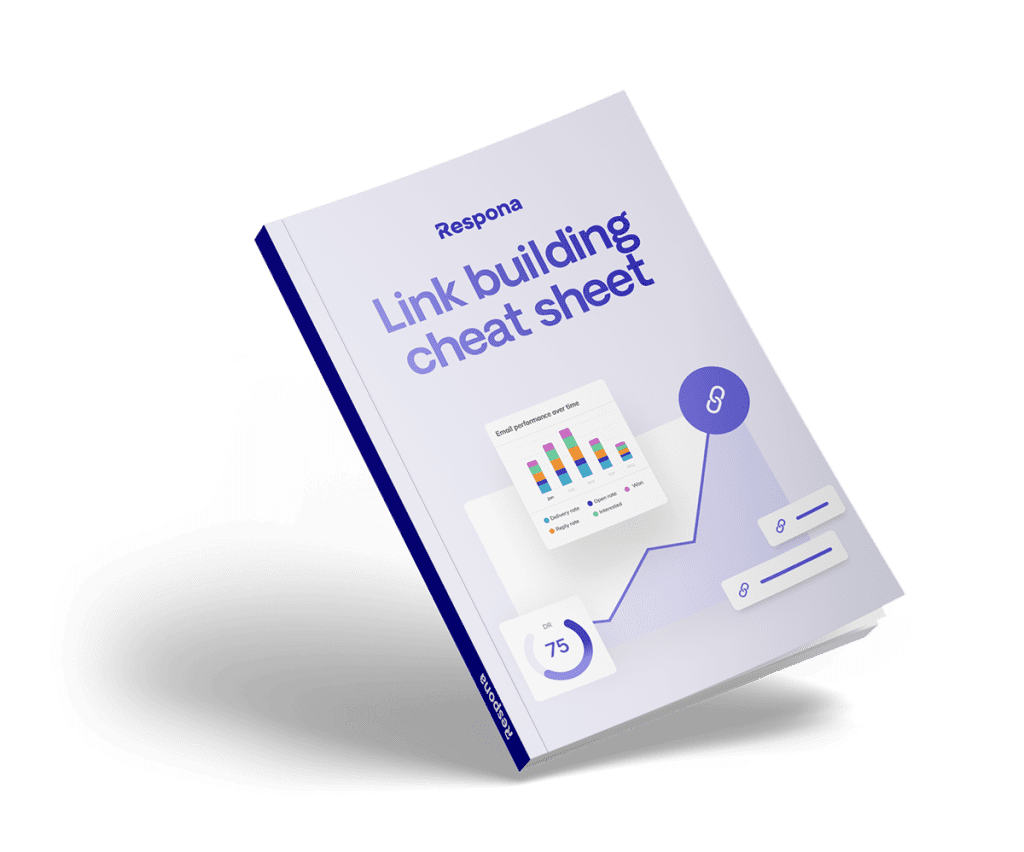 Link building cheat sheet
Gain access to the 3-step strategy we use to earn over 86 high-quality backlinks each month.
What is the Best Day to Send a Press Release?
The best day to send a press release is between Monday and Wednesday.
That's according to our analysis of data from a range of sources that have looked at open rates and reply rates of press releases and outreach emails in general.
Companies that do a lot of cold outreach and send a lot of press releases don't agree exactly on the best day of the week, but these three days – Monday, Tuesday, and Wednesday – seem to be the consensus.
Let's break down those studies for you:
Fractl say that Monday to Wednesday are the best three days to send a press release
A study by Siege Media of "room-temperature" emails – that aren't completely out of the blue – showed that Monday was the best day of the week to send emails like a press release, with an email open rate of over 20%
The same research found that open rates are definitely lower on Wednesdays, but the reply rate to a public relations email was only 0.3% lower than Mondays
MarketingProfs reported on a Business Wire study that said journalists prefer having a story pitched to them on a Tuesday
A slightly older study by Ragan found that press releases sent on a Tuesday or Wednesday were more likely to be shared on social media
GetResponse looked at email marketing campaigns, which are slightly different in their audience and purpose, but they did find that emails sent on a Tuesday got the best click-through-rate
At Backlinko, they found that outreach emails sent on a Wednesday were most likely to get a response, but there was only a difference of 0.14% between the worst and best days, as you can see below…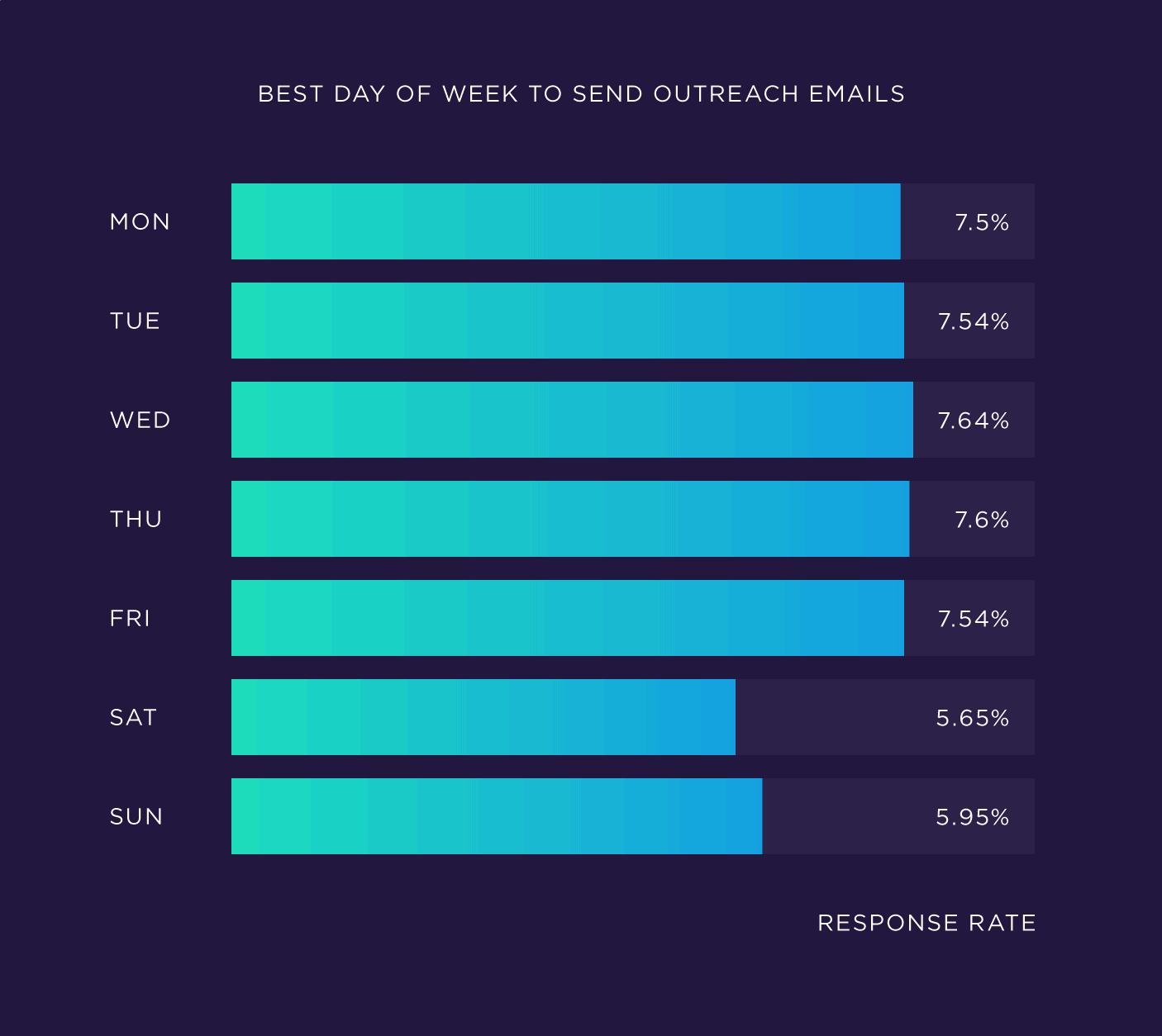 If we give each day a point for each time it's recommended by one of these studies, Tuesday and Wednesday tie with four points each, and Monday has three points, so it's a close call.
Going back to the Fractl study, they found that a little under half of the journalists they surveyed have a two-day turnaround on their content, so it makes sense that the worst days to send a press release are Thursday or Friday when they'll already have their stories lined up for the week.
Most people have a lot to catch up with on Mondays, especially in terms of email, so Tuesday and Wednesday both make a lot of sense in terms of the day to get eyes on the press release you're sending.
That's the best day of the week to send a press release, but what time should you hit send?
What is the Best Time to Send a Press Release?
Morning is the perfect time to send a press release, with a time that's not on the hour or half-hour, so 9:46 am rather than 10:00 am, for example.
Most marketers use outreach software to automate sending press releases, and most tools can only schedule emails on the hour or half past the hour.
This means that media outlets and journalists will usually see an influx of emails to their inboxes at these times so your press release could get lost in the noise.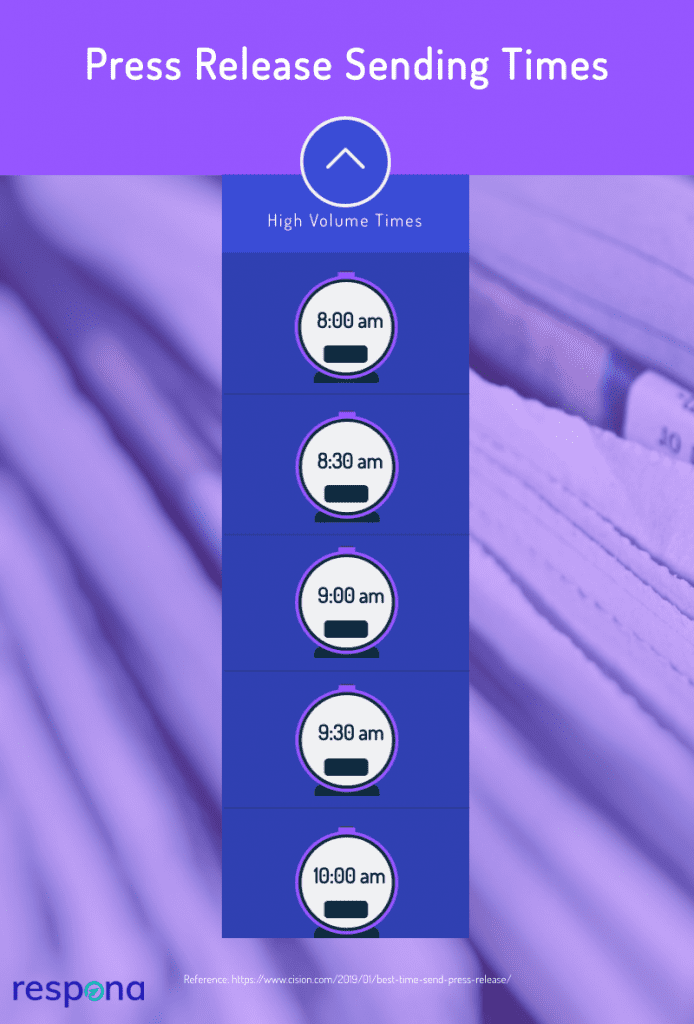 At Fractl, they reckon morning up until noon is a good time to fire off your press release, whilst Siege Media is more specific with emails sent between 8 and 9:00 am getting the best open and click rates.
Meanwhile, Ragan puts a time of 7 to 9:00 am on the best time to send your release.
Since journalists know that most press releases are sent early, they tend to plan their workday around it – morning coffee followed by going through the day's press releases.
What's super important to remember with all of this is the local timezone.
Whether you're coordinating a global sales launch or just want to get your PR efforts read across the USA, you'll need to be mindful of the time zone in which the journalist will receive your release.
You want to drop into the inbox of the journalists and editors you're targeting in the early morning, but not so early that your press release is drowned out by all the others that have landed before it.
Knowing the time to not send your press release is equally as vital to getting your story picked up.
Don't send your press release out of office hours, unless it's major news that can't wait until morning.
If you do have breaking news, be sure to follow up with social media or telephone contact so it definitely gets picked up.
Another exception to the early daytime press release delivery rule is when you have financial releases to send out.
This type of news – about securities, indices, and currency – generally goes out at the end of the day, and journalists in this field are well aware of that.
Do your very best to avoid sending a press release on Friday afternoon, no one wants to deal with emails at the end of the workweek and it'll likely get shunted to Monday morning, if it gets media coverage at all.
Time to look at some more specifics about when to send a press release.
Is Monday a Good Day to Send a Press Release?
Monday isn't the best day of the week to send a press release, but it's also not the worst.
Your press release email stands a reasonable chance of being opened on a Monday, 7.5% according to Backlinko, but there are better days.
Is Monday the busiest day of the week for you?
It is for us, and it generally is for writers, journalists, and editors as well, so don't clog their already-bulging inbox if you don't have to.
However, it is worth noting that Fractl's survey of media professionals found that a little less than 25% of respondents had a six-day lead time to get a story out.
This means that sending your press release on a Monday could work if you're sending the news a week before the event, sale, or news is due to break.
If you've got a good press release with a strong subject line and content that's engaging, sending your press release on a Monday isn't the worst idea, but you do have better options.
Let's look at the other end of the week.
Is Friday a Good Day to Send a Press Release?
Friday is probably the worst weekday for sending press releases.
Making your media pitch on a Friday is likely to see it bounced to Monday anyway or ignored entirely.
PR pros know to not send a press release on a Friday – unless absolutely vital – so it's a useful lesson to learn now.
Why is Friday so notoriously bad for sending news stories and press releases to the media?
Unless it's topical content, the journalist you're targeting probably already has their Friday work time filled.
No one wants to be running around trying to report on a story on a Friday, so media people will already have their content or other working tasks lined up for the end of the week.
Apart from the weekend, Friday is the worst day of the week for opens, clicks, and replies to emails, says the data that Siege Media presents in the same study we looked at earlier.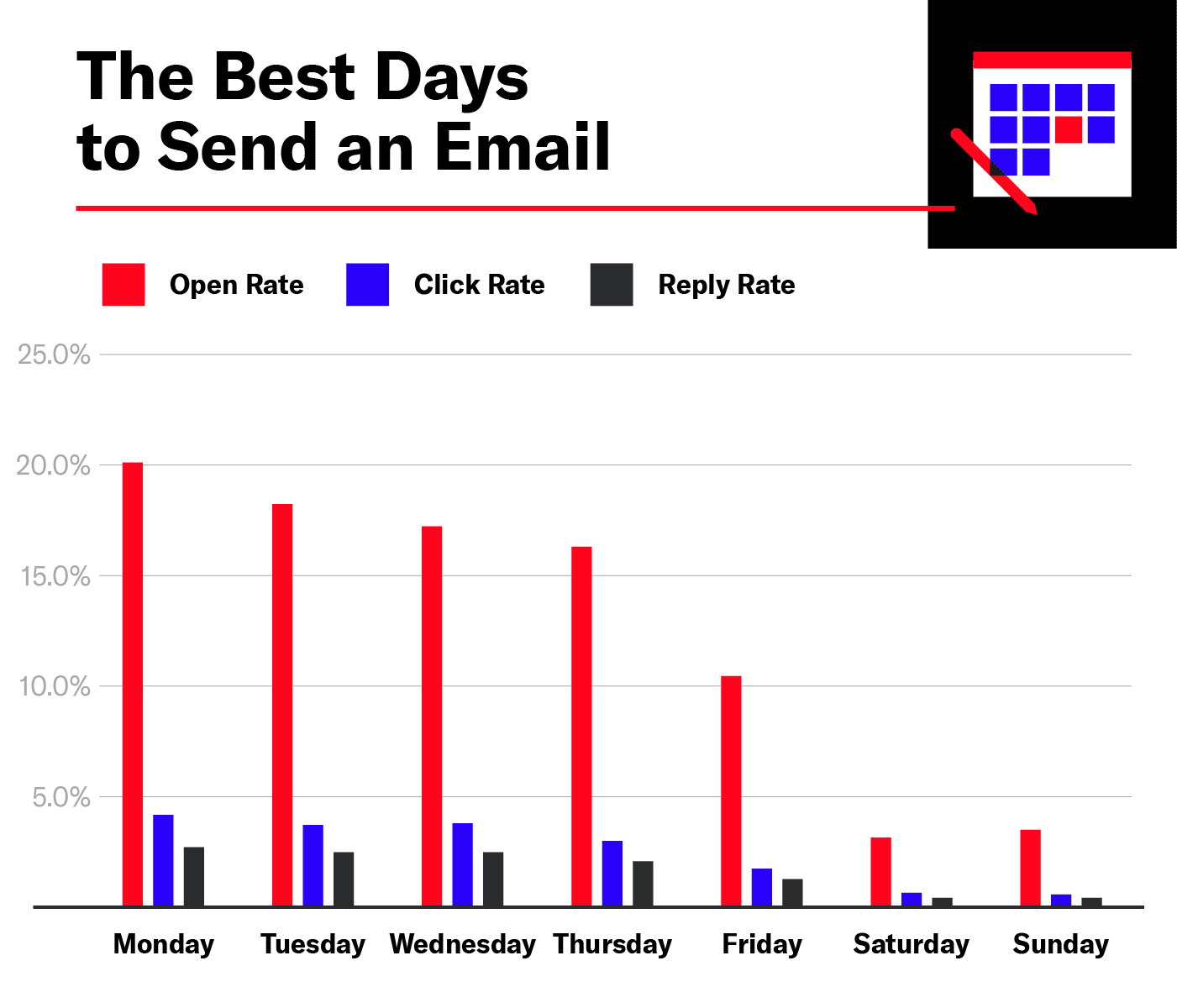 As much as you might feel tempted to buck the trend and send a press release at the least popular time, it's likely a losing hand.
If you can spare the resources to do an A/B test, you can see for yourself how Friday compares to Monday for a press release and the data could prove useful.
The only days worse than Friday are weekends when it comes to having your target audience read your press release emails – Backlinko's research into general outreach emails saw open rates drop by 1.76% over the weekend compared to the other five days.
Now we know the popular days and the best time of the day to send a press release, we should now look at some other considerations around press release timing.
How Far in Advance Should You Send a Press Release?
You should send your press release two to three weeks before an event like a conference or store opening, whilst a pitch to a glossy magazine may need to go out months ahead of time.
You need to balance two considerations here:
You need to give journalists and writers the chance to get you into their schedule
You want to preserve their fear of missing out, or FOMO, and not give them time to get complacent
JournoLink, a press release distribution service, breaks your lead times down into three broad categories:
Glossy magazines with seasonal issues you want to target need three to six months notice with your press release
To capture the attention of the media for planned events and product launches, send your press release two to three weeks in advance
For trending topics or to comment on current affairs that are in your wheelhouse, you should send your press release without delay
Getting your distribution timing right can be the difference between getting your event publicized a week before or the day before, or making the Valentine's edition of a magazine at all.
As we covered a little earlier, when your press release is urgent – maybe you're running a flash sale or you've had to cancel an event – a follow-up with the journalists you're trying to contact will help to get the urgent coverage you require.
Now you know about the best lead time for your product and news releases, we're moving on.
How Often Should You Send Press Releases?
You should send out press releases whenever you have something newsworthy to say, without going over the top.
You've been consuming media your whole life so will know what type of things news outlets, radio stations, and magazines are interested to cover.
Whilst everything your small business or large brand does is very important to you, does your target audience want to hear about it?
If you start to bombard journalists with irrelevant or spammy news stories, you risk getting added to their spam list!
Likewise, when you choose to weigh in on trending topics, keep it relevant and try not to just shout into the void.
If your organization has in-depth knowledge about a new piece of legislation or is directly affected by a news event, a release is called for, but don't comment on every little thing out there.
It can be counterproductive to have a target number for your press releases, too.
Deciding to do a release per month might feel like a logical step, but you can end up creating a story for the sake of it and waste your resources.
What really matters is quality over quantity.
You want to build a positive reputation among the journalists you engage with so that when your company name lands in their inbox, it stands out and draws their attention.
Next up, we're looking at what goes into a great press release so your knowledge of the best days and times is put to good use.
What to Pay Attention to When Sending a Press Release?
A good press release looks the same for PR professionals and those just starting out on the journey to generate interest in their business or brand.
There is a pretty standard formula for how to put together a press release that will make your email easy for your reader to understand and be keen to work with it.
Whether you choose to work with press release templates or create your own, there are some considerations besides sending it at the right time and on the right day.
Here are our four top tips to get your PR distribution on point.
Tip #1: Pitch the right journalist
You need to get your press release in front of the right person in a media company to have any chance of it being picked up.
In fact, 80% of press releases that don't get picked up are due to the press release being irrelevant to the writer or editor who receives it, found the Fractl survey.
This means that it's vital that you do your research and get the right email address for the publication you want to make contact with.
If press releases are going to be a part of your content marketing and outreach strategy, you should consider creating a media list – a list of contacts that are relevant to your industry.
It's worth noting that the chance of your press release being read will vary by the industry you're in.
Journalists and editors in the automotive and finance niches are the ones least likely to open your press release, whilst lifestyle, travel, and food writers are more receptive to reading what you send out.
You can't suddenly change the niche your business is in, but being aware of those success rates will help you understand how many people you'll need to pitch to in order to get noticed.
Moving on to the next important factor you need to consider when sending a press release.
Tip #2: Structure your press release correctly
Making your press release accessible will definitely make it more likely to generate earned media coverage for your brand.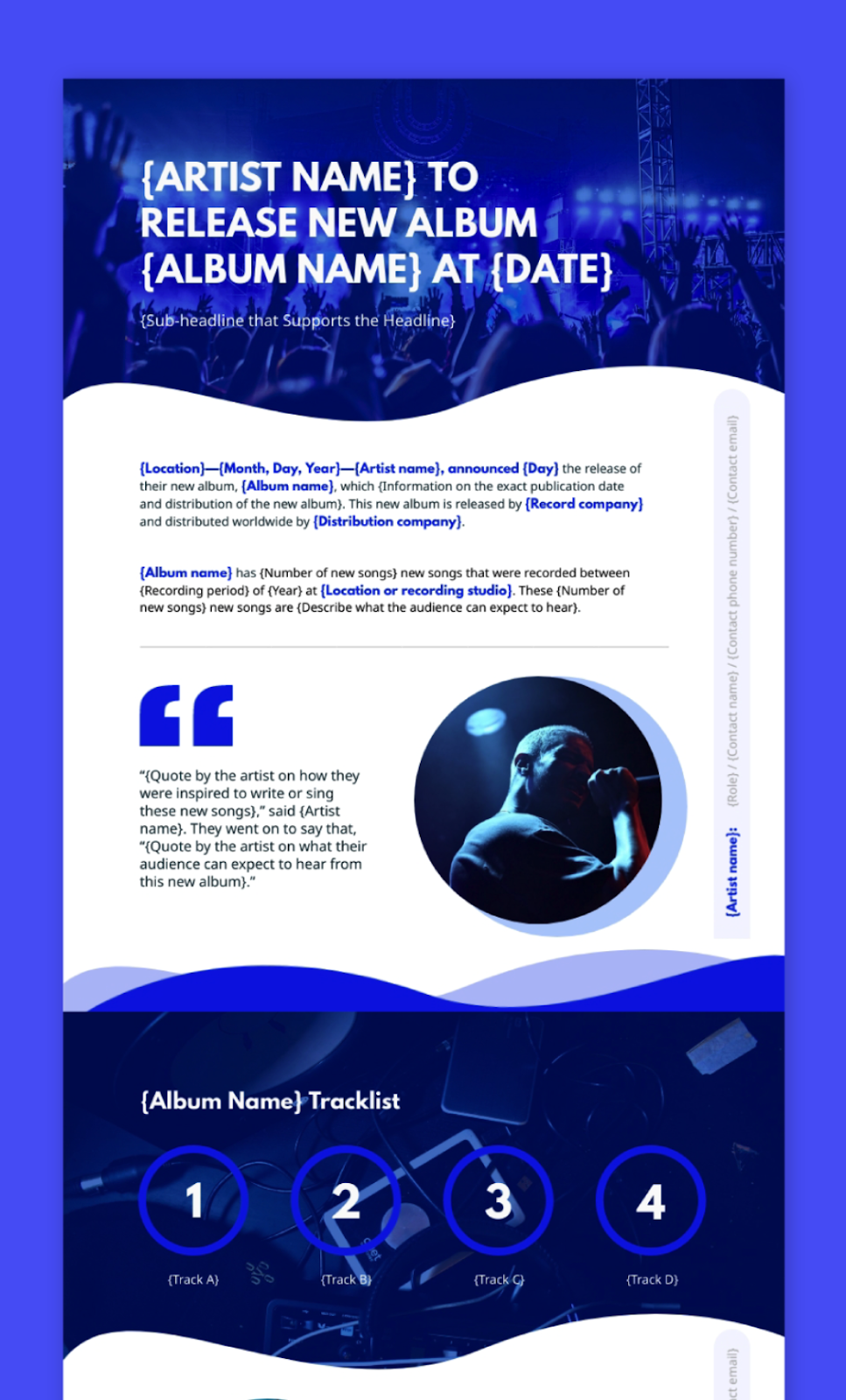 Journalists and writers are busy people; you want to make sure you give them everything they're looking for in a way that's familiar to them.
There are a few key components to the structure of a press release, such as:
A killer subject line that stands out from all the noise
A well-designed company logo that can be used in any media coverage
All the contact information for you and anyone else in the company who can field queries
The dateline, including if there's an embargo on the news
A headline – and sometimes a subheadline – that lays out the story to come
The text that clearly and simply explains what your news is, written in a way that matches the style of your niche
Your boilerplate, which is an explainer about what your company is and some key achievements
It's also worth adding details such as your social media handles to the close of your press release email, which can lend legitimacy and show that you're not a faceless bot sending an email.
In Fractl's study, they also found that journalists and editors really appreciate a multimedia approach to press releases, such as including explainer videos.
They also note that infographics are the most in-demand type of multimedia content from publications so adding them into your release will make it stand out.
Give your recipients what they're looking for and you really boost your chances of being noticed.
Another tip is coming right up.
Tip #3: Pay attention to distribution
Getting your press release distribution right is absolutely vital to the success of your PR efforts.
You can have amazing content but if you send it out incorrectly, then it's all been for naught.
We've already talked about some of the key things to consider when distributing your press release, but we're going to pull them all together so you can check them off:
Choose the right time of the day to send your email
Pick the appropriate day of the week to get your email read
Find the right people to send your press release to
Personalize each email that you send with the recipient's name
You can also choose to use a press release distribution agency instead, such as PR Newswire or Businesswire, but these services can be expensive if you're a small business or just starting out on your PR journey.
Doing your own outreach by using a tool like Respona to find the right contacts for you and customize press release templates is a great way to manage your own PR efforts and build a strong network of people you can contact when it's time to get your news out there.
Time for our last press release tip for you.
Tip #4: Don't forget to follow-up
After sending your initial press release, a follow-up email is super important to make sure you get noticed.
Backlinko's study that we looked at earlier tells us that having a follow-up sequence of emails can double your response rate.
Even sending one follow-up email can lift your response rate from 8.5% to 14.1% – it's definitely worth the effort.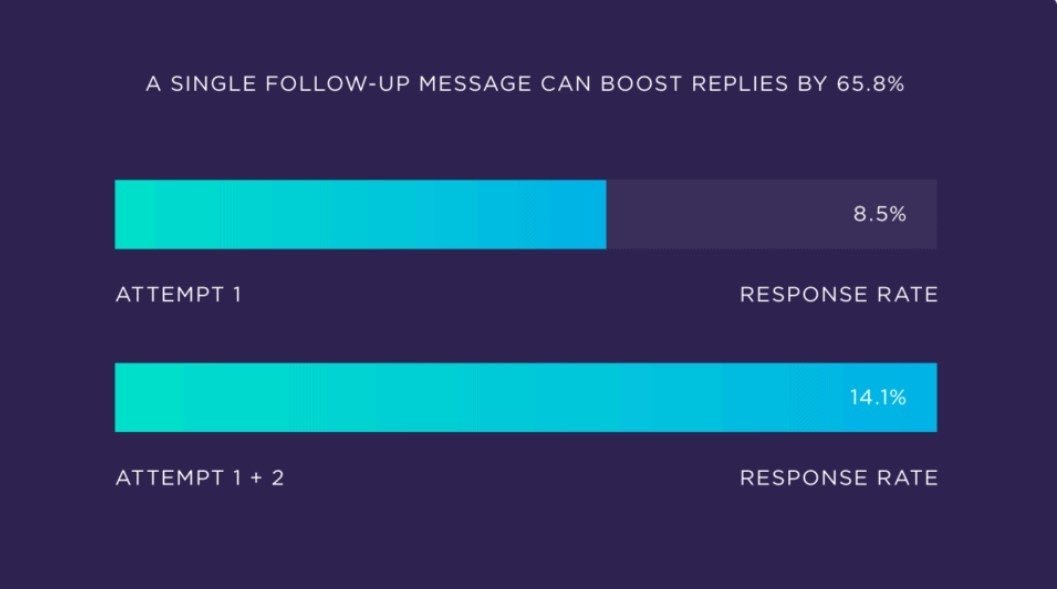 When you send your press release using Respona, you're able to automatically schedule your follow-up email sequence.
Of course, you don't want your follow-up to be annoying and get marked as spam, so time it well.
Sending a follow-up every day for a week will annoy your recipients and can land in the dreaded spam folder.
Here at Respona, we recommend you follow up your press release around five days after the original was sent.
Remember how we looked at the lead times for your press release earlier?
By sending your press release ahead of time, you're giving yourself time to send the follow-up emails that we know are so important to your PR efforts.
Time to bring this to a close.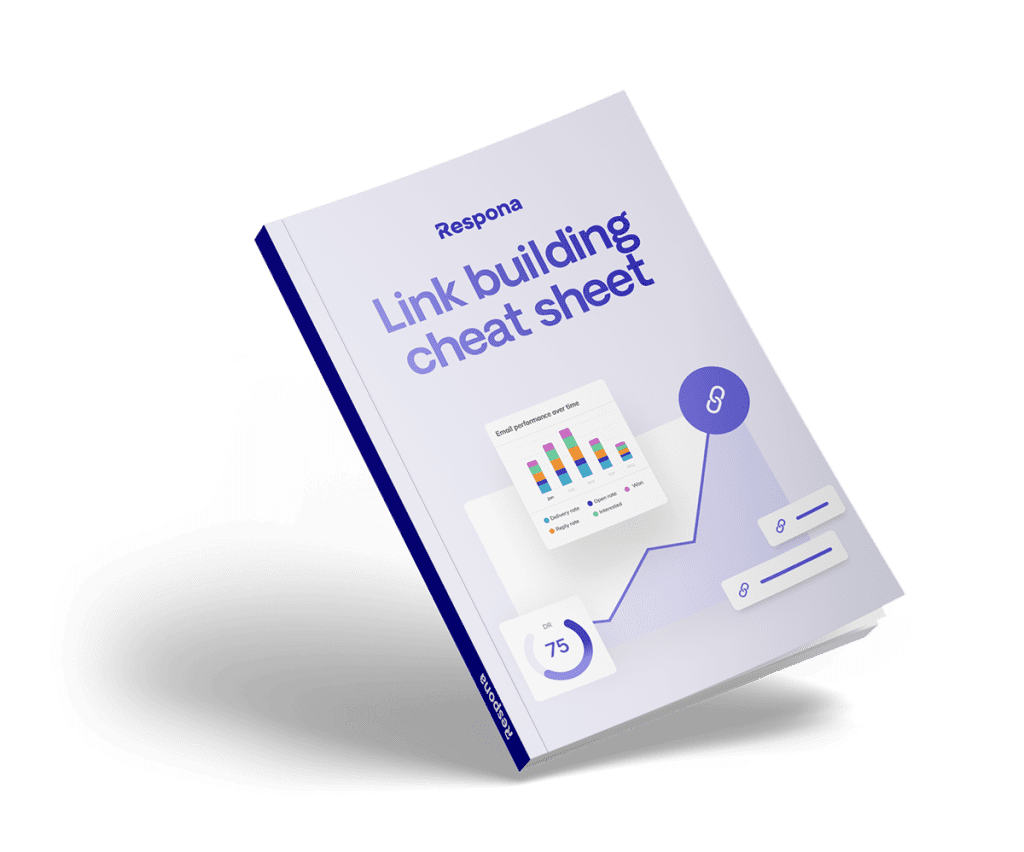 Link building cheat sheet
Gain access to the 3-step strategy we use to earn over 86 high-quality backlinks each month.
Now Over to You
We're done!
That's everything you need to know about the best practices when it comes to sending a press release at the right time and on the right day.
Once you start working on your press and media strategy, you'll begin to get a feel for the optimal timing for sending out your releases.
It'll take some learning to really get your strategy generating media coverage, brand awareness, and backlinks, but PR definitely has value for your business.
Want to get the right tools to do your own press releases?
Request a demo with us at Respona and we'll show you all the ways we can help you find the right people to send your press release to and manage your outreach strategy.