The world of public relations encapsulates a truly wide range of different tactics and strategies that are usually heavily focused on the different goals a professional or a company has.
What's more, the rapid changes in the tech industry are bringing more and more alternatives in terms of PR tactics, with 59% of PR professionals predicting that technology will bring drastic changes in the PR industry in the coming years.
We know PR well enough to understand that having a few efficient PR tactics on hand can be extremely beneficial for companies of any size.
For that reason, in this post we're taking you through eight tactics you can include in your PR campaign to make it a success.
Some of the strategies we're going to discuss are:
Pitching the right journalists
Being creative and getting out of your comfort zone
Getting featured on podcasts
Plus, many more.
Let's dive right into the first tactic.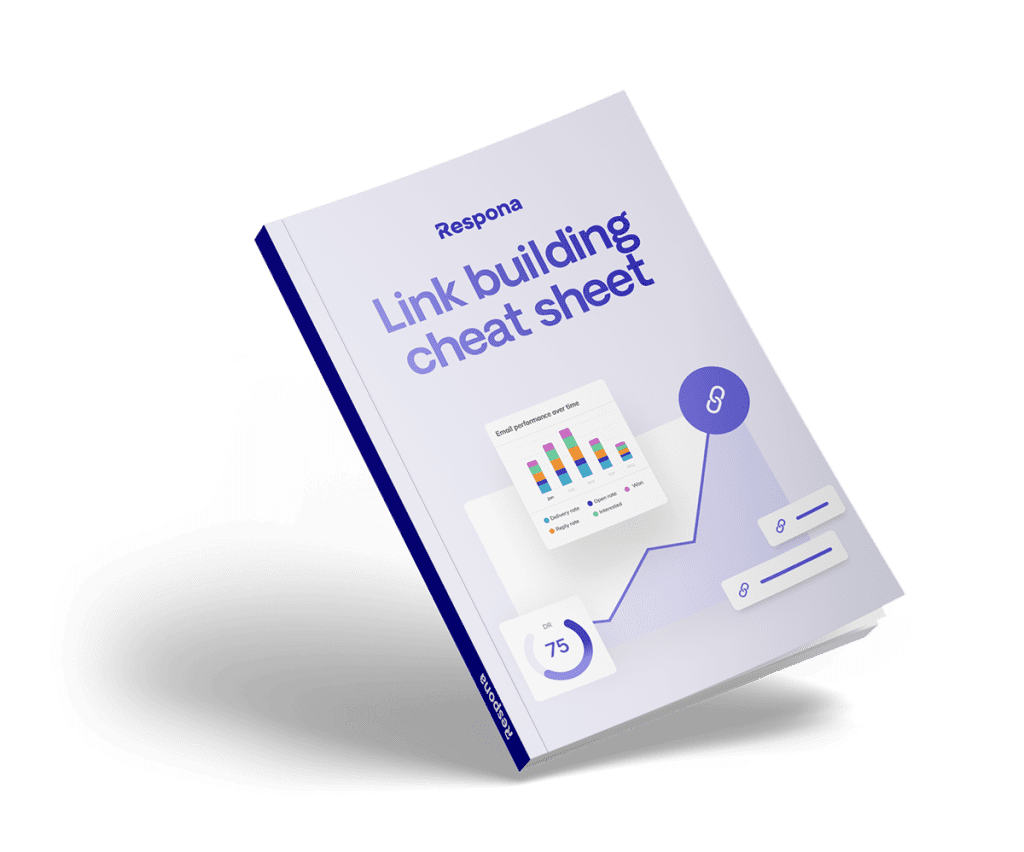 Link building cheat sheet
Gain access to the 3-step strategy we use to earn over 86 high-quality backlinks each month.
PR Tactic #1: Be Timely and Relevant
The first public relations tactic we want to bring your attention to is to be timely and relevant.
What we mean by that is to make sure that your PR efforts are aligned with the times in terms of the trends that prevail in a certain period.
The following example will help make this a bit more clear.
Example: Nesta Storage
Irish storage company, Nesta, is a great case study that you can take as an example of an efficient PR tactic performed in relation to a certain event.
Soon after the COVID-19 pandemic started, Nesta's SEO consultant, Gustavo Pelogia, was able to identify a trend in relation to the pandemic within the company.
He took this story and turned it into an engaging, timely, and relevant pitch which he shared with the local press, thus establishing media connections as well as generating buzz around the company.
Consequently, members of the local press picked up Nesta's story and published it.
Have a look at this post from Dublin Live: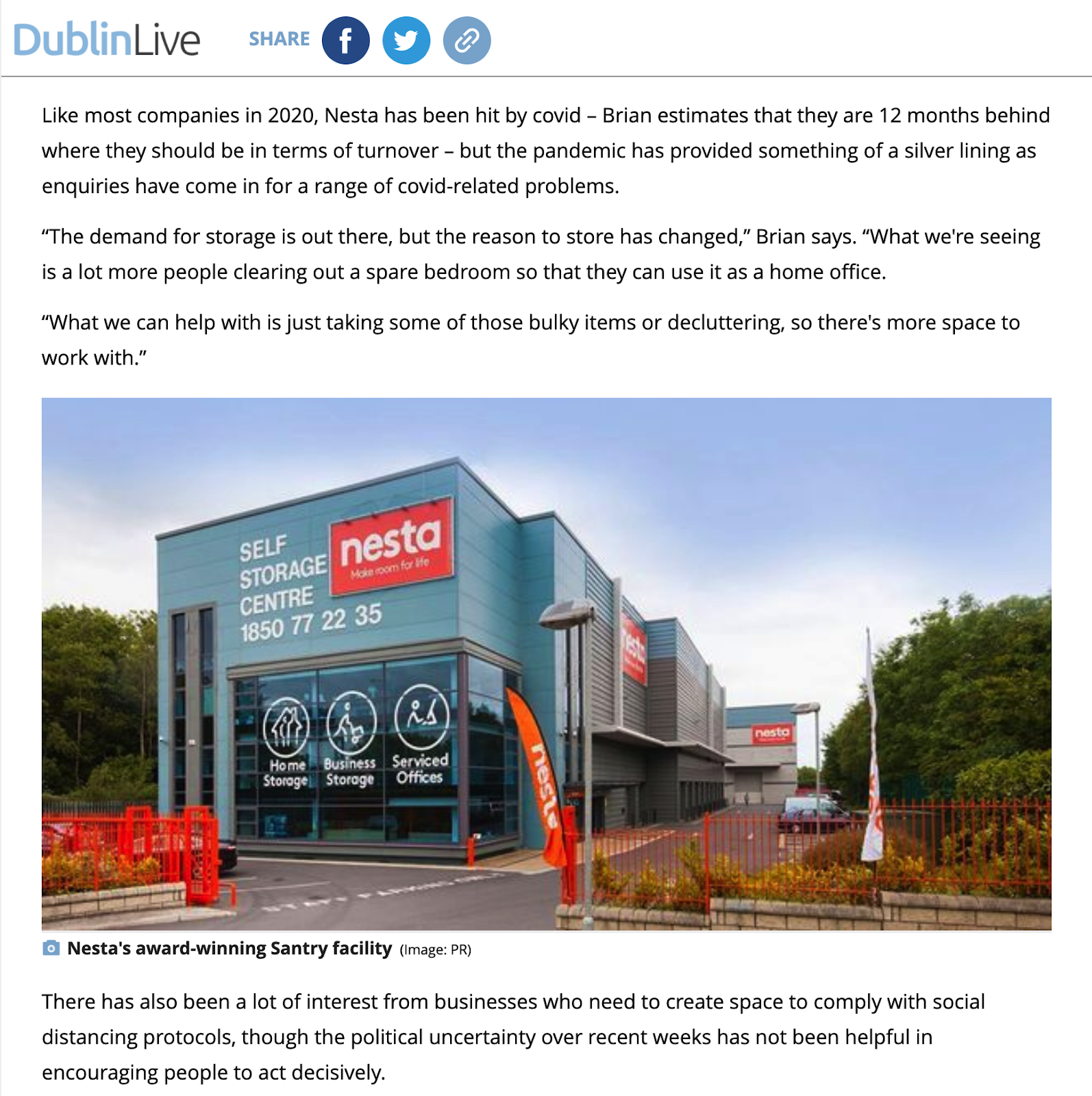 This is just a small example of how easy getting press coverage, AKA earned media, can be when you're pitching to media channels and news outlets at the right time.
We can therefore see just how efficient it can be for startups and small businesses to share news stories that are related to current trends or other current events with members of the local press, whether they're based in New York, London, Hong Kong, Dublin, or any other place on earth.
Author's Note: The outreach email Gustavo shared with members of the press is quite an interesting one that you could also customize, personalize, and use for your company's purposes.
Moving on to our second tactic.
PR Tactic #2: Pitch to the Right Journalist
Since finding and interacting with journalists seems to be one of the biggest challenges when it comes to a company's PR activities, we understand that pitching to the right journalists or bloggers might be challenging too, especially when you don't have a public relations agency to do it for you.
However, it's also a very rewarding public relations strategy that we couldn't miss covering in this post.
Let's use an example to see how this one works.
Example: Blindlee
The dating app Blindlee, which uses Respona to efficiently perform its PR activities, has achieved some very good results with its PR efforts.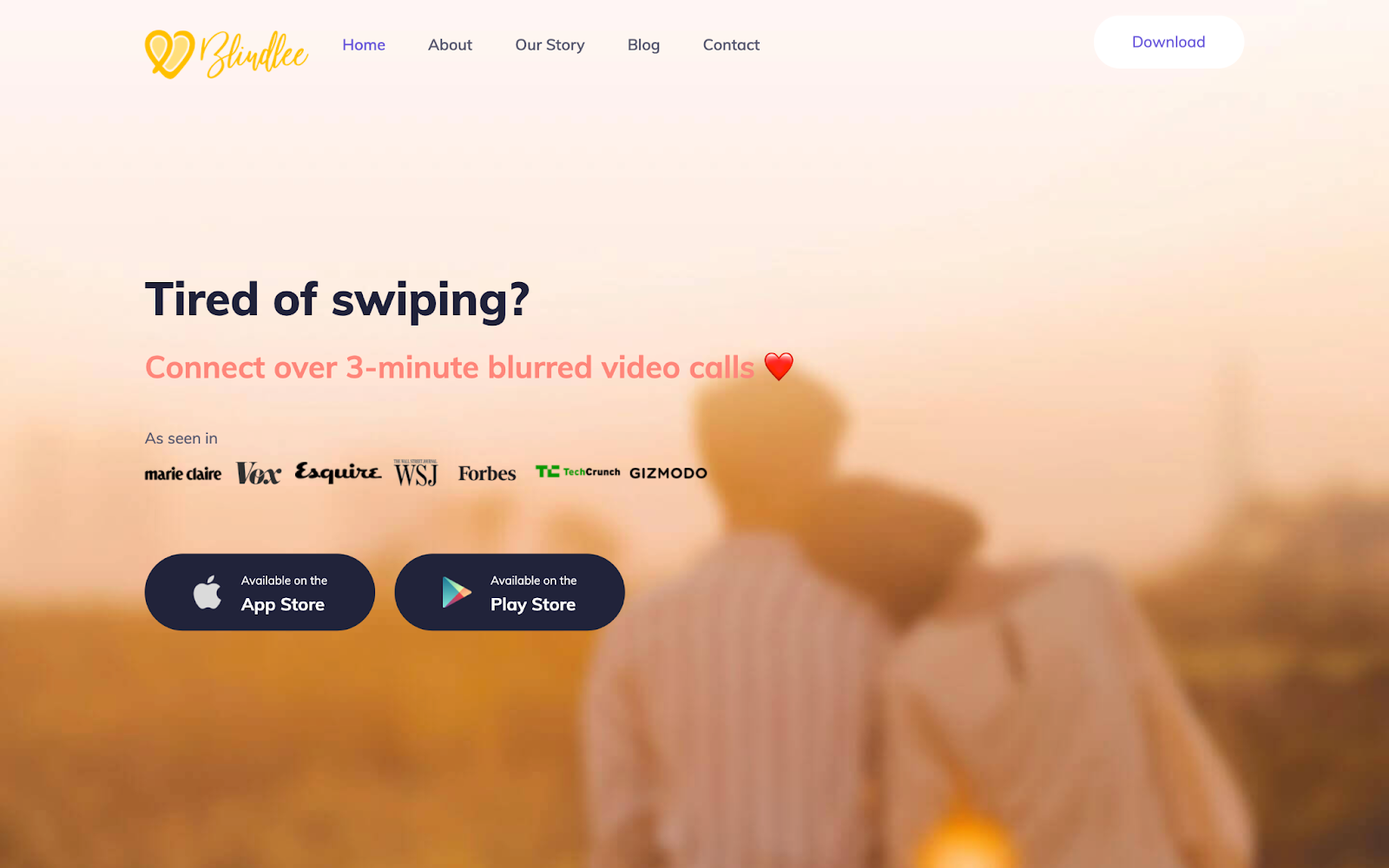 More specifically, the app has been featured in a wide range of tech and lifestyle publications online, some of which include, TechCrunch…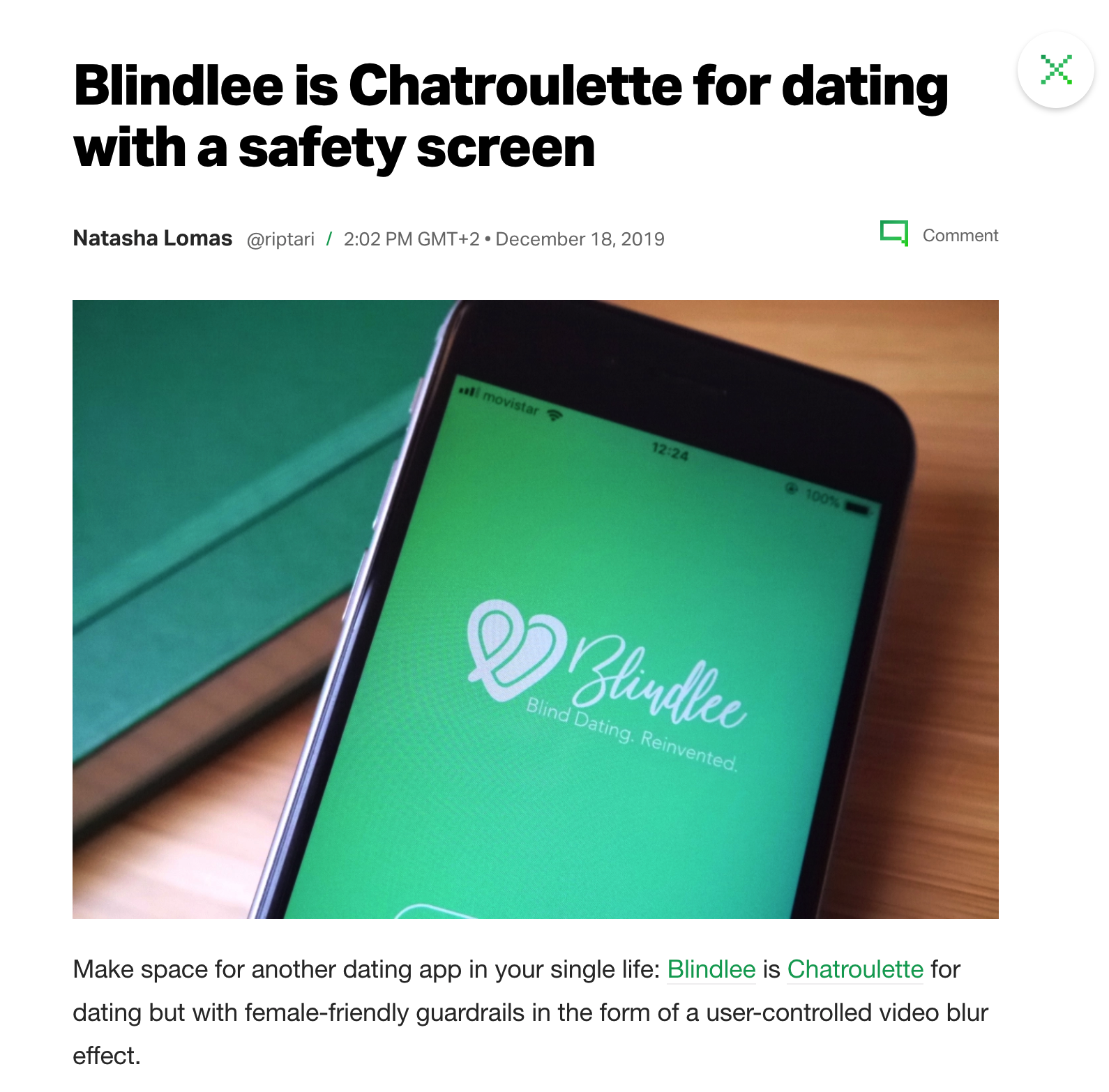 … Forbes…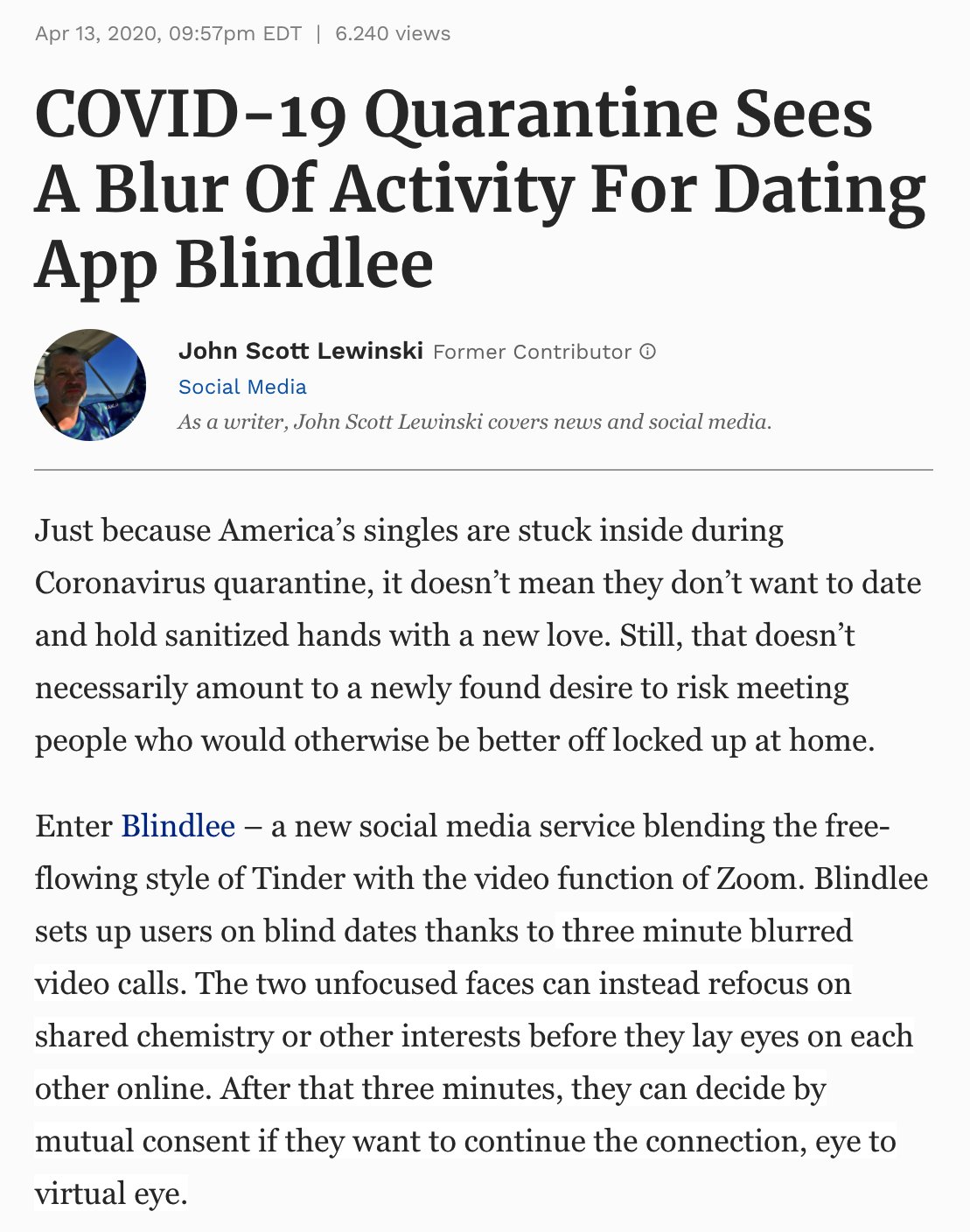 … Marie Claire…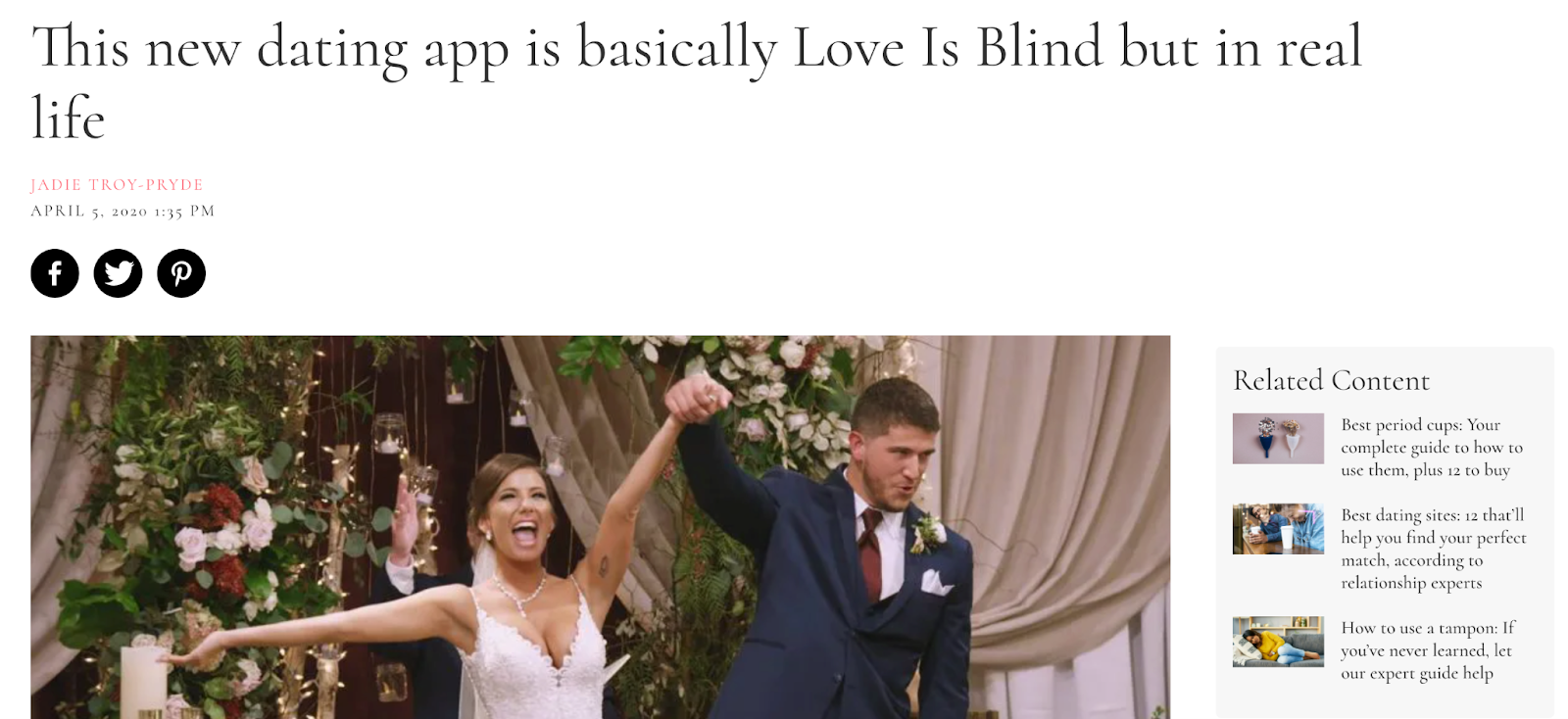 … and many others.
How about taking a deeper look into Blindlee's outreach strategy?
A dating app usually falls into various categories with some of the most prominent being tech and lifestyle.
Having said that, we can clearly see that Blindlee's outreach strategy targeted tech and lifestyle sites, like the ones mentioned above as well as others, such as Esquire, Gizmodo, and so on and so forth.
We can only assume that the app's success can be partly attributed to the fact that the company reached out to the right people.
How about having a closer look at one of the writers – Natasha Lomas – who covered Blindlee's story on behalf of TechCrunch?
Here you go: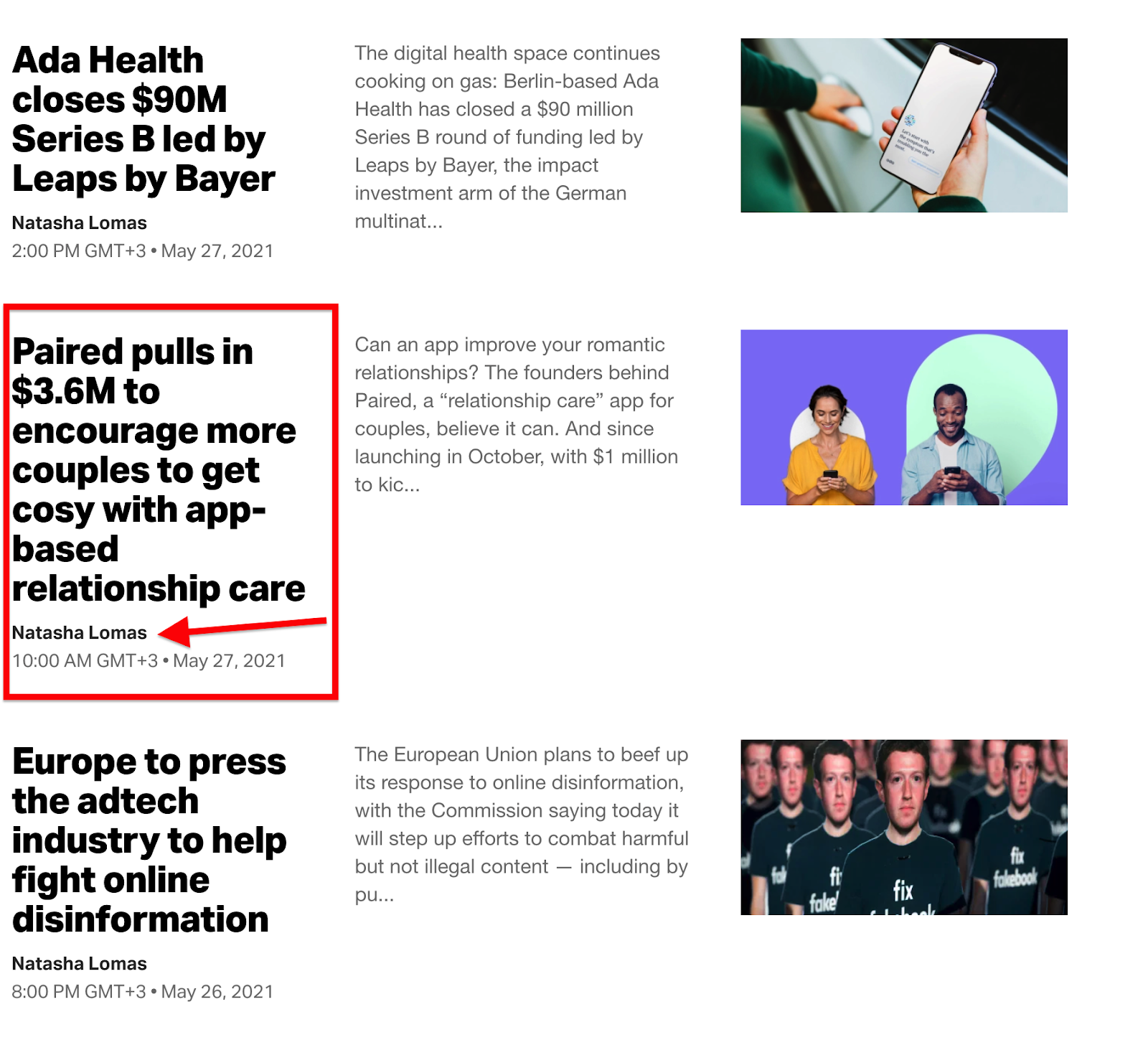 As you can see, Natasha has recently written about another dating app too, which might mean that the writer likes writing about such topics.
To put it simply, reaching out to the right people means that you do your best to find journalists and bloggers that generally cover specific topics which are relevant to your niche.
We probably wouldn't be talking about Blindlee if they'd reached out to journalists that cover politics or economics, don't you think?
To sum this tactic up, writing a great outreach email and finding the right journalists to pitch your story to should be your top priority when it comes to getting press coverage.
To get your product out there and make it popular, you naturally need to make the general public aware of it while building trust and promoting the unique features your product has.
This way, exactly how Blindlee did it, you're far more likely to make the most out of your PR tactics and use PR to your advantage.
Keep reading to find out more about being creative with your PR.
PR Tactic #3: Get Out of Your Comfort Zone and Be Creative
You might not know it yet, but PR is all about being creative and finding imaginative approaches to stand out in a positive way that'll help you create connections with others and also raise brand awareness.
More often than not, being creative means that you need to get some distance from your comfort zone and find alternative ways of getting media attention and promoting your new product or messaging.
Let's see how Dollar Shave Club has done it.
Example: Dollar Shave Club
If you don't believe me when I say that letting your creativity kick in when you're creating a truly interesting PR campaign that'll make TV stations and social media talk about you, then please have a look at what Dollar Shave Club has done.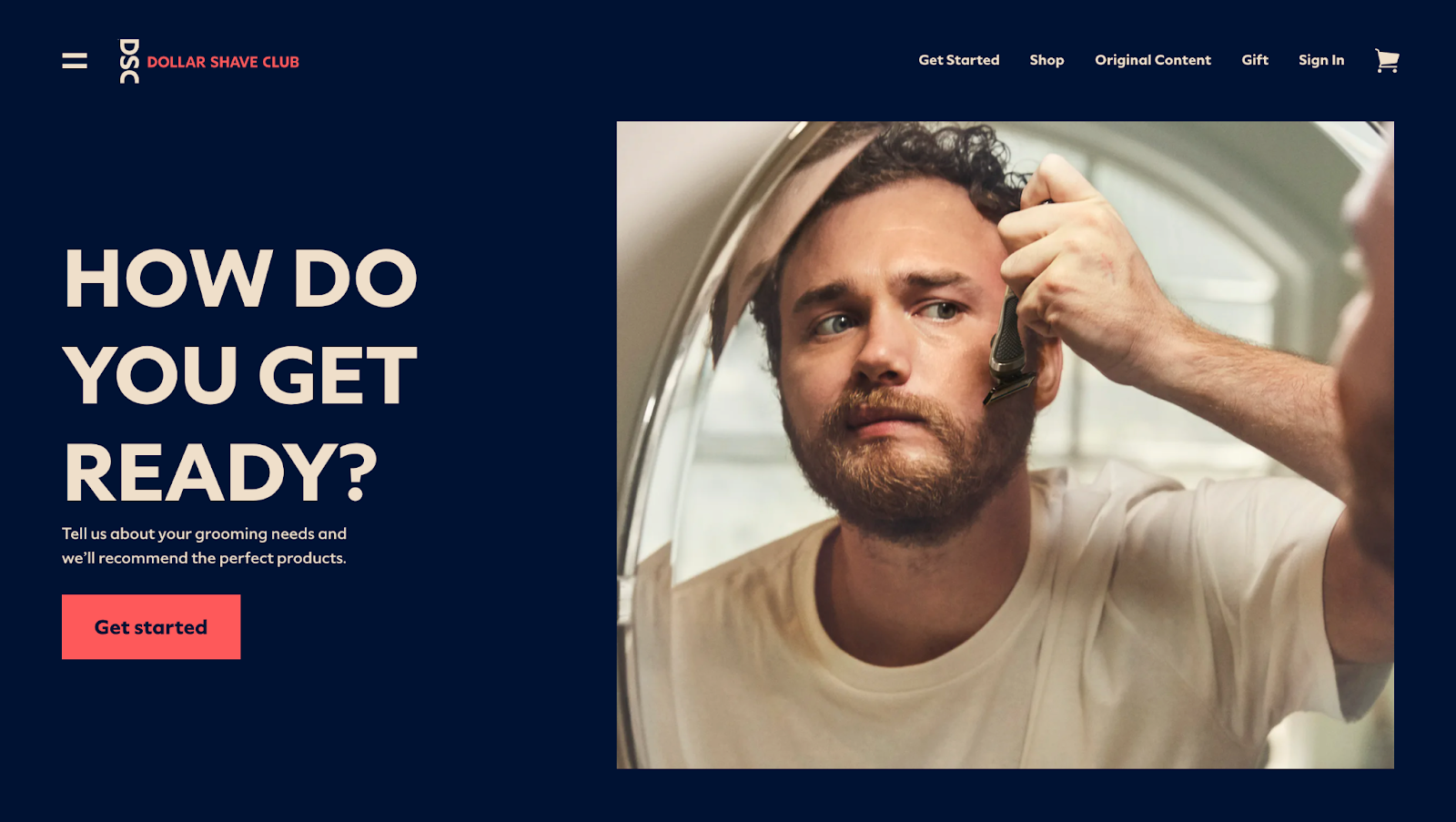 Back in 2012, Dollar Shave Club created an amazing ad that has since become an internet classic.
In fact, the video's considered to be one of the best and most creative marketing campaigns a small business has ever run.
Here's a screenshot: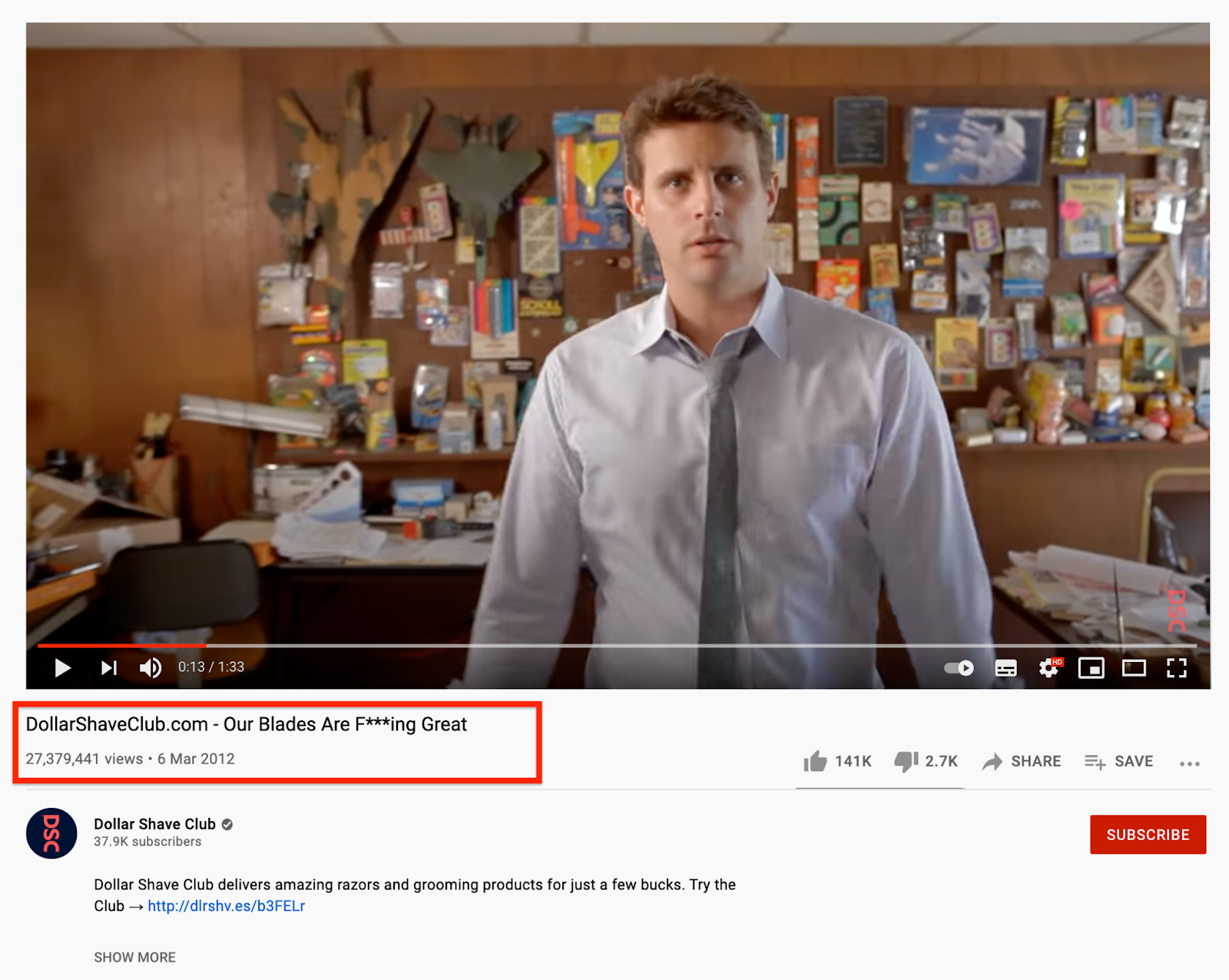 We've highlighted the title and number of views to stress two different points:
To show you just how successful the video was – and still is
To underline the importance of creating interesting and unique content
The second point refers to the fact that the whole video – and the title of the video itself – include the right amount of humor that can show consumers and potential customers your creative approach in terms of your marketing strategy, thus giving you a competitive advantage and differentiating you from the competition.
This video is a truly creative piece of content that promotes certain lifestyle elements, shows confidence, and, as we've already mentioned, has a pinch of humor inside it!
The Google Trends graphic below says it all in terms of the success in raising awareness for the brand: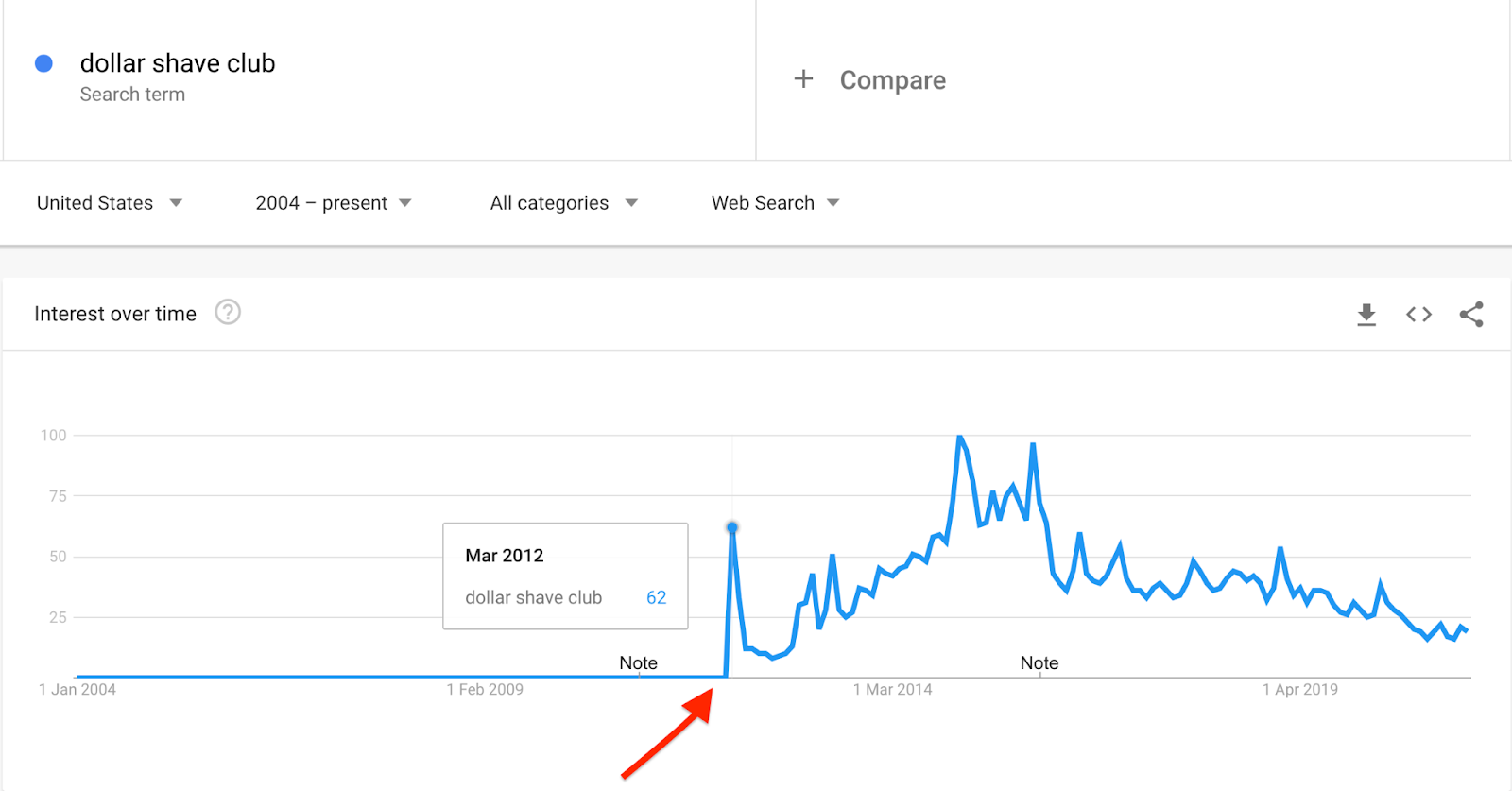 As you can see, the term "dollar shave club" started getting interest right around March 2012, when Dollar Shave Club published its now-infamous video.
What's more, several years after the initial launch of the ad in 2012, there are still videos being posted on YouTube analyzing and explaining the ad's success.
Here's an example: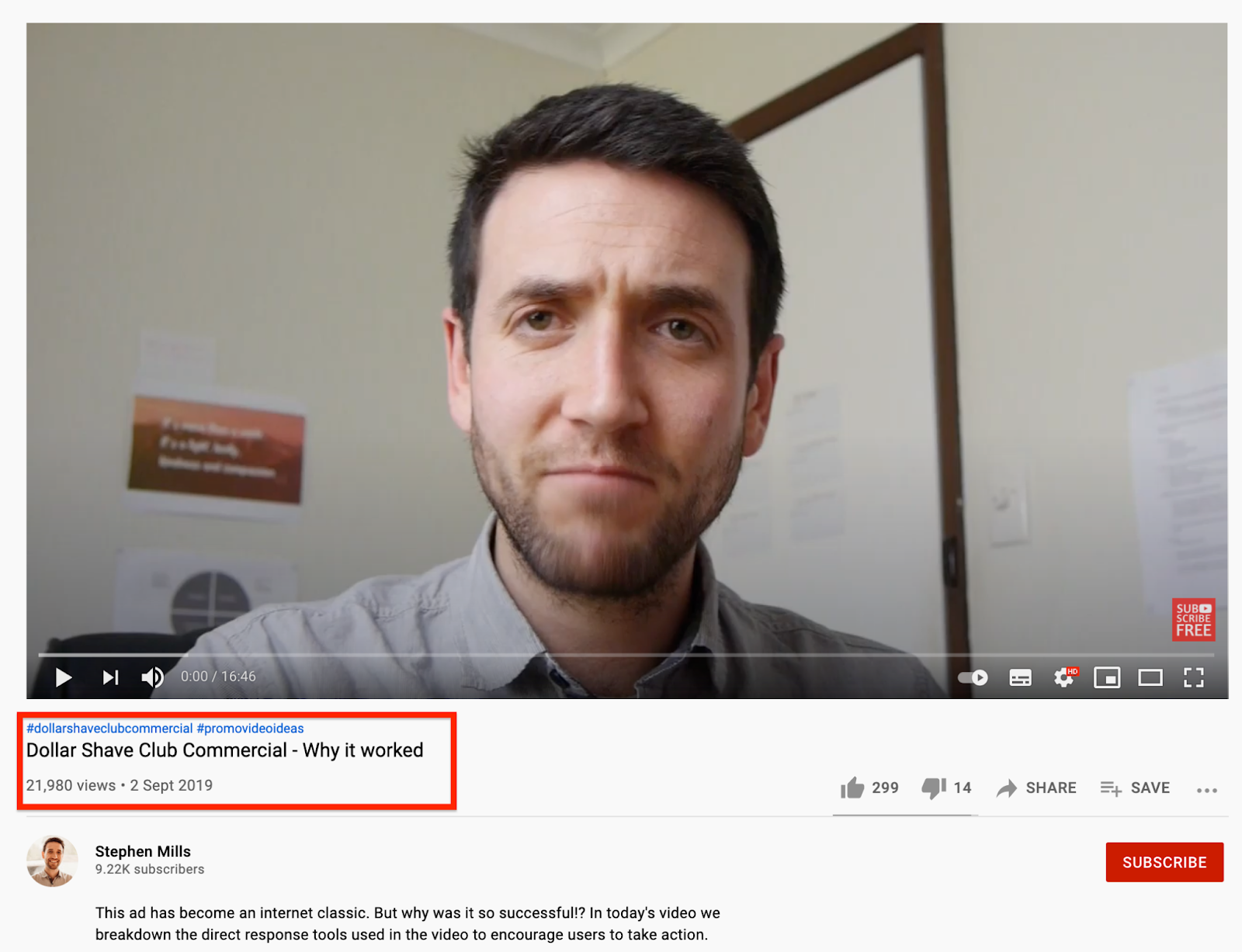 To put it simply, creating something special, apart from being an essential part of killer content marketing, is also a way to do successful PR.
Don't be afraid of getting out of your comfort zone and being creative.
Let's get to tactic number four.
PR Tactic #4: Offer Something Special Without Waiting for Something Back
When it comes to effective PR tactics, offering something special can be incredibly productive and help you achieve your PR goals.
This might be a special offer in relation to your product or service, or it could be a unique gift set, exactly like the one we're going to see in our example below.
Here you go.
Example: PRG
Branded merchandise agency, PRG, is yet another example of a business that uses Respona for their outreach and PR activities and are doing great.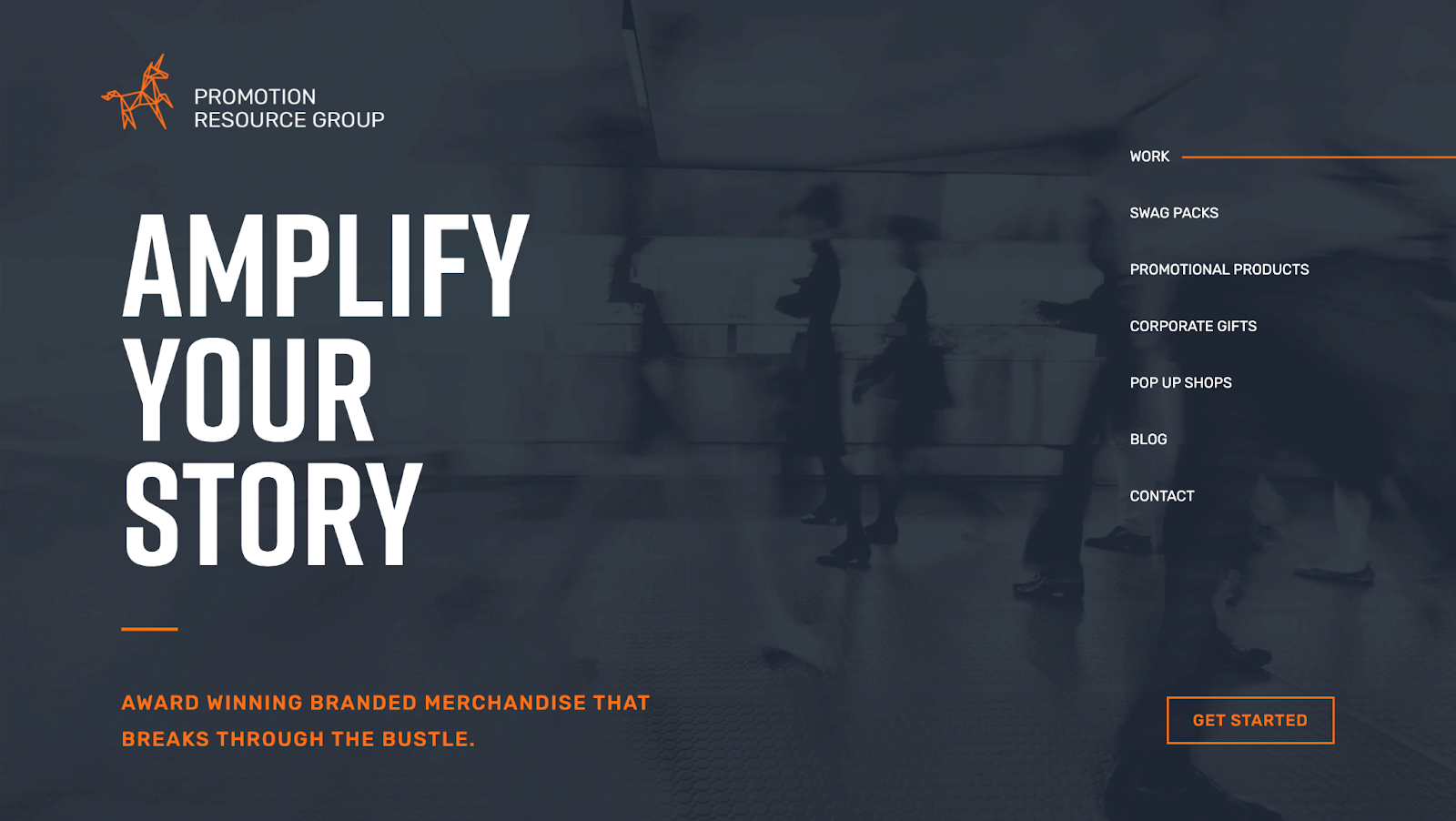 Because they're obviously a swag agency, they're able to take their public relations to a whole new level.
How?
By offering their prospects a little swag box, exactly like the one shown below, that's actually been created by PRG for their employees and clients: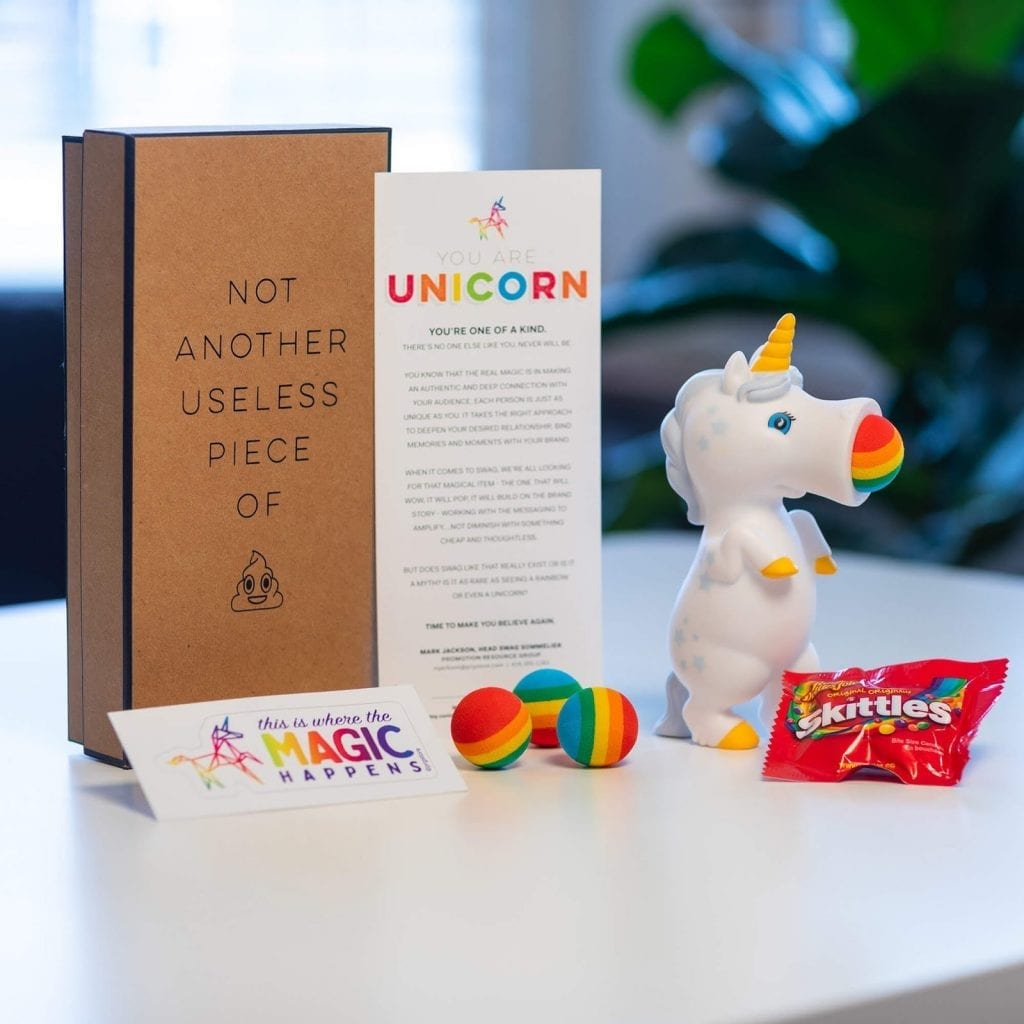 PRG isn't expecting anything in return, but we can only assume that people will naturally feel inclined to talk about the company and its products once they receive the package.
Doing so could help your business achieve a double whammy:
Establish an emotional connection with prospects
Increase outreach response rates
In fact, Outreach and Saleshacker were part of an experiment run by Kotis Design, whereby 1000 prospects were reached out to and half were chosen at random to receive swag – there was a 26% increase in responses from those who received gifts.
That's a pretty impressive stat that gives us important data on what a combination of PR and swag can do.
Let's get to the next one.
PR Tactic #5: Get Featured in List Posts
First things first, PR tactics and strategies usually aim at getting PR coverage for a company.
What's a better and more efficient way to do so than getting featured in killer list posts that get a specific target audience to interact with the content?
Before we get into more details in regards to our example below, let's just say that this tactic can be particularly effective for small businesses that need to boost brand reputation.
Here's an example.
Example: Markup Hero
The example of Markup Hero, which is an online screenshot and annotation tool, will give you a clear idea of just how efficient it can be to use the power of PR, even when you don't have a PR spokesperson, in order to get featured in list posts.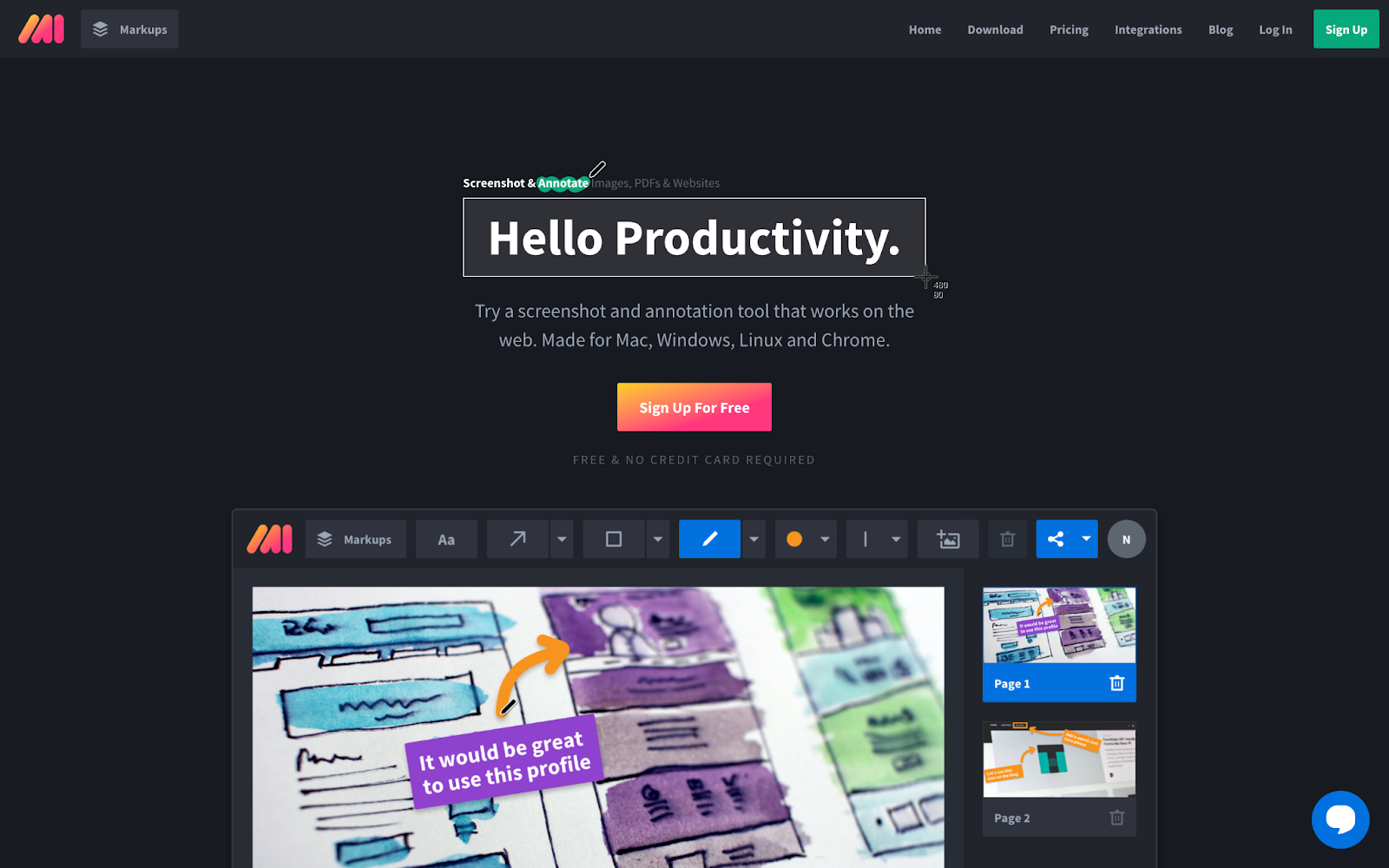 In one sentence, getting featured in list posts allows you to enhance your online presence, get the search engines to find you easier, and, ultimately, make more people aware of your products and services.
What's really interesting about this tactic for the example we're featuring – Markup Hero – is that many times these list posts might be written by competitor annotation tools.
Here's an example from Screenrec: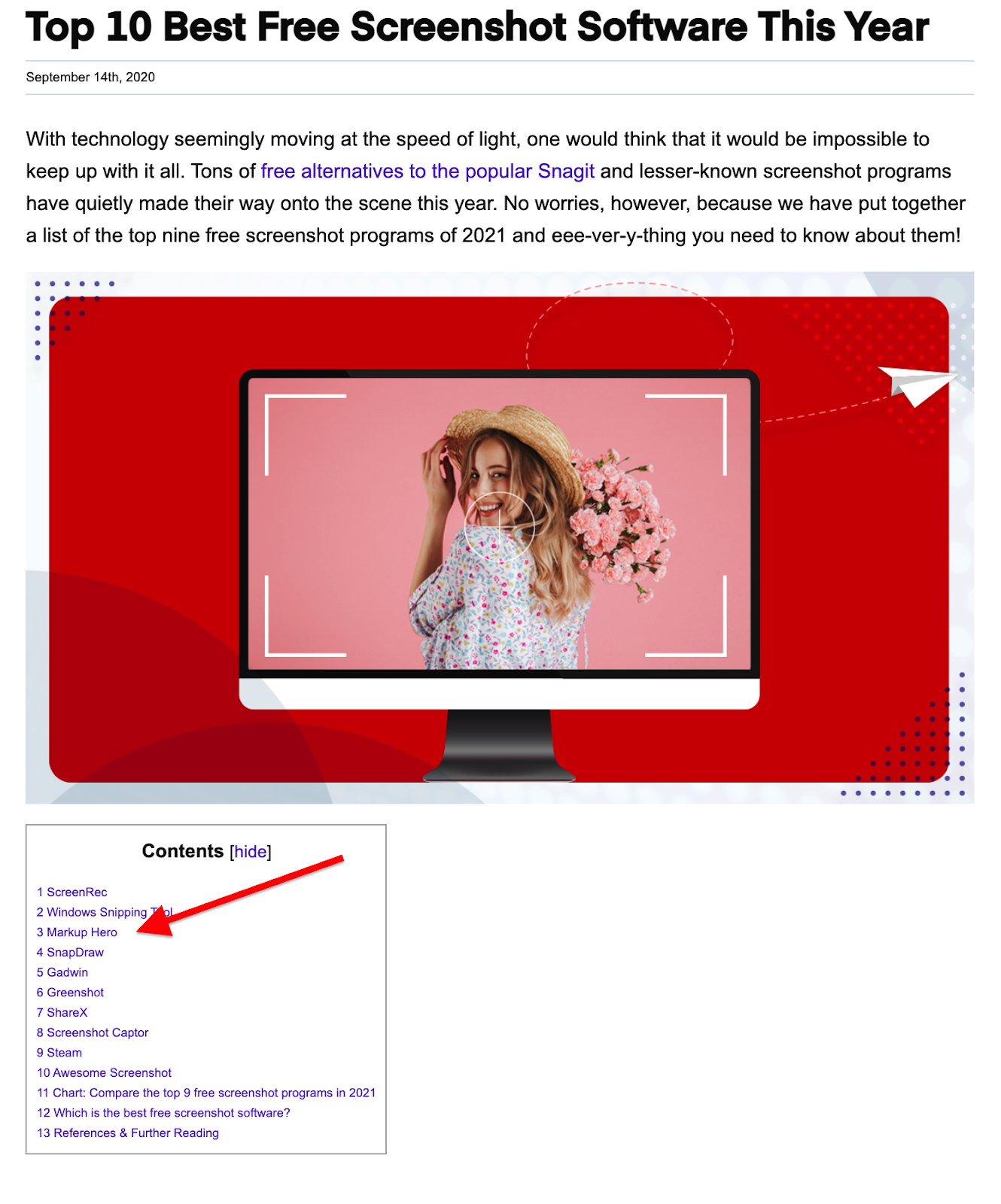 Reaching out to bloggers and journalists in order to get featured in a list post can naturally help you establish relations with other businesses in your vertical.
On that note, getting featured in list posts is not just a great PR strategy, but it's also an efficient backlink strategy that brings an increase in a website's domain rating (DR).
For the record, we need to mention that Markup Hero's successful outreach gave many incredible results, including a significant increase in the site's DR which went from 0 to 48 in just ten months.
Below is our sixth PR tactic.
PR Tactic #6: Get Featured in Podcasts
Similar to getting featured in list posts, getting featured in podcasts can be particularly helpful for companies in terms of boosting the results of their PR campaigns and reaching new audiences.
The example that follows is a very interesting story that can be inspiring for many companies out there.
Example #1: 10to8
Appointment scheduling software 10to8 is yet another example of a Software-as-a-Service (SaaS) company making the most out of its PR efforts, thus boosting its brand awareness and, ultimately, getting more users through the door.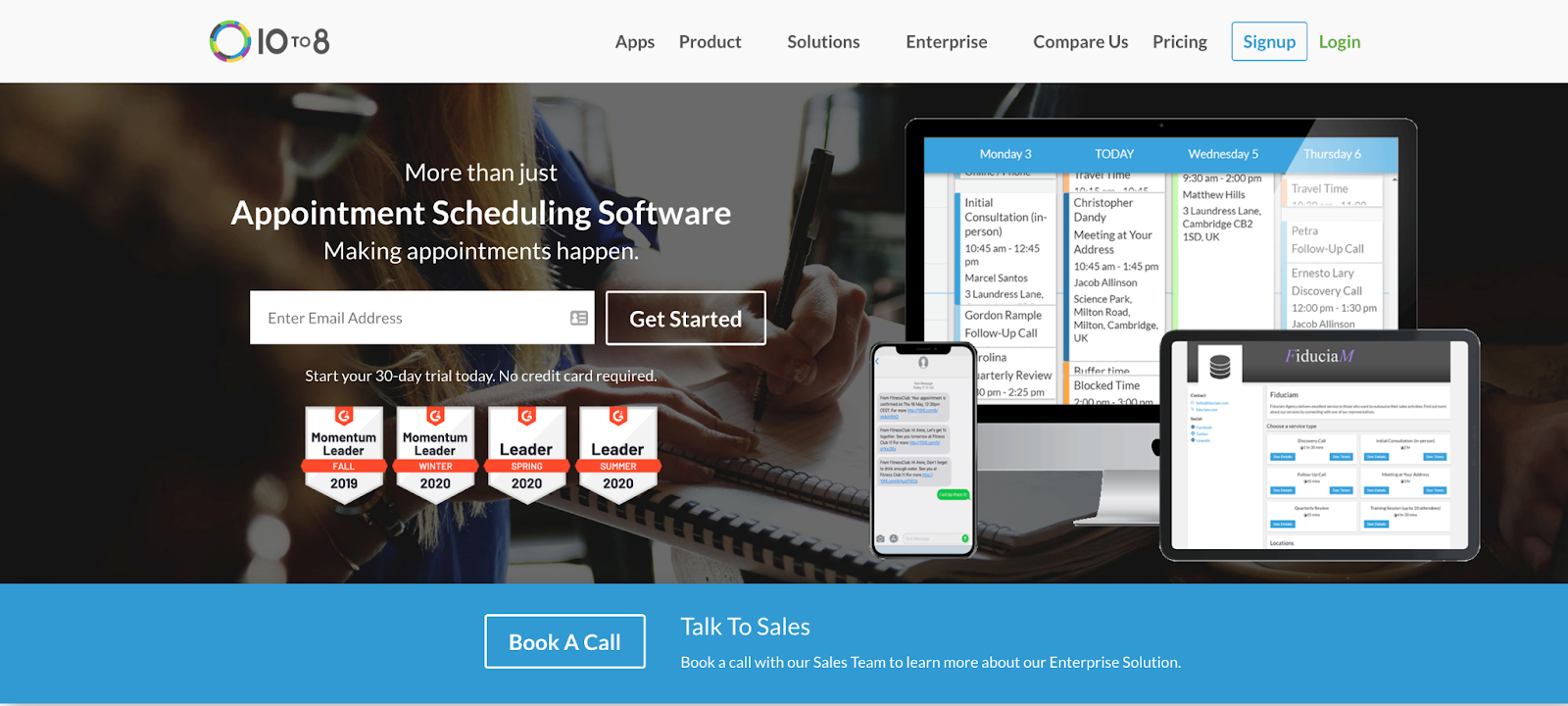 To be more precise, the company's marketing team focused on participating in podcasts as a way of doing PR and enhancing their company's media relations.
Here's an example of 10to8's Head of Marketing, Anna Kocsis, being featured in the SaaS Breakthrough podcast: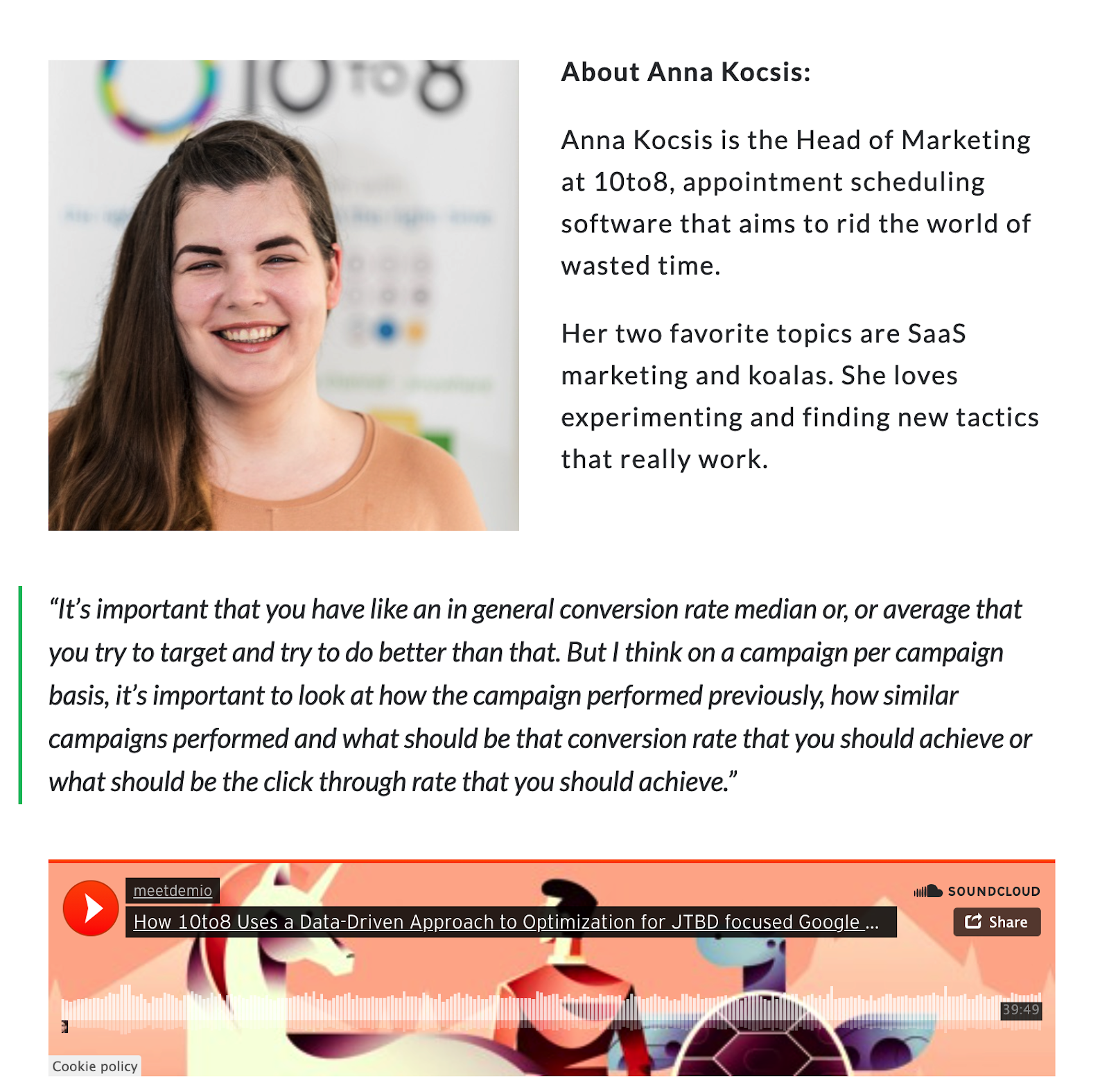 Author's Note: Participating in podcasts is a great tactic that can help you stand out from the crowd as well as build authority and awareness in your niche. You can position yourself as a thought leader and leverage the podcast's audience to spread the message about your product.
Example #2: Greenleaf Book Group
Outreach is firmly linked to any PR plan.
For that reason, scaling your outreach is an activity that PR pros can greatly benefit from.
This PR tactic example focuses on podcast outreach, but the general rules around it can be adjusted to fit any sort of outreach.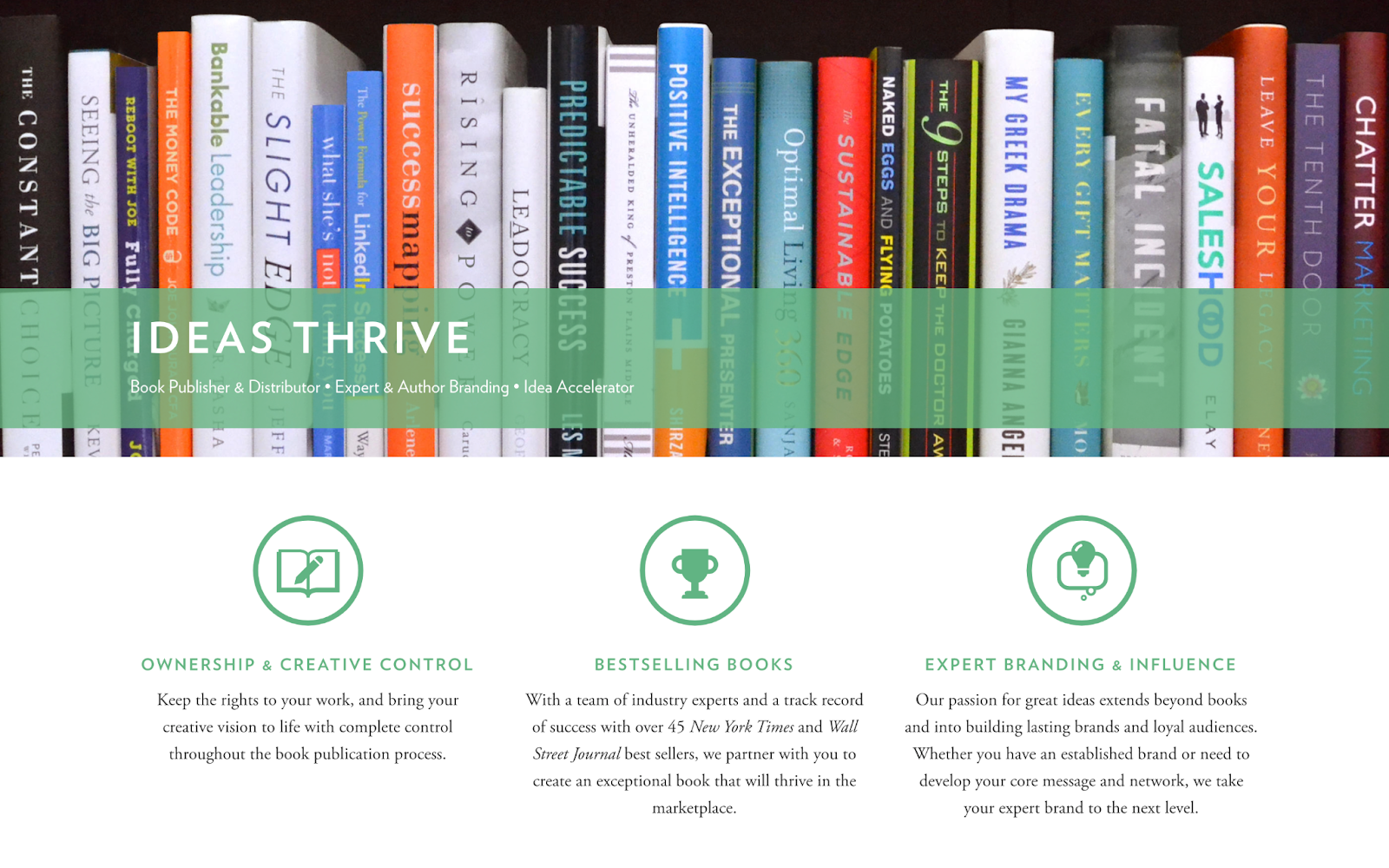 Similar to the example we discussed a little further up, this one is about scaling your outreach in a way that you'll hit the mark with landing your content and spreading the word about it.
That's exactly what Greenleaf did with their writers' podcast interviews.
For a book publisher and distributor, PR might be linked to promoting your writers and getting a wider audience to know them.
That's why they've focused on getting their writers' interviews and messages in a number of different podcasts.
Here's an example: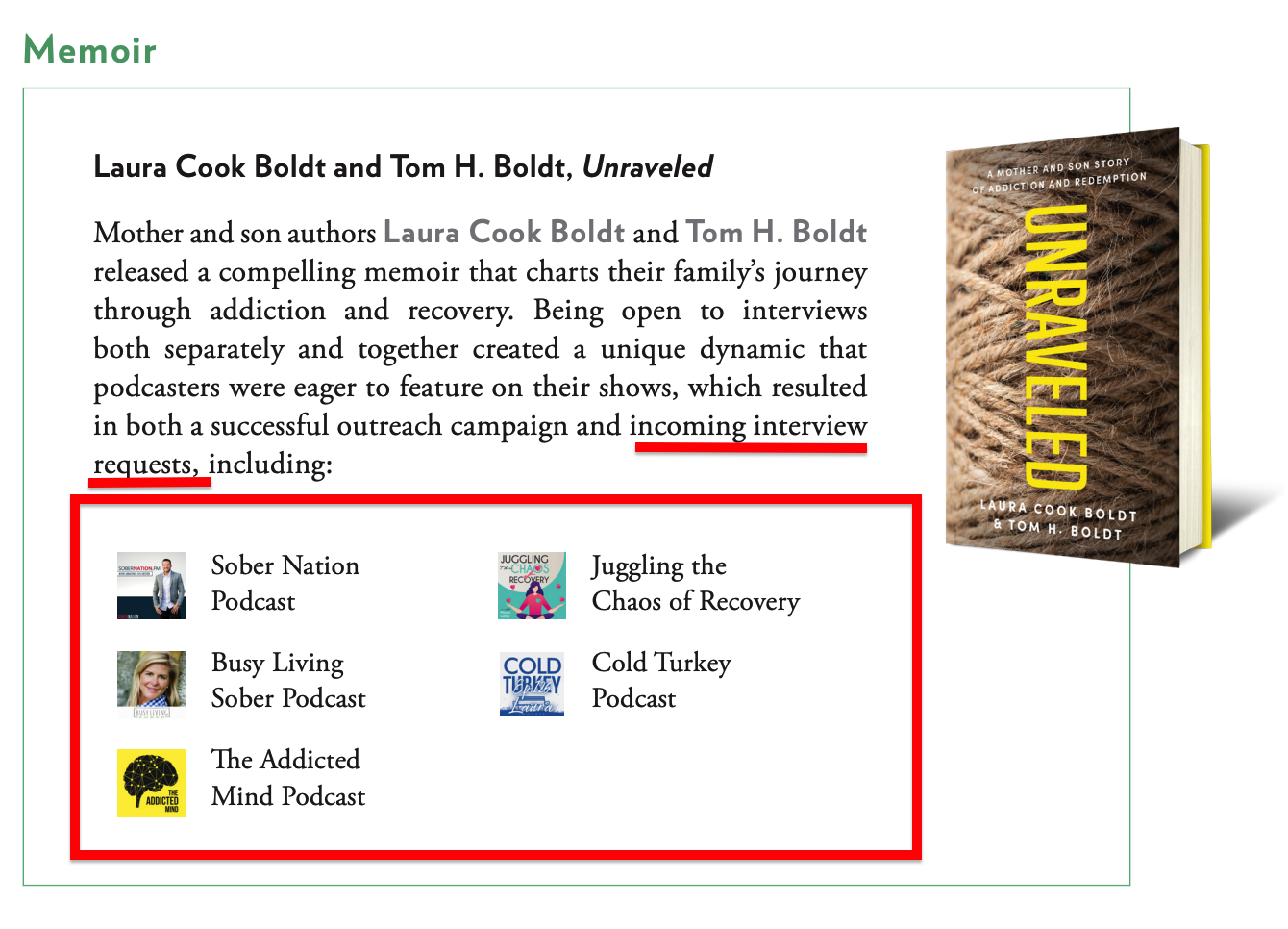 In fact, Greenleaf has gone one step further and published a detailed guide that includes valuable information in relation to their podcast outreach campaigns and the results for each one of their current titles.
Have a look: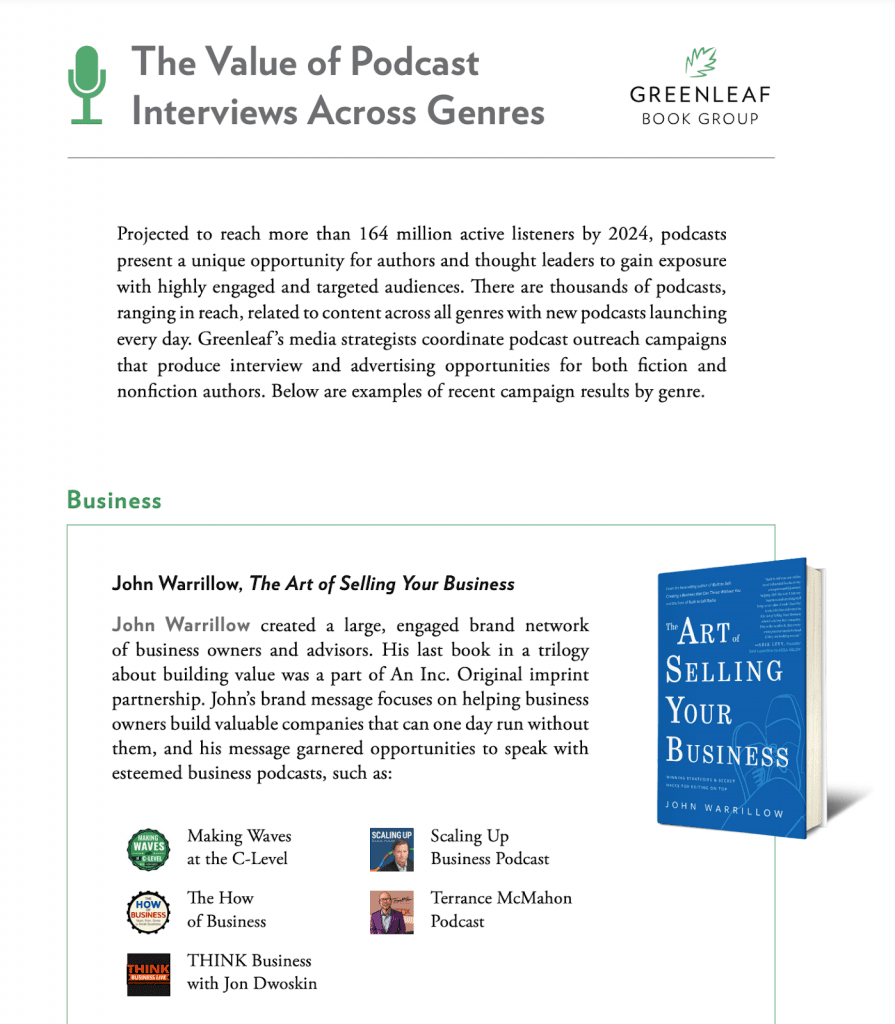 The Greenleaf tailored podcast outreach campaign seemed to have worked just great in generating interest for their books.
Let's get right into the next simple PR tactic that can help you get press coverage.
PR Tactic #7: Launch a Waitlist
When you have a new feature or product coming up, launching a waitlist might be all you need to create buzz around your brand and get press coverage.
Let's get into it.
Example: Robinhood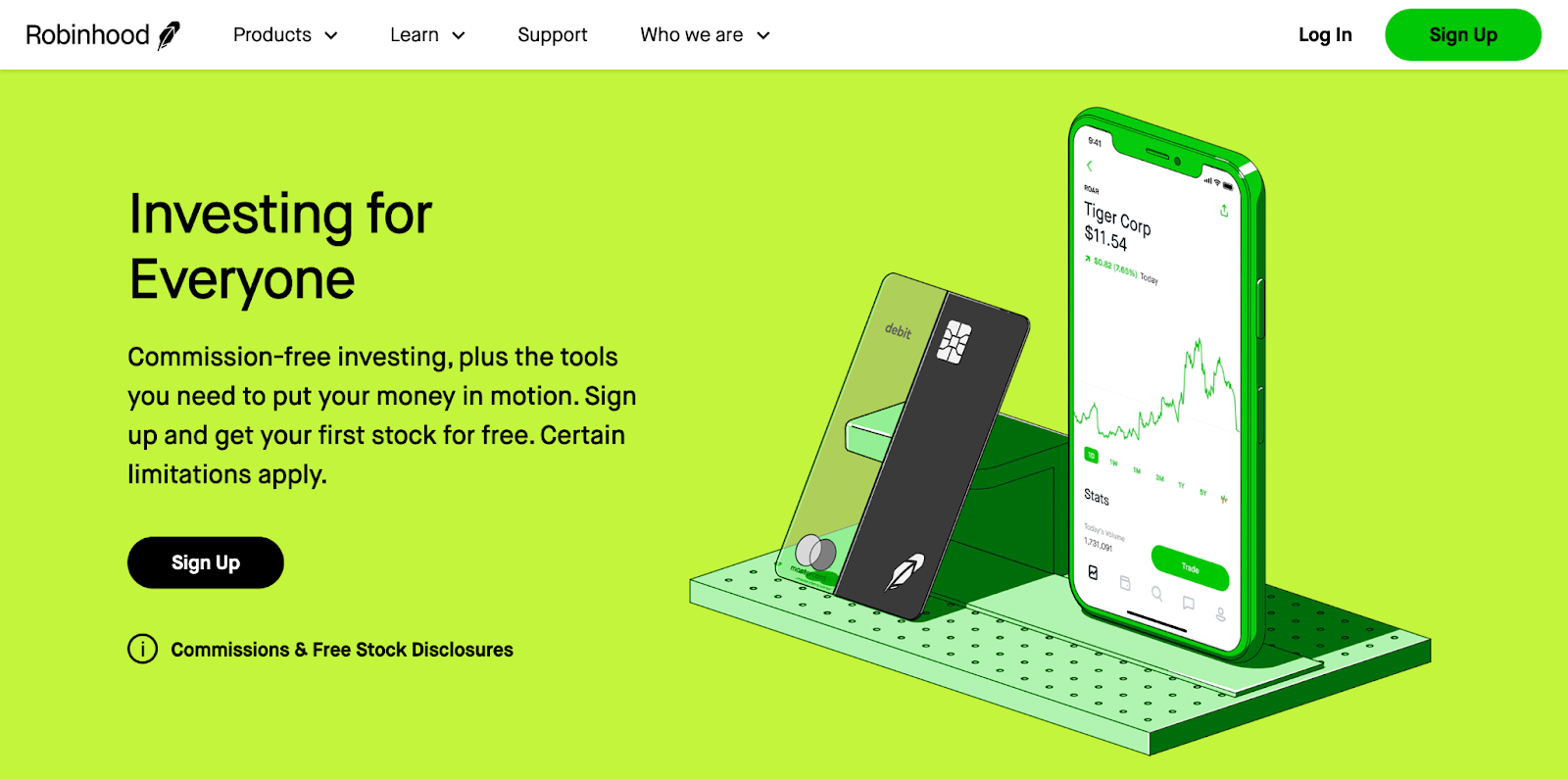 Robinhood, a stock trading and investing app, was founded in 2013.
The reason we're mentioning Robinhood is because it did a very good job in terms of its pre-launch campaign.
More specifically, they managed to get viral traffic from a simple waitlist they did in preparation for their press launch.
Here it is: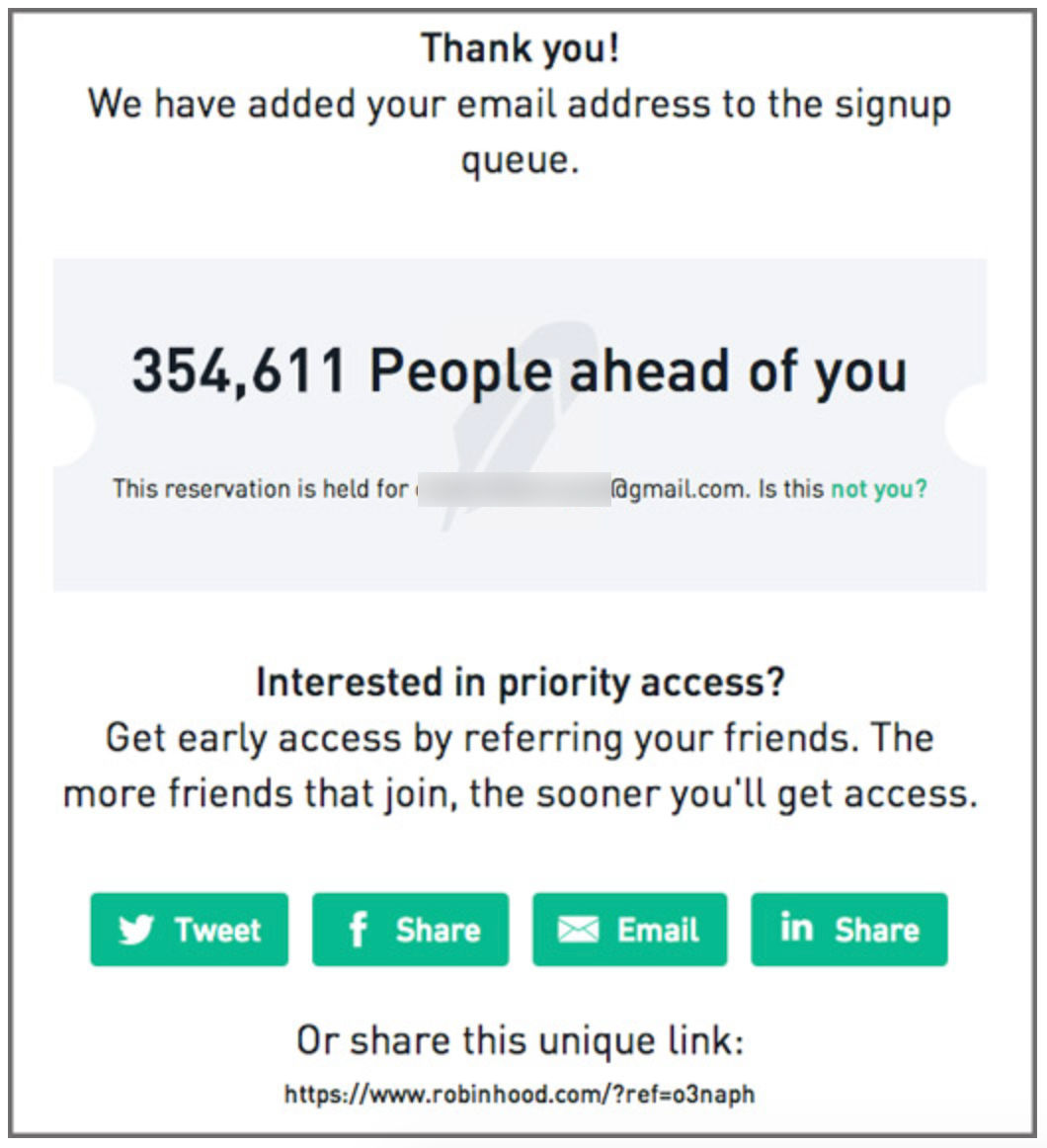 As you can see, the waiting list is as simple as giving users a button that gives them the opportunity to sign up.
When that was done, users joined the waitlist where they could actually see how many people were ahead of them and how many people had joined after.
The reason why this waiting list went viral was probably because of FOMO (fear of missing out).
Why?
Because people have a natural tendency to want things that aren't available to them or that are limited.
How did Robinhood's referral marketing campaign work?
By bringing more and more people into it through sharing a unique referral code.
In other words, the more friends that you referred and got to sign up, the closer you'd be to getting priority access to Robinhood's private beta.
This led to Robinhood getting mentioned in a number of blog posts across the internet.
Here's just one of many examples: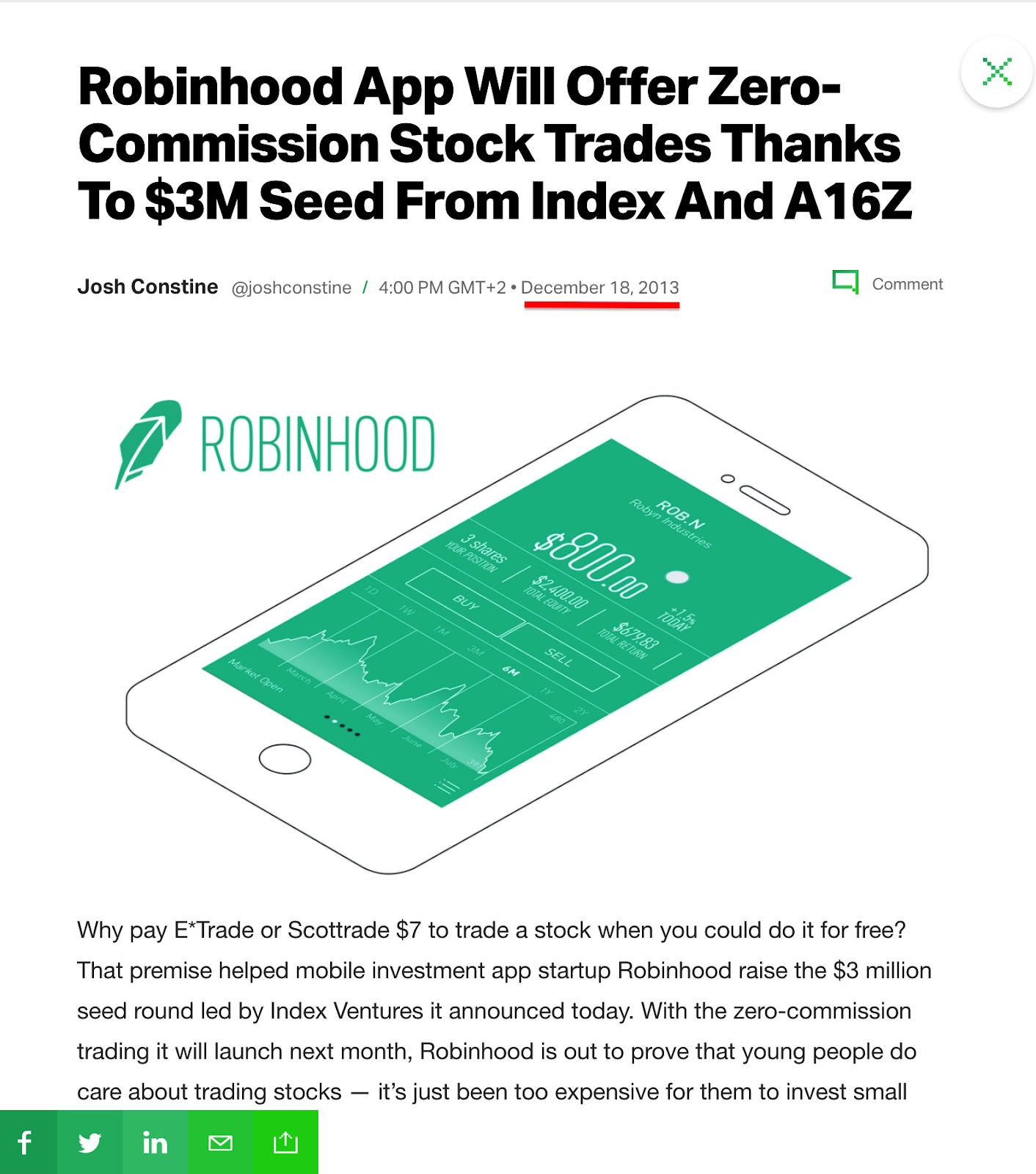 We're now moving towards the final tactic we want to share with you.
PR Tactic #8: Use the Power of Interviews
A public relations campaign targets getting media coverage from a variety of media contacts.
It's a kind of influencer marketing, but without the exchange of money in return for getting exposure to the influencer's audience.
One of the most efficient ways to get media attention is to build trust with your audience and the press through the use of interviews.
The example that follows will help us illustrate this interesting PR tactic.
Example: Ethos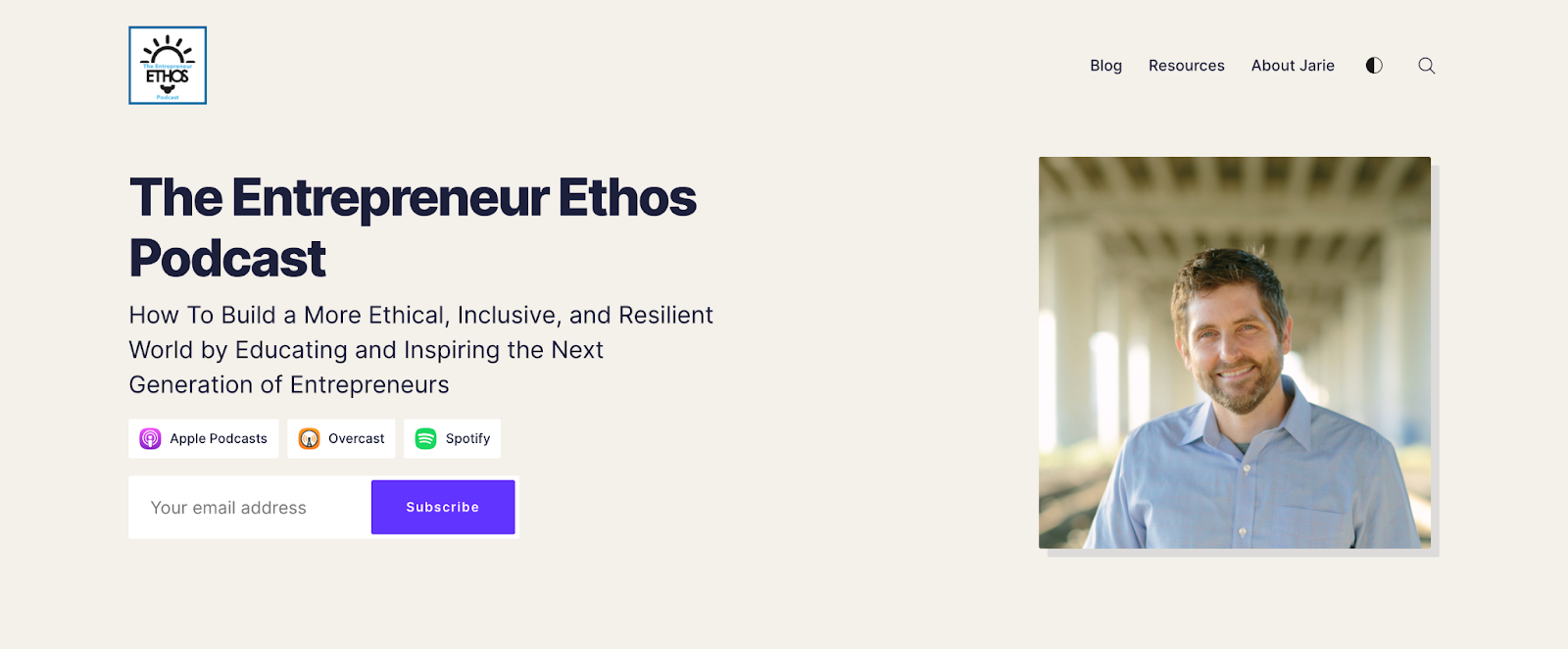 The Entrepreneur Ethos Podcast is an informative podcast run by Jarie Bolander with the goal of educating its audience and providing them with valuable information for a more ethical and inclusive – among other things – generation of entrepreneurs.
Listening to or reading the content of the following episode will give great insight on thought leadership and actions all entrepreneurs out there can take.
Here's the episode we're talking about: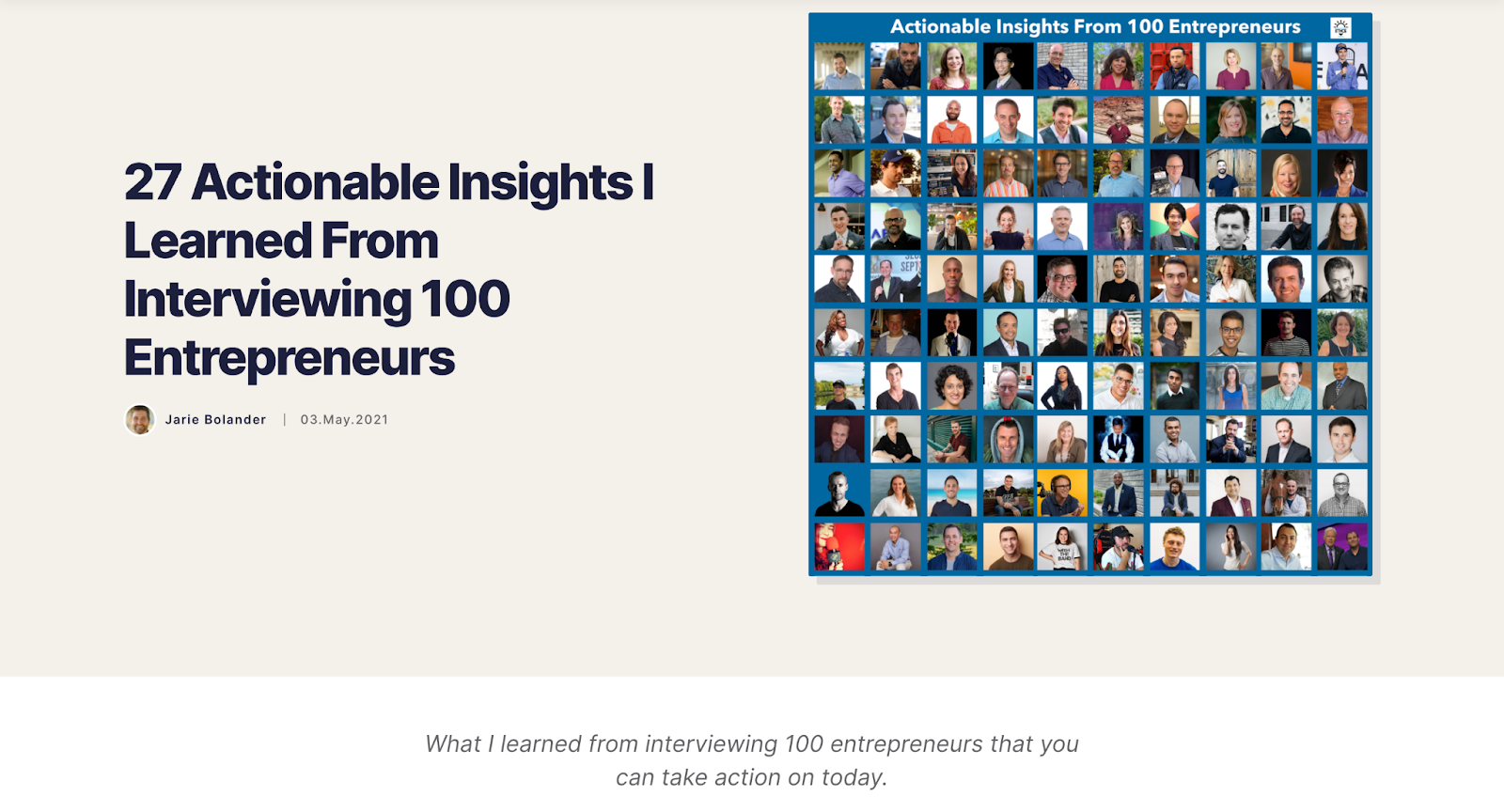 The reason we're showing you this is because this content is proof of the power of interviews in terms of building connections and getting to experience rewarding situations within your industry and professional life.
Whether you're the interviewer or the interviewee, the process of sharing knowledge and exchanging thoughts with another person, that might or might not be from the same vertical as you, allows you to connect with them on a different level.
Trust me when I say that there's nothing more efficient in PR than creating connections with others.
It can be anything from getting into press conferences and industry events to sharing human-interest stories and doing some non-spammy PR outreach.
All these give you the opportunity to create long-term connections and basically nail your PR.
That's what all businesses want, right?
Let's sum this post up and close with some final thoughts.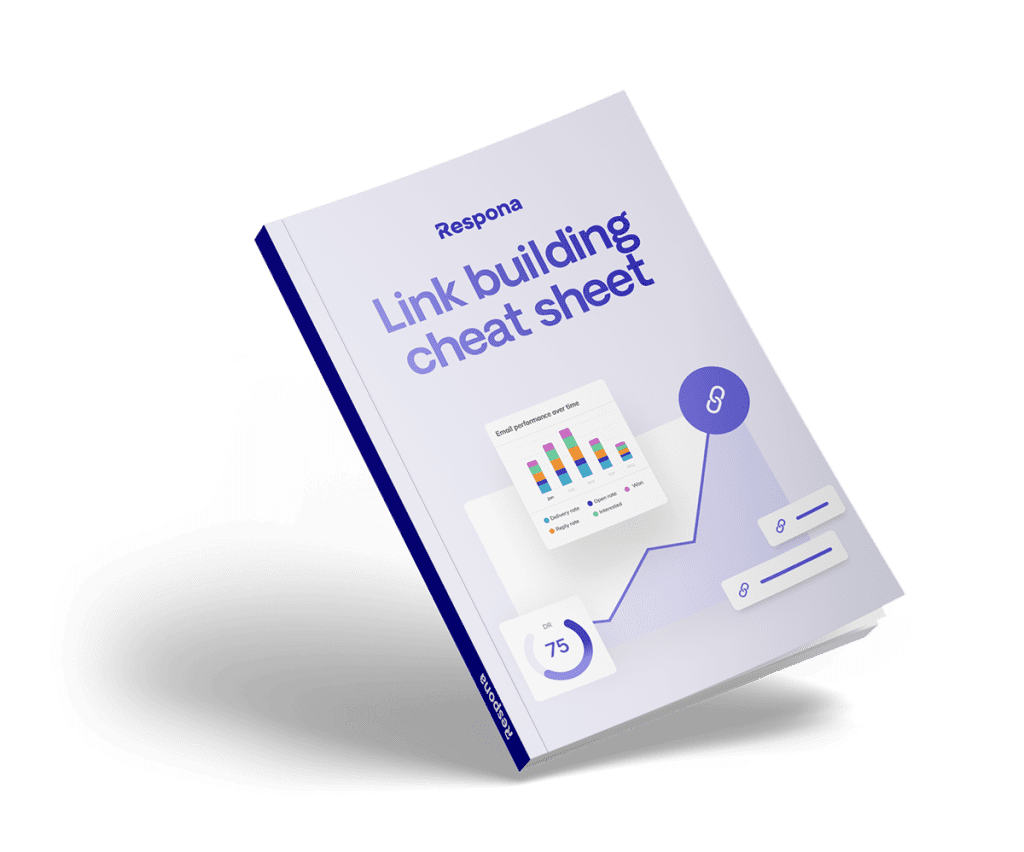 Link building cheat sheet
Gain access to the 3-step strategy we use to earn over 86 high-quality backlinks each month.
Now Over to You
There you have it.
We've now completed our list of eight PR tactics that can help companies get press coverage without having to spend money on a PR agency.
Being timely and relevant, getting out of your comfort zone, and offering something special can be very helpful PR tactics for product launches or any other event you might want to get press coverage for.
Additionally, when it comes to PR techniques, doing outreach that'll get you featured in podcast or list posts can have a very positive impact on a company's PR, even if they're not working with a public relations professional but are doing their own PR using modern PR tools.
If you want to see how the process might work and how efficient it can be, feel free to request a demo and reach out to influencers, media outlets, journalists, or even traditional media representatives in no time.
Good luck nailing your PR strategy!