Wondering what is brand journalism, why it matters and how to use it in your organization?
In this guide, we cover these questions and more.
Here's what we're covering:
What brand journalism is
Why it matters for CMOs
5 examples of great brand journalism
Let's get right into it.
Review of Brand Journalism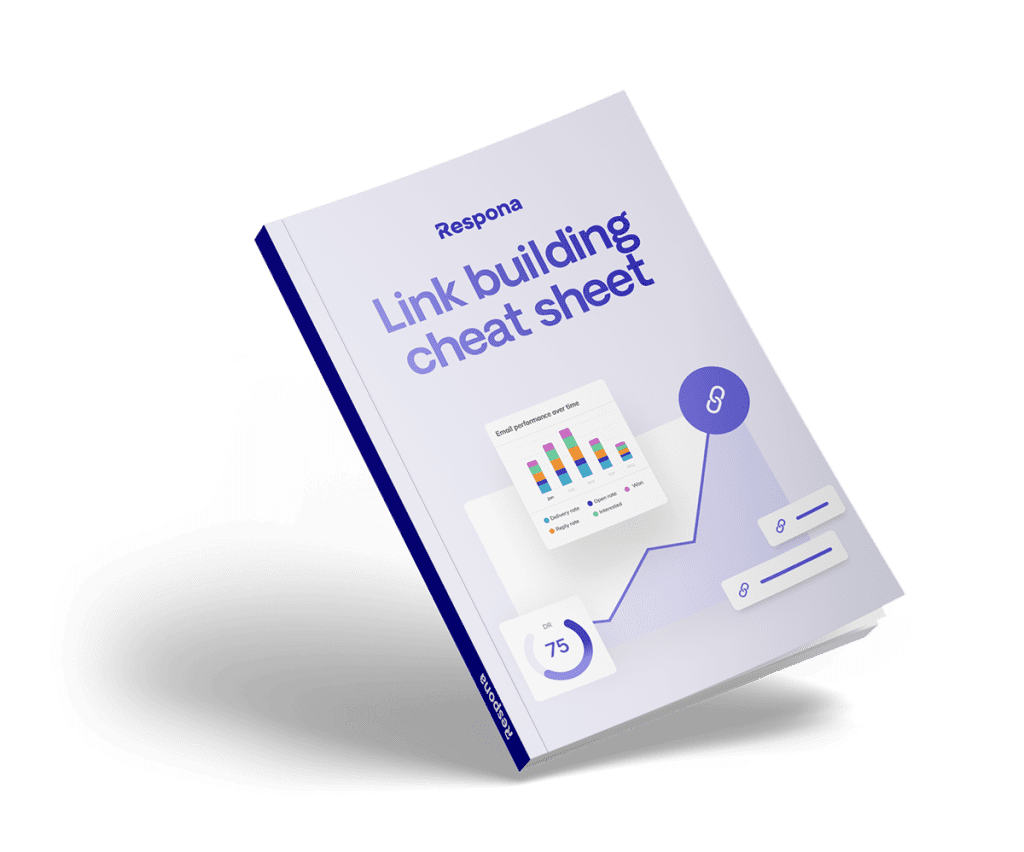 Link building cheat sheet
Gain access to the 3-step strategy we use to earn over 86 high-quality backlinks each month.
What is Brand Journalism?
You may be familiar with brand journalism by a different name such as corporate journalism or corporate media but however you refer to it, the real importance is understanding how it can benefit your business.
Answering what is brand journalism is complex and not all companies would provide the same answer.
Most would agree though that the art of storytelling and content creation is essential to forming relationships with your audience and providing information to help them make decisions that impact their daily life.
The importance of brand journalism doesn't lie in the form of communication but in the story behind it.
Also, you need to understand that brand journalists aren't necessarily PR people as brand journalism exists in the intersection of PR, content marketing and storytelling.
And, telling a good story isn't always about marketing.
Brand journalism goes beyond traditional marketing strategies to provide a more complete story of the company.
One great example of this is Adobe.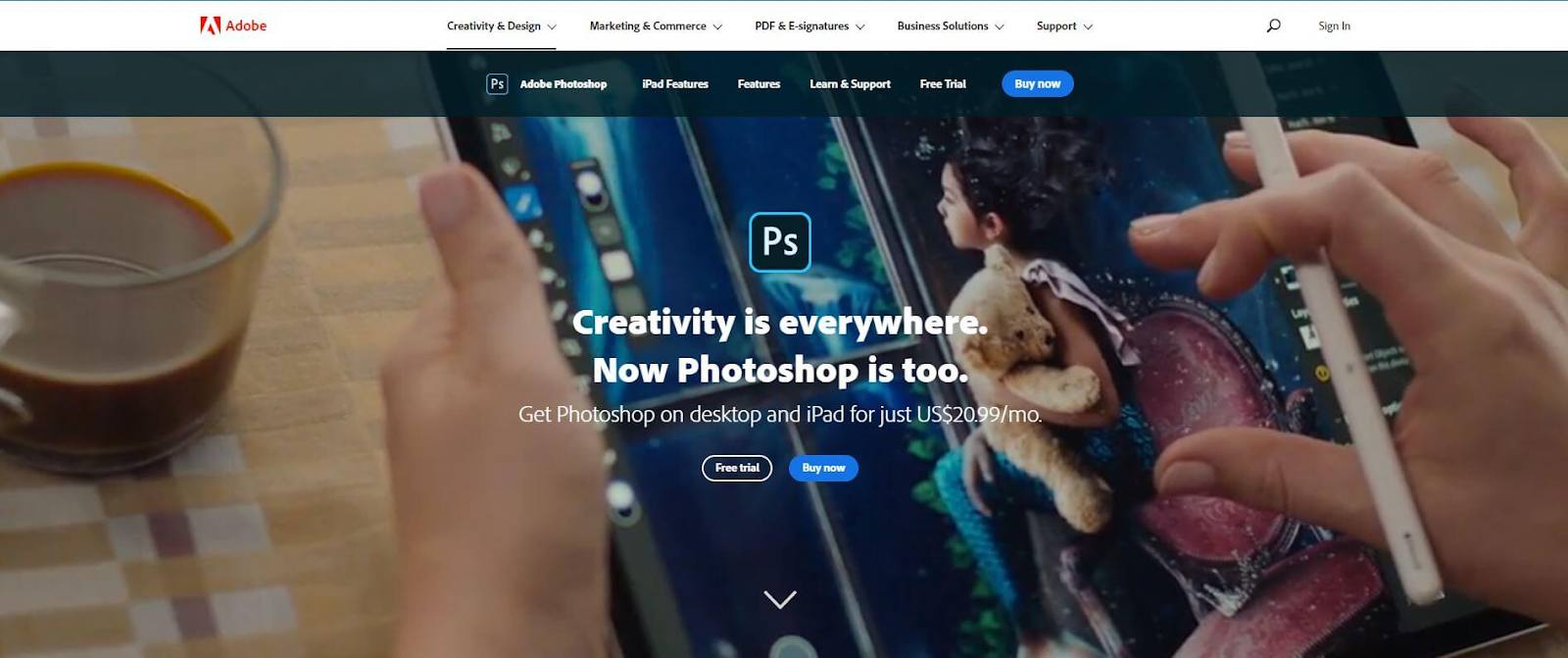 On each product page they have an explainer video showcasing the product and several users working with them in different ways that bring you into their digital world.
Videos are great because they easily allow you to share your product and tell a story at the same time.
They are also very engaging so it draws the consumer into your brand.
Most importantly though, Adobe is trying to tell a story.
It presents the brand as something more than just a simple software and makes people want to participate and be a part of this story.
Another great example of brand journalism is Warby Parker.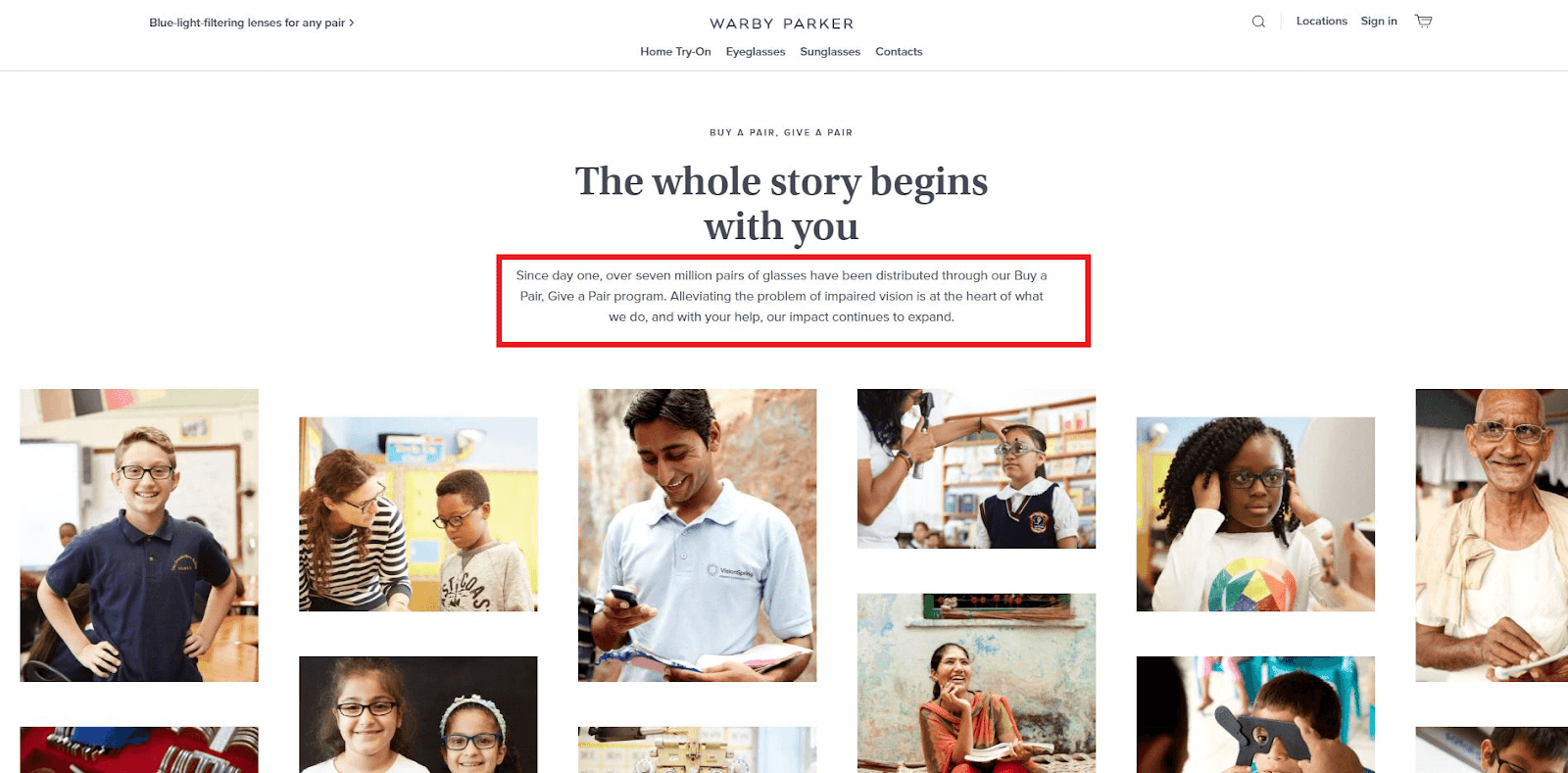 Warby Parker does a great job of telling the story behind their glasses through the educational resource "How Our Glasses Are Made", which showcases photos and videos throughout the entire production process, and their "Buy a Pair, Give a Pair" program, which gives a pair of glasses to a person in need for every pair sold.
Both of these pages tell a unique story about Warby Parker while creating a deeper relationship with their audience.
The "Buy a Pair, Give a Pair" page also does a great job by highlighting how many pairs of glasses they've given away since the company was founded and then going on to tell more about how it works.
Instead of listing bullet points or writing long copy on what a brand can do for the customer, brand journalism opens the avenue to have an actual conversation, leading brands to better connect with their target audience.
After all, according to the following definition by Brand Journalists, "brand journalism involves telling journalism-style stories about a company that make readers want to know more…."

Brand journalism also differs from traditional journalism and the way traditional media outlets communicate their messages.
That's because the focus is not only pushing the information out but establishing a relationship with your audience as well.
Brand journalism allows you to get your message across in a way a customer can relate to.
The term was originally coined in 2004 by McDonald's Chief Marketing Officer (Larry Light), after realizing mass marketing no longer worked and seeing the need for brands to create a full story about what happens to a brand in the world.
Rejecting traditional marketing, Light focused on brand positioning through a journalistic-style of writing about many different topics, aimed at a variety of brand interests.
That is when the term "Brand Journalism" was born.
Why Brand Journalism Matters for CMOs
Now that you are more familiar with brand journalism (if you weren't before), let's take a look at why brand journalism matters, especially for CMOs.
As CMO, you are in charge of brand management, marketing communications, market research, product marketing and more. Brand journalism can help you achieve your goals in all of these areas.
Here are a few important things to note about brand journalism:
As the media and marketing tactics converge, more brands are launching publishing options so you have to make your content stand out
Storytelling is a powerful way to connect with your audience
You can build the trust customers have for your brand through credible and honest published material
From those points, you can see the need to make your brand's story known is as important as the human desire for meaningful connections. That is why brand journalism is so important because it brings both of those things together.
With 69% of Gen-Z seeing ads as disruptive and 61% who are willing to pay more for products that are produced ethically and sustainably, brand journalism is important to the next generation of buyers whether they realize it or not.
The more engaging content you can produce, the more effective your lead-generation will be, ultimately driving more sales.
Dave Gerhardt is a CMO leading by example!
Dave knows the importance of CMOs sharing their brands story because he first grew Drift into a SaaS with over 50 thousands users worldwide and is now doing the same with Privy.

Dave also goes beyond Drift's platforms to share industry tips, news and trends.
He does a great job of telling stories through his LinkedIn posts but also engages his audience through open-ended questions, polls and more.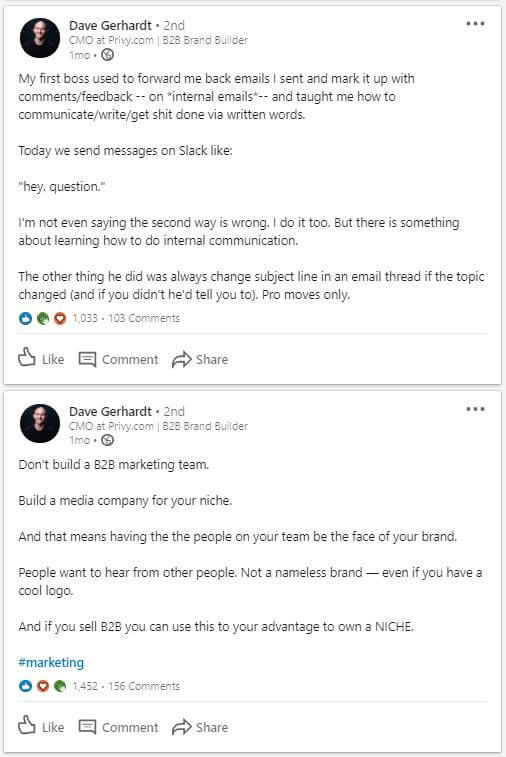 Author's Note: We will take a closer look at Drift in our next section.
Both with Drift and with Privy, Dave tries to promote the company's news, successes and struggles telling journalism-style stories.
This allows him to connect on a deeper level with his audience, and ultimately promote the products of these two companies.
Over the past few years, many companies have started to adopt the same approach, as a way to connect with their audience and reach new audiences.
Let's see some of the best examples of such companies.
5 Examples of Great Brand Journalism
The first example comes from Drift—a company that up until recently had Dave Gerhardt as its CMO.
Example #1: Drift
Drift is a Boston based technology company that specializes in conversational marketing and sales tools.
They have mastered content marketing, storytelling and relationship building through books, events, case studies and transparency.
Besides the main products tab, the website also has a tab highlighting all of these resources.

Under the main blog—which is full of valuable insights from thought leaders—there is a books section filled with reading options on conversational marketing and more.
This is great because they aren't solely focusing on selling, they are also providing resources for lifelong learning.
Drift also hosts webinars about conversational marketing but their HYPERGROWTH event is the main attraction.
Several brand executives and high-achievers from all sorts of backgrounds come together each year to share success stories in their industry.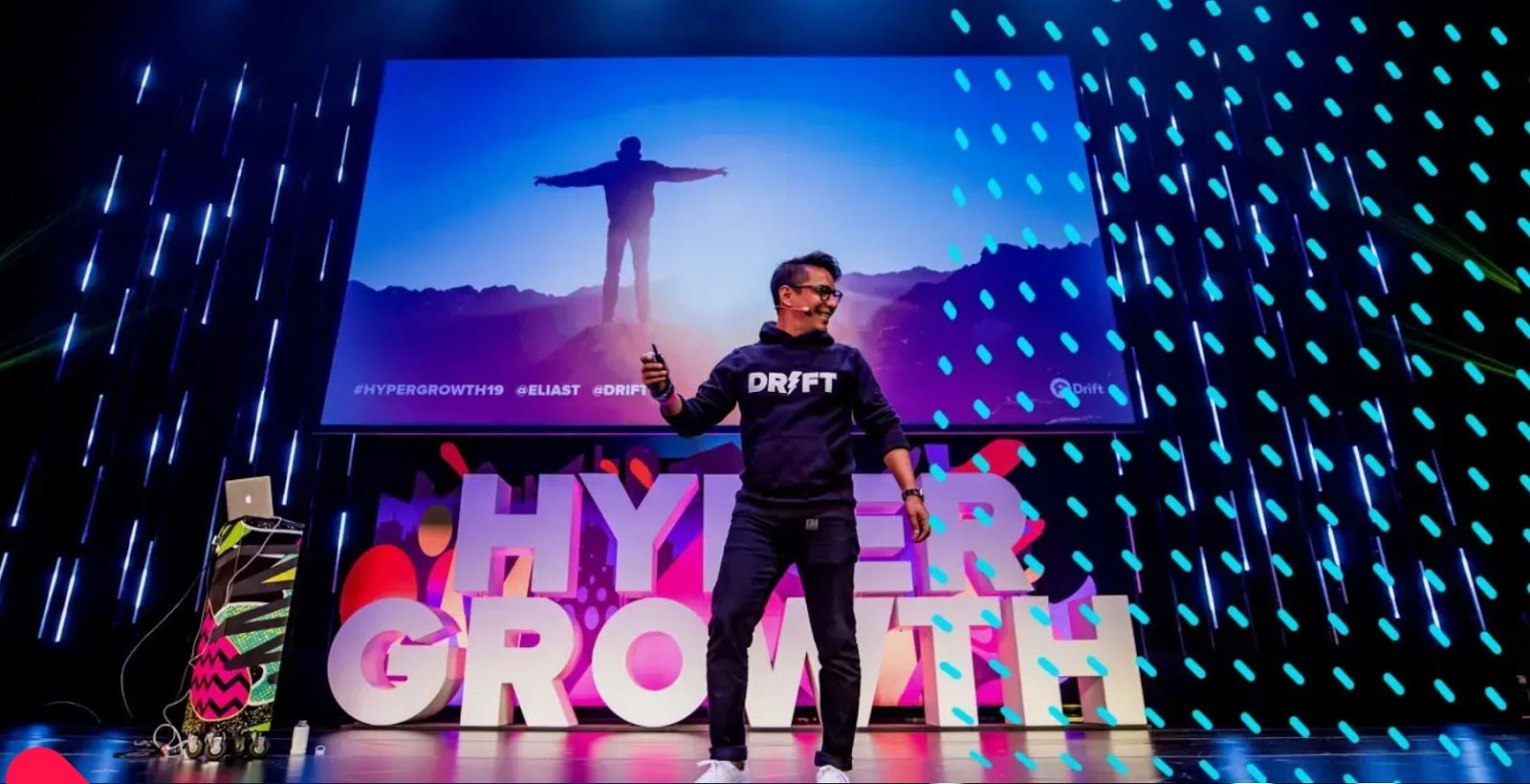 This allows Drift to create brand awareness while delivering thought-provoking content.
In fact, Drift has set out to create a conference unlike any other and you can achieve that for your brand, your consumers will create their own content for you—sharing photos, videos and their experience at your event.
Drift also provides real-world examples throughout the year with case studies and success stories.
This is a great way for them to share stories with their target audience so they can see how Drift partners with their customers to build the future of sales and marketing.
One of the things we love most about Drift is how they showcase the head of customer relations right on the homepage! What other brand does that?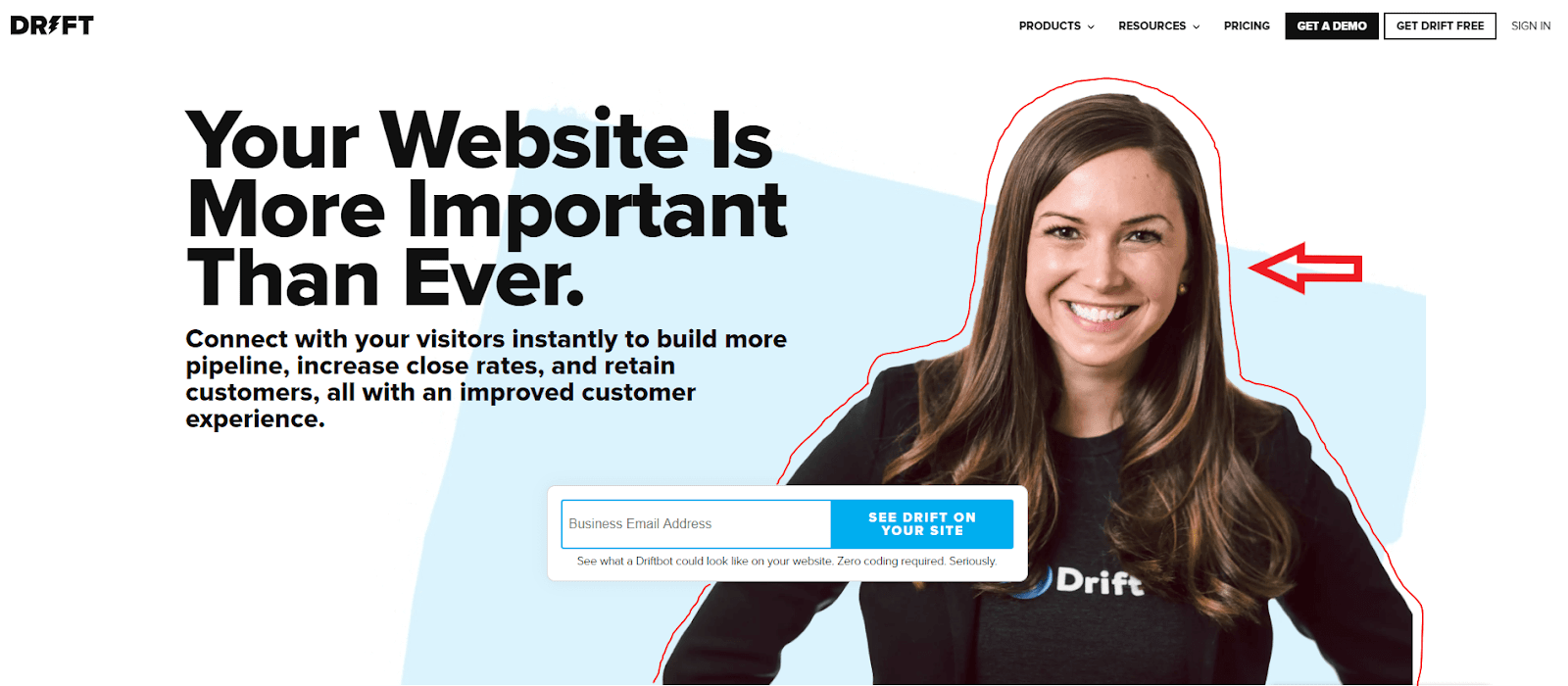 Brand journalism doesn't have to be huge social media campaigns or long press releases, Drift is telling a story with a simple image and its placement.
They are showing their audience they care about them by highlighting the customer experience over the product and they are being transparent about who you will be speaking with if an issue does arise.
We've already mentioned the next generation of consumers values a brand they can trust in so transparency should definitely be a part of your brand journalism strategy.
Let's move on to the next one.
Example #2: Intercom
Next, we have Intercom—a messaging platform that allows businesses to communicate with existing and prospective customers all within their app.
Some of the features that greatly benefit the customer experience are customizable bots, automated answers, targeted messages, and live chat options.
They are utilizing brand journalism through useful information on their blog, Inside Intercom.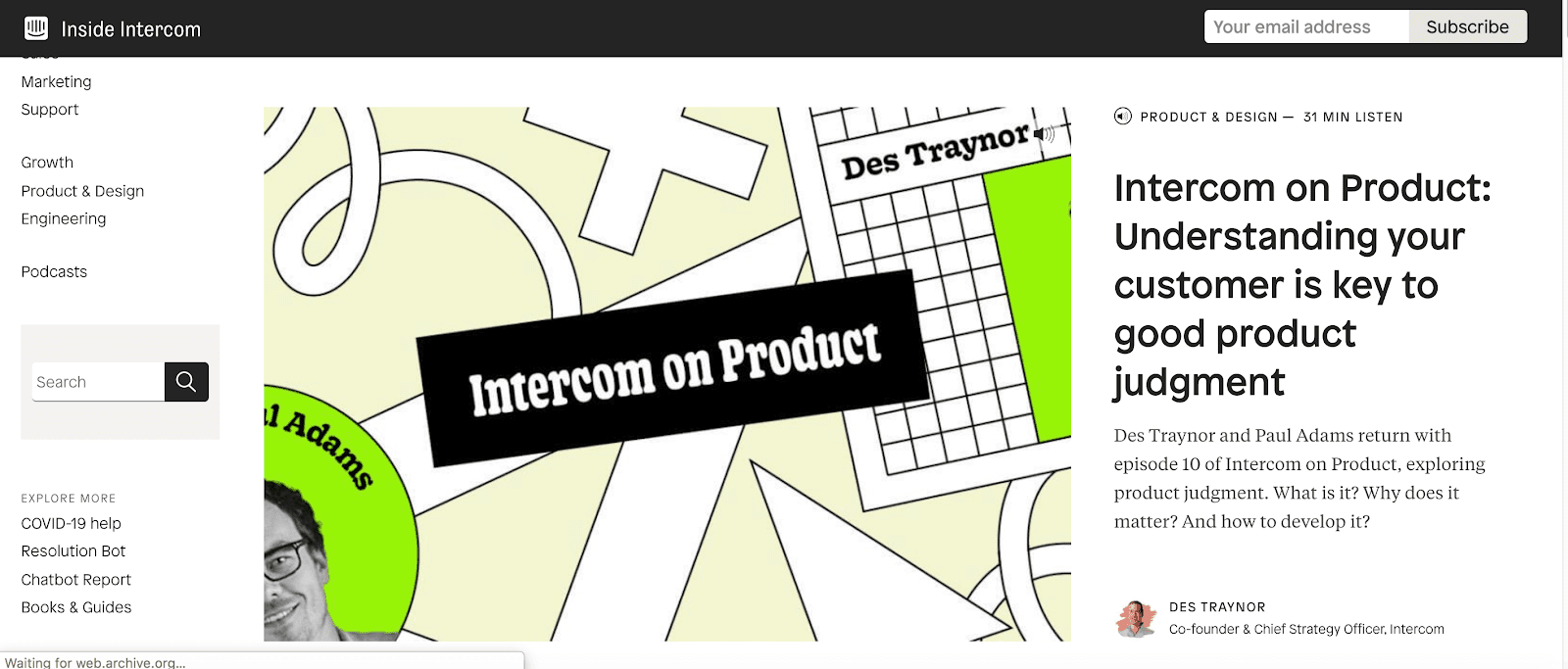 This blog provides weekly updates through written articles and podcasts that share knowledge, tips and lessons learned from years of product building experience.
There are several things we like about how they are presenting their own content. First is the speaker icon to easily identify the podcasts from the blog.
Second, the amount of time it will take to read or listen to the content is clearly displayed.
The last thing is how each author has a photo and their position at the company listed next to their name.
This openness will go a long way with your audience.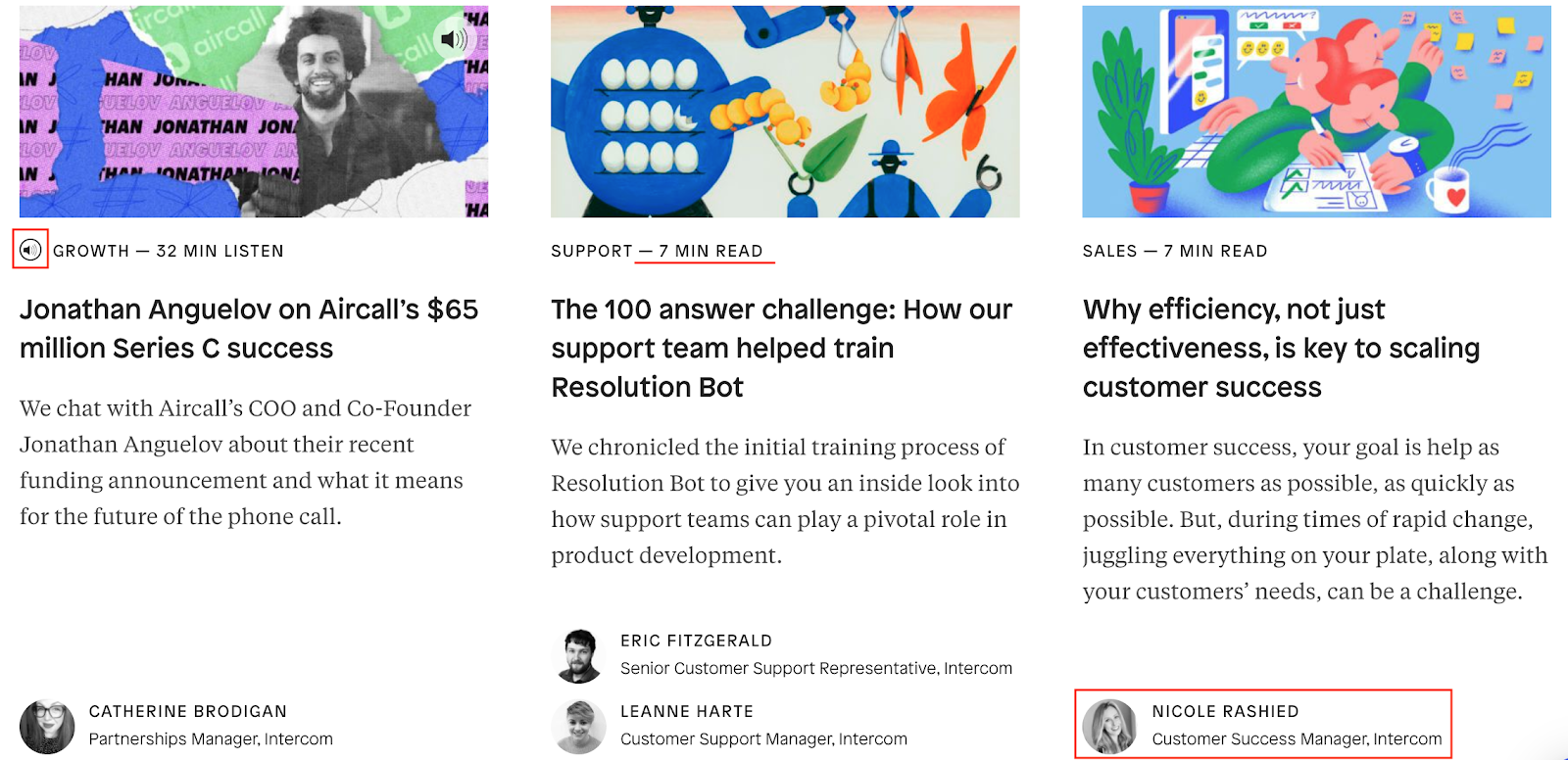 These are simple, yet impactful details that customers really appreciate because it shows that the company respects their time, helps put a face to the brand name and it makes a more personal connection with their readers.
Brand Journalism isn't all about the design and trying to make things look pretty.
Content design can evoke a certain thought or feeling out of a customer or help determine the story you are creating for your business.
Intercom does a great job at this by providing articles that ultimately have the customer interest at the center of the conversation.
They really try to express their care for the customer through some of their timely blogs relating to prioritizing customer impact during COVID-19 or a podcast about customers being key for product judgment.
Example #3: Ahrefs
Our third example is Ahrefs—the popular SEO tool & resource for businesses looking to grow their search traffic.
Although they have a dedicated blog page on their website, their CMO, Tim Soulo, expands Ahrefs brand journalism tactics by hosting information on Medium, a well-liked site for bloggers, as well.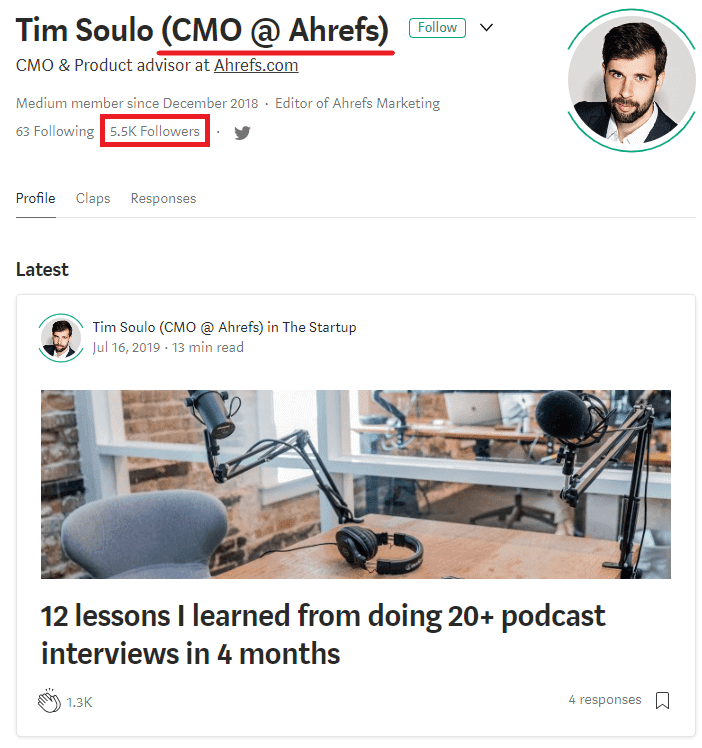 This is a great brand journalism tactic because Tim is providing valuable advice and insights on his experience while connecting a person to the brand.
This helps his audience (potential Ahrefs users) create a human connection with your brand.
Tim also has a great strategy going on, on his personal social media accounts (specifically Twitter).
His tweets share information about the company such as updates made to the website and his most recent pinned tweet—at the time of publication—gives you a virtual tour of the Singapore office.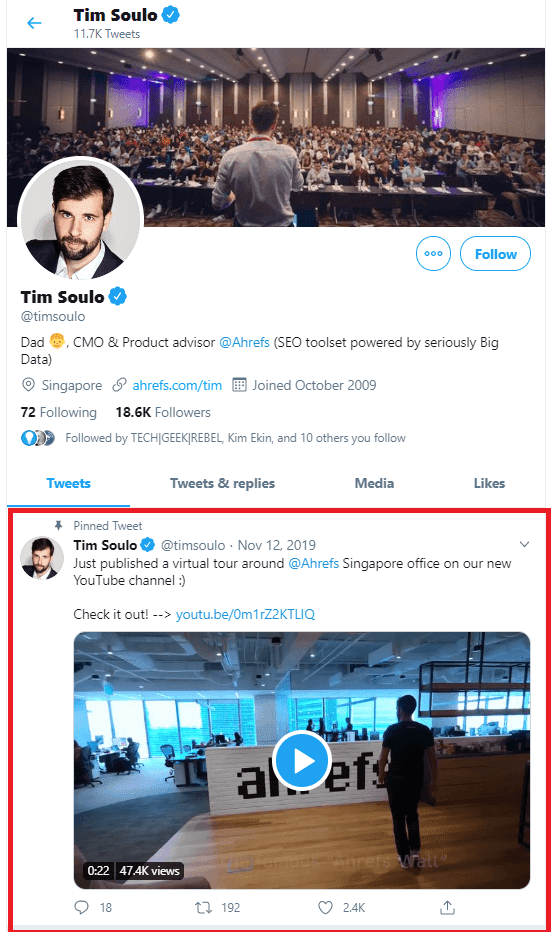 All of this goes a long way in the customer's mind because they can see you are offering an inside look at your business and operations which gives them a sense of trust.
Building these avenues of trust is important for initial sales and establishing life-long customers.
The Ahrefs blog and Tim's Medium blog offer knowledge on content marketing, lessons learned through failed campaigns and general SEO advice.
The main thing we would like you to take into consideration is that your media platforms should be a space for thought leadership and relationship building to come together to drive your business forward.
Ahrefs also has an outstanding SaaS Marketing Vlog on YouTube branded Ahrefs TV. Here you can find actionable SEO tutorials that help organizations increase their organic traffic and rank #1 on Google.
Again, this is providing valuable information to their customers while showcasing employees within the company and highlighting their knowledge.
Example #4: Basecamp
Now let's look at Basecamp.
Basecamp is a project management app that provides the tools for either a company or individual freelancer to succeed with working remotely at home.
They offer tools where you can set up to-dos, a schedule, create and upload documents and files, message and chat with your colleagues.
As of 2020, they currently have 3.3 million (and counting) accounts signed up that trust the product they've been delivering for the past couple of years.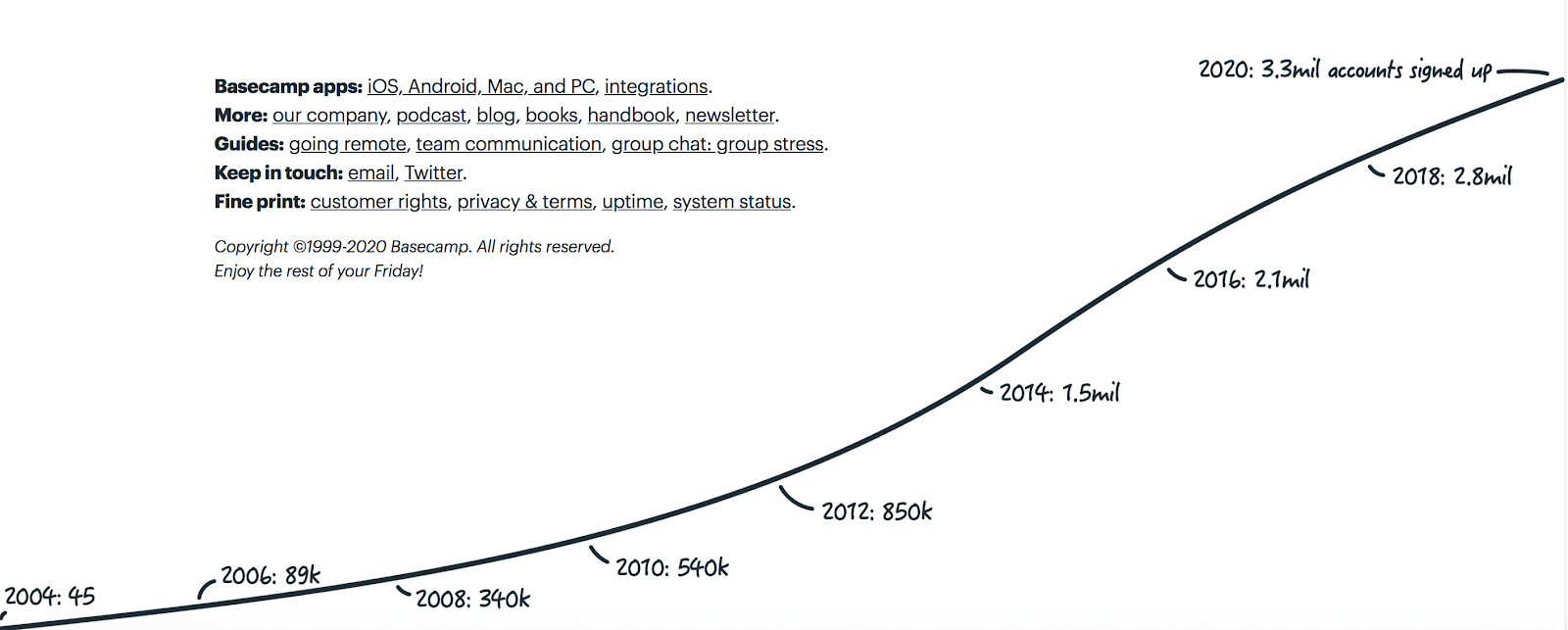 Placing this chart on the homepage of the website is great brand journalism because this is primarily where the customer journey for your audience begins and through a simple image they are sharing their own journey with you from the beginning.
Your potential customers feel valued when you share information you don't necessarily have to and you allow them to be part of your journey with you.
It's also nice for existing customers to see where you were on your journey when they signed up and where you are now. So much is said from this one graph.
On Basecamp's website, you will see that there's an abundance of additional resources, and one of those are the books written by staff members that provide relevant and practical advice.
For example, let's take a look at the following one:
Remote: Office Note Required was written by Jason Friend and David Heinemeier Hansson, the founders of the company.
In this book, they share their profound advice on how to succeed in the virtual workforce and how to unleash unprecedented creativity and productivity working from home.
Diving deeper into the catalog of previous books you will see topics covered such as breaking free of "best practices", work/life balance, and best practices for entrepreneurs.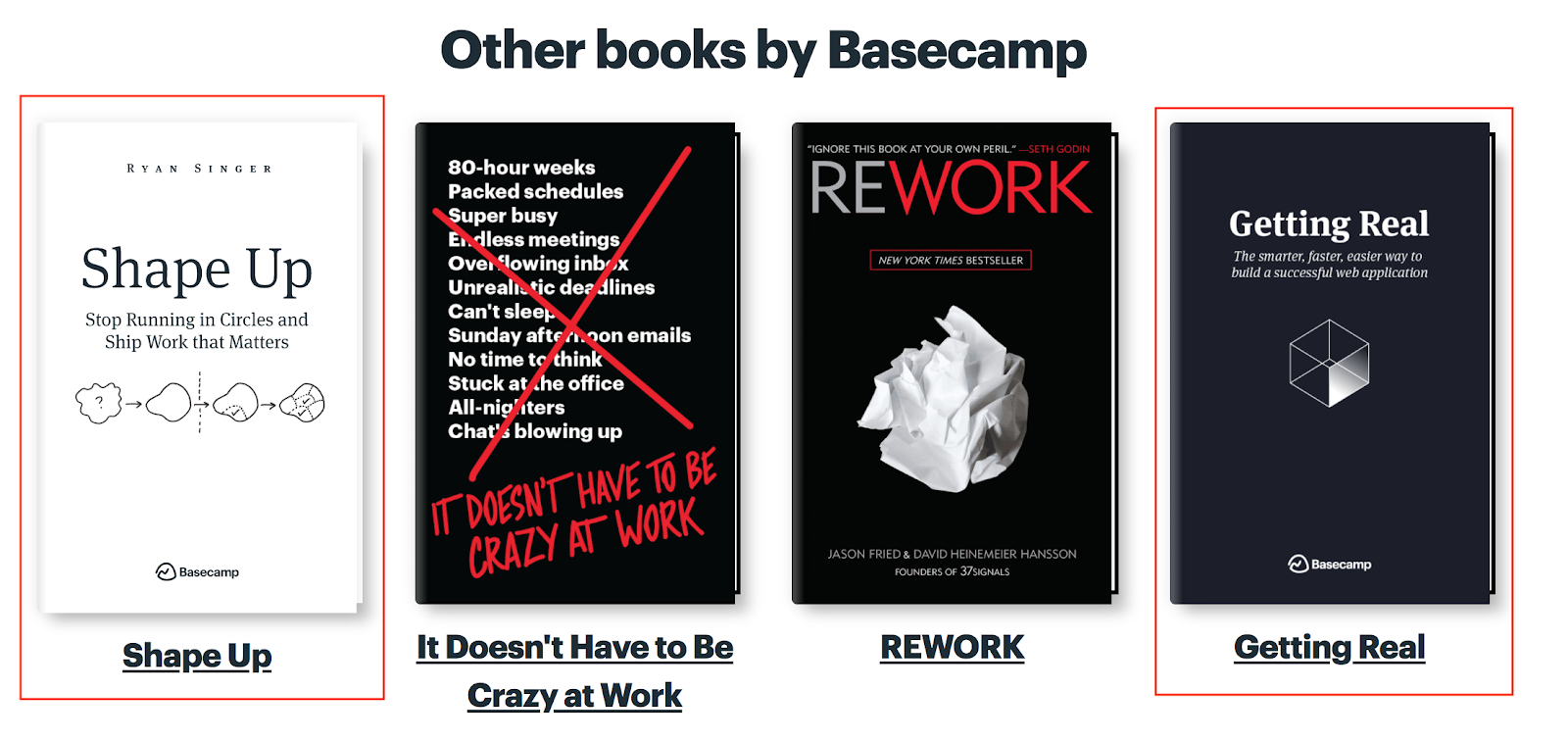 The books Getting Real and Shape Up are currently available for free to read online or as PDF versions.
Author's Note: If you don't know where to begin your brand journalism journey, literal storytelling is a great place to start. Be honest and personal about your brand story, whether it fills up a blog or a book.
Beyond the books, once you dive deeper into Basecamp's website you will discover that they have a podcast called 'The Rework Podcast', where they share personal stories and unconventional wisdom on how to run a successful business for the future.
Sometimes the founders come on to speak but other times they get relevant people in the industry or even in the company to share their knowledge and stories.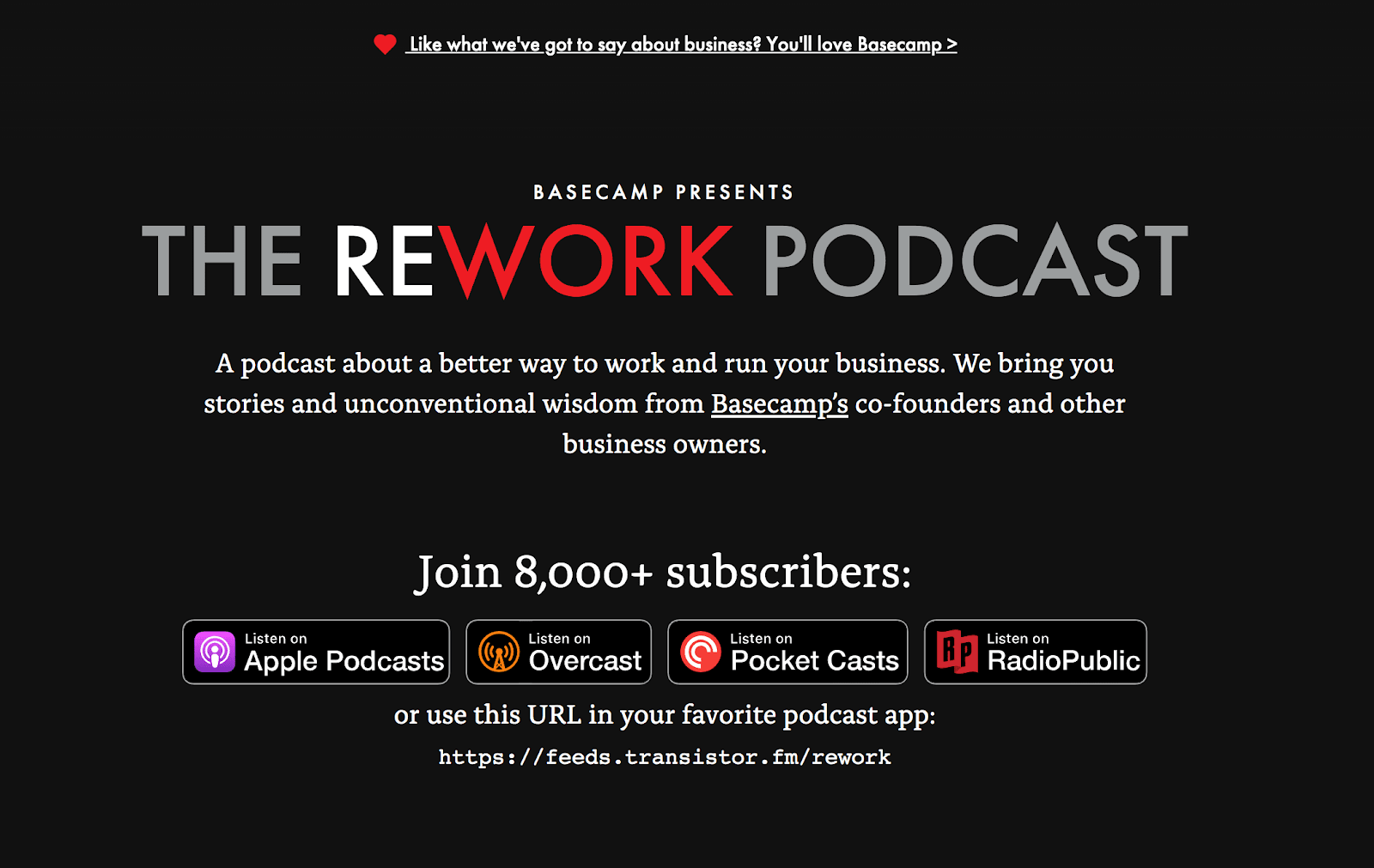 For example, their podcast entitled "Winston Sat At His Computer" has Basecamp's CTO David Heinemeier Hansson explaining why surveillance systems don't have a place in the modern workforce.
They want to make a connection with their listeners and provide content that is relevant to their everyday lives, not just useless information.
They push beyond having content to build a reputation but instead to build a community.
Example #5: KlientBoost
Now for the last brand on our list. KlientBoost is a PPC/CRO marketing agency that provides assistance for many eCommerce and SaaS companies.
Part of their marketing strategy is their blog, where you will find content that includes in-depth tips and strategy on improving the performance of your Google Ads, Facebook Ads and ultimately your conversion rates.
Another part is their YouTube Channel where you will find videos of their journey growing their MRR.
These videos are great because they are super serious and boring like some informative videos can be. These are quirky and fun while still providing valuable insights.
One of our favorite things about KlientBoost is their weekly podcast, BoostSauce.
Founder and CEO Johnathan Dane is accompanied by experts in the industry as they share their opinion and viewpoint on how to be successful in the industry today.
One thing you'll notice right away is that each podcast lists the number of nuggets dropped.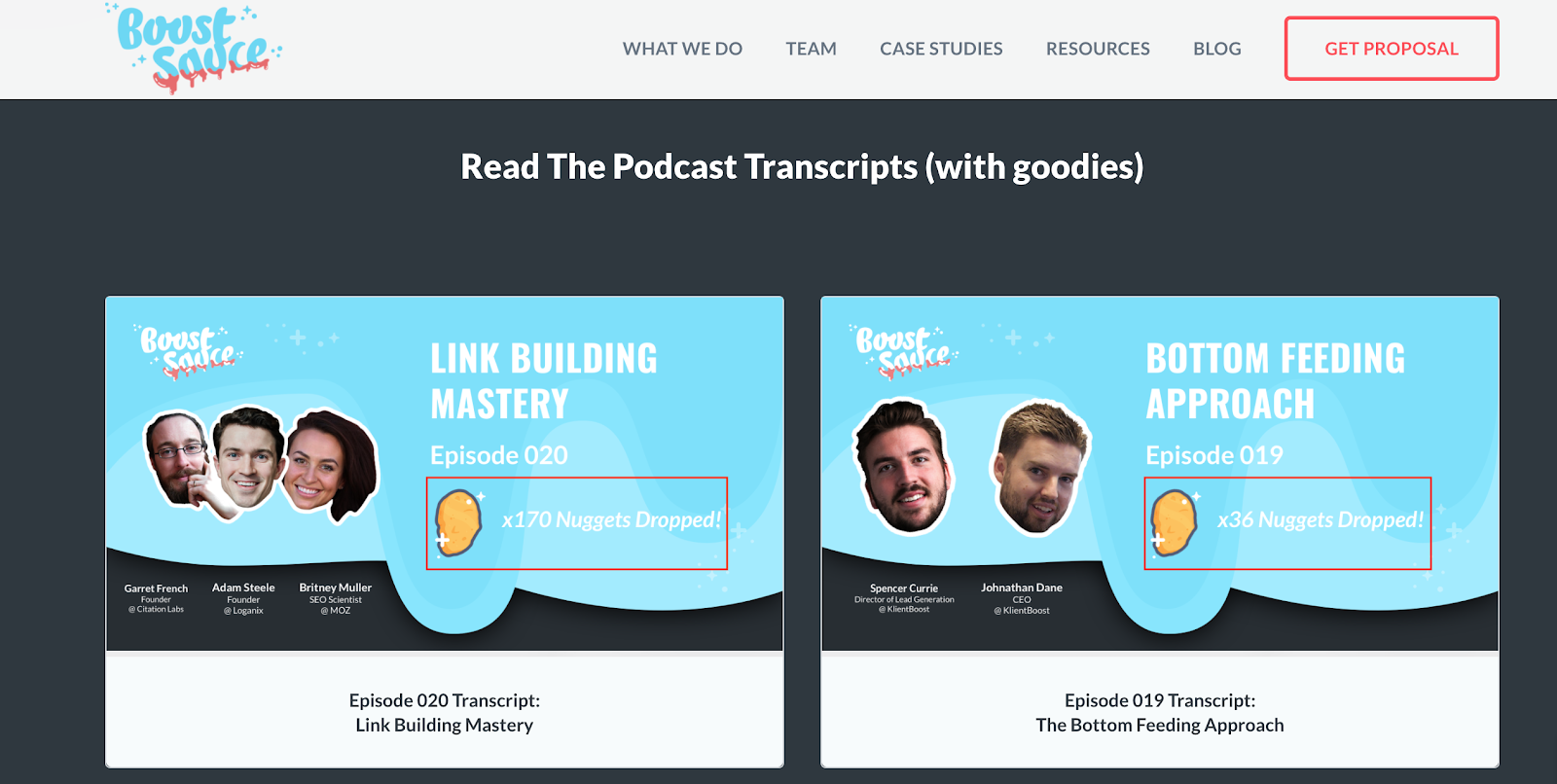 That symbolizes the "nuggets of wisdom" you will hear in the podcast. If you prefer to read through the podcast transcript, each nugget will be bolded, with a small nugget icon next to it.
This is a fun way to highlight important information while showing your audience your brand style.
Whether you're in SaaS, eCommerce, or lead gen, you'll find that the information is not only beneficial and informative but also entertaining.
This is very different from traditional journalism because of the media type, the playful nature and the fact that it is more conversational but that's what makes it great brand journalism.
It gives the brand familiarity, humor and builds that weekly relationship with their audience.
And with that, we've finished with all five examples of great brand journalism.
Let's wrap this up and close with some final thoughts.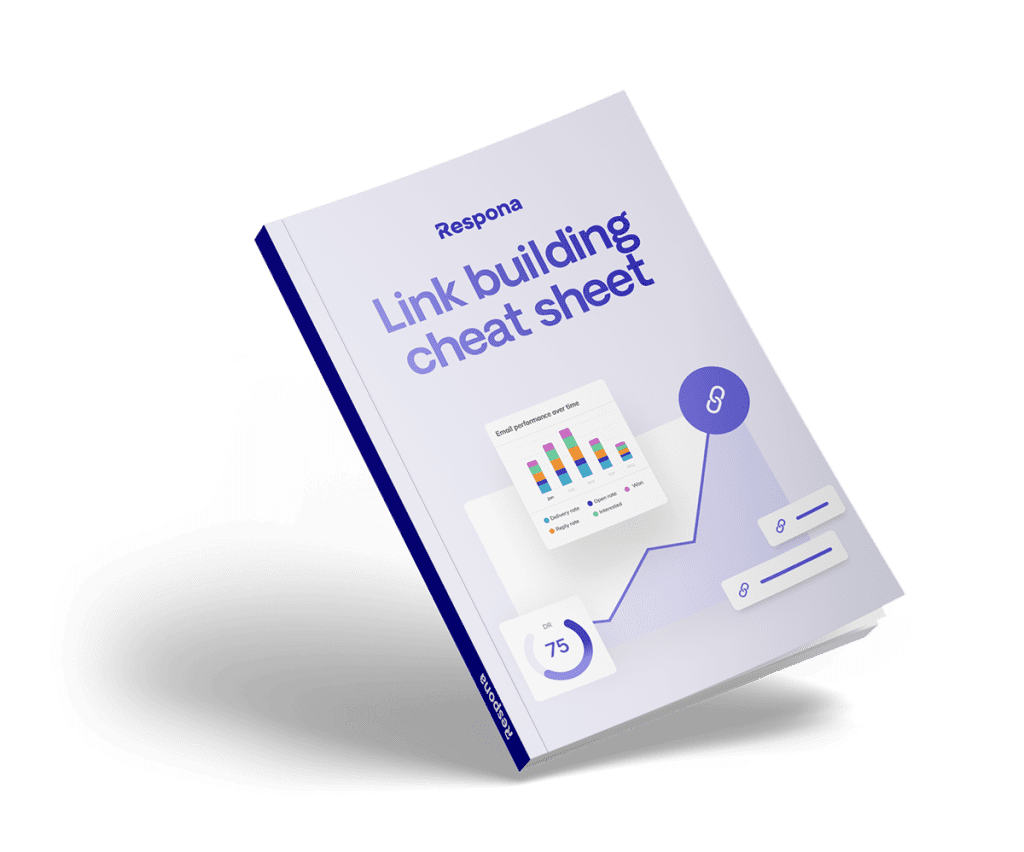 Link building cheat sheet
Gain access to the 3-step strategy we use to earn over 86 high-quality backlinks each month.
Wrapping Up
So, there you have it.
You now know what brand journalism is and why it matters for your business.
Do you have a brand story that needs to be heard? Do you want to share your journey with your audience? Do you have failures and wins that could help other people?
Then go on and create high-quality content around all these stories and learnings.
This will help you connect with your audience in a profound way.
It will also help you raise brand awareness and reach new audiences.
The best (and most interesting) part?
You don't need a PR firm to create and distribute brand journalism content that makes an impact.
You can do it yourself.
Good luck!
Author's Note: If you are needing PR help, check out the public relations part of our blog for more information.