Wondering what media monitoring is and how you can apply it to your business?
Definitions, examples, tools, and more.
You'll find it all here.
We've got a lot to cover so let's get started.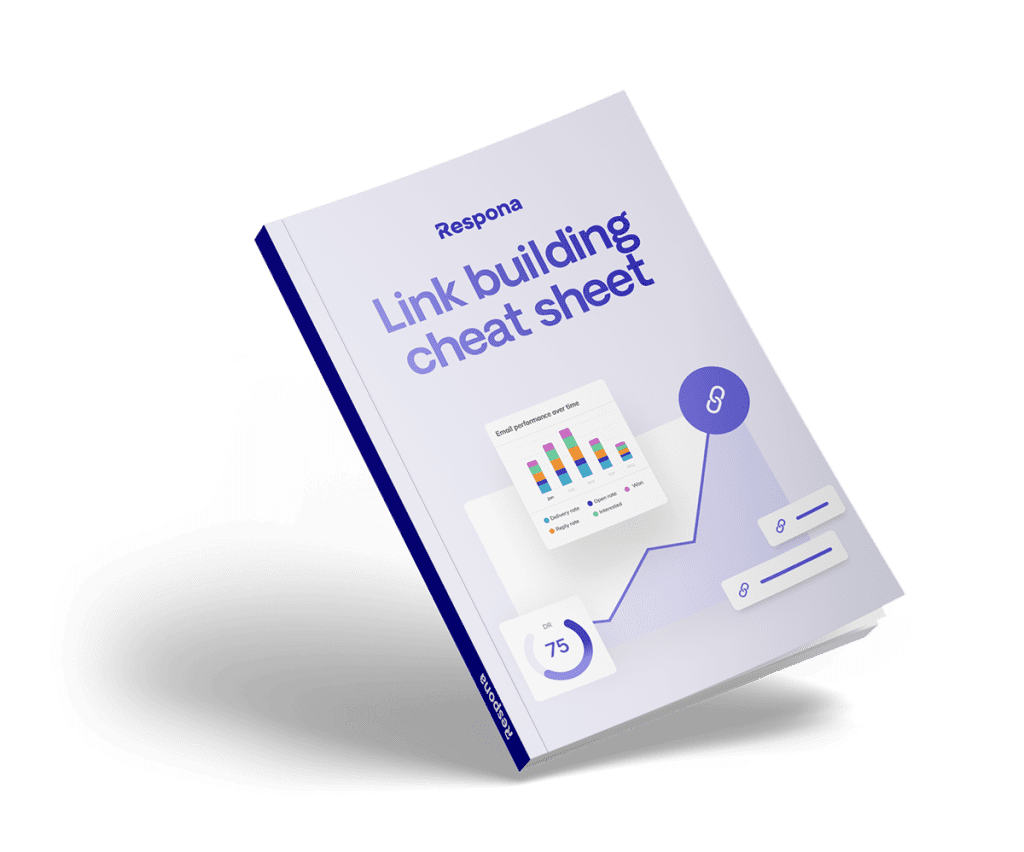 Link building cheat sheet
Gain access to the 3-step strategy we use to earn over 86 high-quality backlinks each month.
What is Media Monitoring?
Media monitoring is the process of scanning public information on print or digital platforms looking for keywords on a particular topic.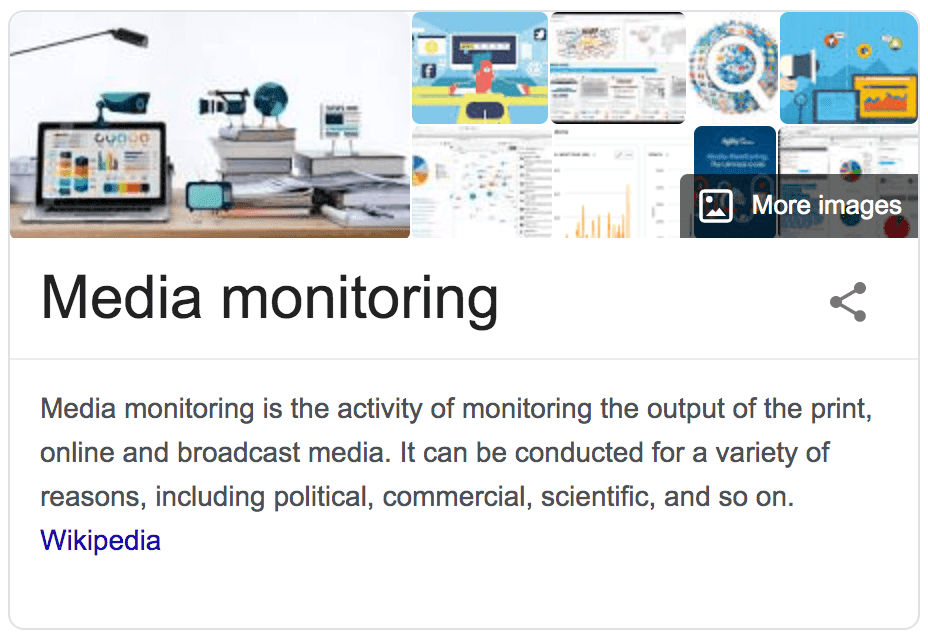 The rapid development of technology and the wider access to information, through the internet, has increased the importance of media monitoring but luckily media monitoring tools have advanced as well.
The days of manually searching articles and traditional media for a specific topic are over.
Now there are many social media monitoring tools and media monitoring services available.
Some organizations are still hesitant to invest in media monitoring because they feel like it is too expensive or they don't understand the value in it.
The truth is that the way media monitoring is being applied has changed as the media and the channels companies have to monitor have changed as well.
For example, in the early 2000's, media monitoring could refer to monitoring television shows or print media such as newspapers.
As we've shifted to digital media like Facebook, Twitter, media outlets, and online magazines, the way monitoring is performed has changed.
Nowadays, it's far more important — and way easier — to monitor mentions in social media, and the web in general, than it once was to monitor mentions on television, the radio, or newspapers.
In that context, the type of media monitoring we refer to is monitoring of modern digital media where people spend their time online and where brands have a strong presence.
We hope this guide will show you the value of media monitoring for your public relations team and will provide several media monitoring software options that will fit into your company's public relations budget.
If your business works with other people, including customers, partners, investors, etc., media monitoring should be an important part of your marketing and PR stack.
Why is Media Monitoring Important?
A media monitoring tool is important for PR pros and your business so you can see valuable insights into the public perception of your brand, marketing campaigns, products, services, or even your competitors.
With nearly 95% of shoppers reading online reviews before making a purchase and 93% of local consumers using reviews to determine if a local business is good or bad, reputation management is extremely important and media monitoring is a great way to accomplish that.
Here are some examples of how media monitoring can benefit your business:
Protecting your brand reputation
Preventing a crisis
More deeply understanding your audience
Measuring the results of current PR and marketing campaigns
Identifying public influencers
Discover potential opportunities for media coverage
We live in a world where almost everyone is connected to the internet and with positive and negative messages being able to spread worldwide in a matter of minutes, it's important to monitor the dialogue around your business in real-time.
Protecting your brand reputation is one of the most important reasons for media monitoring.
Chick-fil-a does a great job of responding to every tweet they are mentioned in whether it's a customer complaint or just a general question about their seasonal products.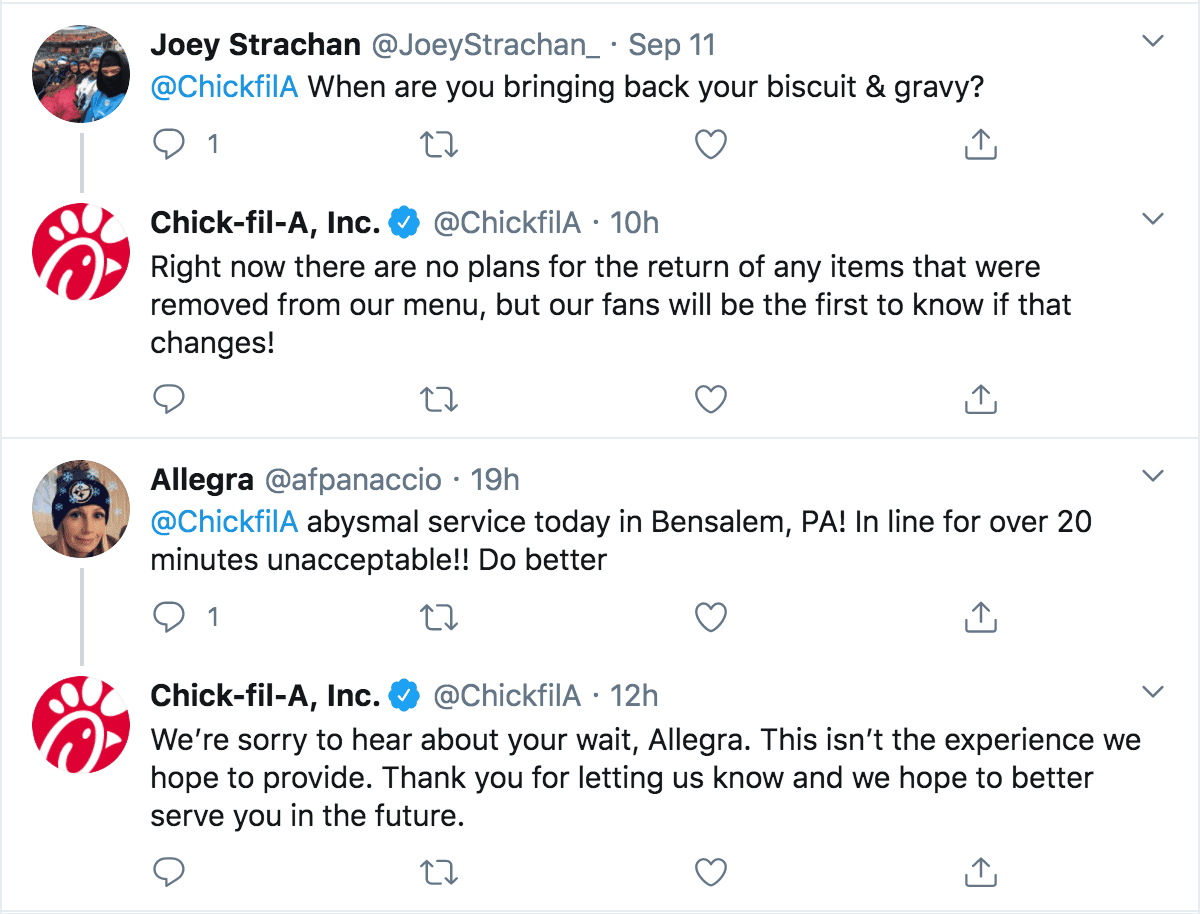 This is important because 7 out of 10 consumers changed their opinion about a brand after the company replied to a review and not responding risks increasing customer churn by up to 15%.
You can even increase sales through social media monitoring.
Target is using a social media management team to monitor all of their engagement.
By monitoring their Instagram comments, they were able to provide a customer with the information they were looking for regarding a product even though the original post had nothing to do with the product in question or sales at all.
Here's the comment by their customer,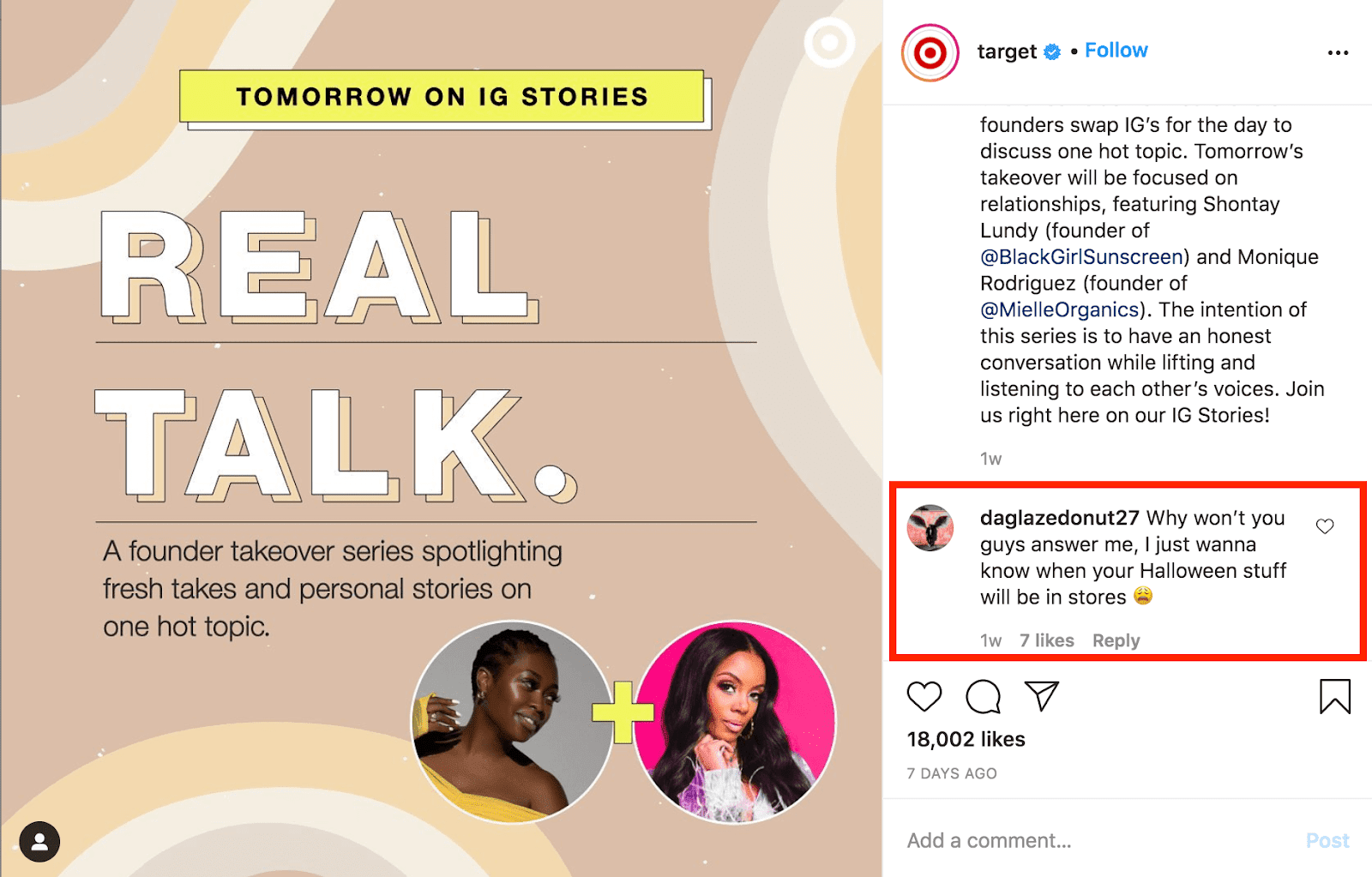 And, here's the response by the company's official account on Instagram.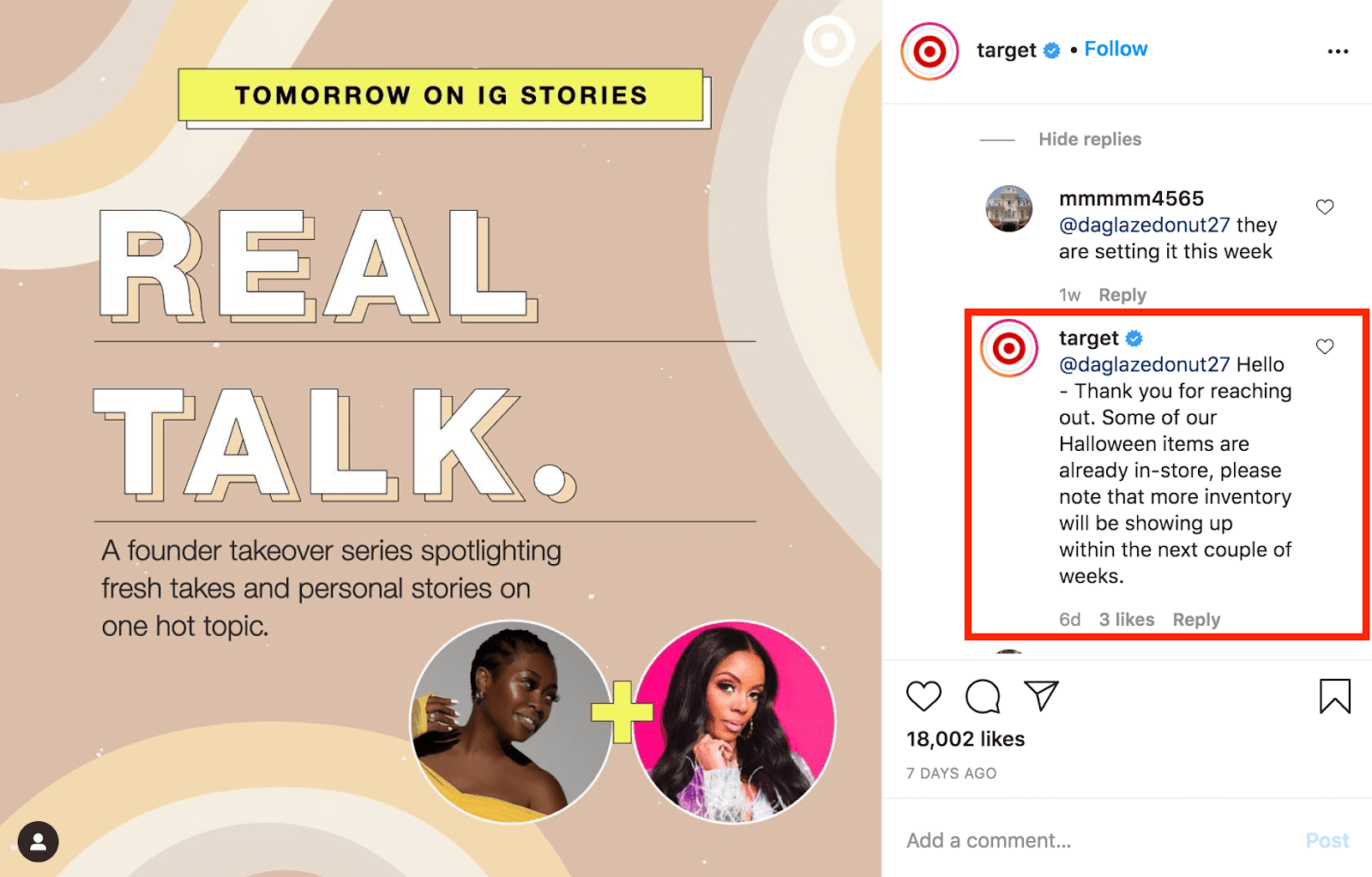 Besides your own social networks, it's important to monitor online news as well to catch potential issues that may impact your business.
This is important for crisis management and predicting market opportunities.
When the impacts of COVID-19 spread across the nation, Yotpo saw an opportunity for Direct-to-Consumer (D2C) Brands as Amazon struggled to keep up with customer standards.
First, they wrote a press release outlining the opportunities they saw for D2C brands.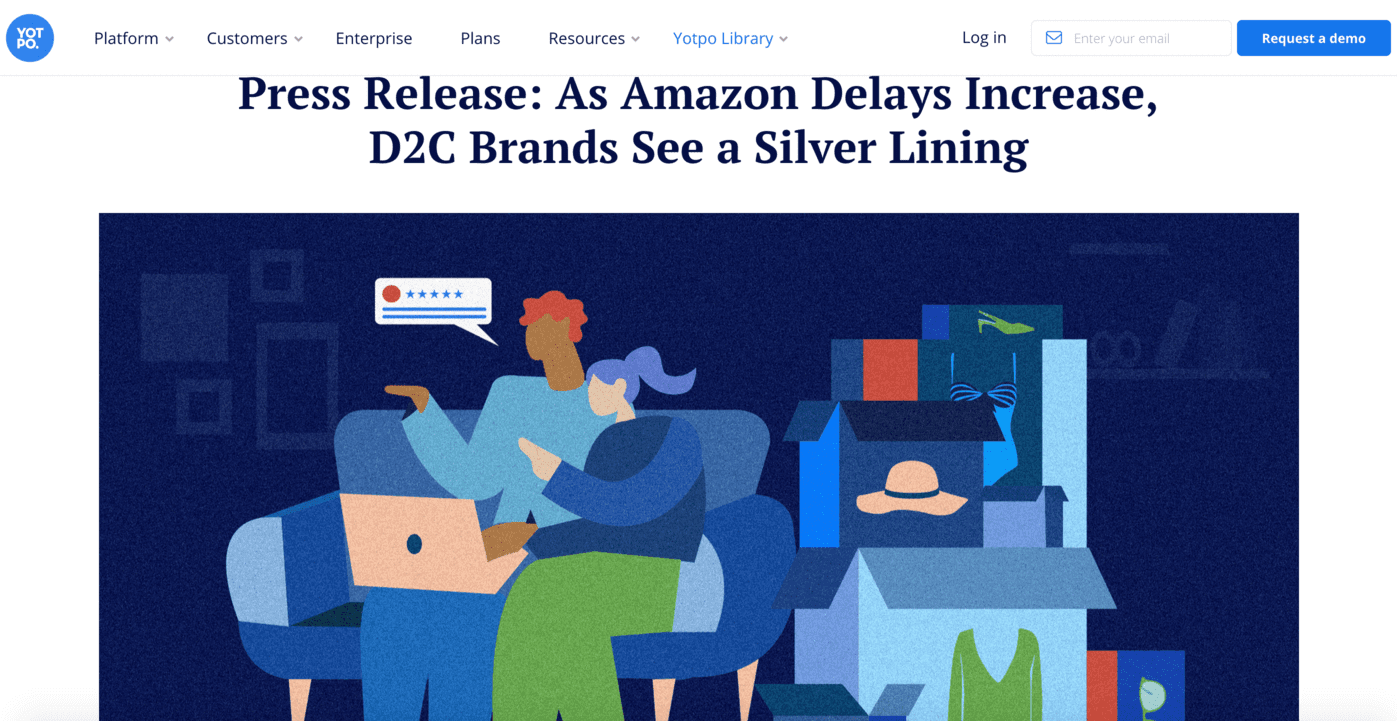 From there, they were able to gain a partnership with UPS and secured $75 Million in funding.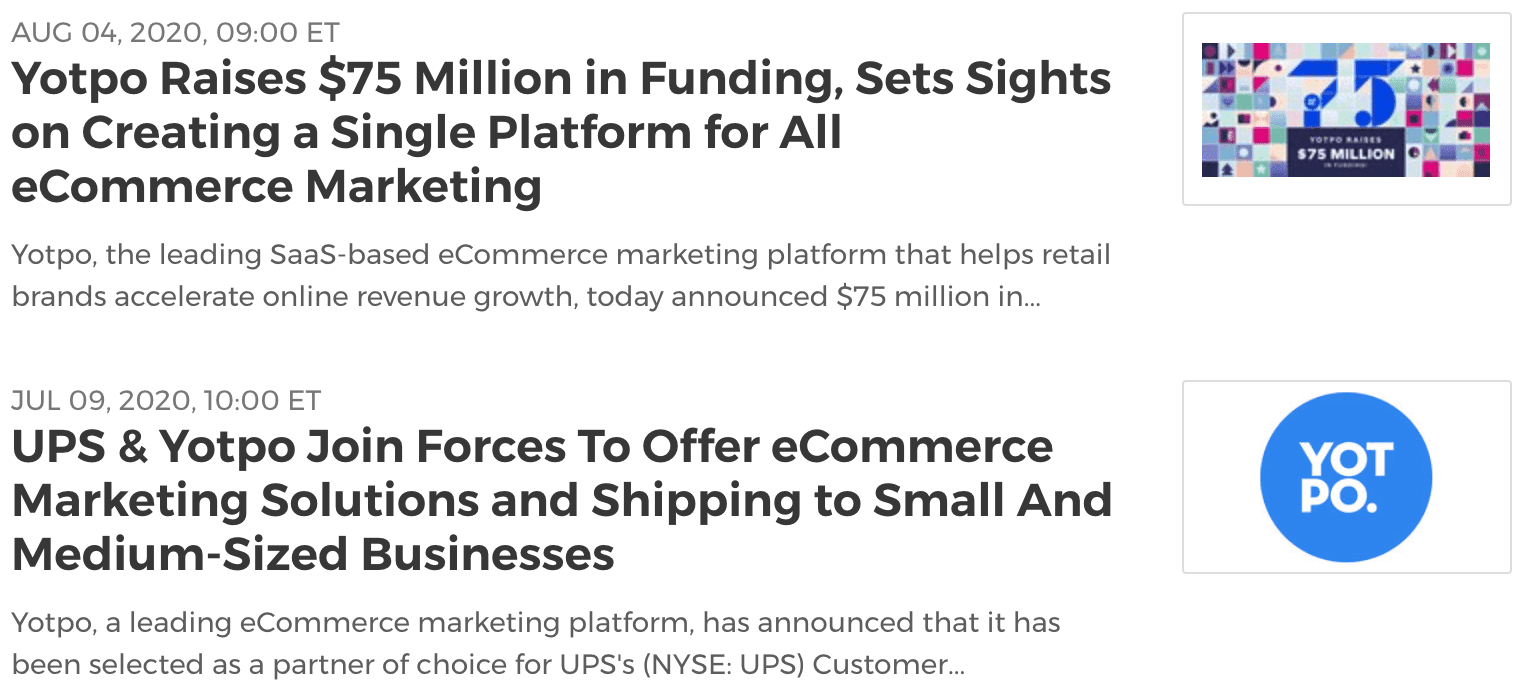 As you can imagine, being present when a new conversation starts is essential when it comes to identifying and leveraging opportunities for growth.
Media monitoring can also help you evaluate your share of voice in the market to give you insights on your competition and make sure you are dominating the conversation in your industry.
These are just a few examples of the importance of media monitoring but it can help many different aspects of your online presence.
Let's move on to the next section, where we'll break down the costs of media monitoring.
How Much Does Media Monitoring Cost?
The cost of media monitoring tools can be more complicated than you might first think but basically, the more features you need, the more expensive the subscription to the service will be.
Premium media monitoring software can be more costly but those tools are typically used by larger organizations that have the need for a dedicated consultant.
Luckily for startups and small businesses, most media monitoring tools offer a free trial period so you can test a few options before committing to a tool.
Let's take a closer look at the pricing and free trial offers for a few media monitoring companies helping pr professionals:
Respona – Two plans from $95 to $245 paid yearly
Google Alerts – Free (with Gmail account)
Ahrefs Alerts – 7-day trial for $7, four plans from $99 to $999 a month
Critical Mention – Contact vendor for pricing and free trial information
Hootsuite – Four plans starting at $25 per month
Crayon.co – Contact vendor for pricing and free trial information
Brand24 – 14-day free trial, three plans from $49 to $199 a month
Mention – 14-day free trial, four plans from Free to $450+ a month
Reputology – Three plans from $180 to $2,500 a month
Meltwater – Contact vendor for pricing and free trial information
Mediatoolkit – 7-day free trial, four plans from $117 to $1,100+ a month
SEMrush – 7-day free trial, three plans from $99.95 to $399.95 a month
Pricing gets a bit more complicated if you factor in opportunity cost and time cost but you can evaluate this deeper once you narrow your list of possible tools down using the features offered, the monetary price, and free trial information.
How Does Media Monitoring Work?
Media monitoring tools work by using machine learning tactics to continuously crawl and index sites, such as Twitter, Reddit, etc.
Once the software has indexed all of the best media sites, it can search those media outlets for mentions, customer opinions, specific products, brands, people, and more.
A lot of media monitoring tools will help you with social listening as well.
Social listening goes beyond media monitoring to pull insights from your social mentions and broader customer conversations so you can make better decisions for your target audience.
To be able to join the discussions where your business is topically relevant or to ensure your brand is present and mentioned, you must first uncover these opportunities.
Media monitoring tools like Respona can help with this.
Let's see how you can use Respona to identify opportunities to promote a piece of content, based on specific triggers that are driven by relevant keywords for the piece you're trying to promote.
First, open Respona and select "Opportunities" from the top menu.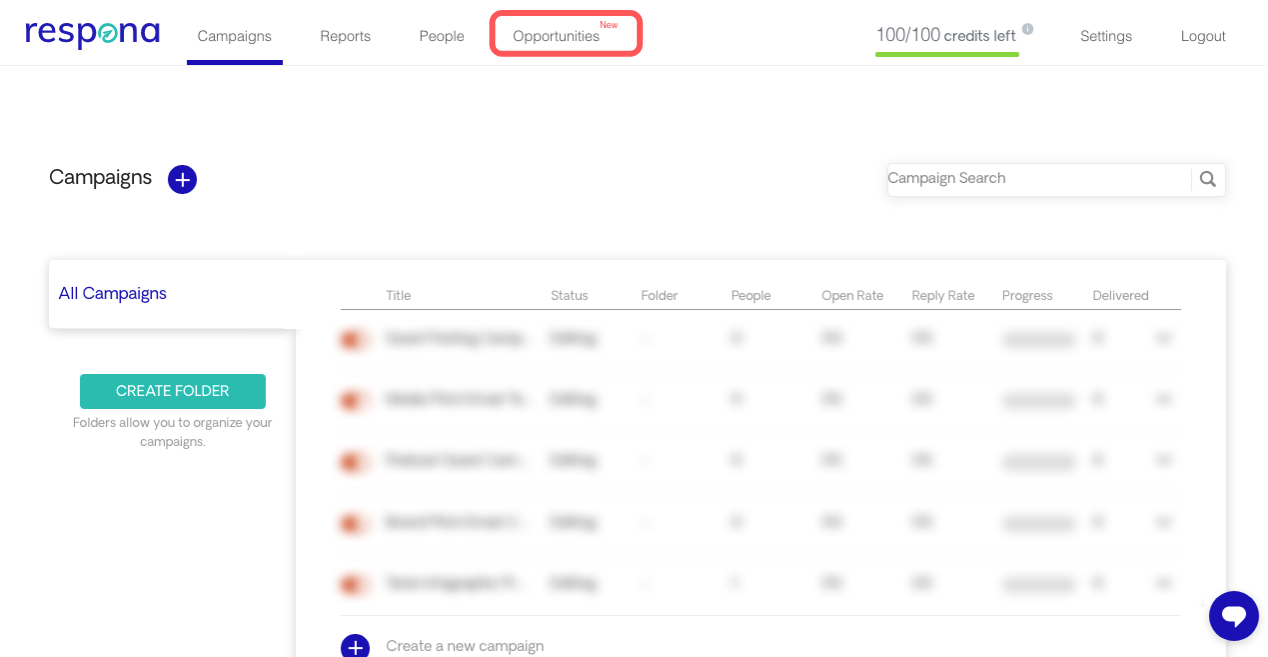 Then, create a new opportunity.

Next, you can start setting up your new opportunity.
If you have a list of media opportunities already you can add them manually but if not, you also have the option to have Respona automatically find relevant outreach opportunities for you.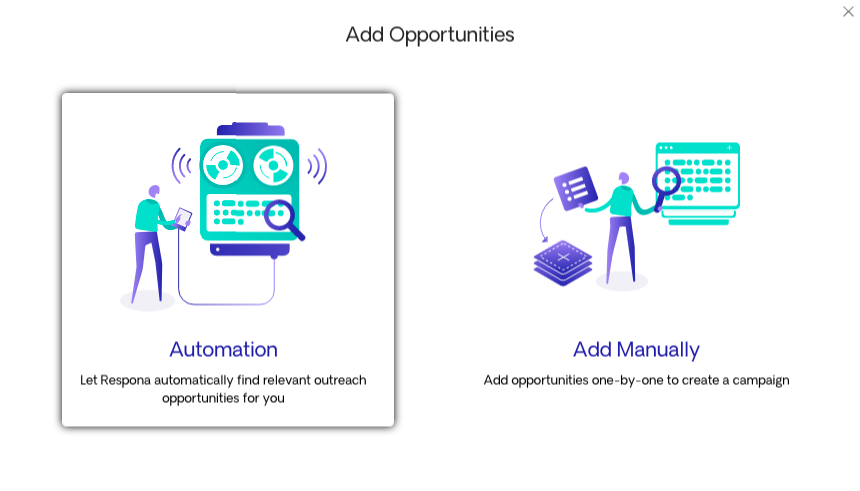 Next, you need to set the parameters for the opportunities you want to receive.
Your settings options are as follows:
Automation Name: Choose a relevant name for various types of opportunities
Frequency: Set how often you want to receive these opportunities
Market: Select which markets are relevant to your business
Send Alerts: If you want to receive email alerts, check this option and enter the email address you want to receive the alerts at
Advanced Settings: You can leave as is
Here's how our opportunity looks like: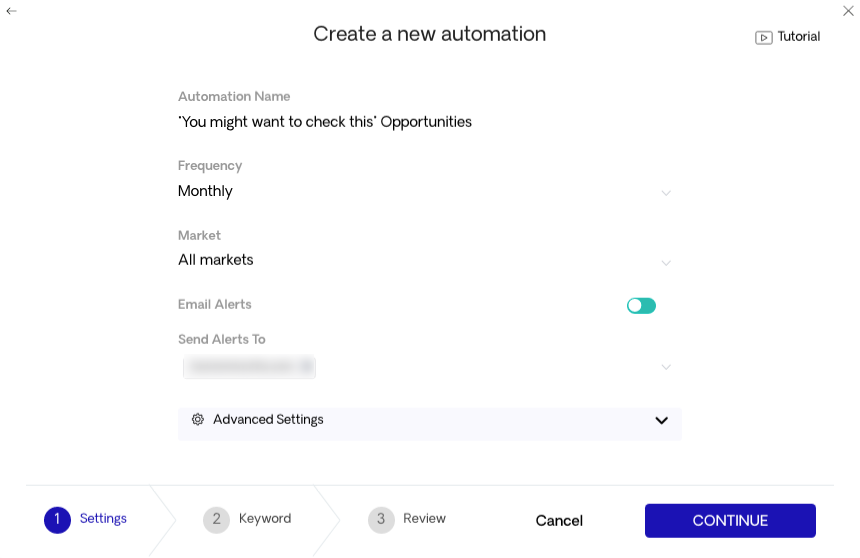 After that, you need to select the keywords that will trigger your opportunities.
You can use broad keyword targeting but we suggest using more specific keywords to get better results.
To find target keywords that don't include your brand, your search operator should look like this:

Let's look at an example from Respona's own site, a recently published guide on PR outreach.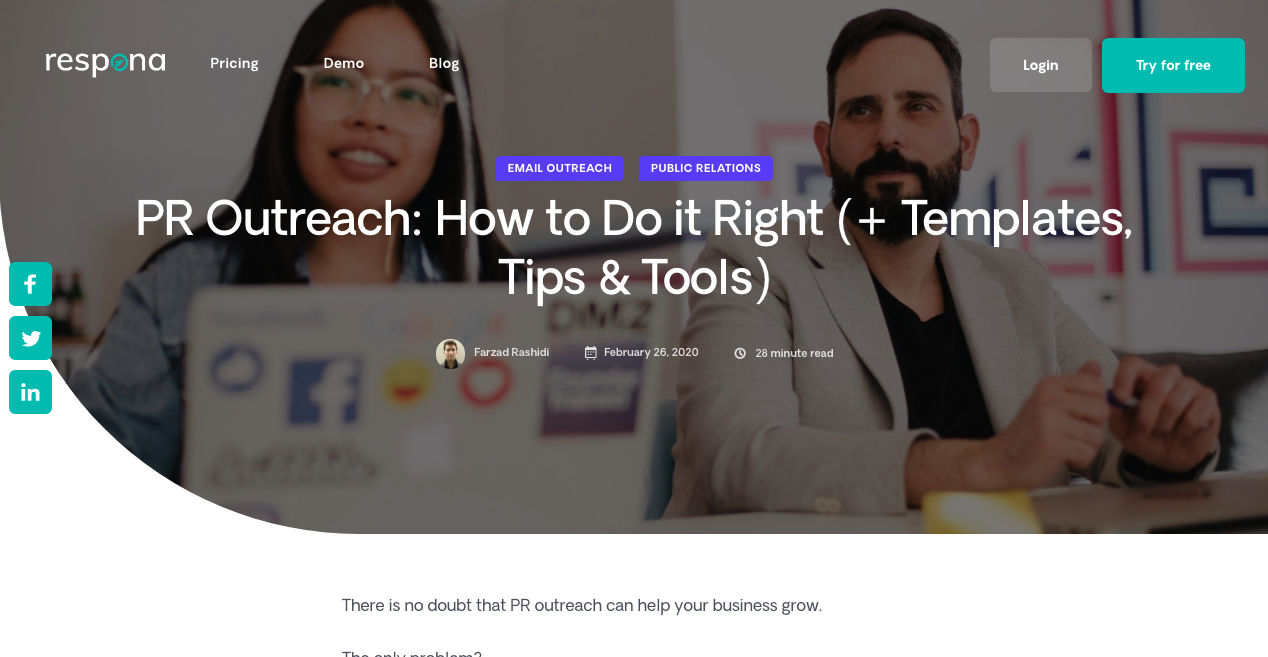 This blog, from early 2020, offers practical templates, tips, and tools for PR outreach so naturally, the target keyword is "PR outreach".
Our goal here is to identify blog posts that talk about public relations outreach but don't mention our product or brand.
By using the search operator example below we are searching for specific opportunities through Respona's Opportunities feature that does not include the company name:

Of course, you can run several searches through this feature to include more relevant keywords and phrases besides "PR outreach".
The final thing you should do before moving forward is to change the Source from "News" to "Web Search", since we want to get opportunities from every search engine and all around the web, not just news sites and news sources.

This search will provide opportunities from all around the web that include the term "PR outreach" but not "Respona".
Then, go ahead and click "Continue" to make sure everything is as it should be, and if it is, click "Create" to finish your search and start receiving your opportunities.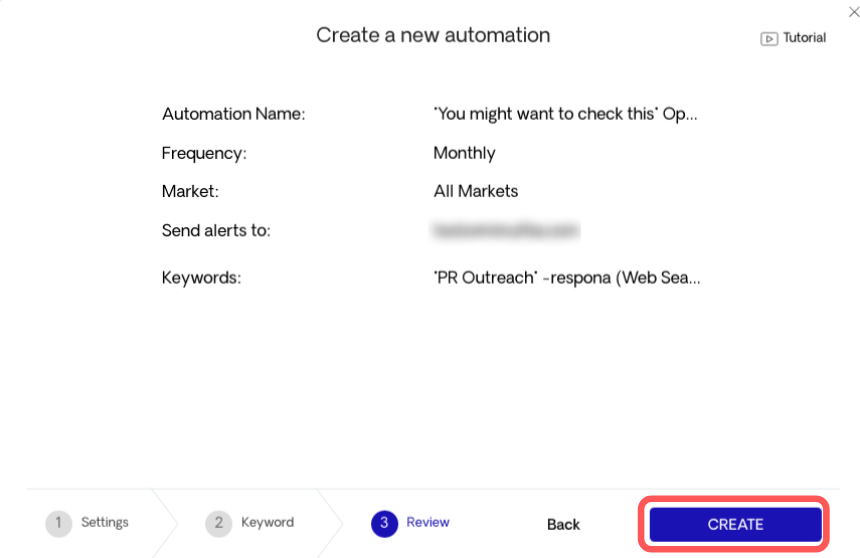 From there it is up to you to evaluate the opportunities that come into your inbox or into the software to decide which ones are the most relevant so you can start your outreach process.
5 Media Monitoring Tools (That Won't Break the Bank)
We listed several media monitoring tools when we discussed how much media monitoring costs but we want to take a closer look at 5 specific media monitoring services that won't break the bank.
Tool #1: Respona
Respona is a tool that has a unique story because it was developed internally by Visme to help us in our blogger outreach efforts.
After it worked so well, we decided to roll it out as its own separate product to help other companies achieve similar success.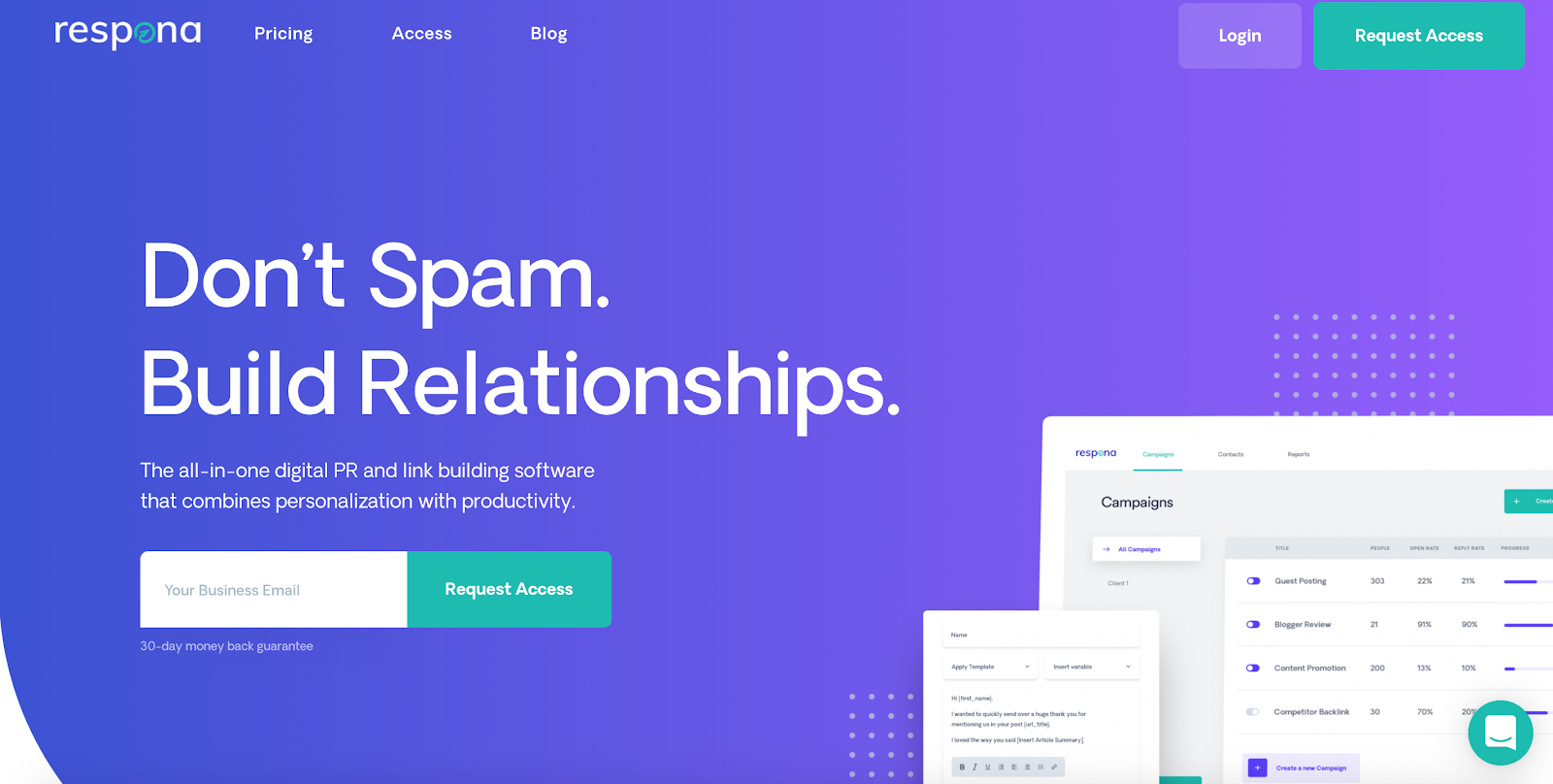 Respona combines link building, digital PR, and influencer marketing to create an all-in-one outreach and media intelligence software.
Respona's AI assistant helps you take personalization to the next level by quickly crafting customized pitches for higher response rates.
Not only can you streamline your outreach process by searching through news, podcasts, and influencers in real-time but you can also import the data you are collecting into other apps.
Then, you can analyze your campaign performance metrics all in one simple platform.
Why we like it: We may be a little biased on this one. But, we love how it integrates several different features to create an affordable all-in-one digital PR and link building software.
Pricing: $145/ a month
Tool #2: Google Alerts
Our next tool, Google Alerts, is a free content change detection and notification service offered by the largest search engine in the world, Google.
Google Alerts lets you select specific keywords to receive email alerts for.
Once you set up your alert for the topics you want to be notified about, you will receive an email when that keyword is mentioned in web pages, newspaper articles, blogs, or scientific research.
We suggest setting alerts for your brand name, products/services, and keywords related to your business.
The only downside of Google alerts is that it doesn't monitor social networks so if you want to know what is being said on those platforms, you'll need a separate social listening tool.
Why we like it: It is easy to use and free.
Pricing: FREE
Tool #3: Ahrefs (Alerts)
Another great alerts tool is Alerts by Ahrefs.
This software will monitor important SEO metrics for your website, keep an eye on your competitors, and monitor brand mentions.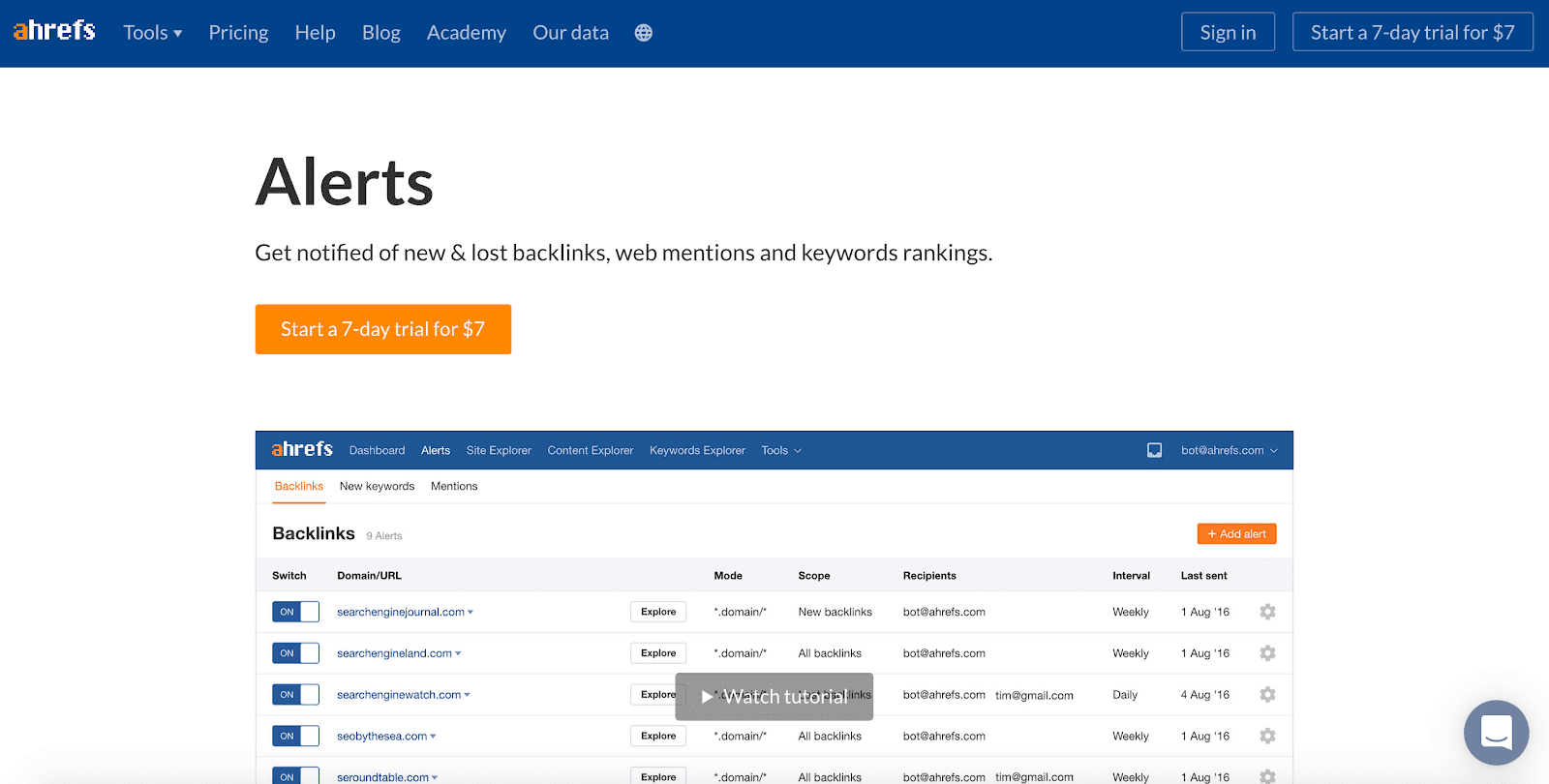 Alerts by Ahrefs tracks web mentions but it goes beyond Google Alerts to also notify you about new & lost backlinks and keyword rankings.
By setting up a backlinks alert on any website or URL, you will get notified when they gain or lose backlinks.
This is beneficial for your own SEO strategy but it is also a great tool to track your competitors' link building activity.
The keywords alert also goes beyond normal rank tracking tools because it isn't only scanning the keywords you enter into it.
Ahrefs is scanning millions of keywords in their database to notify you when the software sees any notable changes in the keyword positions.
Why we like it: The data is timely, it is very user friendly, and they add new features often.
Pricing: From $99 to $999
Tool #4: Critical Mention
The next tool we want to look at is Critical Mention, the earned media monitoring and media contact database.
Critical Mention gives your brand opportunities to grow by managing your earned media and showing you the value of the coverage you are getting.
The software is very fast so you get your notifications in real-time and you can customize and share your reports instantly.
Get broadcast, online news, social media, and licensed content alerts through modern cloud technology.
Critical mention also has a comprehensive media contact database that integrates with their media monitoring tools and an API integration that can help you take full advantage of TV and radio coverage.
Why we like it: We like the access to PR analytic tools and TV clips in one software and the visual appeal of the platform.
Pricing: Contact the vendor for pricing details
Tool #5: Hootsuite
Our last tool, Hootsuite, is a very popular social media monitoring software that you can also use for media monitoring.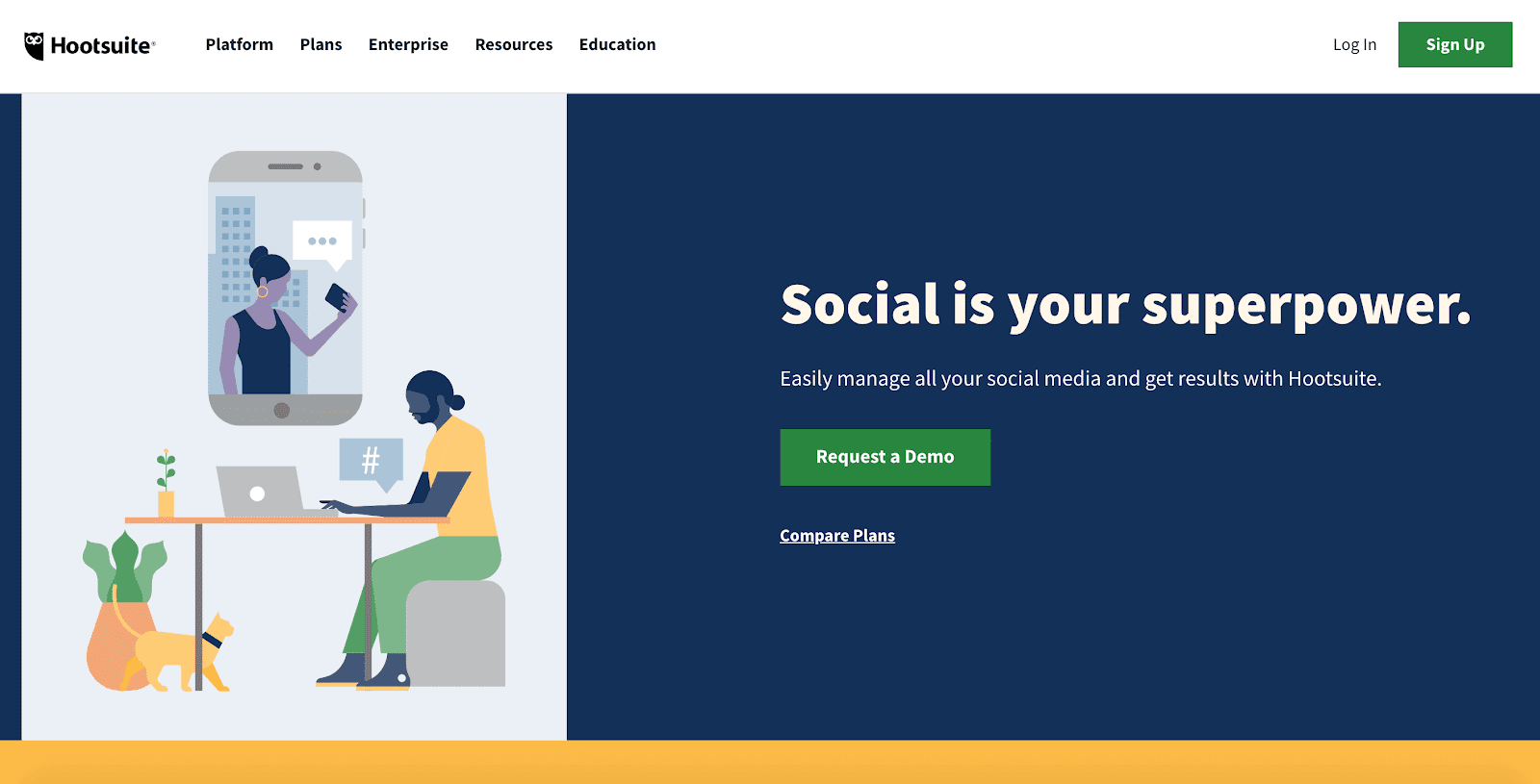 If you are already using Hootsuite to schedule your social media content, then it makes sense to use Hootsuite to monitor your media as well.
Hootsuite allows you to create custom streams to see the exact topics, trends, and social media profiles you are most interested in.
You can also get real-time audience insights and engage with incoming messages all through the software.
Hootsuite is compatible with over 20 social networks and integrates with over 100 apps such as; Spotify, Adobe, Zapier, Reddit, and many more.
Why we like it: Easily incorporate social listening tools and a variety of other apps from the comfort of one dashboard.
Pricing: From $19 to $599+ a month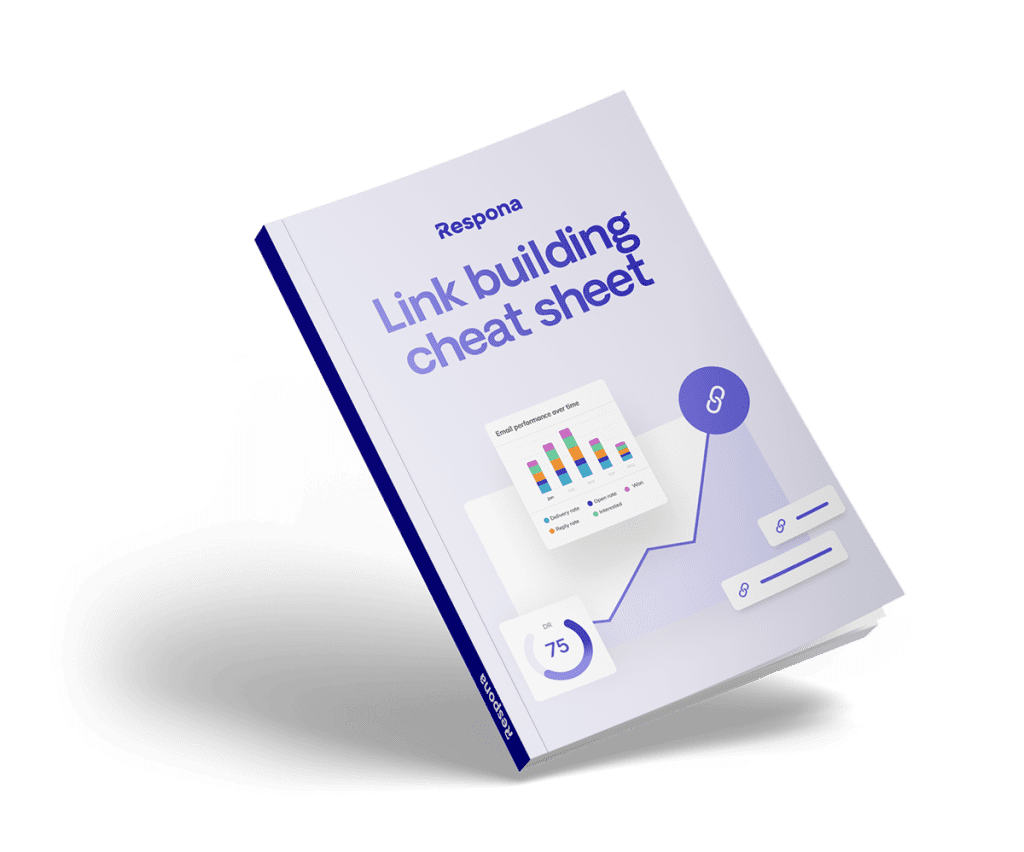 Link building cheat sheet
Gain access to the 3-step strategy we use to earn over 86 high-quality backlinks each month.
Now Over to You
So there you have it.
You now know what media monitoring is, why it is important, and how to apply it to protect your brand reputation and get more media exposure.
Remember: media monitoring isn't something only communications professionals should worry about.
Regardless if you're a small business or an enterprise, the whole organization should be focused on monitoring media mentions and mentions of your brand and take actions whenever necessary.
Now over to you:
How do you apply online media monitoring for your business? What tools have you used? What works and what didn't? Let me know by leaving a brief comment below.