47% of email recipients decide to open an email based on the subject line alone. Nowhere is this more relevant than with networking emails.
Why?
That one email is the only point of reference that they have.
So you need to use a subject line that grabs their attention and makes your prospect read the email, without going so far off the subject that they won't be receptive to your actual request.
Crafting a subject line like this is an art, so instead of trying to teach you, we're going to give you the short-cut of 20 plug-and-play subject line templates you can use for your networking emails.
Research Is the Key to a Good Cold Email Subject Line
Most email marketers will tell you that personalization is the key to a successful outreach campaign.
And it's true.
Just adding someone's name to subject lines can increase open rates by up to 20%.
But personalization isn't a one-step process where you auto-fill in someone's name, and you're done.
Especially when it's a cold email.
And with blogger or journalist outreach, your email subject line has to pass the sniff test, or it gets instantly deleted or even flagged for spam.
That's why the real key to a good subject line is research.

If you are as addicted to spreadsheets as most marketers, you can collaborate with your team in a Google spreadsheet like this to find possible openers.
Things that may be relevant:
Recent blog posts.
Recent tweets/FB/IG posts. (What content do they share/Interact with?)
Current and previous companies.
Current and previous positions
Current location and birthplace.
Participation in a certain event.
Membership in professional organization.
Contributions to websites/magazines.
Interests.
Recurring jokes/memes.
What language they use.
20 Best Networking Email Subject Lines
4 Research-backed Rules of Thumb for Email Subject Lines
Before we jump into the templates, I want to cover some ground rules that have been laid out through countless emails that have gone before.
Clarity Is More Important Than Creativity
In an A/B case study spanning several emails sent to a list of over 45,000 subscribers, clear and concise subject lines got 617% more click-throughs than the creative lines.
Only break this rule if the initial research indicates that creativity might be your best bet.
(For example, if they have a tendency to share content with creative headlines, you might have a reason to opt for a more creative approach.)
Don't Make Them Too Short
In a study done by Retention Science, subject lines between 6-10 words had on average 5% higher open rate than emails with 1-5 words in the subject line. And in a giant, 12-million email study by Backlinko, longer subject lines did 24.6% better than short ones.
Translation: Make your subjects clear and personal, and don't worry about the character count.
Title Cases Do Slightly Better
A study by Yesware into 115 million emails showed that emails that used title case in the subject case had on average 4.2% higher open rates than emails with subjects in sentence case.
Translation: "You Might Want to Write Your Subject Line Like This"
Personalized Subject Lines
Emails with personalized subject lines get on average 30.5% higher open rates than general ones. That makes it the biggest factor by far.
That's why personalization is at the heart of every template we have included below.
Personalized Networking Email Subject Lines Templates
When you are reaching out to people for networking purposes, the kind of personalized email subject line you should use depends on your connection to the recipient, and your end goal for the email."[Relevant connection] who needs your advice"
(Relevant connection) who needs your advice
Focusing on your connection is one of the best ways to communicate who you are and why they should care in a single sentence.
For example: "Fellow Chiang Mai-based digital marketer who needs your advice" "UC Alumni who needs your advice."
This subject line works on two levels. Firstly, it shows the recipient that you are not a complete stranger. Secondly, it plays on their ego by "asking for advice," establishing them as the "wise elder" in the situation.
Reaching out to you via (common connection)
You can use it when reaching out to:
Fellow alumni.
Fellow local business owners.
Local professional in same position/industry.
If the connection is not geographical, you can try other things like interests. For example: "Fellow dog-loving marketer" or "Fellow stressed-out tech-writer."
Here is one more template where you can use a connection:
(Connection name) introduced me to you at (event)
This subject line focuses on how you are actually connected to the person, even if they don't know you yet, and will make you feel less like a stranger.
Congratulations on (recent achievement)
If a company recently had a product launch or someone you admire published a book, you can use this line. You can make change it up depending on the scenario like if they have been featured on a podcast.
Just watched your interview with (name)
For example: "The XCZ Product launch was very impressive." or "Congratulations on publishing [Name of Book]!"
You can use it when reaching out to:
An employee in a relevant department at your dream company.
An executive at a company your company is targeting as a potential client.
Someone you admire who finished a big project.
Could I Ask You a Few Questions?/Would Love Your Advice
If you are looking to connect with professionals who are ahead of you in your desired industry/company, use this template.
Looking to exchange ideas with a fellow (job title)
For example: "Aspiring Google Engineer – Could I Ask You a Few Questions?" "Aspiring Digital Marketer – Would Love Your Advice"
You can use it when reaching out to:
Someone in the position you want to work in one day.
An employee in a relevant department at your dream company.
An industry journalist.
Loved your article about (topic) on (publication)
Instead of just using the tired old "Loved your piece about content marketing" subject line that has 0 personalization, add in the publication to show that you're addressing them personally.
For example: "Loved your article on content marketing on SEJournal!"
You can use it when reaching out to:
A blogger.
An industry journalist.
A staff writer at a company you want to network with.
(name), loved your (article/social media post/video)
If you are looking to connect with writers or journalists, you can use this subject line.
For example: "Karen, loved your video breakdown of local SEO."
You can use it when reaching out to:
An industry journalist.
Bloggers/writers
(name), I see you like (type of product/service)
If you are looking to connect with writers or journalists who have already reviewed the products and services of multiple competitors, you can use this subject line.
A little feedback about our (product).
This subject line serves as a direct lead into the offer of free access to your product or service.
For example: "David, I see you like productivity apps."
You can use it when reaching out to:
An industry journalist who has covered a competitor's products/services.
Bloggers/writers who have covered a competitor's products/services.
(name), thanks for mentioning (your company/product/service) on (platform)
A great way to network with writers and journalists is to monitor and build relationships with those who are already using your products.
If they shared a screenshot of your free trial software on Twitter, but they haven't covered you in a review or comparison post yet, you can offer them a full-fledged account to give them the opportunity and incentive to do so.
Here's another option that you could use:
Loved your post on (social media), would love to connect further!
For example: "Kate, thanks for mentioning Respona on Twitter."
You can use it when reaching out to:
An industry journalist who has covered your products/services on social media.
Bloggers/writers who have covered your products/services on social media.
Subject Lines for Following Up
The average response rate of a single outreach mail (with delivery rates accounted for) is a measly 8.5%. By just adding a single follow-up message, you can increase the response rate by 65.8% to 14.1%.
A quick follow-up after (event)
So by just sending a single follow up, every 100 prospects you email will get you 14 responses instead of 8.
These are the subject lines you should use when following up on the first outreach email.
Re:(Original subject line)
This approach is one of the most popular for a very simple reason; it works. You might think that to send virtually the same subject line is repetitive and boring, but you're missing an important factor here.
Email is not the same as a conversation in person. It's only repetitive for people who have actually seen and read your email before.
On average, 79.19% of business emails remain unopened and unread. So less than 21% of your recipients (- everyone who responded) have the context to get that impression.
If they don't know who you are, they aren't going to bother searching up your first email if they see a non-descript "Following up" subject line and an email that doesn't describe what you want nor what's in it for them.
When to use it:
When your first cold email didn't receive a response.
Following up on (your post) on (publication)
A big part of blogger outreach is targeted link building at existing posts and pages. (A great example is a resource section that features many of your competitor's products, but not your own, or a comparison post of 3 competitor's products.)
These links are from relevant pages/sites and can be of high value. That's why it's important to follow-up.
For example: "Following up on your content marketing post on SEJ"
When to use it:
When your first cold email about a specific blog post didn't receive a response.
RE: (Post Title) (Site)
Bloggers, journalists, and anyone with a public profile online get a lot of inbound emails that ask them for something.
If you really want to network and build a relationship, it's often better to follow up by giving some actual value to start off on the right foot. An easy way to do this is to offer more up to date statistics/case studies.
Writers love a good case study or some fresh research they can use to back up points in their piece.
For example: "Sarah, thought you might like this new research on email personalization, backs up what you wrote."
When to use it:
To follow up on high-value journalists/bloggers when your first cold email where you asked for something didn't receive a response.
(name), Thank you for (featuring product/including link/interviewing us)
Networking, or building relationships with people that are in a position to help you out professionally, doesn't stop when you've successfully received one small favor. (And don't kid yourself, 99% of the time, they are the ones doing you the favor, whether you gave them a free upgrade or not.)
Hey (name), just checking in since we last talked
Make sure to follow up with and thank every blogger, writer, journalist and industry expert that gives your product/service/company the time of day. (If they are important in the industry and located close to you, you might even consider sending a hand-written letter along with a goodie bag.)
Hey (name), did you have a chance to think about (what you discussed)?
Building a strong relationship with these people can become an asset to your business in more ways than just links or mentions, and showing your appreciation is the first step.
When to use it:
To follow up with anyone who fulfills your request.
How Respona Speeds Up the Process
Manually following up at exact intervals with personalized emails is a lot of work for 5 prospects. If you have a sizable outreach campaign it becomes a full-time job.
Automated outreach tools help eliminate repetitive tasks like finding and confirming email addresses, and sending each follow-up email depending on whether or not you received a response.
With Respona, can create outreach campaign simply by selecting relevant articles, without any emails or contact information.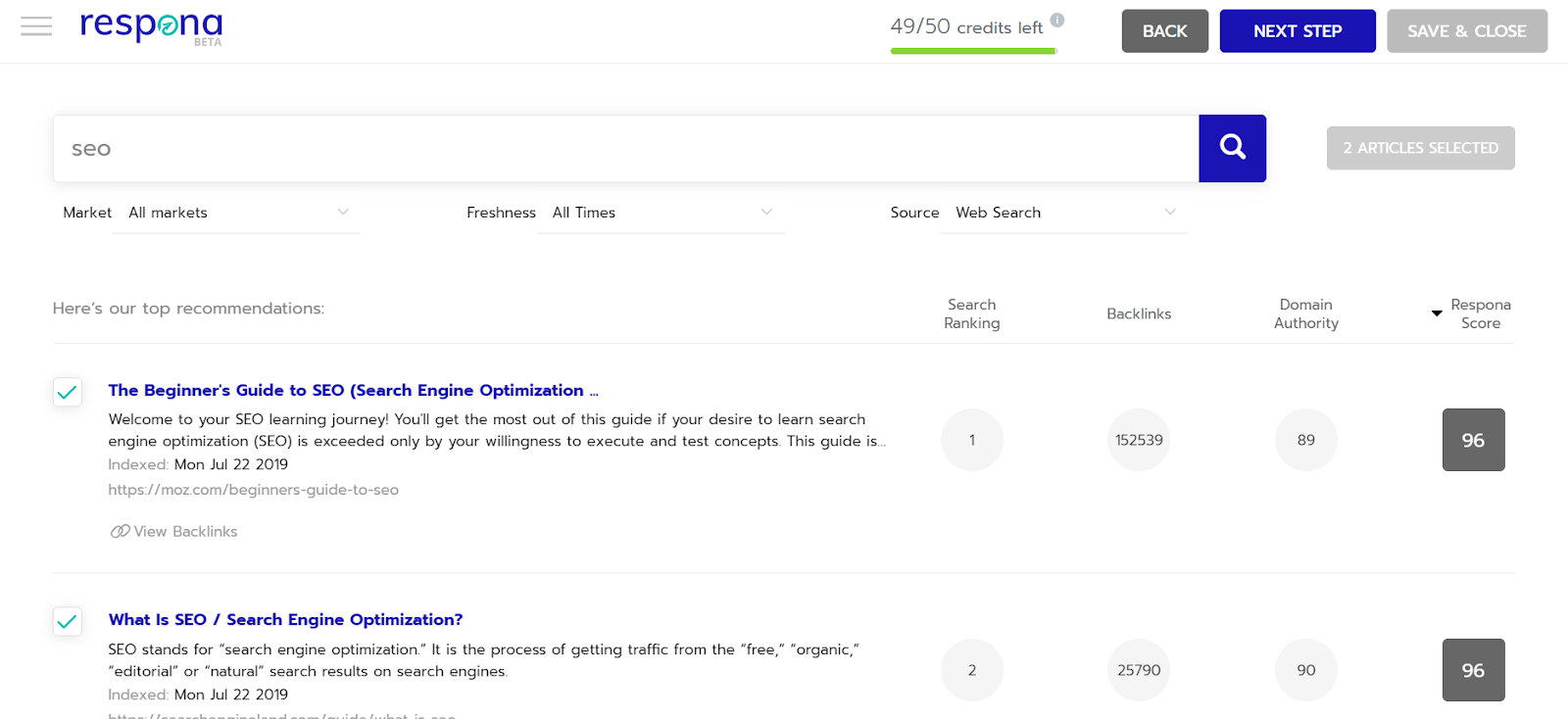 Respona will automatically find relevant contact information (including email addresses), and give you a chance to confirm the target before initiating the campaign.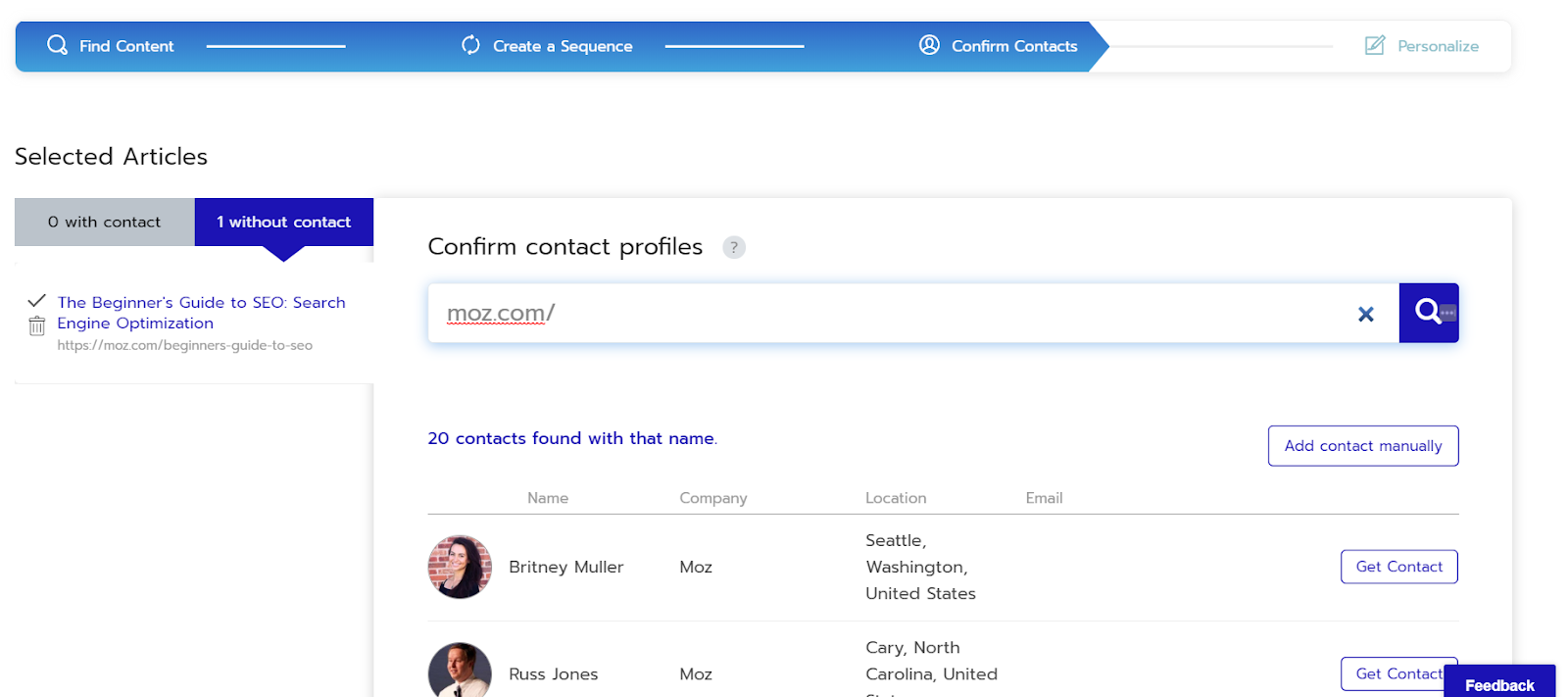 When you're confirming the contacts for the articles in your campaign, Respona automatically also scrapes relevant information from their LinkedIn profile.
It also automatically finds the highest quality email available to increase the chances of delivery.
With Respona, research and personalization are built straight into the experience. Our most unique feature is our AI algorithm that automatically reads and summarizes articles for you. That makes it perfect for blogger outreach.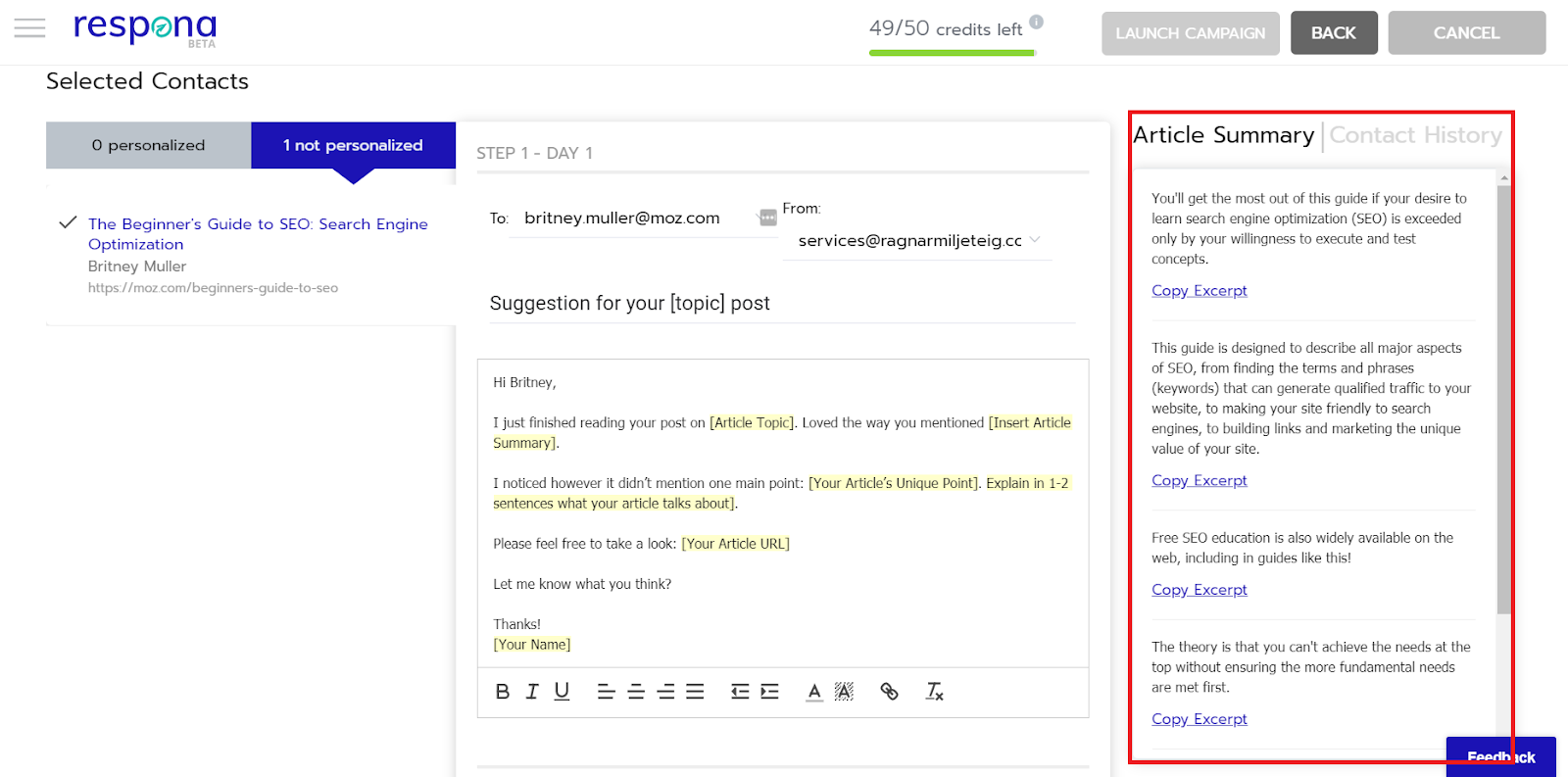 All you need to do is copy, paste, and clean up the section you want to include in each mail.
No Excel or Google sheets required!
Import Existing Outreach List With a Few Clicks
You can also upload existing outreach lists with a few clicks. First upload the file in a CSV format.

Then simply match the attributes with the column titles in your sheet, and you're ready to import the list.

Pro tip: If you're planning on using respona, make sure you keep track of the original article. This will let you take advantage of our AI's article summary functionality to reference the relevant articles.
If you are running a resource post link outreach campaign, this is of course something you already include in your sheets.
Conclusion
No matter how good your networking email itself actually is, it won't make a difference unless it is opened and read.
In 2019, the battle for people's attention on their digital devices has reached a new high, and you have to give people a reason to give you their time. Most people scan their inbox and leave the majority of their emails unopened.
That's why you should use subject lines that immediately show why you are relevant to them, and what you want.
Following these templates will give you a leg up when you create outreach campaigns in the future.
What is the best networking email subject line you have ever seen in your inbox? Did you end up collaborating on something after the initial outreach?
Let us know in the comments.