Looking for a solid PR plan for your PR strategy?
We've got you covered.
In this guide, you can find our simple and free 5-step PR plan template for 2021.
Here are the steps you'll learn about in this guide:
Determine who you're trying to reach
Define the key messages you want to communicate
Choose the right channels and mediums
Choose the content types you're going to use
Measure the success of your campaign
We've got a lot to cover, so we'd better get started.
What is a PR Plan?
A PR plan, or public relations plan, is a strategy used to manage the public's perception of a person or organization.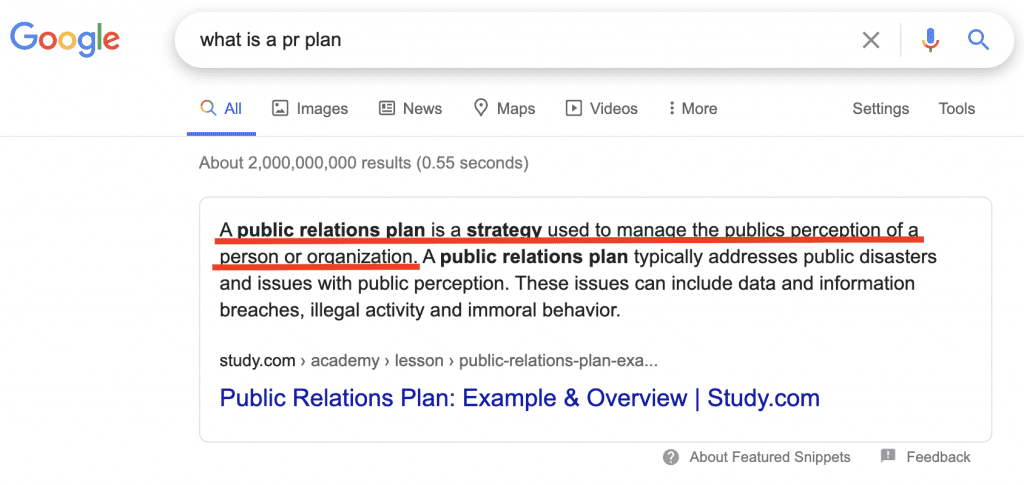 This plan is generally developed either by PR experts within your organization or by a PR agency.
PR plans are sometimes used if a notable employee in the company was caught doing something illegal, if personal data was leaked during a security breach, and many other situations where crisis management is important.
Most of the time though, PR is used to spread the word about your company's products or services and help you form a good perception of your company to your target audience and to the public.
The key aspects of creating a quality PR plan are to know who your target audience is, identify how to reach them, and address the matter at hand.
Let's look at Tesla's Cybertruck announcement as an example.
Yes, the event is focused on a product announcement, but since this product is unique to the market, it is also improving the company's brand image.
That announcement was held in California on November 21, 2019 and November 24 – 30, 2019 the term "Cybertruck" saw the highest search volume according to Google Trends.

Not only was a huge interest shown in the product, but, according to Elon Musk's Twitter feed, 187,000 Cybertrucks were ordered within 3 days of the product announcement, with no advertising or paid endorsement being used.
This one announcement increased brand awareness, showcased a new product, and generated a very high revenue.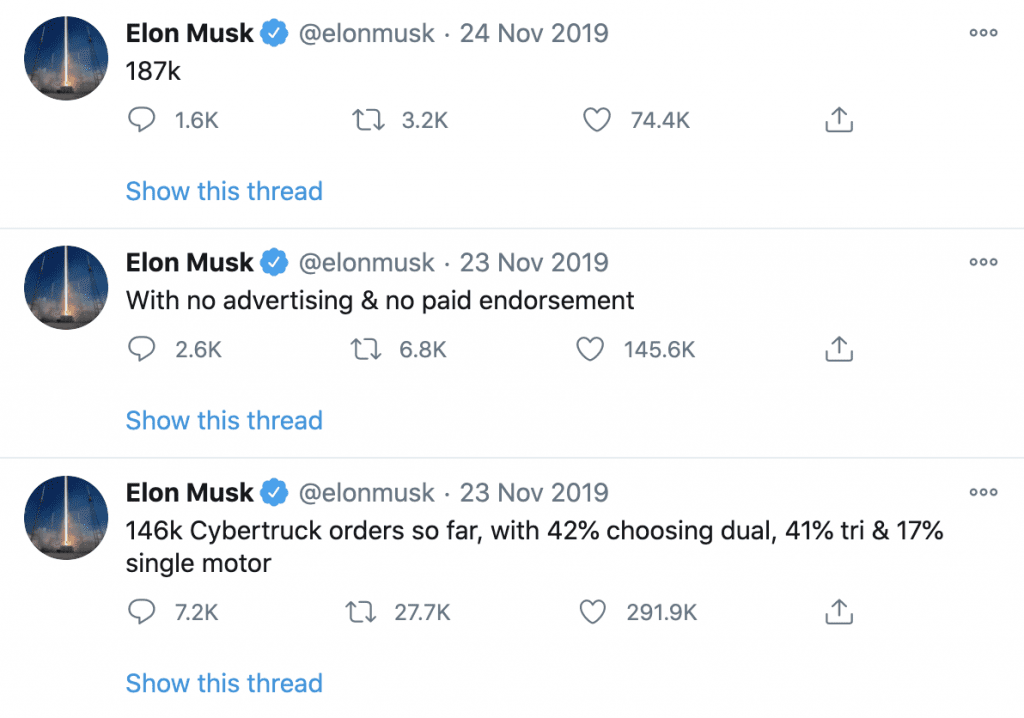 As we mentioned above, the ultimate goal of your PR efforts should be to improve your brand image or recover from a disaster, but if you can accomplish these things while increasing sales, you've really hit the sweet spot!
This is a great example of why getting your message in front of the right audience is so important.
This is even more important for small businesses who don't have the same exposure Tesla has.
Author's Note: Keep your KPIs in mind when building a public relations campaign, but don't solely focus on them. In most cases, sales is the ultimate goal, but there's more to PR than just generating sales for your business. Try to think in the long-term and avoid using tactics with short-term outcomes.
If you're looking for more resources on public relations, check out our practical guides.
Now let's break down 6 step-by-step tips for writing your own PR plan!
Step #1: Define Your Target Audience
The first thing you'll want to do when setting up a PR plan is to define your target audience.
This audience will vary depending on your business goals and the industry your brand operates in.
You can see the full definition of a target audience below but in simple terms, this audience is a group of people who you want to communicate with or who you want to hear about your brand.
Throughout this post, we'll be filling out the PR template for ourselves, Respona.
If you're unfamiliar with our brand, we offer an all-in-one digital PR and link building software that combines personalization with productivity, so this PR template will be filled out from a SaaS company perspective.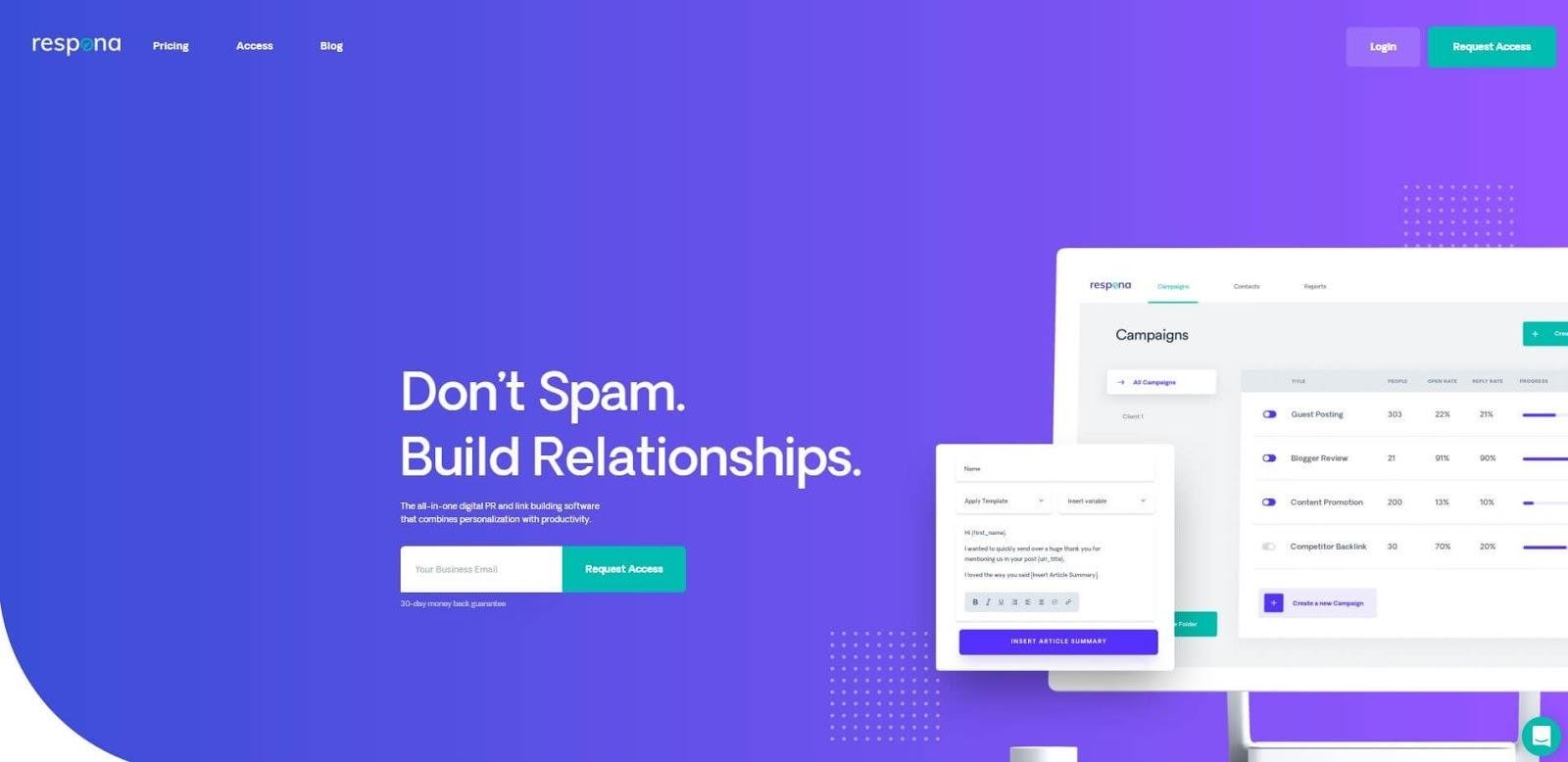 You can see in the example below, content marketers are a high priority target audience for Respona.
We'll use this audience as an example throughout the post and we'll assume that our PR plan is based on how we can communicate our message to that audience.

As you pick your target audience or audiences, do some research to make sure they are worth investing your time and resources into. For instance, it's like developing an interview document where you study your target before reaching out for an interview
When you search for the term "content marketer" on LinkedIn, you get over 100,000 results, in the US alone, so you know right away it will be a large target audience.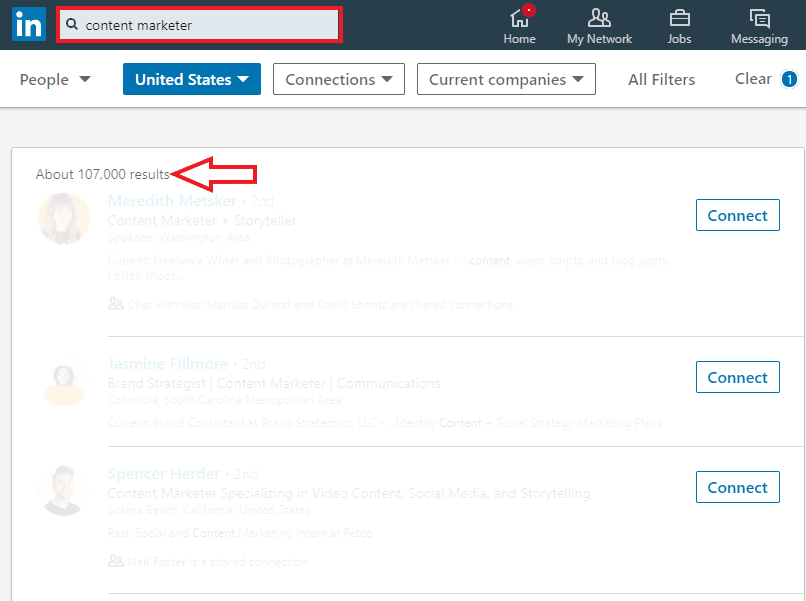 When defining your target audience, also look into the challenges they're facing.
The best way to engage with these people is by offering solutions to problems they're struggling with.
According to a study by DMA, the biggest challenges for content marketers are reportedly a lack of data (27%) and a lack of strategy (28%).
This information will help you in the next section when you're defining the key messages you want to communicate.
It's possible to have more than one target audience and in that case, we suggest assigning each audience a priority level.
Some organisations might not have the resources to go after every target audience at once.
By assigning them a priority level, you can work on the group with the most potential value first and then move on to the others as time and resources allow.
Once you've your priority levels set, it's time to gather as much information about your target audience as possible.
It's not enough to identify them, you have to really understand them as well.
Important things to note are:
Demographics – How old are they? What's their gender? Are they married? How much do they earn a year? What is their job title? What is their education level?
Location – Where do they live – state, city, neighborhood? Do they work in the same area?
Psychographics – What are their likes and dislikes? What are their attitudes and opinions about your industry? What are they interested in?
It's also a good idea to ask yourself where they hang out online so you can start brainstorming where you will distribute your PR materials.
Creating content no one is interested in is a waste of your time and company resources so it's essential that you identify and understand your target audience prior to creating any content pieces.
You should also note the language and tone of voice they're using when communicating with other brands similar to yourself.
This will help you identify if you should take a fun or more formal approach when formulating your key messages.
Step #2: Define the Key Messages You Want to Communicate
As you think about how to formulate your key messages to attract your target audience, you can move on to the next step which is to define those key messages you want to communicate.
Key messages that will resonate with your target audience should:
Educate and inform
Change people's perception of your brand
Persuade customers to take action
From the research we did about content marketers, we found they most often struggle with amplifying their content, building links for their best content pieces, and connecting with bloggers and influencers that would help them further amplify their best content.
Luckily, Respona has tools to help in all of these areas.
Based on this informatio,n our PR template below is filled in with these key messages:
Respona helps you amplify your brand content
Respona helps you identify link building opportunities
Respona helps you connect with other content marketers
You could also add:
→ Respona helps you keep track of your outreach campaigns' performance metrics
In our example, you can see all of Respona's key messages show ways in which they can help their target audience complete certain tasks.
This is very good because if you are able to solve a challenge rather than just convey information, it increases your chances that others will want to work with you.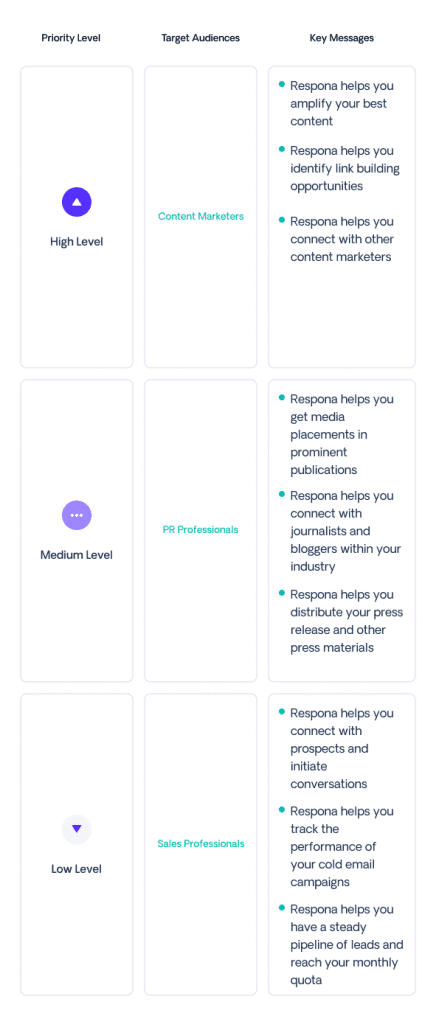 Influencers, bloggers, and even your target audience are flooded with several news pieces and advertisements per day so it's important to choose key messages that'll stand out.
Don't create lengthy pieces with too much information.
Effective PR plans should be short, easy to read, and straightforward.
According to SiegeMedia, 64% of content marketers prioritize building relationships with influencers, like brand advocates and journalists, so you need to define key messages that also help them achieve their overall goals.
Not only do you need to focus on crafting the appropriate message, but then you need to get your message across using the appropriate channel.
Now that we've defined the key messages that you want to communicate, let's move to the next step of the process where you have to choose the channels, mediums, and media outlets you'll use to communicate your messages.
Step #3: Choose the Channels, Media Outlets, & Mediums
Now that you've decided on the key messages you want to convey, the next step is to narrow down what channels will be the most effective to communicate your message.
This can be done by first looking at your current customers and understanding how the majority consumes their content.
They can get their information from different sources like mainstream media, digital influencers, podcasts, blogs, or even your own media such as your website and social feeds.
A successful PR campaign leads the customer through a carefully planned roadmap to ultimately get your key message across.
In this digital age, it's no surprise that social media (95%), blog posts/short articles (89%), and email newsletters (81%) are the top three types of content B2B marketers used in 2018/2019.
Some people think email outreach doesn't work anymore because the majority of cold emails go unopened, but the key is to formulate your message in the right way, reach out in some way before the email is sent – follow them on twitter or connect through LinkedIn – and send a follow up email if necessary.
Extra Tip: Did you know that sending just one follow up email can boost replies by 65.8%?
Other media channels could be:
LinkedIn groups
Industry related conferences
Youtube channels
PPC or SEM
Podcasts
A podcast is a great medium for content marketing because you connect with thought leaders and also get a chance to showcase your own brand and industry knowledge to a large audience.
Keep in mind that about 73 million people listen to podcasts monthly.
That's why we at Respona are using podcasts as a way to raise awareness about our brand.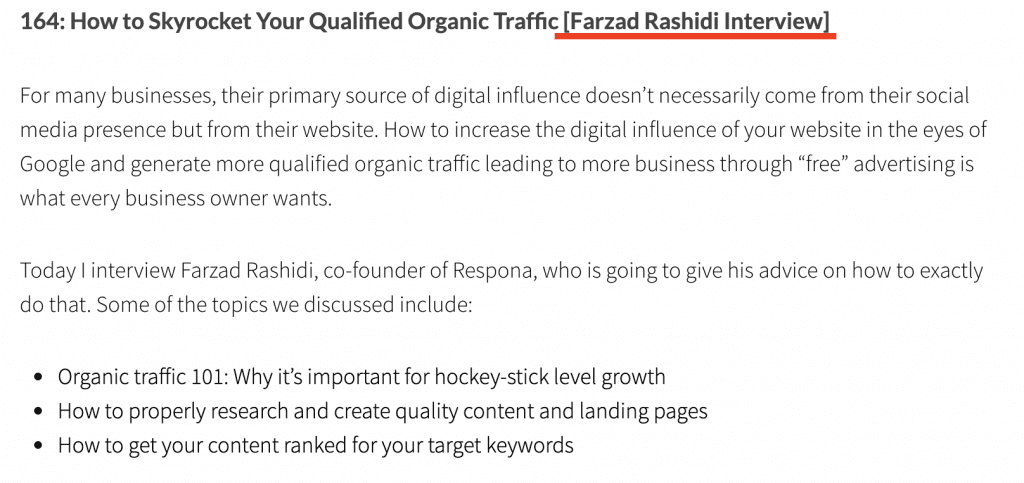 This allows us to establish ourselves as experts on everything around outreach and content amplification and connect with our audience of content marketers in a meaningful way.
You can see in the template we've been filling out, Respona is using a combination of several channels or mediums to reach our target audience of content marketers.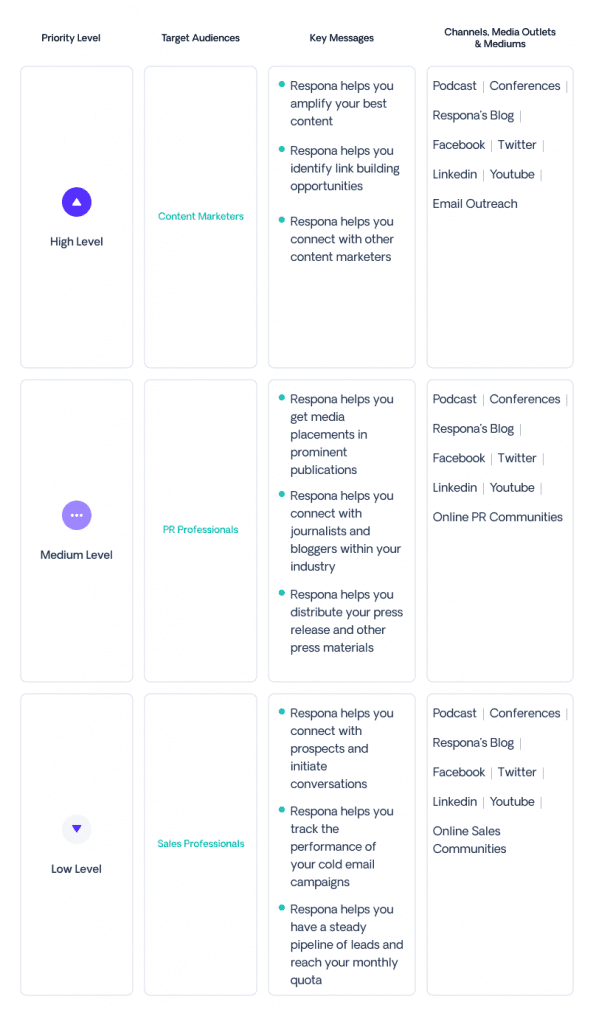 We're not trying to use or choose as many channels and media outlets as possible, rather we want to use the right ones — the ones where our audience spends time online.
Now that we've chosen the channels we're going to use as part of our PR strategy, let's choose the content types that will help us achieve our PR goals.
Step #4: Choose the Content Types You're Going to Use
Your next step when writing a PR plan will be to choose the content types you're going to use.
Many small business owners forget about this step or feel like they don't have the skill set to create a variety of content types, so they end up in a stock photo rut.
If you need help creating unique visual content, there are many different tools you can use.
One of them is Visme, which helps you create beautiful graphics that can be aligned perfectly with your marketing strategy and PR activities.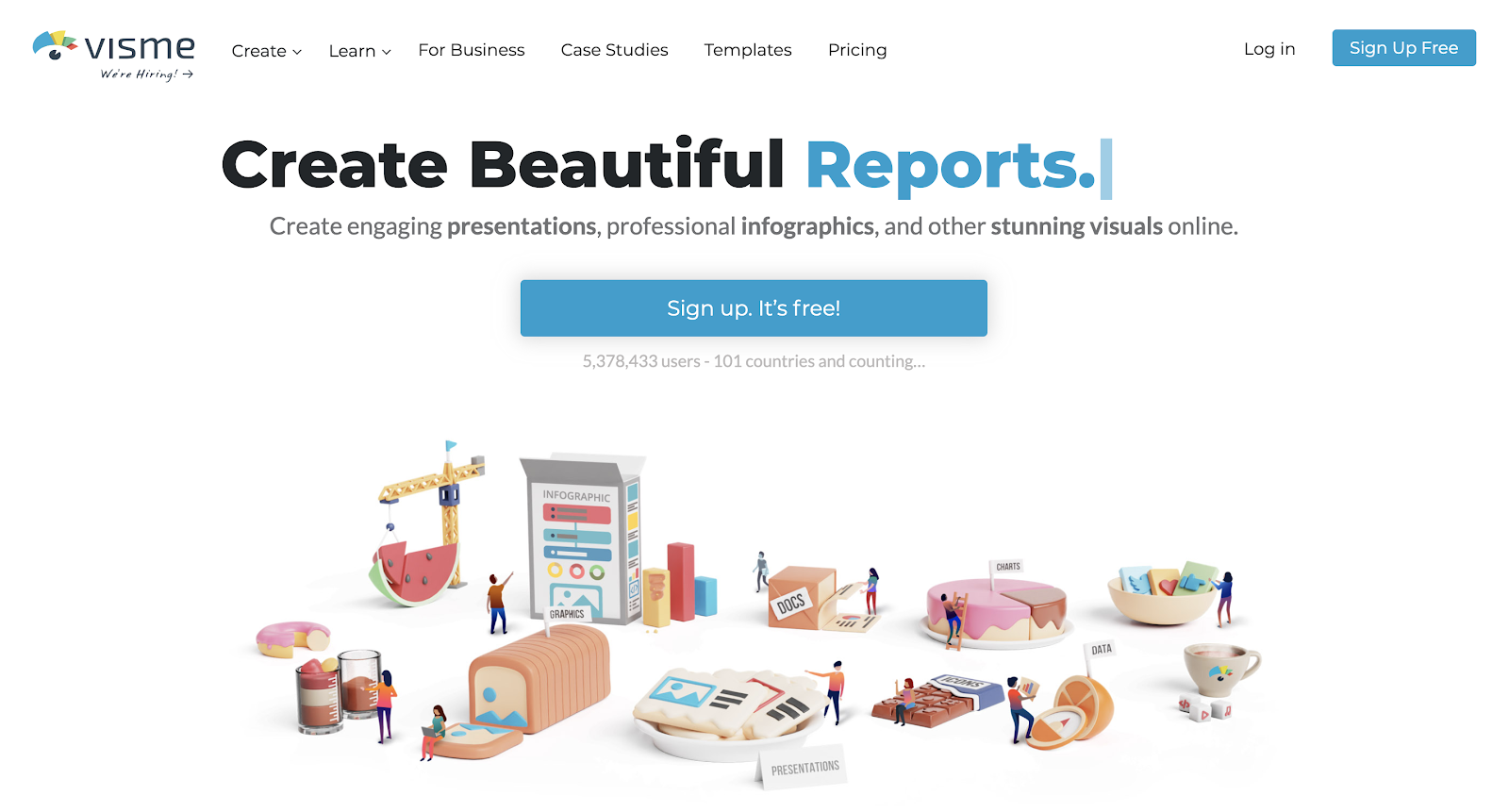 It allows you to create graphs, presentations, infographics, and more.
Keep in mind that you need a variety of content to attract your audience's attention and then to keep them engaged.
The content you create should also promote the reputation of your brand.
Social media posts are a very easy and effective way to reach your audience.
Even your social media strategy should have a variety of platforms and a mix of videos, images, memes, etc.
For example, Nike does a great job of this on all of its social media channels.
On Instagram, they showcase their business objectives and brand identity through IGTV videos, shorter clips, and images.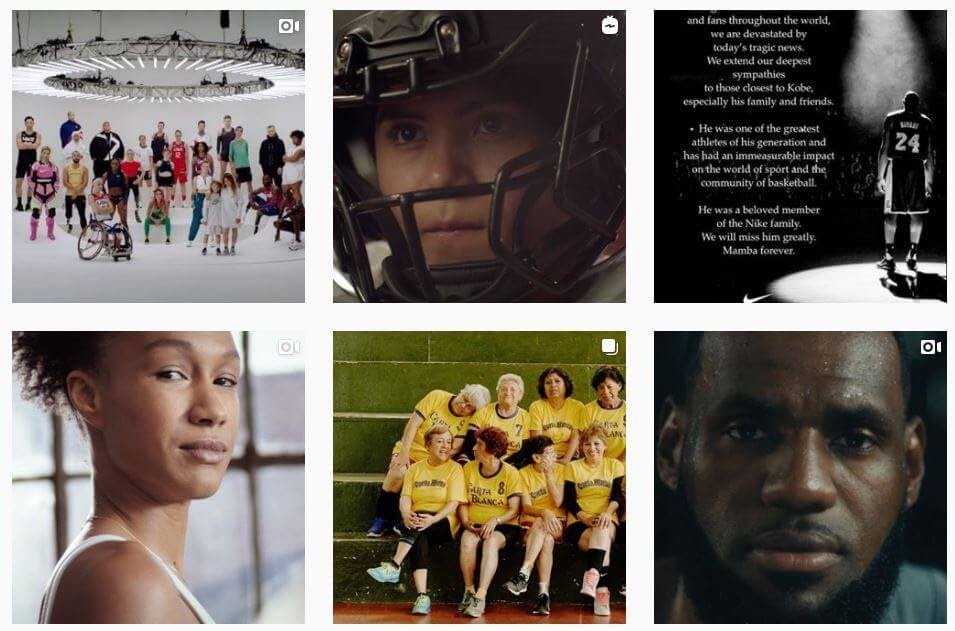 Different brands will choose different content types.
As an example, Salesforce likes to use its social media pages to promote their blog posts.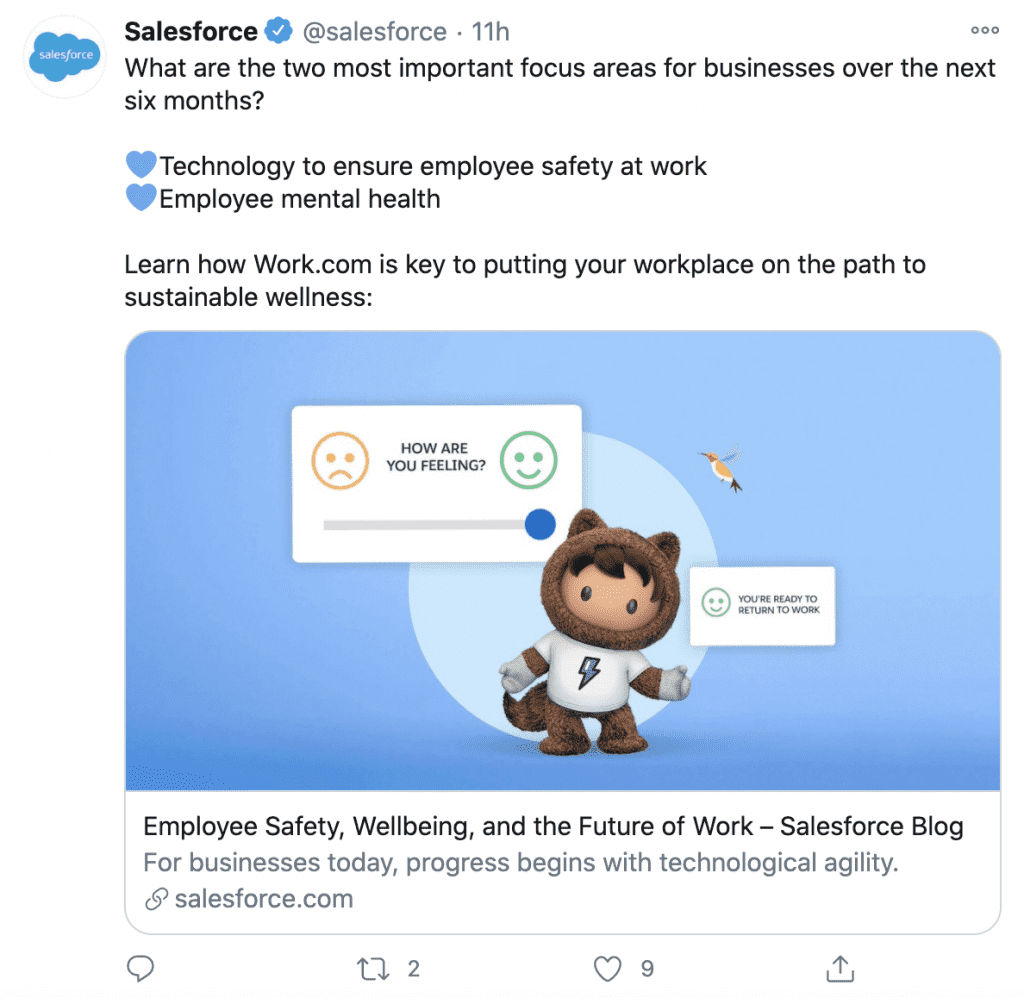 For the PR plan example we have been filling out, Respona has chosen a mixture of these content types.
For us, podcasts, speeches in conferences, blog posts, social media posts, and explainer videos are the content types we're going to use to promote Respona to our target audience.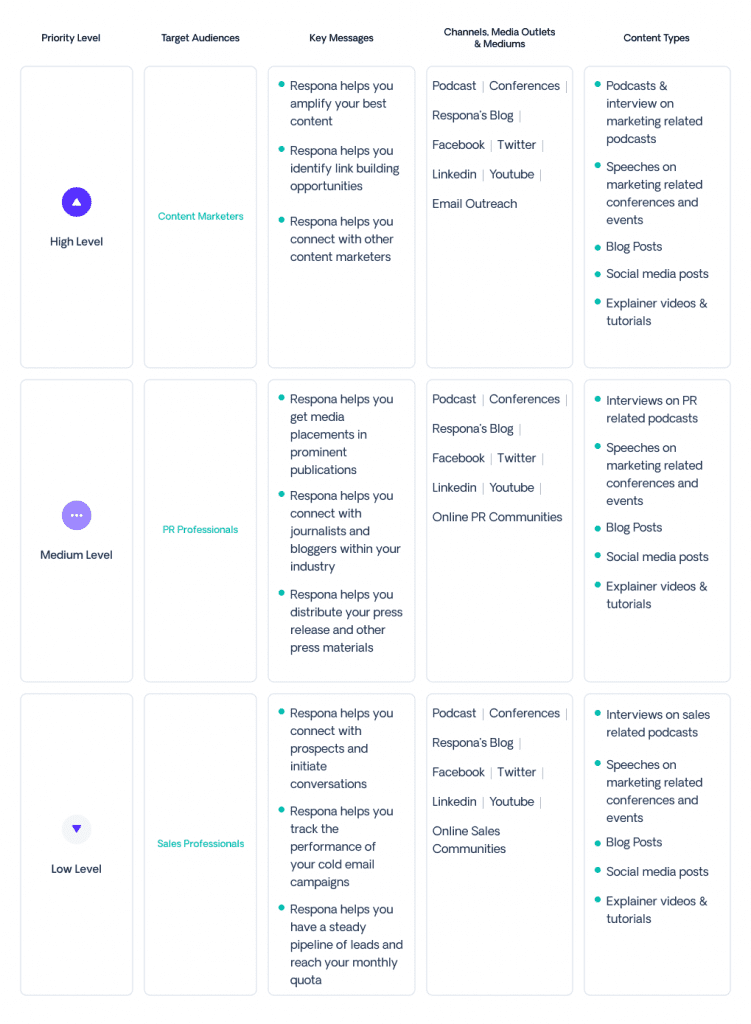 In general though, the content types you're going to choose will be affected by your situation and overall goals.
For example, if you want to promote your product launch, you may have to consider publishing a press release.
While if you want to promote your virtual event, you may want to use social ads or reach out to industry publications to cover your event.
Depending on how many media channels you're trying to publish to and the number of content types you have to create, we suggest creating a more detailed editorial calendar so you can better plan out all of your content.
Let's get to the next step of the process, where we'll start distributing your PR materials.
Step #5: Measure the Success of Your Campaign
Creating a great public relations plan is only the beginning.
You also need to measure the success of your campaign through metrics and success indicators to see if your plan is working.
If you remember the study we referenced in Step #1, the second biggest challenge for content marketers is reportedly a lack of data.
76% of content marketers use organic traffic as a key metric when measuring the success of their content but there are many other areas to monitor to see the success of your marketing plan.
Based on the goals and PR objectives of your business, the metrics and success indicators will be different.
For example, if you're an e-commerce company you'll mainly be focussing on the new sales your product receives as a result of your PR program.
However, we're going to take a closer look at some metrics and success indicators that can help a SaaS business measure the success of your PR plan.
Social media reach
Engagement on social media
Media impressions
Website traffic
Keyword rankings
In order to have a solid understanding of the metrics above, it's important to collect this data before any campaign starts and compare it with the end results.
Social media monitoring and measurement
Not all PR tactics lead to an immediate customer action and this shouldn't be the only indicator that your plan has been successful.
What you should focus on is having your compelling story impact the consumer and triggering their interest so they have a positive experience with your brand. This could be in the form of a page follow or a like, comment, or share on a post.
Customer engagement should be a top priority but you can also measure the amount of people reached through your social media content and this is a good measurement to look at to track the growth of your target audience.
Many business owners glance over this metric because they are focused on ad clicks, app downloads, or other indicators that provide a return on investment, but impressions are good to see how your target audience is growing over time and to measure which content channels are being seen the most.
This metric will help you tailor your PR strategy as you move forward.
Organic traffic
Organic traffic is the metric most content marketers have access to.
You can use tools like Google Analytics to track your website traffic and keyword rankings.
It's important to see where your website traffic is coming from but also to see how you rank against your competitors on the search engine results page.
In our PR plan for Respona, we're measuring the number of new free trials, the conversion rate for free to paid trials, and the number of new paid customers as an indicator of success for our PR strategy.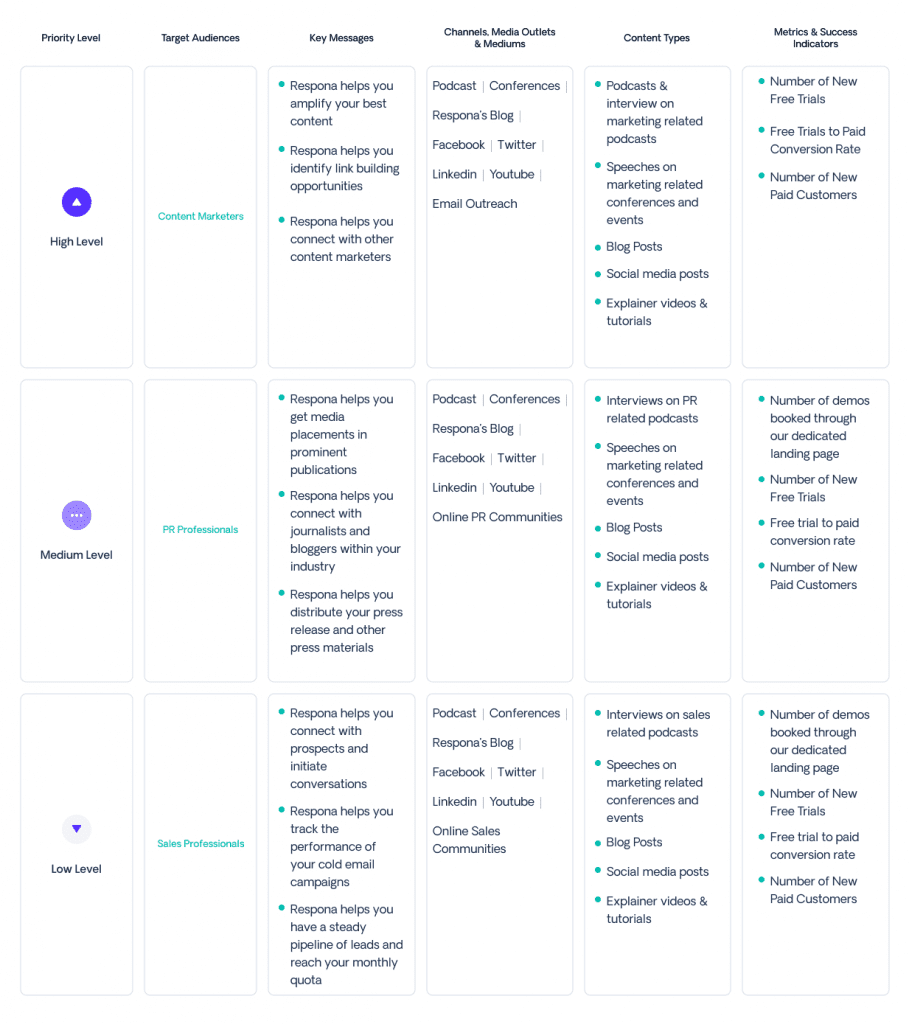 Here, too, you have to keep in mind that different types of businesses will have different metrics and success indicators they should look after.
Since Respona is a SaaS business, the ones we've selected are tightly related to our performance as a software company.
A PR Plan Template to Get You Started
Below, you can download the PR plan template we're using throughout the post to start designing your PR strategy.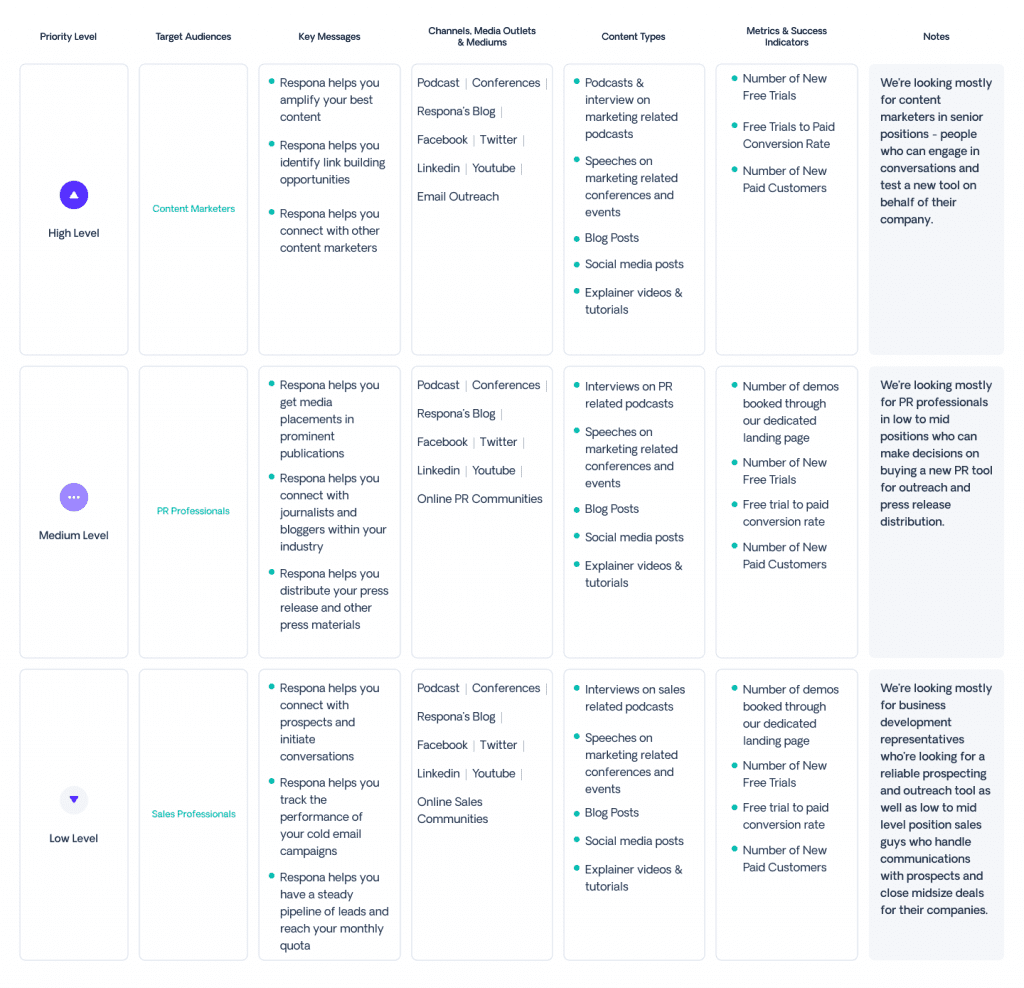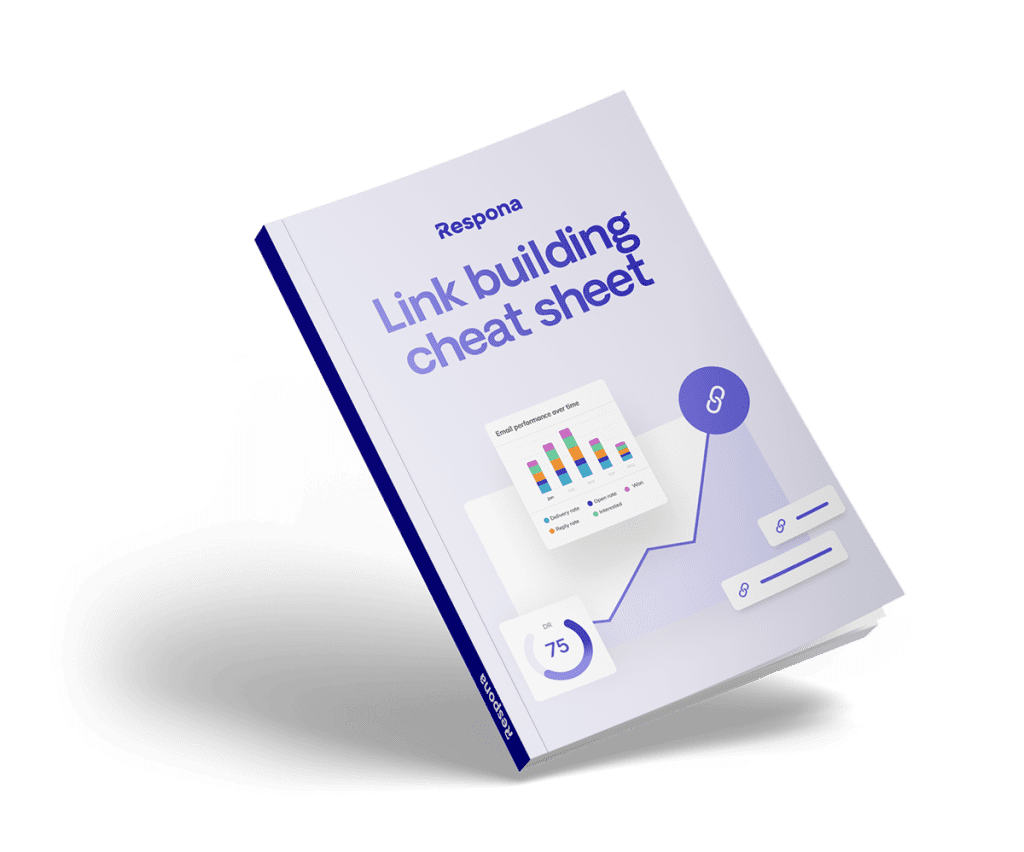 Link building cheat sheet
Gain access to the 3-step strategy we use to earn over 86 high-quality backlinks each month.
Now Over to You
So there you have it.
You now know what the necessary steps are to plan your public relations strategy.
You also now have a template to help you get started.
Now, I'd like to hear from you:
What are the key messages you want to communicate for your brand and what are the channels and mediums you're going to use to achieve that?
Let me know by leaving a quick comment below.