The world of search is constantly evolving year after year.
Staying on top of all news and industry developments is important, but it's also important to put things into perspective every once in a while.
So, in this article, we'll be taking a look at the most recent statistics for the year 2022.
But before we dig into the thick of it, here are (what we think) are the few stats that deserve special attention:
Google currently has 85.55% of the search engine market
The #1 Google search result gets approximately 32% of all clicks
58% of all searches come from mobile
Results on the second page of google get only 0.78% of the total clicks
The ROI of SEO can be over 12x higher than marketing
Ranking on the first Google search result is estimated to result in a CTR of almost 35%
So, if you were considering search engine optimization for your business, but weren't really sure if it is worth the investment, the answer is a deafening "Yes!".
If you're still not convinced, read on.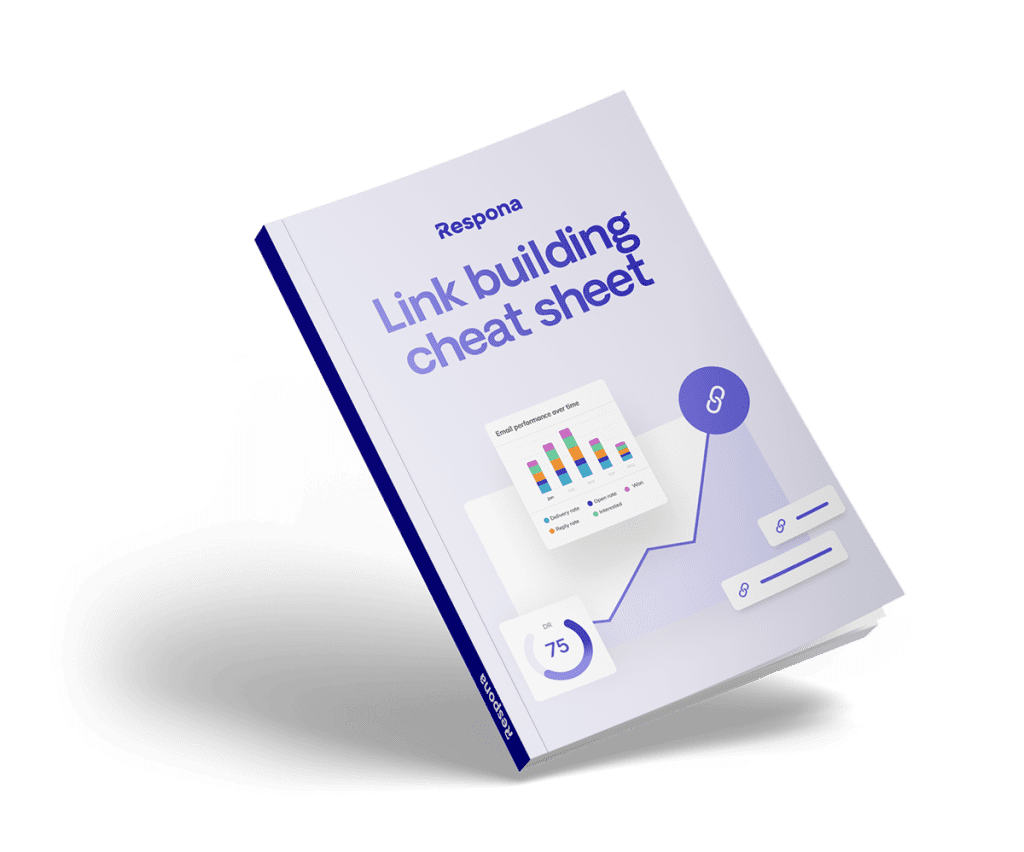 Link building cheat sheet
Gain access to the 3-step strategy we use to earn over 86 high-quality backlinks each month.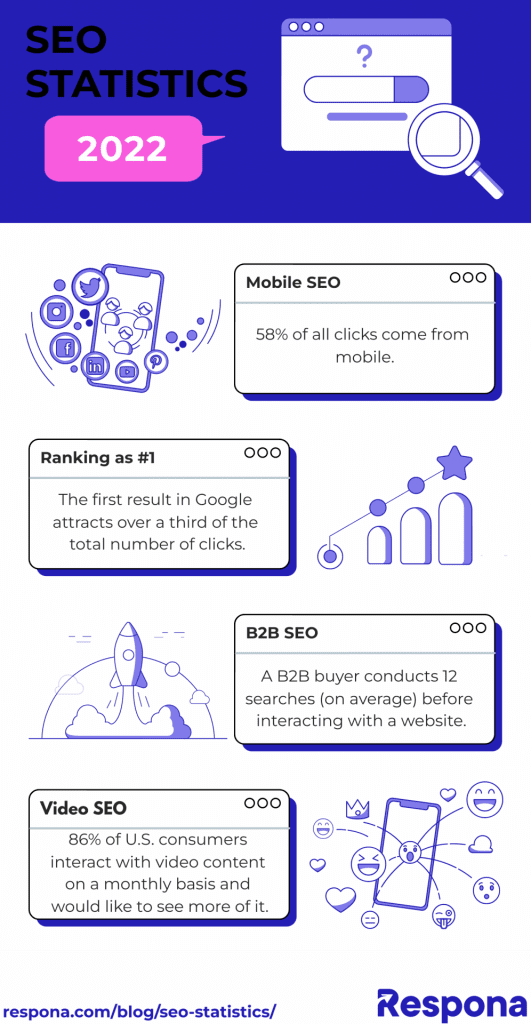 General SEO Statistics
Google has been the largest search engine for a long time. This year, only 14.45% of the search engine market is shared between other search engines.
So, optimizing for Google should remain a priority for you over any other search engines.
There is no single way to rank high on Google. Your rankings are influenced by a large variety of factors.
Some of the most important ones include:
The number of high-quality backlinks leading to your site
High-quality content
Mobile optimization
Site speed
Internal link structure
Meta and title tags
And many others
We do it, you do it – the guy next door does it too.
People expect information to be readily available about your product, so if you're still not providing it, you're potentially missing out on a huge chunk of sales.
We can't stress the importance of ranking as #1.
However, this sentence really puts things into perspective: every third searcher will click on your link if it shows up as first.
Social media is a valuable platform to gain awareness about your business and promote your products.
However, it's nowhere near as effective at driving actual traffic to your website as organic search.
SEO is a very resource and time-intensive process, however, the end result (in form of what is essentially free website traffic) makes it very much worth it.
This is supported by almost half of marketers reporting that SEO has had a higher return on investment for them than any other channels, such as traditional marketing and Google ads.
Besides being better at attracting traffic than PPC and marketing, SEO's ROI can also be impressively high, making it the desired strategy for most businesses in 2022.
Would you like to pay only 13% of what you're paying now to find new customers? Good SEO can turn that into reality.
Tying in directly with the previous stat, when comparing only SEO and PPC, two-thirds of marketers see SEO as more valuable than running a Google ad campaign.
According to Moz's searcher behavior study, if you're looking for more traffic, focusing on search engine optimization can provide you 20 times more opportunities than PPC!
This applies to both mobile and desktop searches, and one possible explanation for this phenomenon is that people are naturally wary of any links that have a big "AD" tag right next to them.
This leaves PPC ads with only 6% of clicks. While it can still be a decent way to boost your visibility, it is not a reliable way to secure consistent traffic to your website.
Don't get discouraged if you're a new site and are struggling to secure high positions, even for keywords that are not extremely competitive.
It takes a long time to start ranking in these spots, which is evidenced by Ahrefs' analysis.
In fact, getting your pages to rank in the top 10 results in the first year is quite a feat, which is only achieved by one-twentieth of all web pages.
So, if you managed to get yourself ranking in less than 12 months, congratulations!
This number says it all. The sheer scale of the Internet is impossible to imagine.
Just in the time it took you to read this, around 200,000 online searches took place.
Sure, getting yourself ranked can be costly and time-consuming. But once you start showing up on the first results page organically, those costs are more than covered.
Any traffic and leads that you receive from there on can be considered free. Can you imagine if you didn't spend any money to generate 40% of your total revenue?
As shown by BrightEdge's report, this is the everyday reality for the aforementioned niches.
Securing a featured snippet is like catching the snitch in SEO, and it's easy to see why – it's a guaranteed ticket to clicks.
This means, that if you rank lower than the top five, on average, you would be getting 32,4 / 5 = 6.48% of all clicks.
And, as evidenced by the next statistic, the number of clicks that go to the second page and further is so low it's negligible.
Less than one percent! Not only is the second page of Google a great place to hide a dead body, but the perfect spot to disappear from the web almost entirely.
One-quarter of searchers still dare to venture to the second page of Google but are more likely to return to the first page and click on something there rather than picking a result on the second page.
So, it's safe to assume that around half of the clicks that land on the top 5 ranking pages end up on the very first result.
A "bounce" happens when a user enters your page and leaves without clicking on anything or going to another page of yours.
The top-ranking pages do a very good job of retaining users on their site with approximately half of their users interacting with them in some way.
So, besides just providing your audience with awesome content, it's important to give them some reason to stay on your site and give them a little nudge with a CTA or exit intent pop-up.
So, just enough to skim through the most important points of your content, get acquainted with your pricing, or find your contact information.
The types of questions your audience asks can give you a world of insight into what kinds of content you should be producing next, but with so few actual searches being phrased as questions, it's more valuable to target industry-specific keywords that people are searching for.
So, when optimizing your content, consider long-tail keywords as well, as they occupy a large portion of all Google searches.
Mobile SEO Statistics
Mobile usage has only been on the rise, and this year almost two-thirds of Google searches are performed on mobile devices.
So, if you haven't yet optimized your website for mobile, this is the sign that you should do so as soon as possible.
Since more than half of searchers use mobile, it doesn't come as a surprise that more than two-thirds of clicks on PPC ads come from mobile devices as well.
On mobile, browsing the web is much less convenient. It also takes a longer time to load a single page than on desktop, so if your result doesn't seem 100% relevant to what a user is looking for, they are 50% less likely to check your site out.
To be honest, we're surprised that it's not 100%. Maybe the remaining 13% don't have Internet?
People are finding new companies and products all the time, and yours can be the next at any moment.
On desktop, only 19.3% of all clicks go to the first organic result. This may be explained that you can't see all 10 of the search results on a small mobile screen.
Local SEO Statistics
This makes for 3,2 billion daily local searches, 97 billion monthly searches, and 1.17 trillion yearly local searches.
Nowadays, even a small business cannot survive without a website.
Almost half of searchers are looking up a local business or service, and failure to show up in their search will cost your business a lot of potential revenue.
According to Google's consumer insights, most people conducting local searches are extremely likely to show up at your doorstep very soon after looking you up.
So, just getting your business a Google Business profile and on Google Maps can direct a sudden (and impressive) flow of traffic to your physical location.
Google's study of how mobile search can connect buyers to stores has shown that purchases are a direct result of almost one-third of all local searches, making local search a tremendous source of revenue that you simply cannot ignore.
Voice searches have an even greater tendency to target local businesses, so optimizing your local website for voice search is a must in 2022.
This includes both online and in-store purchases from local businesses.
So, if your local business still doesn't have a listing on sites like Yelp, Foursquare, TripAdvisor, and other directories, this is a sign that you should make creating one a priority right now.
This means that one-third of mobile searches are made with the intent of finding how to get to a business, ready to purchase.
B2B SEO Statistics
B2B and B2C buyer behavior are similar – both prefer to find out as much as they can about a product/service before making a decision.
Smartphone users seem to be slightly less common among B2B buyers than regular consumers.
These 12 searches represent the stages of awareness – it takes a lot more research to convince a B2B buyer to purchase from you than a regular consumer.
SEO is a reliable channel to secure website traffic and new customers for both B2C and B2B marketers, and it is likely to stay this way for a long time.
Backlinks Statistics
This helps reinstate the importance of building high-quality, DoFollow backlinks to your website.
The speed at which you do so does not need to be dramatic, but stead. The most important part about building links is always keeping the number of new backlinks higher than lost ones.
This is rather surprising since reciprocal linking has essentially died out as a practice.
While reciprocal links can't hurt your SEO, they also can't improve it. Google's algorithm simply de-values these links, meaning they don't pass on any ranking signals.
Good content acts as an organic link magnet.
The rate at which you will be receiving backlinks is slow, but if you manage to get yourself ranking high, also steady.
Also, the primary link-building targets are blog posts, as very few people will actually link to another company's product or service page. So, a useful blog with regular, high-quality uploads is a prerequisite for running any link-building campaigns.
For years, we have known that a solid backlink profile is a big ranking factor in Google.
Hover, Backlinko's analysis of 11.8 million Google search results has found that it may just be the biggest ranking factor out of them all.
Content Statistics
Longer-form content has a tendency to rank higher in search engines, and this fact is supported by Backlinko's research.
Google favors long content, but users like it more as well. The more informative and useful you can make an article, the better it is for you – and it will attract more backlinks as well.
Video SEO Statistics
Watching a video is a lot easier than reading a blog post.
Most people are visual learners, and, as a result, articles that also offer a video inside of them are a lot more popular.
There is a belief that optimizing your YouTube video description for keywords has the same effect as optimizing your blog's meta tags.
This is evidenced to not actually be the case by Backlinko's analysis of 1.3 million YouTube videos.
YouTube has essentially replaced television for the younger generation as well as young adults, so video SEO should definitely be on your content plan in 2022.
This is surprising, considering that the whole world is shifting towards using mobile for browsing.
However, a lot of users watch YouTube instead of television on the larger screens of their computers, which might explain this statistic.
And that's not surprising since videos are much better at capturing the users' attention and even explaining complicated questions in a digestible way.
Voice Search Statistics
In the past few years, voice search has seen a slow but steady rise in popularity, with every fifth Google search being a voice one.
It is predicted that that number is only going to keep growing, so now is a great time to start optimizing your website for voice search.
Some webmasters might disagree on the value of backlinks, but Backlinko's research evidences that besides helping you rank high in organic search, the number of high-qality backlinks also has the same effect on your rankings in voice search.
The same applies to featured snippets, which are the golden ticket to high rankings in both organic search and voice search.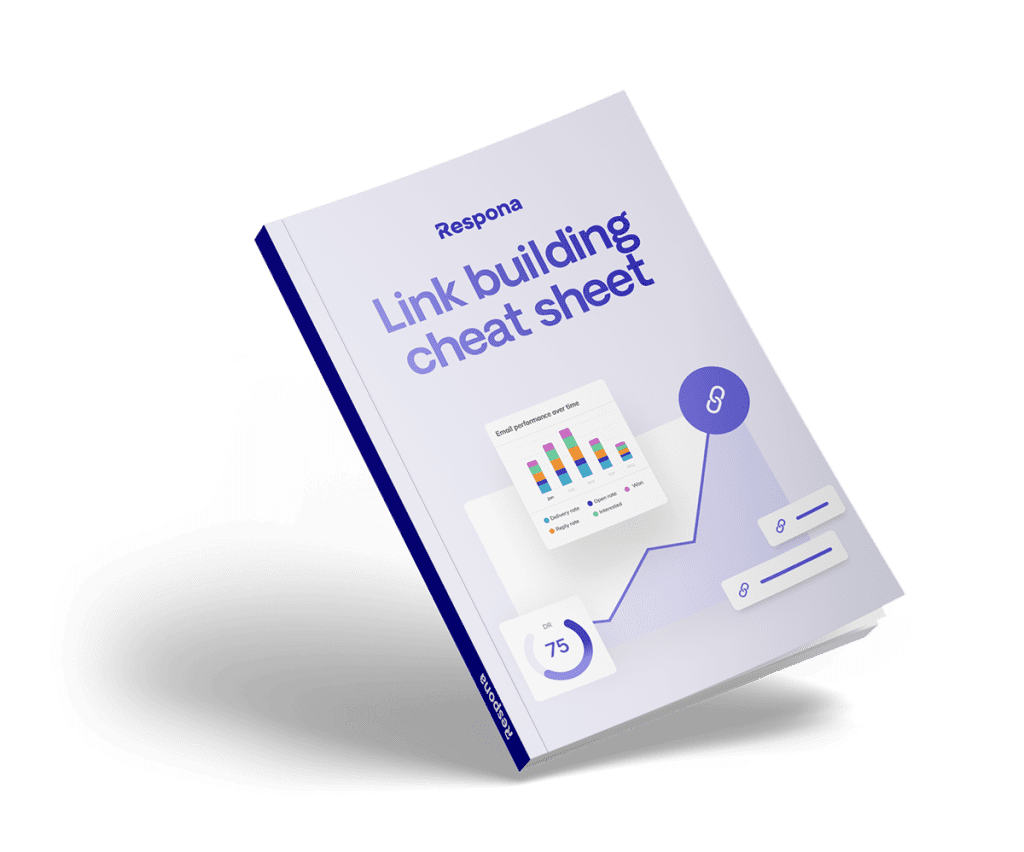 Link building cheat sheet
Gain access to the 3-step strategy we use to earn over 86 high-quality backlinks each month.
Over To You
So, these were the statistics that our team found the most important and fascinating.
Search engine optimization is a very lengthy and time-consuming process that involves tons of different strategies.
Our cup of tea is backlinks (which incidentally is also one of the most time-intensive SEO activities), so if you're looking for ways to speed up your link building, we can help!
Book a demo with us to find out how.