Press releases can undoubtedly form part of your content and overall digital marketing strategy as well as boosting your public relations efforts.
For that reason, we've created a guide that discusses the following:
What is a press release?
What is a press release used for?
What are the main elements of a press release?
Additionally, we're sharing with you six great examples you can use as inspiration.
Last but not least, we've worked on sharing ten useful templates you can download and use anytime.
We've got quite a lot to cover, so let's get started.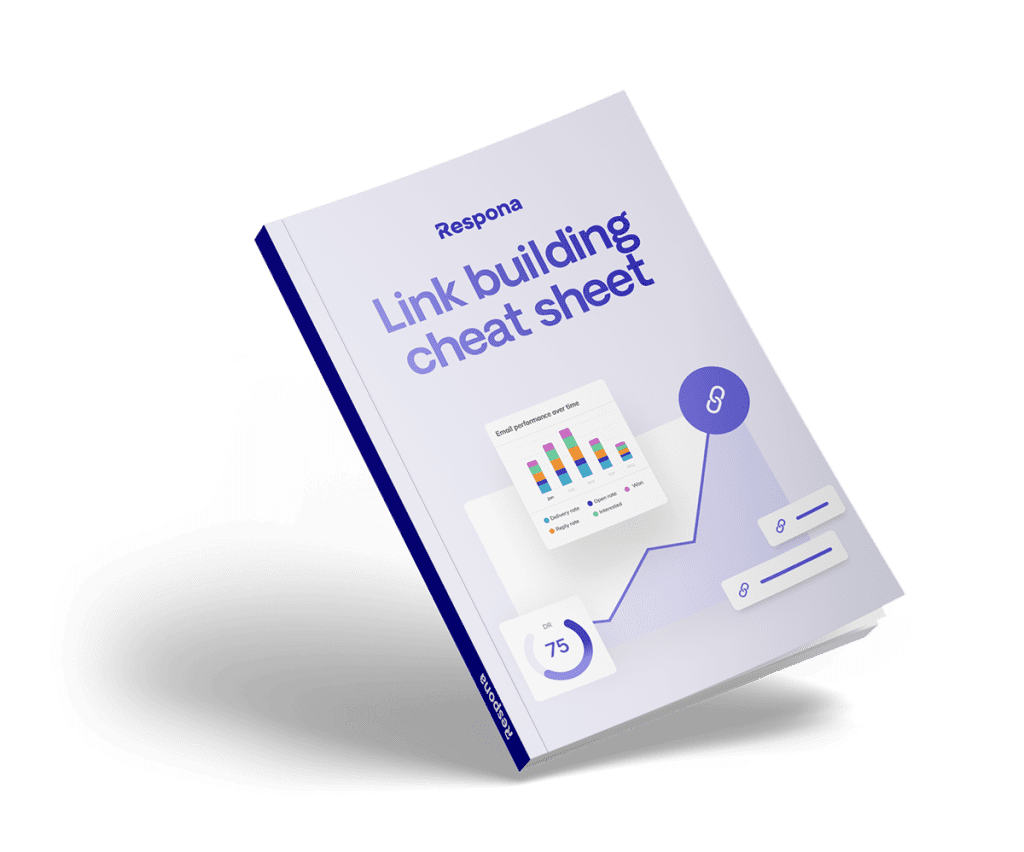 Link building cheat sheet
Gain access to the 3-step strategy we use to earn over 86 high-quality backlinks each month.
What is a Press Release?
A press release is a written, official statement that's prepared for and delivered to members of the press – also called the media – for making a newsworthy announcement or providing information in relation to a specific event.
In other words, a press release is a document that companies or individuals create and share with professionals from the news media industry so they can make it public, thus giving the event media coverage and expanding its reach.
Press releases might still be important and useful, but they are, in fact, something that started at the beginning of the previous century.
To be more precise, press releases date to a little over a century ago with the first press release being sent in 1906, when a train accident took the lives of over 50 people in New Jersey, USA.
The timeline below gives us a very clear picture of the evolution of the press release.
Have a look: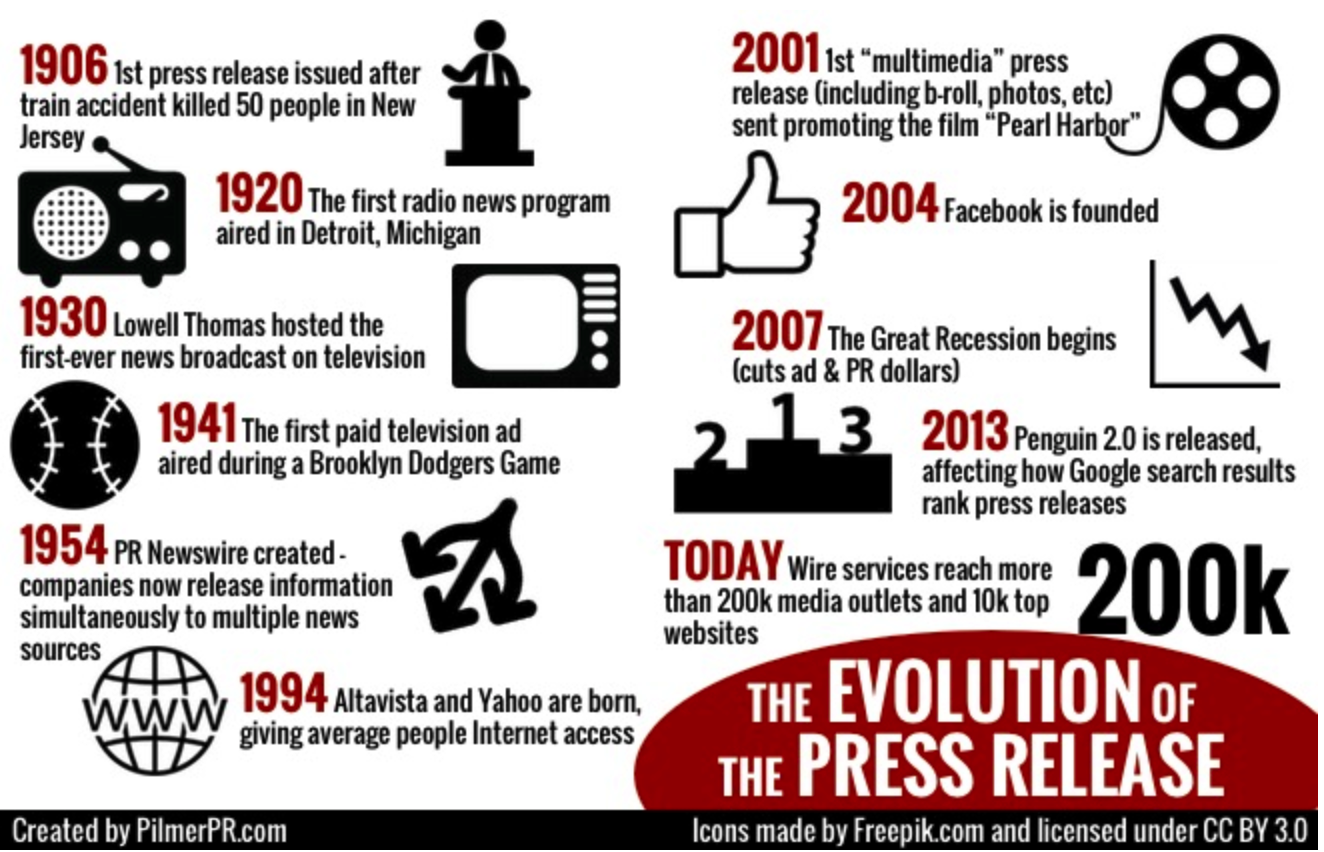 From what we can see, they've been traditionally used to announce important events and release information and news stories to the public in a fast and direct way.
We therefore understand that press release writing was borne from the need of people to release information effectively.
Let's now get into more detail about what press releases are used for.
What is a Press Release Used For?
In one sentence, a press release is used for announcing something new.
Sharing news with people around the world helps them connect to each other and keep up with anything that's happening.
To give you a bit more context on how one can be used, let's have a look at a few cases that press releases can be particularly useful for.
These are some of the most common cases for creating and sharing a press release through media outlets:
New product launch
New company launch
Partnership creation
Event announcement
New book launch
We've got more on how press releases are used a little further down in this post.
Wanna read some data?
Towards the end of 2019, Trust Insights created a data series examining, among other things, a sample of over 37,500 press releases from 2019 alone, extracted from the Global Database of Events, Language, and Tone (GDELT).
The high number of the sample shows just how popular press releases still were a while back.
We can only assume that public relations professionals are still using them to their benefit and that of their clients.
Additionally, before we get into examining the main elements of a press release, we also need to set something straight.
Some may think that, because of the power and popularity social media has gained in the past decades, press releases belong to the past.
However, they can also be shared on social media, thus making it easier for small businesses to reach their target audience and spread their message.
Put another way, nowadays press releases stand next to social media and they can be very effective in terms of public relations.
Keep reading to find what's included in a press release.
What is Included in a Press Release?
After having talked about what a press release is used for, let's get into more detail about what's usually included in one.
Before we get into the first element, we need to highlight that, in order for a document to be considered a press release and also be successful, it needs to include a number of elements.
These elements will facilitate communication and also provide members of the audience with all necessary information.
Let's dive right into it.
Element #1: Logo
We're kicking off our list of the main press release elements with the logo.
The logo is a company's symbol that's used to promote public recognition and raise awareness of the brand.
In a press release, the logo is placed on the top of the page and is necessary in its inclusion; it gives the audience a very clear idea of whose release it is.
As simple as that!
Element #2: Contact Information
A press release must definitely include contact information so anyone interested in the content of the press release can reach out to the person responsible for it.
The contact information section of a press release usually includes the following contact info of the contact person:
Contact name
Phone number
Email address
Website
Element #3: Dateline
Another traditional press-release item is the dateline that informs members of the media about the date when your press release goes public, alongside the "for immediate release statement".
The statement basically tells people that they can share the content of your document as soon as it's public.
Alternatively, some press releases might request a news embargo which means that news outlets shouldn't make the statement public until a specific date or until some specific conditions are met.
Last but not least, the dateline also includes the originating location of the press release, although many press releases don't necessarily include it anymore.
Element #4: Headline
What can't be missing from your press release is the headline.
A headline is basically the summary of your news story.
Like most document titles, a headline is used to grab the reader's attention and give them a clear idea of what's going to follow.
A successful headline is one that manages to summarize the main point of the press release in a short and direct way.
Element #5: Sub-headline
In case there's a need for further explanation of the headline, then the sub-headline – also called dek – is the place to do it.
In other words, the sub-headline, as its name suggests, is placed right under the headline and helps describe the headline in more detail.
Element #6: Introduction
After having completed the initial steps of a press release and made sure that you've included all necessary information in terms of contact information, release date, and headline, you can then move on to the introduction.
The introduction of a typical press release is usually the first paragraph of the document.
This first paragraph gives readers answers to some of the main questions they may have when starting to read the press release.
To be more specific, a great introduction is usually one that answers the when, where, what, who, and why questions.
Element #7: Body
One of the most important items of a press release is, naturally, the body.
The press release body paragraphs are where the sender includes additional information in relation to the content of the event or reason for writing the press release.
More specifically, the body paragraphs might feature further explanation in regards to the headline and other content, background information, data, and other details that are relevant to the news story.
Element #8: Boilerplate
As we're going through the main elements of a traditional press release, we definitely need to mention the boilerplate that's usually put right under the introduction and body paragraphs.
A boilerplate is a sort of introduction on the issuing brand, company, organization, or individual sending the press release.
In other words, we could say that the boilerplate is the "about" section of the document that informs readers about the company that's sending the press release.
Element #9: Close
To indicate that the press release has ended, traditional press releases include three "###" symbols.
Put another way, these symbols, which are very popular among PR professionals, shows that there's no more press release copy to follow and that it has been completed.
We're now done talking about the nine elements of a typical press release.
How about looking at some successful examples and trying to learn from them?
6 Press Release Examples to Learn From
We've already discussed what a press release is and what it usually consists of.
In this section, we're sharing with you six different examples that might inspire you to write a killer press release depending on your needs.
Here's the first example:
Example #1: Drift
Our first example comes from Drift and the announcement of its new product, Drift Audiences Hub, that was created to unify the marketing and sales data silos.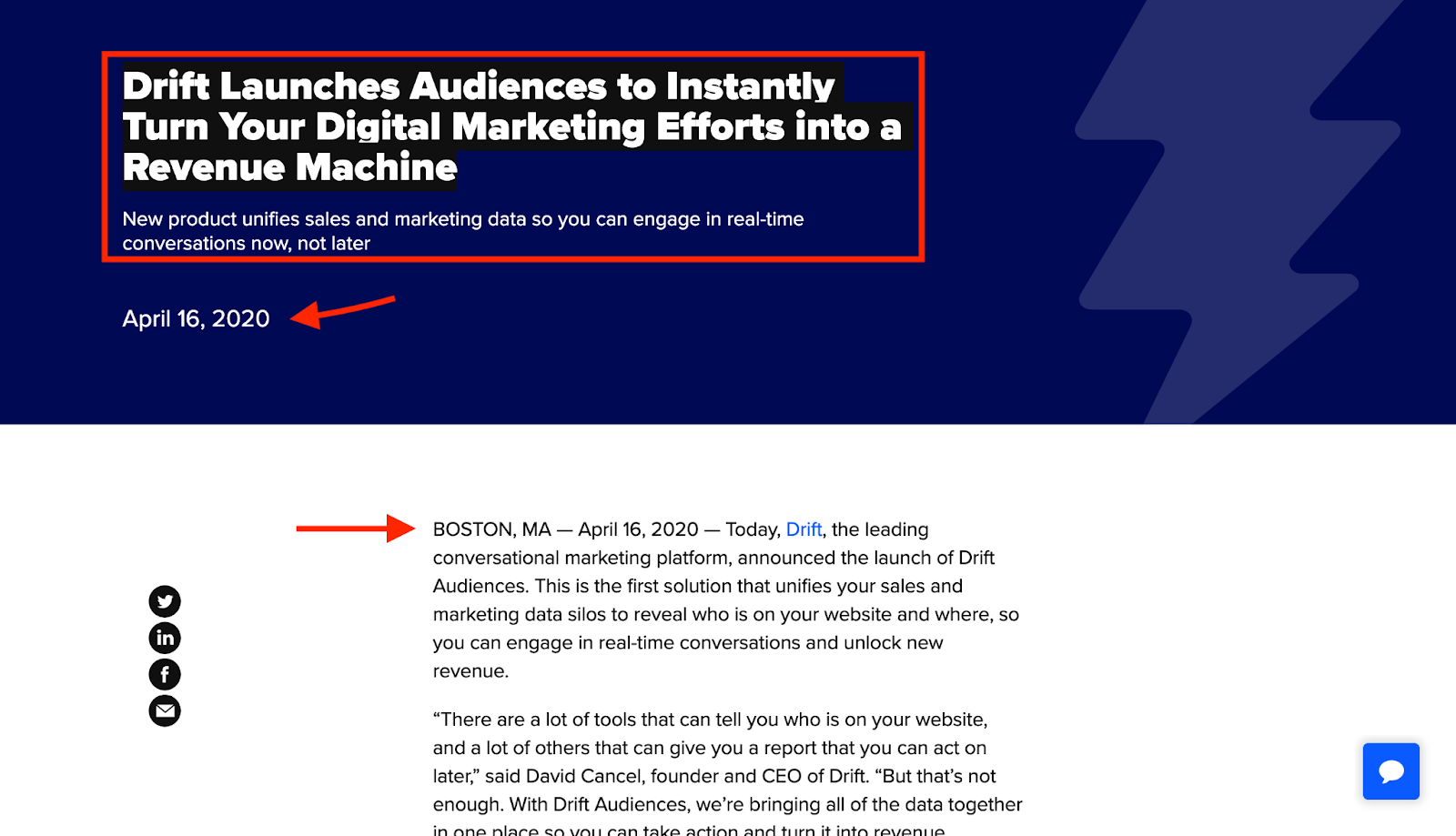 What we see on the screenshot above is the beginning of the Drift online press release published on the company's website.
As you can see, we've highlighted the headline and sub-headline of the press release, alongside the release line and originating city.
Before we even get to reading the body, we've already gathered a number of vital bits of information in regards to the content..
All from the very first sentences.
First of all, the headline and sub-headline are quite detailed without being overly long or making the reader feel overwhelmed.
On the contrary, they provide the reader with the right amount of information while also grabbing the attention with an interesting headline, the efficiency of which is particularly enhanced by words like "instantly" and "revenue machine".
Example #2: American Vampire
The second press release example we want to share with you is the announcement of the Stephen King and Scott Snyder comic book series, American Vampire.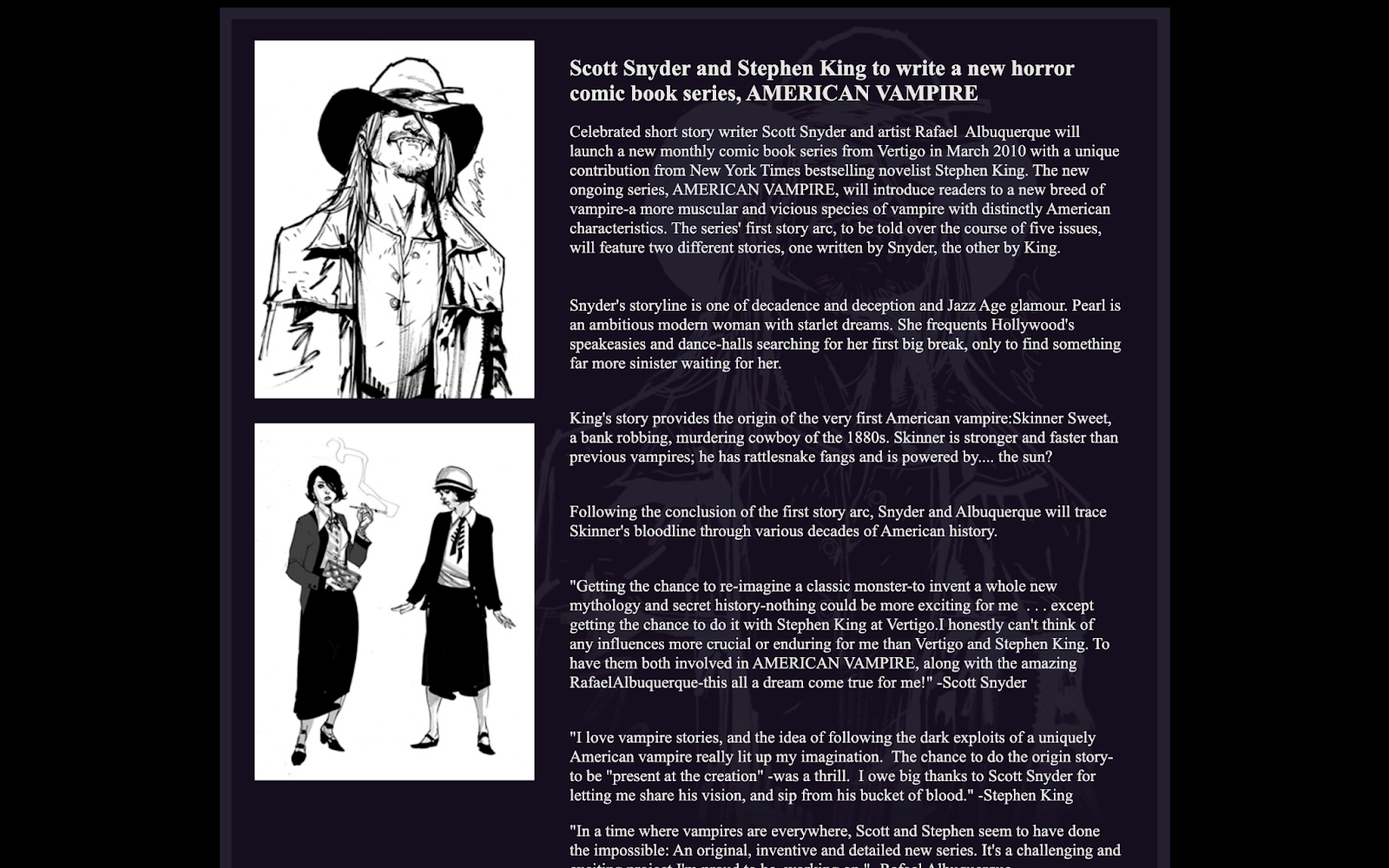 Even though this particular example doesn't include many of the main elements we discussed a little further up in this piece, it still manages to be an effective press release in terms of sharing a news story and promoting a new product.
What we mean by that is, given the long history of press releases and the current increase in popularity of social media, it should come as no surprise the fact that they might vary in style and structure.
In all cases, these official statements are written to make an event public.
This particular example manages to promote the circulation of a new comic book, even if it's not presented in a traditional format.
It does, however, give readers – and potentially press release distribution services that might want to pick up the story – all the background information they might need.
Example #3: Tesla
Our third example comes from American electric vehicle company, Tesla, making a new Vice President (VP) announcement.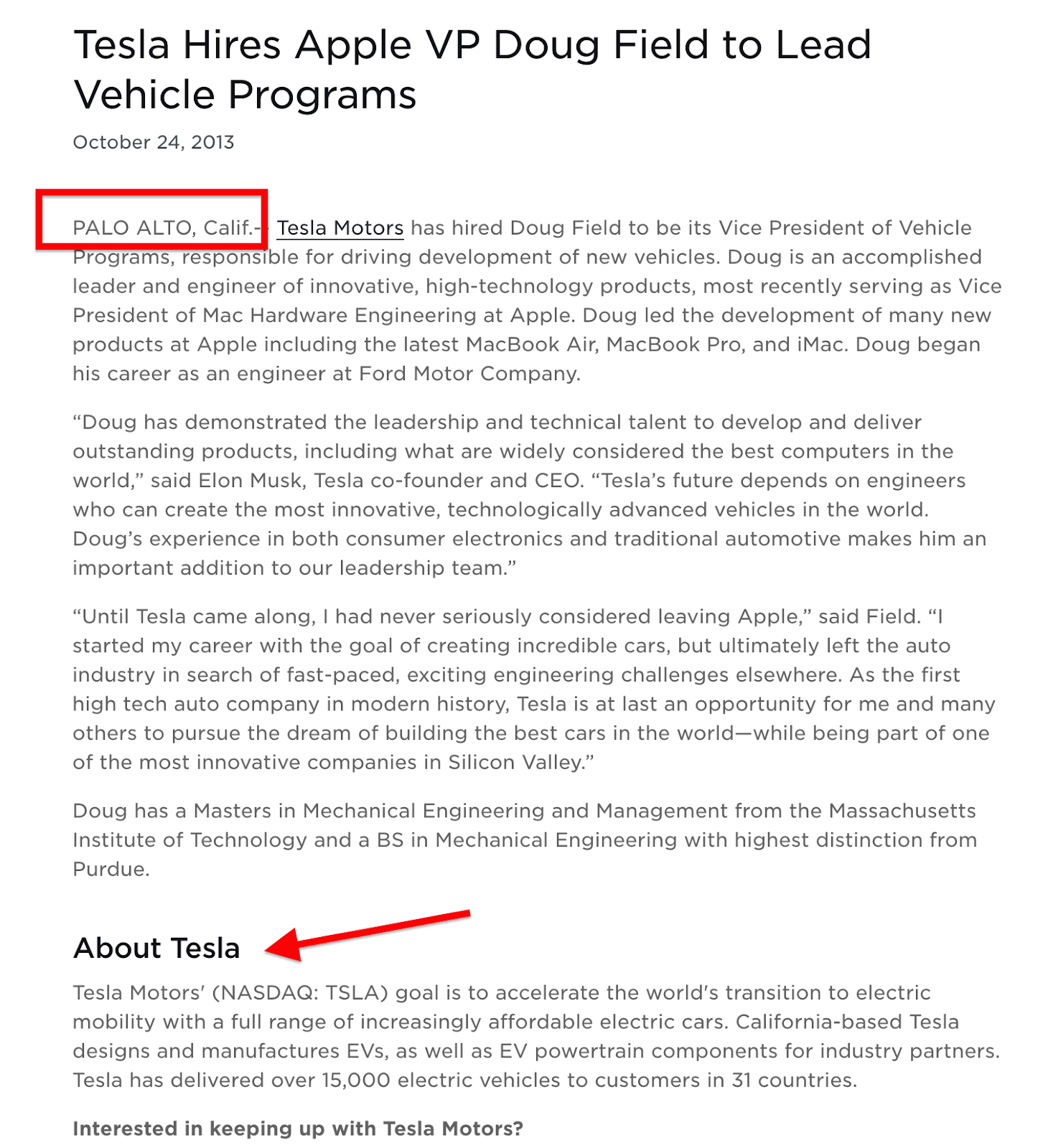 In this case, we've highlighted for you the boilerplate of the press release.
As you can see, the "About Tesla" section is there to give anyone reading the press release vital information about the company.
Another point about this particular press release is that, although it doesn't feature media contact information in terms of providing members of the press with phone numbers and email addresses, it does provide them with additional useful links they might want to check out.
Have a look: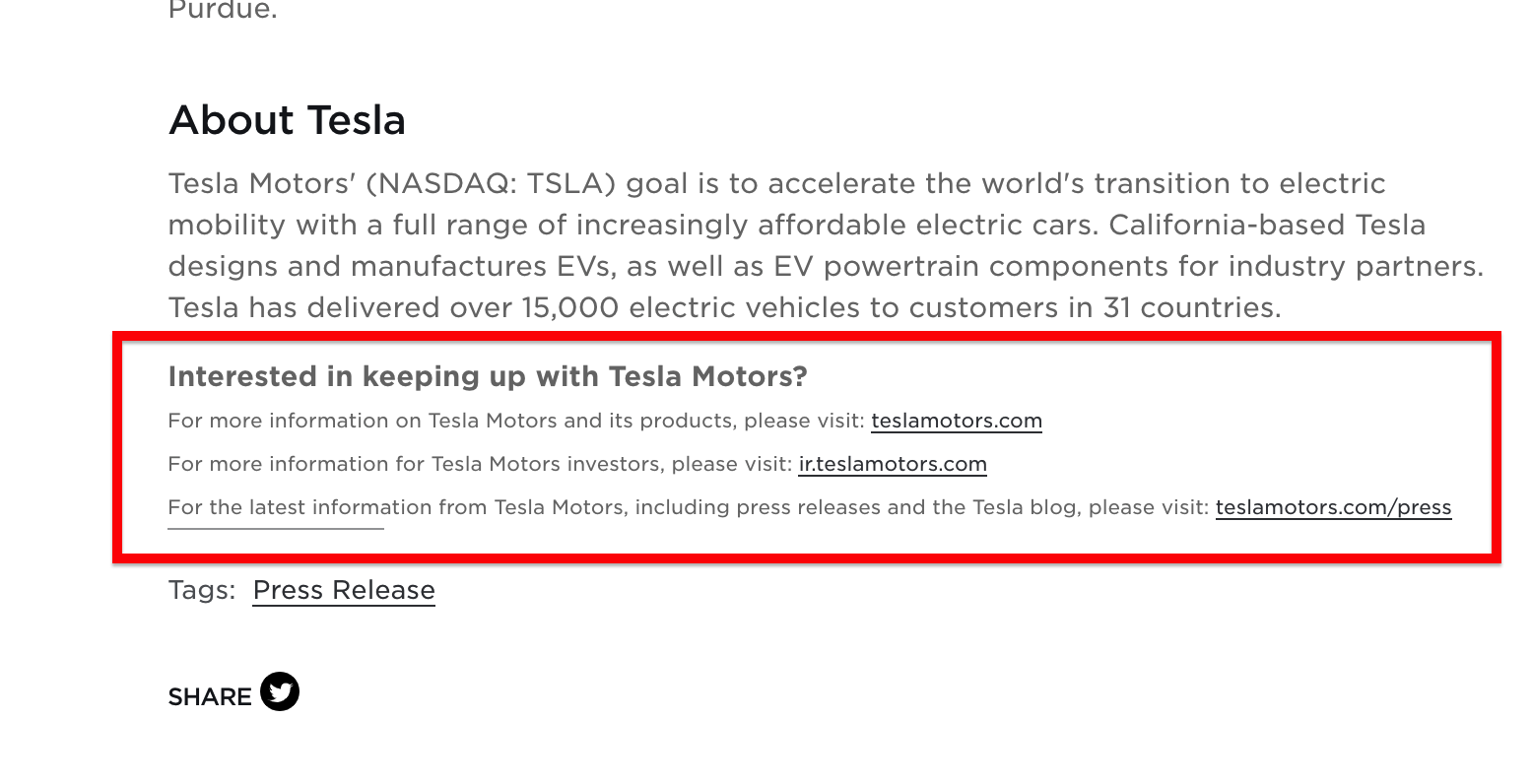 We can therefore see that different types of companies might want to adopt different types of formatting and structure in regards to how their written press releases look and what kind of information they might include.
Example #4: NIKE
Creating and distributing a press release to announce and celebrate a new partnership between your organization and a company is a quite common PR strategy.
In the example we're looking at here, NIKE, Inc. uses its dedicated Nike News page to announce the legendary company's partnership with Time to Vote, a business-led initiative that aims to ensure that employees across the US get time to vote and don't lose their right to cast a ballot.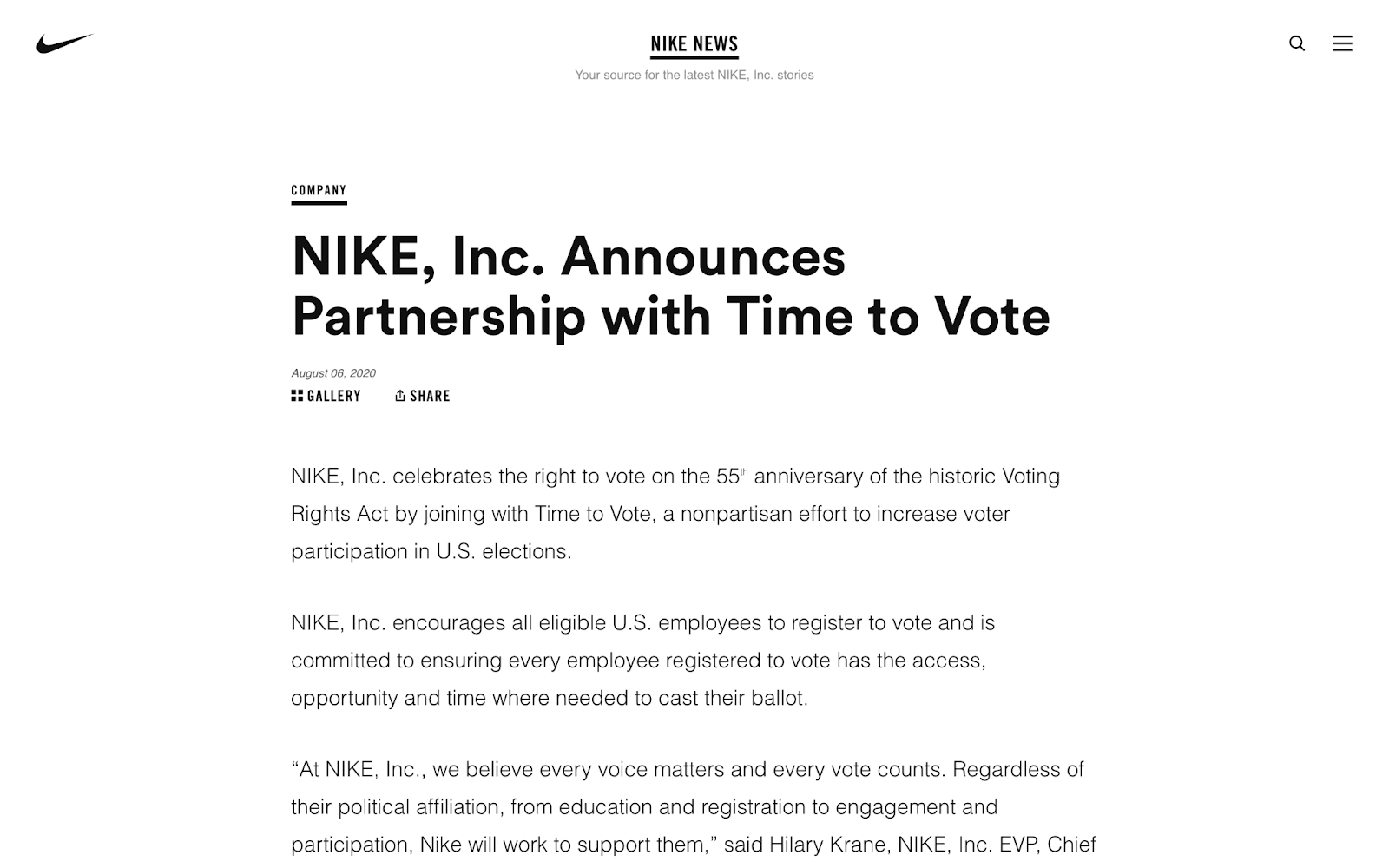 The introduction and part of the body paragraphs we're showing you here include essential background information that readers would need to have access to once they read about this partnership announcement.
Example #5: State Fair of Texas
Our second to last example is a great opportunity to talk to you about the efficiency of getting media attention for nonprofit organizations and nonprofit events through press releases.
More specifically, our example here features the announcement of additional livestock events from the State Fair of Texas in an attempt to, as they put it, "provide opportunities for students to maintain their eligibility to apply for Big Tex Youth Livestock scholarships to support their higher education".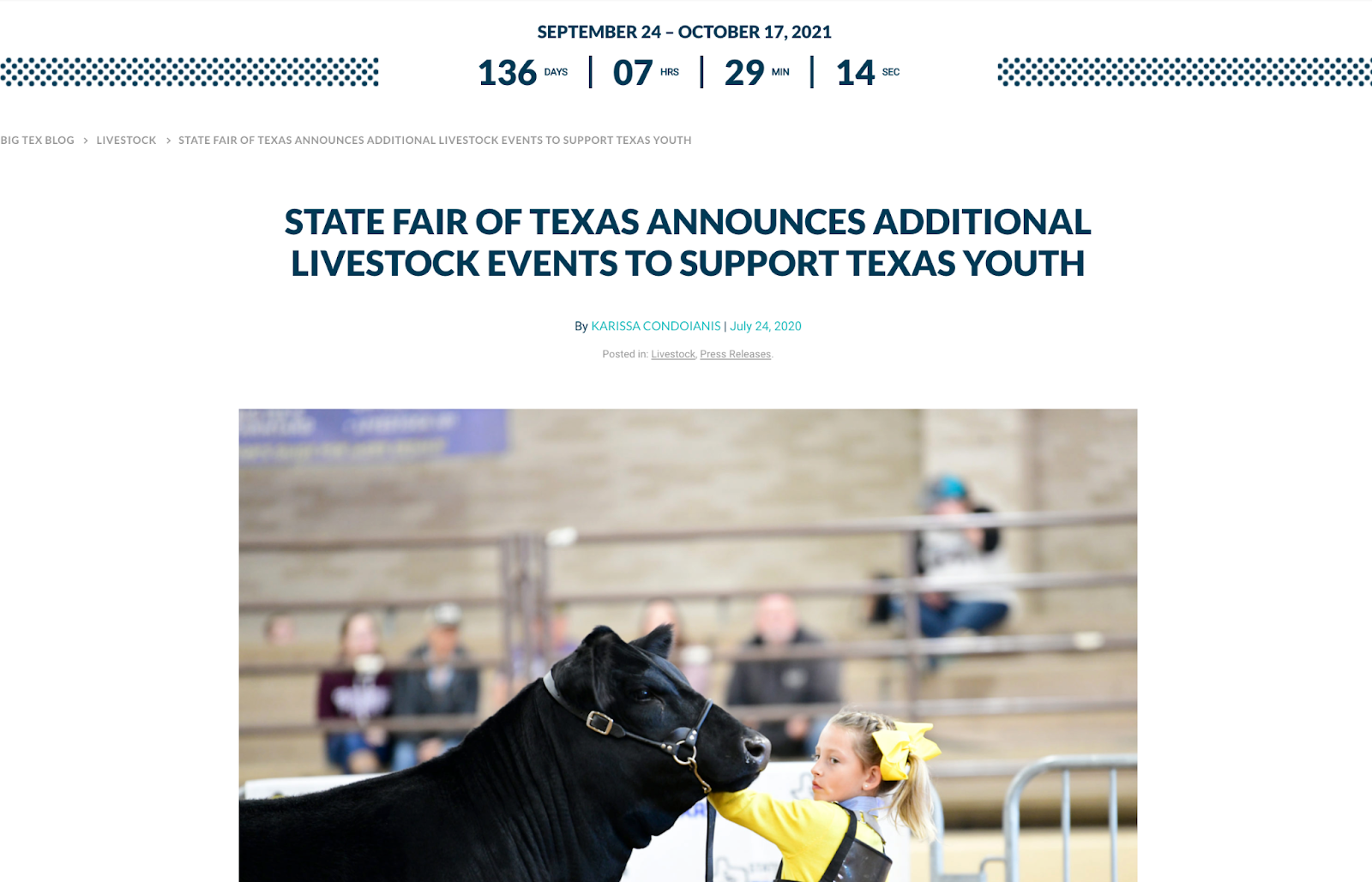 In this case, making an official statement about the revised program of events can play a significant role in promoting the upcoming events, thus promoting the important cause behind the events.
In other words, having made an official post like the one shown above, you can reach out to media sources, influencers, or the local newspaper, and give your event the attention it deserves.
Example #6: Lady Gaga
The final example we want to share with you is a recent one – well, it's been a year since then! – that was written to promote a new music album launch, which is another prominent reason why someone would write and circulate a press release.
The screenshot below shows the official press release provided by Universal Music Canada in May 2020, informing the public about one of the most anticipated music albums by Lady Gaga, Chromatica.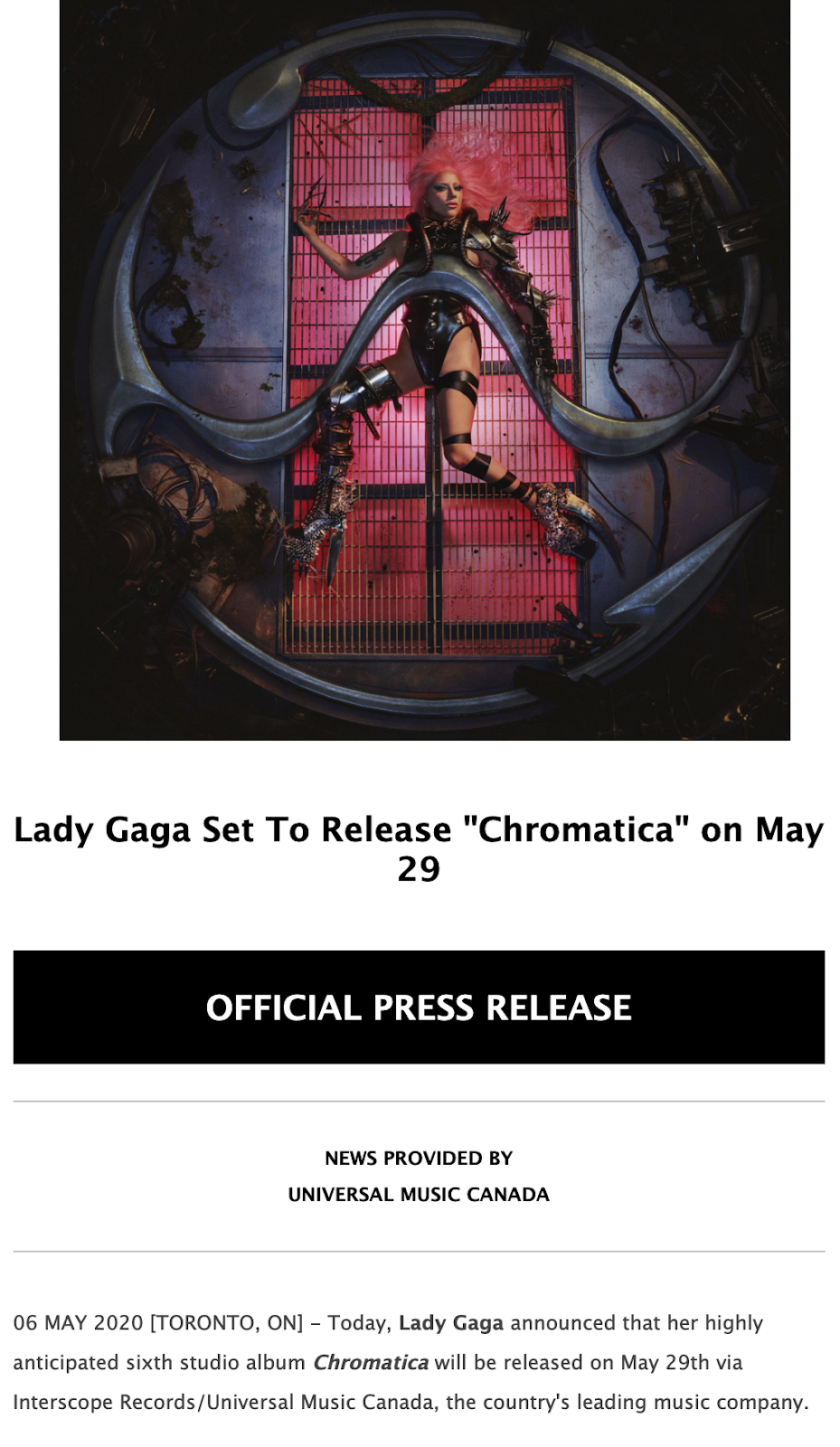 The headline, dateline, and header image – instead of a logo – are, as you can see, all present.
However, what's special about this particular press release is that it takes content marketing and content promotion through press releases to a whole new level.
More specifically, the press release includes links where readers can buy the album…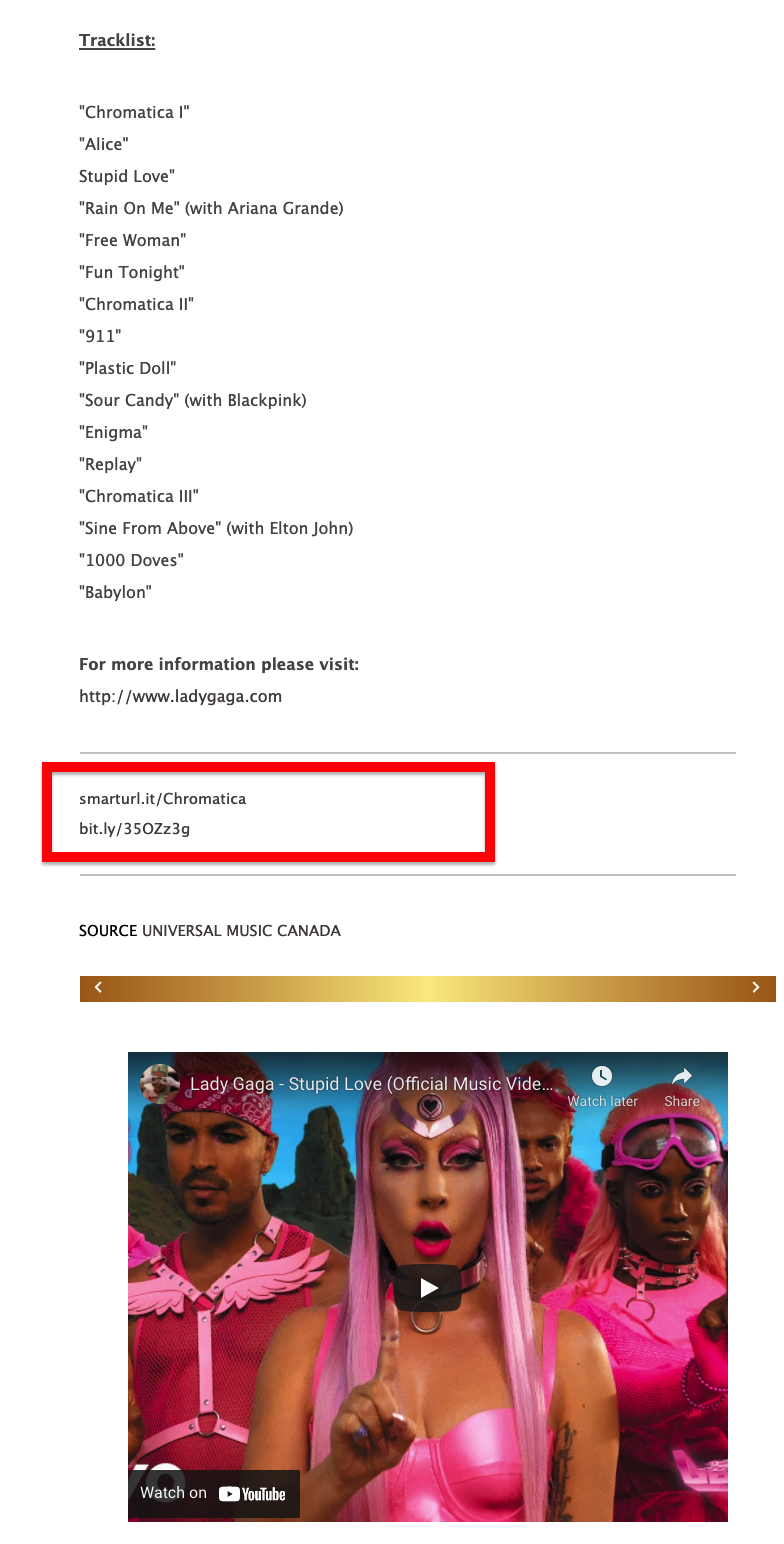 …thus giving the press release a commercial value and turning it into a powerful marketing tool.
Additionally, this one includes an embedded YouTube video which makes it even more compelling and engaging for their readership, listeners, and viewers.
We've now completed the discussion around press release examples and how they can be used to increase brand awareness.
The next section is our secret sauce: a wide range of useful press release templates you can download for free and use for telling your own story and covering your PR needs.
10 (Downloadable) Press Release Templates
We know first hand that writing press releases might be challenging so we've shared free press release templates to make your PR efforts easier.
Without further ado, let's get into it.
Template #1: Startup Press Release
First up, we want to share with you a startup press release template.
A startup press release is used for efficient startup PR.
Put another way, when you've launched a new product, a new service, or closed a funding round and want to share the news with your audience, use this type of press release.
The startup press release sample we're sharing with you can help you write your press release hassle-free and get valuable press coverage for your growing company.
More specifically, it can be particularly helpful for:
B2B tech companies that wish to spread the word about the launch of their new product
B2C brands and small businesses that want to make announcements about a new product line or service
Early-stage companies that need to share a new funding round and establish a strong relationship with their first customers
Template #2: Sports Press Release
Sharing press releases for sports events is a very common process.
That's why the second press release template can be used by those who wish to make important announcements regarding new players acquisitions, changes in players, and changes in ticket prices.
Sharing important news with your fans is essential for sports teams; doing so can help their reach grow and establish a trusting relationship with them that'll last longer.
Visme's sports press release template is handy for all sorts of teams that want to announce that:
A new player just joined their team
They'll be applying changes to ticket prices
There have been or will be player changes in their team
To mention a few.
Template #3: Product Launch Press Release
Doing a successful product launch usually means that you get press and media coverage that'll support your goal of reaching your target audience.
For that reason, a product launch press release is ever-handy.
In more detail, this particular press release can be used from companies or individuals that want to announce the launch of their new product.
No matter if you're Tesla, Apple, or a company that counts only a few years in the industry, you need to make sure that you'll leverage the opportunity and spread the word about your new product.
Doing so will increase your chances of getting coverage from media and news outlets who are interested in covering your story and spreading the word about your unique products.
Template #4: Partnership Press Release
Fourth on our list of ten downloadable templates is the partnership press release.
A partnership press release template can be, as the name suggests, especially helpful for announcing a new partnership with a brand within your niche or industry.
Without having to hire an expensive press release writing service, you can get the word out about the new partnership or collaboration you've just started and efficiently boost your PR efforts, while saving valuable time and money.
In other words, a partnership press release template can be used to reach your target audience, influencers, and media outlets, thus getting media coverage about your new partnership.
Template #5: Non-profit Press Release
Next up, is the non-profit press release that can be used to deliver news stories around your next fundraising event or gala.
Public affairs are extremely important for non-profit organizations; they help them expand their reach and achieve their goals.
Given that a non-profit might want to share….
News
Updates
Statements
Stories
….with their audience, it makes total sense to have access to a premade press release that can be customized according to whether it's a fundraiser or a news story.
No matter the case, a press release can significantly help a non-profit promote its gatherings as well as generally raise awareness about its goals.
Template #6: New CEO Press Release
Has your B2B or B2C company just hired a new Chief Executive Officer (CEO) or Vice President (VP) and you naturally want to share the fantastic news with your audience as well as everyone in your industry?
As you already know, a new CEO press release is the best and most effective way to do so.
We find this particular press release to be incredibly helpful for:
Tech companies that want to announce their new CEO after having completed their selection process
B2C brands that want to spread the news about their new CEO with a proven track record
Corporations that look for establishing trust among their board of directors, stakeholders, and their new CEO
To cut a long story short, we know that enterprises and big companies can be incredibly busy, so having a press release template they can use every time they want to give a new Chief Executive Officer a warm welcome can help manage or promote changes happening efficiently, is a must.
Template #7: Music Press Release
Whether you need to announce the release of your new album, tour, or other music-related news, you'll probably need to write a press release to spread the word.
A music press release can be used by artists for, among other reasons:
To promote your new album release or single release
Promoting your new song
Promoting your music video
Spreading the word about an upcoming tour
Spreading the word about a record company signing
In terms of who can benefit from using such a press release, then the answer is: any artist in the music industry!
To be more specific, indie artists who want to raise awareness of their work can do it through writing a press release and making sure they get press coverage on their work.
The same applies to record labels that might need to have a press release template on hand to announce new signings or new album releases.
Template #8: Event Press Release
An event press release is an official statement announcing a new event.
Having a press release template for announcing an event is great because it allows you to save time that you can instead use in the process of organizing and running your event.
You might think that organizing every single detail of your event in terms of guest lists, sponsors, swag bags, etc., might be all you need, but you shouldn't forget that, if no one shows up, then there's no point in doing it in the first place.
In other words, an event press release is essential for anyone hosting an event as the announcement of the event plays a significant role in making it a success.
If you're a…
Brand hosting a special event
Small business hosting a community event
Popular enterprise looking to gain media coverage for your event
….make sure to use that template and get the word out about it.
Template #9: Book Press Release
We've descended to the second to last press release template we have for you.
A book press release template, similar to the music press release template we saw a little further up in this post, is your opportunity to raise awareness of your new work – in this case, your new book.
In other words, a book press release template is your opportunity to promote your newly-published book.
In one of the examples we saw earlier in this post, we discussed a press release by legendary author Stephen King announcing his new, collaborative comic book series.
If Stephen King is using the power of making an official announcement about something new that he wrote, we can only imagine just how effective and useful a book press release template can be for first-time authors.
On the other hand, such a template is also handy for publishers – who definitely know about book marketing and promotion and how it can help a new publication get coverage and hit the mark.
Template #10: Acquisition Press Release
Last but not least, company acquisitions are among the most common reasons for getting a press release out there.
That's why we couldn't miss creating an acquisition press release template for you.
Announcing your company's acquisition is good news you need to spread the word about.
Having a press release template to announce that a company has acquired another company is a cost-effective way to share the news with professionals in the industry as well as your audience, board of directors, and stakeholders.
Here are some common use cases for an acquisition press release:
B2B companies that want to communicate the acquisition of a new company on their website
B2C brands that want to raise awareness about the acquisition of a new website among their customer base
Enterprises that want to spread the news through their company website about acquiring a new company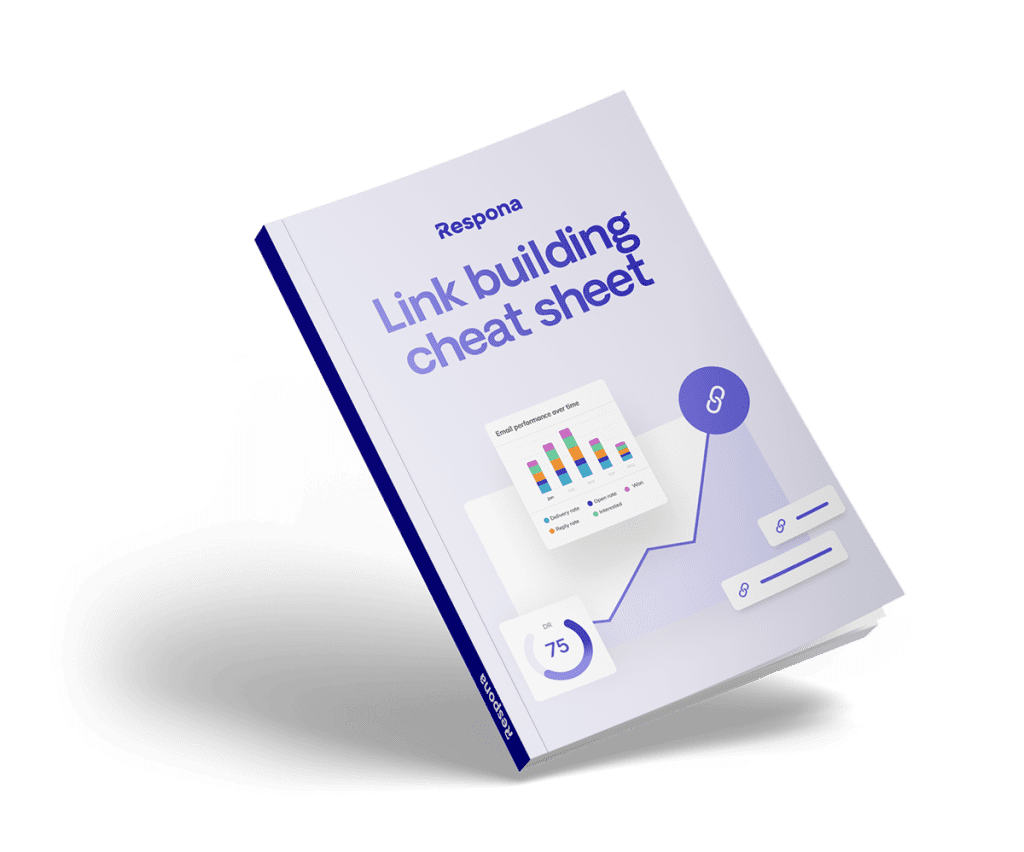 Link building cheat sheet
Gain access to the 3-step strategy we use to earn over 86 high-quality backlinks each month.
Now Over to You
There you have it.
You now have a detailed guide on what a press release is, how it's used, and what its main elements are.
In this guide, we've shown you inspiring press release examples that had been sent out for a number of different matters.
Additionally, we've shared ten press release templates that are free to download and use according to your PR needs.
You now know quite a bit about press releases and you're probably already thinking about how you could use them to promote your news stories and business!
Feel free to request a demo with Respona and see how distributing your press releases can be easier than it might sound.
Good luck getting the word out there!
Frequently Asked Questions (FAQs)
As we've already seen, there's a lot to say when it comes to press releases.
Naturally, there are burning questions that need to be answered.
We've answered some of the most common questions around this particular matter.
Here we go.
Q1. What does a press release mean?
A press release is an official document or statement that provides information about a specific topic and is delivered to members of the media and the press.
Q2. What is the difference between a news release and a press release?
Some say that a news release is a more modern way of announcing something newsworthy or underlining the changes in media trends, while a press release is a more traditional way of doing much the same thing by releasing news stories to the press.
However, in many cases the terms are interchangeable.
Q3. When should I send a press release?
Companies and individuals should send press releases or news releases when they want to share something newsworthy with members of the media and press.
When creating and sharing a press release, make sure that your story is indeed making an important announcement your audience needs to know about and avoid sharing old or uninteresting information.
Q4. How do you write a press release?
To write the perfect press release, you should be able to provide press or company contact information as well as follow these simple steps:
Use bullet-points
Use short sentences
Keep your paragraphs short
Keep your readability level low
Use words and phrases that keep the reader interested
Q5. What's the best software to send a press release?
There are several softwares that anyone can use to distribute their press releases.
However, we think that a modern PR software, like Respona, can help make the whole process seamless and much more effective.
The tool gives you the opportunity to pitch your news story directly from Respona thus increasing your chances of getting a reply up to 22%.