How can you highlight your best work as a PR professional so that you impress potential employers or clients?
You need to create a great PR portfolio.
We've created a list of 5 easy (yet powerful) tips to help you get started.
Here are the tips we're covering:
Show that you can add value through your past media placements
Show that you can write, by including some of your best writing samples
Highlight your best PR campaigns to date and break down the thought process behind each campaign
Create an online portfolio that (actually) stands out
Include testimonials and awards for your work (yes, that helps!)
Let's get into it!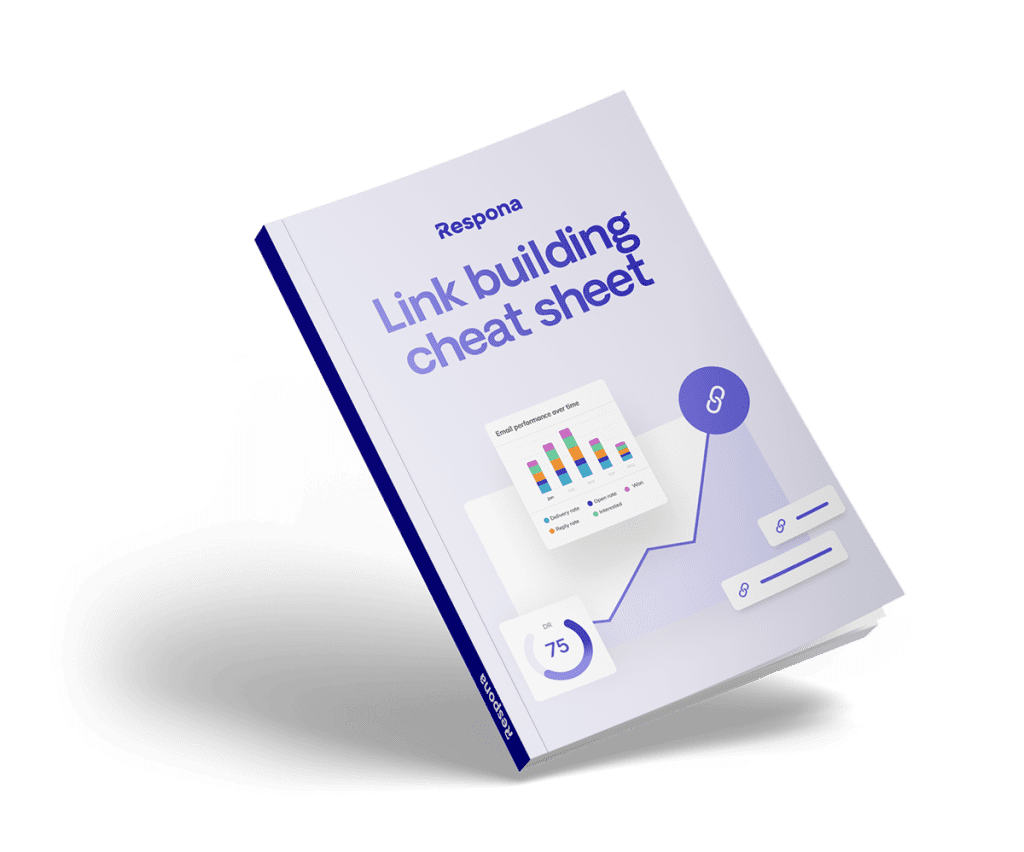 Link building cheat sheet
Gain access to the 3-step strategy we use to earn over 86 high-quality backlinks each month.
Tip #1: Demonstrate Value Through Your Media Placements
Our first tip is to demonstrate the value you have to offer through previous media placements you have secured.
It's important to have placements in big media outlets to show you are an expert on the topic being discussed and that reputable digital marketing outlets trust your work or like your public relation services.
For example, if you were a member of Noyo's pr team, it would be a great idea to include this recent article from TechCrunch describing the Series A round of funding Noyo secured in your public relations portfolio.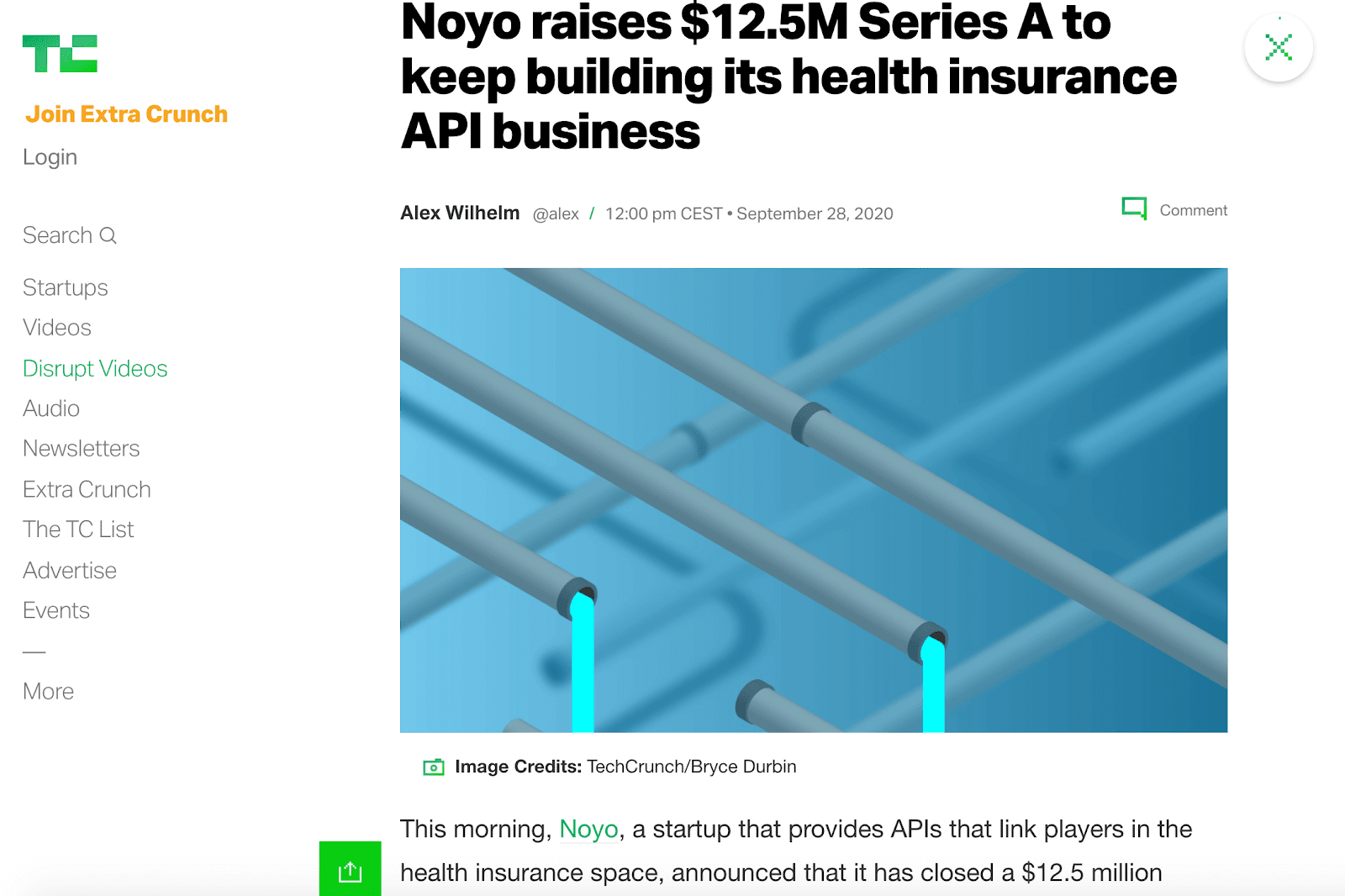 TechCrunch garners 8.4 million unique monthly visitors and has 13 million followers who generate 26 million monthly page views.
With tech news junkies primarily making up their readers, this is a great platform for Noyo to be featured on.
A single mention on such a publication can boost your SEO by bringing more traffic to your website and raising awareness.
The more successful the media outlet, the better.
This shows your prospective employer that you will be able to do the same thing for your new company or potential clients.
SiegeMedia, a content marketing agency based in the US, does a great job of beautifully showcasing how big of a network of journalists and bloggers they have and how they utilize this network for the company's clients.
If you have a list of recognizable clients that you have helped with public relations, this is a great thing to showcase in your professional portfolio.
In general, you have to keep in mind that it's essential to highlight your best work as a way to show that you can do the same for your prospective clients or companies you'd wish to work for.
Author's Note: If you can create graphics that make these numbers of clients more visually appealing, that always helps you stand out and get recognized.
We'll discuss this more in Tip #5 but first, let's explore how to choose your best writing samples.
Tip #2: Include Some of Your Best Writing Samples
As a pr professional, you probably have a lot of writing samples but for your PR portfolio, you only want to include the best ones with a high content engagement.
Include a variety of content pieces such as a press release, social media posts, blogs, etc.
In those different writing samples, you also want to show a range of tone, style, and voice.
You wouldn't write the same way for a manufacturing company as you would a toy shop.
A statement by Thor Industries—a manufacturing company based in the US—discussing their commitment to combat climate change is written in a much more formal way than the Toys "R" Us Baby Alive toy review.
Here's Thor's statement on climate change: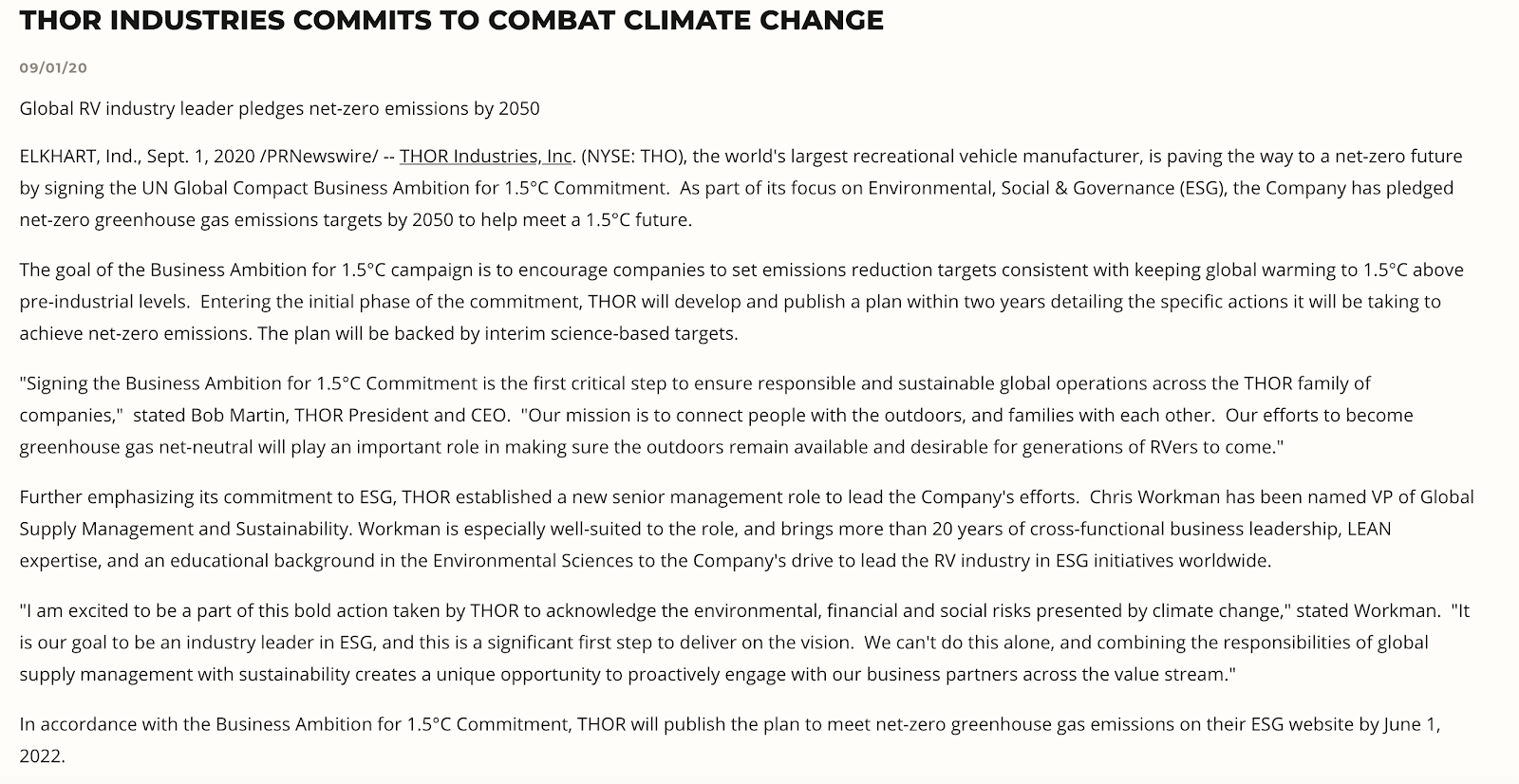 As you'll notice, the press release for Thor Industries is text only.
It is very concise and includes quotes for the president and CEO of the company.
The Toys "R" Us toy review on the other hand has very little text, several images, and even a video showing the target audience (children) playing with the product.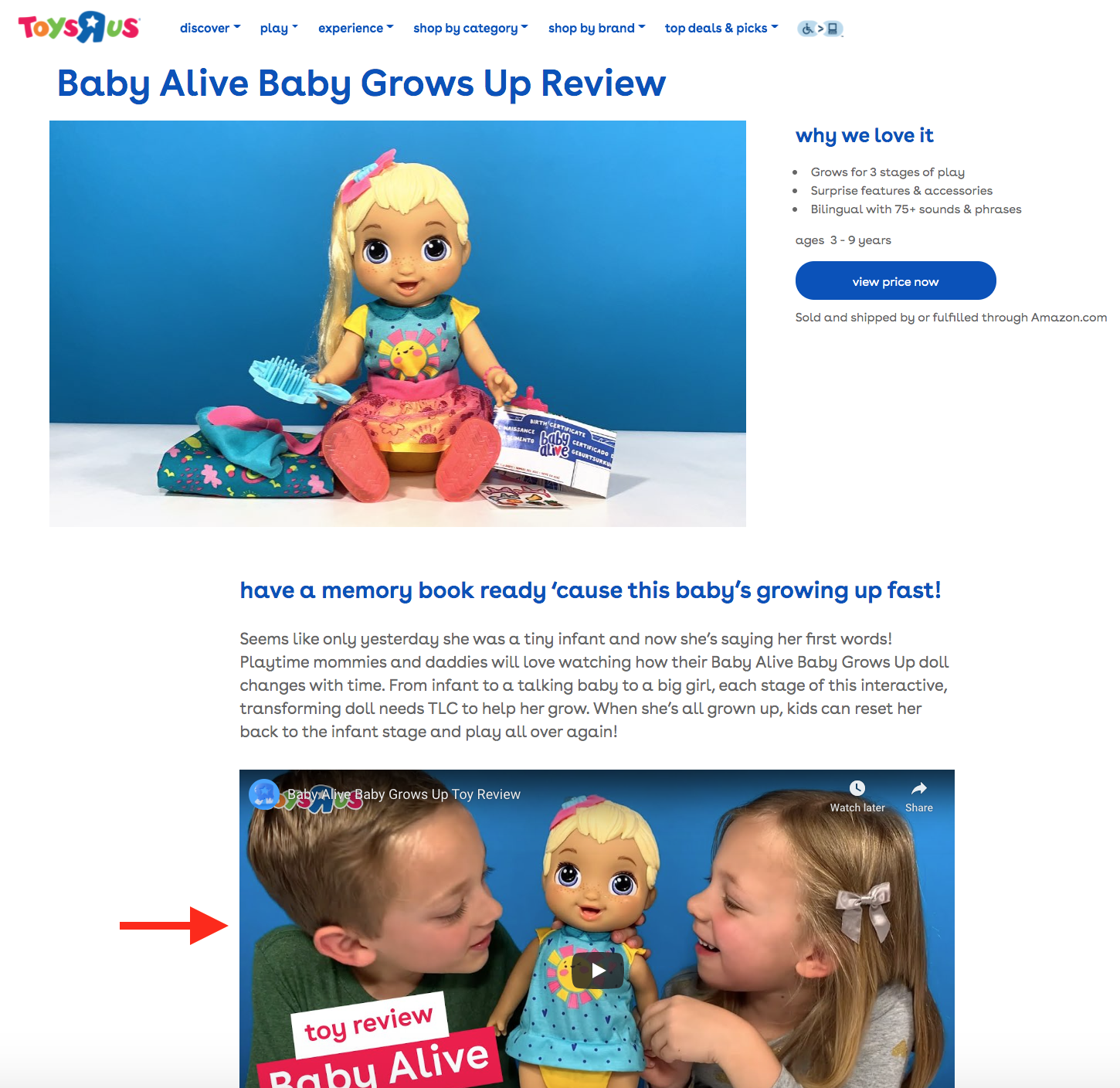 Both of these pieces benefit the companies they were written for but in completely different ways.
If you have experience writing for several different target audiences, show that in your portfolio.
The writing samples you choose to highlight in your portfolio should show that you can resonate with different audiences.
Maggie Stanton, a young PR professional, has done a great job of highlighting a variety of writing samples in her professional portfolio.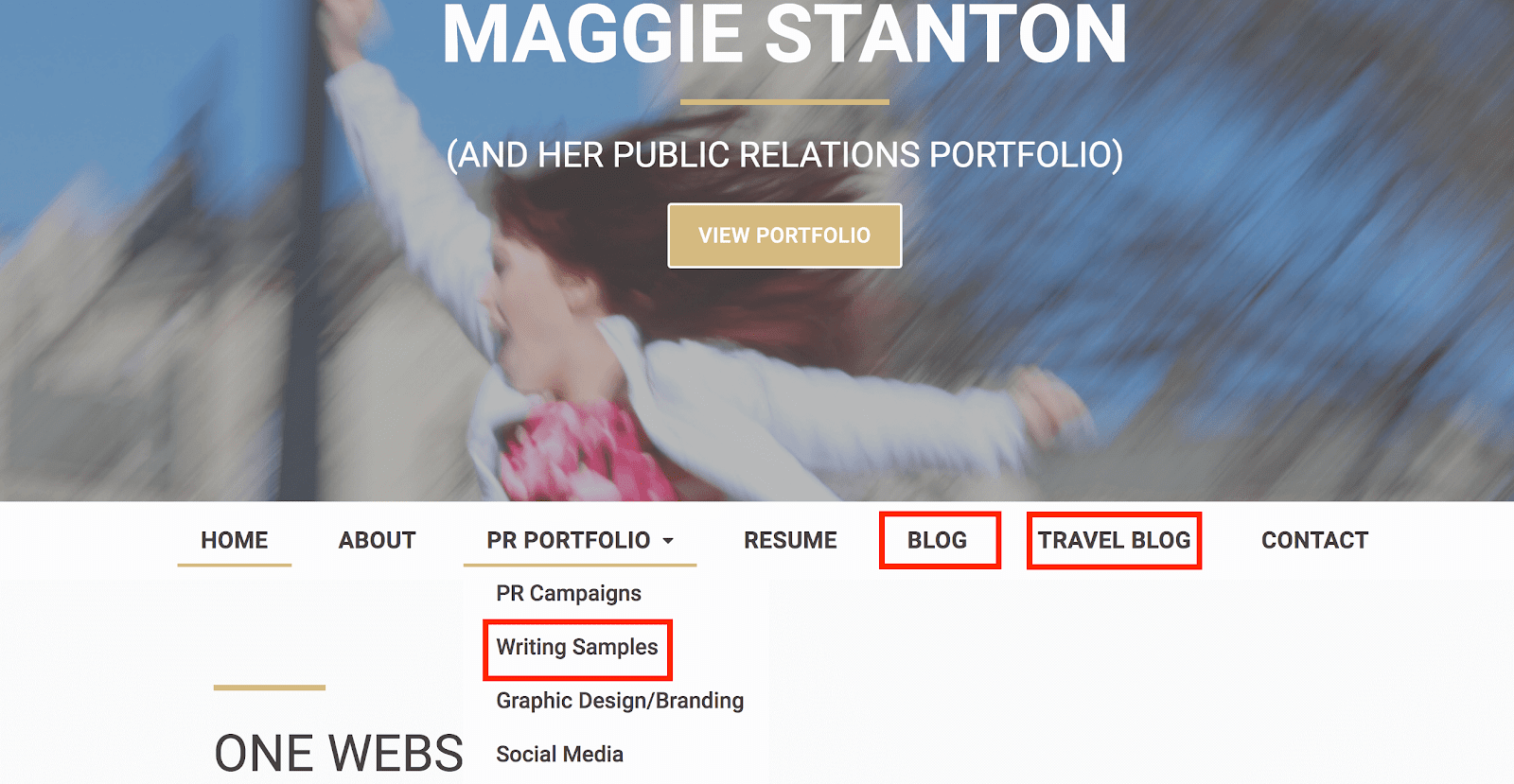 She has a specific section in her pr portfolio for pr writing samples but then she also has separate links on her website to her personal blog and travel blog which includes less formal writing samples in a completely different voice.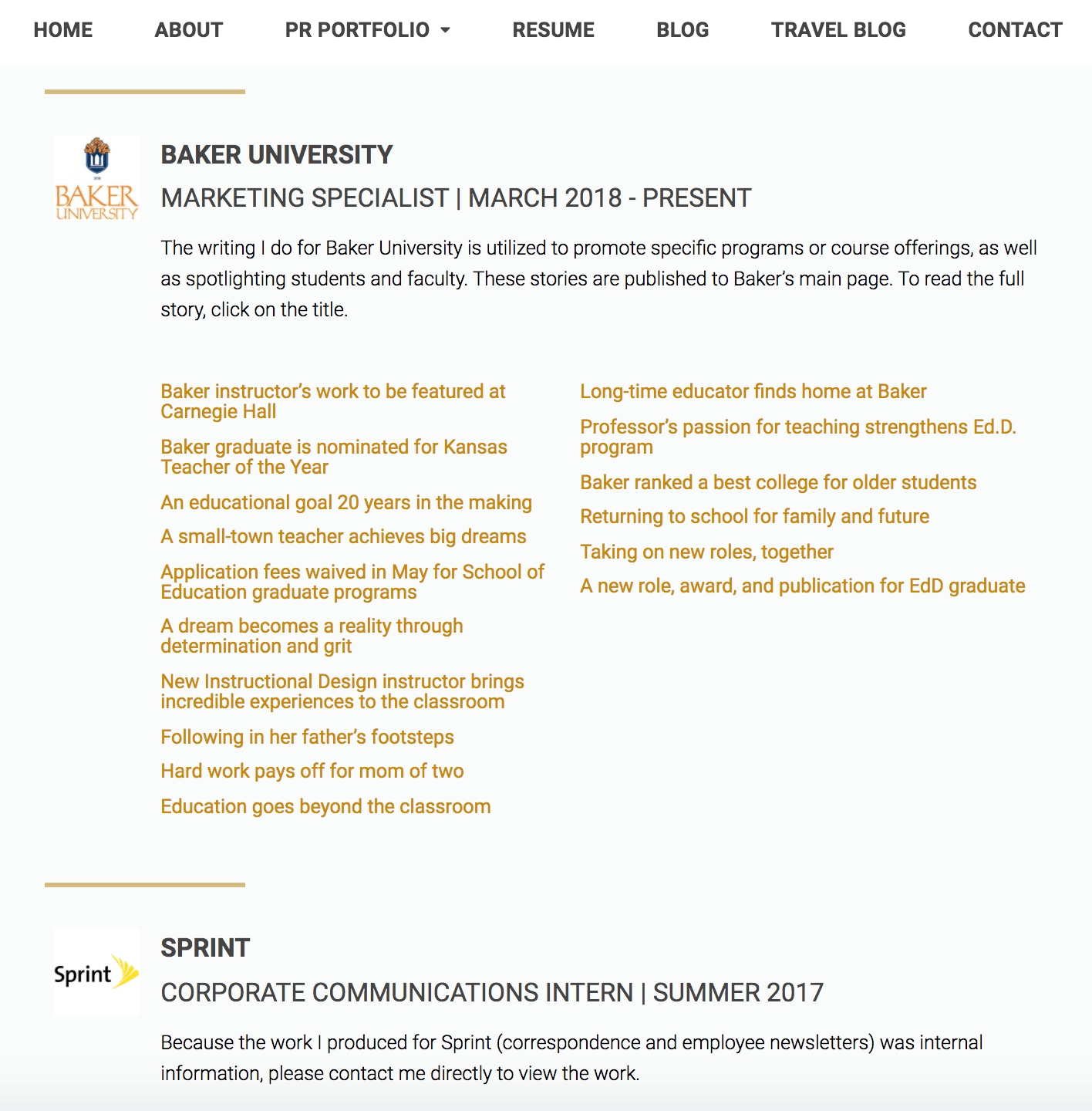 If your writing samples are still published on alternative sites, it's best to include a link to that publication as Maggie has done.
This will give your writing more credibility and will keep your portfolio design clean.
It is extremely important for freelancers to incorporate a variety of writing samples to show recruiters that you can cover several topics and that you can adjust your style to different businesses and industries.
If you need help improving your pr writing skills, check out our guide on 7 ways to take your public relations writing to the next level.
We also have many other PR tips and guides on our blog.
Tip #3: Highlight Your Best PR Campaigns
Now that you have included some of your best writing samples, the next step is to make sure you highlight your best PR campaigns to really make you stand out from the rest.
Have you worked on a particularly interesting project? Did you have success with your campaign that had an impact on your company's bottom line?
If so, you want to make sure you showcase these examples in a clear way that shows both your strategy during implementation and the overall results.
To better understand this, let's take a look at some outstanding PR campaigns that major brands have successfully launched, and how it can help you showcase similar results at a smaller scale.
Nike launched a worldwide ad campaign in 2012 called 'Find Your Greatness', which focused on the everyday athlete and achieving their own moments of greatness.
This campaign launch coincided with the start of the 2012 London Olympics.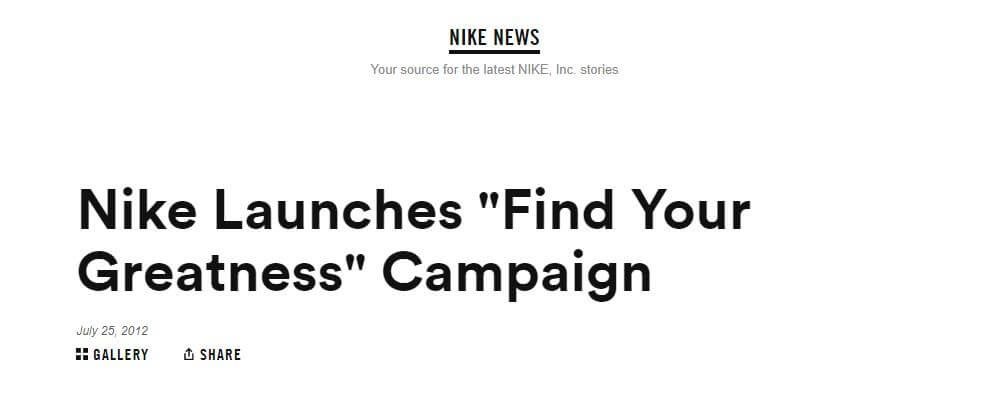 While their competitors were mainly using professional athletes in their commercials and promotions, Nike decided to go against traditional marketing and instead focused on highlighting their target audience: high school basketball players, morning joggers, and your next-door neighbor.
The inspirational commercial showcased average people pushing their limits and they used social media to share the video and engage their consumers.
One of the main videos on Youtube has over 6.5 million views and the campaign is still regarded as one of the most successful campaigns for Nike.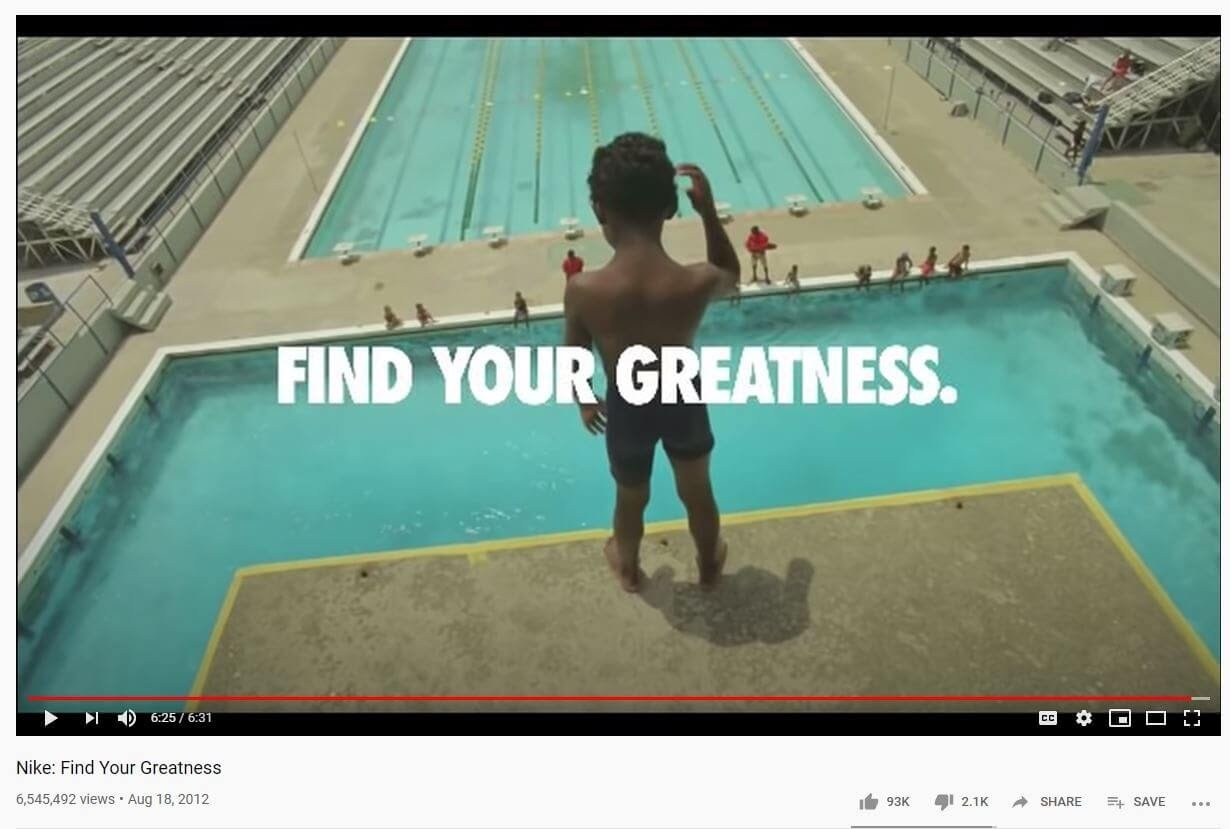 During the campaign, it produced $506m in revenue growth.
And while the official sponsor for the 2012 Olympics was Adidas, Nike came out on top with more tweets and social posts during that summer.
Another great example we can look at for inspiration is Coca- Cola's 'Share a Coke' campaign.
The campaign was first launched in Australia in 2012 and then due to its success, it expanded to other countries afterward.
Coca-Cola teamed up with advertising agency Ogilvy and Mather Australia to produce commercials, billboards, and experimental marketing where customers could customize their own bottles.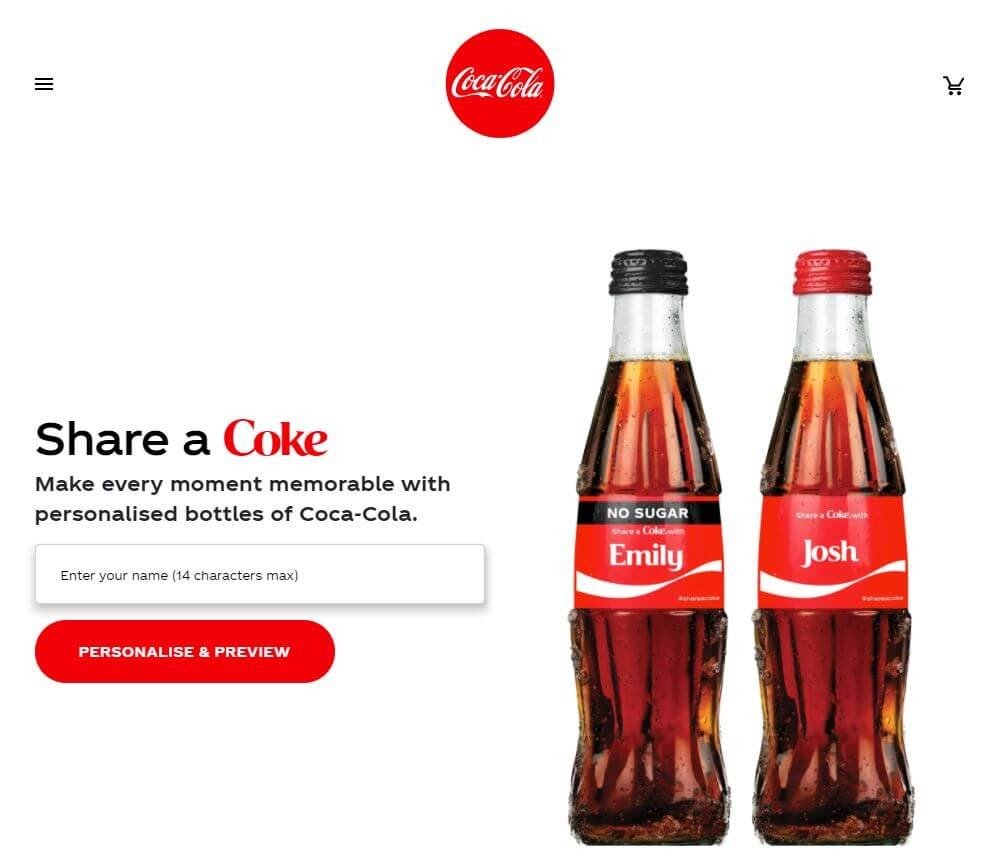 Customers could find bottles with names that held personal meaning to them, share them with friends and family, then talk about their experiences on social media using the hashtag #ShareaCoke.
This was highly successful due to a few reasons:
The brand personally connected with consumers
Powerful and clear Call To Action – Share a Coke
The campaign is regularly updated
Throughout the years, more names have been added, e-commerce shops opened where you can buy personalized bottles, and you could have your name in a short jingle.
In the initial release, traffic on the Coke Facebook site increased by 870% and the Facebook page grew 39%.
76,000 virtual Coke cans were shared online and 378,000 custom Coke cans were printed across the country.
These two widely popular campaigns were both very successful but for different reasons.
One emotionally connected with their audience while the other made it personal for each individual person.
Now we can bring it back to your previous experiences and showcasing your best PR campaigns as a PR professional.
Do you have a campaign that really resonated with your target audience? Do you have an example where you gained loyal customers?
You'll want to make sure you highlight some details of your campaigns and the results it generated.
Once you have all this information, it's time to start thinking about reviews or video testimonials that you have or can get to raise your portfolio to the next level.
Tip #4: Include Testimonials & Awards
Client testimonials are a valuable asset to your website or pr portfolio because they show your services bring value to your clients and you are reliable for the service you offer.
You shouldn't be the only one saying how good your work is. Let your customers do that for you.
The average consumer reads 10 online reviews before making a purchase decision and 88% of consumers trust user reviews as much as personal recommendations.
By listing testimonials or rewards in your pr portfolio, you are providing your potential employers with valuable information without making them search for it.
If you reach out to existing customers or previous companies you have worked with for a testimonial, encourage them to leave the review in a natural way.
It's ok if they email you the response but it's better if they can leave it on a public platform, such as a Google review, a Linkedin recommendation, or a review on any of your other social media accounts.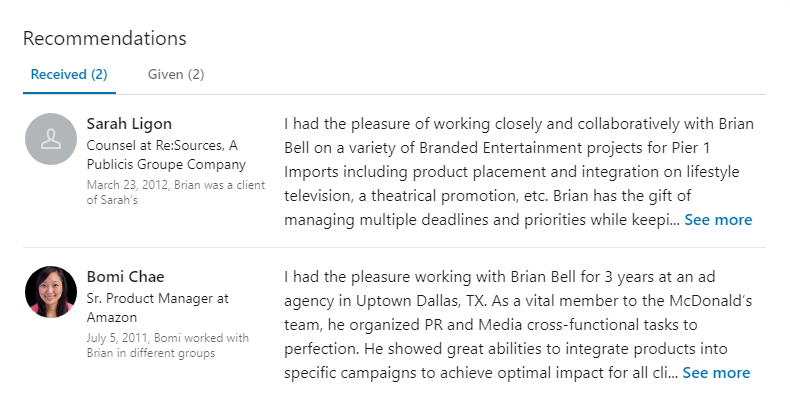 Then you can showcase that public assessment in your professional portfolio.
This will give more credibility to your testimonials if people can see them on other platforms as well.
Awards are also very important to showcase in your pr portfolio. Similar to a portfolio, they would be a great addition to your perfect resume.
This can be individual awards or awards given to a PR team that you were a part of.
Showing off your accomplishments also builds more credibility for your work because it shows that other people have recognized the value and quality of the pr campaigns or content you have worked on.
Your achievements could be certificates, award letters, a certificate of merit, etc.
When adding your testimonials or awards, you want to make sure they are relevant for the type of clients you are trying to attract.
For instance, if you are looking for PR clients in the SaaS industry, it would not be beneficial to include testimonials from the eCommerce business.
Make sure to include only testimonials and reviews from relevant clients within the industry you're active on.
Author's Note: If you have several testimonials or awards, you don't need to place all of them in your portfolio. Choose the most relevant ones and the most notable ones from recognizable professionals/brands or prestigious award companies.
Let's move on to the last tip I have for you.
Tip #5: Create an Online Portfolio That Stands Out
Now that you have all the pieces, it's time to create an outstanding portfolio that will impress potential employers or clients.
Gone are the days where you create a physical portfolio that you print and flip through.
You'll want to brush up on your graphic design skills to make yourself stand out.
Visme and some other tools in our guide on the best PR tools for public relations pros can help you.
You should create a visually appealing web design portfolio that includes all the different areas we've covered above. You can use sites such as WordPress to get started.
Going digital also gives you the opportunity to be flexible when you need to add new relevant material to your portfolio or take off things that are outdated.
Let's take a look at some great examples of successful online PR portfolios.
Lauren Marinigh, a young PR professional, has done an excellent job showing many examples of her writing and PR material.
You can view sections depending on what you want to view and it's easy to navigate to the different areas such as writing, public relations, and marketing.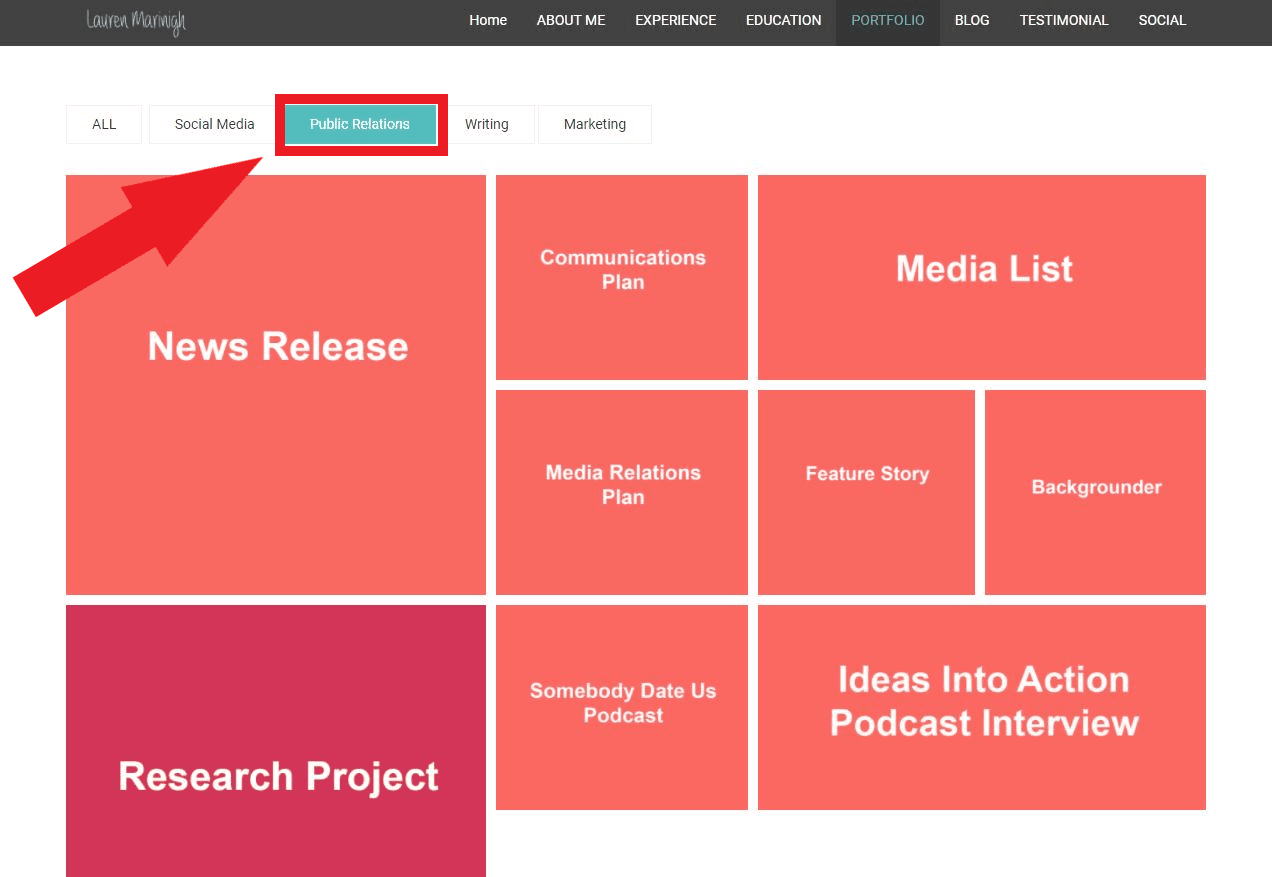 She also has a completely separate section where she has personal testimonials from previous employers to give her extra credibility.
Not only do they highlight her professional accomplishments, but they also include character traits that would make her an excellent candidate for a future employer.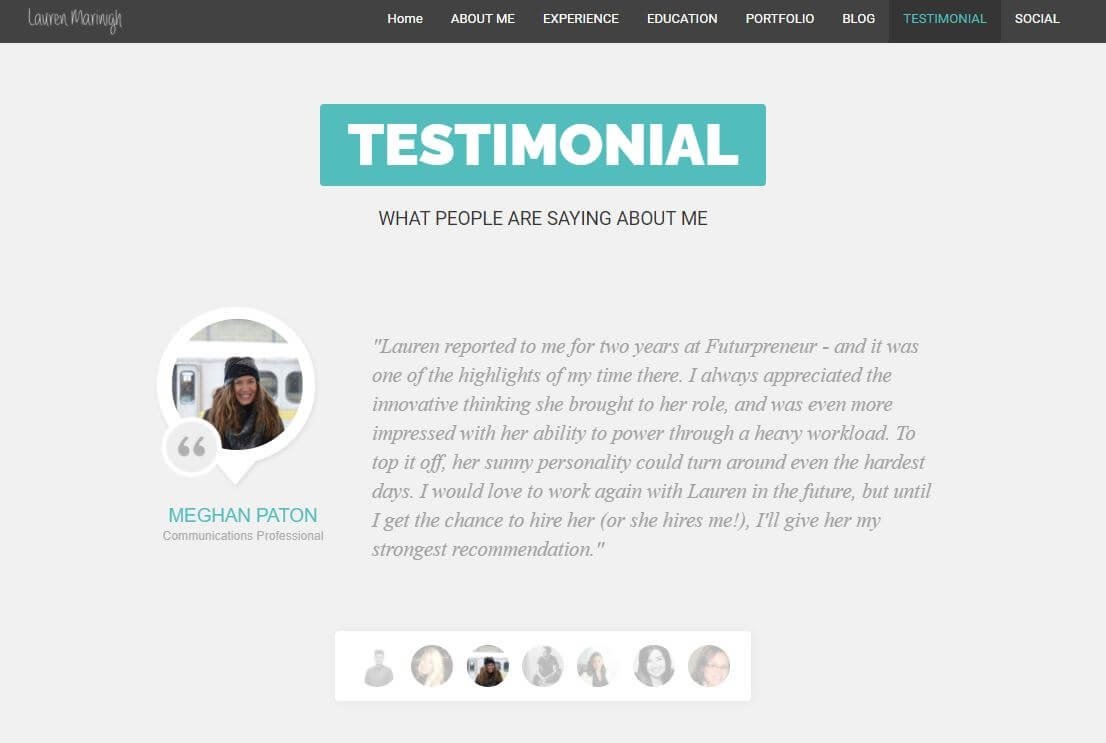 Lauren does an exceptional job showcasing her previous work samples in a clear and interactive way.
Not all portfolios will look the same, but it will be beneficial for you in the long-run to include some main areas that all portfolios should have.
As you are creating your own PR portfolio, keep in mind the important areas you should make sure to highlight.
1. Full Name and Title
Be sure to include keywords that make you stand out from the crowd, PR should be clearly displayed at the top of your portfolio.
2. Profile
Summarize your core skills and who you are as a person. A future client should be able to get a good snapshot of what you can do.
3. Best Campaigns/Work
It's important to highlight this at the beginning of your portfolio, your best work should be displayed so they can get a good understanding of your work history.
Include details of the campaign, results generated, and other important information that is relevant.
Here, you can also include any social media work that you've done or any podcast bookings and speech engagements you arranged for any of your past clients.
4. Awards
Next you should have your awards, if applicable. This gives you more credibility as a PR professional and shows your foundation in the industry.
5. Writing Samples
You will want to have 3-5 of your best writing samples in this section so potential clients can see either your specific writing style or the diversity you can have in your writing.
6. Testimonials
If you have testimonials, make sure to include them. This will help leave a good impression as it will be one of the last things they remember from your portfolio.
7. Contact Information
Include links to your social media accounts and the best way someone can contact you.
This can be an email, a LinkedIn, Twitter account or Facebook account or any other social media that you're active on and even have a following.
You can also make this section a contact form for people to fill out that gets sent to your email or preferred method of communication.
Also, at the bottom of your portfolio, you can also include any memberships you may have in relevant organizations such as the PRSA (Public Relations Society of America) or PRSSA (Public Relations Student Society of America), as a way to show authority to your prospective clients.
Ultimately, it's important to remember that your PR portfolio is supposed to be a reflection of you and your professional accomplishments.
If you have more examples of great writing samples and you don't have previous work experience with campaigns, substitute this part so it's highlighted first.
If you have too many samples that you want to list, think about linking to other parts of your website to make it look more professional but include all the content you want.
Take into consideration your skills and experience to customize your online portfolio to make sense for you.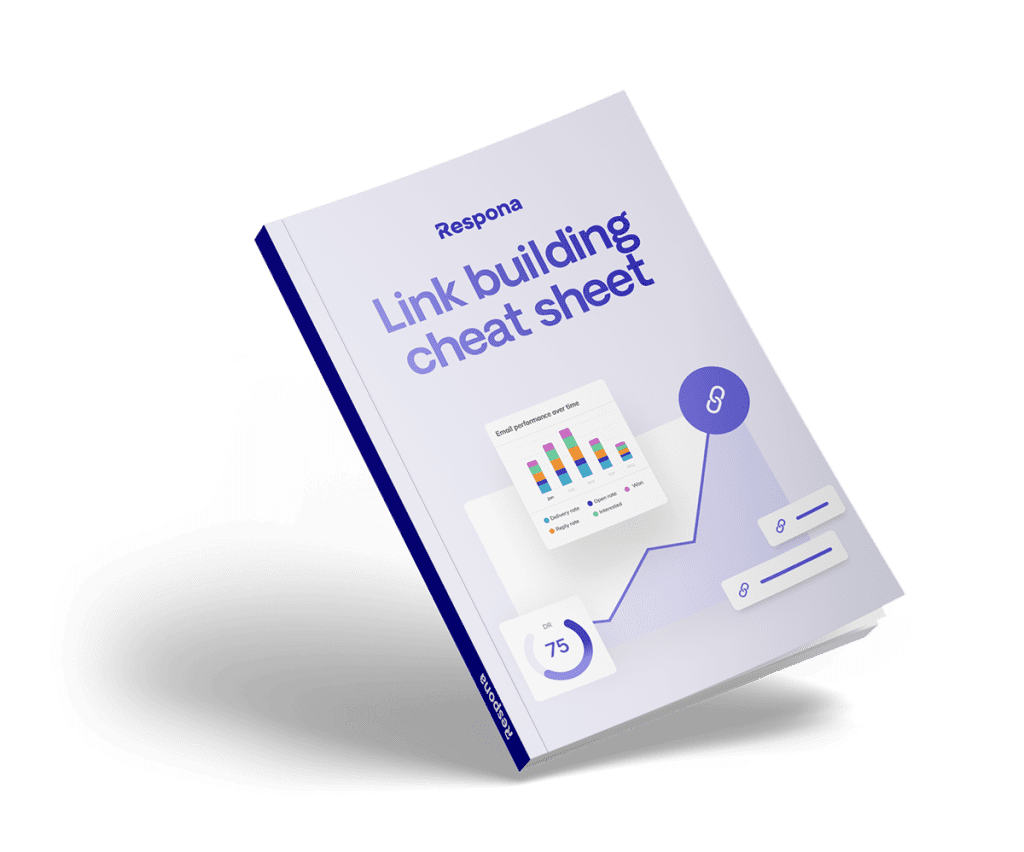 Link building cheat sheet
Gain access to the 3-step strategy we use to earn over 86 high-quality backlinks each month.
Now Over to You
Some people say that public relations is a dying industry.
We don't agree with that; we believe that PR is far from a dying industry.
In fact, we notice fundamental changes happening in the way PR and media relations is done.
This means that the way the game was played is changing.
If you want to be a part of that change, you have to adapt.
And, part of that is to be able to showcase the quality of your work both offline and online.
Building an online portfolio is the first step.
Good luck!