Public relations can be fun and rewarding if you have all the press essentials you may need.
A press kit is a PR staple that we want you to know all about.
For that reason, in this post, we're going to:
Share a definition of a press kit
Discuss the main elements of a press kit
Show you six press kit examples
Take you through the process of making your own press kit
Let's get started.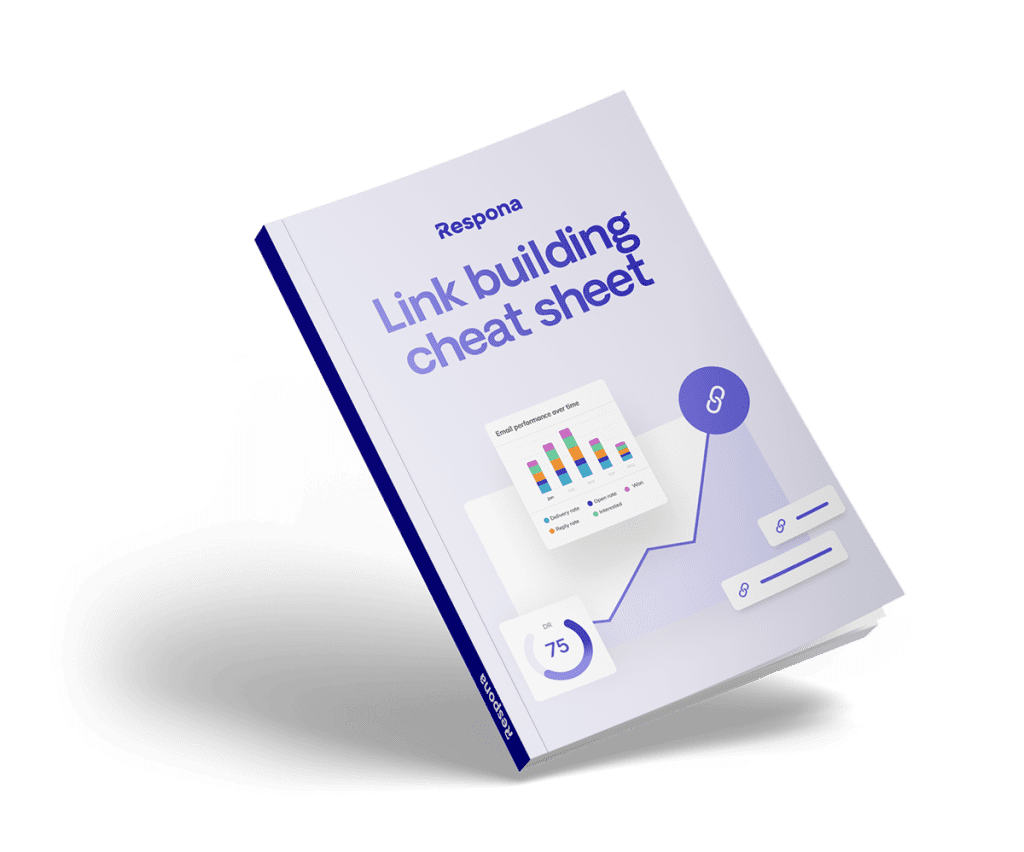 Link building cheat sheet
Gain access to the 3-step strategy we use to earn over 86 high-quality backlinks each month.
What is a Press Kit?
A press kit is a set of promotional materials that are packaged and distributed to provide information about a professional, event, business, organization, or cause.
A press kit can be both printed and digital, with digital press kits becoming much more popular in the past decade, for obvious reasons.
The press kit is distributed to members of the press, members of the media, and media outlets for promotional purposes, including the announcement of a noteworthy event the organizers want to get press coverage for and spread the word about.
Moreover, a press kit usually includes a number of documents and photographic materials that are put together and distributed as a pre-packaged set.
What's also important to mention is that a media kit is a significant component of a company's public relations and can't be missing for media relation's actions and other activities.
Last but not least, press and media kits are generally used for:
New product launches
New company launches
Announcing special, newsworthy events and news stories
Announcing company mergers and acquisitions
And so on and so forth.
Author's Note: Many professionals use the press kit and media kit terms interchangeably but, even though they do have similarities, they also have some differences.
Without further ado, we're getting started with the components of a press kit.
What's Included in a Press Kit?
We've now established what a press kit is, but we still need to dive deeper into its components and the main elements a press kit includes.
Before we get into the first element, we need to stress that, depending on the use case, there are some elements that you may not need to include in your press kit.
To put it simply, a Software-as-a-Service (SaaS) company may need to feature different press kit elements from an artist or a sports club, for example.
The elements we're sharing with you here are general elements that – with minor adjustments – are generally included in the majority of press kits out there.
Having that said, we're getting started with the first press kit element.
Here we go.
Element #1: Who We Are
The very first element is sort of an introduction to the company, individual, or organization that created the kit.
In other words, it's a backgrounder that features historical and background information about the company, organization, or professional.
We could say that this first component is basically the About us section of the press kit, which will provide members of the media with essential information in terms of the brand story or a company overview.
Element #2: How We Help
The second press kit element, electronic press kits included, is a section that presents specific features and results the company has achieved.
Some questions that might need to get answered here will probably be along the lines of:
What's your business story in terms of how long you've been in the industry?
What's your business location, especially if you're targeting a local audience?
What are some noteworthy results you've got for customers?
Where do you manufacture your products?
To mention a few.
This fact sheet-style section will help journalists get important information about your company.
On that note, including bios of your staff or key executives might also be helpful so members of the press know who might be suitable for expert quotes, commentaries, or interviews.
Moreover, journalists will also be delighted to see if any members of your company have appeared or been quoted on other news stories so make sure to include that too, if available.
Element #3: What Others Say
This third element of the press kit is your chance to talk about positive past mentions that your company has gotten from others, including your clients, influencers you may have partnered with, as well as any other professional or thought leader in your niche.
For example, if you want to feature client testimonials or social media mentions that'll grab the attention of the people who'll be reading your press kit, then here's the place to do it.
Author's Note: Keep in mind that recent testimonials and articles are generally much more useful than older ones.
Element #4: Awards and Prizes
If this element applies to the purpose of your press kit, then make sure to demonstrate your awards, achievements, and accolades.
These will help you underline the importance of your company or brand in the industry and highlight all the exceptional information the media needs to know about your high-quality work.
Put another way, use your press kit to present your recent work and bring attention to your achievements.
Element #5: Press Mentions
Element number five is all about showing past press coverage you may have received.
In this section, you may want to choose a few of your most important, exciting, engaging, and newsworthy press stories.
Additionally, any press release and past press coverage should be recent, which means that you should avoid adding anything that's more than a couple of years old.
Your goal is to demonstrate up-to-date and fresh content.
Element #6: Photo Gallery
Given that visual content is generally more engaging than text, it comes as no surprise that a press kit might also include a photo gallery.
Photos or other high-resolution images of products, logos, headshots of members of staff and key executives, are all widely used.
Why?
To facilitate the process of members of the press and media getting your imagery and including it in their magazines or other platforms in order to successfully tell your story.
Like we've noted above for a couple of different elements of a press kit, updating your imagery is essential in order to keep things looking clean and up-to-date.
Element #7: Brand Elements
Making your content shareable means that you need to provide publishers and any other person who might read your press kit with your brand elements.
Your business branding kit is a package that includes several branding elements and press materials such as your logo, selected fonts, and brand colors.
Adding a link that people can follow to download your logo in editable format, e.g. .svg or .psd for Photoshop, is an easy thing to do.
The reason for adding your brand elements in a downloadable format is to make it easier for publishers to actually use your content with proper branding.
Remember to keep your branding kit stylistically consistent and make sure to include different high-resolution options.
Offering various options will increase the chances of publishers using your logo right, as well as creating graphics using your logo and brand colors for a number of different public relations purposes, including print.
An example of offering different options of your branding elements would be to have a transparent background logo alongside your regular one.
Element #8: Contact Information
Last but not least, a press kit will naturally need to include essential media contact information from your PR department or a media spokesperson.
Indicating who's the best point of contact for media and press inquiries can maximize your chances of getting media coverage.
You might find it useful to include a number of different contact methods, which would mean including both a phone number and one or two different email addresses.
We're now done talking about the main elements a press kit includes.
I bet you want to see some press kit examples and get inspired.
6 Press Kit Examples to Learn From
Wanna see some beautiful press kit examples for six different use cases?
Here we go.
Author Press Kit: T.S. Krupa
First up, we have the author press kit, which is actually a very useful one if you consider that the release of a new book needs to get press coverage in order to achieve increased sales.
The example we're using here comes from the writer of Safe & Sound and several other books, T.S. Krupa.
Here's how part of her pressroom page looks: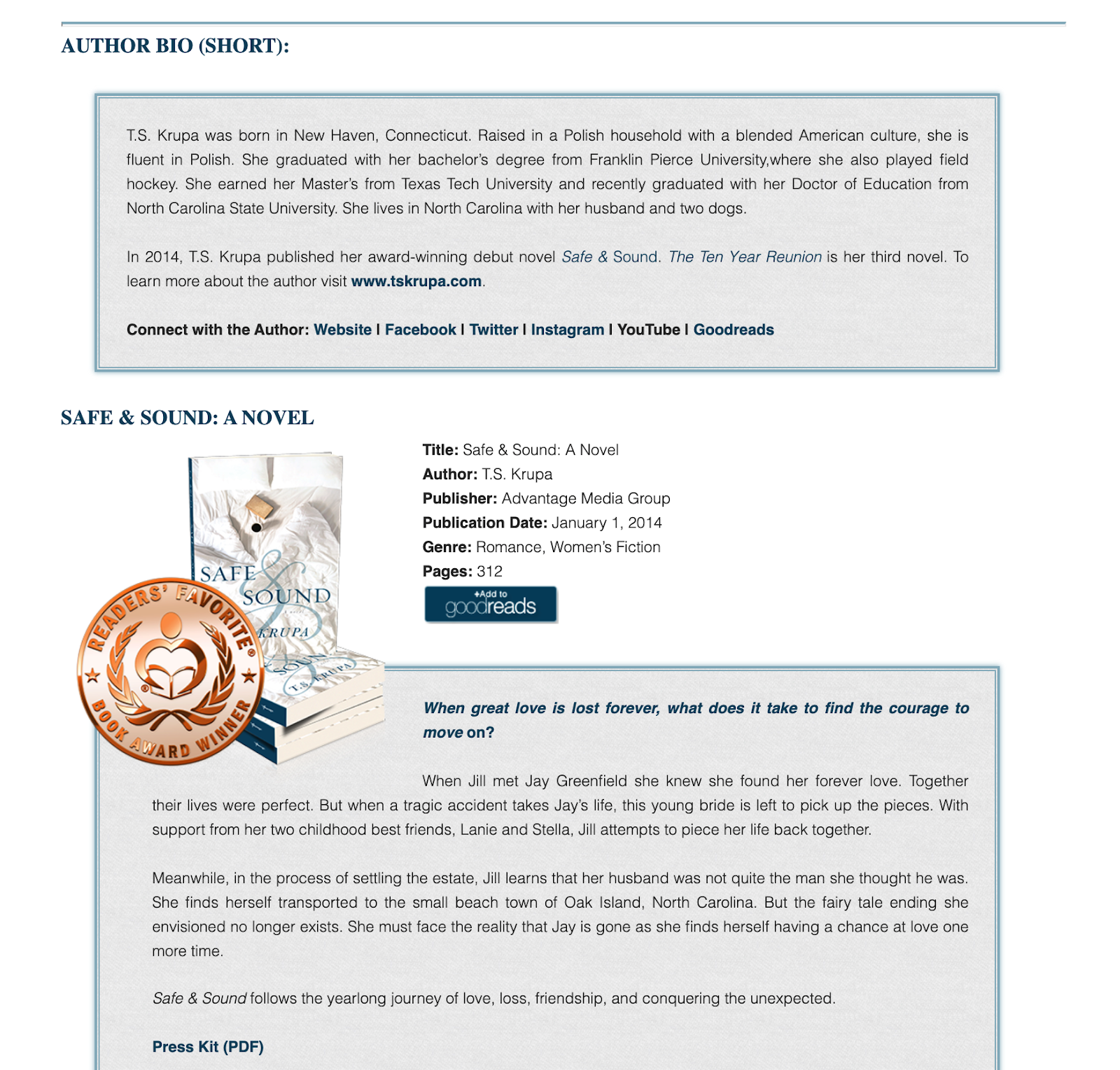 T.S. Krupa's press kit is concise and includes just the right amount of information for anyone who'd like to cover a story about the author.
More specifically, it includes:
Headshots of the author
A short bio of the author
Information about her books, including purchase links and mentions of her awards
Moreover, this press kit also includes high-resolution images of the author's book covers that, as you can probably imagine by now, can be downloaded and used by members of the press who want to publish a story about the author and her writing.
Moving on.
Artist Press Kit: Dua Lipa
Second on our list is an artist press kit.
Because of the ever-changing nature of the music industry, a killer press kit for musicians is definitely in order so that the press can present their news anytime in the best way possible.
Here's the Dua Lipa online newsroom:
This one is actually one of the best press kits we've seen, because more than simply being a useful press pack for press purposes, it's also a very compelling one that manages to feature important news of the artist, such as her upcoming tour dates…
… includes all essential information, such as contact information…
… and a number of great images of the artists from various moments of her career:
Leaving this great press kit for artists and getting to the next one.
SaaS Press Kit: Visme
The third example of a press kit we have for you is the SaaS press kit.
Why would a SaaS need a press kit?
Because they want to make it easier for members of the press to access and find information about their product, team, pricing, competition, and brand.
Our example here comes from our very own Visme, and it's a great example of how a SaaS media kit might look.

More specifically, it includes:
An About Us section that provides readers with background information on Visme and its philosophy
Testimonials
Existing and new features
Information about subscriptions and pricing
Useful media tools
Among other things.
The previous two press kits we talked about were quite different from this one, which makes us see that press kits should be customized according to a company's or professional's needs and target audience.
Find out more about the agency press kit below.
Agency Press Kit: SmartBug Media
If you're a marketer or an agency owner, you understand just how important it is to have an agency press kit that allows you to explain the core elements and facts about your agency to publishers, journalists, and members of the media in general.
SmartBug Media, an inbound marketing agency, have this press page: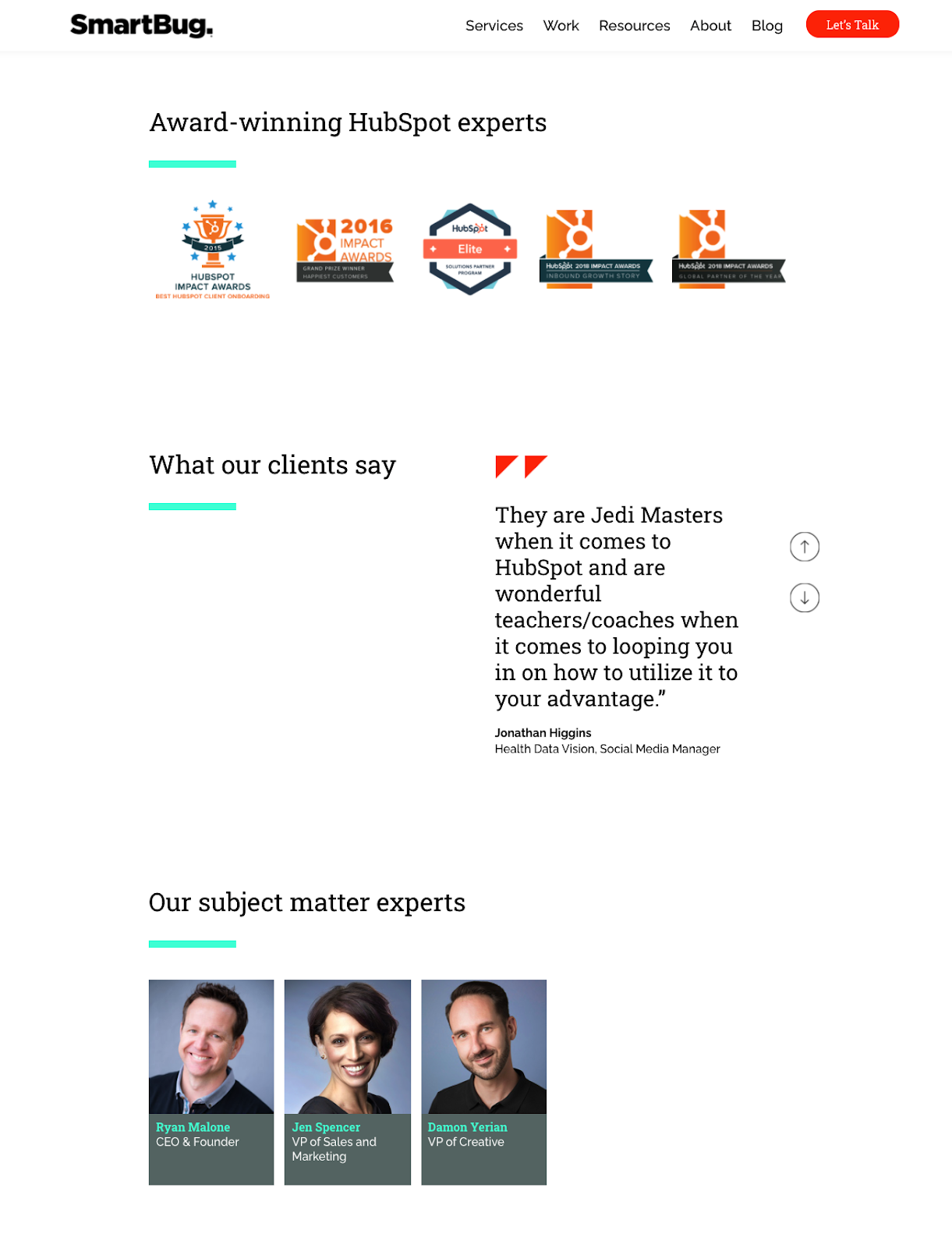 The page has a great, informative backgrounder, enthusiastic testimonials from clients, as well as references to awards and accolades the agency has received.
Let's get into another type of press kit, the photographer press kit.
Photographer Press Kit: Gillian Laub
Similar to musicians and authors, photographers also need a well-curated press kit to showcase their work and make it public.
Photographer Gillian Laub holds a beautiful press kit that you can see below: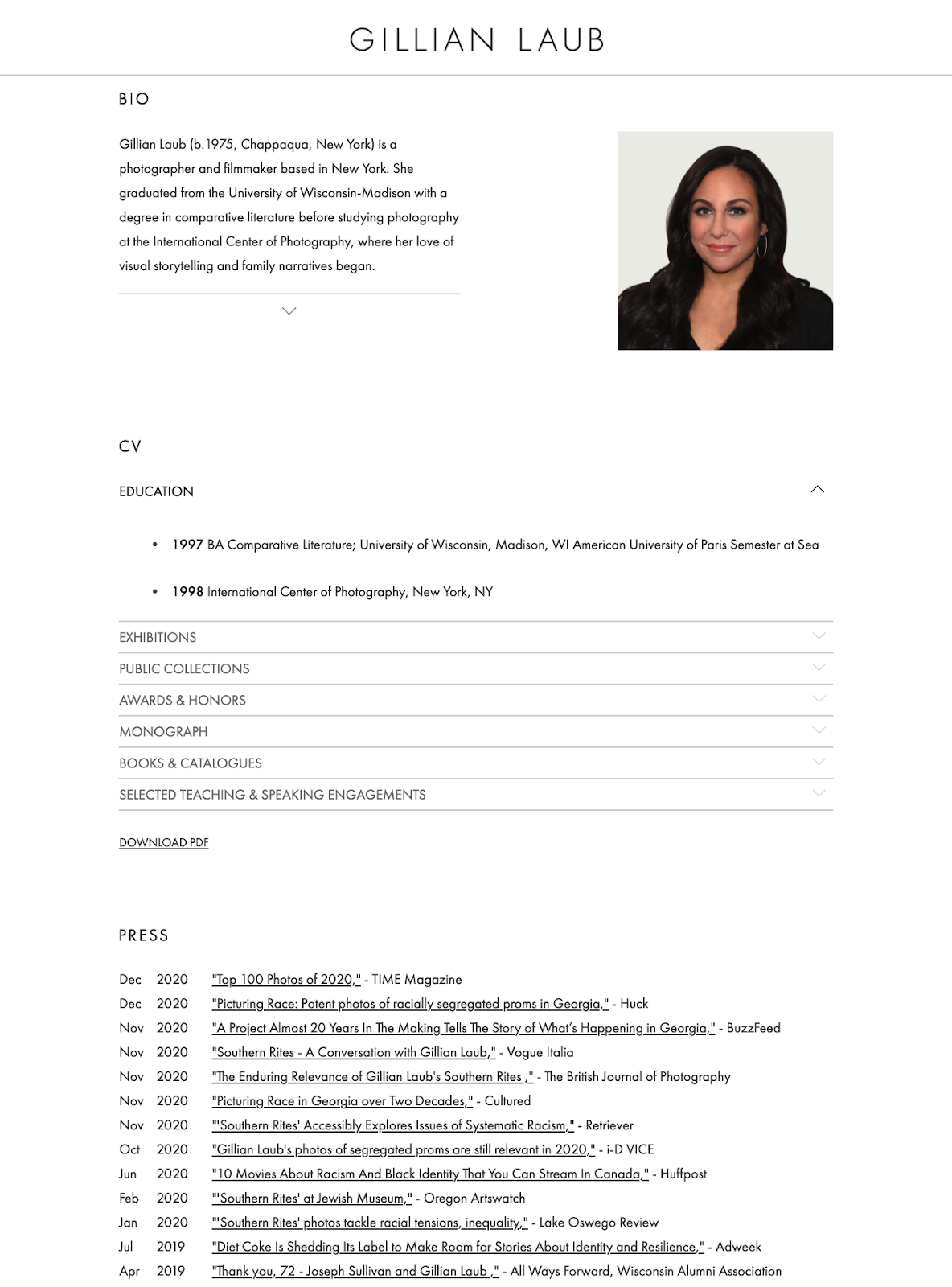 As you can see, it includes a short but concise bio of the photographer, along with different pages dedicated to her work, exhibitions, books and catalogs, speaking engagements, and so on and so forth.
What's also great about this one is that it has links to past press coverage Gillian has received, which are all from the recent past.
We're now moving forward with our list of six press kit examples.
Find the last one below.
Sports Press Kit: Juventus FC
When it comes to efficient PR, sports teams are generally hitting the mark by providing the media with high-quality press materials that help them keep their public image high.
Let's enter the Juventus press room.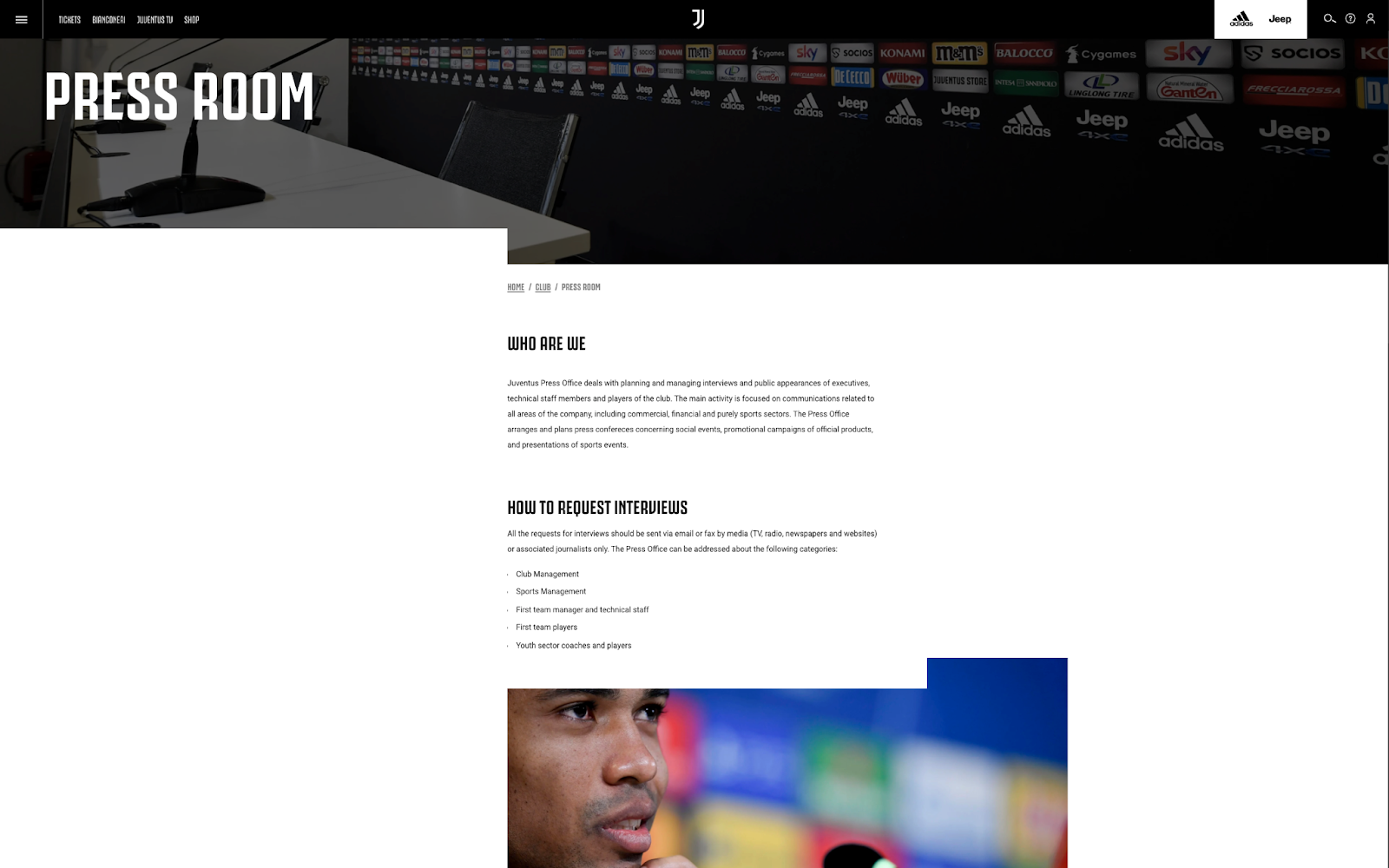 The Juventus press room is quite different from the ones we talked about a little further up; it focuses heavily on processes that are in relation to the team's PR and not so much on giving background information – although it does that too.
To be more specific, the page – a screenshot of which is shown above – helps anyone interested in getting in contact with the team to understand how they could request an interview or media accreditation.
At the very end of the page, users can also find a button that allows them to send a media request directly.
You've seen how others are doing it, how about getting to do a press kit yourself?
How to Make a Press Kit
Making a press kit is a fun and creative process that allows you to show the best of your brand.
The examples we saw earlier prove it!
In this section, we're breaking down the process of creating a press kit.
Here's step number one.
Step #1: Decide on the purpose and format of your press kit
Deciding on the purpose and format of your press kit should be the first step in the process of creating your very first press kit.
Do you want to create an electronic press kit (EPK) that will be available for people to view on your website?
Alternatively, you might want to focus on creating press materials that are downloadable and in a file in cloud storage – on Dropbox, for example.
The kind of press materials you'll be creating depends on the purpose of your press kit.
If you're interested in the press sharing your brand assets and raising awareness of your brand name, then you need to make sure to include those downloadable files we covered earlier.
To sum up this step, before you start working on structuring your press kit, get together with your team, brainstorm, and get your purpose clear.
In all cases, be sure to maintain your brand identity in terms of your press kit's branding consistency.
Step #2: Create your company's brand elements and media assets
Following on from the previous step, in order to maintain consistency and feature your brand's element in the best possible way, you first need to create your brand elements and make sure you've got all the media assets you're going to need.
Keep in mind that several options of your logo, banner, and other branding elements will allow journalists to better present your brand.
Step #3: Create a list of past, but recent, press mentions
When we talked about the main components of a press kit, we said about the importance of featuring past press coverage your company has earned.
For that reason, creating a list of a few past – but recent! – press releases that feature your company's news stories, should be one of your steps in the process of creating your own press kit.
Having such a list ready will mean that, as soon as you want to start building your press kit, you'll have the most engaging press releases all set and ready to be included in your kit.
What's more, spending a bit of time creating this list allows you to keep track of past press releases, thus making it easier to both pick the most interesting ones as well as update your content in the future in order to keep it fresh.
Step #4: Collect essential contact information
Last but not least, similar to creating your brand elements and your past press coverage list, you also need to decide on who's going to be the best media point of contact.
Once you're done deciding this, you can take the next step and collect all contact information you'll need to provide publishers and members of the press with.
These four steps we've talked about are mostly steps that allow you to do some efficient prepping and get the most of your press kit in no time.
Keep reading to find how you can actually start creating your press ki whilst saving valuable time and money.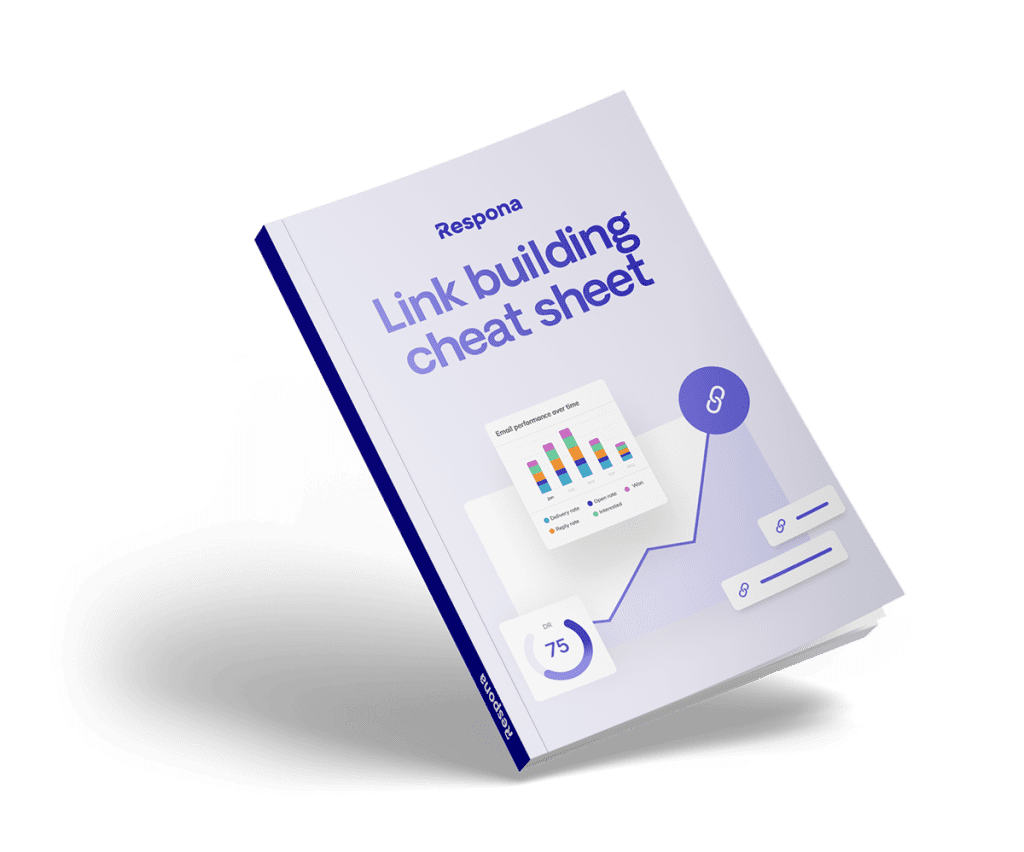 Link building cheat sheet
Gain access to the 3-step strategy we use to earn over 86 high-quality backlinks each month.
Now Over to You
You've made it to the end of our press kit guide.
You now know all about press kits, how they look, checked out some case studies for press kits, and seen what they need to consist of.
To really start making moves with your PR efforts and elevating them beyond the norm, you can request a demo with us and see how we can help
Enjoy the ride of creating your press kit and getting more press coverage!