All marketers know, sending emails is an art form.
Is there a perfect time to send an email?
Understanding the best time to send an email can be the difference between your emails converting to sales or getting positive responses and it going unread and getting deleted.
To get to the bottom of the right and wrong time to send an email, we're looking at:
A wide range of data on the time of day to send an email
A clutch of reports about the best day of the week to send an email
Tactics you need to employ to get your email delivered and opened
There's a lot to unpack here, so let's dive right into it.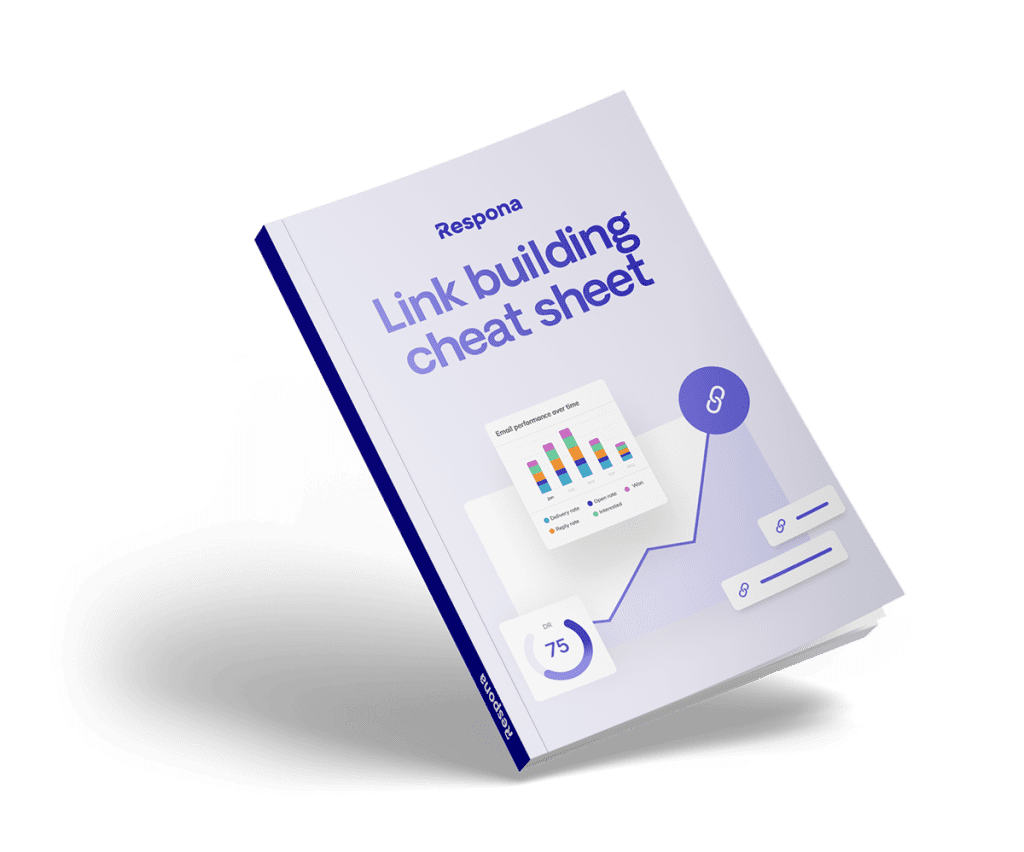 Link building cheat sheet
Gain access to the 3-step strategy we use to earn over 86 high-quality backlinks each month.
What's the Best Time to Send an Email?
The best time to send an email is shrouded in mystery and surrounded by lots of different data.
Of course, we need to understand why you're sending outreach or promotional emails in the first place.
Marketers use email to:
Get their message in front of their target audience
Receive a reply to a question or pitch
Qualify leads that have been generated
Boost conversions from email subscribers
Choosing the right send times for the email to land in someone's inbox will get good open rates, a better click-through rate (CTR), and generate more traffic to a website or to social media.
In the pursuit of the best time of day to send an email, email marketing tools, services businesses, and other Software-as-a-Service (SaaS) companies will periodically analyze their data to see what's working and what's not.
Although most of the data we're going to look at comes from organizations sending an email newsletter, much of the theory holds when it comes to working patterns and why the spikes occur when they do.
First, let's look at a bit of an outlier in terms of your target audience – a 2020 study by Siege Media looked specifically at outreach email rather than newsletters or email blasts, sent to contacts that they describe as "room-temperature" as opposed to "cold".
According to their study, the best time of day to send an email is either 8-9 am or 1 pm, which makes sense when you consider these times are when people get to or return to their desks at work.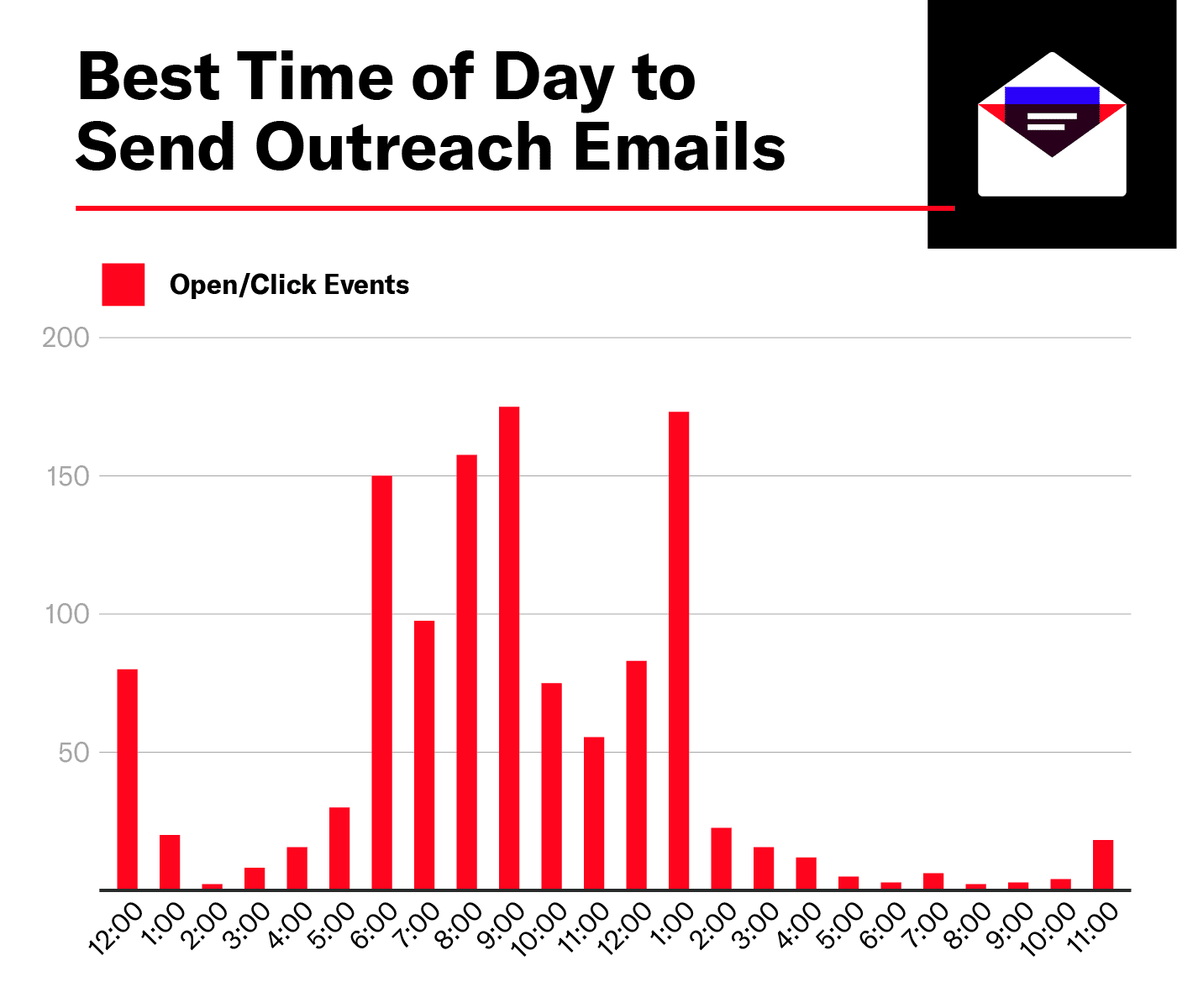 Image Source: Siege Media
GetResponse, an email marketing SaaS, completed a study of over 5 billion emails for their email marketing benchmarks study and surprisingly found that the highest open rates globally were at 3-4 am.
They do note that the sample size at this time was super low and that, in general, office hours see the best open rates and CTRs.

It's also useful to note from this benchmark study that open rates drop off after 6 pm, making the evening the worst time to send a business email.
SuperOffice also sees a peak in their 2021 data at 3 pm for email open rates, hitting over 7%…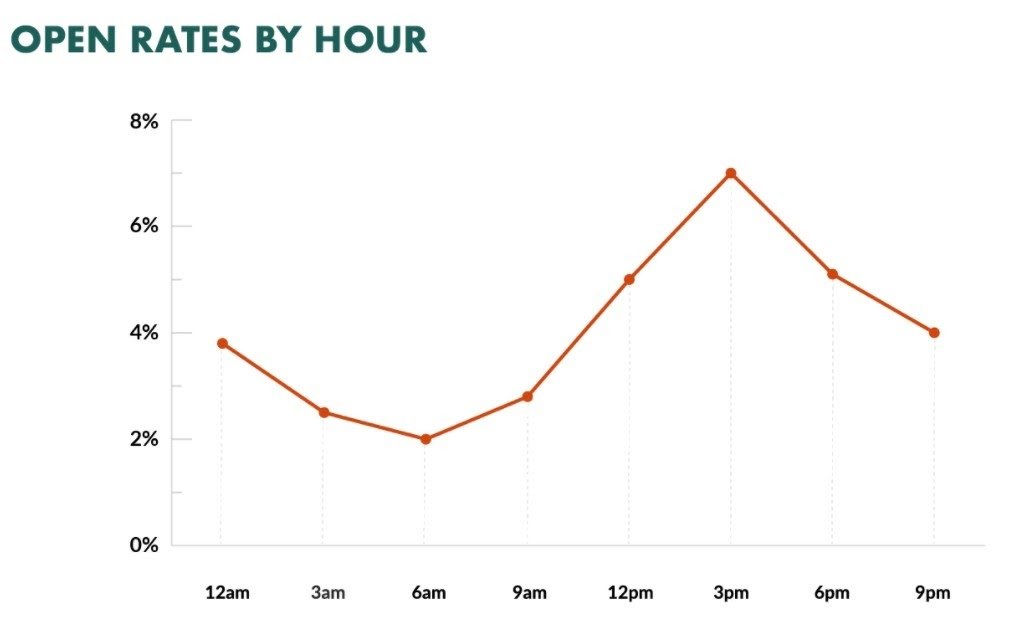 Whilst Sendinblue's 2017 study found that open rates were highest early in the day at 6 and 7 am but for higher engagement, you should be looking to send your email at either 10 am or 3-4 pm.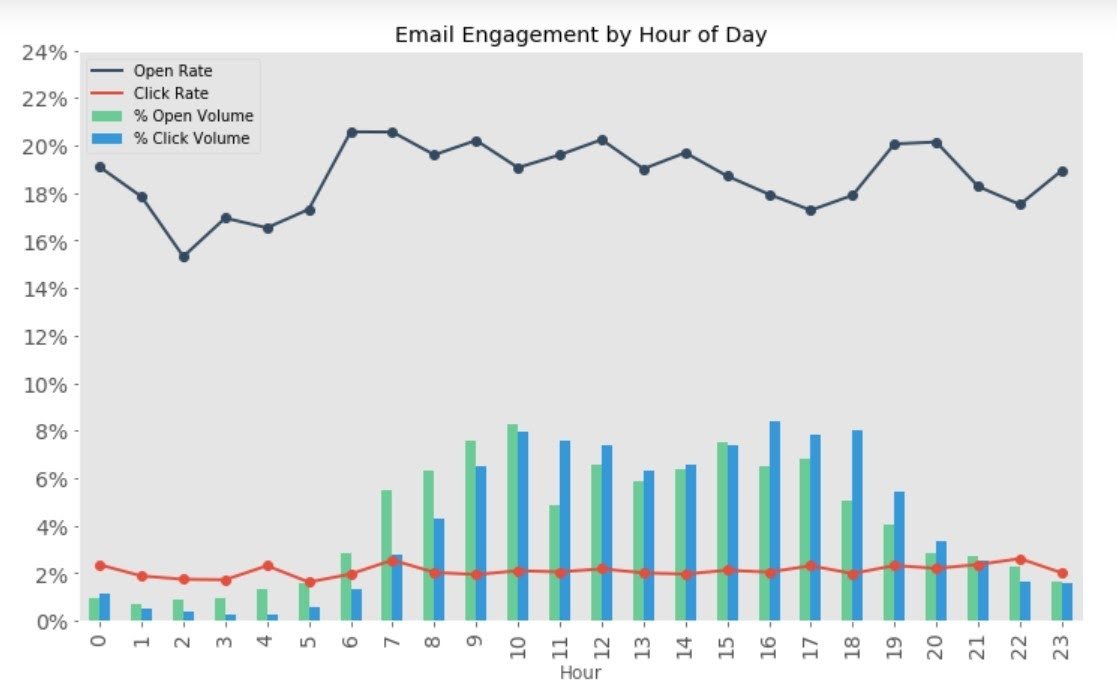 What's really interesting about their analysis is that, when they broke data down by industry, B2B emails generally followed the trend – see the orange line on the graph below – but you really don't want to send an email at 11 am!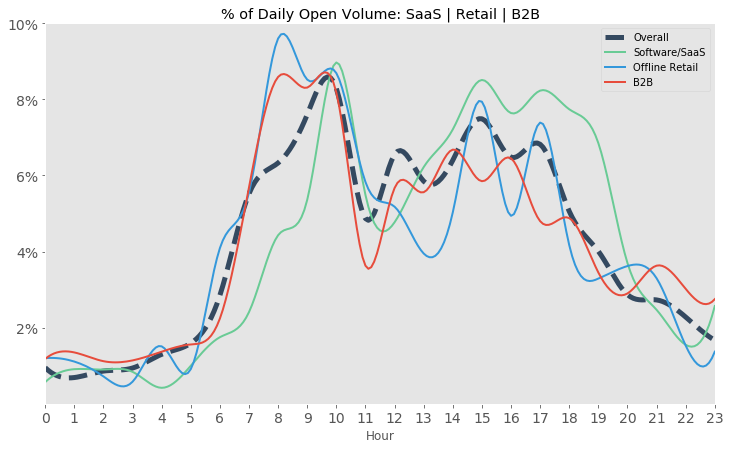 The B2B messaging and email platform Intercom saw a significant spike in open rates around 8-9 am on Tuesdays and Thursdays – more on the best day of the week to send an email is coming up shortly.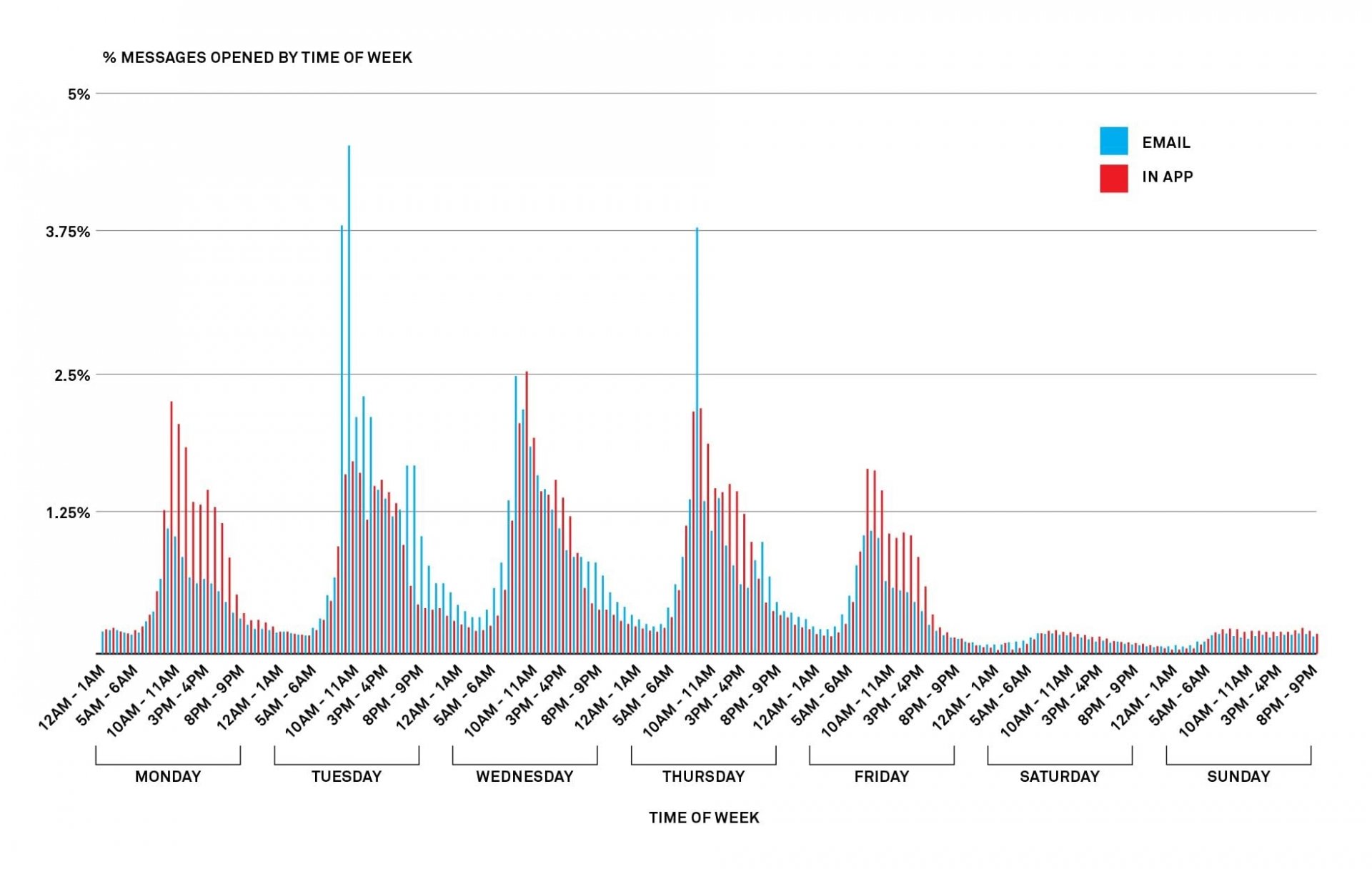 Data from Campaign Monitor puts office hours of 9-5 as generally being good for open rates, but they suggest avoiding lunchtime whilst WordStream reckons at 8-9 am gets them the most email opens.
After this data, the other reports on the topic are a little bit older and so less reliable – think about how important mobile devices were in our lives just five years ago compared to now.
The two most significant pieces of research on the subject of the best time of day to boost your email engagement are:
Hubspot, which looked at over 20 million emails over 10 months back in 2015 and determined 11 am to be the best time to have an email opened.
The email service Mailchimp said that 10 am was the best time to send an email but throughout the working day was generally OK – with the information coming from 2014.
In 2017, the then-VP of product marketing at Mailchimp, John Foreman, told CNBC, "in aggregate globally, I would say weekdays tend to be better than weekends and the middle of the day tends to be better, so about 10 a.m. to 2 p.m."
That's the data about the optimal time for sending an email, what day should you be using this data on?
Best day to send an email
The best day to send an email is the middle of the week if you listen to most email marketers.
Where does that wisdom come from?
It seems to be backed up by most of the data in the reports and studies that we've looked at.
For a high average open rate, Backlinko advises you to send your emails during the workweek.
The best day to send an outreach email is Wednesday, but there is only a 0.14% difference in open rate between that and the worst day for email opens, which is Monday.
The information from GetResponse lines up in a similar way – their data shows little difference in engagement rates, and open rates are only 0.73% different between the lowest and highest days, Thursday and Friday respectively.
Over at Sendinblue, they see a significant increase in click volumes on Tuesdays and Wednesdays but open rates are steady through the week.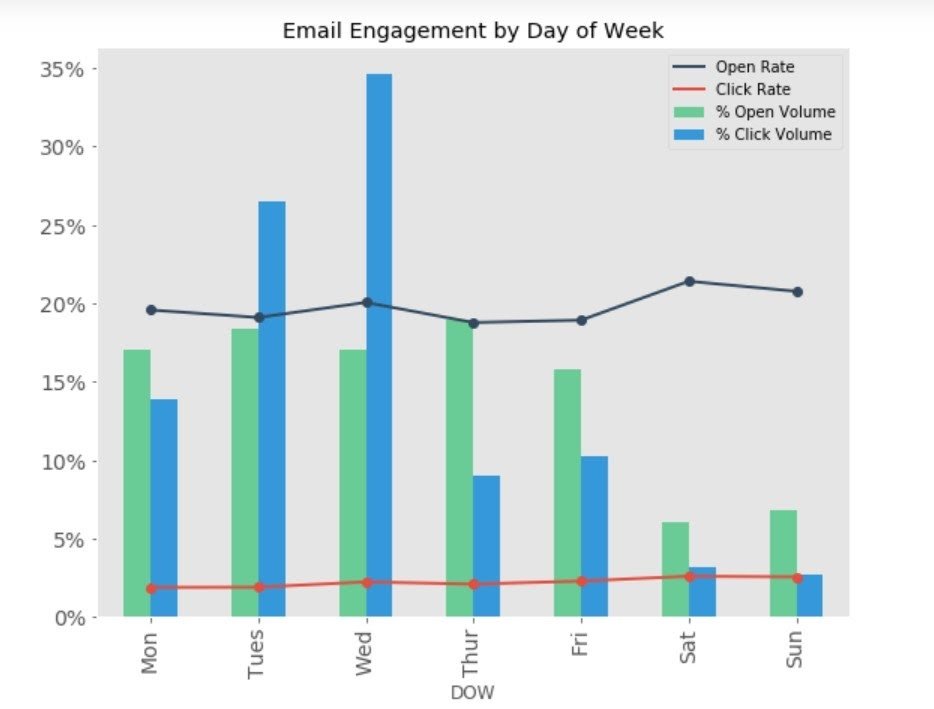 Backing this up is the 2015 HubSpot report, which tells us that Tuesday and Wednesday are the best days for email sending activities.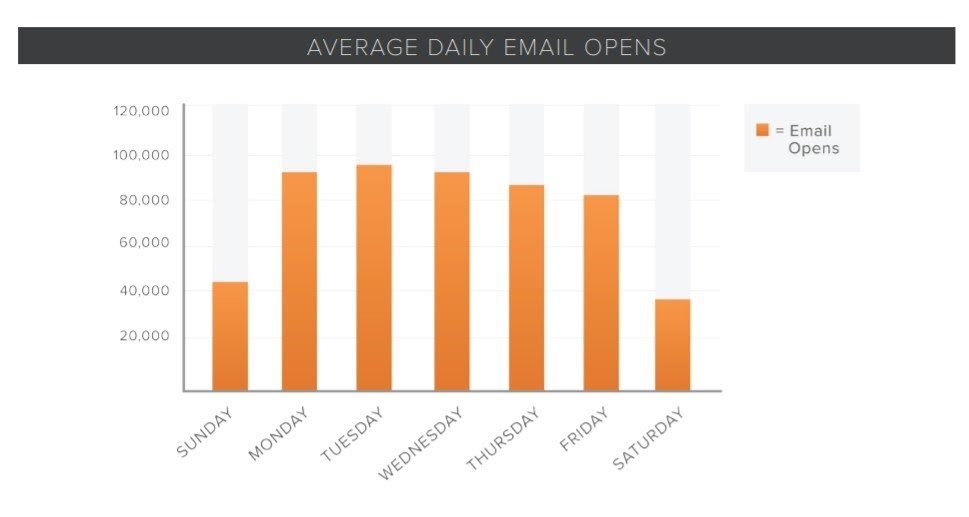 Meanwhile, Siege Media's data bucks the trend and tells us that, in terms of open rates, Monday is actually the best day to send an email…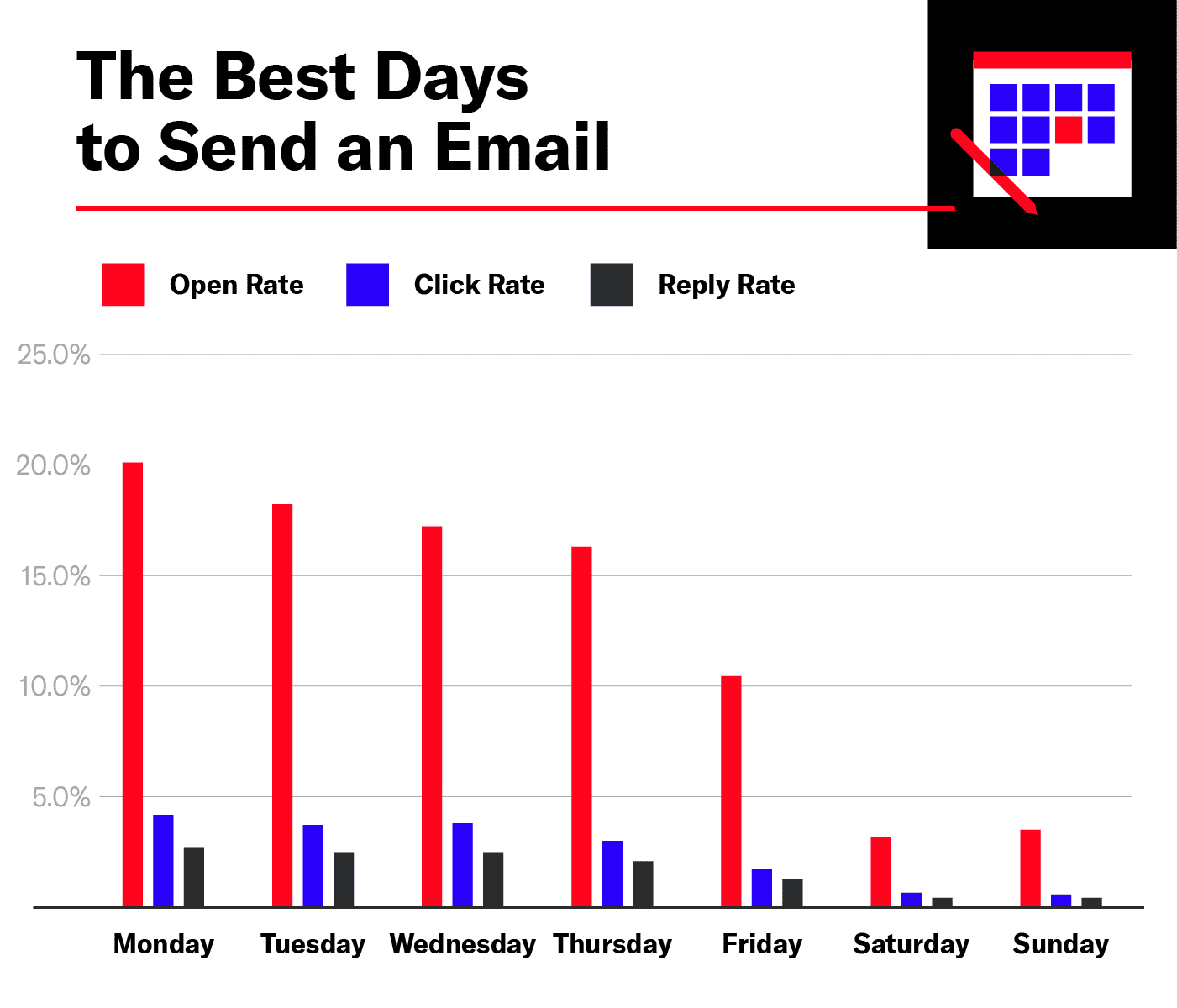 … which is somewhat supported by Sendinblue, who show us that B2B emails tend to get opened on Mondays and Tuesdays: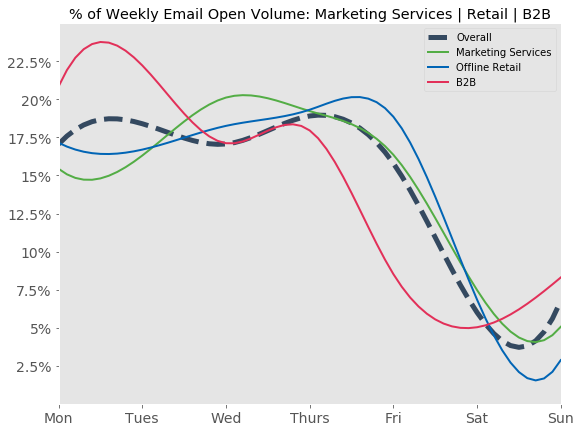 Taking a different approach to see which day to send an email, Fractl surveyed 1,300 publishers about the outreach email they received.
Turns out, editors and journalists say that Monday, Tuesday, and Wednesday are the best days to receive a press release or pitch.
It can be a tad confusing to understand the best day to send an email based on all this slightly conflicting data, but we can pretty safely day:
Don't send your best email on Saturday morning!
Don't send your best email on Saturday morning! It's consensus across email marketing data to be the worst day of the week for an email to get opened.
Data From 11 Original Studies
Email subscribers are different from people you send a cold email to or those with whom you're just starting to build a relationship.
That's why we've looked at a range of data about the best times of the day and days of the week to send an email – the more sources we look at the better we can aggregate the data.
Here's a collection of our sources, let us know in the comments if there's any more that we should check out.
Let's check out some other important takeaways from this comprehensive list of studies.
Key takeaways for when to send an email
It's pretty clear that the data about the best time to send an email doesn't all point to one exact answer.
The data is different depending on whether you're sending outreach emails, marketing information, or newsletters.
As we can see in Sendinblue and Fractl's reports, email open rates and engagement can even differ widely depending on the industry you're working in.
Some things that you can do to figure out the best time and day to send an email for your audience include:
Learning about your audience and subscribers; do they tend to have a different work start time, for example
Understand time zones, whether you're based only in the USA or you have a global market, you need to take into account where your audience is
Complete an a/b test to learn what works so you can optimize your own email sending times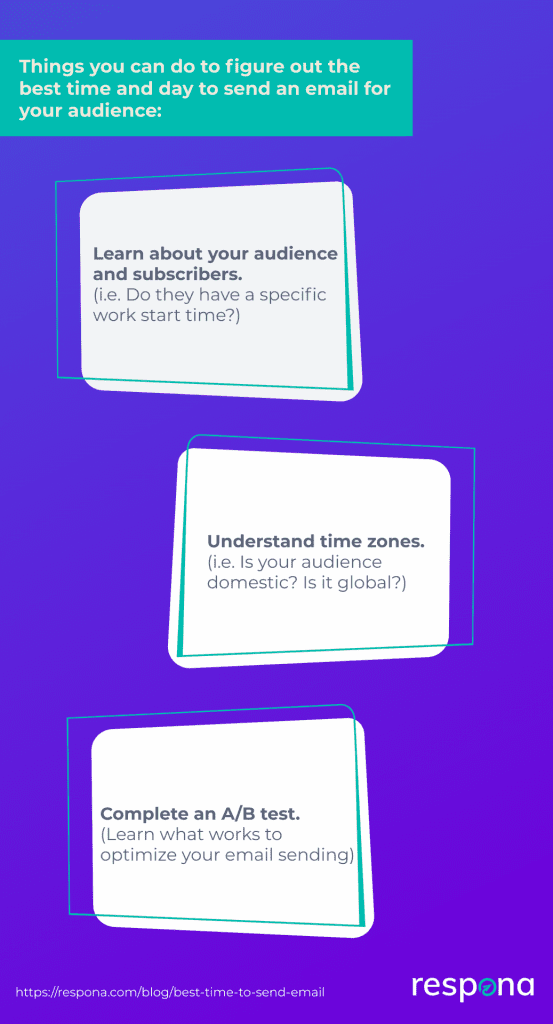 What's important to understand is, to get high open rates, it's not all about getting outreach or promotional emails sent at the right time – there's a lot more that goes into email marketing campaigns.
All of the data we have about the best time and day to send an email is a little bit jumbled, so what can you do to make sure your email outreach hits the mark and gets opened no matter what work hours you send it in?
What to Pay Attention to When Launching Cold Email Campaigns
When piecing together your marketing strategy, cold outreach will likely be part of the plan.
Sending emails to people you've not yet connected with can feel both daunting and challenging, but can be really beneficial if you're:
How do you ensure you get a higher open rate with your emails and get responses?
Getting the right day and time goes hand in hand with perfectly crafting your email.
We're sharing other ways to improve your chances of getting responses based on ours and our users' experience.
Tip #1: Reaching out to the right people
The very first part of your cold email strategy is finding exactly the right people to send your email to.
It can be tough to know where to start when you want to make a connection with a blogger or pitch a story to a journalist.
The type of people you'll send emails to will depend on the purpose of your campaign, e.g. a backlink campaign should be targeting blogs whilst aiming to be a guest on a podcast would mean you narrow your search to podcasts.
You need to have a clear understanding of what you're trying to achieve with your email outreach and what type of person you're searching for to help you get what you want.
After you've got the sites you want to make contact with, it's time to look at your email subject line.
Relevant Resources:
Tip #2: Crafting a killer – but not spammy – subject line
First impressions count, and the first thing your email recipient will read is the subject line so you need to make it count.
Get Response's benchmark study that we looked at earlier shows that emails with personalized subject lines get opened 5% more than non-personalized ones.
When we're looking at response rates, Backlinko tells us that personalized email subject lines get a 21.8% response rate, compared to 16.7% when there's no personalization.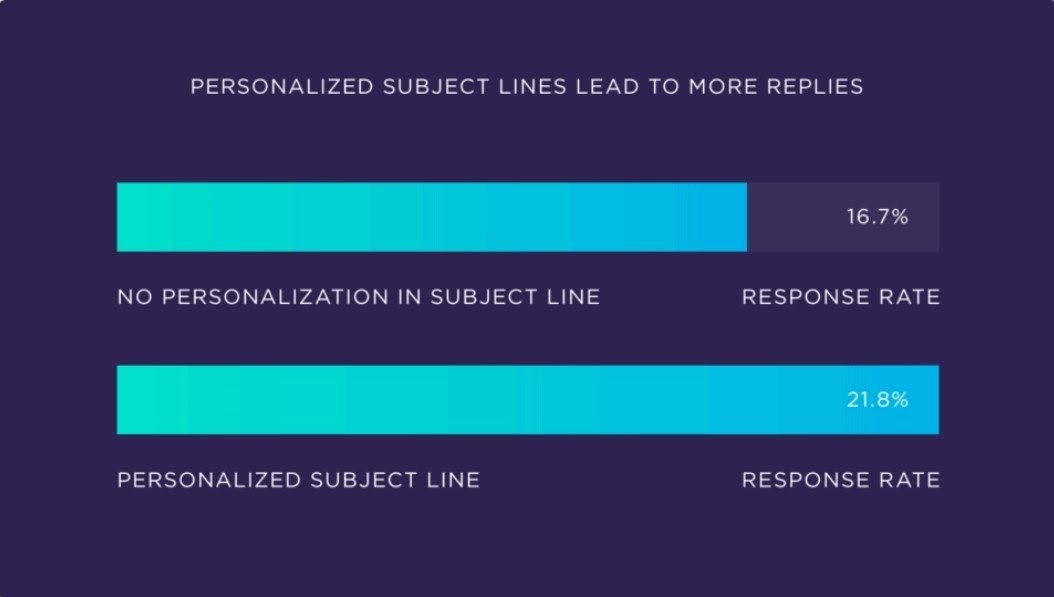 Once you've got the personalization down – using the recipient's name, their company name, or the page title you're emailing about, for example – you need to look at your subject line in general.
It's important to note that your subject line is key to whether your email lands in a spam folder or not.
Here are some words that we know tend to trigger a spam alert in both your subject line and email text:
Click below
Increase your sales
Explode your business
Expect to earn
Once you've got the subject line perfectly crafted and not spammy, the next task to give you a great chance of high conversion rates is finding the right contact details for your opportunities.
Relevant Resources:
Tip #3: Finding the right contact information
The next priority to getting your email in front of the right people and opened, is to find the contact for those in charge of the websites you want to reach out to.
Not everyone you want to contact will be on your email list and it's not always easy to get an email address from a person's social media or their website.
In our first tip, we noted that you need to figure out which businesses you want to reach out to; now you need email addresses for the people in charge.
Getting into the right inbox is as important – if not more important – than sending your email at the right time of day.
A tool that finds email addresses and social media accounts for your prospects, like Respona, will make your email outreach much less time-consuming and ultimately, more effective because you're getting accurate contact information.
Now you know how to get the contact information for all of your opportunities, we're ready to get personal.
Relevant Resources:
Tip #4: Personalization
Personalizing emails can have a strong impact on your chances of getting a response.
In fact, according to the same Backlinko study we looked at earlier, the chances of your email getting a reply if the body text is personalized goes from 15.3% up to 20.3%, which is a significant difference.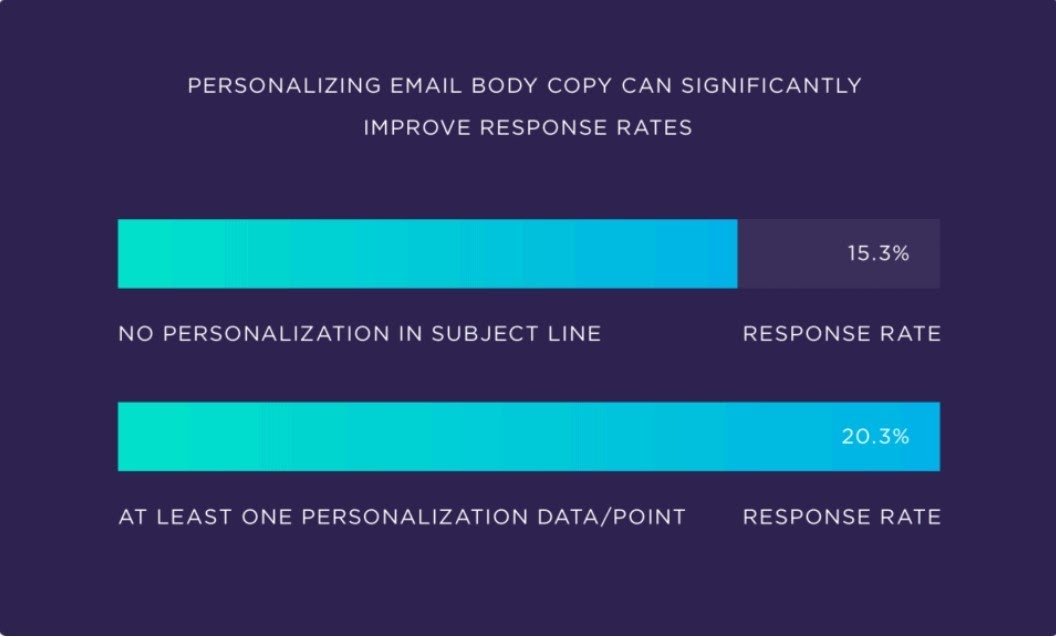 How can you go about adding a personal touch to the email you send out?
There are lots of different reasons you'll want to reach out to people; depending on the use case, here are some of the things your email can include:
Adding a relevant quote from the blog or article you want to talk about when asking for a backlink
Noting a mutual contact that has already appeared on a podcast when searching for podcasts to appear on
Congratulating an influencer on a successful campaign with another brand if you're looking for a collaboration opportunity
Linking to relevant guest posts you've already had published in cases where you're looking for guest post opportunities.
Each of these, or something similarly personal, shows the recipient that you've done your homework and aren't just blindly emailing them along with a hundred other people and hoping for a response.
There's one more vital tip that you need to know before starting sending cold outreach emails.
Relevant Resources:
Tip #5: Following up (without being annoying)
After sending email blasts to cold contacts, you should follow up.
Why?
Because you can boost your response rate by up to 65%, according to the Backlinko study we've already looked at…
The data shows that the number of emails in your follow-up sequence is vital to getting a response.
Clearly, you don't want to pester your prospect every day with another email; you need to get the balance right between being present in their inbox without risking getting kicked out of it.
When you're planning your email outreach campaign, you need to:
Personalize the follow-ups
Segment your follow-up emails for people who read and didn't read your email
Decide how many days you'll wait before sending a follow-up
You don't want to slide into anyone's inbox too often, so spread your follow-ups out so as not to be annoying.
That's all our tips to make sure your cold outreach campaign is a success, regardless of what time of day you send the emails out.
Let's bring this to a close.
Relevant Resources: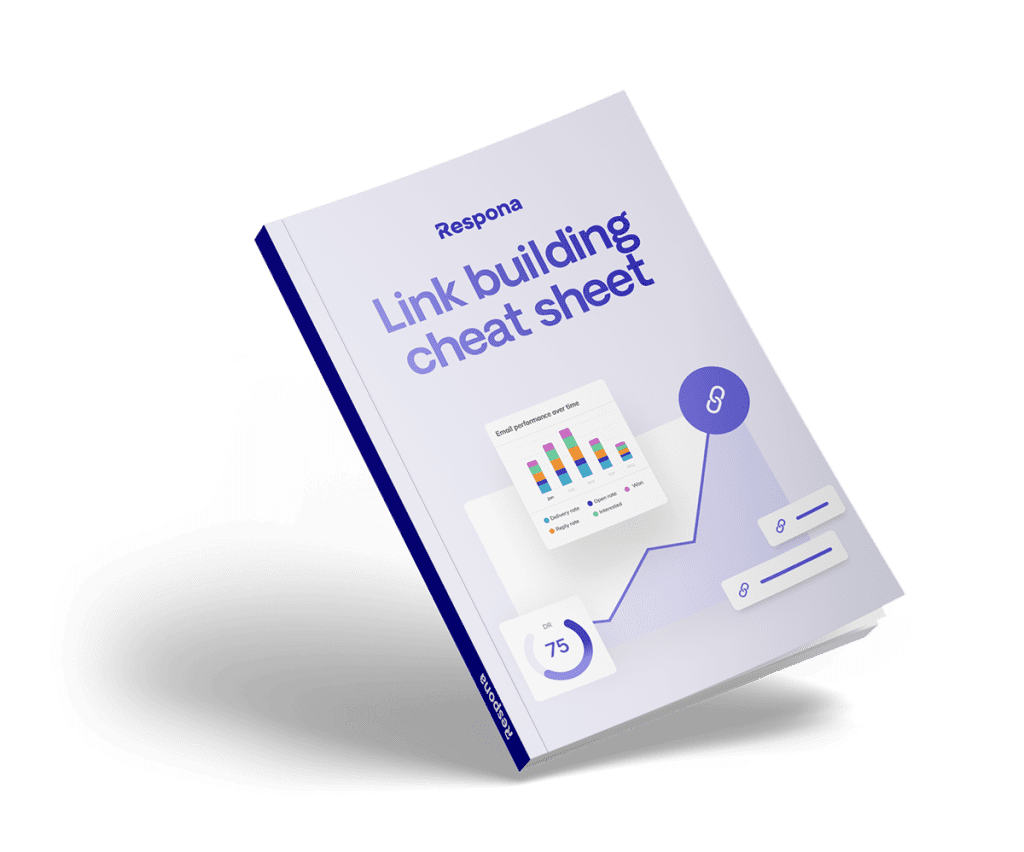 Link building cheat sheet
Gain access to the 3-step strategy we use to earn over 86 high-quality backlinks each month.
Now Over to You
We're done!
We've covered a lot of ground, looking at what studies show to be the best time and day to send an email.
Whether you go with the data that says late morning or are in the camp of "anywhere in the workday", you can always work on finding the perfect timing for emails with some a/b testing.
Our tips for getting your cold email replied to go far beyond the best times of day to send it, have you tried any of them out yet?
Respona's suite of features is designed to help you reach out to prospects and get replies.
Let us show you how and book in a demo today.