Are SEO and public relations connected and if they are how can you use SEO to boost your PR efforts?
In this guide, you'll learn seven reasons why your public relations strategy absolutely needs SEO.
Here's what you'll find inside:
How backlinks can help you boost your domain authority
How higher rankings in Google can affect brand awareness
How online mentions can help you create the right associations for your brand
And much more.
If you're wondering if SEO efforts should be a part of your PR mix, read on.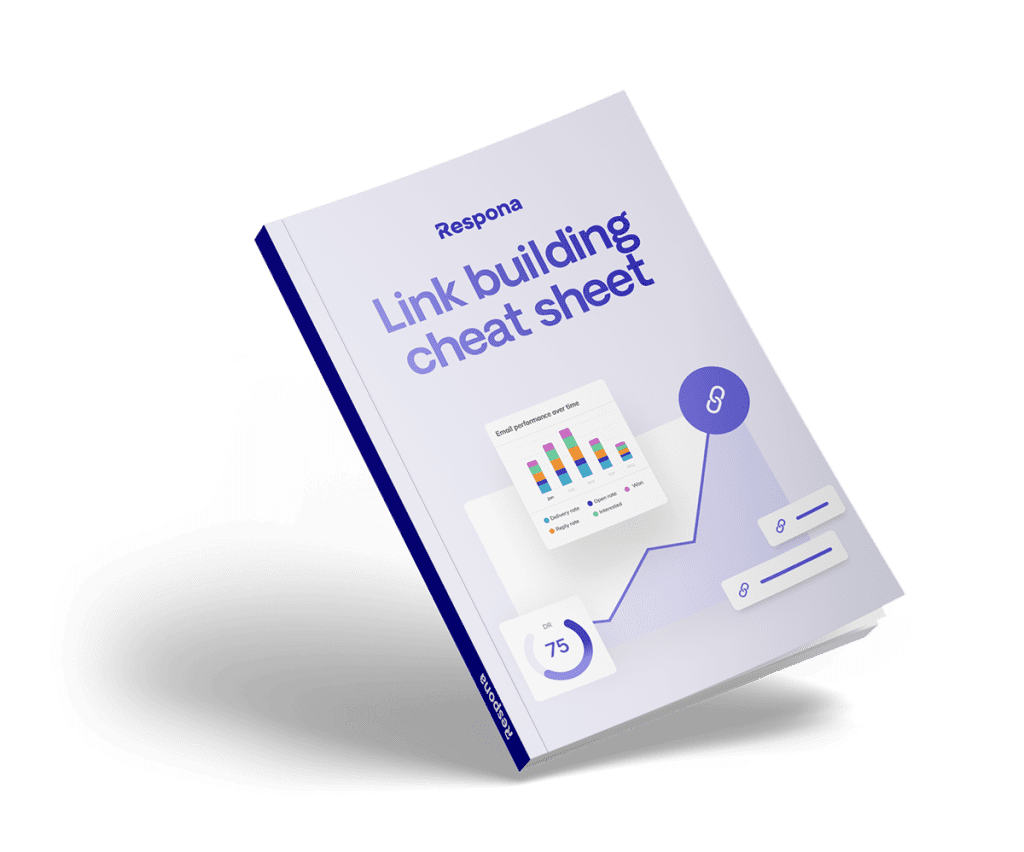 Link building cheat sheet
Gain access to the 3-step strategy we use to earn over 86 high-quality backlinks each month.
Reason #1: Higher Search Rankings Online Mean Higher Brand Awareness
The first reason why your PR strategy needs SEO is because higher search rankings increase your brand awareness, which, of course, is very important.
Public relations is all about brand awareness.
Higher brand awareness means that customers are more likely to use your brand because they're more familiar with your product or service. It also helps non-profit organizations expand their reach and achieve their goals quicker.
As search engine algorithms become better and smarter, companies need to find smart and effective ways to deal with the algorithms and place their brand higher and higher in terms of search rankings online.
Let's look at an example of this by eCommerce platform, BigCommerce.
I did a simple Google search using the term eCommerce platform.
As you can see below, there's a list of paid results at the top of this search engine results page (SERP).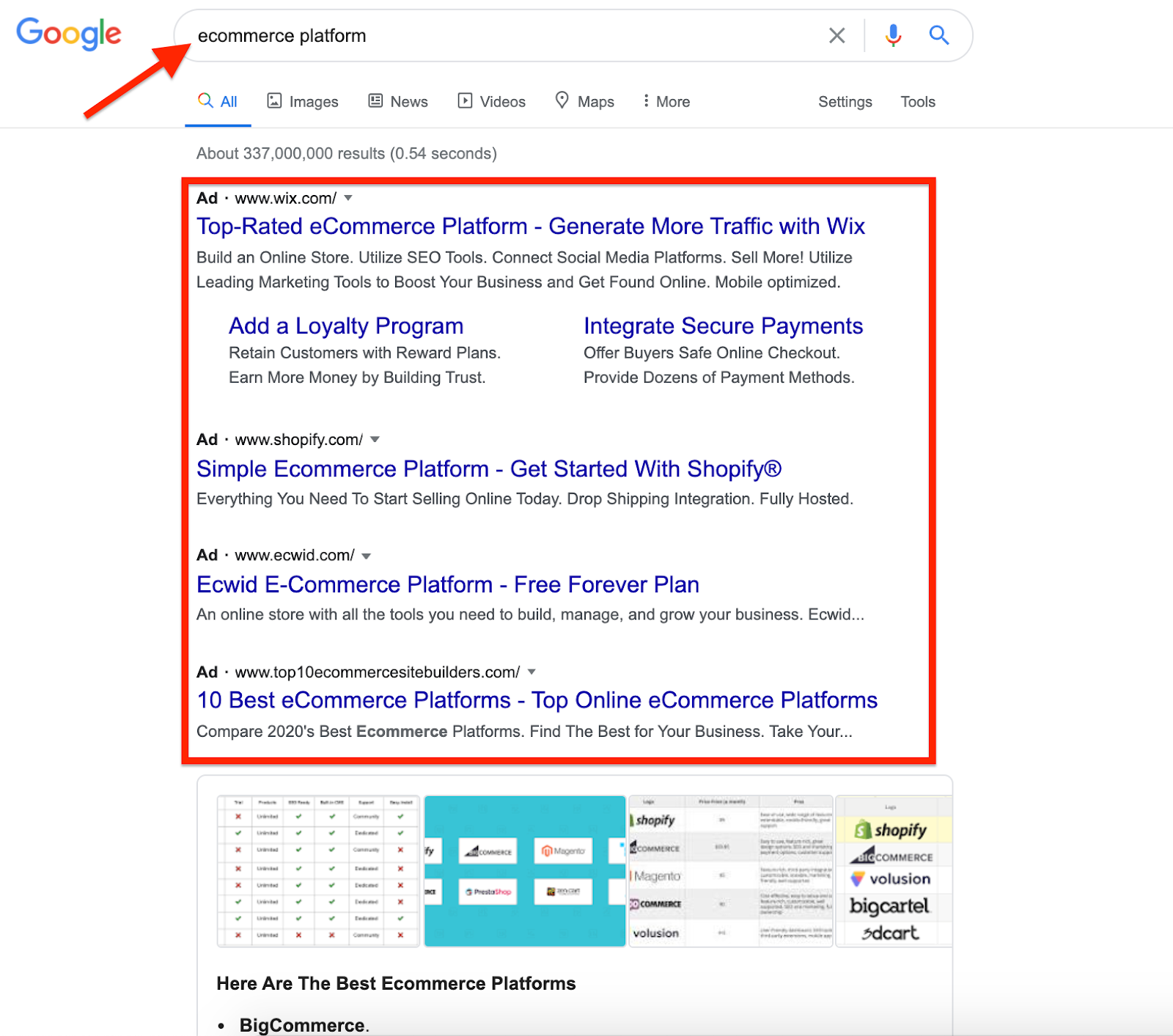 However, the first organic result comes from BigCommerce.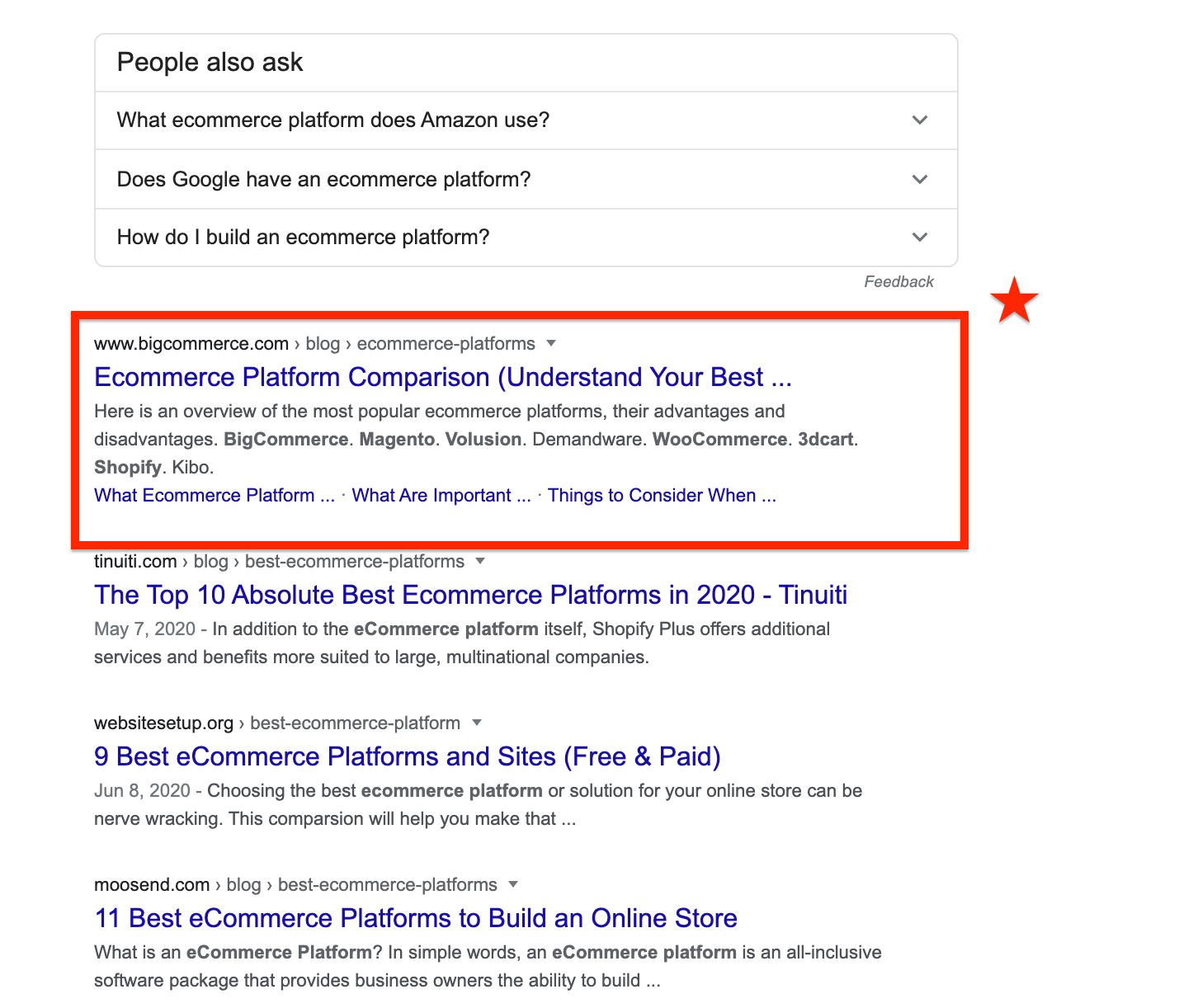 Author's Note: Search results differ based on your location, browser preferences and overall activity online.
Why is this important?
As users encounter the name of the brand—in this case, BigCommerce—by a simple Google search, it's more likely that they will choose the company's service in the future because of familiarity.
In other words, the next time they'll conduct a search that's related to the initial one, they'll be more inclined to choose BigCommerce's search result because they're familiar with the brand.
The second example I want to present to you came up through another online search, this time using the term presentation software.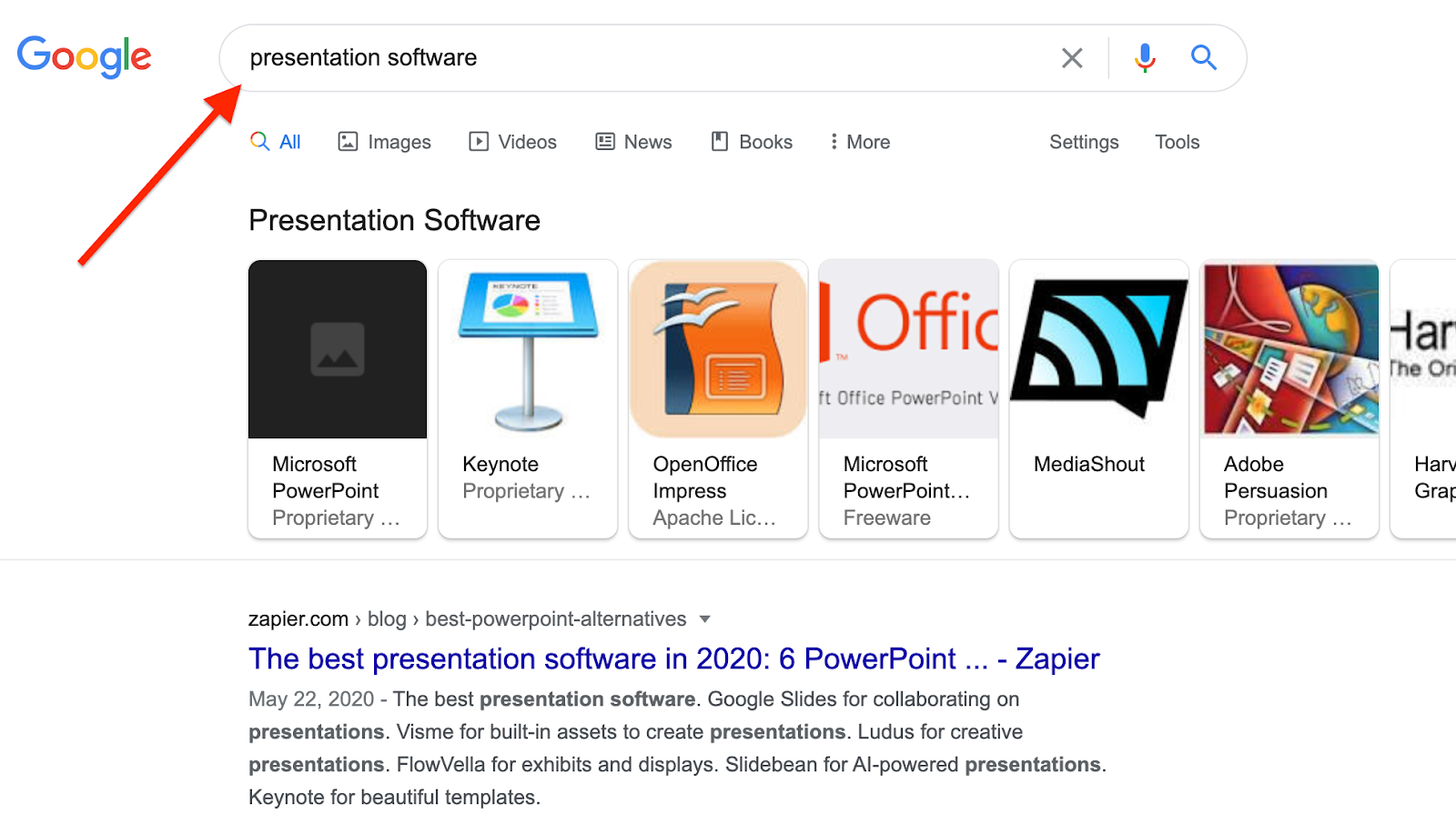 One of the top results for that term is Visme.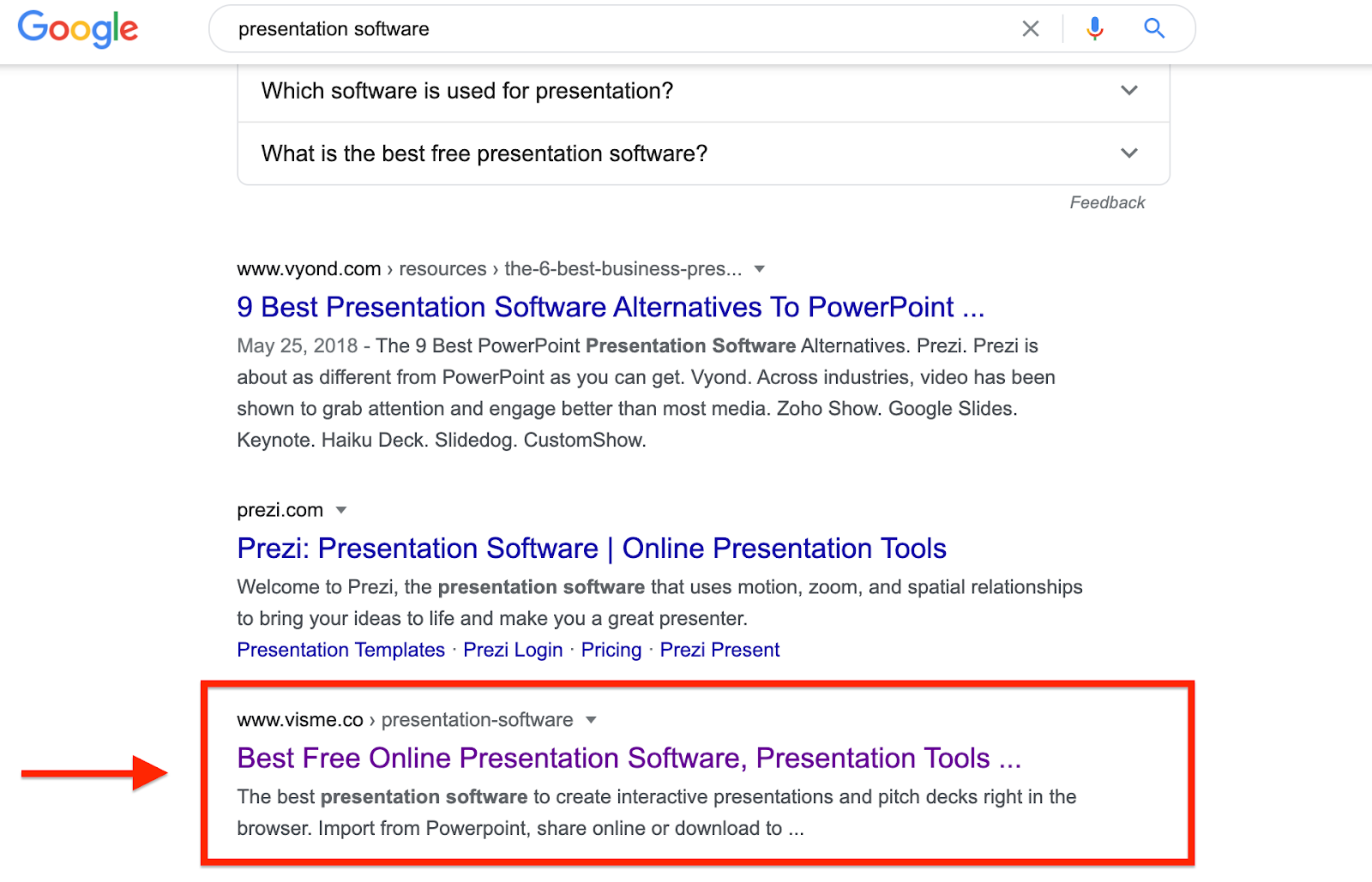 As we explained earlier, this can lead to more and more people trusting Visme, and to start using the product since they already know the name and feel familiar with the company.
The screenshot from Ahrefs, below, shows that the target term in this example (presentation software) is difficult to rank for.

The fact that Visme is ranking for it is like an indirect way of doing PR, thereby enhancing the public relations strategy of the company.
Before we move on to the second reason why your PR strategy needs SEO, I want you to keep in mind that higher rankings are very successful in terms of attracting your target audience through higher brand awareness.
Keep reading!
Reason #2: SEO-Friendly Content Will Help You Grow Your Organic Footprint
This section is about SEO-friendly and comprehensive content and how this can help you achieve higher rankings and increase your organic footprint.
I'm going to use data from Backlinko's analysis of 11.8 million organic Google search results.
Take a look at the findings below—I've highlighted finding No.3 for you.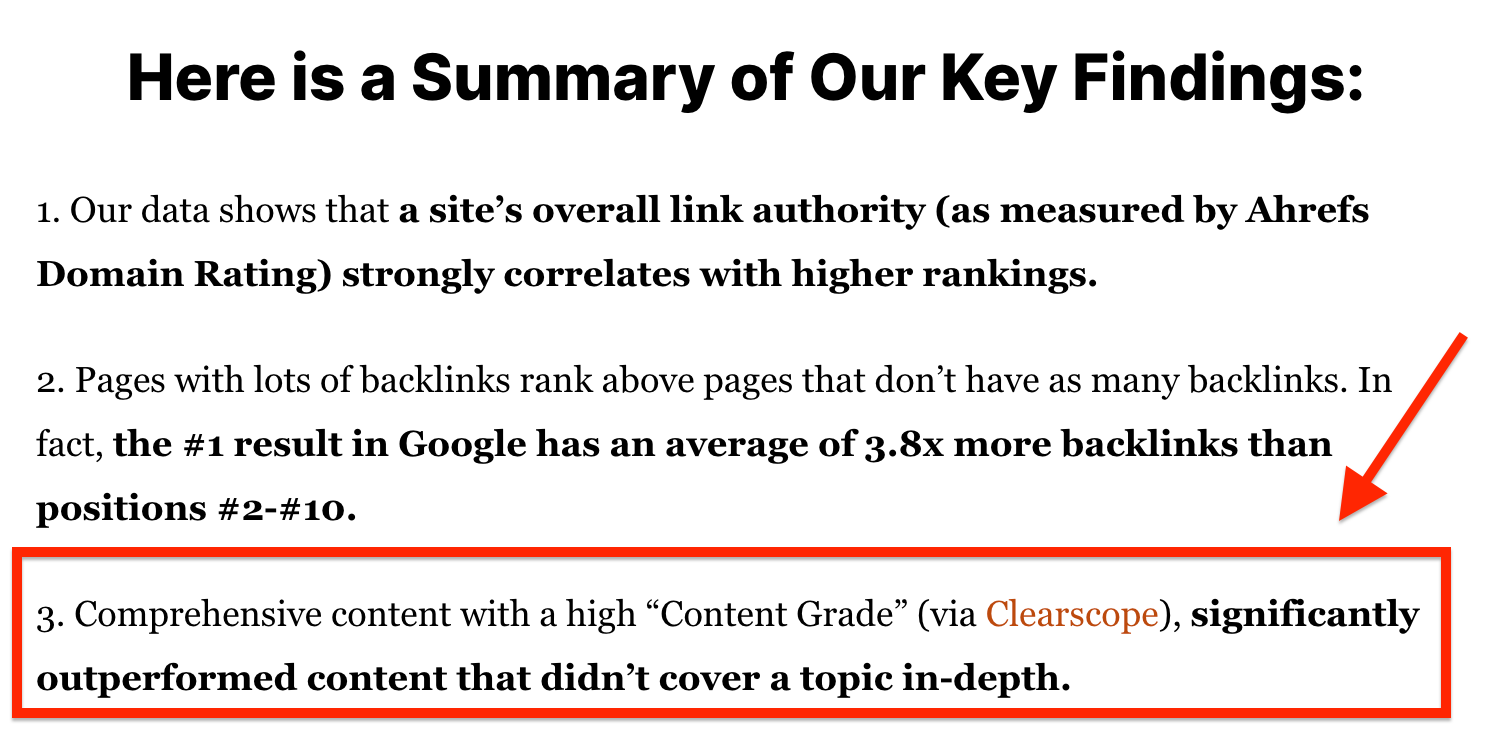 This means that there seems to be a correlation between in-depth content that covers the topic thoroughly and higher rankings.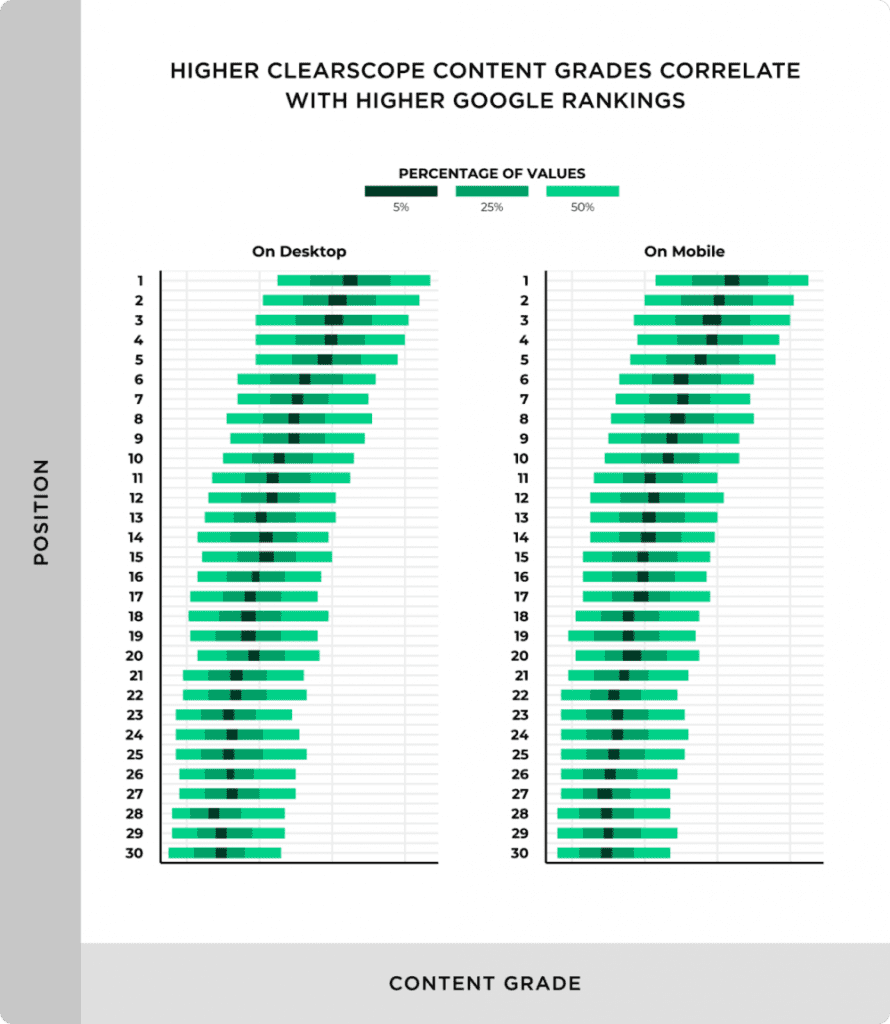 The graph above explains how the use of content optimization tool Clearscope can lead to higher Google rankings.
Put another way, creating comprehensive content that's SEO-friendly can help you grow your organic visibility and thus raise awareness by indirectly doing PR through the SERPs.
Our Respona media pitch example below will make this a bit more clear.
More specifically, we can see that our published content piece has an A++ content grade on Clearscope.
This basically means that the vast majority of terms suggested by Clearscope—through analyzing the top results on the SERPs—have been used, thus making the content piece one that covers the topic in-depth; it's comprehensive and SEO-friendly.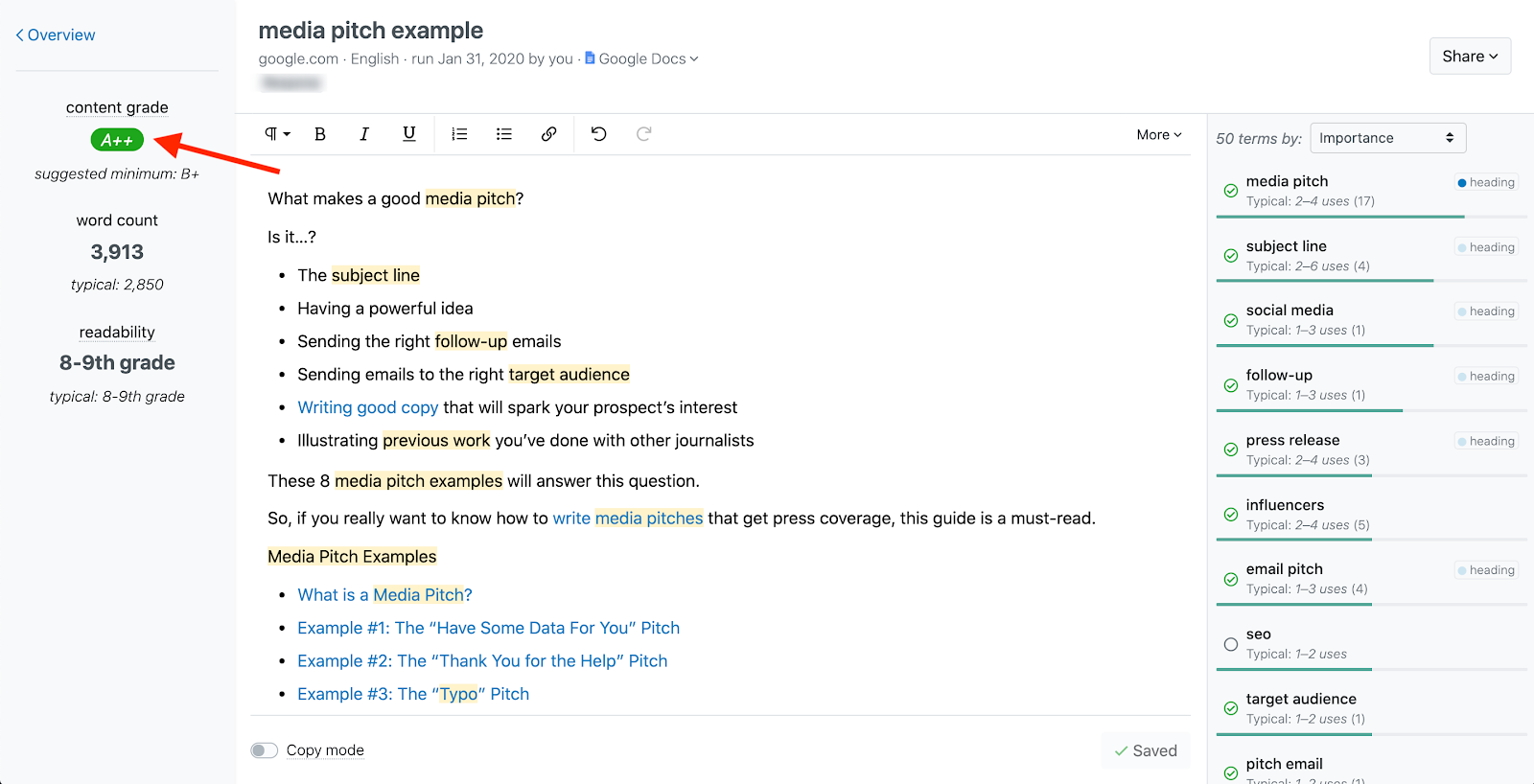 Author's Note: The selection of the right keyword is essential when it comes to getting more visibility online. Thus, try to conduct a thorough keyword research before you start creating any new content. To conduct keyword research, you can use a tool like Ahrefs, SEMrush or Moz.
As you can see below, this piece ranks on the first page for the target term of "media pitch examples".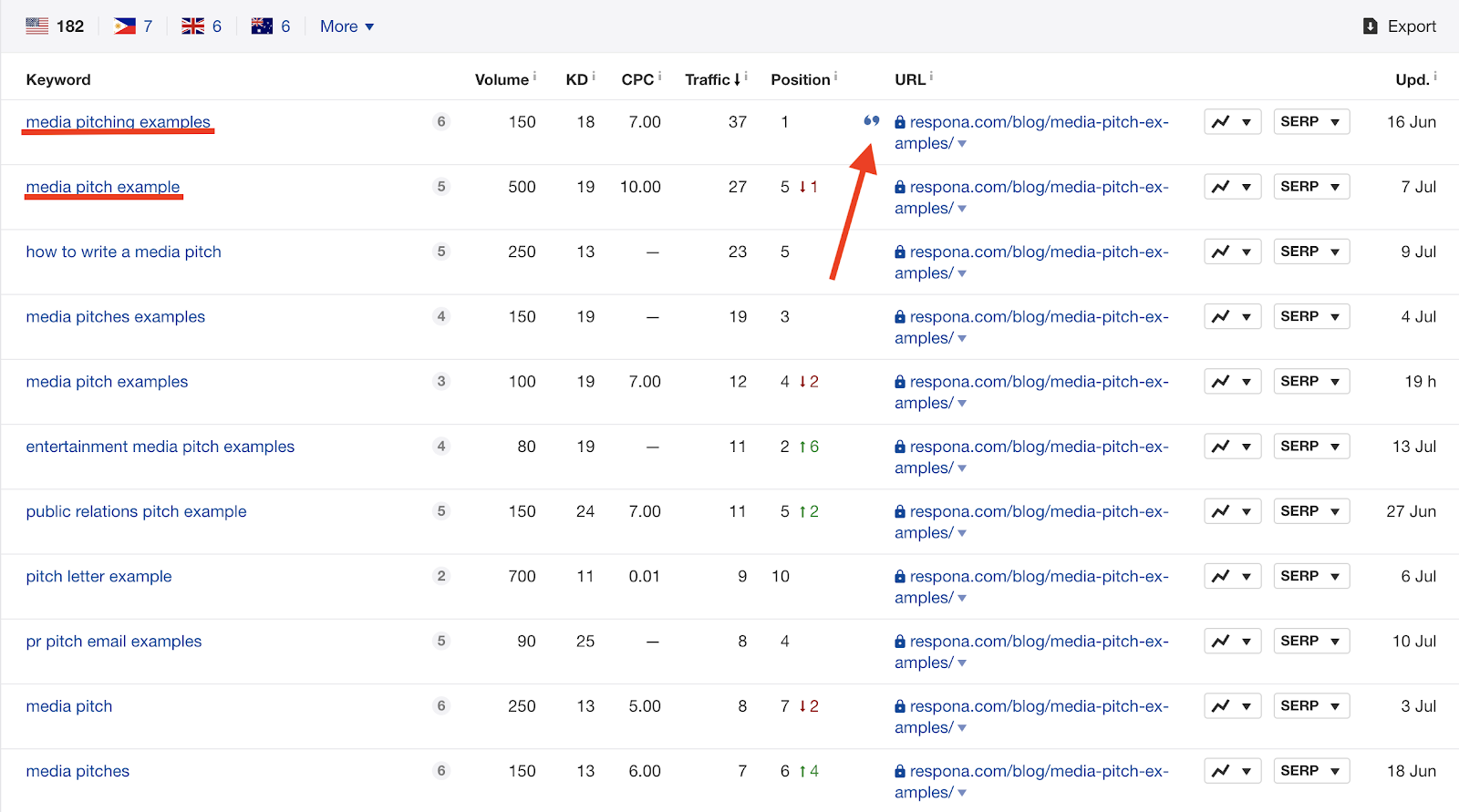 Higher rankings ultimately manage to indirectly reinforce your PR campaign and the digital marketing efforts of your PR team through higher visibility on the SERPs.
What's worth mentioning is that we also managed to get a featured snippet for the term, which gives us even more visibility.
Let's now move to the next reason you should be aware of.
Reason #3: Backlinks Can Help You Grow Your Domain Rating and Authority
Link building, in general, can help you grow your Domain Rating (Domain Authority) which is responsible for higher rankings according to correlation studies.
These, as we mentioned earlier, can help you get more exposure online, raise brand awareness, and thus indirectly do some form of PR.
Let's unpack this.
For this section, I'm going to focus on another two findings of the Backlinko study I mentioned earlier.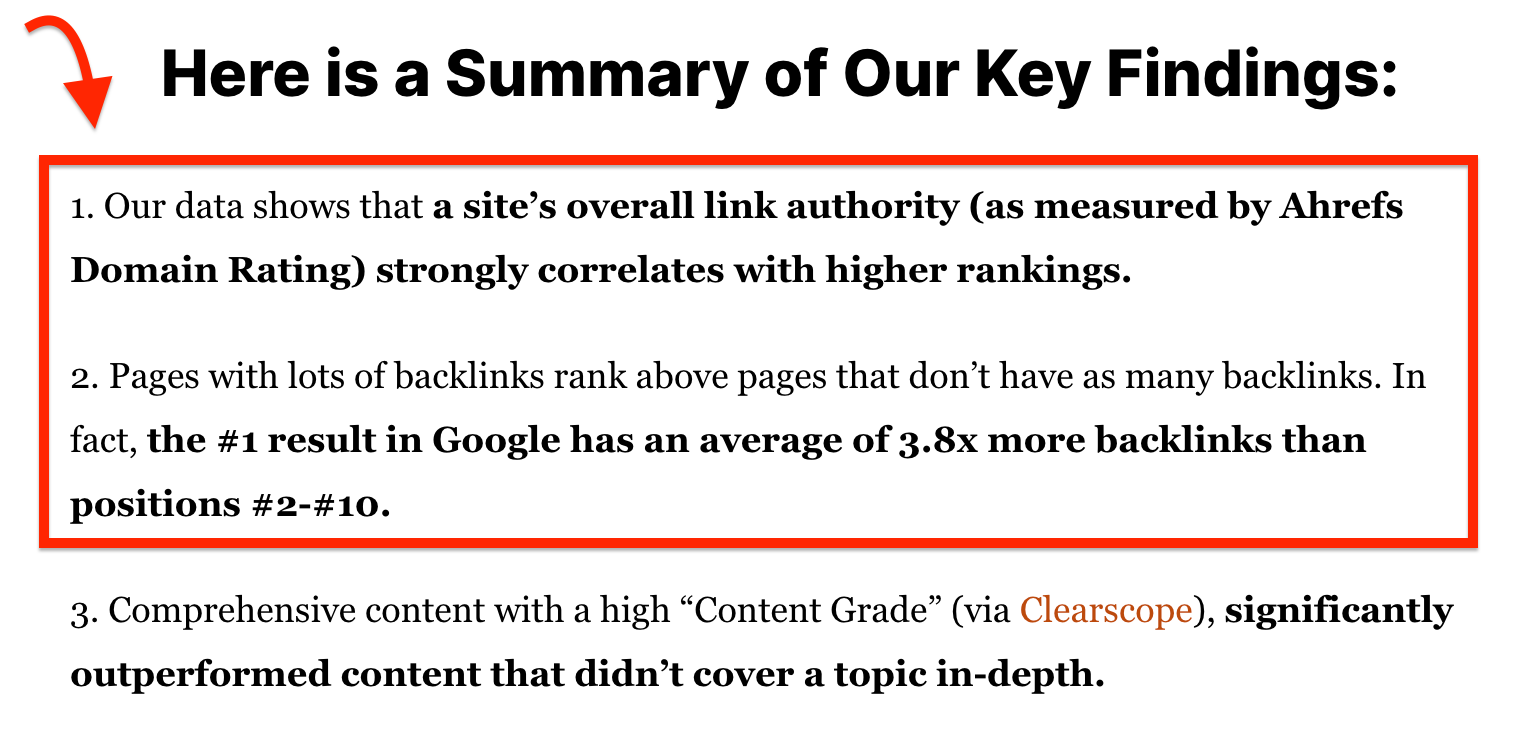 What the study shows us is that there's a strong correlation between a website's link authority and high rankings.
The graph below speaks for itself.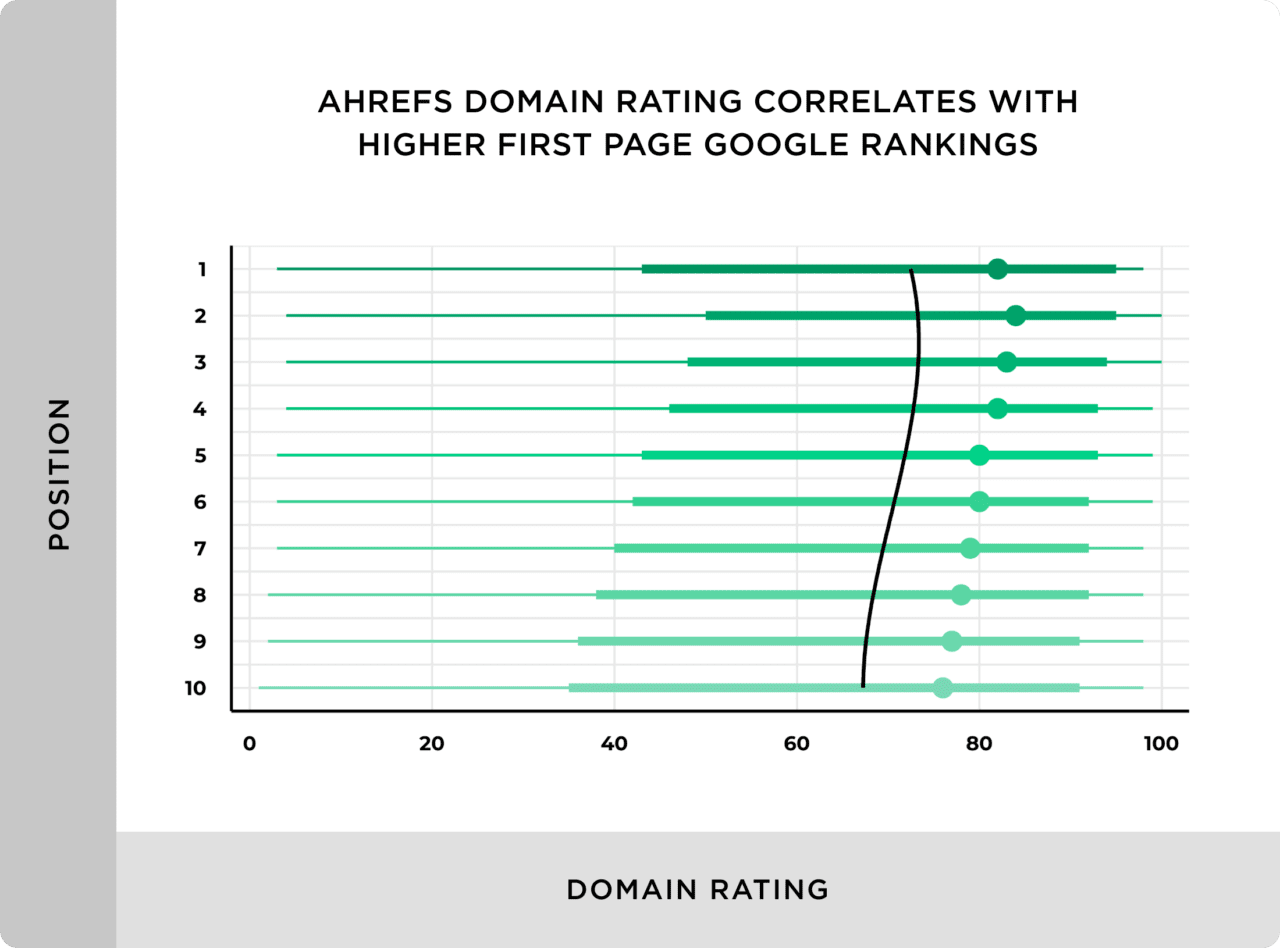 Additionally, the study reveals that backlinks cause pages that include them to rank higher and outperform content that doesn't include as many, or doesn't include backlinks at all.
Simply put, backlinks are considered one of the most important rankings factors by most search engine optimization experts.
In fact, according to the Sparktoro survey on Google rankings factors, backlinks are the second most important ranking factor.
More specifically, over 1,500 SEO experts have chosen the quality of linking sites and pages as the second most important ranking factor.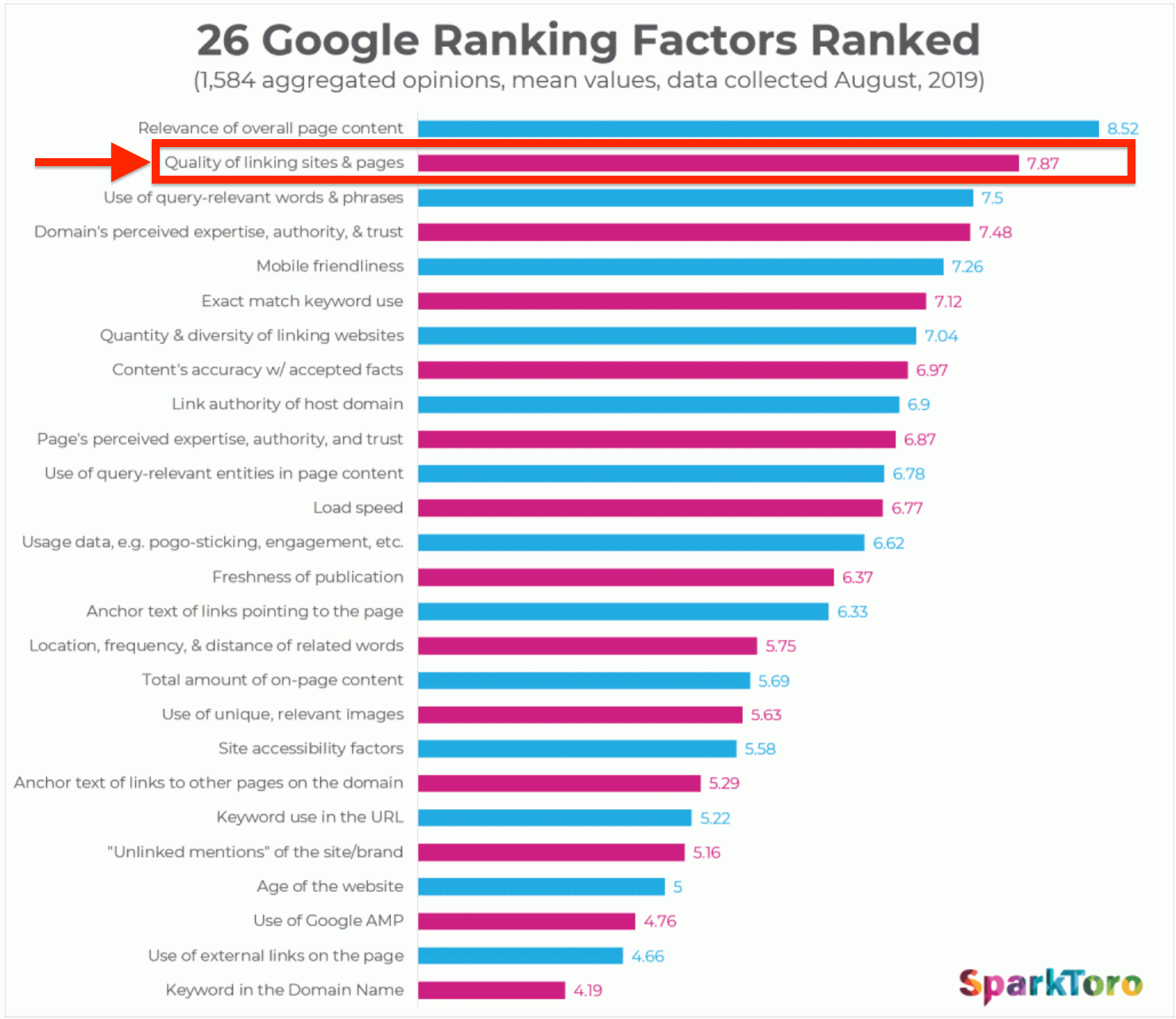 Author's Note: The anchor text, or hyperlinked text, used when linking back to a certain page can give Google context as to what the page is all about. Thus, when building backlinks, it's always good to do it using anchor text that matches the target term or variations of the target term. You don't want to overdo it, but you have to keep in mind that using relevant anchor texts helps.
A great example of this is Respona, which managed to get from 0 to higher than 60 DR (Domain Rating, Ahrefs metrics) in less than 6 months.

That helps us grow our search traffic and get higher visibility online.
In other words, the more websites that link back to you, the higher other people and businesses can trust you.
Isn't that what PR is all about?
Reason #4: Online Mentions Can Help You Improve Your E-A-T
Here's another prominent reason why your PR strategy absolutely needs some SEO work.
Getting mentions online can help you improve your E-A-T.
I'd like to use a definition for the term, to give you a bit of context.

During a Google search quality evaluation, the guidelines mentioned above are used by the reviewers that test and measure the quality and trustworthiness of content pieces.
E-A-T is very important, as we see on Google's Search Quality Evaluator Guidelines below:
Author's Note: Besides online mentions and links, you also have to try to enhance the user experience for your website visitors. Offering a great experience can lead to user satisfaction and thus better perception for your business.
In other words, online mentions and links can improve a website's authority and brand recognition in general, in addition to helping in regards to expertise, authority, and trustworthiness.
Using online mentions and links to improve your E-A-T is also an indirect and effective way to improve your reputation, thus extending your reach and helping boost your overall brand visibility online.
Put another way, by getting online mentions from other businesses, media outlets, and blogs that link back to your content and mention you, you improve your E-A-T.
Your content is then more likely to be reviewed positively by Google as trustworthy and as content that showcases expertise and authority — terms that help you with reputation management and help you increase your brand visibility and awareness.
Keep reading to find out the fifth reason why your PR efforts will benefit from SEO.
Reason #5: Guest Blogging Outreach Can Help You Establish Relationships
This section focuses on guest blogging outreach and how it can help you establish relationships.
The use of guest blogging in terms of the establishment of relationships is quite self-explanatory.
What's very important is that, through writing a well informed and in-depth guest post, you can establish relationships with a number of people, including relevant businesses and tools, influencers, and bloggers, as well as PR professionals.
This can also lead to other marketing activities and synergies that help you grow through collaboration with other companies.
My recent guest post on Canny will make this more clear.
We've recently published a blog post about visual social proof on Canny's blog.

Our guest post helps us establish relationships with other SaaS companies, in this case with Canny.
Additionally, this can help both sides develop a mutually beneficial relationship through co-marketing activities, online mentions, and other initiatives that could help both companies grow.
Once again, that's an indirect way of doing PR.
Author's Note: Besides guest blogging, other types of outreach like press release outreach or reaching out to promote a white paper can also help you establish relationships and expand your network.
Let's now move on to the second to last reason why your PR strategy absolutely needs SEO.
Reason #6: More Organic Traffic Can Help You Allocate Budget to Other Initiatives
In this section, I'm going to discuss how acquiring organic traffic through SEO can help you allocate more budget to other initiatives, such as PR or PPC.
As you can see below, customer acquisition cost (CAC) has become much more expensive according to this study by ProfitWell: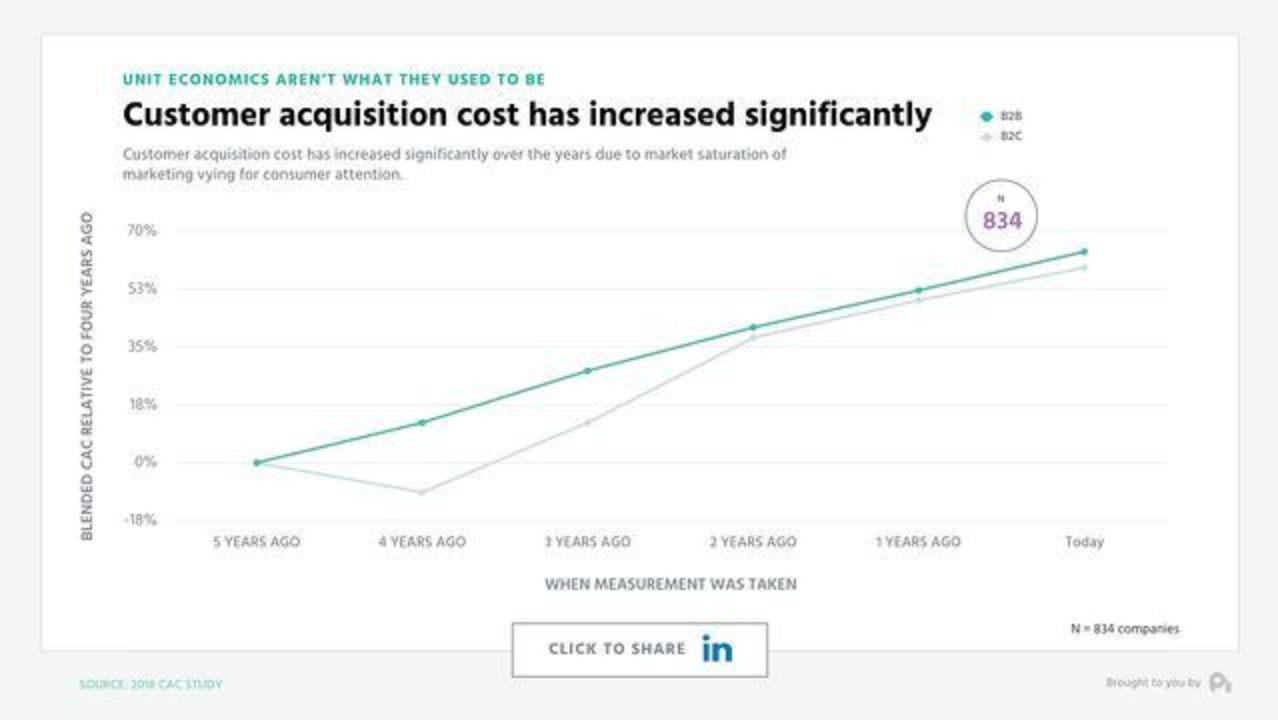 For that reason, it makes more sense for a company to invest in its SEO strategy, thus decreasing the investment in ineffective marketing campaigns.
What you should keep in mind, though, is that the point isn't to entirely pause your investment in other channels.
It simply means that an investment in your SEO strategy is more likely to provide you with long-lasting results while at the same time, being less expensive than other growth initiatives.
Some data from Visme will clear this up.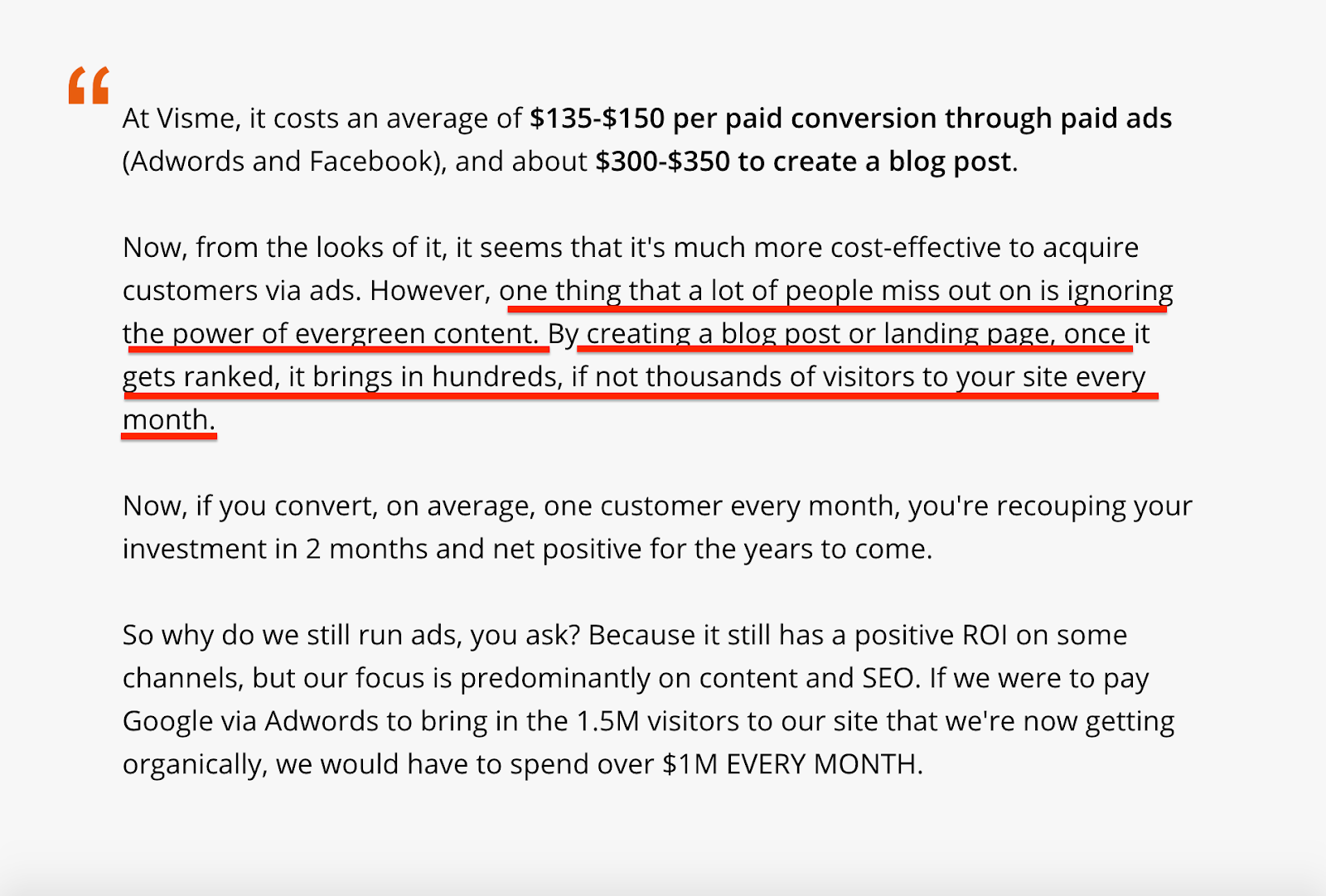 In other words, when you focus on quality in terms of your content strategy, and you invest in the organic traffic your content will bring, you're basically working toward a strategy with long-term results that will help you allocate budget in other initiatives to grow even further.
To sum up this point before we move on to the last one, I'd like to stress the following:
Right now, only six months in, Respona brings in organic traffic that, according to Ahrefs, would have cost more than $5K every month.
Imagine if we had to pay for, say, advertising to acquire this traffic?
We're investing in long-term initiatives because we know that;
1) This will help us attain long-term growth
2) This will allow us to also invest in other initiatives that will help us grow even faster.
Let's get into the last reason I have for you.
Reason #7: Content Marketing is a Form of PR
Content marketing can be firmly linked to the work that public relations professionals do.
The following definition of public relations by HubSpot will help establish the link between the two.

Within the definition above lies the fact that PR is a communication process, exactly like content marketing is.
What I'm trying to show you here is that by incorporating PR efforts into your content marketing strategy, you enhance your PR campaigns and you make your content and SEO strategy count more, as well.
In other words, content marketing helps companies communicate their message, get more exposure, and increase brand awareness.
Undoubtedly, content marketing can help a company perform public relations activities through published content on social media channels, such as Linkedin, as well as on blogs and websites.
Let's look at a content marketing example that makes the link to public relations in a direct and clear way.
The example comes from online course creation software, Learnworlds.
A few months ago, LearnWorlds published a blog post on e-learning trends where they featured opinions by industry experts.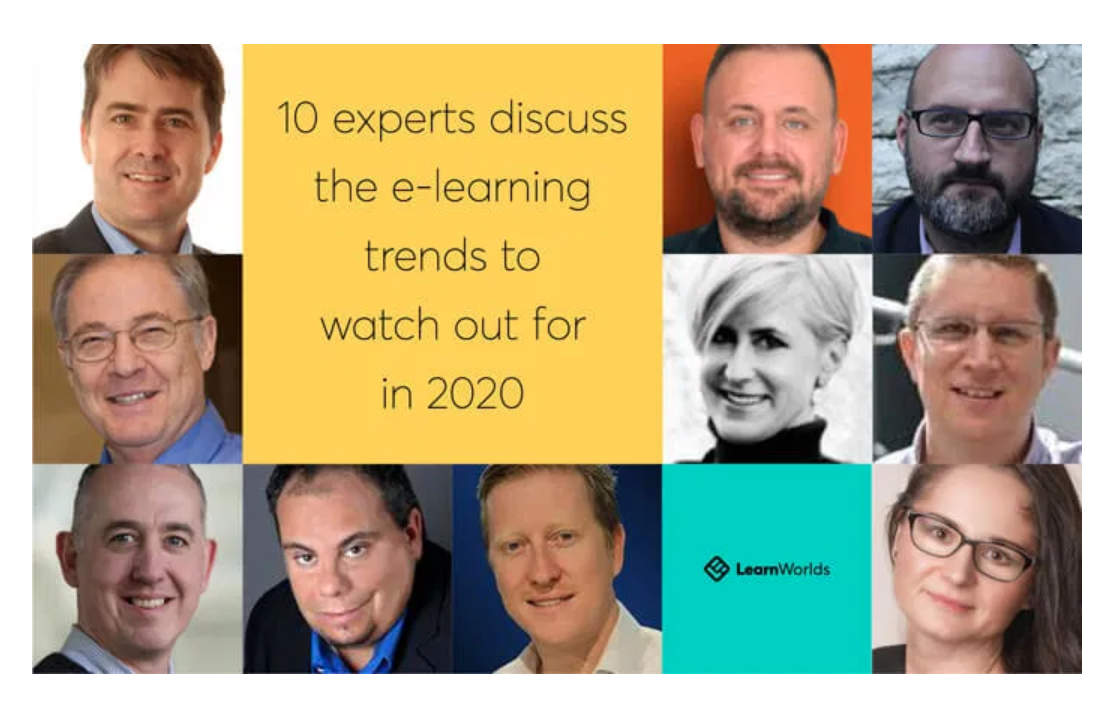 As you can see, the company called upon a number of industry experts to share their opinions on e-learning trends in 2020.
This—more than just being an interesting and valuable source of information in terms of the quality of the content—is also a smart and effective way to do PR work and establish relationships with those people, in this case, the industry experts that are being featured in the blog post.
Let's dive a bit deeper into the way these experts are being presented across the content piece.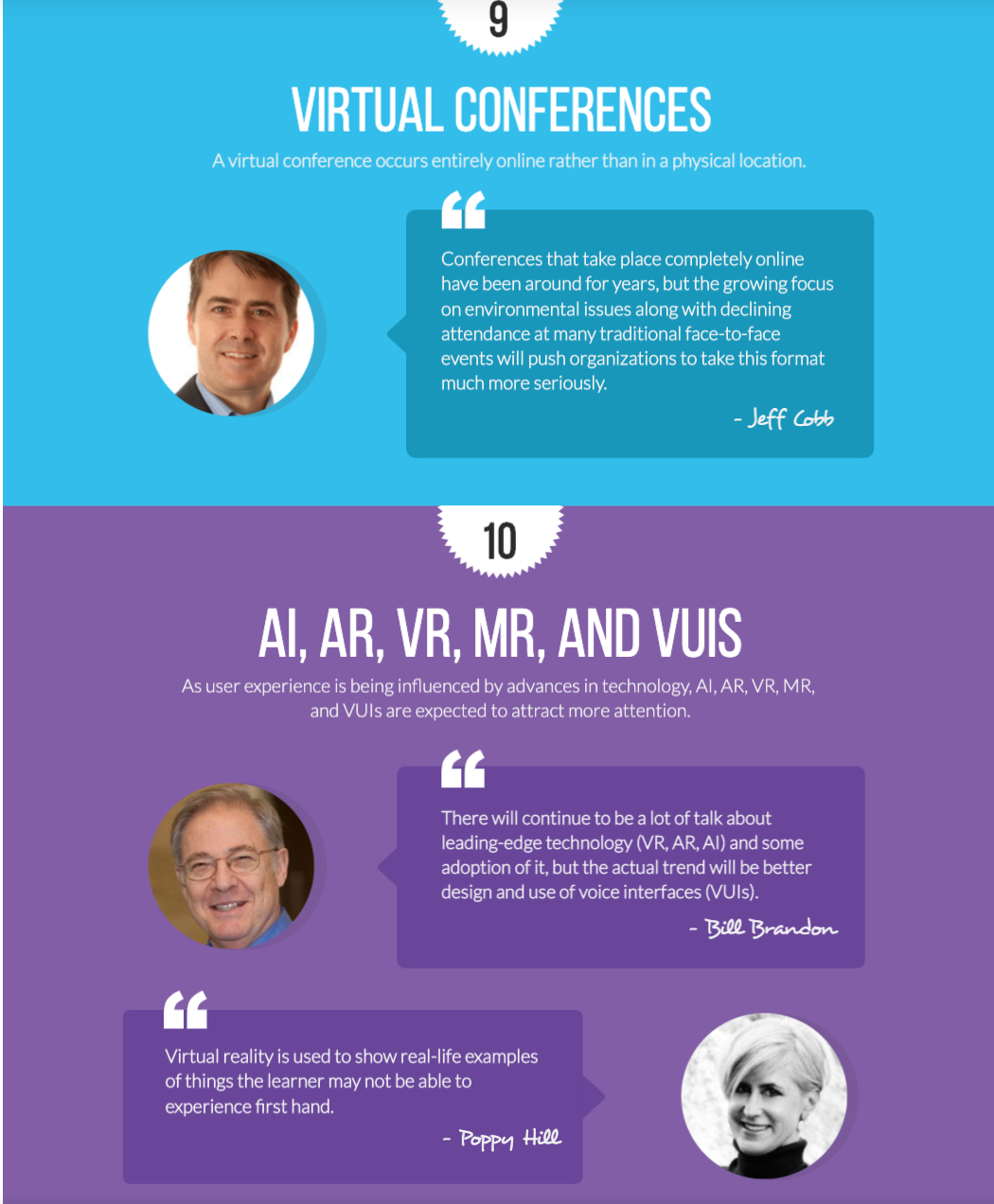 That looks nice, right?
I'm showing you this so you can keep it in mind when you feel like incorporating some PR work into your content, thus making your content and digital marketing even more effective in terms of connecting with industry professionals and other brands.
According to Ahrefs the level of engagement, such as the number of backlinks, is high.
Additionally, through this process you can also extend your organic reach, just like the red arrow shows.

Simply put, connecting with people and companies, as well as creating collaborations and synergies in regards to content, can effectively work as PR whilst also boosting your organic traffic and brand awareness.
Another, similar, example that uses the power of industry experts' opinions comes from a Visme blog post on how to make information beautiful.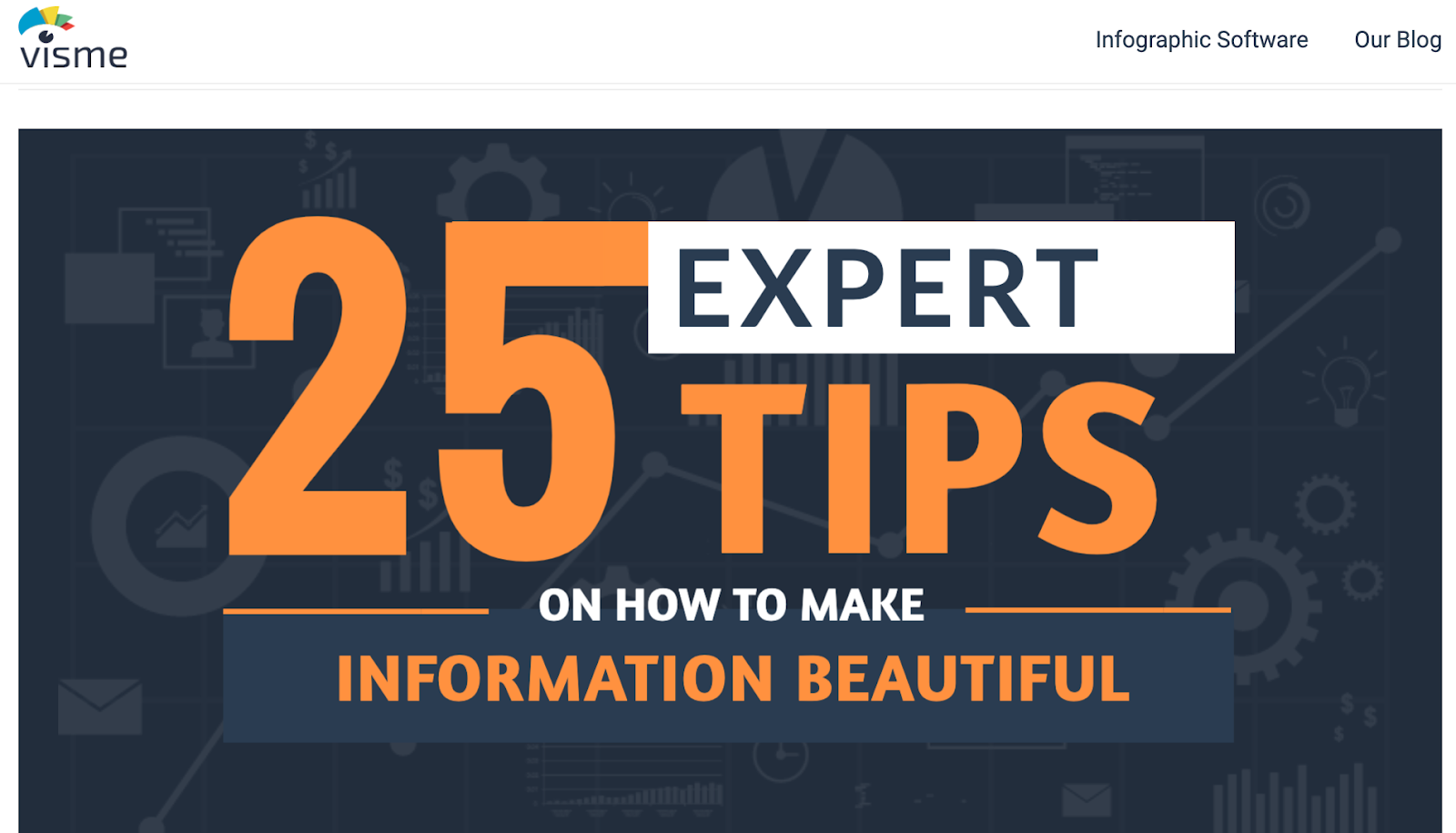 The opinions are beautifully presented in the form of an infographic.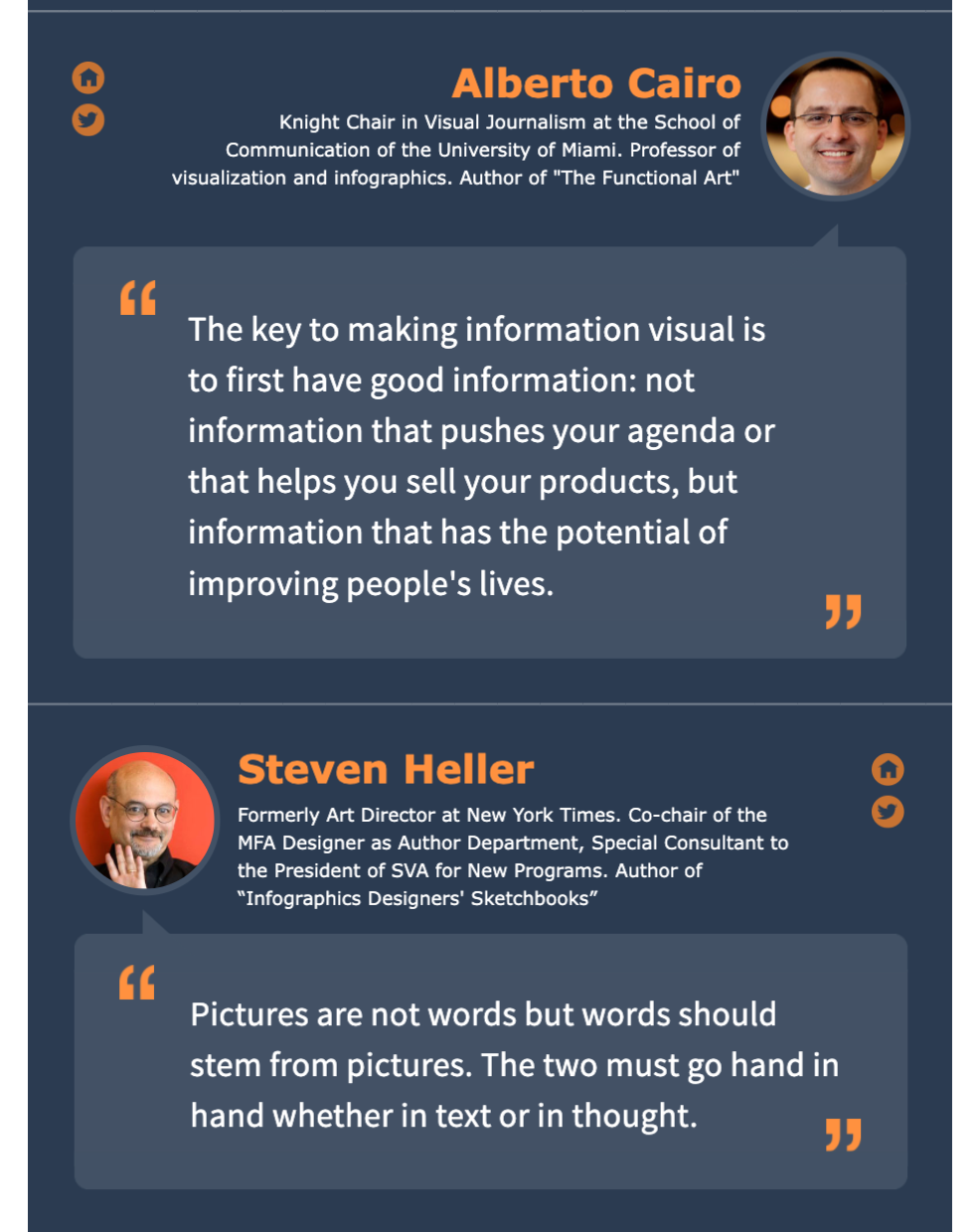 In terms of public relations, they work in a similar way to the example we discussed earlier.
The following is also a compelling way to present someone's words and communicate your message both visually and textually.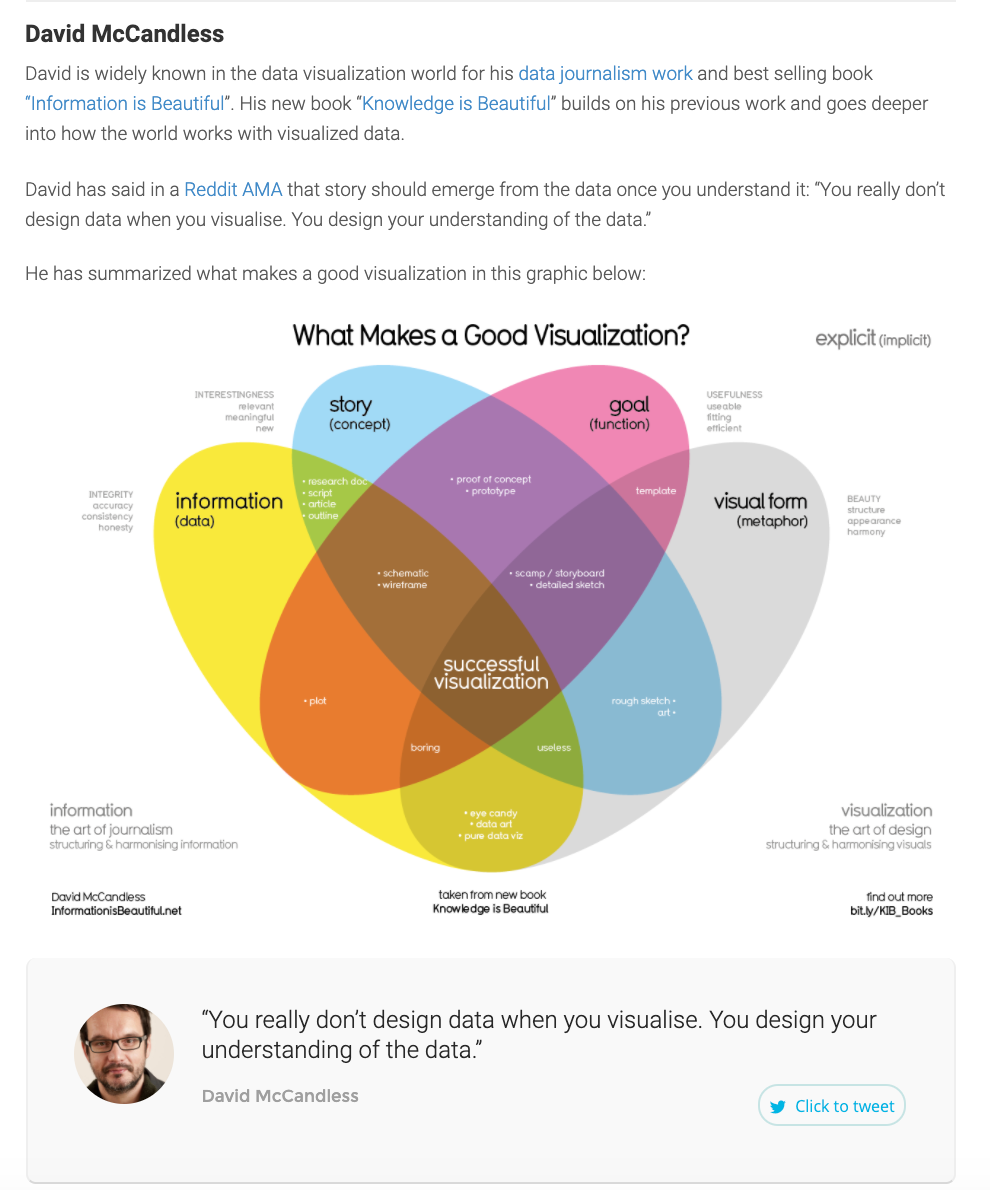 Most importantly though, this form of content marketing allows anyone who's employing similar tactics to establish relationships that could be leveraged in various ways.
Another point that I'd like to mention is that content promotion, like content marketing, can also be used effectively as a form of PR.
The definition below by Campaign Monitor proves the existence of a connection between the two.

In other words, content promotion is a process that includes PR work.
Plus, content marketing as a form of PR, can help you get your PR efforts up to the next level.
Let's wrap this up and close with some final thoughts.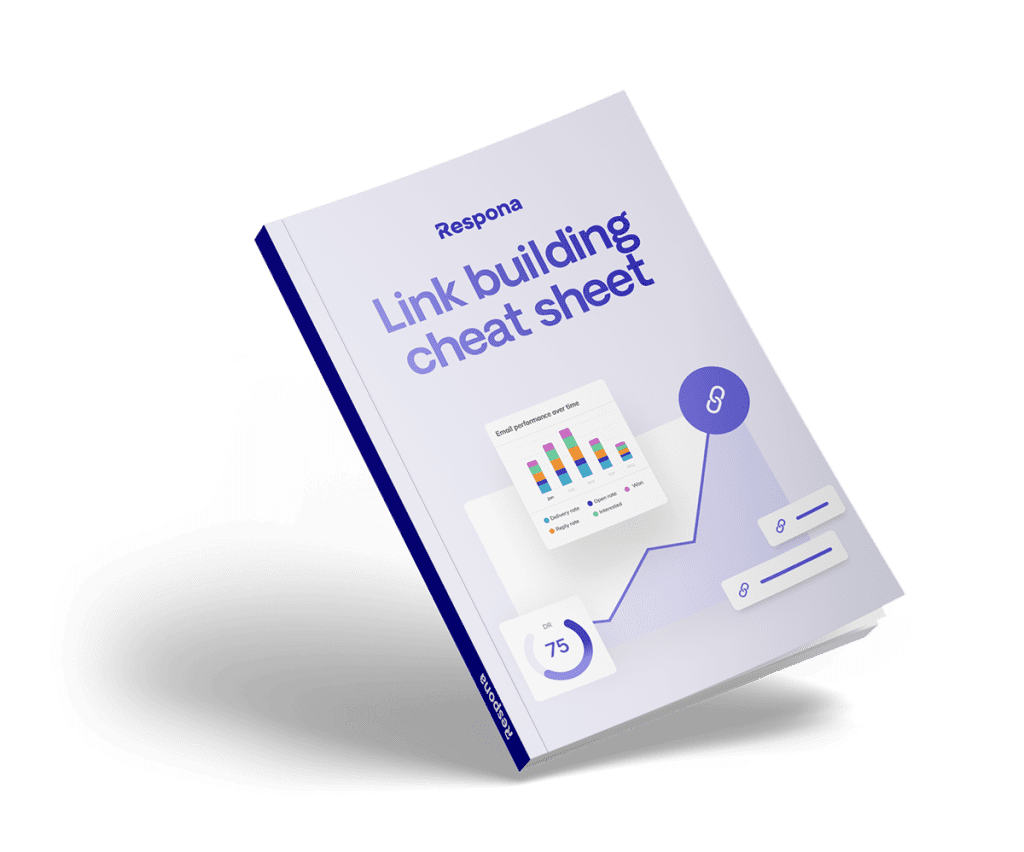 Link building cheat sheet
Gain access to the 3-step strategy we use to earn over 86 high-quality backlinks each month.
Wrapping Up
In this post, we've talked about your PR strategy and SEO.
Your public relations are indeed very important because they help you connect with people, increase brand awareness, and ultimately help you grow your business through reaching out to new audiences.
How can you make your PR efforts work effectively?
Remember that part of the answer lies in your SEO and the quality of your content that'll help you grow your organic footprint.
Additionally, keep in mind that backlinks, online mentions, guest blogging, and the establishment of relationships with brands and professionals can really make a difference and amplify your strategies.
These are all powerful tools and processes that can help you grow.
As a company, make sure that your PR team and SEO team are on the same page and working together.
This way, you will be able to see great results from your PR strategy.