It's easy enough to set up a blog, but making money from your blog is a whole different matter.
With more than 87 million blog posts published in July 2021 on WordPress.com alone – an increase of nearly 10 million posts 12 months earlier – we can see that blogging is still a fast-growing internet trend.
But where does the money come into it?
When you put a lot of effort into creating your site and writing your content, you deserve to monetize your hard work.
There's no one silver bullet to blog monetization, so we're going to look at a range of ways you can make money from your blog.
We'll be looking at:
Ways to make money on your own site
How to monetize your blogging skills away from your pages
What you can do to take your blog to the next level – and make money
Giving you the eight main options to get your blog earning cash you need to make it a business.
There are loads of details to get into, so let's get started.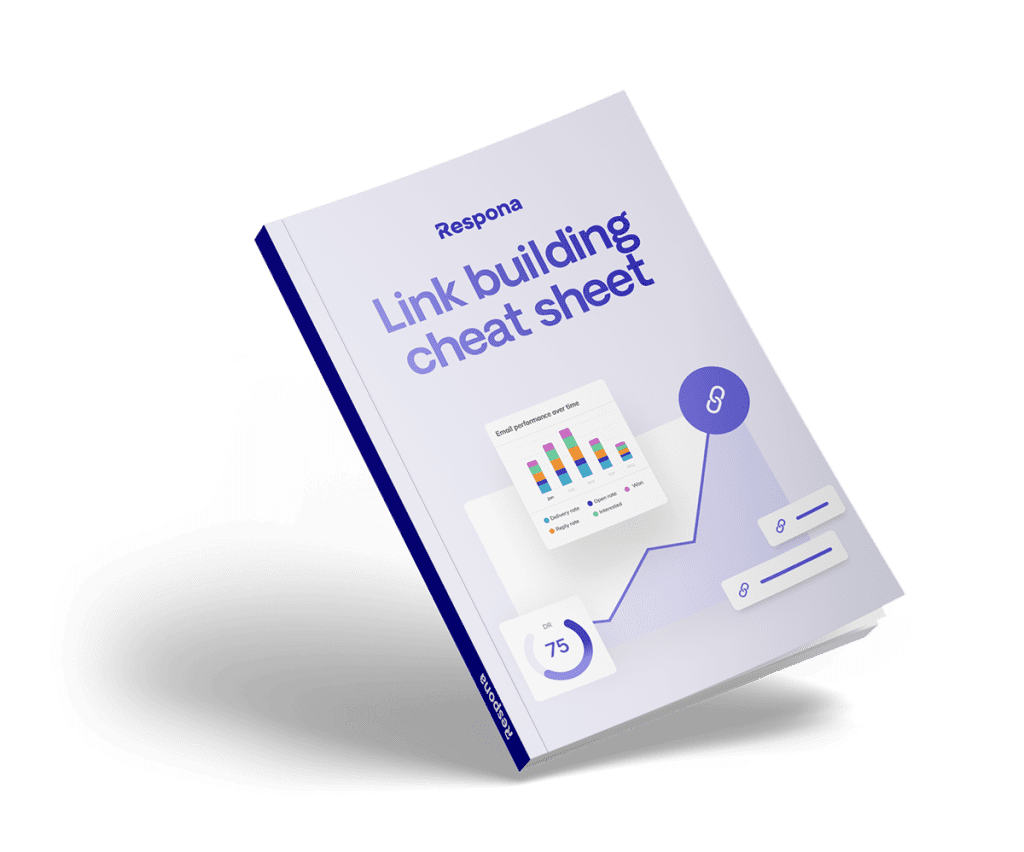 Link building cheat sheet
Gain access to the 3-step strategy we use to earn over 86 high-quality backlinks each month.
Tactic #1: Sell Online Courses
Online learning boomed during the pandemic in 2020 and the elearning industry isn't going to shrink.
The value of the elearning market stood at $250 billion in 2020 and is expected to hit a cool $1 billion by 2027.
That's a huge opportunity for you to tap into with your blog.
Everyone wants to learn and most people have a skill or insight to share – that's why you've got a blog in the first place.
There is a range of things you need to consider when setting up an online course to complement your blog, such as:
Who is your audience and where can you find them and people like them?
Where will you host your online course – a course marketplace like Udemy or a platform that'll give you a brandable site like Uscreen?
What can you teach, will it be life or career coaching or a skill you have?
How much will you charge to make it accessible and valuable?
How much you can earn from your online tutorials, coaching sessions, or webinars will depend on your marketing skills and the connection you have with your audience.
It's definitely a popular way for bloggers to make extra income from their skills, especially because it doesn't need long-term time investment.
You simply create your course, upload it to the hosting platform, and then ensure you optimize your blog and other marketing channels to keep people signing up to it.
Here's how two successful bloggers have used their great content as a springboard to sell online courses.
Example #1: Smart Passive Income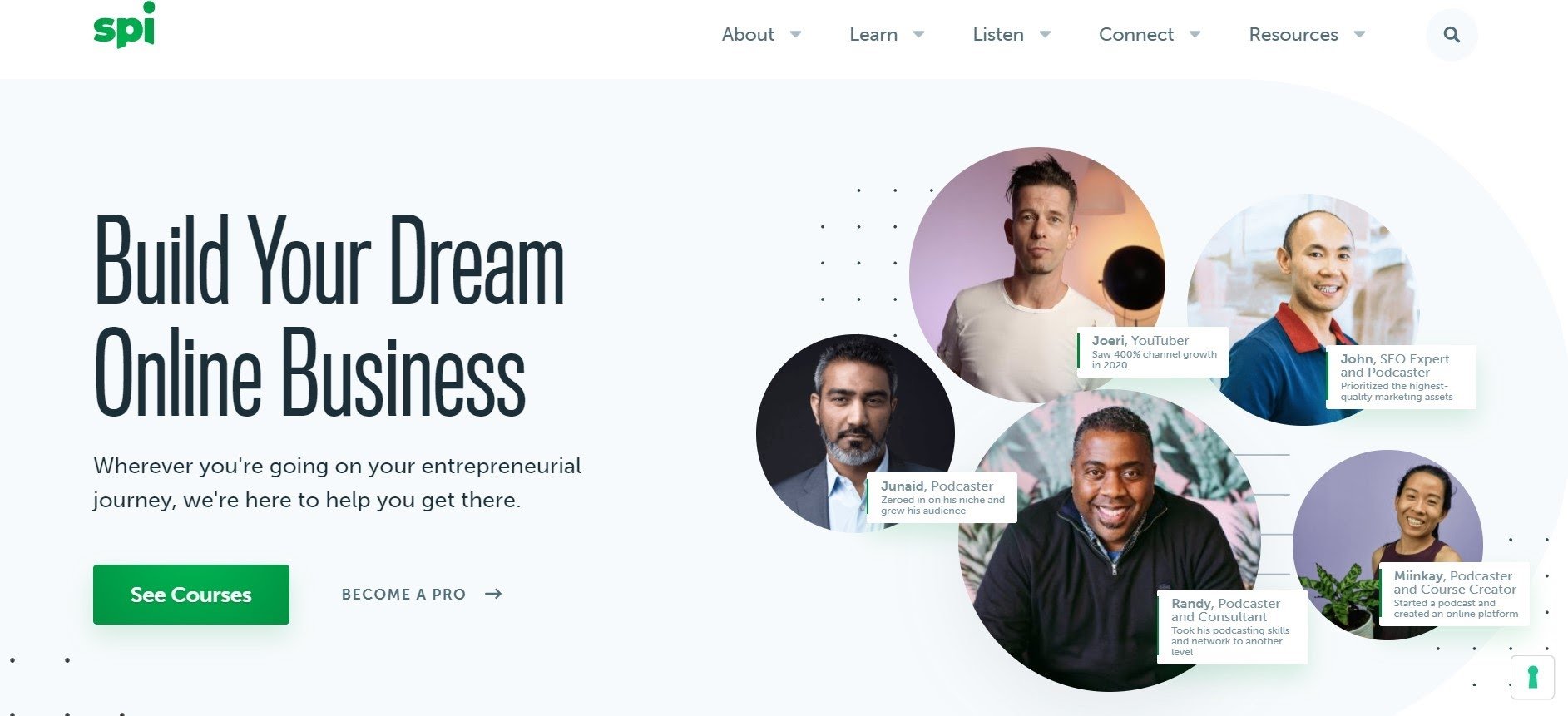 Pat Flynn started his blog during his previous career as an architect and pivoted it into online entrepreneurship after losing his job in 2008.
This turned into the site Smart Passive Income (SPI), where Pat and his team help people learn how to make money and to achieve their dreams.
One of the ways SPI does this is through selling online courses that resonate with the message of the brand.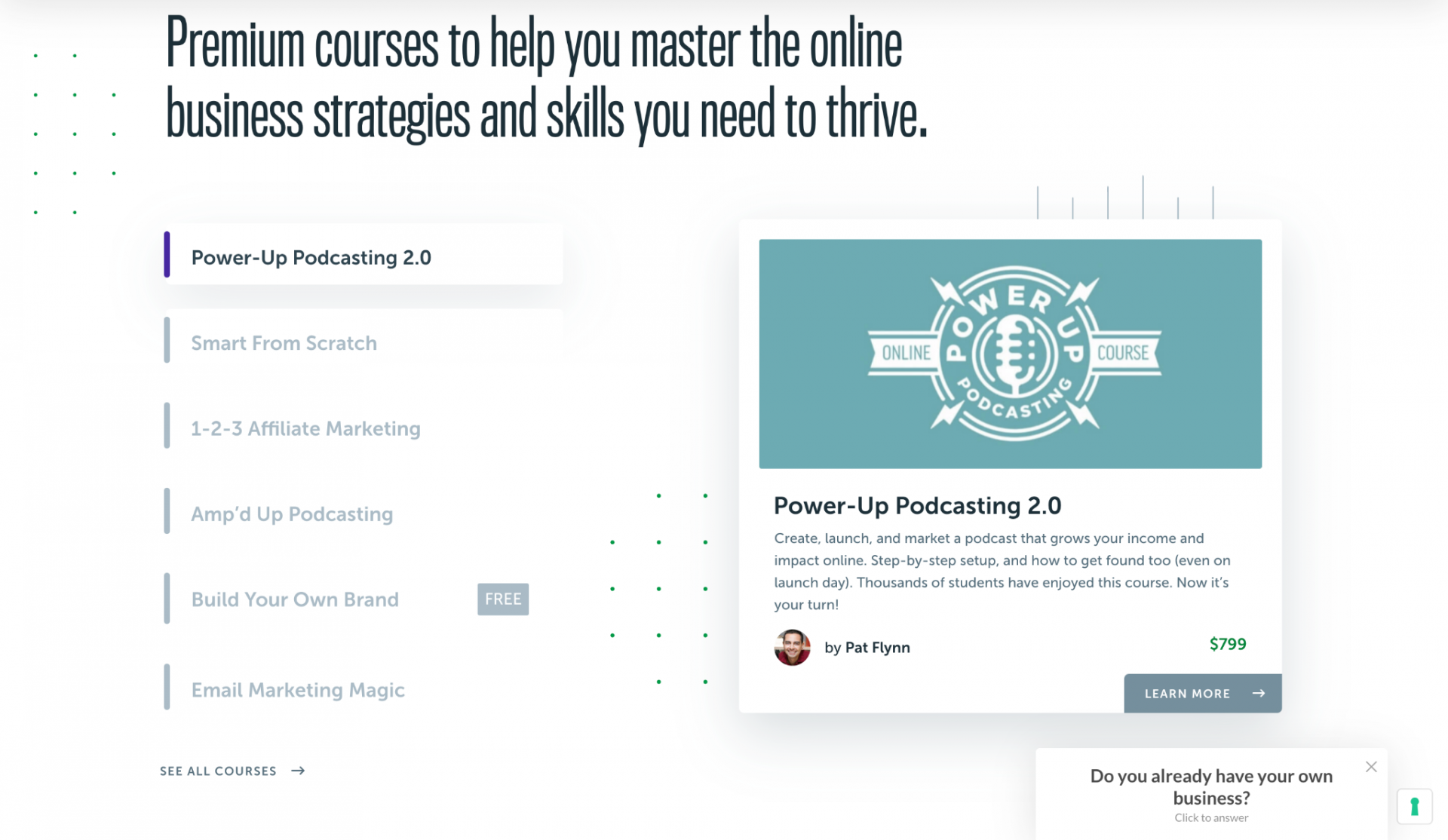 The site offers a range of business-focused courses about subjects like:
Affiliate marketing
Branding
Email marketing
And plenty more, which are sold as bundles that learners can buy and complete.
Pat learned on the job how to make a success of his blog and is now sharing those lessons with his readers.
Let's look at another blogger doing a similar thing.
Example #2: Melyssa Griffin
Melyssa Griffin's blog began back in 2013 when she was a teacher in Japan.
It started as a way for her to share her new life with people and has since grown into a business coaching site full of helpful content written in a relatable way.
Combining her business skills and teaching ability, Melyssa turned her blog into her full-time income, making over $1million in her first three years.
With her success, she started selling online courses to help others follow in her footsteps.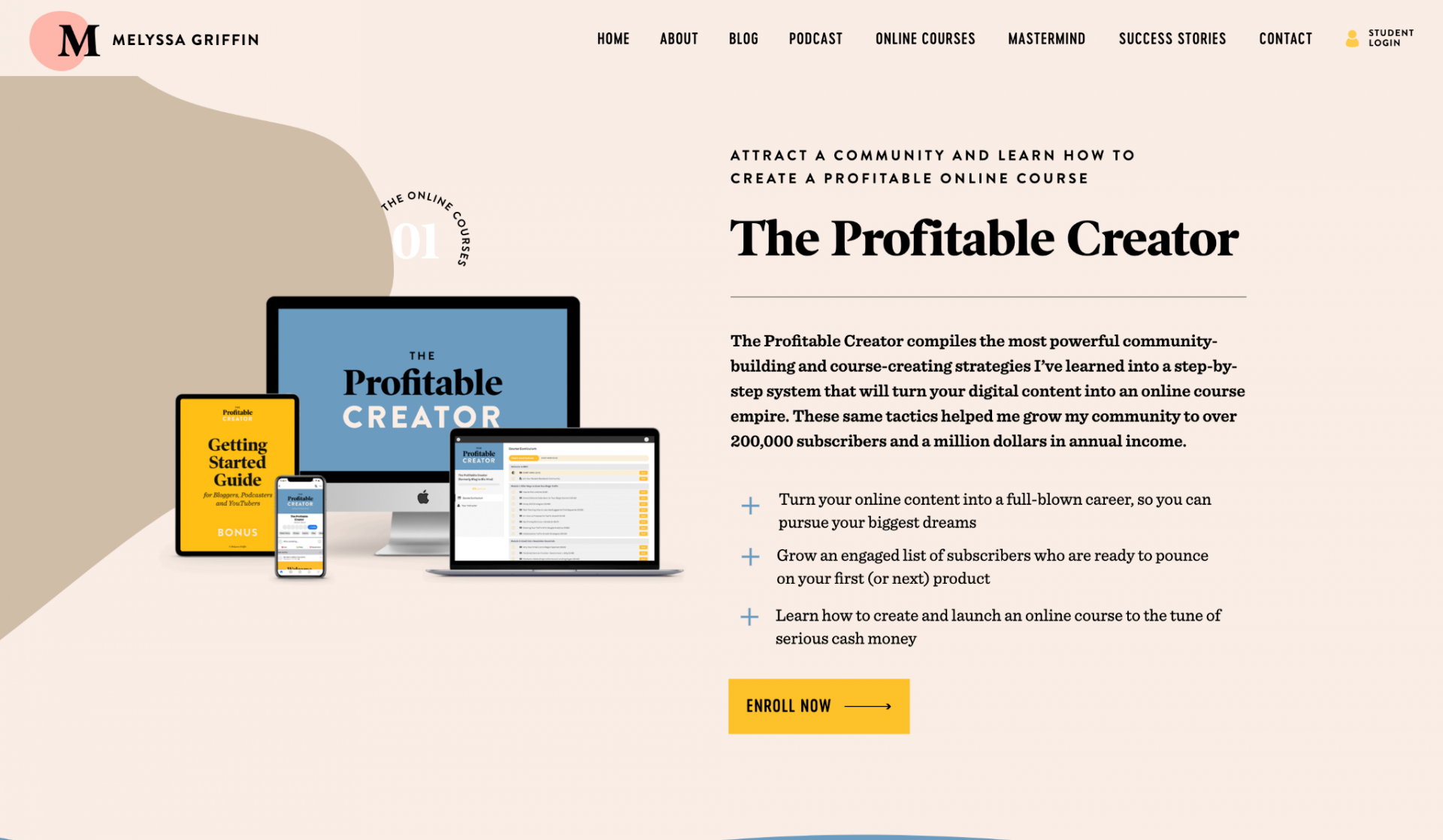 Courses on her site cover topics like being a profitable creator, as you can see above, growing an email marketing list, and more besides.
Time to learn about another monetization opportunity for your blog.
Tactic #2: Build a Membership Site, AKA Selling Subscriptions
Everyone loves being part of an exclusive group and you can capitalize on that by making all or part of your blog available for members only.
Subscriptions are big business and are set to increase, with a market value of $28.4 billion in the US alone and a predicted growth rate of more than 15% year-on-year into 2022.
You can charge a subscription for a range of digital products and content and even consider sending actual gifts to your members – more on this a little later.
Some examples of the type of content you can offer exclusive member access to includes:
Longer, more detailed, more in-depth blog content
Extended cuts of your podcasts
Full-length video content
Access to live Q&As
Membership of social media groups on LinkedIn or Facebook
Exclusive discounts and promo codes for partner websites and business
It's even possible to tier your membership program to allow for different levels of paid access.
You'll need to decide how you'll gate your content for your online membership, such as using a WordPress plugin for your pages or integrating a site on another platform with your existing site or simply using one of the many membership platforms.
To put all of this succinctly, here are the basic steps you need to take when adding a paid membership area to your site:
Decide how you'll price your membership and which types of content you'll be offering.
Get a decent amount of your content ready so there is immediate value available to your new members.
Choose your platform or plugin that will help you create your site.
Market your new membership offer to your existing audience.
Let's check out how one blogger is successfully monetizing their subscribers.
Example: Boho Beautiful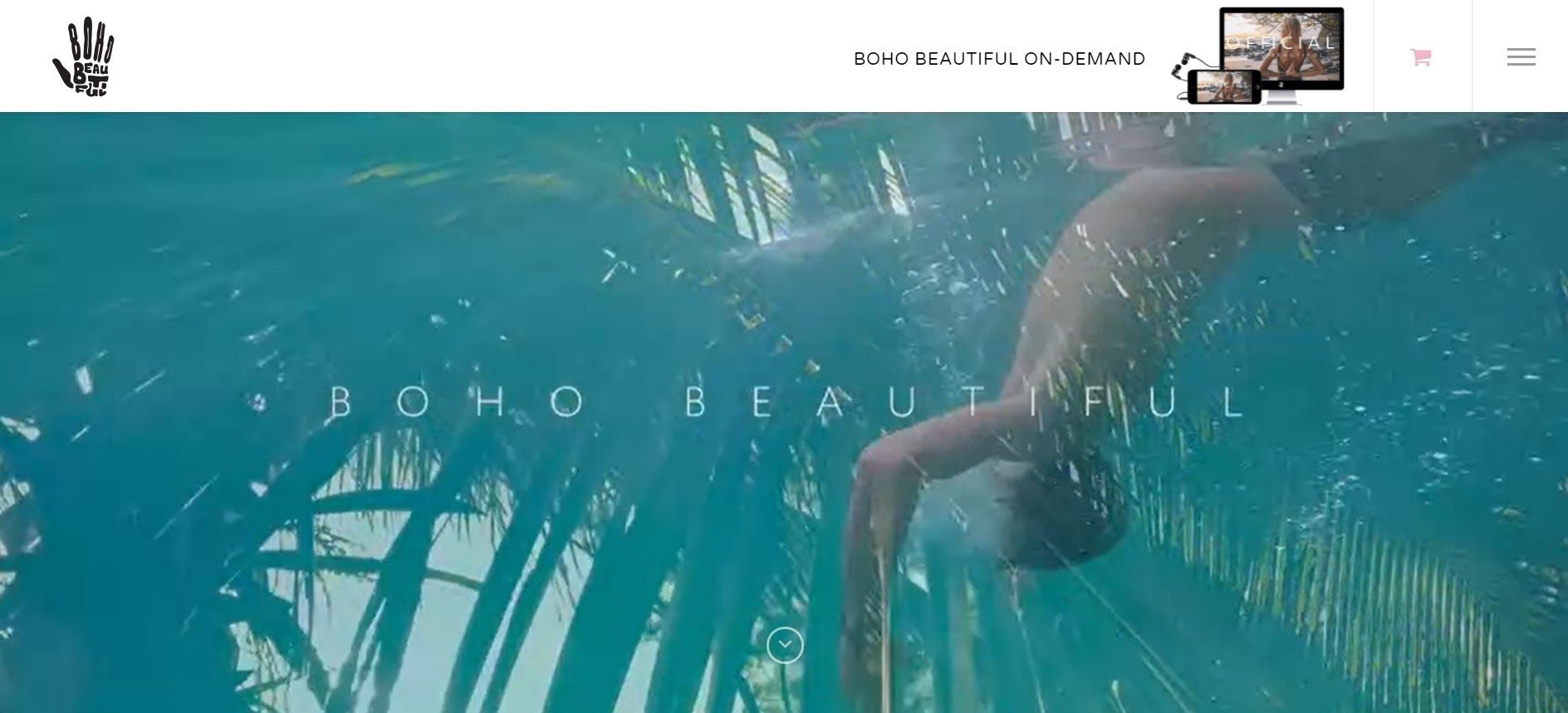 The couple behind Boho Beautiful launched their blog in 2013.
They cover a range of topics around:
Yoga
Fitness
Pilates
Meditation
Vegan life
Posting content like blogs, videos, recipes, and more.
Over the years, they have built up a solid following on YouTube…

… amassing a following of over 2.17 million subscribers.
To that fanbase, who obviously enjoy their content, they market their membership packages, as you can see in the screenshot below.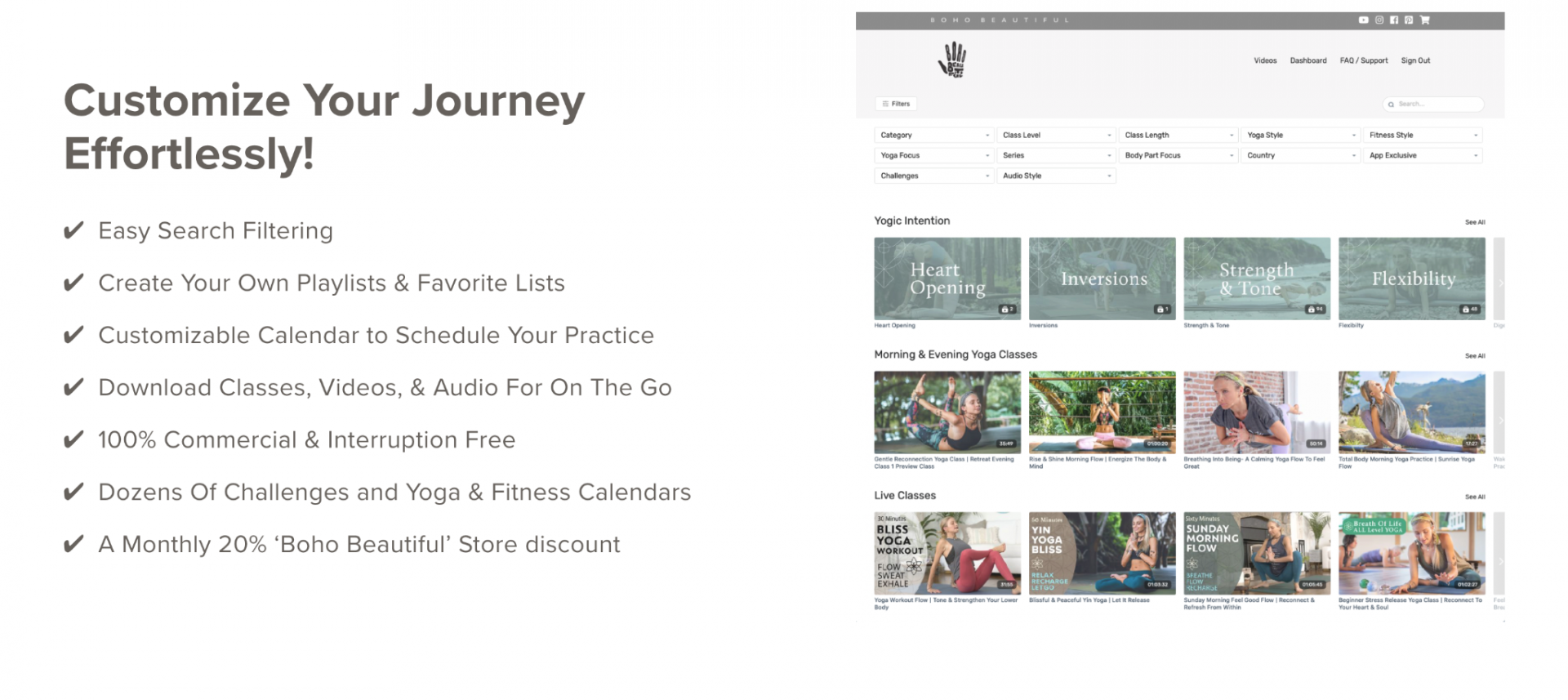 Boho Beautiful has a robust membership package that focuses on the yoga videos the pair sell.
They spent years building their brand and following, then added the membership to their site, giving them a long-term stable income along with the one-off sales that they also make.
Let's move on to another monetization strategy for your blog.
Tactic #3: Write for Other Blogs and Businesses
If you didn't know it before you started, you'll now understand that one of the main tasks of a blogger is writing.
Sometimes a freelance writer will become a blogger and sometimes a blogger will become a freelance writer – the skill sets tend to cross over.
Your blog content can work great as a portfolio if you want to make money online by creating quality content for yourself and for others.
According to Upwork, a freelance writer averages an income of $42,000 per year, but there are writing gigs where you can earn $1-2 per word or more, depending on the value you can offer to the publication.
As well as showing your ability to write, having a blogging platform where you write about your skills and knowledge means you're developing your authority in your niche.
Pat Flynn, who we looked at earlier, started off writing about architectural qualifications and Dave Taylor, of Ask Dave Taylor fame, is known for his knowledge and skills in tech.
Once you have an audience who respects your abilities, you can start to pitch articles to publications that'll pay for your writing, such as:
National Geographic
Forbes
Eating Well
History Magazine
New York Times
Among plenty others.
To write for this type of publication, you first need to find their pitching guidelines, which will normally be in the company's website footer.
Usually, they won't want you to send a full story, but a pitch that will catch their attention and make them want to commission the full story.
Be sure to follow the rules for every site you contact, otherwise, you could ruin your chances of freelancing for them now and in the future.
Want to see an example of a freelance blogger? We've got one coming right up.
Example: The International Freelancer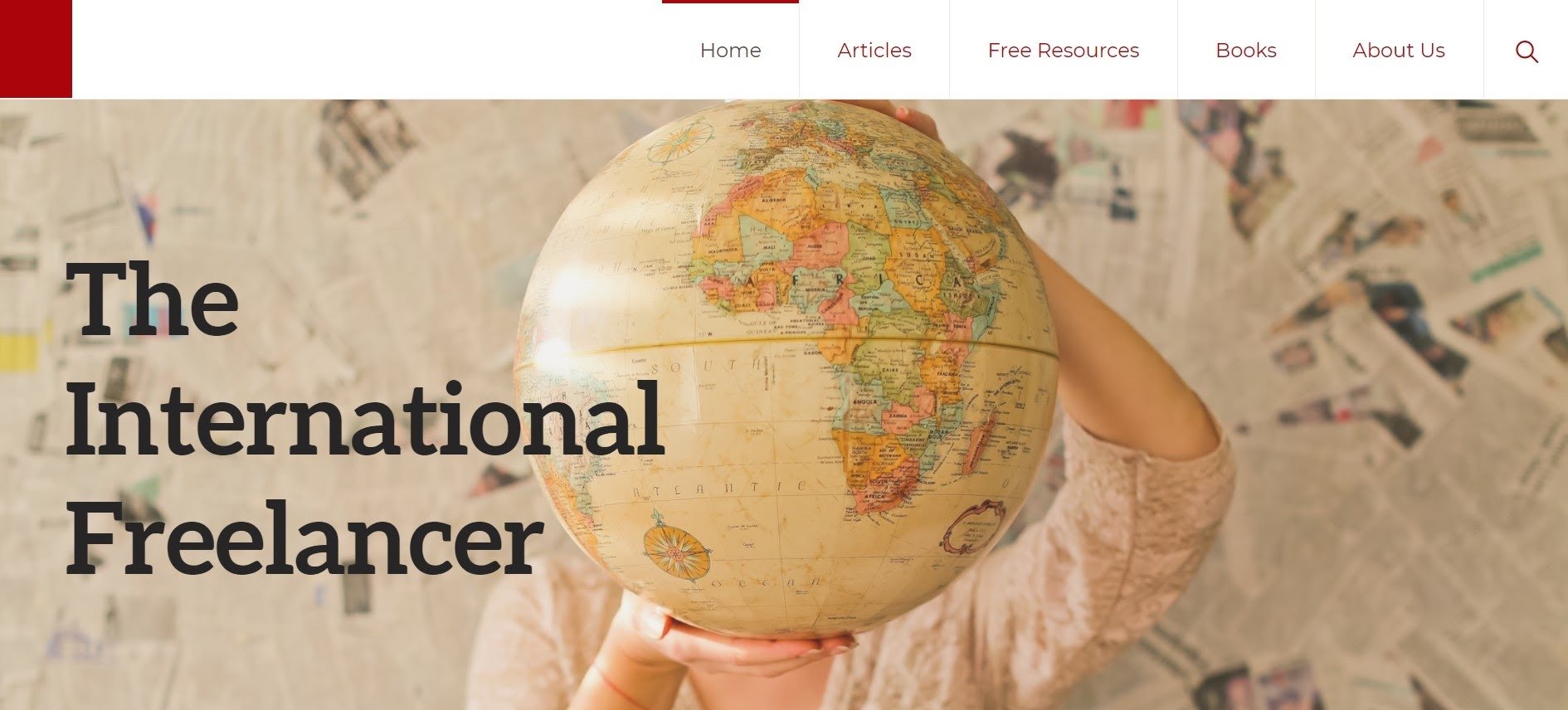 Natasha Khullar Relph styles herself as the International Freelancer and started her blogging career back in 2002.
She's gone on to be a respected writer and journalist, with stories published in the New York Times, TIME, CNN, and GlobalPost, among others.
Her successful blog has lots of free resources to help out new bloggers and freelance writers and she's also written a range of books called The Freelance Writer's Guide on different topics.
Along with all of that, she also finds time to write articles for publications like Psychology Today.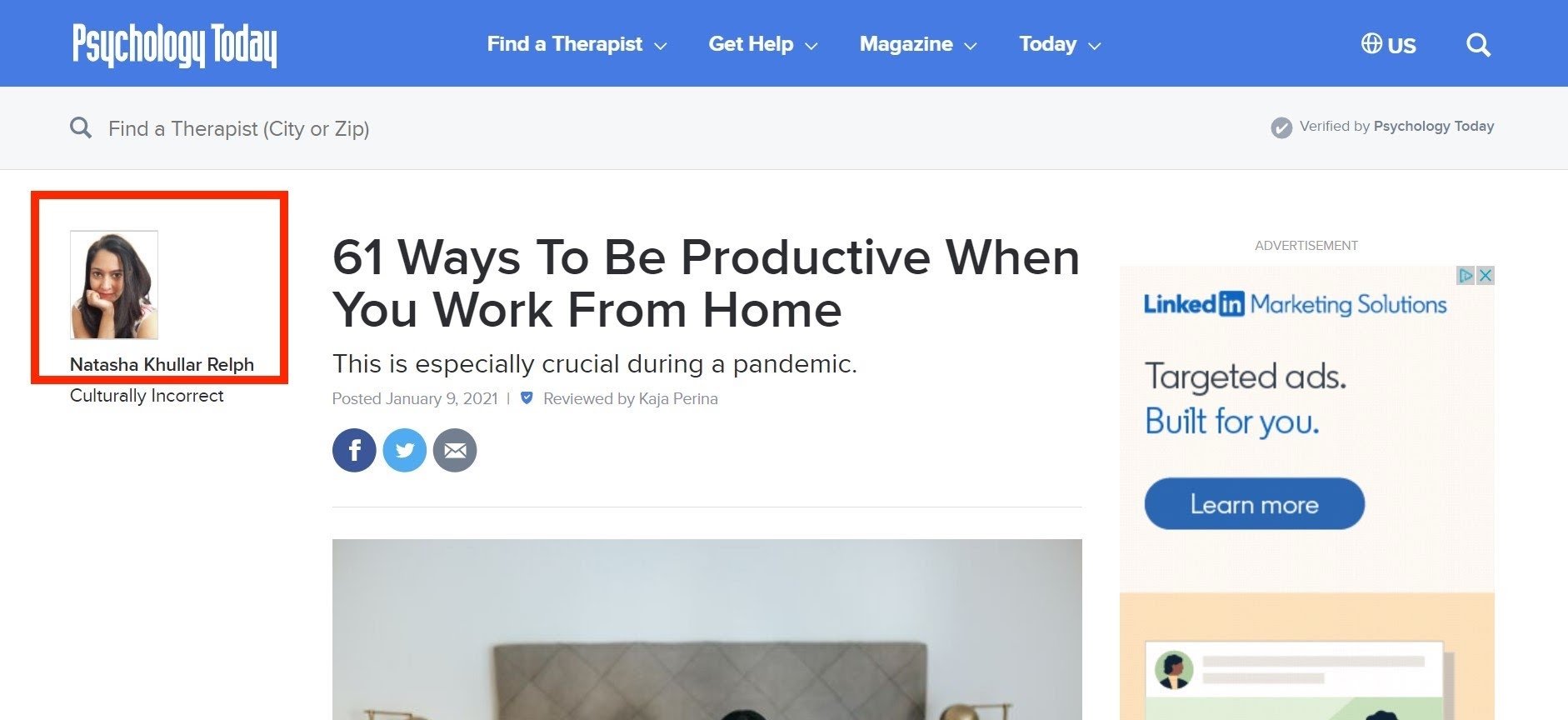 The online magazine pays a healthy $1 per word for articles that are submitted, meaning Natasha will make good money by using her profile to write for them.
The next way to earn money from your blog is coming up, next.
Tactic #4: Find Opportunities for Affiliate Marketing
One of the most common answers to "how do bloggers make money?" is affiliate marketing.
This is a buzzword that you may have come across when researching how to make money blogging and it can be a viable income stream.
A recent Google study found that online reviews was one of the most important factors when American consumers make purchase decisions, which is something your blog is able to offer.
What's more, 15% of all revenue in digital media is generated from affiliate marketing. In the US alone the affiliate industry is expected to be worth $8.2 in 2022.
It clearly works and lots of people are finding success with it, but what exactly is it?
Put simply, affiliate marketing is where you as a blogger promote products on your own blog or through your email list and encourage your readers to click on a link to make a purchase of the product.
You receive a percentage of the sale from the retailer if the sale closes.
There are two main ways you can become an affiliate:
Sign up to an affiliate network where you can choose from a range of online or physical products and services to promote on your blog.
Find ecommerce sites that offer their own affiliate program and do a deal with them directly to sell their affiliate products.
One of the biggest and most popular websites that run an affiliate marketing program is Amazon.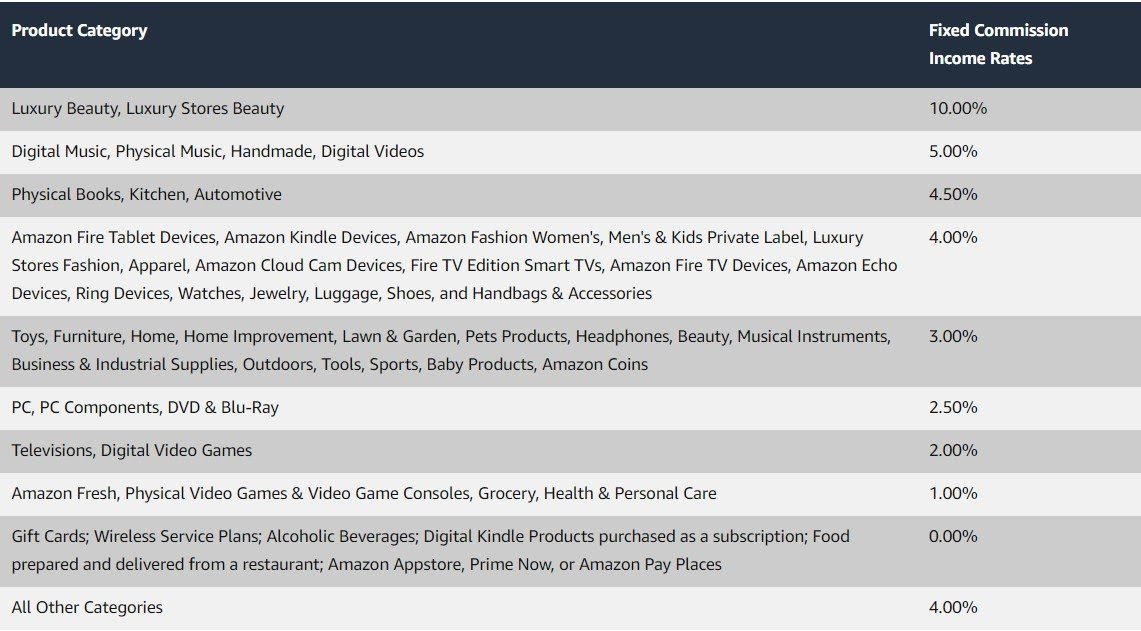 As you can see from its commission schedule, an Amazon affiliate can earn anything from 1-10% per sale depending on the category the product is in.
Choose an affiliate marketing niche and programs that match up with the niche that your blog covers; if you have a mommy blog, your audience isn't likely to be interested in software products!
Time to check out an example of a blogger doing exactly this.
Example: Adam Enfroy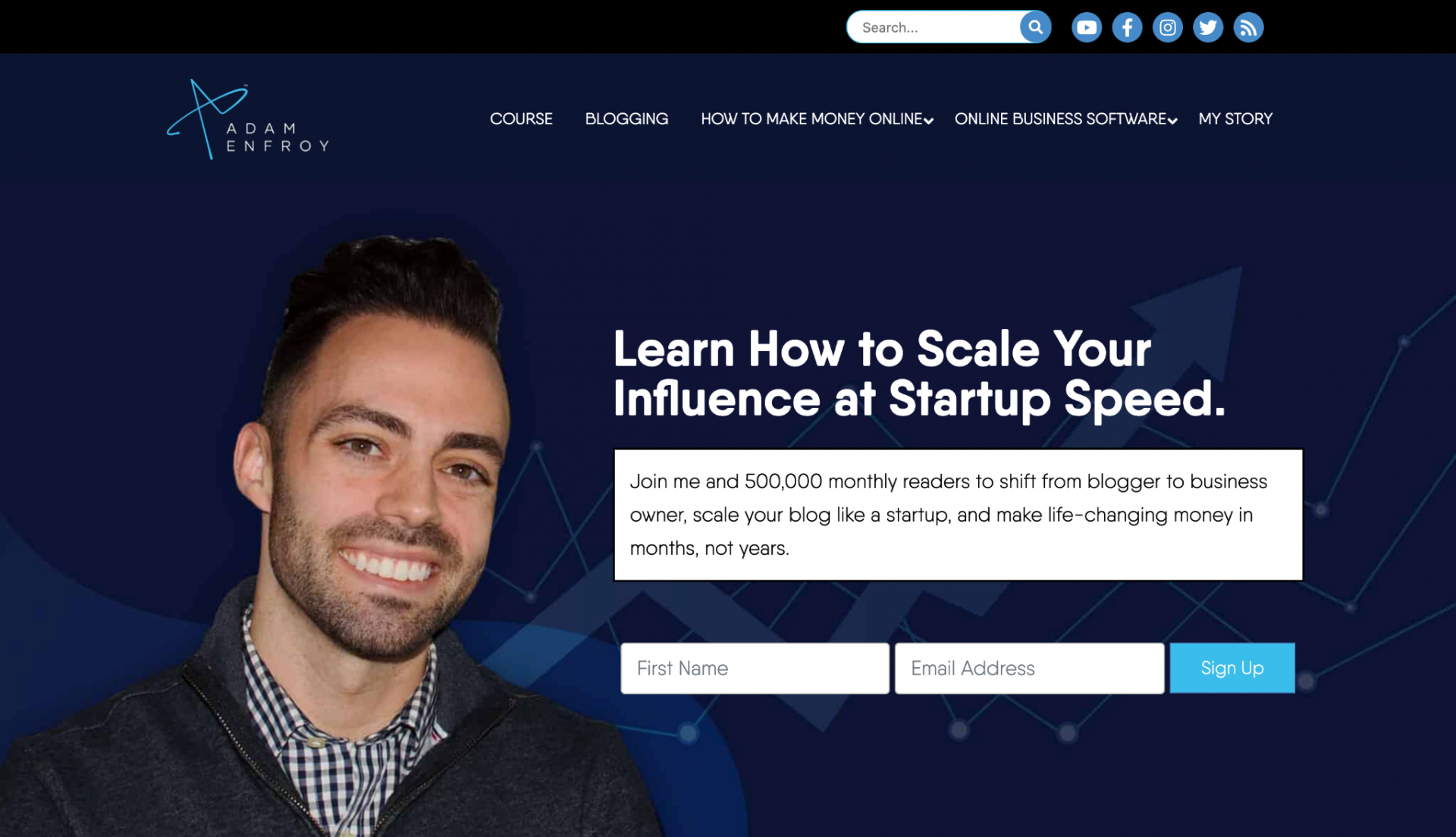 Adam Enfroy had a career in digital marketing behind him before he started his blog in 2019.
He teaches his readers how to make money online through a range of business models, such as:
Being an influencer
Using Instagram and YouTube
Affiliate marketing
And he practices what he preaches.
According to his 2020 income report, he made $601,698 from affiliate programs, an increase of 526% on the previous year.
Let's see what hosting affiliate links looks like in practice.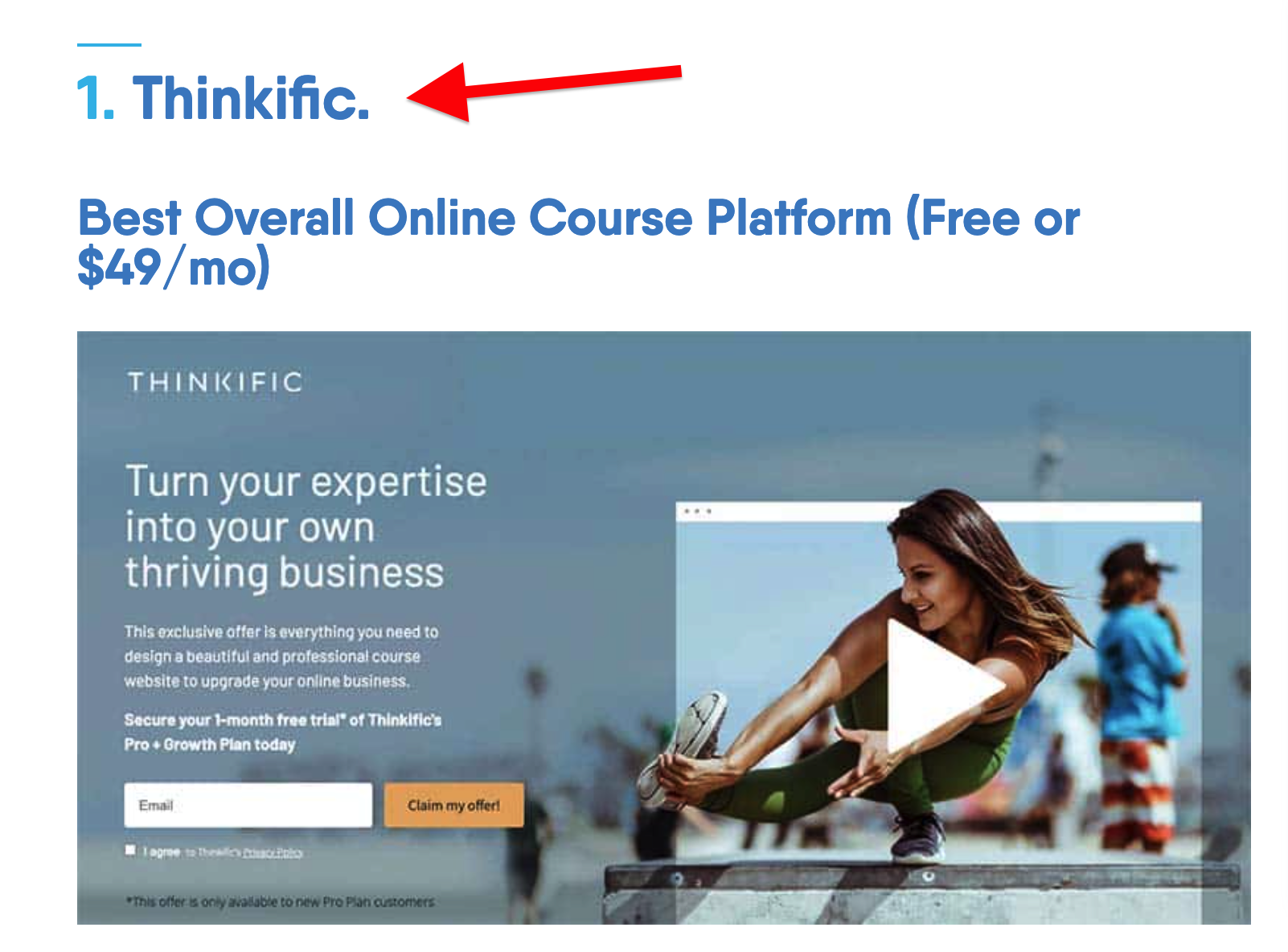 In his blog titled "17+ Best Online Course Platforms of 2021 (Ranks & Reviews)", Adam lists a range of websites that let you create online courses – a revenue stream we looked at with our first tactic.
The first platform he looks at is Thinkific, and he adds an affiliate link directly to the header.
When a reader likes what they read, they click on the header and are taken straight to a landing page.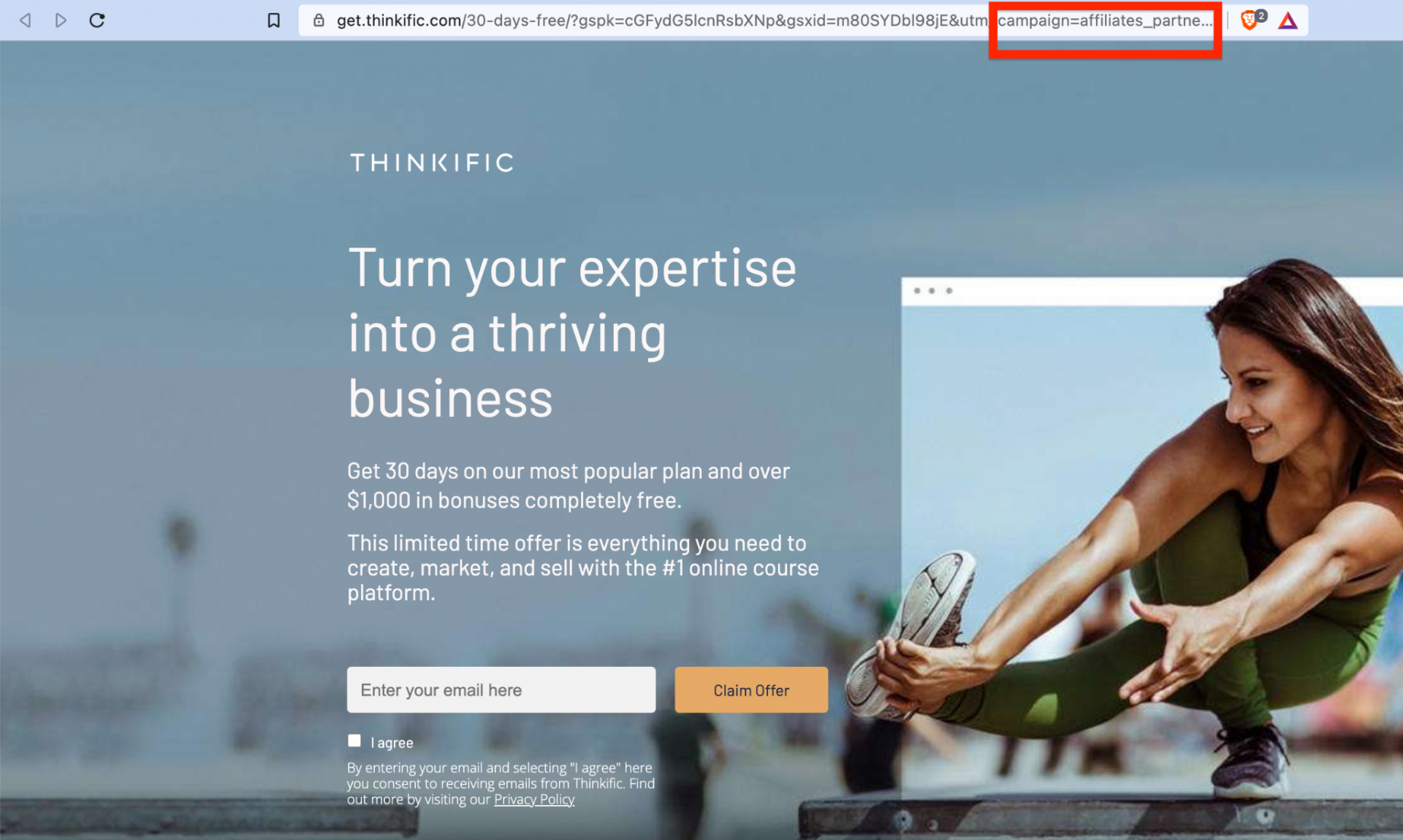 You can see that there is a long URL that contains code specific to Adam so the website can track his sales.
As an affiliate with Thinkific, he earns 30% of every transaction created through his link, with a scheme managed through the PartnerStack affiliate marketing network.
This is exactly the type of product his blog's target audience is looking for, so it's easy to see why he's able to make so much commission off this, and other affiliate products.
The fifth on our list of monetization methods for your blog is coming up next.
Tactic #5: Use Google AdSense or Become an Amazon Associate
Do you ever look at the highly targeted ads on some websites and wonder how they make it happen?
You can sign up to ad networks such as Google's AdSense or Amazon Native Ads which will then serve relevant banner ads to your site visitors.
How do you sign up for these schemes?
We'll give you a quick guide to each.
To sign up for Google AdSense you need to:
Have a Google account, such as a Gmail account, and your own website that hosts original content.
Go to the Adsense page and click Get started.
Enter the URL of the website you want to display ads on.
Confirm your settings, such as when Google can contact you and where you want your payments to be sent to.
Once done, you'll be ready to start adding relevant ads to your website which will generate income the more you drive traffic to your page and those viewers click on ads.
To sign up for Amazon Native Ads, you need to:
Become an Amazon Associate, which is the same process you'd follow to start earning affiliate income.
On your Amazon Associates Dashboard, choose Native Shopping Ads and select Create Ad Unit.
Choose between a recommendation, search, or custom ad to display on your page.
When someone clicks on the advert on your site, you'll make a commission on anything they buy during that visit, not just the advertised products.
There are other ad networks that you can work with, although it's likely to bring in a huge amount of money.
Expect to earn up to a couple of hundred dollars if you get thousands and thousands of page views each month; you won't retire on the money but it's still extra income.
We've got an example of a blogger who used AdSense on their site for you.
Example: Abby Lawson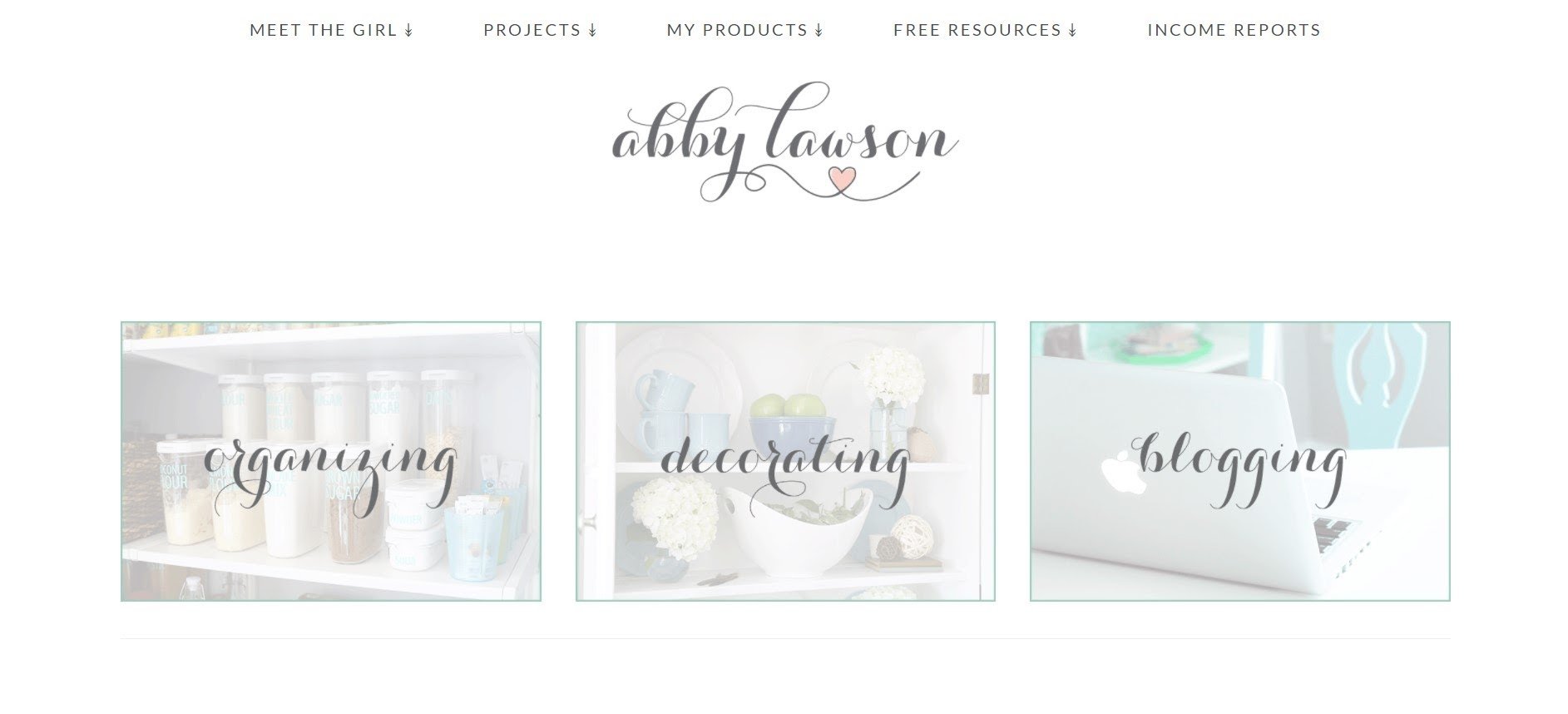 Abby Lawson started Just a Girl and her Blog in 2013 and has turned it into a family business.
The blog, now branded under her name, covers:
Organizing
Decorating
Blogging
Giving her readers tips and tricks in all three niches.
In an interview in 2019, she said, "We just put ads back on our site very minimally after not having any ads for about 18 months, so we make some money from ad income."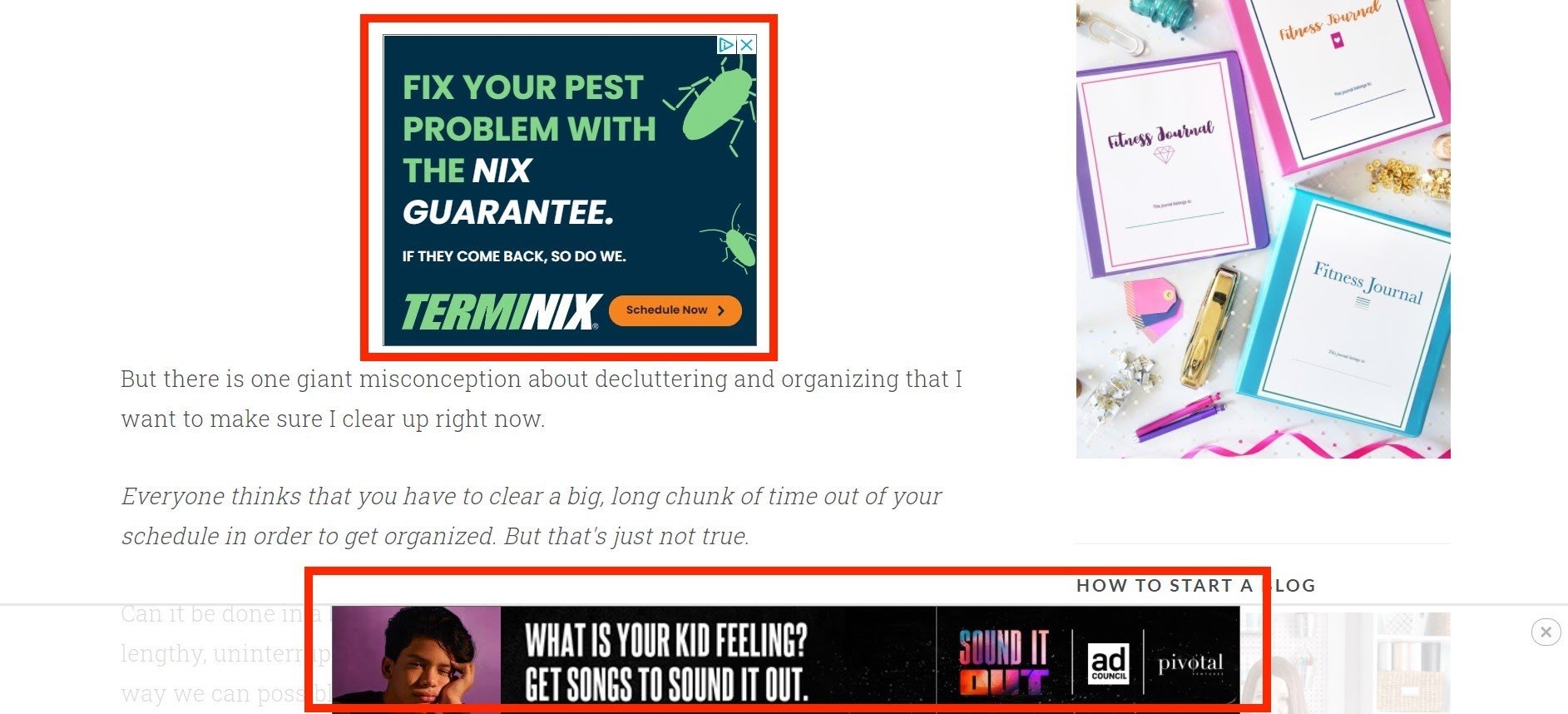 You can see some of the different ads that get served on her blog in the screenshot above.
She stopped releasing full income statements back in 2018 so we can't say for sure how much the site makes from selling ad space, but with up to 500,000 monthly visitors it must be worth it for her.
Another tactic for turning your blog into an online business is next.
Tactic #6: Get Started With Sponsorships and Sponsored Posts
Hosting sponsored content or having sponsorship on your blog is a common income generator for a lot of blogs.
You can get paid for writing blog posts that directly promote a business, shop, or service to your readers.
Sometimes this can be in combination with affiliate marketing, other times the company paying you is just looking for a positive review that will influence your readers' perceptions.
To get paid for sponsored posts on your blog, you can reach out to companies that align with your branding and offer to write content for them.
There are also sponsored post networks that you can join to find opportunities for writing sponsored content.
Sponsorship works slightly differently.
When you have a sponsor on your blog, it's likely to be a long-term partnership that gives the sponsor some exclusive rights.
This can include things like:
Advertising space on your blog
Positive mentions of their brand on your blog and social media
Acknowledging the sponsor at the start of some posts, "This blog is sponsored by…"
Sponsorship deals are more common for influencers, which will likely mean you'll need to work on your social media presence as well as your blog content.
There are influencer networks you can join where companies can search for you and it's common to get emails and inbox requests asking for partnership and sponsorship deals, too.
Here's an example of a highly successful blog running sponsored posts.
Example: Making Sense of Cents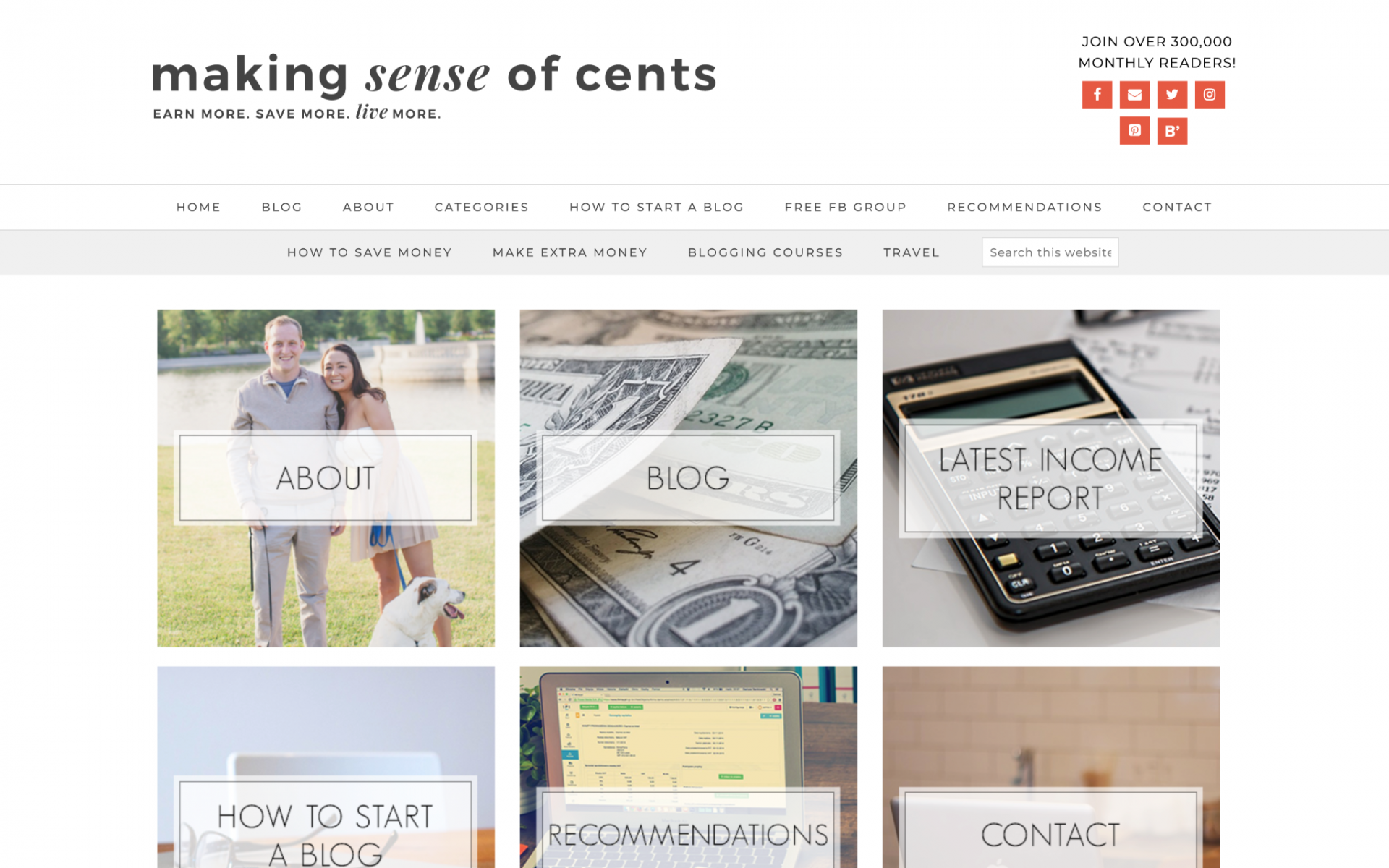 Making Sense of Cents is a blog run by Michelle Schroeder-Gardner, offering advice about making money online, personal finance, and money-saving tips for your household.
Her background is in finance and she used to work as a financial analyst, making her an authoritative voice on the topics that she blogs about.
She has lots of different income streams, including hosting sponsored posts like the one you can see below.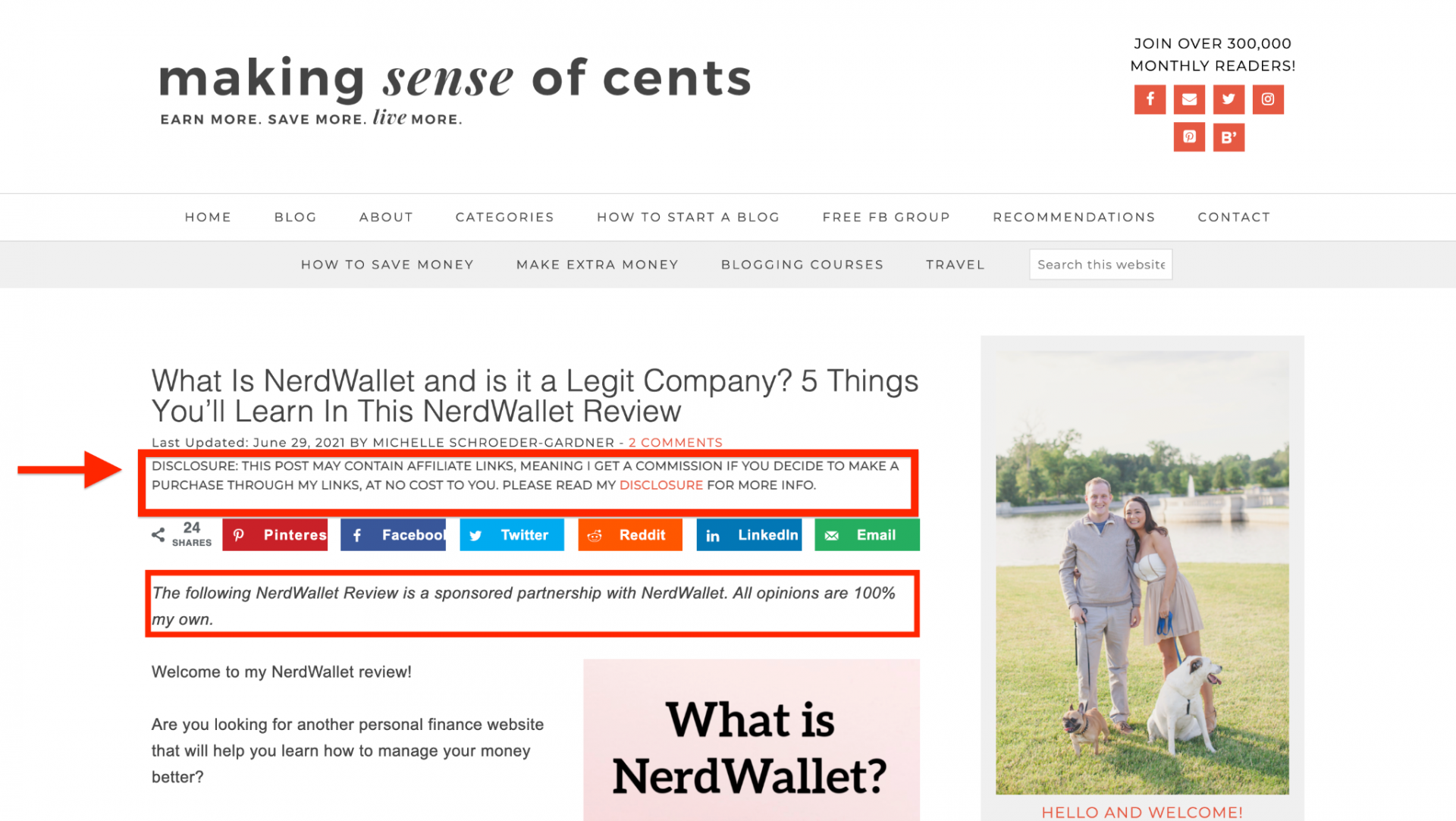 As well as being a post with affiliate links – as we can see from the disclosure in the first highlight we've added – Michelle was also paid by NerdWallet to post the review.
She still reassures her readers that she's giving her honest opinion – this is important for her to point out since she trades on the trust she has with her audience.
Since Michelle writes about how to make money through blogging and content marketing, she even gives some advice about sponsorships and sponsored posts.

Although Michelle hasn't released her income reports since 2018, in the last one she posted she said she was making $10-20,000 per month through this revenue stream.
When you have expertise in your field and an audience you connect with, it will be much easier for your blog to land a sponsorship deal.
Tactic #7: Launch an SaaS or WordPress Plugin
This may seem like a daunting idea, but if your blog is in the tech space, you may have a strong idea to solve problems for your readers through an SaaS or plugin.
While not as technologically challenging as an SaaS company, you can even adapt this technique to monetize your blog traffic to launch an app that will resonate with your audience, whether it's showcasing your arts and crafts videos or a fitness tracker.
As a blogger, you have access to a specific audience with whom you can communicate and understand their needs.
This means you can create products that will match their needs and then have people who you can sell it to straight away using your email subscribers as well as your blog and social platforms.
Sounds like a lot for a startup blog?
If you're able to spot an opportunity to develop your business from an early stage, it's not too challenging.
Here's how one well-known blogger and entrepreneur did it.
Example: Brian Dean from Backlinko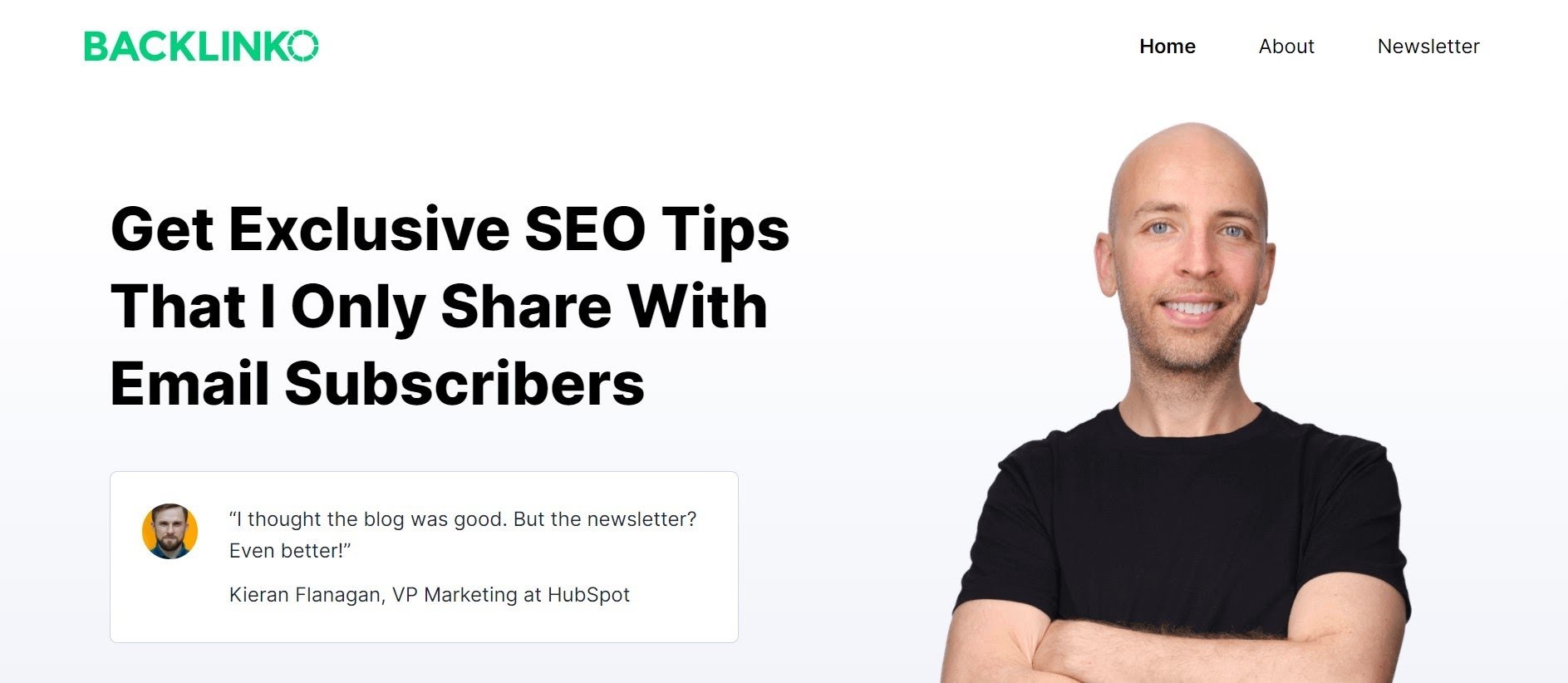 Backlinko was started by Brian Dean after he learned all about SEO when he ran a personal finance blog.
He has a strong reputation in the SEO space and has a very successful blog and email newsletter through this company.
On his YouTube channel, Brian goes into detail about how he used his industry knowledge and influence to launch a brand new product.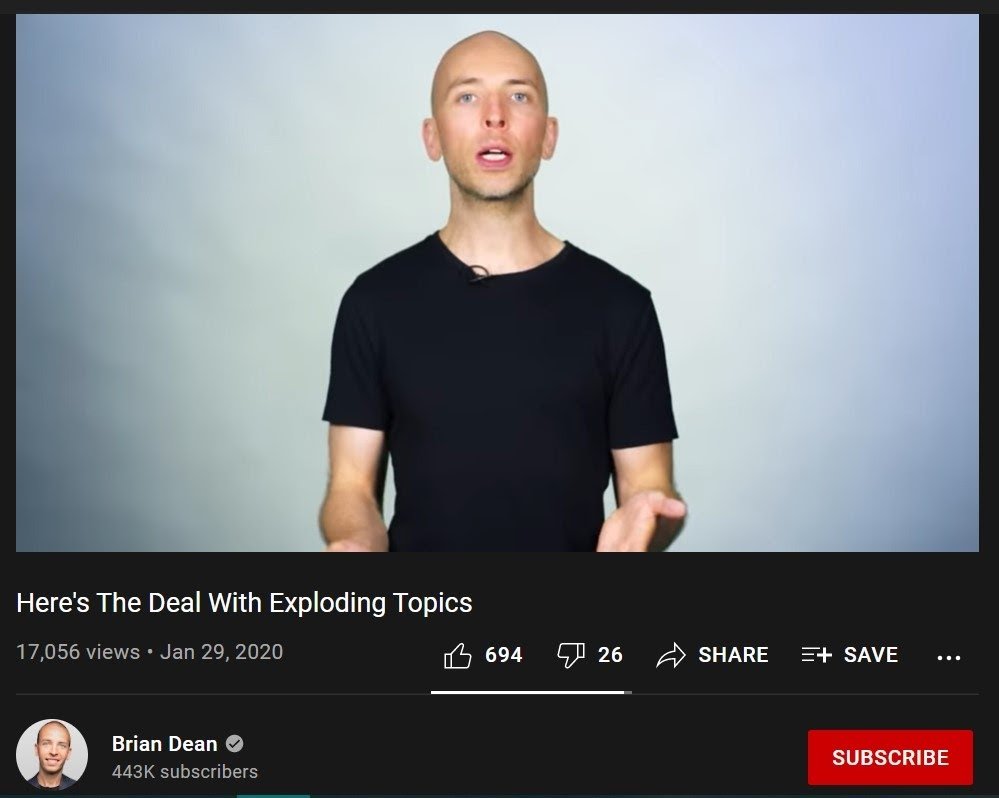 The CTO of Backlinko told Brian about Trennd.co, a new site that was gathering information about emerging topics that people were talking about.
The team at Backlinko was already working on a basic prototype to do the same thing, so he bought the new site and hired the creator.
Brian then went through some standard business development steps that you can use when thinking about creating your own SaaS that's based on your blog topic:
He identified his target audience
He chose a better name for the tool with a .com domain
He worked on the design and branding of the tool
He harnessed a range of channels to launch the tool to market
The tool in question was Exploding Topics…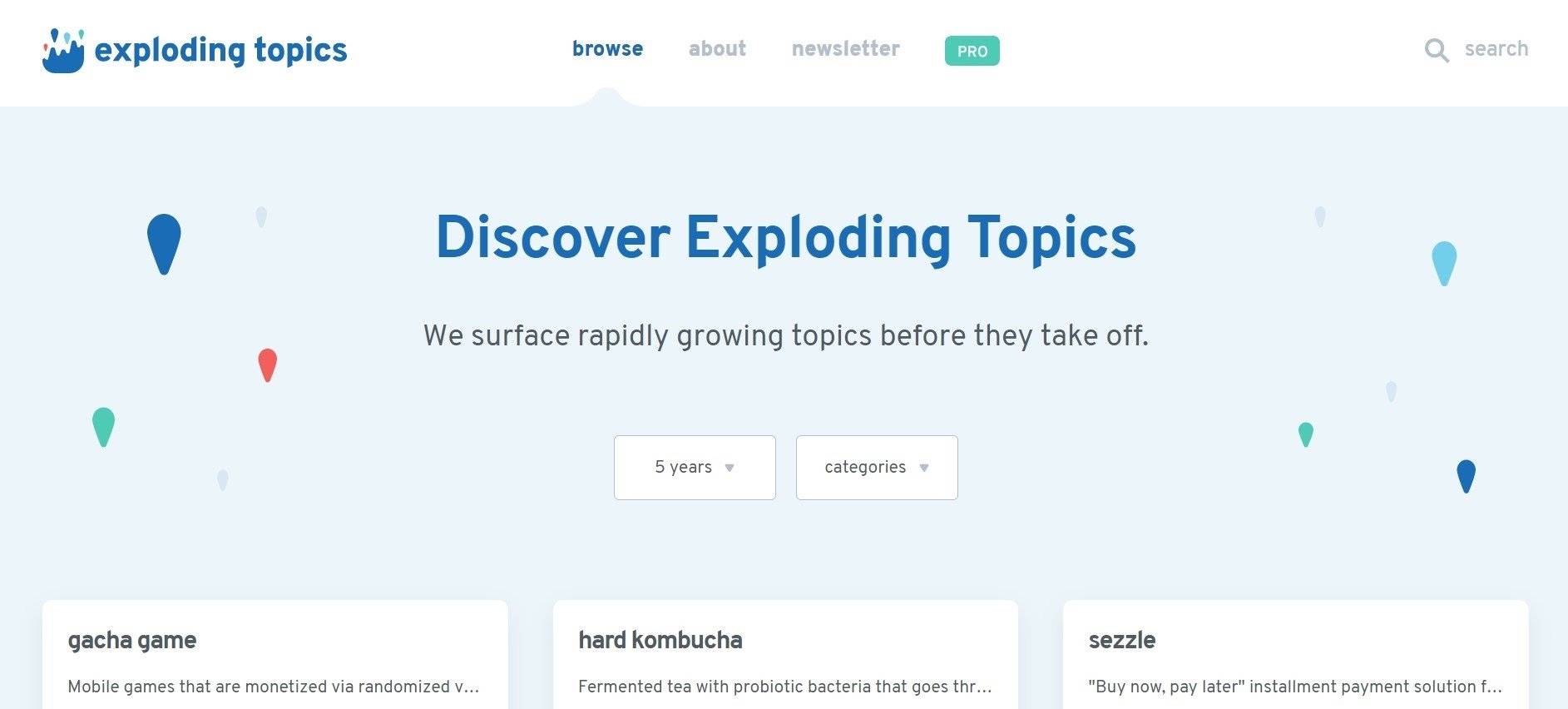 … which is a very useful tool for a new blog to find surfacing trends to write valuable content about.
A business-savvy blogger can achieve something similar by finding a gap in the market and developing, buying out, or partnering on a new product that your audience will buy into.
Our last way for you to make enough money to make your blog a viable business is just a scroll away.
Tactic #8: Create and Sell Your Own Swag
The last way we have to help you monetize your blog is to sell physical products with your own branding.
As well as making a percentage for selling other company's items through affiliate marketing, you can sell your own products and keep a larger slice of the profits by adding an ecommerce element to your blog.
It's relatively easy to create an online store, for example, if you have a WordPress blog you use a plugin such as WooCommerce or BigCommerce to create a storefront.
These tools – and others – offer templates for your product listings to make the process of setting up your permanent or pop-up shop much easier.
Create branded products that align with the needs of your readers, such as:
Branded notebooks to track expenses for a personal finance blog
Workout clothes for your fitness blog
Drinkware and kitchenware for your food blog
You'll have a lot of control over the quality of your merch and can create a community feel with branded items like t-shirts or pins.
For the last time, we've got a couple of examples of successful bloggers using this monetization strategy.
Example #1: Tara Michelle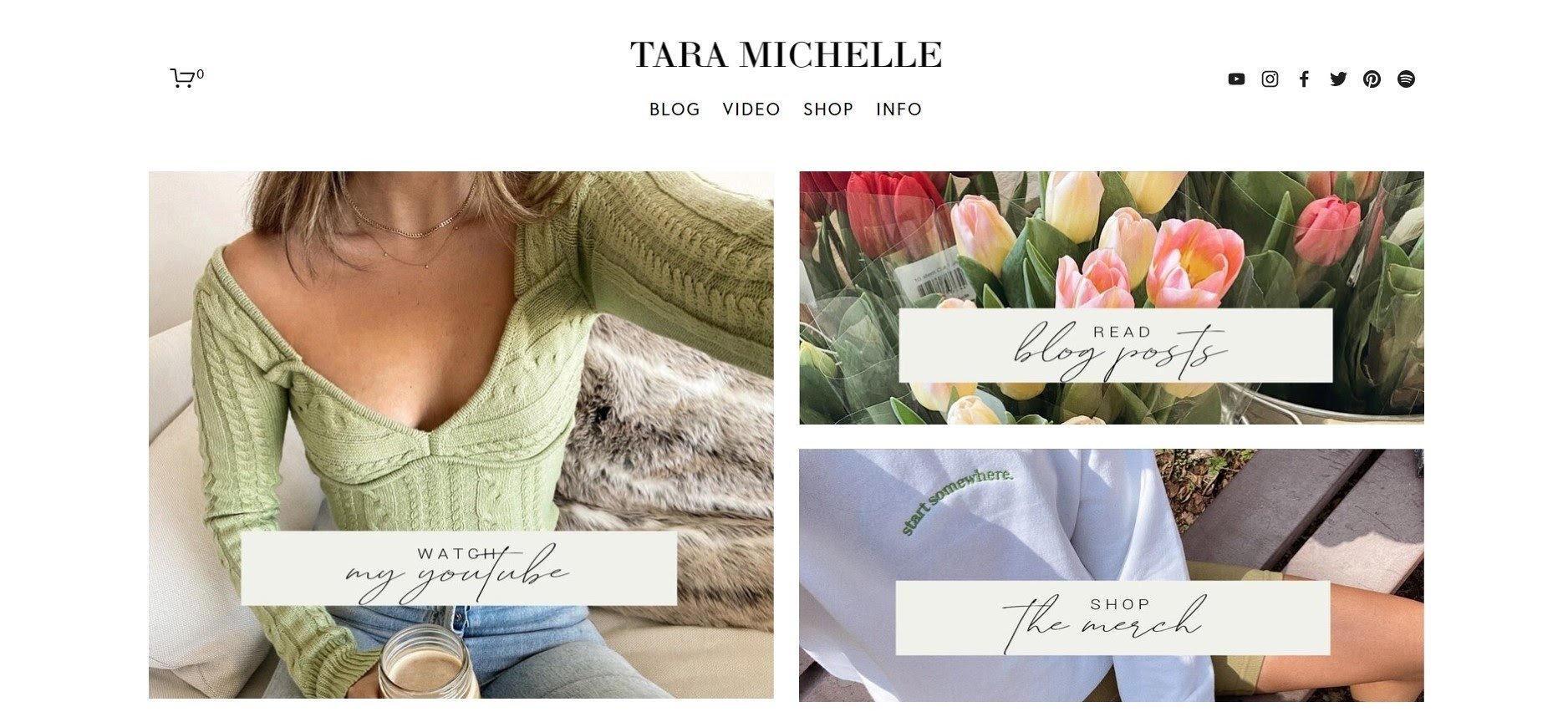 Tara Michelle is a vlogger and blogger, posting lifestyle content on her site and social media since 2013.
She posts about travel, fashion, and lifestyle and connects with her audience in a very authentic way, earning her more than 1.2 million subscribers on her YouTube channel.
One of the ways that she makes extra cash from her blogging is by creating and selling merch, as you can see in the image above.
Along with clothing and hats with her slogans, like Start Somewhere, she also sells some jewelry items that align with her message and are sure to resonate with her fans in a very real way.
We've got another example in a different niche, too.
Example #2: Level1Techs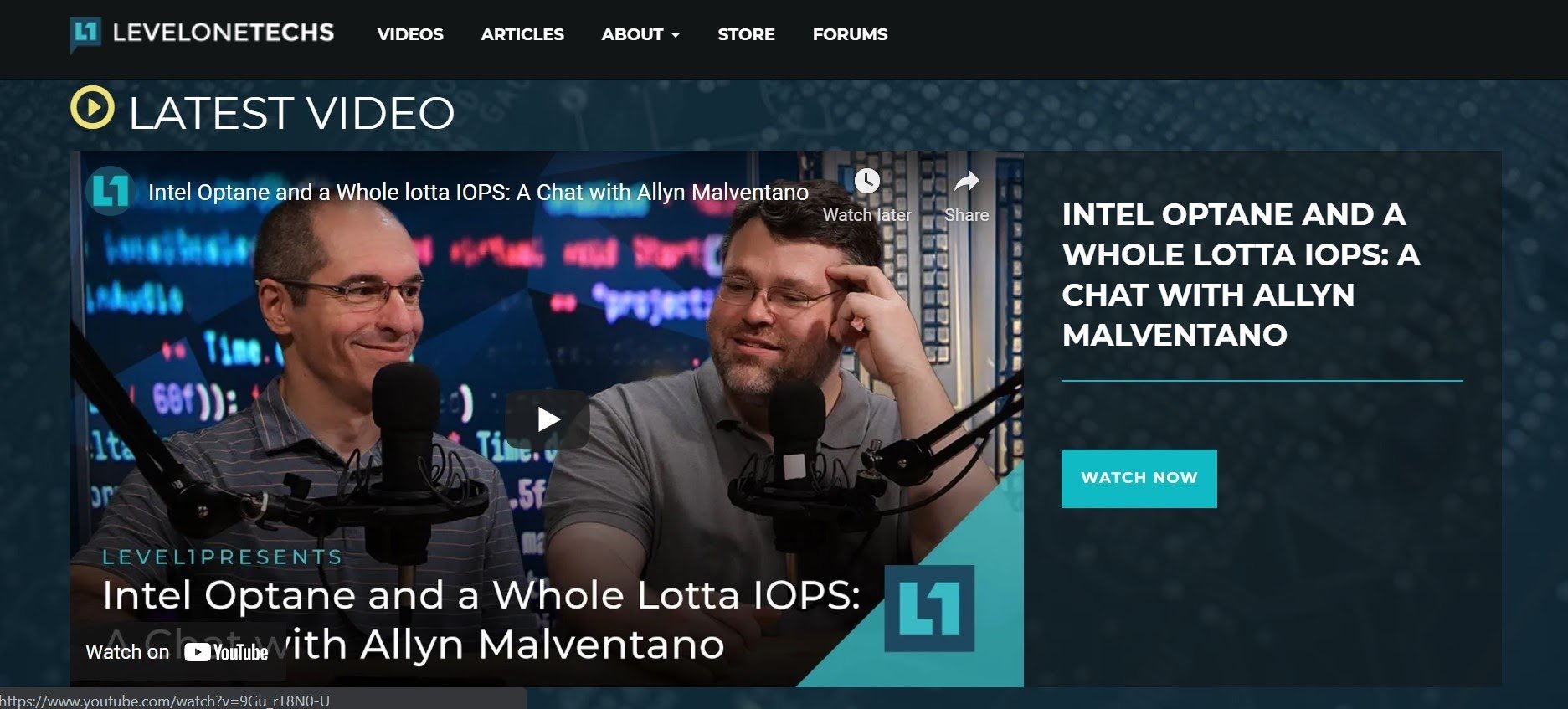 Level1Techs aims to be a resource for everyone in the tech industry, from entry-level software developers to IT and network managers.
Along with their helpful content, the team realized there were some big gaps in the market for hardware that matched the needs of their audience.
To fix the issue, Level1Techs created a range of hardware components that solved their audiences' problems.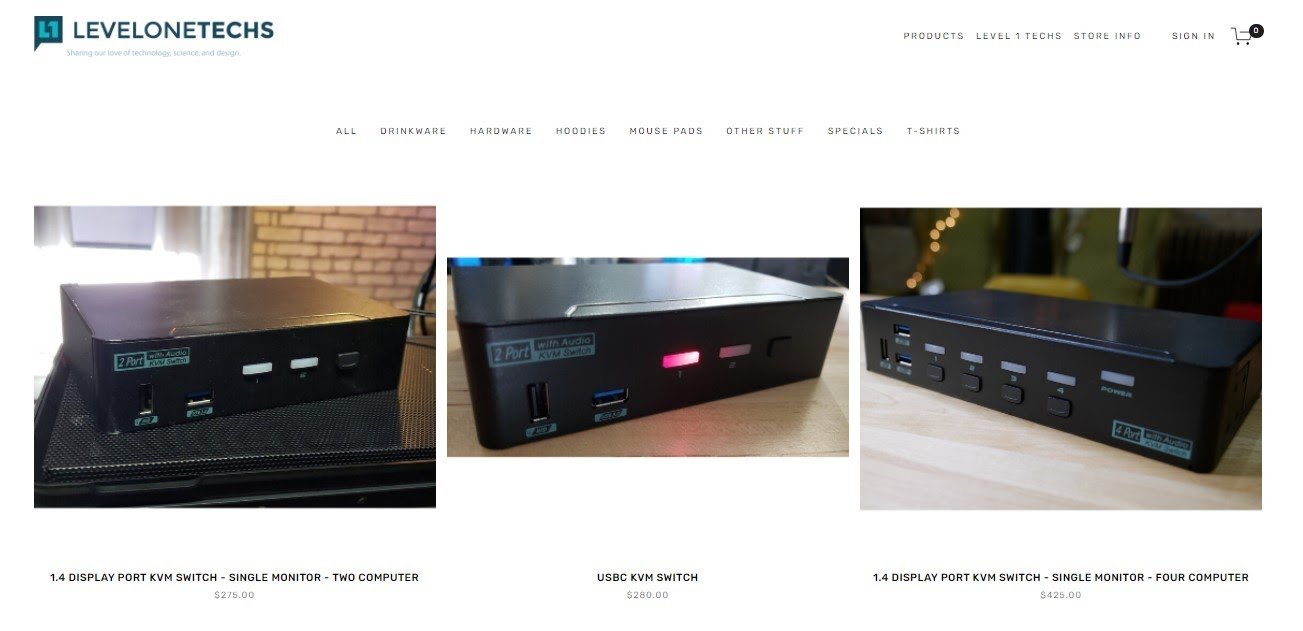 All of the hardware items have been designed by the team behind the blog and vlog so their readers and viewers can be sure it meets their standards.
Along with the tech items, they also sell standard merch like t-shirts, hoodies, mugs, and mouse mats.
That's all we have for you in terms of turning your freelance writing or blogging into a small business, so let's wrap things up.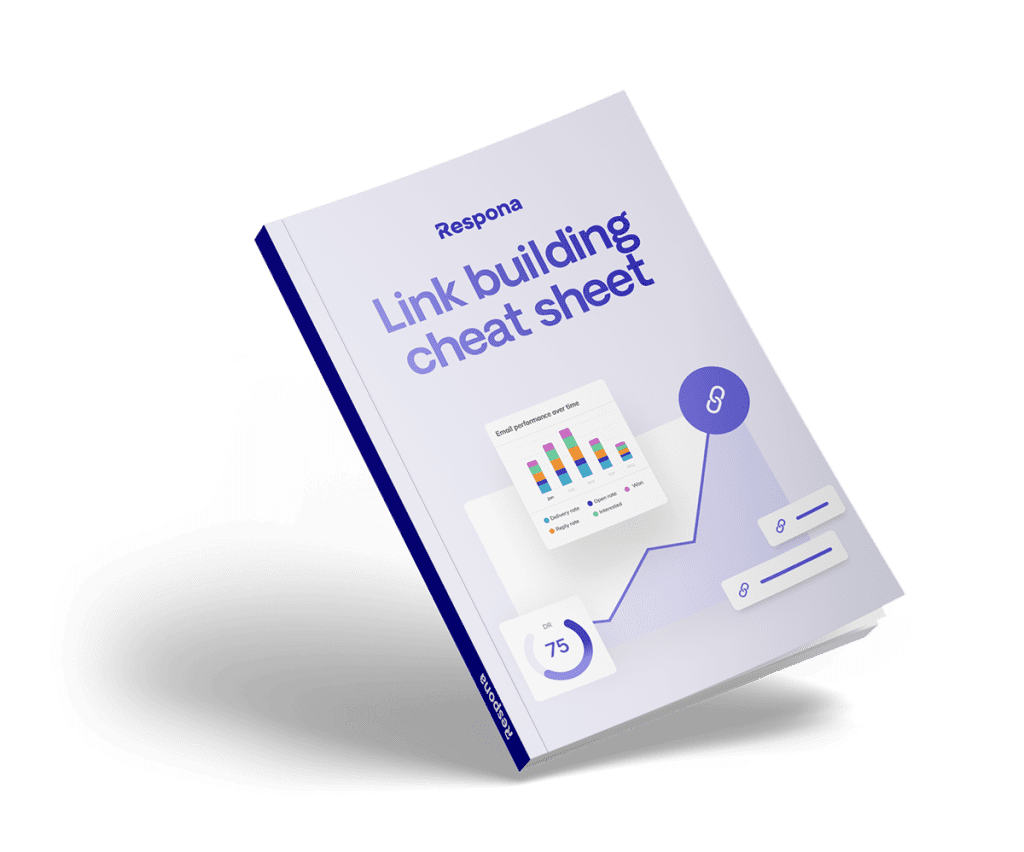 Link building cheat sheet
Gain access to the 3-step strategy we use to earn over 86 high-quality backlinks each month.
Now Over to You
That's your lot.
We've covered all the most common ways you can monetize your blog for the first time.
From selling training and coaching services to offering exclusive content through memberships, making a commission on items you recommend, selling advertising space, and even creating your own swag, we hope to have inspired your new blogging efforts.
There's work that needs to be done to monetize your blog and get income in the six figures like our examples have managed to do.
For lots of these monetization techniques, you're going to need to reach out to other bloggers, websites, and companies in your niche.
How do you do that?
With an outreach tool like Respona! It not only helps you find the right contact information for the people you want to contact, it helps you create email outreach campaigns and automate your follow-ups.
To check out how Respona can help get your blog monetization efforts off to a flying start, book a demo with us today.