If you're wondering what micro-influencers can do for you and how you could start building a micro-influencer marketing campaign, then you're in the right place.
In this post, we're going to talk about micro-influencer marketing and particularly focus on:
What a micro-influencer is and how they're different from macro-influencers
Why you should work with micro-influencers
How you can find micro-influencers to partner with your brand
Hint: We'll be approaching the third point by using Respona to find influencers in our niche and reach out to them.
Choose any of the sections from the list below or start right from the beginning.
Here we go.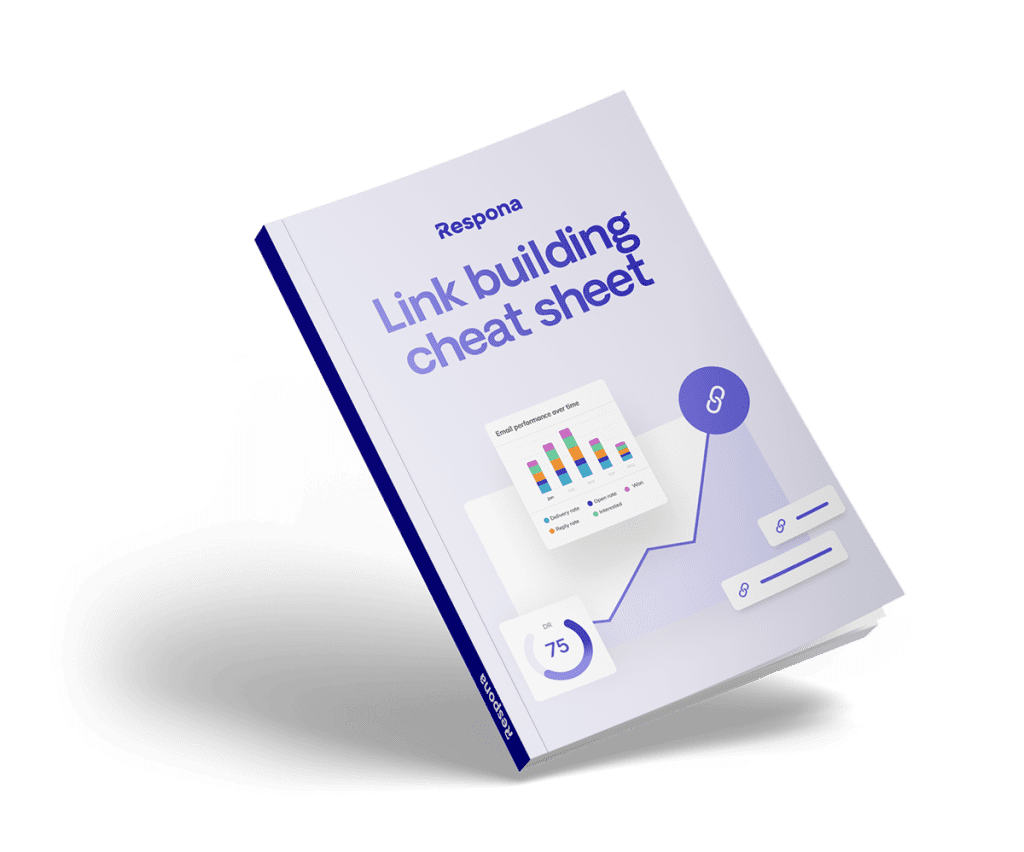 Link building cheat sheet
Gain access to the 3-step strategy we use to earn over 86 high-quality backlinks each month.
What is a Micro-influencer?
A micro-influencer is someone who has between 1,000 and 40,000 followers which means that their social media following is basically bigger than a normal social media user but smaller than a celebrity or a mega influencer.
In other words, you probably should think of micro-influencers as experts in a particular niche that are all about creating amazing, informative content for their loyal audience.
That's why you should do your best to find them and reach out to them.
Before we get into why you should partner with micro-influencers, let's see an example of a micro-influencer.
Simo Ahava is a digital analytics developer and is known for sharing killer informative content around Google Analytics and Google Tag Manager.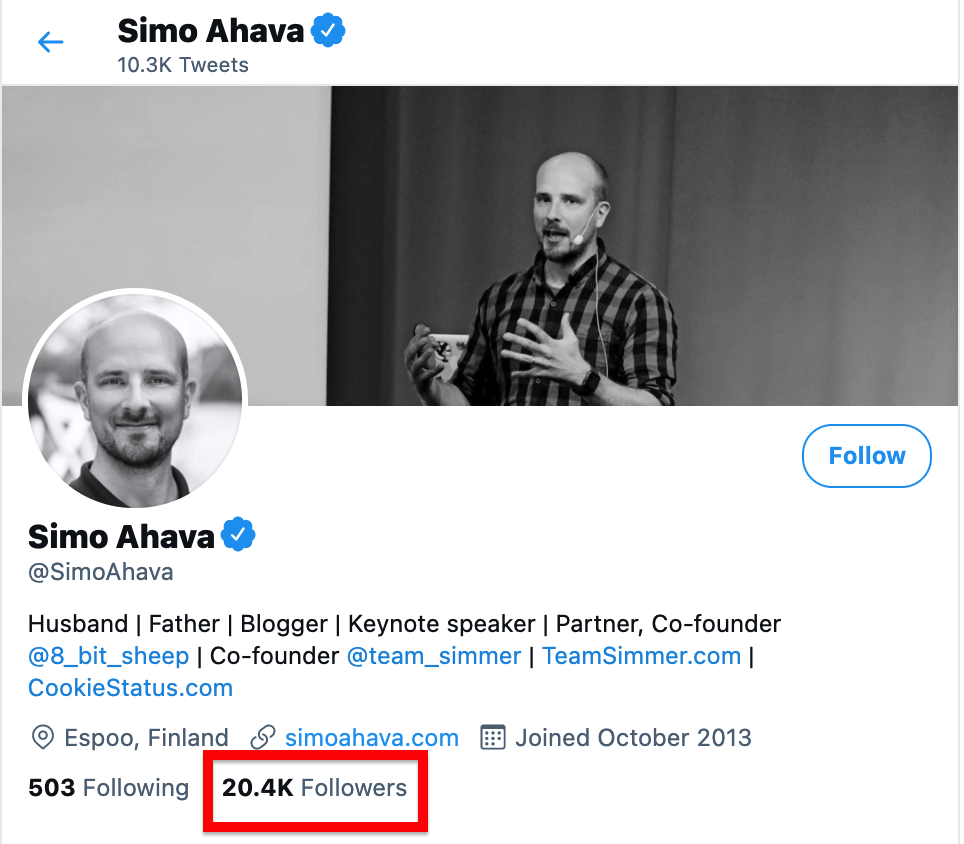 If Facebook's decided to use Simo's Facebook templates for Google Tag Manager, then he must be doing something right.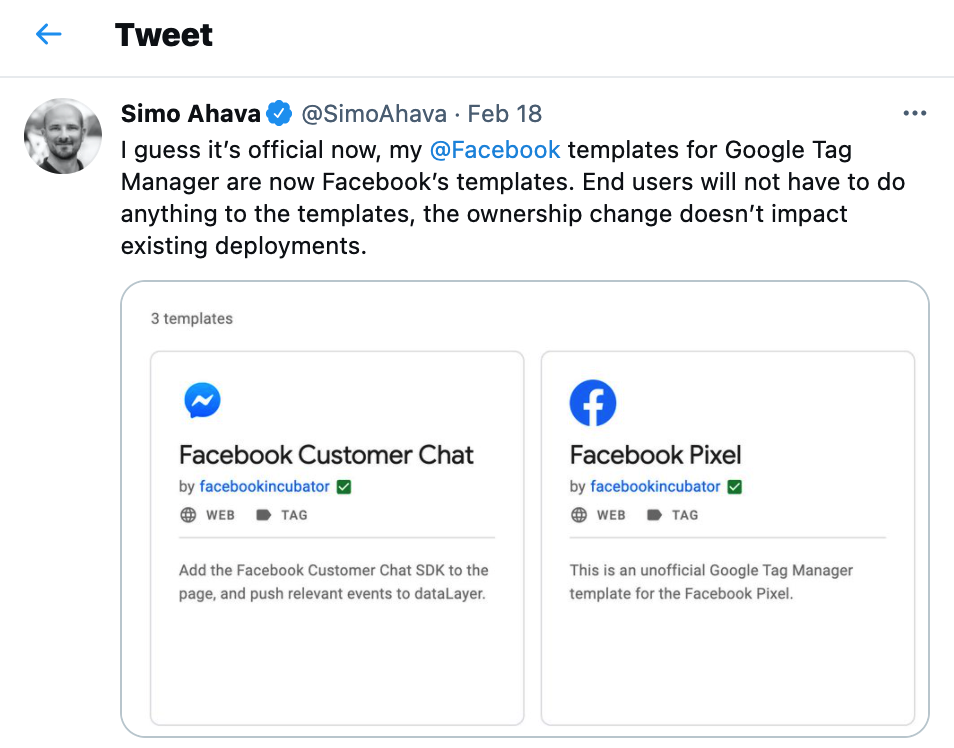 His follower count isn't huge, but trust me when I say that people in the analytics niche are definitely making sure to keep up with Simo's content.
The same with New York City-based small firm attorney Amanda Schaffer, who is a niche expert in DIY digital marketing for solo and small firm law practices.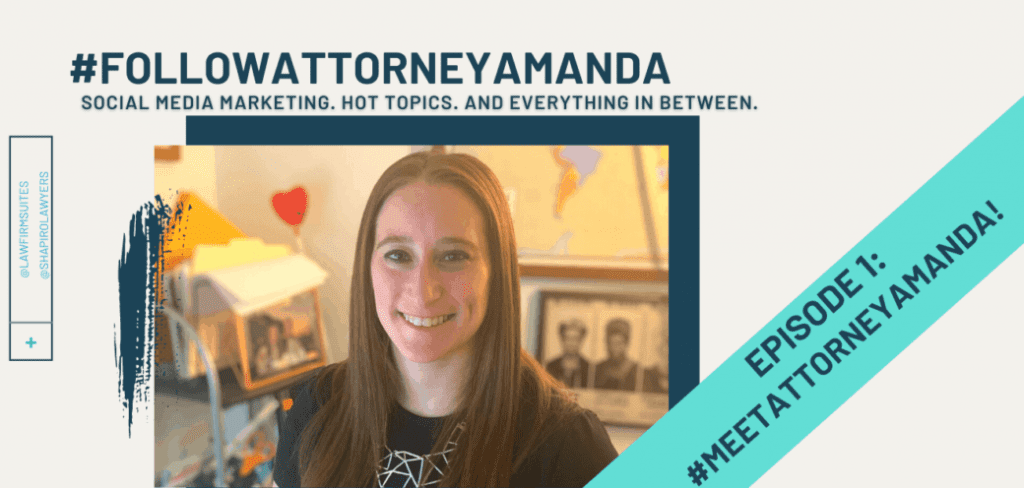 Amanda's overall reach may be small, but through her vlog project #FollowAttorneyAmanda, which chronicles her ongoing digital marketing efforts for her small immigration law practice, she gets tons of eyeballs in this lucrative niche: solo and small firm attorneys in the New York City metro area.
To sum up this section, a micro-influencer is a thought leader in a particular niche.
They're professionals, content creators, and everyday people who create relevant content for their targeted audience and are capable of influencing their audience's decisions in terms of their buying decisions and the type of content they consume.
Let's get into why you should use micro-influencers for your business.
Why Should You Use Micro-influencers for Your Business?
There are several reasons why you should try to find the right influencers in your niche and work with them in order to promote your business.
In one sentence, micro-influencers are cost-effective and are great at achieving high engagement within their target market.
They may have a smaller following than other social media influencers and celebrity influencers, but the fact that they focus on a smaller segment of the market allows them to create stronger relationships with their audience and achieve better engagement.
Let's get into the first reason why you should build a micro-influencer campaign.
Reason #1: Reach a wider audience
If you're just starting out and want to build an engaged audience but don't know how, then you should totally consider making use of the power of influencer marketing.
As you probably already know, influencers are people that have a well-established audience – no matter how big or small – that interacts with their Instagram posts, listens to their podcasts, follows them on LinkedIn, and generally engages with the content they produce.
Coming together with an influencer who'll present your product, recommend your services, or simply give their honest opinion about what you offer, means that the influencer's audience will see your product and engage with it.
This can be particularly useful when an influencer is working within your niche.
For the sake of an example, let's say that you're a presentation maker like our sister company, Visme.
To reach a wider audience within that niche would mean that we'd need to partner with an influencer that produces content relevant to the online presenting space, thus helping us increase Visme's reach to its target audience.
In other words, it wouldn't make much sense to approach Simo Ahava, the digital analytics expert we talked about a little further up, but it'd totally work trying to partner with someone like Oli Gardner who co-founded the software company Unbounce and recently founded Be the Keynote.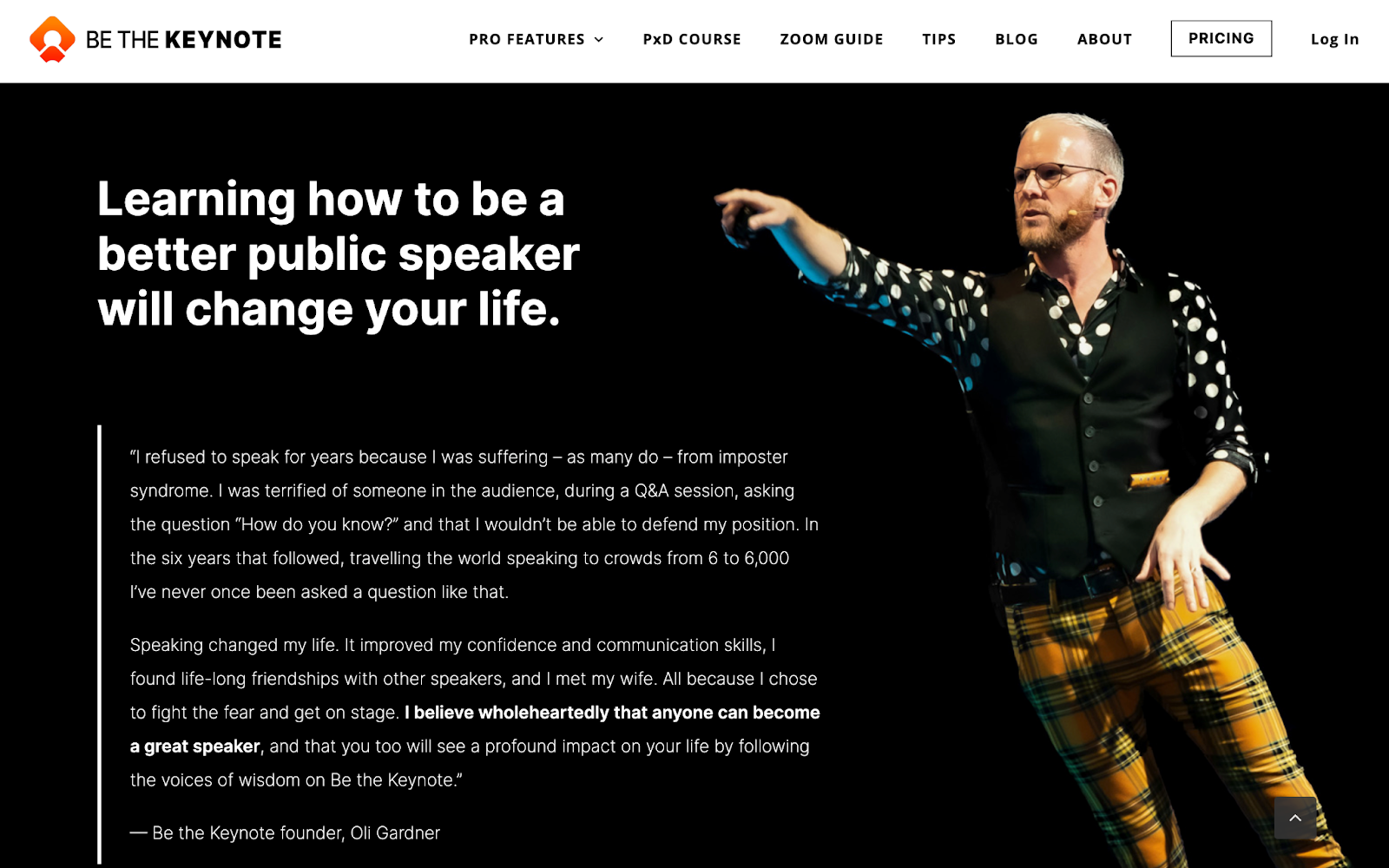 Be the Keynote includes mini-courses and gives people who sign up for it access to professional speakers that can help them overcome their public speaking fears and become exceptional speakers.
Given that Oli's new startup focuses on giving virtual and in-person presentations, we can't help but think that a potential connection between someone like him and a presentation software company could help significantly in terms of getting the company's message across and establishing themselves in the presentation-making space.
Reason #2: Build brand awareness
Whether you're a marketer, a marketing agency, or a small business owner, partnering with micro-influencers – real people that create niche branded content – will increase your chances of boosting brand awareness.
In one sentence, micro-influencers can make your brand more popular within their niche, which, if you're working with them, would probably be your niche too.
According to a 2016 Twitter study, nearly 40% of Twitter users state that they've made a purchase as a direct result of a Tweet from an influencer they follow.
Twitter might be just one social media platform but the results are quite similar in terms of how likely followers are to make a purchase when they get a product recommendation from an influencer.
The way this works is based, to some extent, on word of mouth marketing which basically means that influencers share their experiences from a brand with their followers, thus influencing their purchase decisions.
An example of a brand using an influencer to raise awareness of their products is FabFitFun with digital creator Keaton Milburn:
As you can see, Keaton offers her audience a discount code they can use when placing their orders with FabFitFun.
Plus, in the first eighteen hours, the post already got over 7,000 likes, which means that in a few days thousands of people will get to see the promotion and get to know the brand.
That's a great example of raising brand awareness by leveraging the audience of a micro influencer.
Reason #3: Build trust with your audience
micro-influencers are the subcategory of influencers that base their work on social media and on creating a trustworthy relationship with their audience so as to deliver quality content that focuses on a particular segment of the market.
Because they have fewer followers than macro-influencers and mega influencers, we could say that they have the luxury of creating quality content that'll keep their fan base happy and will educate them – without having to worry about reaching every single audience member.
To put it simply, their work is much more targeted and specific, which basically means that they might reach a smaller audience but they will most probably reach the audience that matters.
Put another way, the fact that smaller influencers have a lower number of followers basically gives them the chance to communicate with their audience on a personal level, thus having a bigger influence on them.
For that reason, working with micro-influencers in your niche can increase your chances of building a niche-specific audience that'll give you higher engagement rates based on trust and authenticity.
In fact, a 2019 Edelman report informs us that 63% of consumers between 18 and 34 years old generally are more trusting of what influencers say about a brand than how a company shows itself in its advertising.
A nice example of a company partnering with a micro-influencer in order to – as we can imagine – bring a younger target audience from a particular niche is Timex with Trey Bryant.
Trey is someone who has over 50,000 followers…
…a number that might not be as high as others, but this partnership definitely works if you consider that his content focuses exclusively on men's style and fashion.
Trey's audience trusts him for his stylistic choices and Timex is leveraging that to build trust among their own audience.
After all, if someone who knows one thing or two about style trusts your brand, your audience can trust you as well, right?
Reason #4: Arrange a giveaway
Depending on the industry your company is in, you might want to explore all the different capabilities that micro-influencers can bring to the table.
More specifically, arranging giveaways, hashtag contests, or other social media contests can be an easy and effective way to achieve all those great things we discussed a little earlier in this post, like:
Reaching a wider audience
Boosting brand awareness
Building a trusting relationship with your audience
This fourth reason why you should work with micro-influencers in your niche can be summarized in the following:
Work with them because they have a well-tested, useful toolkit of different tools and methods for growing their audience and increasing awareness.
In other words, since influencers are known for – among other things – organizing giveaways and contests for their audience, why not take advantage of their expertise on this and work with them when you want to go for a considered and well-planned giveaway?
We're done discussing some of the most prominent reasons why a brand should partner with a micro-influencer as a marketing strategy that'll increase their brand awareness and audience reach.
Wanna see an example?
It comes from Tymo, a beauty brand, and it's from a giveaway they recently launched with influencer Jackie Wyers on her Instagram account.
The post got over 3,500 likes and around 230 comments.
Not that bad for a lesser-known beauty brand, right?
Let's get to the next section that's all about actually finding the right micro-influencers in your niche and reaching out to them.
How to Find Micro-influencers for your Business in 4 Simple Steps
You now know a thing or two about micro-influencers and why you should use them for your business.
What you don't know yet is how to find them and possibly do some efficient influencer outreach.
That's why we'll soon be getting into more detail about finding the right micro-influencers for your business in four simple steps.
To illustrate these four steps, we're going to use the following hypothetical scenario:
We're Respona – which we are! – and we want to find SaaS marketing-related micro-influencers that we could partner with and boost our digital marketing.
We will naturally do it by using Respona.
Author's Tip: If you want to reach out to influencers of all sizes rather than micro-influencers in particular, you could learn more about the process in a guide we've published in our blog and focuses on finding influencers.
Let's dive right into our first step.
Step #1: Find micro-influencers
The very first thing we're going to do to kick off the process is to start a new campaign with Respona by clicking on the blue plus icon.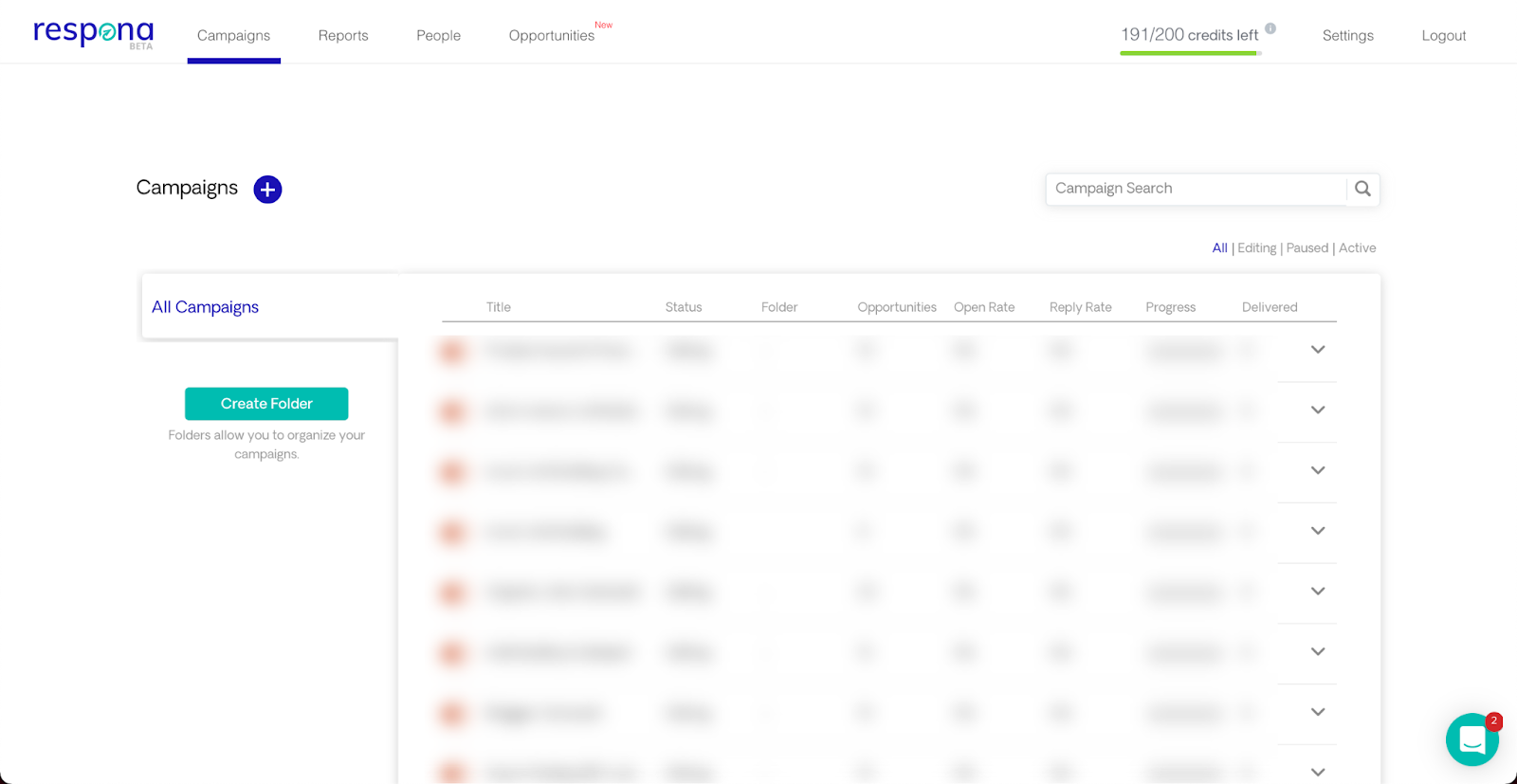 We then need to give our campaign an easy-to-remember name which can be as simple as Micro-influencers Campaign.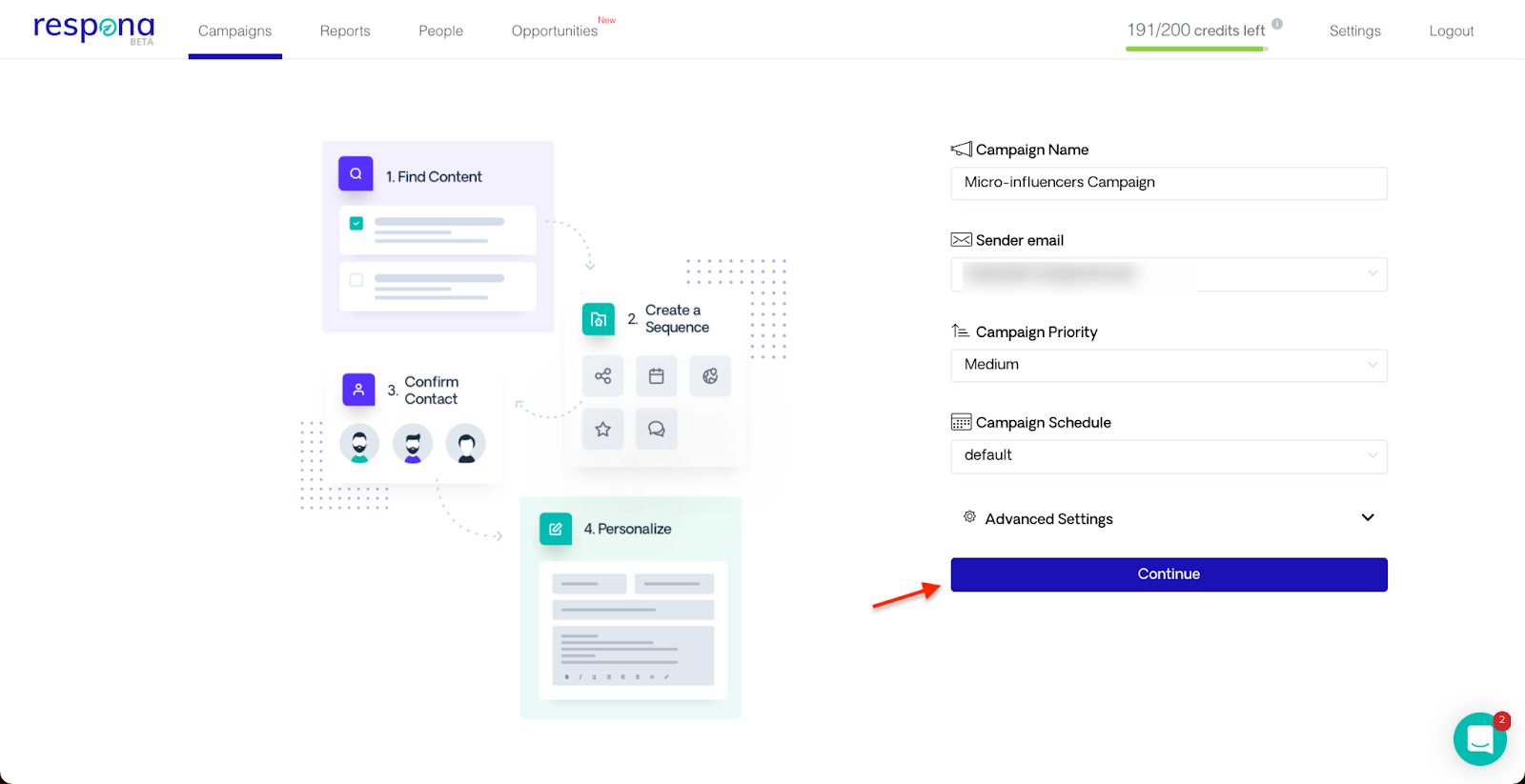 Additionally, before we click on the Continue button we've highlighted above, we need to set our camping priority and campaign schedule, two steps that can be particularly helpful in terms of saving us time and helping us keep track of all the campaigns we might be running at the same time.
Moving on, Respona's built-in search engine works the same way as any other search engine you might be using online.
What's more, it allows users to select a source for their search, which, as you can probably imagine, helps quite a lot in terms of better refining your search.
For this particular campaign, we're going to choose the Influencers search source, given that we're looking specifically for influencers and not for…
News
Bloggers
Trending content
Podcasts
…which are some of the other options.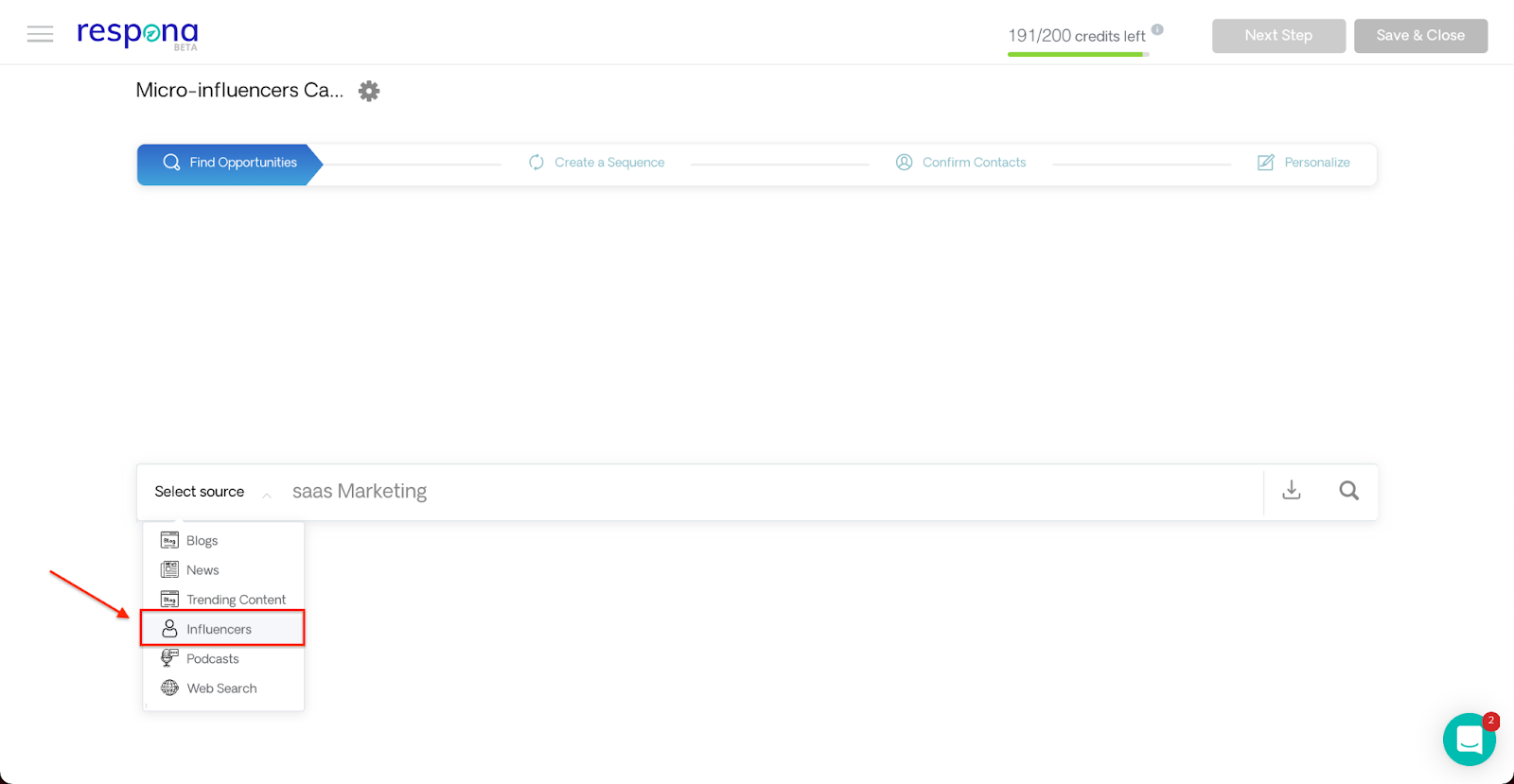 Since we're looking for micro-influencers specifically from the SaaS marketing industry, our search query will be exactly this: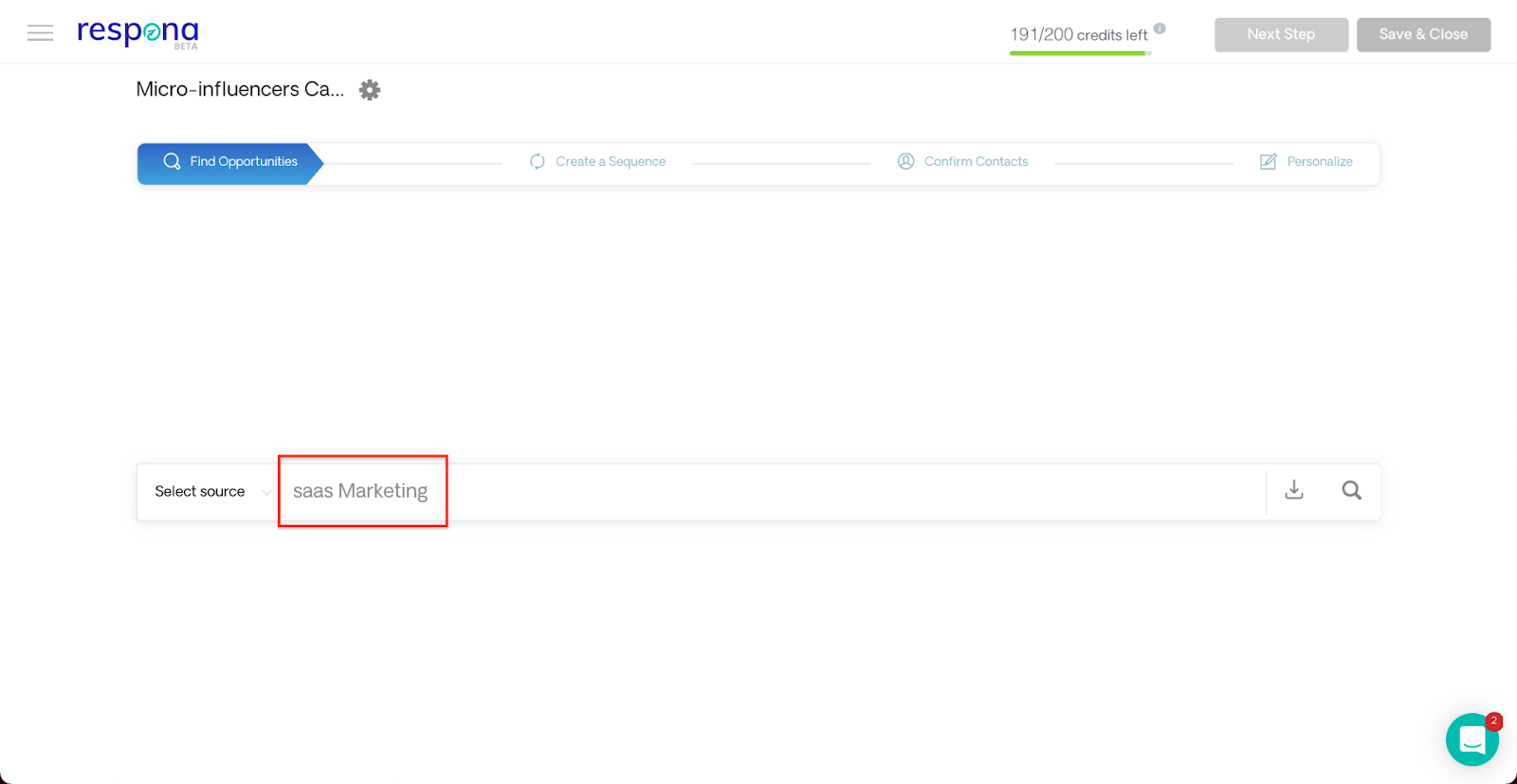 A more focused search query increases our chances of getting more relevant and refined results.
In other words, if we would have typed Marketing instead of SaaS Marketing in the search bar, we would've gotten more general results of influencers from all sorts of different marketing niches.
Put another way, depending on the search operator, Respona will find a number of influencers from the spectrum of influencers, from nano-influencers to mega influencers.
That's why adding specific search tags is a very efficient thing to do.
Additionally, having a closer look at the metrics highlighted below allows us to understand more about the engagement rates and following size each influencer has and choose the ones that'll resonate better with our business and target audience.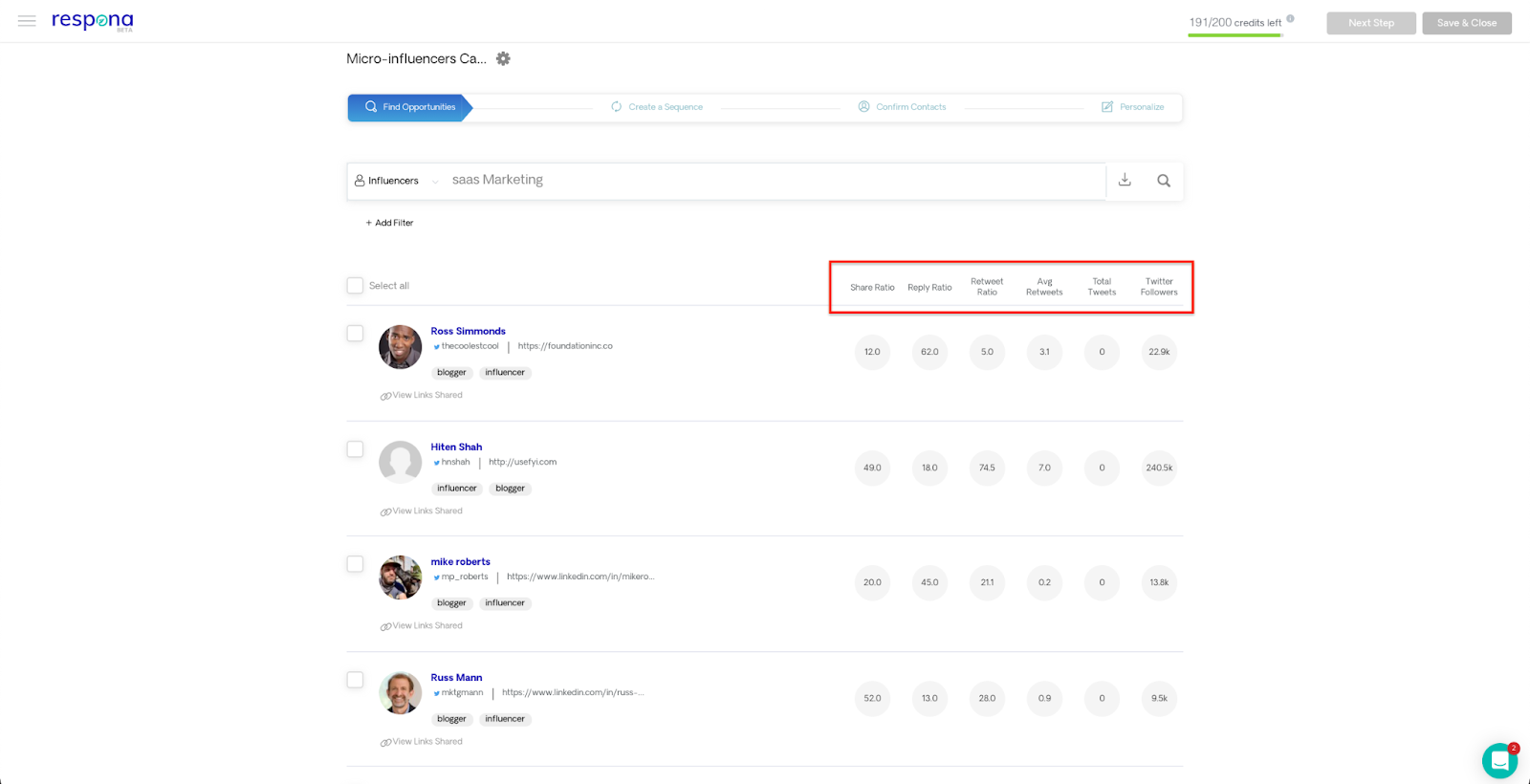 When reviewing the results, we can start clicking on each micro-influencer we want to make part of our micro-influencer outreach campaign.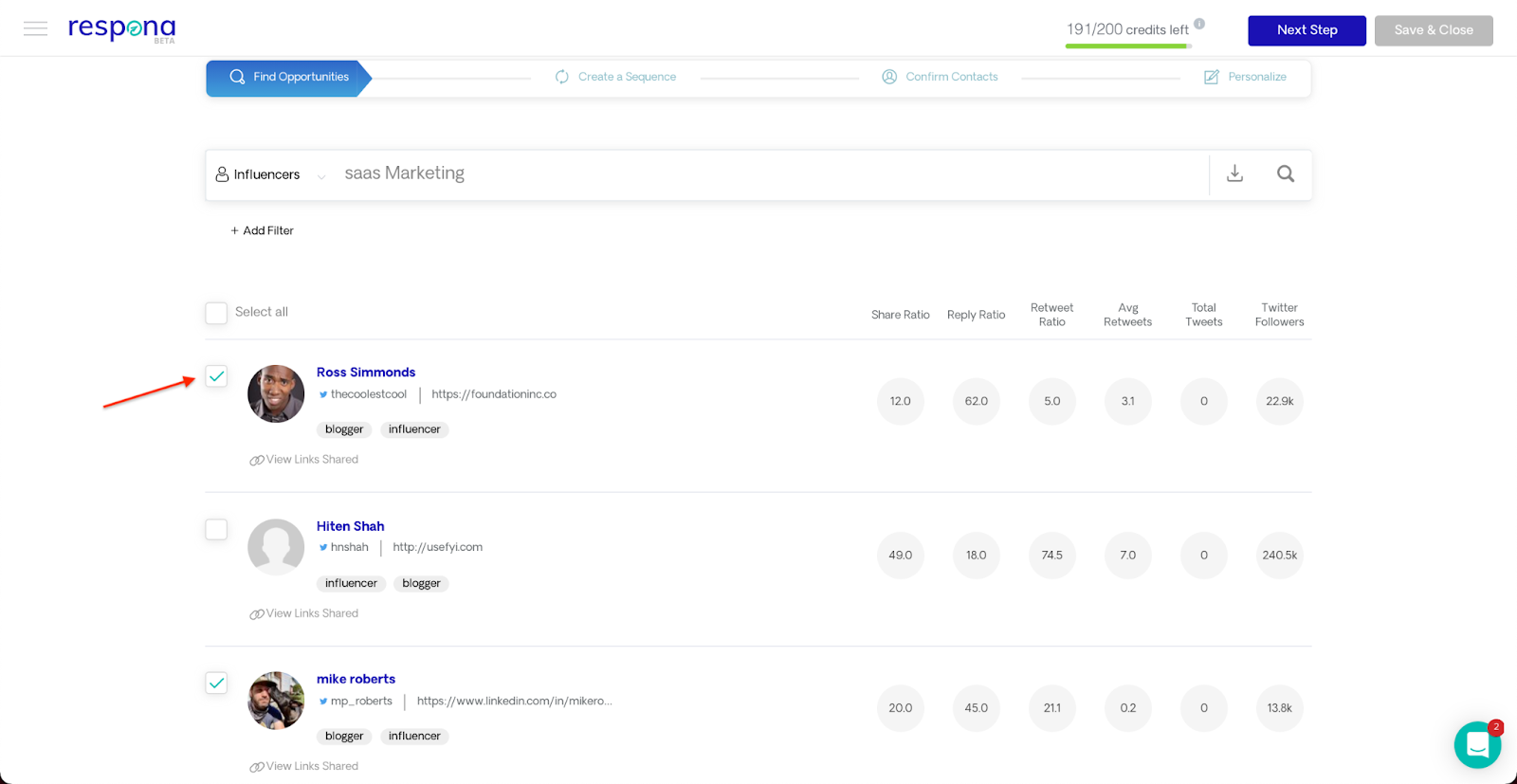 After we've selected all the influencers we'd potentially want to partner with, we're ready to start crafting our outreach pitch.
Step #2: Prepare your email pitch
With only 8.5% of outreach emails getting a response according to a 2019 Backlinko study, you can be sure that your email pitch needs to be thoughtful and well-curated.
If you want the micro-influencers you're going to reach out to actually care enough to get back to you, then you need to make sure that you craft a killer outreach email that'll be personalized and resonate with them.
Even though Respona offers a truly wide range of pre-made email templates that you can customize for your needs, it also allows you to create your own personalized email template and customize it accordingly.
For our micro-influencer campaign, we're going to create a new email template.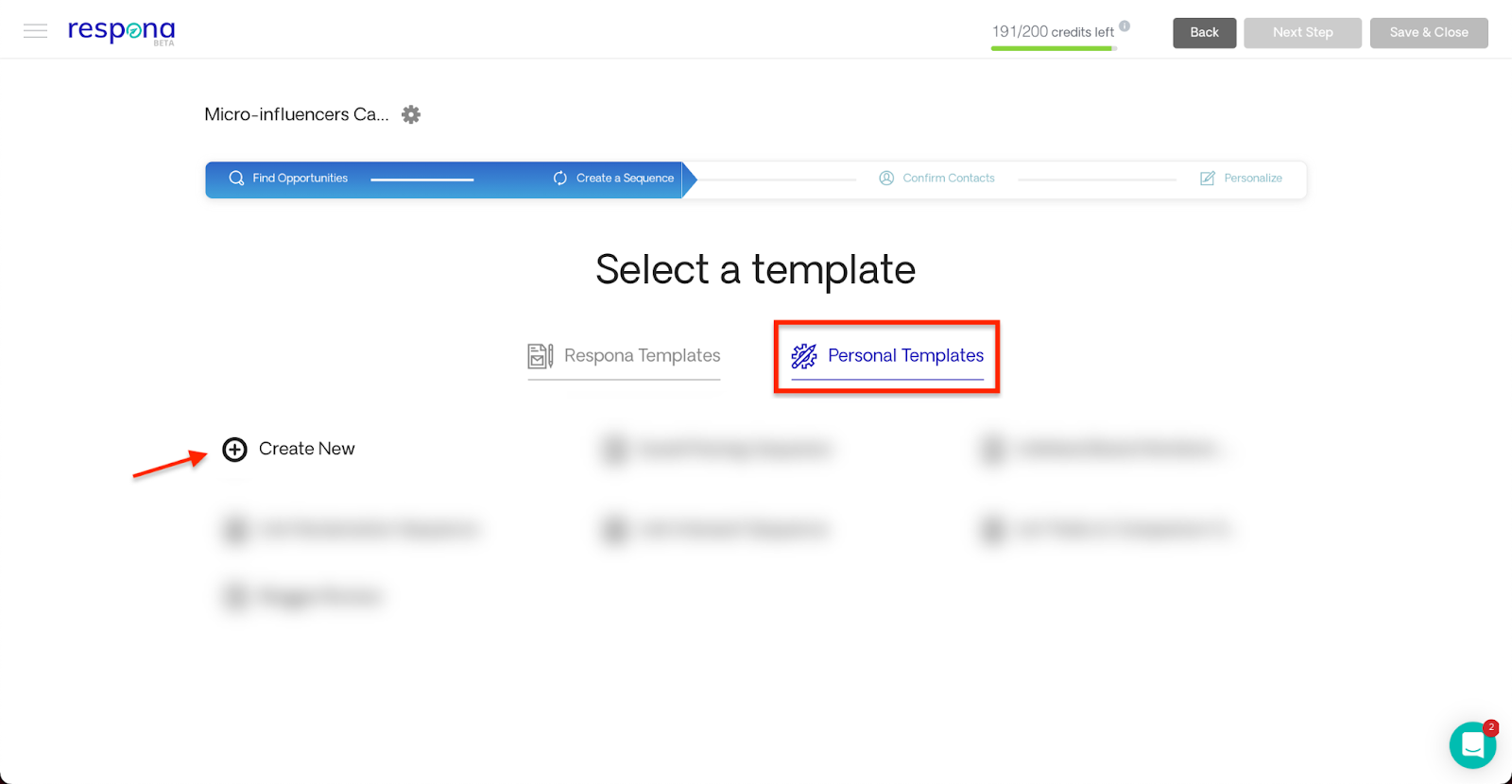 In the screenshot below, we can see how our email sequence looks with our initial email's subject line and customizable email opening line.
In case we'd want to add a follow-up email to our sequence, it'd appear right under the first email we've highlighted below: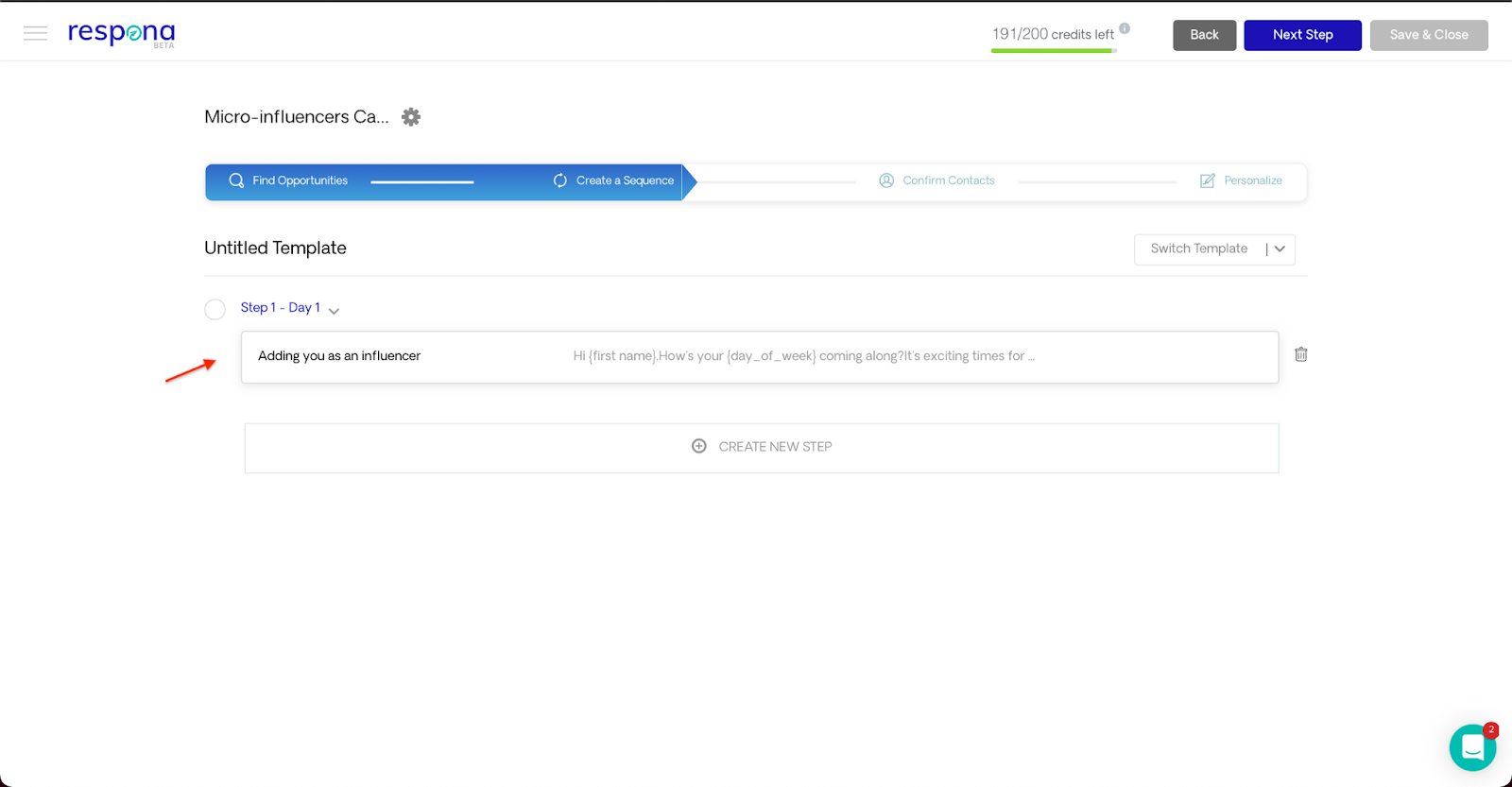 Here's our outreach email in more detail: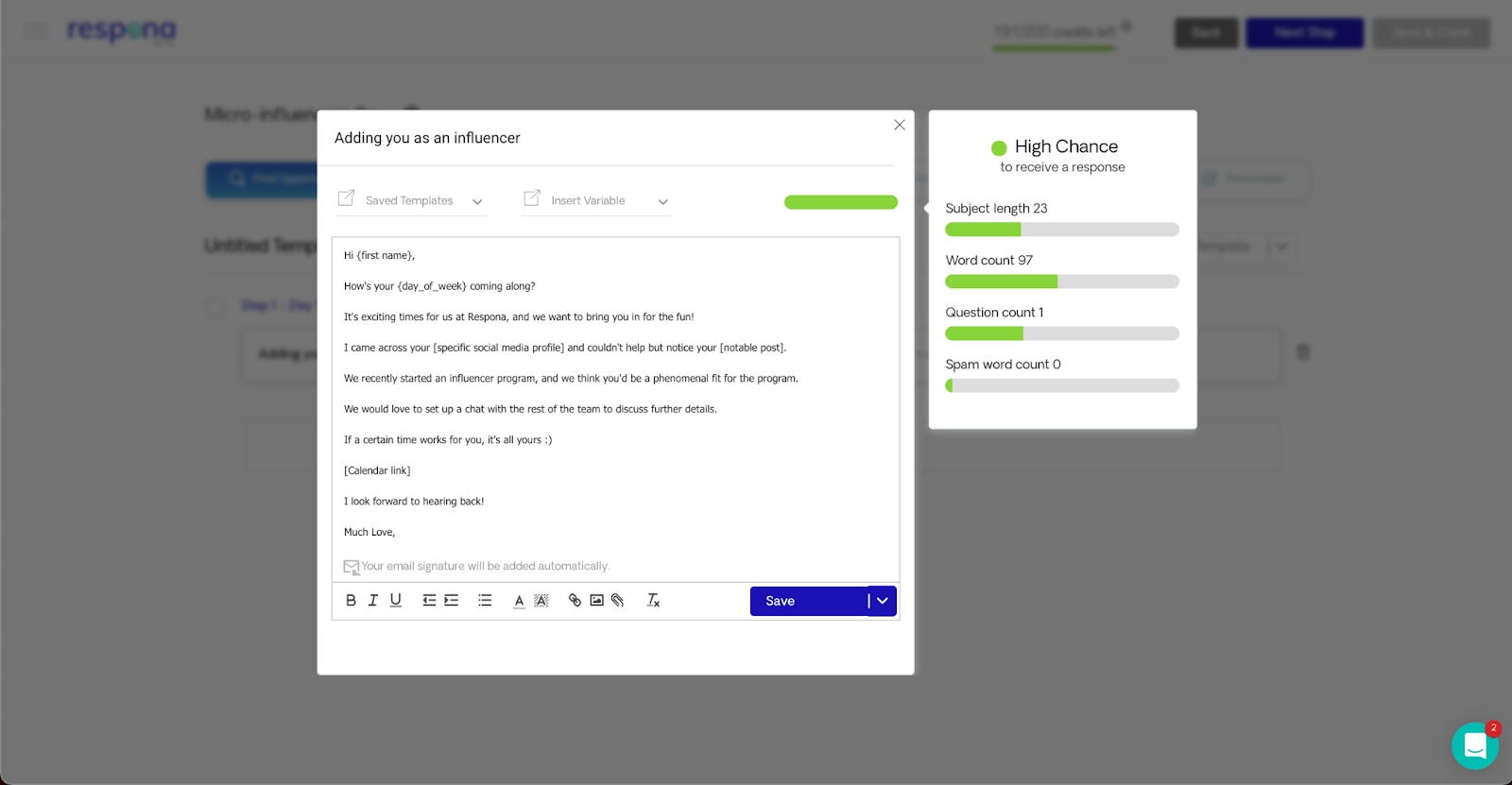 As you can see, we've included a number of variables that'll be adjusted depending on what we want to say to each micro-influencer in particular.
Our email isn't too long nor too short, and we've made sure to include a question in order to make it more engaging.
In case you're wondering what that window next to our email is, that's a Respona feature that automatically grades our email content to help us make sure that our email actually has a high chance of getting a reply.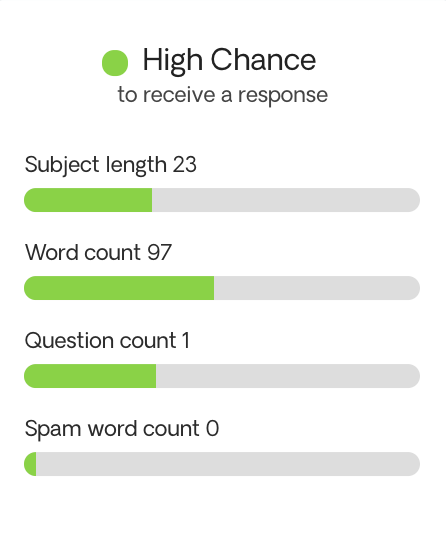 Once we've finalized the content of our email, we click on the Save button in the bottom right corner…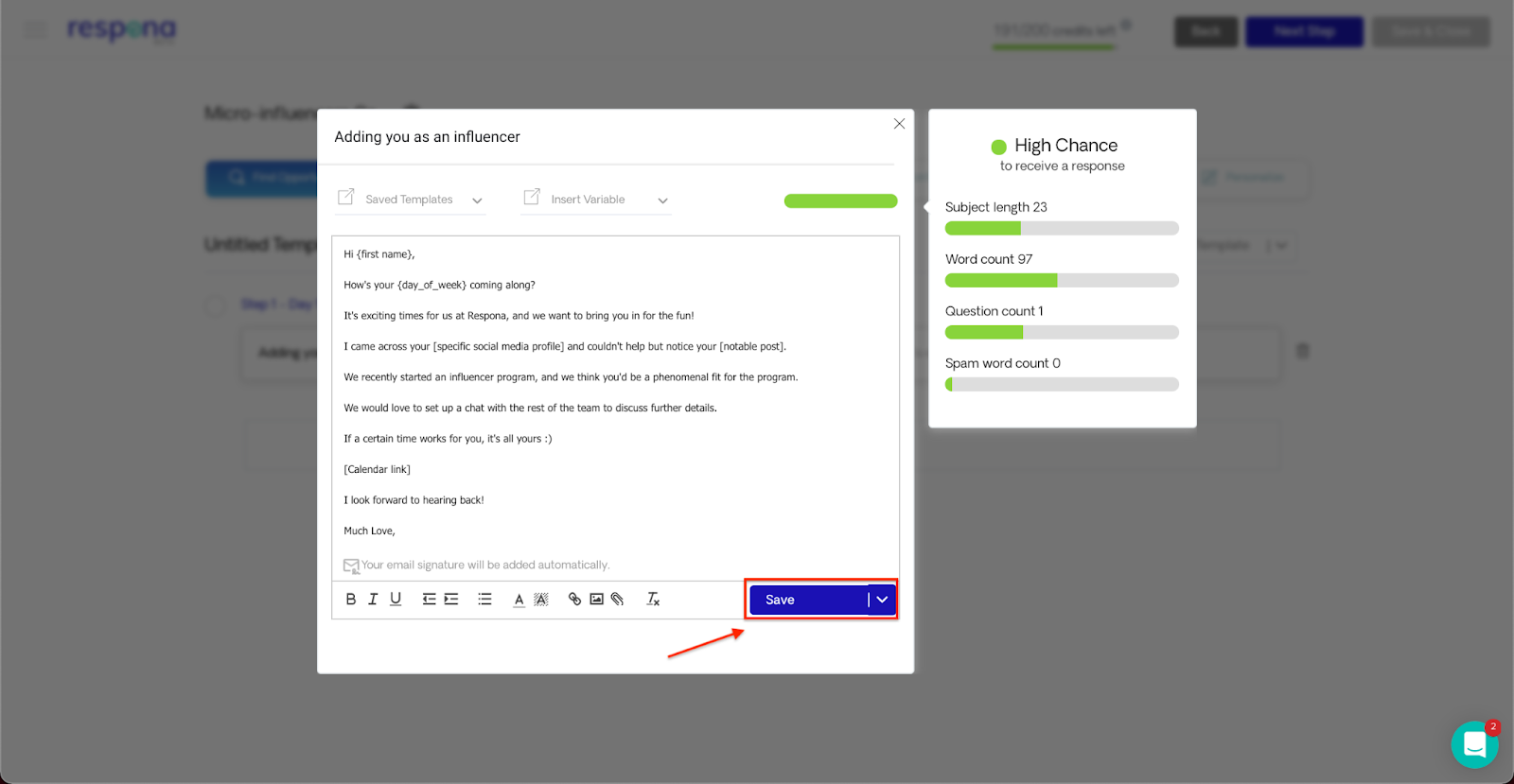 …and we can move on to the next step.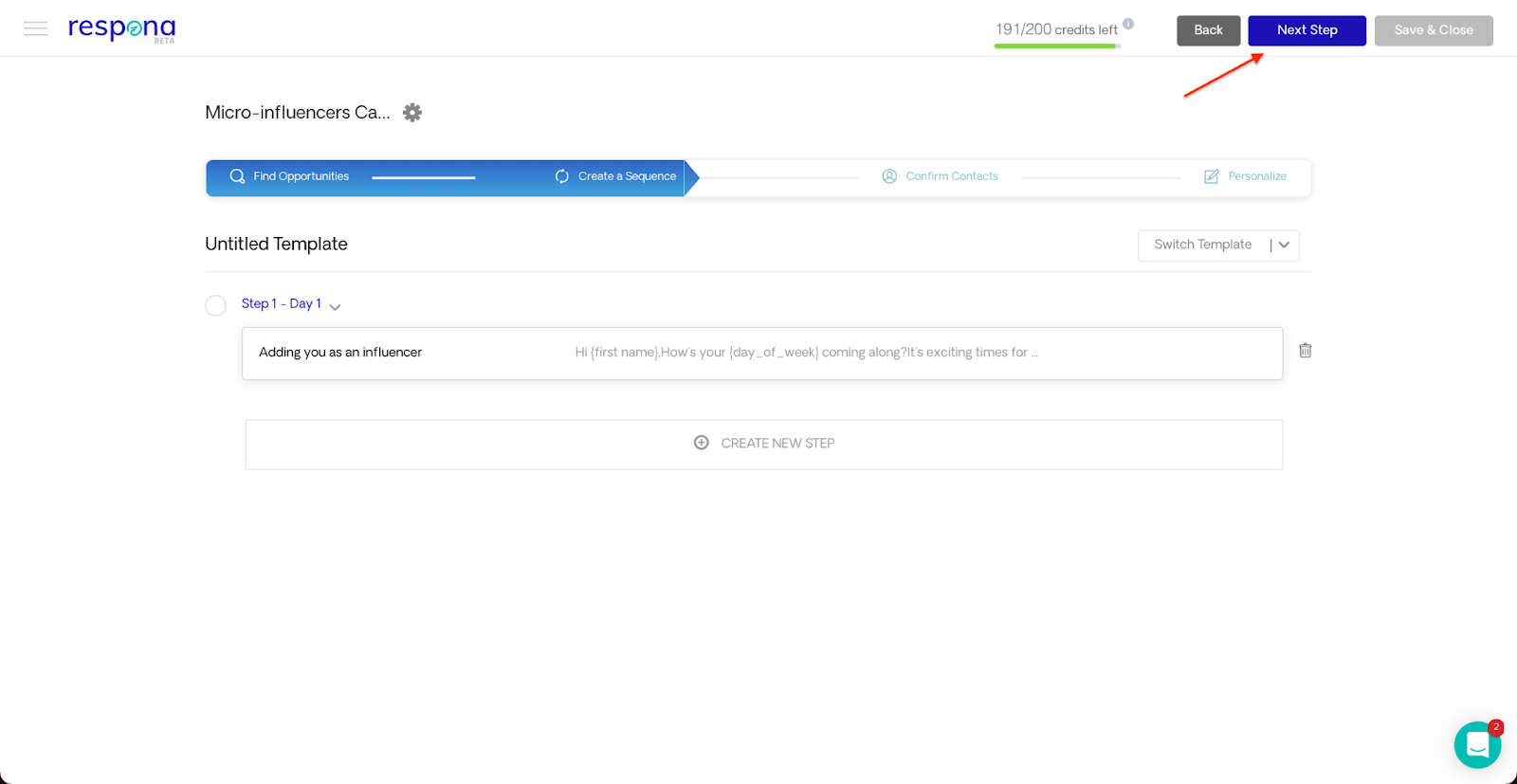 Let's get into finding contact information for the micro-influencers we want to bring into our business.
Step #3: Find contact information
Finding contact information for micro-influencers starts with the Respona automation setup.
Similar to the setup we'd do if we wanted to reach out to bloggers and journalists in particular, no matter where they might be working, we're asking Respona to assign opportunities to authors of URLs regardless of whether they work for the company that's associated with the URL.
Moreover, we're also asking the tool to not assign opportunities to anyone else other than the person who's associated with the article domain.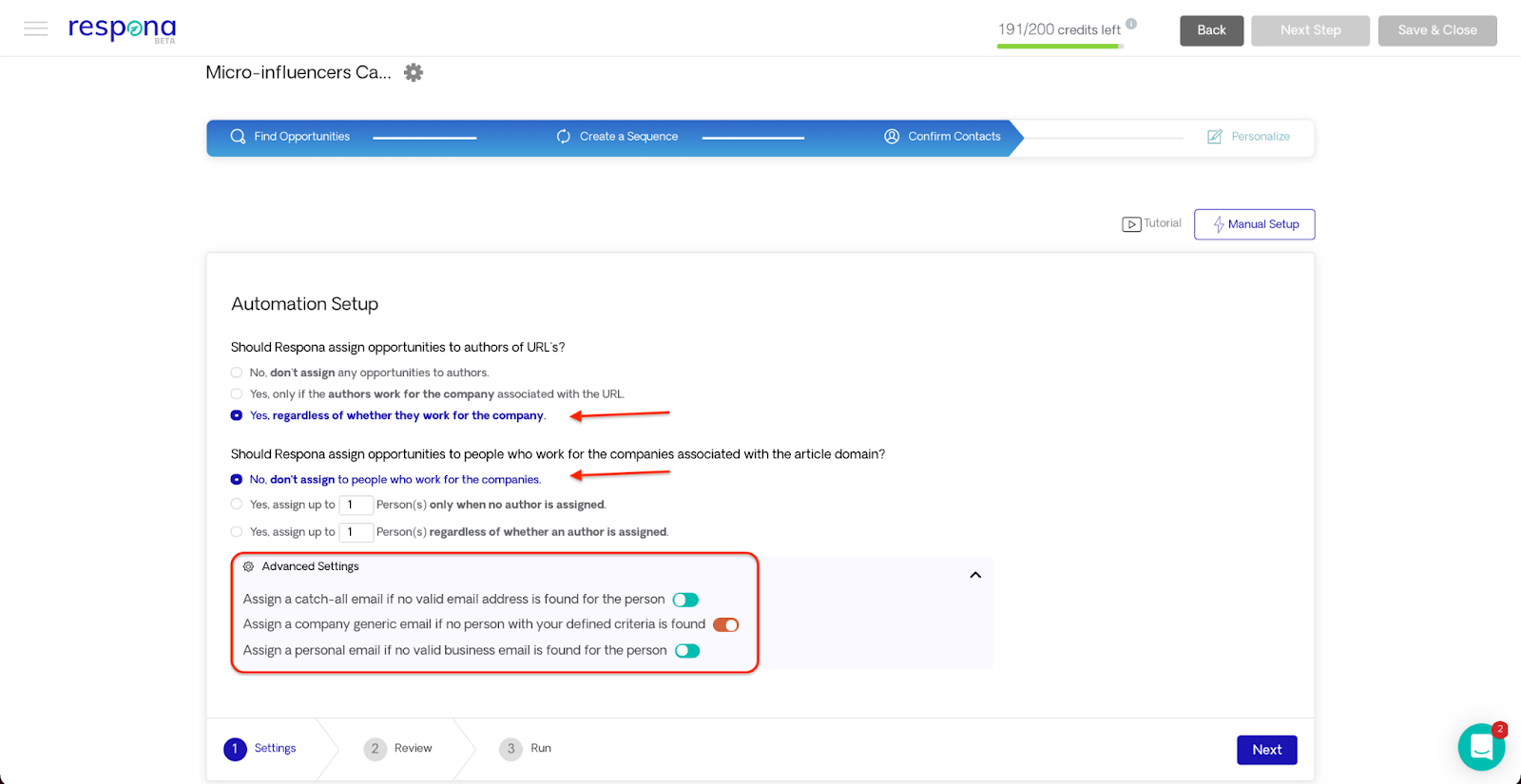 The advanced settings include:
Assigning a catch-all email if no valid email address is found for the micro-influencer
Assigning a personal email if no valid business email is found for the micro-influencer
Once our setup is complete, we're clicking on the button in the right bottom corner of the screen…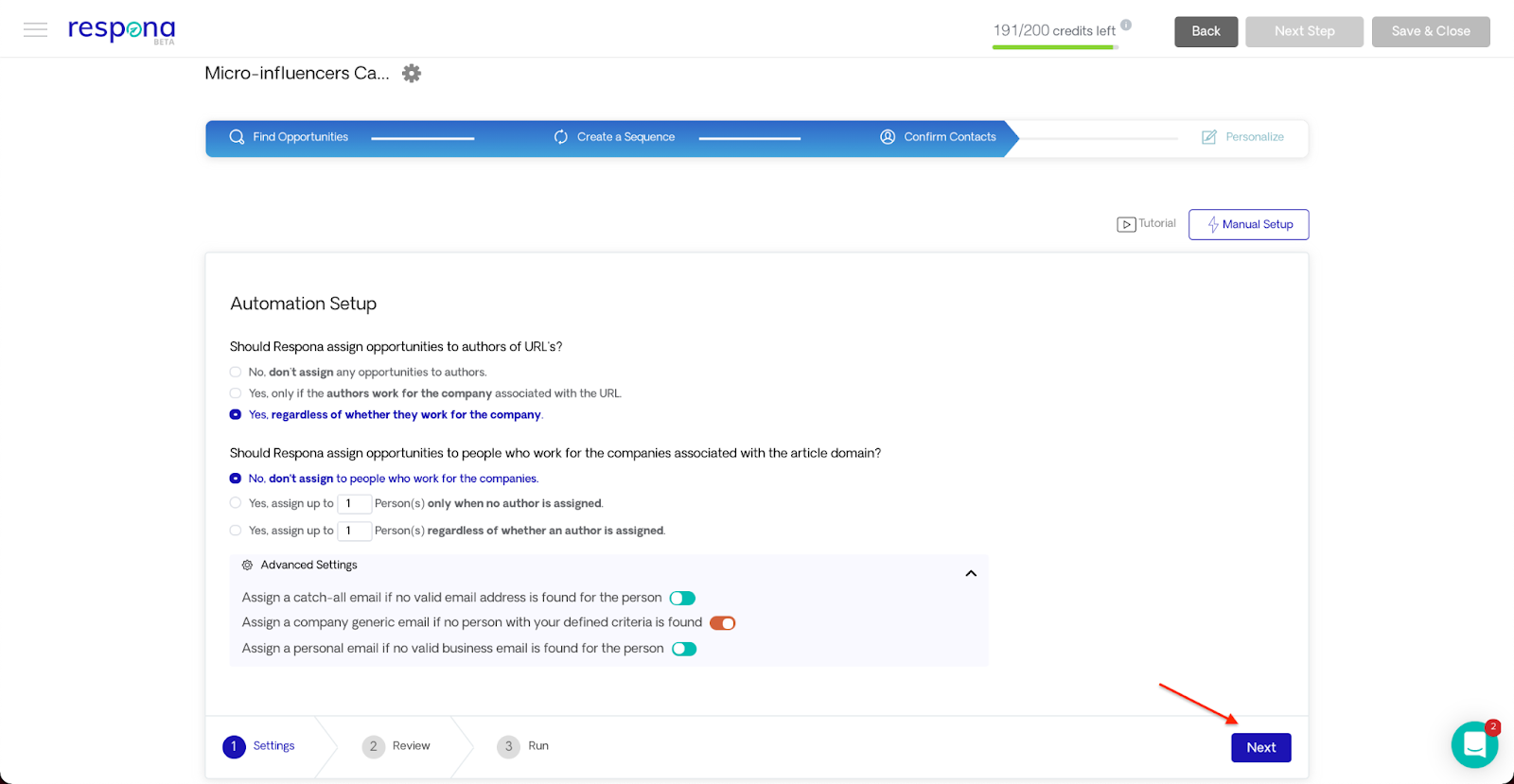 …which will get us to an automation review page: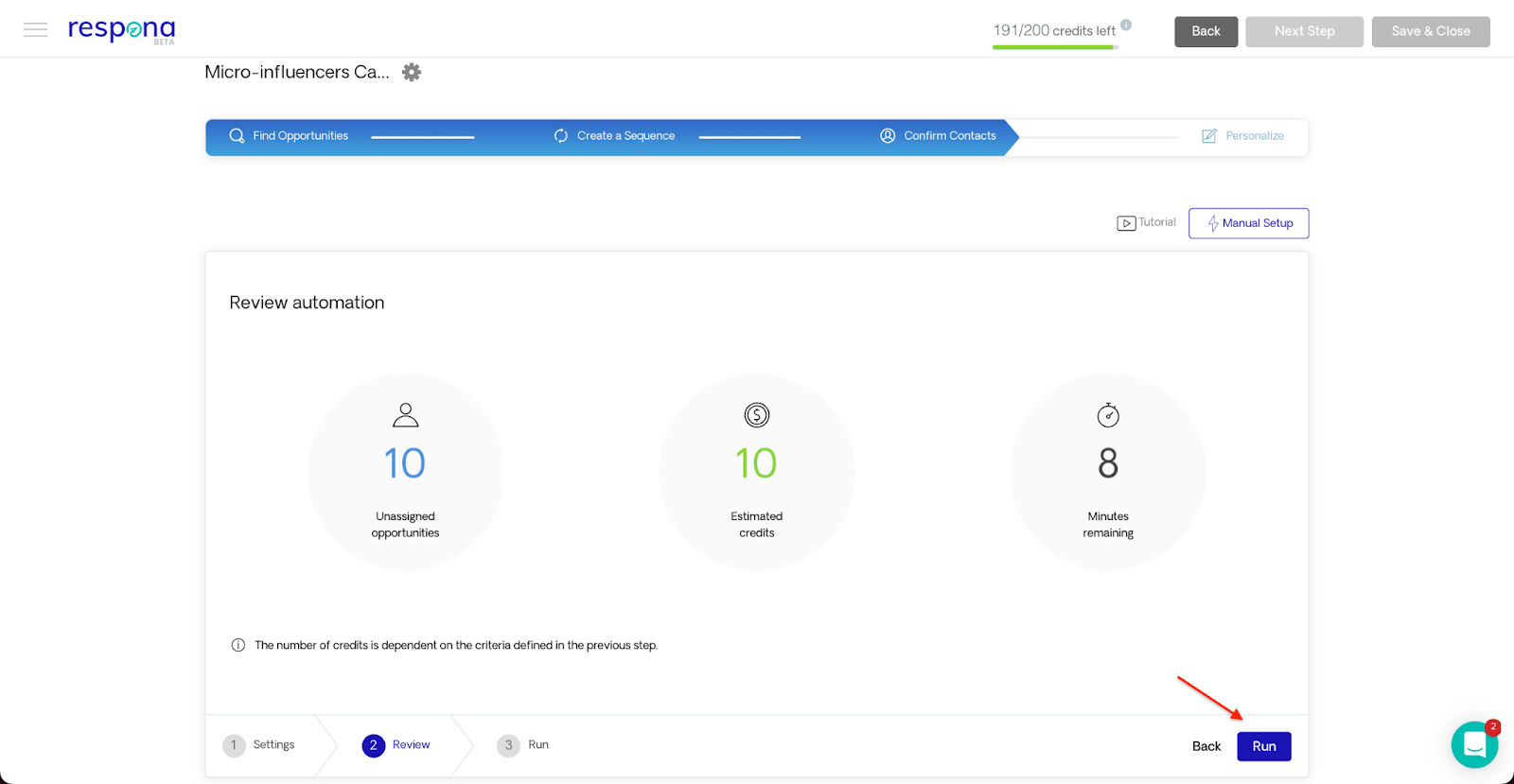 After running the automation, we can see that Respona has been able to successfully assign seven out of ten opportunities and spent only seven credits.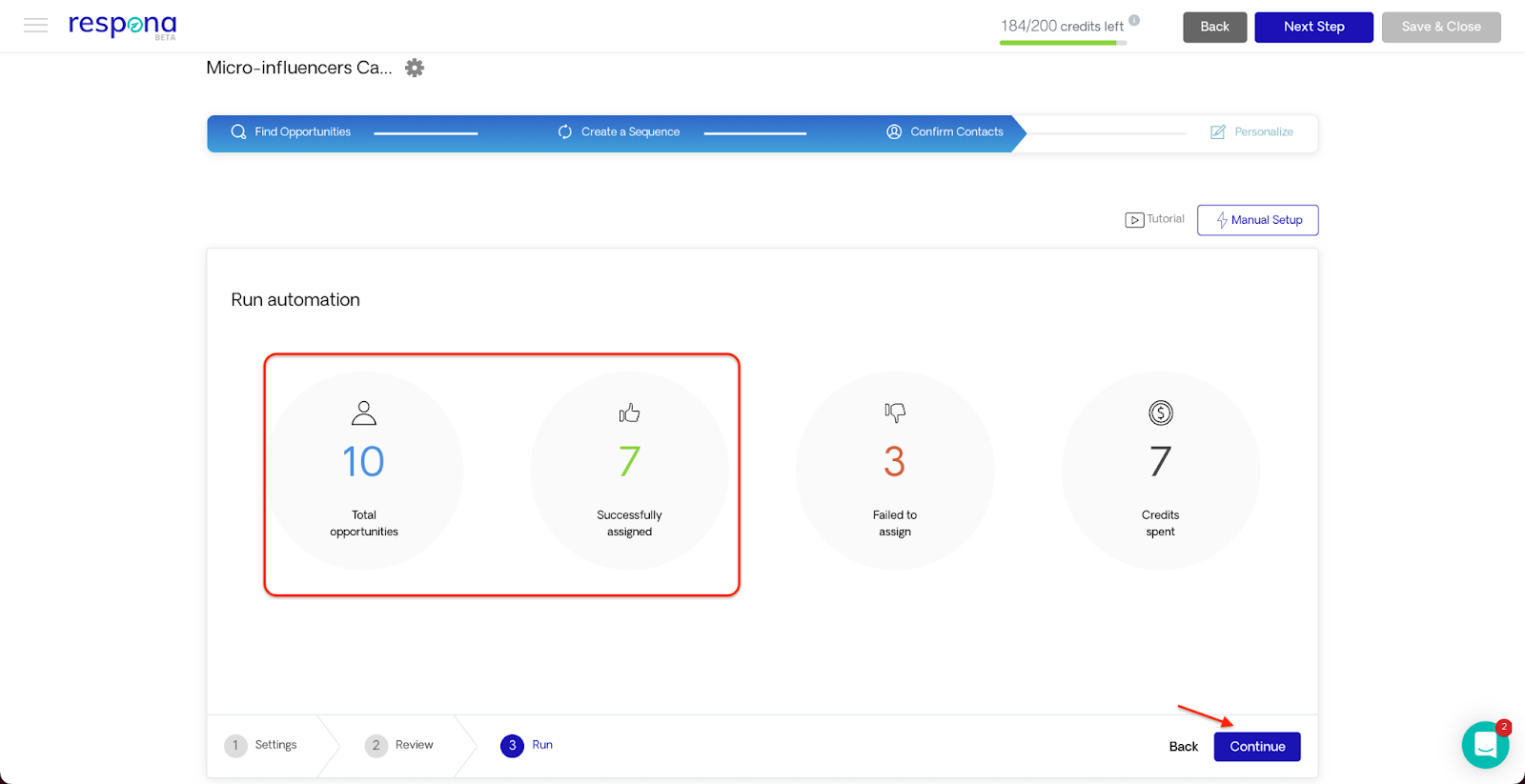 At this stage, we naturally want to make sure that we're not going to miss any of the opportunities we got earlier in the process.
For this reason, we'll be focusing on the unassigned opportunities and we'll try to find the contact information of the micro-influencers Respona hasn't assigned an opportunity yet.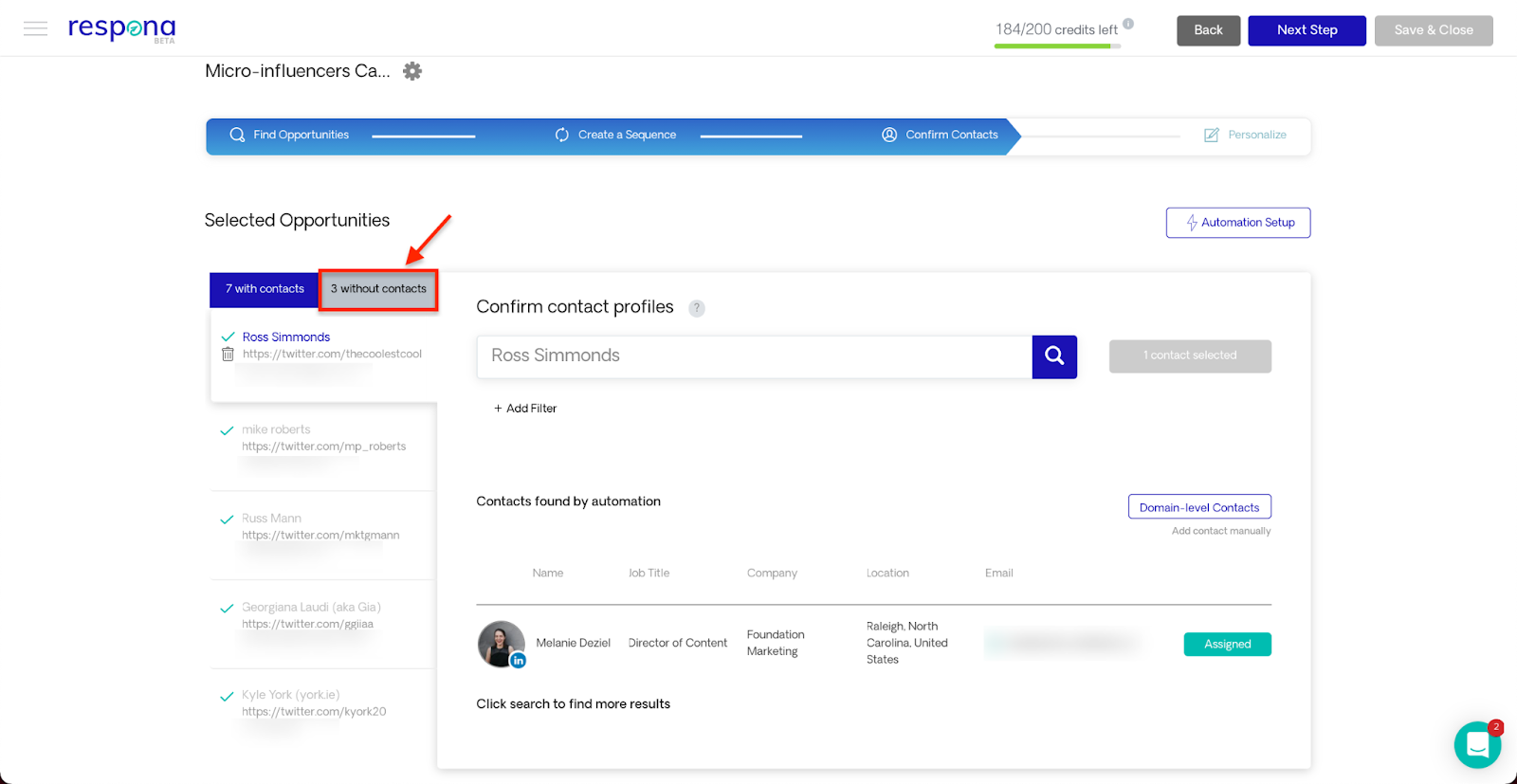 If you think that we need to do some advanced steps in order to find contact information for the three micro-influencers with no contacts, you'll be surprised to know that the process is, in fact, much simpler.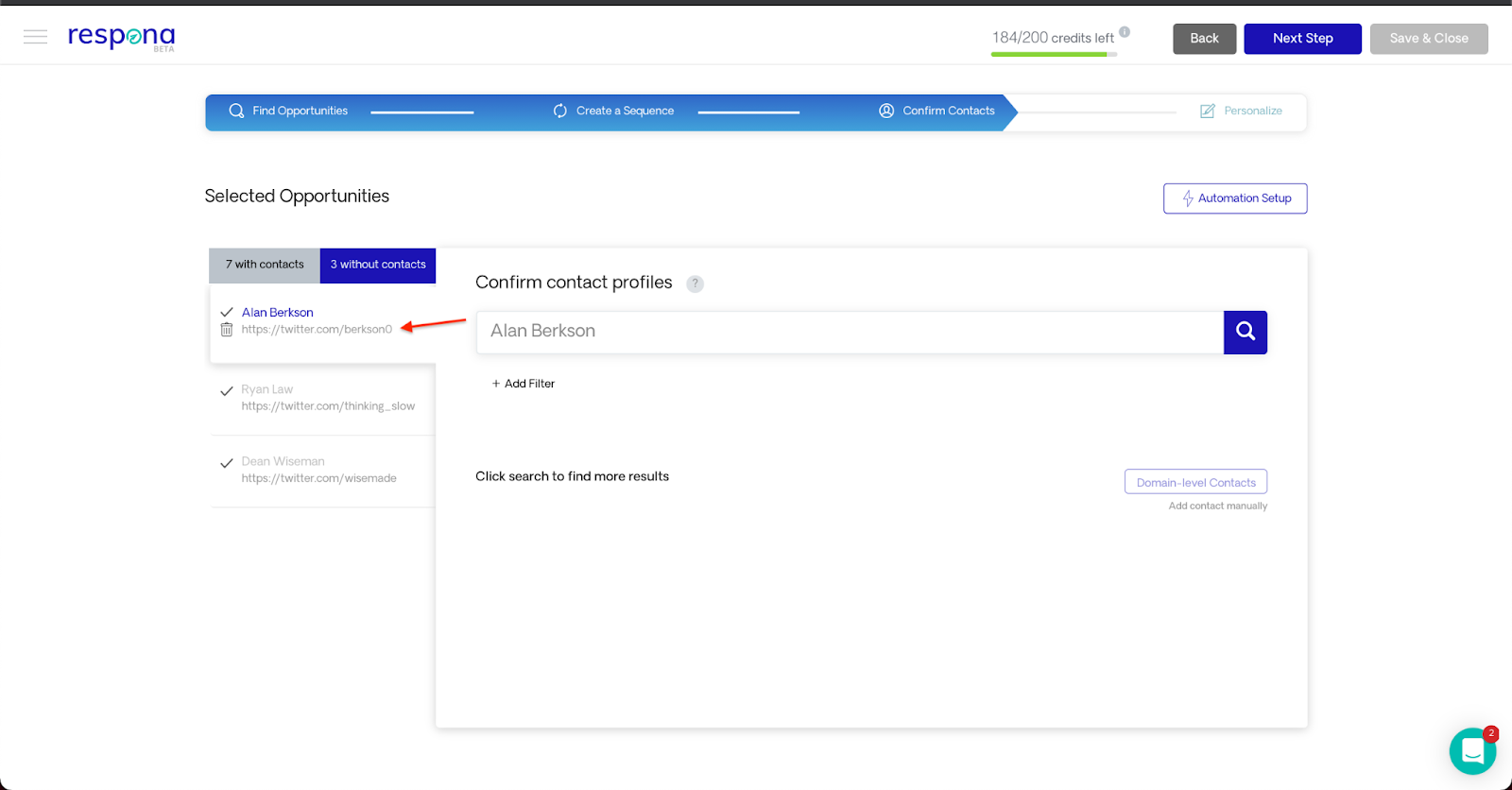 To do so, we're going to do something that's as simple as finding the social media channels each micro-influencer has.
For example, since Respona usually gives users access to the social media accounts of your prospects, we could start by going to the Twitter profile of one of our prospects…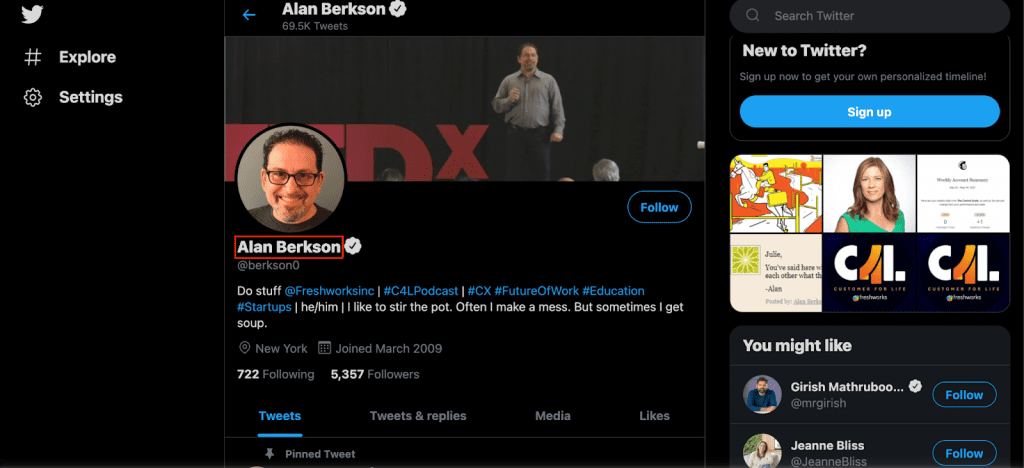 …and once we double-check their information, we could get to their LinkedIn profile: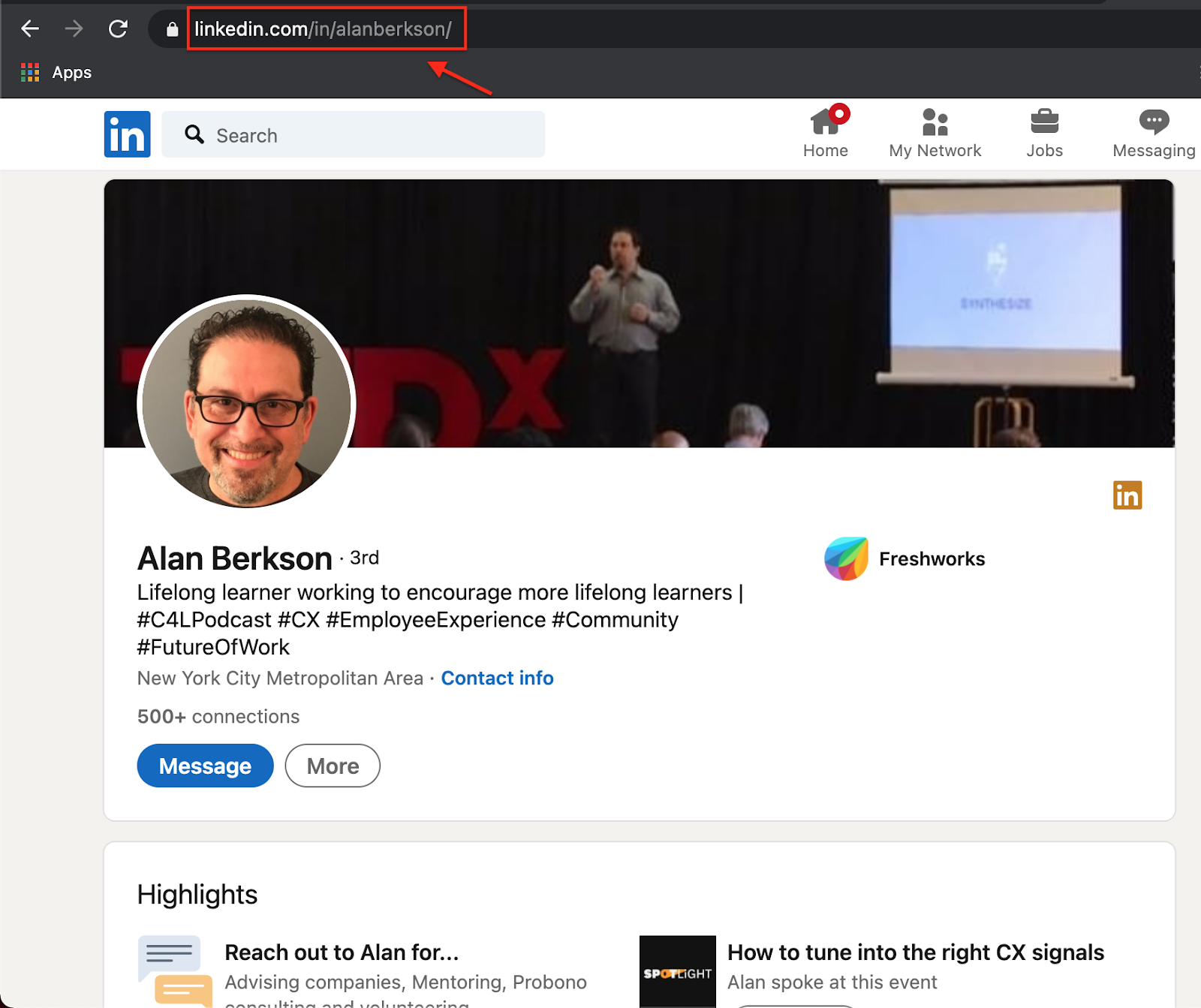 From there, we copy the LinkedIn profile URL to Respona…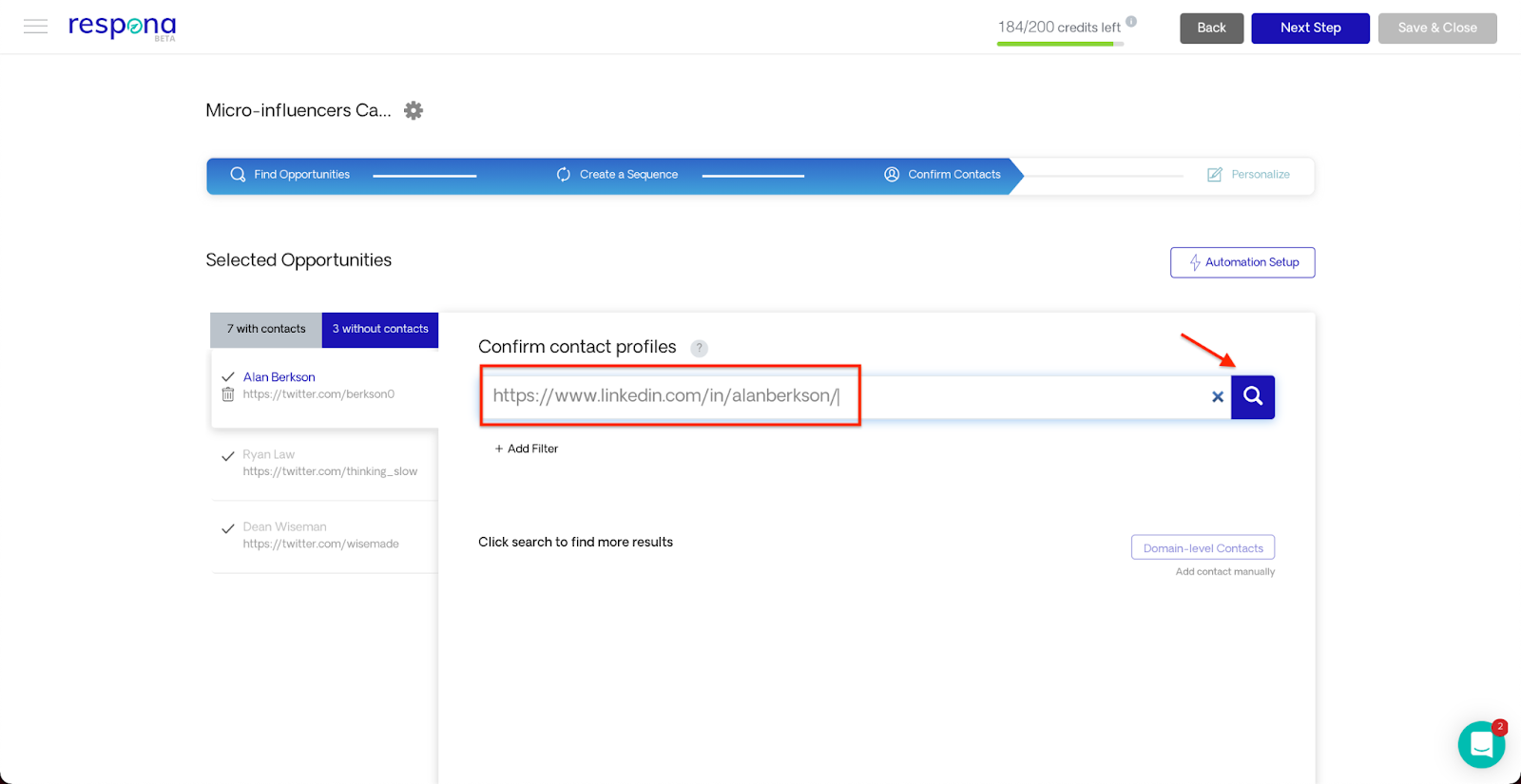 …and search for the prospect's contact information using the tool, simply by clicking on the Get Started button, exactly as shown below.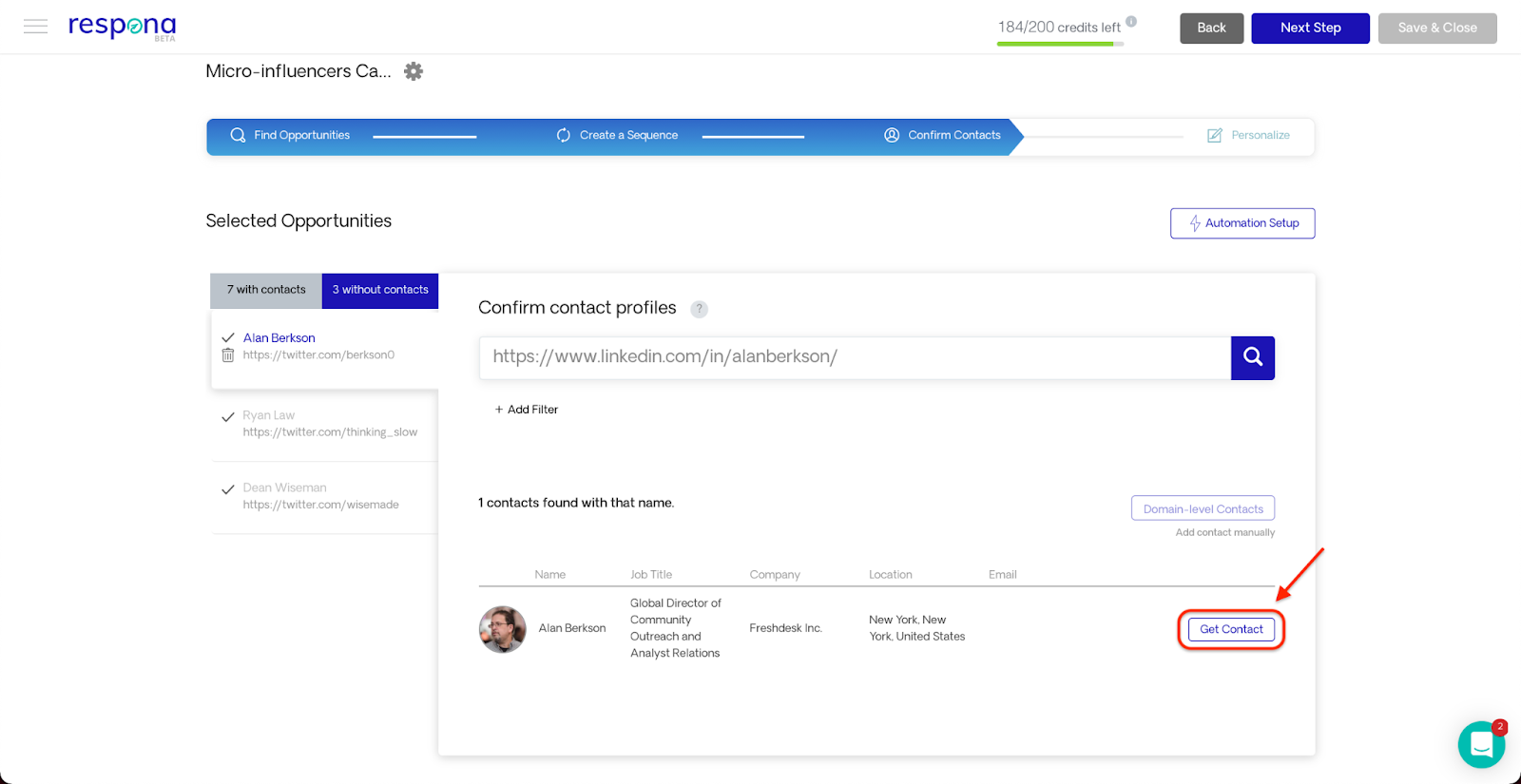 Although we've covered the email addresses found by Respona for privacy reasons, you can probably still see that we've found a number of different email addresses we can choose from.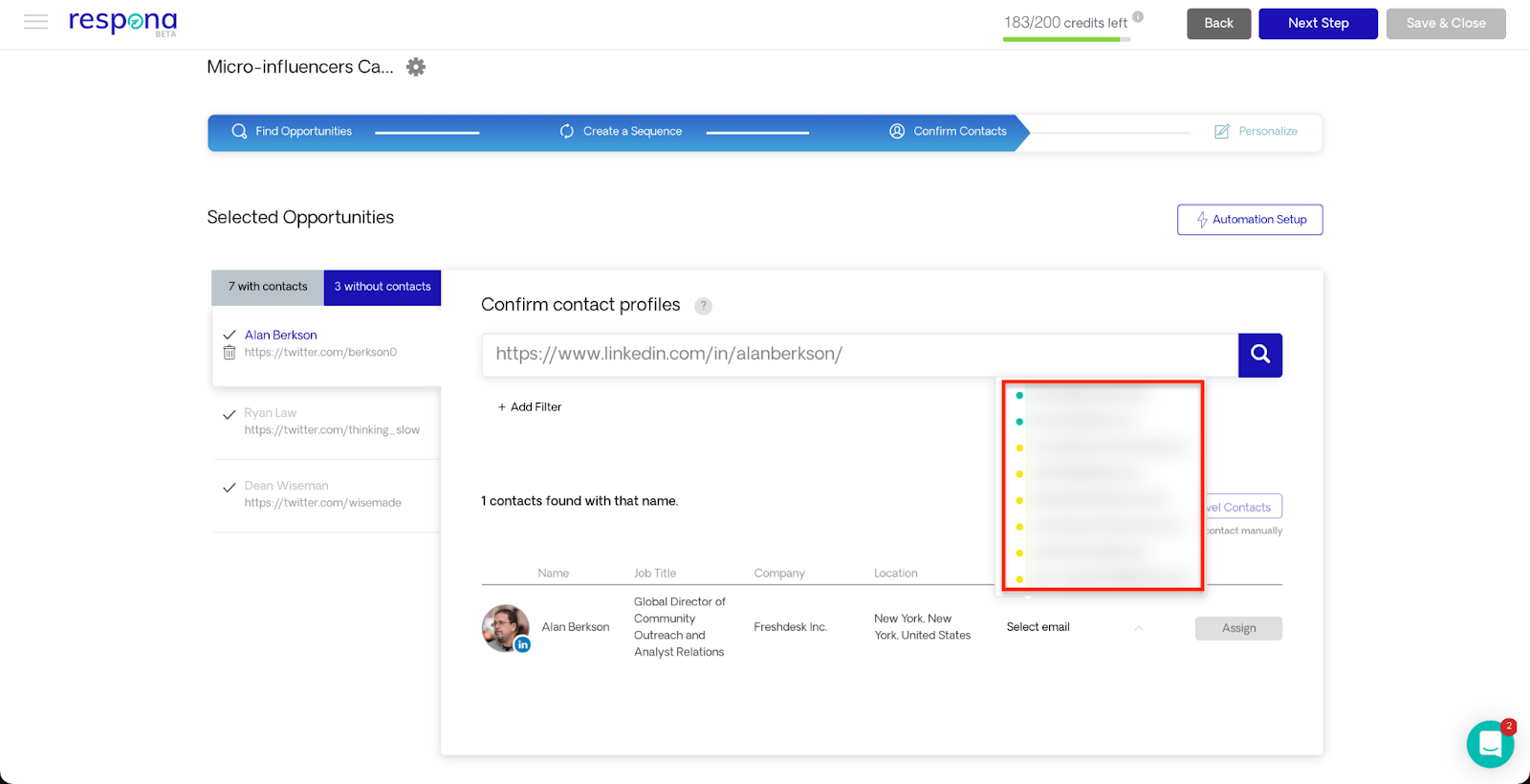 Once we make our choice in terms of the personal or business email addresses we want to use for our campaign, we can successfully assign our campaign.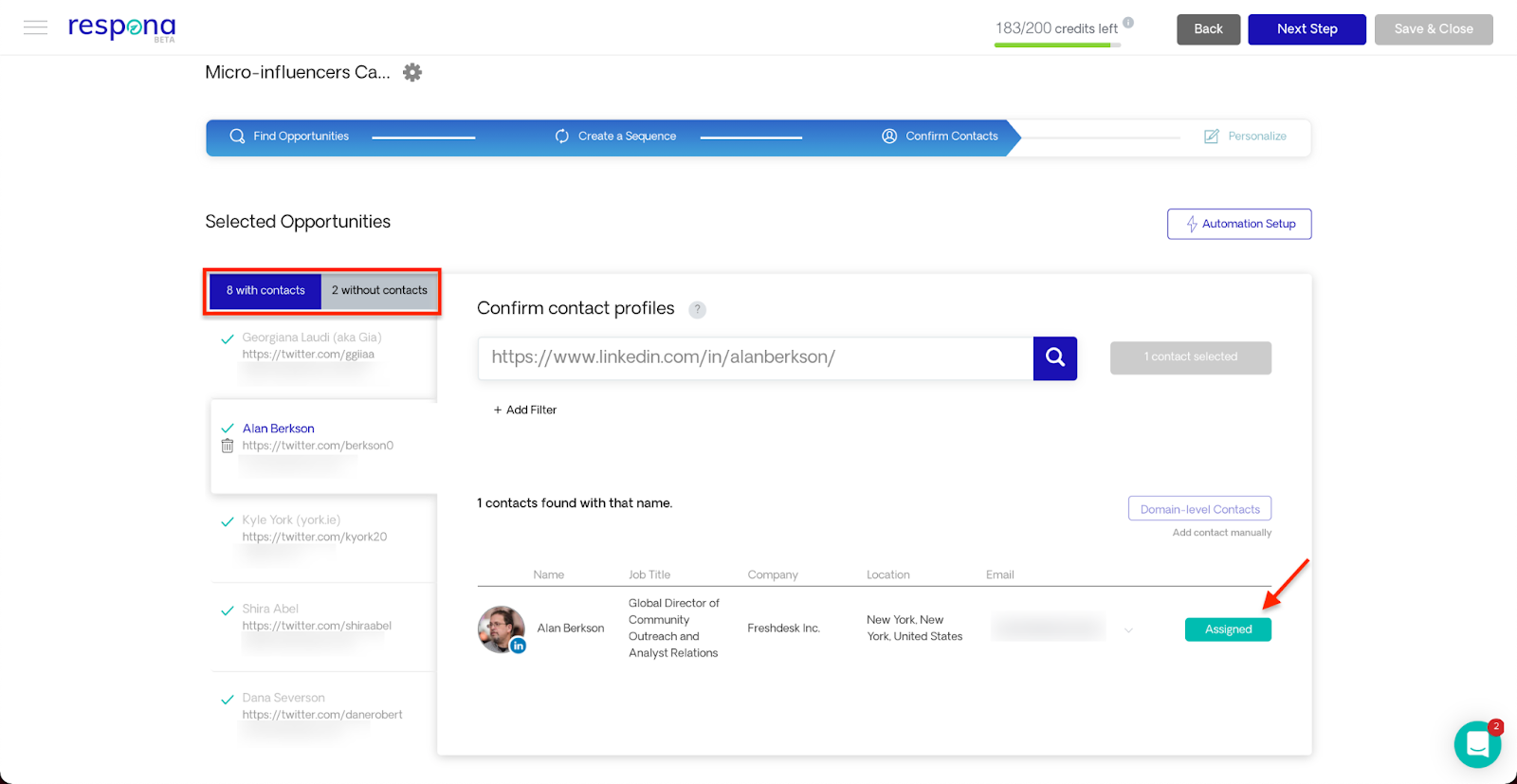 Let's now get to the next step.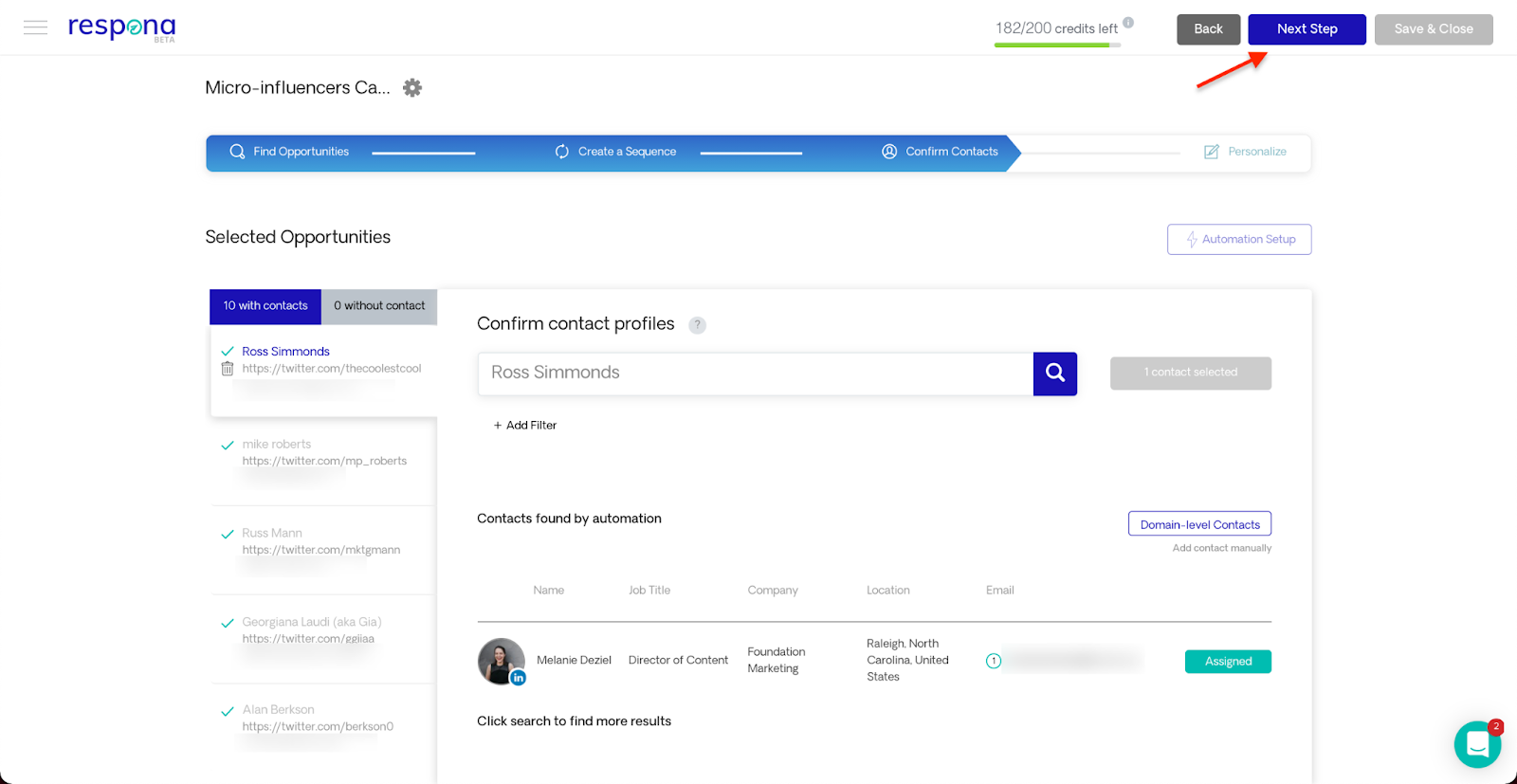 Our next and final step is to personalize our email pitches and launch our micro-influencers campaign with Respona.
Step #4: Personalize and launch your campaign
Personalizing our email content, as we've already noted, is essential in order to increase our chances of getting a reply to our outreach email.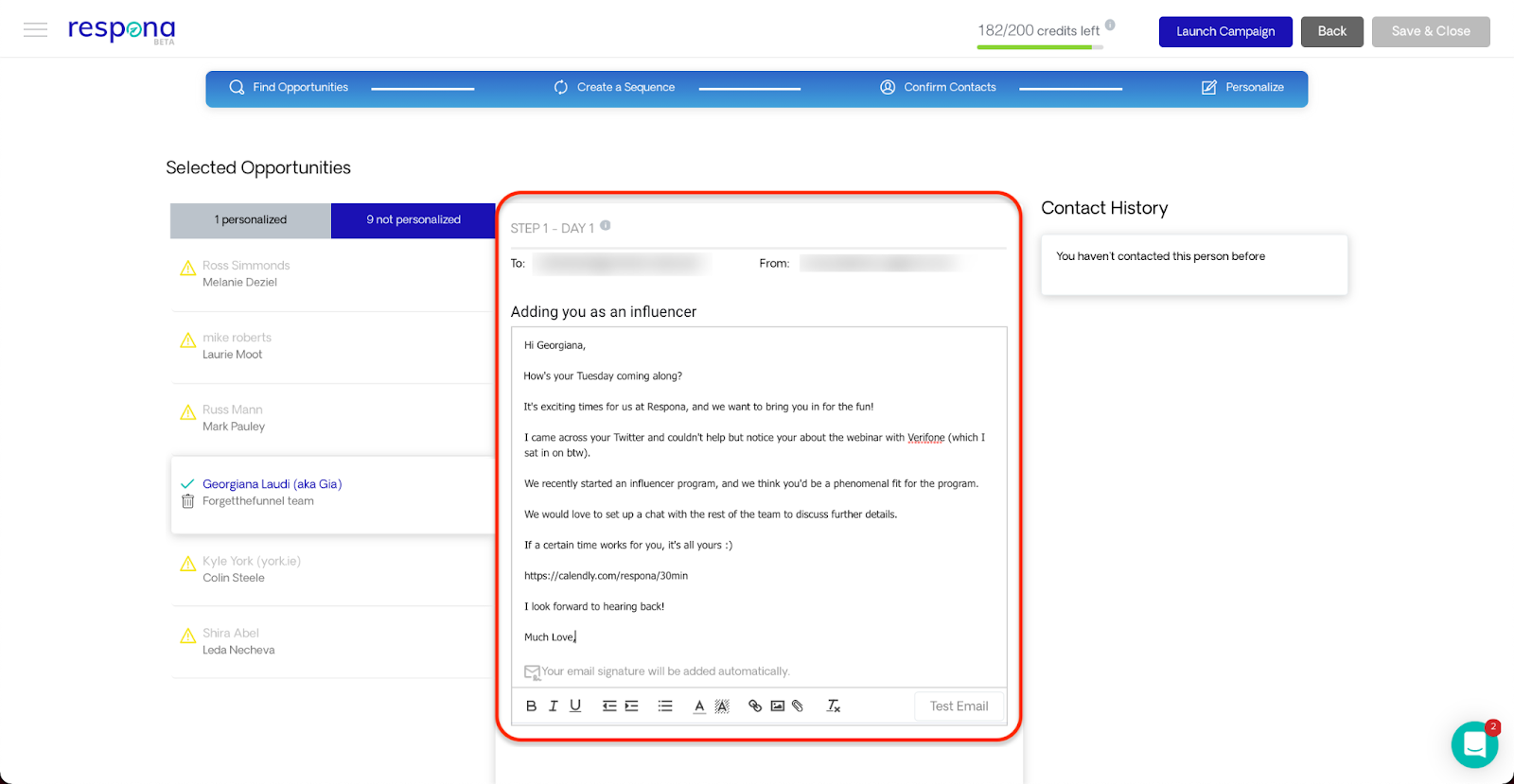 You can do so by adjusting all variables included in your pitch with information that's relevant to the influencer you want to reach out to.
For example, if you know their location or you've followed some of their most recent work and posts, you could show that you've done your research by mentioning that.
When you're done personalizing all your opportunities to match each influencer's interests, you can launch your campaign.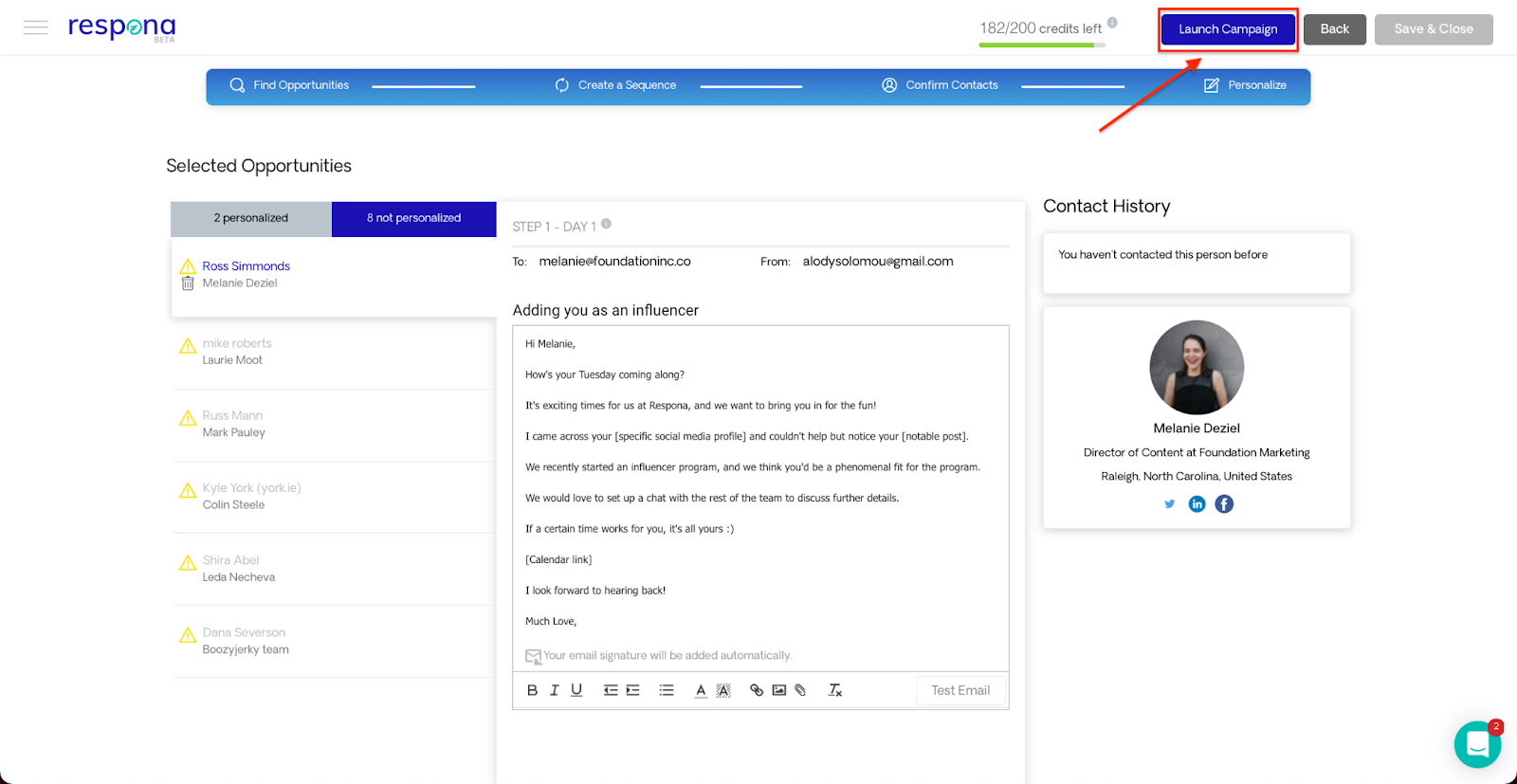 After clicking on the Launch Campaign button, you only need to wait for influencers to start getting back to you.
Before we wrap up this post, we probably need to mention that connecting with the influencers you're going to reach out to prior to launching your campaign could significantly help you in creating a relationship with them.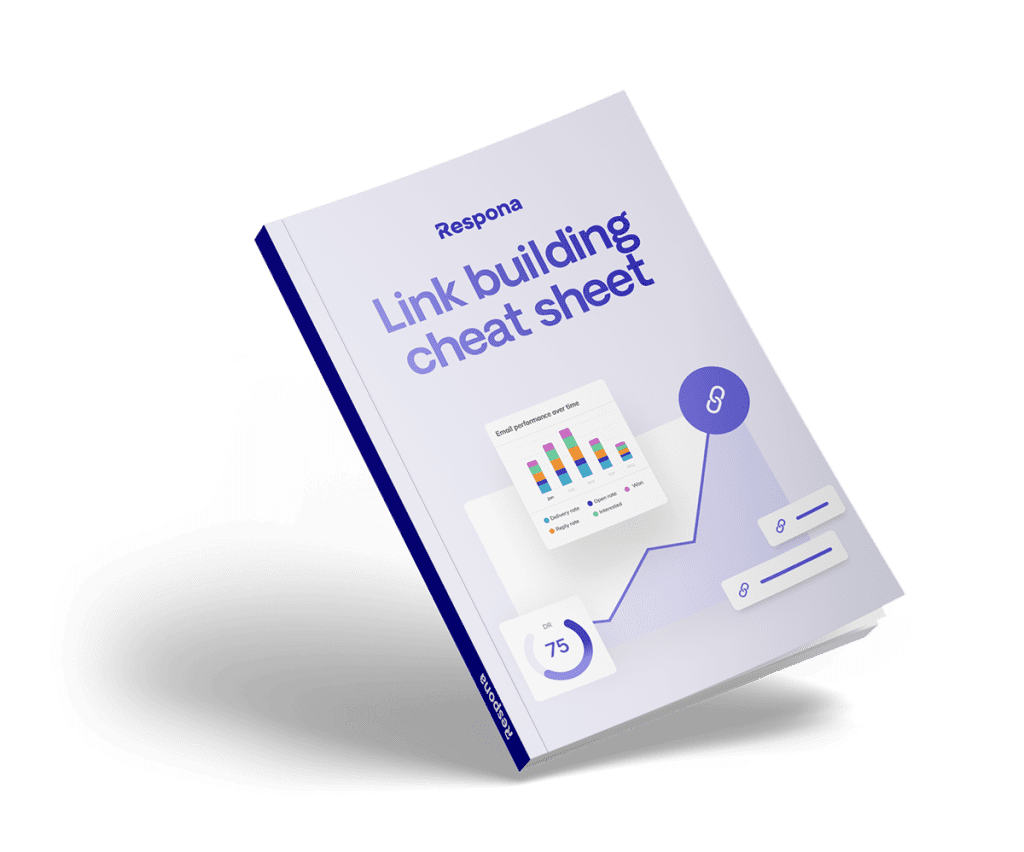 Link building cheat sheet
Gain access to the 3-step strategy we use to earn over 86 high-quality backlinks each month.
Now Over to You
That was it.
micro-influencers can help your business grow and reach new audiences.
All you need to do is to start reaching out to them by following the steps we discussed in this guide.
Feel free to request a demo that'll allow you to see for yourself how the whole process works.
Thank you for reading!