What is Page Authority?
Page authority is a score (on a 100-point scale) developed by Moz that predicts how well a specific page will rank on search engines.
It is based on a combination of factors including the age of the domain, the number of links pointing to the page, the quality of those links, and the overall popularity of the site.
Page Authority or URL Rating?
URL rating is Ahrefs' counterpart to Page Authority, and works in a very similar fashion – by looking at the page's backlink profile.
How is Page Authority Calculated?
A PA score is calculated based on data from Moz's link index, which contains over 40 trillion links. The link index is used to calculate a variety of other Moz Metrics, including Domain Authority (DA).
To calculate Page Authority, Moz uses a machine learning model that looks at multiple factors, including link count, MozRank, MozTrust, and other link-based metrics. The model also looks at on-page factors, such as the page's title, meta data, and content.
In addition, internal links have a large effect on Page Authority.
Internal links help to pass along what is known as PageRank, which is a measure of the importance of a particular page.
When one page links to another page, it is effectively vouching for that page and saying that it is a good resource. T
his helps to improve the PageRank of the linked-to page, which in turn can help it to rank higher in search engine results pages (SERPs).
In addition to passing along PageRank, internal links can also help to increase the number of page views and unique visitors to a website.
This is because they provide a way for users to easily move from one page to another within a website.
Overall, internal links are a valuable tool for website owners and should be used whenever possible to help improve the overall navigation and SEO of a website.
Page Authority vs Domain Authority
Domain authority is a metric that measures the strength of a domain, while page authority measures the strength of a specific page.
Domain authority is a general metric that is not specific to any one page, while page authority is a metric that is specific to a particular page.
Domain authority is a score on a 100-point logarithmic scale, while page authority is a score on a 100-point linear scale.
Domain authority is influenced by factors such as the age of the domain, the number of links to the domain, and the number of pages on the domain, while page authority is influenced by factors such as the age of the page, the number of links to the page, and the number of pages on the domain.
Page Authority Example
Here is the Page Authority of one of our own blog posts, according to Moz:

What Can Hurt Your Page Authority?
Now that you know what Page Authority is and how it's calculated, let's take a look at what can actually damage your PA.
Spam Links
Spam links are links from low-quality websites that can damage your page authority. They can come from link farms, comment spam, or other sources of low-quality links.
A few spammy links aren't going to damage your PA as they are simply de-valued by Google's algorithm, however, excessive spammy linking may lead your website to be manually reviewed by Google's staff, and if they determine that the links were acquired with the intention to artificially inflate your rankings, you may receive a Google penalty, destroying your PA and preventing your site from showing up in SERPs.
Link Schemes
Spam links are just one type of link schemes.
Some other types of link schemes include:
Link farms
Links from low quality websites
Paid links
Links from directories
Links from comments
Links from forums
Poor Optimization
There are a number of ways that poor SEO optimization can hurt your page authority. One way is by using too many low-quality or irrelevant keywords.
This can make your content seem spammy to search engines, which can hurt your ranking. Another way is by not including enough high-quality content on your page.
This can make it difficult for search engines to find and index your page, which can also hurt your ranking.
Poor site speed, broken links, technical issues and other on-page and technical factors also contribute to your PA.
How to Improve Your Page Authority?
The main way to improve your page authority is through building high-quality backlinks.
We're not going to go in-depth into each individual link building strategy here, so feel free to refer to the following guides to learn more:
We won't delve into the specifics of each one because we already have guidelines for that, so let's simply go through the fundamentals of the anchor text strategy.
It's a simple process: look for non-competing articles that include your target keyword (or a similar phrase) but are about something else.
These articles are excellent for link building since including your link in them will assist in creating a more informative resource, which is good for both you and them.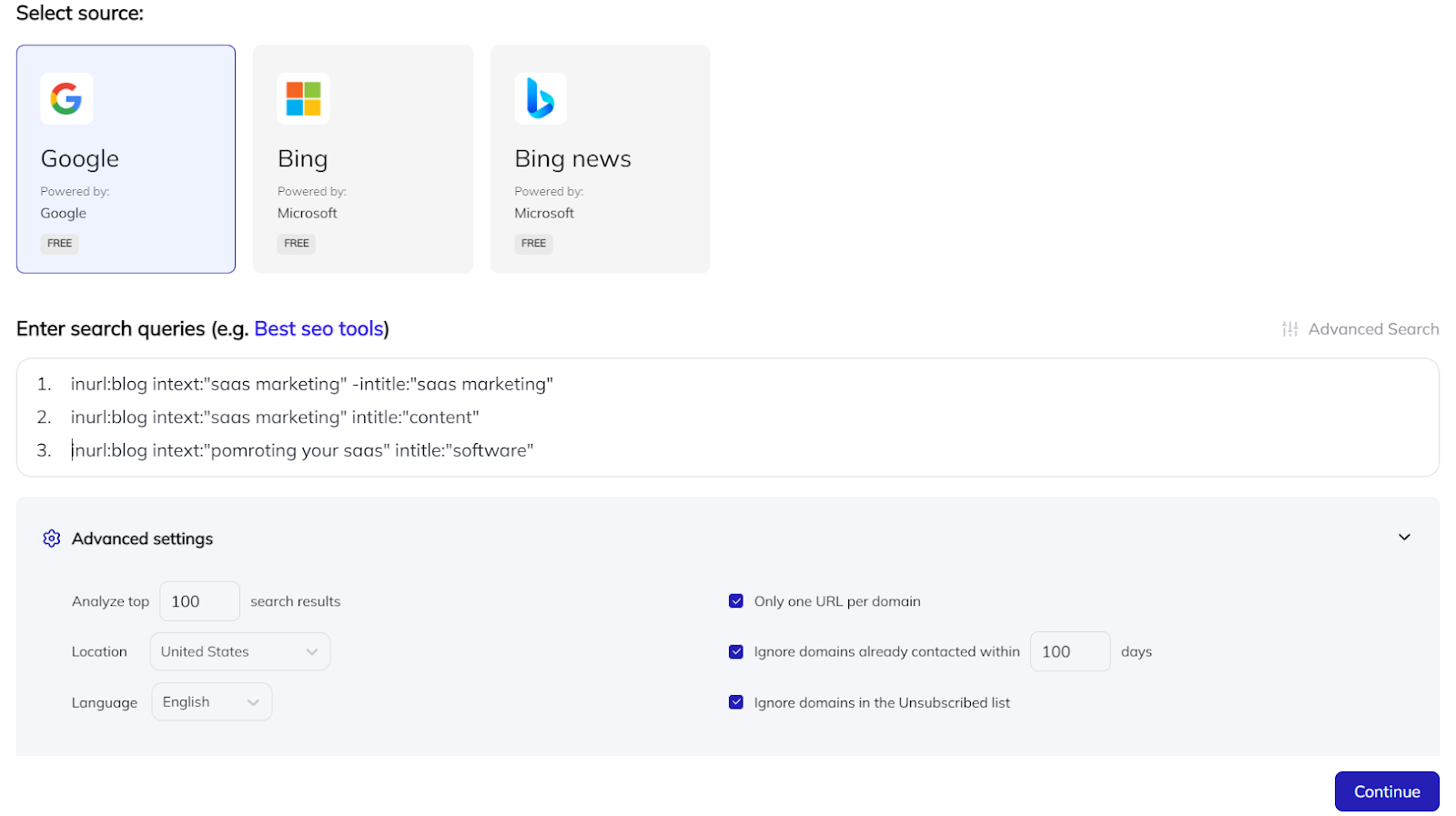 Respona's search engine pulls results directly from Google and can even run multiple searches at the same time, adding them directly to your outreach campaign.
This means you don't have to manually select prospects anymore – just put in your queries and let the tool do its magic.
It also supports all advanced search operators, allowing you to get very granular when it comes to results, making it perfect for anchor text link building campaigns.
On the screenshot, we ran the following queries:
inurl:blog intext:"saas marketing" -intitle:"saas marketing"
inurl:blog intext:"saas marketing" intitle:"content"
inurl:blog intext:"promoting your saas" intitle:"software"
They tell Respona to search for blog posts that mention SaaS marketing but are on a different topic – which are perfect link building prospects for a blog post about, well, SaaS marketing.
In addition, you can choose to employ Ahrefs filters to weed out any results that do not meet your SEO criteria.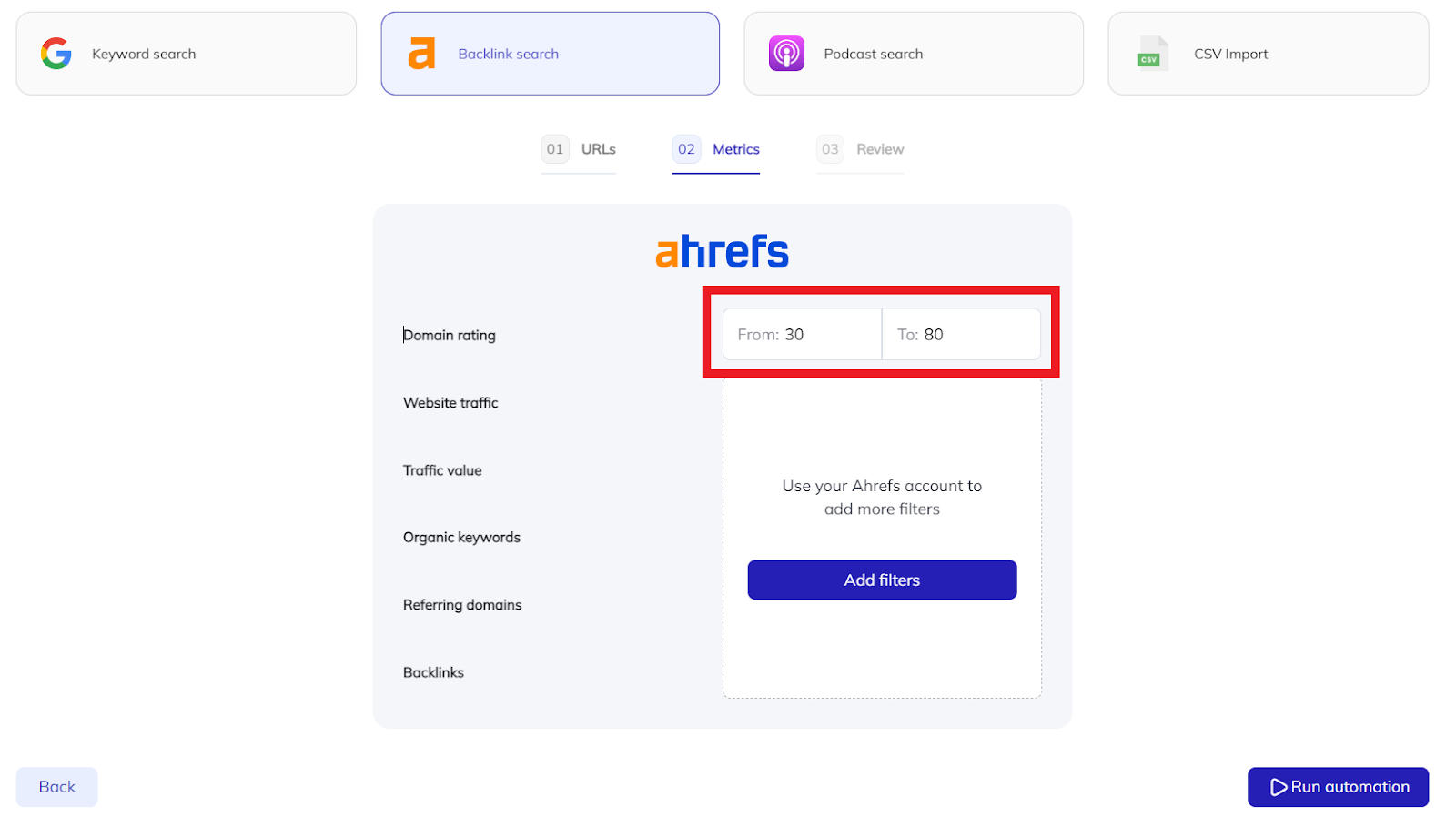 Bottom Line
Page Authority and Domain Authority are two terms that are often confused because of their similarity.
And indeed, they are calculated in a similar fashion – however, when picking your link building prospects, you should take both PA and DA into account rather than one or another.
Page Authority is a serious factor in how pages are ranking for keywords because it is a measure of the backlink profile strength of a given page. A high authority page is more likely to show up on higher positions in SERPs, so you should do your best to increase the authority of your most important pages as much as possible.