No combination of content marketing tools can replace a well-constructed strategy and the creativity of the human mind but they can help you achieve your goals easier and more efficiently.
Even though there are thousands of content marketing tools available, in 2017 only 18% of marketers felt like their organization had the right tools to manage their content marketing efforts.
To help you select the best content marketing tools and software for your business, we've selected 24 free and paid must-have content marketing tools.
Let's take a look!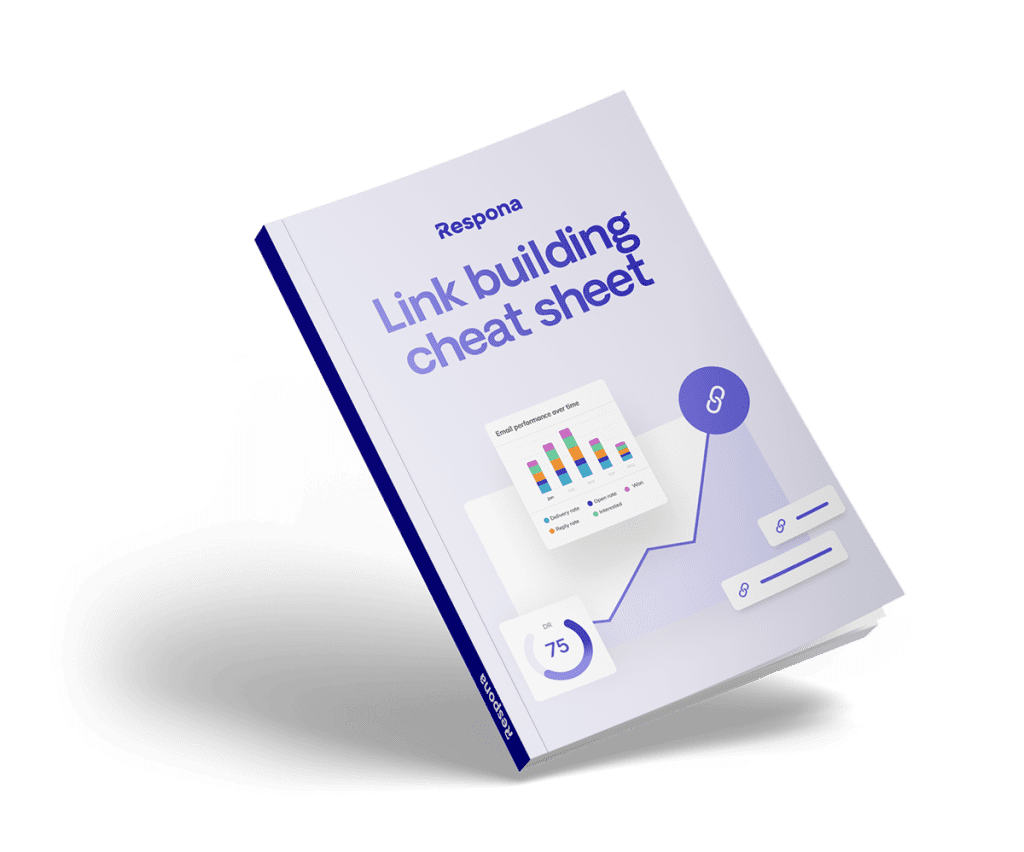 Link building cheat sheet
Gain access to the 3-step strategy we use to earn over 86 high-quality backlinks each month.
Tool #1: Respona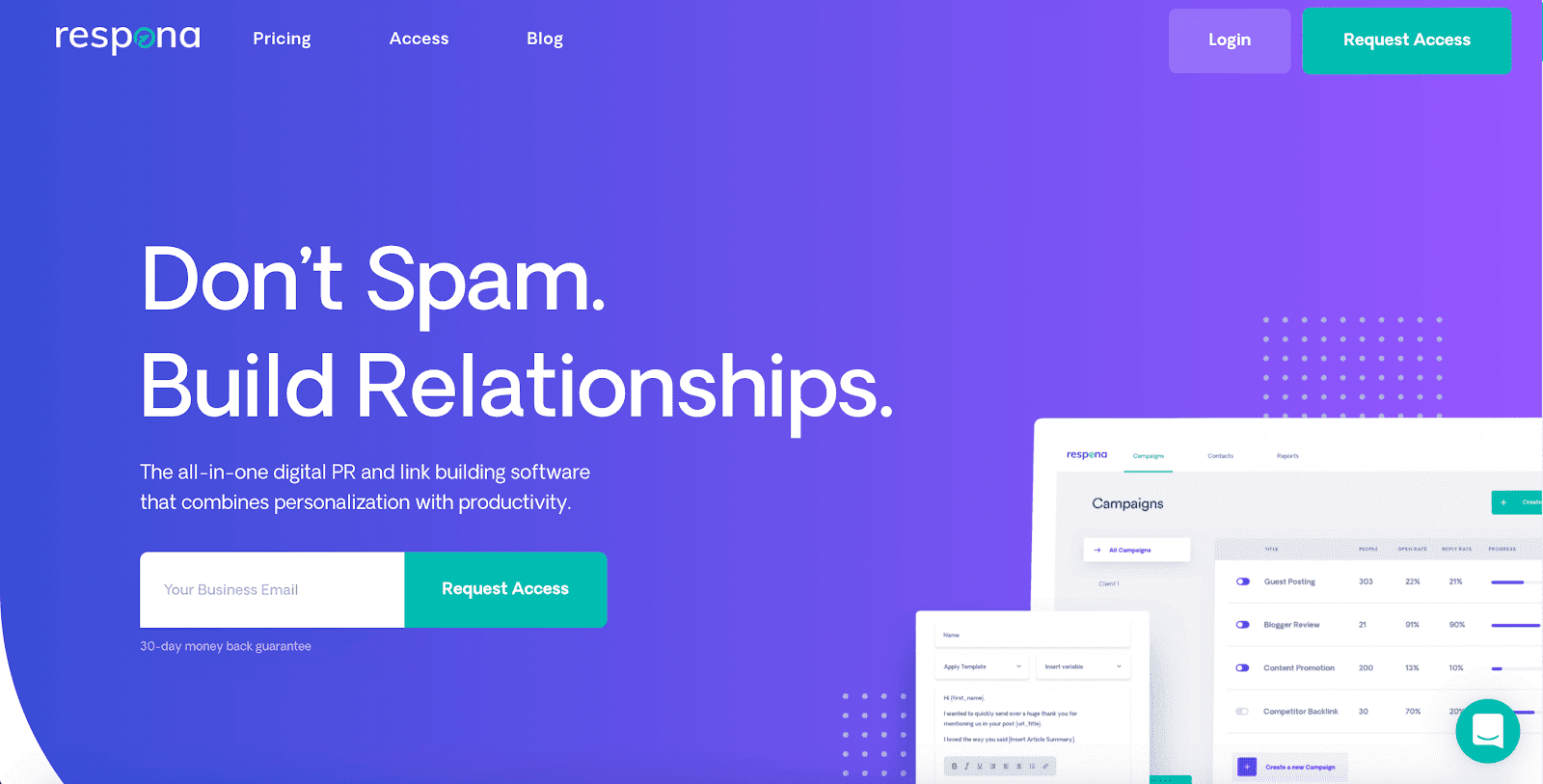 Respona combines everything you need to manage your link building operations and get online mentions for your PR campaigns.
From a smart AI-based email finder, to content discovery powered by Bing and powerful email personalization capabilities, our link building software is essential for your content marketing operations.
What is Respona?
We initially created Respona as an internal software for Visme to help our amazing team with our blogger outreach and after its success, we decided to release it as its own product.
Our tool helps build high-quality backlinks, increase brand awareness and explore unique opportunities co-marketing activities with other bloggers and publications within your niche.
You can create automated email sequences from your email list, and deliver customized pitches to your contacts, regardless of the reason why you're reaching out to them.
Respona Features
For digital PR tools, our live search engine allows you to browse through new news articles that are relevant to your industry so you can connect with the right journalists from the publications that will reach your target audience.
Respona's link building efforts are powered by AI automation to help you find outreach opportunities, create branded email campaigns, discover email addresses for influencers and thought leaders in your market, and deliver personalized pitches.
Finally, streamlined outreach tactics are exactly as they sound.
You can manage the entire outreach process—from pitching to reporting and analytics with all the important metrics for your campaign—all in one platform.
Respona Pricing
Instead of paying for content discovery tools like Buzzsumo + email marketing tools like Mailshake or Mailchimp + manual data mining software like UpWork, Respona offers an all-in-one solution that will save you 80% of your content marketing platform budget.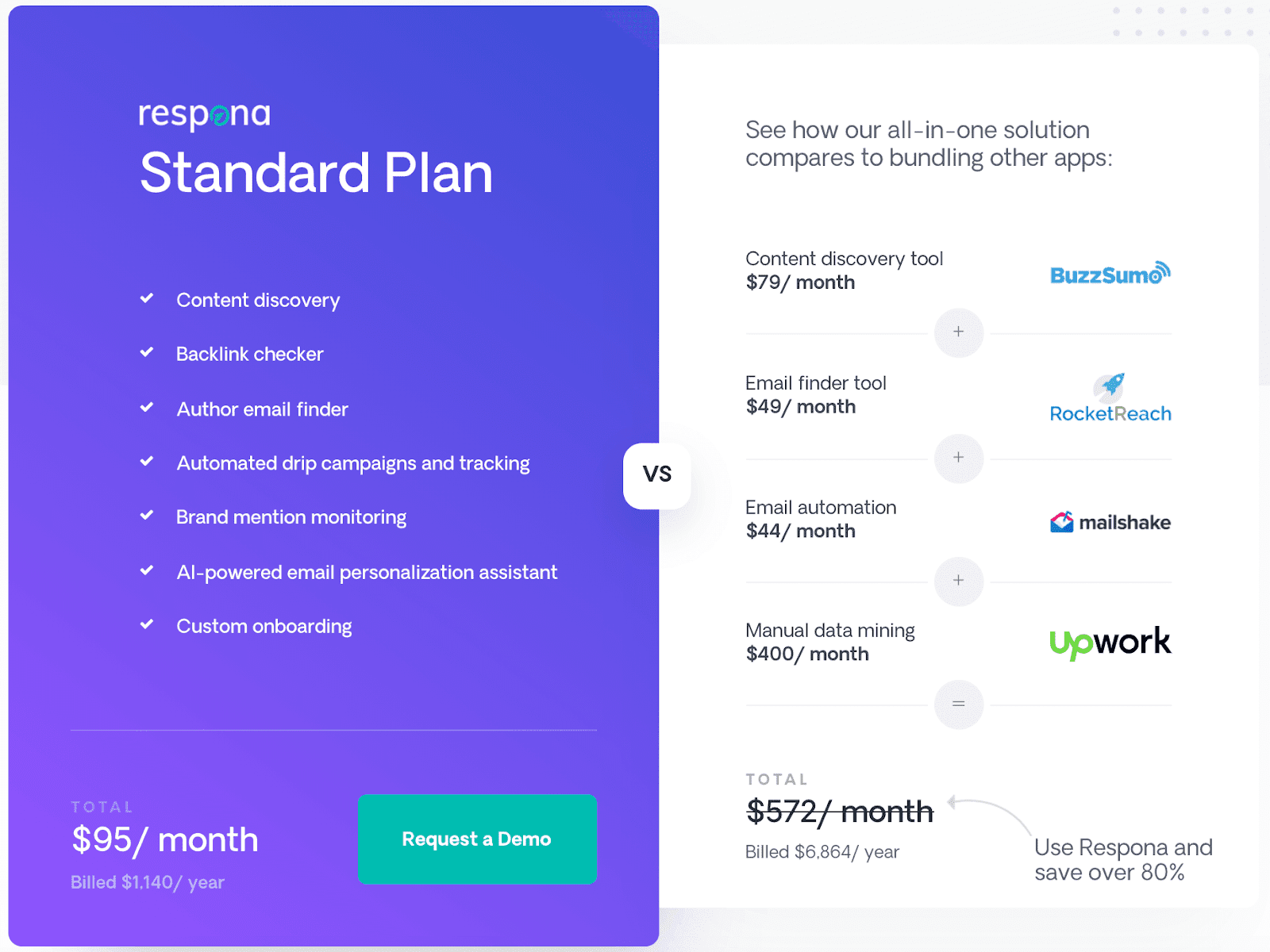 Why we like it:
Well, we might be a bit biased here, but Respona is the outreach tool of the now.
The tool is built with modern link building and PR teams in mind and is far better than other outdated tools that exist out there.
Plus, there are personalization options for higher response rates and contact finding automation that is GDPR compliant.
Our blog also consists of several guides, written by our team and a selection of industry experts, for content marketers looking for tools, advice, or examples for email outreach, public relations, link building, and more.
Here are some of the best picks from our blog:
Pricing: Starts at $95/month
Website: Respona
Tool #2: Ahrefs

Image Source: Ahrefs
Ahrefs is a popular SEO tool that businesses use to get higher positioning on Google or other search engines.
It's a great alternative to popular SEO tools like SEMrush or Moz.
What is Ahrefs?
Ahrefs isn't just one SEO tool, it's a suite of tools including link building, keyword research, competitor analysis, rank tracking, and site audit solutions.
It is mainly used to analyze your website's backlinks, keyword rankings, and overall SEO health.
Ahrefs' Features
Ahrefs' main features are:
Site Audit
Site Explorer
Keywords Explorer
Content Explorer
Rank Tracker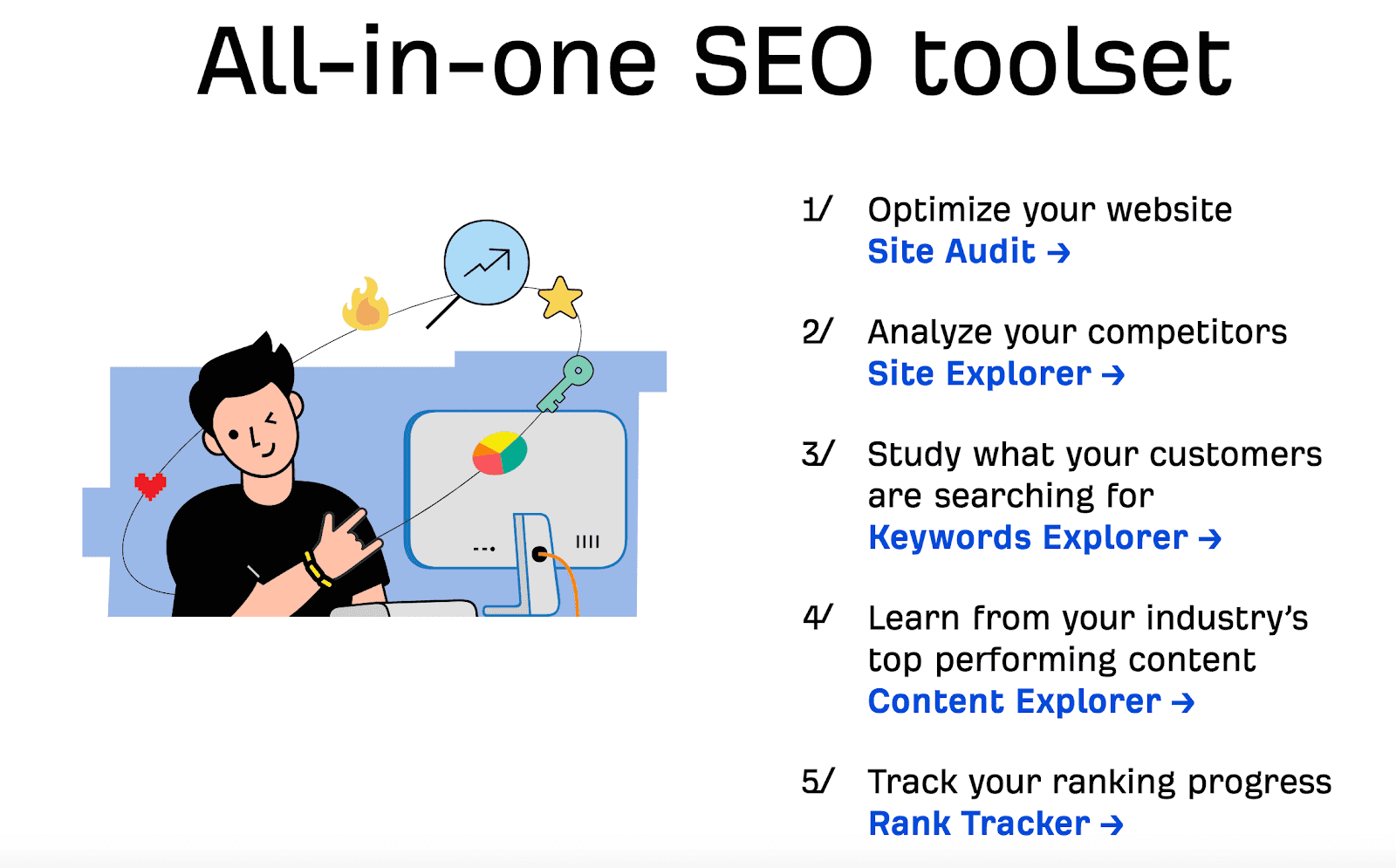 With Ahrefs backlink analytic tools, you can investigate your competitor's backlinks or find toxic links that point back to your site.
Link intersect—a lesser-known feature—allows you to see companies that tend to link to other websites in your industry so it increases your chances of working with them if your outreach is done properly.
The keywords research feature gives you a ton of data on specific keywords, new keyword ideas, and a breakdown of activity trends for different SERPs.
With the content explorer, you can find heavily shared, trending content and sort by traffic value, republished posts, or other filters.
Some other helpful features are the competing domains report, "Best by links" report, content gap, site audit, paid search, and alerts.
Author's Note: Learn more about how to use Ahrefs, in this guide.
Ahrefs' Pricing
Ahrefs have 4 pricing options, with the standard package being the most popular. You can try out the lite or standard package for just $1 a day, for 7 days.
You get access to all of the features with each package, there are just limits on the lower packages.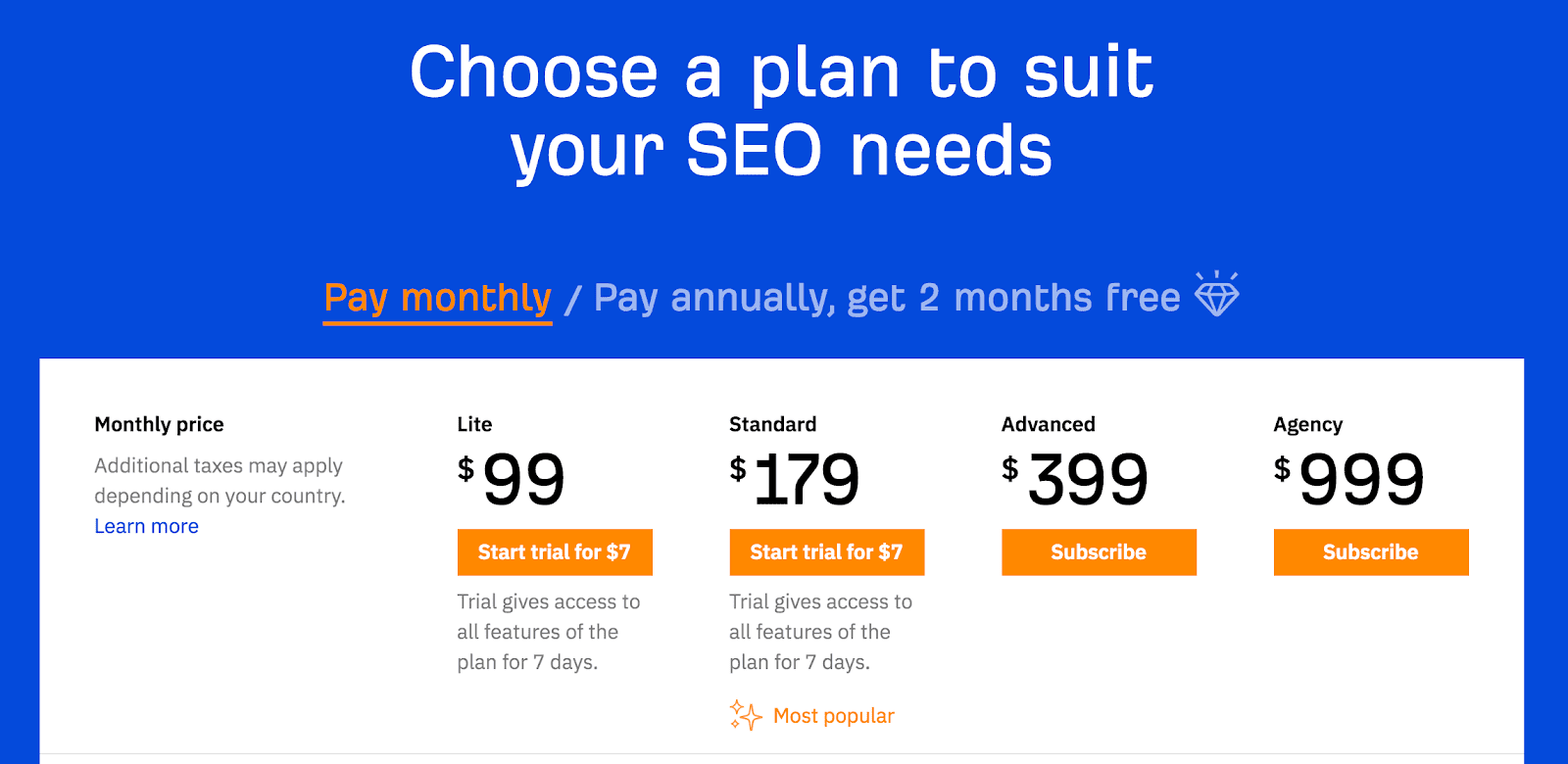 Author's Note: To a large extent, differences in Ahrefs' pricing plans have to do with the amount of data you have access to. Roughly speaking, the higher the plan, the more data you can access through your Ahrefs account.
Why we like it:
We like the super-rich feature set and the extensive data that helps website owners, marketers, and more with the many aspects of SEO and SEM.
The SEO toolbar Google extension is also very convenient.
Pricing: Starts at $99 /month
Website: Ahrefs
Tool #3: Clearscope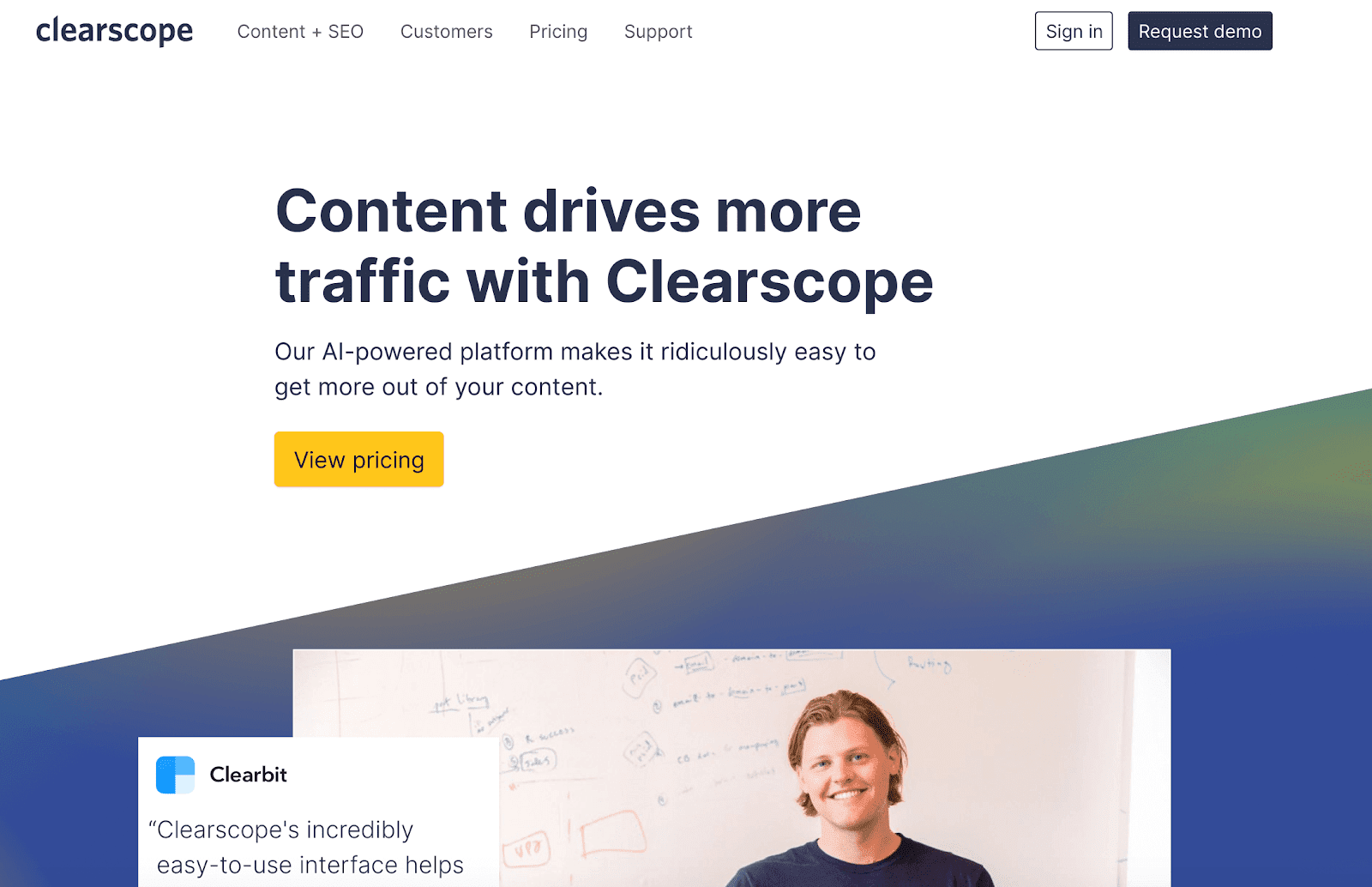 If you need help creating high-quality content, Clearscope is a great content optimization software for SEO.
What is Clearscope?
Clearscope is an AI-powered platform that helps you drive organic traffic through the content you create.
Content creation is only one part of content marketing, you also need to optimize the piece of content to bring your writing and SEO together.
Clearscope Features
When using Clearscope, you input the main keyword you want to rank for and the tool provides you recommendations on what terms to include in your piece of content to be contextually relevant.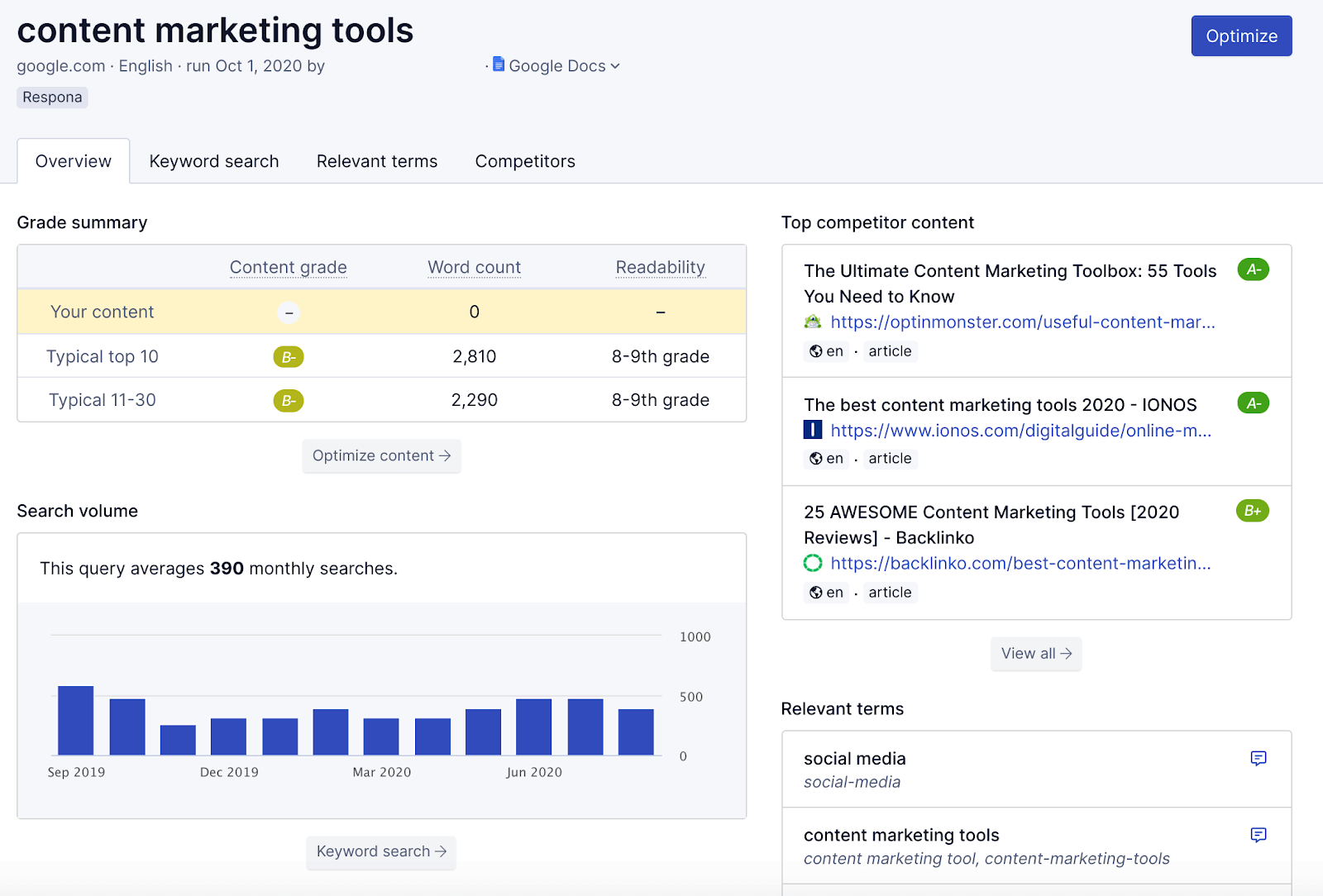 Those recommendations (AKA entities), are provided by analyzing the top ranking pieces on the SERPs for that particular term.
There is also a WordPress plugin and Google Docs add-on.
The Clearscope Google Docs add-on is great because it grades your content in real-time while you're on Google Docs.
As you create your piece of content, you will see the content grade, word count, readability level, and the relevant terms you should use in your piece to increase the content grade.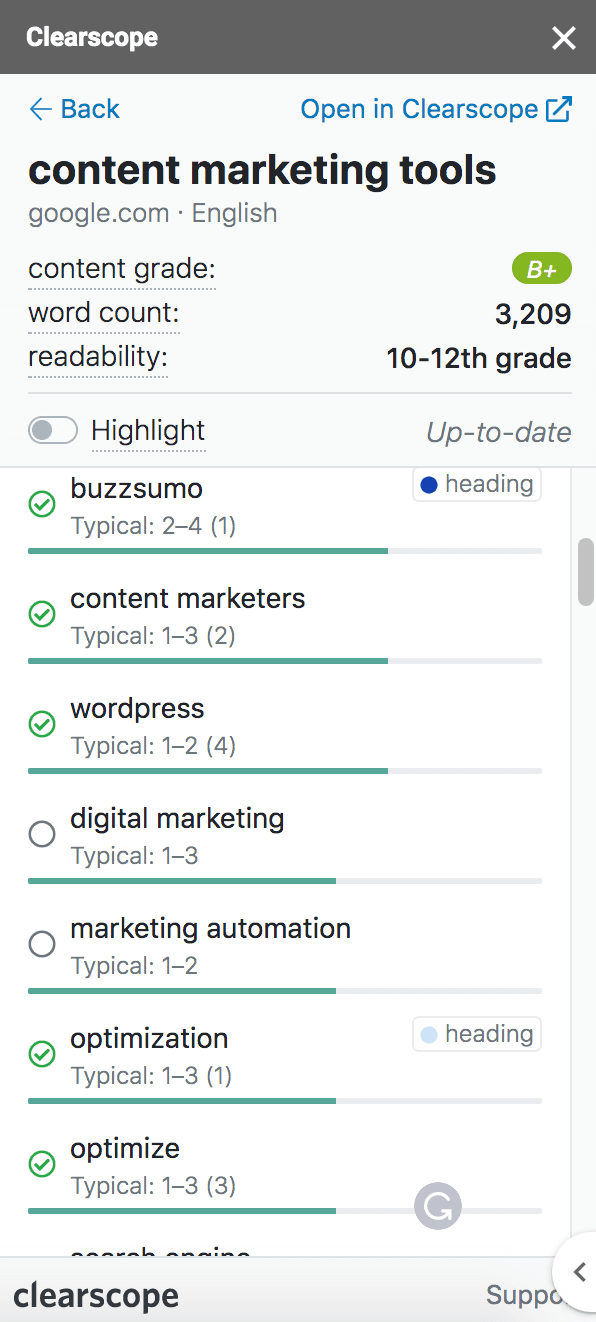 The content grade is important because it reflects how many of the terms provided by Clearscope have been used within the piece and thus can—up to a certain extent—determine how useful the piece will be to end searchers.
With a tool like Clearscope, you can be sure that your content will satisfy both the search engines (e.g., Google search) and users.
It's NLP (Natural Language Processing) editor was among the first of its kind and it has evolved ever since it was rolled out a few years ago. These days Clearscope has several competing tools for content optimization. For example, you could check out ClickFlow as an alternative to Clearscope which also includes features like CTR testing and content decay.
Clearscope Pricing
Clearscope has two pricing options, the essentials package for $170 a month and the professional package for $350 a month.
The essential package has everything you need to optimize 20 content pieces per month and the professional package has advanced tools for productive content teams.
They also have a custom pricing option for those producing content at scale.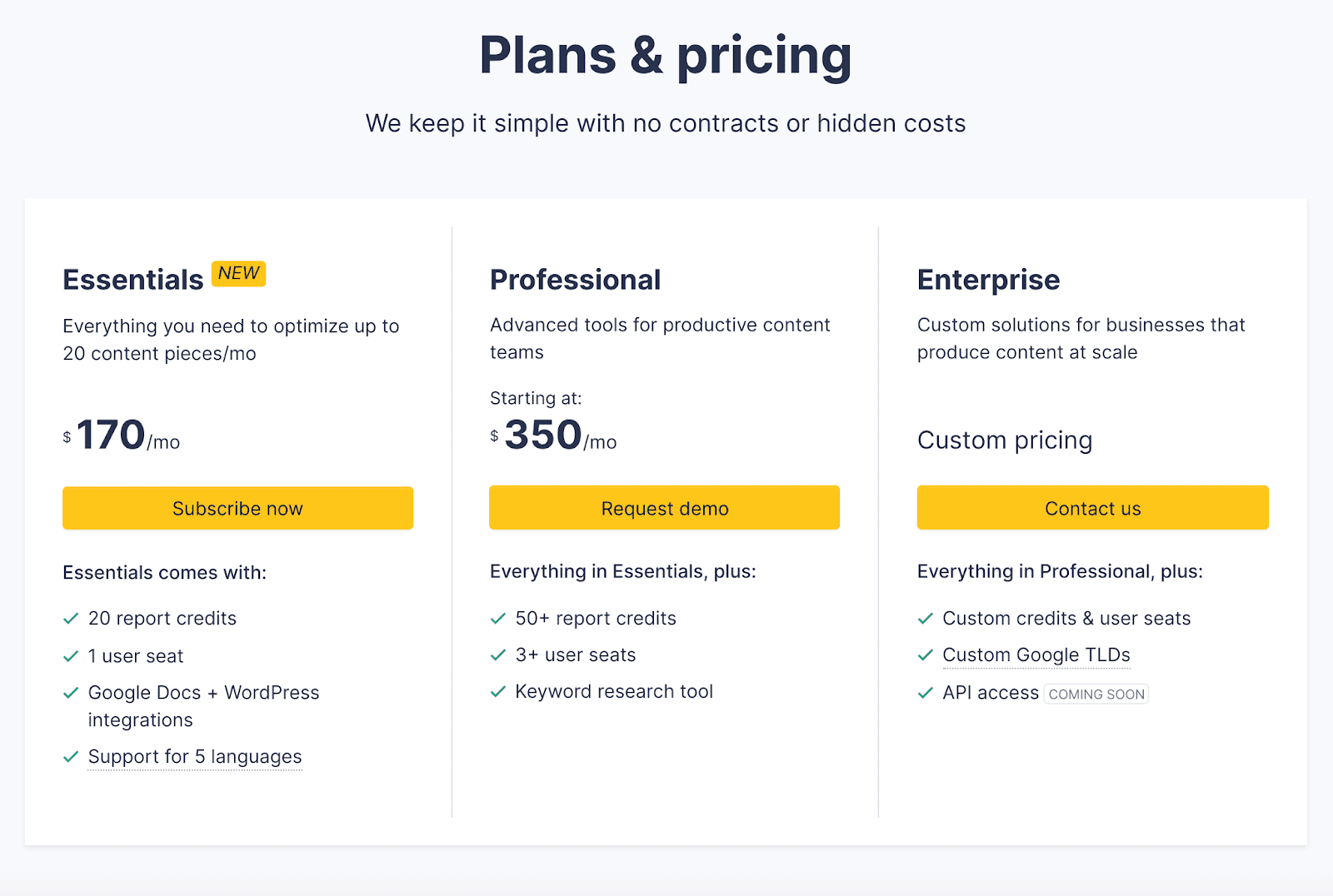 Why we like it: The Google doc add on is very convenient and helpful when you are creating new content pieces.
Pricing: Starts at $170 a month
Website: Clearscope
Tool #4: SparkToro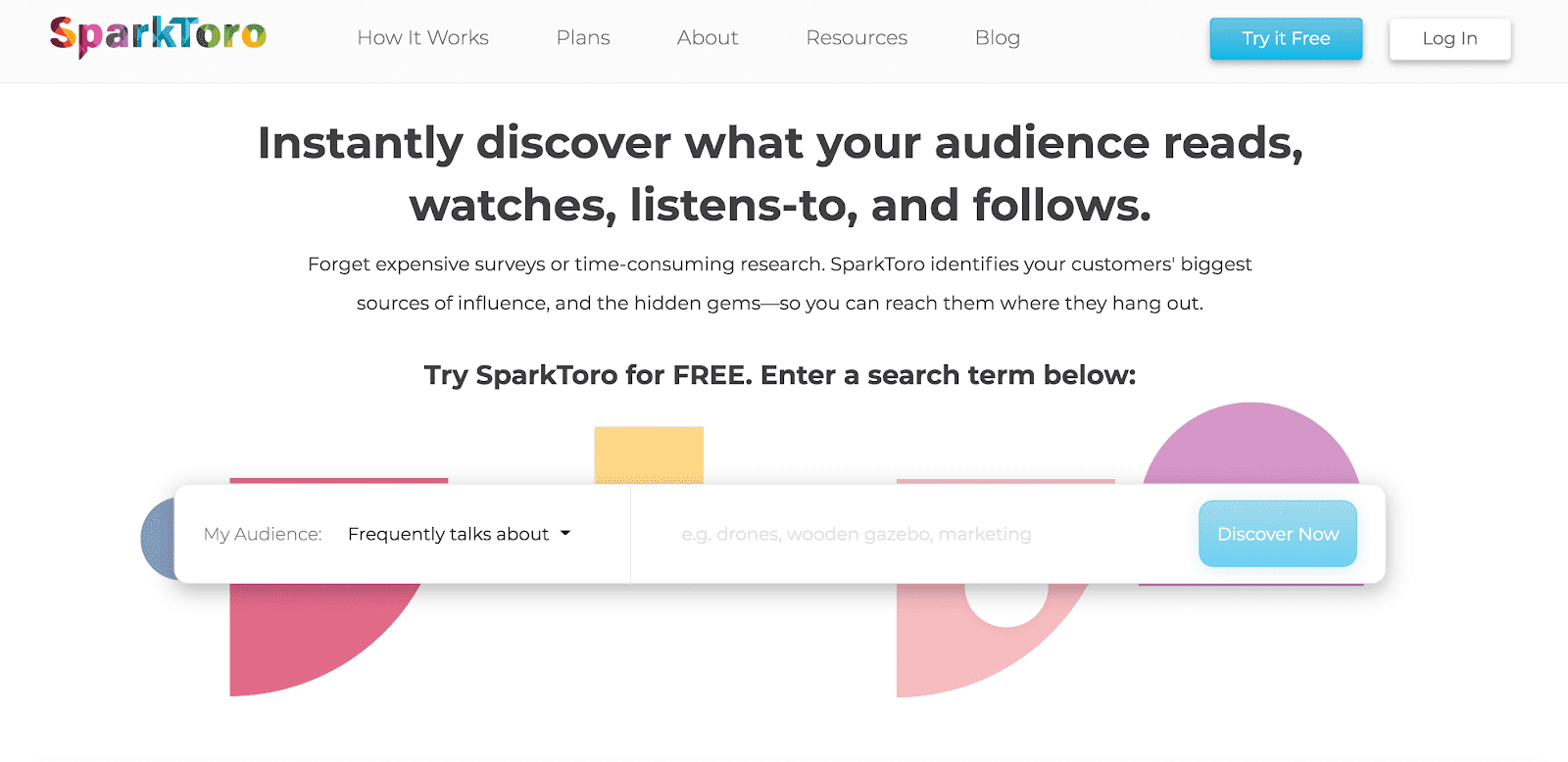 SparkToro was founded so everyone could have access to high-quality market research and audience intelligence, not just the tech giants with huge budgets.
What is SparkToro?
SparkToro is a market research and audience intelligence tool that makes it easy for you to find websites, blogs, podcasts, social media accounts, and more that your target audience interacts with.
SparkToro Features
You can search for audiences by what they frequently talk about, words used in their profile, social accounts they follow, websites they visit, and hashtags they use.

SparkToro's features include audience intelligence, audience insights, compare audiences, profile search, and lists.
All of these give you up-to-date insights into your audience's behavior online.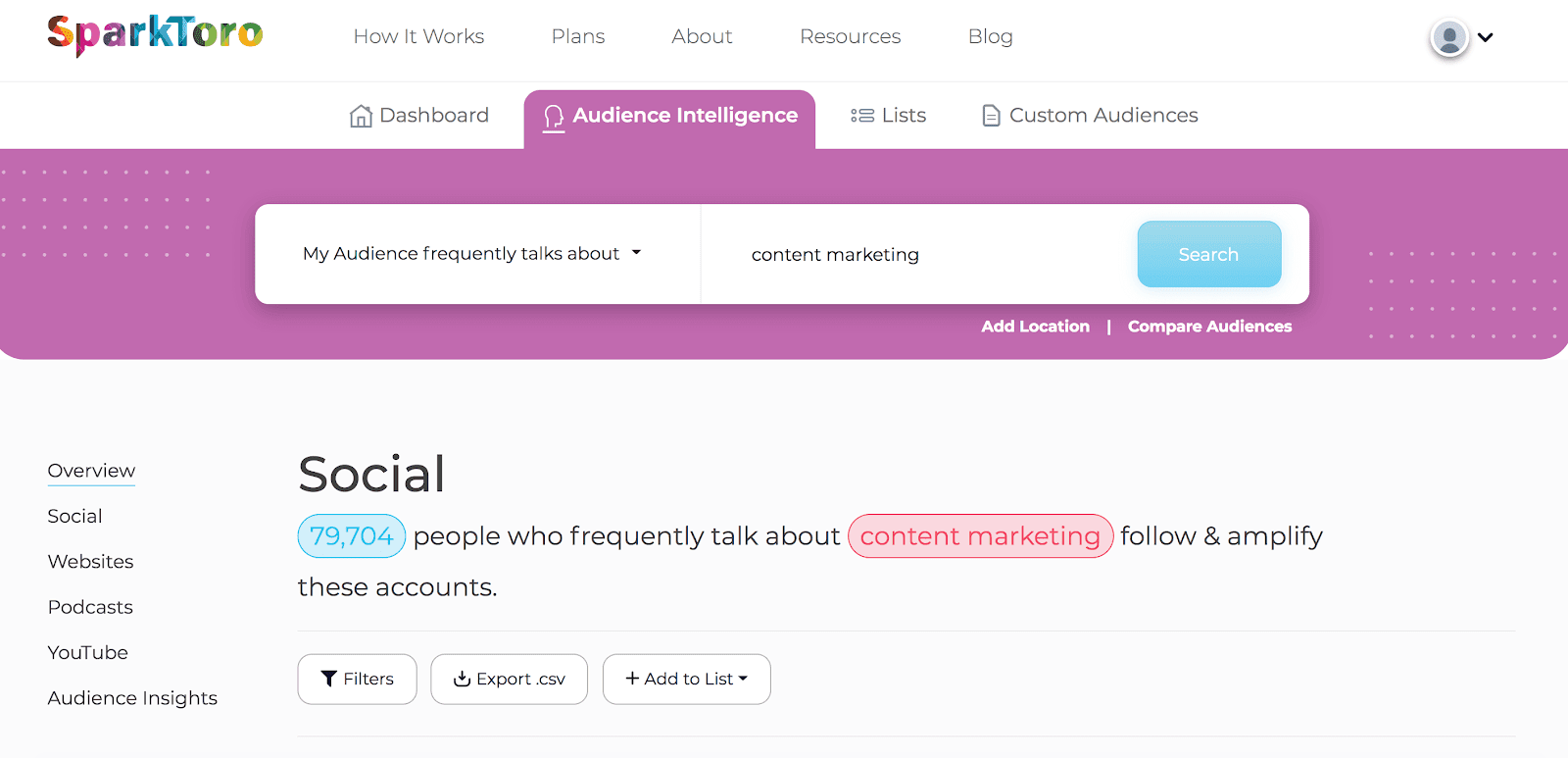 SparkToro Pricing
By creating an account, you get access to the free tool for up to 10 searches a month.
You can get 30 searches per month with the starter pack but the most popular package is the standard plan which includes 100 searches per month and gives you email contact data along with the social contact data included in the other packages.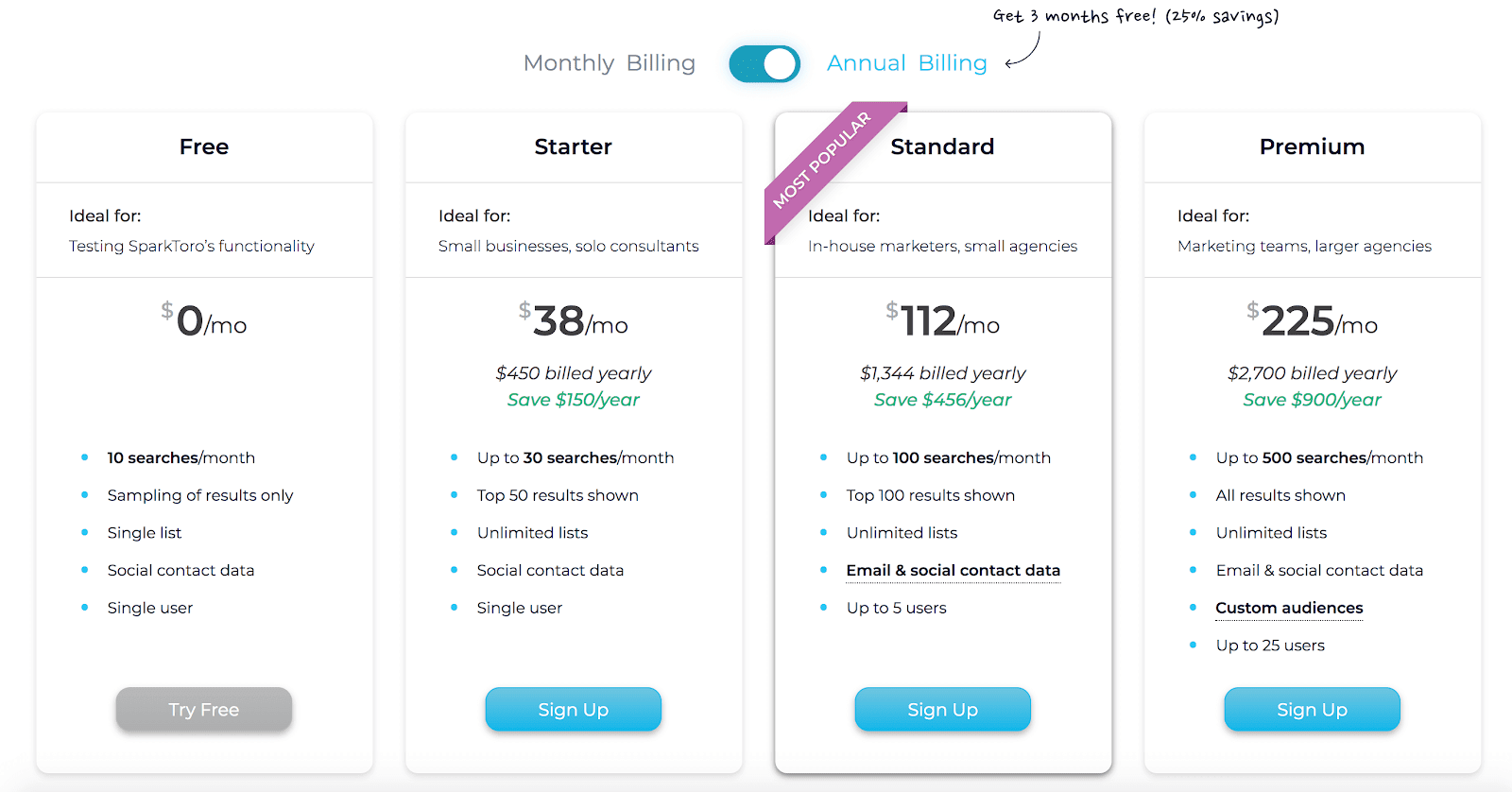 Why we like it: The features are easy to use and the data is unique, in-depth, and very accurate.
Pricing: 10 free searches per month. Paid plans start at $38 a month.
Website: SparkToro
Tool #5: Unsplash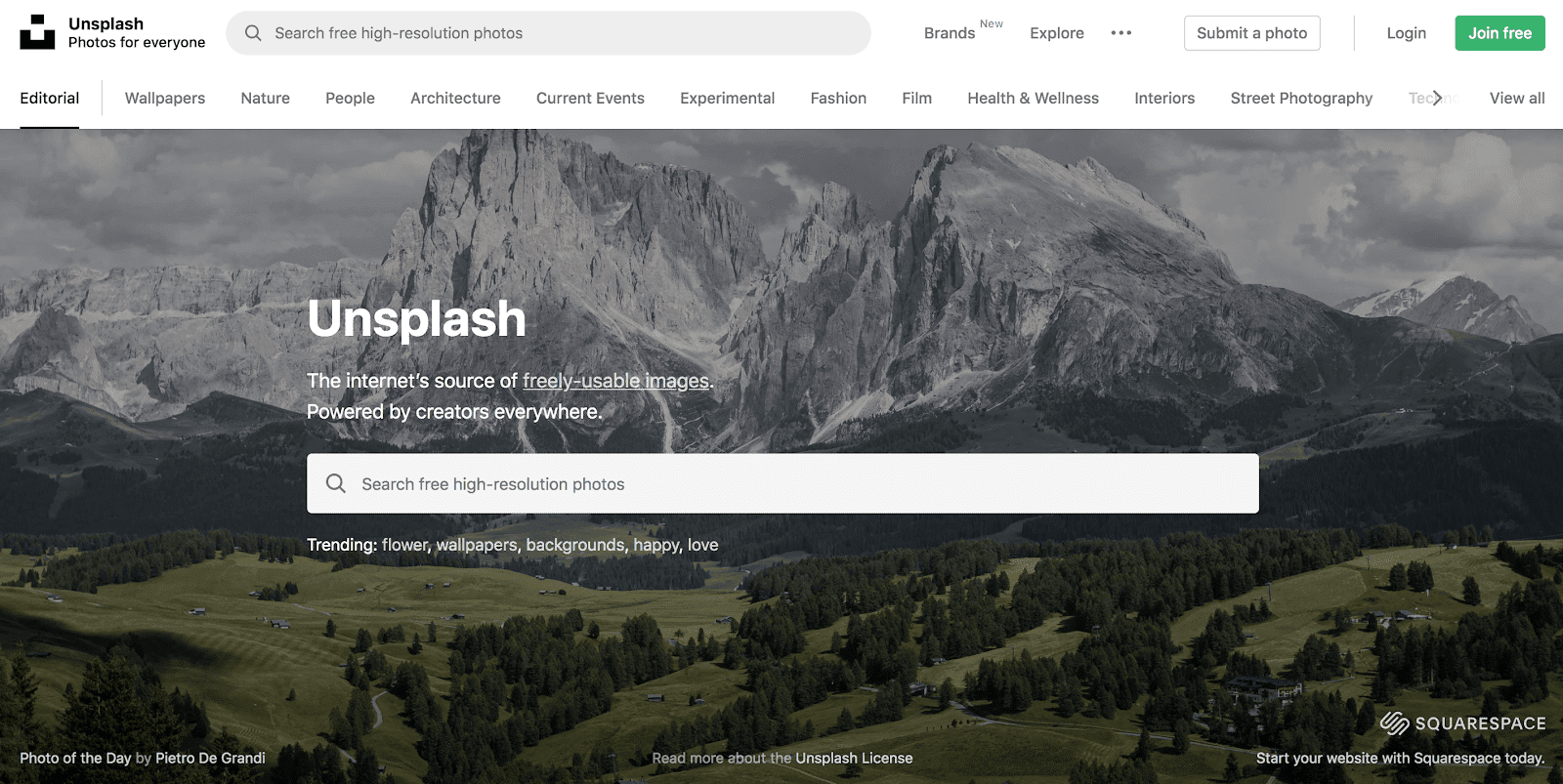 If you are looking for visual content to use on your blogs, social media posts, or other content ideas, Unsplash is a great tool.
What is Unsplash?
Unsplash provides free high-quality images that you can use on any project.
Over 200,000 photographers provide high-resolution images to build a growing library of over 2 billion photos.
Unsplash Features
Search through categories like wallpapers, nature, people, architecture, and many more or type in a keyword to find relevant images.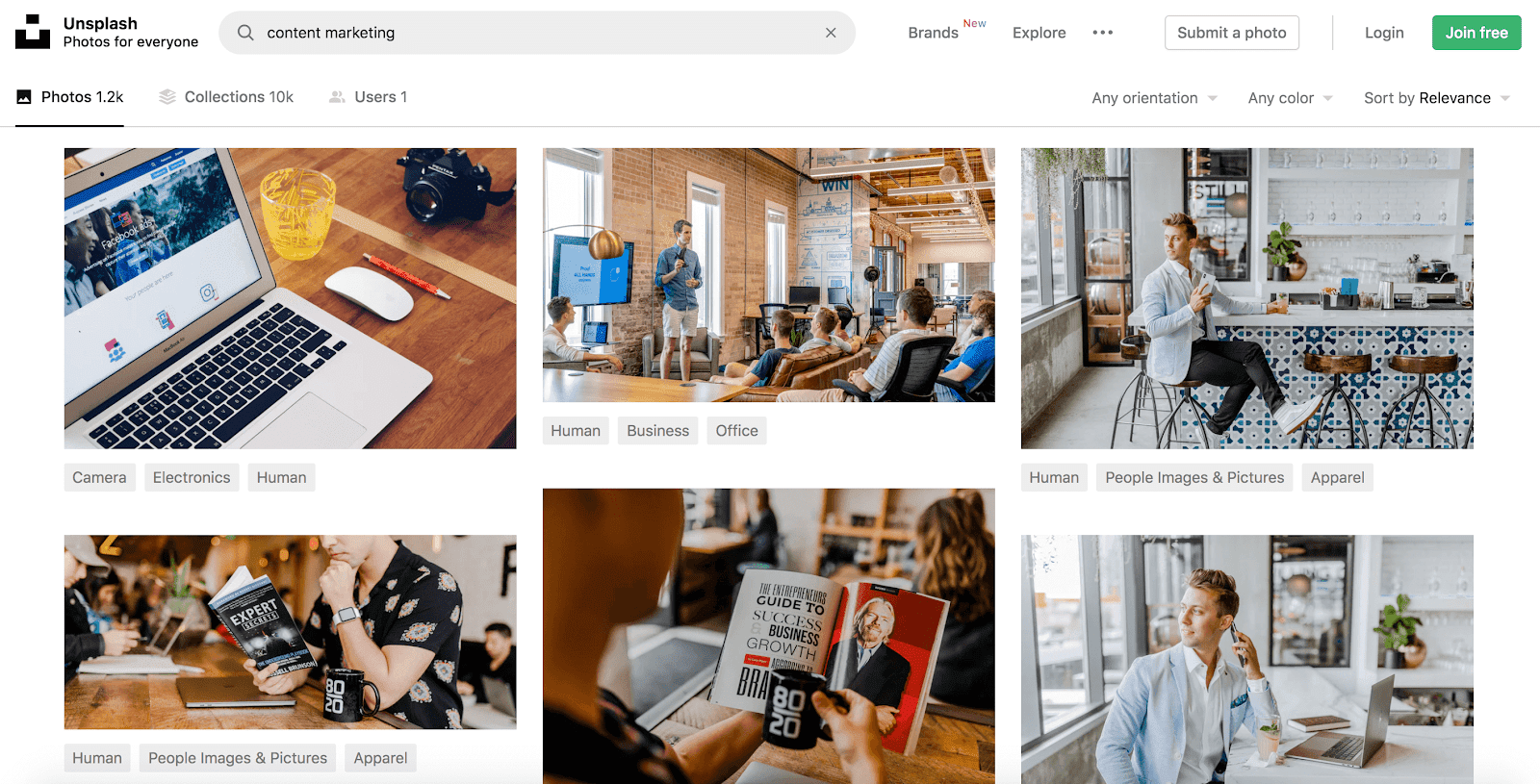 Once you've found an image you want to use, you can choose the size you want and instantly download it to your computer.
When your download is complete Unsplash provides the text if you want to attribute the photographer of the image. You can go one step further and edit the visual to meet your brand image with free tools like Colorcinch.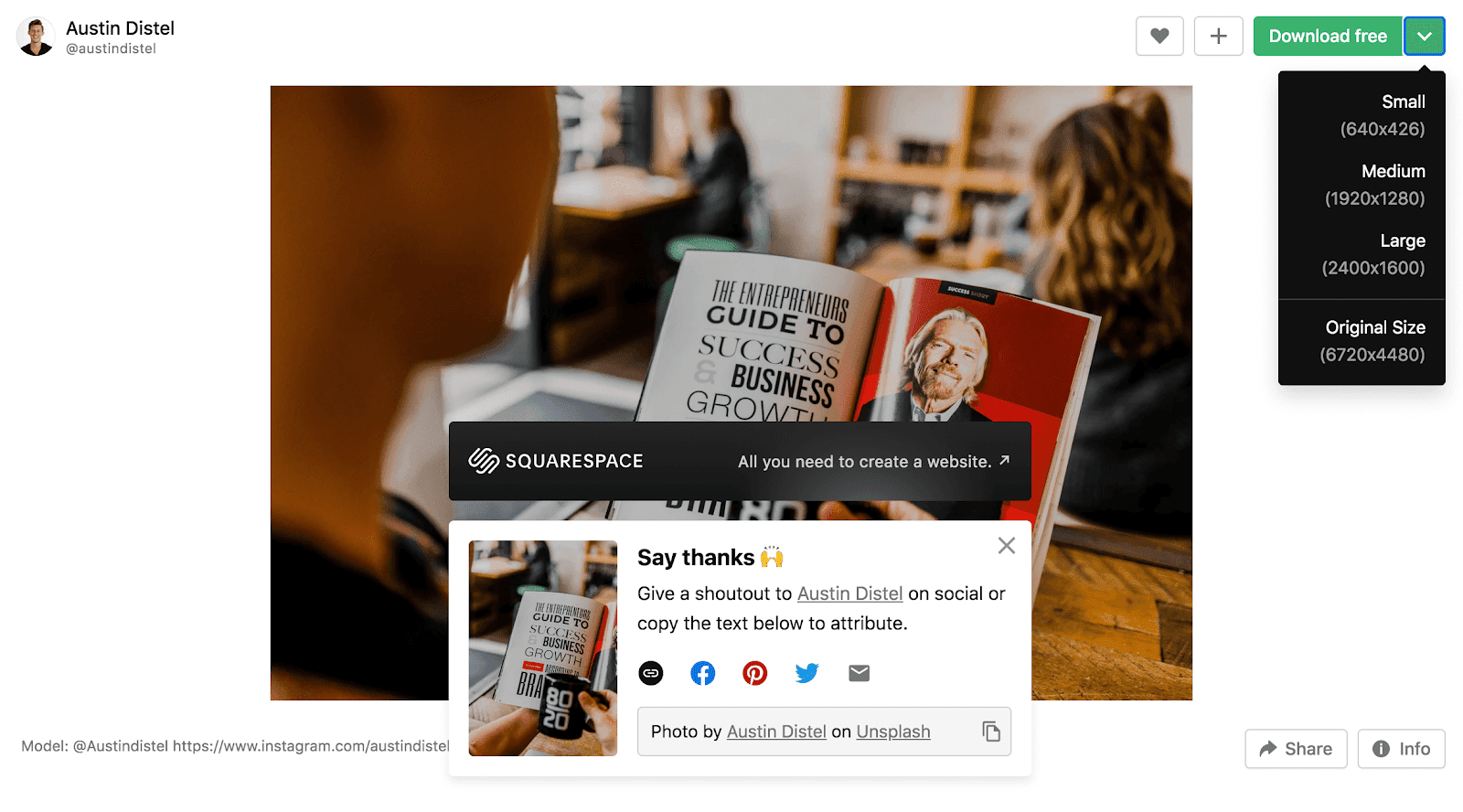 Unsplash Pricing
Unsplash is free. You don't even need to make an account to download the images. There is no limit on how many images you can download per month.
Why we like it: The library of images is huge so you can always find professional-quality photos to use for whatever project you are working on. The tool is free so it's a great digital marketing asset.
Pricing: Free
Website: Unsplash
Tool #6: Visme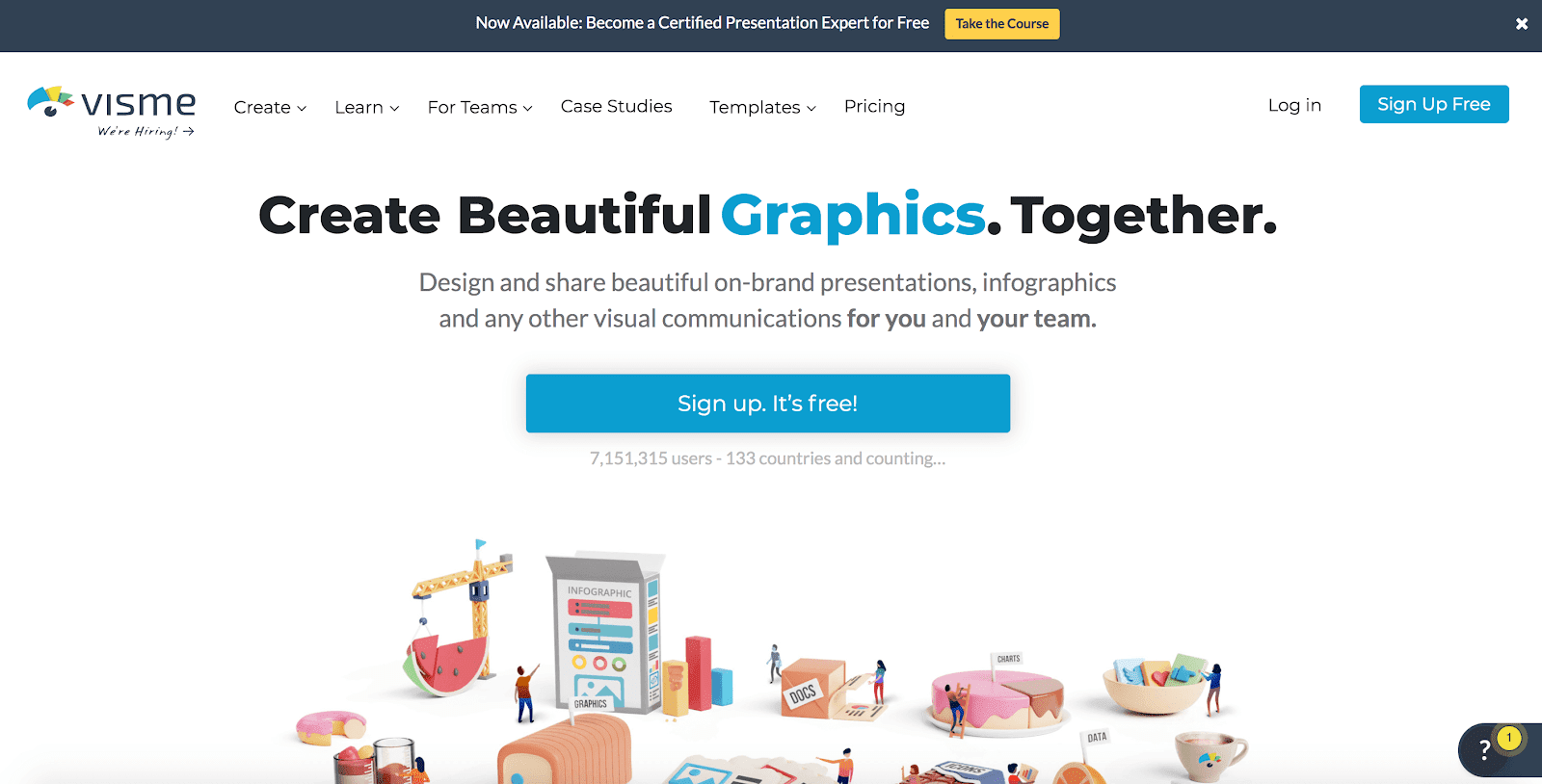 Visme is a design tool to help non-designers create beautiful presentations, infographics, and graphic designs.
It's one of the best Canva alternatives in the market, with over 7 million users from around the world using the tool.
What is Visme?
Visme is a content creation tool helping businesses tell their story more engagingly and transforming boring data into exciting visuals.
Visme Features
Visme allows you to form all kinds of visual content including:
Presentations (e.g., for webinars)
Banners (e.g., for landing pages)
Social media graphics
Professional documents
And, more.
You can also find use-case-specific templates for presentations, infographics, charts, maps, documents, social media graphics and so much more in Visme's template library.
Visme Pricing
There is a free tool for up to 5 projects with limited access to the templates and you can only save the file as a jpeg.
For $15 a month you can get the standard plan for up to 15 projects and the ability to download projects as a pdf but the best value comes with the business plan for $29 a month.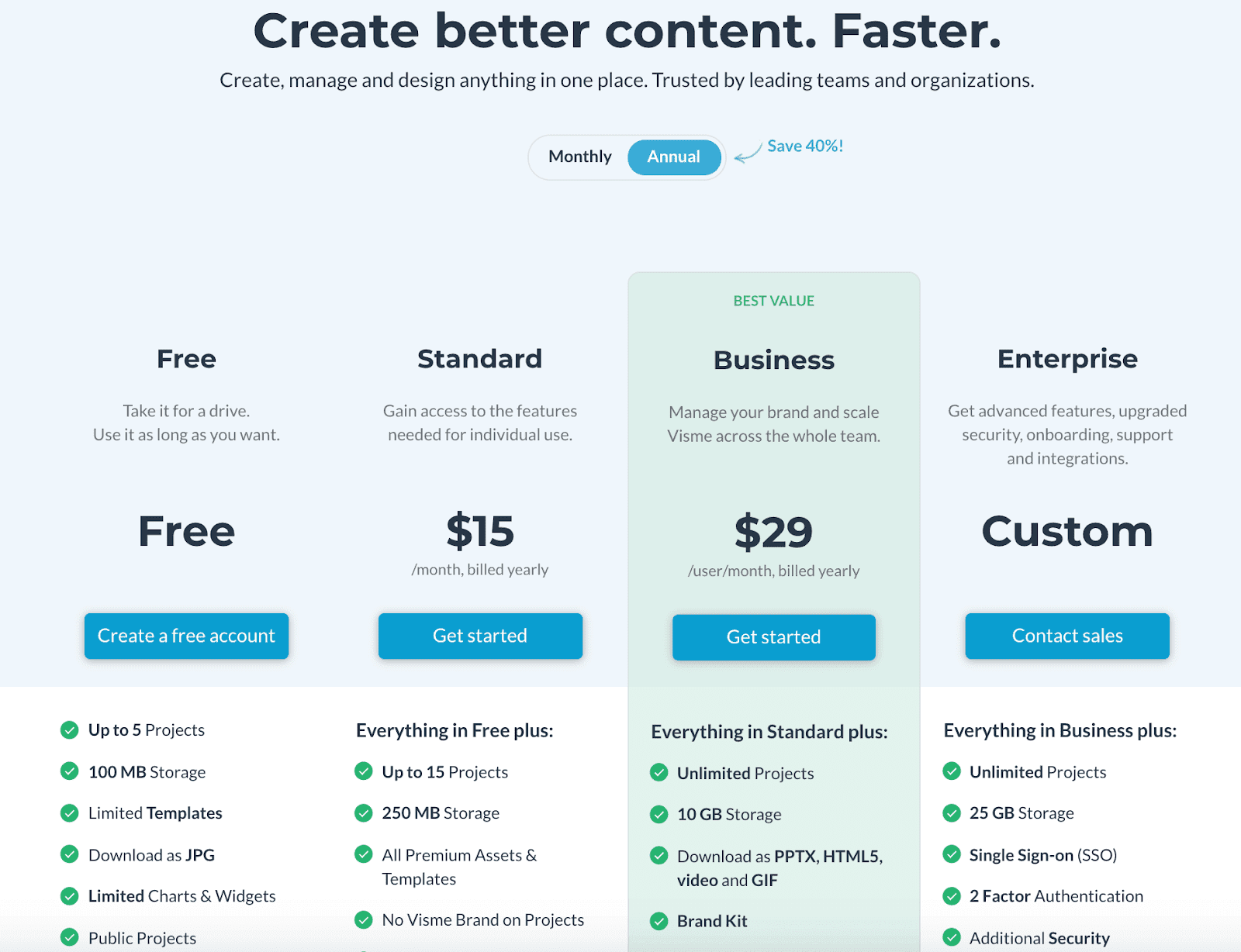 Why we like it: It is much easier to use compared to Photoshop or similar software. The templates are very professional looking and there are so many categories of projects for you to use.
Pricing: Free option. Paid plans start at $15 a month
Website: Visme
Tool #7: AlsoAsked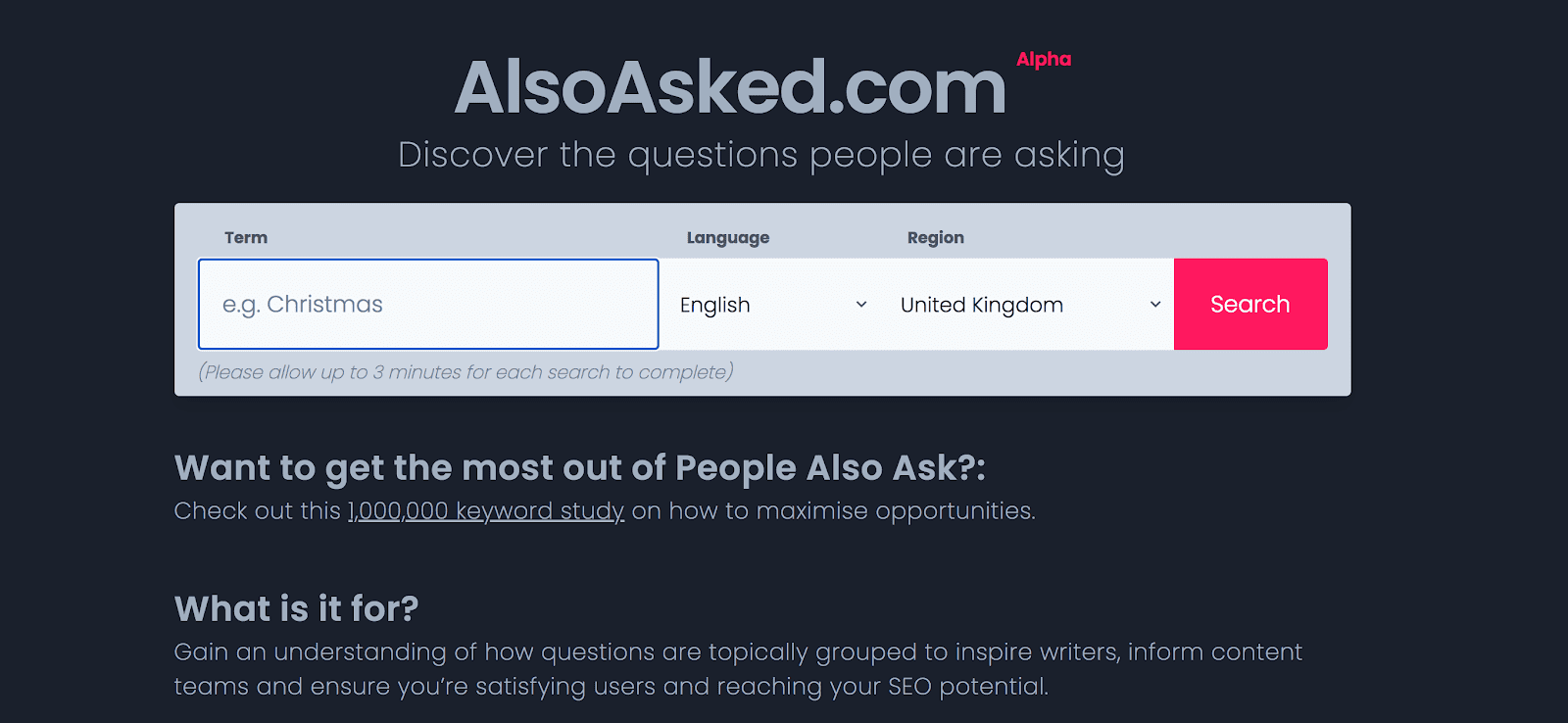 AlsoAsked is a simple tool that discovers questions that people are asking across the world about various topics.
It groups these questions together to give you inspiration from others that will improve your content and SEO strategy.
What is AlsoAsked?
AlsoAsked takes your search term and provides results for more long tail searches from the 'People Also Ask' section of Google.
All you need is your main search term and the region you are looking for to get started.

Questions are then displayed in the form of a mind map-style keyword tree and can be downloaded in Excel to keep for future reference.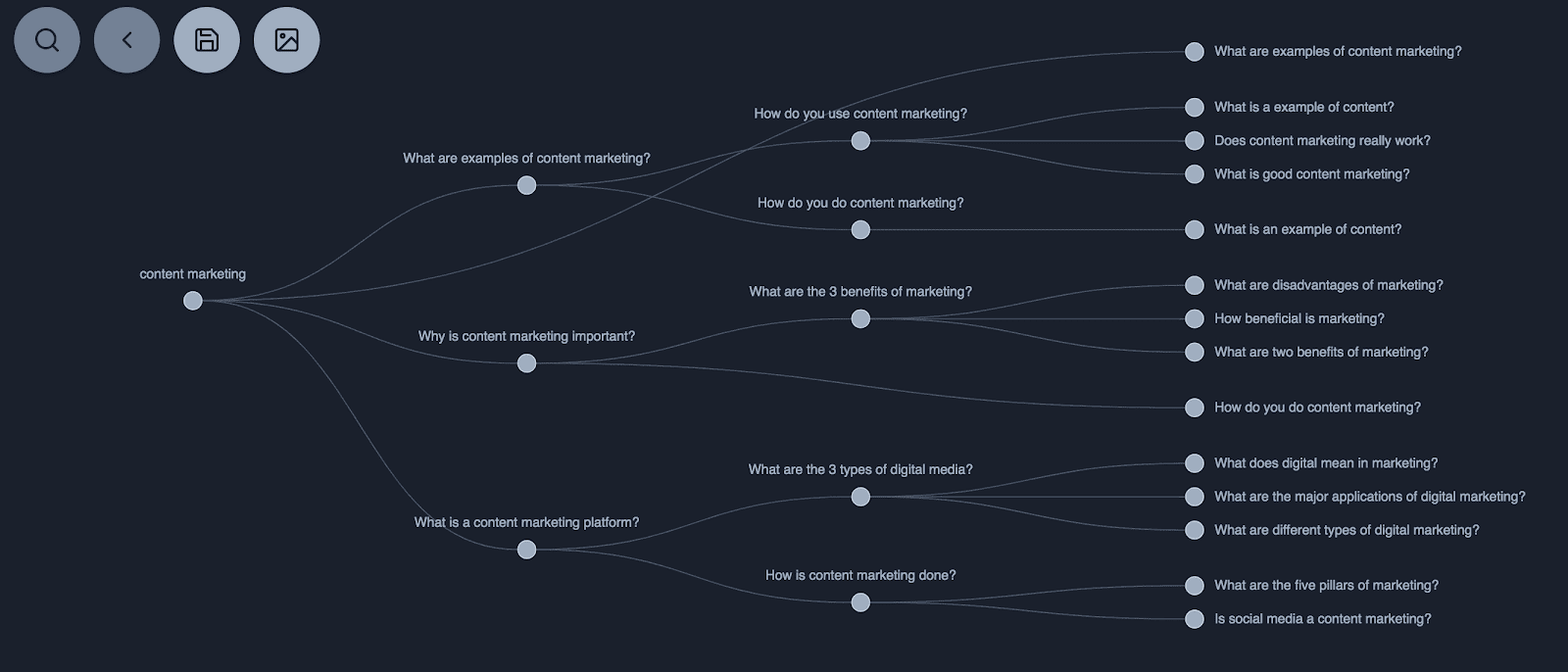 On the left, it will show your main topic and then branching out into similar phrases and questions that people have been searching for on the internet
AlsoAsked Features
The main feature of AlsoAsked is analyzing a specific search term that shows you visually how each level of questions is topically grouped with the next.
Author's Note: The tool is still in Alpha stage so we don't have to report on any other features or capabilities.
AlsoAsked Pricing
You can use AlsoAsked for free, without needing to log in or sign up on the platform.
Why we like it: AlsoAsked is great for content planning and should help inform your SEO strategy. When you can get a sense of how people are searching for things online, you can make educated changes.
Pricing: Free
Website: AlsoAsked
Tool #8: Google's Natural Language API
Google's Natural Language API uses machine learning to identify the structure and relationships within a text.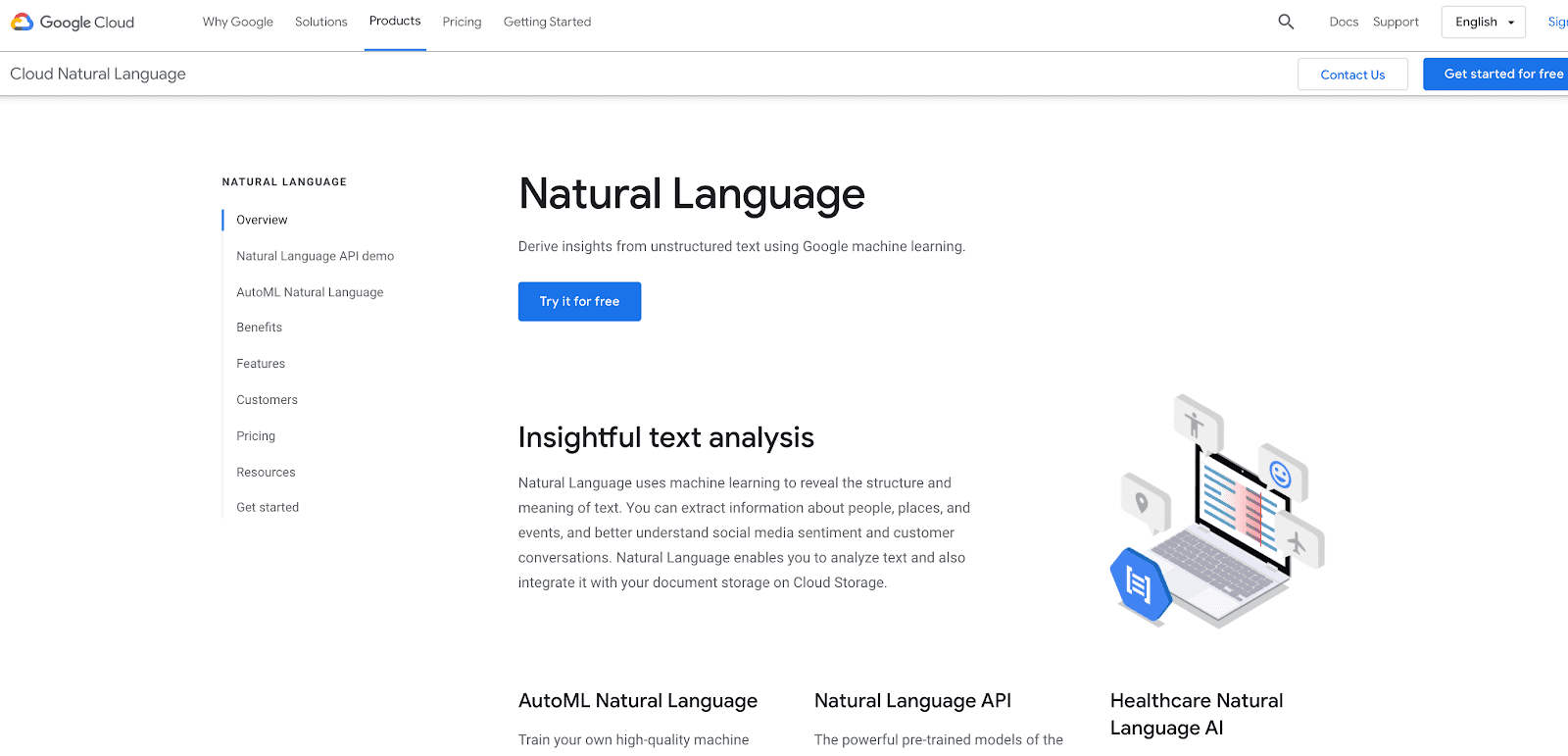 Google's Natural Language API uses machine learning to identify the structure and relationships within a text.
What is Google's Natural Language API?
The Natural Language API finds and categorizes the entities within a text, gives them an importance score, and also determines the feel of the text.
For example, when we analyze a piece of text through their free demo, we can see that entities, sentiments, syntax, and categories each have their own section.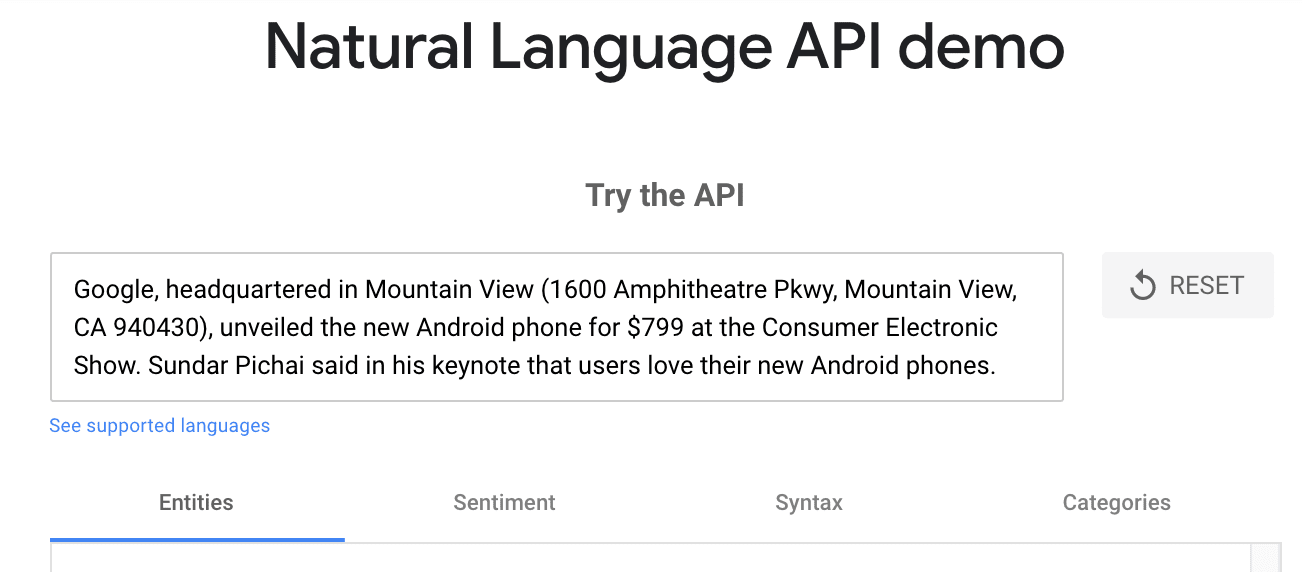 The entities split the text into different groups like organization, location, person, price, event, address, etc.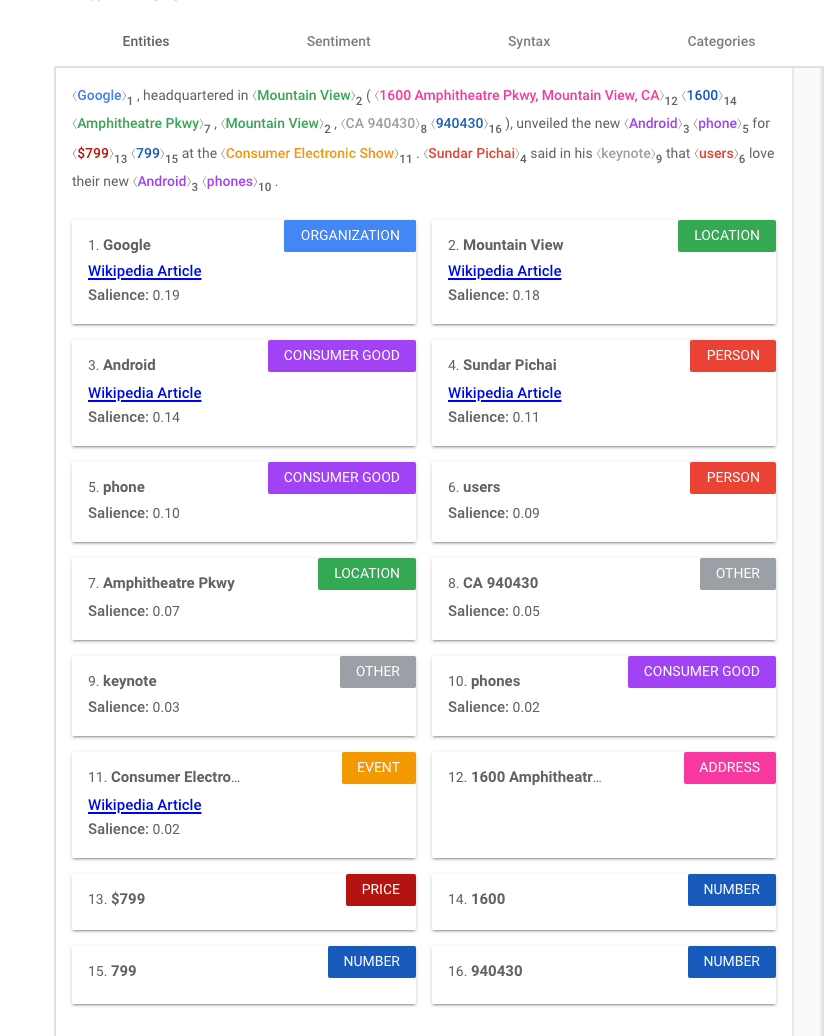 The sentiments tab shows you the scores for different sections of your text and even breaks it down to rate each word.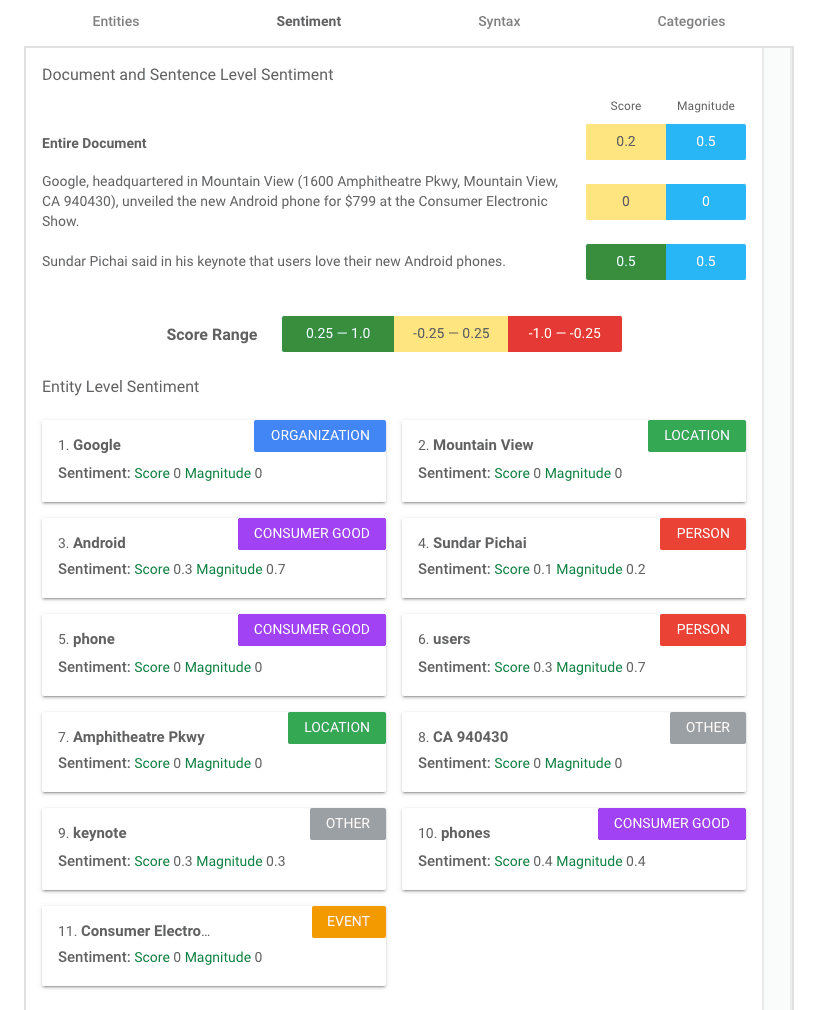 Rest assured that entities—which we mentioned earlier—are extremely important when it comes to content creation and SEO.
Thus, understanding how Google's reading text and analyzes the context of text is crucial if you want to succeed with content and SEO.
Google's Natural Language API Features
The top features of Google's Natural Language API include:
Entity analysis
Content classification
Sentiment analysis
Once you run your text through its software, Google will automatically display key information such as entities, sentiments, and syntax in an easy to understand table.
Google's Natural Language API Pricing
You pay only for the features you use with no upfront commitments.
Pricing is calculated in terms of "units," where each document sent to the API for analysis is at least one unit, and you are charged based on your monthly use.
The first 5K units are free of charge each month, with anything beyond that will vary depending on the volume you are uploading.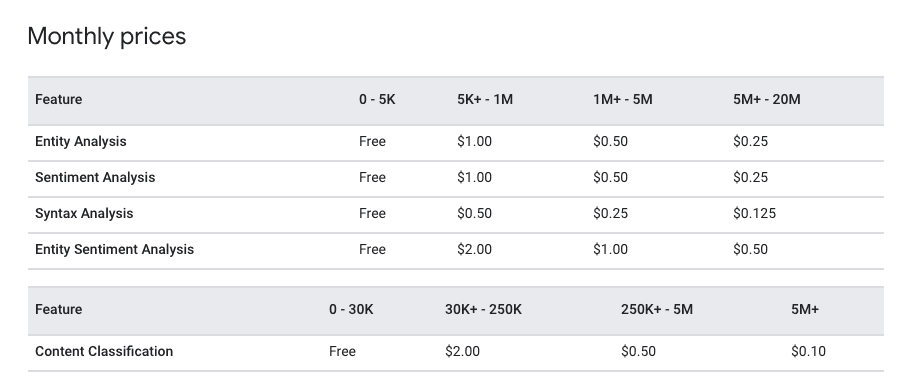 Why we like it: Using this is a very efficient way to improve your content and fill important gaps that might make the difference between ranking #1 and #10 or ranking for one keyword or 100.
Pricing: Free version available / Price varies per use per month
Website: Google NLP API
Tool #9: Google's Vision API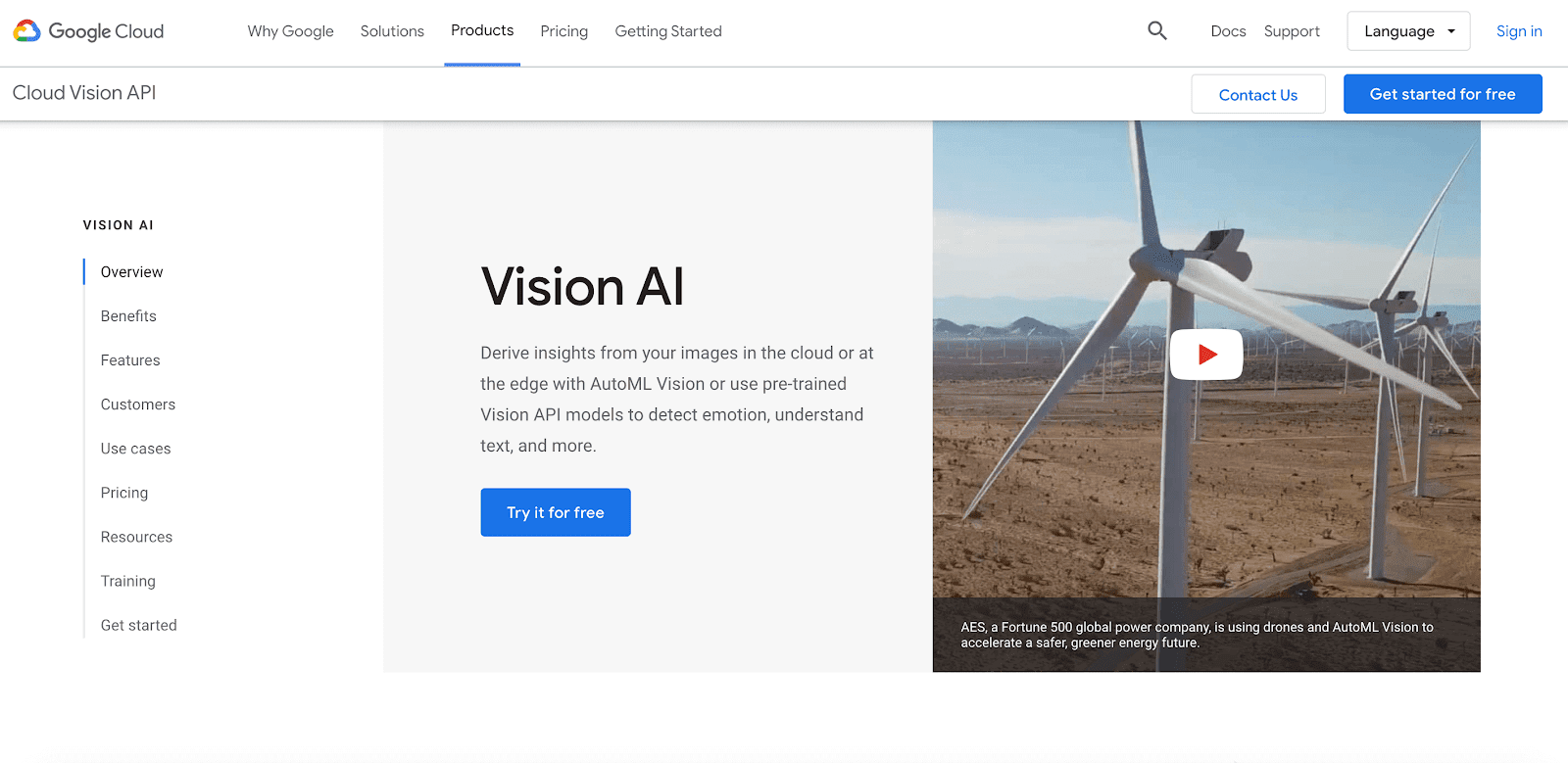 Google's Vision API quickly classifies images into thousands of categories to help developers understand the content of the images.
What is Google's Vision API?
With Google's Vision API you can detect individual objects and faces within images, find and read printed words contained within images, and build metadata on your image catalog.
For example, when we upload an image, the API instantly identifies the human faces in the photo and rates their expression.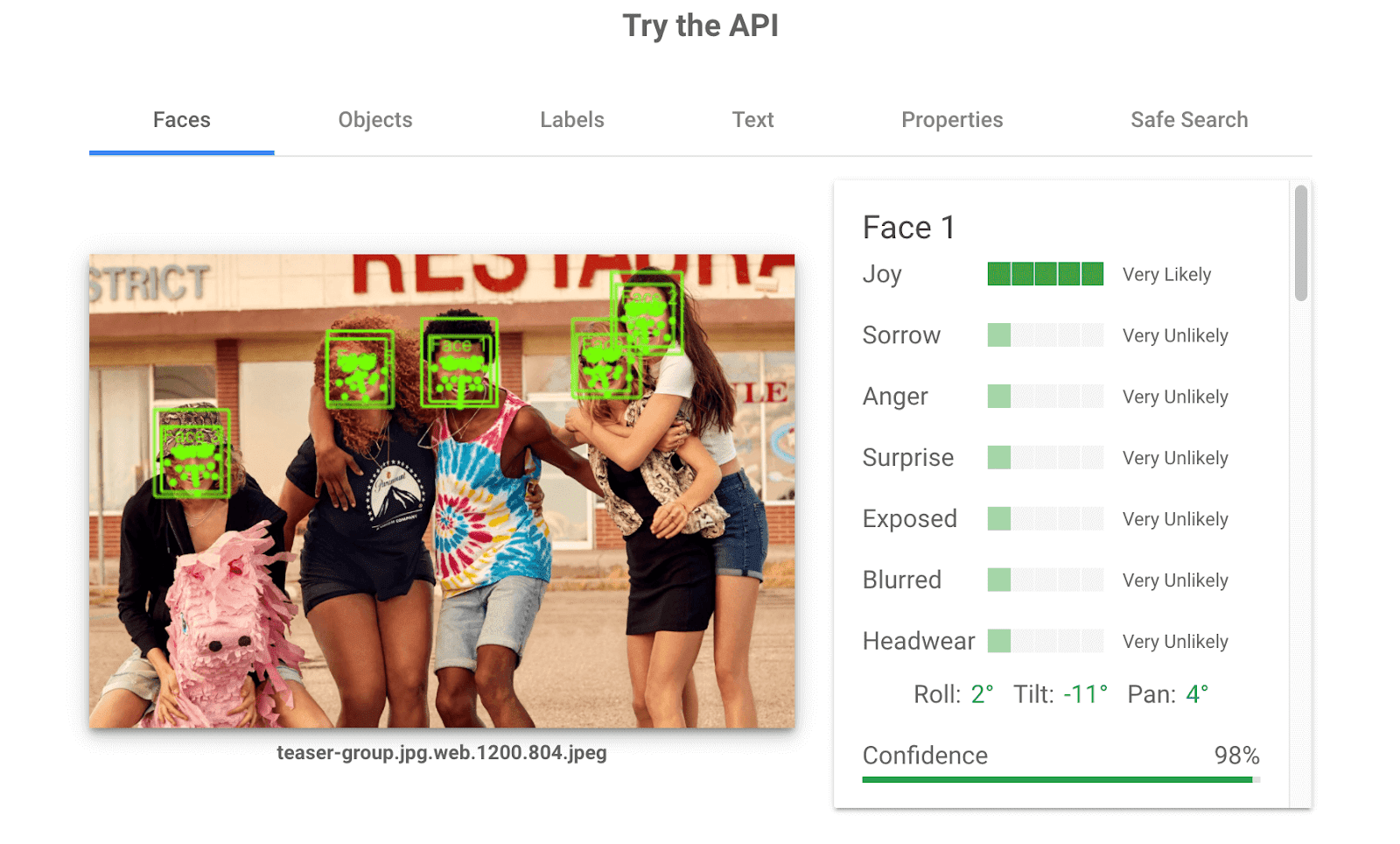 It then takes it a step further and identifies the objects that are in the picture and rates them in order by how many times they repeat.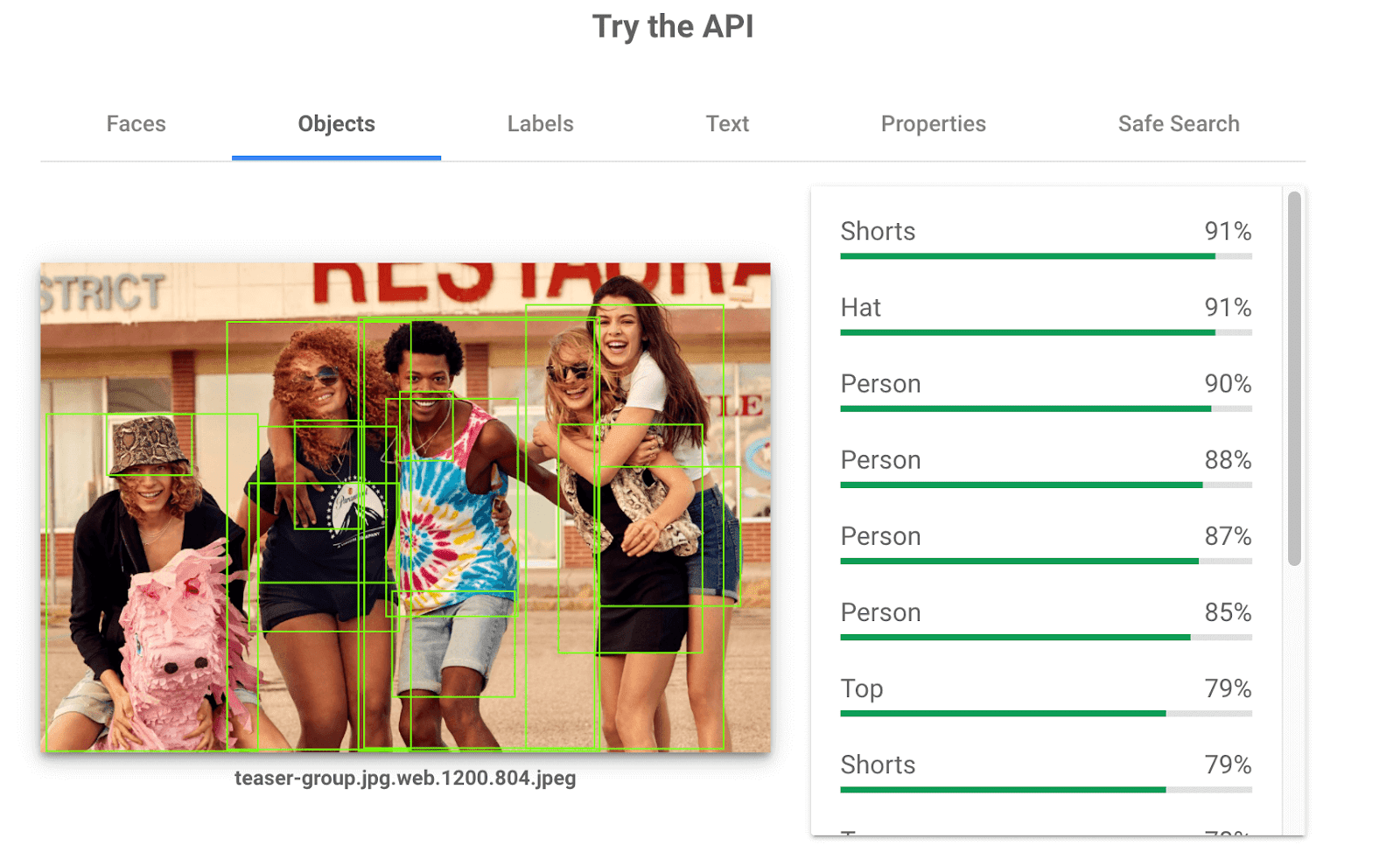 The labels tab will categorize different classifications and also rank them by how many times, similar to the objects tab.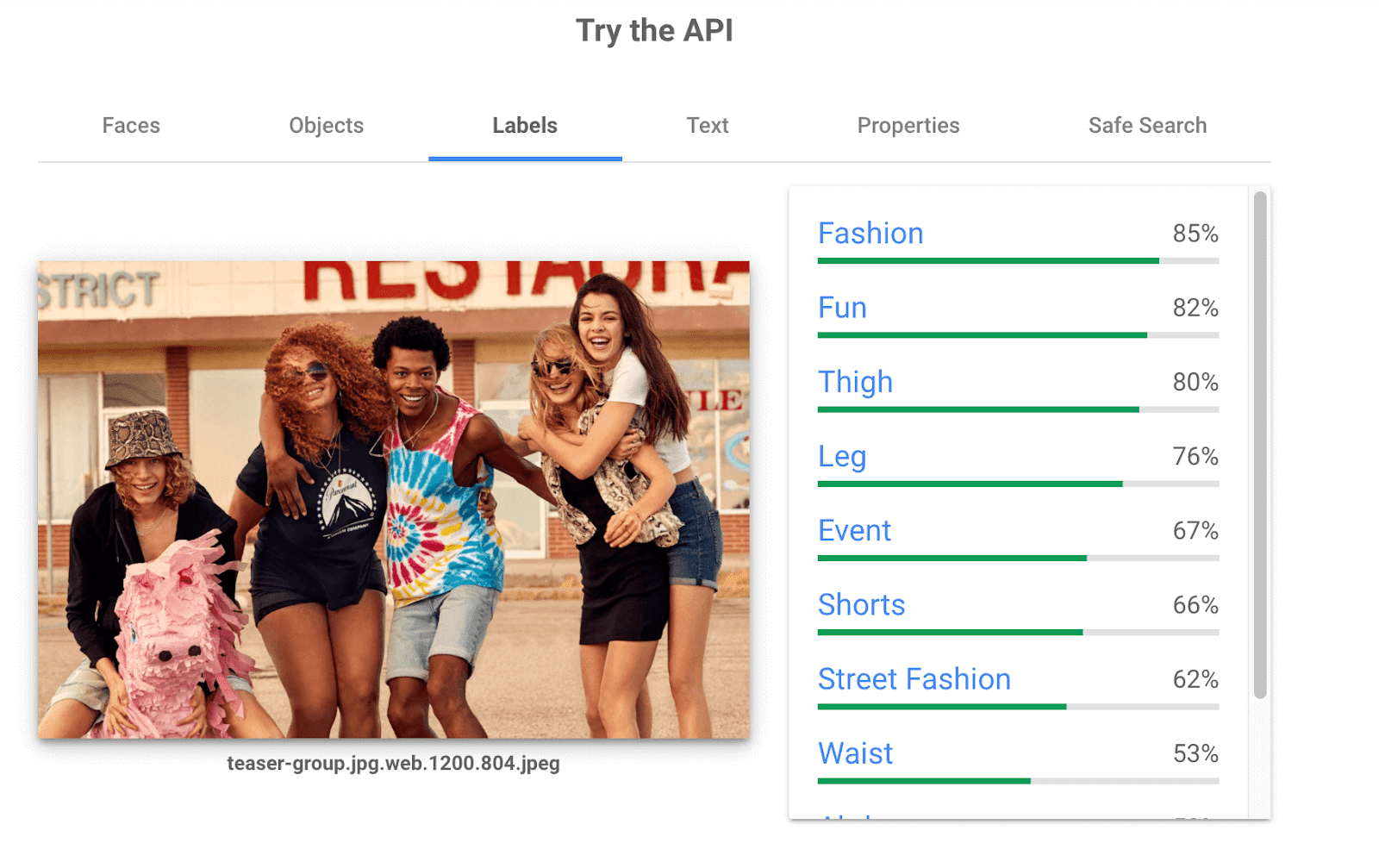 With all this data, you can quickly gather the most common or most used objects to help inform what content you are pushing out to your target audience.
Google's Vision API Features
Three features of Google's Vision API include:
Image recognition and classification
Text extraction
Finding faces in images
When you upload an image, you get an abundance of information like attributes of the image, detect texts and web links, and labels.
Google's Vision API can also perform multiple-face detection within an image, along with other facial features like emotional state and or if headwear is present.
Google's Vision API Pricing
You can upload and analyze your first 1,000 images per month with the free plan and have full access to all the different available features.
If you need more than that, the price will vary depending on how many images you use per month. You only pay for what you need, so each additional image averages around $0.60 – $1.50 for anything you need over the 1,000 limit.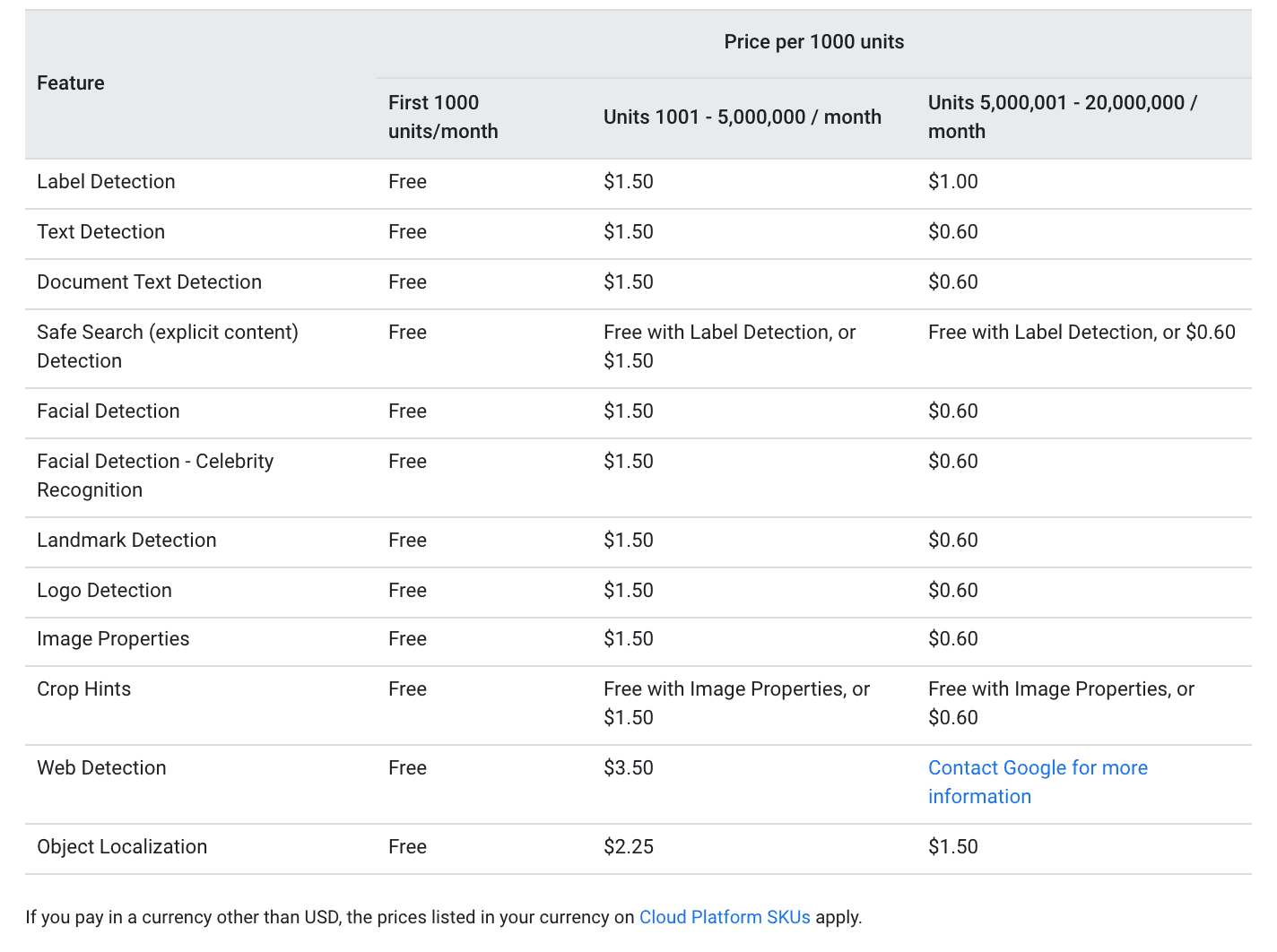 Why we like it: You can predict industry-level accurate results by detecting and extracting multiple different attributes of an image and then section them into millions of predefined categories to help you understand the details of an image.
Pricing: Free version available / Price varies per use per month
Website: Google Vision API
Tool #10: Buffer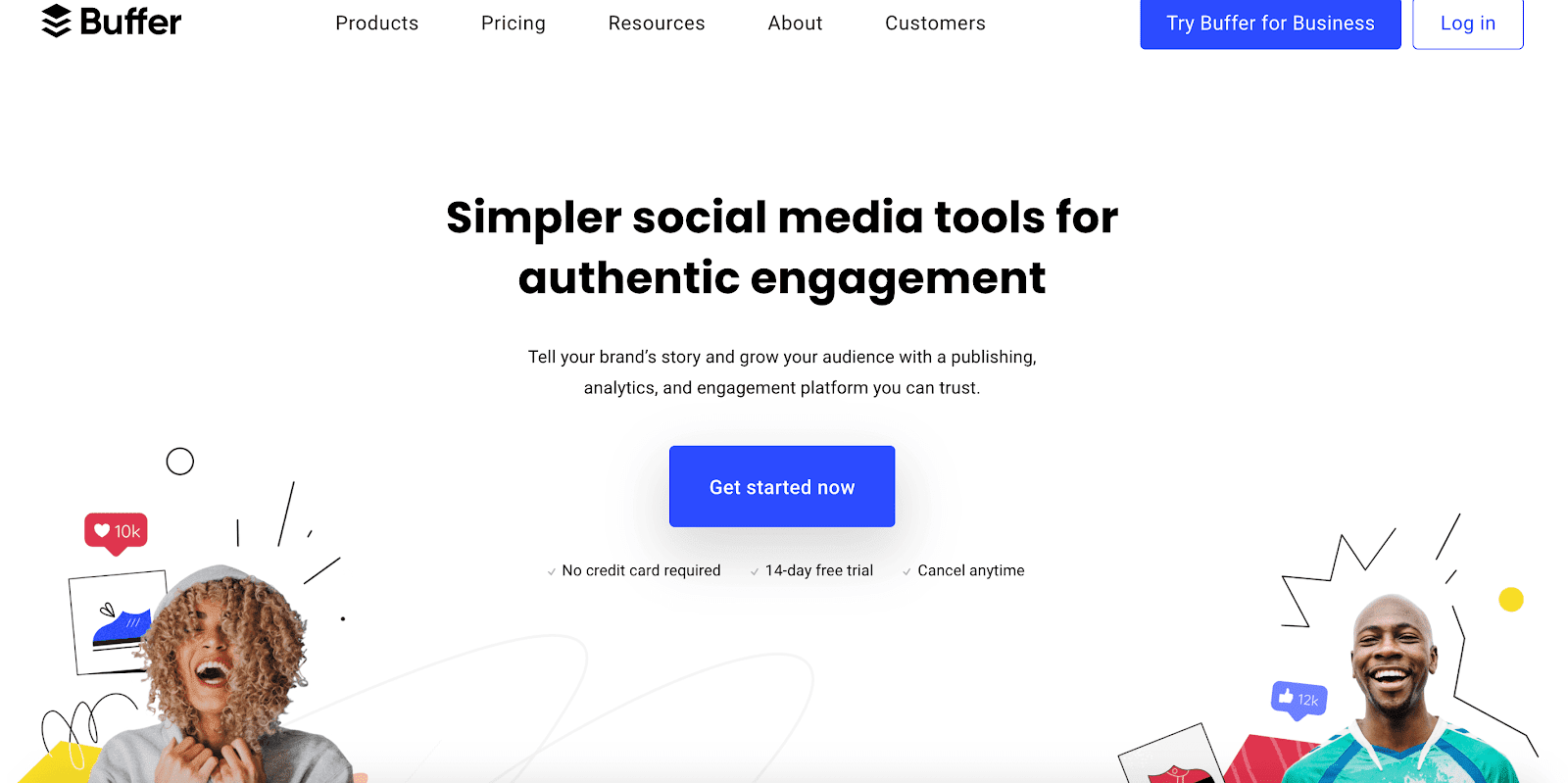 Buffer is a social media publishing tool that can help plan, schedule, and analyze your content across multiple social media channels.
What is Buffer?
With Buffer you can save time and energy by streamlining your social media posts and provide you crucial analysis on your marketing performance to keep improving your content marketing strategy.
They have a browser extension for seamless integration with WordPress, Chrome, and RSS readers to make it work with what you're used to.
You also don't need to login to your Facebook, Twitter, Google+, LinkedIn, and other accounts individually; you can access everything you need from one simple to use dashboard.
Buffer Features
Some of Buffer's features include:
Social media calendar
Informative social analytics
Team collaboration
With the social media calendar, you can plan out your posts for different accounts and customize what you want to be published to maximize your reach.
Buffer even has the option to manage your team's work if you have multiple people working in the marketing department to help stay organized.
You can track your content's performance and create reports that will be crucial to view your likes, comments, and engagement to see where there are areas to be improved.
Buffer Pricing
Buffer splits its products into two main categories: Publish and Analyze
1) Publish
If you are just starting, the pro option is a good starting point with automating your social media posting.
However, if you are a larger company and need to post more than 100 scheduled posts, the premium option gives you a big bump to 2,000 scheduled posts.
The business plan is best for businesses that have many different accounts where you need to sync closer to 25 different social accounts with your account.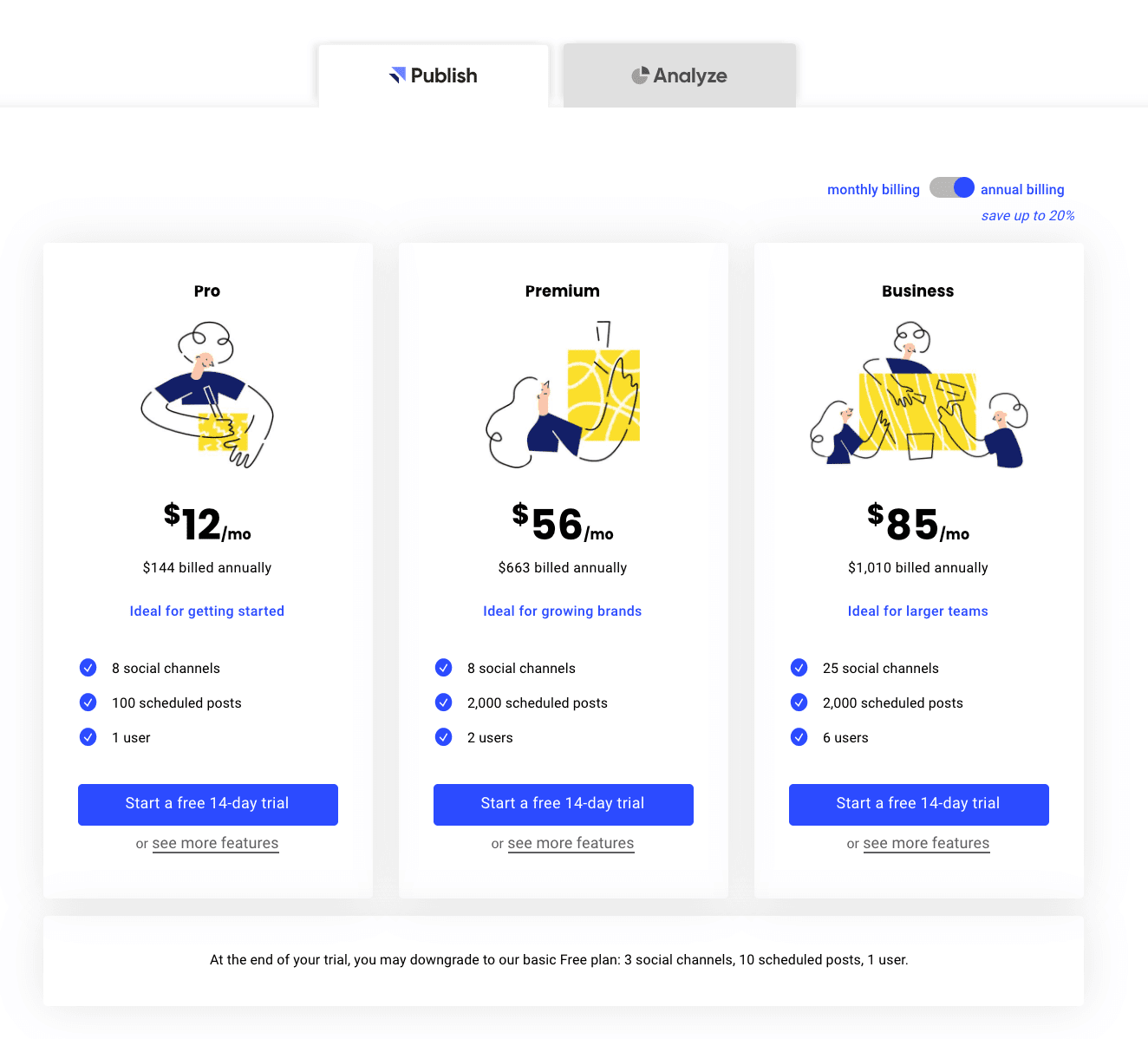 2) Analyze
The two different plans both include in-depth social analytics, strategy recommendations, and unlimited reports.
However, with the premium plan, it's best for growing companies that would need analytics for more accounts and that would want to be able to customize their reports.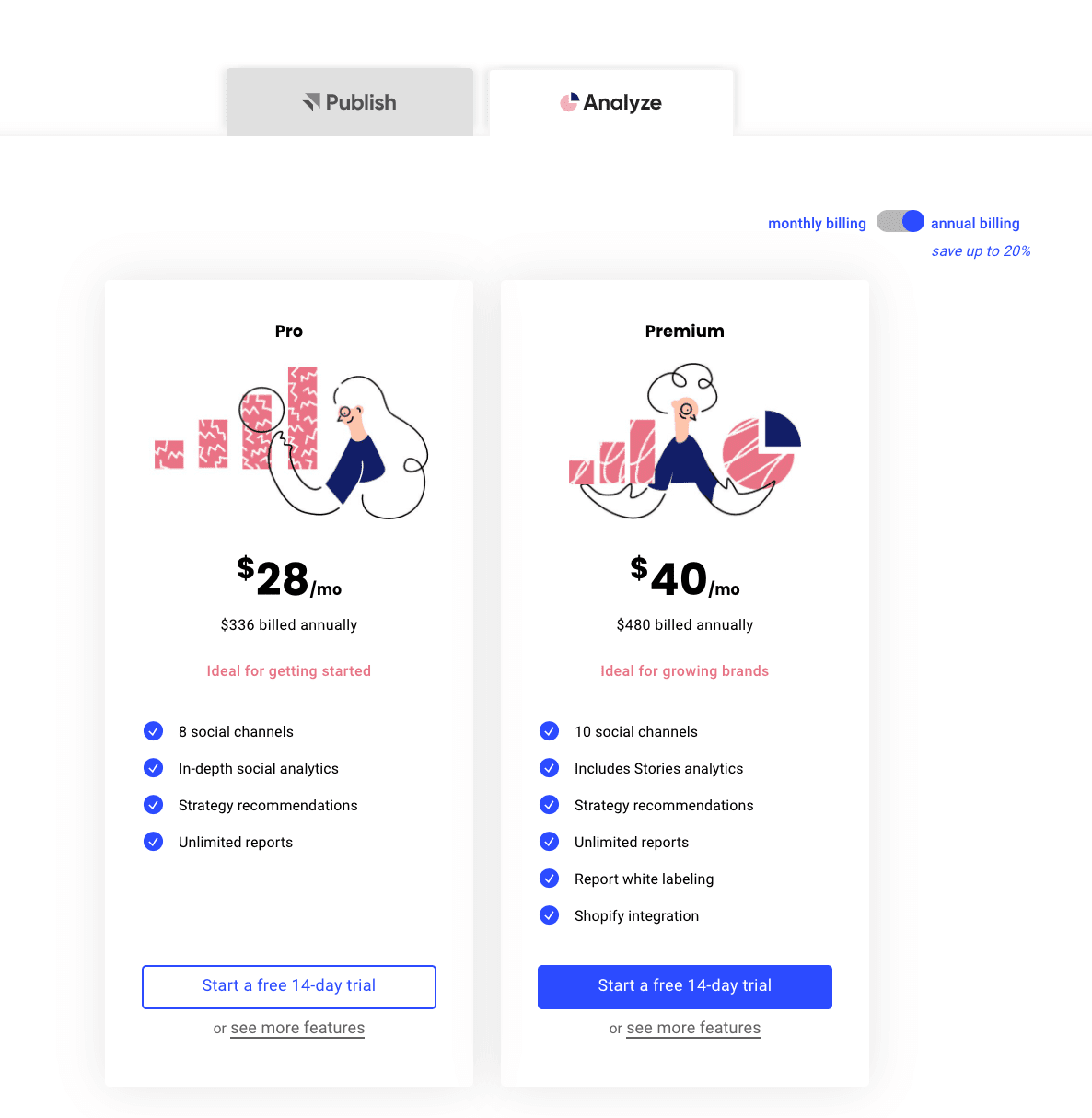 Why we like it: You can manage all your important social media accounts from one easy-to-use dashboard that is constantly being updated to adapt to the changing needs.
Pricing: Free version available / Starts at $12 / month billed annually
Website: Buffer
Tool #11: Grammarly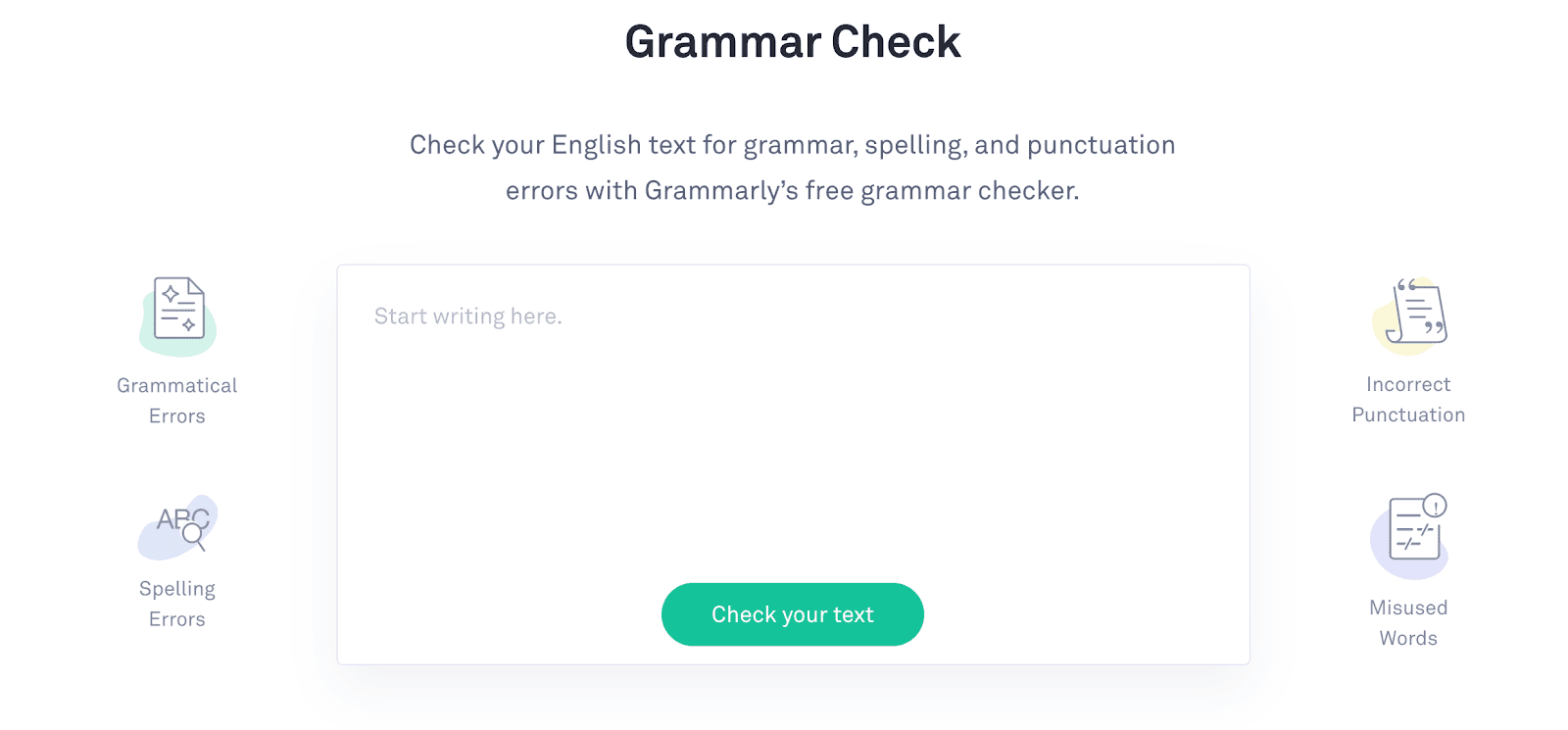 Grammarly is a grammar correction tool and writing assistant that checks your content for errors across many different mediums, including email, social media, WordPress, Microsoft Word, and more.
What is Grammarly?
Through artificial intelligence and natural language processing, Grammarly corrects your grammatical and spelling errors in your text.
You can enable the chrome extension to analyze and make corrections for all the texts that you write, or you can choose to use the web browser that only analyzes the text that is uploaded.
Grammarly Features
The top three features of Grammarly are:
Tone Detector
Grammar Checker
Plagiarism Checker
The main feature of Grammarly is their real-time correcting software that will give you recommendations to make your text more clear and understandable.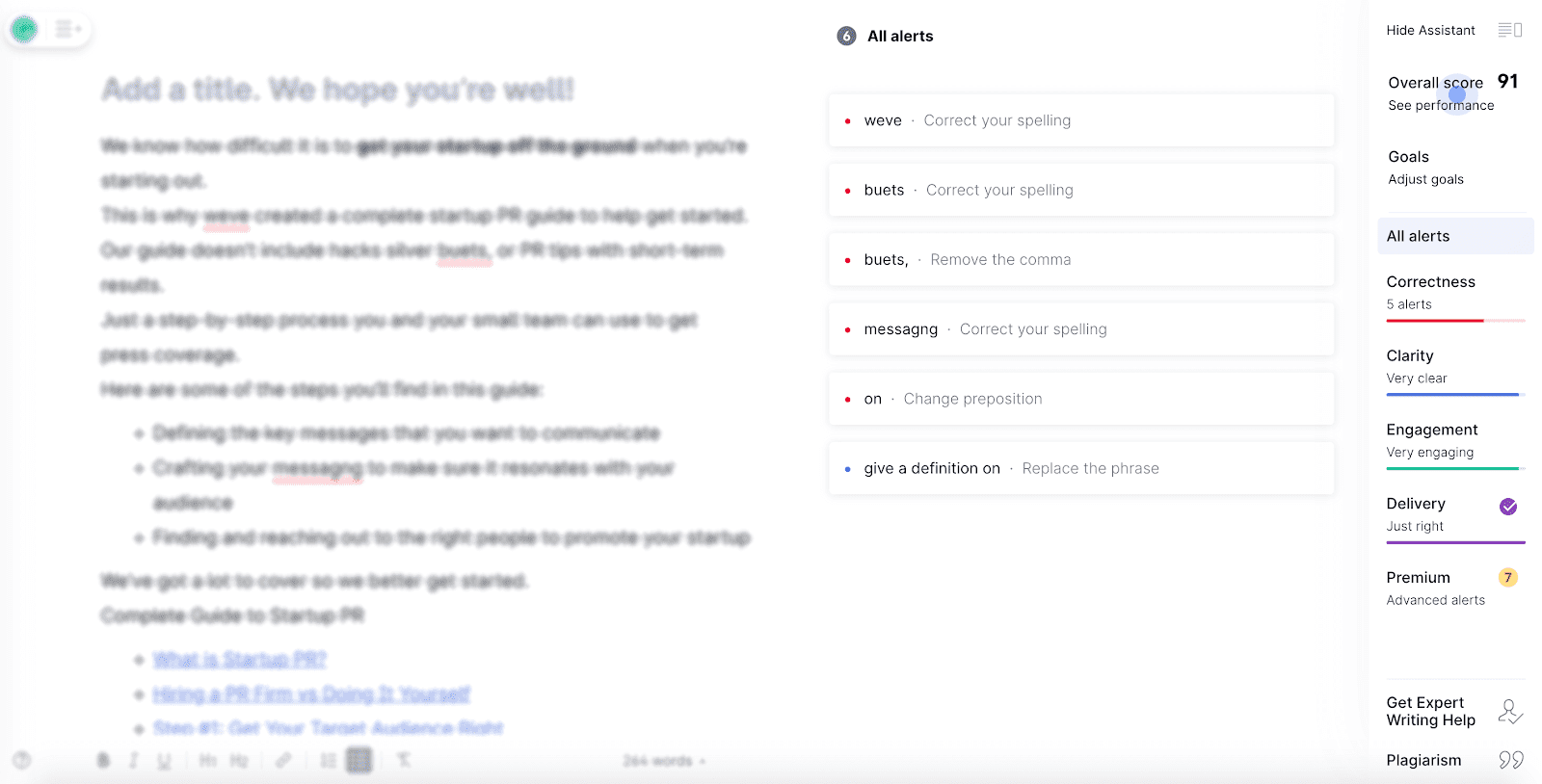 Grammarly Pricing
Grammarly has a free version of the application that covers the basics, like spelling, grammar, word choices, and punctuation. You can add it as a Google Chrome extension or use the Web-app.
The premium version takes it a step further with suggestions on how to make the writing style better, depending on the type of content experience you are trying to convey.
With this type of account, the recommended corrections are tailored to your specific writing style and will not mark something as an error if it's intentional.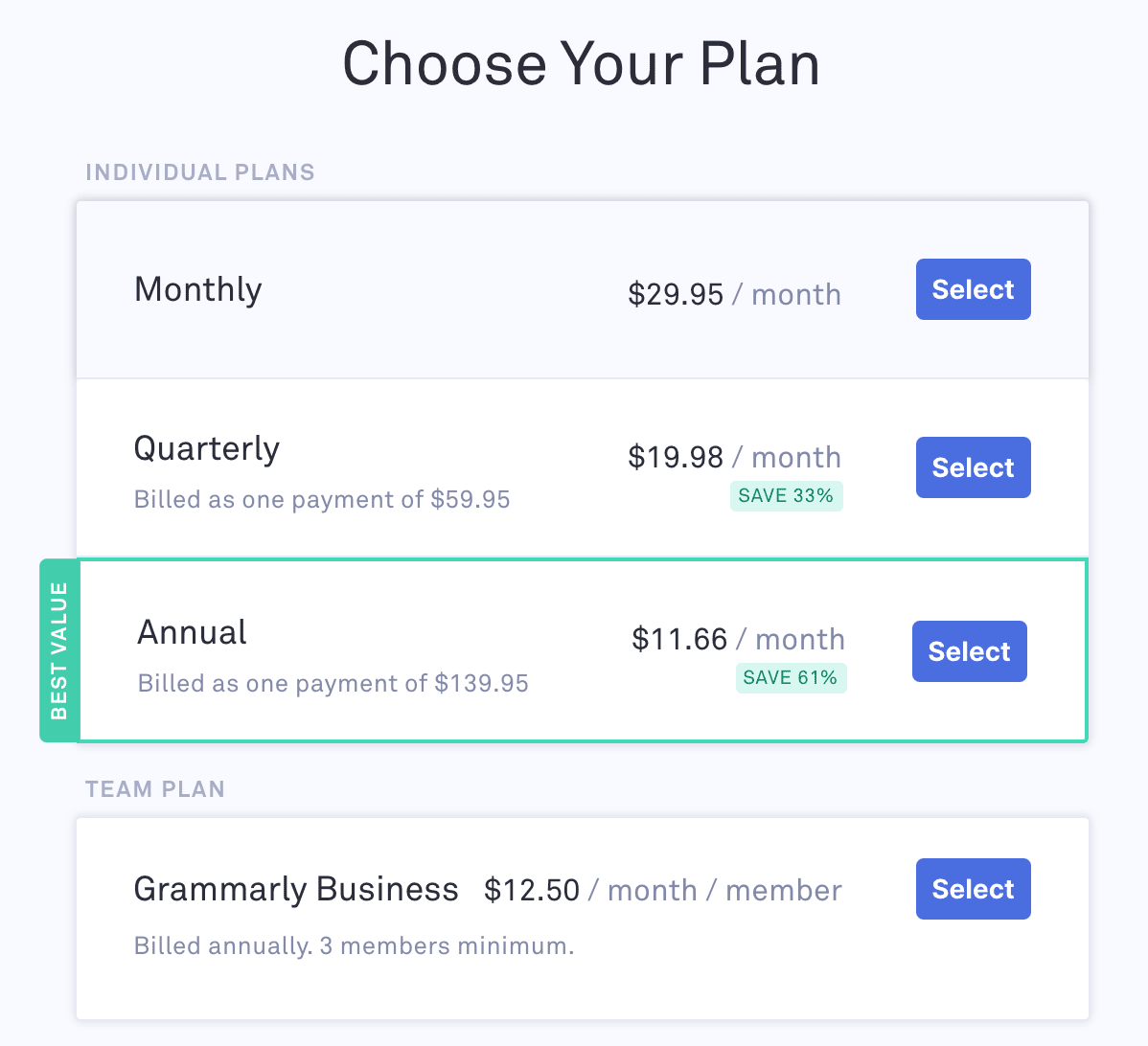 Why we like it: It's always a good idea to have a second pair of eyes looking over your content before it gets published to your audience. Grammarly goes above and beyond and catches the smallest mistakes that once corrected will make your writing more accurate and professional.
Pricing: Free version available / Premium product starting at $11.66/month
Website: Grammarly
Tool #12: SocialBlade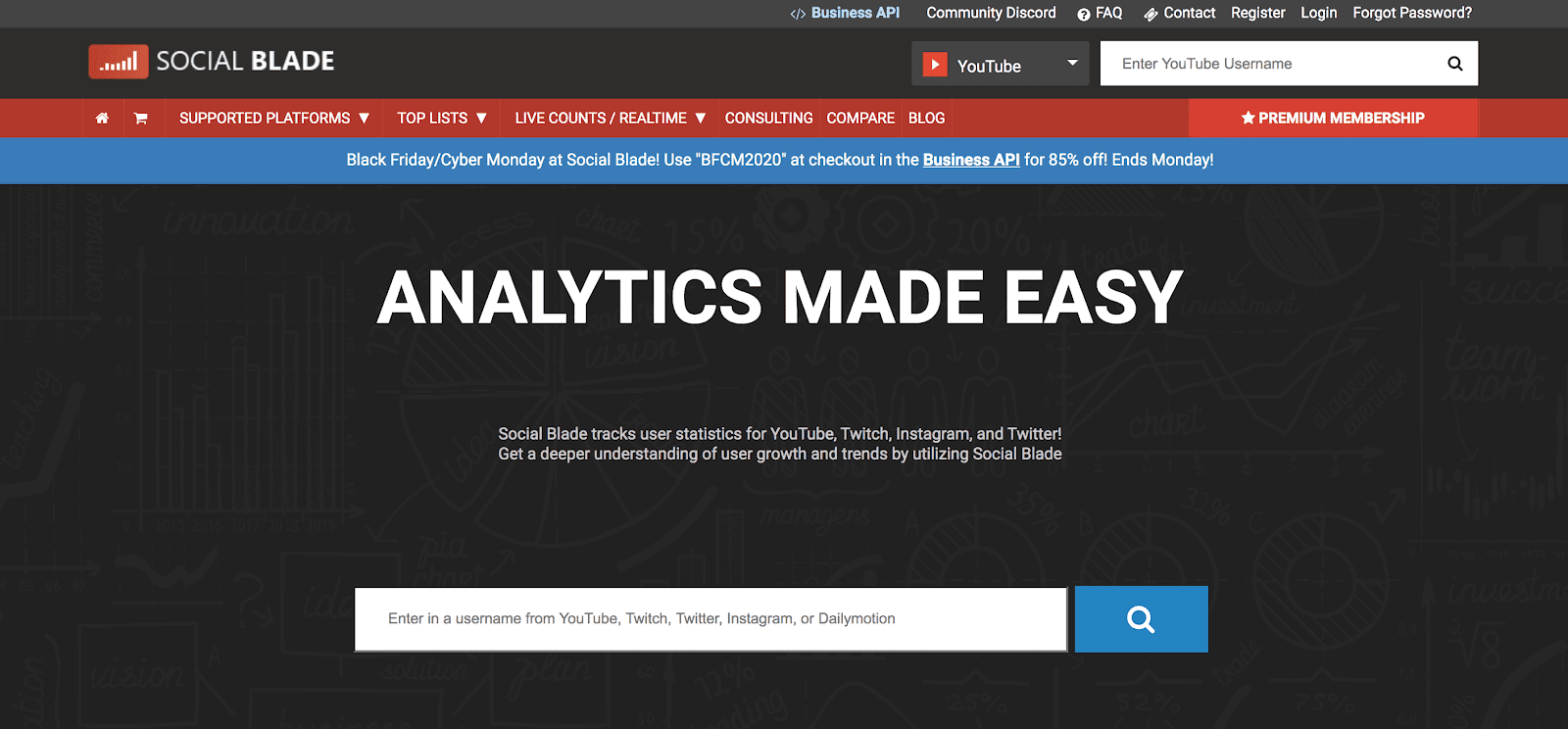 SocialBlade is a social media tool that analyzes statistics of a popular channel and creates statistical graphs and charts that helps you track progress and development.
What is SocialBlade?
Social Blade collects public data from YouTube, Twitter, Twitch, Daily Motion, Mixer, and Instagram and displays key details that are important to keep an eye on.
For example, when we look up Hubspot on Youtube, we can immediately see their number of uploads, subscribers, video views, and when the account was created.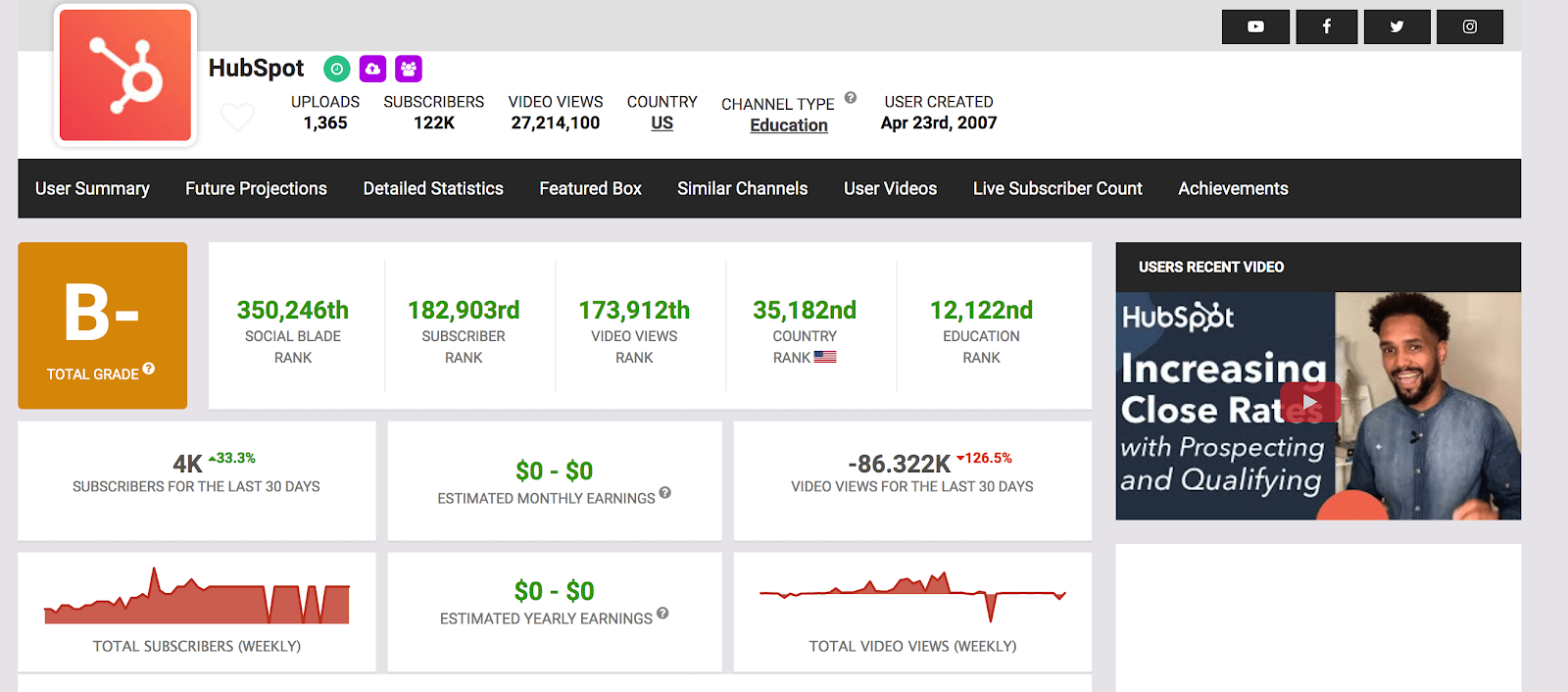 Continuing down the page you will find a history of their Youtube statistics, like daily views and new subscribers.
This is helpful to reference when you're trying to compare your own company to the growth of another successful company.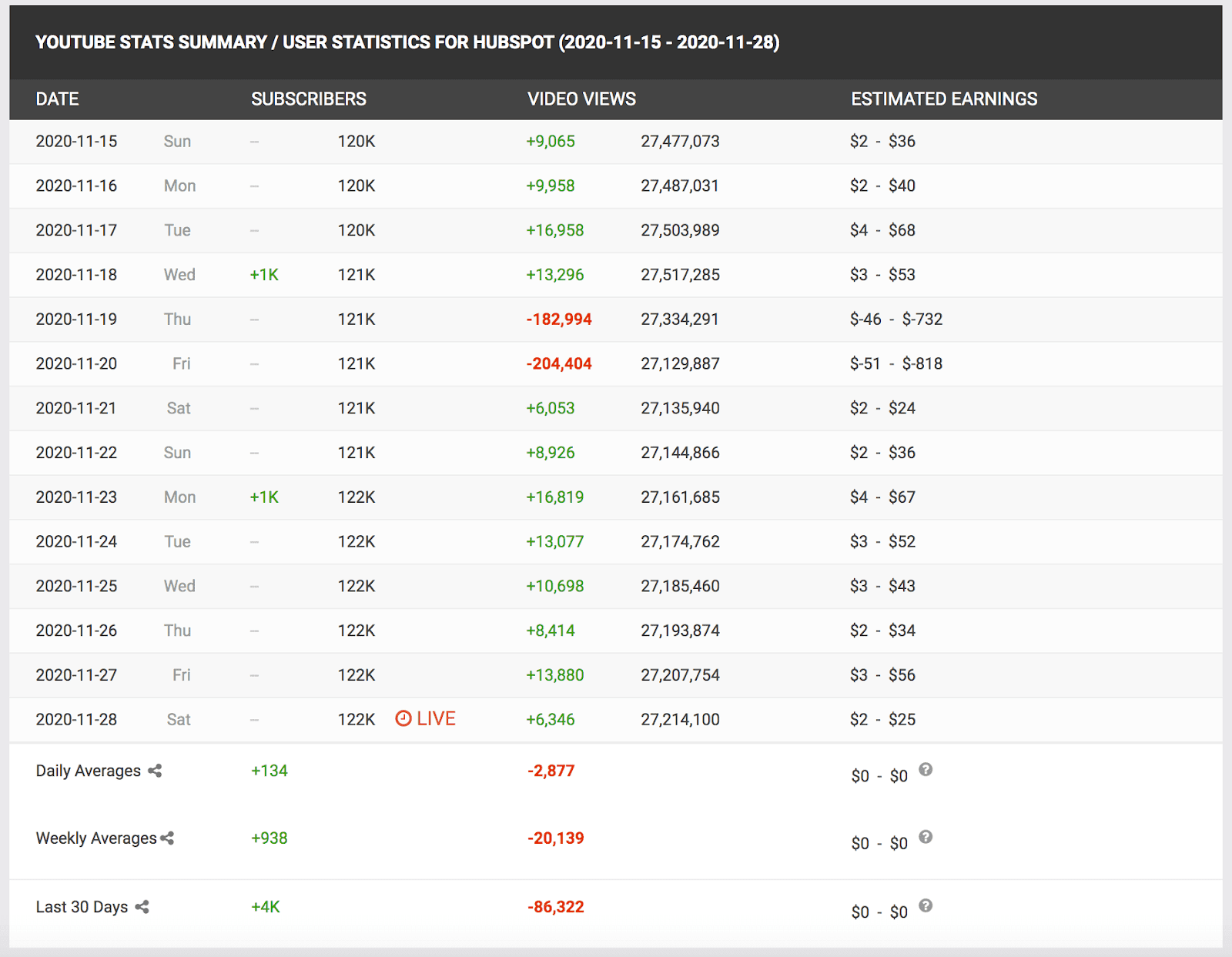 You can also find other details on this same page like future projections, detailed statistics, and other similar channels.
SocialBlade Features
The four main features of SocialBlade are:
Reports of video views, likes, and subscribers
Graphical assessment of performances
Historical records of account summary
Real-time analysis
Through their website, you can also see top charts for Youtube (or one of the other platforms they support) and see accounts that are highly rated at that current time.
One of our favorite features is that you can see a live stream of actual subscriber amounts in real-time.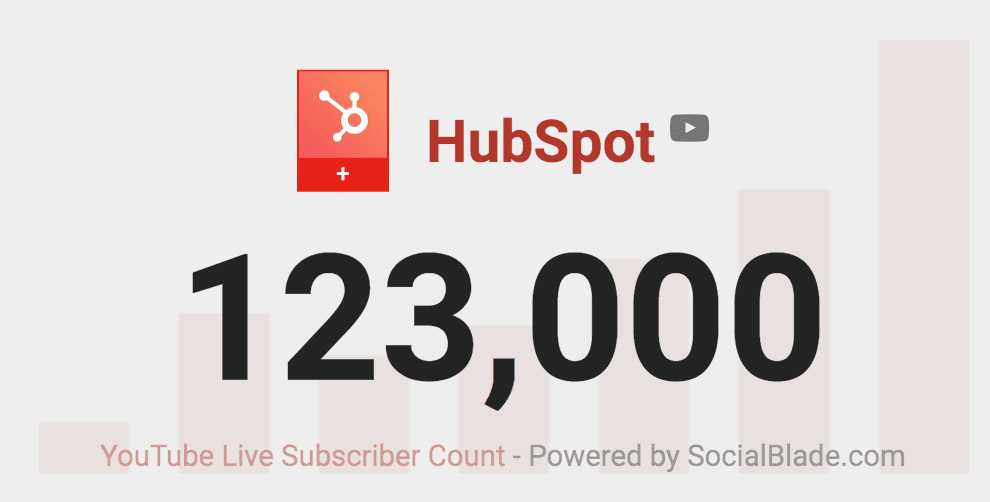 SocialBlade Pricing
You can get Socialblade's top lists, live counts, blog, YouTube money calculator, YouTube EDU, and dashboard all for FREE.
Why we like it: You can see the exact number of subscribers and views someone gets every month and how it's changed over time through their analytics tools that can help inform your marketing campaigns.
Pricing: Free
Website: SocialBlade
Tool #13: TinyPNG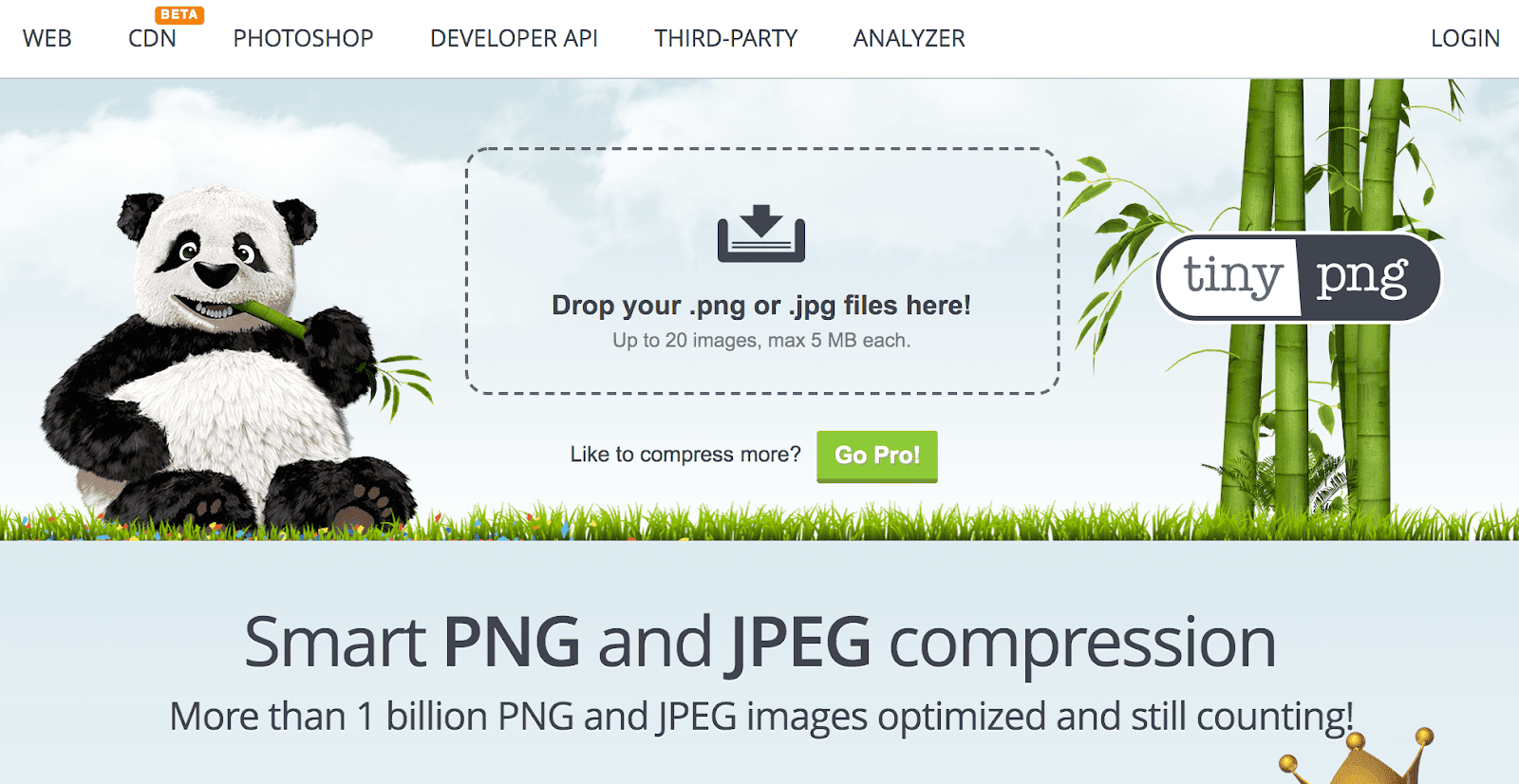 TinyPNG compresses your image file size to optimize your site speed while still maintaining a high-quality image.
What is TinyPNG?
When you upload an image to TinyPNG it's optimized, compressed, and returned to you in a smaller size so you can upload it to your website right away.
In the free version, you have the option to upload up to 20 images (max 5 MB each) at a time by dragging and dropping the images or searching for them on your computer.
As soon as it's uploaded, the website will start compressing your images.
This process takes up to a few seconds depending on how many images you have.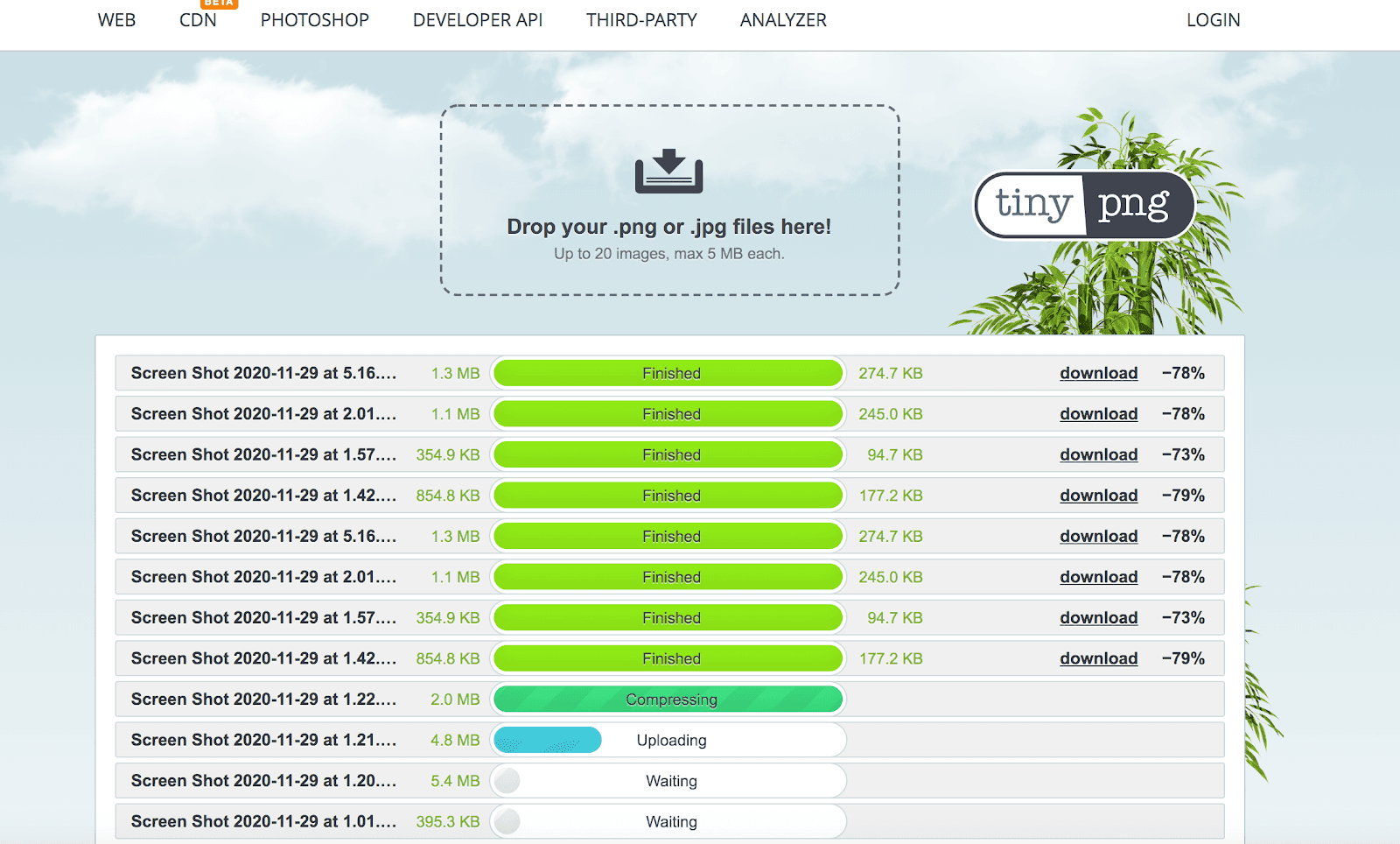 When it's finished you will have the option to save the file to your computer (or dropbox) and it displays how much space TinyPNG saved you on your image size.

It's as simple as that!
TinyPNG Features
Some of the notable features include:
Taking off unnecessary metadata to dramatically reduce the file size by changing the color indexes in the image files
No loss of transparency factor
Offers free WordPress plugin
Preserving image details such as copyright information, GPS location, and creation date
The impact is nearly invisible, but the file size makes a quite significant difference.
TinyPNG Pricing
TinyPNG allows you to optimize 500 images free per month. For many entrepreneurs or marketing professionals, this should be plenty enough.
If you're a larger enterprise and would need more than 500 images, you have the opportunity to upgrade to the paid version that starts at $0.009 for each image.
In the event you have to compress over 10,000 images a month, the price will drop down to $0.002.
Why we like it: It's very simple to use and the freemium option allows you to use their image compression services for most of your needs.
Pricing: Free version available / $0.009 each after 500 images
Website: TinyPNG
Tool #14: Exploding Topics

Exploding Topics analyzes millions of searches, conversations, and mentions across the internet, allowing their algorithm to identify new trending keywords with a click of a button.
What is Exploding Topics?
Exploding Topics allows you to save time and build keyword content before they become super competitive.
Take for example the keyword 'content marketing'.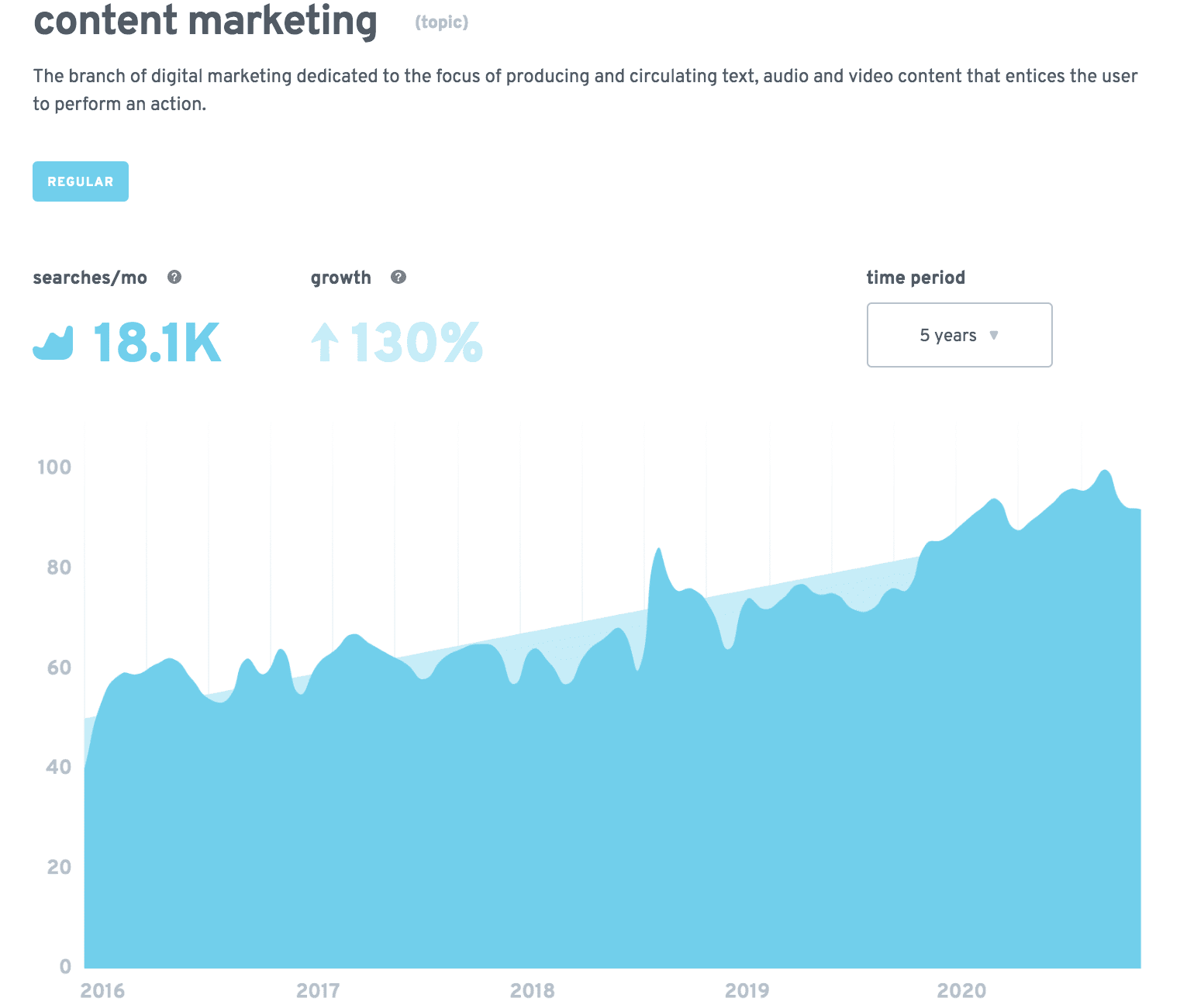 Their algorithm shows you the monthly searches on Google and the growth it's expected over a set period of time (we've set it for 5 years).
The categories section will provide you with a list of top keywords related to your research and links to a growing trends page that shows emerging keywords.

Finally, at the bottom, you can see related topics that are similar to your search that are currently trending and show their monthly searches and future growth.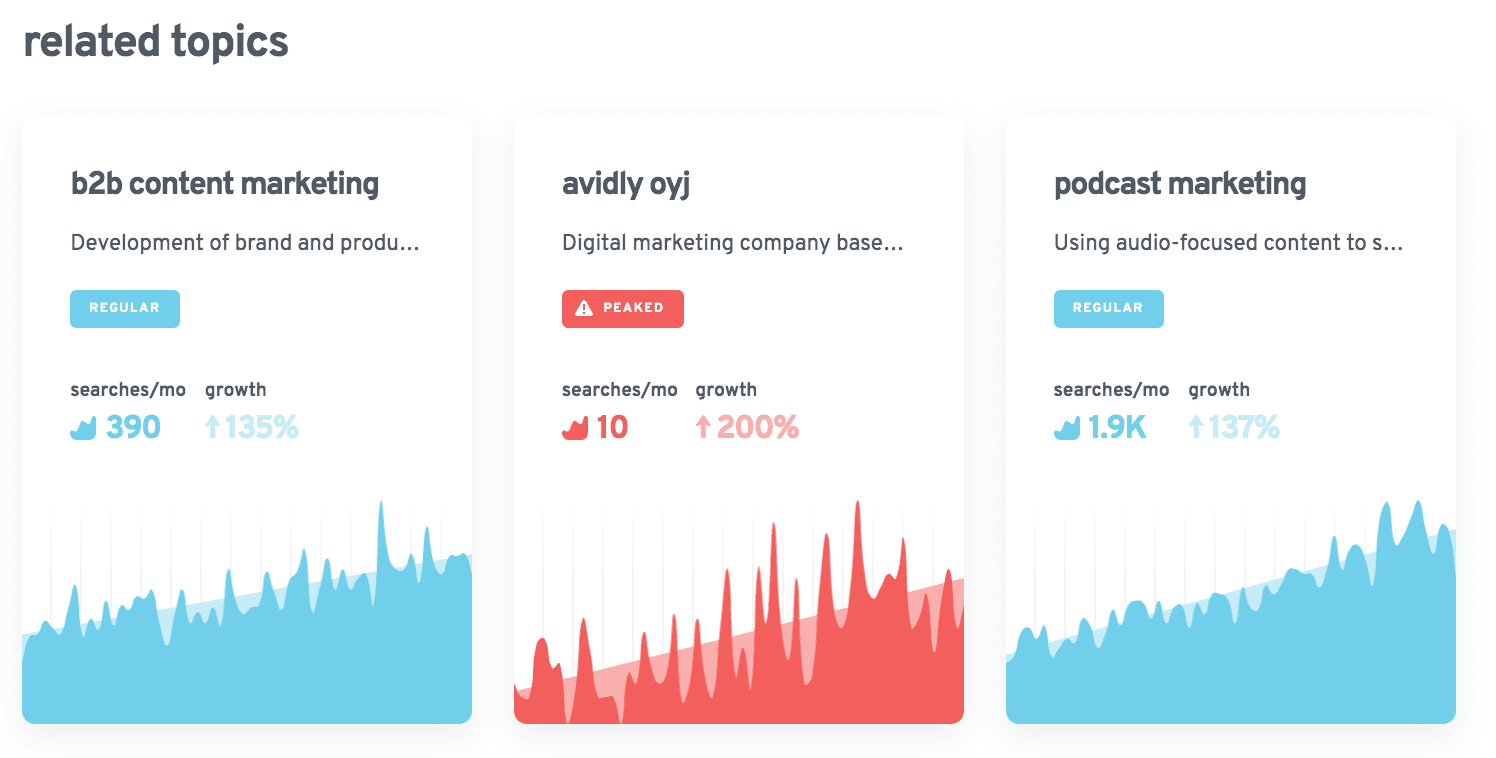 Exploding Topics Features
The main feature for Exploding Topics is clearly their search discovery management tool that shows you trending keywords before they become widely used.
You can receive a weekly newsletter with tips for trending topics.
Exploded Topics classifies topics as:
Exploding: Trending topics at that moment in time
Regular: Topics that slowly gain momentum over some time
Peaked: Trending topics that are now diminishing in popularity
Exploding Topics Pricing
This great new online marketing tool is free to use, but there is a Pro version, for those who want to have access to exclusive (exploding) topics and trends. The Pro version starts at $47 per month.
Why we like it: Researching topics and brainstorming ideas can take a lot of your time. Exploding Topics gives you an advantage with trending topics that are bound to get your content ranked and is a great free alternative to similar sites like Feedly.
Pricing: Free
Website: Exploding Topics
Tool #15: CoSchedule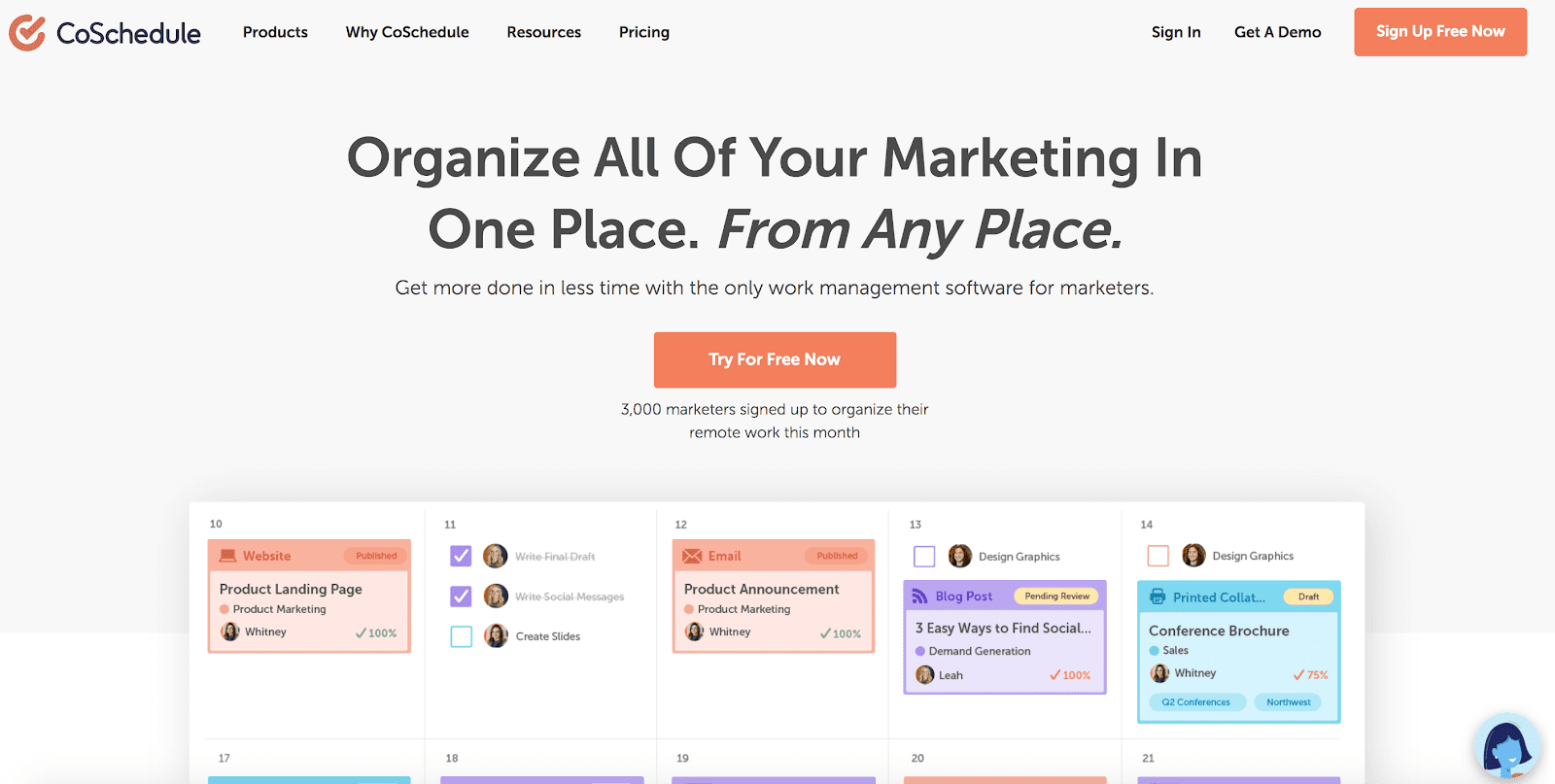 CoSchedule is a combination of agile marketing automation products that can help you schedule social media messages to different social networks, create and schedule all of your marketing activities, and more.
What is CoSchedule?
If your content team consists of multiple different roles (like creative writers, copywriters, designers, project managers, marketing strategists), it can get hectic trying to plan and organize deadlines and ensure consistency.
With CoSchedule you can write, save drafts within the app, and automate your social media posting effectively to help make your content marketing run itself and is a good alternative to Hootsuite.
CoSchedule CRM can help your team whether you need to publish blog posts, infographics, gifs, whiteboard videos, 2D animations, or emails.
Think of it as a combination of Trello boards, Evernotes and Slack messages, all in one place.
CoSchedule Features
The centerpiece of CoSchedule is its social editorial calendars, where you can organize and automate your social media posting for different channels.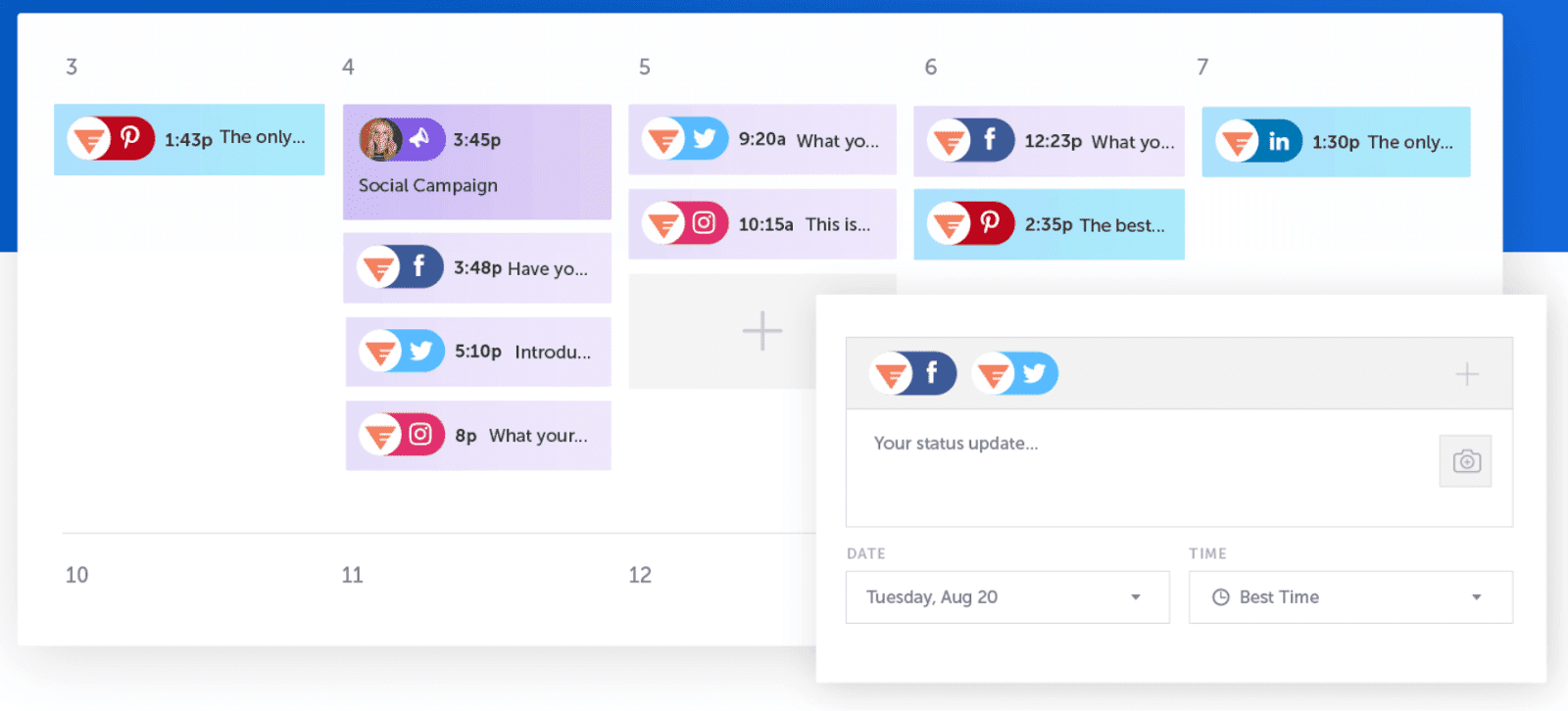 In your calendar, it will show you upcoming blog posts, social posts, email blasts, and other types of content that will be displayed on your dashboard.
The Marketing Suite offers a combination of products that can help coordinate your team, projects, and process. This includes options to track team progress, automate team workflows, and store assets.
CoSchedule Pricing
Blog Calendar – This calendar can help grow your audience by posting relevant content and it even integrates with WordPress. It costs $14 per user/month if billed annually.
Marketing Calendar – It includes all the features as the blog calendar, plus full social media management, custom views, and a real-time marketing calendar. This costs $29 per user/month billed annually.
Marketing Suite – In addition to the previously listed features, it also includes ways to organize your team workflows. The price will vary on a case by case basis depending on your specific needs.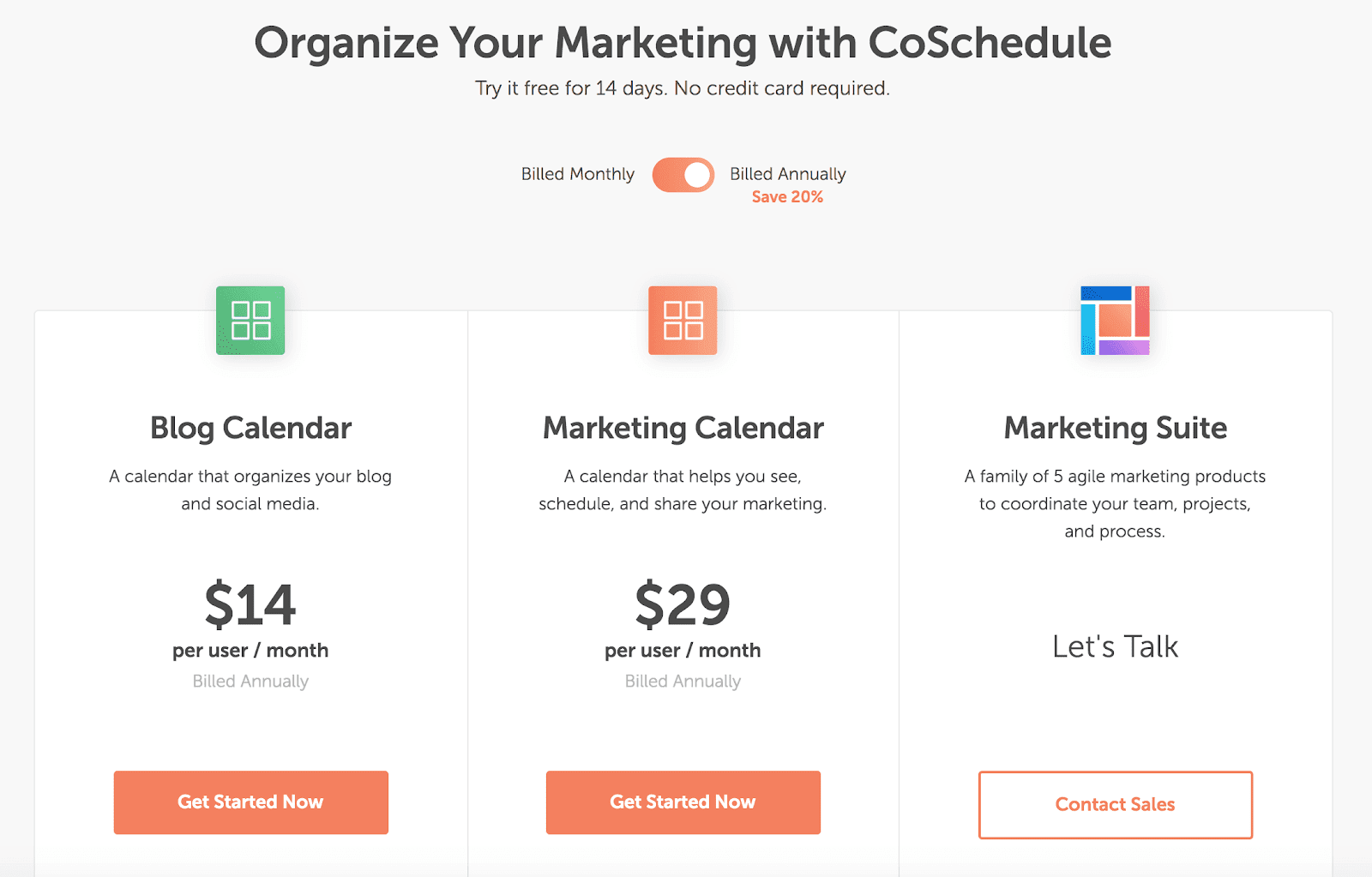 Why we like it: If you have a blog or a frequently updated website, CoSchedule can plan and schedule your content marketing. It will help you publish more content to generate a higher ROI and increase your existing team's productivity.
Pricing: Starts at $14 per user/month
Website: CoSchedule
Tool #16: Google Workspace
Google Workspace (formerly G Suite) is Google's cloud-service collection of collaboration tools that allow businesses to run most of their cloud operations from any device.

What is Google Workspace?
Google Workspace offers a wide variety of products for both personal and enterprise use.
While the free version has a lot of helpful apps, the paid subscription adds enterprise-level features for its subscribers that can help streamline your business and make your workflow easier.
They can provide solutions to your common business challenges with their versatile set of applications.
Google Workspace Features
The top features of Google Workspace include:
Gmail
Google Calendar
Google Drive
Google Analytics
Google Hangouts
With your Gmail account, you can get a custom email (@domain.com), 15 GB of storage for each email, spam protection, powerful search, and integrated calendars.
These calendars can be synced across other team member's calendars.
Create, edit, and share files in your Google Drive with Google Docs or Google Sheets to save your documents to the cloud and make them available to your entire team.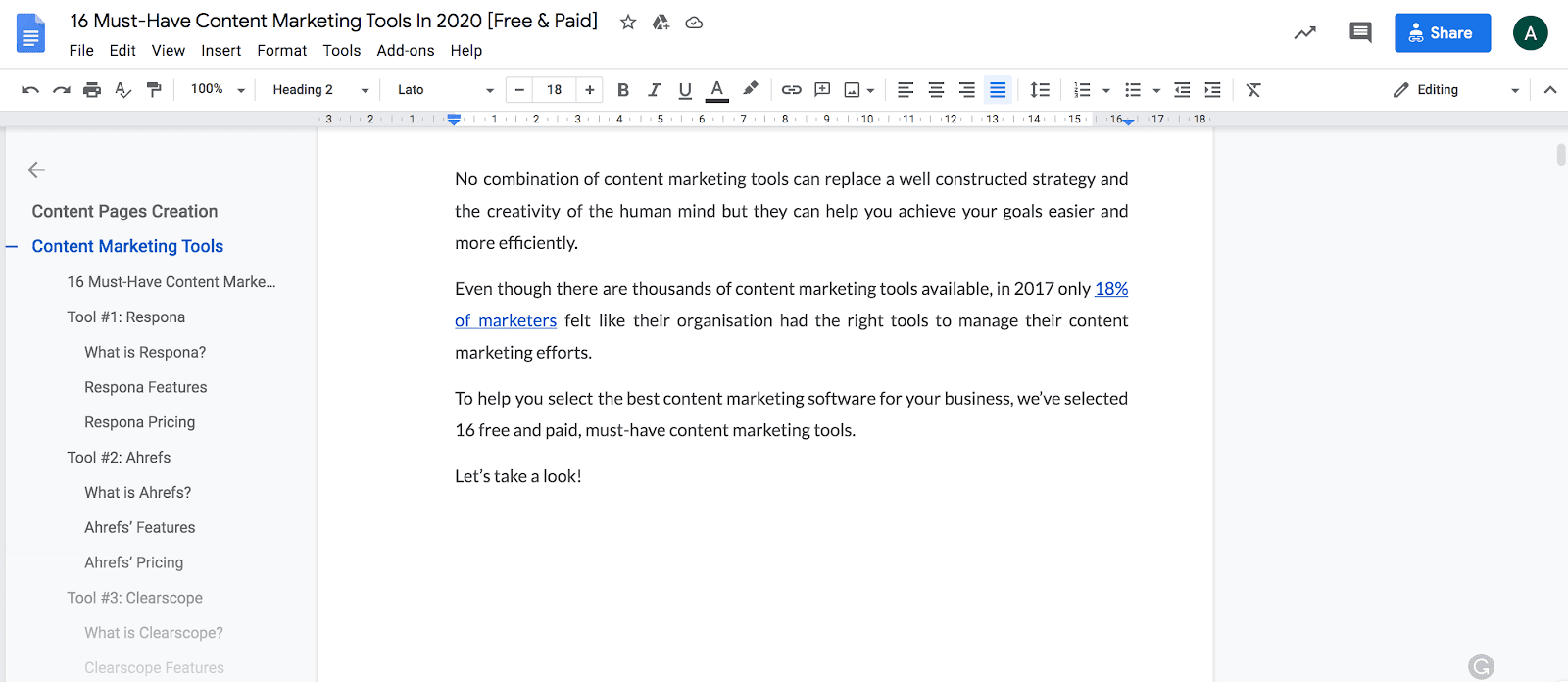 You can even schedule and host live meetings through Google Hangouts that can help keep your team organized.
Google Workspace Pricing
Basic: 30 GB of shared storage across Drive and Gmail for each user. Includes most of Google's productivity apps and costs $6/user/month.
Business Standard: It includes all the features as the Basic plan but includes meeting attendance tracking and more shared storage space. This will cost $12/user/month.
Business Plus: All the same features of the Business standard plan but adds enhanced security and management controls, including Vault and advanced endpoint management. Business plus costs $18/user/month.
If you want an option that provides unlimited storage for all users and enhanced support, the Enterprise plan is based on your specific needs and the price will vary.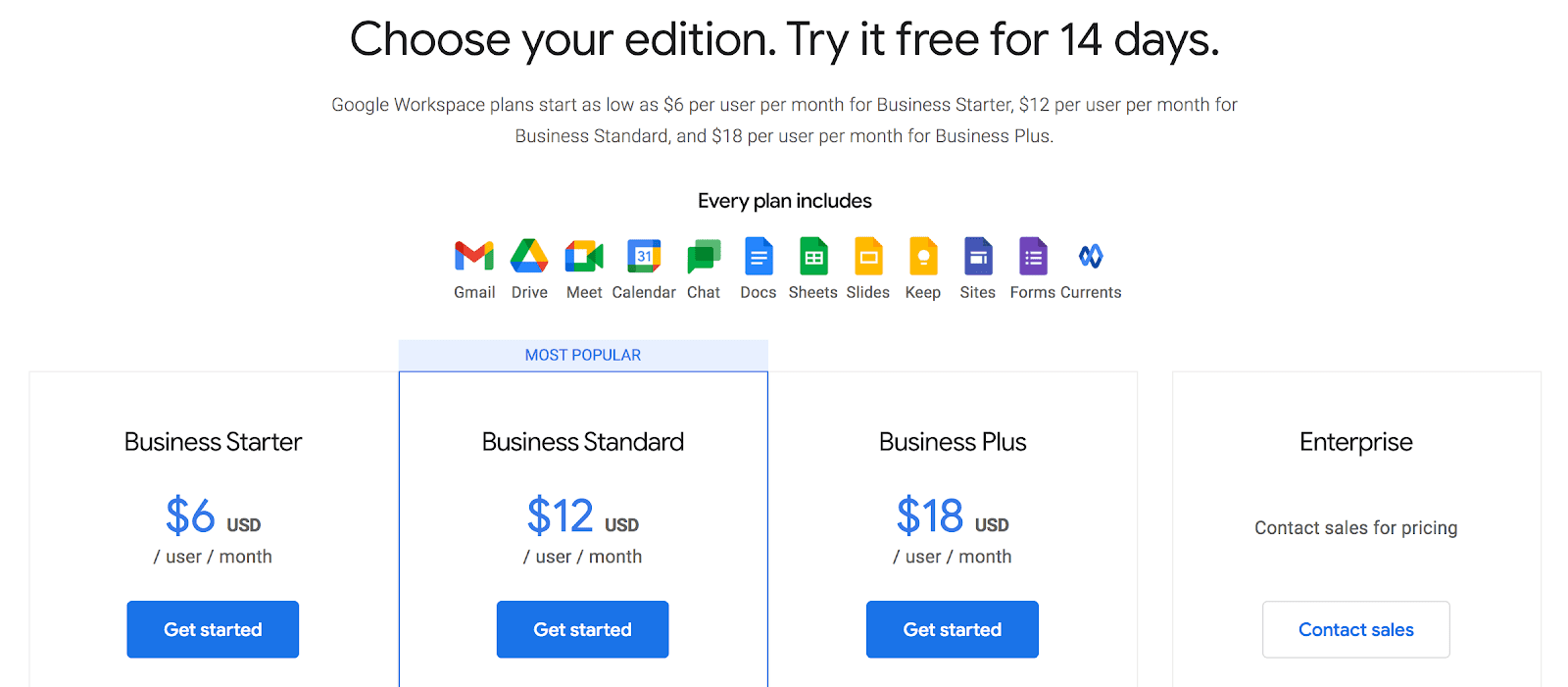 Why we like it: Multiple people can also work within a single document to help build a collaborative working environment. It's also easy to share documents through Gmail or a simple link.
Pricing: Starts at $6 per user/month
Website: Google Workspace
Tool # 17: Creatopy.com
What is Creatopy?
Creatopy.com is an efficient and intuitive visual production platform delivering a well-crafted experience for communicators.
Allowing individuals and teams to easily create engaging advertising visuals for multi-channel creative mediums, the platform is a convenient alternative to many other costly tools, like Adobe Spark and Canva.
Creatopy's Features
Creatopy's main features are:
Thousands of design templates
Brand alignment and management
Cliparts, GIFs, buttons, and professional fonts
Auto resize
Create designs for all mediums
Creative workflow management
Customized animations
Team collaboration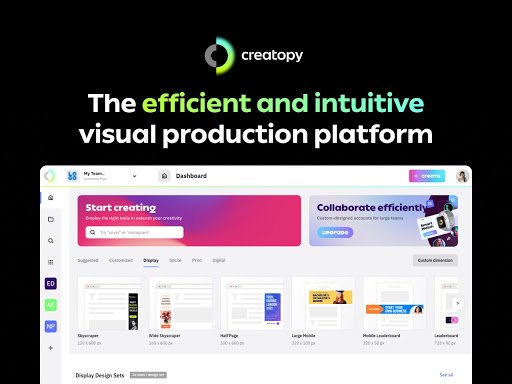 Whether you are looking for a platform that simplifies your life or cut costs, Creatopy is the go-to solution for all your marketing visual needs. It can be used for producing high-quality social media visuals, banners, and video ads, but also print materials such as brochures, posters, flyers, and book covers.
Their most popular feature is the Design Generator, allowing you to create 40+ visuals at the same time, and saving time producing different sizes and formats.
Creatopy also enables creators to maintain brand consistency across all communication channels via their brand kit functionalities, which supports the upload of branded colors, fonts, and logos for each project.
Creatopy's Pricing
Creatopy offers 4 plans, the most popular being Automate, and it costs $35 per month, billed yearly. They also make available a free plan, if you'd like to give it a try with no commitment.
A solution for creative teams, their Enterprise plan can be tailored to your needs so you can get a customized experience.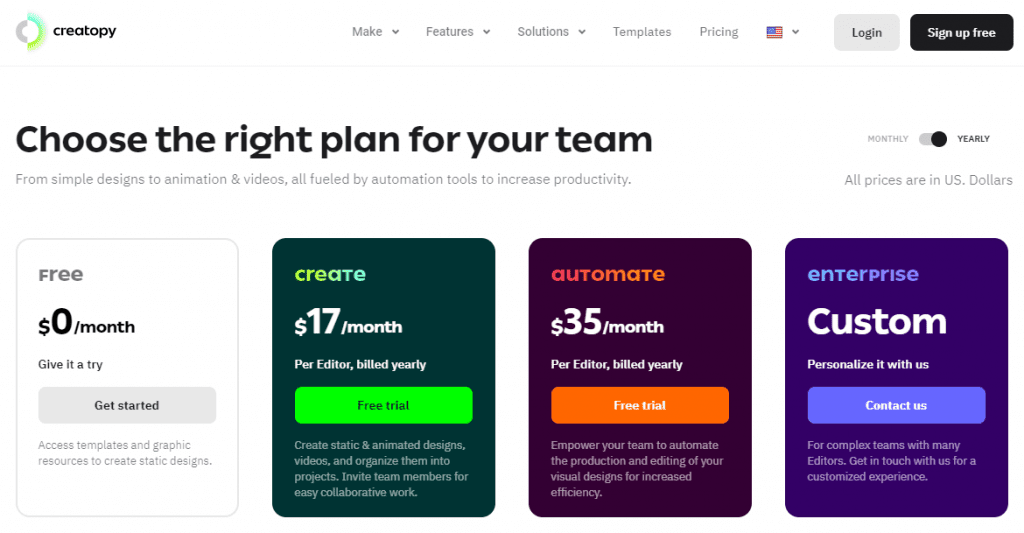 Why we like it: Creatopy allows anyone to create professional-looking visuals, without any coding skills or design experience. It has an intuitive drag and drop editor, and can also be used to create video ads and banners. Plus, all design elements and templates are available at no extra cost.
Once you get a plan, you gain access to all their visual assets, including custom illustrations and templates for all your needs. The SEO toolbar Google extension is also very convenient.

Pricing: Starts at $17 / month

Website: https://www.creatopy.com/
Tool #18: Lucidspark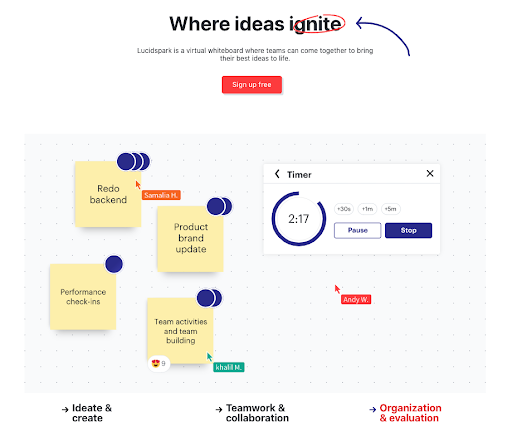 Capture, collaborate and share ideas on Lucidspark. This online whiteboard allows for more purposeful brainstorming sessions to bounce ideas around, build off of each other's creativity and share feedback.
This is a great tool for content marketers to brainstorm new content topics, ask for feedback on web copy from their team, create editorial calendars and fine tune all other creative forms of communication.
What is Lucidspark?
Lucidspark is a virtual whiteboard that helps individuals and teams hold effective and dynamic brainstorming sessions, collaborate, and align on new ideas in real-time. It is simple, intuitive, and offers a blank canvas to jot down an infinite number of ideas so all of your notes stay in one place.
Lucidspark Features
With hundreds of templates and a variety of tools, you can turn ideas into a collection of clear, actionable next steps by offering feedback, organizing thoughts and grouping insights by themes and trends.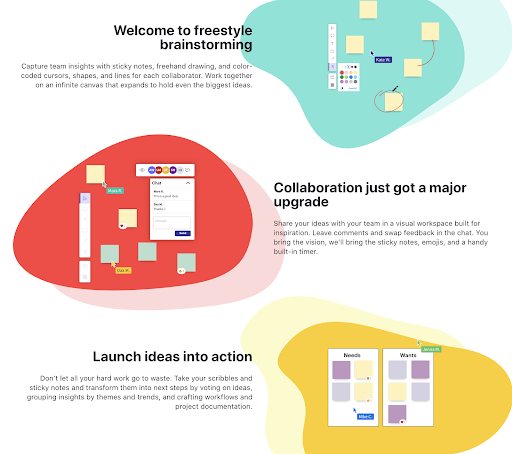 Lucidspark's features include:
An infinite whiteboard for freestyle brainstorming and content ideation.
Freehand drawing to communicate abstract ideas.
A note editor to stay organized and document key information.
Emoji reactions to assess current thoughts and feelings.
Custom templates to reduce manual work.
Voting mode to ensure everyone's voice is heard and to jumpstart the synthesis of ideas.
Color coding to understand the contribution of each individual.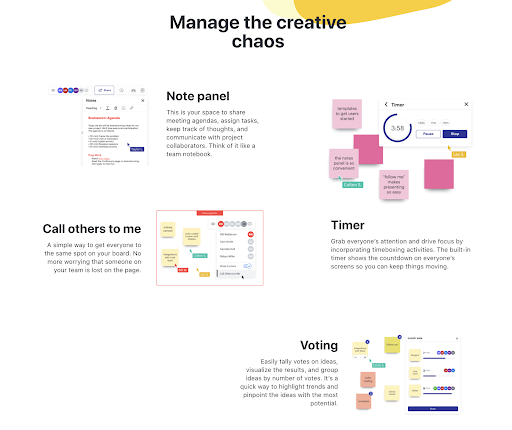 Lucidspark Pricing
By creating an account, you get access to three free editable boards per month. You can add up to 300 objects per board and have access to basic collaboration features while also being able to share boards with other team members.
Depending on whether you will be using Lucidspark individually or as a team, the individual and team packages offer an unlimited number of boards, objects and additional features to improve the brainstorming process.
Why we like it: Not only can this online whiteboard be used to brainstorm ideas and collaborate with team members in real-time, it also allows users to create presentation-ready deliverables to share with clients. It's structured enough to allow facilitators to set the pace for meetings and turn notes into action items but simple enough to just be a space to jot down ideas and ask for feedback. It is as versatile as your work.
Pricing: Three editable boards are included in the free plan. Paid plans start at $7.95 a month for individuals and $9.00 a month per user for teams.
Website: https://lucidspark.com/
Tool #19: Renderforest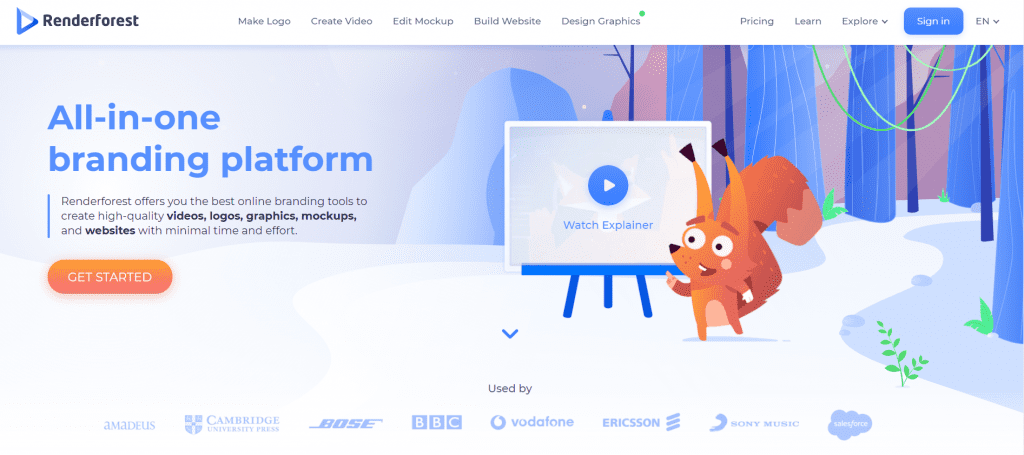 Renderforest is an all-in-one branding platform that allows users to create videos, graphics, logos, mockups, and websites straight from the browser.
With Renderforest's intuitive tools, anyone can create professional-looking visuals in a matter of minutes.
What is Renderforest?
Renderforest provides solutions for all marketing and branding needs. A user-friendly interface assures that all projects are created smoothly, and affordable pricing makes it accessible to individuals, small businesses, and major corporations alike.
Renderforest Features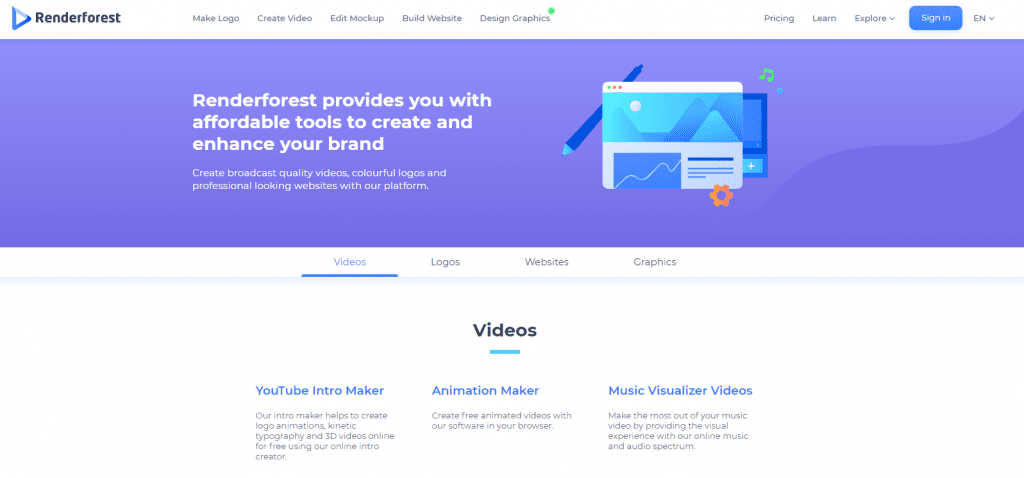 Renderforest templates make possible an easy creation of:
Logos – Create a logo in the style of your choice, with customizable colors, fonts or let the AI-based tool find what best suits your company name and purpose.
Videos – Make videos for promotion, logo reveals, animated explainers, intros, outros, and more. Explore 800+ templates with 1000+ presets and create.
Mockups – Show your designs and logos in the super-realistic setting of your choice, from prints to clothes, devices, and more.
Graphics – Design visuals for social media, printable materials, presentation backgrounds, and presentation slides. Use the ready-to-use visuals, edit them to make your own, or fully customize.
Websites – Build a website with Renderforest and enjoy the ease of the process. Create from scratch or choose a template to alter to your needs.
Renderforest Pricing
Everyone can use Renderforest's tools for free. However, advanced paid features allow for higher quality visuals, more library space, access to an extensive music track library, stock visuals, no watermarks, color customization, custom fonts, link sharing, and many other advantages. Renderforest also offers a Pay-per-Export option, that lets the user export a single project, in high-quality and watermark-free.

Why we like it: Rendeforest is a platform that lets the user avoid the need for software installation, easily access all the past projects, and keep their branding consistent by providing customizable templates.

Pricing: Free plan available. Paid subscriptions start at $3.99/per product and $6.99/month
Website: https://www.renderforest.com/
Tool #20: Teamwork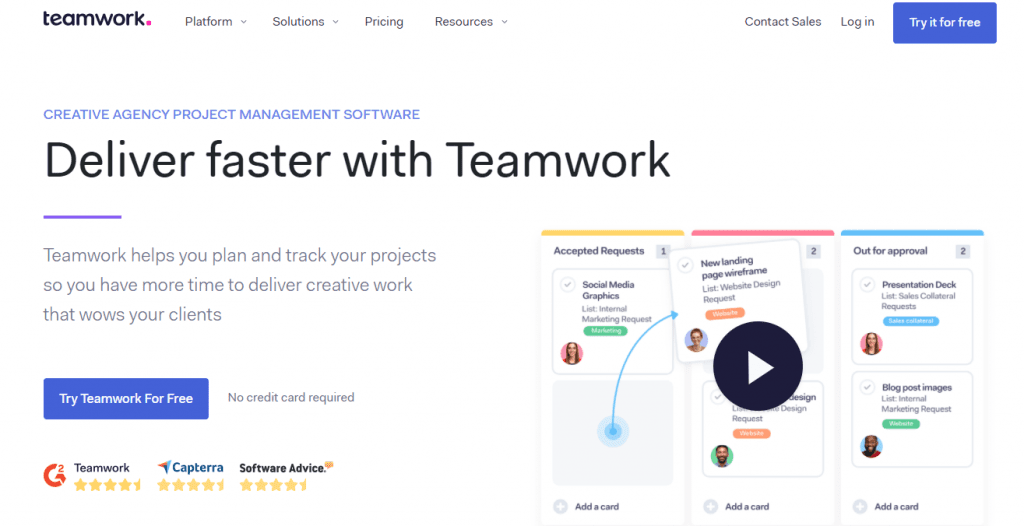 Teamwork is more commonly known as a team management tool, but it's also a really useful tool for content marketing teams to keep on top of things, with the ability to manage content calendars, content creation, content promotion and more.
What is Teamwork?
Teamwork allows content marketing teams to have a single source of truth. A content marketing campaign will have many moving parts, but Teamwork allows your team to collaborate in real time, making it super easy to manage all of the tasks involved in taking your content marketing team from idea to execution.
If you think of a typical marketing team, there will be many roles involved, from content writers to content marketing managers and more.
With useful features like board view you can manage everything in a visual format with clearly defined steps along the way.
All team members are clearly informed and know what is needed from them to bring a piece of content to life.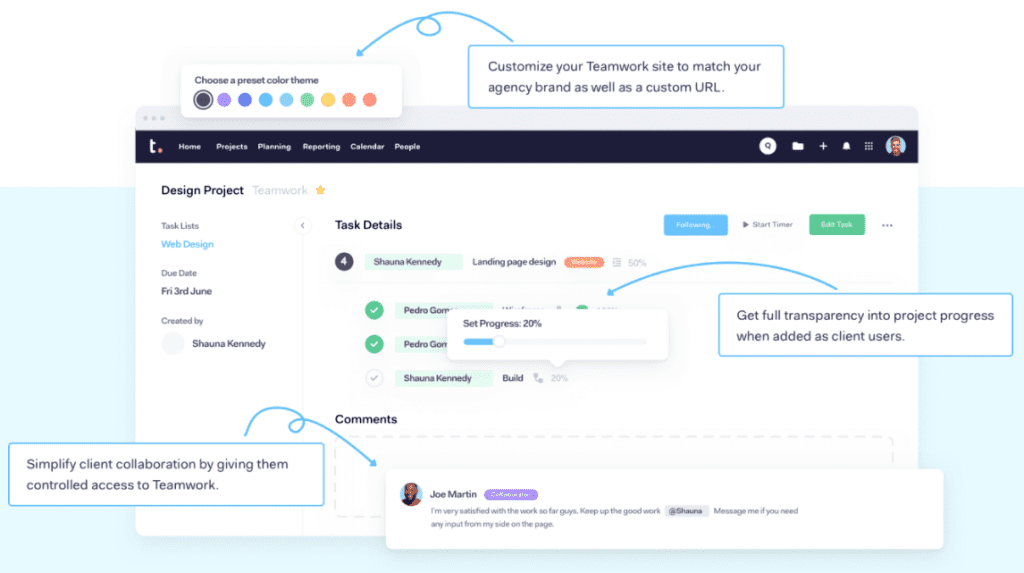 Teamwork is stacked with really useful features for content marketing teams, from content writers to link builders, the most useful features for content marketers include:
Board View
Internal chat
Gantt Charts
Task lists
Task reminders
Calendar
Ready made templates for marketing teams, such as a content plan template
Teamwork Pricing
Teamwork pricing starts for free for a limited number of users and projects. Their paid plans start from $10 per month and comes with everything a busy content marketing team needs
Why we like it: A busy content marketing team needs a tool to keep them on track. Teamwork gives you everything you need in one place, making it an ideal content team management tool.
Pricing: Starts at $10 per user/month
Website: https://www.teamwork.com/
Tool #21: Envato Elements
Millions of people around the word visit Envato to buy and sell creative assets and learn creative skills. Envato Elements is the all-in-one unlimited creative subscription that will help creatives get projects done faster.
With a huge library with over 56M digital assets, it offers a world of creative possibilities for your design projects.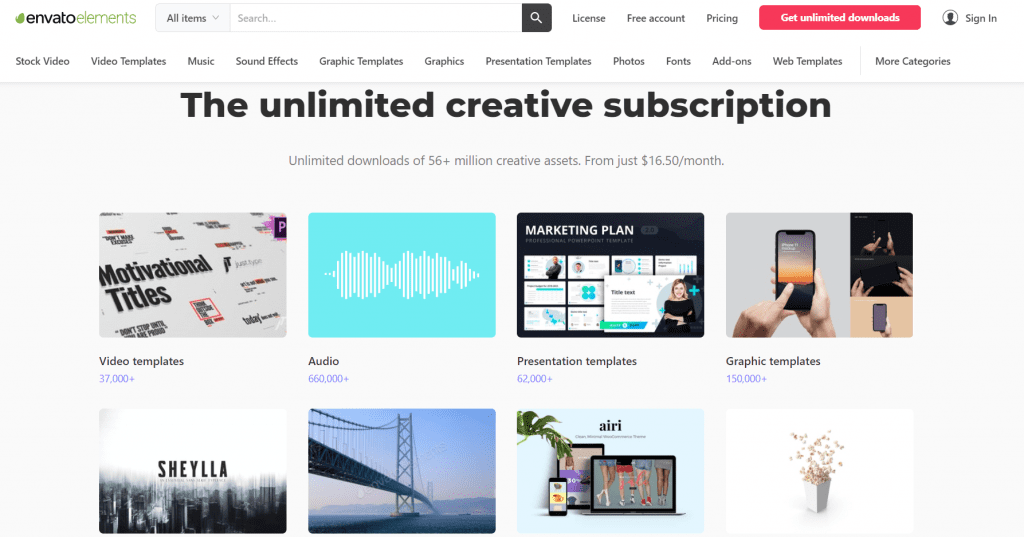 What is Envato Elements?
Envato Elements is a subscription powered by a community of talented designers that puts excellent design in reach for everyone.
It's worth mentioning that a lifetime commercial license covers all Envato Elements items so that you can use the assets with confidence.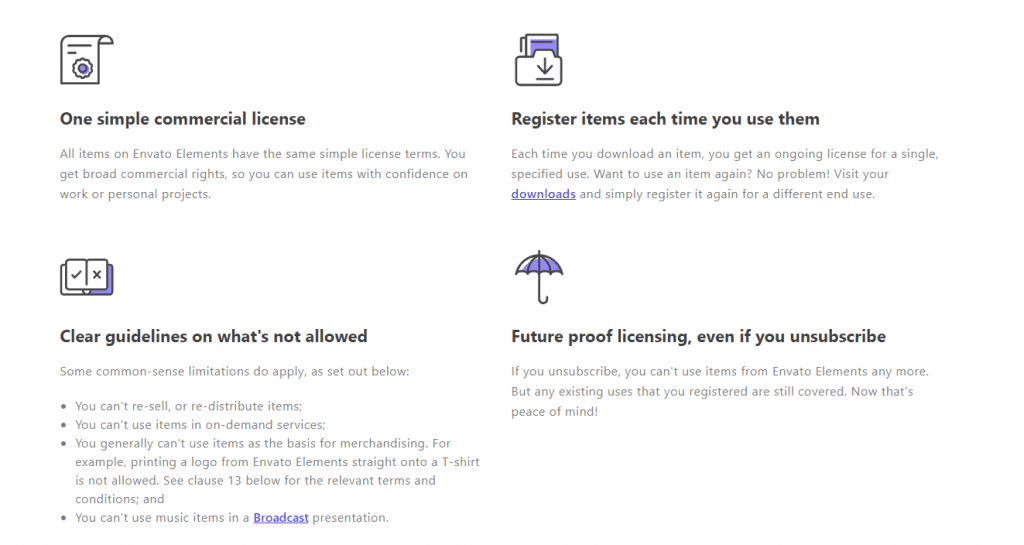 Envato Elements Features
The Envato Elements library offers everything you need to ace your creative projects:
53M+ stock photos
61K+ presentation templates
37K+ video templates
660K+ audio tracks
150K+ graphic templates
18K+ fonts
10K+ add-ons
74K+ 3D objects
3.5K WordPress themes, plugins and Elementor template kits
Once you're subscribed to Envato Elements, you'll be able to download as many digital assets as you like.
Envato Elements Pricing
People can choose between a monthly ($33 per month) or an annual ($16.50 per month) unlimited individual subscription. But in case you're looking for team or enterprise plans, Envato Elements has your back.
The platform also offers special plans for education, with up to 30% off ($11.50) if people subscribe with an education email domain.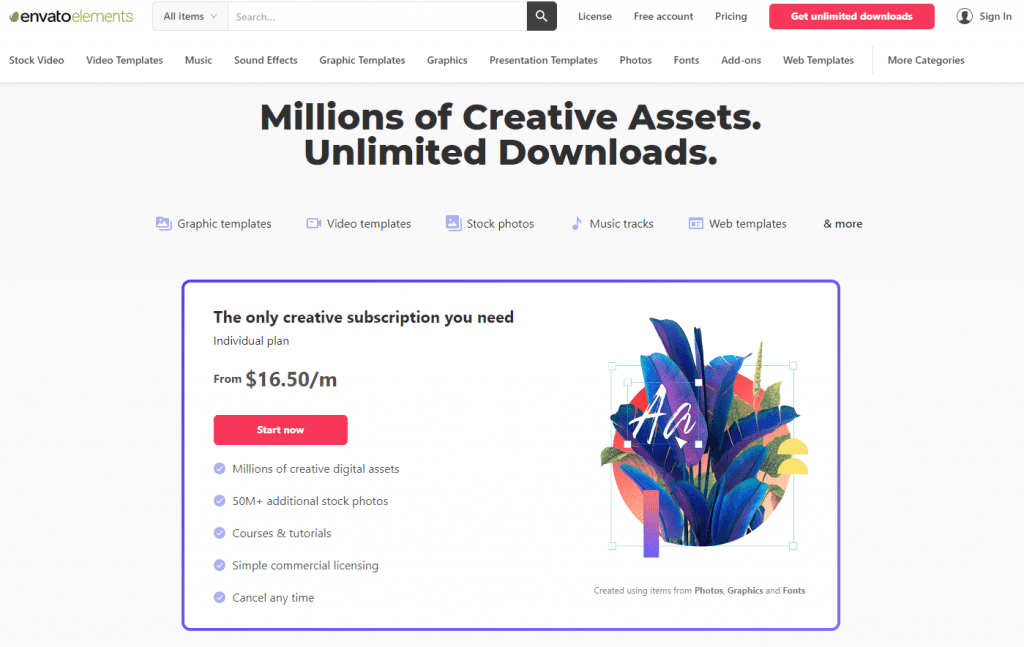 Alternatively, it's possible to create a free account and get 12 free files every month.
Why we like it: with 56M+ creative assets, people can download unlimited assets to experiment and create.
Pricing: the individual plan starts at $16.50 per month.
Website: https://elements.envato.com/
Tool #22: Softr
If you're in need of SEO-optimized content, Softr is the perfect solution to create great layouts, effective web pages, and drive more traffic with your content.
What is Softr?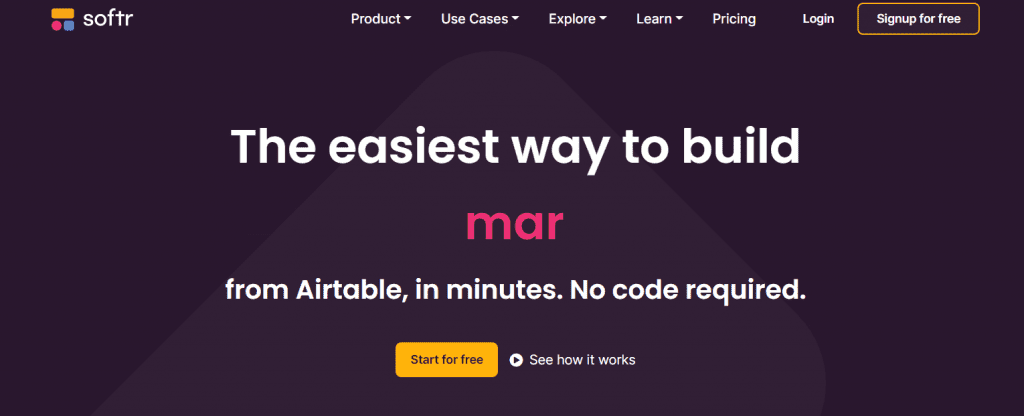 Softr is a platform where you can create responsive designs to help rank your content higher on search engines.
Content creation is a crucial step but optimizing it for SEO will help it get more attention, more traffic, and better performance.
Softr Features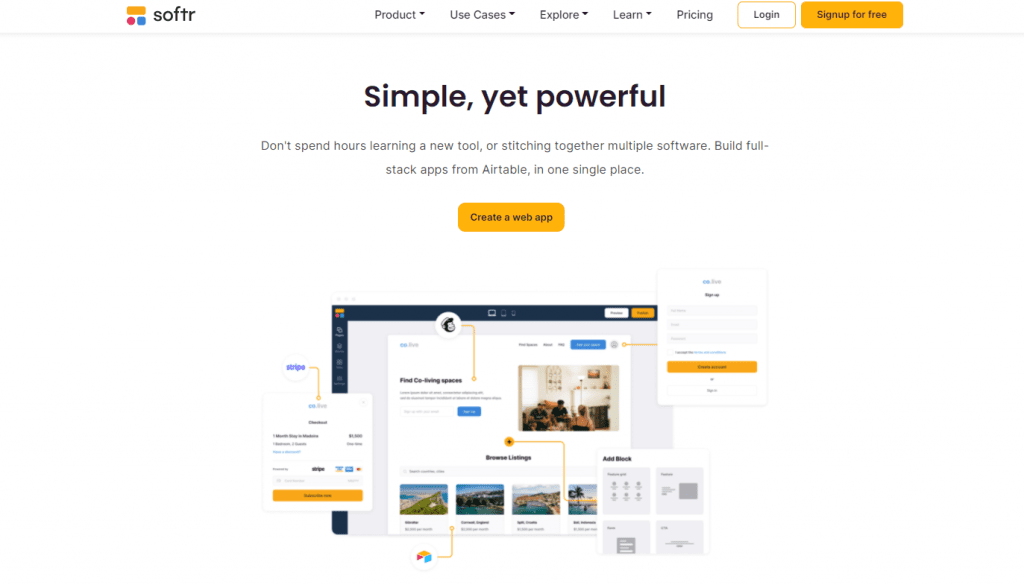 While using Softr, you can add social media parameters like images, description with the help of the right keywords. You will also be able to integrate your content with special analytics tools to better see its performance and the results it provides.
For starters, Softr compresses image sizes automatically so that your content will load faster.
To gain more exposure, you can use descriptive image tags.
As you're familiar with the importance of headings in content, Softr will help set custom meta tags so that your content will rank better.
Over time, as you optimize the content for search engines as well, it will be visible to a wider group of people and bring greater results.
Using Softr is essential because it helps automatically add all the SEO elements you need for a better-performing content. In addition, you can also solve technical SEO issues like redirects and 404 pages.
With an SEO tool like Softr, you can discover all relevant keywords and phrases that will help your content skyrocket.
Softr pricing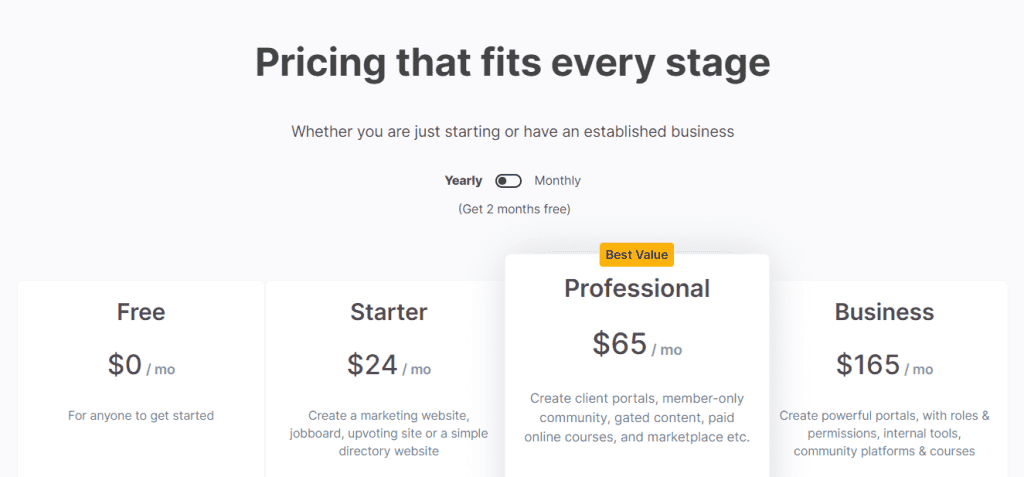 Softr has four pricing options: the Free package for a trial, for Starters ($24/mo), Professionals ($65/mo), and for Businesses ($165/mo).
The most productive package is the Professional as it allows gated content and great marketplaces.
Users can also compare features and pricing to align with their content goals.
Why we like it: The Softr platform allows content creators to optimize produced content for search engines like Google and rank higher easily.
Pricing: Starts at $24 a month
Website: softr.io
Tool #23: Promo.com
Instagram's CEO officially announced that this year the platform will now be putting an emphasis on video. As a result, all business owners looking to make the most out of their IG accounts need to start creating more video content – and fast.

What is Promo?
Promo.com's online video editor comes complete with easy-to-use features, on-the-spot branding for your videos, and a massive online media library powered by Getty Images and iStock so you never ever run out of content.
Promo's Features
Quick and easy video editor
Dozens of animated caption styles
Add your brand logo, fonts and colors
110M+ royalty-free videos and photos
Social Media Calendar
Export any video as GIF or Meme
1.5K+ Pre-approved music tracks
Embed any video
Resize instantly for all IG formats
24/7 Customer support
Promo's Pricing
Promo offers a free trial that allows you to create a video by uploading your own footage, using Promo's free standard media or combining the two. Free users will be able to access all of Promo's video tools and music collections. They will have a Promo watermark and can be shared only via a link.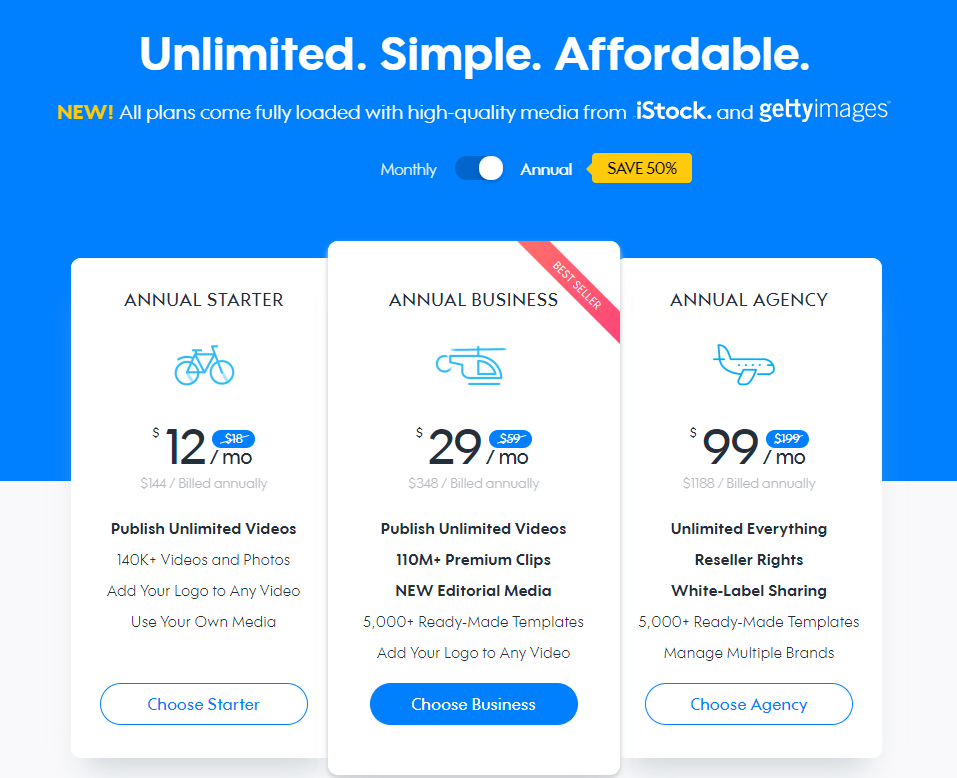 Promo's Starter plan costs 18$/mo on the monthly plan / 12$ a month on the annual one. This plan allows users to create and publish unlimited videos with no Promo watermark. It also grants access to 1.4 million photos and 140K Getty Images videos for your projects. Customize everything to fit your brand.
The Business Plan goes for 59$/mo on the monthly plan / 29$/mo on the annual one. This plan offers all the benefits of the Starter Plan but in addition, users get access to Promo's full content library which boasts 110M photos and videos by iStock and Getty Images for unlimited use in projects.
Why we like it: Promo's social media calendar and ready-made templates save tons of time on content creation and ideation.
Pricing: Plans start at $18 a month
Website: https://promo.com/
Tool #24: Flipsnack
If you're looking for a simple way to create magazines, catalogs, brochures, ebooks, and newsletters, Flipsnack is the content creation tool for any modern marketer. Turn boring PDFs into stunning interactive publications or even make them from scratch using professional templates.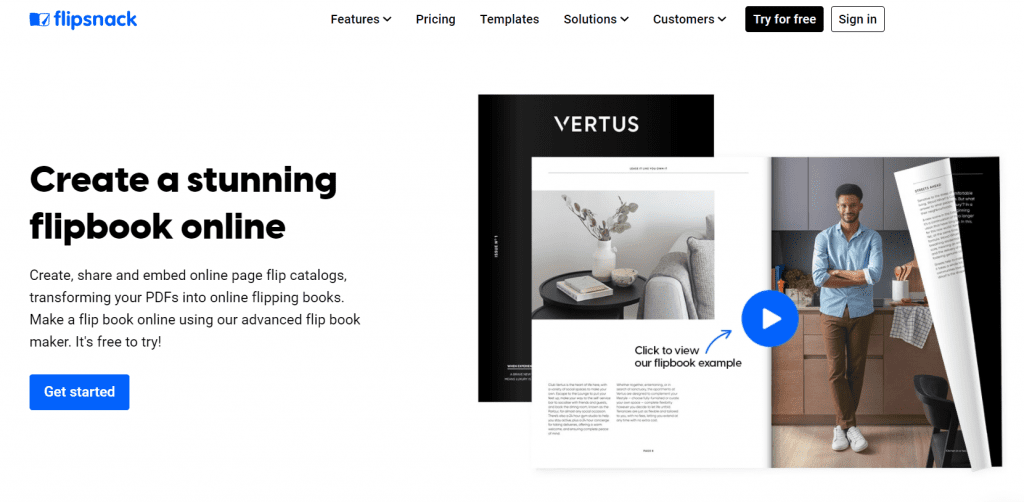 What is Flipsnack?
Flipsnack is a content marketing tool that makes it easy to create a digital flipbook out of a PDF in seconds.
For instance, you can create a digital catalog, a magazine, or even ebooks by converting a PDF or using the integrated Design Studio.
Flipsnack's features
Some of Flipsnack's features include:
Interactivity: you can add videos in your brochures, product tags, and even shopping carts in catalogs, lead forms in marketing ebooks, and many others.
Built-in statistics, Google Analytics, and Google Tag Manager Integration
Branding: create your brand kit in minutes and publish it under a custom domain.
Flipsnack pricing
Flipsnack has a free version that allows testing the platform and having up to 3 publications, 30 pages each. However, you will need to upgrade to create or upload more and add interactive elements to your designs or download them.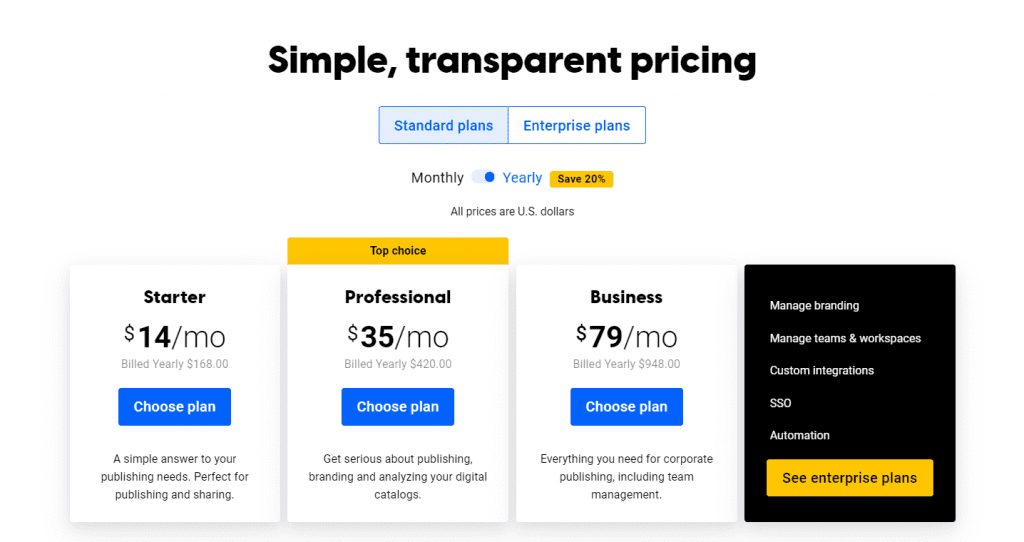 You can choose from a Starter plan that starts from $14 up to the Business or Enterprise plans where you can manage multiple teammates and add your branding.
Why we like it: Unlike any other tool on this list, Flipsnack transforms marketing materials into engaging experiences for any audience.
Pricing: Starts at $32/month billed monthly or $14/month billed annually
Website: https://www.flipsnack.com/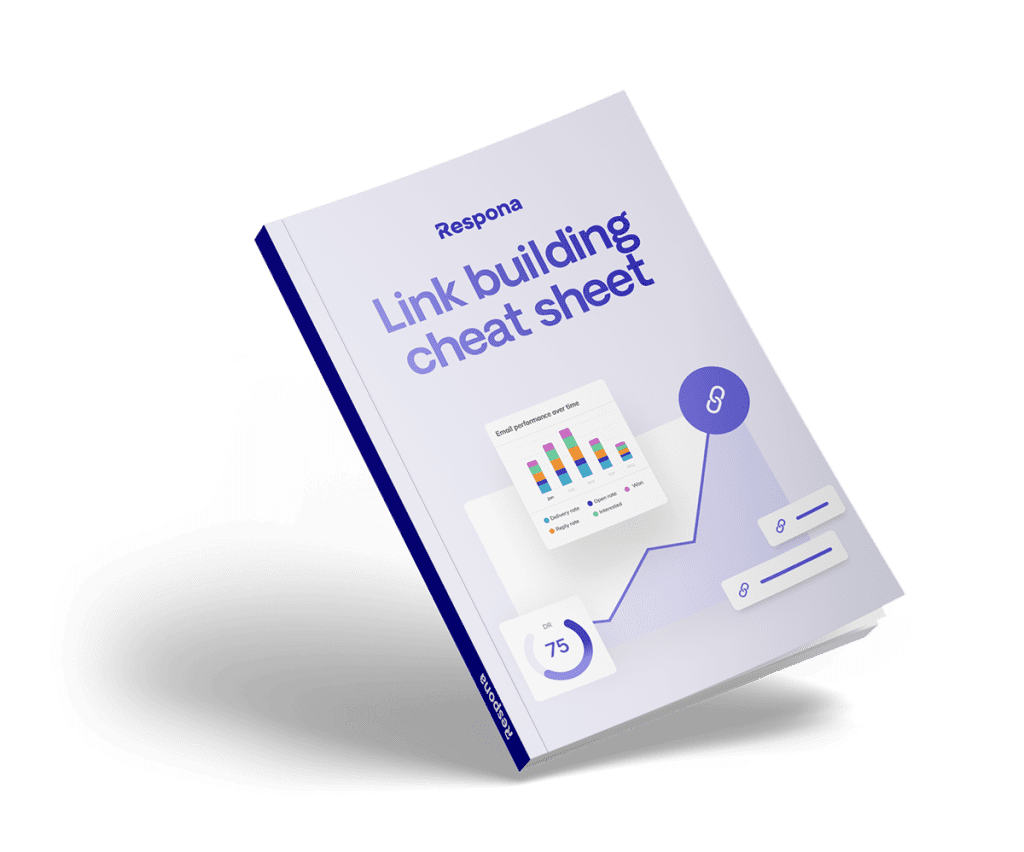 Link building cheat sheet
Gain access to the 3-step strategy we use to earn over 86 high-quality backlinks each month.
Looking for Content Marketing Software?
This list was all about sharing some tools we consider to be important when it comes to content marketing.
The truth is that regardless of the tools you're using to run your content marketing, you shouldn't underestimate the importance of execution.
No tool or software can work efficiently without having good execution and good communication within your content marketing team.
And, if you're looking for a tool to help you with outreach, Respona is the right tool for you.
Just request a free demo and we'll show you what our content marketing software can do for you.