According to a study by Backlinko, 94% of the content that's out there gets no links.
The question is:
How can you be in that other 6% that attracts links and gets attention?
Enter: Content distribution
If you want to learn how to distribute content and why it's important for your business, read on.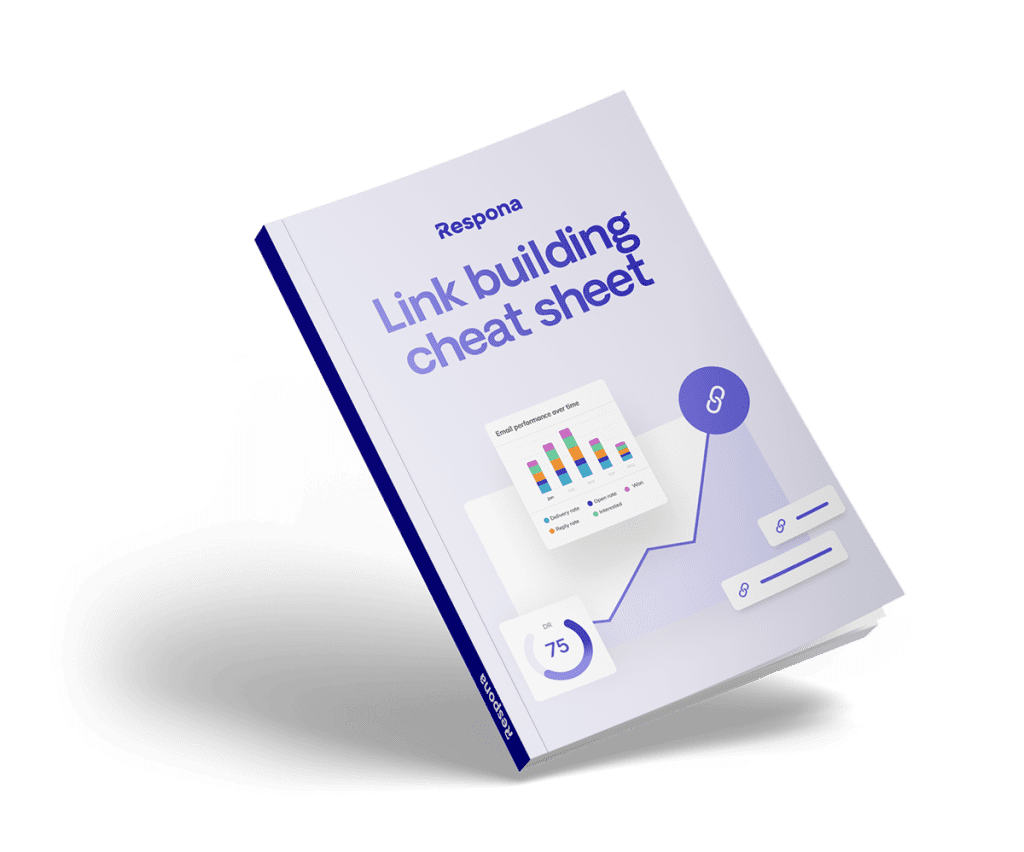 Link building cheat sheet
Gain access to the 3-step strategy we use to earn over 86 high-quality backlinks each month.
What is Content Distribution?
Content distribution is the process of sharing, publishing, and promoting your images, blogs, videos, and other content formats.
It's how you're providing your audience with the content they're consuming through different platforms and media formats.
Your content distribution channels can be: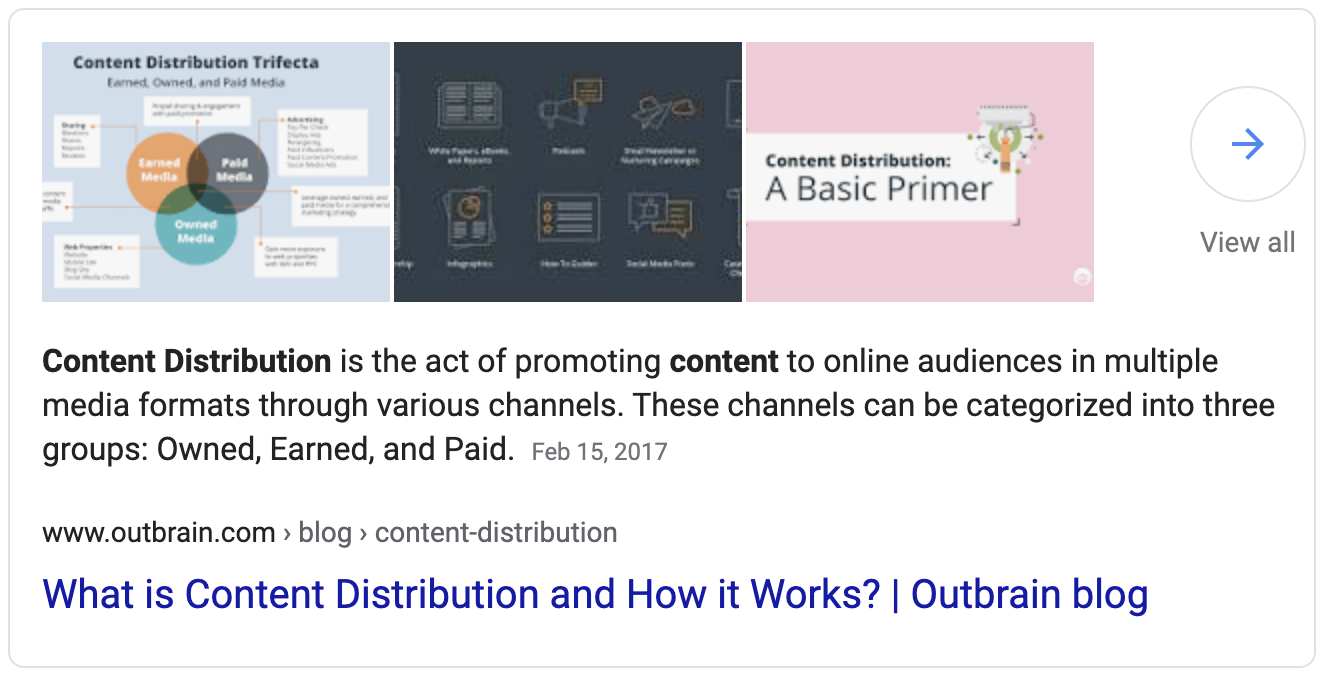 Author's Note: "Paid" (AKA paid media) refers to the action of buying advertising space, or real estate, on media publications and websites that are relevant to your website (AKA native advertising) as well as running search ads on Google.
Your content distribution strategy will vary depending on your business model and overall business goals.
Let's take Salesforce as an example.
Salesforce is a leading SaaS company with a large content marketing budget so they're able to create a lot of different content pieces and distribute them differently across their social media platforms.
On Facebook, they post a mixture of images, videos, industry reports, and more, several times a day.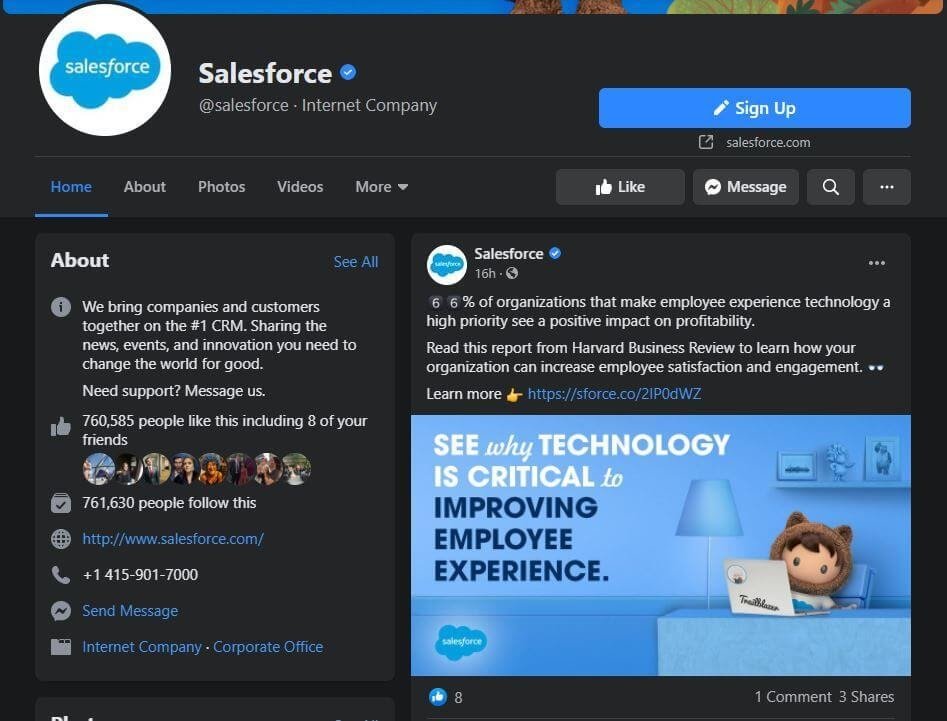 On Twitter, they have pinned a post for their target audience about a company they're partnering with.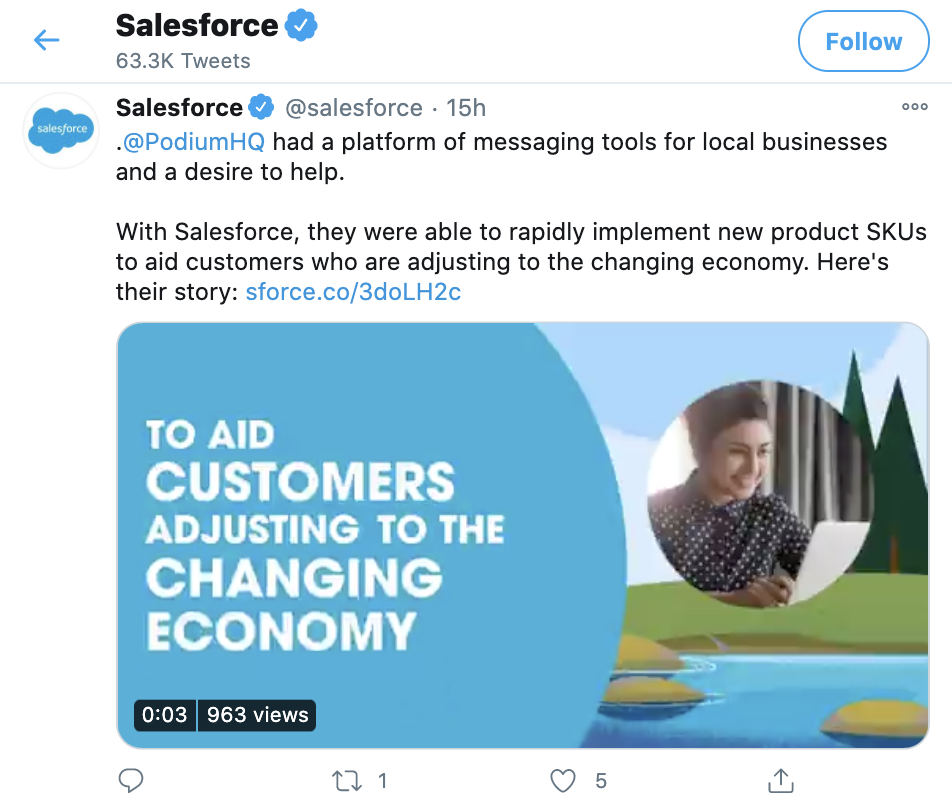 Their blog is also full of new pieces of content in different formats.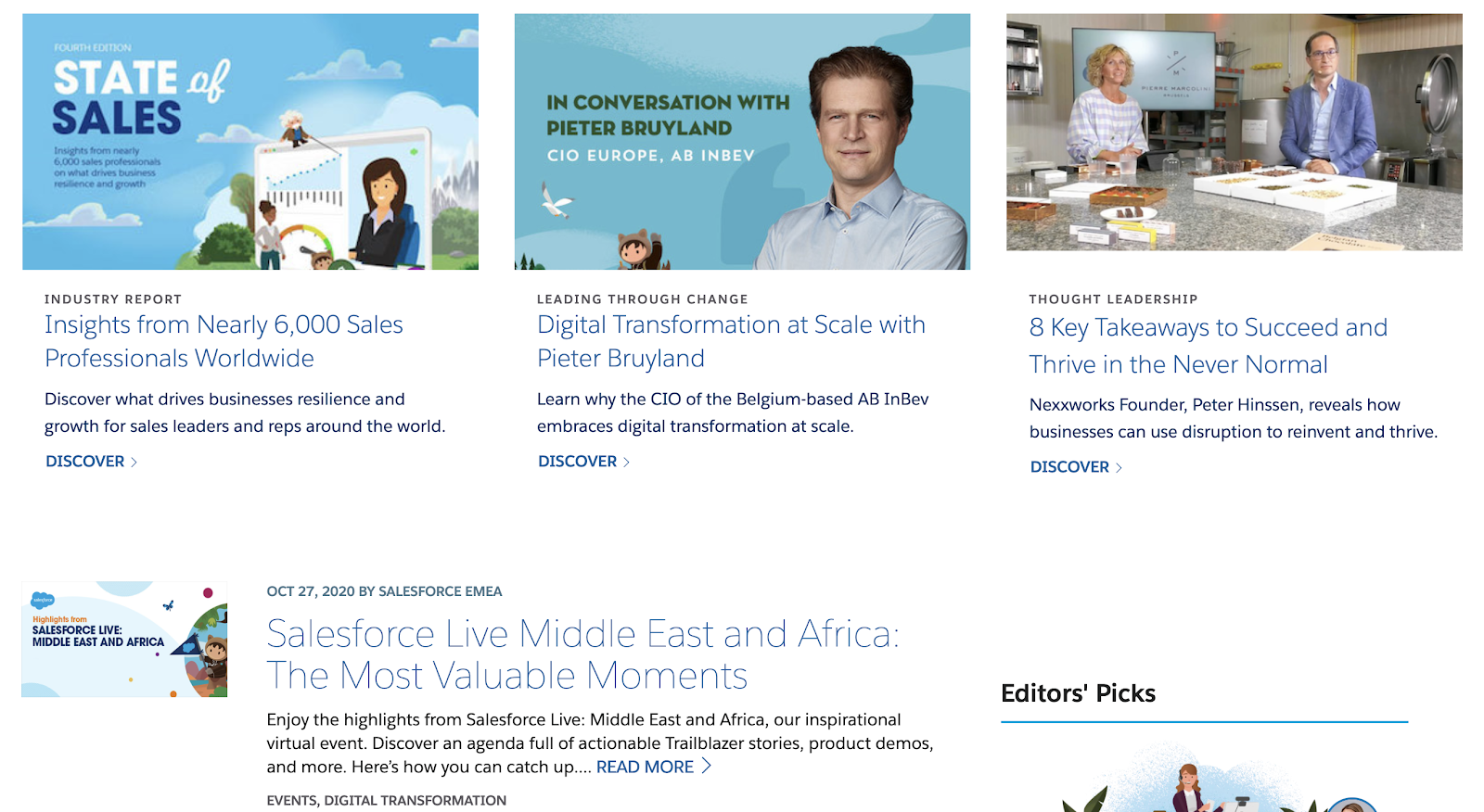 You'd assume that a company the size of Salesforce's — with over 150,000 companies using the software worldwide — wouldn't need to promote their content.
In fact, you could argue that Salesforce doesn't need to have a content marketing strategy in the first place.
As we can see, not only is Salesforce investing in their content strategy, but they create different types of content, such as industry reports, that they distribute on various channels – mainly owned and paid.
If content creation and content distribution is important for a company like Salesforce, then it should definitely be important for smaller companies.
Let's continue on and examine the importance of content distribution further.
Why is it Important to Distribute Your Content?
Content distribution is an essential part of any digital marketing strategy because it increases your brand awareness, builds loyal followers, and encourages your target audience to take action on your products or services.
Distributing your content properly can lead to more social shares, drive traffic to your website, and create more conversations across your social networks.
It's not enough to create great content because 90.63% of content gets no traffic from Google, according to Ahrefs.
This means that you need to diversify your distribution plan.
WordPress has become a popular tool for creating websites and blogs, as well as sharing content.
You can see from the graph below that the number of posts published from blogs hosted on WordPress has significantly increased since 2006, with a large spike at the end of 2018.

This means that — as a content creator and content marketer — you need to find ways to stand out in a time when there's too much noise out there.
To illustrate this with an example, let's see the number of pages that include the term "online learning platforms" somewhere in their title.

As you can see, the number of pages, according to Ahrefs' Content Explorer, spiked somewhere around April 2020.
This means that there are more pages — and, as an extension, companies — competing to get attention on the SERPs.
At the same time, there is more content seeking attention on social media, media publications, and broadcasting platforms like YouTube.
The number of people searching for content related to "online learning platforms" may be increasing as well, so competition gets more intense.

This means that, even if you're great at identifying trends before they spike, you won't be able to get the visibility you need unless you have a solid content promotion plan.
Social media is a great starting point to share content that you've created but there are many other different channels as well.
Keep in mind that 94% of content marketers are using social media as a distribution channel for their content, mainly because it's easy and in most cases, free!
Of course, there are many other ways to distribute your content such as through an email newsletter or pay-per-click ads.
Each of these distribution channels will have a higher level of importance depending on your industry and the goals of your business.
Let's try to break down those content distribution channels further and share our content distribution checklist, along with some content distribution tools you can use when distributing content online.
28 Content Distribution Channels to Know
Content distribution channels are the online places where you can share and promote the content you've created. There are numerous channels available and it's important to know the differences between them so you can maximize your outreach.
What might work on one channel might not be successful on another channel.
Let's take a look at some of the most important content distribution channels you should be focusing on.
Channel #1: LinkedIn
Description: LinkedIn is one of the largest social media channels for companies and business professionals. Most of the content on this platform is more serious in nature and the content is informative rather than entertaining.
Since LinkedIn has been established as a more formal social media platform, you know the audience viewing your content will be looking for industry trends, solutions, or advice.
There are many useful features, one being "LinkedIn Groups" where industry professionals can participate in discussions within a focused group, set up to help each other advance professionally.
Cost: Free with paid options
Upgrading to LinkedIn premium gives you additional features such as extended network access, messaging non-connections, and seeing who's viewed your profile.
Paying for LinkedIn ads will generate leads, drive website traffic, and build brand awareness.
Ideal for: All types of businesses
Website: LinkedIn
Channel #2: Facebook
Description: This is by far the biggest social networking site with 2.7 billion monthly active users, and one that you should definitely have a business account for. Your customers can leave messages, browse through products, and chat with you online.
Your page should be updated regularly with a mix of promotional, informative, and creative content to stay active and engaging for your followers.
Cost: Free with paid options
You can pay to boost posts to reach a larger audience or create Facebook Ads to target future customers or fans.
Ideal for: All types of businesses
Website: Facebook
Channel #3: Twitter
Description: Twitter is an American microblogging site that was launched in 2006. Instead of solely engaging with family and friends like other social media channels, Twitter made it easier to connect with brands and celebrities.
Your character amount for tweets is limited to either 140 or 280, so it's important your updates are concise and to the point. However, you can also share photos and videos.
Over the years, Twitter has become popular for breaking news and for providing quick customer service to consumers. You can also use hashtags to keep up with the latest trends that interest you.
Cost: Free with paid options
Similar to Facebook, Twitter's paid options include ads and promoting your tweets. The cost of promoting tweets is fairly low. The cost of Twitter ads will depend on the advertising budget you set when establishing your ad campaign.
Ideal for: All types of businesses
Website: Twitter
Channel #4: Instagram
Description: Instagram is a photo and video sharing application, developed by Facebook, that allows you to easily apply filters from the convenience of your mobile phone. Access is limited on a PC – for example, you can't upload photos.
It's a great platform to visually highlight your products, services, or brand culture. Sharing unique content about your products, staff, or developments within your business makes a personal connection with your audience.
Since posts on Instagram are very visually appealing, you may need to adjust your content in order for it to be well received. You also need to find the best time to post on Instagram for your audience.
Cost: Free with paid options
The paid options include Instagram ads and promoting the content from your profile.
Ideal for: All types of businesses
Website: Instagram
Channel #5: TikTok
Description: TikTok is a fairly new – starting in 2016 – video-sharing social networking app that allows its users to watch, create, and share 15-second videos recorded on cell phones.
Your personalized main feed will most likely be filled with quirky and creative short videos, and you have the ability to collaborate on content with others since everything is done from your cell phone.
Cost: Free with paid options
Ideal for: Solopreneurs
Website: TikTok
Channel #6: Quora and Quora Ads
Description: Quora is one of the most popular online communities for user-generated questions and answers. You can share your knowledge, ask questions, or provide your opinion with the opportunity to follow up, like a traditional conversation.
As a business, you can share your expertise that'll help you build credibility and with their self-serve ad platform, you can target the right audience to boost conversions.
Cost: Free with paid options
Ideal for: SMBs/enterprises
Website: Quora
Channel #7: Social Ads
Description: Social media platforms create the perfect opportunity for you to advertise your own content to people interested in your business. Most of the examples we've already discussed, like Facebook, Twitter, Instagram, and LinkedIn, all have the option to show ads in order to raise awareness of your business.
You can use images, infographics, videos, or any other type of relevant content to help your target audience know about your product or services.
Before launching your social media ads, make sure to clearly define your buyer personas so that you adjust your targeting within the advertising platform accordingly.
Cost: Low-High; this will vary greatly depending on what social platform the ads run, how long for, and the type of ads you choose.
Ideal for: All types of businesses
Channel #8: Facebook groups
Description: As long as you have a Facebook account, anybody can set up their own group that allows its members to share their common interests and relevant industry news.
You have the option to make it public or private, and only admins of the group can invite additional people.
Cost: Free
Ideal for: All types of businesses
Website: Facebook Groups
Channel #9: Zest.is
Description: Zest helps businesses consolidate all their information in one easy place so they can find their documents quickly, and without having to constantly switch apps to find what they need. They eliminate the need to ask others where files are stored and help maximize the productivity of your organization so you can streamline your work.
Cost: Free with advertising options available
Ideal for: All types of businesses
Website: Zest
Channel #10: GrowthHackers.com
Description: GrowthHackers is an online community of growth professionals where members share their own personal experience with driving digital growth. They have evolved to having dedicated places on their website for people to find employment or companies looking to hire, and has become a central place for industry leaders to grow professionally.
Cost: Free
Ideal for: All types of businesses
Website: GrowthHackers
Channel #11: Almanac
Description: Almanac is a relatively new channel. It allows you to create open-source docs with step-by-step processes that anyone can discover through the platform and use for their business.
It's ideal when you want to distribute templates, checklists, and step-by-step processes.
Cost: Free
Ideal for: All types of businesses
Website: Almanac
Channel #12: Reddit
Description: Reddit is often referred to as the "front page of the internet". It's a collection of different internet-based communities, called subreddits, where people can share their own content, comment on others' posts, and have a discussion about a mutually liked topic.
Users then vote the posts up or down, and depending on the popularity of the post, it could be shown on the front page. Reddit can be used for businesses to engage with their customers on a more personal level.
Cost: Free with advertising options
Ideal for: All types of businesses
Website: Reddit
Channel #13: Blog
Description: It's important to utilize your own properties when trying to distribute content because you can control what's posted, when it's posted, etc.
A blog is traditionally a section on your website where you can create new content in the form of text, images, edited videos, infographics, and they are updated in reverse chronological order, with the most recent post showing first.
You can optimize your blog to be SEO friendly with backlinks to help your results on search engines and help it to be seen by more people.
Author's Note: To make sure that your content is SEO-friendly, make sure to start with a clear and detailed content brief.
Cost: Cost varies depending on the frequency and quality of the content you publish
Ideal for: All types of businesses
Channel #14: Email marketing
Description: Email marketing is a type of direct marketing, where businesses use email to promote their products or services, or as a way to communicate with their customers directly.
In this case, you can use email marketing to distribute your content to your email list.
Cost: Low
Ideal for: All types of businesses
Channel #15: YouTube
Description: YouTube is a large, online video-sharing platform that allows content creators to publish videos and its users can watch what's uploaded. Once a video is uploaded to the site, you can share the video by simply sending the URL to your audience.
Depending on your brand, you can create either informative or entertaining videos to help your content promotion reach a wider audience. Hundreds of millions of hours of content are being consumed each day on this platform.
Cost: Free with paid options
Ideal for: All types of businesses
Website: YouTube
Channel #16: Vimeo
Description: Vimeo is another online video-sharing platform, however, it has a smaller community compared to YouTube which sometimes has its own advantages.
The users here are generally more supportive and willing to provide constructive criticism, which is not always the case with the former distribution channel. Users can upload, watch, and comment on videos.
Cost: Low-medium
Ideal for: Solopreneurs/SMBs
Website: Vimeo
Channel #17: Facebook Watch
Description: Facebook Watch is Facebook's video-on-demand service that allows users to create either short- or long-form videos and is mixed with Facebook's professionally produced content.
All you need to have is a Facebook account and you can directly access Facebook Watch within the main app and begin watching the variety of content uploaded.
Cost: Free
Ideal for: All types of businesses
Website: Facebook Watch
Channel #18: LinkedIn Live
Description: LinkedIn Live brings together your professional audiences in real-time and allows for direct interaction to increase their engagement on the platform.
You can stream live events, showcase innovation, start a series, or promote your brand; all in real-time streaming.
When it comes to content distribution, you can repurpose successful pieces of content, e.g. a webinar, and turn it into a live discussion through LinkedIn Live or use blog content to help users through different chatbot types.
Cost: Free
Ideal for: Enterprises
Website: LinkedIn Live
Channel #19: Webinar
Description: A webinar is a seminar that is conducted all online. You don't have to worry about finding a physical location to host your event and your audience can enjoy it from the comfort of their own home or office.
Webinars can happen in two ways: live and pre-recorded. With live webinars, you have the opportunity to respond to your customers in real-time through chat and it's more interactive. With pre-recorded, you can allow people to register whenever they like and get access once it's convenient for them.
You can always distribute your content with webinars, in the sense that you repurpose an already existing and successful piece of content and use it as a topic for your webinar.
Cost: Free
Ideal for: All types of businesses
Channel #20: Podcast
Description: Podcasts are audio programs that are available in digital format for download over the internet.
They can cover almost any topic, typically free to download, and are available on-demand so your customers can download them at any time.
The question is:
How can you use podcasts as a distribution channel?
Well, you can turn interesting topics into podcast discussions and have thought experts as guest speakers on your podcast.
Cost: Free
Ideal for: All types of businesses
Channel #21: Influencer marketing
Description: Influencer marketing is promoting your product or services through people, known as influencers, who can share your content with their large audience.
Influencers already have their established followers and by using their channels to promote your services, you can reach a wider audience of people who trust the content that they promote.
You can use influencers to distribute your best content.
Establishing relationships with influencers isn't easy but the outcomes of having influencers promote your content can be really big.
Author's Note: Make sure to read our guide on reaching out to influencers to learn how to establish connections with influencers.
Cost: Medium-high
Ideal for: SMBs/enterprises
Channel #22: Quuu Promote
Description: Quuu Promote is a blog content marketing promotion tool that helps businesses publish industry-related articles to your channels.
They help automate the process so you don't have to spend too much time trying to find relevant content to publish. You can also use their services to promote your original content so others can easily share it on their own social profiles.
Cost: Low
Ideal for: All types of businesses
Website: Quuu Promote
Channel #23: HARO
Description: HARO stands for Help a Reporter Out. It's a very popular online service for journalists to gather feedback from the public.
HARO provides journalists with a powerful database of sources for upcoming stories and daily opportunities for sources to secure valuable media coverage.
You can use it to distribute original studies and research with proprietary data on a specific topic.
Cost: Low
Ideal for: All types of businesses
Website: HARO
Channel #24: Native advertising
Description: Native advertising is a form of paid advertising where the advertiser has the option to get in front of their audience on specific websites and media outlets.
The good thing about it is that you can have a very clear view as to whether you manage to reach your key performance indicators (KPIs) as well as to determine the ROI of your efforts.
To do so, make sure that you set up the right goals on your analytics provider, e.g. on Google Analytics).
Author's Note: If you're seriously interested in native advertising, you can use a tool like Taboola — a marketplace for advertisers and publishers who are into native advertising.
Cost: Cost varies depending on your advertising needs and budget
Ideal for: All types of businesses
Channel #25: Relay
Description: Even though Relay is relatively new as a channel, we see potential in it.
The truth is that, at best, you can use it only once.
It's a platform that allows SaaS founders to share their stories and learnings, through scheduled AMAs where users can drop their questions.
If you have an interesting story to share, make sure to use it.
Cost: Low
Ideal for: Software-as-a-Service (SaaS)
Website: Relay
Channel #26: Hacker News
Description: Hacker News isn't an easy community to get featured on.
There's a certain type of content that gets high on HN's ranks.
How to get there?
Write from the heart.
That's the best advice we can give you.
Cost: Free
Ideal for: All types of businesses
Website: Hacker News
Channel #27: Medium
Description: Medium is the place "where good ideas find you".
It's also a good place for content distribution, mainly in terms of finding pieces of content that could fit the platform's tone that you could repurpose for Medium.
If you're going to use Medium as part of your content distribution strategy, make sure to do it through specific publications where your audience are likely to be reading.
For example, if you're writing about startups, you might want to consider writing for a publication like The Startup.
Cost: Free
Ideal for: All types of businesses
Website: Medium
Channel #28: Cold Outreach
Description: I saved the best for last.
Cold outreach can be a great way to distribute your content.
As I'll explain in the next section, using an outreach software like Respona, you can reach new audiences, establish relationships, and leverage them for all important future pieces of content.
Don't underestimate the power of cold outreach when it comes to content marketing.
Cold outreach can bring you links, social shares, online mentions as well new connections within your niche.
Cost: Low
Ideal for: All types of businesses
Four Steps to a Successful Content Distribution Strategy
A successful content distribution strategy gets your content in front of a larger target audience, aligns your staff to ensure content creation and distribution teams are collaborating efficiently, and sets goals so you can measure the performance of your distribution techniques.
But what makes a successful content distribution strategy?
To answer that question, we're going to use one of the latest guides we published on our website as an example.
The channel we're going to use is cold outreach.
Keep in mind that a successful content distribution strategy should involve as many of the channels we saw in the previous section as possible.
This way, you'll maximize your visibility and reach.
So, let's see what distribution looks like for one of the pieces of content that we recently published on our blog.
Our nofollow vs dofollow guide is a comprehensive resource that covers the topic of nofollow and dofollow links thoroughly.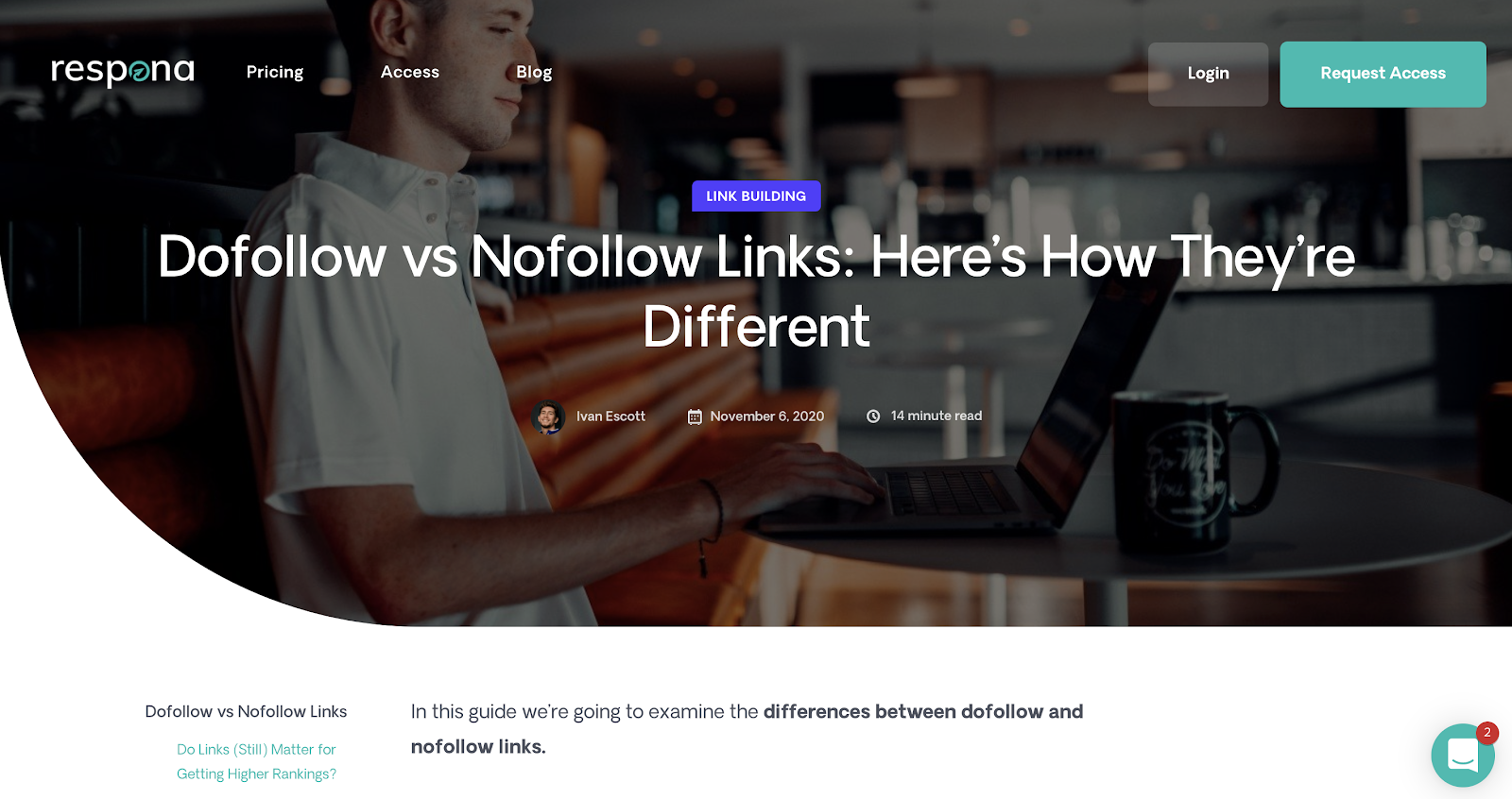 To explain how content distribution works, we're going to pretend like we're promoting this piece of content using cold email outreach.
Keep in mind that this process — of promoting your best content — can be effective only if you're promoting high-quality content.
When you think about it, why should someone care if your piece of content isn't of any particular value?
At the same time, this process works better for some content types and formats over others.
For example, case studies and original studies work great when you're trying to promote them.
Other content formats like white papers or guides may not be as effective in getting you social shares, links, and online mentions.
Having said that, let's get started with the process of promoting our piece of content.
Step #1: Define your target pages and your audience
The first step that we need to take is to define your target pages, i.e. the pages you're trying to promote, and your audience.
In our case, the page we're trying to promote is the nofollow vs dofollow guide I shared with you earlier.
Let's try to find an audience that may be interested in this piece of content.
First, we're going to start a new campaign with Respona.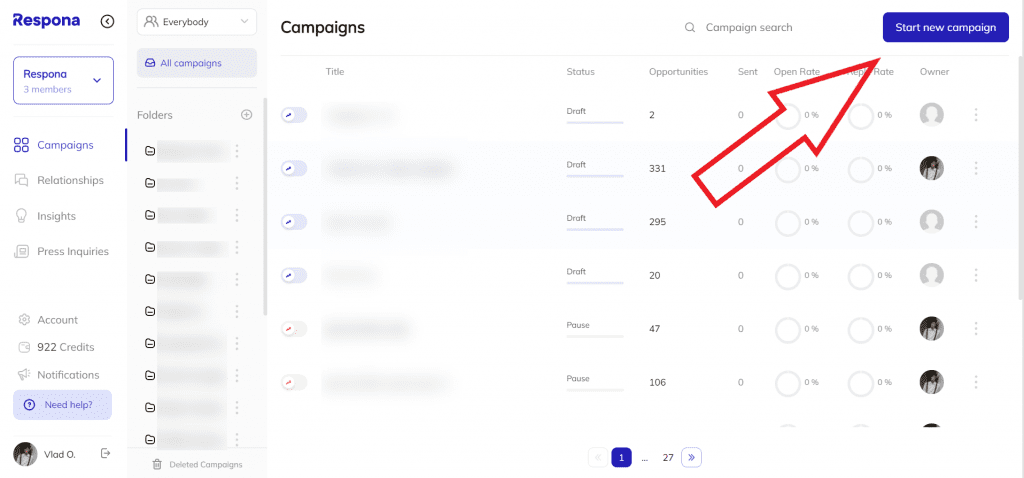 Then, we're going to give our new campaign a title — something that's memorable and that'll help you identify the campaign in case you're running multiple campaigns at once.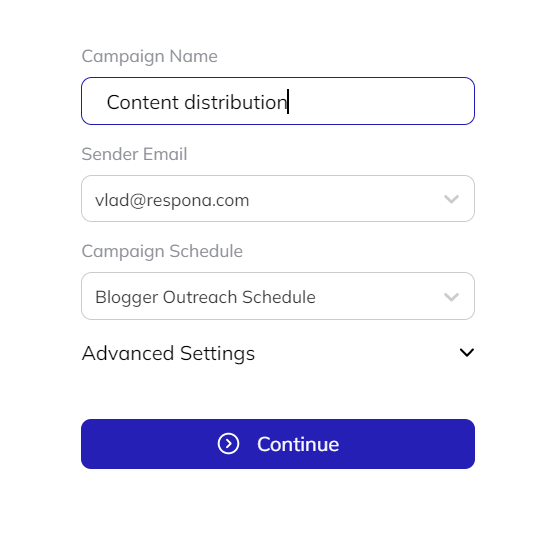 Once you're done with giving your campaign a title, you can click on "Continue".
We're going to use Respona's search engine to find prospects for our content promotion campaign.

What we need to do now is insert a search query, that will allow us to get the kind of results we want.
Here's what the search bar looks like after inserting our search query:

This may seem a bit complicated at first, but if you think about it, it makes sense. We're looking for opportunities that:
Are blog posts and thus have the word "blog" somewhere in their URL
Include the words "dofollow" and "nofollow" somewhere in their body
Include the word "SEO" somewhere in their title
Author's Note: In this example, we've used an advanced search operator to identify results that would make good opportunities for our content distribution campaign. There's really no limitation as to what operators you'll use to get the results you want. Keep in mind that Respona's search engine is powered by Bing, and thus there are some differences between Bing's search operators and search operators used in Google.
To see any of these results, all you have to do is click on the blue link, as shown below.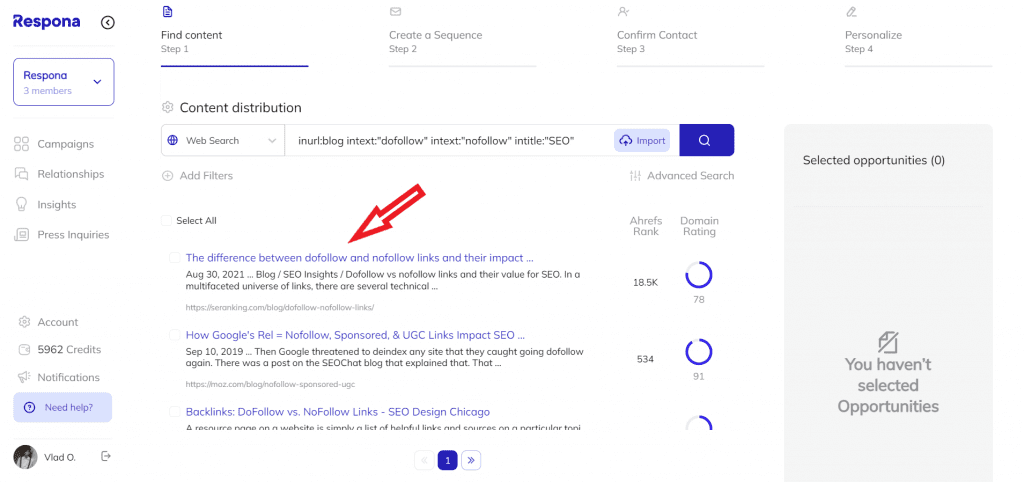 Here's what one of these results look like: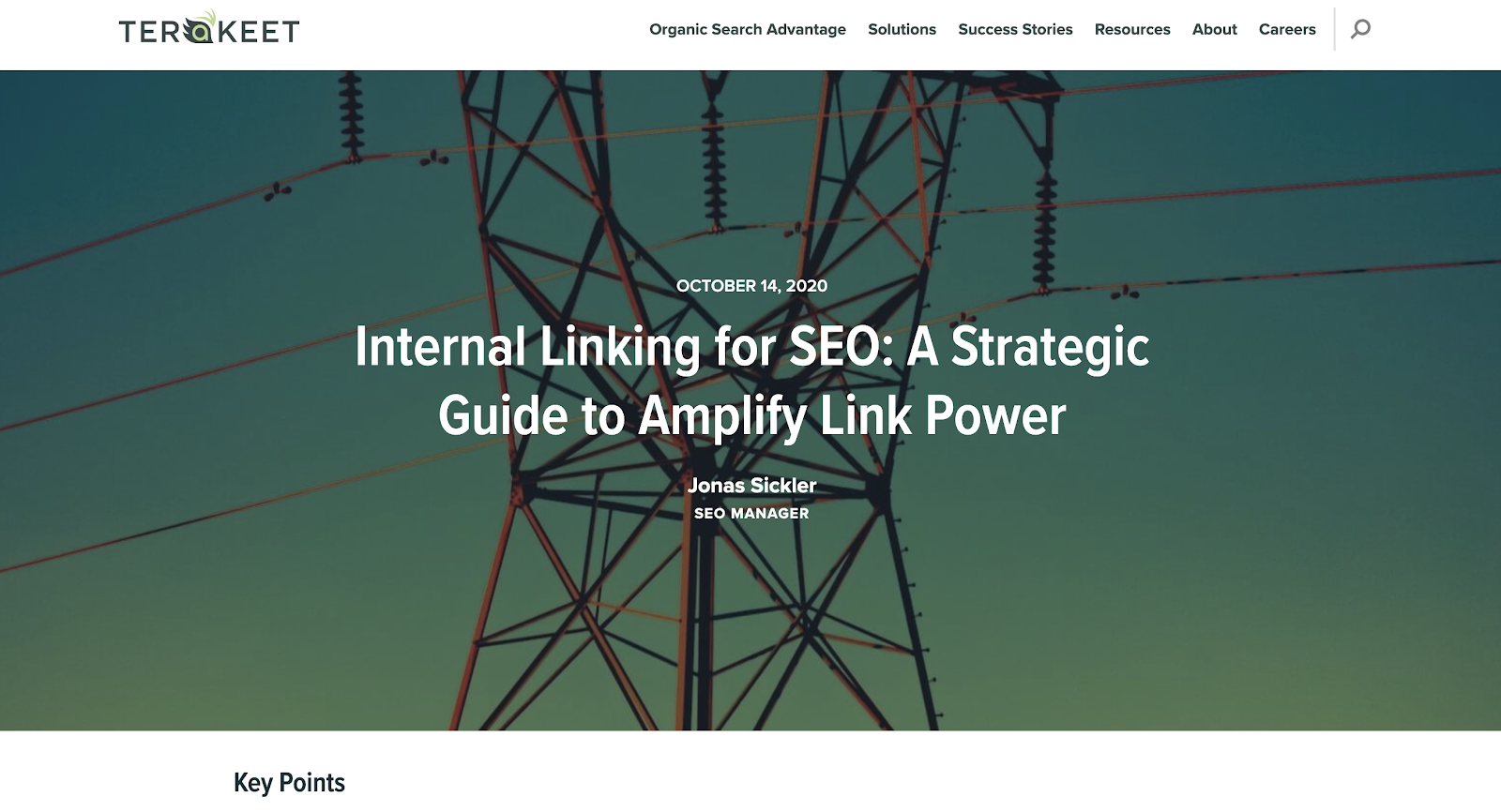 If you go on and visit this page, you'll notice that this is a well-researched guide with more than 5,000 words and beautiful custom graphs.
This means that the creator of the page is obviously interested in high-quality content and would be interested in making this resource even more in-depth and interesting.
On top of this, the page mentions both "dofollow" and "nofollow" several times and even has a dedicated section just for those two concepts.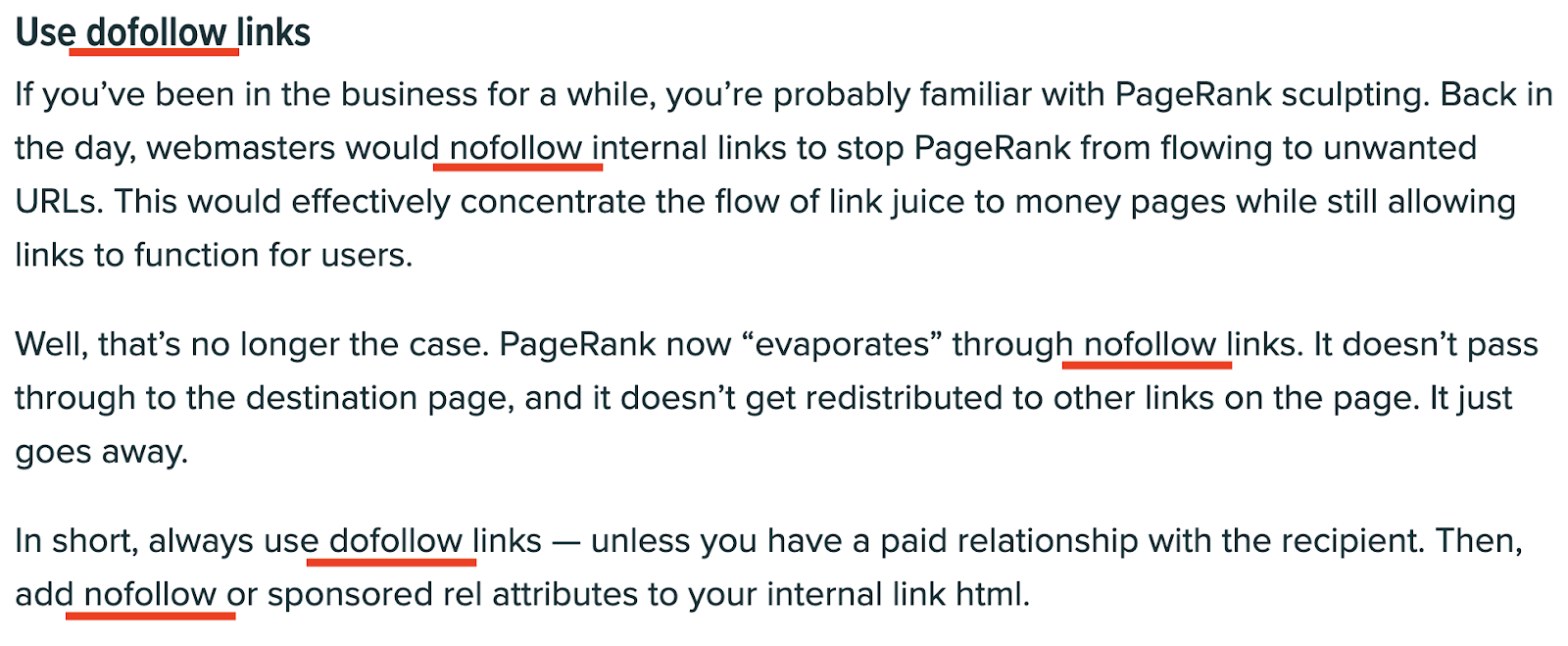 And, as you can see from the screenshot above, what's missing from this section is a nice comparison graph that lists the differences between nofollow and dofollow links.
This makes it a great opportunity to promote our piece of content, as it brings a fresh perspective into the topic of nofollow vs dofollow.
You can see that, as you choose opportunities by clicking on the little checkbox next to each opportunity, the number of total selected opportunities will change.
For example, in the following example we've selected 30 opportunities in total.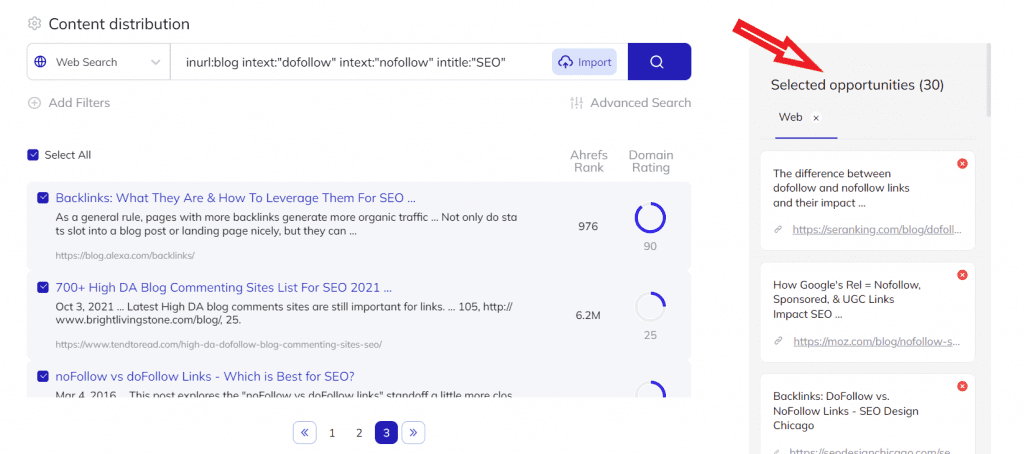 Author's Note: If you don't have the time to examine each opportunity manually and look for results at scale, you can click on the "select all" box at number 1 in the above screenshot.
Have you found all the opportunities that you want to include in your content promotion campaign> Are you now ready to move forward?
Just click on "Step 2" and you're good to go.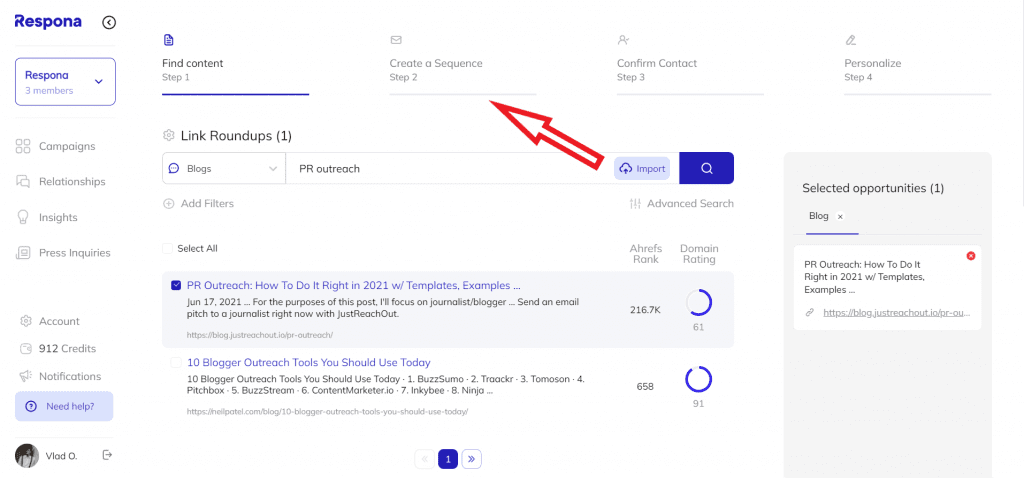 In the next step of the process, you need to prepare your email pitch.
Let's see how you can do that.
Step #2: Prepare your email pitch
Respona allows you to either create your email pitch by yourself or choose one of our pre-made templates.
For the sake of example, we're going to choose one of Respona's templates, the "Guestographics (V1)" one.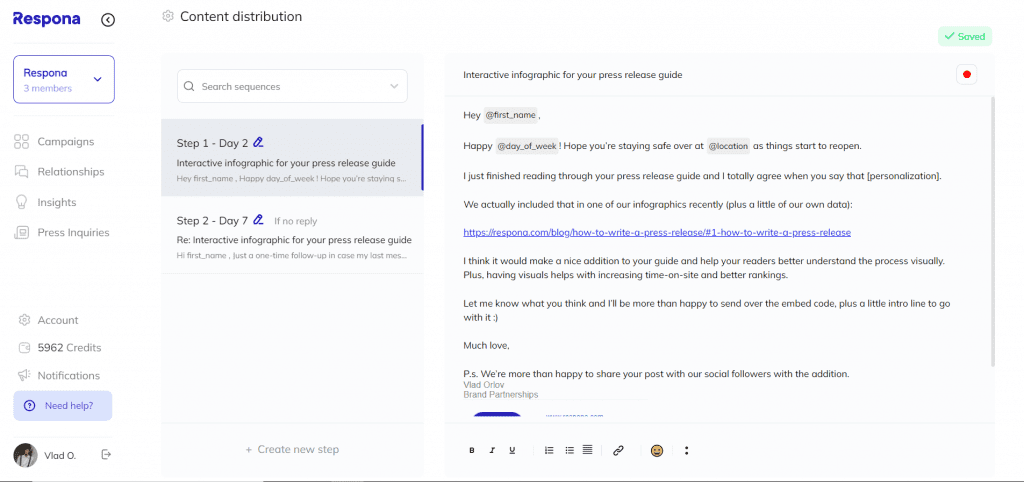 As you can see below, by default, this template has an email sequence with 2 emails.
The good thing about Respona's email editor is that it auto-grades your email and let's you know what's the chance of getting a reply based on criteria such as the length of your subject line or any spam words you may be using.
As you can see below, our email has high chances of getting a reply.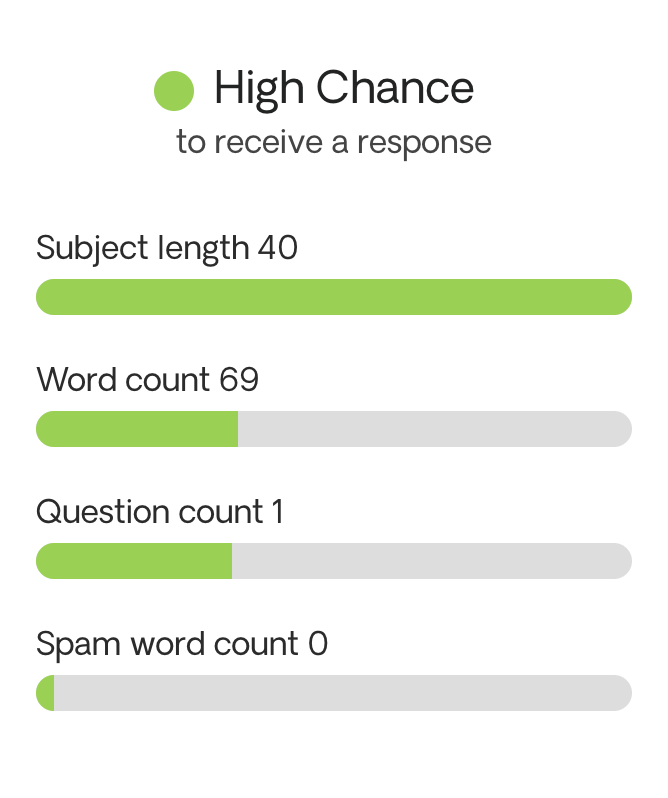 When you're done editing your email, Respona will save your changes automatically.
This means that the first email of the sequence is now saved and you can move forward with editing the rest of the emails.
You can edit all the other emails in exactly the same way you edited the first one.
At the same time, you can choose to add or remove any of the follow-up emails you've included in your email campaign.
When you're ready to move forward to the next step, you can click on "Step 3".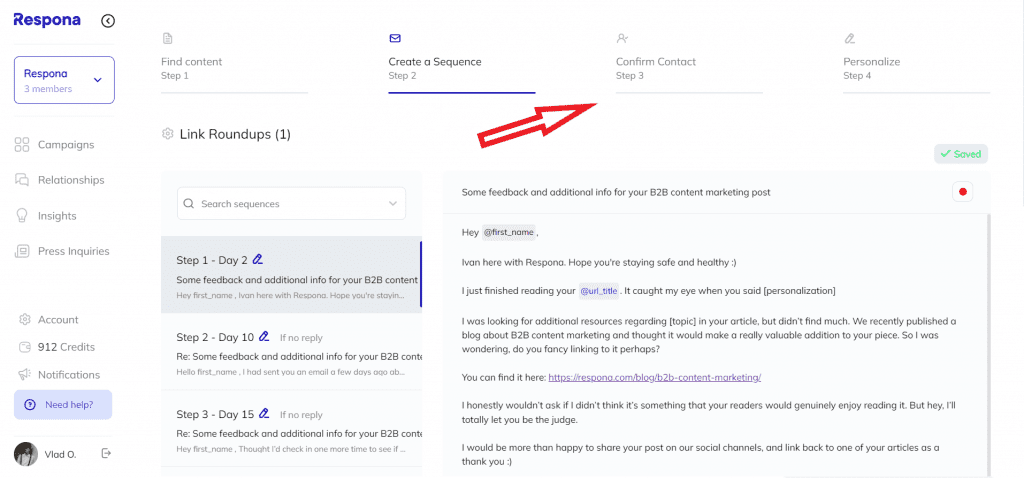 In the next step of the process, we're going to find the contact information of our prospects.
Let's see how that works with Respona.
Step #3: Find contact information for your prospects
To begin with, from the selected opportunities, you have to choose whether Respona should assign opportunities to authors of the selected URLs.
As you can see below — and, considering the fact that we're talking mainly about blogs — we've chosen for Respona to assign opportunities to authors of the URLs only if the authors work for the company.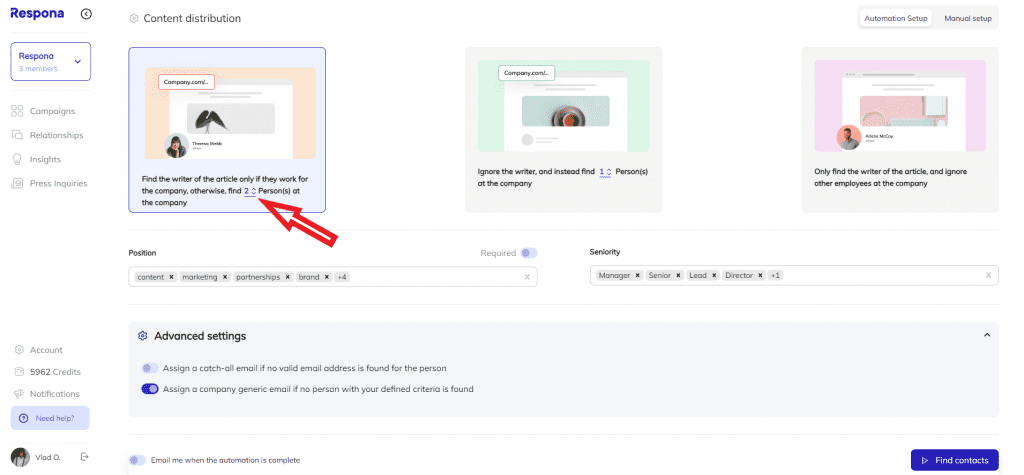 We did that because particularly for link building campaigns, we have to be sure that the author works for the company to be able to add our link to the page.
Next, apart from assigning opportunities only to the page's author, you can also assign opportunities to other people working in the company.
That can help you get more responses as, according to a study by Backlinko, sending an email to multiple people within the same company increases chances of getting a reply.
As you can see above, we're choosing to send our email to two more people within the company.
Who are these people?
As you can see, we're looking for anyone in "marketing", "content", "SEO", "partnerships" or "writer" positions, with the seniority of a "manager" or "director", "head", "lead" or "senior".
Author's Note: The reason why we're choosing these options is because—in most cases —they'll help us reach out to someone who has editorial access to the website's blog, even when we haven't managed to find the author of that particular post.
At the same time though, you can see the maximum number of minutes Respona will need to perform the job of finding the best contact information for your campaign.
Here's what we got a couple minutes after clicking on "Run".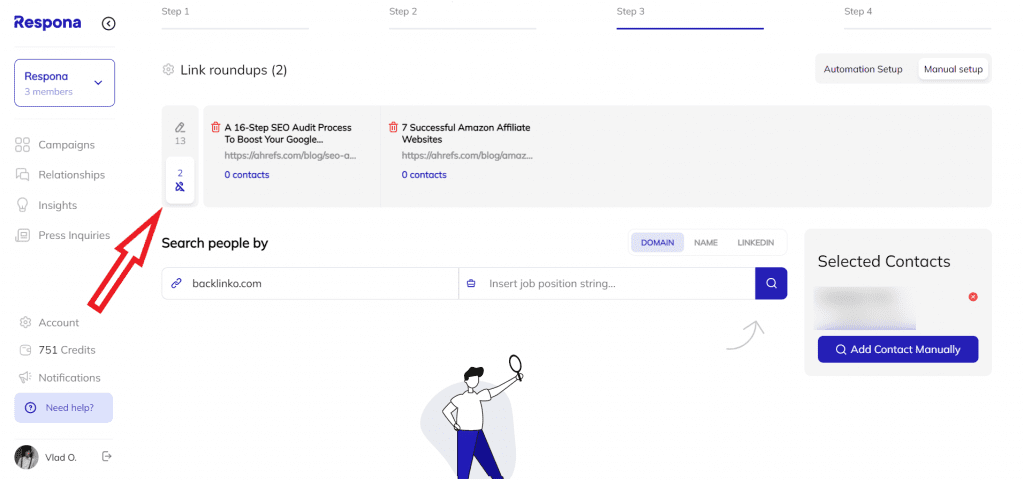 From the 15 opportunities we had in total, Respona found contact information and assigned a contact person to 13 of them.
That's a great success rate for finding the right person to reach out to for our content distribution campaign.
For example, you can see that for SE Ranking, Respona found two contact people, one of which is the head of content, and the other is an SEO.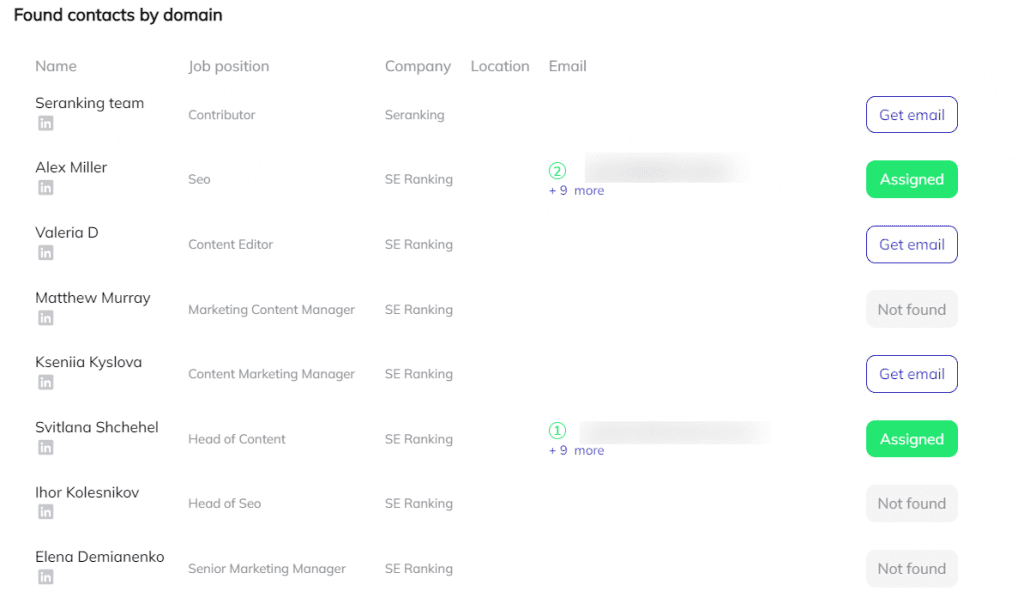 Author's Note: For privacy purposes, we've removed the email addresses of the contact people.
You'll also notice that in most cases, contact people have a small LinkedIn icon in the bottom right corner.

You can click on that to visit the profile of your prospect.
You can connect with your prospect to start building a relationship with them before you send your outreach email.
Once you've reviewed everything, you can click on "Step 4" to move to the final step of the process.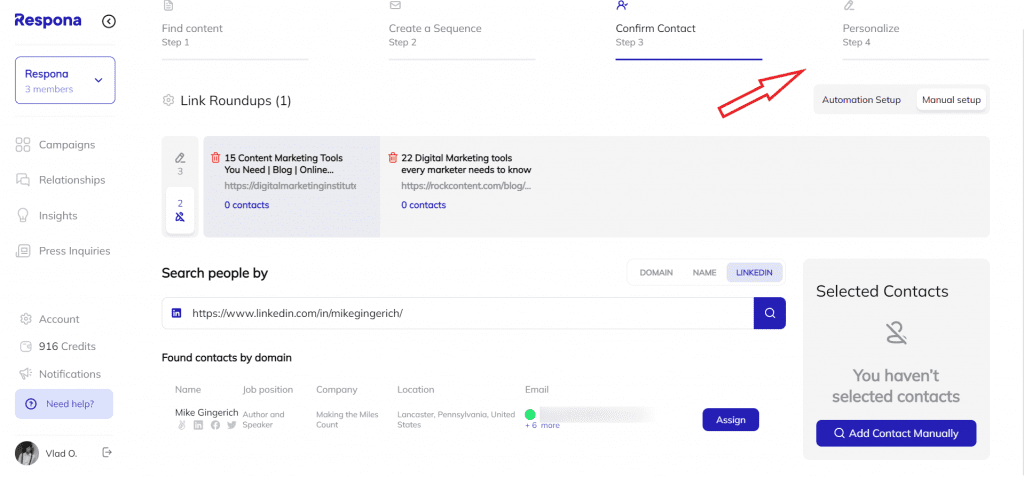 What's left?
Personalizing and launching your content distribution campaign.
Let's see how you can do that.
Step #4: Start distributing your content
So far we've created a list of websites we can reach out to to promote our "dofollow vs nofollow" piece of content.
We've also created an email sequence we'll be using for our campaign.
Finally, we've found the contact information for our opportunities.
The only thing that's left is to personalize our cold emails and start distributing our content.
Let's see how you can do that with Respona.
In this last step, you'll notice that our opportunities aren't personalized.
At the same time, variables like the prospect's name have already been inserted by Respona.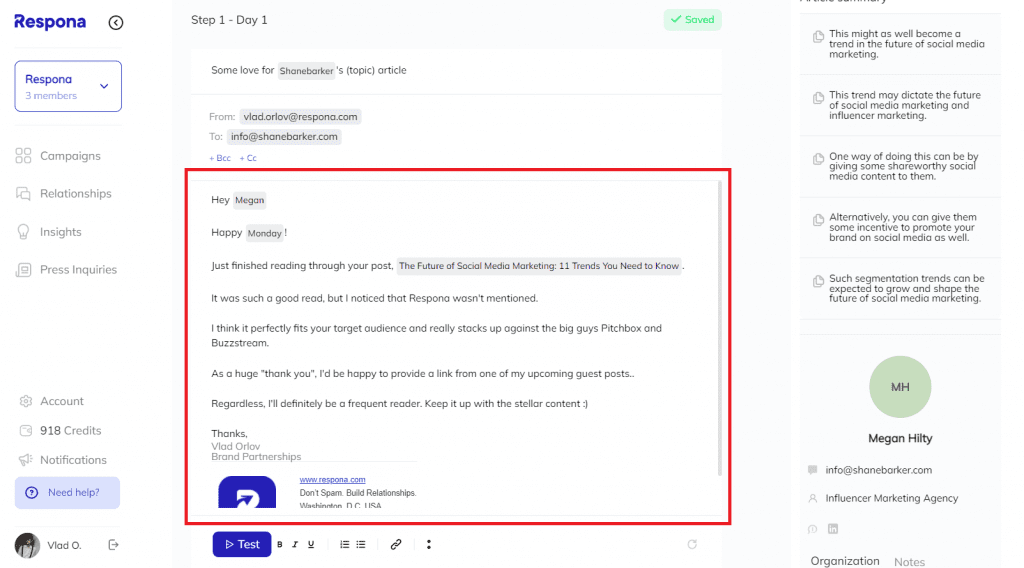 One thing that's left — that we mentioned earlier in this process — is to personalize our email.
The way to do that is by inserting an excerpt of the article to show that we've actually gone ahead and read the piece of content we're referring to.
To do that, you can find the excerpt that seems to be most relevant from the right side bar, copy it, and paste it into your pitch.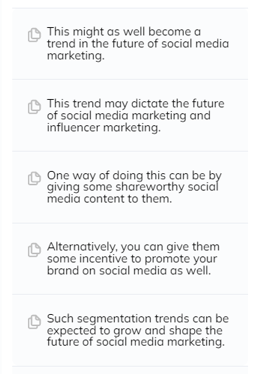 Repeat the same process until no opportunities are left unpersonalized.
When you're done, there's only one thing left:
Launch your content distribution campaign.

Before we move on to the next section, I want to make one thing very clear:
The process we've shared with you only makes sense if the piece of content you're trying to distribute is actually worth distributing.
In other words, your content piece should be linkable, shareable, and with perspective.
Otherwise, why should someone care about it?
If a piece of content performs well in one particular format, you can use content repurposing to transform it to other content formats and thus get the most out of it.
Let's move on to the next section, where I'll share with you four content distribution tools you need to get started.
4 Content Distribution Tools to Help You Get Started
We've covered a lot of information and it can be overwhelming when thinking about all of the different media types you can create and all of the distribution channels you can use.
Luckily, content distribution has been around long enough that there are several platforms available to help you accomplish your goals.
Platform #1: Respona
Respona was originally created to help Visme solve their marketing challenges and, after its extreme success, was released to the public.
Respona is an all-in-one digital PR, influencer marketing, and link building software that will help you spread the word about your brand and build relationships effortlessly.
It helps you personalize your pitches, streamline your outreach process, and analyze your results – all on one platform.
You don't need me to tell you that it can become pricey if you are using multiple different applications for content discovery, email automation, email finders, etc.
When you consolidate everything with Respona, you only need to login to one platform and you can monitor everything you need in one place.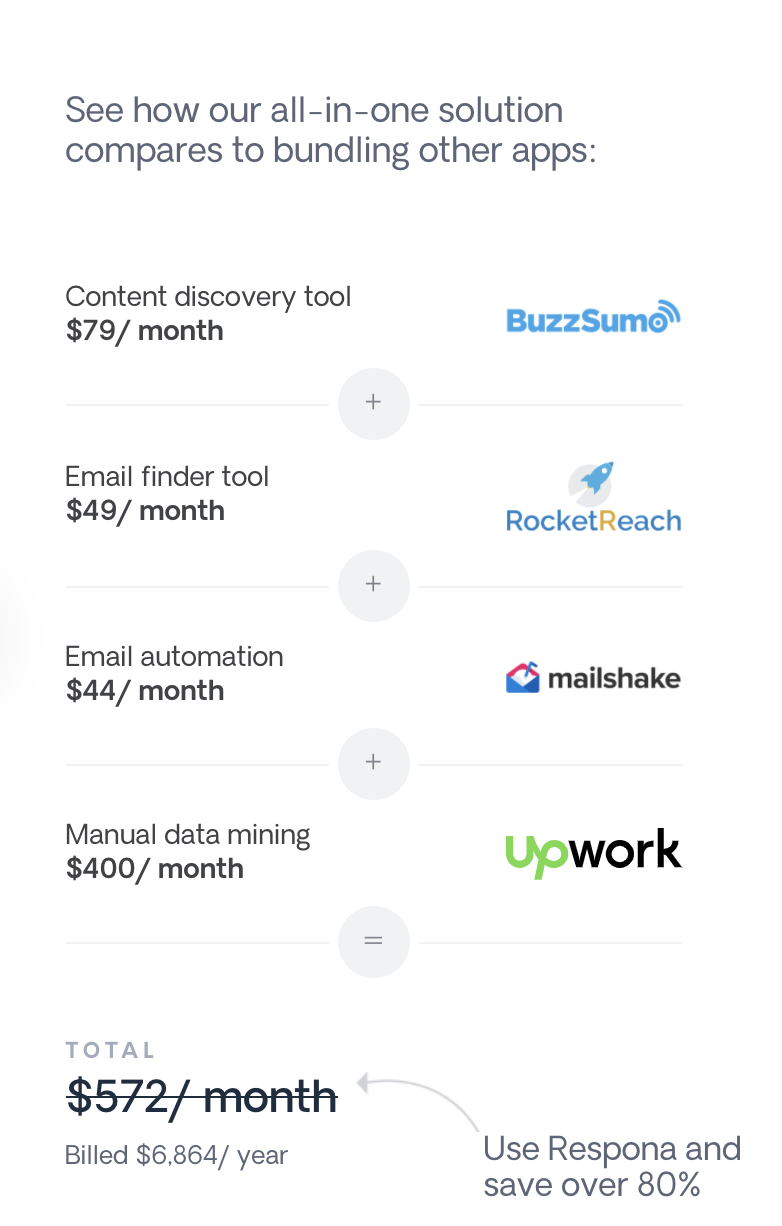 The all-in-one solution has all the important features for one low price that'll save you from wasting time and money with different apps.
With Respona, you have two choices when selecting a payment plan that aligns with your business and professional goals – a standard or custom plan.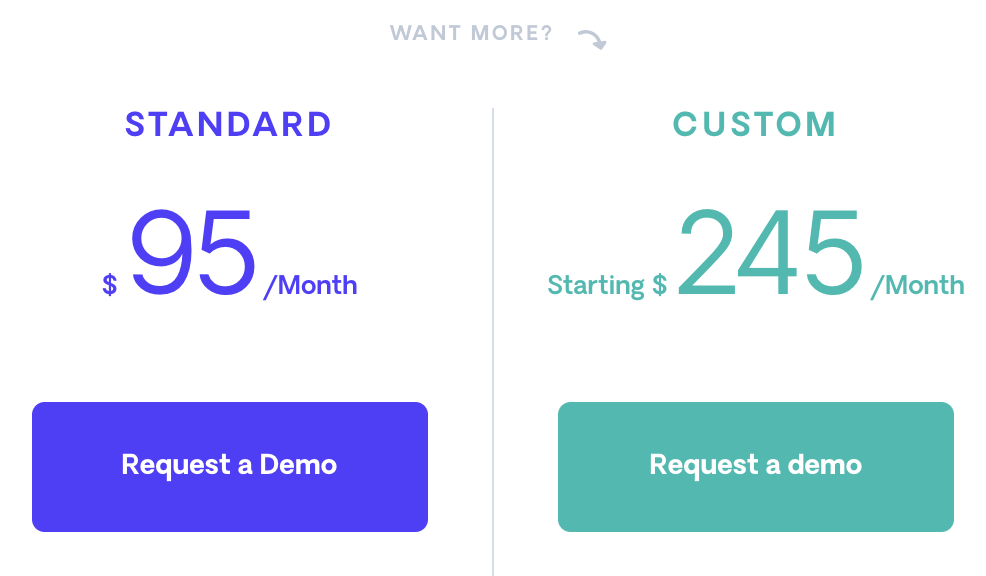 With the standard plan, certain categories are limited like having only one email account with a 100 daily email limit and having three users for your campaign management.
The custom plan you can add when you need the additional resources and only pay for the things you need.
One of the exclusive features for the custom plan includes a regularly expert strategy call to help make sure you're on track to drive your business forward.
With Respona, you can create and track all your public relations, link building, and content marketing campaigns, and ultimately help push your content distribution to the next level.
Let's move on to the next one.
Platform #2: CoSchedule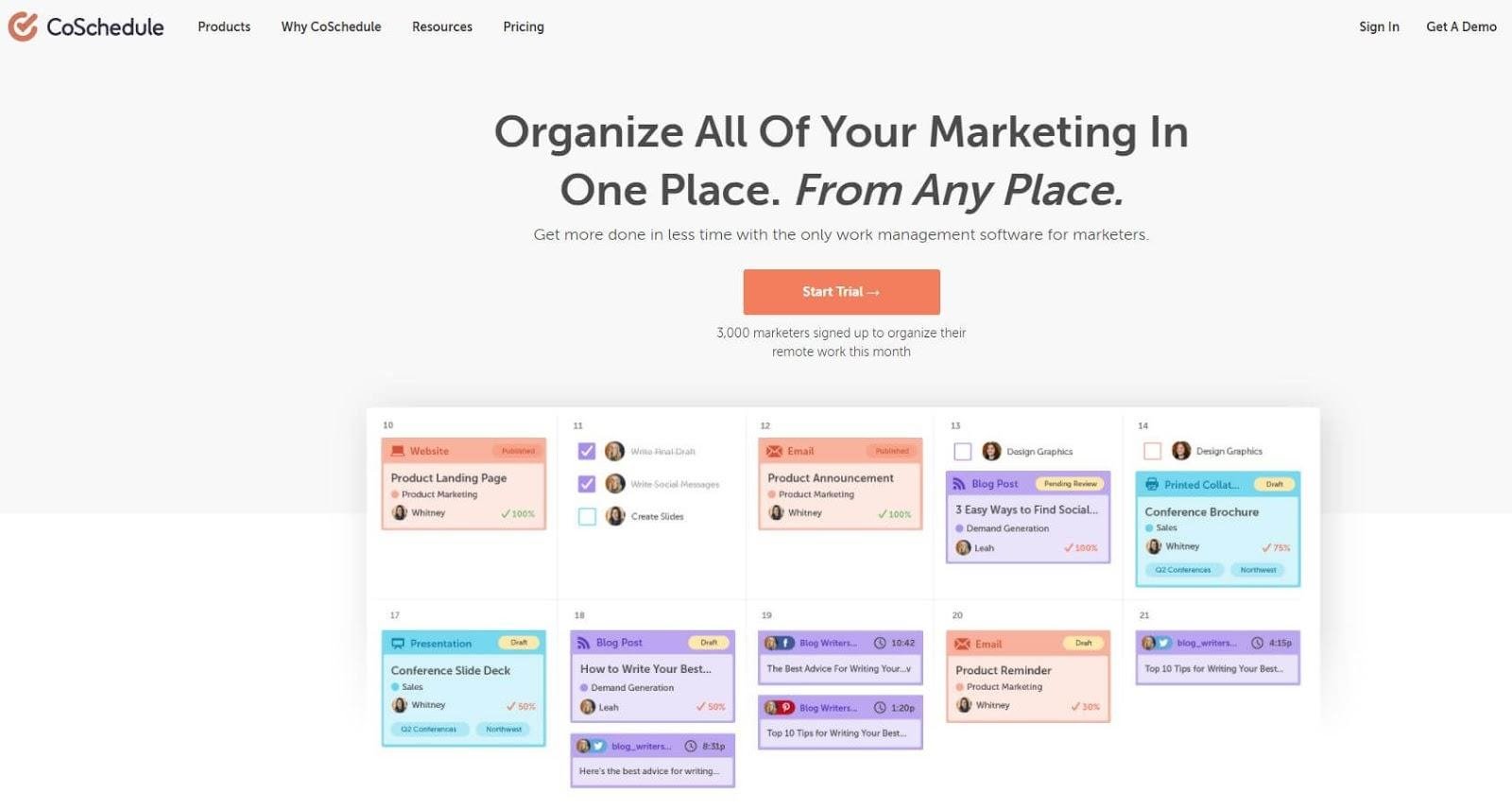 CoSchedule is a family of agile marketing tools that will help you stay focused, deliver projects on time, and make your team happy.
This work management software for marketers offers a blog calendar that organizes your blog and social media; a marketing calendar that helps you see, schedule, and share your marketing; and a marketing suite that combines five agile marketing products to coordinate your team, projects, and process.
The marketing suite solution helps organize your business and removes time that's wasted on managing work, giving you the opportunity to spend time on quality content.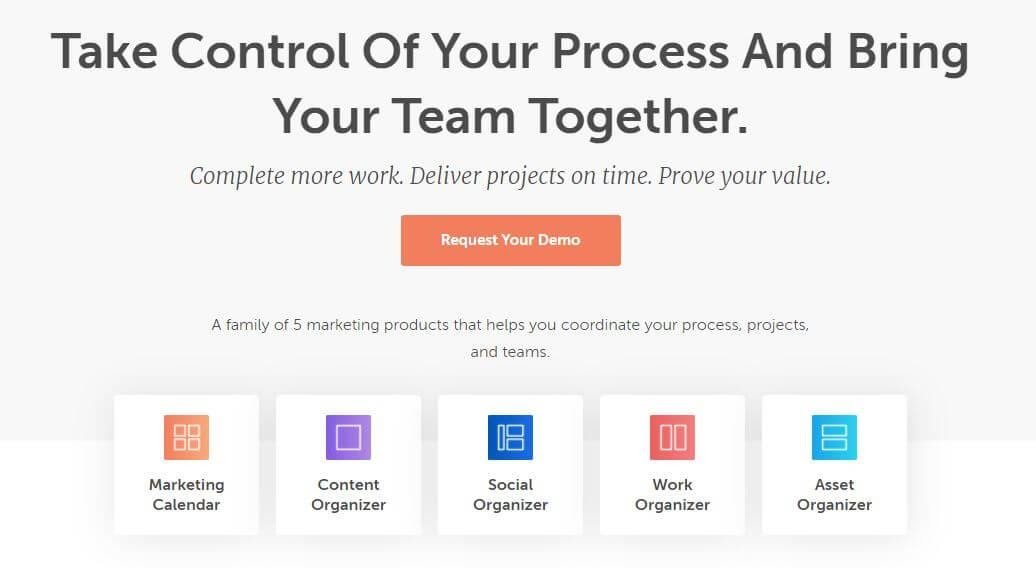 The blog calendar is $14 per user/month when you choose to go with the annual billing option.
If you need a little more help scheduling your content, the marketing calendar is $29 per user/month, billed annually.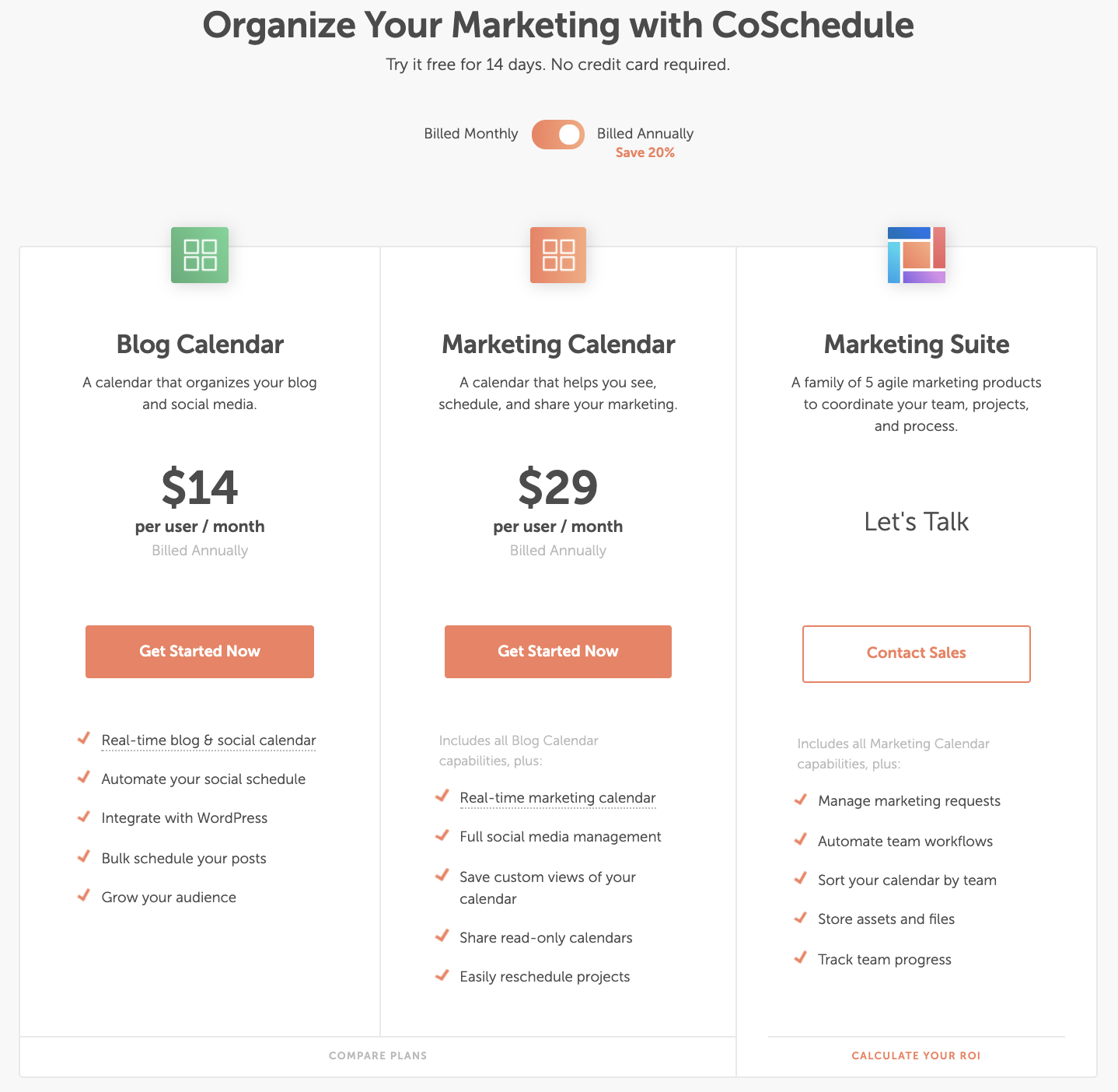 However, if you're looking for a more all-inclusive solution for your content distribution, you can choose the marketing suite option where you can discuss your options further with the CoSchedule team and the price will depend on your operational needs.
When choosing the right content distribution tools that you're going to use, it's important to highlight what you currently have, what's missing, and what tools you can use to help push out your content.
Let's move on to the next one.
Platform #3: Hootsuite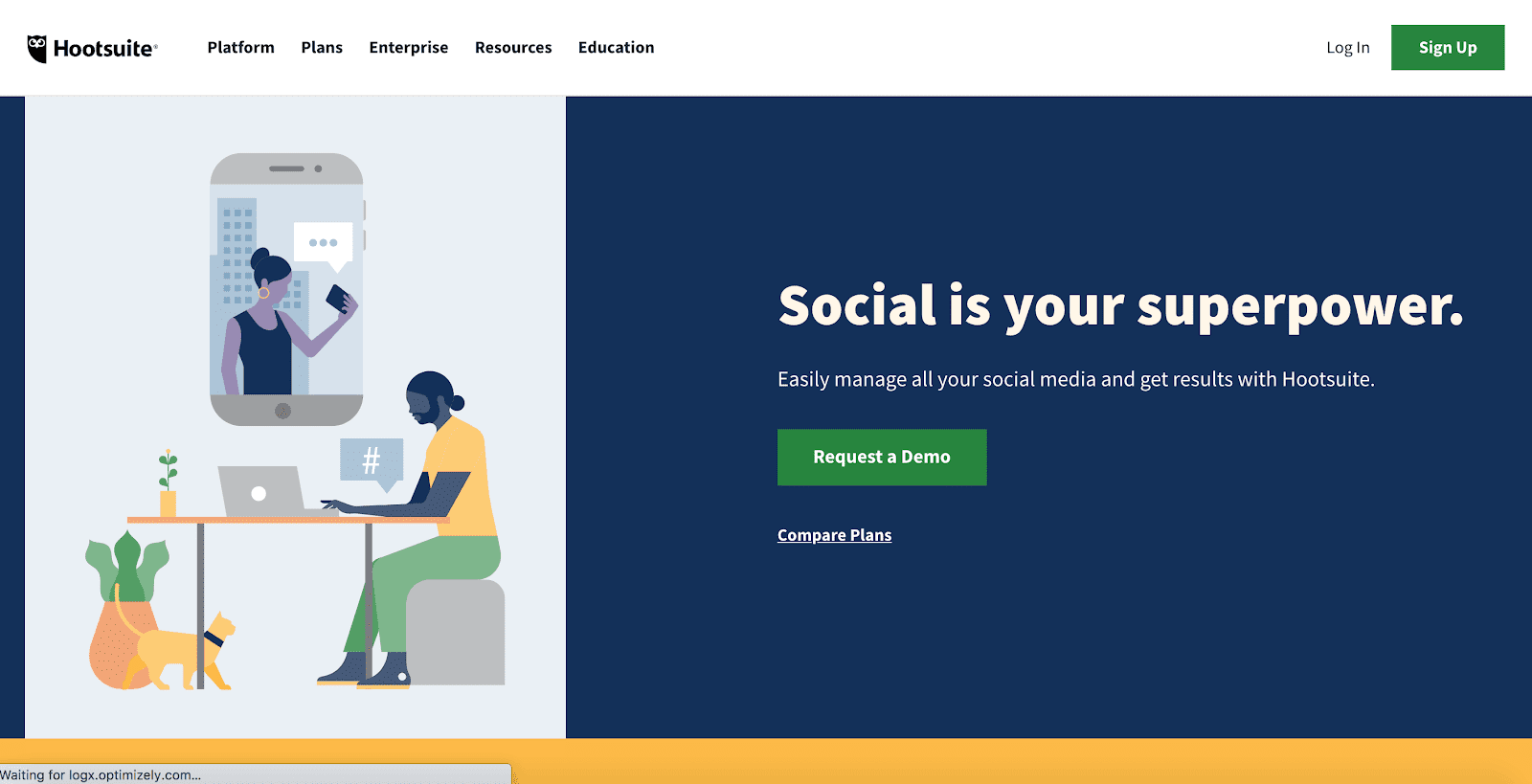 Hootsuite is a popular social media management platform. It allows you to manage and schedule content across multiple social media platforms from one tool.
Hootsuite supports social network integrations for over 20 platforms including Facebook, Instagram, YouTube, LinkedIn, Twitter, and Pinterest.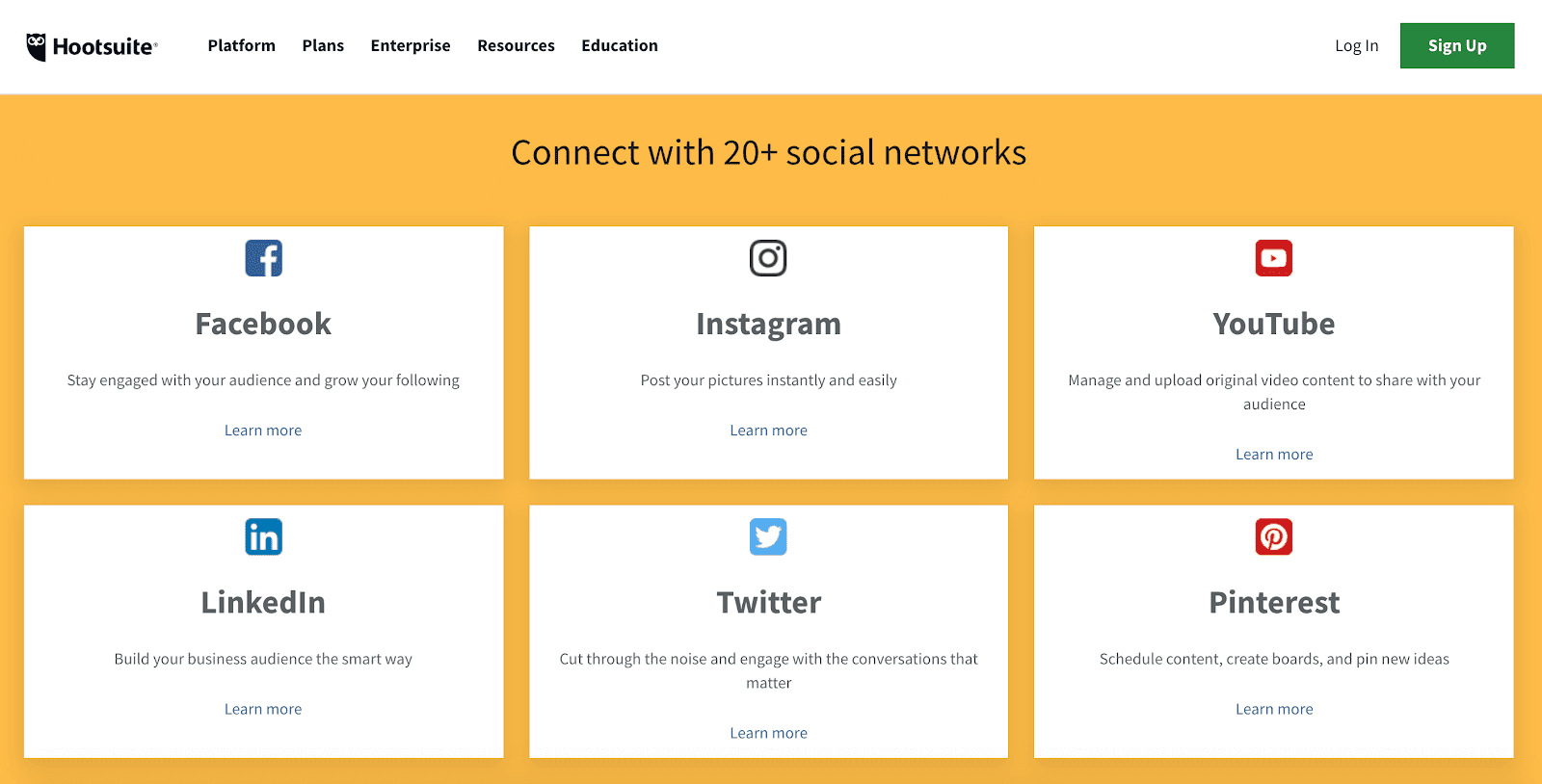 You can add photos and videos, tag influencers or brands, and even monitor and manage incoming messages for all of your social media channels, all from one platform.
After publishing your content, you can analyze its performance and create reports through the software.
The professional plan for one user, 10 social profiles, and unlimited scheduling starts at $19/month. However, there's a limited free plan for one user, note that you can only connect three social profiles and schedule 30 posts per month.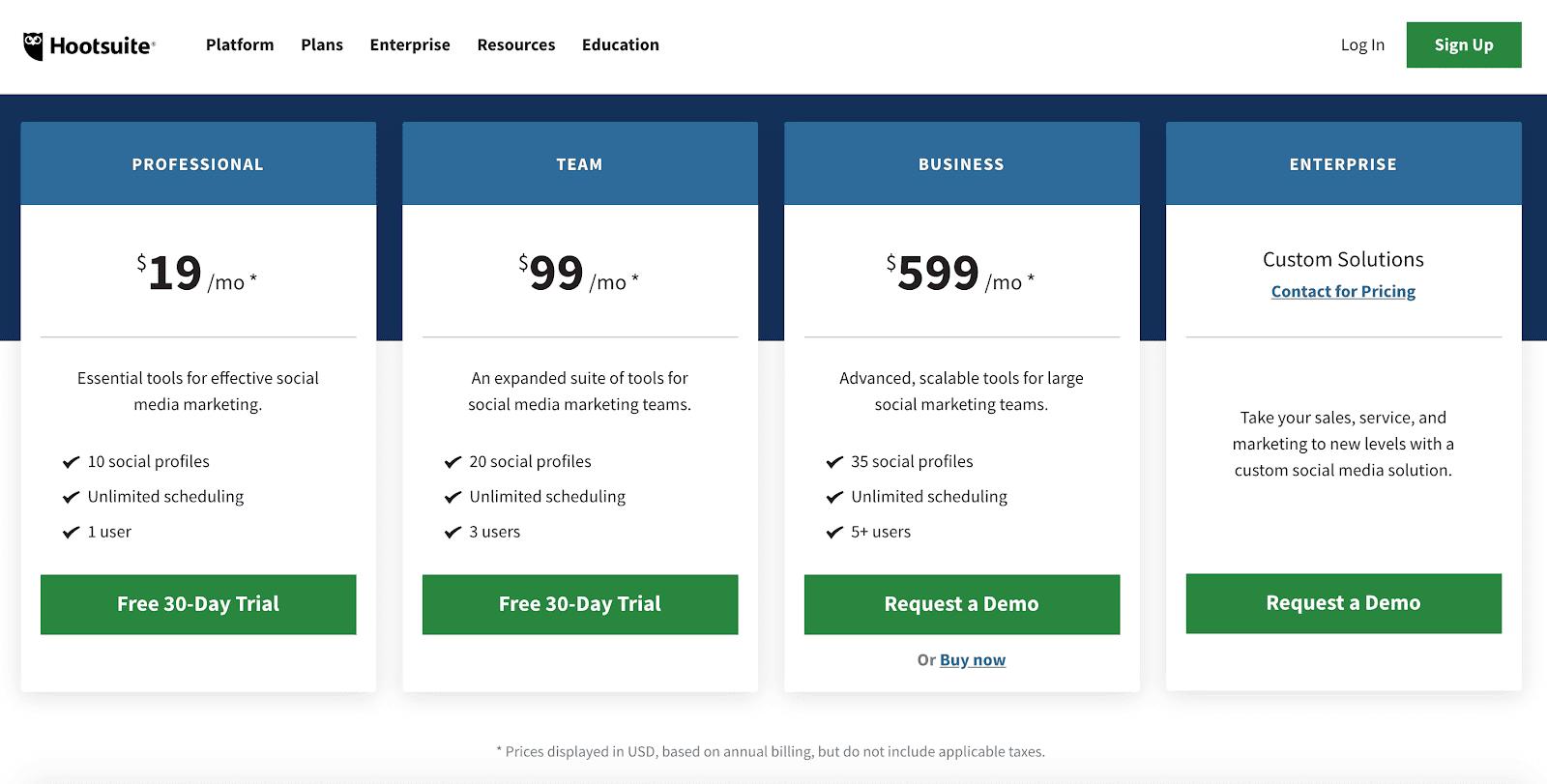 Hootsuite also offers large plans for bigger business and advertising options to manage your search and social advertising in one place.
Platform #4: Quuu Promote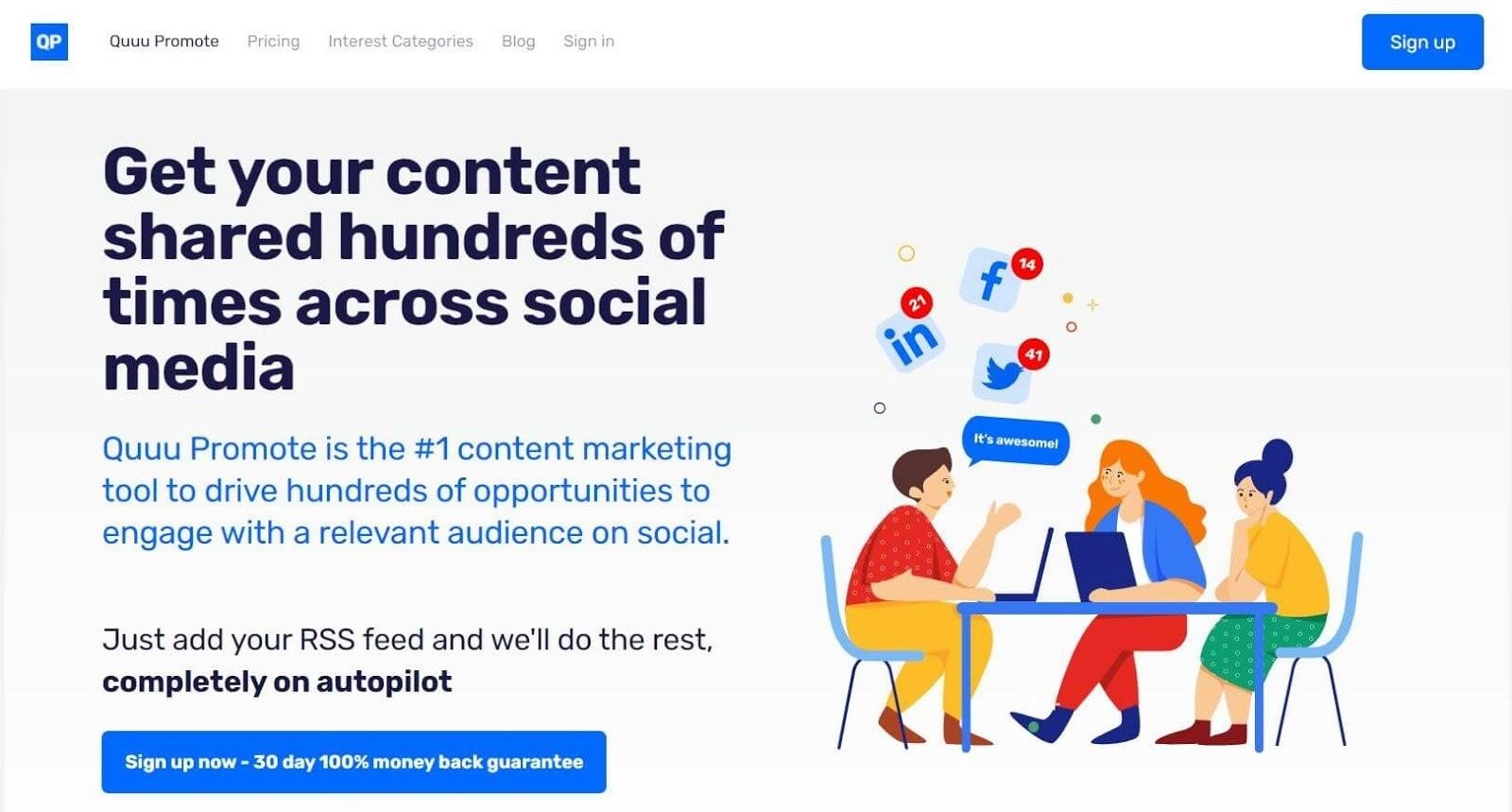 Quuu Promote is a great content marketing tool to drive hundreds of opportunities to engage with a relevant audience on social media.
In three simple steps, it allows you to promote your blog to real people, promote your content to the right audience, and increase your SEO social signals to drive up your rankings.
The three steps are:
Add your site RSS feed URL
Submit your content
Track your shares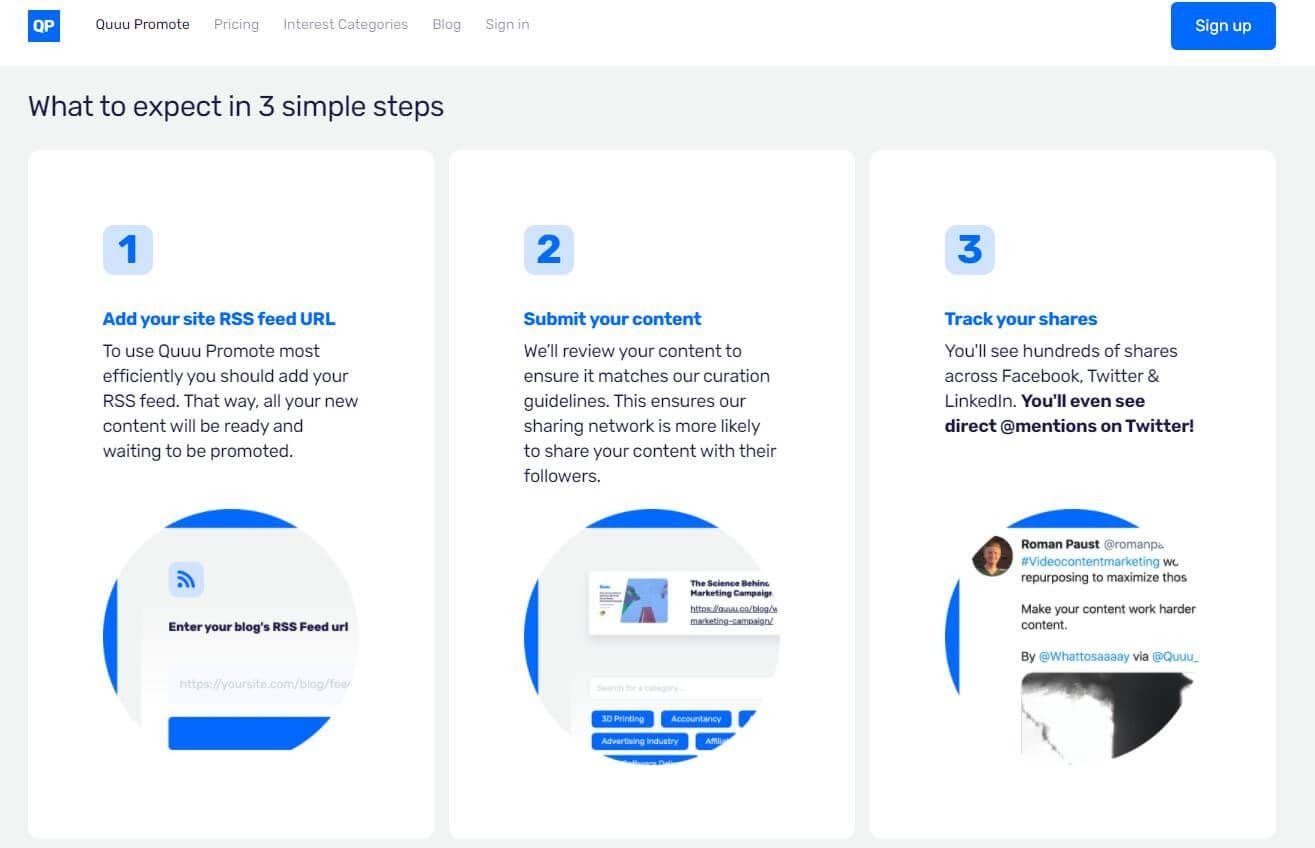 They offer a manual and automatic plan so you can choose to have full control over your content or let a team of professionals promote your content automatically.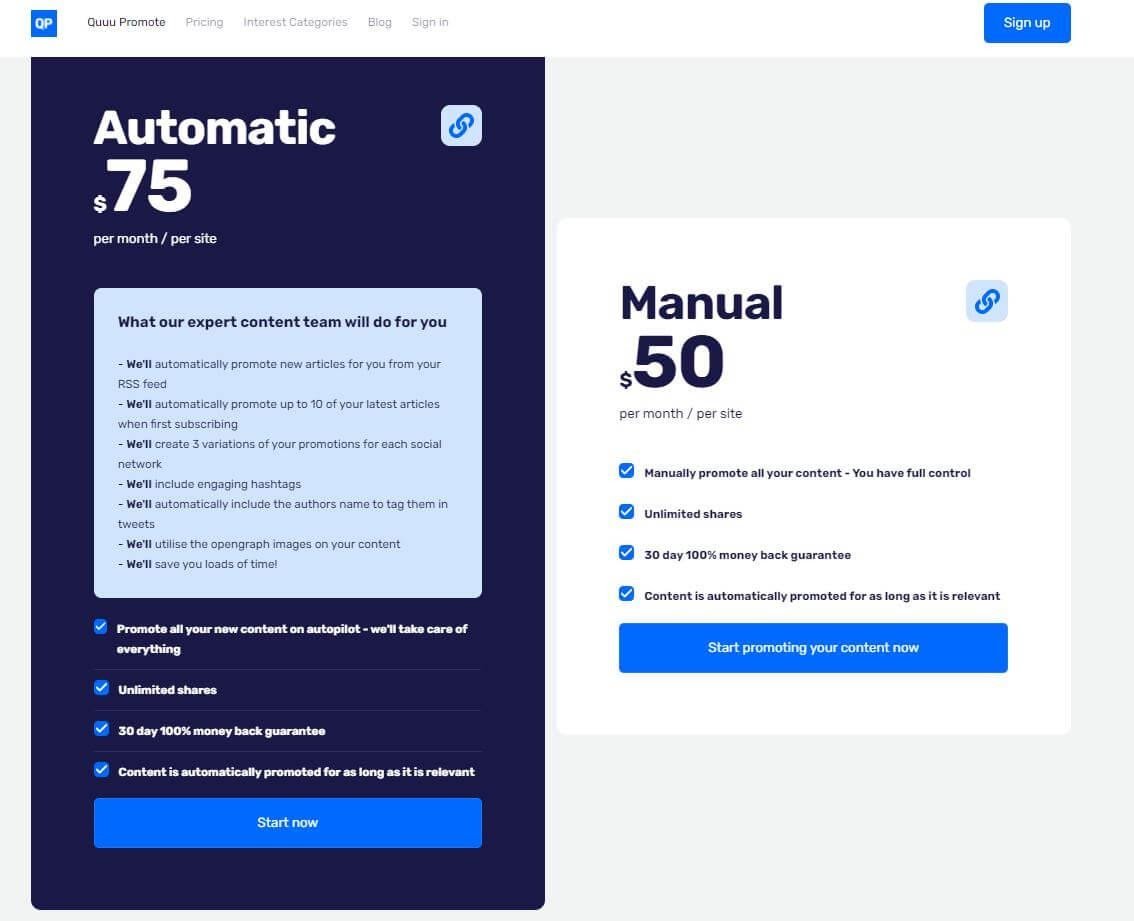 The manual plan is exactly what it sounds like, you'd have to manually promote all your content and it's automatically promoted for as long as it's relevant. This comes to $50 per month/per site.
The automatic plan includes more features like three variations of content for each social network, promoting up to 10 articles, including engaging hashtags, and more. This plan is $75 per month/per site.
Platform #5: SocialBee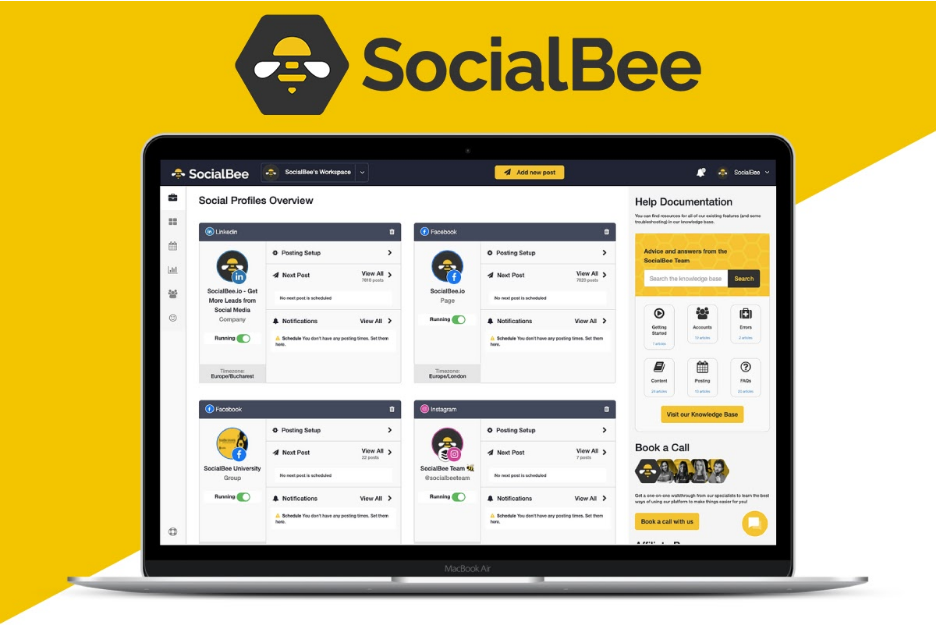 SocialBee is a great tool for solopreneurs and small businesses, as it enables posting on several social media platforms from one place. It supports posting on the following platforms Facebook, Twitter, LinkedIn, Instagram, Pinterest, and Google My Business.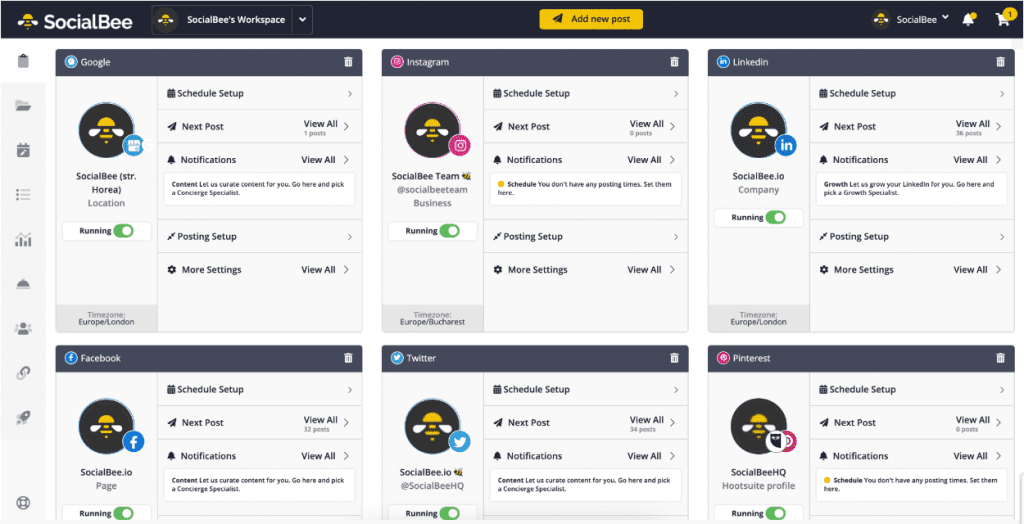 You can share images, videos, carousels, and stories with SocialBee once you set up your posting schedule. Not only that, you'll be able to analyze the performance of your posts and accounts.
Organizing your content will be easier than ever, thanks to the content category system, which allows you to group your content on themes. Once you do that, you can decide if you want to recycle your evergreen posts or expire time-sensitive content.
You can even have multiple workspaces, add team members with different roles, save posts as drafts and send them for approval to your team, mention your colleagues and leave comments.
Their integrations with tools like Canva, Rebrandly, Bitly, PixelMe, and various other tools make it easier for you to have a streamlined workflow.

SocialBee offers affordable plans, starting with $19/month, all the way to $39/month, and $79/month. Also, the 14-day free trial is useful before you decide to invest in a paid plan. Lastly, their customer support is exactly what you need for a personal and customized experience.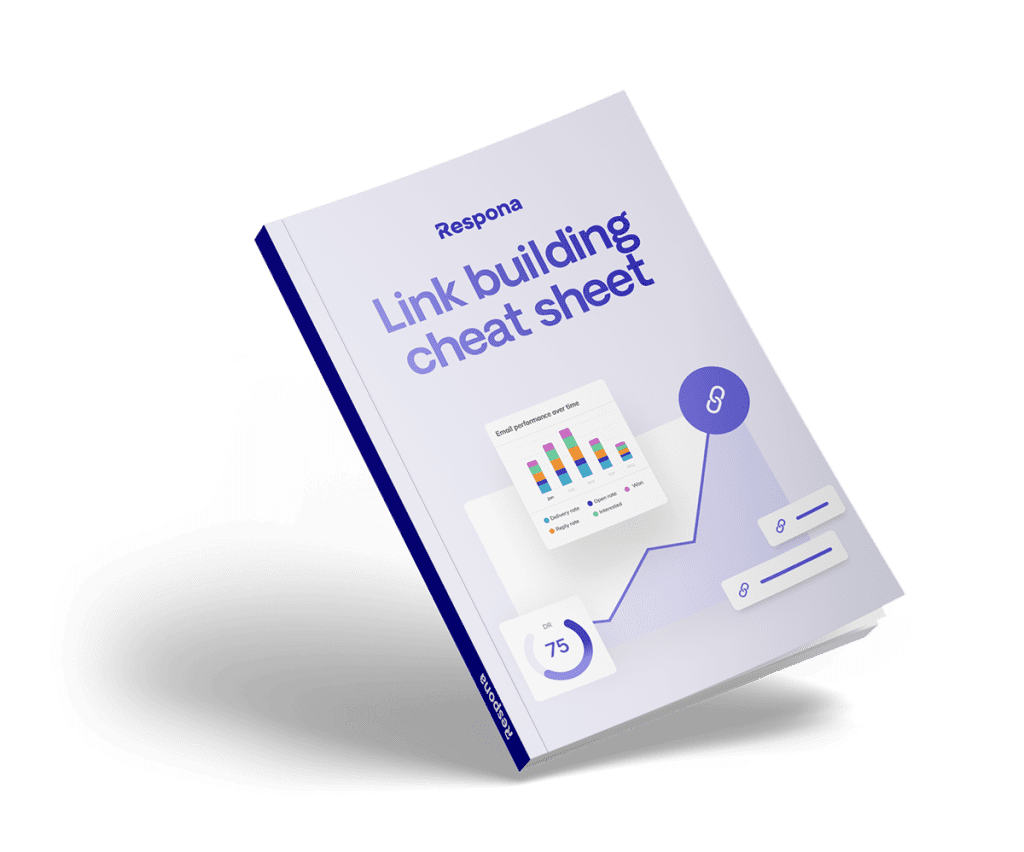 Link building cheat sheet
Gain access to the 3-step strategy we use to earn over 86 high-quality backlinks each month.
Looking for Content Distribution Software?
Content ideation is important.
But, let's face it:
Everyone can come up with a good idea.
Not everyone can promote their content and distribute it to the right channels so that the right people will get to see it.
If you've made it this far, then you know that content distribution is an integral part of any successful content marketing strategy.
Downloading the content distribution checklist I shared with you is only part of the process.
You also need a content distribution software to help you with other important distribution activities such as cold outreach.
As you might have guessed, Respona is a tool that can help you with that.
Just request access and we'll try to help you meet your content marketing goals.