The skyscraper technique was first introduced back in 2016 by Brian Dean of Backlinko.
In this guide, you'll learn how to apply it to get more backlinks and increase your organic traffic.
More specifically, we're going to cover the following:
What the skyscraper technique is
What the purpose of the skyscraper technique is
Why the skyscraper technique is important for your website
Finally, we're going to discuss and illustrate a step-by-step process of applying the skyscraper technique using Respona.
Let's get right into it.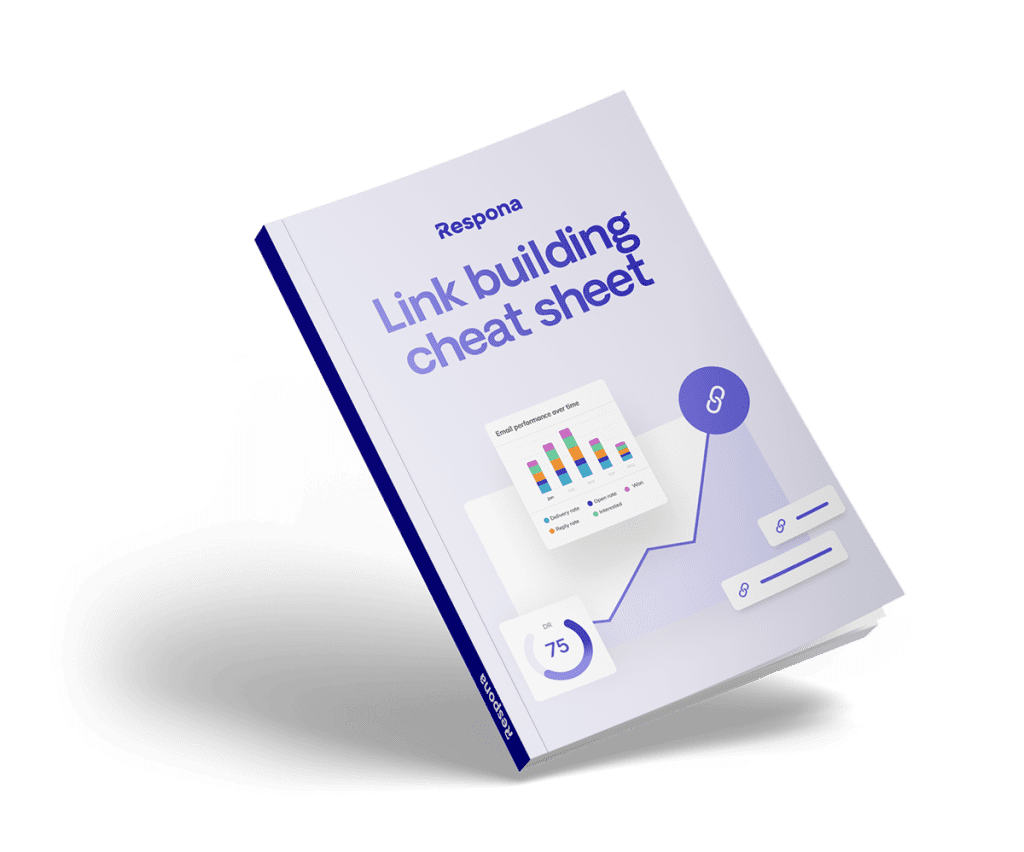 Link building cheat sheet
Gain access to the 3-step strategy we use to earn over 86 high-quality backlinks each month.
What is the Skyscraper Technique?
The skyscraper technique focuses on finding the best piece of content out there around a particular keyword and creating something even better with the goal of offering this new content as a replacement backlink to the websites that have linked to old content previously.
If you're into content marketing and blogging for either yourself or for a client, then you've most likely caught yourself looking for ways to get your content ranked as high as possible in the search engine results pages (SERPs), in order to gain more organic traffic.
This is where the skyscraper technique comes in; it's a simple yet effective way to create better-performing pieces of content.
There are three steps that'll make the skyscraper technique work:
Find popular content that's already ranking for your target keyword
Create a piece of high-quality content
Promote your piece of content to the blogs and publications that refer or link back to some of the best performing pieces of content for your target keyword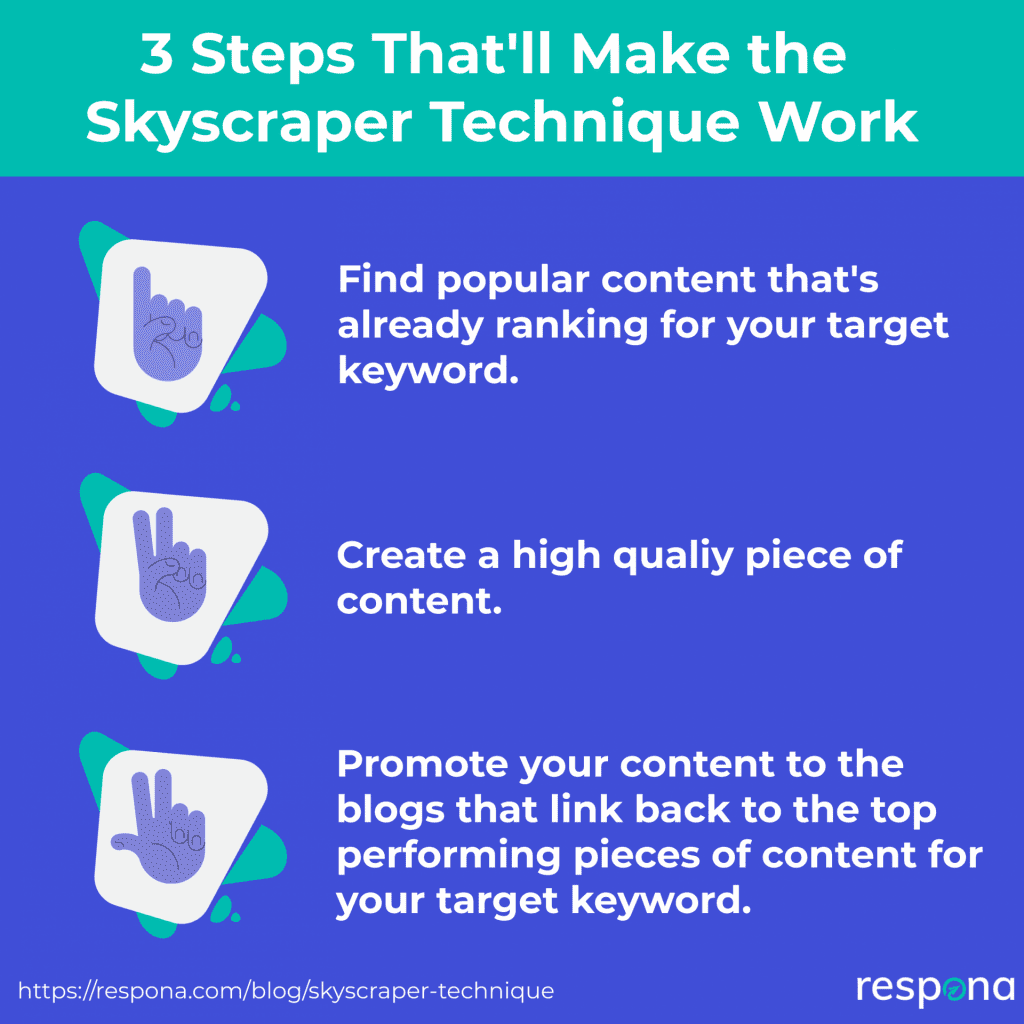 Let's break things down.
Step 1: Find content that already ranks for your target keyword
This means finding a good keyword you wish to get ranked high in the SERPs and identifying which content piece is currently the best one out there around that very same term.
The best piece of content is typically one that ranks very high – ideally as the first search result – and receives a lot of attention.
This would mean that it gets a good amount of organic search traffic, social media shares, comments, and – most importantly – a high number of quality backlinks.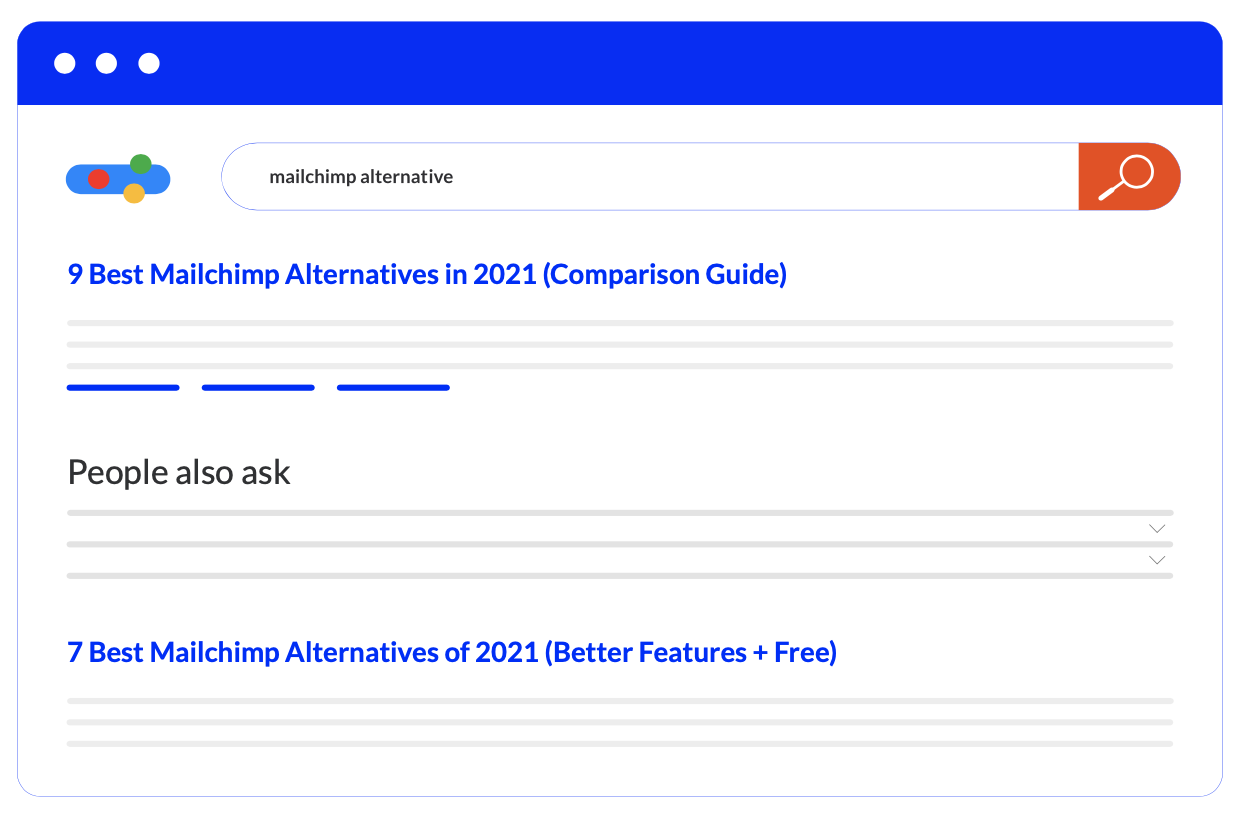 Now that you know which is the best piece of content for the term you're interested in, it's time to move on to the second step.
Step 2: Create something even better
To execute this step, you'll have to create a piece of content that's ultimately better than the current best one out there.
This means providing readers with better, and even more in-depth information, adding high-quality multimedia that'll improve user experience, and anything else that'll make your new content more fun, interesting, and engaging.
The purpose of all this is to create the best content piece out there around your target keyword.
However, one thing that's a major ranking factor in the eyes of Google – and the essence of a successful skyscraper technique – is creating a solid link-building strategy based on acquiring the backlinks the current best content has.
This leads us to our third and final step.
Step 3: Promote your content
This step is of vital importance; it's essential to creating a successful content piece based on the skyscraper technique.
After you create link-worthy content, you must promote it to the websites that have previously linked to the resource that had been considered the best and ask them to link back to yours, which is the better alternative.
You can do that by finding the email address of the right person behind each of those websites and sending them high-quality outreach emails.
All of this activity is with the end goal of recognizing your piece as the best one for the keyword and linking back to you.
Simply make sure that the backlinks you find are indeed relevant and valuable to you.
Overall, those are the steps to executing the skyscraper technique.
Let's have a look at an example of a blog post that has taken advantage of it in order to create the best content out there.
We'll look at Fundera's blog post on the topic of small business grants for women.
One thing that differentiates it from other high-ranking content is the use of great images and infographics, as shown below.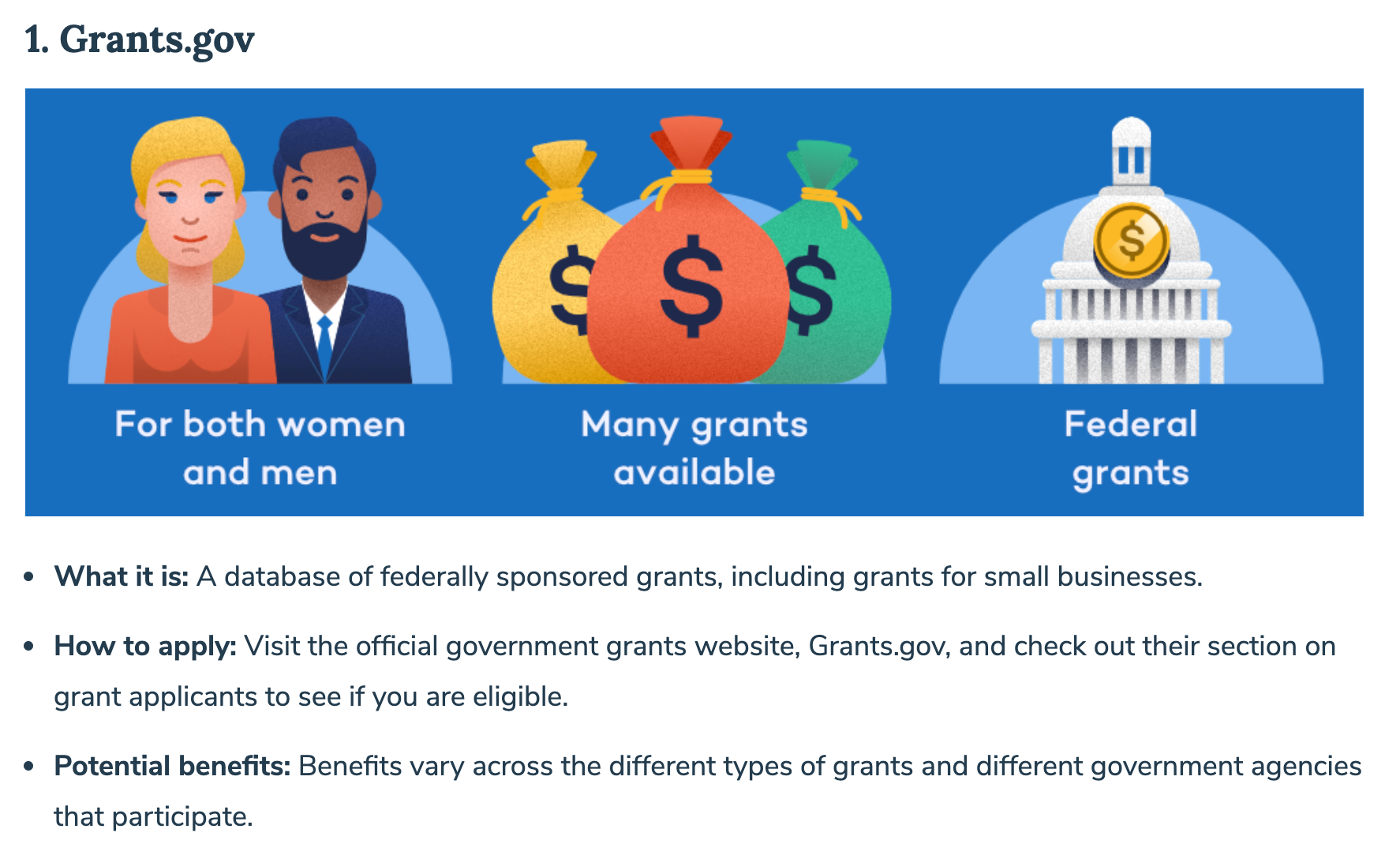 A different picture has been designed for each of the grants, thus helping users visually understand what the piece is all about.
Now, let's have a look at what another piece of content looks like which also ranks high in Google for the same target term.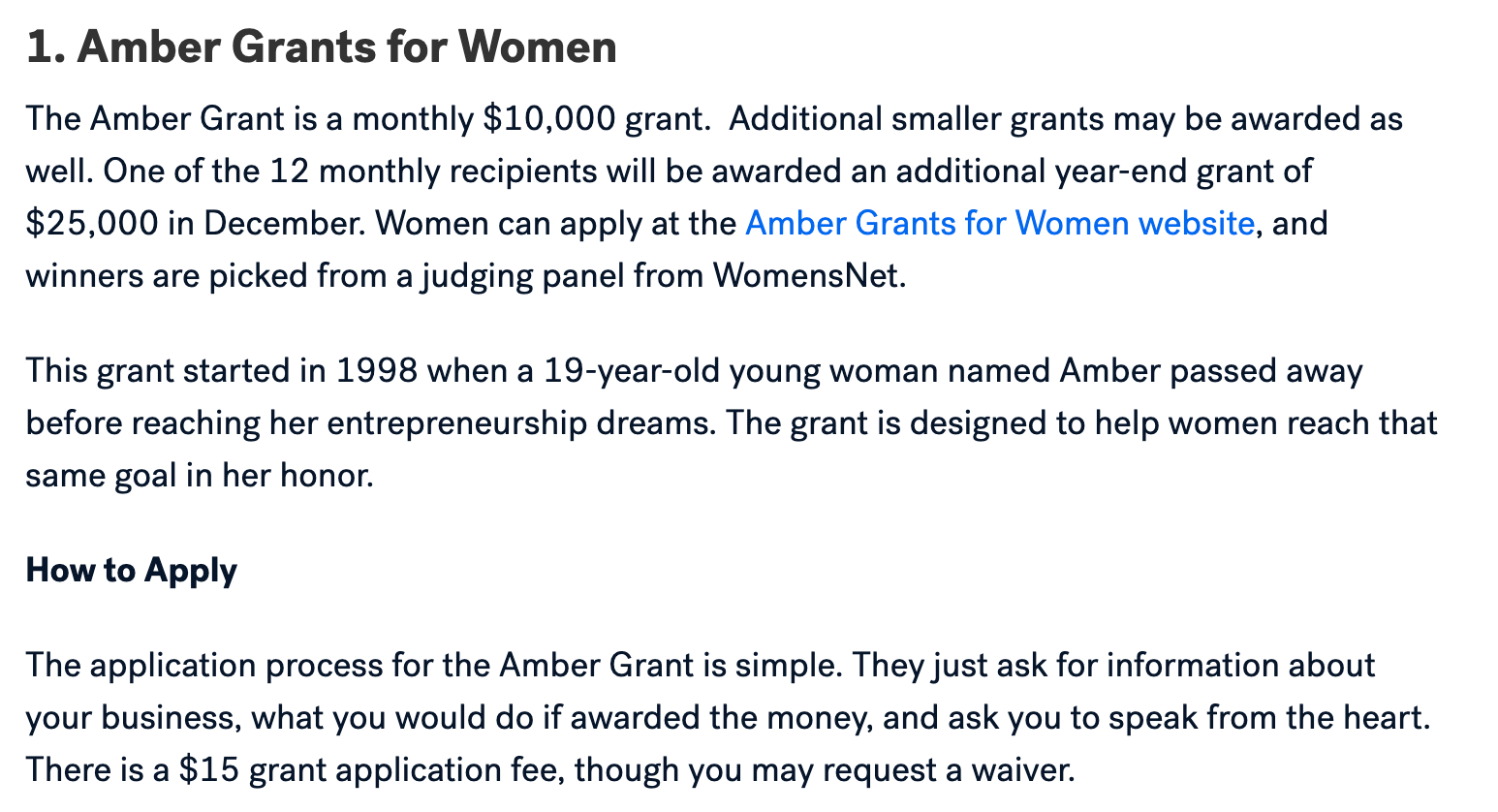 Straight away, you can see the difference between the two when it comes to readability levels and the overall user experience, which consequently has an impact on SEO as well.
The team behind Fundera also designed an infographic to improve the quality of the content, making it significantly better than almost all of the other pieces in the SERPs.
Now let's see how well this piece performs organically.
As you can see from the screenshot below, starting in March 2019 when the piece was published, the organic traffic has been growing at a good rate and even reached over 20k visits each month.

The same thing applies to the organic keywords when – at its peak – the piece was ranking for over 1.5k keywords in the top 100 organic search results.

When it comes to the traffic value, around the same period the organic traffic peaked at over 20k monthly visits, the traffic was valued at over $45k.
This is the estimated value of the traffic if it had been acquired through a PPC campaign.

This all adds up to say that – despite the ups and downs – this is a great piece of content and a good case of the skyscraper technique.
Author's Note: We can't be sure that the owners of the website have indeed used the skyscraper technique, meaning we don't know that they've reached out to other important websites asking them to include a link to their resource. We're using this example to show you that the difference in the quality of a piece of content can have great results for its organic performance.
What's particularly interesting about this piece is the number of keywords it ranks for.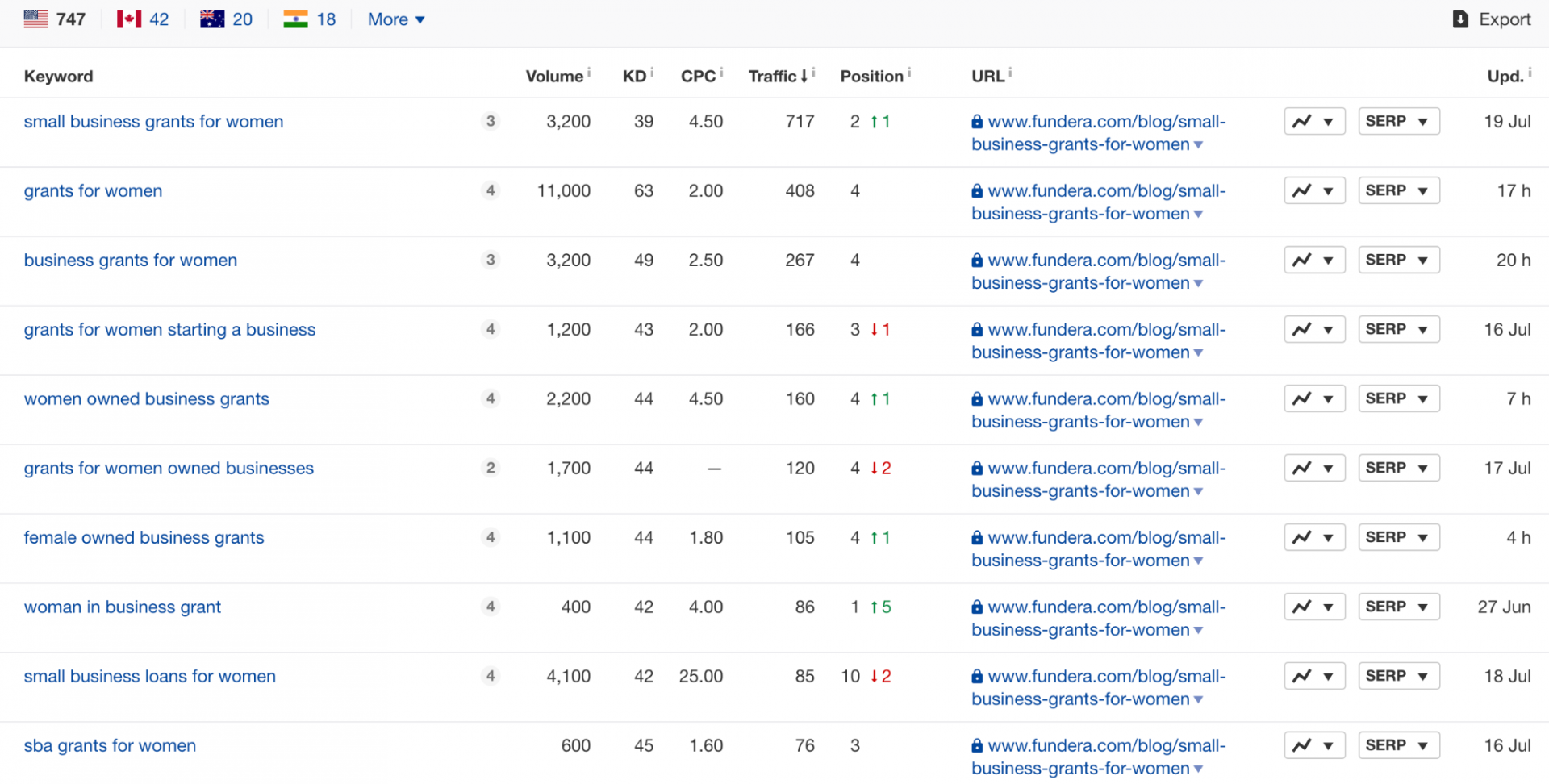 As you can see above, there are keywords like "small business grants for women", "woman in business grant", and many more for which the content ranks in the top ten search results.
It's pretty clear that applying the skyscraper technique – or certainly the first two steps – can really help a piece of content outperform competitors and attract valuable traffic.
As we talked about in step three, an important aspect of the skyscraper technique is also attracting high-quality backlinks to your content.
You can do that either by reaching out to other websites you're interested in or simply by letting them find you on their own and deciding whether what you've created is link-worthy content.
Ideally, you can do both.
According to the published case study by SiegeMedia around this particular piece, they helped Fundera acquire 66 backlinks for it.
Actually, if you take a look at the backlink history, there's a big spike in new backlinks around July 2020.

As you can see from the screenshot we looked at a moment ago, this had a positive consequence on the organic keywords the content ranked for as well.

So far, it's pretty clear that applying the skyscraper technique can prove to be very valuable for a piece of content.
Let's see exactly why.
Why is the Skyscraper Technique Important?
The skyscraper technique is very important because it helps you build awesome content that stands out on the SERP and attracts valuable traffic, backlinks, shares on social media, and comments from readers of your content.
Like we covered earlier, a vital factor for this method to work is the acquisition of high-quality backlinks.
Creating a piece of content that's informative and user-friendly is essential, but nowadays backlinks play a major role in ranking higher in the search engines.
According to a study by Backlinko, pages with many backlinks rank higher than pages with not as many.
To be precise, the first search result in Google has, on average, 3.8 times more backlinks than the rest of the first page results.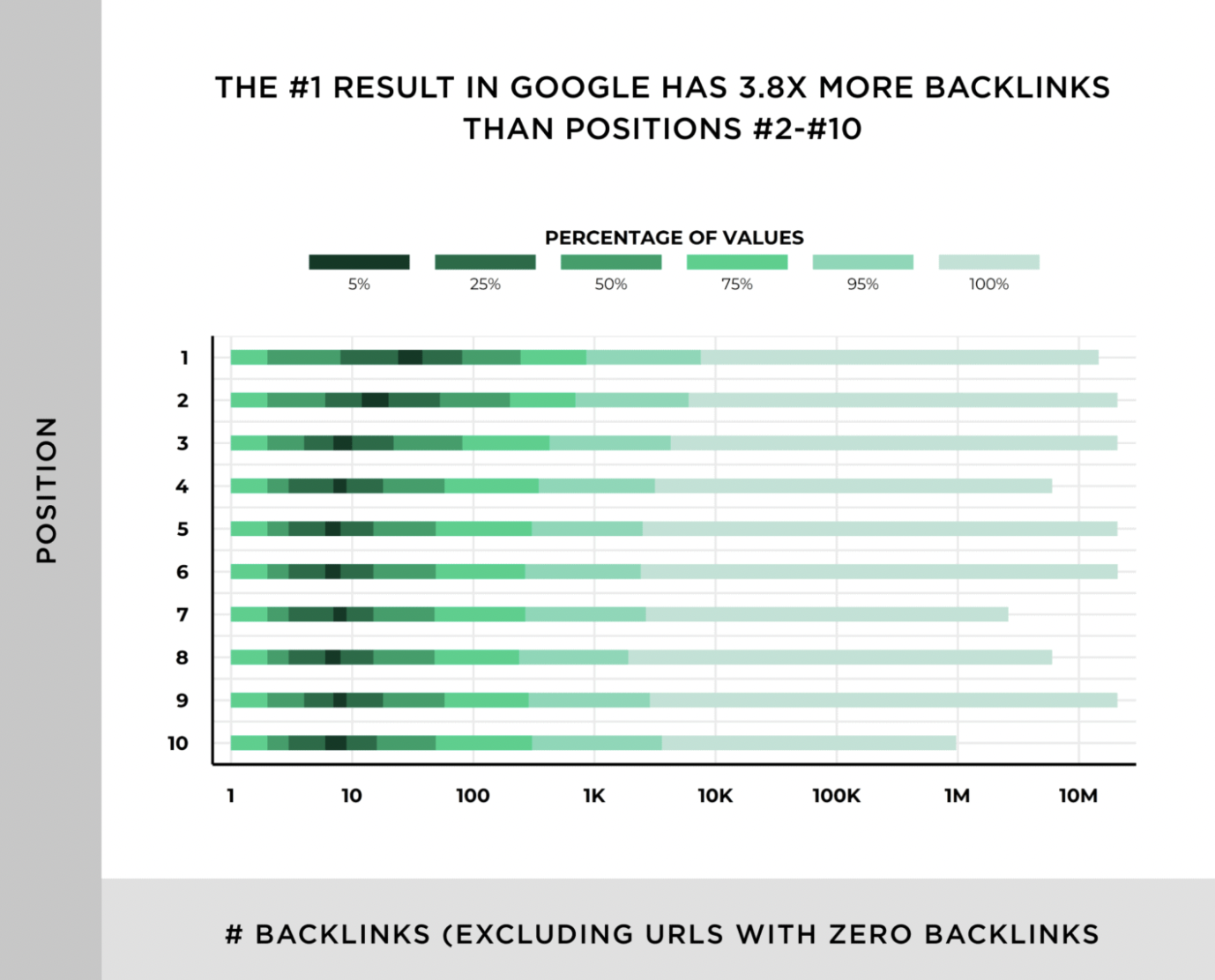 Pretty impressive, right?
What's important to point out is that backlinks themselves aren't necessarily valuable; they should be relevant to your content and from high-authority websites.
That's what makes them valuable.
You can see whether a website is of high authority or not by looking at its DR, also known as domain authority.
The higher the DR, the more valuable the backlinks you receive from it will be.
In turn, this will slowly increase your own website's DR, thus giving you more authority and helping you rank higher in the SERPs.
That's exactly why it's important to actively acquire backlinks for your skyscraper content.
One of the most effective ways to do that is to use an email outreach tool like Respona, in order to reach out to people who are already linking back to the top-performing content which you want to compete against and ask them to link back to you instead.
That way, you'll create a high-quality list of link prospects who you'll know for sure are interested in pieces of content around that particular topic.
Let's talk more about the purpose of the skyscraper technique.
What is the Purpose of the Skyscraper Technique?
The purpose behind the skyscraper technique is to find the best content around a keyword, create something that's even better, and then acquire as many backlinks as you can that are already linking back to that best piece of content.
By doing that, you'll get plenty of benefits for your website.
First of all, since your new content will be the best one out there and ranked very high in the SERPs, you'll receive a good amount of organic traffic which can then be converted to customers, users, or subscribers.
You also increase your content's interactions, such as social shares andcomments, thus giving you more exposure and slowly establishing your site as an authority in your field.
Sounds good, right?
What's more, by actively acquiring backlinks you create relationships with editors, influencers, and bloggers who might prove to be useful in the long run when you want to receive more backlinks for other pieces of content, too.
All in all, there are many benefits when deciding to apply the skyscraper technique.
The ultimate purpose of it, however, is managing to outperform the best competitive pieces out there and ranking as high as possible in the SERPs.
To achieve that, creating better content is not enough; you must promote it as much as you can via a solid link-building strategy.
Let's now see how you can apply the skyscraper technique step-by-step using our very own tool, Respona.
4 Simple Steps for Applying the Skyscraper Technique
We've talked in-depth about what the skyscraper technique is and why it's important in terms of content marketing.
In this section, we're going to take you through the process of applying this link-building technique to the promotion of your own content in the most efficient way.
To illustrate the process and make it easier for you to see its practicality, we're going to use a hypothetical example.
More specifically, we're going to test two different ways of finding the best links – or links of competing articles – and use them as opportunities for promoting your own content.
In this case, we're looking to promote a concise and valuable guide we published earlier in 2021 on podcast marketing.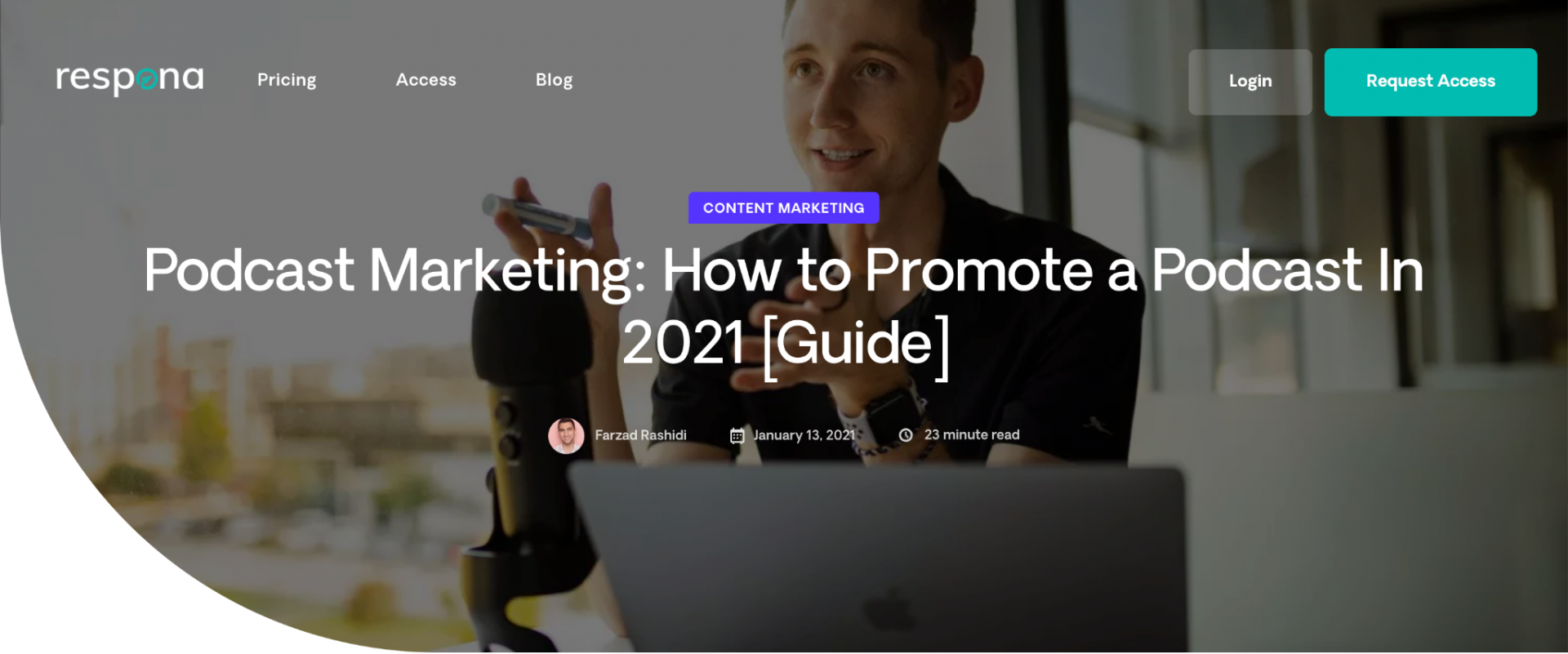 Plus, we're going to explain the step-by-step process of reaching out to link prospects using Respona.
Let's get into it.
Step #1: Find links to competing articles – paid and free ways covered here!
The first thing we can do to find links for competing articles – if we're willing to use a paid tool – is to use Ahrefs.
For those of you who haven't heard of it before, Ahrefs is a very useful tool set that can be used for backlinks and SEO analysis.
We get into the tool and click on Keywords Explorer from the navigation menu.

Based on the fact that we're interested in promoting our podcast marketing content, we're adding the specific keywords we're interested in into Ahrefs.
Enter… podcast marketing.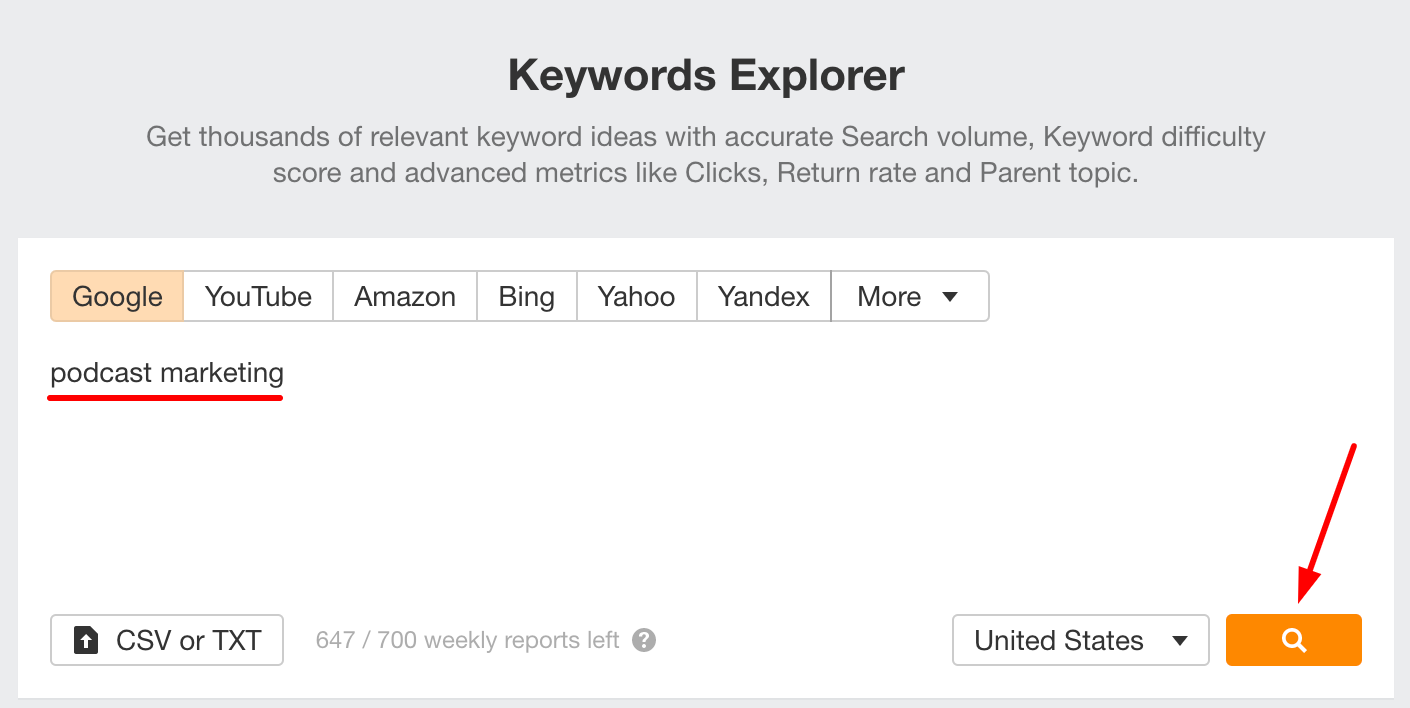 Using the Ahrefs Keywords Explorer will get us lots of interesting stuff, including an overview of our keyword in terms of keyword difficulty, as well as a keyword SERP overview, among other things.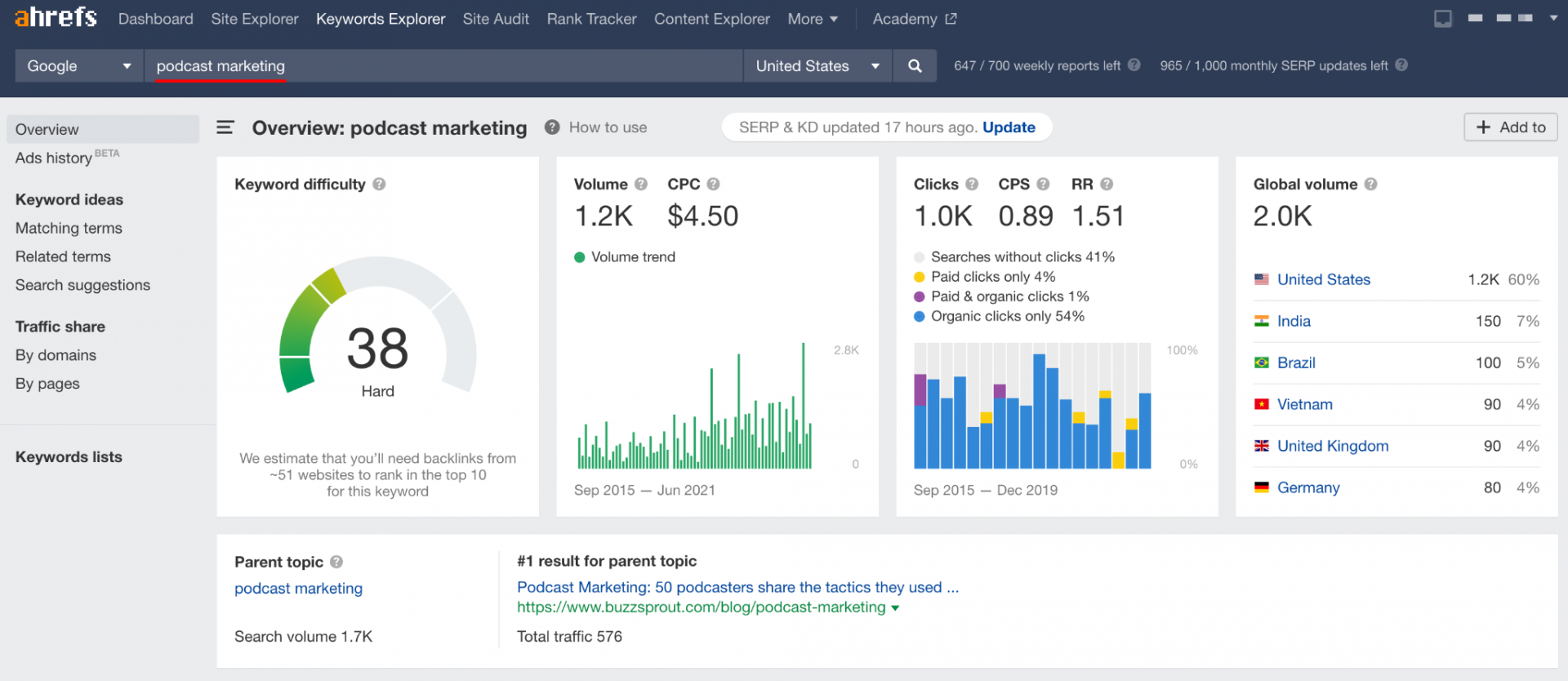 What we're most interested in is the SERP overview of our keyword.
This screen gives us the opportunity to find relevant content and get started with finding opportunities in terms of applying the skyscraper technique.
Here are the results we've got: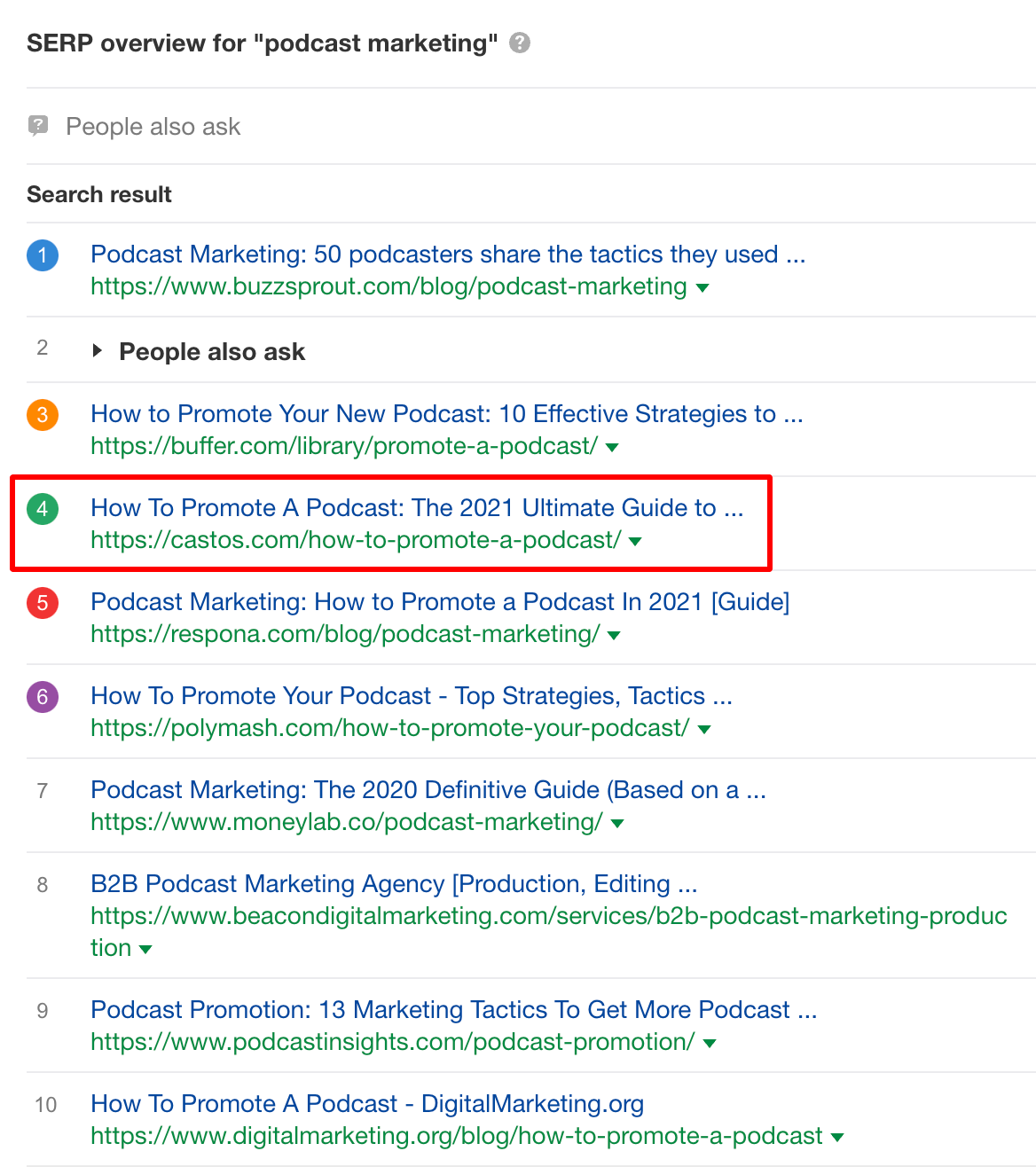 After reviewing the different search results we got, we reckon that the fourth resource on how to promote the podcast by Castos is the blog post we're going to use moving forward.

What we need to do next is to check the URL using the Ahrefs Site Explorer.
More specifically, we're copying and pasting the blog post URL into the Site Explorer:

This will get us an overview of the blog post's backlinks and referring domains.
As you can probably imagine, we're mostly interested in the backlinks found in the blog post.

To make sure that we're getting the most relevant and useful results, we're going to specify some of our filters.
To be more precise, we're going to the platform filter and choose results from blogs.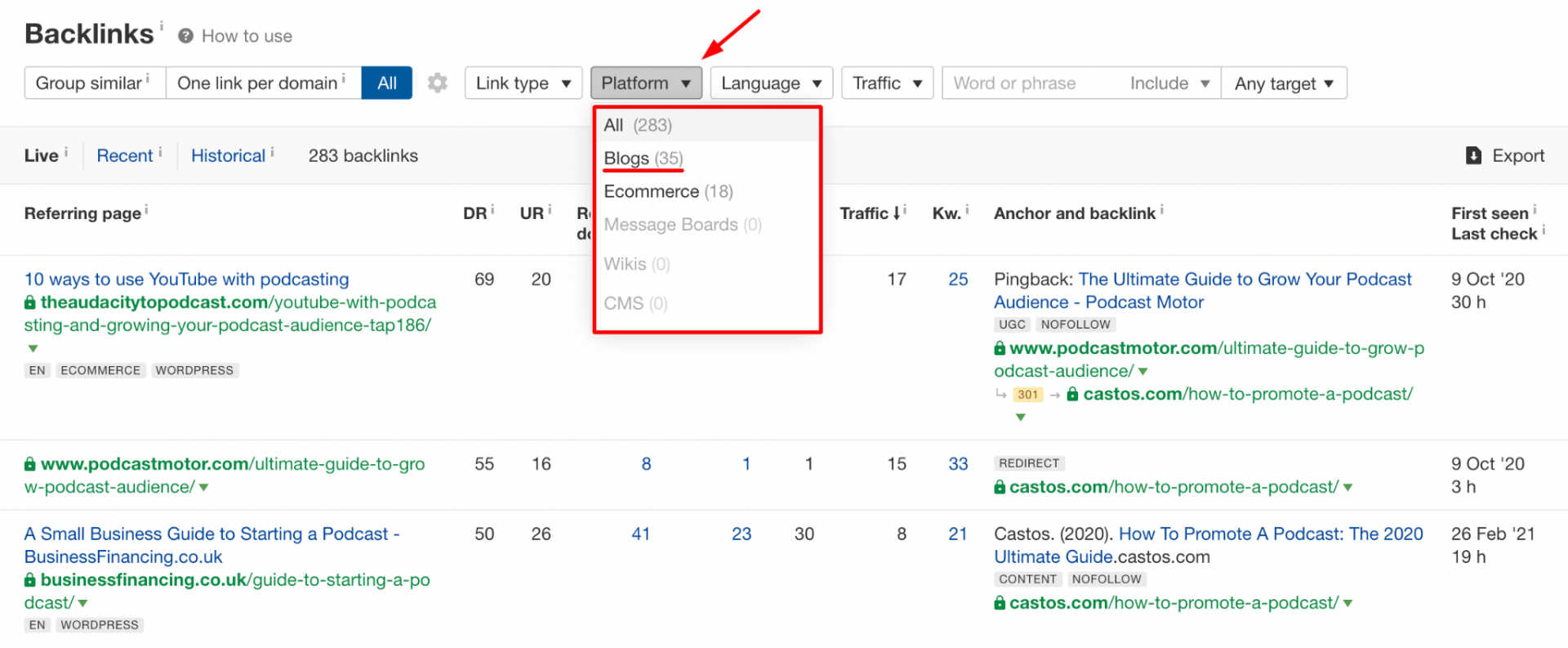 Now, we've got several opportunities that we can export straight from Ahrefs.
All we need to do is to click on the Export button on the right side of the screen, exactly as shown in the screenshot below.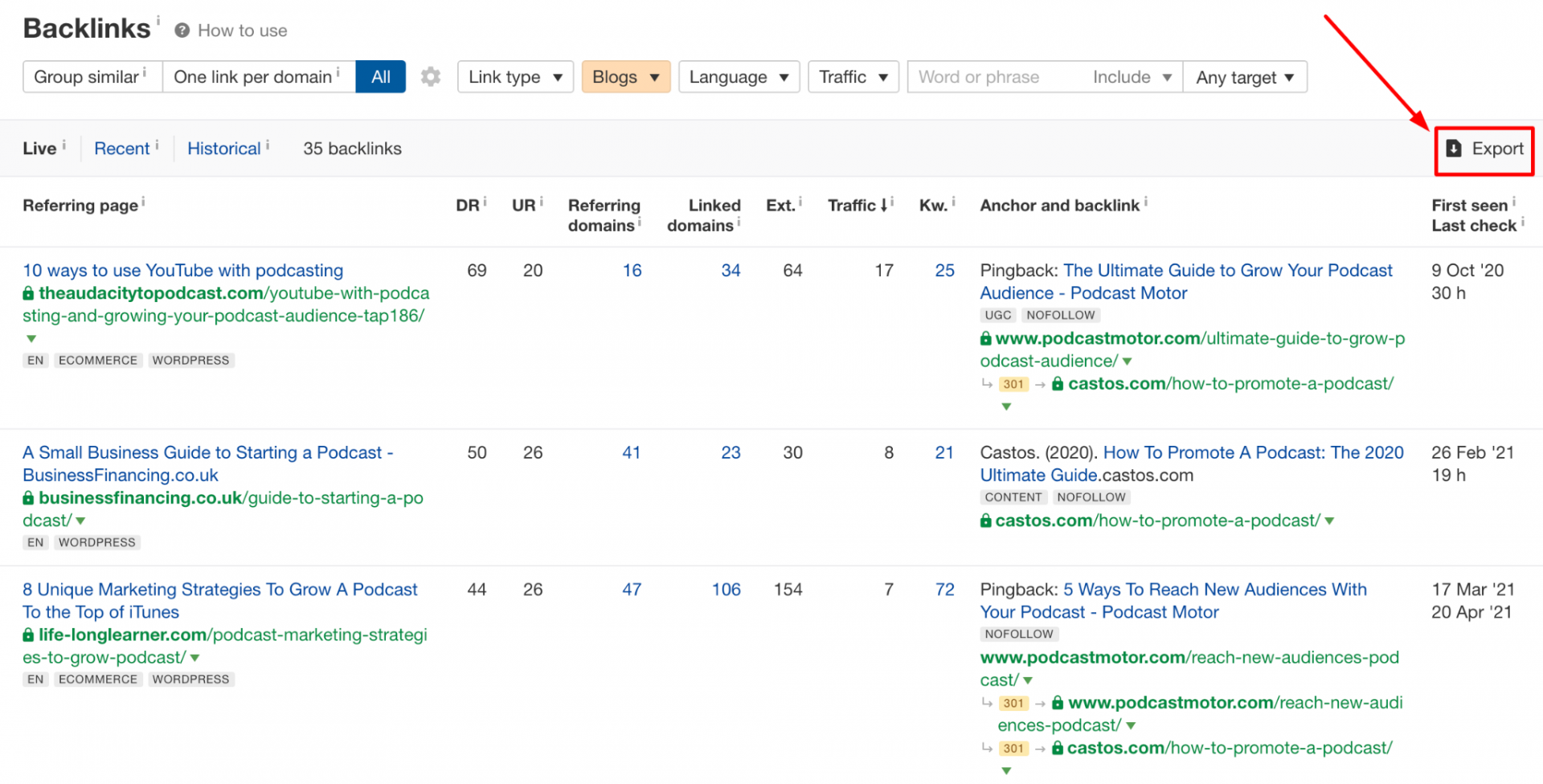 After having reviewed our search results and made sure that we've got what we were looking for, we're exporting all 35 rows of results.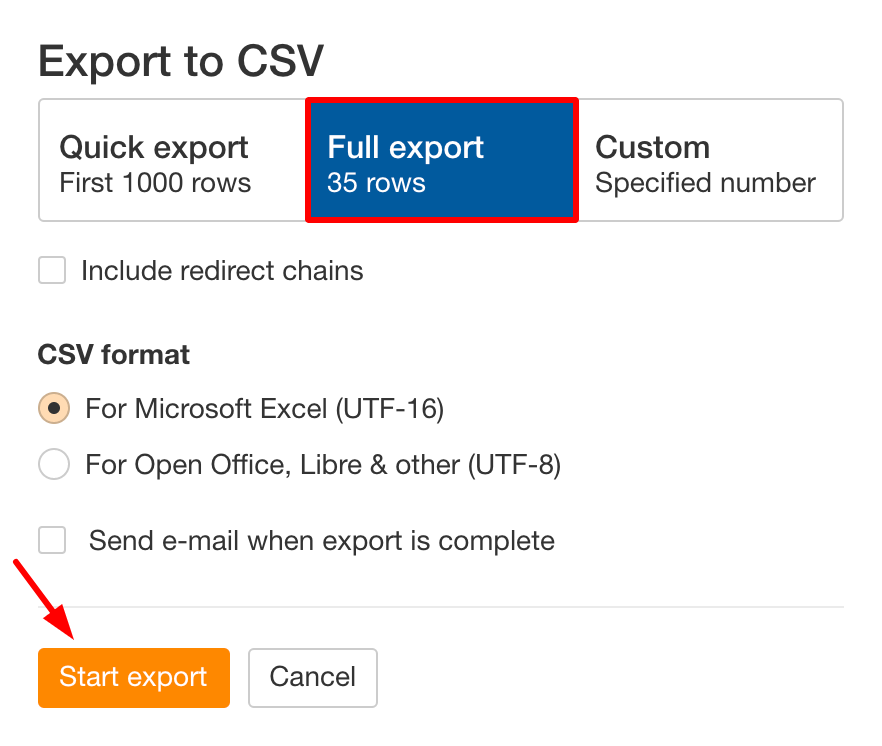 As you may have guessed already, after exporting our search results from Ahrefs, we need to import them into a Google sheet.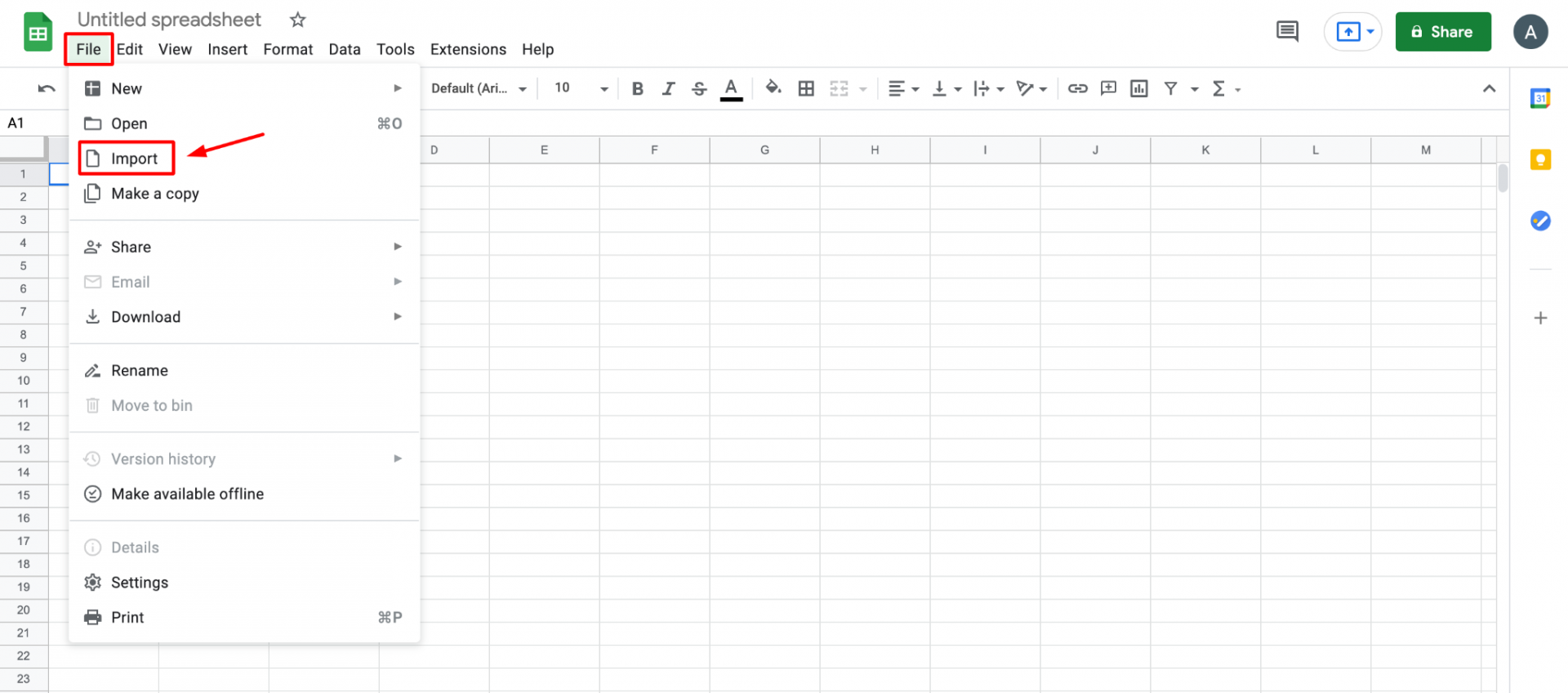 This will allow us to work on the results and move forward with the process of finding links to competing pieces that could be replaced with our high-quality content.
As we said, we're importing our opportunities to a Google Sheet…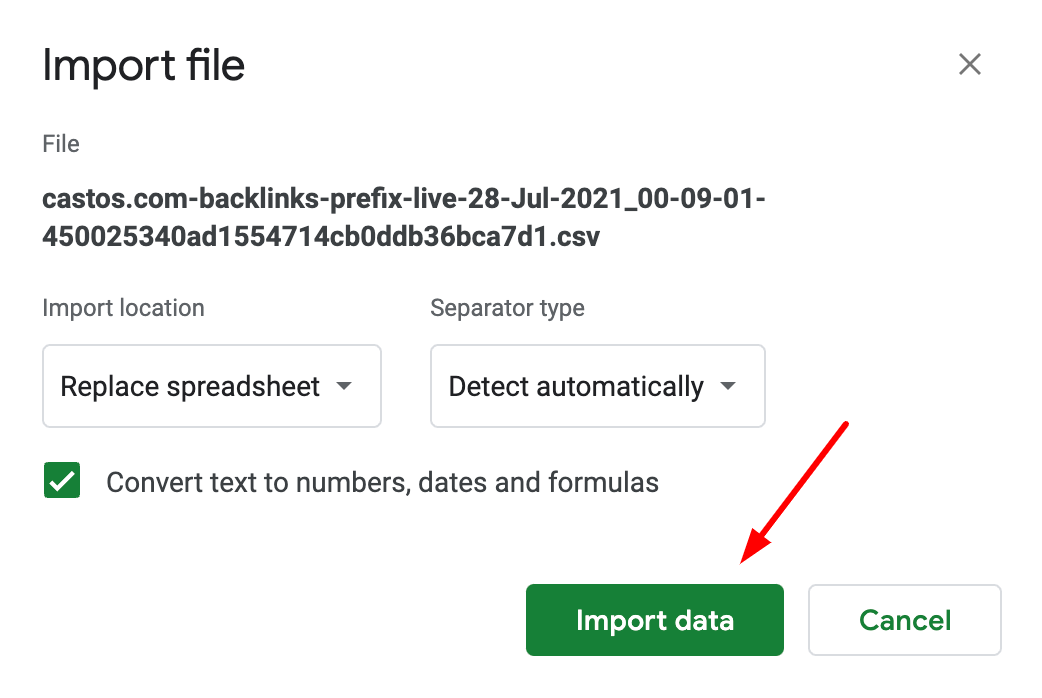 … which basically means that we are turning the search results we got from Ahrefs into a list.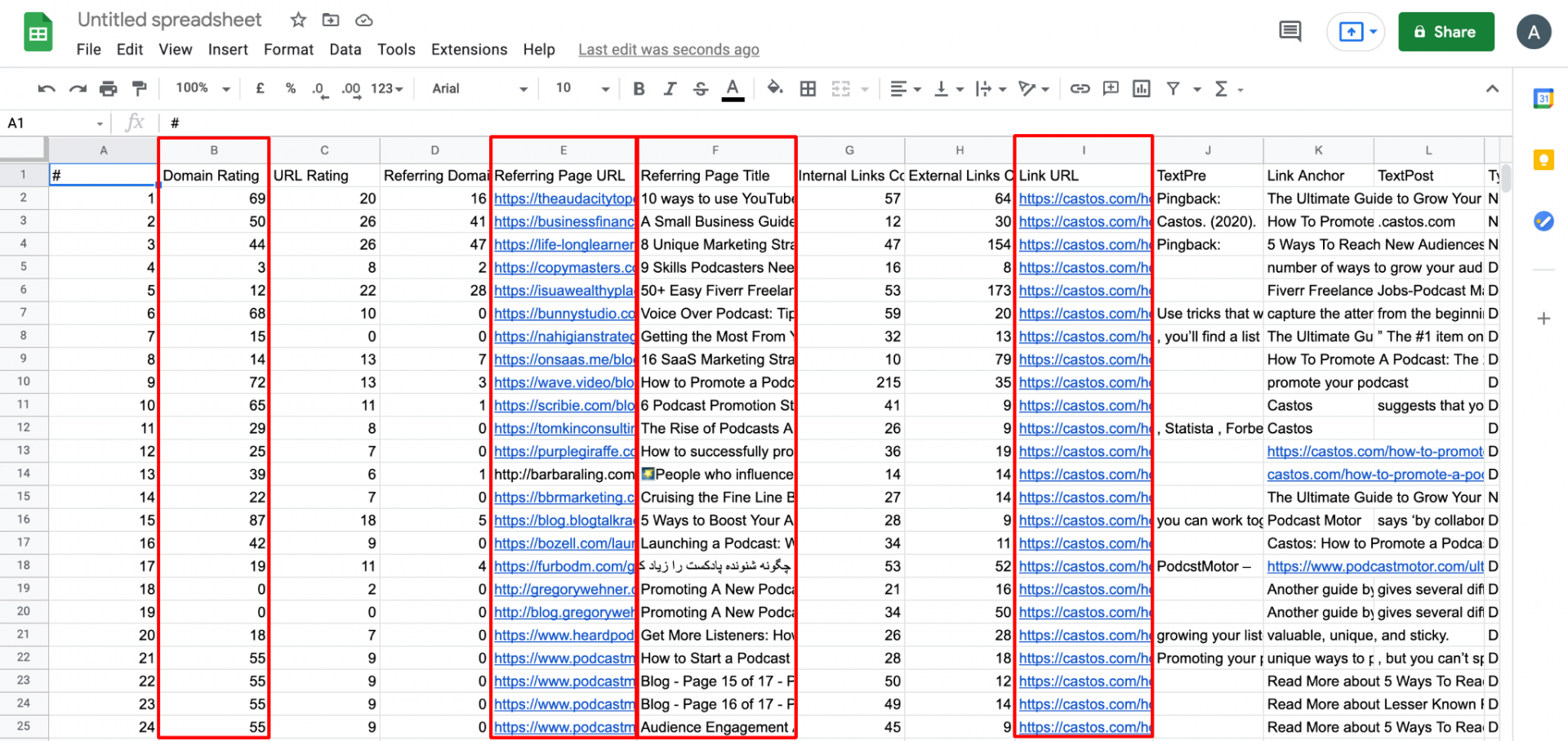 The list we've imported into our database seems a bit cluttered, so we're going to keep only the columns that we really need for our task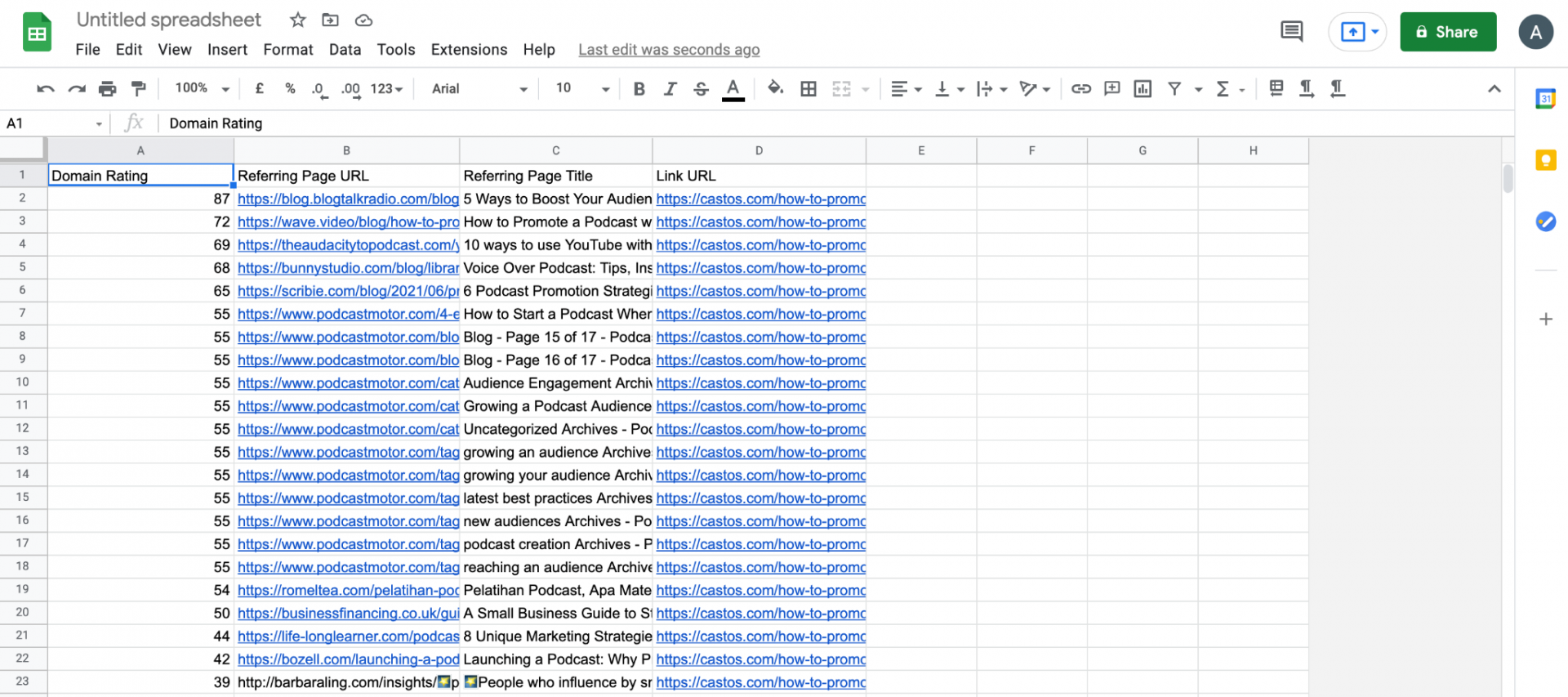 To be more precise, what we need are the following columns:
Domain rating
Referring page URL
Referring page title
Link URL
Additionally, we're going to delete anything that is less than DR 30 to make sure that we're only dealing with quality links from authoritative websites.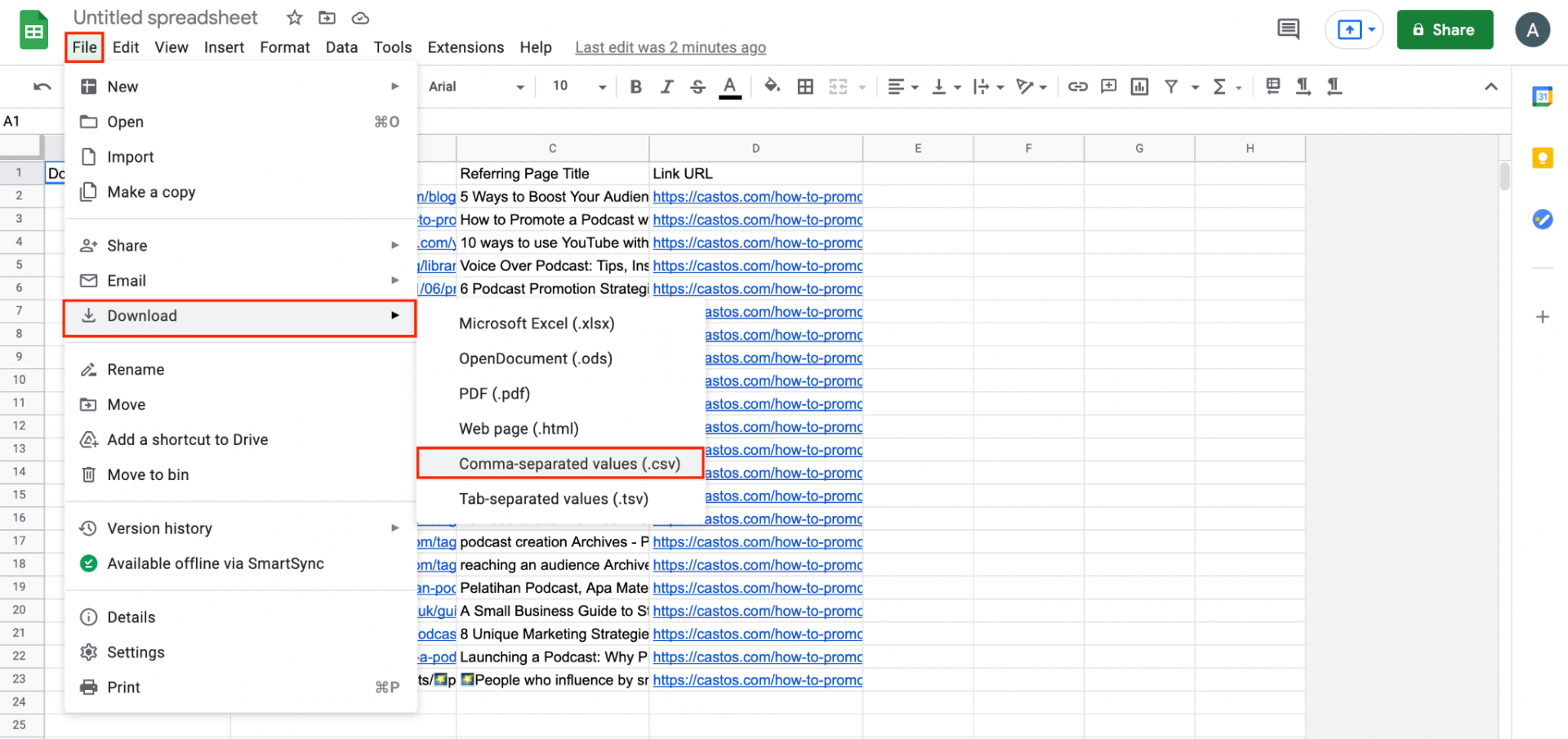 Once we're done sorting the opportunities, we can download the list into a .csv file that we're going to use later, within Respona.
We're going to talk more about what we're going to do with this list of opportunities we've created a little further down in this post.
For now, let's look into an alternative way of doing pretty much the same thing.
We're using Hoth, which is a free backlink checker tool.
We simply need to copy and paste the blog post URL we're interested in, which in this case is the blog post by Castos.
Note that when it comes to selecting the report scope that you'd like to investigate, you should tell the tool if you want it to show you:
All links to this domain and its subdomains
All links only to this subdomain
All links only to this exact URL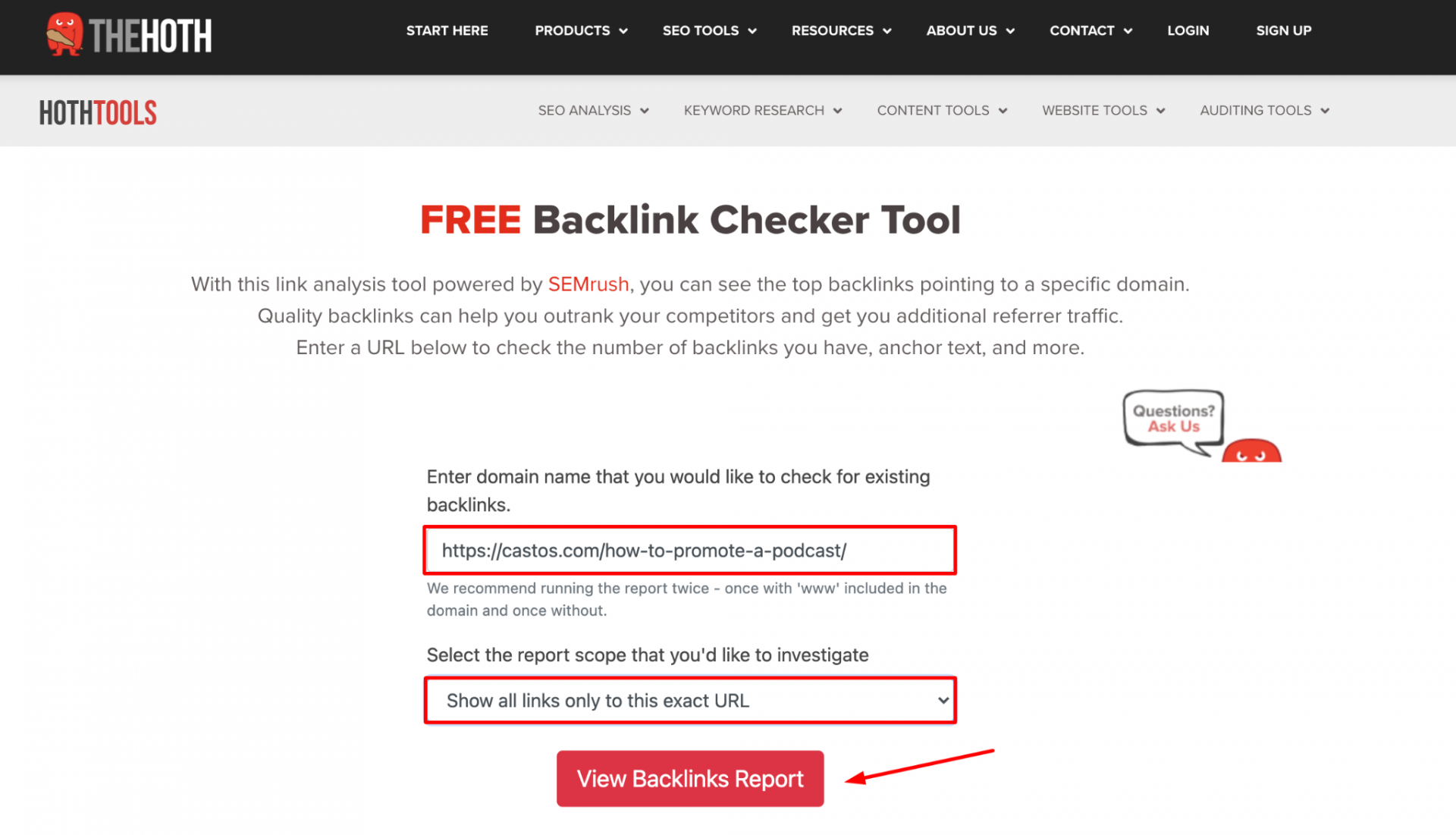 We're choosing the latter because we basically only care about links to this specific URL.
Moving on, Hoth will get us a backlinks report that includes the total number of external backlinks.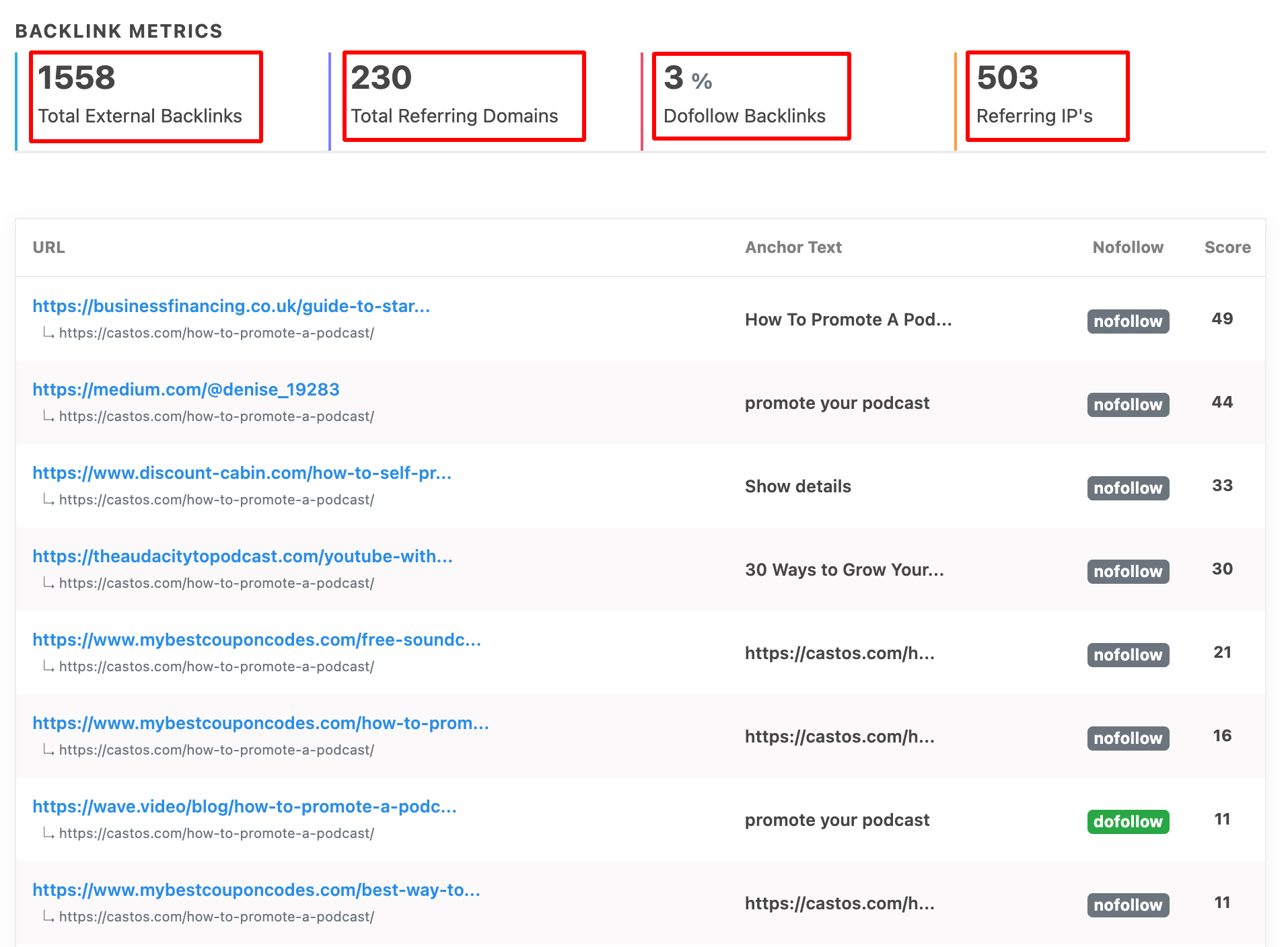 It's definitely harder to sort the opportunities, but it's also worth a try if you're looking for a free way to check backlinks to competing articles.
A quick way to sort them out is to pick the ones that have the highest score, copy and paste them to a Google Sheet, and then move forward with the opportunities that you'll found inside Respona.
We're now done talking about how you can find backlinks to competing articles that could be replaced with a link to your resource and we're ready to get started with making use of the opportunities we've identified.
No matter which way you went until now, the following steps can help you both for opportunities you've found with the help of Ahrefs as well as through Hoth.
Let's get started.
Step #2: Import your opportunities into Respona
We've got a sheet full of valuable opportunities that we can use to make the most of the skyscraper technique.
To get started with using Respona, we need to create a new campaign…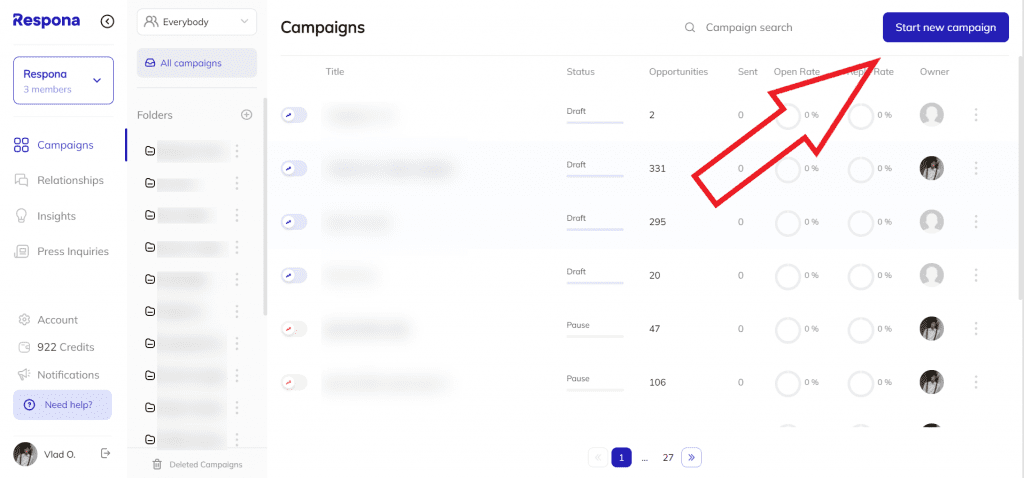 … give it a memorable name, as well as set our campaign priority which can be any of the three:
Depending on whether we want to prioritize this campaign over others that we might be running at the same time.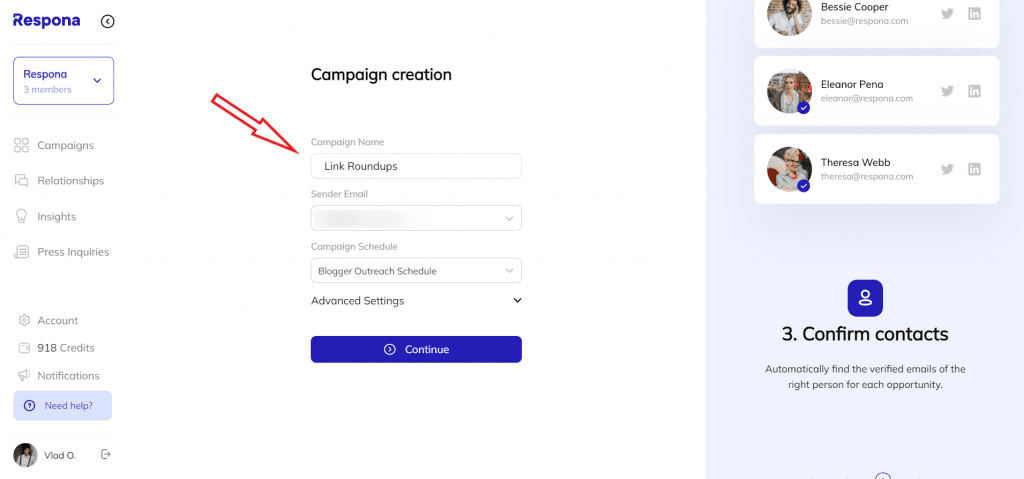 In terms of using Respona alongside the opportunities identified in the previous step, all we need to do is to press the import button highlighted below.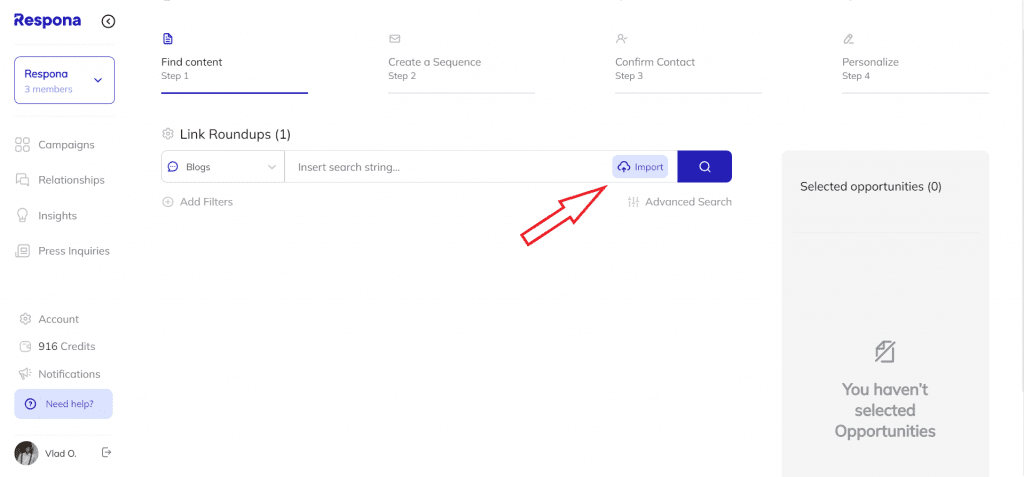 We've already downloaded our file as a .csv file, which means that we can now directly upload it to Respona and click on the Continue button.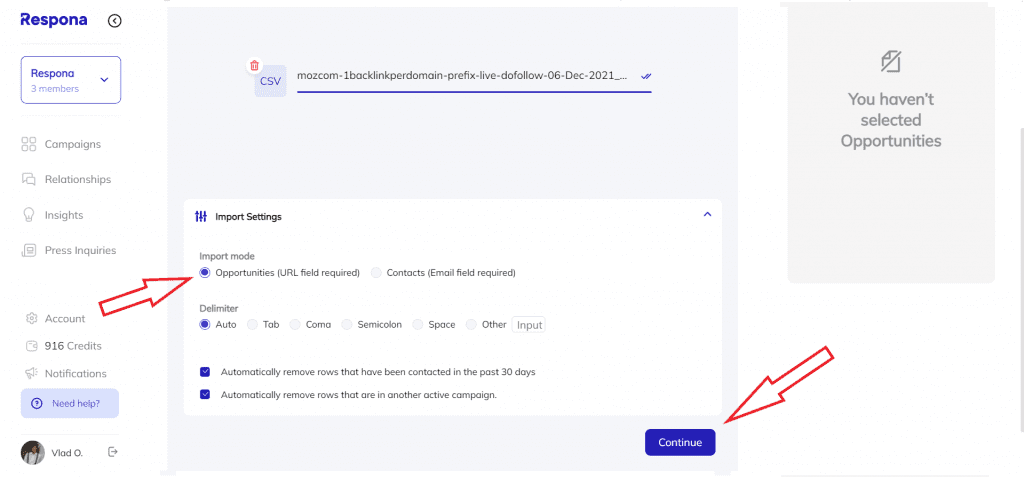 The Map Attributes screenshot that you see below confirms the .csv file fields that we have imported.
Make sure that these are the ones we want to import, then click on Continue.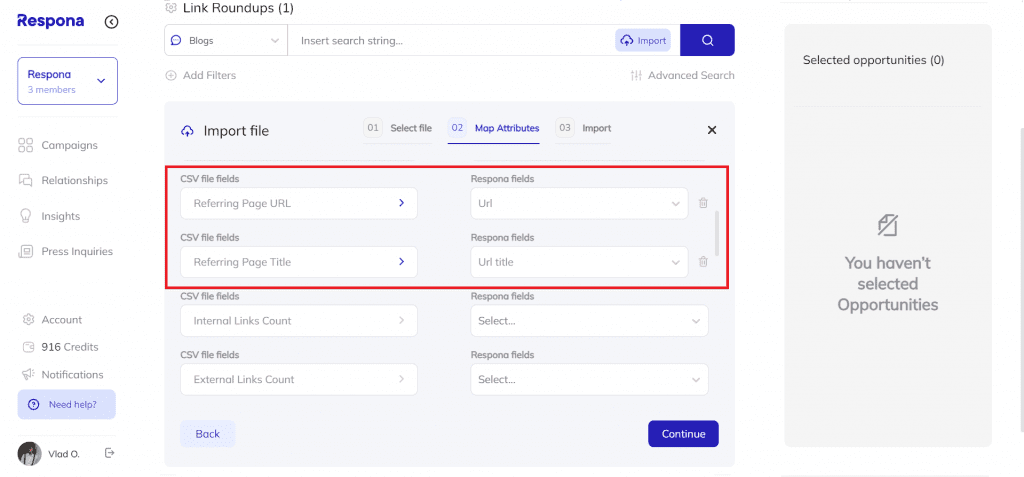 As always happens when using Respona, the tool gives us the opportunity to review all that we're importing to minimize the possibility of making a mistake along the way.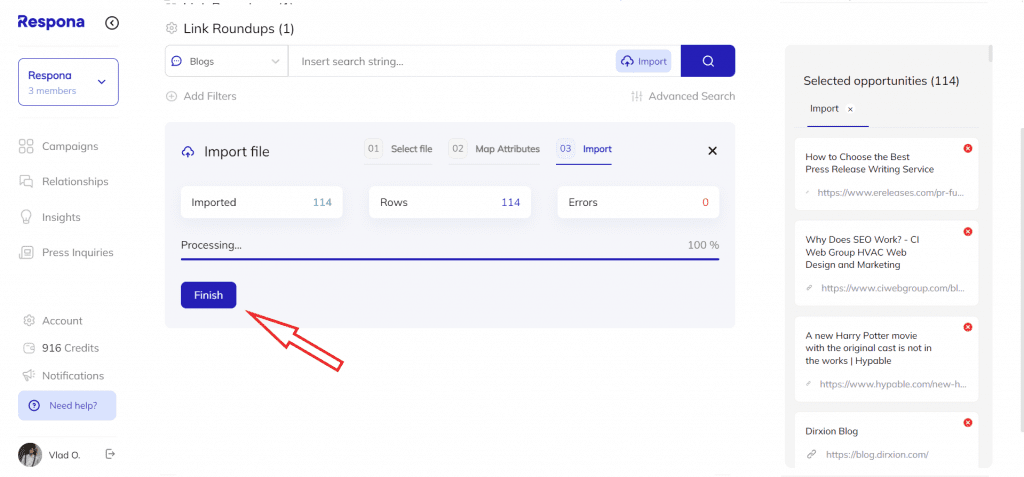 Once we're done reviewing, we can simply import all the data into Respona and move forward to crafting our outreach pitch as well as finding the right contact information for each one of our previously identified opportunities.
Having valuable and original content to share with your target audience and link prospects is one thing; creating an irresistible outreach email that'll get you those high-quality links is another.
All content marketers out there know just how important a great outreach email is when it comes to gaining an instant competitive advantage.
Put another way, you need to grab your prospects' attention with a thought-through email template before you get to inspire them with your content creation skills.
Let's get into putting together a great email using Respona.
Step #3: Prepare your outreach email
First things first, the tool gives you access to a number of email templates that we can use for various types of digital marketing campaigns, such as for blogger outreach purposes, influencer outreach, infographics promotion, and so on and so forth.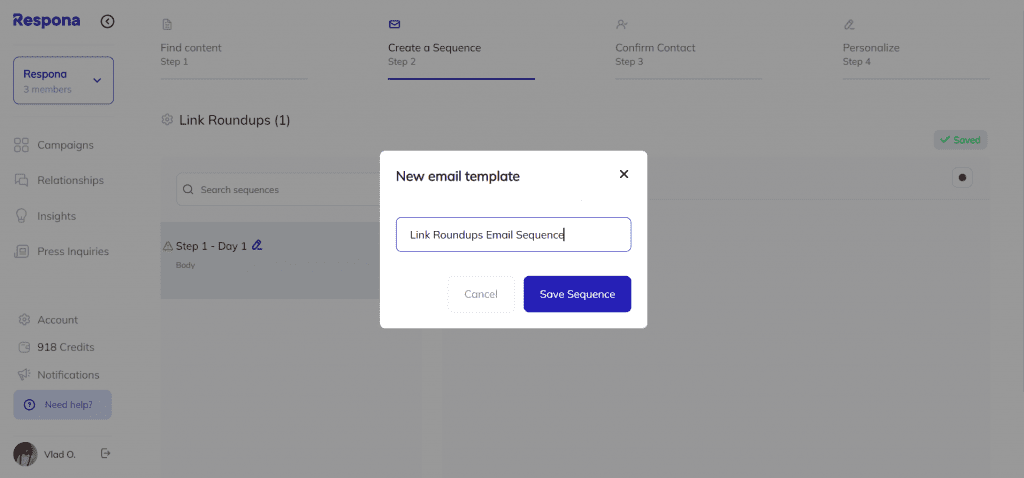 On the other hand, it also gives you the opportunity to create your very own email template in case you want to make a very specific campaign.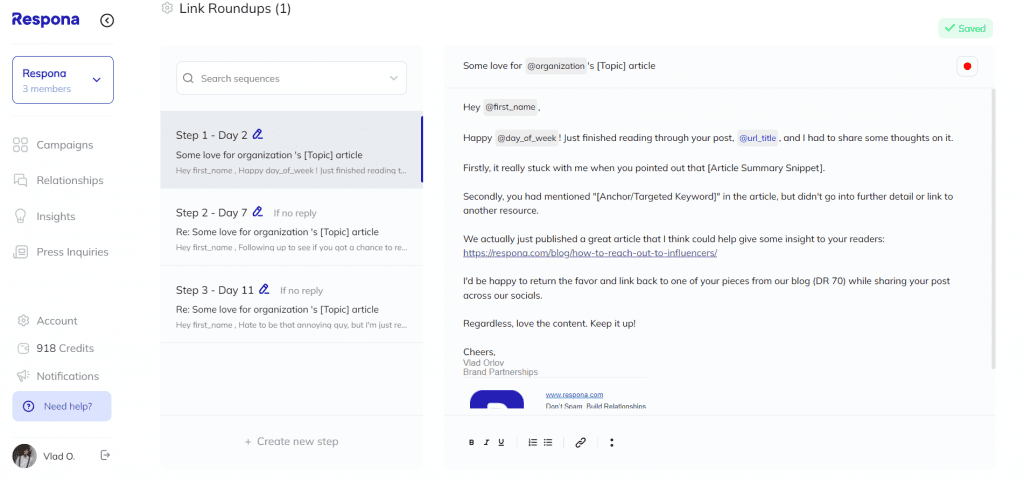 For this campaign, we've decided to create our own outreach email without using any of the premade Respona email templates.
Even if you're using your own email template, you should be aware of its effectiveness.
The spam checker tool will automatically grade your email content to help make sure that you're within several parameters, such as the optimum…
Subject length
Word count
Question count
… as well as checking that you didn't add too many spam trigger words.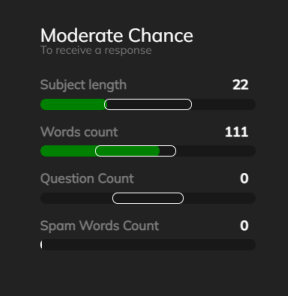 Additionally, if you want to add any follow-ups in your email sequence, now's the time to do it.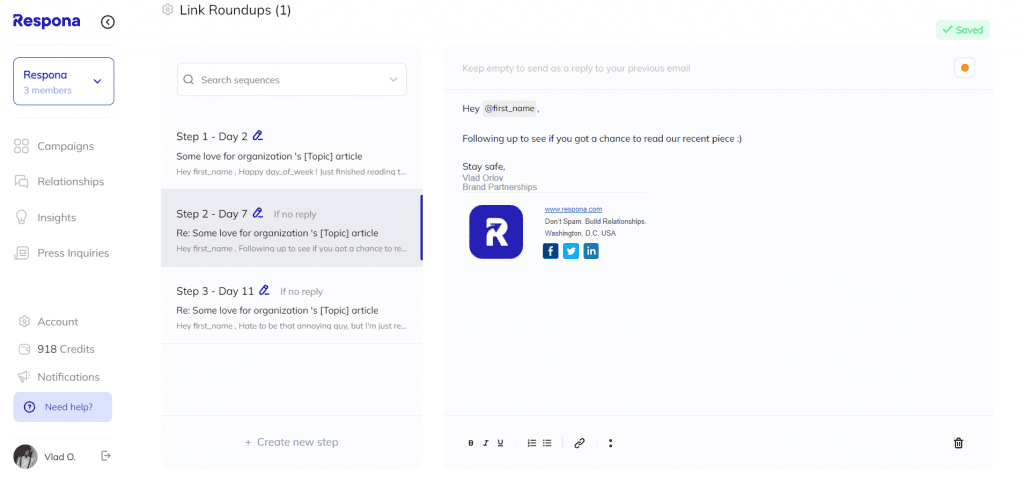 Once you're happy with how your email sequence looks and you've made sure that it includes all the elements that you need, you can take your next step.
Step #4: Find the right contacts and launch your campaign
The final step is a hands-on one that requires your full attention.
What we need to do now is to set up our automation, which means that we give Respona guidelines in terms of the contact information we want to get in relation to our opportunities.
Here, we can add position and seniority tags for the contact people we want to assign opportunities to, as well as add advanced settings such as asking Respona to:
Assign a catchall email if there's no valid email address found for a specific contact person
Assign a company generic email if there's no contact found with your defined criteria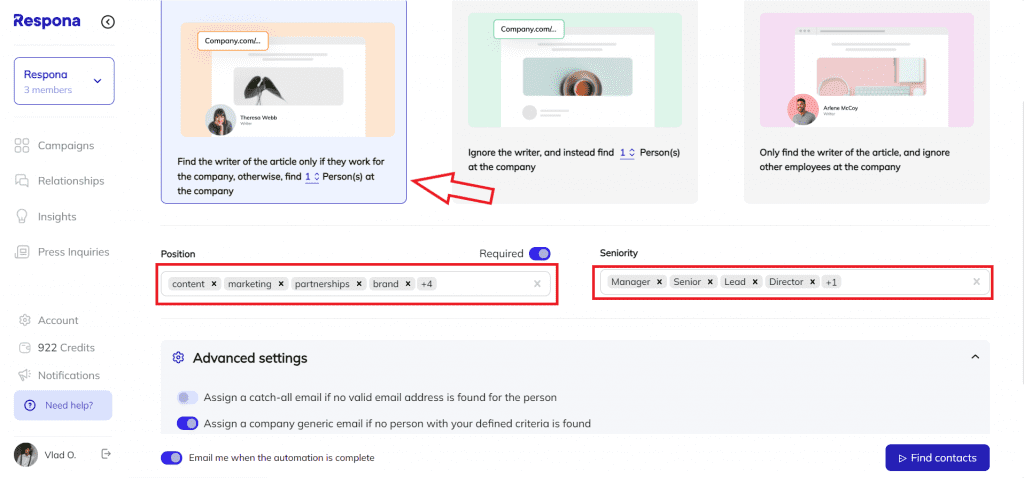 After we've run our automation, we can see that we've got nine out of twenty-two opportunities successfully assigned.
It might look like thirteen opportunities have been lost, but trust me when I say that that's not the case.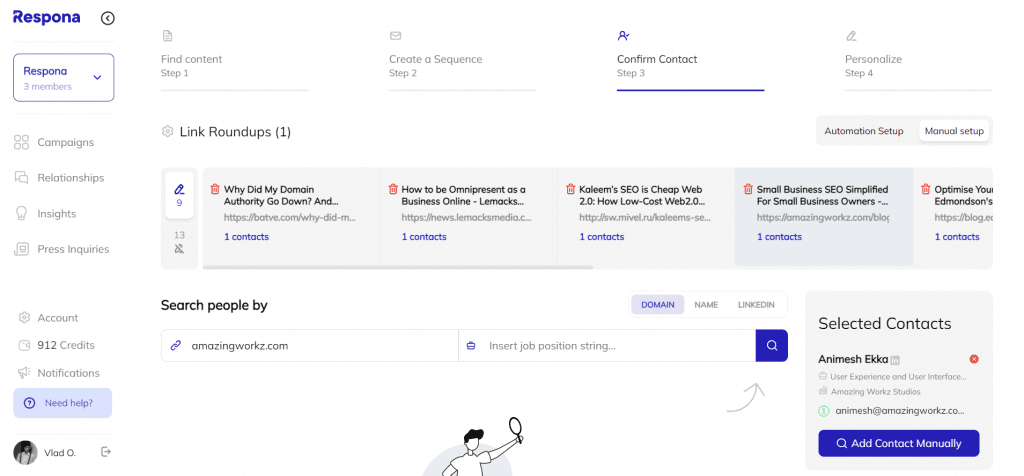 In fact, with Respona, there are several things you can do when some of your opportunities haven't been successfully assigned automatically.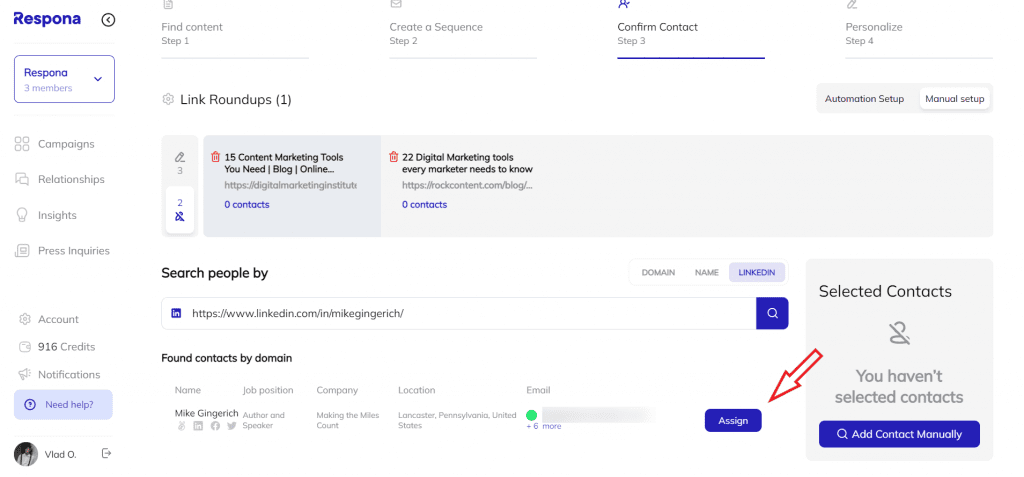 First of all, you can always add a contact manually.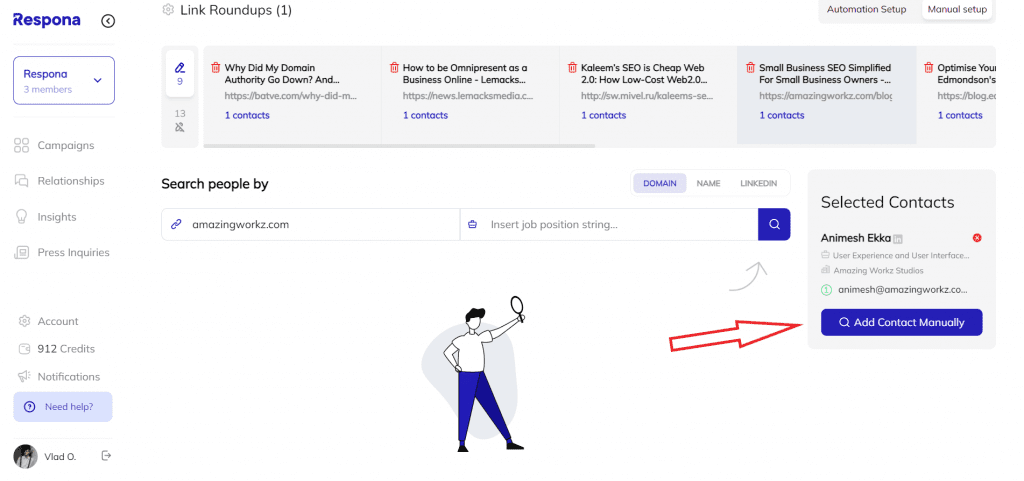 The way this works is that you write a person's full name and an email address.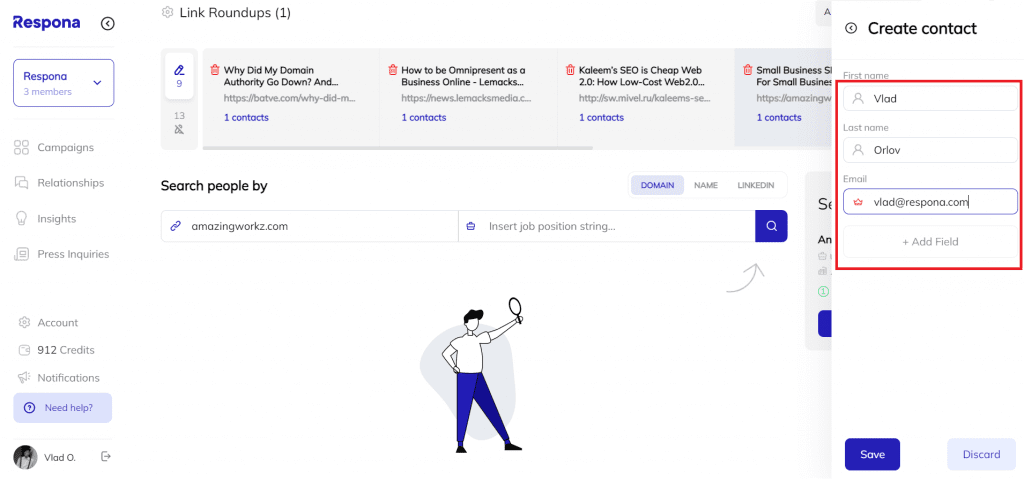 Another thing you can do to make up for the unassigned opportunities is to look for domain-level contacts.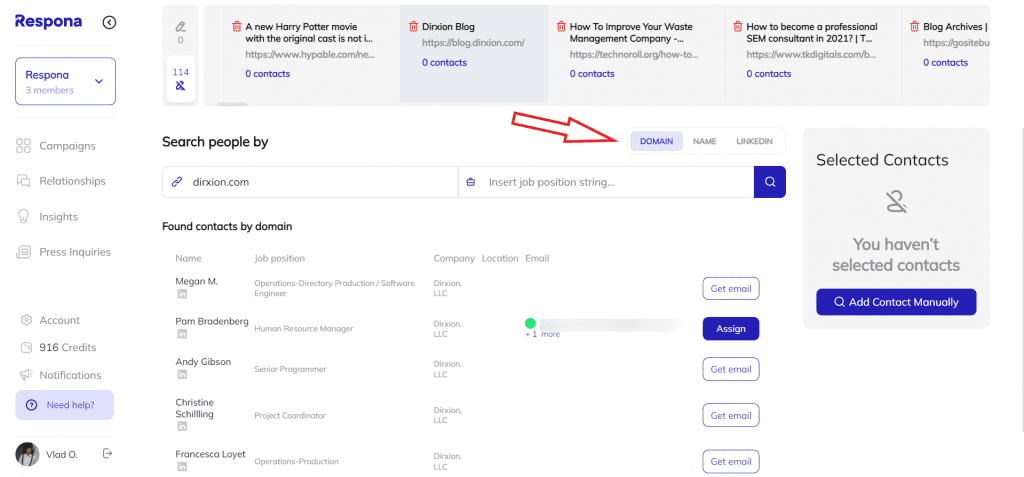 This one gives you access to all the contacts found within that domain, which means that you can review all contacts and pick the ones that best suit your defined criteria.
Our advice is to either add a contact manually or do a domain-level search for all your opportunities until you have them all assigned to a contact person.
Moving on…

… last but not least, to maximize your chances of getting a reply, you need to personalize your pitch.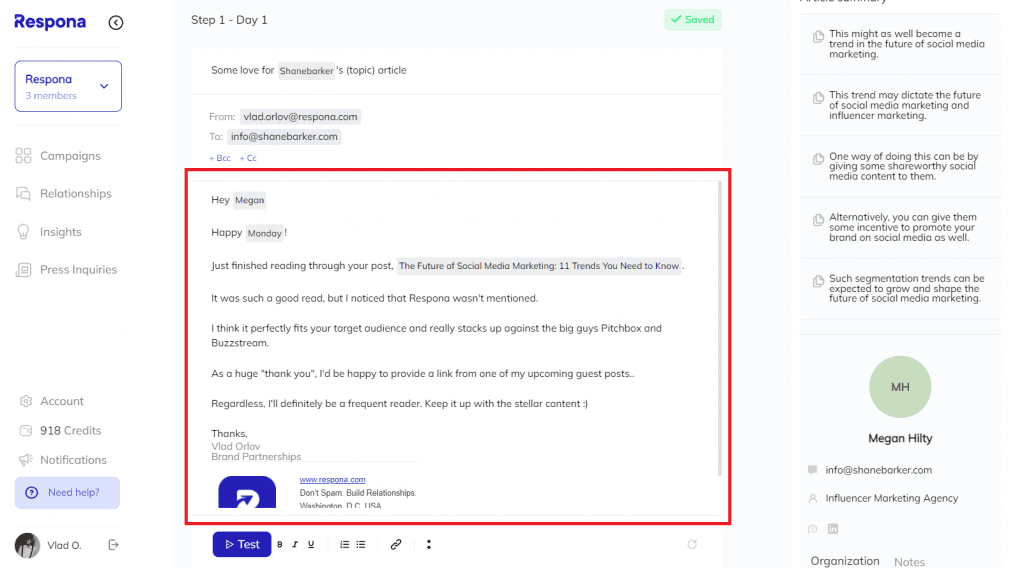 More specifically, you can start making adjustments to your email content by adding your prospect's first name, details about their company, or details about previous work that you've done.
Additionally, you can consider adding excerpts from their blog to show them that you did your research.
As soon as you're done personalizing all your opportunities, you'll be ready to launch your campaign.

We understand that applying the skyscraper technique might seem a bit demanding, especially if you've never done it before.
That's why we've created a checklist you can use to make sure you're not missing anything important.
Keep reading to find out more about it.
Download Our Skyscraper Checklist
As you know by now, applying the skyscraper technique can help you take your content strategy to the next level.
However, it does include several steps, a fact that might make you feel intimidated.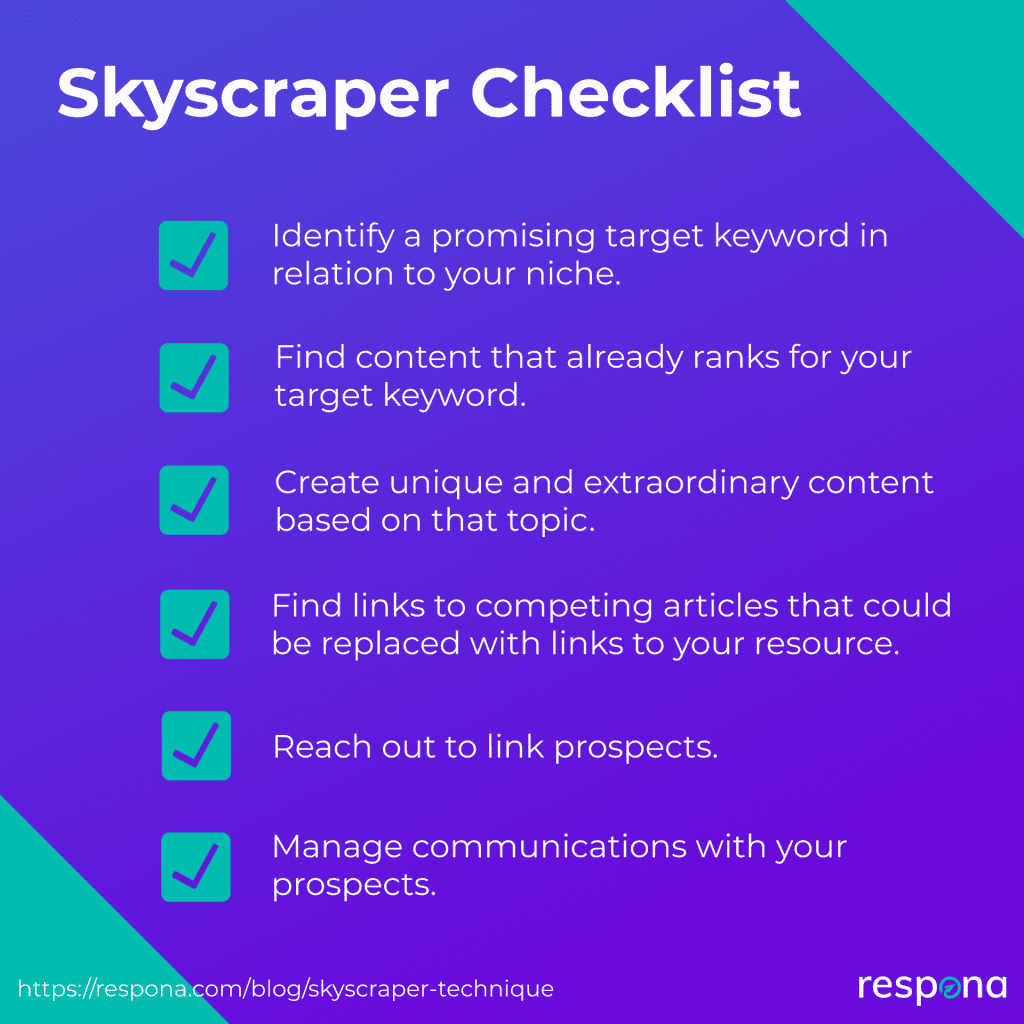 From finding the right topic to cover and coming up with the best and most promising content ideas, to writing a well-curated piece of content that'll increase your success rate and maximize your chances of getting links back to your resource – we've covered it all.
Plus, the skyscraper technique also requires efficient outreach and the ability to manage communications with your prospects.
That's why we want to streamline the process for you by creating the checklist you see above.
All you have to do is follow the steps – yes, it's that easy!
Let's wrap this up and close with a few final thoughts.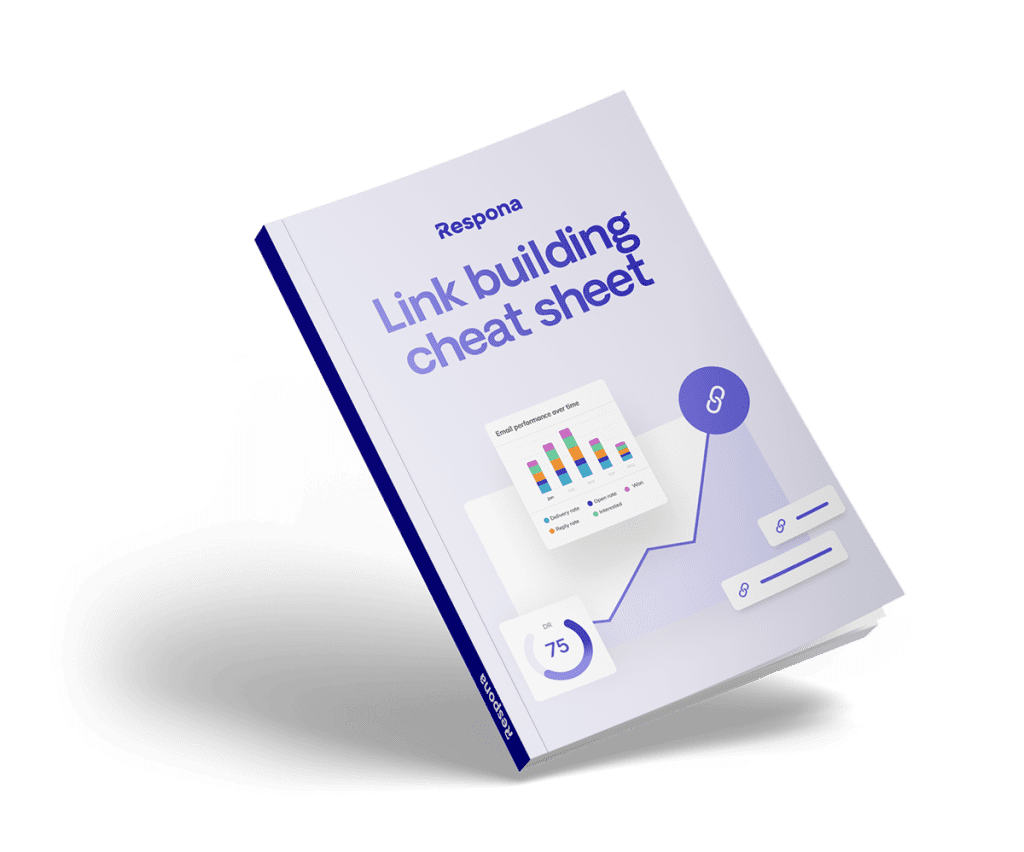 Link building cheat sheet
Gain access to the 3-step strategy we use to earn over 86 high-quality backlinks each month.
Now Over to You
That was it.
In this post, we've thoroughly covered all about the skyscraper technique that was introduced in 2016 by Backlinko's Brian Dean.
More specifically, we've given you a skyscraper technique definition and have also taken you through the different steps of it.
As you know already, the skyscraper technique can be quite beneficial for various reasons and is important in terms of creating unique content that'll give you a competitive advantage over competing articles.
Feel free to use our skyscraper checklist to make the most out of this powerful technique and don't hesitate to request a demo with Respona if you want to take your outreach up a notch.
We'd love to hear from you – have you ever used the skyscraper technique? If yes, what were the results? If not, what's keeping you from using it?