In this guide we're going to examine the differences between dofollow and nofollow links.
If you're actively building backlinks for your website, then you should know what a nofollow and what a dofollow link is and how that correlates with your site's performance.
Before delving any further into the guide, I want to make one thing very clear:
We're not trying to prove that one of these two types is better than the other — we're just trying to explain how they compare to each other using data and practical examples.
Let's get into it.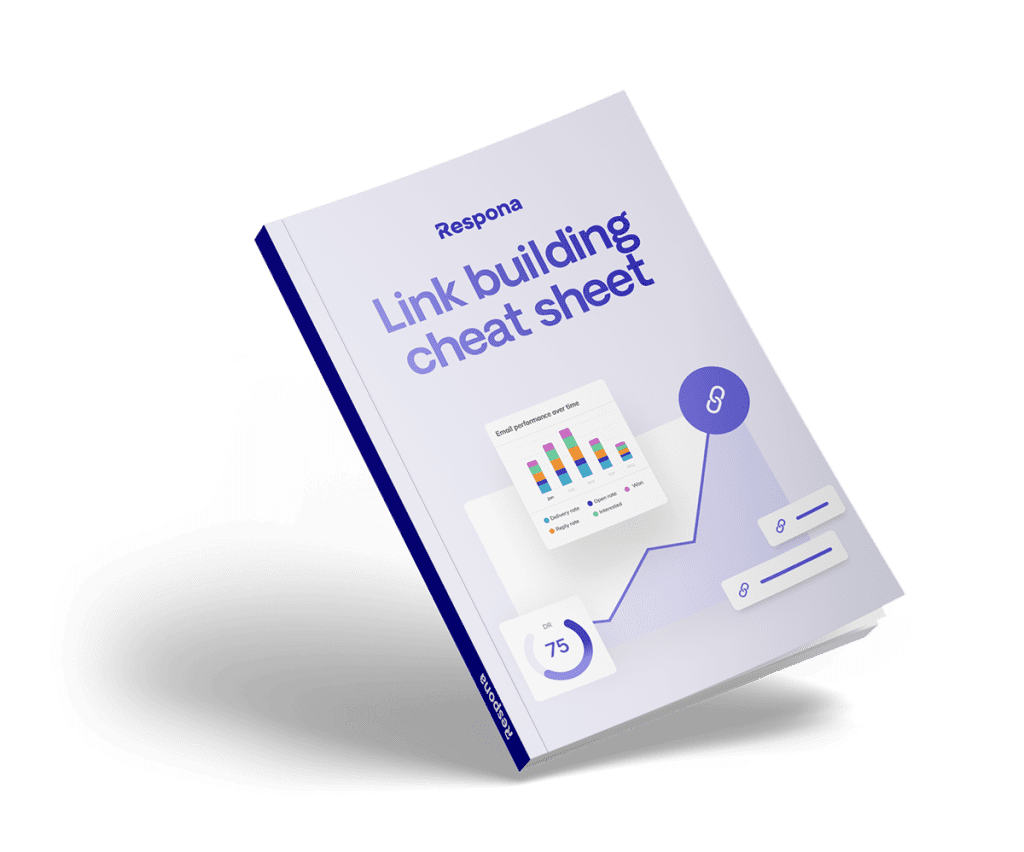 Link building cheat sheet
Gain access to the 3-step strategy we use to earn over 86 high-quality backlinks each month.
Do Links (Still) Matter for Getting Higher Rankings?
Most of us are trying to figure out new ways of getting organic traffic from search engines like Google.
We're doing this ourselves for Respona's website, and as you can see, we're pretty good at it.

There are many ranking factors when it comes to getting organic traffic from Google search — and other, less common used search engines like Yahoo or Bing.
One of the most prominent factors is the number of linking domains that the website has.
As you probably know already, those links pointing back to your website – both your homepage and specific pages on your website – are like votes of trust for your website.
They pass on, what we call in SEO jargon, link juice and thus can help a website rank higher and have a better overall performance.
According to a study of 11.8 million search results by Backlinko, the number of referring domains appears to have an influence on rankings.
Not only that, but "#1 result in Google has 3.2x more referring domains than positions #2 – #10".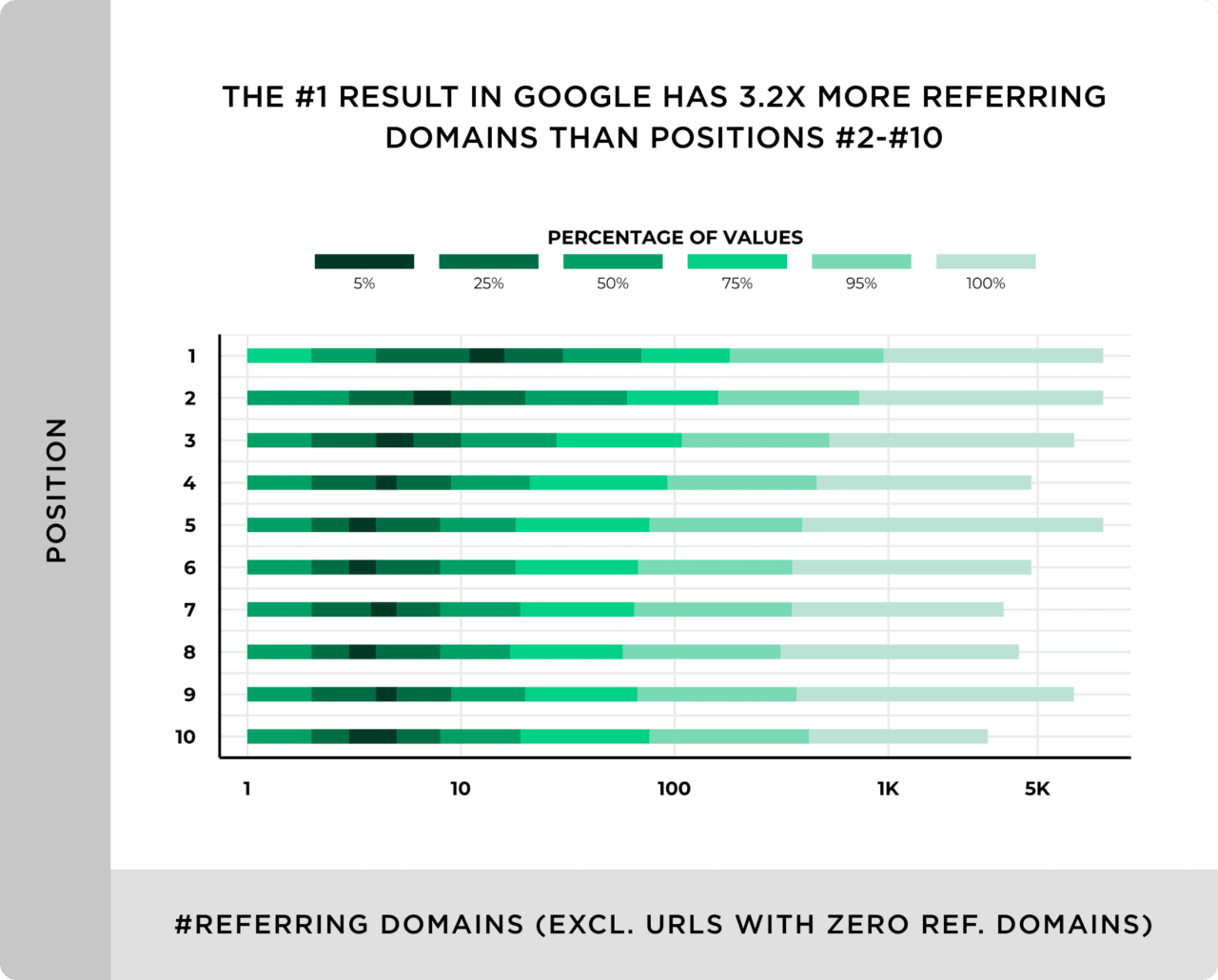 That's not to say that links are the single most important factor when it comes to ranking high on the SERPs.
After all, Google gives different weight to search results based on a number of factors.
For example, for a term like "covid symptoms", the number of referring domains, or links, may not be as important as the authoritativeness of the website.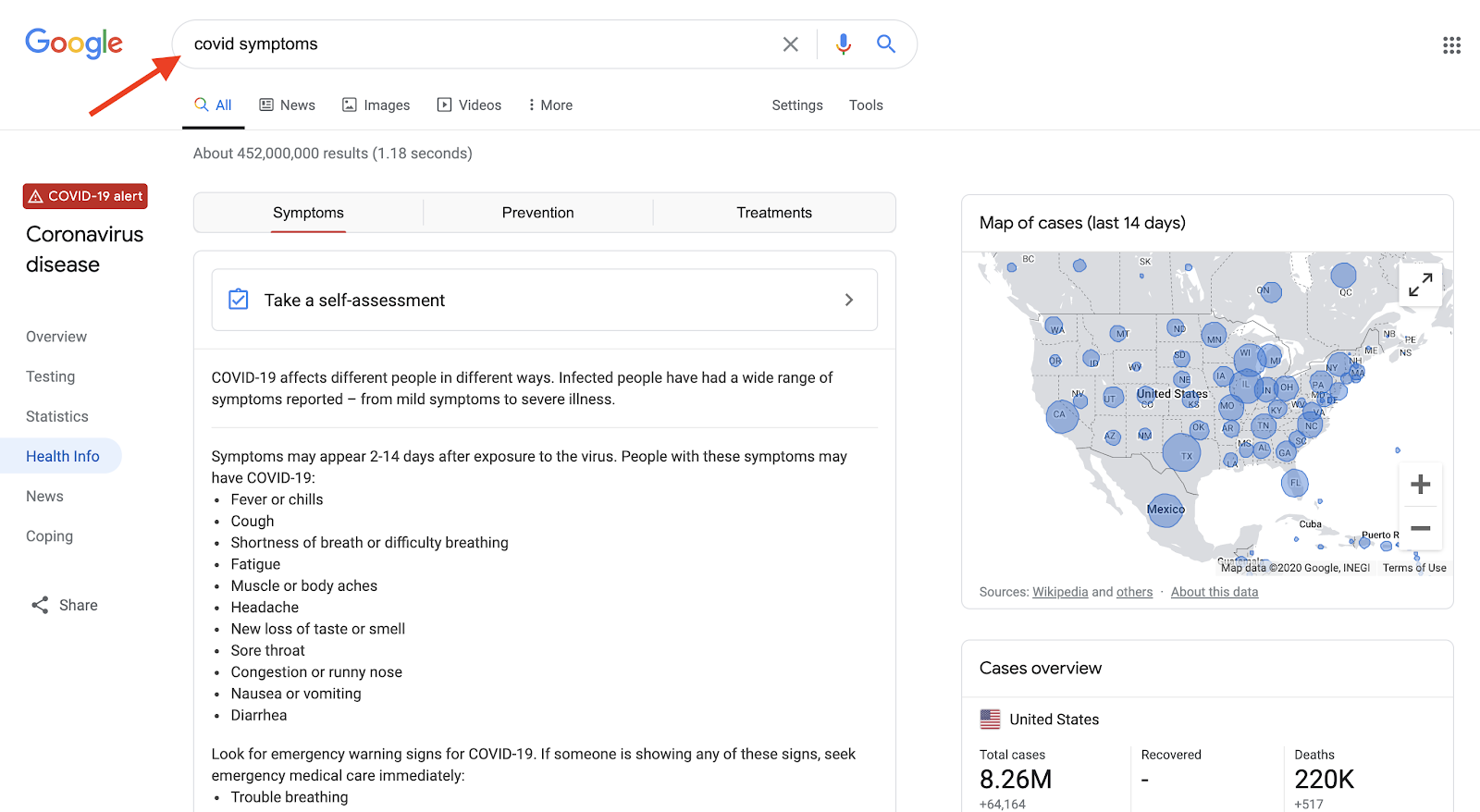 This means that getting high-quality links and having a link profile with backlinks from relevant and authoritative sources isn't as important across all terms and queries.
This is what most SEO professionals believe, according to a 2019 survey by SparkToro.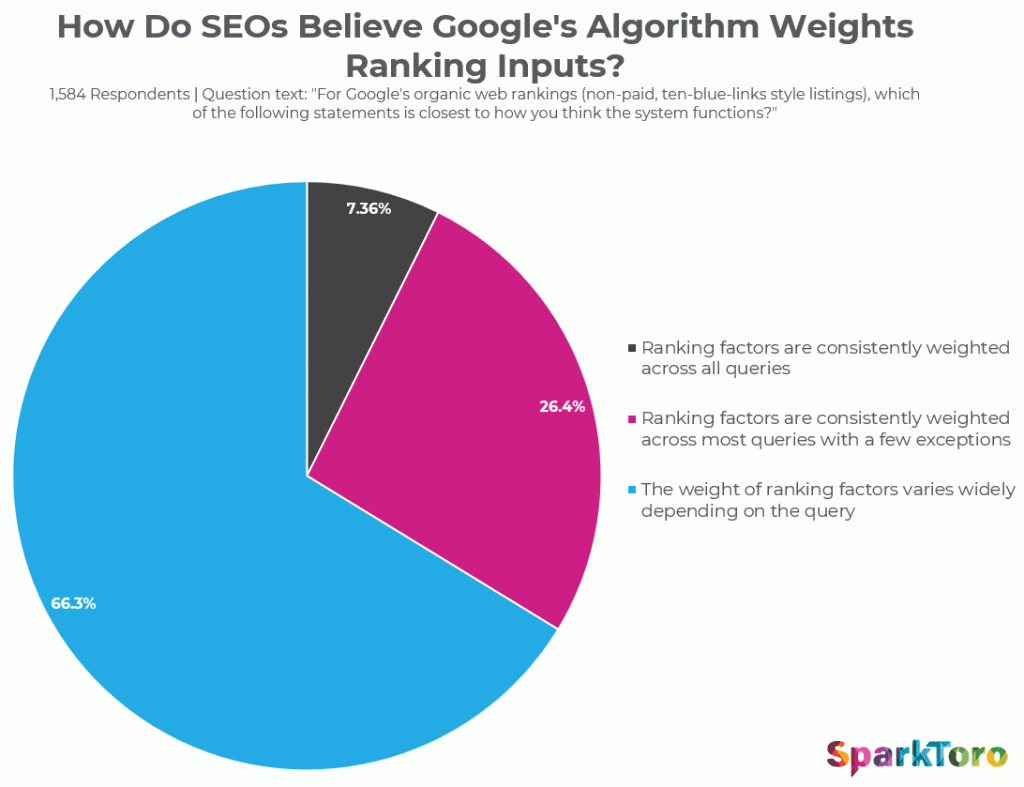 As you can see in the above chart, 66.3% of SEO professionals believe that "the weight of ranking factors varies widely depending on the query".
That's not to say that links don't matter when it comes to search engine optimization and Google rankings.
Links are still a major driver of growth when it comes to organic rankings.
Respona is a great case study of this, since our organic traffic and organic footprint has grown together with our backlink profile.
As you can see below, we're acquiring links constantly from high-authority websites that reference to Respona and mention our product.

Links matter when it comes to search engine rankings, but they have a different weight across different queries and even industries.
This is why link building — the process of building inbound links — is still one of the most prominent SEO activities.
The question is:
Do all types of links have the same weight in the eyes of Google?
Most importantly, how can we, as marketers, acquire only the type of links that matter most?
Let's try to answer the question by first explaining what a dofollow link is.
What's a Dofollow Link?
A dofollow link is one that allows search engines bots, e.g. the Googlebot, to follow the link and see where it leads to.
This information is included in the HTML code of the page and thus isn't visible for visitors to see, similar to other tags like your title tag or meta tag.
In other words, even though people can see outbound links on a website as hyperlinked text, they aren't in the position to know whether this link is dofollow or nofollow.
Let's use an example to make this easier to understand.
One of Respona's customers from Canada (PRG), has started using Respona as a link building software.
In other words, our customer is using our tool to reach out to relevant websites and ask for links to specific pages on their website.
One of the acquired links is the following one by CareerPlug.

Author's Note: The above screenshot comes from Ahrefs and shows us that there isn't a nofollow tag applied to the link. This means that the link is dofollow, exactly as it should be.
As you can see, this website has a Domain Rating (DR) of 75, which is really high.
This means that this is a trusted and authoritative website.
We can see from the above screenshot that this is a dofollow link; it doesn't have a nofollow tag (more on that later) applied to it.
In other words, the link equity is passed from one page to another without the nofollow tag stopping it.
Also, it has a relevant anchor text which contributes to getting the most out of the acquired link.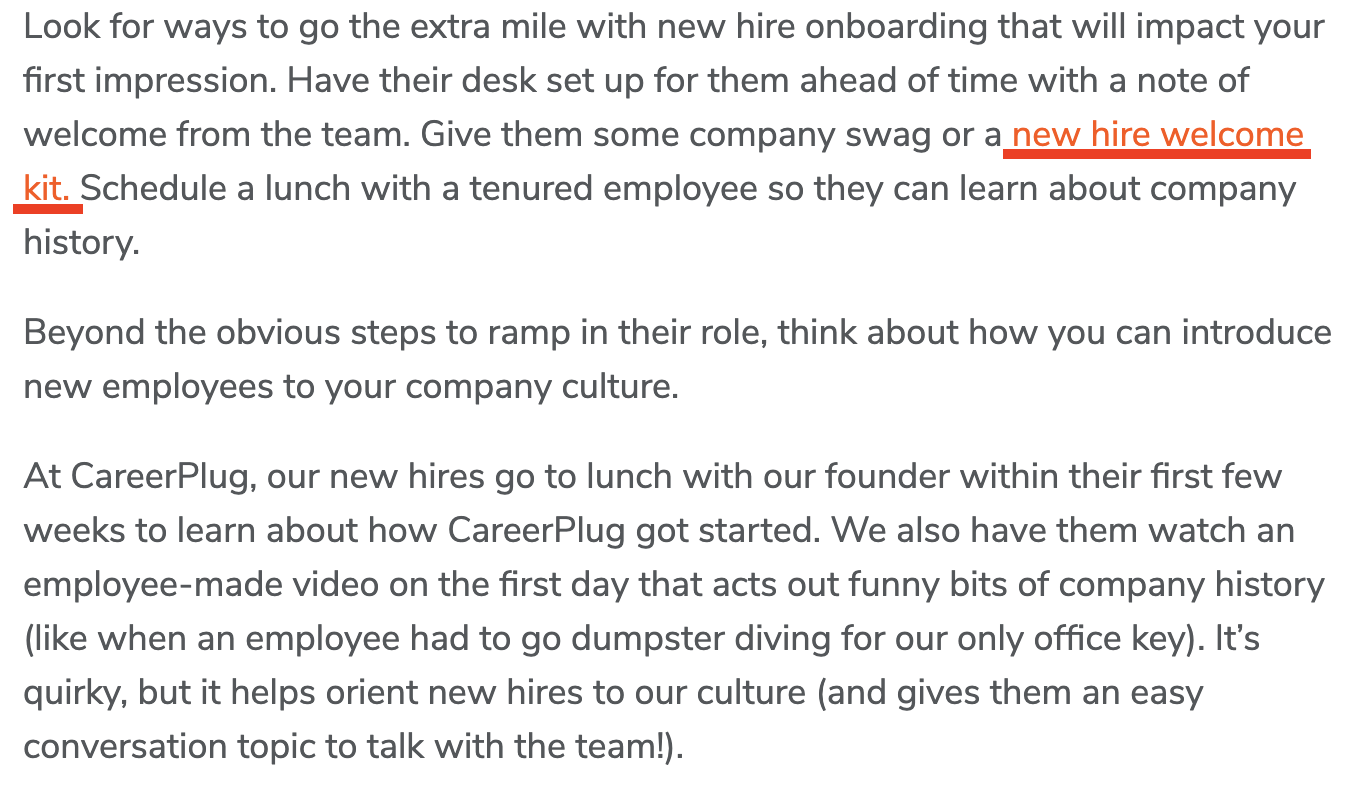 If you visit the referring page, that is the page including the link back to PRG's page, and right-click on "Inspect" you'll notice that there's the following tag: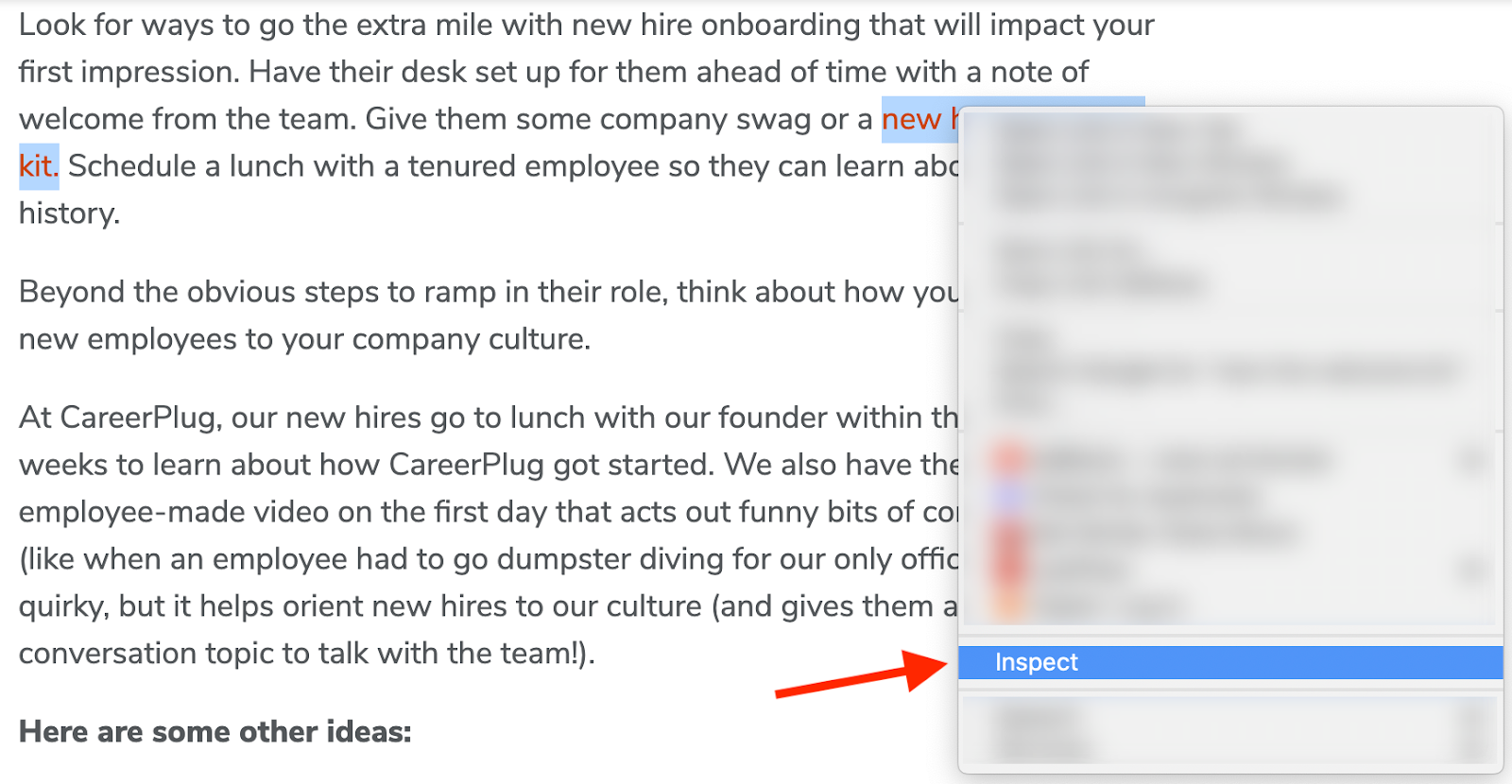 rel="noreferrer noopener"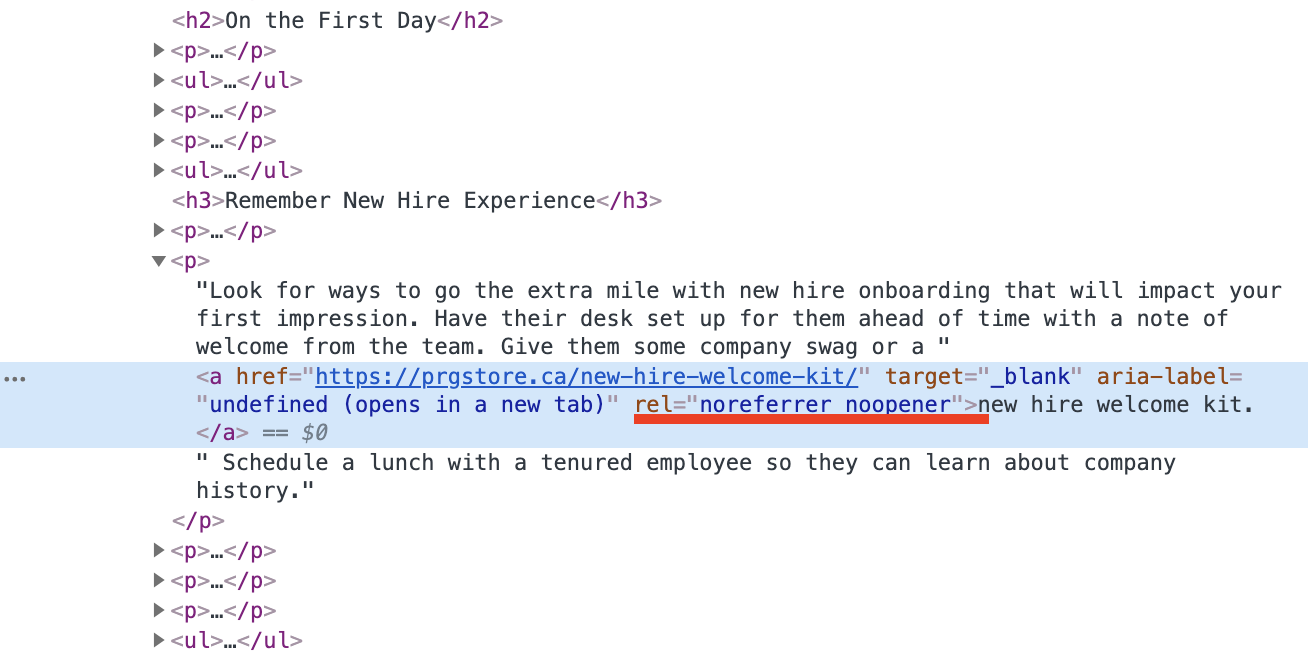 Author's Note: The other elements on the above screenshot (e.g., href="https://prgstore.ca/employee-appreciation-ideas/" describe the page the link leads to as well as what happens once someone clicks on the link).
The nofollow attribute doesn't exist in this page and thus the link equity is passed from one page to another.
Thus, we can understand that the whole process that leads to the acquisition of the link in our example, both makes sense and can contribute to the website's overall performance.
Of course, one link — most of the time — isn't enough, but especially when you have no backlinks and authority whatsoever, you've got to start somewhere.
Why is the fact that a link is dofollow so important and how can it impact a page's, or website's on a bigger level, performance?
It all comes down to PageRank — one of Google's most popular algorithms which, according to Wikipedia, was introduced back in 1998 and named after one of the company's co-founders, Larry Page.
The algorithm was basically functioning in a way that measures popularity based on the mentions — or citations in academic terms — that a particular page has.
In plain English, the more links a page attracts, the higher its value.
Of course, even if in the past the value of a page was simply measured by the number of other pages referring to it, now things are a bit more complex.
Getting a number of links from irrelevant websites — even if they're dofollow — isn't enough anymore.
There has to be relevancy between the website and page including the link and the page it leads to.
Dofollow backlinks definitely matter, but only when there's actual relevance between the two sites.
For example, Respona has a link back to our homepage by Linkio.

This is a relevant website to Respona and the link comes from a highly relevant page, talking about link tools.
There's high relevance between the two websites and the linking pages, and thus the value of this link is, generally, higher than getting a link from a website that talks about fitness, for example.
Getting dofollow links from quality sites that are relevant to your own site and even have an intersection between your keyword profiles are the best type of links you can get.
Let's see how this is different from nofollow links and thus try to understand the fundamental change between the two types of links.
What's a Nofollow Link?
Nofollow links are links that have a rel=nofollow tag, which means that they shouldn't be followed by search engine crawlers. According to Google, those pages are "generally not to be followed".
Search engines like Google discover new pages and add them to their index by following links that exist on the web.
By applying that HTML tag to a link, you're basically preventing a search engine crawler from following that link.
This doesn't mean that the page can't be discovered. The page can only not be discovered when it has a noindex HTML tag.
It just means that crawlers like Googlebot can't follow that page through that specific path.
For example, you can see that the following link on our guide on how to write a follow up email is set to be nofollow.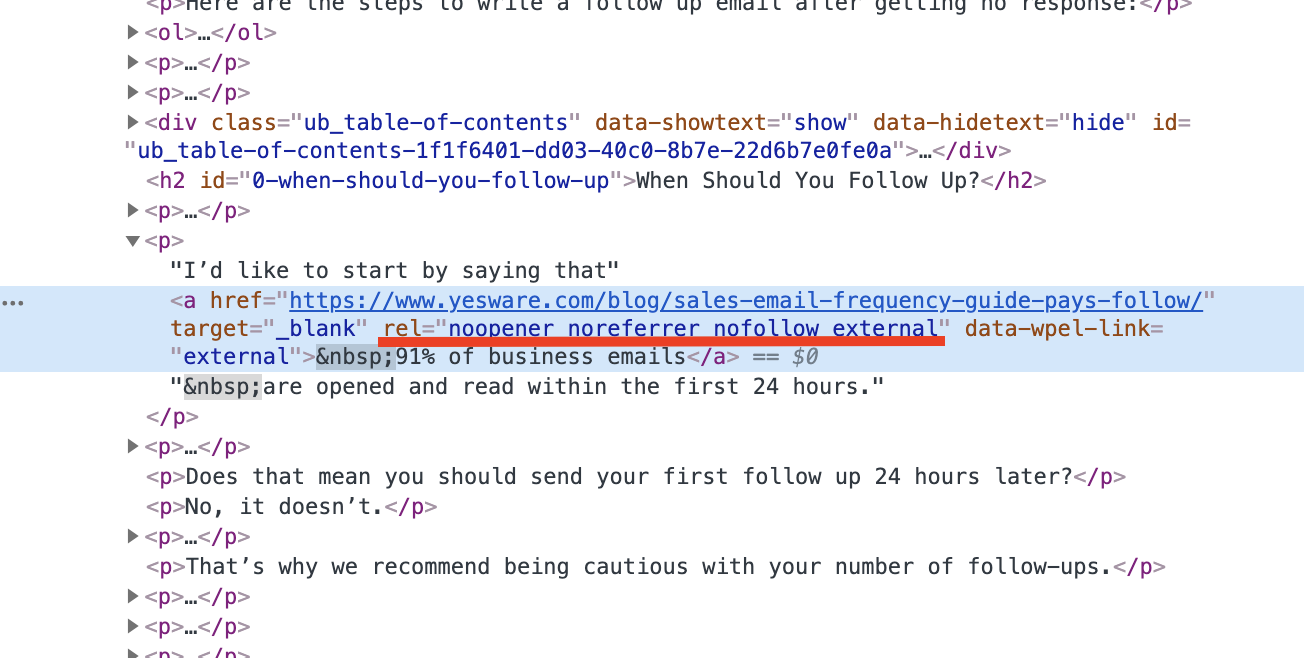 Author's Note: Respona's blog has set all outgoing external links—with some minor exceptions—to be nofollow. We're using a WordPress plugin to do that.
The visitor to that page can click on the link and visit the referring page, but search engines can't follow that link.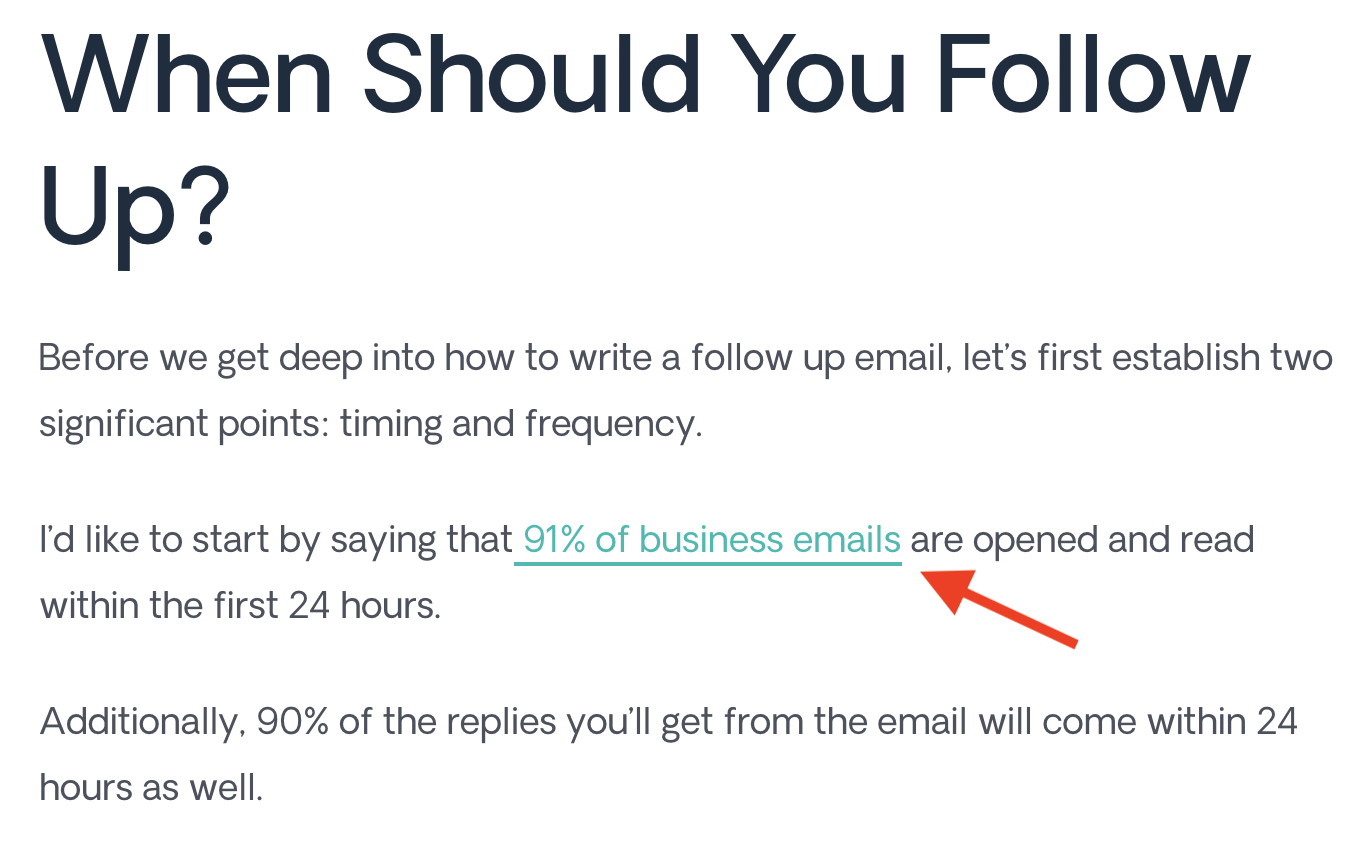 What's happening isn't visible to visitors, as I mentioned before.
Except for applying a nofollow tag to outgoing external links, you can also apply it to some outgoing internal links. These are links from one page on your website to another page on your website.
Why would you want to prevent a search engine crawler from following a specific link on your website?
A reason could be to save crawl budget and lead search engine crawlers only to the pages that matter for you, and probably for your visitors.
For example, at Visme we've applied a nofollow tag to "Terms of Service" and "Privacy Policy" pages.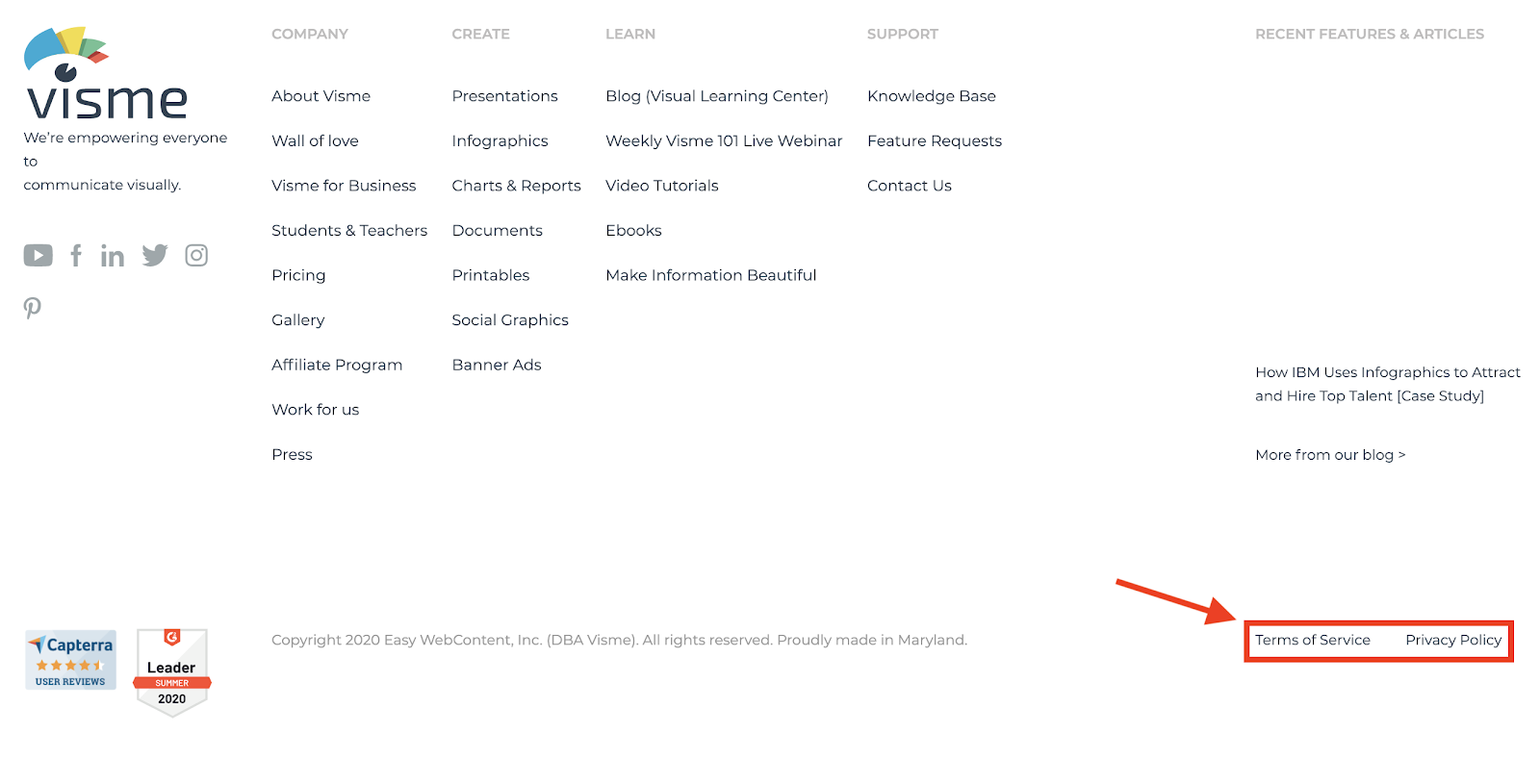 Since those links exist in the footer of our website, it means that they most likely will have thousands of links pointing back to them, as Visme has well over 43K pages indexed on Google.

However, these are pages with no particular value to a) the search engines and b) to users.
Why should we have search engines follow them and waste our crawl budget while there are way more important pages we want to highlight?
There are various cases when links are, or should be, nofollowed.
Some of the most common ones are:
Blog comments, AKA comment spam
Social media links
Forum posts
Press releases
Sponsored content and paid links
User-generated content (UGC)
Widgets
Product UIs (user interfaces)
Reddit threads
Quora answers
Links to YouTube videos
Author's Note: Many of the above categories, e.g. Quora answers, Forum posts, and Reddit threads, belong under UGC. We've included them here to give you a broader view when it comes to the types of links that should have a nofollow link attribute.
The reason why links in most of these cases are set to be nofollow is obviously because people could exploit it — and they have indeed exploited it in the past — to build links back to their outlets.
Specifically referring to sponsored posts and UGC, Google has given definitive guidelines that unfortunately aren't followed by most website owners, webmasters, and content creators.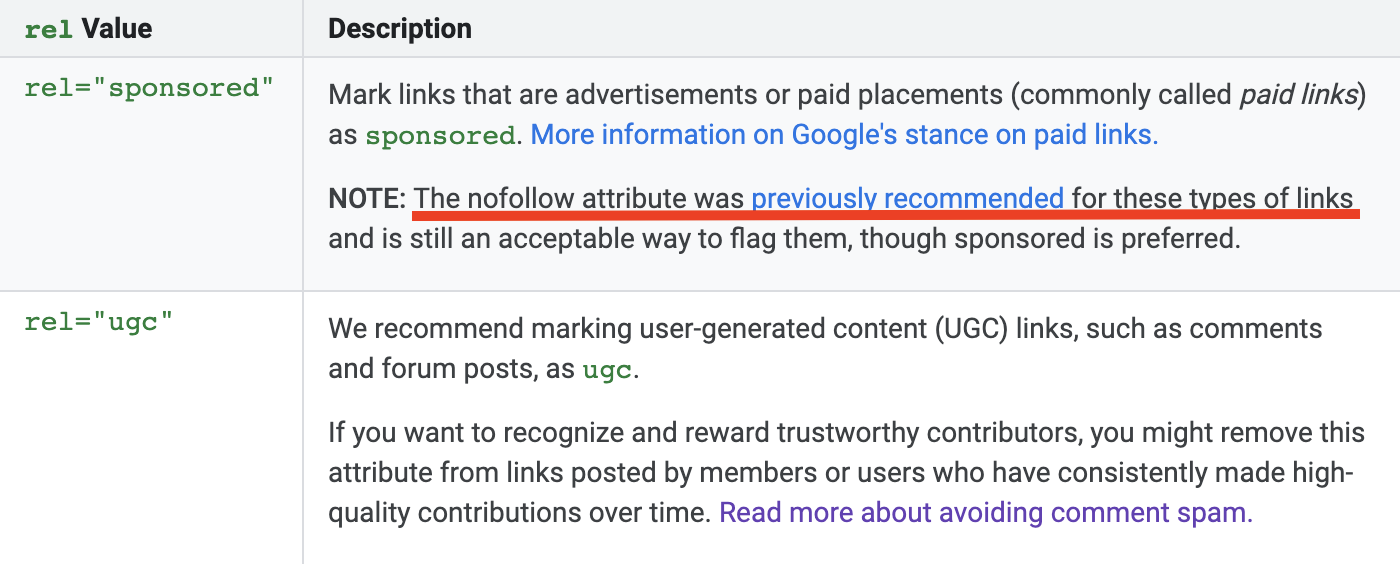 Having said all that, if you've done manual blogging outreach to get a guest post published on a relevant publication, you should expect — and even request – that the links given to you are dofollow.
However, if you've paid for a guest post and have linked back to several pages on your website through that post, then, according to Google's recommendations, links inside this post should have a rel="sponsored" link attribute as well as a nofollow tag applied.
One of the most obvious and important questions here is:
Can nofollow backlinks help with search engine rankings?
According to a small scale study by digital marketing agency Reboot, "outgoing links can be used as a ranking signal".
Through a very smart experiment, updated in April 2020, the folk at Reboot discovered that new websites that want to rank for imaginary terms like "Phylandocic" have more chances of ranking and being more easy to discover in general, when they have outgoing, dofollow links to relevant and trustworthy websites.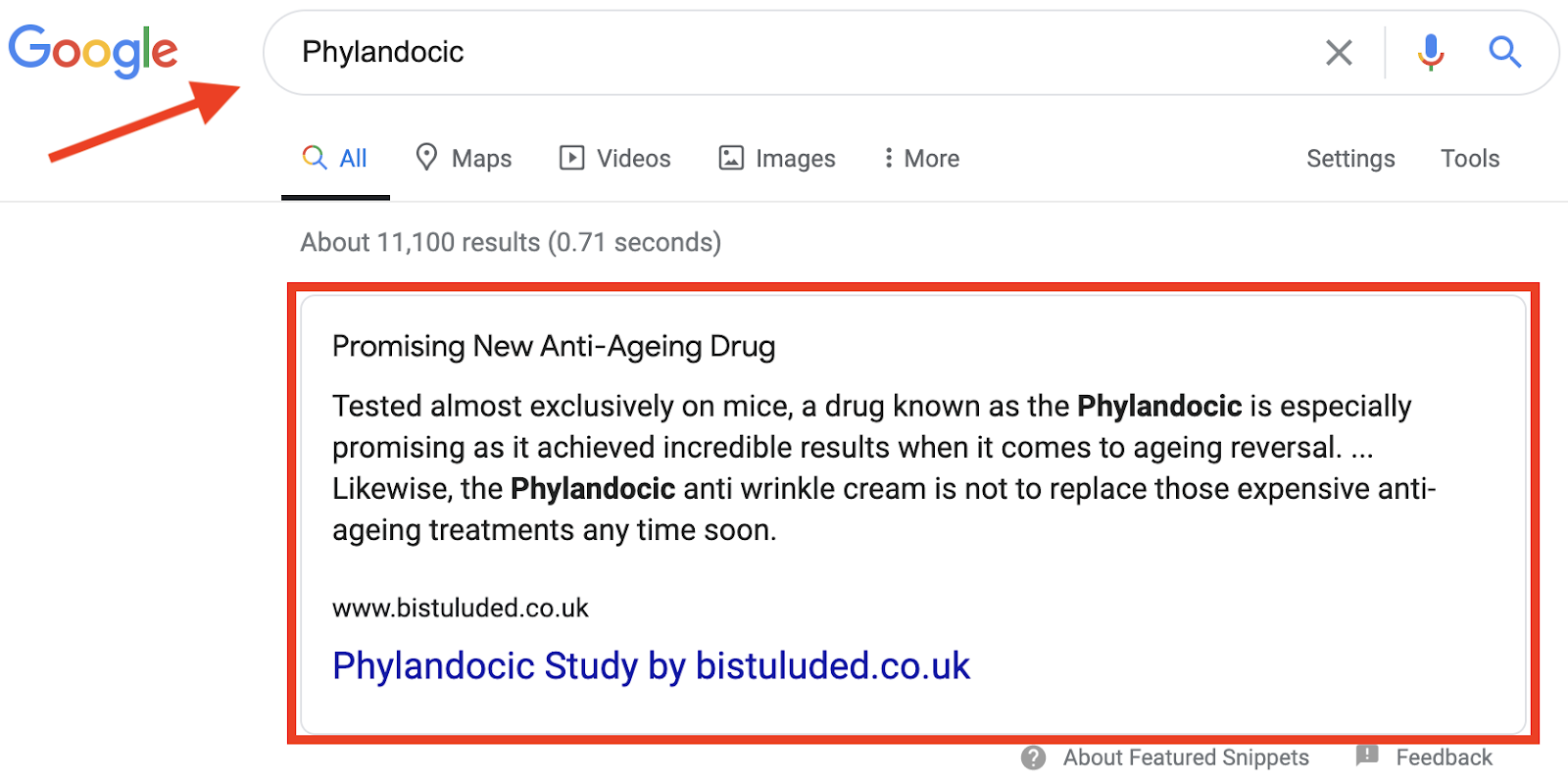 Author's Note: The website http://www.bistuluded.co.uk/ is one of the websites that included outgoing dofollow links and that was part of the study. The browser I'm using is Google Chrome and this is the first time I'm searching for the term online.
Can this prove that outgoing dofollow links can be somehow valuable for websites — especially new ones? Maybe.
Always think about the context of what the metrics are that you're using to measure success or effectiveness of each type over the other.
This means that both link types can be useful, but for different reasons.
Which brings us to the last section of this guide.
Nofollow vs. Dofollow: Differences & Things to Know
The main difference between dofollow and nofollow links is that the former are followed by search engine crawlers and the latter aren't, preventing any equity between sites.
Dofollow links
They're followed by search engine crawlers
They can pass on link equity from one website to another
They're ideal for link building purposes when performance is important
They're not recommended when there's a large scale effort to build backlinks
Pages with dofollow links pointing to them shouldn't have a noindex tag applied to them
They help both on cross-domain level but also on an intra-website level
Nofollow links
They're generally not followed by search engine crawlers
In general, they can't pass on link equity from one website to another
They're ideal for paid or sponsored content as well for user-generated content (UGC)
They can't harm the user experience as the link attributes applied to them aren't visible to users and website visitors
Pages with nofollow links pointing to them can still be indexed
They generally can't hurt you, unless they're part of a mass scale action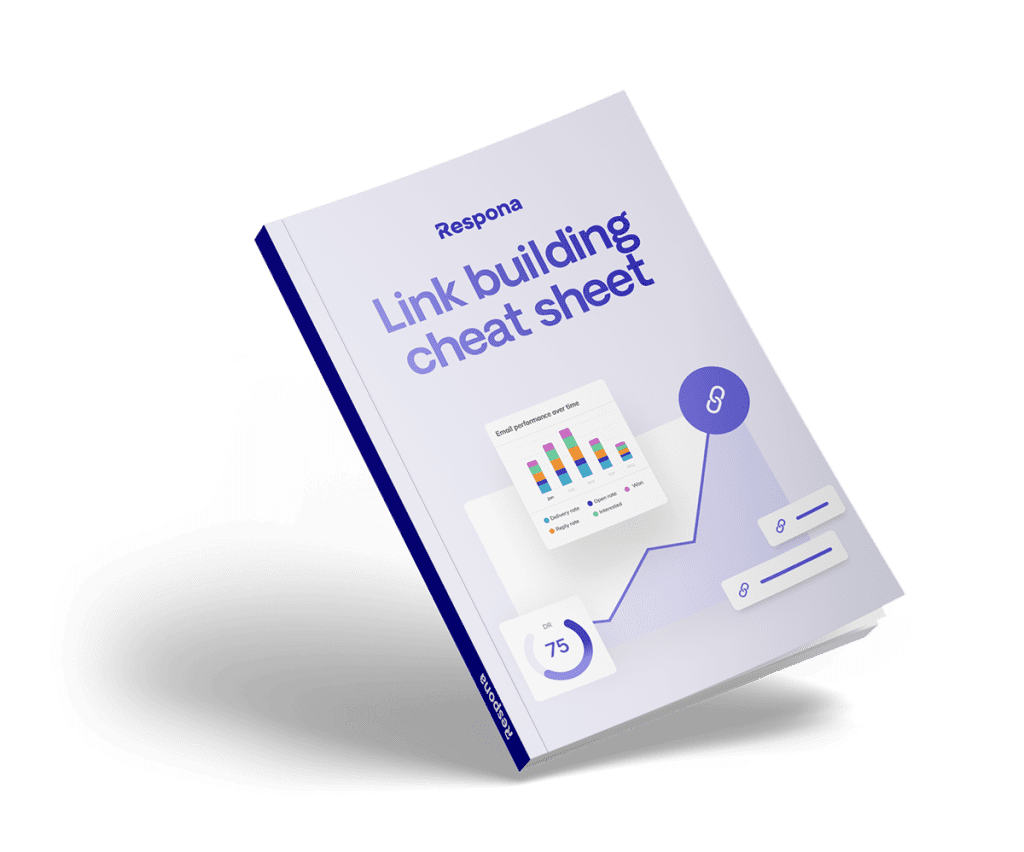 Link building cheat sheet
Gain access to the 3-step strategy we use to earn over 86 high-quality backlinks each month.
Wrapping Up
I hope that by now you've understood some of the most important differences between dofollow and nofollow links.
Both of them can be valuable, but for different reasons.
New pages on the web are discovered every day by the fact that search engine crawler bots like Googlebot are crawling the web to discover new pages.
Bloggers, media publications, and brands that want and need to be found should do their best to contribute to this process.
This means that you have to stay away from spammy tactics and shady methodologies that don't contribute to making the web a better place for everyone.
If building high-quality links through guest posting or good and valuable content on your website is one of your top priorities, then I highly recommend checking out what Respona can do for you.
We've built a really smart link building tool to help those who believe in the value of good content and personalized outreach to build quality links for their website.
Check it out and always feel free to reach out if you have any questions.
Frequently Asked Questions (FAQs)
Q1. Do nofollow links help with SEO?
Nofollow links—that is hyperlinks with a rel="nofollow" tag—may not pass on link equity from one website to another, but can have an indirect impact on your website's performance in terms of SEO. For example, a nofollow link from a highly-visited website can potentially help you acquire some relevant referral traffic back to your website.
Q2. Can nofollow links hurt you?
According to Google's Matt Cutts, "if we see enough mass-scale action that we consider deceptive or manipulative, we do reserve to take action." This means that, unless you're building nofollow links on a huge scale, e.g. through blog comments on other websites, nofollow links can't hurt you. Here are Google's guidelines on the topic. Also, here are some additional guidelines on how to prevent comment spam.
Q3. Does Google crawl nofollow links?
In general, Google doesn't crawl nofollow links. However, if you wish to completely exclude a page or piece of content altogether from search results, you might want to consider adding a Disallow directive for that page through your Robots.txt file.
Q4. Why is nofollow important?
Nofollow can be important in cases where you have to prevent Google and other search engines from following links that may be malicious or not representative of what your website is all about. For example, it's recommended that blog comments have a rel="nofollow" tag applied so that Google doesn't take them into account when crawling a page.
Q5. How do I get rid of nofollow links?
Google reports that it may not be necessary to disavow nofollow links. However, if you feel that some nofollow links may be harming your website, then you should consider disavowing those links or kindly ask the owner of the referring website to remove them.
Q6. Should I disavow nofollow links?
In cases where you detect something suspicious, such as a negative SEO attack on your website, or spikes in referring domains that seem unnatural, it's recommended that you take a better look at the nofollow links that point back to your website. If this is experienced as a large scale issue — like the one that Matthew Woodward experienced back in 2014 — then you should consider disavowing some of these links.

However, you have to be extremely careful with the links you're disavowing; you wouldn't want to miss the value you may be getting, in terms of direct traffic, by some of these links. If you want to learn more about disavowing links, we recommend checking that guide by Ahrefs.
Q7. Are YouTube links nofollow?
Most of the backlinks coming from YouTube and other social networks such as Facebook or Twitter are set to be nofollow. They may not pass link weight from one website to another, but they can help you acquire some direct traffic to your website.
Q8. Should I nofollow all external links?
According to a small scale study by UK agency Reboot, external links to trustworthy and relevant websites are important when it comes to getting visibility online. Also, there are no other studies that can prove that turning external links to nofollow can have a positive impact on rankings. Thus, it's overall recommended that you don't add a nofollow tag to all external links.
Q9. How do I know if a link is dofollow?
To know if a link is dofollow, you just have to right-click on the page, click on "View Page Source" and check the attributes of the link. If there isn't a nofollow tag applied, then you can be sure that the link is dofollow.
Q10. When should you use nofollow links?
You should use nofollow links in cases where there's a large number of outgoing external links from a page or section of your website which lead to suspicious or irrelevant websites. An example is spammers leaving blog comments trying to link back to their website. It's recommended that those links are set to be nofollow.