Understanding all the ranking factors that search engines take into account is by no means a piece of cake, but we do know that links play a big role.
Although there are many types of links, in today's guide we're going to talk about editorial links and to be precise:
What editorial links are
The difference between editorial and acquired links
The 6 benefits of editorial links
As well as the ways to acquire them, step-by-step.
Let's get started.
How to Get Editorial Links in 2022?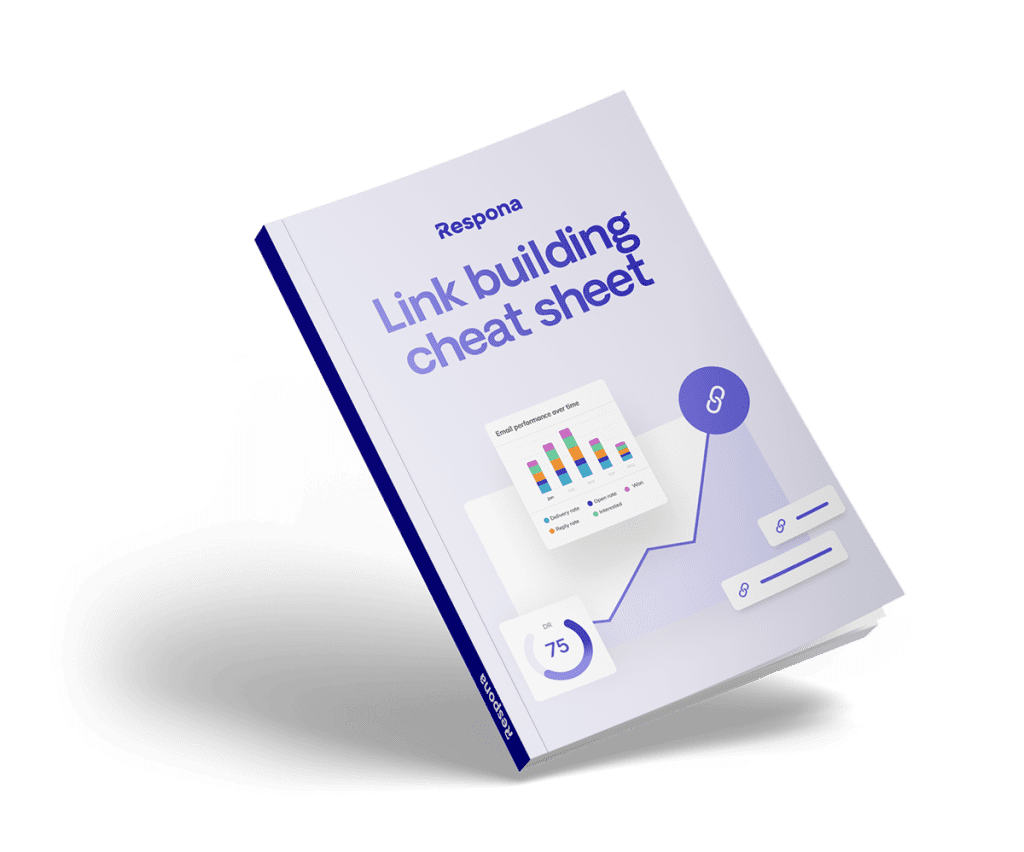 Link building cheat sheet
Gain access to the 3-step strategy we use to earn over 86 high-quality backlinks each month.
What are Editorial Links?
Editorial links are backlinks that are acquired naturally, usually from large publications but they can also be on more niche websites.
In other words, editorial links are links you didn't ask for.
If only all backlinks were like that, right?
It's usually easier for large websites to acquire backlinks that way, due to their brand name and high authority, but for smaller websites the process requires more time and effort.
Editorial backlinks can mainly be acquired by publishing high-quality content that attracts attention, but we'll cover the acquisition ways later on in more detail.
For now, what you have to remember is that they're acquired naturally, without having to actively reach out for them, or heavily invest in a link building strategy.
A good example of an editorial link is one added in expert roundups, like the one below from Savology.com on managing student debt.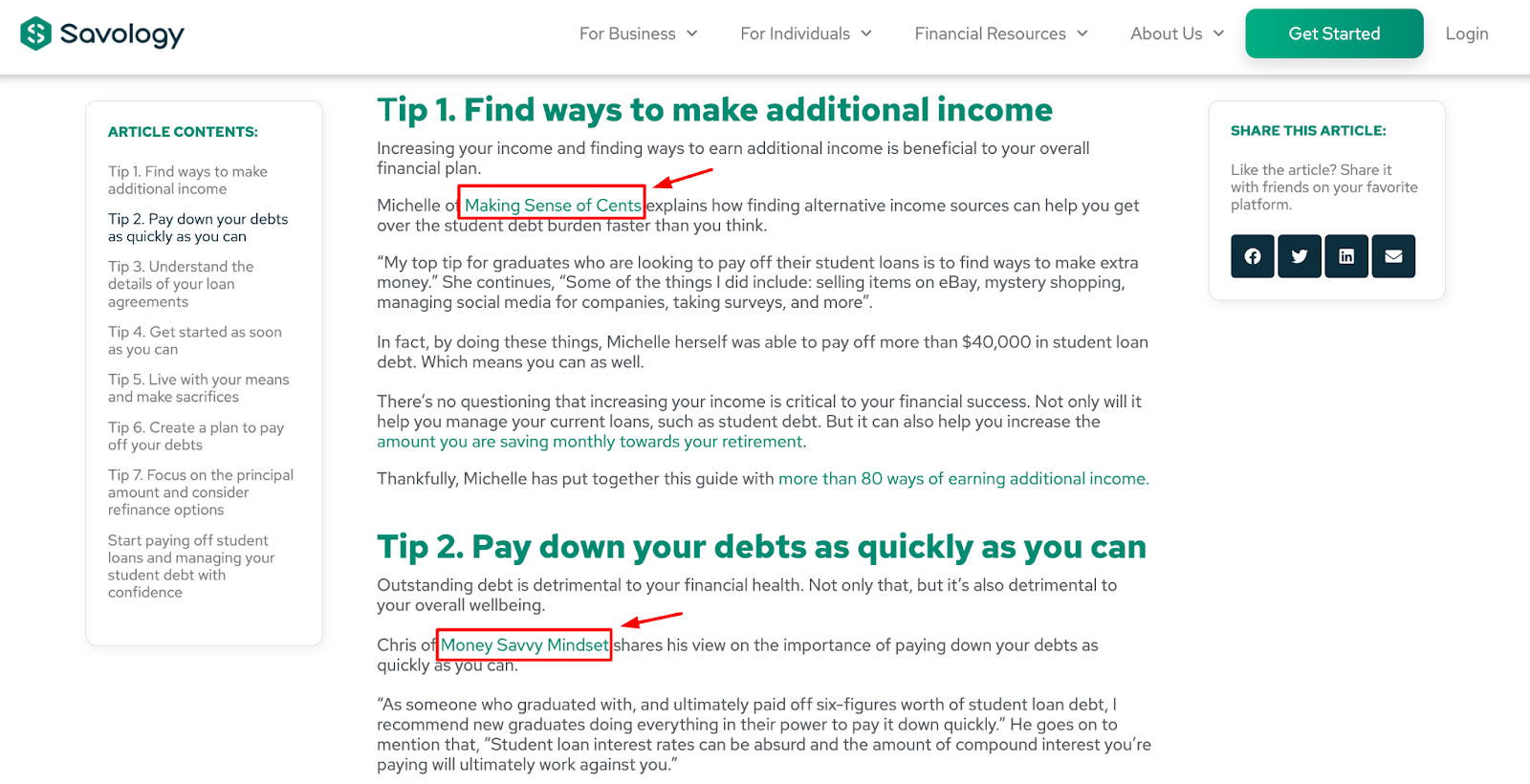 This way each expert shares their advice and the website links back to their website.
Simple, right?
Let's now have a closer look at the difference between editorial links and their exact opposite, which are acquired links.
Editorial Links vs Acquired Links
The main difference between editorial links and acquired links is that the latter are paid, traded, or asked for, while the former are not.
In simple words, editorial links are acquired organically due to a website producing great content and linkable assets that draws other websites to link back to them.
Thus, the website doesn't have to invest in outreach efforts by connecting bloggers and editors through email and social media.
On the other hand, acquired links are backlinks that are actively acquired by a website.
What does that mean?
That the website searches for relevant and authoritative websites to get links from, by performing tactics like broken link building, link exchange, writing guest posts, and more.
Although some link building tactics are frowned upon by Google, the essence is that any link acquired actively through an action is an acquired link.
So far, we believe that editorial links are clear.
Let's have a look at what benefits they can generate, for any website that has them.
6 Benefits of Editorial Links
As promised, in this section we're going to present the main benefits of editorial links.
Let's get started with the first one.
Benefit #1: Higher rankings
One of the main benefits of an editorial link is its SEO value, or the link juice they pass to you.
What you must remember here, is that what matters most in link building is the quality of the links you get, rather than the quantity.
Meaning that a few quality links from relevant and authority websites with a high Domain Rating (DR) matter more than a lot of low-quality links from irrelevant and low-authority sites.
Similarly, good editorial links can boost your DR, help you build a stronger link profile, and, thus, achieve higher rankings.
Sounds like every link builder's dream, right?
Benefit #2: More traffic
This benefit is tightly correlated with the previous one since high rankings often result in more organic traffic.
What's more, that traffic can consist of your target audience who will learn more about what you have to offer.
An informative and valuable piece of content, whether that's a blog post or an infographic, will naturally attract readers and, therefore, generate more traffic for your web pages.
Needless to say that the traffic won't only derive organically from your high search ranking, but also directly through the editorial links that lead to you.
Benefit #3: More authority
Just like any other high-quality backlink, editorial links can provide you with more authority; both in the eyes of users and search engines.
Why?
Because when a well-established, respected, and authoritative site decides to link to your website, this indicates to Google that you're also trustworthy and your content will be promoted to more readers organically.
For example, receiving an editorial link from a high-authority website like Forbes will matter a great deal for Google, because the website has a DR of 98 out of 100.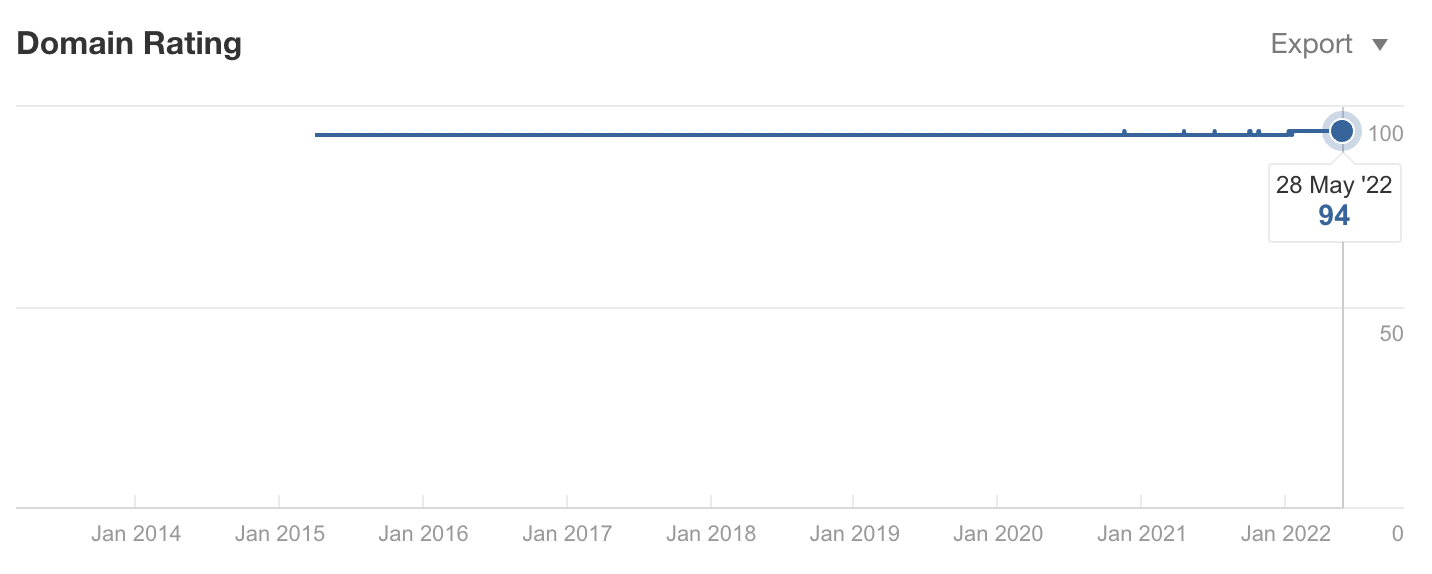 Author's Note: DR or Domain Rating is a metric found from SEO tools like Ahrefs and Moz, that shows the strength of a target website's backlink profile compared to the others, on a 100-point scale.
So the better the editorial links you receive, the more authority you'll have as well.
Benefit #4: Low cost
Link building has proven to be an extremely effective off-page SEO strategy.
However, it's no secret that it's time consuming and—sometimes—requires money.
So what better alternative than to build editorial links naturally, without having to do anything, besides creating good content?
Due to their nature, editorial links require little to no cost, which makes them really attractive to site owners, especially when there's no available budget for active link building and email outreach.
The only downside to editorial links is that you don't control who links back to you since they're 100% natural, so low-quality websites could damage your link profile.
On the other hand, although active link building requires some time and effort, you get to decide which website will—ideally—link back to you, based on your own criteria.
Nevertheless, editorial links remain a great option, particularly for smaller websites.
Benefit #5: You build relationships
Although editorial links don't require reaching out to other people for their acquisition, they can still contribute to building relationships with bloggers, influencers, editors, and many more people.
For instance, if you notice that your website has been mentioned on a directory or a forum, you can always reach out and thank them for including you,
Plus, you can share something like that online on your social media, and grab the attention of whoever linked back to you.
Needless to say that even one editorial link can save you time and money in your future link building efforts.
How does that work?
Well, considering you receive a high-quality editorial link, you can use this to your advantage and contact the website owner in order to receive more backlinks.
This saves you precious time from actively searching for relevant and authoritative websites, although the process can be automated with a tool like Respona.
As we mentioned, this saves you time and helps you build long-lasting relationships with people in your field!
Benefit #6: Brand building
Another great benefit that couldn't possibly be missing from our list is brand building.
Good editorial links help you promote your brand by showing you are an authority in your field of expertise.
Actually, when someone is reading a piece of content and sees your brand name as an anchor text, they'll most likely do one of two things:
Click the link and visit your website
Not click the link, but connect your brand to the content they're reading and associate you as an authority
Either way, an editorial link will help users learn more about you and recognize you easier in the future.
All in all, those were the main benefits that editorial links can offer a website.
The question is, how can you get those kinds of links?
8 Ways to Get Editorial Links
Although editorial links happen naturally, there are several ways that you can attract them.
Way #1: Create valuable content
The first and one of the most important ways is by creating valuable content.
While quite obvious, creating your own content that is unique, interesting, and provides value to readers, is key to getting editorial—or any kind of—links.
You should apply all on-page optimization techniques, as well as anything else that'll give your content a twist and make people link back to it.
Keep in mind that being a thought leader and presenting your own perspective on things is key to creating valuable content.
Way #2: Create link-worthy content
Besides just being valuable, your content should also be link-worthy.
In other words, why should someone link back to it?
Link-worthy content comes often in the form of:
Infographics
Case studies
Surveys and statistics
Tools and calculators
Awards and rankings
These and more are also known as linkable assets, which are great material for someone to reference in a blog and, thus, link back to them.
Way #3: Create evergreen content
Another characteristic that a good piece of content should have, in order to keep receiving links in the long run, is being evergreen.
Evergreen content is content that stays fresh and relevant for readers, over a long period of time; it continues to be relevant long past its publication date with organic traffic growing more and more over time.
For example, if you had a high-quality study with interesting statistics, but it was published many years ago, why would someone link back to it?
Chances are the data is outdated, so receiving links for it won't be a piece of cake.
Author's Tip: Ensure your content remains evergreen by avoiding dates in the URL.
Way #4: Be open to collaborations
Being open to collaborations, such as interviews and expert roundups, is a great way to receive editorial links.
You can even arrange some collaborations yourself, to draw attention and show people that you're open to taking part in them.
Some ways to get the word out include sharing your availability on your social media accounts, as well as dedicating a contact form for interviews on your website.
Way #5: Promote your content
While this may sound obvious, content promotion is a great off-page SEO tactic that many people ignore.
In a nutshell, content promotion is the process of distributing content to various paid and organic channels, which includes:
Paid ads
Social media
Email marketing
After all, once you create a great piece of content, you can't leave it like that; you need to promote it and get it in front of as many eyes as possible.
Not purely for the traffic, but for the possibility of receiving editorial links from the people who learn about your content.
All in all, content promotion should be an integral part of your content marketing strategy.
Way #6: Don't underestimate PR
Public relations (PR) can help you improve your Google search rankings, increase your online visibility and grow as a business in general.
One great tactic is creating and sending press releases when there's a notable event, in order to generate media coverage and attract backlinks.
Plus, when publishing something newsworthy, consider how online publications would ideally like to cover it and act accordingly.
Way #7: Connect with journalists
Staying on the topic of publications, another great tactic is connecting with journalists and becoming a common source for their articles.
Possibly the easiest way to connect with them is through HARO (Help a Reporter Out), which provides journalists with a database of sources for news stories and daily opportunities for sources, in order to secure valuable media coverage.
HARO sends three daily emails (from Monday to Friday) and all you have to do is read through each email and then reply to relevant requests.
If the journalist likes your answer, they might feature you in their story.
However, although the tool was first set up for journalists, it can be used by bloggers, influencers, editors, and many others.
Way #8: Monitor unlinked mentions
Unlinked brand mentions occur when a website mentions you in a piece of content, but without linking back to you, in what could've been a perfectly good backlink!
What you can do is use the right tools, like Google Alerts, to monitor your brand mentions and identify which ones are unlinked.
Once you find one, you can contact the source and ask for a link to your website.
Simple, right?
This is a great way to take full advantage of anyone mentioning you online and—possibly —receiving some high-quality links.
All in all, those were the ways to acquire editorial links.
Whichever you decide to choose, always make sure to use white-hat SEO techniques to avoid potential Google penalties.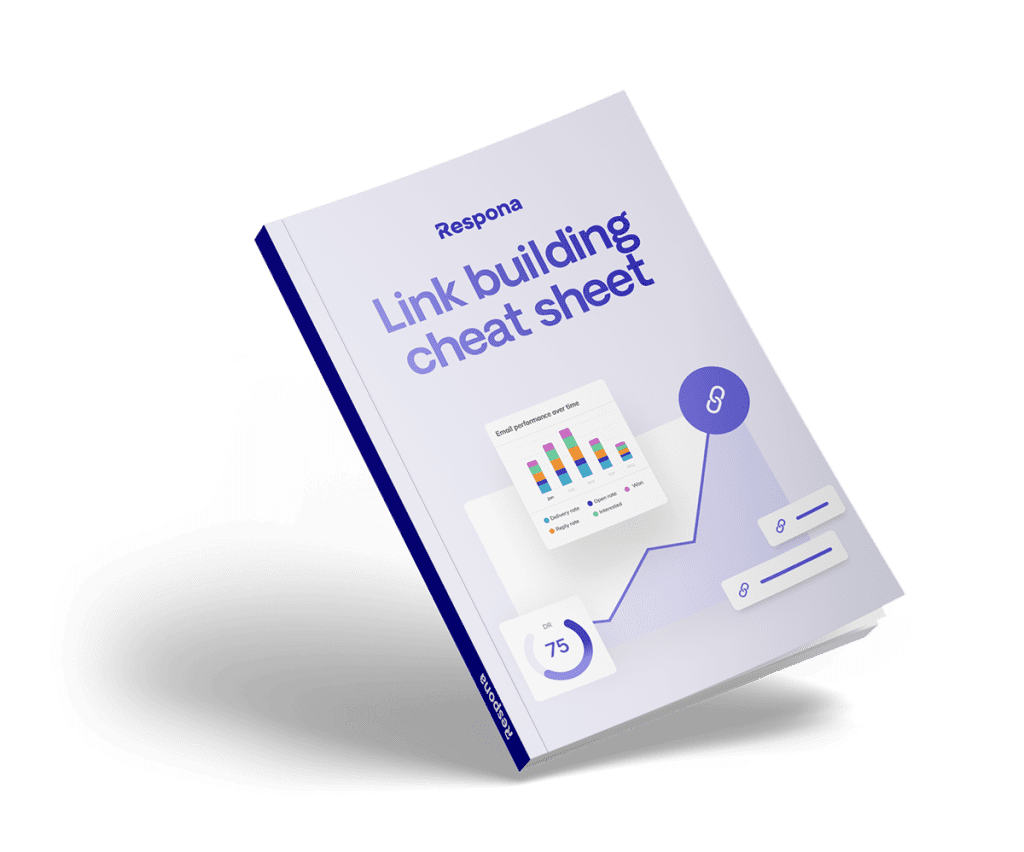 Link building cheat sheet
Gain access to the 3-step strategy we use to earn over 86 high-quality backlinks each month.
Now Over to You
So there you have it!
That was our full guide on editorial links, their benefits, as well as how to get them.
Link building in general can be quite a time consuming process, so the use of the right tools is essential to automate various manual tasks.
If you'd like to learn more about this, don't hesitate to book a live demo with Respona and we'll guide you through our tool step-by-step.