Digital marketers are constantly trying to find new ways of promoting their websites to as many people as possible.
Search engine optimization (SEO) has played an integral role in this process and has evolved to a multidimensional operation in the context of a company's marketing strategy.
It's a strategy that's often classified into two main categories:
While we'll cover both of them extensively further on in this guide, our main focus will be on off-page SEO; a technique that can help you gain better search engine rankings and so more organic traffic.
Here's what you're going to learn:
What off-page SEO is
The differences between on-page and off-page SEO
How to implement a simple off-page SEO strategy
Plus, we've got some examples of companies that have successfully taken advantage of this tactic for you to get inspired!
Without further ado, let's get started.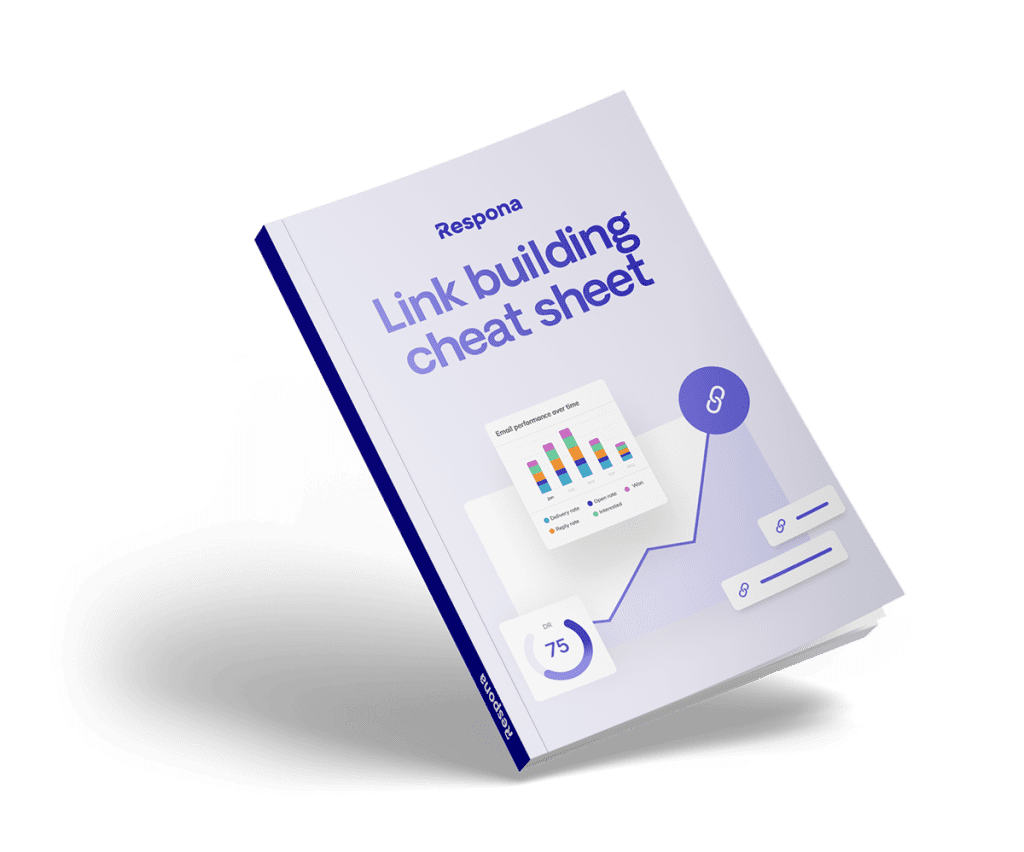 Link building cheat sheet
Gain access to the 3-step strategy we use to earn over 86 high-quality backlinks each month.
What is Off-Page SEO?
Off-page SEO includes activities such as white-hat link building, brand mentions, or digital PR with the main purpose of improving the rankings of a particular website or web page on the search engine results pages (SERPs).
To put it simply, it consists of actions taken outside of your website that help you gain more online visibility, which is why it's also known as off-site SEO.
Some of its most prominent actions that you should keep in mind are:
Link building
Guest blogging
Social bookmarking
Digital PR
Those are all important off-page SEO techniques and while each plays a major role, link building is usually where marketers tend to focus their efforts.
Why?
Even though Google is constantly updating its algorithm to deliver better results to searchers, backlinks seem to hold their value as a prominent ranking factor.
If you take a look at a study Backlinko conducted, you'll see that the top-ranking pages have more backlinks than lower-ranking ones.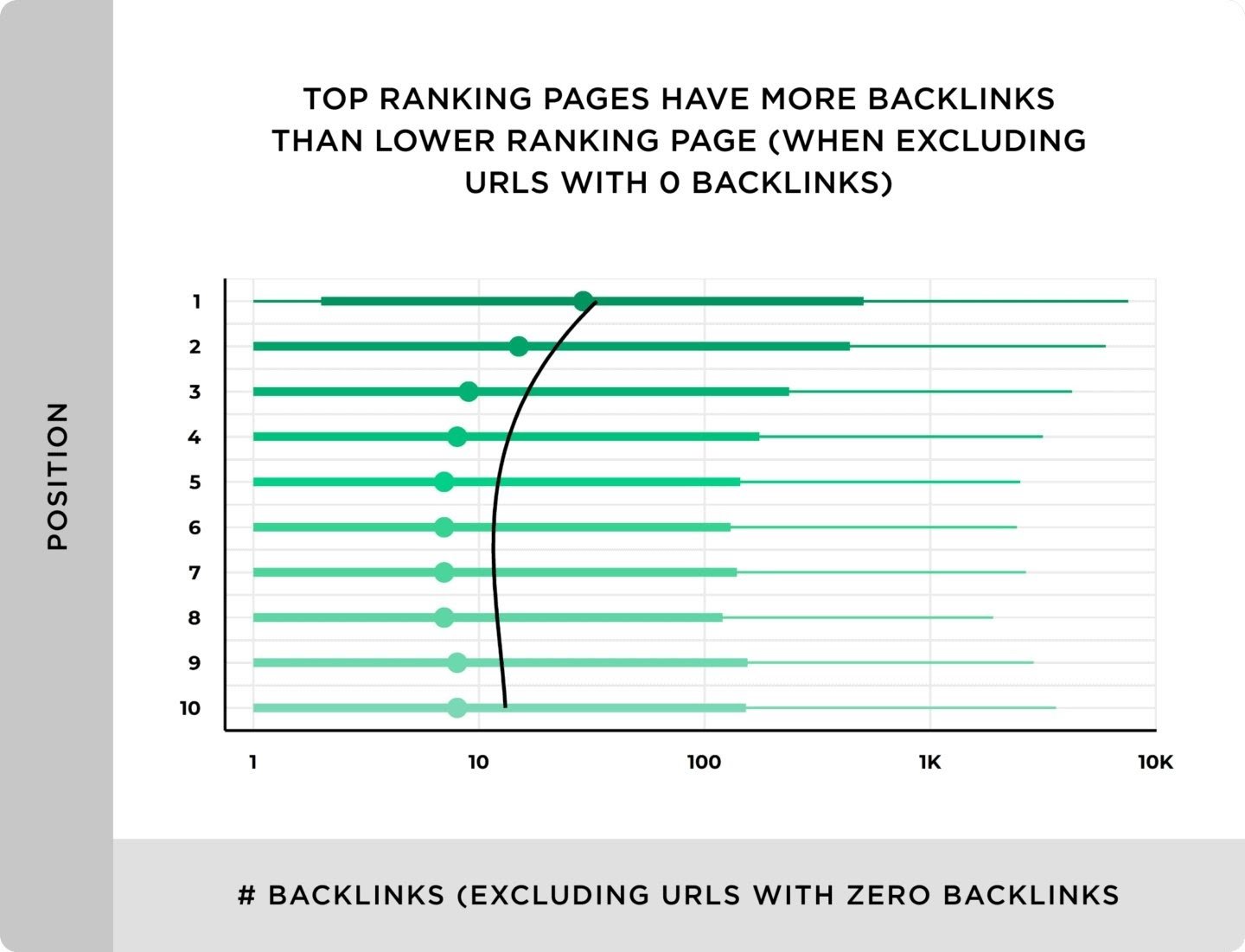 This, however, doesn't mean that the amount of links you acquire is more important than their quality; in fact, a high number of low-quality and irrelevant links can do more harm than good.
That's why gaining high-quality backlinks from relevant and trustworthy sources can increase your own domain authority and, as a result, your organic traffic too.
After all, an important factor for Google when ranking a website is its online reputation and whether it's considered high-authority in its field.
We hope that by now you've got a better understanding of off-page SEO and why quality links are important, as well as why so many companies develop link-building strategies.
These are usually set up by creating great content and developing relationships with influencers and bloggers through email outreach.
In fact, 38.4% of professionals in digital marketing spend between $1,000 and $5,000 a month on link building.
Especially if you're a relatively new business, there are several reasons why off-page SEO will be useful to you.
Let's have a look.
Why do you need off-page SEO?
The reason you need off-page SEO is that it'll help you rank higher in the SERPs for competitive terms.
Think of it as a way to increase your website's authority; without this, you'll struggle to gain organic visibility, which can be a great way to grow your business.
Particularly for new websites, investing a part of your SEO efforts on off-page optimization is strongly recommended.
After all, even if you don't have the right knowledge or resources to apply technical and on-page SEO tactics, off-page SEO is a great way to get started.
Guest posting, social media, influencer marketing, and podcast marketing are just a few of the techniques you can apply, even as a local business.
Let's have a closer look at them, while also explaining the difference between off-page and on-page SEO.
What is the Difference Between On-Page SEO and Off-Page SEO?
The difference between on-page and off-page SEO is that the former refers to actions taken within a website in order for it to be optimized for organic search, while the latter includes actions taken outside of the website for the same purpose.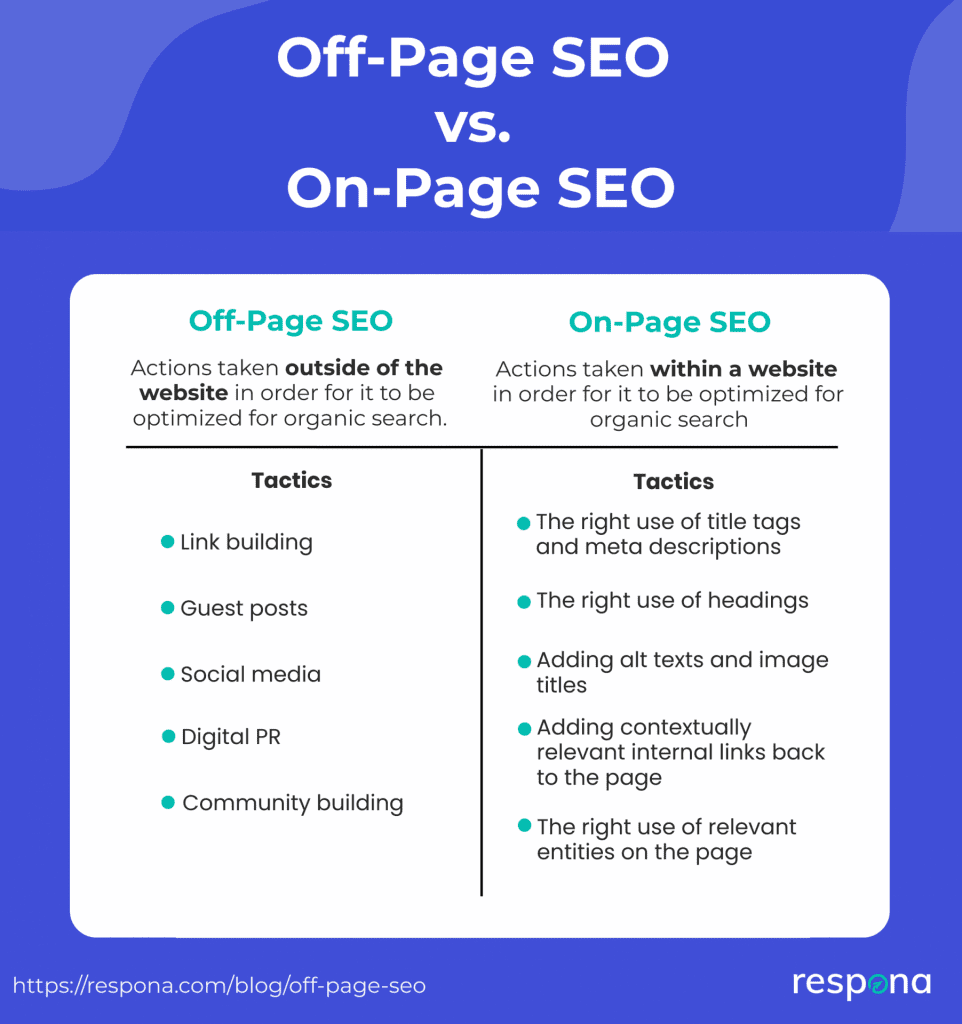 We believe that the comparison below will give you an even better understanding of the two concepts.
Off-page SEO
Let's have a look at the most prominent tactics that off-page optimization consists of:
Link building
Guest posts
Social media
Digital PR
Community building
While building backlinks can be of great benefit, backlinks are not the only off-page SEO tactic, as you can see from the list above.
Since we covered this in the previous section of our guide, let's dive into the rest.
Tactic #1: Guest posts
Guest posting on other websites isn't only useful as a link-building tactic; it can help put your brand name in front of the right audience and give you credibility, which can therefore establish you as an authority in your field.
This is particularly important for E-A-T purposes (expertise, authoritativeness, trust); a factor that indicates the level of authority a website has and is something Google takes into consideration.
By taking a look at Ahref's keyword explorer, we can see that demand for the term "guest posting" has been increasing; making it clear that it's still a common tactic used.
Moving on to the next element.
Tactic #2: Social media
With 90% of digital consumers using social media, promoting a piece of content via social media marketing is a great way to get your business off the ground.
Despite it not being a direct ranking factor, social shares can help you gain more brand awareness by attracting relevant visitors to your website.
For example, the following email marketing guide by Backlinko has gained almost 4K shares on social media.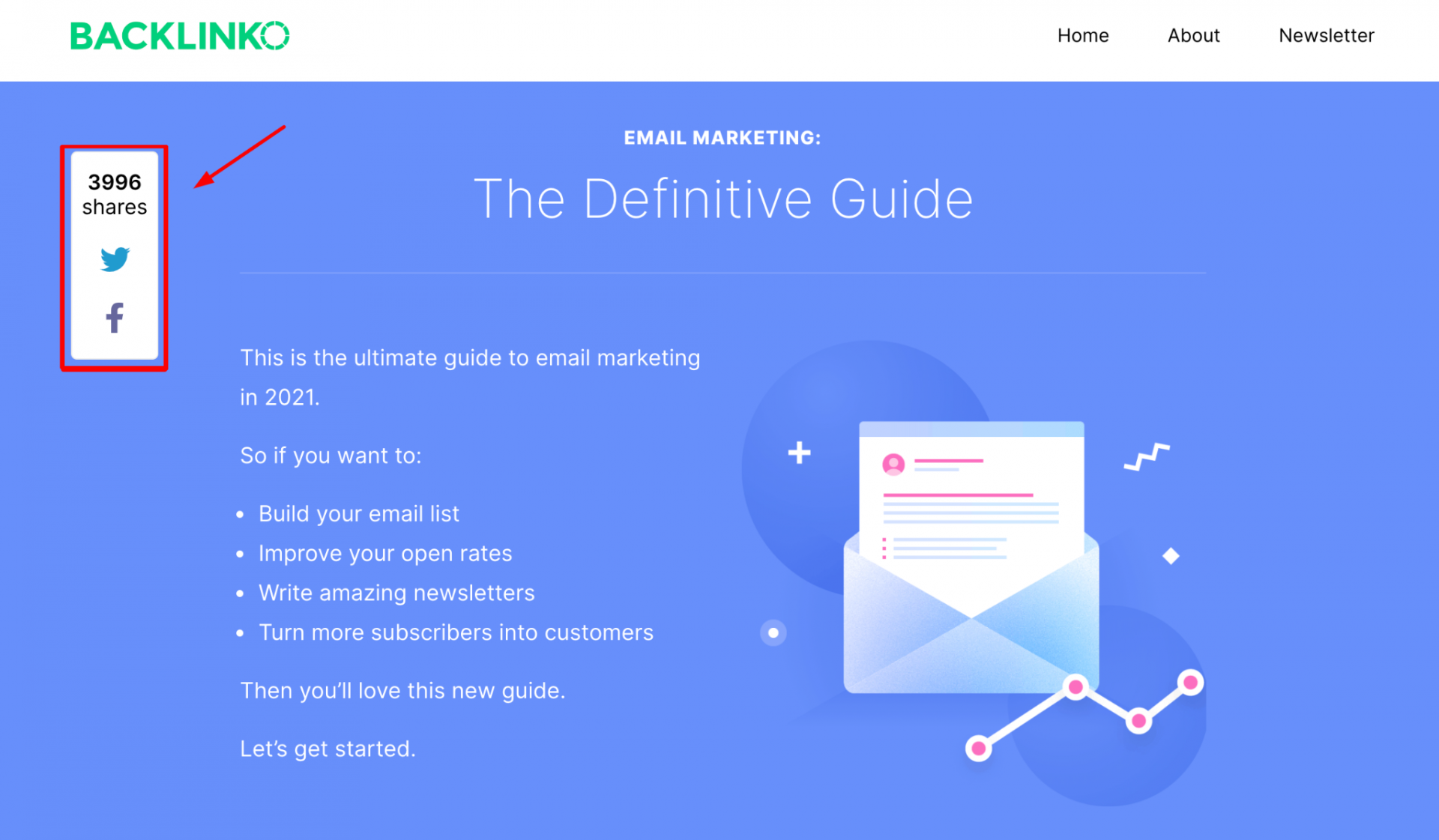 Impressive, right?
We can only assume that those shares alone have brought in a large amount of traffic for the website, which is why the use of social media should be in your off-page SEO checklist.
Let's continue.
Tactic #3: Digital PR
Public relations aren't often correlated with SEO, but the truth is they can play a great role in increasing a website's visibility.
With the use of digital PR, you basically promote information about your business to the public.
This can be done through press releases, in order to raise awareness about your organization.
However, digital PR is more than that; it helps you reach your target audience and build meaningful relationships with people in your industry.
For instance, featuring your business on other websites, appearing on podcasts, and collaborating with creators – you've probably heard this as "influencer marketing" – are all important off-page SEO factors.
The image below is an email outreach example from the CMO of Ahrefs, Tim Soulo.
As you can see, he's pitching himself to appear as a guest on a podcast, with the hope of gaining more exposure for both him and his company.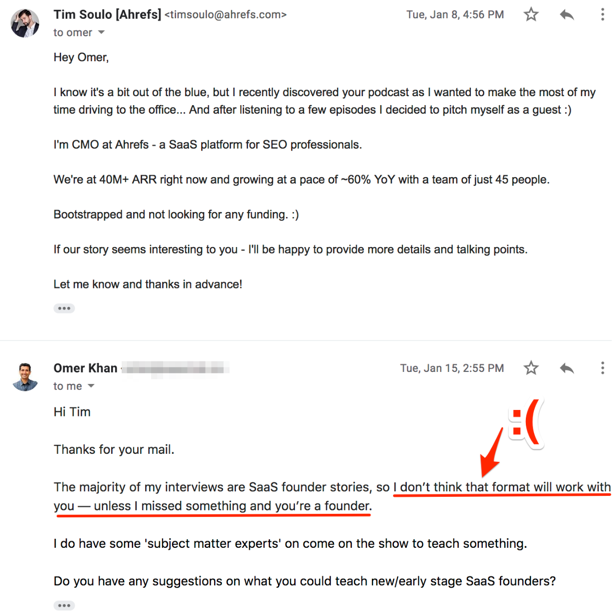 Author's Tip: Only use influencer marketing as a way to build links if they're nofollow ones; links with sponsored content breach Google's Webmaster Guidelines.
Overall, Digital PR can not only offer you a great amount of exposure but also the chance to build backlinks.
Let's move on to the next element.
Tactic #4: Community building
We said earlier that off-page SEO consists of actions taken outside of your website and forums are a great example of this.
By being active on communities like Quora and Reddit, you can promote your own website to like-minded people; just like Veed's co-founder, Sabba Kaynejad, has done.
By updating his own Reddit account with the product's latest announcements, he creates a small community and keeps everyone inside it engaged.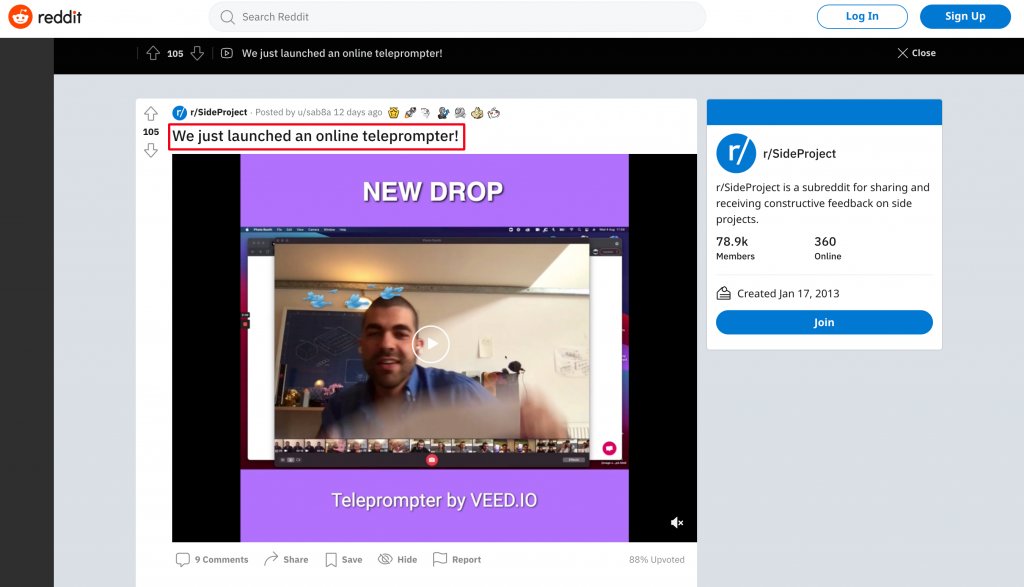 Yes, forums can help in building links too, but they're also a fantastic way to start cultivating a community and building trust.
All in all, off-page SEO is really important and shouldn't be overlooked.
It includes actions that go far beyond link building and we encourage you to pay equal attention to all of them.
Since it's often confused with on-page SEO, let's have a look at what this concept is all about.
On-page SEO
We noted earlier that on-page optimization consists of actions taken within a website in order to increase its online visibility.
Some of the most prominent ones are:
The right use of title tags and meta descriptions
Adding headings
Adding alt texts and image titles
Adding internal links
Using entities on the page
Plus, other tactics that enhance a page's user experience so it's as optimized for organic search as possible.
Let's do a brief breakdown.
Tactic #1: Title tags and meta descriptions
There are quite a few practices that make a title tag effective, such as the number of characters it should include.
According to Moz, 50-60 characters is the optimal.
Should the title be too long, you risk it not being shown in the SERPs in its full form.
Let's take the title tag of this very guide as an example…

As you can see, it's fully visible and searchers can understand what it's all about.
On the other hand, this is what it would look like if we make it slightly lengthier, by replacing "simple guide" with "the ultimate guide"…

While the title's "essence" is still visible, the end of it is cut off which doesn't give searchers a good impression when scrolling the SERPs.
What's more, under each title tag users can see a brief description of what the content is all about; this is called a meta description.
By keeping your meta description short and enticing, you prompt searchers to visit your page and enjoy your high-quality content.
Author's Note: Remember to keep your meta descriptions no more than 155 characters.
Moving on to the next action.
Tactic #2: Headings
Headings – particularly H1 and H2 ones – can really make the difference in a piece of content.
They make it easier and more enjoyable for your readers to access since paragraphs and themes are distinguishable from each other.
A good heading should be compelling and answer what searchers are looking for.
You can usually find these questions when doing keyword research or by examining the SERPs.
Let's move on.
Tactic #3: Alt texts and image titles
Any CMS should allow you to add alt texts to your images.
They are basically a short description that elaborates on what the image you've used is all about.
While they're not visible to your readers, they're useful for two parties:
People with vision impairment who use screen readers
Search engines when crawling your page
Whether you enrich your blog post with a simple image or an infographic, alt texts shouldn't be overlooked as they're an important on-page optimization aspect.
Moving on.
Tactic #4: Internal links
As we said before, backlinks can be extremely beneficial, but internal linking plays a major role too.
Internal links are, essentially, links that point to another page of the same website and they allow users to navigate faster within it.
What's more, they help establish an information hierarchy for the given website.
What you should pay attention to when adding internal links is that the anchor text be relevant to the source it's pointing to.
Plus, when updating your content, watch out for broken links so your users aren't redirected to pages that aren't live anymore.
Let's continue.
Tactic #5: Entities
According to Google:
"- an entity is a thing or a concept that is singular, unique, well-defined, and distinguishable".
The search engine associates each term you use with other relevant ones, in order to understand what your content is all about.
Some entity types are:
Person
Location
Organization
Date
Number
Plus, many more.
How can you use entities to improve your SEO content?
First of all, using a pre-built NLP editor like Clearscope can make the process of entity extraction from the top competing pieces much faster.
You can then take the extracted terms and include them naturally in your own content.
Secondly, by using an NLP processor like Google's NLP API or Surfer, you can manually extract entities to use.
In the following section, we're going to feature a few off-page SEO examples in order for you to get inspired by how other websites have implemented this tactic.
Let's start.
3 Inspiring Examples of Off-Page SEO
There are many case studies of SEO that we could showcase.
However, we've chosen three that show how off-page optimization can be implemented, as well as what the results of it are.
Author's Note: All data we're using is accurate as of today, October 7, 2022.
Let's begin.
Example #1: Respona
Respona is an all-in-one digital PR and link-building platform that offers the chance to personalize your outreach efforts and create relationships.
While we're utilizing our social media platforms to promote our content, it's not easy to see what percentage of traffic they're accountable for.
What we can see, however, is the effect that link building has had as a prominent off-page SEO effort.
To be precise, we've currently gained over 8,000 backlinks from a total of 1,800 referring domains.
As you can see from the image below, the referring domains saw a significant increase starting from April 2020…

…which is around the same time that the organic traffic started to pick up as well…

…giving us a clear indication that these two metrics are closely related to each other.
What we can also see is that the number of newly gained referring domains greatly exceeds the number of lost ones.
It's pretty clear that we've focused a lot on link building as a way to not only gain better search rankings but also establish ourselves as an authority.
One way we can conclude this is from the domain rating, which currently stands at 75 out of 100 and is considered a strong number.
The fact that it saw a significant increase after April 2020 is also not a coincidence.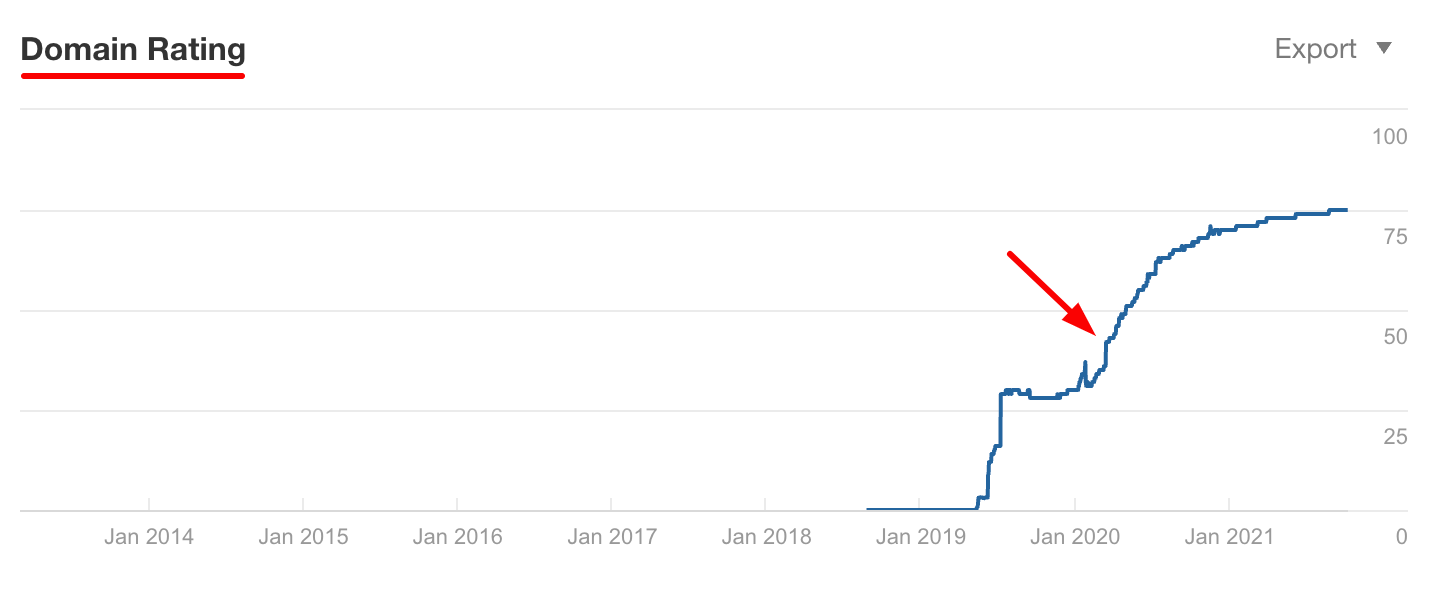 We could delve much further into this and even conduct a full backlink audit, but from a quick look, we can see that our backlink profile is healthy and doesn't consist of many spammy or irrelevant domains.
The CTLDs distribution can give us a brief overview…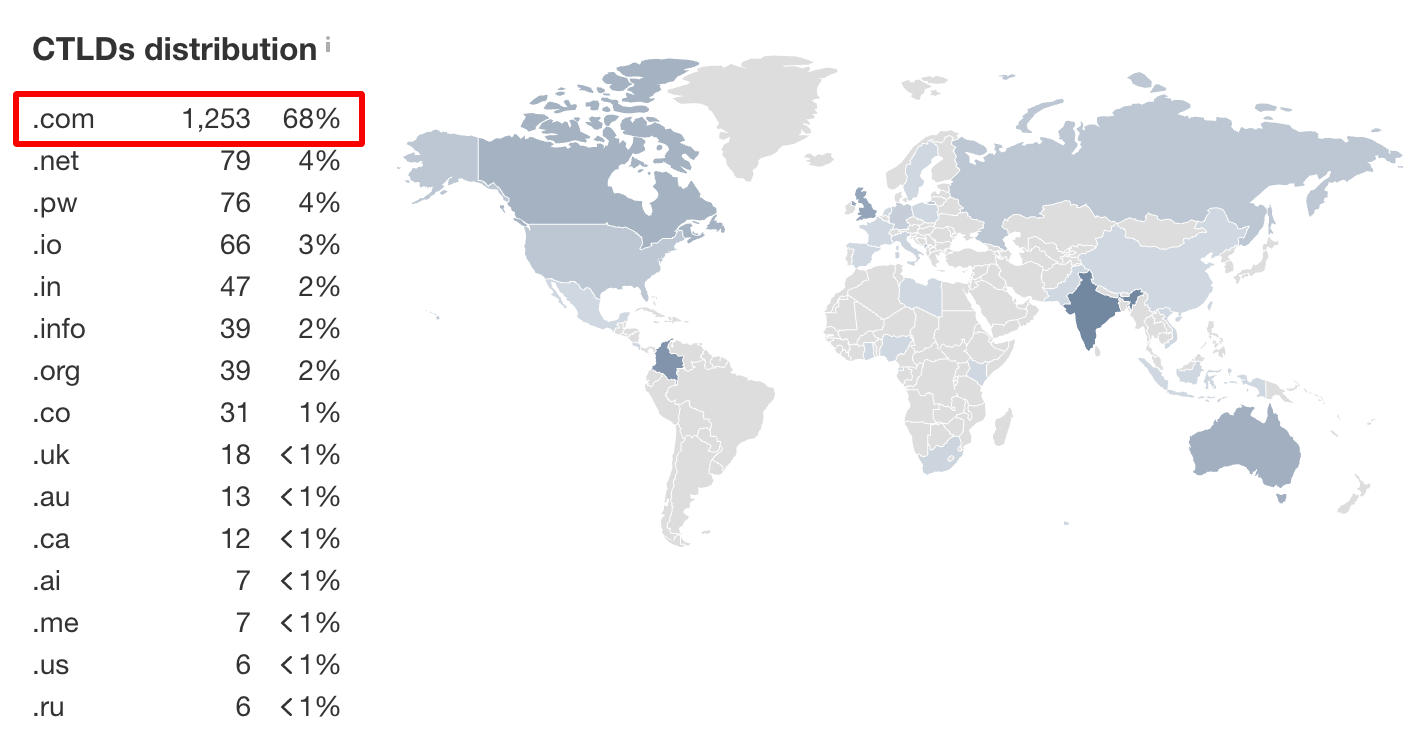 …since the vast majority of domains (68%) come from – usually – non-spammy domain names.
Moving on to our next example.
Example #2: PRG
PRG is a creative merchandise company that helps brands get the most out of their promotional products.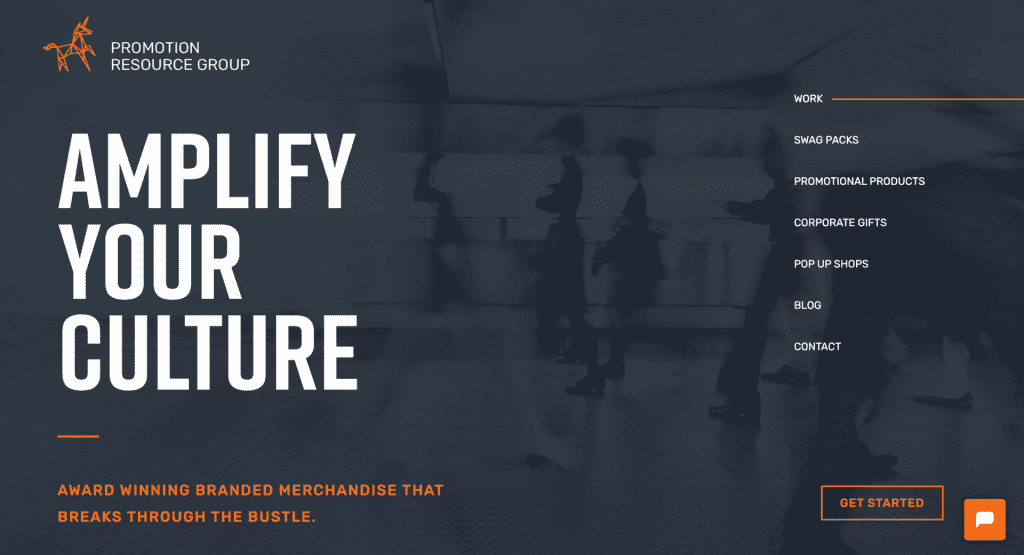 What we can safely conclude from this case study as well, is that link building has played a big role in increasing the website's online visibility.
So far, PRG has accumulated an impressive 3,400 backlinks from 381 referring domains.
To be precise, October 2020 is the time when the website started seeing significant movements in its referring domains…

…and at the same time that the organic traffic started taking off, from being 35 to over 5,000 that it is today…

…that's an increase of over 14,000% in only a year!
Impressive right?
While we can't hold off-page SEO solely responsible for this, since content marketing is also crucial, we can't ignore the fact that link building has played its role.
The domain rating is another good indicator of how backlinks have contributed to increasing the website's authority in its field.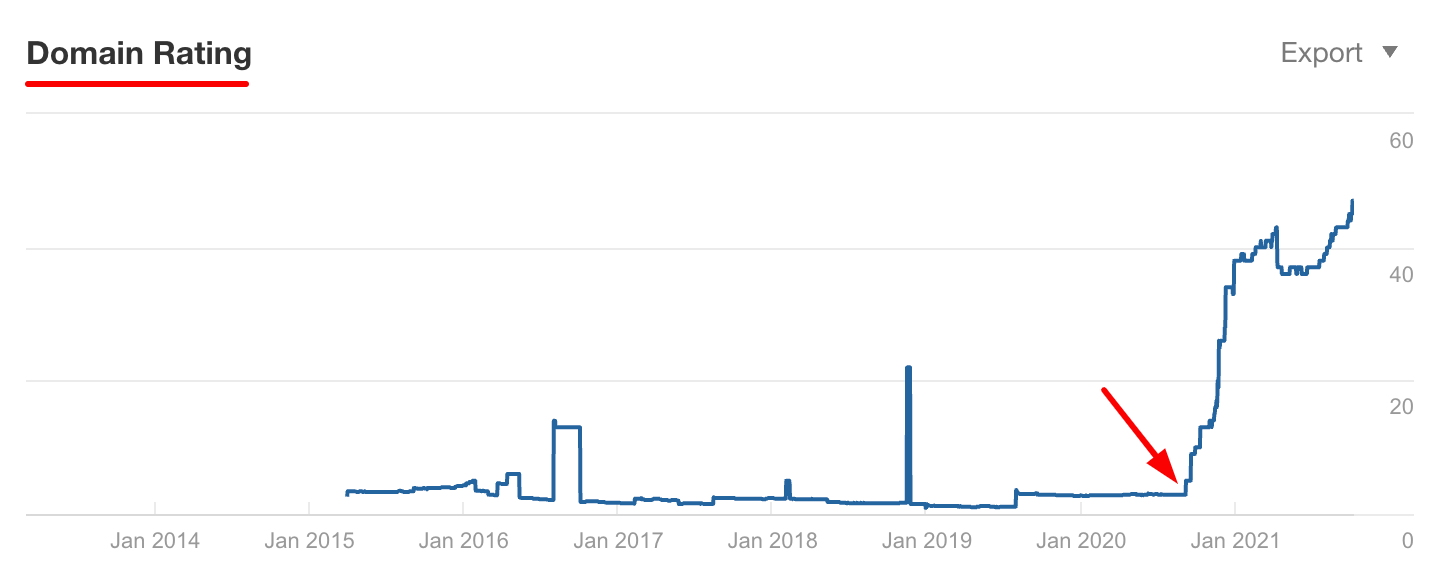 Moving on to the third and last example we've got for you.
Example #3: Cloudtalk.io
Cloudtalk is a cloud-based call center software for sales and customer service teams.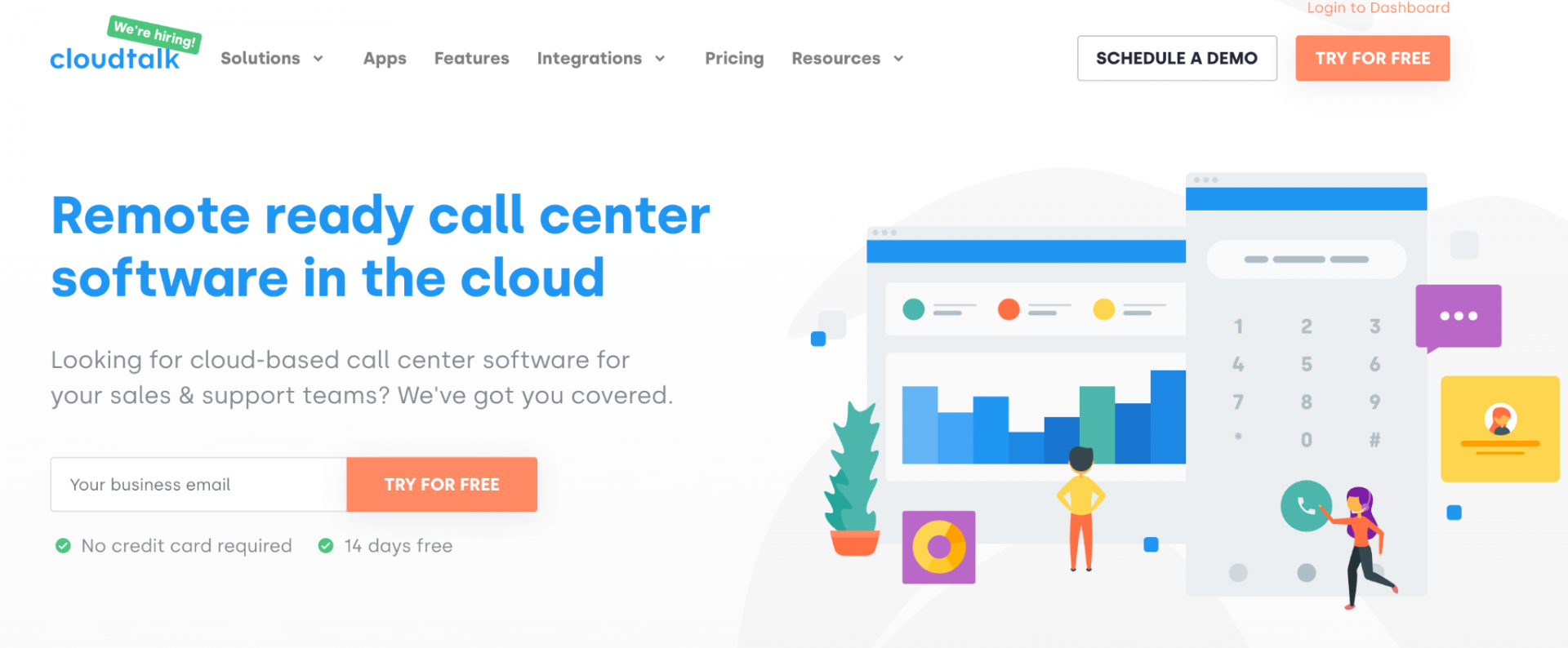 In terms of link building, the website has received over 12,000 backlinks from 2,100 domains.

As you can see above, referring domains have been on a clear uptrend since the beginning of 2019.
Unurprisingly, this was the same time that the website started gaining some organic visibility…

…and also the same time that Cloudtalk's domain rating started growing substantially, from 1 to 74, here it is now:

What's noteworthy is the fact that the number of newly gained referring domains has always been greater than the number of lost ones.

To sum up, it seems like backlinks have contributed a great amount towards Cloudtalk's off-page SEO strategy, and rightfully so.
As long as link building is done according to Google's guidelines and not under any illegitimate tactics – also known as black hat SEO – we strongly suggest you take advantage of it too.
How?
Let's have a look at the process.
A Simple Step-by-Step Process for Effective Off-Page SEO
In this last section of our guide, we'll walk you through the process of building links step-by-step.
Respona will be our tool of choice, so we'll make sure to keep things as detailed, but also as simple as possible.
Let's begin.
Step #1: Find your link prospects
The first step to any successful link-building campaign is to find a few link prospects that you can reach out to for them to link back to you.
When you enter Respona, click on the "Start new campaign" button on your top right.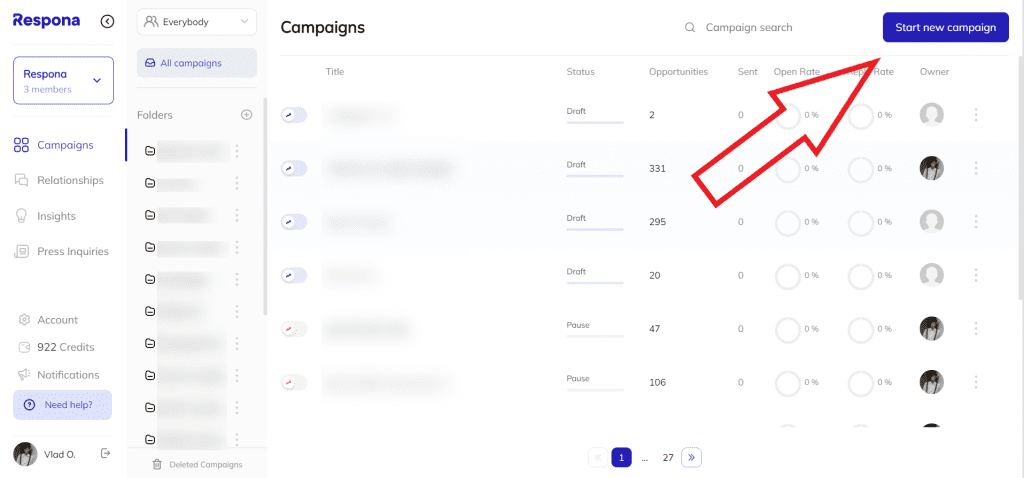 You'll then be asked to give your campaign a name.
We recommend naming it something that's relevant and memorable.
In this example, we'll go for "First Link Building Campaign".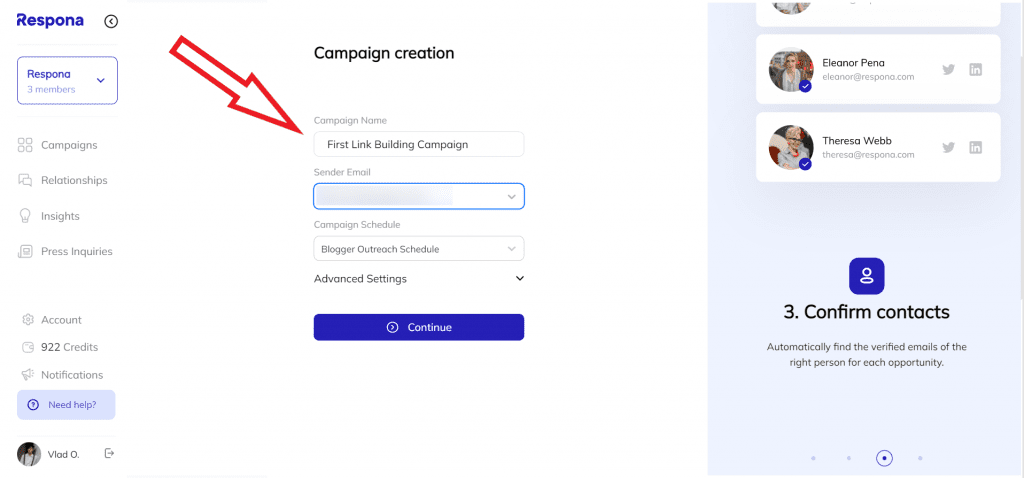 You're now ready to start finding opportunities for backlinks.
Where from?
Our tool gives you the option to choose from a wide range of sources, such as blogs, influencers, podcasts, and more.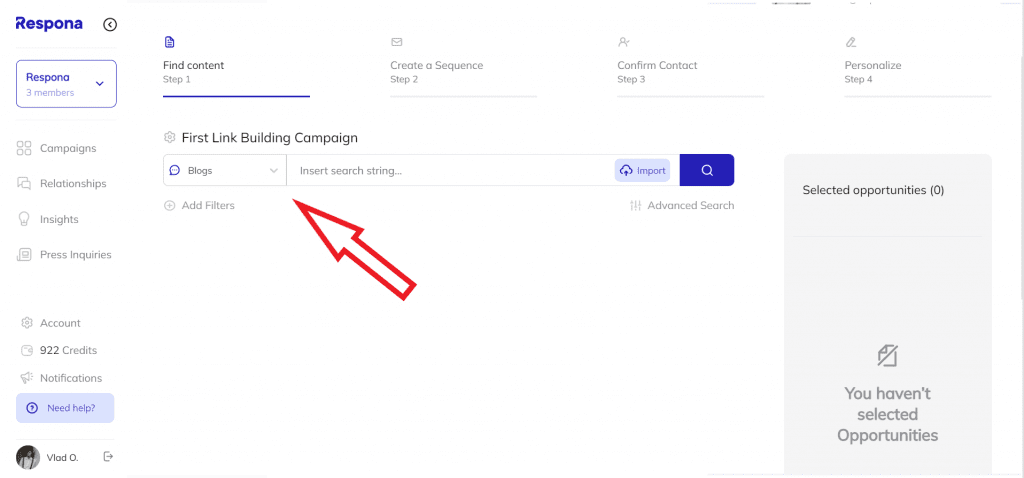 Assuming you want to find blog posts on influencer marketing to promote your influencer marketing platform – let's call it IMP for the sake of example – all you have to do is select "Blogs" and then enter your keyword in the search bar.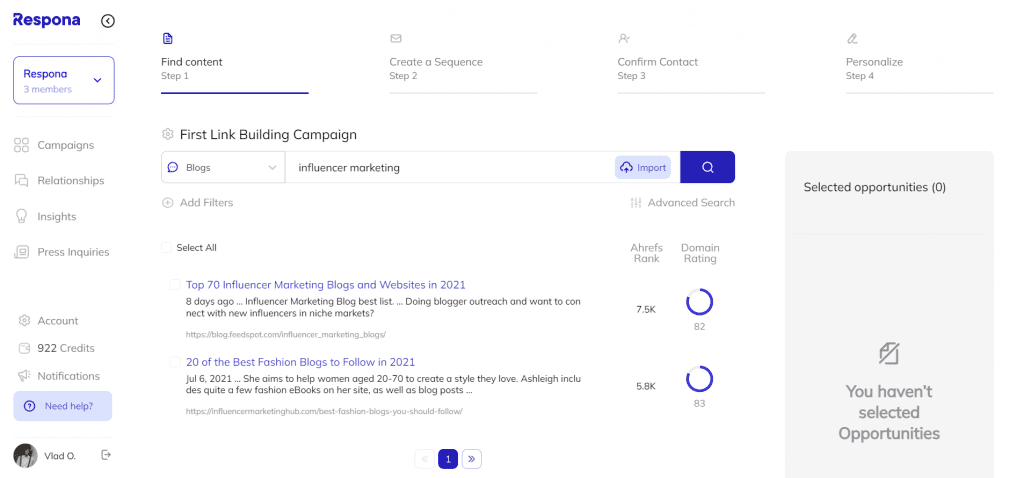 As you can see, Respona has already provided you with the top posts about influencer marketing, plus some metrics like the number of backlinks and the domain authority of each one.
Author's Tip: You can play around with the wording of your search to make sure that you'll be getting the right and most relevant results.
Your job now is to select the blog posts that you prefer by clicking on the checkbox next to them.
Alternatively, you can click on "Select all" if you like all of them.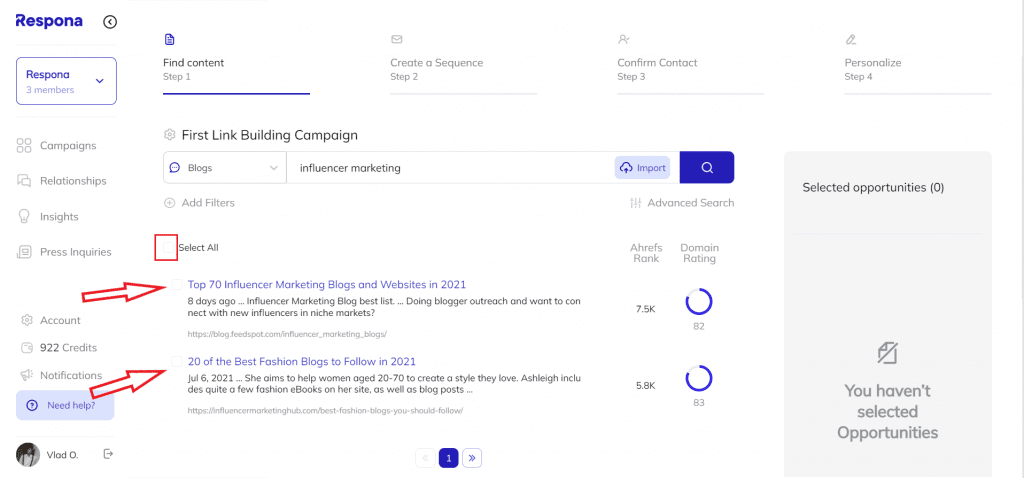 For the sake of example, we'll choose seven opportunities and then click on "Step 2".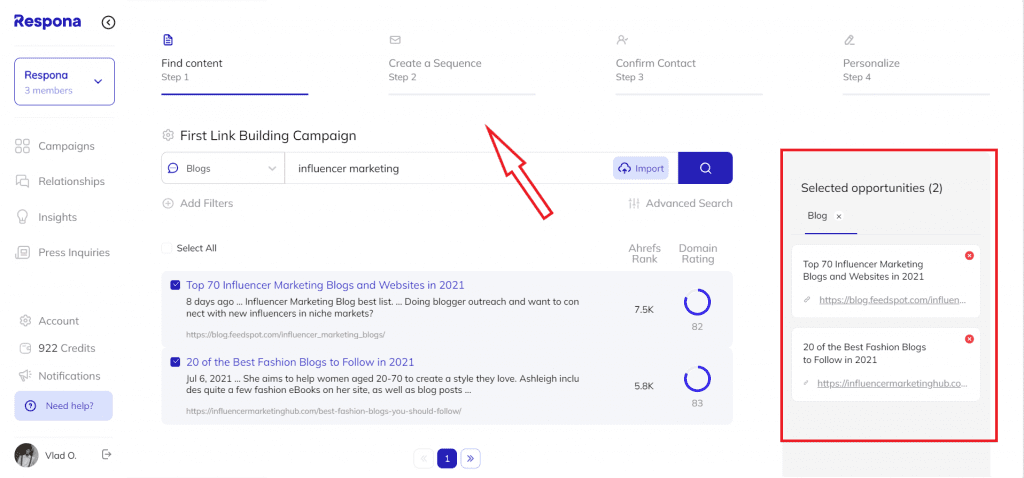 Now it's time to move on to the second step.
Step #2: Prepare your outreach email
This is an essential step to any good link-building campaign.
Whatever the case, you need to make sure that your email won't go unnoticed.
Fortunately, Respona will provide you with some cold email templates you can use, or you can create your own from scratch.
It's really up to you!
Let's opt to create our own, so you can see the whole process.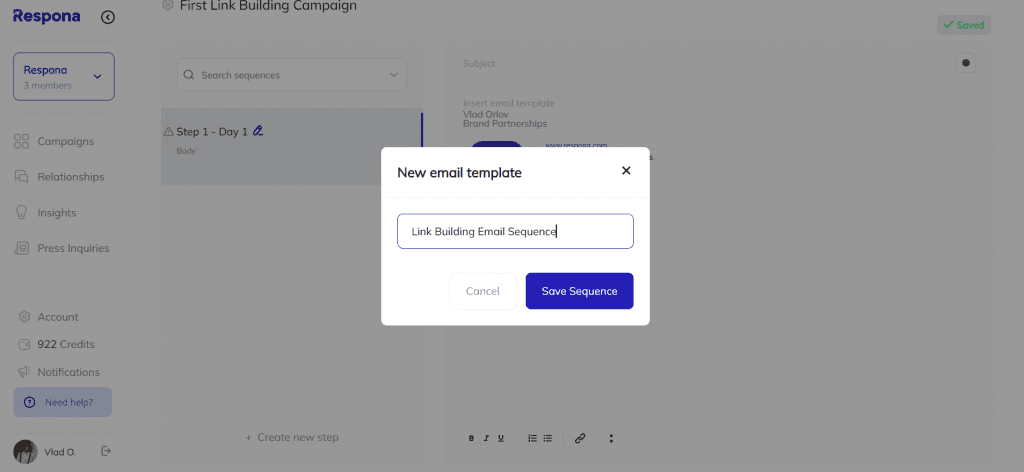 You'll then get the opportunity to name your email sequence.
We'll call ours "Link Building Email Sequence", since it's memorable and descriptive.
After having clicked on "Create new step", you'll have to create an awesome email that consists of an engaging subject line, as well as an opening line followed by the main text.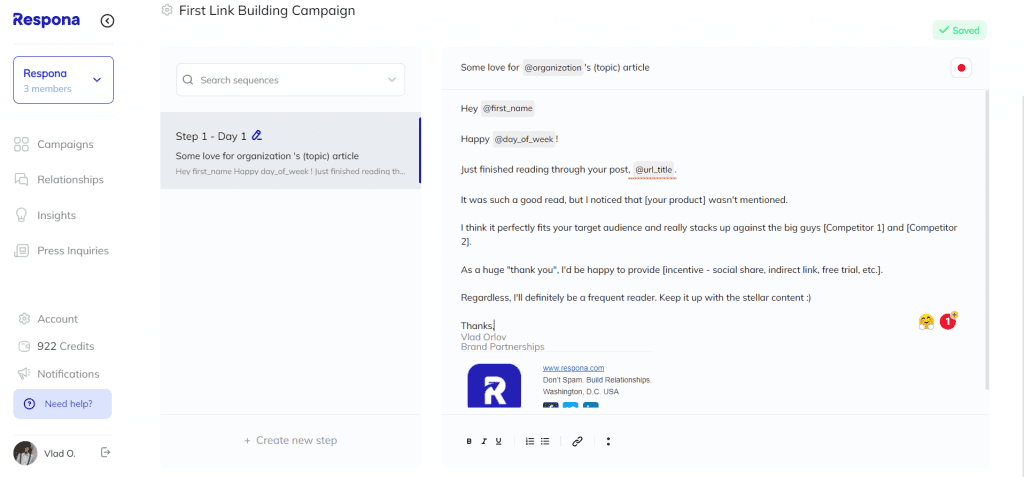 As you can see, our email includes a link to the product's page and also notes a few competitors, while also giving the email recipient a very clear idea of the purpose of our outreach.
Plus, there's an incentive for them at the end as a "thank you" for providing the backlink.
The box on the right depicts how well your email has been structured, including how many spam words were used; the less you use, the more chances you'll have to land in your recipient's inbox.
When you're happy, you can click on "Save" and then "Next Step" to move on.
Let's continue.
Step #3: Find your prospect's contact information
Finding someone's contact information, such as their email address, sounds like a tough job.
Indeed it is!
Luckily, Respona offers a few automated steps to get there.
This basically means that we want to give Respona additional information in relation to the kind of prospects we need contact information for.
Let's assume we want to assign opportunities to authors of URLs only if they're actually working for the company associated with the URL.
Plus, in case there's no author assigned, we'll ask the tool to provide us with other prospects who have certain positions and/or seniority ranking within the company.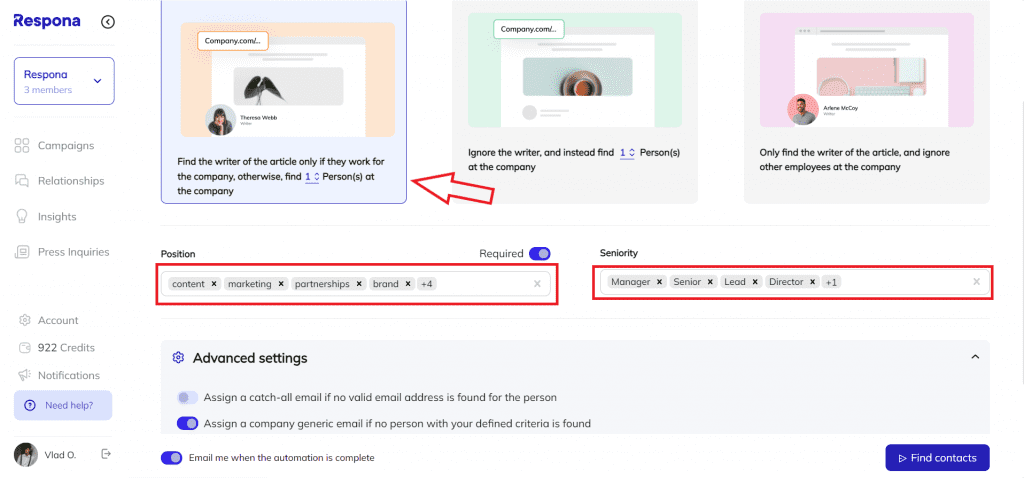 When you're done, you can click on "Next".
Here's what the automation overview looks like.
Click on "Run" to get started.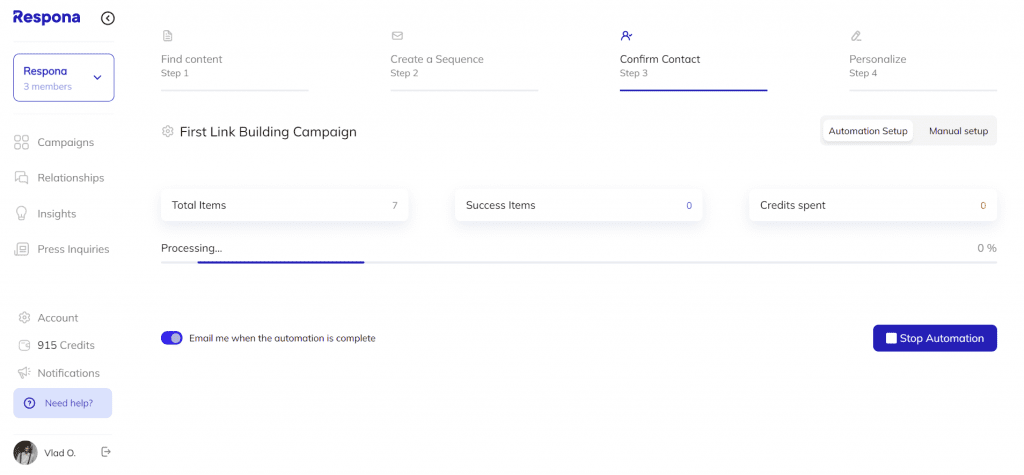 A few minutes later, the process will be done.
As you can see below, Respona has managed to assign all seven opportunities, which is a 100% success rate!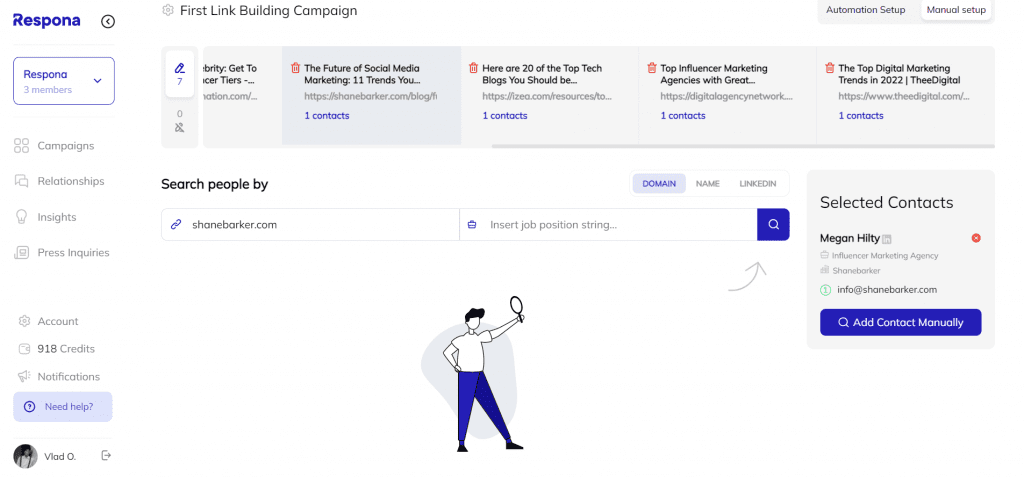 You can then see all of the opportunities, as well as full information about them, such as their name, job title, company they work for, location, and email address.
Pretty cool, right?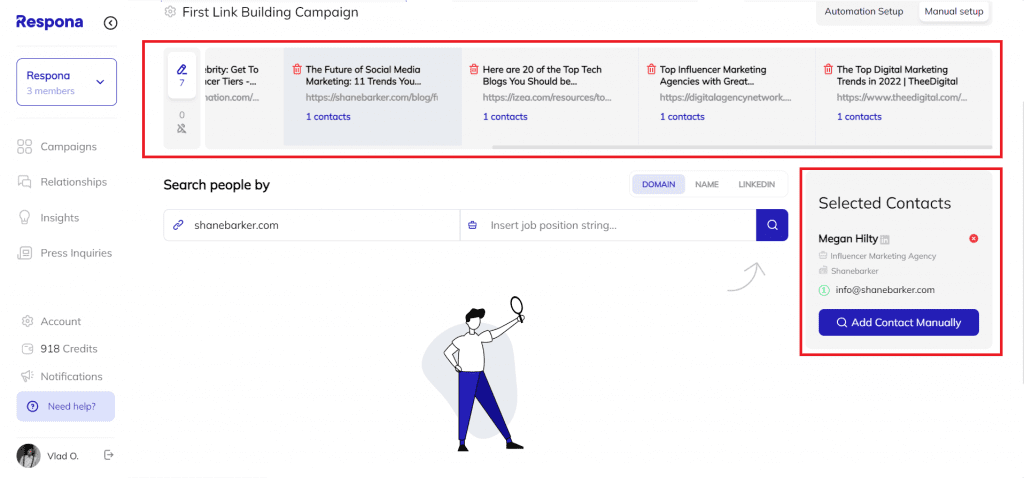 You can then click on the "Next Step" button on the right-hand side of the screen and get one step closer to launching your link-building campaign.
Let's have a look.
Step #4: Reach out to your prospects
Reaching out to our prospects is the final step we'll take.
We need to make sure that our email sequence is highly personalized in order to get a response rate that's as high as possible.
Author's Tip: Personalized emails increase your chances of getting a reply and making sure your email won't end up in spam.
What you have to do is go through your opportunities and personalize them accordingly.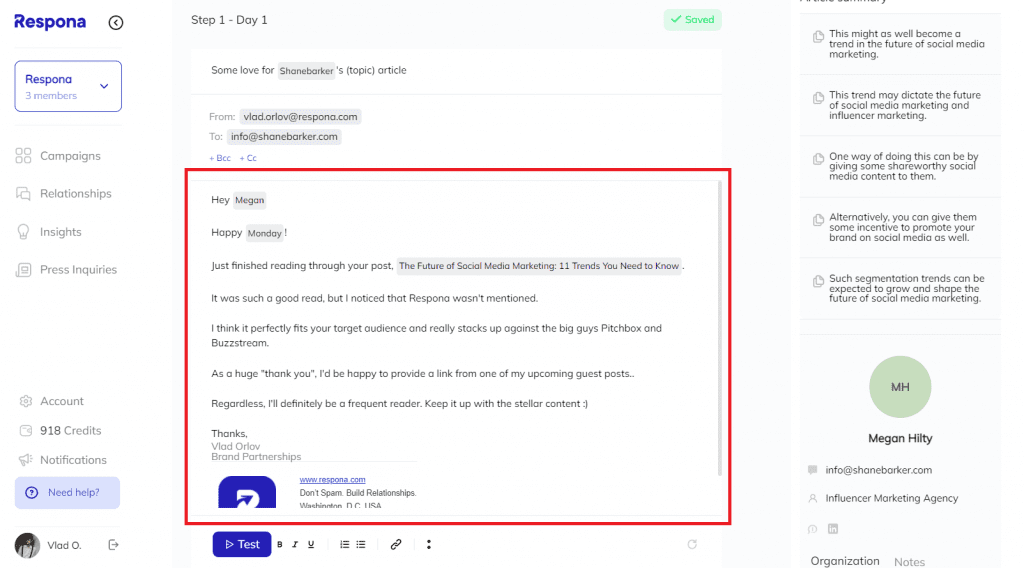 You can do that by adding their name, a link to the article you're referring to, plus a link to your own product so they can find and – hopefully – link back to it.
Once you've personalized all of your opportunities, you can go ahead and click "Launch Campaign".
That's it!
Let's wrap everything up with some final thoughts.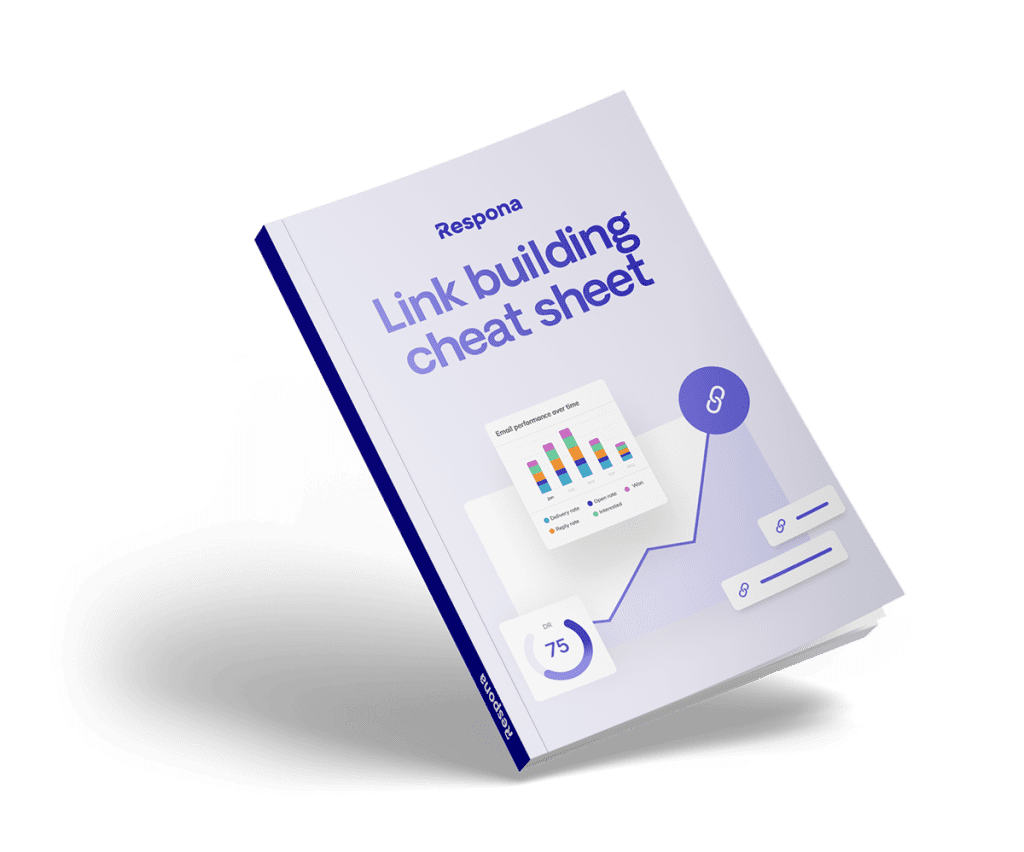 Link building cheat sheet
Gain access to the 3-step strategy we use to earn over 86 high-quality backlinks each month.
Now Over to You
There you have it.
In this guide, we've talked about what off-page SEO is all about, as well as which tactics you can use to increase your website's organic visibility.
We believe that through our examples and step-by-step process, you'll be fully ready to begin your link-building campaign.
After all, no matter how simple it can be, the help of a tool like Respona can always speed things up.
Consider requesting a demo so you can start taking your first steps in your own link-building efforts.
Thanks for reading!